Sweater with Jeans: Cold winds are rising, and winter is around the corner. After what seems like a perpetual lockdown due to Covid-19, all of us are trying to get back to our old lives. Schools, colleges, and offices are reopening, and friends are dying to meet each other after months apart. A worn-out, boring wardrobe has no place in this equation!
Now that winter is knocking at our doors, most of us will probably be wearing our old sweaters over our favourite pair of jeans. Whether it's going out to run small errands or a girls' night out, a cute sweater paired with jeans never disappoints. It's cozy, warm, and, most importantly, easy. Because styling the perfect look for every day can be strenuous. From wondering what to wear to what accessories to match, it can get crazy. So our old sweaters are our best friends, which is why they also get mundane sometimes.
How to Dress Up in Sweaters & Jeans?
To add some spark in your winter wardrobe without letting go of your comfort, you can upgrade your sweater and jeans outfits with a few simple tricks. For the ultimate winter wardrobe inspiration, read on!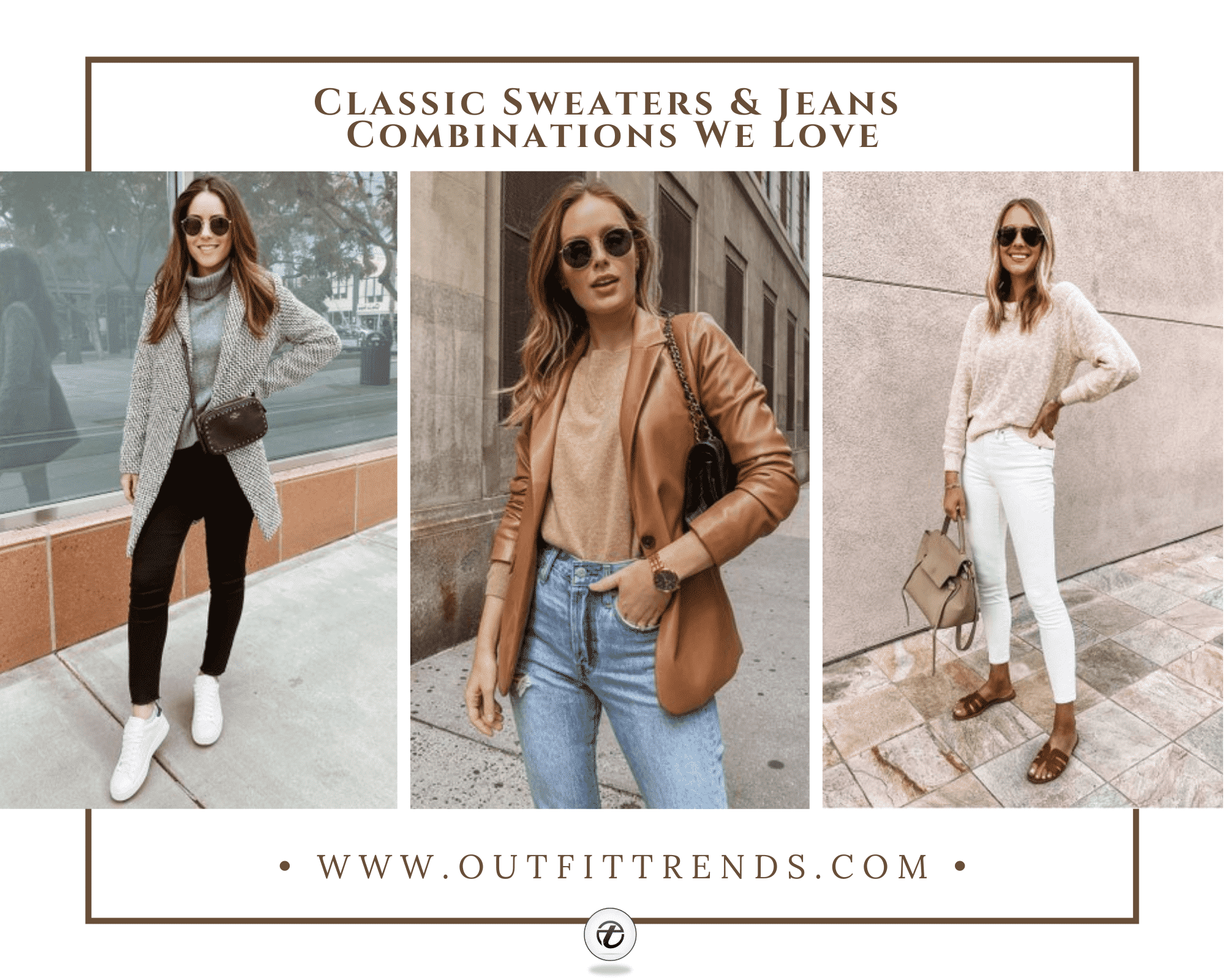 Following are a few styling tips you can keep in mind when you're wondering how to put together your outfits this winter:
Go for solid colored sweaters. Why? Because they reduce memorability. You can't possibly have fifty different sweaters of different styles. If you have solid colored basic sweaters like white, black, tan, and grey, you can style them differently with other bottoms and accessories. To spice things up, you can play with stitching designs and patterns.
Please repeat after me: Chunky sweater, chunky jeans. Slim sweater, slim jeans. In combinations like that of sweaters and jeans, the mantra is to maintain body proportion. Because chunky, oversized sweaters add a lot of bulk, go for wide-leg or mom jeans to balance it out. If you opt for a thin pullover or cardigan, pair it up with skinny or straight jeans.
Smart accessorizing is the key to a smart look. A plain sweater and jeans can get boring sometimes because of its repetitiveness. Add something interesting to your apparel to give it a little oomph. Go beyond just the simplicity of a monochromatic sweater and worn jeans. Because most of our bodies are covered in winters, you can go for a statement necklace. A furry scarf, pair of chic shades, or a cute cape shawl are easy options to elevate your outfit.
When layering, know the basics to avoid any embarrassment. Getting the details of layering right is what makes even a simple outfit stand out. Please keep in mind things like The topmost layer of your outfit should be the longest, that is, every layer you put on top must fall lower than the layer before it. If your sweater is your topmost layer, make sure it covers the shirt cuss( if the shirt has any). Your collar points should not stick out from under your sweater. All of this may seem a little over the board, but a little effort to look sharp goes a long way.
Most of us associate jeans with blue. Some of us may even include black. But, there is a variety of colors available in jeans to choose from. For a unique look, go for white or beige jeans.
Don't forget your shoes! Without a good pair of shoes, any outfit is incomplete for winters. The ideal choice are boots because they are classy and comfortable at the same time. You can also go old-school with a pair of white sneakers or a pair of slides if the day is warm and you're feeling trendy!
Let your hair down! Let those beautiful tresses loose because sweat is not a problem in winters, and it adds a natural aesthetic to your look.
Now that the basics are done and dusted let's move on to some sweater and jeans outfits you can try out this winter!
↓ 1 – Basic sweater colors with jeans
For a casual day, you can take a basic colored long length sweater with a pair of dark-colored jeans. Tuck in the sweater from the front and leave the back out. This look is comfortable and perfect to go out for running errands and for grabbing a cup of coffee for yourself. Complete the look with a pair of your favorite runners and go out and about.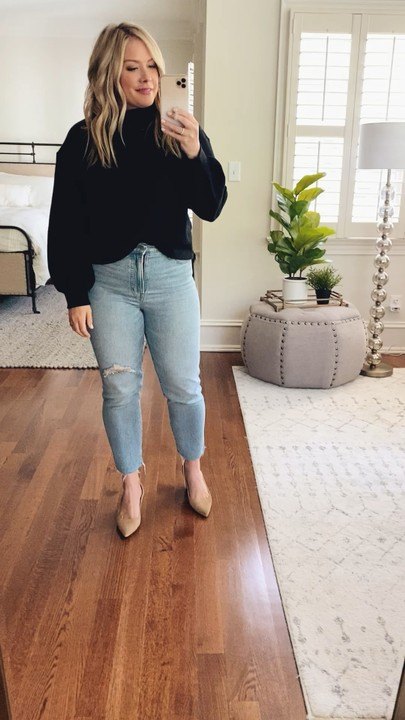 ↓ 2. Halter neck sweaters
Warmer than expected? Go for a sleeveless halter sweater and bare those arms. A halter neck sweater is also a great choice when winters have just started, and it's not that cold. You can always carry a thin cardigan to put on if it gets chilly. Accessorize the outfit with a simple crossbody bag.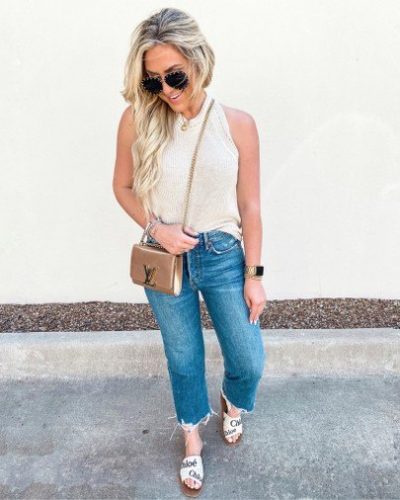 ↓ 3. Over-sized sweaters
An over-sized loose-knit sweater looks great on a cold winter day. It keeps you warm and yet looks stylish. Pair it with jeans, preferably cropped and ripped. A pair of block heel sandals can elevate this outfit easily. Let your hair down and put on a pair of sunglasses to complete the look. Here are some more tips and ideas on How To Wear Oversized Clothes.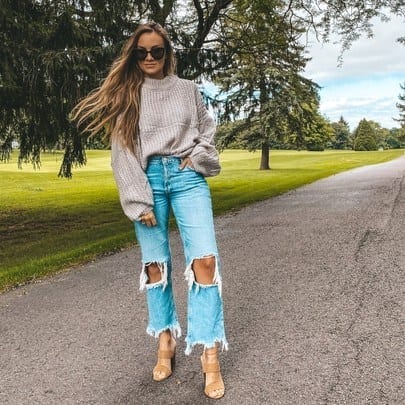 ↓ 4. Cable knit jumpers
Cable knit jumpers are fantastic for both casual and formal settings. Pair them with the right bottoms according to the event, and you can rock the look. If you are going out casually, style them with a pair of comfy jeans and your favorite pumps or runners.
While going out formally, you can pair them with pants or short skirts with classy court shoes or long boots with heels. Accessories should be kept simple and let the cable knit of the sweater highlight.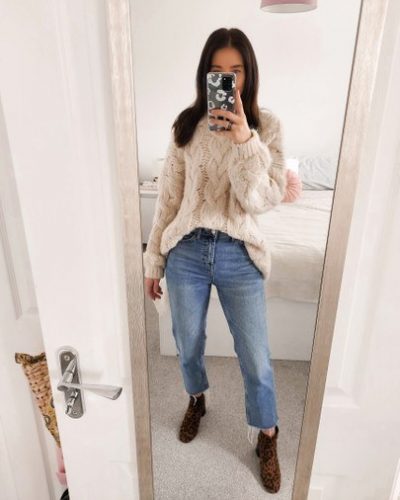 ↓ 5. Ripped jeans and off-shoulder sweaters
Ripped jeans have been in trend for the last couple of years, and this trend is not going out of style anytime soon! The same can be said for off-shoulder tops. They are perfect for all seasons. You can pair your ripped jeans with an off-shoulder sweater for a more playful look. You can accessories this outfit with a hat and necklace.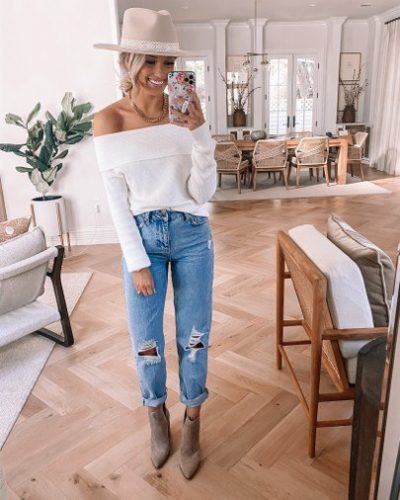 6. Basic cropped sweaters:
Cropped sweaters are a must this season! They are super cute, trendy, and versatile. You can pair them up with your old denim for a laid-back look or opt for fancy denim and a touch of makeup for a night out! A pair of pointy-ankle boots will spice up this look.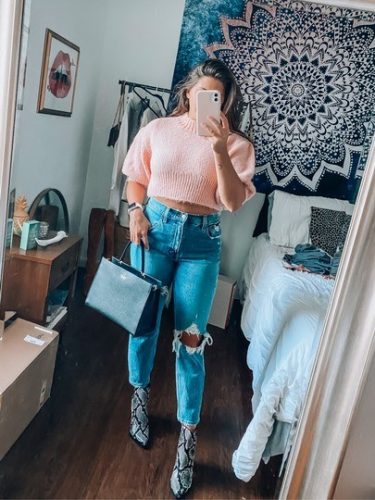 ↓ 7. Warm tones for a night out
Warm colors are a sight to behold in winters. As the name itself, they augment a sense of warmth and welcoming. A fancy warm-toned is perfect for a night out. Pair it with your favourite jeans and classy high-heeled ankle boots. Keep the accessories minimal and makeup loud. Dark smokey eye makeup with nude lips are a win for this look. Keep your hair down or go for a half top-knot to complete the look!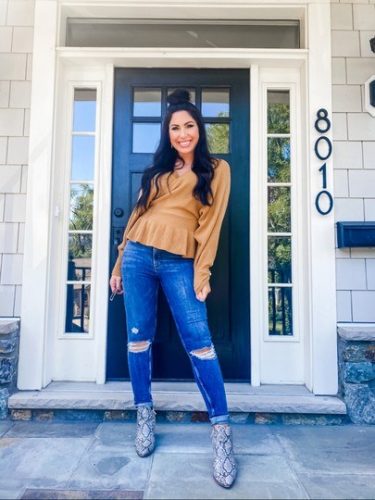 ↓ 8. Layering with long coats
Utilize your sweater and jeans for a sophisticated look by layering it, preferably with a long coat. Long coats automatically upgrade a simple outfit into a sharp one. You can pair this outfit with mules. Here are some more of our favorite ways to Wear Long Coats This Winter.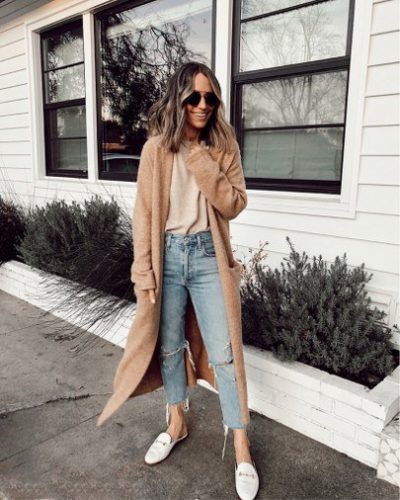 ↓ 9. Pair it up with white jeans
A neutral color, white is a favorite of many. It just makes everything prettier! Celebrate this season by pairing up your white denim with your favourite sweater and a statement bag.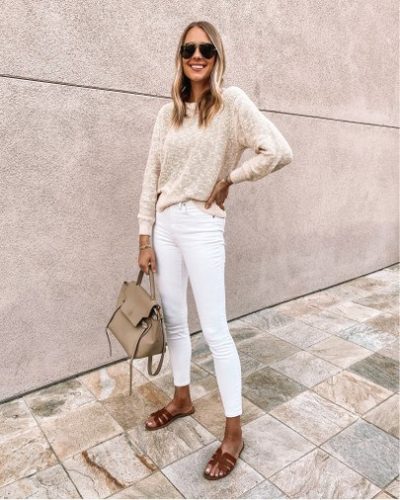 ↓ 10. Split-Hem jeans
Bored of the same old jeans? Style your sweater with a pair of split hem jeans for a distinct look.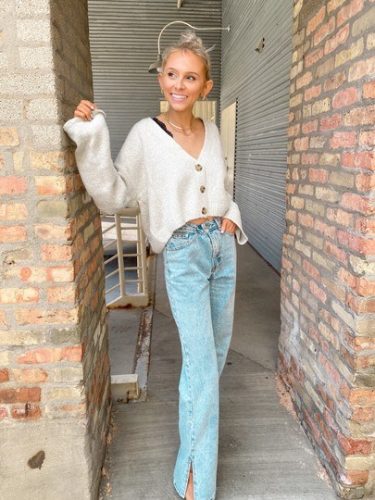 ↓ 11. Cardigans
Cardigans are no longer set aside for your grandmother. They are an excellent alternative to your typical sweaters that look great paired with high rise jeans.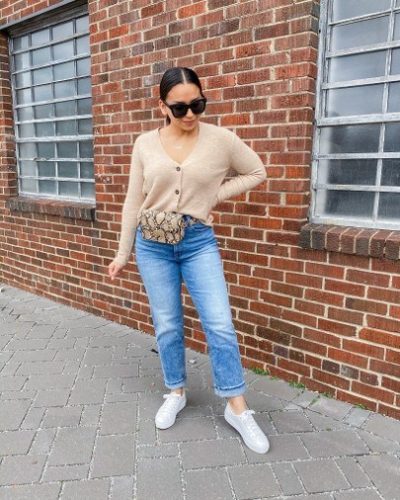 ↓ 12. Turtlenecks:
Turtlenecks are a winter wardrobe staple. They come in many different styles and are super resourceful when it comes to styling them. They can be tucked in your jeans or layered under a colorful coat. Paired with jeans, they prove to be very useful against the harsh weather and look chic simultaneously. Here are some more Ideas on How To Style a Turtleneck.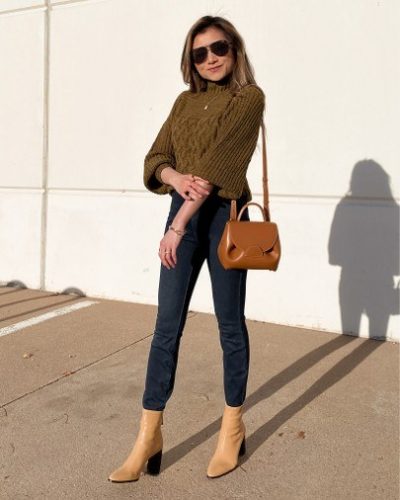 ↓ 13. Sweater over a plaid shirt
Sometimes unconventional layering is the way to go! Let the hem and collars of your favourite plaid shirt pop out for a preppy look.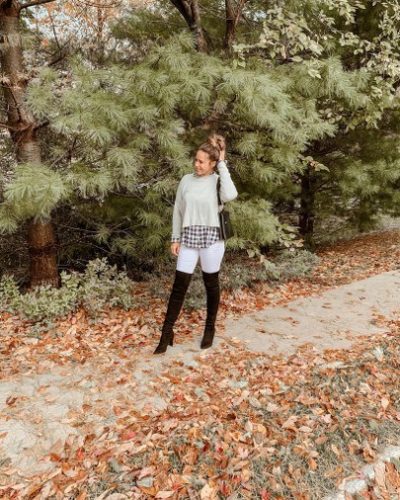 ↓ 14. Pair it up with a Blanket-Scarf
Blanket scarves are as cozy as they look. From crochet patterns to knitted scarves, Blankets scarves have many uses. A comfy poncho is a unique option for layering purposes. You can wear it on top of a simple sweater with a pair of tan ankle boots. What could be better than having your blanket everywhere you go!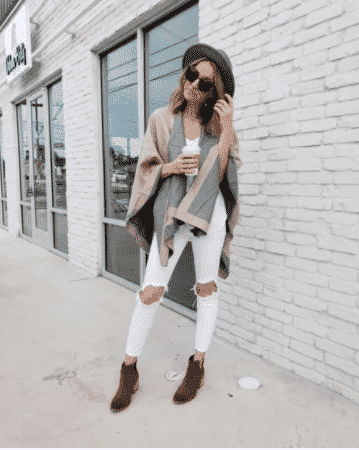 ↓ 15. Mom Jeans
Now that the 90's fashion is making a comeback both in stores and our Instagram feed, it is not surprising that mom jeans are back in trend. And for good reason! They are super comfortable, tight in the right places, and lose in the right places. You can pair up any of your sweaters with mom jeans and pair os staple white sneakers for a casual look. Here's a collection of our most loved Outfits with Mom Jeans.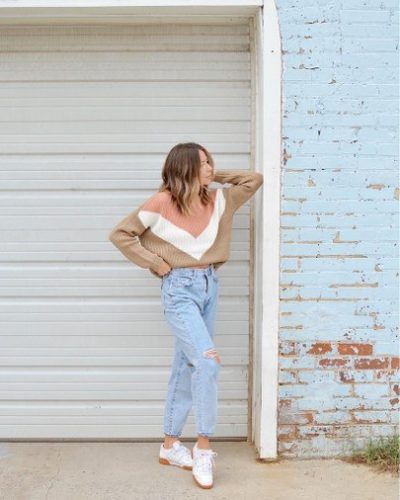 ↓ 16. Short sleeve sweater with wide-leg jeans
This look is a winner. A tight fitted, fuzzy, bright-colored, short sleeve sweater with a pair of wide-leg jeans is just genius. This outfit is comfortable, sexy, and distinct. It does not even need a lot of accessories because it's a complete look on its own. You can opt for a pair of pointy pumps to go with this outfit.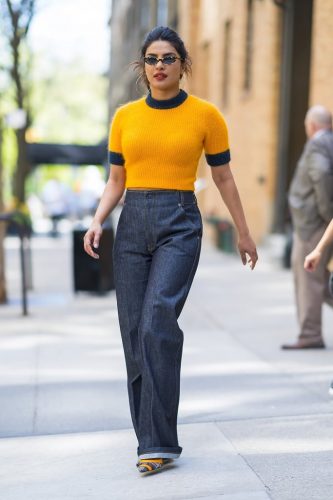 ↓ 17. Top it with a blazer
Going for an official meeting and your blazer is not enough to keep you warm? We have all been there. But don't fret! Simply wear a sweater t-shirt under your blazer. You can also go for a leather blazer if it's too cold. Tuck in your sweater and carry a mini shoulder bag or envelope purse to accessorize. Since white blazers have been really popular lately, here are some amazing Outfits with White Blazers.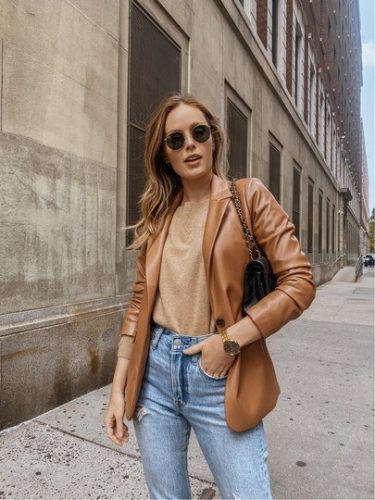 ↓ 18. Over-the-knee Boots
Fun, flirty, comfortable, and classy. What more do you need? Over-the-knee boots or high boots are our favourite staple for winters. From suedes to tans to blacks, from velvet to leather, high knee boots are made for the winter season. They are perfect for a simple walk down the street and also work great for date night.
↓ 19. Ankle Boots
Ankle boots are another of our favorite staples! Get a pair if you already don't have one!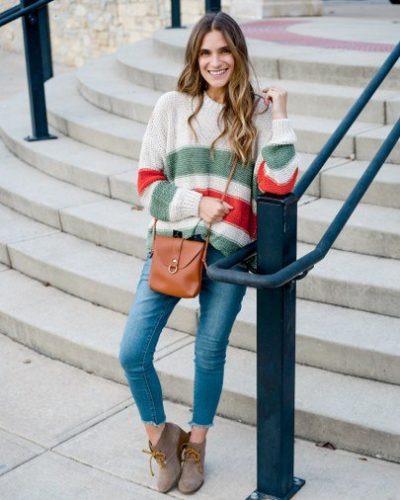 ↓ 20. Statement Hat
Statement hats are never going out of fashion. They are timeless and a classic staple that augments your confident vibe.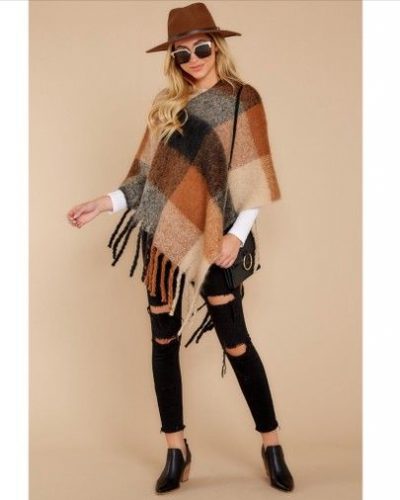 ↓ 21. Balloon-sleeve sweaters
Weary of your old, chunky sweater? A comfy, balloon sleeve sweater is the answer to your prayers! It is contemporary and comfortable. You can upgrade this look with a pair of velvet high knee boots.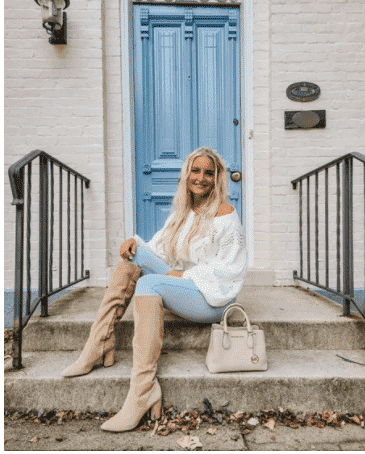 ↓ 22. Layer over your turtleneck
Too cold to step outside without looking like a heap of clothes? We are here to help. You can pair up a thick turtleneck with a thicker coat for double warmth. Style this look with a pair of shades and sneakers for a relaxed vibe.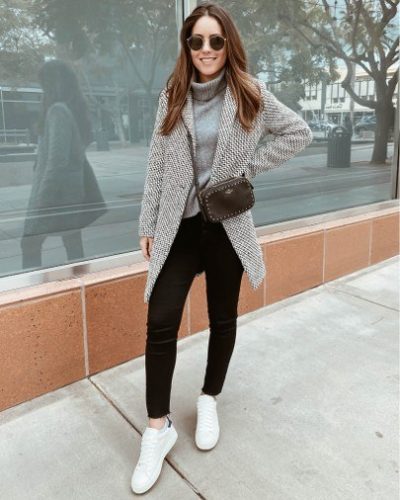 ↓ 23. Neck scarves
Neck scarves are so fashion-forward. They instantly add a pop of colour to your outfit. To minimize the lazy vibe from your apparel, a neck scarf is the easiest way to upgrade it. And as they say, when in doubt, do as Parisians do.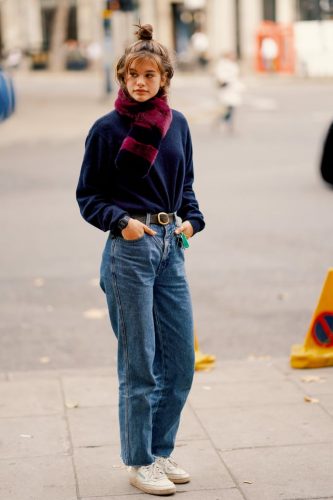 ↓ 24. Chic jacket
If you're tired of wearing oversized coats, here is your solution. A cute, furry jacket or a denim jacket is a superb alternate for layering.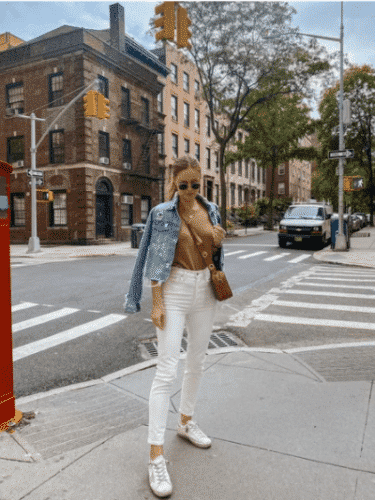 ↓ 25. Accessorize with Bags
Jewelry is not on the top of our accessories for winters because you can barely see it under those bulky clothes. The best way and trouble-free way to accessorize your winter outfit are to carry bags. Crossbody bags, camera cover bags, mini backpacks are all in trend.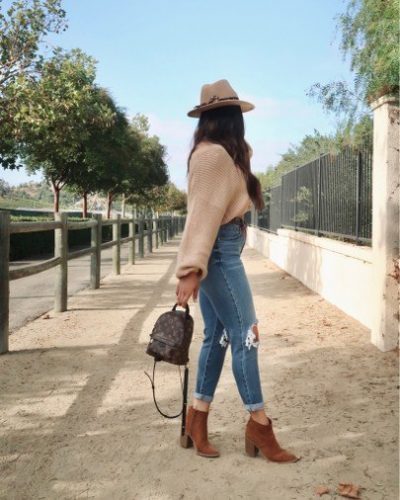 Frequently Asked Questions
Q.

What colour of the sweater goes best with black jeans?

A: Our answer is any color! All colors look great when paired with black denim. You can go from pastels to neon colors, whatever suits you and your mood best!
Q.

How should I style my oversized sweater?

A: A pair of rugged, ripped jeans and ankle boots will go best with an oversized sweater. A pro-tip: tuck your sweater in from the front.