Best Gender Reveal Outfits for Parents: Gender reveal parties have become more and more popular in the last decade and we are totally here for it! It's such a fun, celebratory way to recognize the new little life that is soon to make an appearance, and it's a great way for family and friends to bond and dream about the little boy or girl that is coming.
But whether you are throwing a virtual Zoom event from your living room, inviting family over to your backyard, or simply doing a photoshoot and posting it online for friends to see, having a gender reveal outfit is a must. You can go super neutral or opt for a traditional blue or pink theme, depending on your guess of the baby's gender. If you are having a party, you can invite your guests to dress in the color corresponding with what they think the baby will be.
The fun doesn't stop and there are so many ways you can enjoy this event, whether you are finding out for the first time yourself or sharing it with friends and family. Keep reading to discover the best gender reveal outfits for parents to wear in 2021!
Gender Reveal Outfit Ideas for Parents
While not every parent decides to find out the gender of their baby before birth, those that do find it's a lot easier to plan and prepare for baby, now that they know what type of clothing they'll need and what type of decor they want to do up their nursery in. (If they are creating one, that is!) Family and friends will also enjoy knowing as it will make gift-giving and event planning a lot easier! Hence: the ever-more popular gender reveal party where everyone finds out together and celebrates.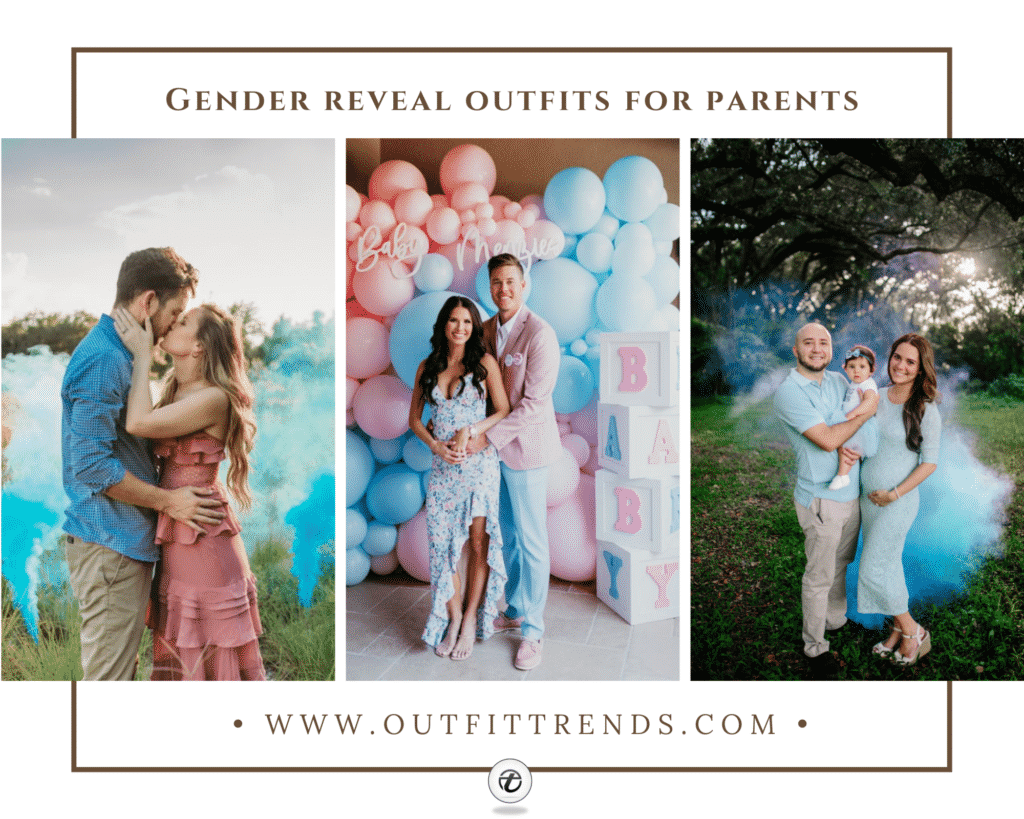 Ideas for What to Wear to Your Gender Reveal Party
Here are a few ideas for parents on what to wear to your own baby's gender reveal party, whether it's a virtual event, a family bash, or simply a photoshoot you plan to share.
If Dad thinks the little one is going to be a boy, he can wear all blue or a blue-based outfit like a blue polo and jeans. The same applies if he thinks it's going to be a girl: he can wear a pink tee with khaki shorts or slacks.
If Mama thinks it's a boy, she can wear a blue dress or a jumper. If she thinks it's a girl, she can wear all pink, or incorporate pink into her look.
If Mom and Dad have no idea and want to give equal halves of their outfits, both can wear different combinations of blue and pink. Mom can wear a tie-dye dress or a dress that has both blue and pink in it. Dad can wear a striped shirt or choose one of the colors while Mom reps both colors.
If Mom and Dad have the same idea about their baby's gender, they can wear matching outfits of some type, whether that's a blue dress on Mama and a blue shirt on Dad or some cute matching pink tees. This will depend on your personality types and what you personally think is cute and how you want to remember the day.
If you aren't a fan of the traditional color scheme, you can both choose to wear neutral colors or tones and leave the gender-guessing to your friends. Or you can incorporate fun accessories to play around with, take pictures in, and simply laugh about like funky blue or pink sunglasses! This can make for fun pictures with guests as well.
If perhaps you already know the sex of the baby and you simply want to look nice in pictures, you can choose to wear semi-casual outfits that will photograph well and bypass all the color craziness in favor of flattering shots.
Finally, you will want to feel confident and happy with your outfit regardless so that you can focus on the day and the memories you are making. The day isn't really about the clothing you wear, so don't stress about it. Wear something you both will feel great in and those smiles are sure to translate when you take videos or pictures!
Now, let us look at some outfits that will hopefully inspire both moms and dads and give you ample ideas on what to wear for your own gender-reveal experience.
Recommended: 48 Beautiful Gender Reveal Outfits for Guests to Wear
↓ 15 – Dark Pink Loose Dress for Mama
The color pink comes in a range of shades so don't feel like you are stuck with cotton candy baby pink. This loose-fitting dress is such a great option, particularly if you loathe the idea of stuffing yourself into a pair of jeans or leggings and just want room to breathe. Plus, it's perfect for spring and summer. You can wear this style of dress with flat sandals.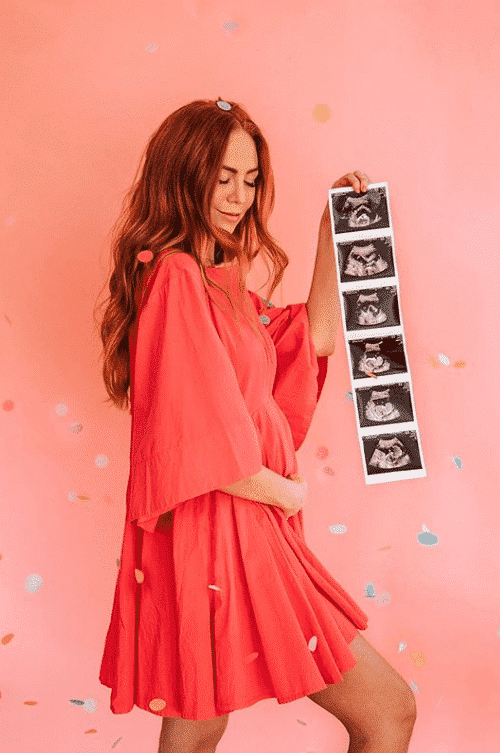 ↓ 14 – Gender Reveal Outfit for Mom and Dad
In the flurry of baby announcements, showers, and gender reveals, dads can sometimes get lost in the shuffle. Getting your guy in on the fun of dressing up and guessing the baby's gender is a nice way to help him feel included. Here is a lovely option both for Mama and Papa where the guy wears blue (dress shirt and chinos) and the gal wears a pink, ruffled dress.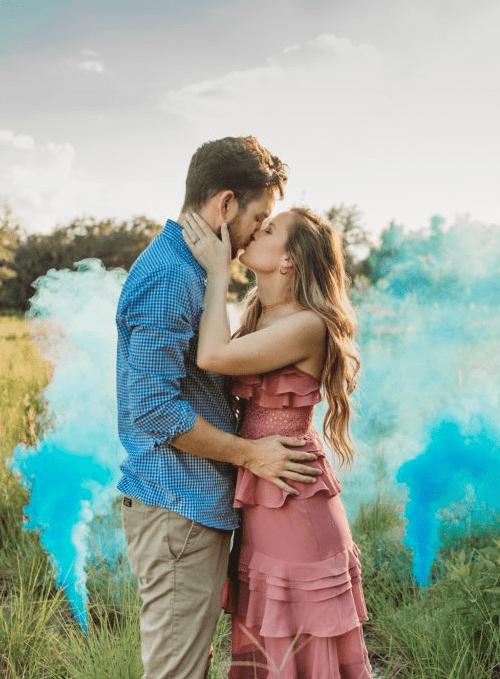 ↓ 13 – White and Pink Outfits for Both Parents
If you are posting a picture online to announce the sex of your baby (and your guy is just not loving the matching pink tees idea), keep it simple by dressing all in one color (white is neutral and great for summer) and adding a pink accessory or bringing pink into the outfit in another way. (Or blue, depending on what you are announcing!)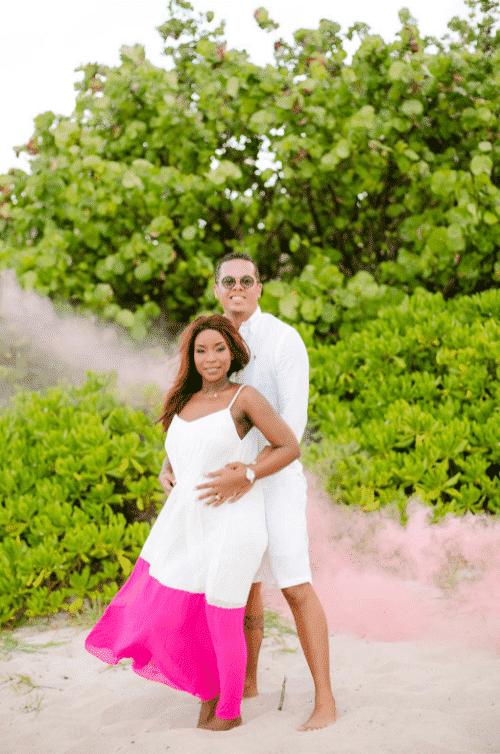 ↓ 12 – Accessories for Expecting Mother
Accessories are another fun way you can dress up and have fun with your gender reveal look. As aforementioned, you can get really goofy with them (glittery hats, funky sunglasses, colorful feather boas, etc.) or you can simply accessorize your chosen outfit, like with a pretty headband, some statement earrings, a wide-brimmed hat, or a beautiful piece of jewelry.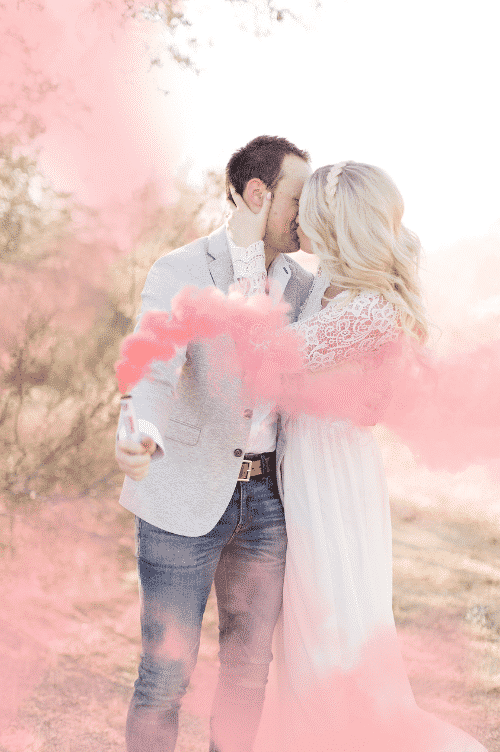 ↓ 11 – Matching Gender Reveal Outfit for Family
If you and your guy (or you, your guy, and other kids) want to wear matching outfits for your gender reveal, don't think you are stuck wearing identical tees or anything like that. Simply keeping your outfits all one color (monochrome, anybody?) will match enough. Stick to one shade or very similar shades and each party can wear what they like and still appear matching.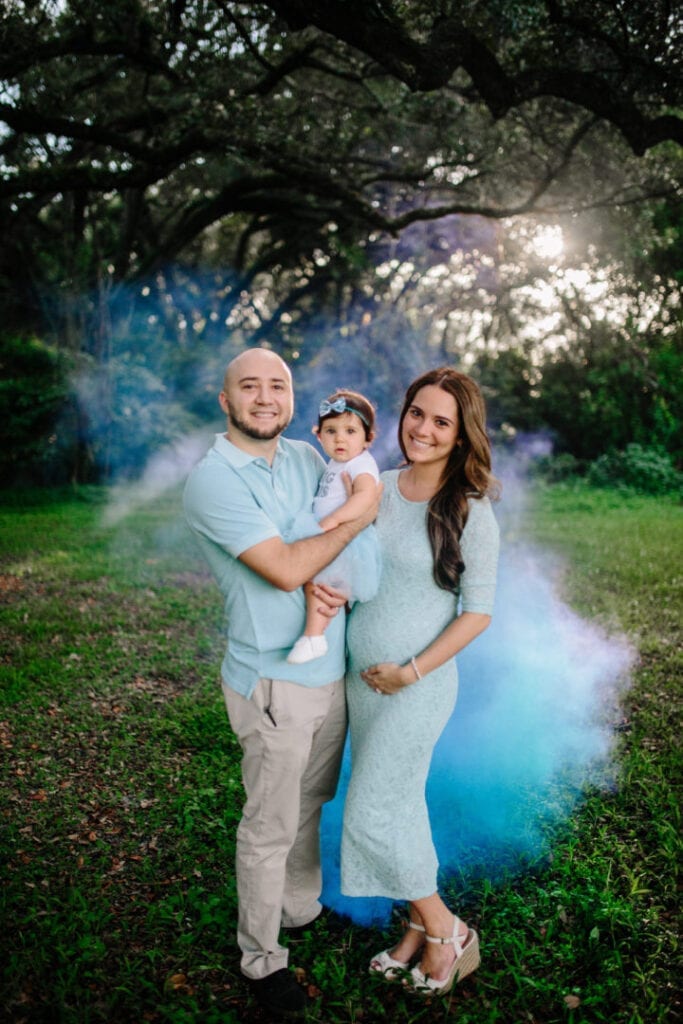 ↓ 10 – Gender Reveal Outfit for Dad
Depending on the weather, plus whether you will be indoors or outdoors, what Papa wears for the big day can vary but not so much that it should be an issue. Don't stress: some nice slacks or jeans are just fine, paired with a button-down shirt or a nice long-sleeved top.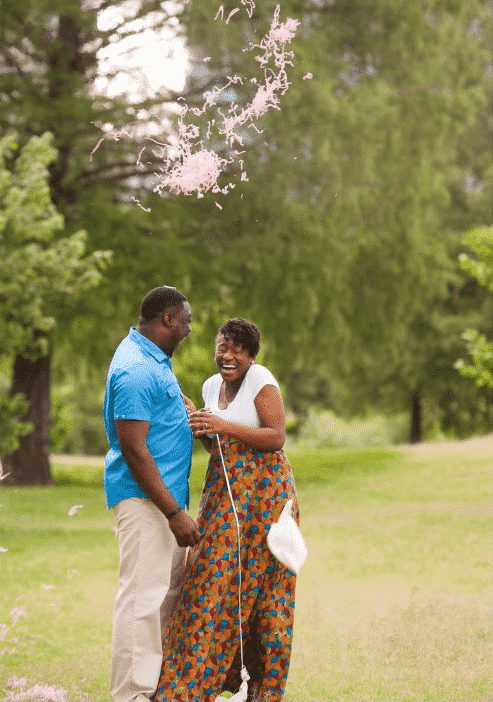 ↓ 9 – Outfits for a Family Photoshoot
If you are announcing your baby's gender with a family photoshoot, dressing all in one color is obviously a fun way to do it. Little kiddos will love matching with Mama and Dad, and it can be a really lovely, memorable experience. Plus, you will have the nicest photos to share online or add to your photo albums.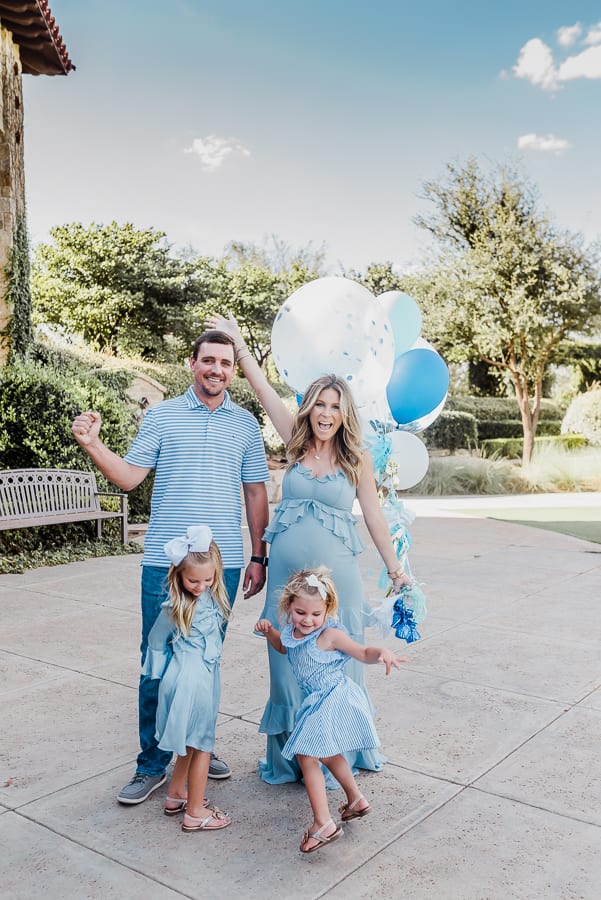 ↓ 8 – How to Wear Casual and Cute Outfit on Gender Reveals?
While many couples go all out for their announcement and gender reveal photos, keeping it casual is perfectly okay and will definitely take some excess stress out of the experience for you. We love this simple white summer dress for her, and this simple but neat polo and shorts combo for him.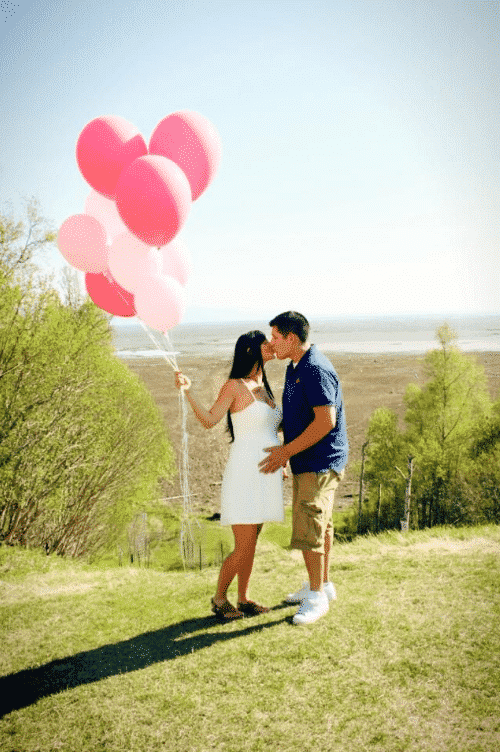 ↓ 7 – For Plus Size Women
A maxi dress is a great option for ladies of all shapes and sizes. This plus-size option is great for curvier ladies as it is very flattering on all body types. A wrap style top and bow at the waist highlight all your best features.
↓ 6 – Footwear for Mama
You may or may not choose to get as dressy as this, but based on what you wear will determine how fancy a shoe you turn out. A chunky or block heel is a great option for expecting Mamas who shouldn't be teetering around on skinny stilettos. Flats, sandals, mules, and booties are all other options you might consider when putting together your outfit.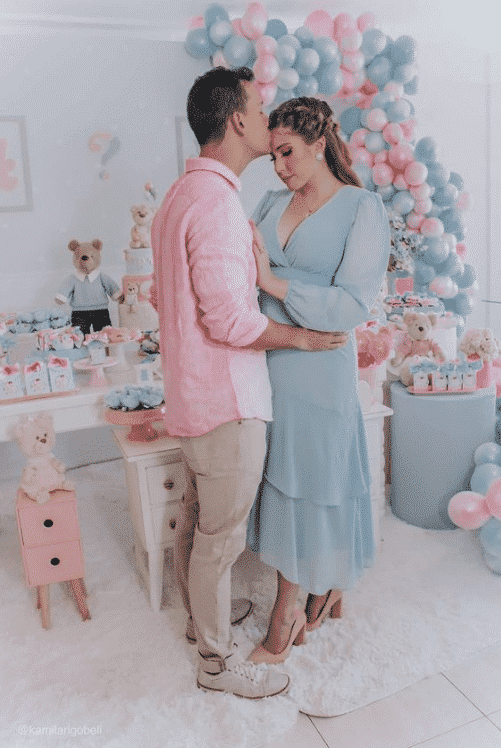 ↓ 5 – Pink & Blue Outfits for Both Parents
When you are throwing a big party to find out the gender of your baby, it follows that you can go all out with your outfits. This floral blue and pink dress with a ruffled hem is the perfect thing for the mama-to-be and a nice pale pink jacket with blue slacks is both festive and cute for papa. Also, have a look at 15 Best Baby Shower Outfits For Family: Mom, Dad & Kids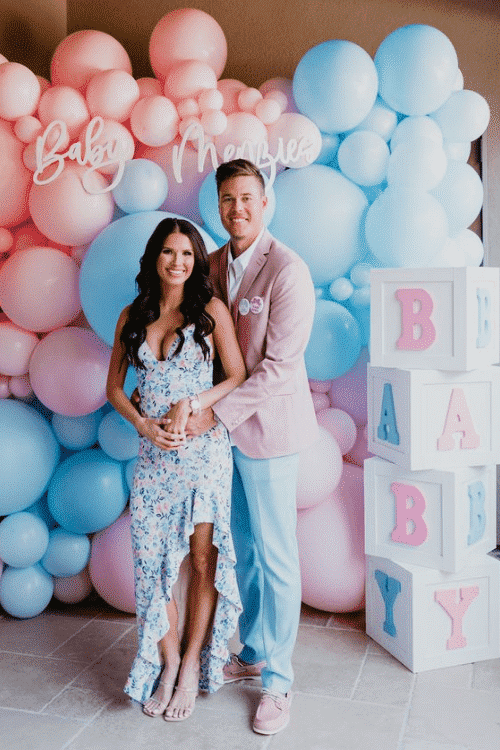 ↓ 4 – Gender Reveal Outfits for Mom
Dresses are a popular option for expecting mamas as they are one-and-done outfits that are universally flattering as well as feminine. A flowing maxi dress fits the bill most beautifully. Choosing one that features some ruffles or lace will add that extra bit of special that will make the dress seem unforgettable.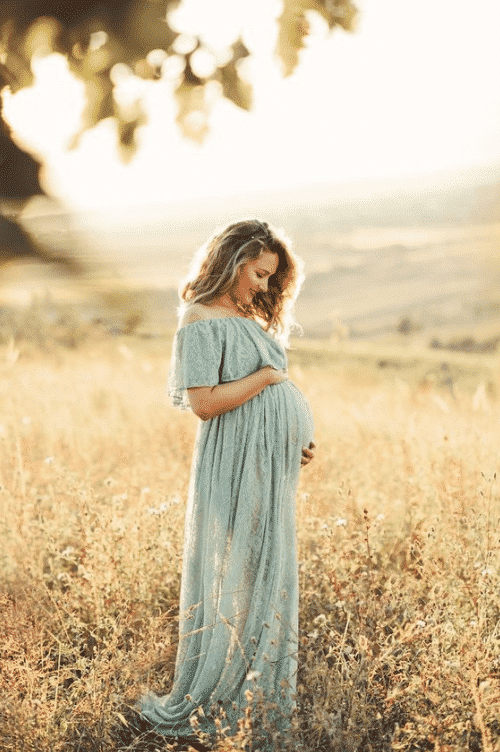 With this half-pink, half-blue dress gender reveals just got that much more exciting.
↓ 3 – Blue and Yellow for Him and Her
If you are one of those couples that aren't overly interested in doing the traditional blue-and-pink thing, you might like what this couple chose to do. He went for a light blue dress shirt with chinos and she went for a mustard yellow, off-shoulder maxi dress. Both look lovely and understated, which can be very refreshing. Also, have a look at 27 Comfortable Summer Baby Shower Outfits For Mommy & Guests.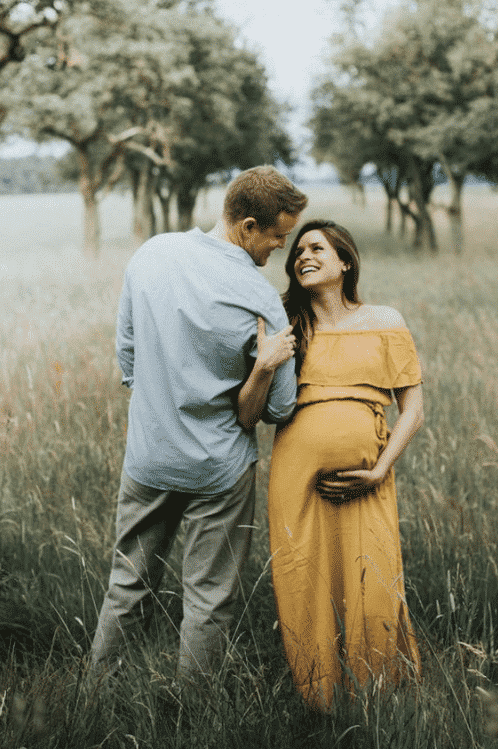 ↓ 2 – Babydoll Pink Dress
Another fantastic option for a mama during the summer is a short babydoll dress. This flattering and comfy option will have you feeling light, breezy, and beautiful, whether you opt for a pink dress, a blue one, or one in a totally different color.
↓ 1 -When to Wear Neutral Colours for Gender Reveals?
If autumn has rolled around and you aren't in the mood for bright pinks or blues, go for a neutral scheme of colors, letting your guy keep it casual in a white tee and gray chinos. You can add a wide-brimmed hat to your floral maxi dress and wear sandals, flats, or little booties, depending on the weather!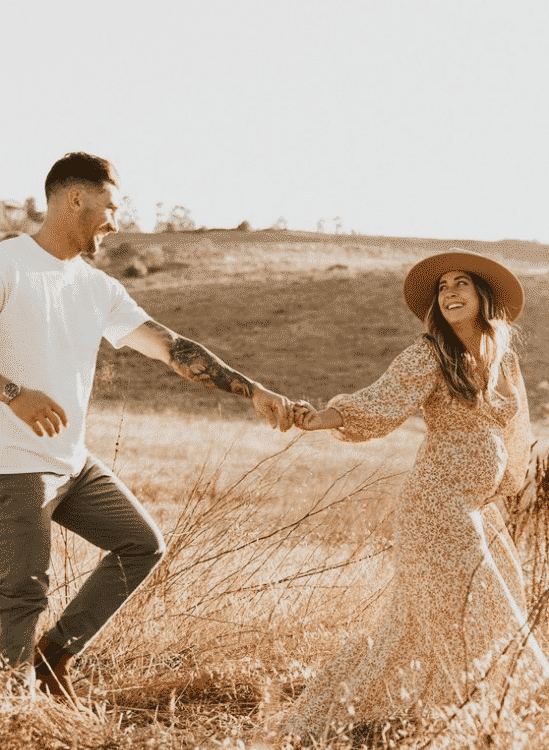 Frequently Asked Questions
Here are some frequently asked questions about gender reveals and what to wear to them.
Q. What color should I wear for my gender reveal?
A. The traditional colors associated with boys and girls are, quite obviously, blue and pink respectively. A common neutral color is yellow. So you can choose to wear any combination of these that you please – if you are keeping it traditional, that is. If not, the world is your oyster and you can wear any color in any form that you like.
Q. How to dress for gender reveal party?
A. A gender reveal party is just that: a party. And it's similar to a baby shower or any other family and friends-based event where you will probably wind up taking pictures and, if you are the parent, being the center of attention. For women, wearing a dress that accommodates the bump and that you feel comfortable in is a great option. For men, wearing a nice button-down, a new tee-shirt, or a chic polo are all great options. These you can pair with jeans, slacks, or trousers.
Ladies, if you are just not feeling a dress, a matching outfit of top and pants, a jumper, or a simple top with leggings are all alternative options. How dressed up you get is up to you, so wear what you feel great in and just plan on having an enjoyable time.
Q. What to wear to a gender reveal party as a guest?
A. If you are headed to the gender reveal party of a friend or family member, you can wear an outfit themed around what you think the baby will be. Or you can go neutral, simply dressing as you would for a baby shower.
For ladies, again, this can mean a dress. It can mean a matching set, or jeans and a blouse, or a casual pantsuit. For guys, this can mean a nice button-down, a long-sleeved shirt with jeans, or a polo with slacks. Try not to show up in shorts and Crocs. You will most likely wind up taking pictures and your friends/family will appreciate the extra effort you put into your appearance!
We hope you found this article helpful and that you are able to get some clear ideas from the tips and pictures we shared. Let us know in the comments what you will be wearing for your gender reveal, we would love to know!