How To Wear Cowl Neck Tops Outfits – Cowl necks garments that have folds and drapes gathered as the neckline of the garment, just below the collarbone, creating a nonchalantly unique addition to a top or a dress, more commonly made of satin. It flatters the neckline, adds a feminine touch to the garment, and adds a certain delicacy to the outfit that brings out a sophisticated look. The cowl necklines are the star of the show and they still look stunning if the top is not printed or too flashy. Initially becoming popular during the 90s, the cowl neck trend is back and better than ever, especially paired with modern fashion trends, to create fun and stylish outfits.
One of the most crucial parts of a dress or a top is the neckline: it's the make or break factor. Cowl necks are one of the most versatile necklines that work with both dresses and tops, and the best part about them is their flattering quality for all body types. Cowl neck tops are stunning pieces that can be worn as both casual and formal outfits. Cowl necks are affordable, but they make you look classy and can form outfits that look, designer.
What To Wear With Cowl Neck Tops
These tops are widely worn garments, especially due to their versatility and the variety of patterns, colors, and textures they come in. All the way from crochet tops to the classic satin tops, cowl necks can work anywhere and everywhere! For a formal occasion, a neutral-colored or pastel cowl neck top can be styled with palazzo pants or a plain, matching midi skirt. You can add a net kimono on top or even a blazer. For a vibrant and fun option, you could go with funky neon pants to really elevate the look even more. And of course, choosing your own preference of the drape is just another fun step to really make the look your very own.
Tips To Style Cowl Neck Tops
Don't layer with the wrong materials! Use a t-shirt or other thin fabrics to add layers and add dimension. Any other texturised under layer may create an overly loud look that will draw the attention away from the beautiful neckline.
Always remember, less is more! Don't layer with too many materials. For example, if you're planning on wearing a cowl neck top with a black blazer, don't add another layer underneath the top. The eye will move to too many different things in the outfit and the overall look won't be coherent.
Don't wear flashy or oversized jewellery with a cowl neck top. Keep the jewellery delicate and minimalistic, because the real showstopper is the top, and not the accessories!
Keep it simple! Don't be afraid to skip the jewellery and just add a bag as an accessory. Sometimes all the sparkle that you need is the glow of confidence on your face!
Try out new colours. Sure, nudes and pinks are great neutrals to work with and the styling options are much easier. But it's 2022 so challenge yourself becasue it's time for bold choices and vibrant colors! The styling opportunities are endless, so go big or go home.
20 – Black Top With Grey Formal Pants
This simplistic look with the black cowl neck top is an easy to put together option for any occasion. Pair a plain black cowl neck top with grey pants to create a sophisticated look with minimal effort. For a monotone look, pair the top with matching black pants, and accessories with silver jewelry to elevate the outfit even more! Black is a flattering color for all skin tones, so this is an outfit you can always count on to make you look and feel good, especially when nothing else seems to be working.
19 – Sequin Cowl Neck Top With Black Leather Pants
This silver sequinned top is perfect to wear with black leather pants to form a show-stopping party outfit, perfect for a disco party with your friends. This outfit stands to prove that you don't need to go over the top to make your outfit super flashy and complex for it to look good. The top itself is not too shiny that it becomes harsh on the eyes and it's beautifully balanced with the dull shine of the leather pants.
18 – Off-White Satin Top With A Black Satin Skirt
Cowl neck tops can be very versatile, especially as a black and white outfit. Style a white top with a flared midi skirt to create a sophisticated and minimalistic outfit. This is a combination that will suit any skin tone due to its stunning simplicity. You can dress down with plain chunky sneakers or dress up with white heels and silver jewelry.
17 – Gold Top With Distressed Denim And Nude Heels
Here's a casual daytime outfit: a nude cowl neck top, paired with light wash raw hemmed jeans. It's perfect for lunch dates and days when you want to feel comfortable but also want to look effortlessly chic at the same time. Tied with a petite designer bag, you have a fashionable fit that you can most definitely spend all day in, whilst looking your absolute best! To make it formal, you could switch out the jeans for dark brown pants.
16 – With A Kimono And Denim Shorts
Nude cowl neck tops have endless styling potential. A cute summer look would be to pair the cowl neck top with light wash denim shorts, and a white laced net kimono on top. It's the perfect outfit for a summer day at the beach and will look great with sunglasses and a beige hat as accessories.
15 – Geometric Design With Blue Flared Jeans
Here is a colorful cowl neck top printed with beautiful geometric patterns. Paired with blue flared jeans, it's a whimsical yet cute outfit to wear for a fun summer pool party. Spice it up with sunglasses and silver hoops and you're good to go!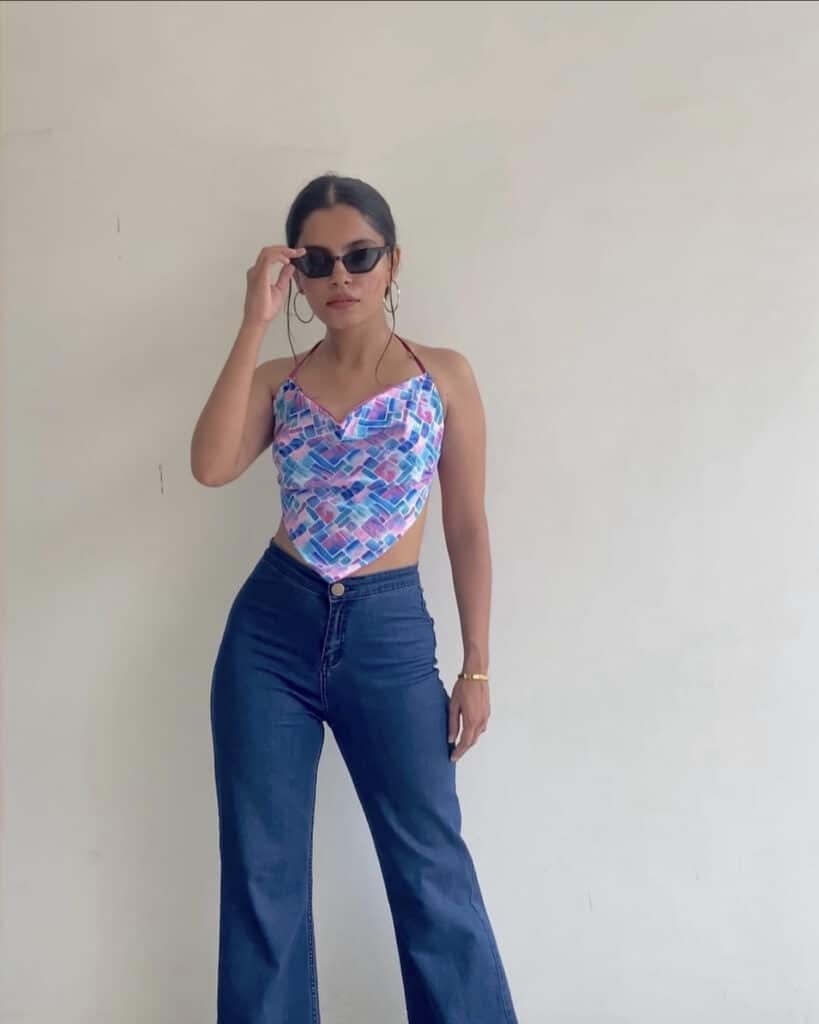 14 – Crochet Tops With Ripped Denim
Crochet tops are so trendy and unique and come in thousands of different colors. They are fun and whimsical and eye-catching. Mixing cowl necklines with crochet brings us the crochet cowl neck top. This adorable top is cute and colorful, and an effortlessly casual outfit with light jeans.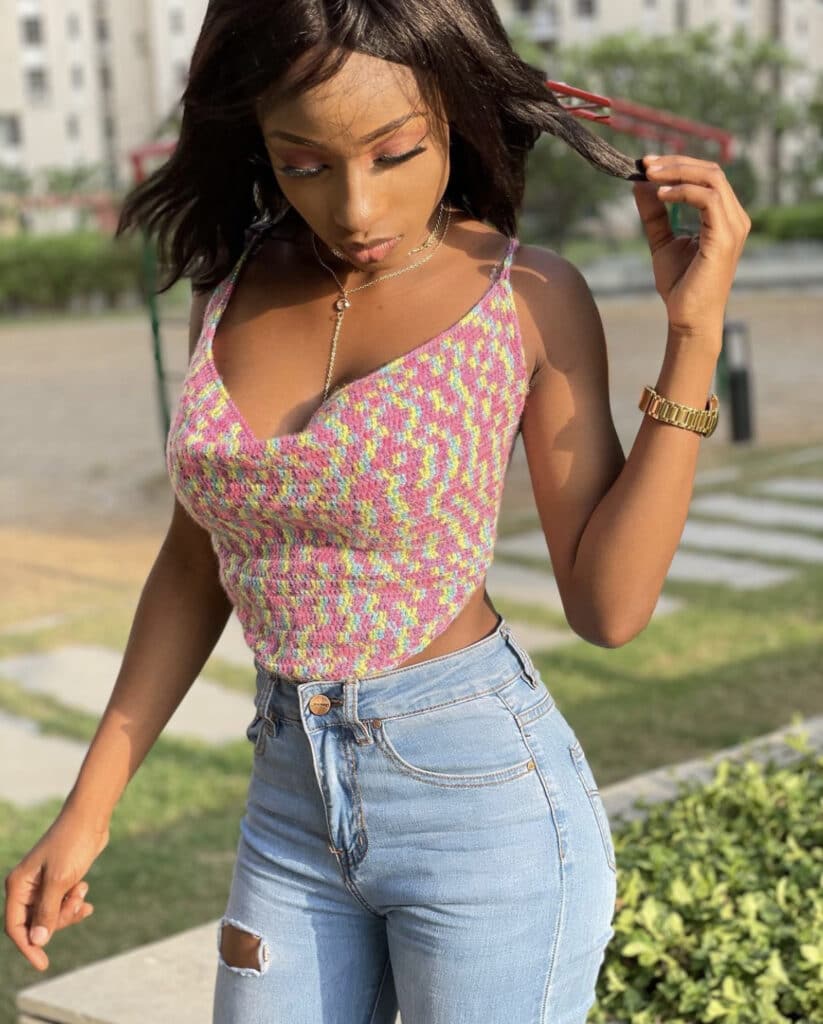 13 – Cheetah Print With Shorts Or Jeans
Animal print is another amazing option for when you're all out of options! It's one of the classics, and it looks even better as a cowl neck top. Pair it with shorts or flare pants and you have a big and bold outfit that will not go unnoticed!
12 – Floral Top With Capris And Moccasins For A Picnic
Floral cowl neck tops are so simple, yet so cute. They will work with almost anything, be it a pair of simple jeans or a plain midi skirt. It will look good in many different combinations: certainly, a look that you can never go wrong with. Spice up the outfit by adding jewelry and it's a good option that will work for many occasions.
11 – Printed Top With Pink Jeans And Chunky Sandals
This one is for the artists out there! Display your creative persona with this colorful graphic top with artwork and vibrant pictures on it. Pair this with neon funky pants and you will give off such artistic vibes which always is a plus in social gatherings. The colors and the top can always be accentuated with jewelry and other add ons, but this outfit tells a story that needs no more additions! It's cute and youthful and will make you look and feel good too.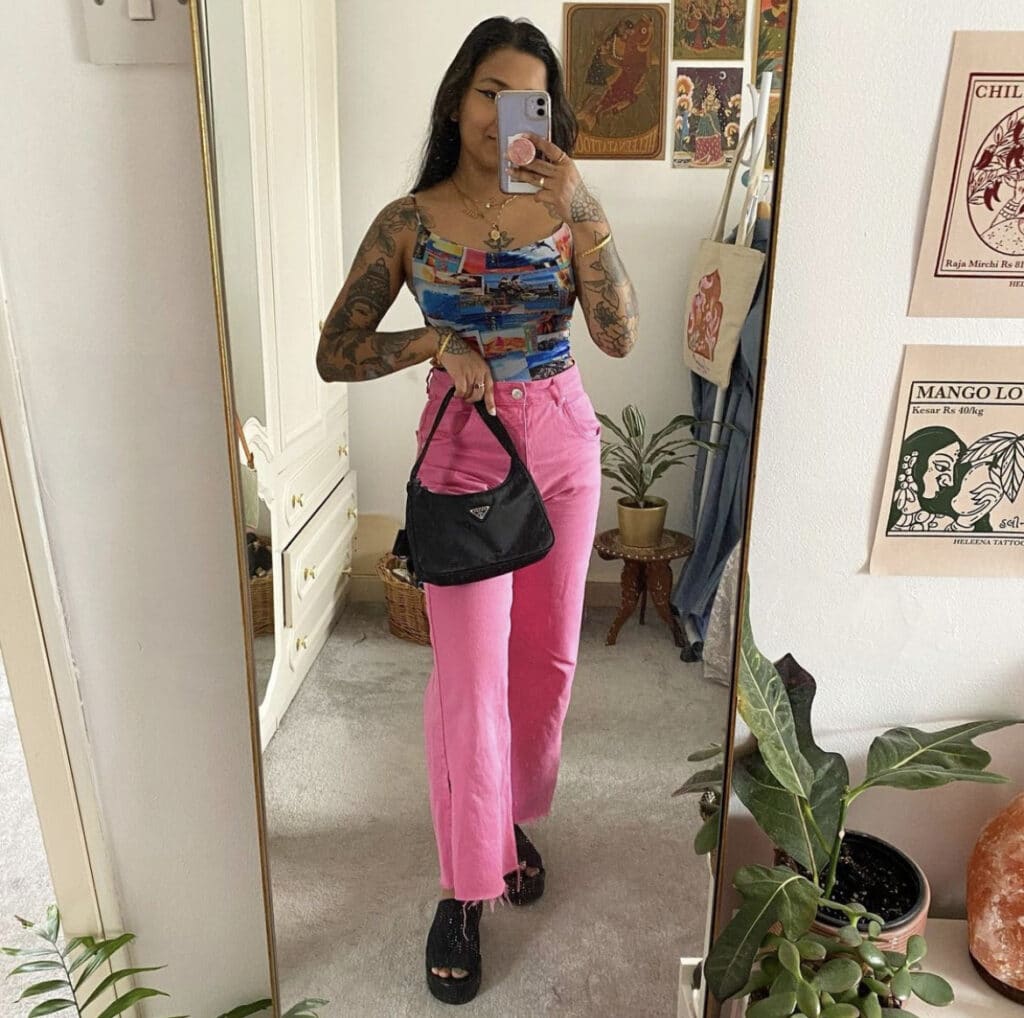 10 – Dior Print With Sage Green Jeans
This Dior cropped top is so adorable! It's a cropped top, which will look wonderful with baggy jeans, giving a flattering silhouette to your figure. The sage green pants complement the pastel colors of the top and the look is elevated even more with the addition of a cute baguette bag. It's cute and comfortable, simple yet stylish.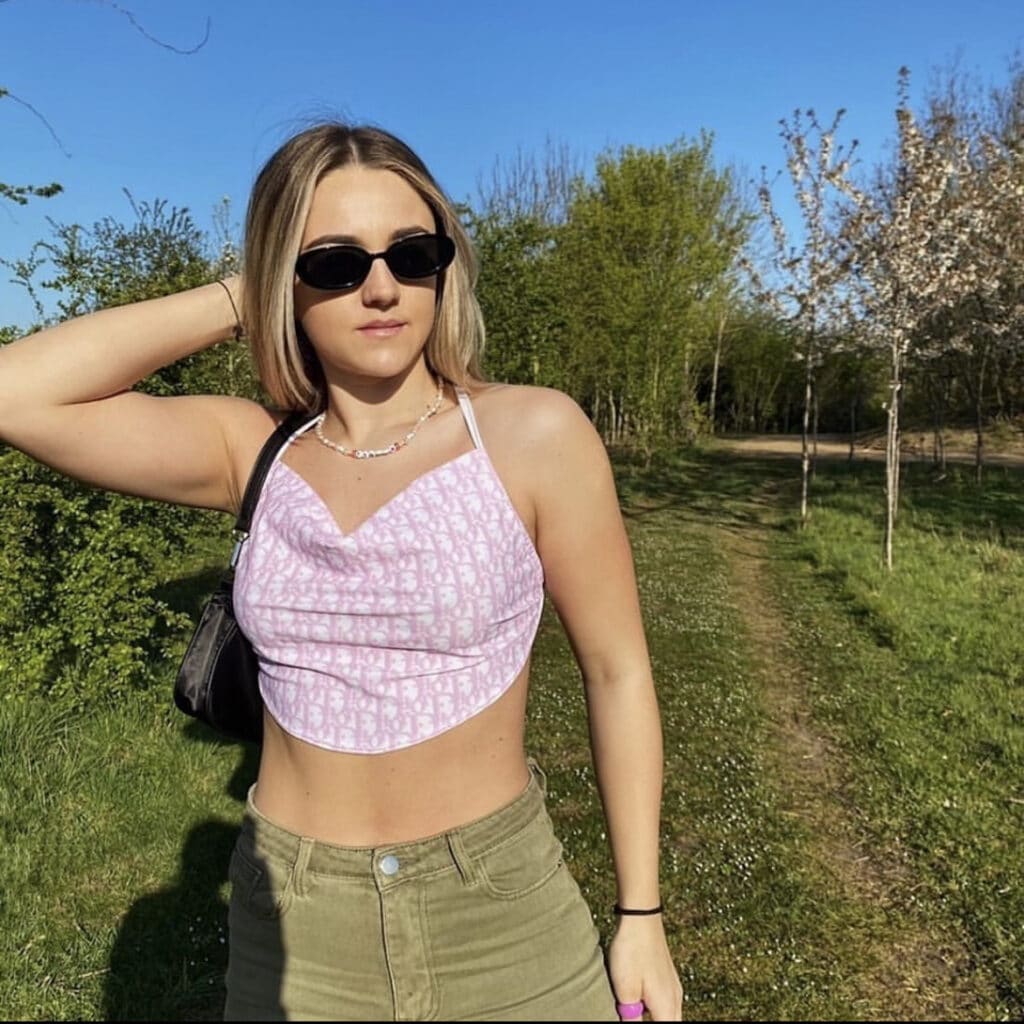 9 – Layer Cowl Neck Tops With Full Sleeved Shirts
For all the fashion fanatics who love layering: this one is for you! A silver cowl neck top will look wonderful with a plain white tee layered underneath, and topped off with layered silver chain necklaces. The possibilities are endless: match any satin cowl neck top with a plain or pastel-colored t-shirt, and you have a great outfit with so much dimension! It's also perfect for when it starts to get chilly.
8 – Plaid Blazer Paired With Rust Colored Top And Jeans
Want to make a cowl neck top formal? Wear it with a blazer and matching pants. It works for almost any formal occasion and it's completely effortless! Make it interesting by wearing a bright eye-catching colored top if you are choosing a light or plain blazer on top. Or do the opposite with a neutral top and a patterned blazer!
7 – With A Cross Body Jeweled Strap And Flared Pants
Here's a formal option. A rust top with a diamanté crossbody strap will look stunning with black flare pants. It's an effortless yet stunning outfit that you can wear on many fun party occasions. The asymmetrical neckline keeps the whole outfit interesting and the sparkle from the strap provides all the bling needed to elevate this outfit!
6 – Mix A Solid Color With A Print And Plain Heels
For a bold fashion choice, take a neon orange cowl neck top and pair it with a funky midi skirt for a colorful option. It may be a little too much for some, but it will look fun and interesting and the colors and patterns bring an energetic vibe, that will make you the life of the party! Its vibrant and fun, and is perfect for birthday parties.
5 – Go Monochromatic With Purple Hues
Monochrome looks never go wrong. This purple look is stunning, with a violet cowl neck top and a deep mauve skirt to match. You can replicate this look with varieties of different colors, especially because satin cowl neck tops look stunning with plain midi skirts. This is an outfit you can never go wrong with, it's perfect for dinner dates.
4 – Pink Top And Sweater With A White Tennis Skirt
Channel some pink energy by creating a preppy outfit with a pink cowl neck top with a white tennis skirt. Match the top with chunky pink sandals/slippers and throw on a hot pink cardigan, and you have a perfect pink outfit. Accessorize with a big pink bow and you're good to go on a cute lunch/picnic date!
3 – Gold Top With A Subtle Drape
Cowl neck tops also come with a more subtle drape revealing less skin, and this is a fine example of that. This top doesn't have spaghetti straps, which compliments the subtle drape and gives an overall flattering silhouette to the body. It's a more modest look, but a neutral version of this cowl neck top along with some beige or brown pants gives a cute light academia outfit.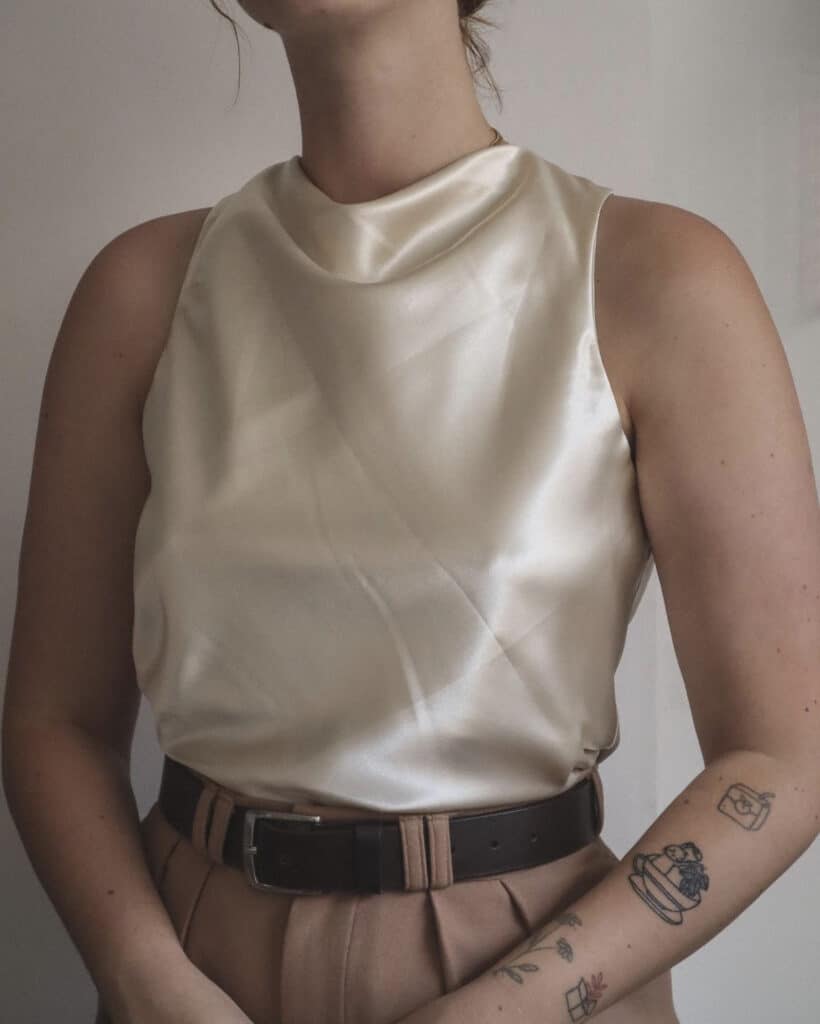 2 – Dramatic Drape In Gold With White Pants
With a dramatic drape due to its low-cut neckline, this top is everything. It's cropped, giving many styling options for it, the best one being with white high-waisted pants. The deep cut of the neckline will add more dimension to the bust and will give the illusion of a curvier figure, hence being a flattering option for all body types!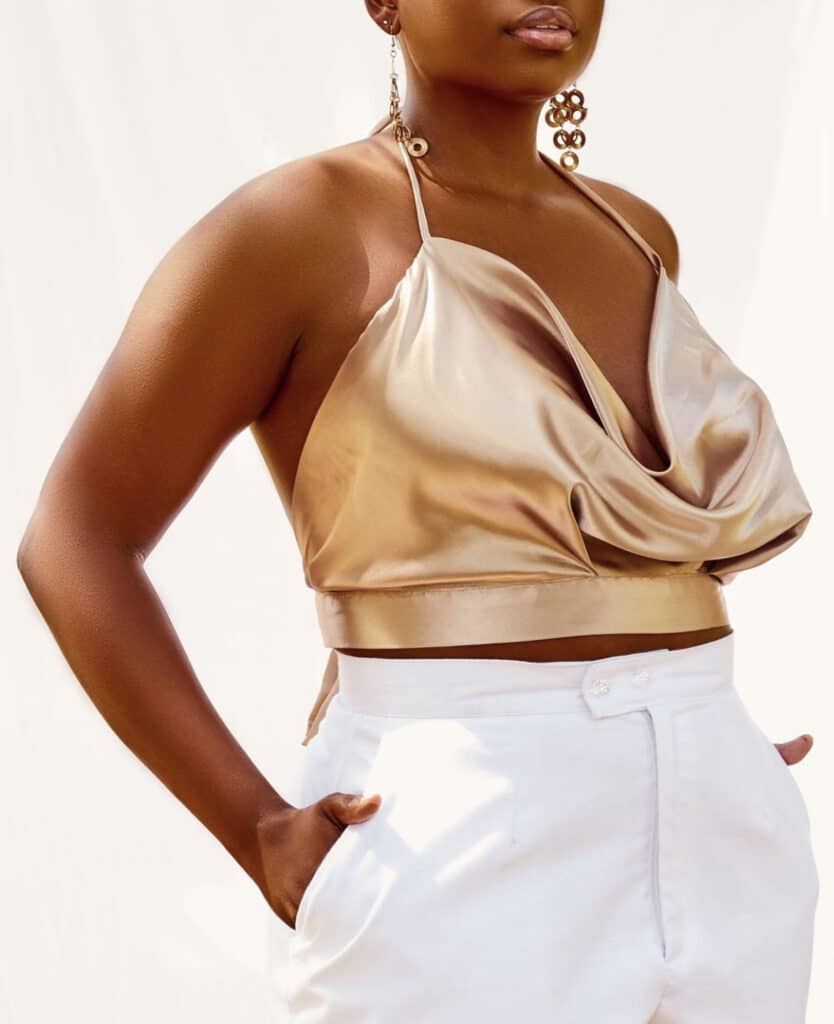 1 – Longsleeved Green Top With Black Skirt
Long sleeve cowl neck tops add a certain elegance and grace to the top, which is perfect to wear in a professional as well as a casual environment. The cowl neck is more accentuated as the eye lingers on the neckline and the fitted sleeves tie the whole top together without any need for jewelry to elevate the look.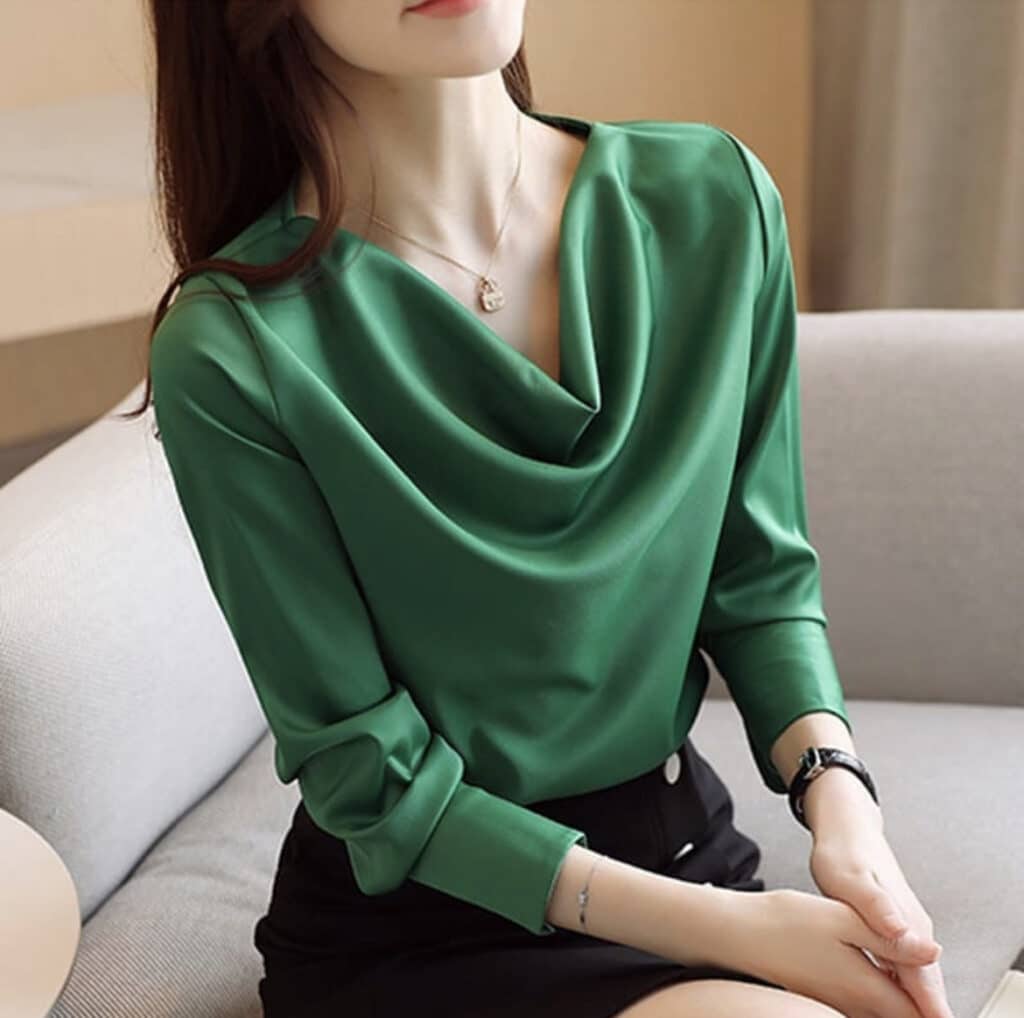 Q. How to style cowl neck tops with patterns?
Ans. It's a misconception that cowl neck tops lose their grace if they are not the monochromatic satin ones. However, there are unlimited styling options with patterned, floral, and printed ones too! You could wear jeans, midi skirts or even shorts, depending on the occasion. Patterned cowl neck tops are just as fashionable!
Q. Do I have to choose the drape on a cowl neck top according to my body type?
Ans. Not at all! Cowl neck tops are made in a way that flatters all body types because they give the illusion of lengthening your torso and adding dimension to your silhouette. So, you do not have to spend time choosing which one for any other reason besides your personal preference!
Q. How to style longsleeved cowl neck tops?
Ans. Longsleeved cowl neck tops are just as easy to style as the sleeveless ones. They can be used to create a chic and elegant outfit, which can be further accentuated by delicate minimalistic jewelry. The best part about the longsleeved ones is that you have to put it in zero effort: no need to layer and match anything!