What to Wear with a Vest. One of the best things about vests is how they can transform the look of a person completely. They are a staple clothing item in the winter. However, contrary to what most people believe, a vest made of light material can also be worn in summer!
The look is very classy and can be sported casually as well. Since it is such an important addition to one's outfit, you should be well aware of how you can rock it. Here we have compiled 25 ways you can sport a vest for any number of occasions. Check them out!
How to Style a Vest?
Here are some helpful tips that you should bear in mind when wearing a vest:
Wear a plain vest with a printed shirt and a printed one with a plain shirt. Both the garments can be plain as well.
A vest is a sleeveless upper and it should be worn with a sleeveless, full, or three-quarter sleeves shirt. Short-sleeved shirts rarely look good with vests.
Wearing baggy jeans with an oversized vest isn't a decision you should make. Only a jock can rock that look.
Make sure you don't pair colors that don't go with each other.
If wearing a puffer vest, keep the rest of your look fitted to avoid unnecessary bulk.
Without further ado, let's take a look at our 25 top picks for the best vest outfits to show you what to wear with this underrated item!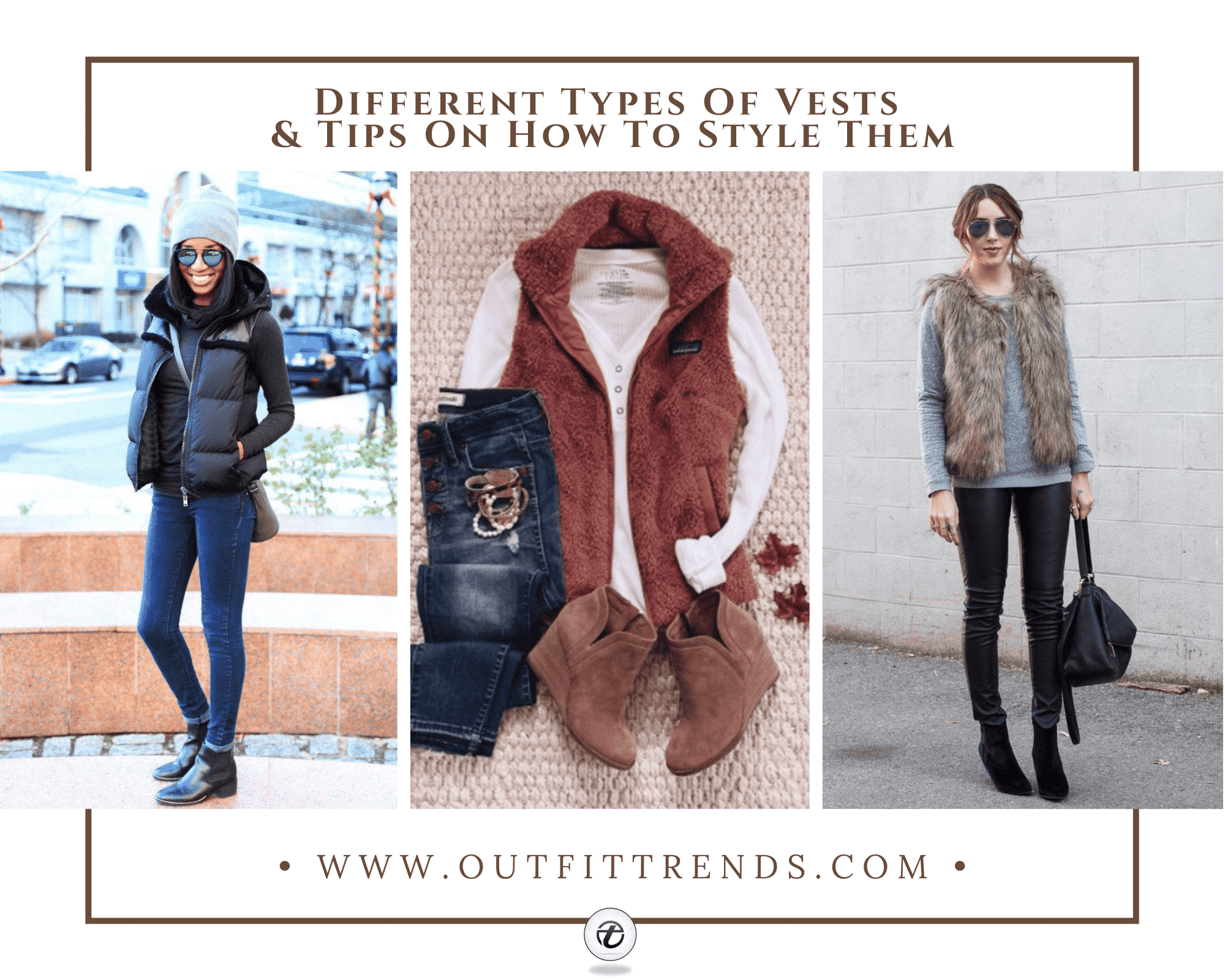 ↓ 25 – Fleece Vest & Chelsea Boots
For our first look, here's a classic vest ensemble. Whether you need a cozy but stylish fall look or a warmer winter day outfit, this pairing of fleece vest and thermal shirt will never fail you. Keep it cute by opting for a more fitted vest and make sure your thermal isn't baggy. Pair with your favorite slim-fit jeans and finish off the look with a cute Chelsea boot.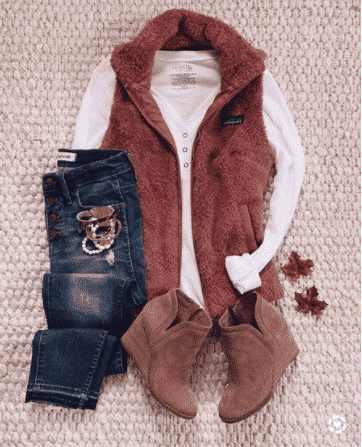 ↓ 24 – With Ruched Bodycon Dress
For the unconventional tomgirl, a utility vest over a bodycon dress is the perfect blend of street style with feminine allure! Go monochrome or spice up the look with a blue or forest green vest over a black ruched dress paired with beige or snakeskin ankle boots. Stick with a long necklace piece and add sunglasses for a finished and super sleek look.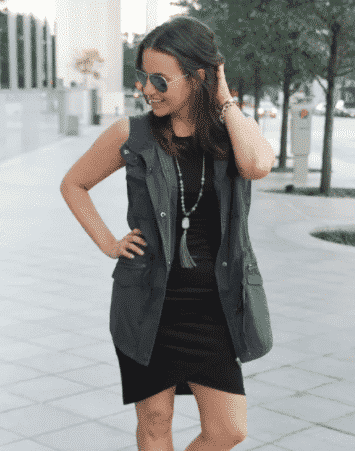 ↓ 23 – Cute Fall Outfit
You can't go wrong with checks and plaid when it comes to wearing vests. The quintessential fall look is one that includes a long-sleeved shirt and yes, a cute plaid vest. Notice the other pieces in this look are close-fitting and the vest takes center stage. Keep your accessories complimentary and go for a good fit jean to enhance your look and keep it sleek.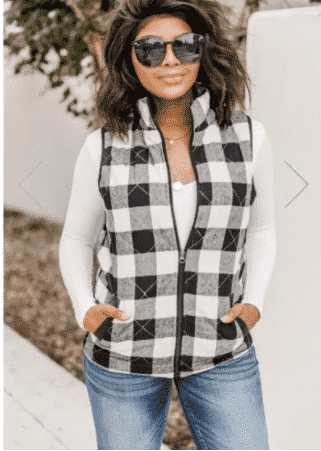 ↓ 22 – Dinner Date & Work Events
A belted vest dress is as chic as it gets! For a stunning dinner date or a semi-formal affair, give a black vest dress a try. This look is almost business-chic, so you could wear it to a work-related event as well. Be sure to accessorize with statement earrings, a cute white clutch, and beaded heels. This look conveys stylish confidence, elegance, and professionalism without sacrificing an inch of style.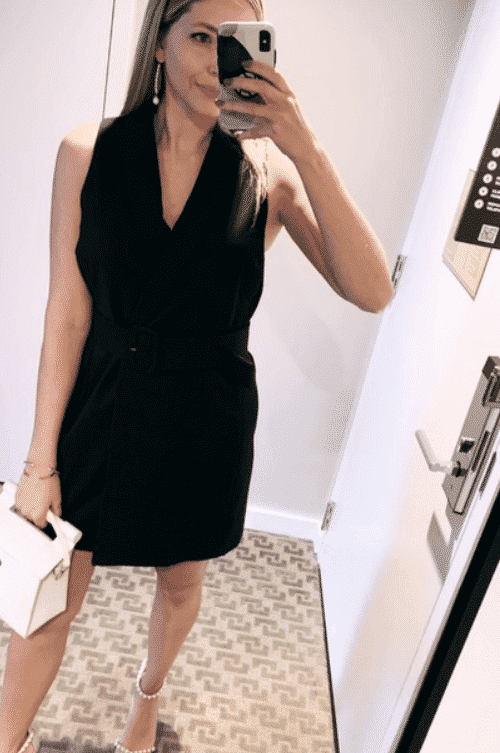 ↓ 21 – With Ripped Jeans
Who doesn't love a rocking pair of ripped skinny jeans? Well, how about pairing them with a thick white vest and black long-sleeved top for a stylish winter look you'll want to wear again and again. Keep your accessories minimal and try ankle boots or knee-high black boots to finish off this trendy and comfortable ensemble.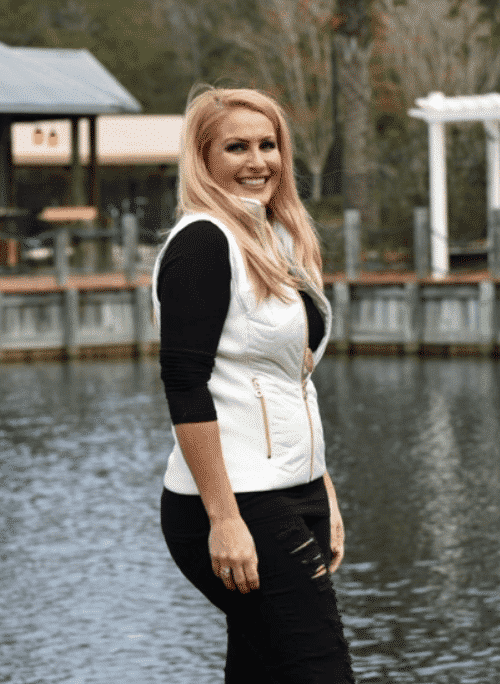 ↓ 20 – What Outfits Can Girls Wear With a Vest
There are several types of vests but if we broadly categorize them then we could say that there are vests that are worn in the cold seasons and those which are worn in summer. Vests amplify the style of apparel when they are done justice. And how can you do that? You can do that by experimenting. Vests can be worn with tees and button-downs, with skirts, palazzos, jeans, and shorts. You don't add a vest to your jumpsuit though or other such items. Because when we experiment with clothes we don't want to get TOO crazy. If you decide to wear a printed vest, try to go for a plain shirt and vice versa.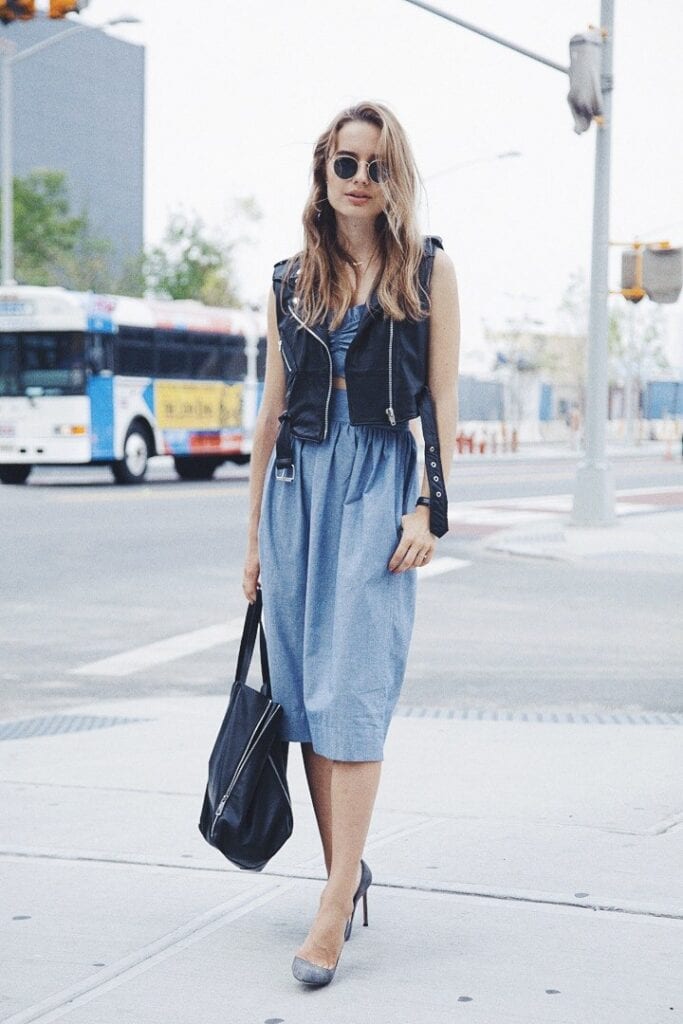 ↓ 19 – How to Wear a Puffer Vest for Plus Size Girls
Puffer Vests are perfect for colder days when you need to keep your trunk area warm and don't want a bumper jacket that covers even your arms. Puffer jackets look best with button-down shirts and jeans plus a pair of brown long boots. Here are some more ideas on styling Puffer Jackets.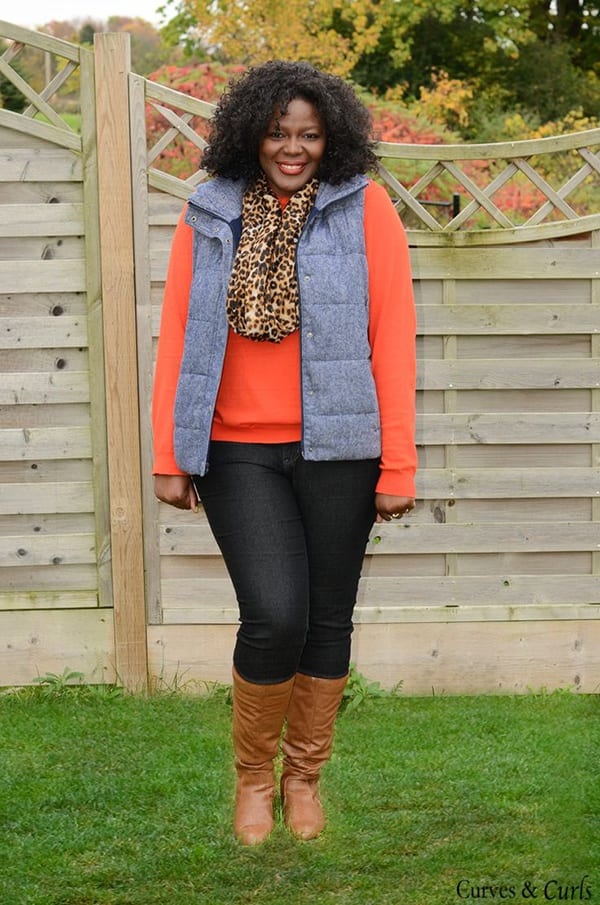 ↓ 18 – Black & White Vest Outfit Ideas
Black is a versatile color and contrasts almost every color perfectly. A black vest looks best with black or blue jeans along with a shirt of a lighter color like sky blue or tee pink. White is the typical choice but it's too common and gives a very formal look. A muffler of a different color can be added for a cool look. If you like the black leather leggings seen here then do have a look at these amazing Outfits with Black Leggings.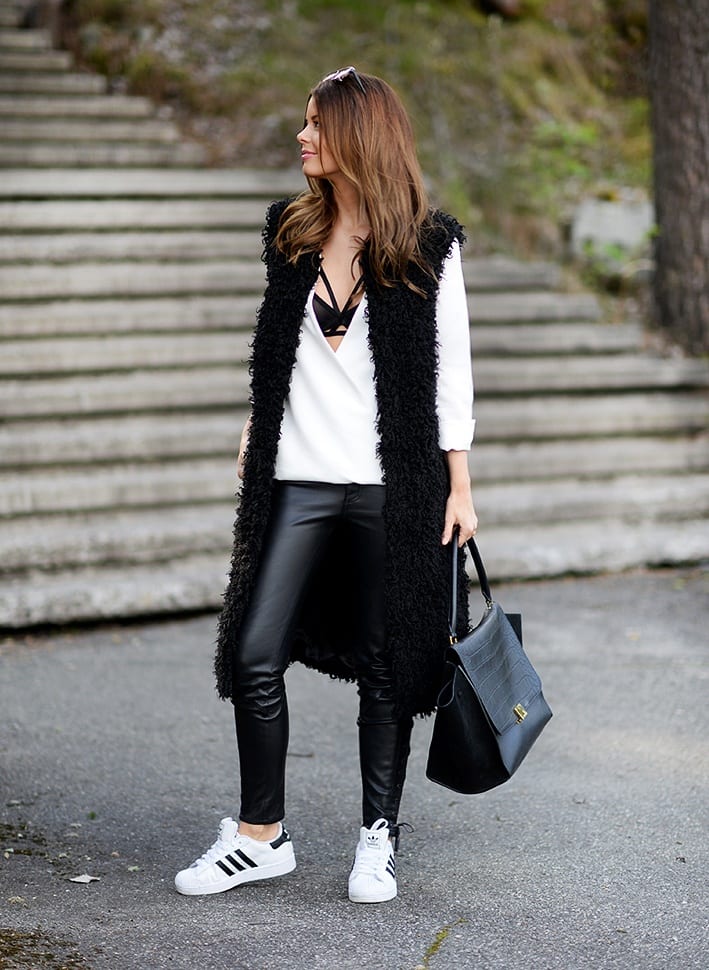 ↓ 17 – What to Wear with a Vest Jacket
Vest jackets look ultra-modern. Try pairing them with different shirts for a chic look.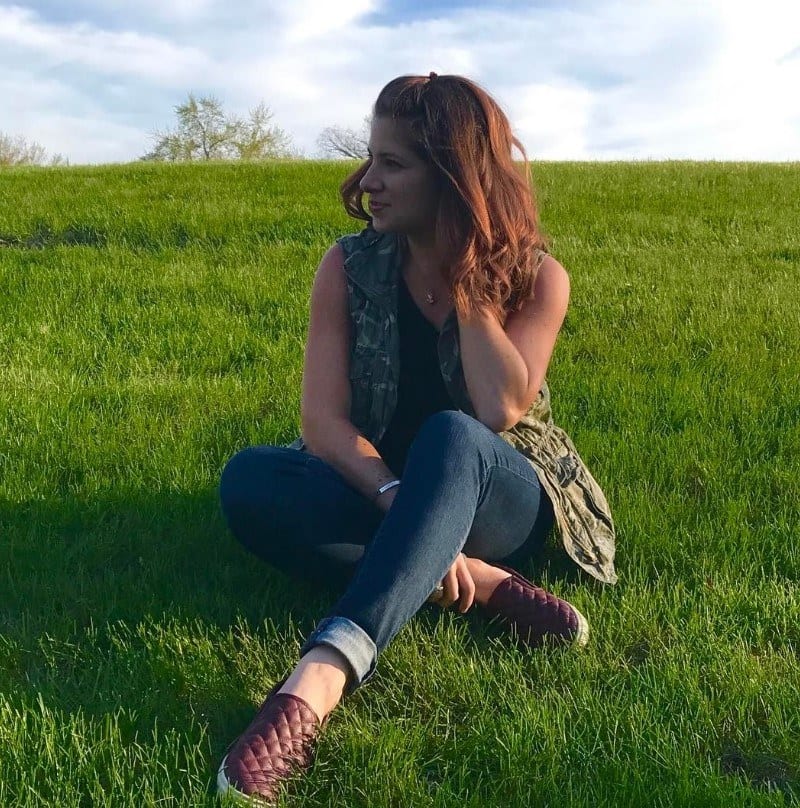 ↓ 16 – Winter Vest with Beanie Hats
Vests of thicker material are donned 0nly in winter. Not only do they make a person feel warm but they look super stunning as well. Puffer vests, quilted vests, and vests with hoods are ideal winter choices. You can layer them with other items of clothing as well. For more ideas on wearing hats, here are some great ideas on How to Wear Hats with Different Outfits.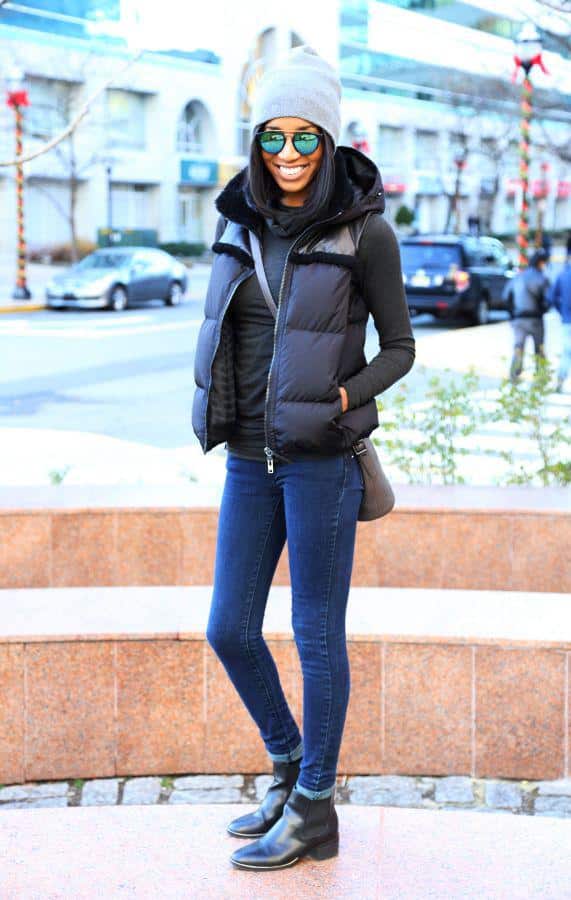 ↓ 15 – Vest with Jeans for College
Vests look very trendy with a pair of jeans, be it cropped jeans, skinny jeans, or ripped jeans. They look ideal with vests the way skirts never can.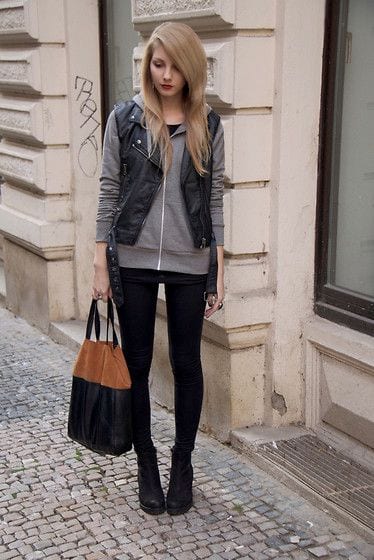 ↓ 14 – What to Wear With a Vest on Warm Days
During the summer, vests can be fashionably worn over sleeveless dresses or shirts. Floral or funky printed vests would also be a great choice. You can wear a vest jacket with a tee and jeans or pair your vest blazer with a short and chic dress. If you love wearing florals then here are the most elegant Spring Outfits With Floral Jackets. This sleeveless vest-cardigan is great for spring fashion.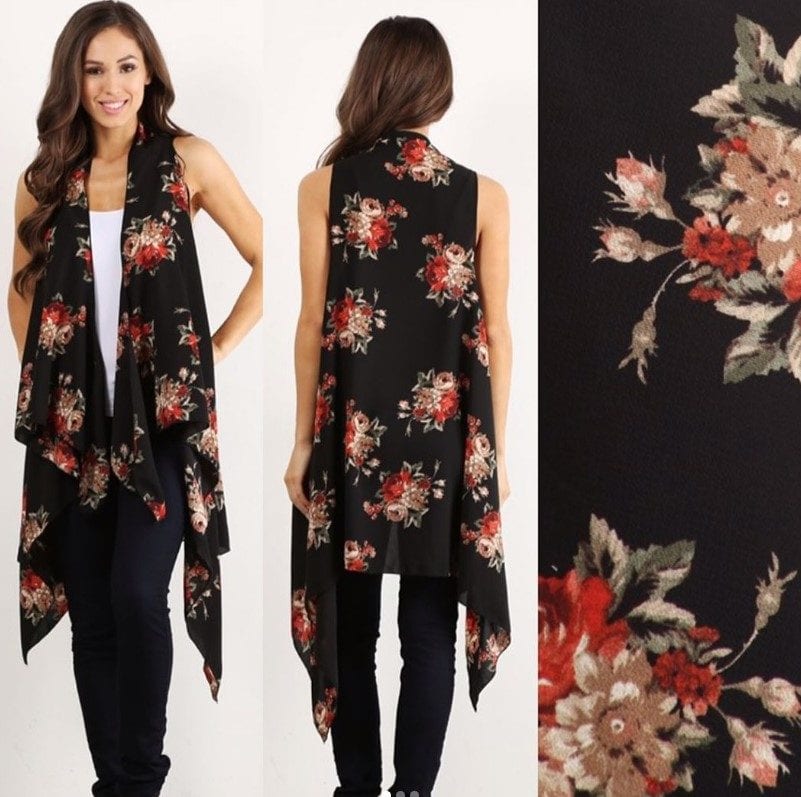 ↓ 13 – With a Dress
For a perfectly smart look, wear a long vest over your dress. It looks very elegant. You can wear stilettos, pumps, or any kind of footwear with it.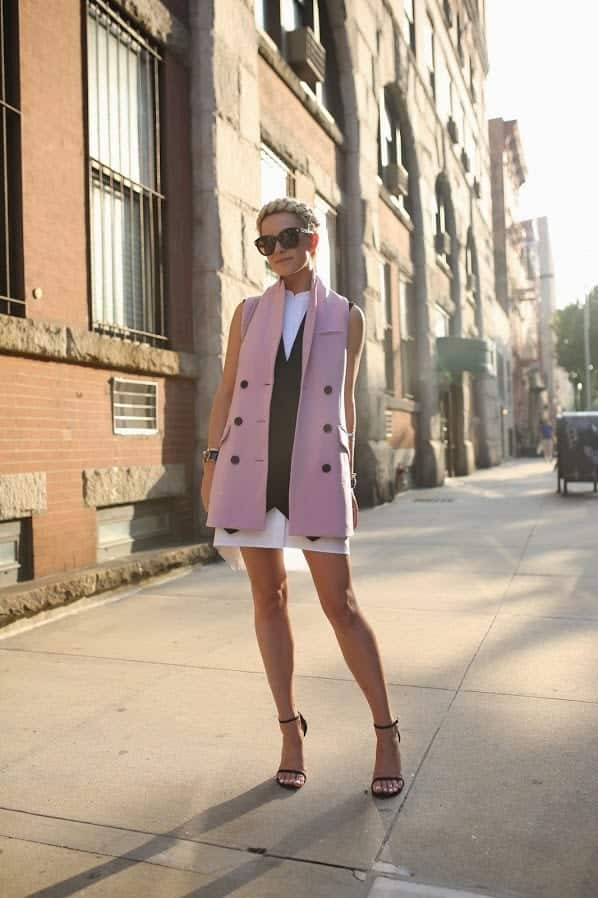 ↓ 12 – Midwestern Style
Many people mock double denim but even more embrace the style. Admittedly, it can be challenging to pull off but a denim vest, plain or striped shirt with a pair of jeans can look awesome. You can also wear a blue denim jacket with a pair of black leggings or white shorts. A denim vest will also look dashing with a pretty white dress. If you're a fan of denim then do check out these Beautiful Denim Dress to Inspire your daily Fashion.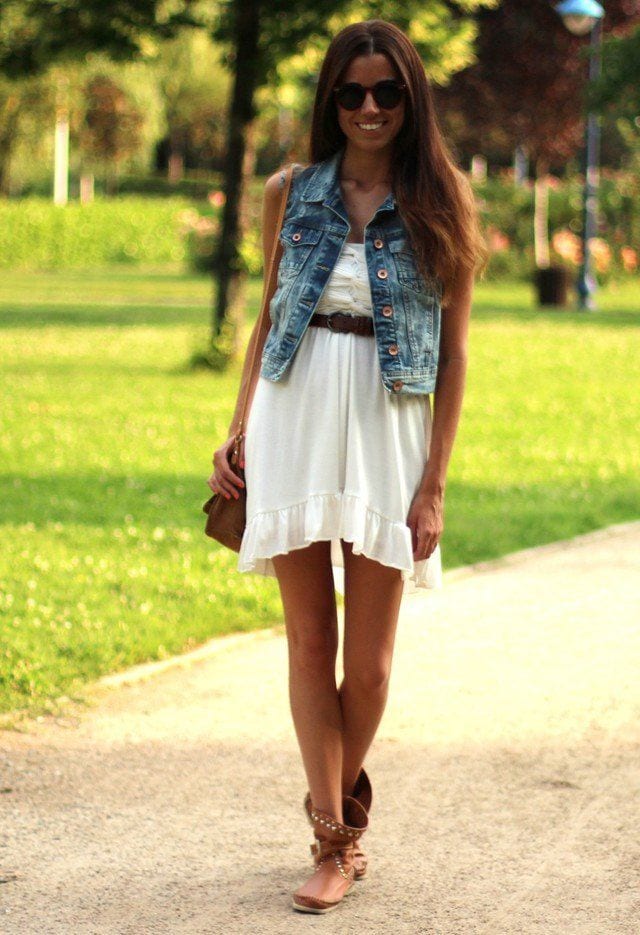 ↓ 11 – Stylish Fall Look
Fur vests can either jazz up the look or ruin it. The thing is, a poor-quality fur coat always looks bad. But a sophisticated one worn correctly can jazz up a person's appearance. Do check out these Chic Ideas On How to Wear a Fur Vest.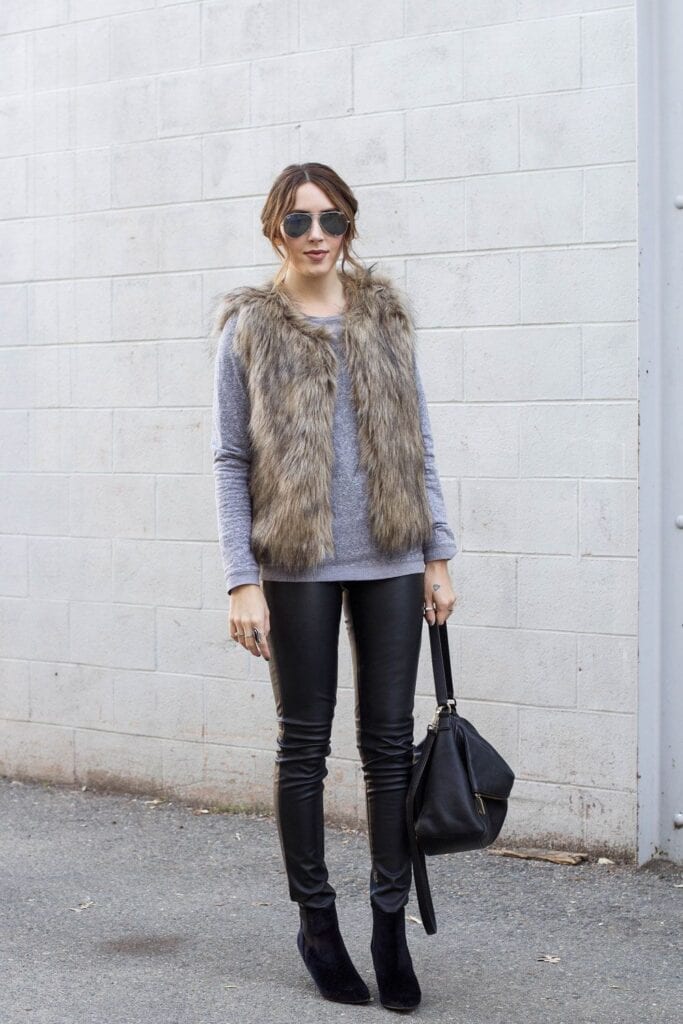 ↓ 10 – With Dress Shirt and Hat
Vests look as voguish with dress shirts as they do with tight tees. A vest worn over a button-down shirt with the sleeves folded will make for a style statement. You should also have a look at these hot and happening Shirt Dress Outfits.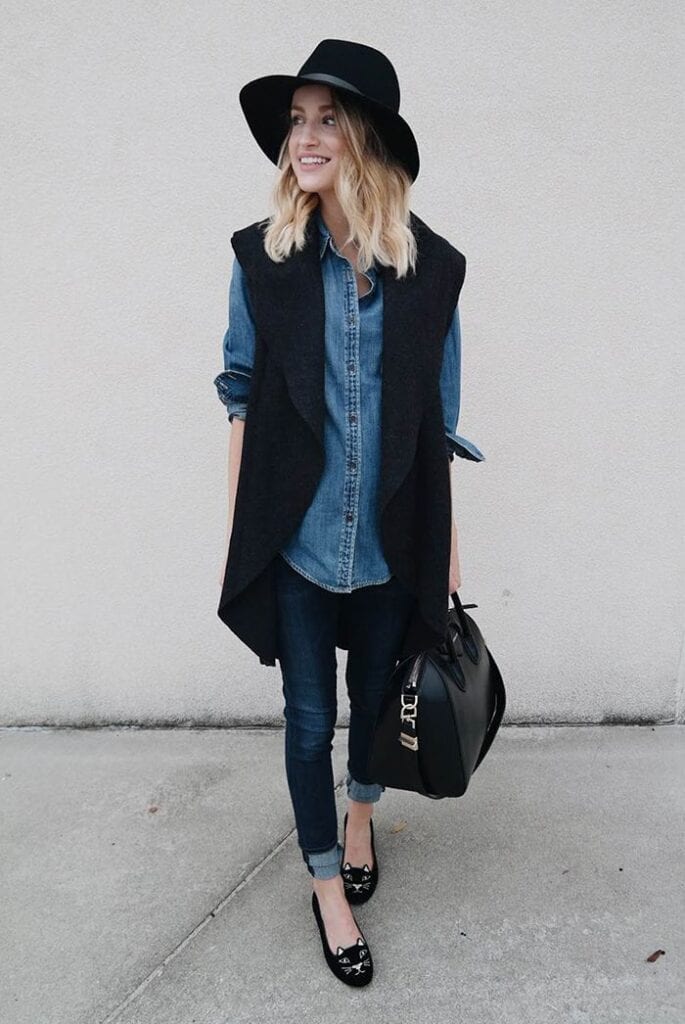 ↓ 9 – With Printed Jeans
Leather vests look fancy and modish. A full black outfit with printed skinny jeans, a loose button-down, and black leather boots is sure to look amazing!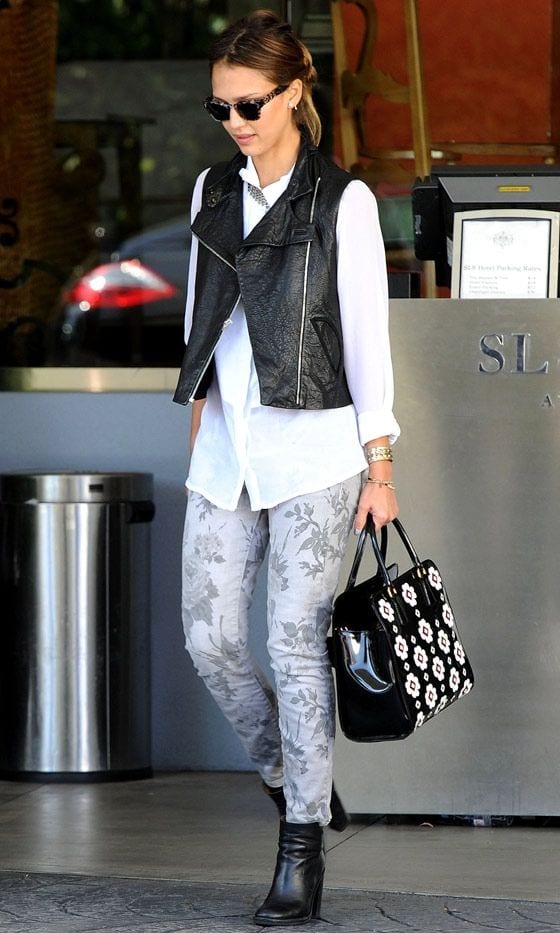 ↓ 8 – How to Wear a Vest to Work
Plaid vests can look amazing, especially for a great fall time look. Plaid is definitely the trend to go for this year, so here's a complete guide on How To Wear Plaid Coats.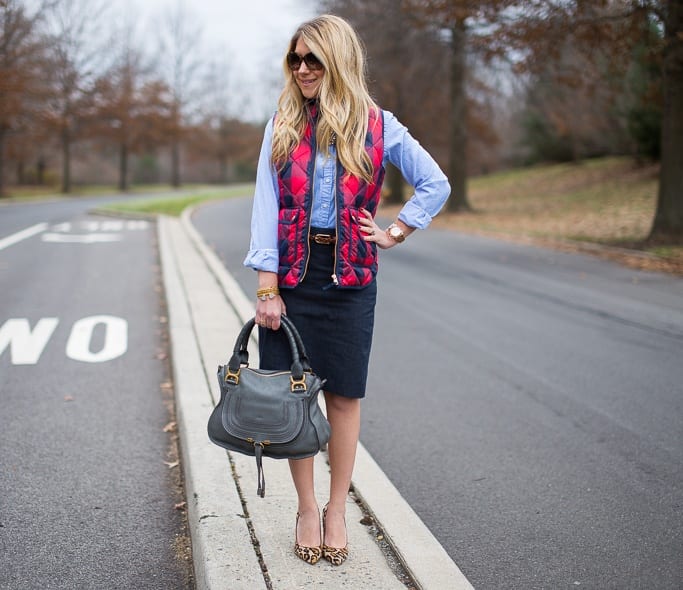 ↓ 7 – Layers for Chilly Days
Quilted vests also look stunning. They are a must-have in the winter. You can don on a vest over a woolen sweater and stay insulated as well as stylish.
↓ 6 – How to Wear a Long Sleeveless Vest
For an absolutely gorgeous and super chic look, try pairing a cool gray knee-length sleeveless vest with a white turtleneck, black satin shorts, tights, and thigh-high boots. Not only is this look stunning, but it will help seal your official status as a true fashionista. Keep your accessories super minimal, just some round sunglasses, a burgundy purse, and a leather bracelet.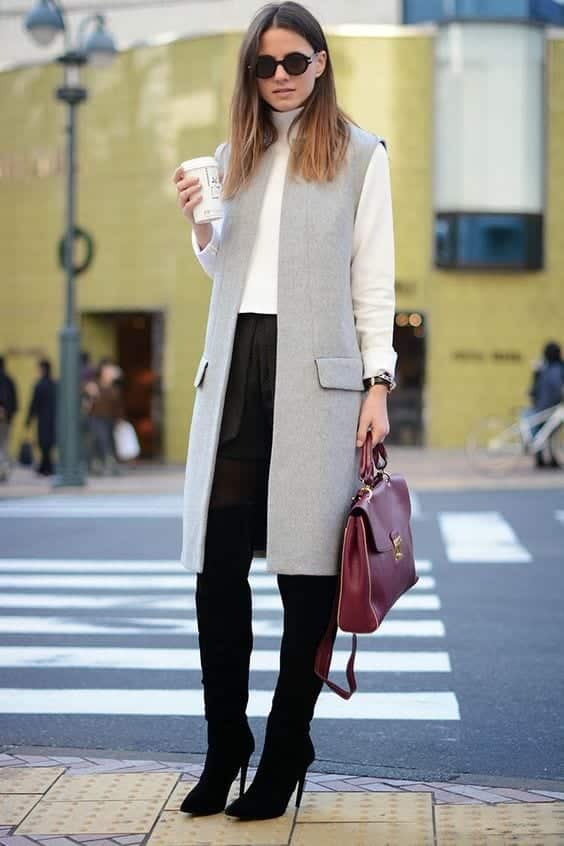 ↓ 5 – Supermodel Style Suit Vest for Work
Want to rock a business-chic look like a runway model? A vest and matching trouser look over a white button-down is supermodel approved.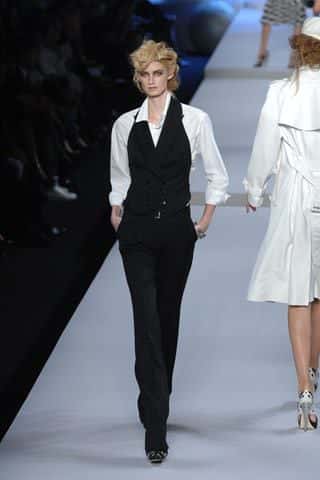 ↓ 4 – With Leggings and Sneakers
Hooded vests look very high-end when paired with jeans or leggings. With boots or sneakers worn for footwear, the overall look is hip. This is a great winter look for those less than freezing days where you can get away with leggings and sneakers!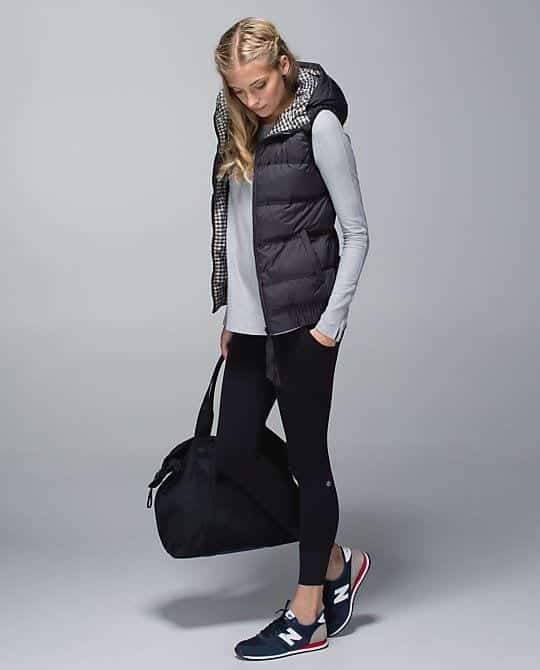 ↓ 3 – With Dress and Heels
Oversized vests look ultra-modern when the rest of the outfit is fitted or when it is gracefully draped over a beautiful dress. However, make sure the vest doesn't hang off your shoulders as that would make for a very sloppy look. This collared vest is reminiscent of a blazer and with a slightly longer dress, would even make for a great work outfit. Otherwise, you can wear this gorgeous ensemble to a lunch date or high-end event.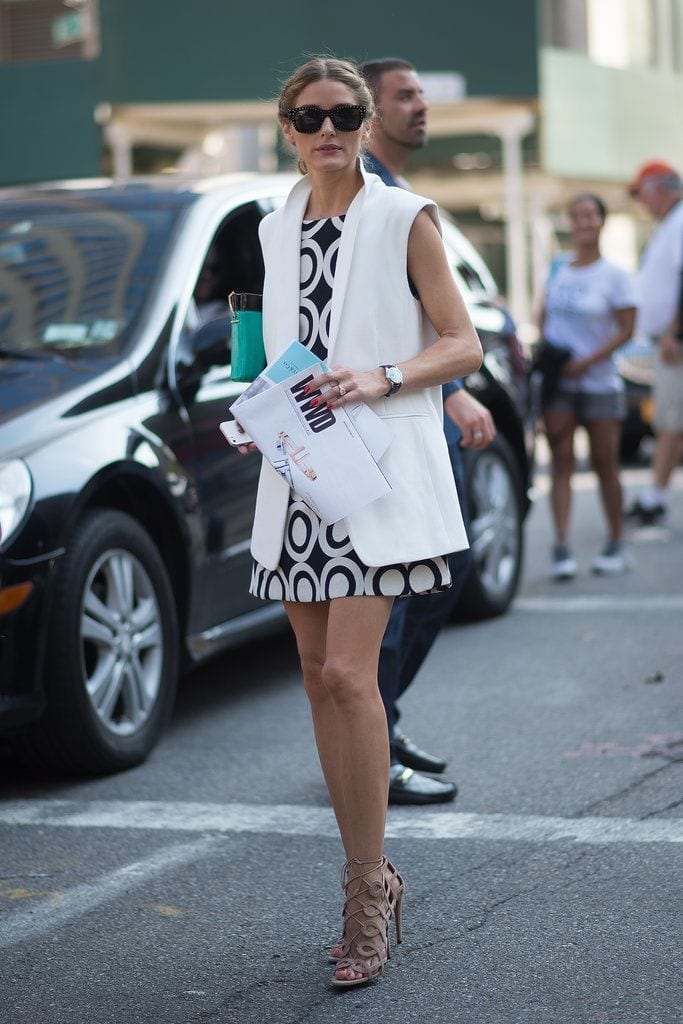 ↓ 2 – With Boots and a Sweater
With the color contrast on point, red vests can look absolutely gorgeous! Throw on this look on a chilly day when you'd rather skip the coat.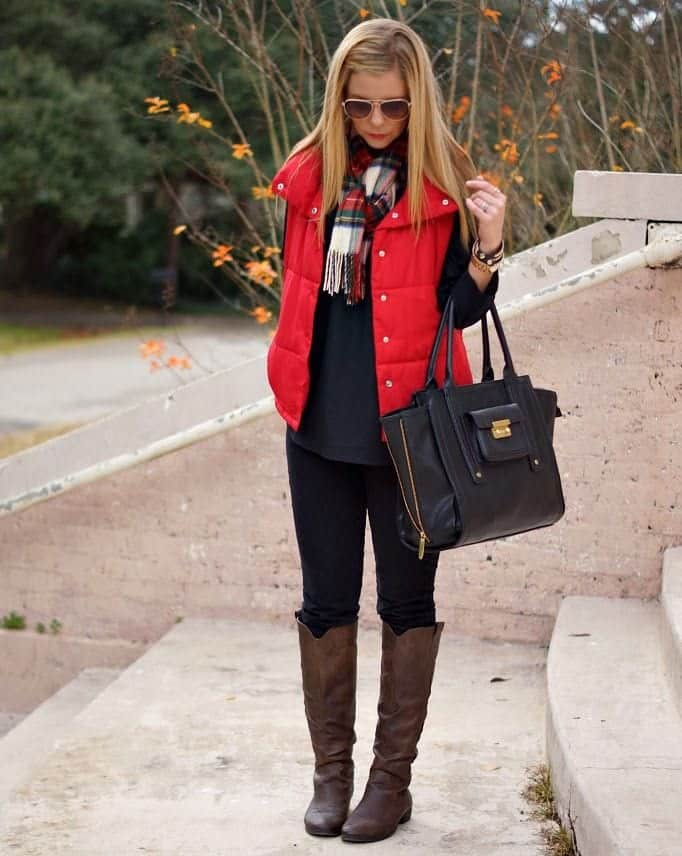 ↓ 1 – Long Vest for Work Attire
If you are looking to upgrade your work attire this winter season, give this charcoal gray long vest a try. Pop it on over a long-sleeved striped shirt tucked into dark-wash jeans and nude flats. With a necklace and a pretty hairdo, you'll breathe new life into a tired wardrobe!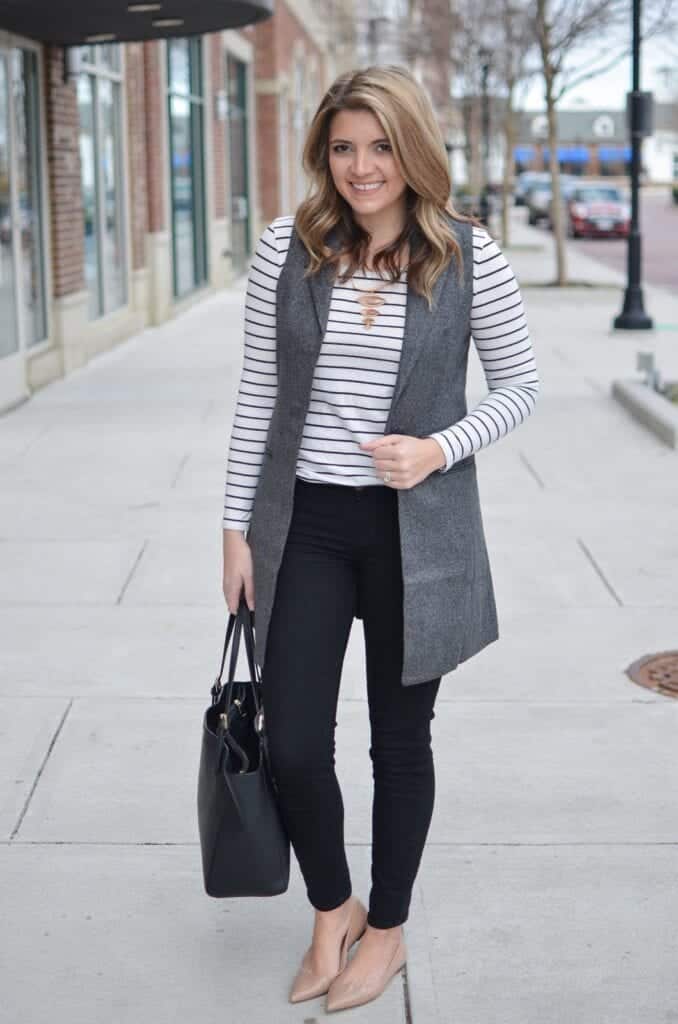 Frequently Asked Questions
Here are some frequently asked questions about wearing vests for women. Check them out and let us know if we missed any!
Q.

Is there a vest in style in 2020?

Yes, ma'am! Vests did in fact make a comeback appearance on runways this year and made quite the impact this past spring. The most popular ones seemed to be belted denim (who knew?!), tuxedo styles, and fur… of course.
Q.

What to wear with a vest?

As seen in this article, there are so many things women wear with vests. From dresses to tees to turtlenecks and shorts, there are lots of options. While we do recommend staying away from short-sleeves (as that just looks kind of goofy), the sky is pretty much the limit for what to wear with your vest. Try a long vest over a thigh-length dress like in outfit #3. A short leather vest looks fabulous over a white button-down and jeans or even a chambray dress. Experiment with different pieces in your closet until you find just the right look!
Q.

How do women wear puffer vests?

Because a puffer vest can add a bit of bulk to your frame, try wearing a puffer vest over a close-fitting top like a long-sleeved shirt or thin sweater. Avoid baggy jeans or a baggy top and consider knee-high boots, especially in winter. Your goal should be to avoid unnecessary bulk. You can even try belting your puffer jacket over your natural waist for an unexpected look!
Q.

What to wear with long vests?

A long vest might seem a bit daunting at first, but just like wearing any edgy piece, easing into it is a good method. You can start by wearing a long black vest (a sleeveless blazer type) over a long-sleeved black sweater or turtleneck to give you the effect of a coat. Then, when you are feeling bolder, try a neutral-colored vest (we suggest gray or cream) over a white turtleneck (see outfit #6). From there, you can start adding a long vest even to your work attire for some unexpected but super stylish fashion.