How to Wear a Hat. Hats are a must-have when it comes to summer accessories for fashion-conscious ladies. Not only are they a practical addition to your summer wardrobe (a hat will protect your face and neck from too much sun exposure) but they are also a great way to dress up or enhance even the most basic outfit. But a lot of us may feel a little daunted when we first become interested in wearing hats. What kind of hat should you wear anyway? How do you decide what hat matches with what?
What's the best hat to wear to the beach? What hat works best for a day-time function? With this article, we hope to answer these questions and more!
What Kind of Hats Are There?
There are so many different kinds of hats out there. In fact, you may be surprised at a few you see here today!
There is so much more to choose from than just your basic floppy hat or Panama hat. There are fedora hats, beanie hats, trilby hats, top hats, winter hats, boater hats, cloche hats, cowboy hats… and so many more.
And hey, they do more than just cover up on a bad hair day (even though they are pretty great for that, too!). Hats can add class and elegance to nearly any outfit. They can be an amazing way to showcase your personality and express yourself. With the right hat, you can bring glamour and sophistication to your look. In the winter, they are a much-needed accessory to keep your head warm. (On that note, check out our Stylish Winter Hats for Women.
How to Choose the Right Hat
Everyone loves a good hat but what most women don't realize is that not everyone can look good in the same hat. So here are the tips and tricks for choosing the right hat for yourself!
Do look for the right fit. It's always good to measure the circumference of your head so you know what hat size you need when you go shopping.
Don't choose hats which look disproportionate with your face shape. If you have a rectangular face, for instance, a tiny hat would be unsuitable. While if you have a very small face, a big hat would look out of place.
Do keep your Personal Style in mind. This means that you have to remember the type of outfits that you wear and choose a hat which looks best with those outfits. Woven hats and baseball caps look great with jeans and t-shirts while a cocktail hat would look best when worn with a skirt.
Don't forget the venue and the event when choosing your hat. Different types of hats can be worn to weddings, concerts, dinners, and daily errands so while choosing your hat, make sure you keep the occasion in mind.
Do consider the purpose of the hat. If you're going to the beach, you will probably want a hat that protects you from the sun. Hence you'll prefer to buy a hat which gives maximum protection rather than one which is the most stylish. So it's important to have your hat preferences in order beforehand.
Don't try to match the color of your outfit with the color of your hat as there is absolutely no need to do so. Matching hats never look as good as contrasting ones so instead just look for a hat that goes with your skin tone and face's shape.
Hat Etiquette
Did you know hat etiquette is a thing?
Well, if you grew up watching old black-and-white Hollywood films, you probably had an idea!
The truth is, most of us have grown up or are growing up in an age where men no longer doff fedoras at ladies or don top hats for balls and banquets. We have only the remnants of yesteryear to remind us of those bygone days.
However… there are still a few golden rules that have stuck around and still apply today!
For men, the etiquette is pretty obvious. Remove your hat indoors like in places of worship. Don't wear a hat at the dinner table. Remove your hat when saying a prayer. And so on and so forth.
For women, it's a different ballpark. Hats, especially those worn to events like a wedding or a church gathering, don't typically need to be removed. If you are wearing winterwear and enter a house, it's customary (and quite natural) to remove your hat.
Similar to men, it's respectful to remove your hat (specifically a baseball cap or other kind of casual hat) when saying a prayer.
How To Wear Hats
Now let's look at some hats + outfits!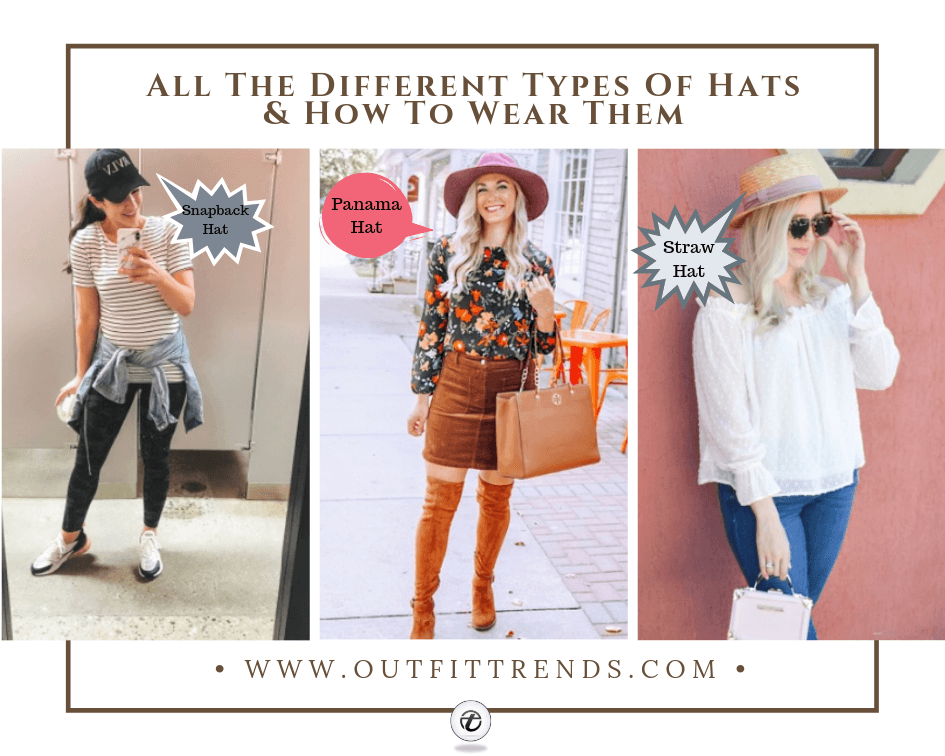 ↓ 22. Cocktail Hat (or Fascinator) for Party Wear
Wear a cocktail hat with a cocktail dress for a gorgeous look that can be worn to both formal parties as well as a wedding guest outfit.  You can also check out these Cocktail Party Outfits.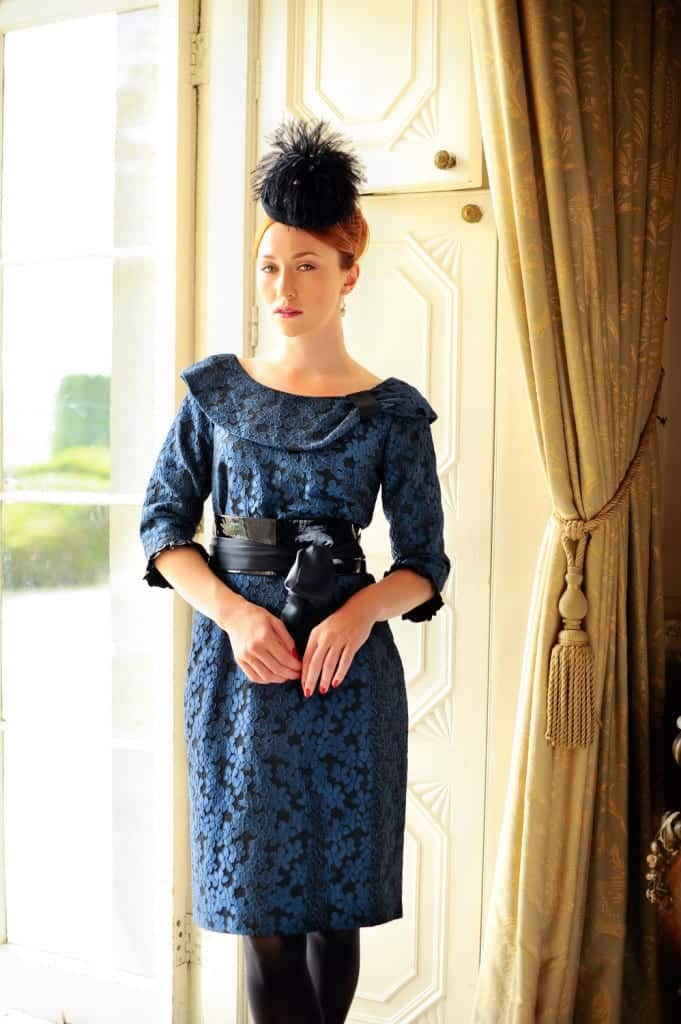 ↓ 21. Beret Hat for School
Want a look befitting a chic European gal? Check out this outfit! Perfect for the gal studying abroad, this is a super cute and very classy ensemble you will most definitely want to have a photoshoot in.
Simply pair a white collared blouse with a black, short-sleeved sweater. A matching skirt and beret are literally all you need to bring this outfit to the next level!
Loose curls, cat-wing eyeliner, and perhaps a set of blunt bangs round off the look and make it one for the books.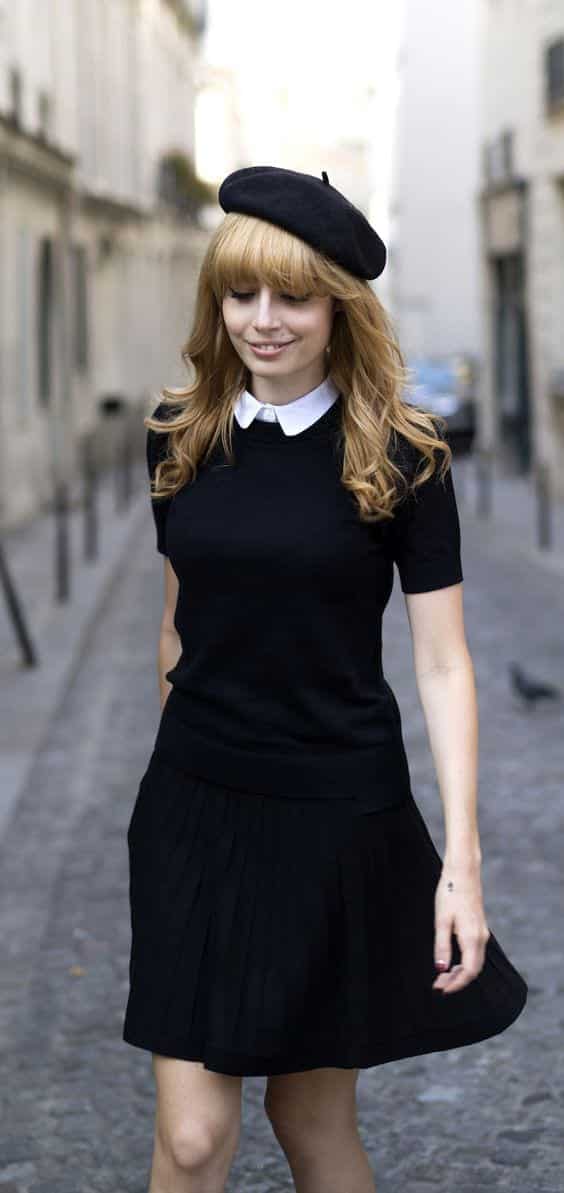 ↓ 20. Fur Hat (Cossack) for Snowy Days
The cossack hails from the southern regions of Russia but has become a truly stylish accessory for ladies (and men!) across the globe today.
There's so much to love about the cossack. It will keep your head extremely warm on the coldest of days. It's a gorgeous and glamorous addition to any formal ensemble. And it's just so snazzy. What's not to love?!
We love the pairing of a cossack with this skiing outfit. Warmth without sacrificing sleek style? Yes, please!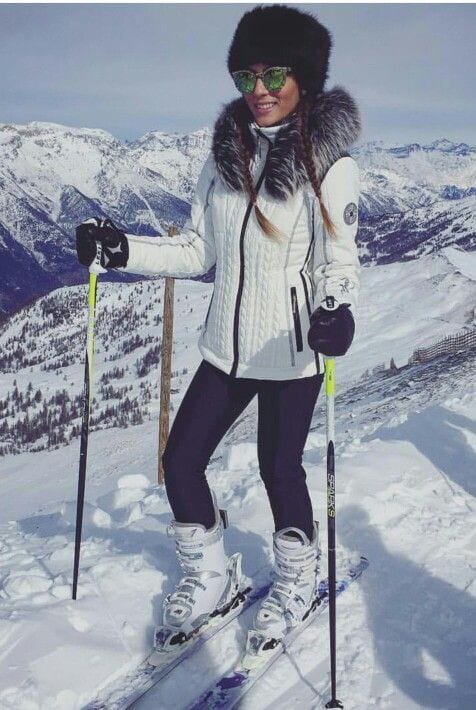 ↓ 19. Cloche Hat for Traveling in Style
Now, this is a hat you girls with old-fashioned souls will love!
The cloche hat has a very distinctive style. This bell-shaped hat was invented in the wee beginnings of the 20th century. Nowadays, you don't see them as often. But if you love designing vintage style looks and outfits, the cloche hat is an accessory you should definitely consider adding to your wardrobe!
Check out this adorable traveling outfit look!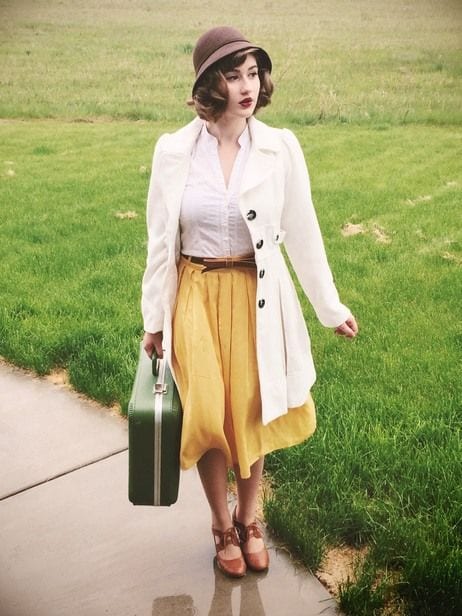 ↓ 18. Bow Trimmed Felt Hat for the Race Course
When it comes to wearing hats, how could we bypass the veritable queen (ahem… duchess) of hat-wearing herself: the elegant and beautiful Kate Middleton?
This felt fascinator is a beautiful accessory, not only to keep your head warm on a cold winter day but to add a definitive boost of sophistication and style to any winter ensemble.
This is a wonderful look for outdoor events in the winter, i.e. the races, sports events, or other formal affairs. Take note on how beautifully the palette of colors come together with this look. These tights and boots really tie in the outfit with the similarly colored hat and are further supported by a hand wallet of the same tone.
Go lighter with the coat for a truly gorgeous ensemble you are sure to make an impression with.

↓ 17. Hats for Wedding Guests
Next time you are invited to a formal wedding (a la Meghan Markle and Prince Harry) consider this absolutely stunning look.
Once again, a fascinator style hat is worn with a beautiful white fitted dress. As you can see, short hair doesn't have to inhibit you when it comes to wearing hats, as some ladies tend to think. In fact, hair length doesn't need to matter at all! It boils down to the kind of hat you're wearing and the way you style your hair.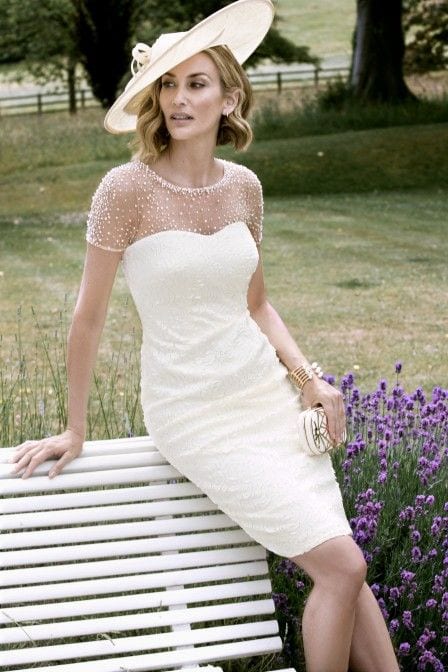 Via
↓ 16. Knitted Turban Hats for Winter or Fall
Now, this is a hat that will keep your head warm!
Consider the beautiful blend of colors worn here. Mustard yellow, the palest of pinks, and burgundy make a wonderful palette perfect for autumn or the beginnings of winter.
What we love about this turban hat is that its kind of like a beanie… but a touch more feminine. Keep that in mind when planning your winter wardrobe!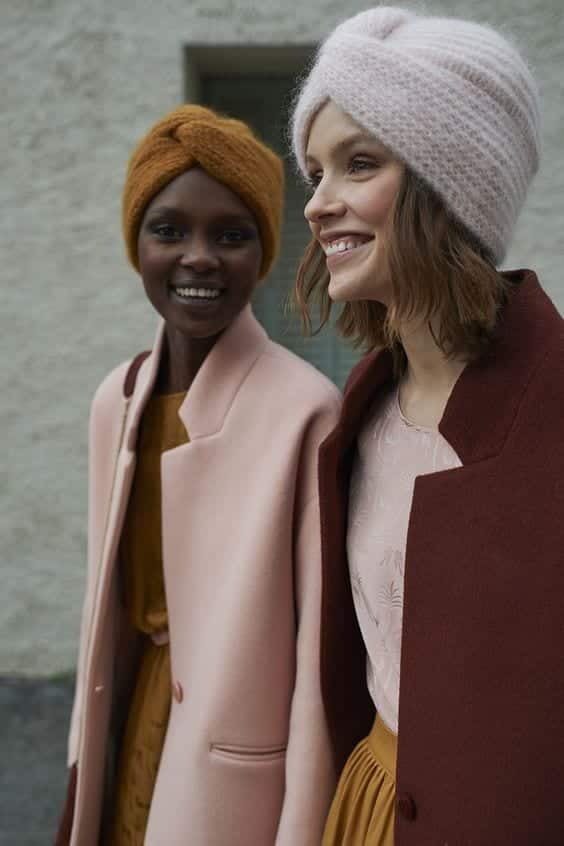 ↓ 15. Floppy Felt Hat for Rainy Days
What can be cuter than a floppy hat on a rainy day?
Not much! Plus, it's super practical. Check out this beautiful creamy look for a chilly fall day. Do check out these Rainy Day Outfits Ideas too.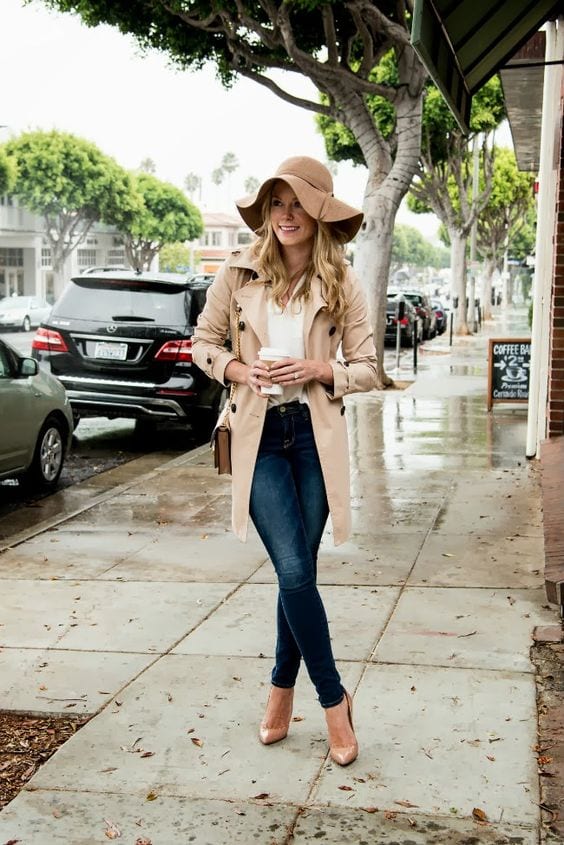 ↓ 14. How to Wear a Boater Hat with Long Hair
A beautiful spring or summer day look is this one right here.
If you have never worn a boater hat before, take advantage of the season and try one today.
They look super cute with medium to long hair. Simply part your hair and settle your hat so it just touches the top of your forehead. A cute high-necked dress, white sneakers, and accessories make this a must-have for your warm-weather wardrobe.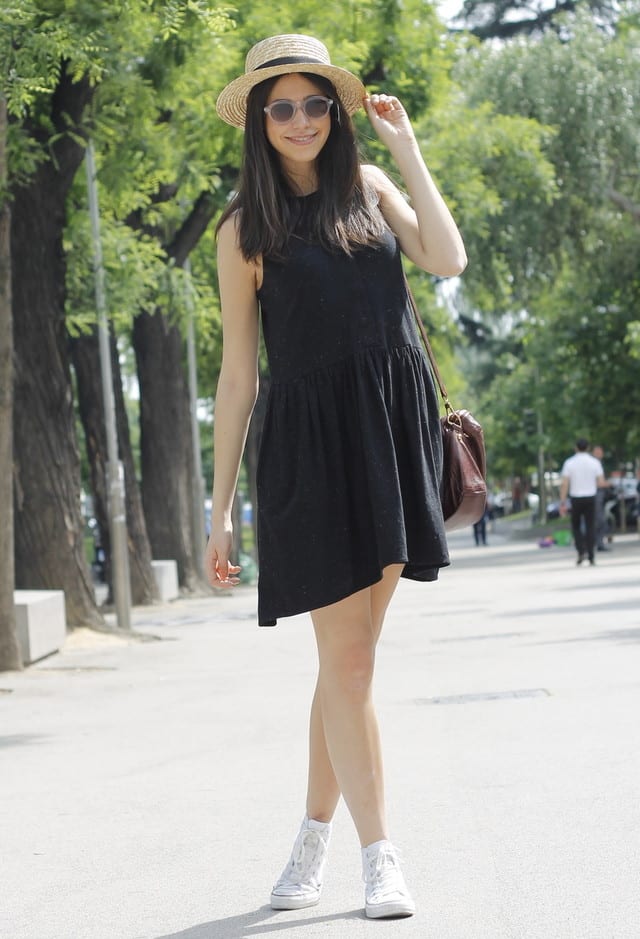 ↓ 13. Baseball Caps with Ponytails and Bangs
This look needs little introduction. In fact, most of us are already very familiar with it.
Great for days when you are out and need to keep the sun out of your eyes or simply a cute, boyish accessory to keep your look from being too girly, this is a sporty summer look you can try today.
Want to mix it up a little? Switch out the pony for a side braid. Add some hoop earrings and you have a gorgeous look that's both cute and casual.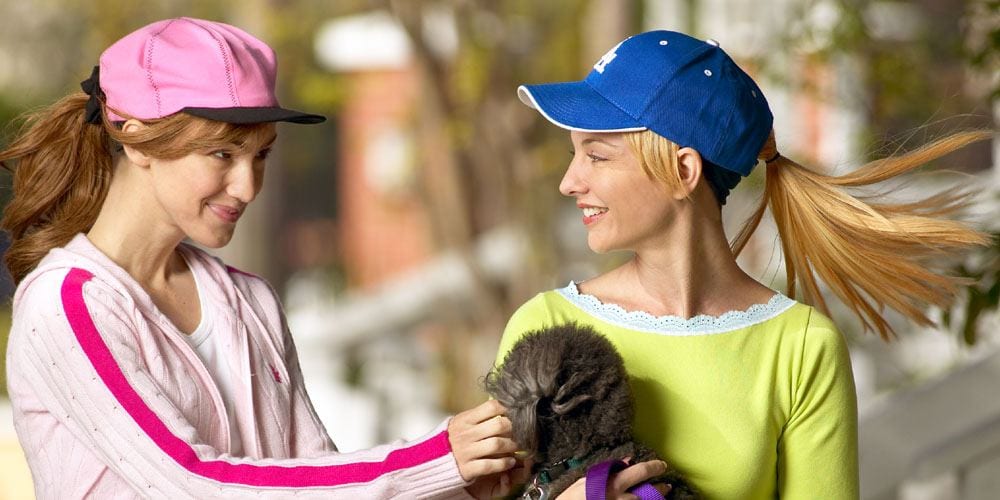 Via
↓ 12. Parisian Knit Beanie Hat with Up-Do
Have long hair but you are unsure how to style it with a knit beanie? Use a curling iron to curl your hair and then part it on the side. Roll the curls under your beanie hat, keeping a few pieces out to frame your face.
Beanie hats are endlessly versatile and there are so many different styles to choose from. This Parisian knit works best with long hair or very short hair.
For further reading, have a look here at our guide: How to Wear Beanie Hats?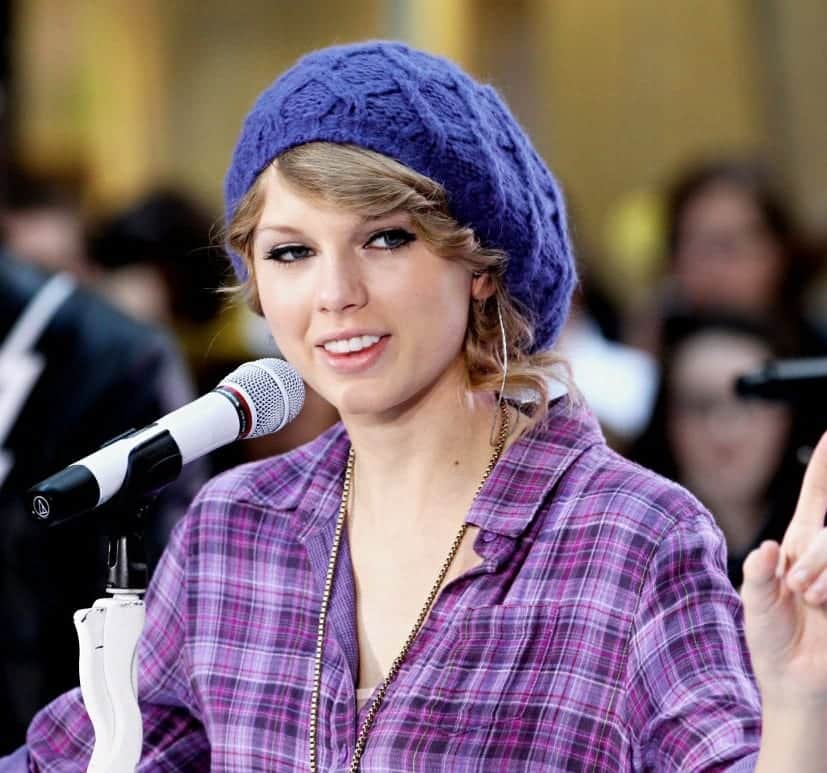 ↓ 11- Stylish Hat for the Beach
This one needs little description. Simply pair a wide-brimmed hat with your favorite beach outfit!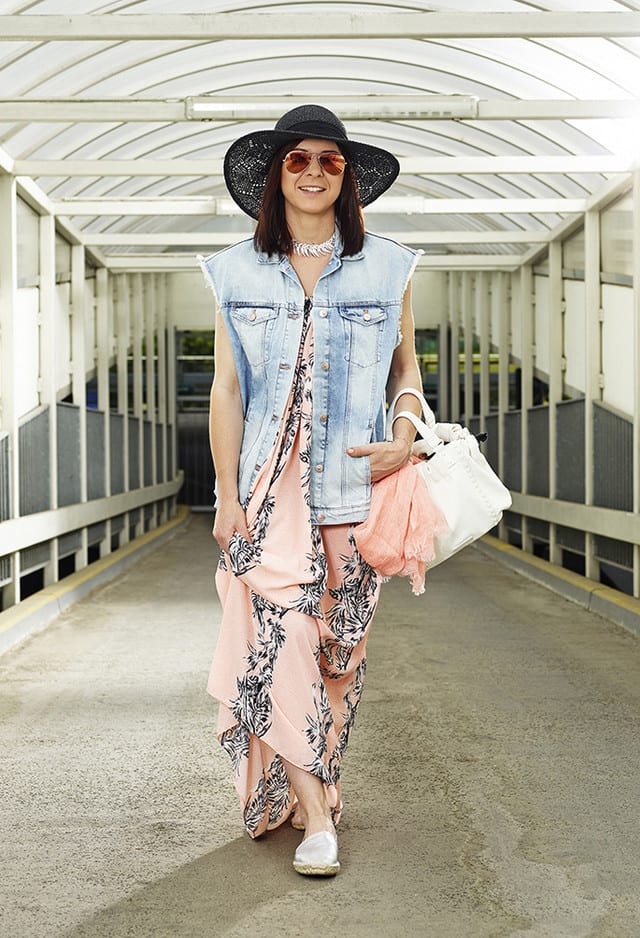 ↓ 10. How to Wear a Panama Hat
It's universally acknowledged that hats are a great way to manage your bad hair days. So if you don't have the time or the energy to tidy up your hair then just plait it in a braid or a messy hairstyle and pop on a stylish hat like this banded Panama hat. Great for pool parties or beach days!
If you love a slightly unusual style bag, check out Most Beautiful Clear and Transparent Handbags.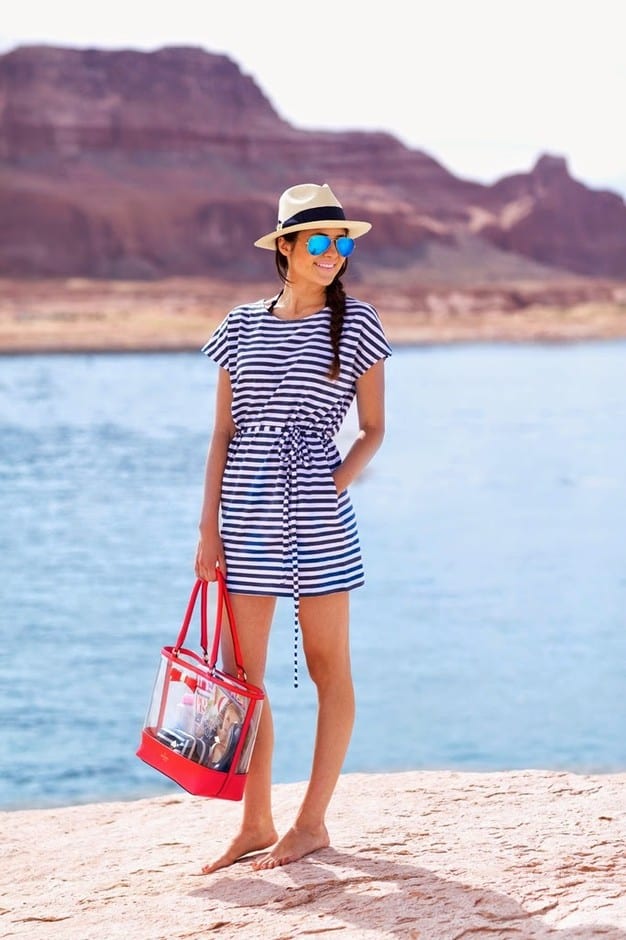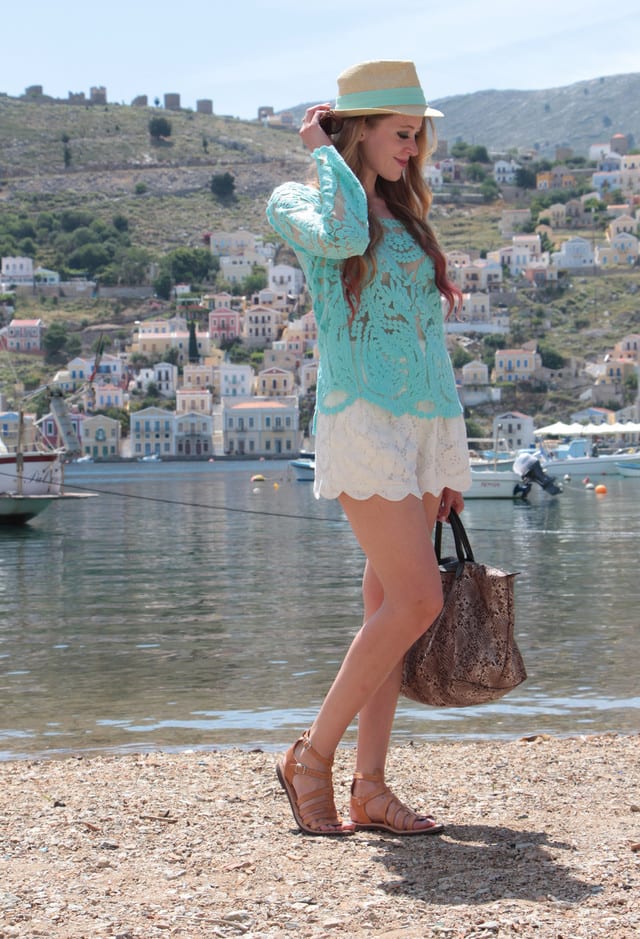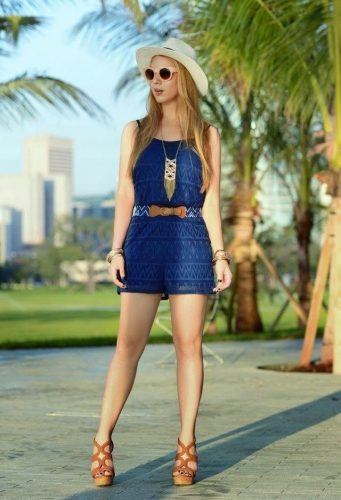 ↓ 9. Wide-brimmed Floppy Hat
A hat that will truly never lose its charm is a wide-brimmed floppy hat. Great for sunny days to keep the sun off your face and so good for beach outfits!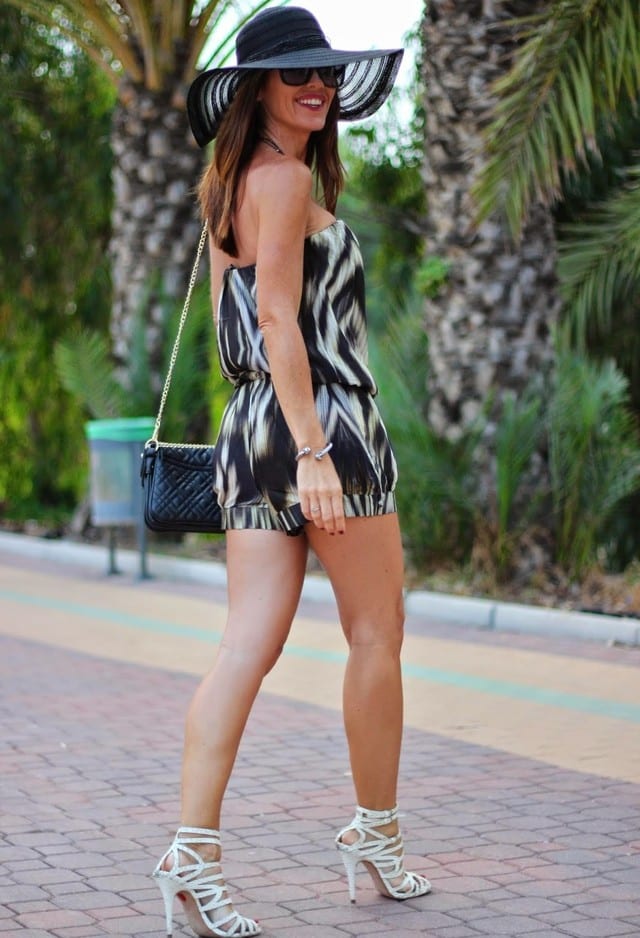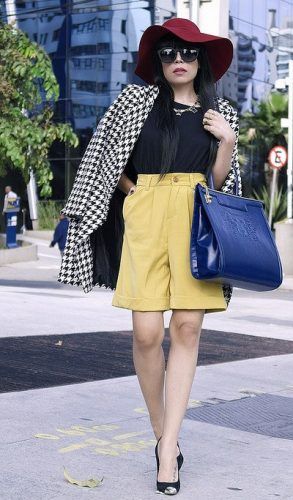 ↓ 8. Straw Hat at the Beach
Straw hats are endlessly versatile and so cute to wear at the beach!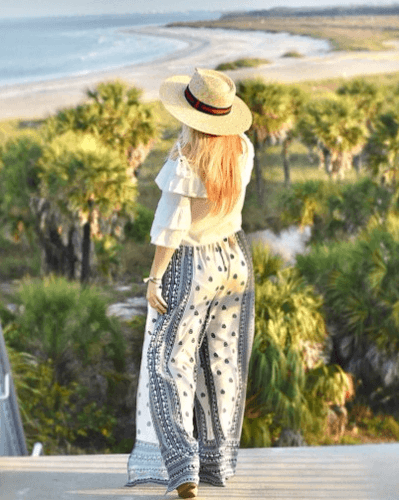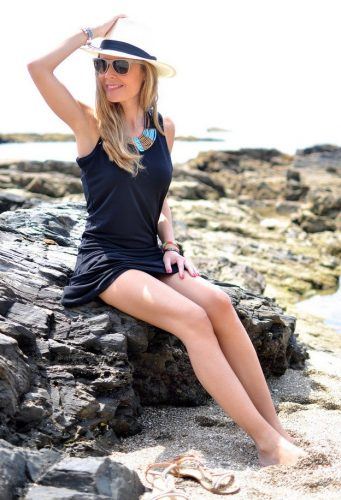 ↓ 7. Big Floral Hat with a Dress
Headed to a wedding this summer? Dressing up for a formal event? Never underestimate the power of an oversized hat!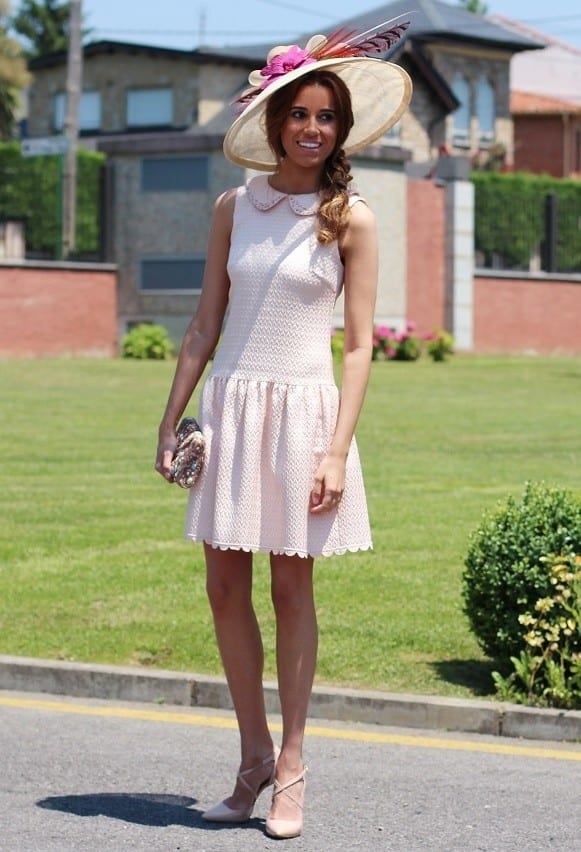 ↓ 6. Cute Spring Look with Hat
Here is a cute outfit to wear during the spring featuring a simple but cute hat!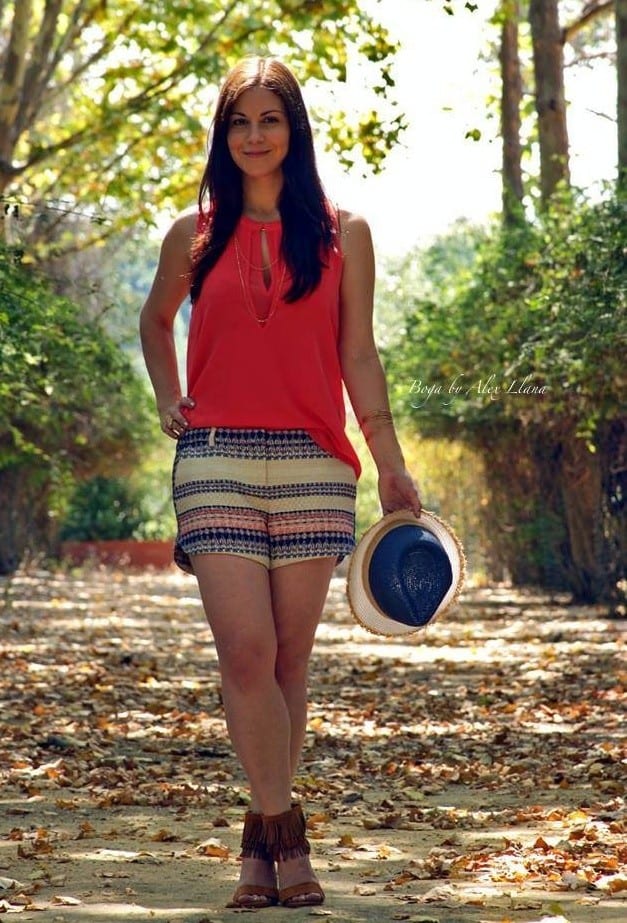 ↓ 5. Fun, Oversized Hat for Pool Party
Headed to a pool party? Kick up your pool party style with a trend-setting oversized hat.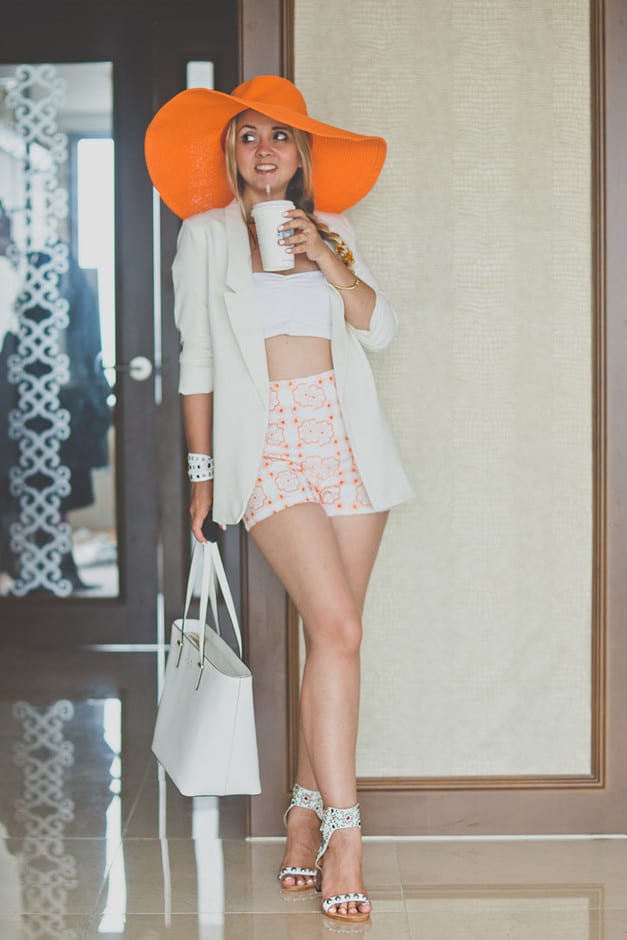 ↓ 4. Trilby Hat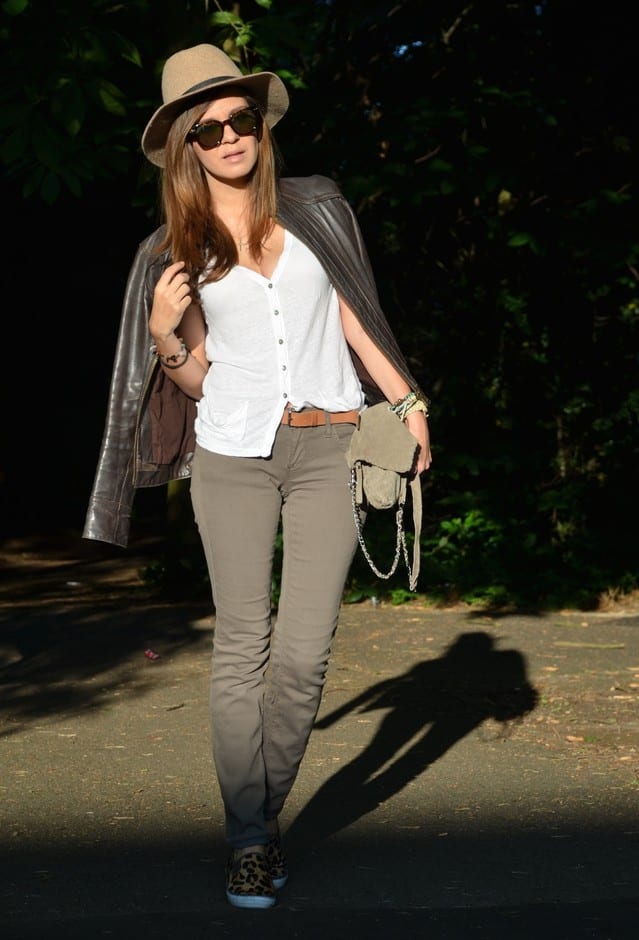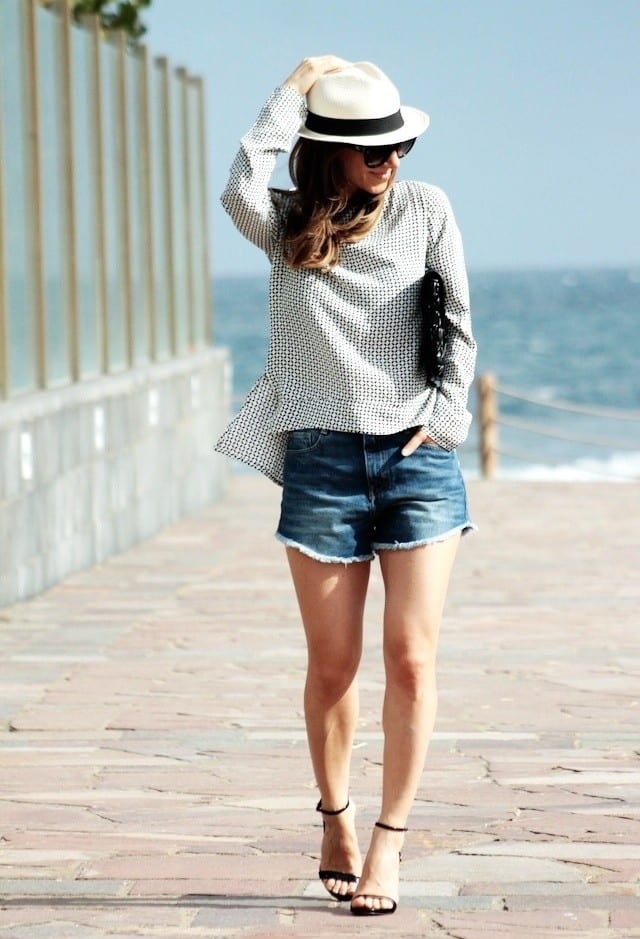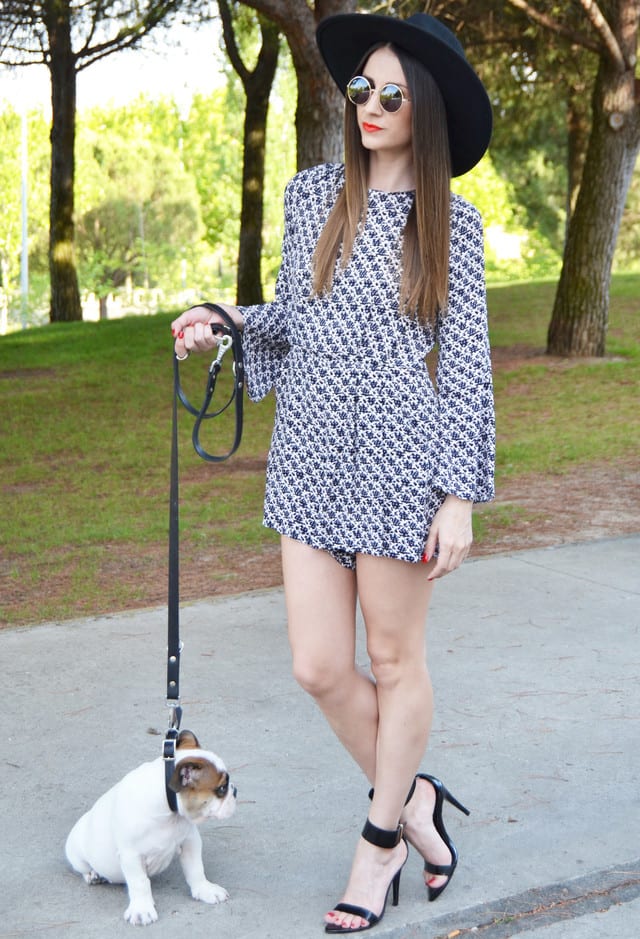 ↓ 3. Oversized Beach Hat
The hat fun doesn't stop! Get inspired by these gorgeous looks.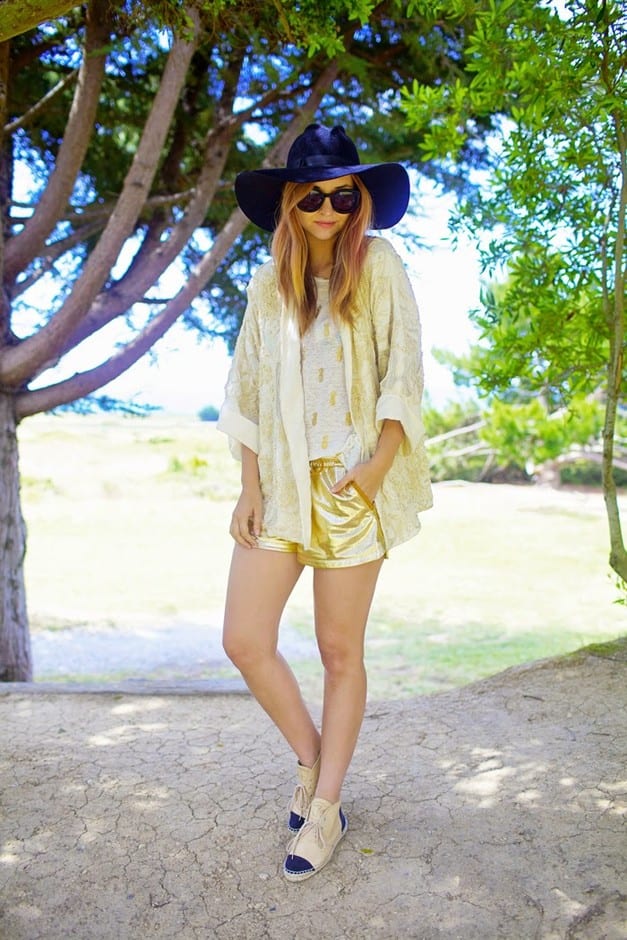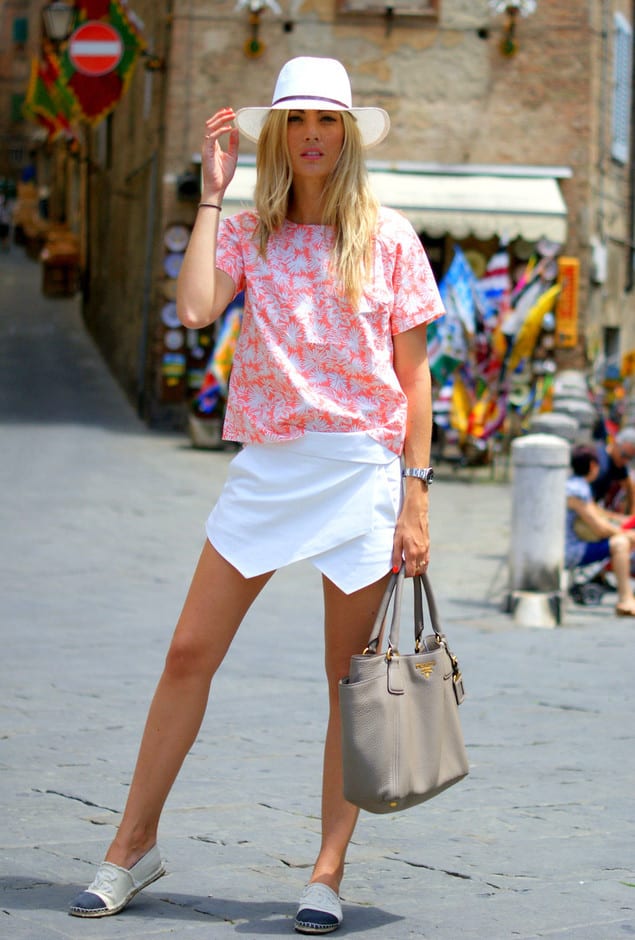 ↓ 2. Street-Style Business Girl
Love blending the best of both worlds? Check out this street-style look that blends business-casual with some seriously cute summer vibes.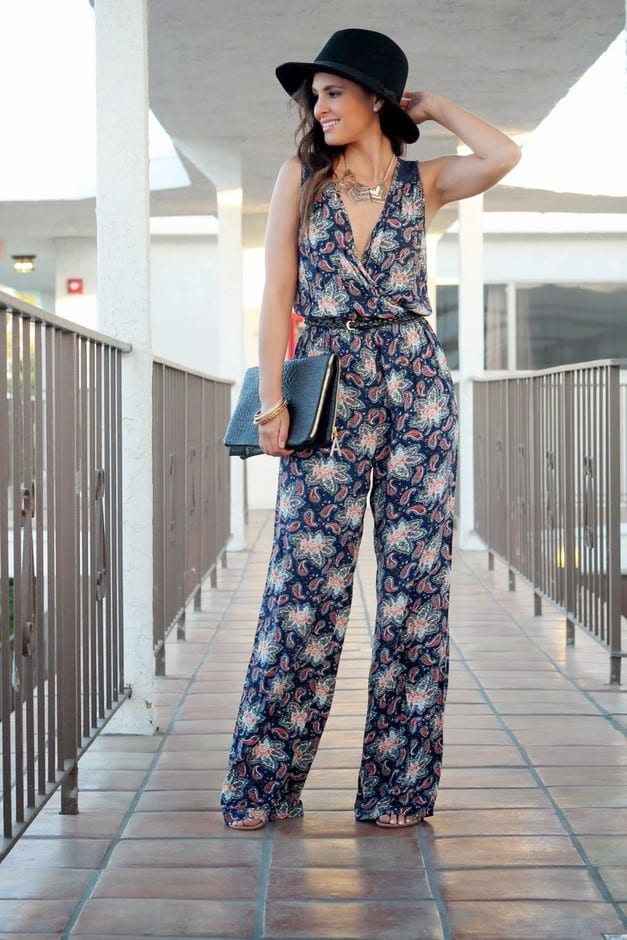 ↓ 1. Classy Black Straw Hat for Fall
Last but not least, a classic hat with an edgy fall look!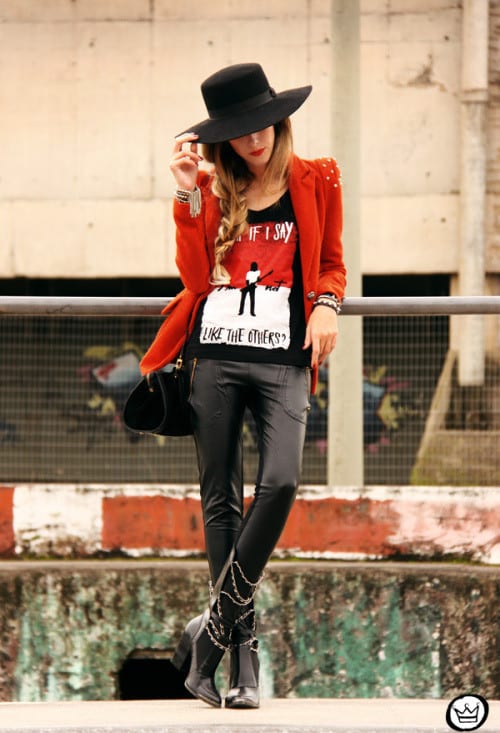 R.H. Elias is a freelance writer, aspiring author, and freelance transcriptionist. She is a homebody all the way and loves curling up on a cold, rainy day with a good book and a warm cup of tea. Her favourite pastimes include reading, writing, and watching period films. She currently lives in Puerto Rico.