How To Wear Bucket Hats: Bucket hats are back in fashion and they are one of the trending accessories that add extra charm to your outfit. They can give you both 90's as well as modern vibes. We can't really decide if bucket hats are cute or stylish? Well, that certainly depends on how you pair them with your outfits.
They can surely elevate your whole look within a blink of an eye. We have often seen some famous celebrities slaying bucket hats and if you haven't tried wearing them yet then it is your time to hop on this trend.
Outfits With Bucket Hats
There are a variety of ways in which you can style the bucket hat. If you want a simple and casual look, a white bucket hat is the option to go for and similarly, if your outfit is simple then you can try brighter colours.
The black bucket hat can be styled and looks good with almost every outfit. Denim, crochet, and floral printed bucket hats are also really popular among teenagers. Fuzzy bucket hats are preferably worn in winters with hoodies and trench coat outfits. These are some of the options and if you want to get some more bucket hat outfit inspirations then read the full article below.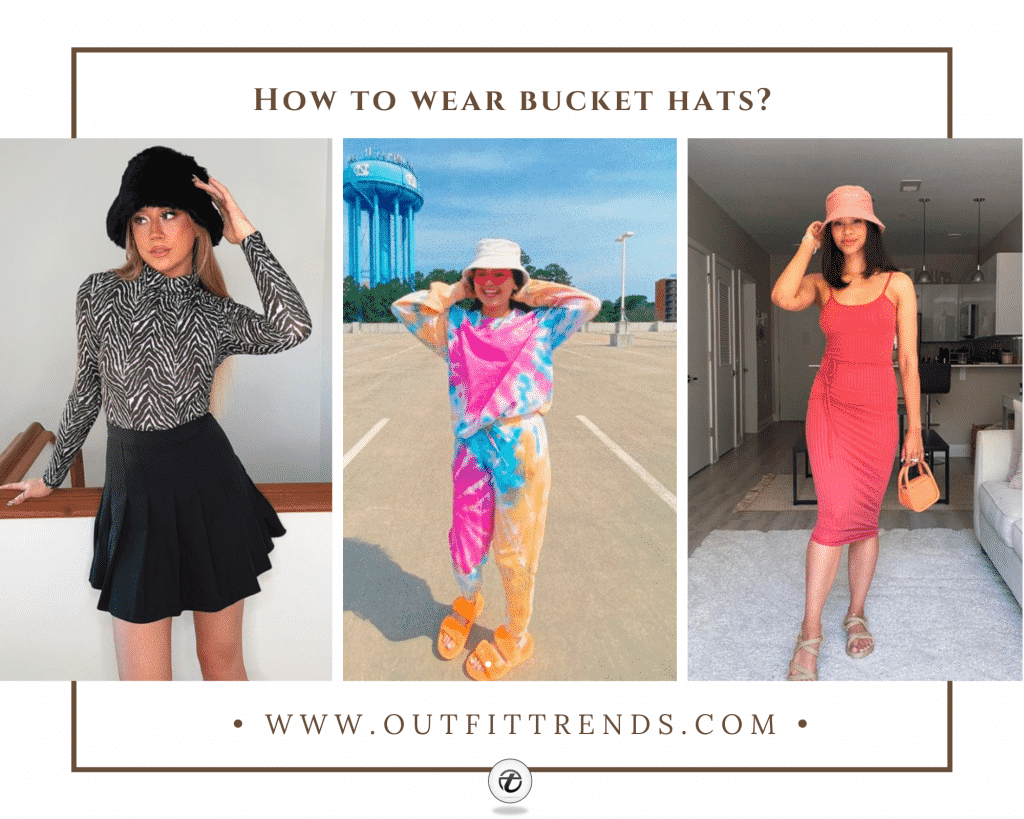 Where To Buy Bucket Hats?
20 – Fuzzy
Chocolate is my favourite but not more than this chocolate brown fit. We are completely obsessing over this entire look. The pants, the top, and the oversized leather blazer looks perfect but not to forget the highlight of the look, and no we are not talking about those cow print heels. Indeed they look good but here we are talking about that white bucket hat. So here's a tip if you are going for a darker coloured fit or an entire outfit of the same colour then choose a lighter shade in the hat to pair with the look.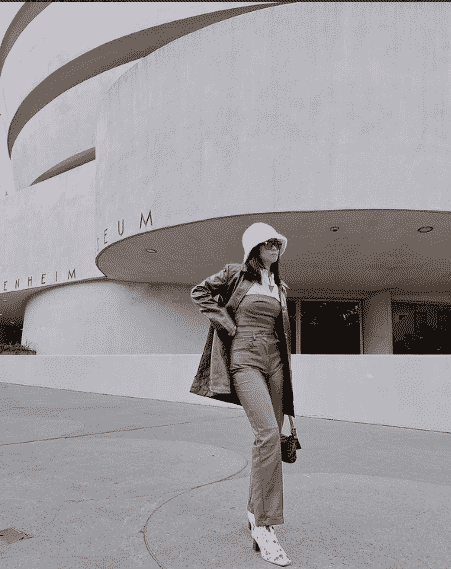 19 – Leopard Print
We know that leopard print tops and dresses look amazing but what about this faux fur bucket hat and a matching bag in leopard print? Looks stunning right? Well, actually this whole outfit looks stunning where we can see that a brown collared shirt is styled with black leather pants and these two stunning accessories upgraded the look.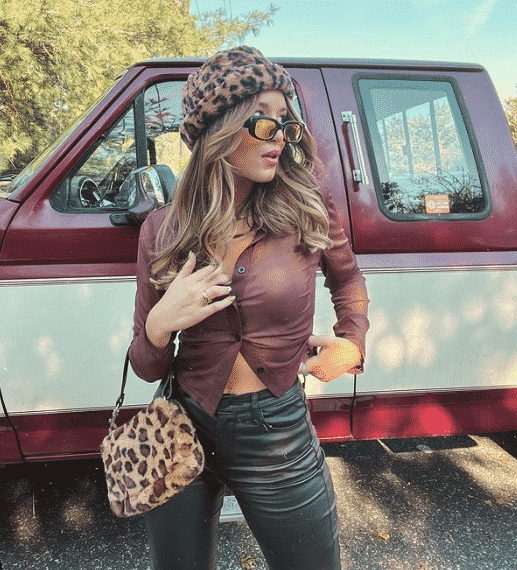 18 – Simple Look
This one is for you if you are planning to wear a simple street-style outfit. You can style a bright turtle neck shirt with jeans but that's not enough, add a nude bucket hat to complete the look. Not to mention how cute the look is but along with that it also looks super comfy and effortless. You are gaining a lot by doing minimalistic efforts. Some more additions to this look can be a cute backpack or a cross-body bag.
17 – Tie-Dye
Will we ever get tired of the tie-dye trend? No! And why should we when this is one of the best trends out there? If you are opting for a basic and simple tee shirt and jeans then add a pop of colour with the tie-dye bucket hats. Like in this look, we can see denim is paired with a white crop top. The look is bland until we add a pink tie-dye bucket hat to it. Cute enough right? Oh and don't forget to notice that cute little pink scrunchy, just a cherry on top.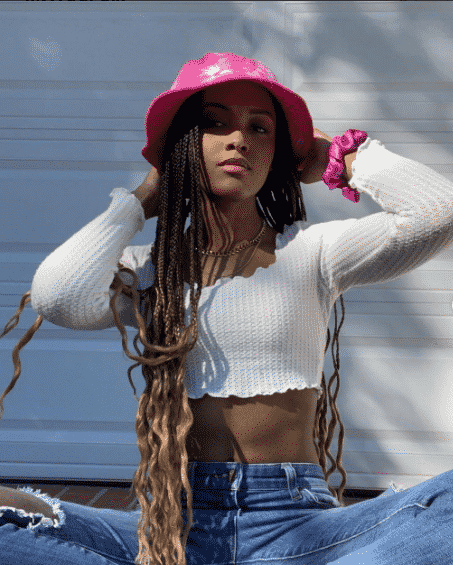 16 – All Black Outfit With A Twist
If you can't decide why the favourite colour of many people is black, then have a look at this outfit and it will clear your confusion. Let's deep dive into the outfit details. Here a black short skirt is styled with a white shirt and layered with an oversized black leather coat. Black knee-high boots are also a part of this look. With all of that being too much black, the choice of a bucket hat is made smartly here. The black and white checkered bucket hat is prominently standing out in the entire look here so be cautious about your colour choices all the time.
15 – When To Wear A Bucket Hat?
Got invited to a beach party and worried about your outfit. Say less, we are here with the idea. For an easy, breezy beach look, you simply need some of the few things. A white bodysuit, pair that up with a multicoloured short skirt. Wear some statement jewellery like a choker necklace and metallic bracelets. Also, don't forget to add the beach essential accessory which is a grey bucket hat. Not only, it will enhance your look but it will also be able to protect you from the scorching heat of the sun
14 – Winter Look
Cold days are here and it's time to grab all your cute outfits and slay them. After all, this is why most of us wait for winters right? Here is one of the winter outfit inspirations for you. A white puffer jacket with pants and white long boots can be seen styled here but what's attracting our attention is that cute white fuzzy bucket hat. It complements your entire look beautifully and on the other hand, an all-white outfit would look great in winters.
13 – The Monochromatic Look
For the days when you are obsessed with one colour and keep wearing different shades of that colour. For a beautiful monochromatic look, you can pair light blue checkered pants with a blue oversized blazer and a matching bucket hat. On a bright sunny day, this outfit and these shades will look perfect. Complete your look by adding a white bag and white sandals with it.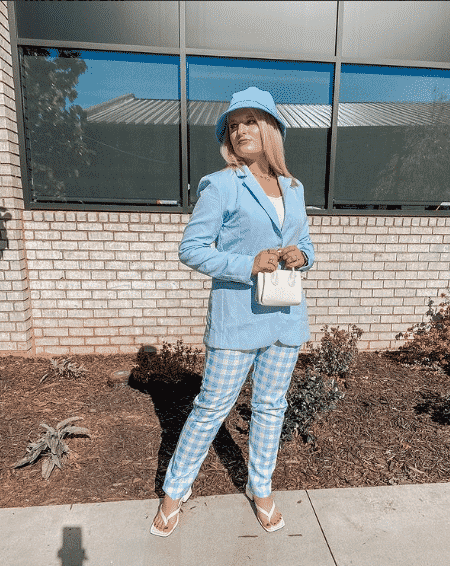 12 – With A Bodycon Dress
Wearing a bucket hat with dresses is a bit of a task. Here we can see that a black bucket hat is styled with a long grey bodycon dress. Along with that black pointed ankle boots are also worn with them. It is a simple and effortless outfit that you can easily wear on casual days.
11 – What To Wear ?
If you like layering your outfits then this should be your next choice. Faux leather pants are not new to us and they look super stylish also. So pair them up with a white turtle neck crop top and layer it with a checkered shacket and long black boots. Lastly, add a black bucket hat to look more stylish and you are ready with the perfect fall outfit.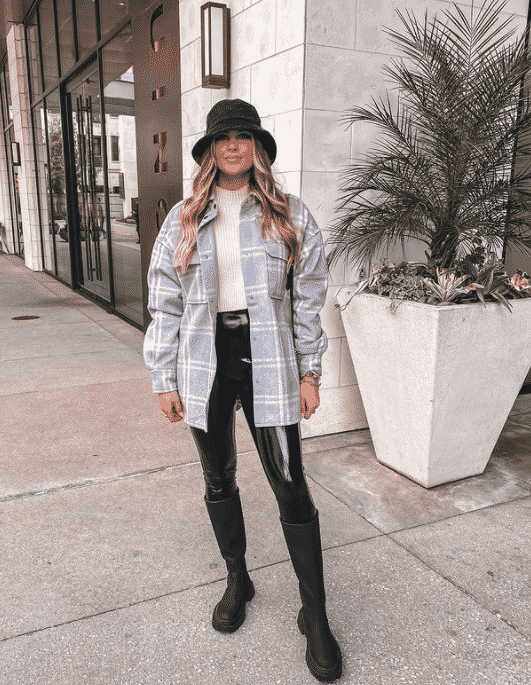 10 – With A White Blazer
Who said blazers are only made for formal looks? With reference to this outfit, you can easily experiment and convert this piece of clothing into a casual one. Just like in this look where the suit pants are replaced with white long knee-high boots and you have a blazer outfit with a bucket hat.
9 – Comfy Outfit
Who doesn't love the idea of cute and comfy outfits and what is cuter than oversized tee shirts and shorts? Have a look at this outfit where a tee shirt is styled with brown corduroy shorts and the last addition to the look is a bucket hat and you are ready for a perfect lunch date.
8 – Styling A Bucket Hat In The Summer
Styling a bucket in the summertime is pretty easy. It doesn't need much effort and time as you can just wear a black tank top with corduroy pants and your outfit is ready. Add a black bucket hat to complete your look.
7 – With A Pleated Skirt
Here we are bringing you back the zebra print trend with this look by styling a zebra print top with a black pleated tennis skirt. Giving a trendy touch to this look by adding a black fuzzy bucket hat which is quite popular these days.
6 – With A White Flowy Dress
A breezy and flowy white dress is all we need in summers but doesn't it look too bland? No worries! Add a pop of colour by adding a bright colour bucket hat like this one and don't forget to notice the cute smiley print to make your outfit more fun.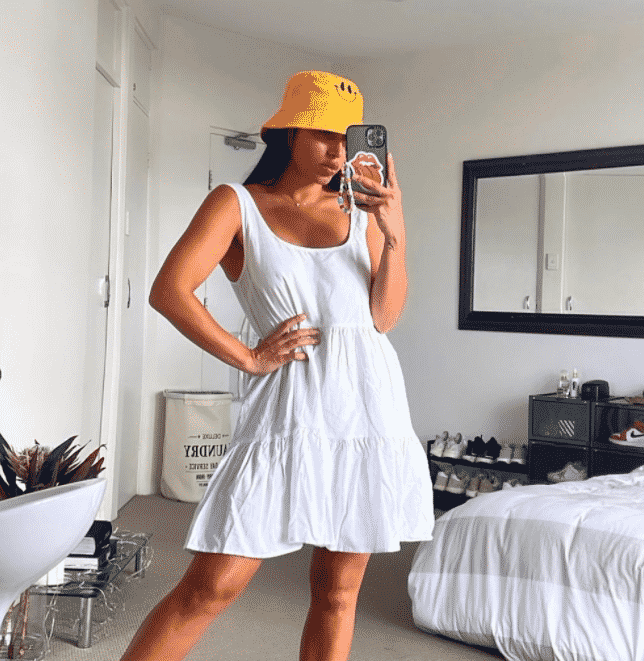 5 – Bucket Hat For Hijabi Girls
This is for all the hijabi girls out there. Here is how you can also get your hands on this cute accessory. You can wear a cute like this one, pair an oversized hoodie with pants and sneakers. Lastly, wrap your veil around your head like you normally do and wear a bucket hat on top of that, and look at how cute that looks.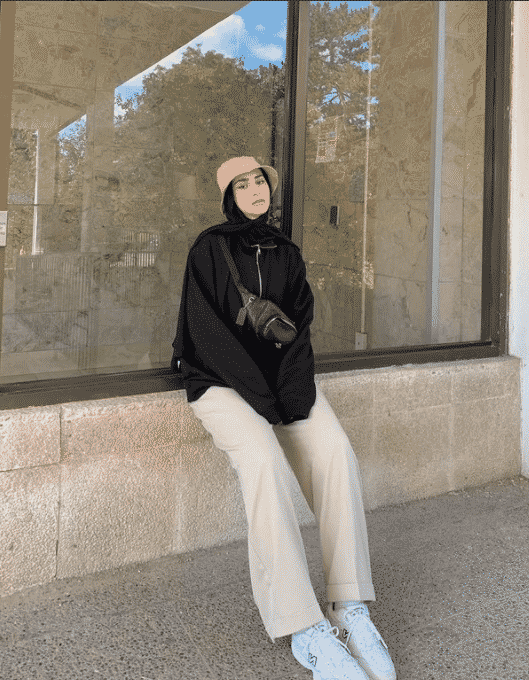 4 – Denim
One of the many kinds of bucket hats is the denim bucket hat which can be styled in a variety of different ways and can level up your fashion game. This is one of the ways where you can see the classic combination of denim with a shocking pink top and a cardigan paired with white chunky boots. A pink mini bag and a denim bucket hat are some of the accessories added to this look.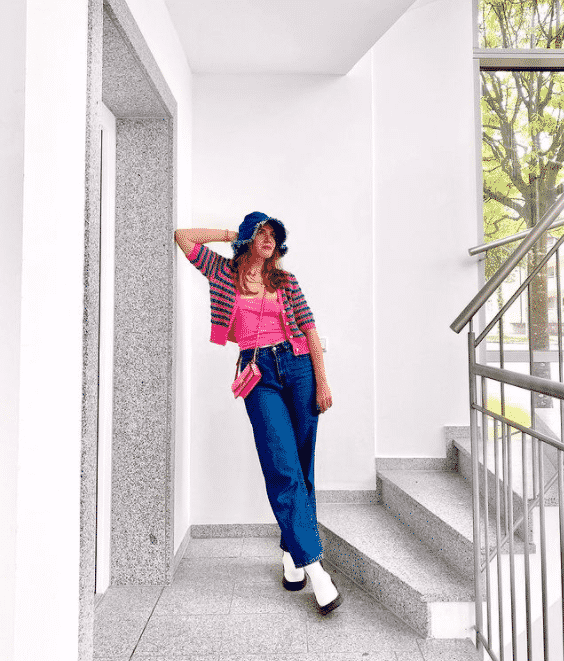 3 – Matching Ensemble
We have talked about many kinds of bucket hats but here is the simplest one- a white bucket hat. When you are wearing a colourful outfit like this tie-dye coordinated set then it is the best choice to go with a simple white bucket hat as it will balance out the colour combination and will not make your outfit look too much.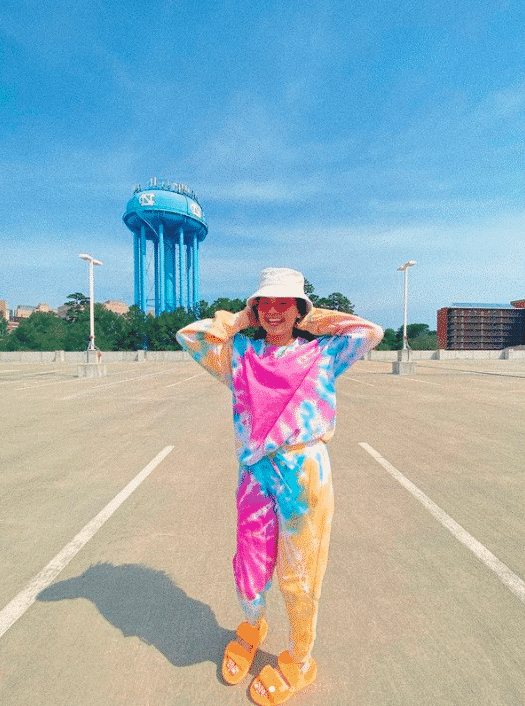 2 – With A Midi Dress
You can pull off bucket hats with any outfit and here's proof. Here we can see a red midi dress is styled with a light pink bucket hat and a small bag- The perfect holiday outfit!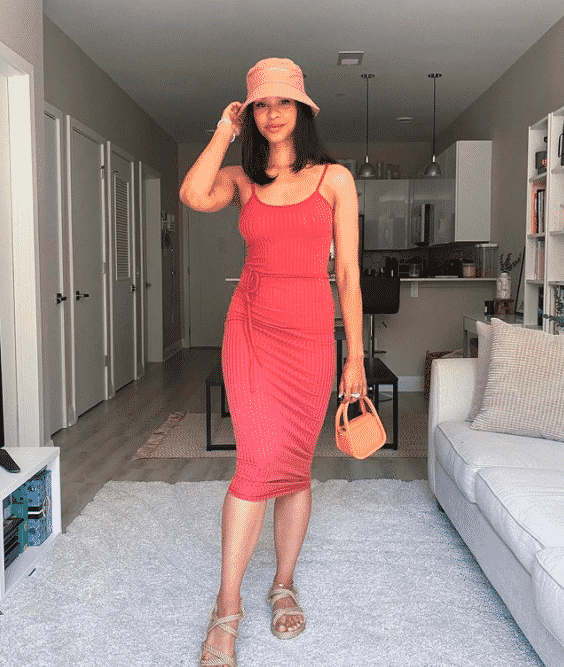 1 – Hailey Bieber's Look
Looks like Hailey Bieber is also a fan of bucket hats like all of us as you will often see her wearing this trendy accessory. In this casual look, Hailey has styled ripped denim with a white crop top and a colour-block jacket with white sneakers, and lastly, a dark green bucket hat to complete her look. This outfit looks comfy yet trendy and gives fashion inspo to all the girls out there.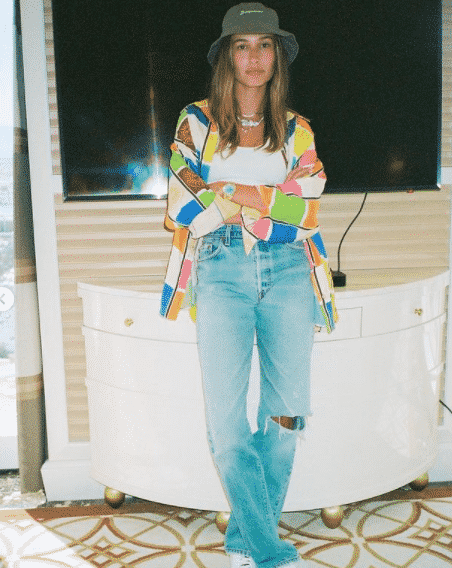 Frequently Asked Questions
Q. Are bucket hats going out of style ?
Ans. Not sure who is spreading these rumours, but bucket hats don't seem to go out of style any time soon. This cute accessory has already become a fashion trend because of all the right reasons. You can literally get them in any print, any design, and any colour. There is a huge variety and you can also get a matching bucket hat with your dress. Whether you are opting for a street-style look or a semi-formal one, bucket hats are here to increase your charm. With all these vast choices, who wouldn't want to wear them?
Q. What color bucket hat should you wear?
Ans. There are no restrictions as to which colour you should wear or not but if you need some tips then here are some ideas. If you are wearing simple light-coloured dresses like a white bodycon dress or tops, then you can choose bright-coloured bucket hats as they will stand out. Along with that, you can also wear printed bucket hats with this look. Black and white bucket hats are the choices that can be worn with any outfit.
Q. How should I wear my hair with a bucket hat?
Ans. Girls with short hair are quite lucky as bucket hats are easier to carry with short hair but girls with long hair wear them just as well. The best way to style your hair is to leave them open with a bucket hat and wear an oversized tee and denim and rock that street style look. Moreover, you can go with a cute sundress outfit, a bucket hat and keep your hair in a low messy bun. Two side braids and ponytails are also some of the hairstyle options you can try with bucket hats.