Quilted Jacket Outfits: Jackets are an ideal staple for every wardrobe regardless of the season. Whether it be summers or winters, you will find yourself reaching for your trusted jacket at every possible chance.
After all, they serve to protect you from the harsh winter days and cold summer ones while leaving you looking stylish and at your absolute best. Not only this but a good quality jacket lasts you a lifetime! For me, they are not just a clothing item, but my most reached for go-to wardrobe staple for the colder days. 
And thus, we come to all the different types of jackets available in the market. It might seem like a stretch when I say that there are jackets out there made in all kinds of materials for every possible occasion. Ranging from leather to fleece, windbreakers to long coats, this clothing item has been revolutionized to fit every person's needs. Similarly, today we will talk about one of the best types of jackets out of the wide range out there, and those are quilted ones!
How to Wear a Quilted Jacket?
Quilted jackets are unique, versatile, and immensely comfortable to wear. And the fun part is that you can wear these with your summer and winter attire, including dresses and skirts! This aspect is in regards to all the different ways quilted jackets are manufactured in. Patchwork quilted jackets are lightweight and perfect to wear for making a statement; while on the other end, we have heavily quilted, poofier options that are ideal for making your winter outfits fashionable, and keeping you warm.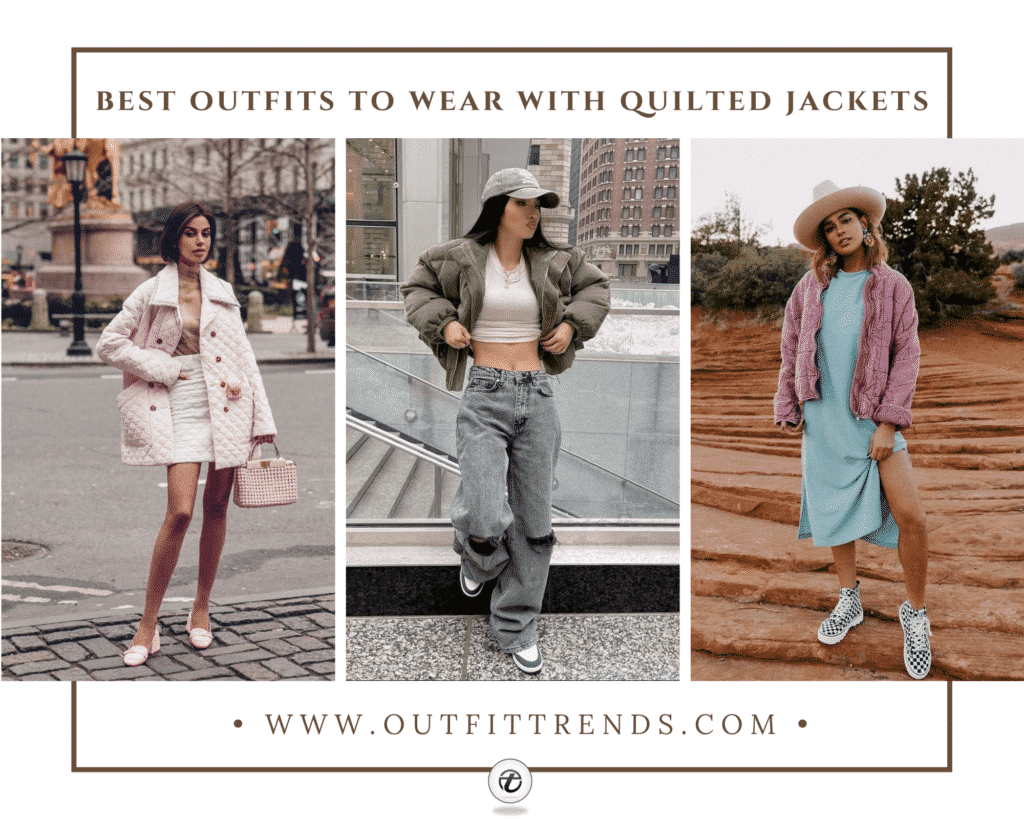 Where to buy Quilted Jackets?
Here are some of the best places you can get your hands on affordable and long-lasting quilted jackets:
Zara: This brand does not disappoint with its collection of quilted puffer jackets. How cute is this number (here)?
Forever21: Check out this cute jacket right (here)! Ideal wear for the spring/ fall season!
Nordstrom: An comfortable and stylish piece to have in your wardrobe (here).
Next: A tall quilted jacket is a must-have this winter season (here).
Honeybea: What a perfect way to look all cute and floral for the spring season. You do not want to miss out on this jacket (here)!
SheIn: You can not go wrong with a solid-colored jacket (here)!
Kiki's Quilty Pleasures: Their patchwork quilts are a dream come true! Take a look at this cute piece right (here)!
↓ 31 – For Curvy Women
↓ 30 – Accessorise it
Quilted puffers are the emerging fashion statement that we will see more and more in the coming years. And I am not complaining about how trendy these looks are! I love how straightforward this outfit is, allowing the jacket to shine through in company with the cute accessories. The clarity of the gold rings and necklace is the way to go with quilted puffers, along with a classy pair of shades.
↓ 29 – Pastel Patchwork Perfection!
↓ 28 – Blacks and Olives to Save the Day!
Diamond stitching on quilted jackets is much-loved by the general public, and we can see why! The slight pattern on the lightweight jacket pairs well with the chained handbag and rainboots. Carry a compact umbrella, and you are all set to hustle through a rainy day!
↓ 27 – Black
At this point, we have pretty much established that you can never go wrong with monochrome. Especially not when done in such an enthusiastic manner! The boots look spectacular and provide the much-needed texture and oomph to this outfit. Moreover, the gorgeous lock let down in beautiful waves upscale the attire. Add a pop of color with a red clutch purse!
↓ 26 – Elegance for Everyday
I love how sophisticated and elegant this outfit is! The creams and off-whites are the colors you can not go wrong regardless of the season. And that's exactly the thing about this outfit. You can wear this during the spring, summer, or winter season, although you might want to opt for a ribbed turtleneck to wear instead of a camisole for the winter days. Wear large hoops, and you are a vision in white!
Shop the look below:
Body Contour Double Layer Scoop Neck Cami $24.00
Super High Waisted Ripped Raw-Hem Skinny Jeans $88.00
↓ 25 – With a Dress
That, ladies and gentlemen, is how a summer look with a quilted jacket is done! Firstly, the color palette of this outfit is exquisite. The blue dress pops against the light indigo color of the jacket, right on brand with the spring-summer season. Then, to add texture to this ensemble, we have these chequered platforms high-tops. Next up, this summer hat gives this attire a boho edge. And finally, those gorgeous statement earrings look spectacular, bringing the entire look together!
↓ 24 – Long Jacket
↓ 23 – Serenly Sophisticated
Are you looking for a cute outfit to wear for a quick run to the nearby coffee shop and a few errands? This outfit looks like the way to go. And the best part is that this outfit is the ultimate pick for date attire too! The off-white quilted jacket is a must-have for your wardrobe. Not only would it match with countless dresses but would leave you looking like an absolute dream!
↓ 22 – Evergreen
↓ 21 – Utterly Graceful Yet Cozy in Quilts!
↓ 20 – Long Diamond Patterned
↓ 19 – Jumpsuit Edition
Here's the perfect way to execute a jumpsuit with a quilted jacket! The denim jumpsuit is a fun and playful option to have in your wardrobe and would look stunning with a patchwork quilted jacket for the spring or summer when visiting the open fields. Moreover, the plainness of the jumpsuit is amped up by the colorful covering of the quilt. A super cute outfit for the free and wild-hearted! Here are some expert tips on How to Wear Jumpsuits Rightly.
Shop these items:
Louise Quilted Chore Coat $425
↓ 18 – Pink & Blue Hues
Going to ski and enjoy some winter games at your favorite resort with your significant other? What other way to dress up than in this beautiful pink and blue attire!
Buy the look right here:
Dolman Quilted Knit Jacket $198.00
Ribbed Fitted Turtleneck Sweater $11.00
↓ 17 – Make it Bright with a Red Lip!
↓ 16 – Long Jacket
↓ 15 – All Ablaze in all Black!
↓ 14 – Patchwork
The key to styling patchwork quilted jackets is to allow this clothing item to shine through while keeping the rest of your outfit plain and minimal. To make it fancy, throw on a pair of heeled booties, some fine jewelry, style out hair in messy waves to frame your face, and voila, you have a stunning look on your hands!
↓ 13 – Footwear for Quilted Jackets
Knee-high boots are the ultimate option to wear when styling your quilted jacket. Regardless of the length of the jacket, these boots will look phenomenal and trendy against your outerwear. Moreover, they pair well irrespective of whether you are wearing jeans, shorts, or skirts! Thus, make sure to purchase a pair of boots (which do not necessarily have to be knee-high) that complement your quilted jacket flawlessly!
↓ 12 – The Everyday Look
↓ 11 – Swag Look
↓ 10 – Pastel Perfection
How cute is this entire fit?! I love how perfectly this outfit balances the vintage meets modern aspect. The v neck exudes old-school vibes paired with the skirt and turtleneck top, while the quilted puffer jacket and the color palette look a modish spin. Furthermore, the boots look spectacular with this dress. Overall, I give this look an A-plus on effort, execution, and further brownie points on cuteness! Here are some more of my favorite Pastel Outfit Combinations and Ideas to Wear Pastel.
↓ 09 – The One With the Dress
Who said quilted jackets are only limited to jeans? This attire will happily prove you wrong and make you aware of how well diamond quilts work with dresses! The faux fur detail on the collar works wonderfully with the white dress, and the knee-high boots are to die for! Throw on a gold-detailed necklace and a darker lip, and you are all set!
↓ 08 – Sporty Look
↓ 07 – Street Style
↓ 06 – Dainty Florals and Happy Smiles!
At first glance at this outfit and all, I think of is spring, flowers, and happiness all around me! I love well simple, chic, and classy this entire look is. Moreover, all the items seem to complement one another and work in perfect harmony. The pink tank top brings out the detailing on the quilted jacket, while the acid-washed jeans look effortless in every aspect. Stunning is the only word I can think of for this cute ensemble!
↓ 05 – Winter Wonderland
All decked out for the winter in this gorgeous, warm and comfortable attire paired with a quilted jacket! The blue denim looks phenomenal with a similar-colored jacket for women. And the white turtleneck and shoes pair exquisitely with one another without diverting attention from the pairing of the blues. Finally, to top off a super cute look is this beanie in tan!
↓ 04 – Lilac on Leather
Lilac seems to be a popular choice during this season! I love how well this color pairs with black leather. What a chic way to style quilted jackets?! Here are some more fabulous Outfits with Leather Pants for Women this Season.
↓ 03 – Boho in the House!
Channel your inner boho with this exquisite patchwork quilted jacket! All the components of the outfit work effortlessly together. However, I would like to suggest swapping this hat for a straw weave sunhat to make your look truly boho. Also, high-waisted jeans would add a little dimension to your outfit and make you stand out. Accessories with contemporary jewelry, and you are all set.
↓ 02 – With Leather Pants
And this is the way a quilted jacket is justified! I love how simple, elegant and straightforward this outfit is. The all-black attire looks flawless and well put together with the turtleneck, leather pants, and lace-up booties. Plus, to top off this classy fit and truly bring the look together, we have this eye-catching red jacket ready to make you stand out in the crowd. I love that the hair and make-up are kept simple to allow the red quilt and outfit as a whole to shine through.
↓ 01 – Clueless Inspired Fit
Frequently Asked Questions
Q. What are quilted jackets?
A. Quilted Jackets, frequently and more commonly known as Puffer Jackets, are the style of jackets that have stuffing and insulation present in between the stitching. They provide a lot of warmth on the wear following the type of material they are manufactured in. Therefore, they are perfect to wear during all seasons depending upon the type of quilted jacket you have in your hands.
Q. Where can I buy these jackets?
A. You can easily find these jackets at all of your favorite brands. If quilted jackets yield no results, try to search for puffer jackets, and you are sure to find some purchase-worthy options. A few places to browse for good quilted jackets are Zara, SheIn, and Nordstrom. Scroll to the top of the article to discover more places to get your hands on these jackets!
Q. Are they back in style?
A. Honestly, you can wear whatever you want with quilted jackets. However, some factors come into play when dressing up to wear a quilted jacket.
The occasion that you are dressing for. You would want to make your outfit more glamorous for a formal affair. Thus, opt for a fancy dress, heels, and accessories to match and throw on a chic quilted jacket that complements your outfit to complete your look.
Be aware of the weather outside! The worst thing that can happen is for you to plan a complete outfit for a cold summer day, including jeans, ribbed top, booties, and a printed quilted jacket as your statement piece, only for it to be blazing hot outside.
Make sure to accessorize aptly. The best way to accessorize your quilted jacket is with dainty jewelry. It would add to your outfit tastefully without taking attention away from your statement item!
Shoes: Don't forget to wear shoes that look classy with your jacket. A few considerable options include heels, sneakers, and boots. But make sure to leave your flip-flops back home!
Suffice to say, quilted jackets have been around for quite a while and are here to stay in style for the years to come for their easy and comfortable wear. If styled appropriately and according to the occasion and season, then you will be serving some killer looks for the times to come!
Janeeta Khan loves to write and loses herself in the world of fiction during her free time. You will probably find her curled in the corner with a Harry Potter book and a steaming mug of hot cocoa.