Outfits with Monk Strap Shoes for Women: We, women, know that no matter how fast the world moves, we should never stop prioritizing ourselves. Most of us can not stop obsessing with fashion, resulting in killer looks that are bound to make a style statement. And we do not do that to impress others – even if might be part of the plan – but rather because it completes us and gives us the confidence we need. Thus came monk strap shoes into the equation for women to style chic looks with.
Style defines who you are as a person. The way you carry yourself matters more than most people think it does. That is why we have a unique footwear option to introduce today in our arsenal: monk strap shoes. What? Do you think only men can rock those? Well, know that women can as well. And not only do we style chic looks, but we get to enjoy the perks of this style of shoes as men have all this time. The best part is that these shoes are comfortable and look super unique! This article is a complete guide to styling these shoes to look classy and unique!
How to Wear Monk Strap Shoes for Women?
These shoes are not only comfortable to wear but are immensely wearable and easy to carry the entire day. They also serve as the perfect blend between fancy and casual, working flawlessly in both situations if styled correctly. For a chill, laid-back look, go for a pair of baggy pants paired with a fitted top, topped with a plaid blazer. Similarly, you could rock these shoes with a pencil skirt and blouse for a more formal look. It comes down to the occasion you are dressing up for!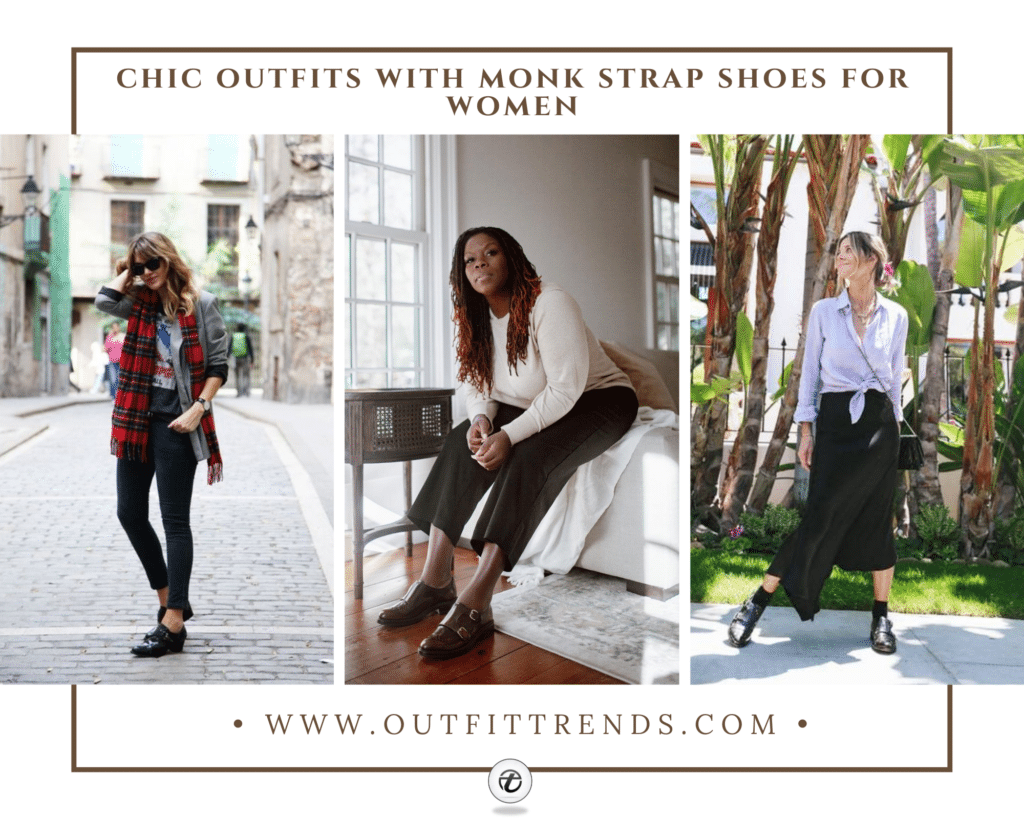 Here are some tips that you should bear in mind if you fear making a fashion fiasco:
Firstly, leather monk strap shoes should be preferred over suede ones if it's raining outdoors.
Secondly, suede monk strap shoes would look perfect in an extravagant setting.
Thirdly, stay true to yourself and try different colors and styles when it comes to monk straps styles.
If you do not find a monk shoe comfortable, chances are you chose the wrong type of strap. So try out different styles before committing.
Lastly, keep your shoes clean to get the most out of them. Besides, your shoes leave a lasting impression on other people.
34 – Make Your Outfit Tropical with Flowy Skirt & Front-Tie Shirt
The outfit is perfect for a business trip to a tropical place! With flowers in your hair and monk shoes on your feet, you are ready to channel your vacation and business mode simultaneously. You can get more ideas like these from our post on What to wear to an Island Vacation.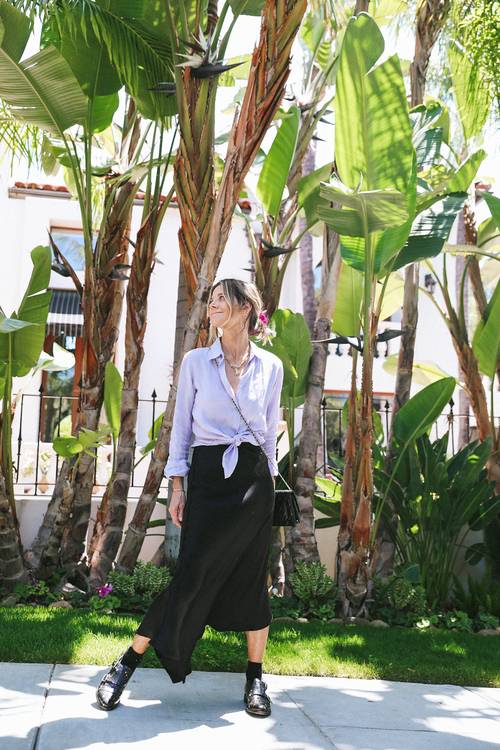 Buy the shoes right here:
Women Double Monk Strap 1645 Madison $330.00
33- Pair Plaid with Monk Style Shoes for a Younger Look
For a more youthful look, play around with plaid dresses, topped with a long coat.
via
Grab this pair of monk shoes below:
Mr. York Double Monkstrap $525.00
32 – Go for Printed Tee & Scarf for a Street-style Look!
Dressing in monk shoes for a street look is super fun to plan! The key is to go for fewer statement pieces and more neutral, muted items so that the attention falls onto the shoes. This outfit looks flawlessly!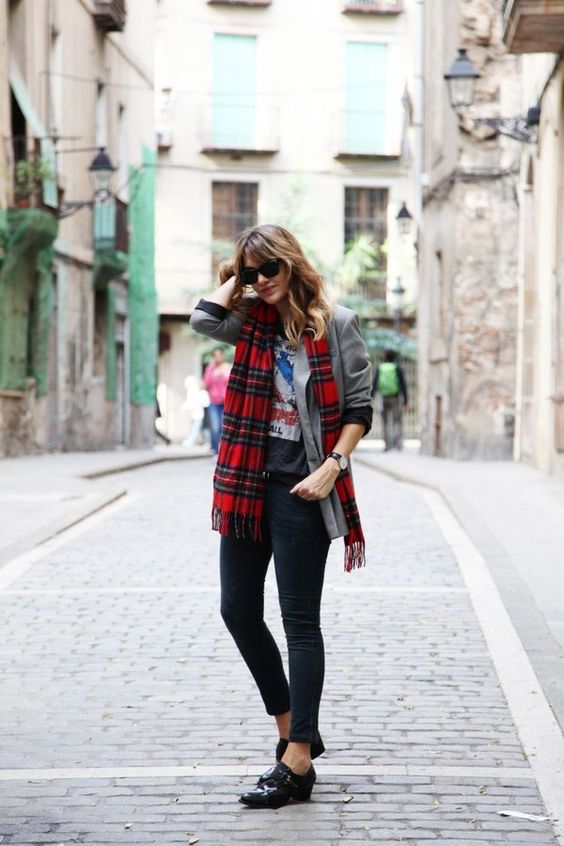 Grab these heeled monk straps:
Chie Mihara Monk-strap Heeled Shoes $351.00
31 – How to Wear Coat with Monk Straps Shoes for Women?
Keep it simple with tights and a short dress. Or you could go for a tee shirt tucked into skinny jeans. Complete the look with the coat and mong strap shoes!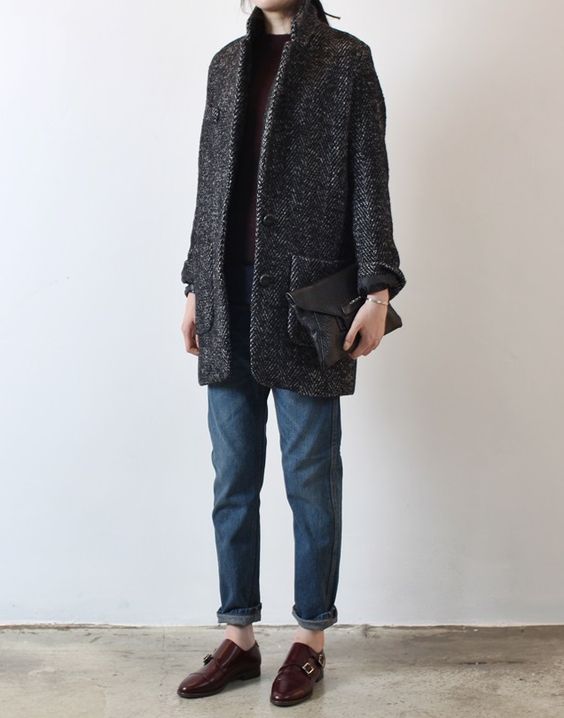 Monk Strap Shoes for Women in Burgundy $135.00
30 – Best Monk Shoe Brands for Women
When we talk about monk strap shoes and the best brands for women, the answer reveals itself. "ZARA." is your go-to brand if you are searching for high-end monk straps. If you want a less costly option, go for Aldo. You'll be able to find a top-notch pair there which isn't half as expensive. Scroll down to the list of all the best places selling monk strap shoes!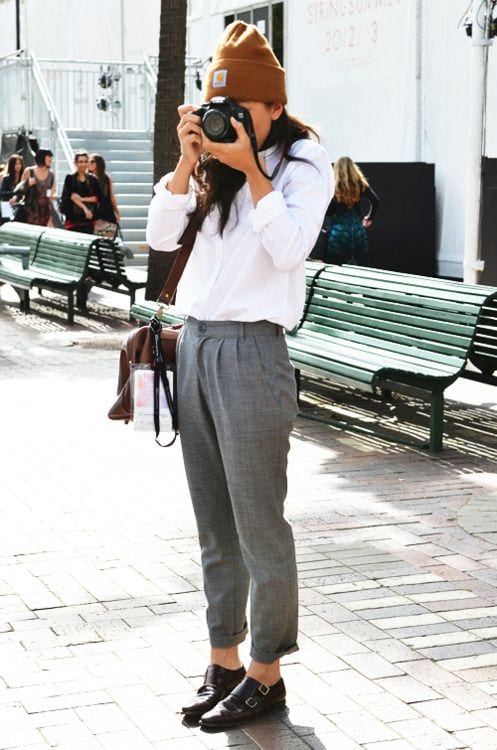 29 – Single Monk Strap Shoes for Women For a Minimal Look
Monk straps are shoes that have a strap on the front. They make for a very chic option for footwear. They don't just look amazing but they are also unique. Also, they don't just work in formal settings. Monk strap shoes look pretty amazing informally as well.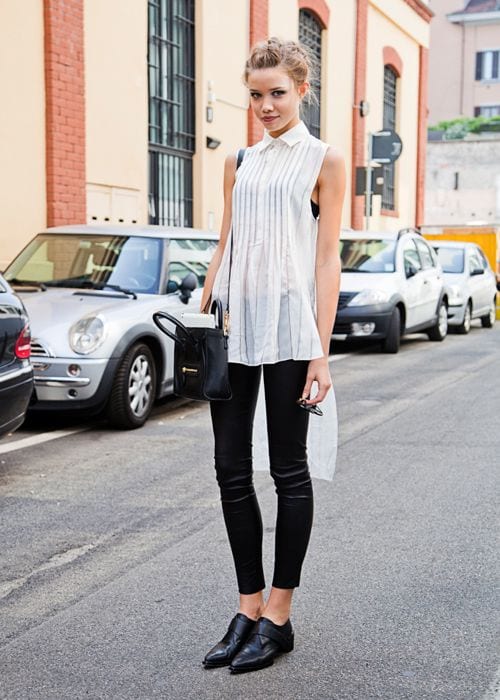 28 – Go with Double Monk Strap Shoes for the Working Ladies!
Double monk strap shoes look even snazzier. These have double buckles on the front. You can leave one of these buckles unfastened for a fashionable relaxed look. For a cool look, you can wear blue jeans, navy blue socks, and a cheetah print button-down with a cardigan worn over. Throw on an extra blue blazer if it is chilly outside. Here are the 20 Best Business Casual Work Shoes for Women.
27 – Layer Your Outfit For a Sophisticated Chic Look
Triple straps triple the style. You can wear leather ankle-length pants when wearing triple monk strap shoes and leave the socks out. Add a striped coat and muffler for cheering up the look.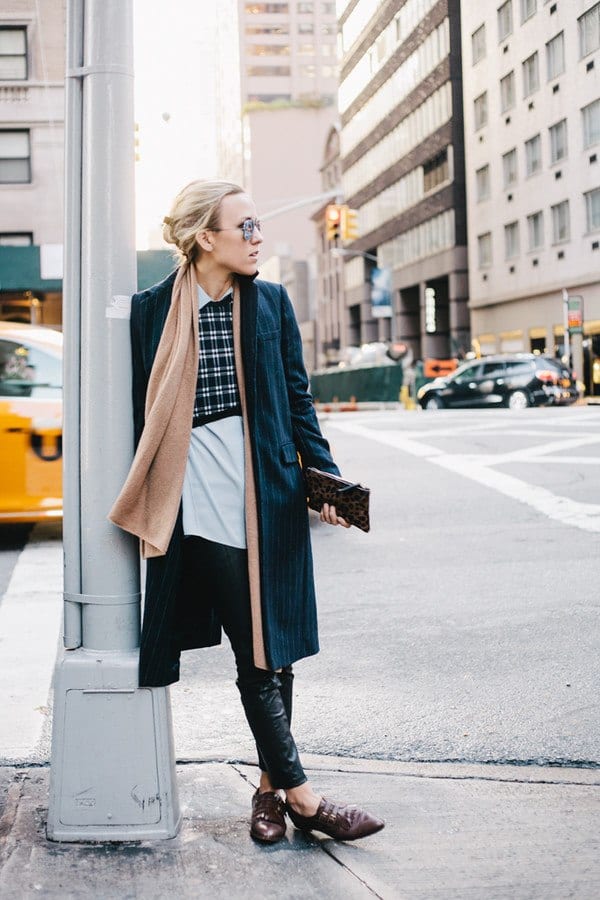 26 – Monk Strap Shoes for Women Pair Perfectly with a Suit!
There are several attires that you can rock with monk strap shoes. The pair of shoes need not only be styled with leather pants and blue blazers. You can wear any outfit of your liking. You can wear a chiffon onesie; a dress shirt and cropped baggie pants with your monk straps. Frocks skirts & blouses would also look very trendy with monk straps. The look isn't just stylish but also different. After all, monk strap shoes have the edge over the same old dress shoes for a reason! Don't miss out on 16 Popular Spring Street Style Outfits Ideas For Women.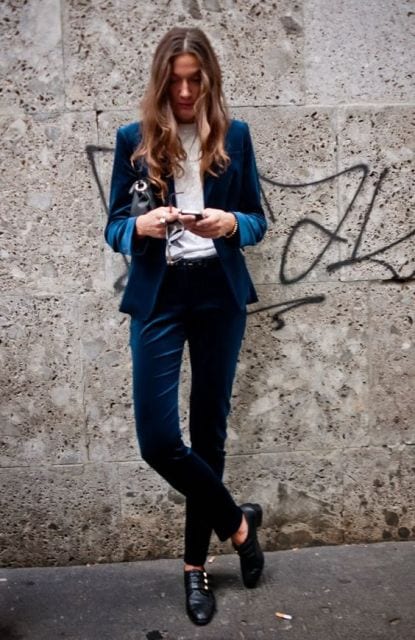 25 – How to Wear Monk Strap Shoes for a Cool Vibe?
Buckle on your monk strap shoes for a fancy look. Check out the latest street trends and incorporate them into your outfit for a cool, swaggy look!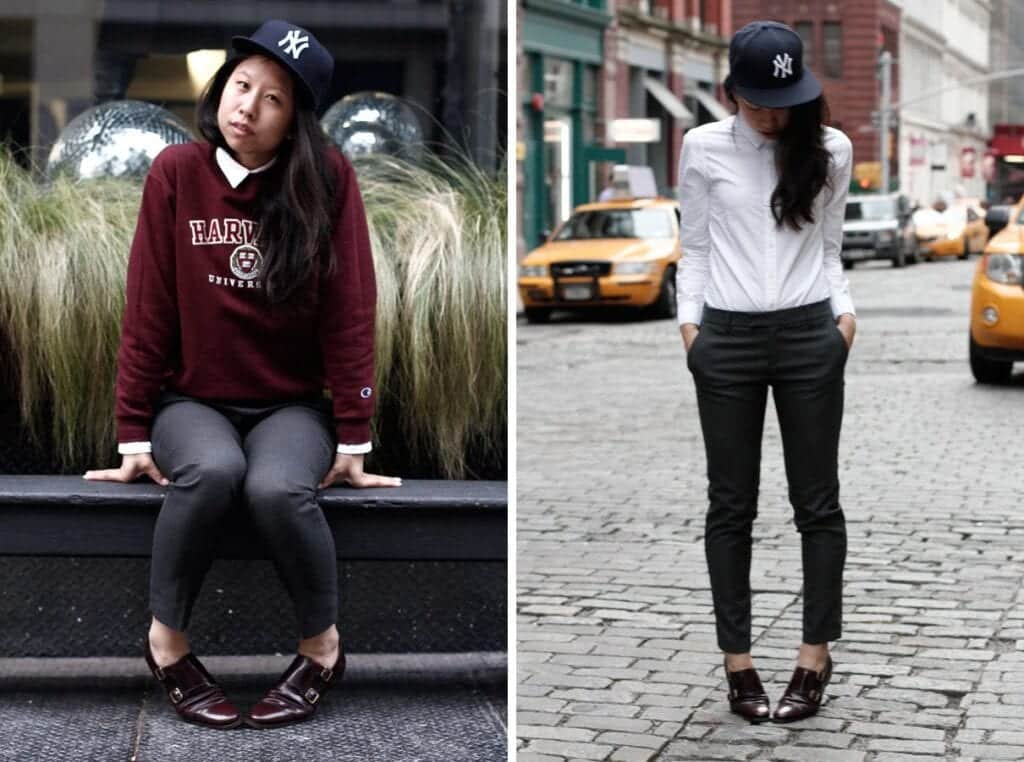 24 – Leather Monk Strap Shoes are Perfect for Travelling
Leather monk strap shoes can be your partner in crime on all days. Leather is an opulent yet resistant material that can handle a rocky surface and rain too. RECOMMENDED: Kate Middleton Travel Outfits; 18 Tips from Kate Travelling Style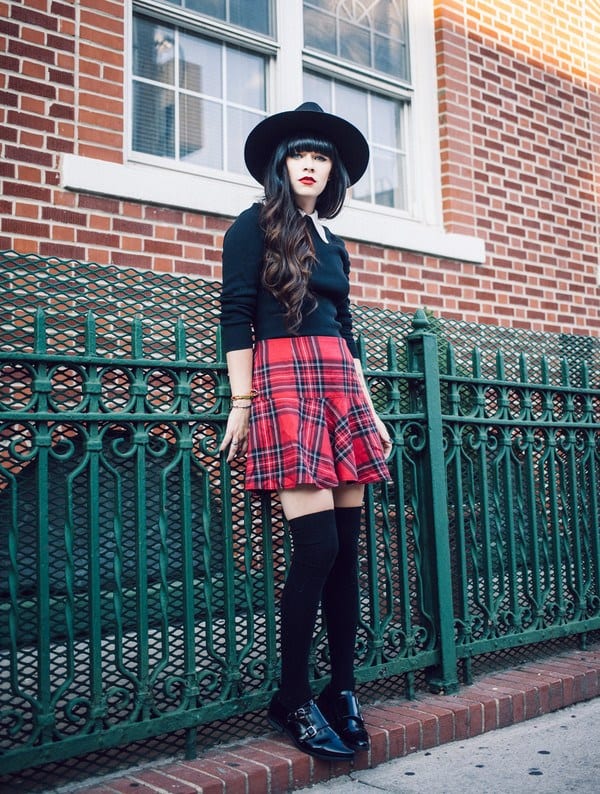 23 – Color Block Your Footwear in Shades of Brown Suede!
Suede looks chic, but the material isn't as durable as its brother "leather" is. The material and color get dirty very soon. Wear these when heading to posh gatherings or your office. Don't expect them to hold up in rain or muddy areas.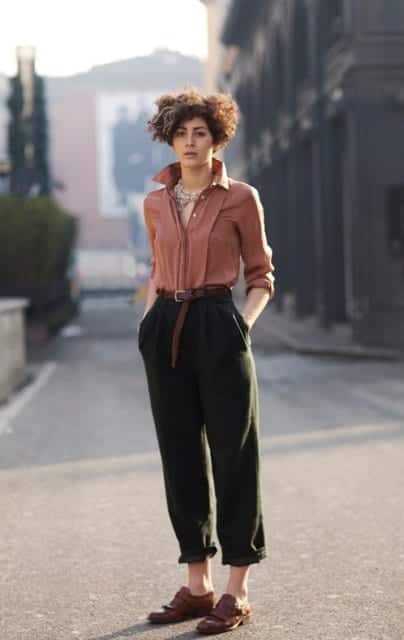 22 – What to Wear with Monk Style Shoes for a Casual Look?
Casually, monk straps wear well with a crisp pair of blue jeans. The look is gorgeous. You can wear several types of shirts with it, ranging from tees to dress shirts. Throw on a blazer or jacket if it is cold outdoors. Here are some Cute Casual Friday Outfits For Women.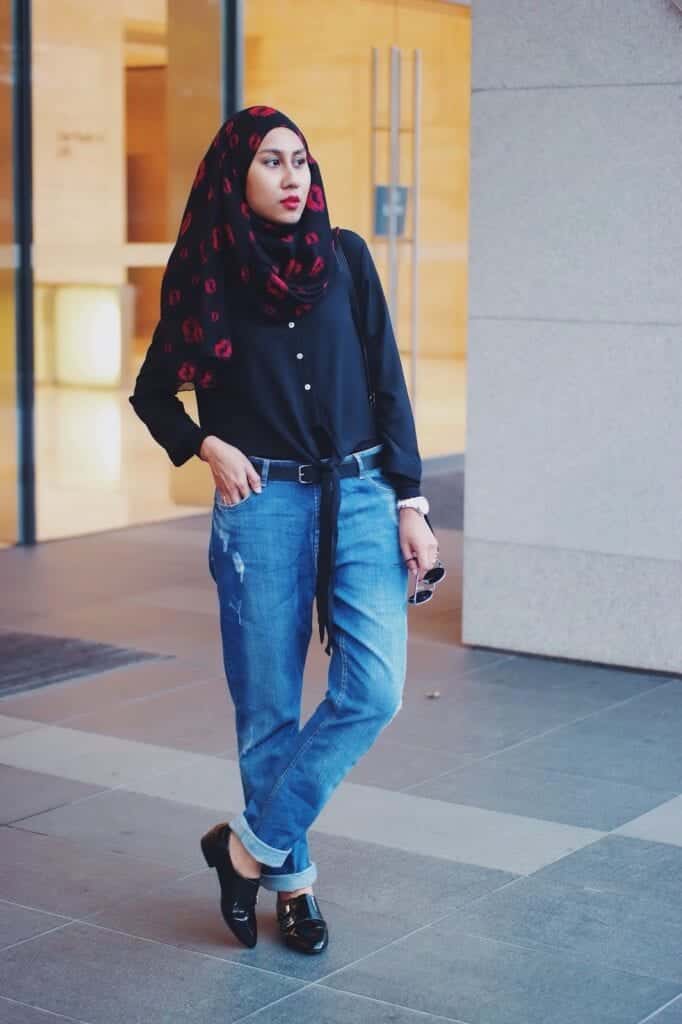 21 – When to Wear Monk Strap Shoes With Black Jeans?
Black jeans are as fantastic as blue ones and can similarly be paired with many clothing items. This look is perfect for a day out!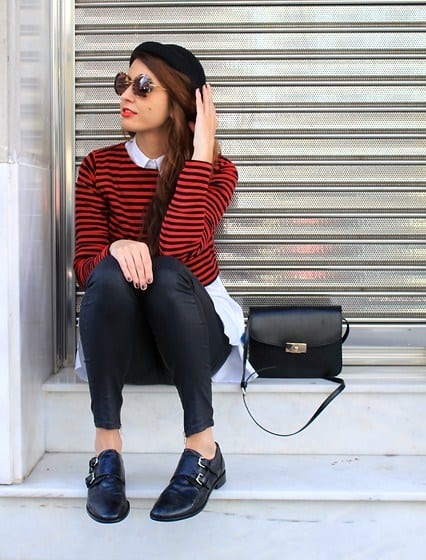 20 – Grab These Shoes for a Casual-Day-Out Look!
When the season calls for it, wear shorts and a striped black and white tee. You would not just look adorable but a whole lot more stylish. Here are some awesome High Waisted Shorts Outfits.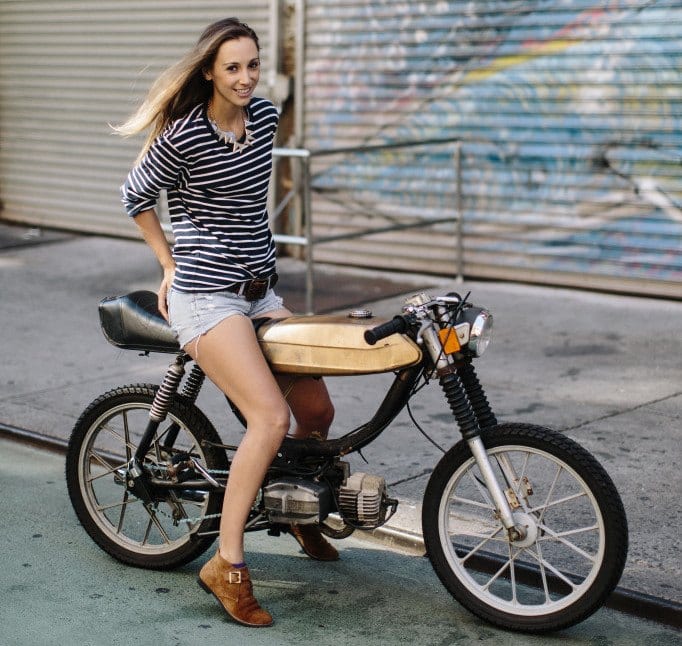 19 – Pair these Shoes with Skirt for School Girls
You might be thinking that monk strap shoes wear only with trousers and jeans, but in reality, they wear with all sorts of skirts. From midi skirts to lace ones, monk straps can be rocked with all. You can wear a pencil skirt with monk strap shoes for a sleek and modish look. Don leggings beneath the skirt if you want to.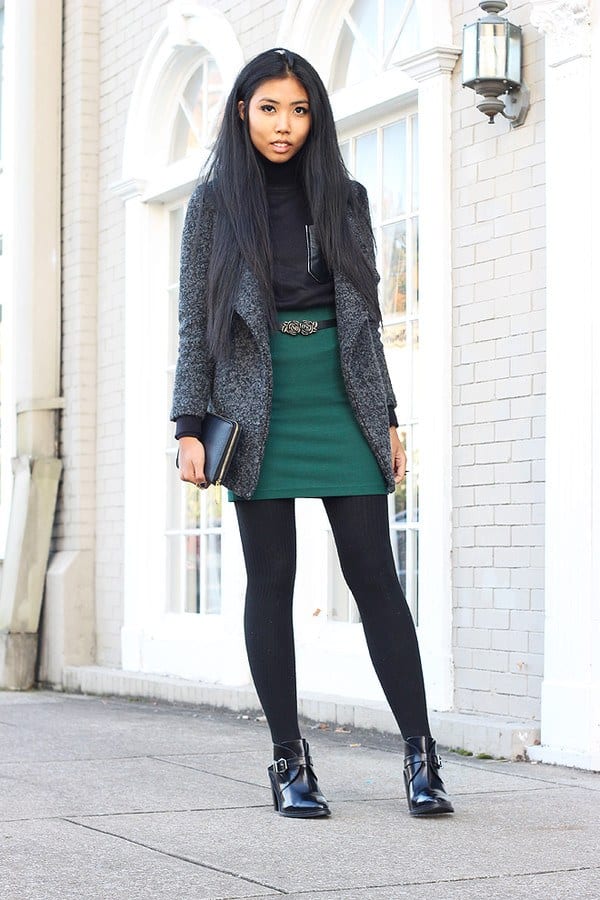 18 – How to Wear Monk Style With Blazer in Winters?
For a stunning look, don on a blazer. Not just is the look sober but it also looks fabulous. Here are some chic Ways to Wear a Blazer for Curvy Girls.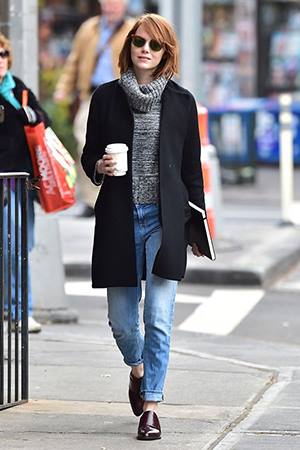 17 – Style Your Shoes with Pleated Pants
Throw on a leather jacket for dialing the notch on style up.
16 – Uplift Your Casual Outfit with Monk Strap Shoes for Women
Casual days call for comfy tees. And monk strap shoes look lovely with a tee outfit equally. Check out these 27 Ways to Wear Shirt Dress in Different Ways.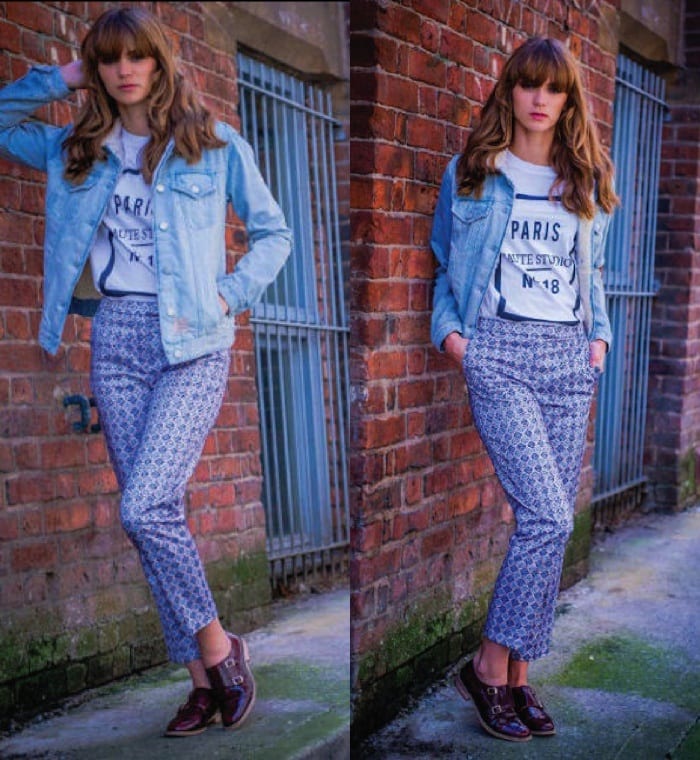 via
15 – Grab Your Monk Strap Shoes for a Suave Farm Girl Look!
For a sophisticated look, don a button-down shirt with your monk straps.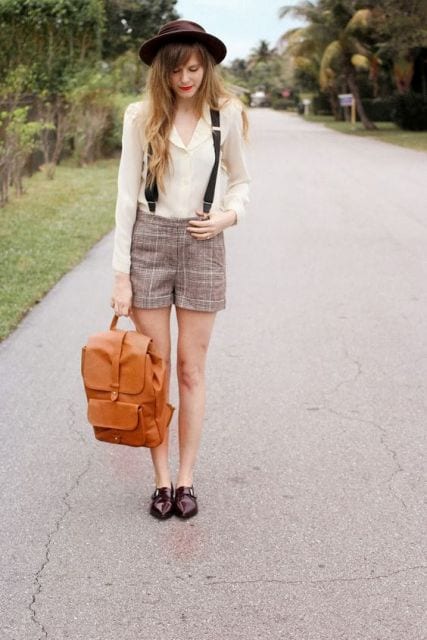 14 – Go Sock-less in Monk Strap Shoes for Women
No socks are the new glamorous. Rock this look as well. If you can get your hands on red monk strap shoes, here are the coolest Women's Outfits with Red Shoes.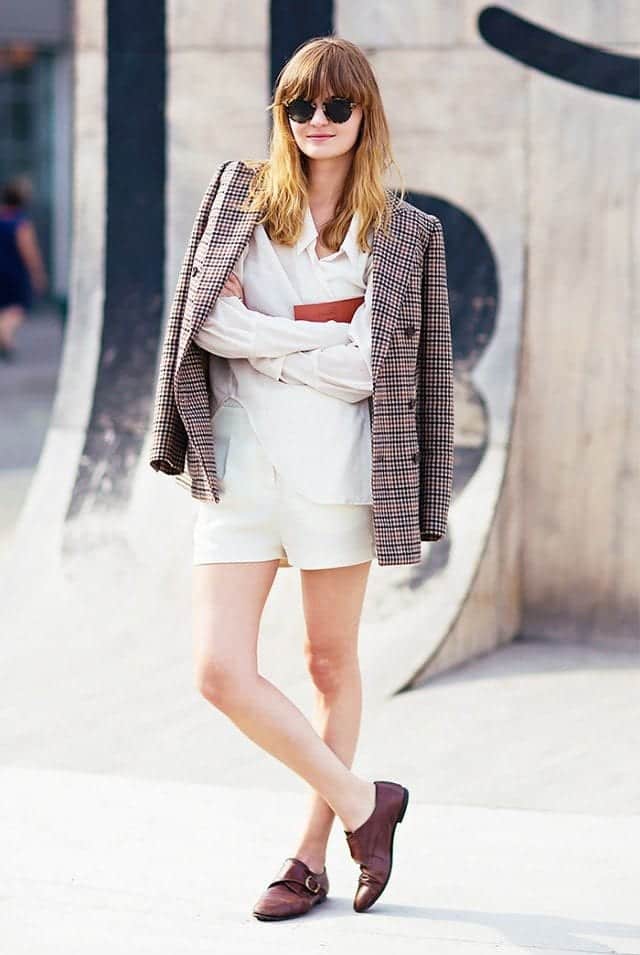 13 – Make Monk Strap Boots a Staple for Winter Wardrobe!
Monk strap boots with slim-fit jeans, leggings, etc. for a nifty look.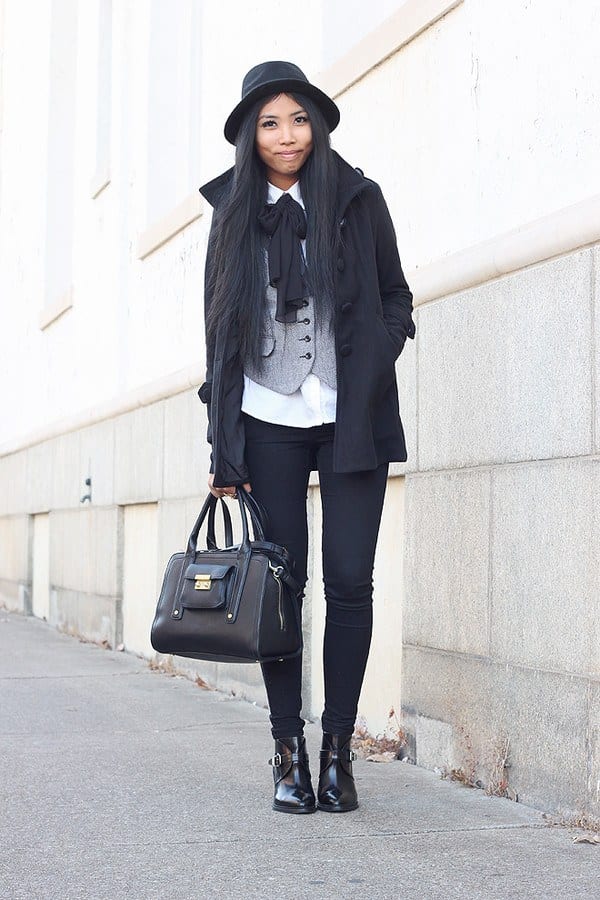 12 – Pair a Muted Top & Bottom with Bright & Bold Shoes
Add a pair of monk strap loafers to your shoe rack. You won't regret it. RECOMMENDED: 17 Cute Outfits to Wear with Loafers for Women This Season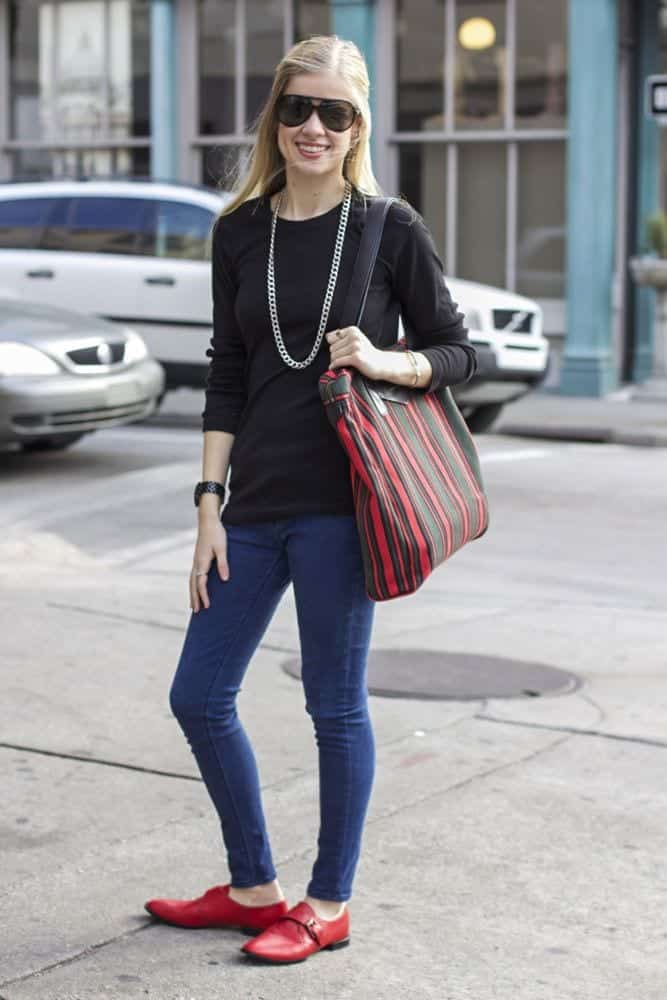 11 – Add Prints to Your Look to Incorporate Texture!
Heeled monk strap boots make for a gorgeous look. Here are some trendy ways to style animal prints.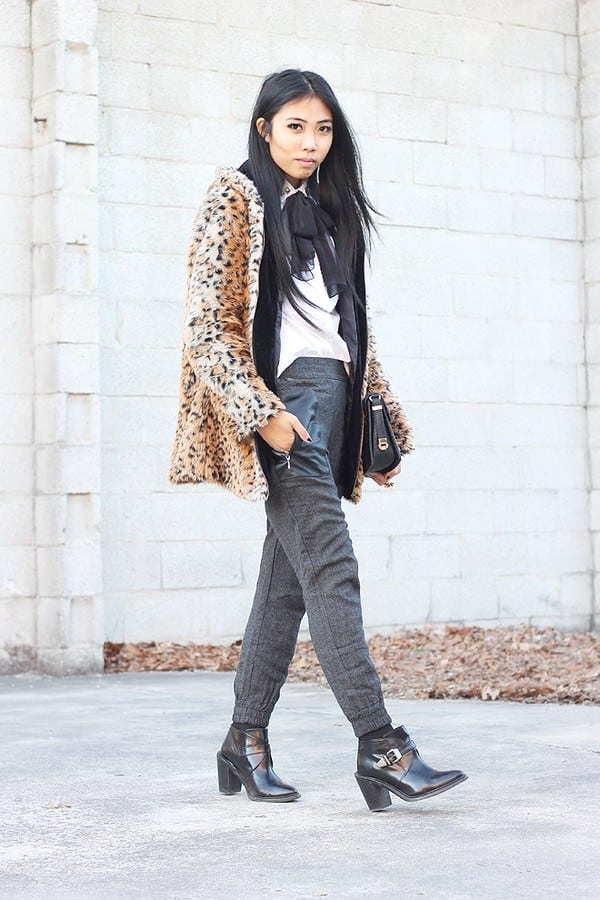 10 – Pair Midi Dress with Oxblood Monk Strap Shoes for Girls!
9 – Elevate Your Streetwear with Monk Strap Shoes!
Accessorize with glasses, a crossbody bag, and a bandana to complete the look! Here are some more tips on How To Wear A Crossbody Bag.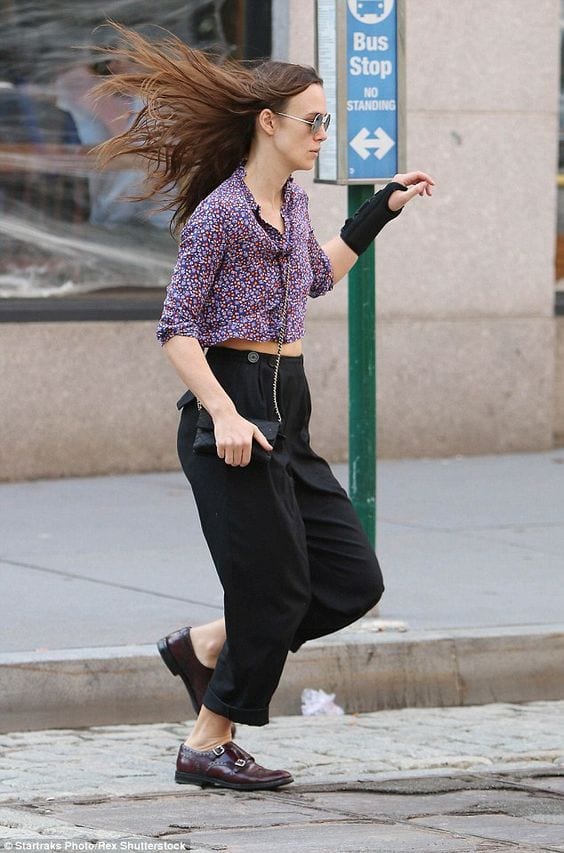 8 – Play Around with Prints, Black & Tan Shades for an Effortless Look!
Adding print to an otherwise basic outfit can help elevate your look and make it more fun.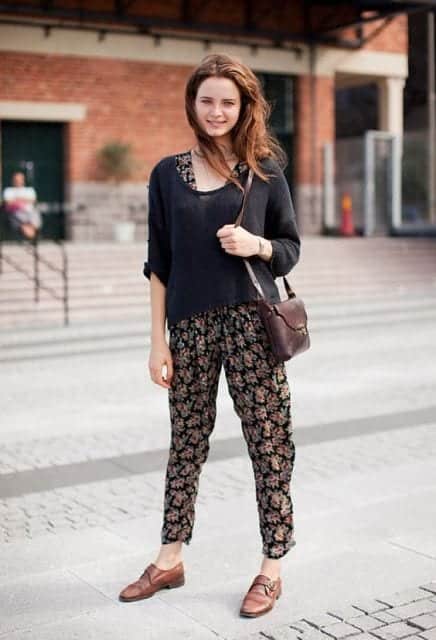 7 – Add Suspenders for the Perfect Masculine Female Outfit!
6 – Go for Bright Socks with a Neutral Outfit
Haven't you heard? Bright socks are the new trend!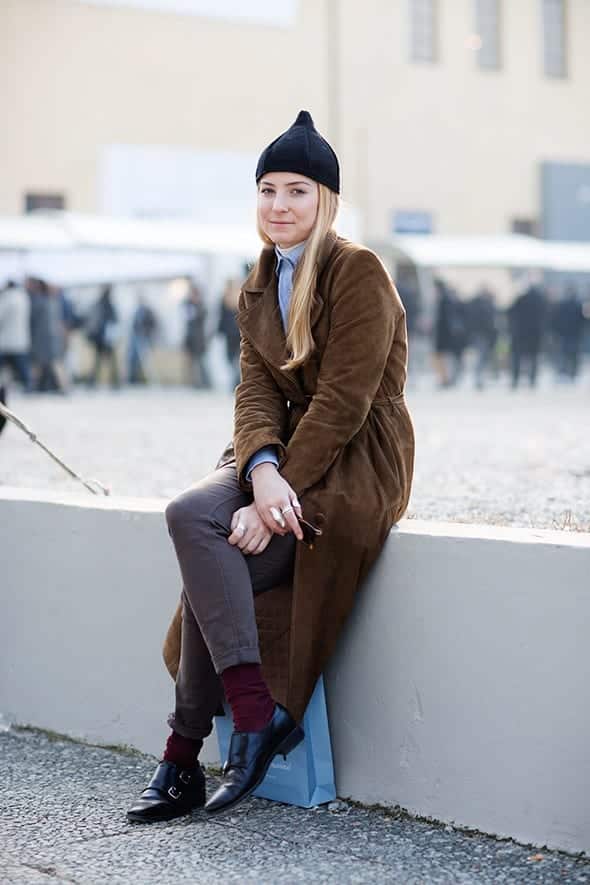 5 – Monk Strap Shoes for Women Outfit In Summers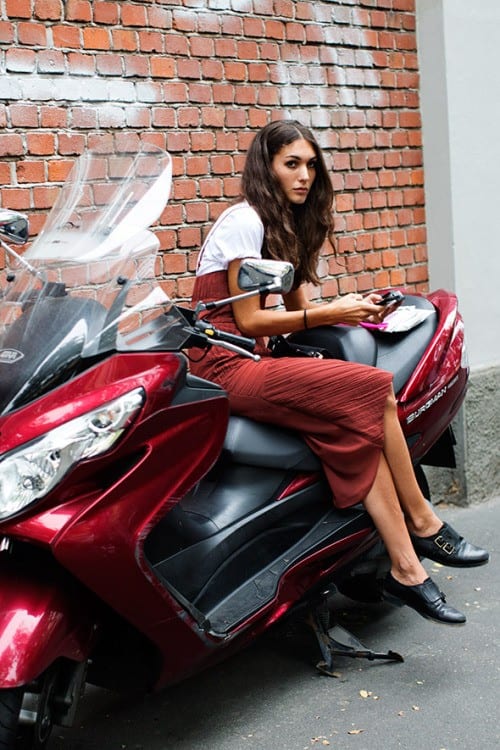 via
4 – Elevate Your Party Outfit with Monk Strap Shoes!
Throw on a pair of glamorous silver hoops, a bright lip and you are all set!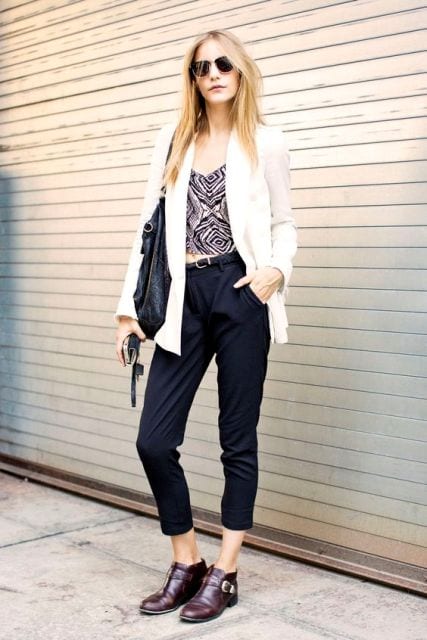 3 – Perfect the Official Look with Pencil Skirt and Blazer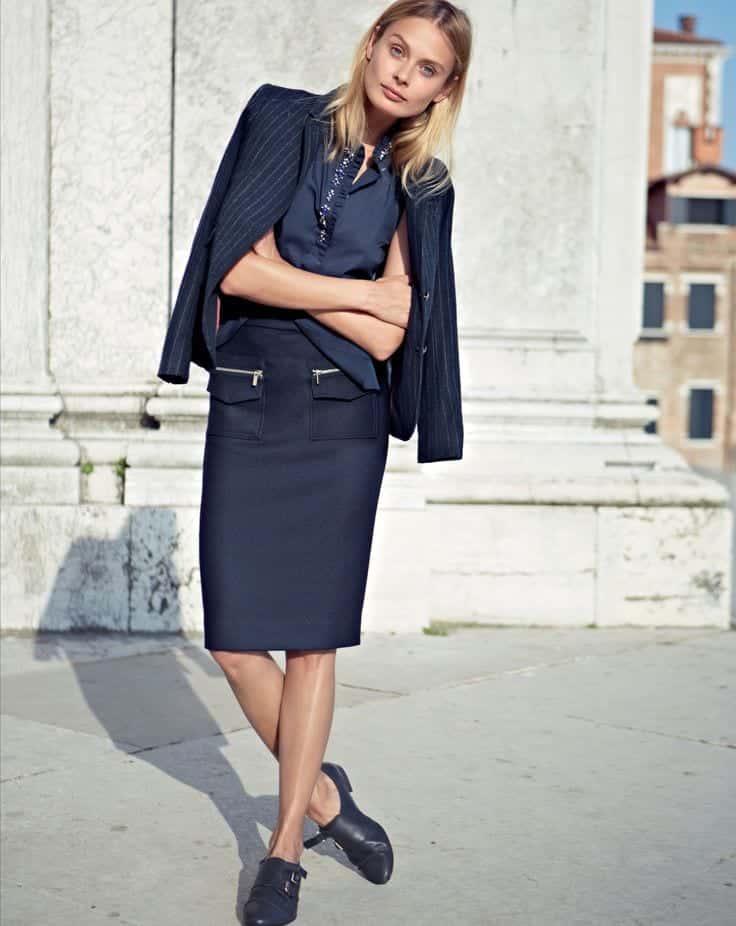 2 – Monk Strap Shoes for Women in Everyday Setting
Monk strap shoes can be worn casually as well. For a change, try them instead of the usual sneakers or pumps.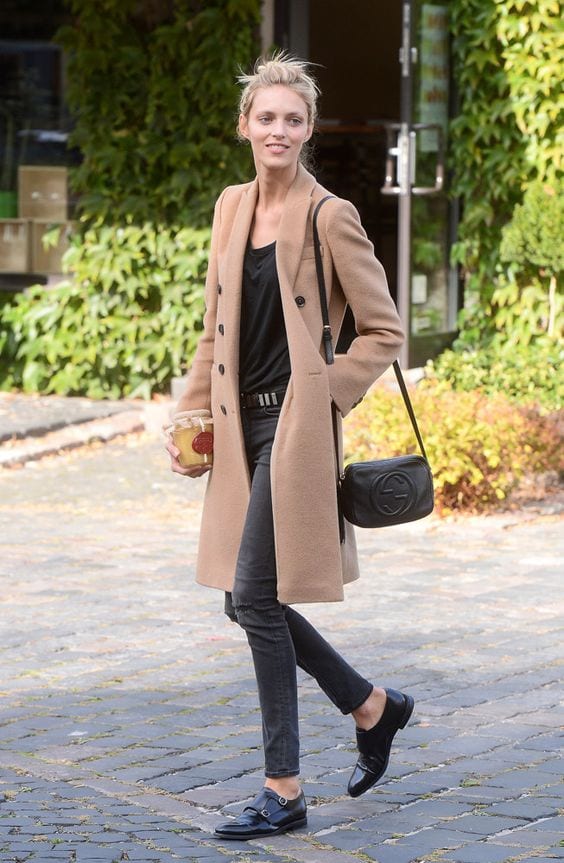 1 – Go Bold & Beautiful in Red Shoes Paired with Neutral Earthy Tones!
Be confident and be yourself. There is no style you can't rock.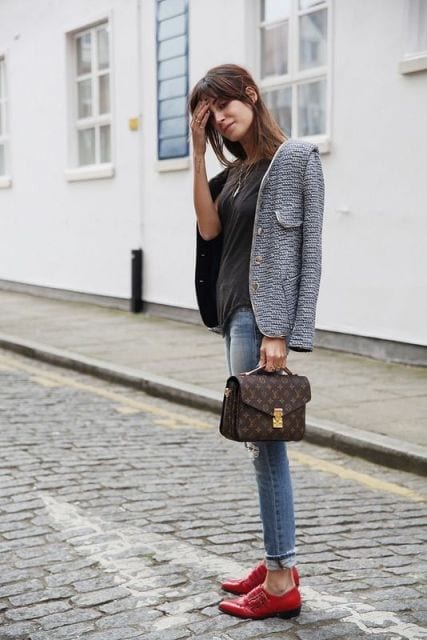 Frequently Asked Questions
Q. What are monk strap shoes?
A monk strap shoe is a conventionally a style of footwear where a strap secures your foot. These shoes do not have laces and instead have one or more straps to secure the foot. Monk shoes are considered dress shoes due to their sleek, chic and elegant look. However, lately, they are being used for formal and informal outfits due to their versatility.
Q. Are monk strap shoes out of style?
Monk strap shoes happen to be one of those staple wardrobe items that are timelessly classic and never go out of fashion. Therefore, it is safe to say that monk strap outfits for women are very in style and will continue to-do-so 20 years from now. And why should they not be? They look super modern sophisticated and elevate your look immensely. Remember to throw on a pair of monk strap shoes to feel superior and confident whenever you feel frumpy or under the weather.
Q. How comfortable are monk strap shoes?
The answer is terribly and extremely comfortable! Monk strap shoes are easy to slip on and rid you of the worry of laces coming undone. The straps are adjustable, ensuring a perfectly snug fit of the shoe around your foot. And the varying number of straps allows a tailored and personalized experience for each individual. Moreover, these shoes come in various styles and fits, so you are bound to find the perfect pair for yourself.
Q. Where can I buy monk strap shoes?
Here is a list of all the best places you can grab these shoes:
Q. Can I wear monk strap shoes to work?
Due to its versatility monk strap is the perfect pick for a professional outfit. Monk strap shoes look classy, sleek, and modern and pair perfectly with various looks – whether it be business casual or formal business attire, including suits, blazers, and jumpsuits for women.