Kate Middleton Travel Style. Kate Middleton's travel style has never ceased to impress the media that watches her every move like a hawk, or the people of her country who admire her ideally. Not only is her personality and charming attributes worshiped everywhere but so are her endeavors in fashion and style.
Kate Middleton's wardrobe styles, particularly the ones she uses in travel, have transformed over the course of the last several years and each one is noteworthy. We will be going through some of those looks, of course, but we are also going to be showing you ways you can take from the Duchess of Cambridge's style and incorporate it in a way suitable for, you know, a non-royal.
So let's get started with the breakdown of some of Kate's best outfits that she has worn while traveling, as well as 18 tips to help you achieve a similar style. Keep reading to see what we mean!
Kate Middleton's Best Travel Outfits
One of Kate's most iconic series of ensembles took place when she visited Canada on an official tour in 2016. In this video, you can get the full scoop on all the outfits she wore on the tour, the names of the designers, her accessories, even the prices of the outfits! Check it out for a comprehensive look into one of Britain's most impressive style icons and her wardrobe.
You might also want to check out our article on Women's Outfits for Airport – 20 Ways to Travel Like Celebrity for more celebrity inspiration.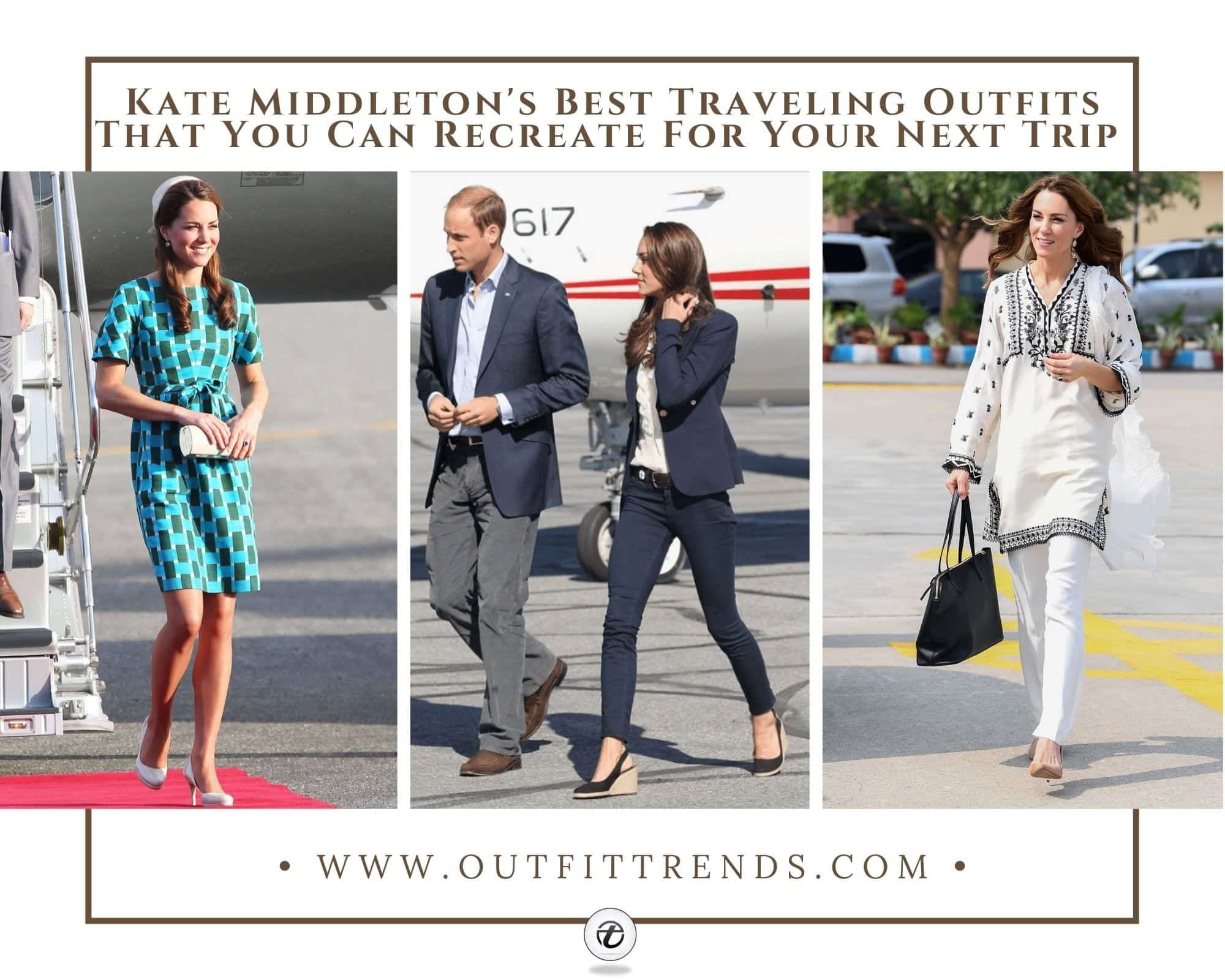 Now let's go through some tips that we stole from Katee Middleton's travel wardrobe!
↓ 19. Layer with Leather
One of our readers asked if the royal family can wear leather? The answer is yes, they definitely do. In fact, Kate has been spotted in leather a number of times on her trips. For instance, here is her adorable leather vest from her trip to Pakistan: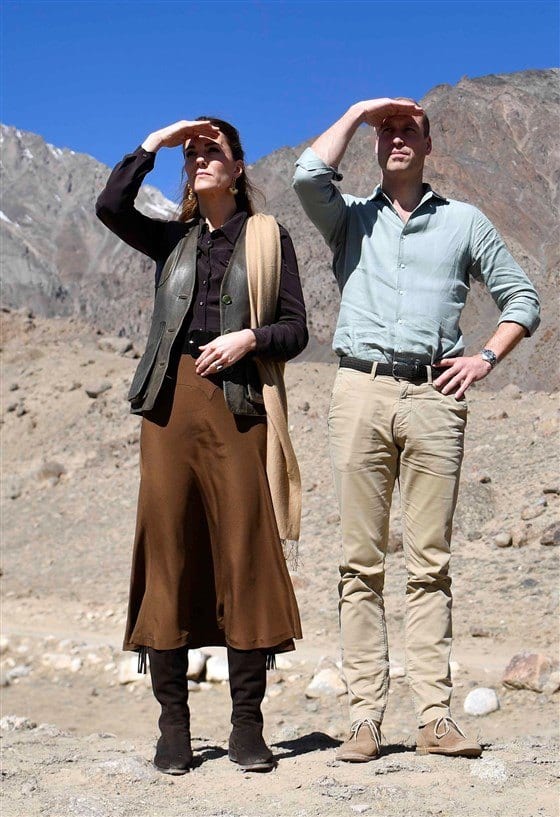 And we all know how she loves reusing her clothes. She was seen wearing this same vest in 2016 at a Suits event in New York: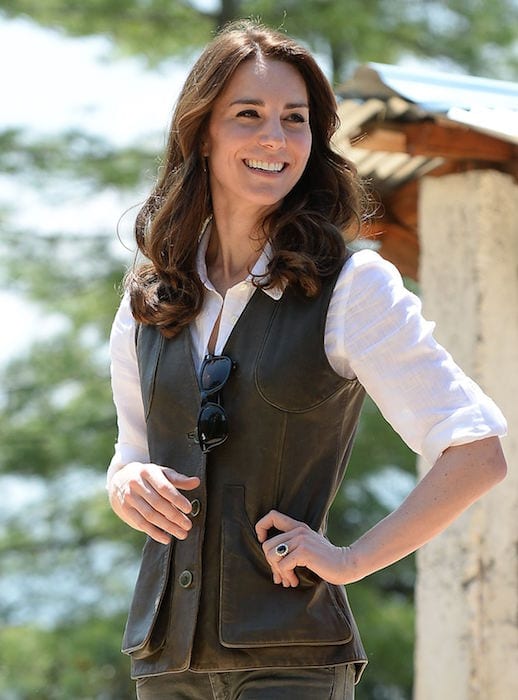 ↓ 18. Don't shy away from bright colors
On Kate's first Royal Tour in 2011, she showed us that a bright green (veering towards lime) dress can hold its own on the classy scale. So our first tip for getting Kate's travel style is to not shy away from bright colors.
A solid-colored sheath-style is a classy and bold choice and looks phenomenal when it's a flattering shape and color for your skin tone. (If the green doesn't work, why not try a yellow or pink? The sky is the limit, friends!)
In this picture, Kate is wearing Diane Von Furstenberg.

↓ 17. Choose boatneck, knee-length dresses
One of Kate's signature styles is a knee-length dress with a boatneck neckline. You will notice that in a lot of her pictures, this is the style dress she veers towards because it is very flattering on her figure. If you want to model your style after Kate Middleton, then giving the boatneck style a try is a must!
In this picture, the Duchess is wearing an incredible royal blue lace dress by Canadian designer Erdem, featuring the same signature style as the previous look.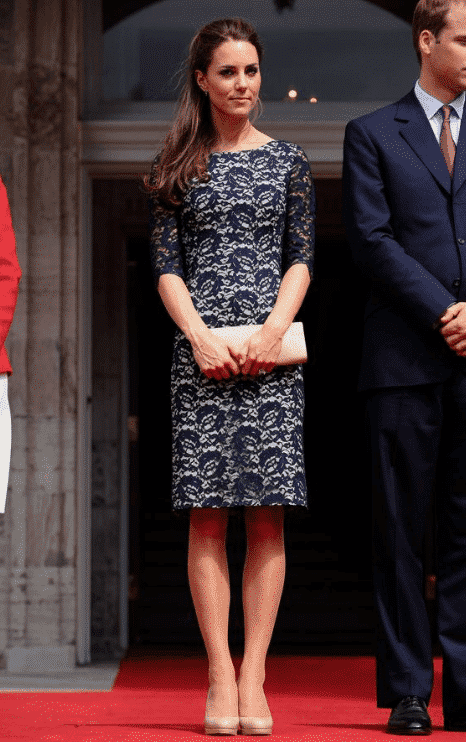 ↓ 16. Flatter your shape in formalwear
Here is Kate Middleton in a ravishing and breathtaking Alexander McQueen gown while on tour in 2011. With this ensemble, she shows us the golden rule of formal wear, and that is ensuring your outfit, whether it is a gown or a pantsuit, flatters your figure and highlights your best features.
Kate's boatneck gown draws attention to her face and collarbones and the cinched waist highlights her slender figure. To achieve a similar look, choose a flowing gown of sheer material with cap sleeves.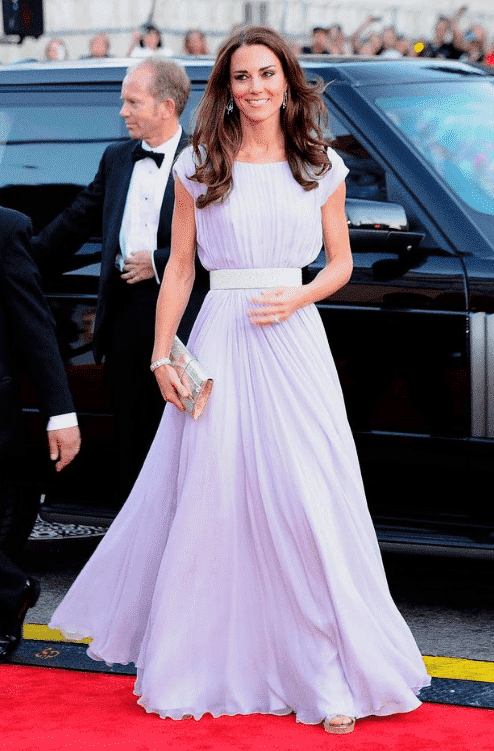 ↓ 15. Pair trainers with neutral culottes
Kate models a semi-casual airport style that has us drooling with envy! Here she has paired some white trainers with soft brown culottes and an embroidered eyelet top, tucked in and belted, of course. To achieve a similar look, add some simple drop earrings and a silver watch.
This makes for a great travel outfit, as well as a divine look for social calls, dinners out, and meetings with colleagues.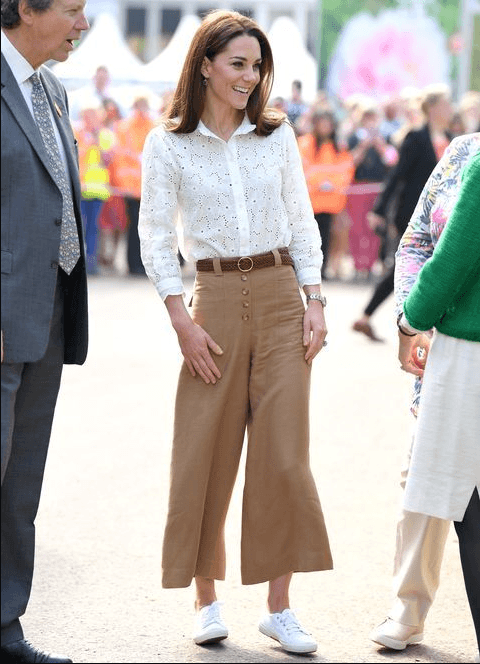 RECOMMENDED: Europe Travel Outfits
↓ 14. Pair printed cropped trousers with a blazer
Kate's radiant smile is just one of the beautiful features of this ensemble.
To get a similar look, make sure your blazer hits right at the hips and is properly tailored. (Pro tip: to instantly enhance your wardrobe to royal status, get your clothes tailored!).
Pair with a white boatneck top and taupe-colored espadrilles. If you like wearing blazers, you have to check out our post on Summer Blazer Outfits.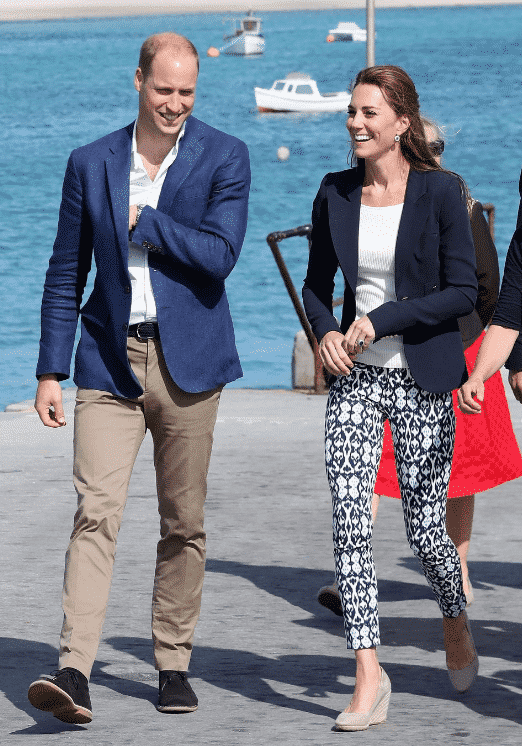 ↓ 13. Pair boat shoes with jeans for smart-casual look
The Duchess has rocked this pair of Sebago Bala boat shoes multiple times and as cute as they are, we can see why. They are the perfect finish to this smart-casual look featuring dark-wash jeans and an olive-green button-down top.
Keep it belted at the waist and style your hair in long, loose curls to get the perfect Kate look. This is one of her looks that needs little alteration to make it appropriate for us common folk.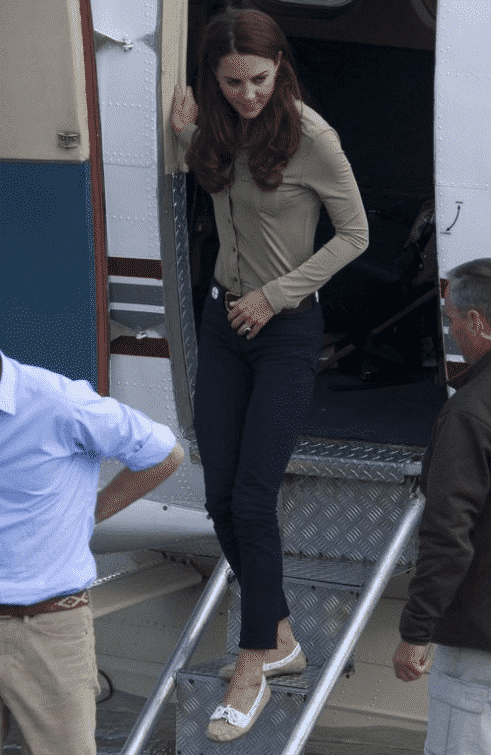 Be sure to check out this amazing guide on Cute Summer Travelling Outfits for Women.
↓ 12. Opt for off-the-shoulder maxi dresses
Kate perfectly models a gorgeous red off-the-shoulder dress and nude heels, making this outfit the best choice for a party, a wedding, or a church event. Choose a dress that cinches at the waist and style your hair in loose curls.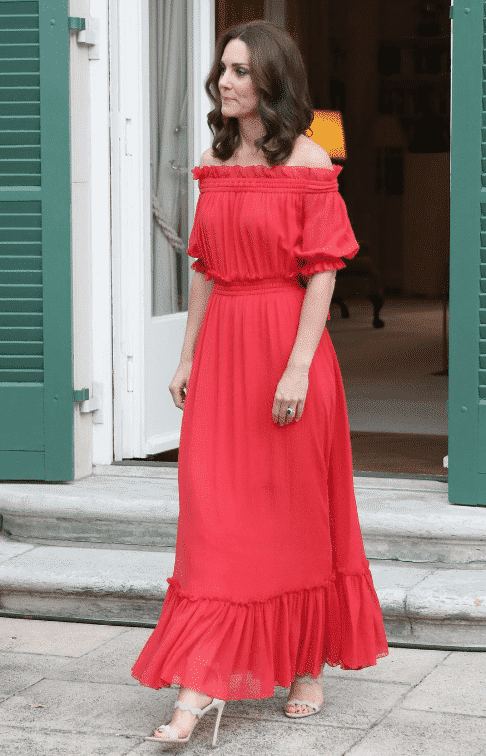 ↓ 11. Pair a wool dress with tights for winter weather
Winterwear has never looked more royal!
This gorgeous gray dress is belted at the waist (have you noticed the theme? Kate always cinches her waist to accentuate her figure) and falls right at the knees. For this look, Kate has paired her dress with sheer black tights and pumps and a darling hat.
To make this ensemble a little less "Duchess going for a stroll," skip the hat and pop on a scarf instead. If you are traveling to attend a wedding during winter, this just might be the look for you!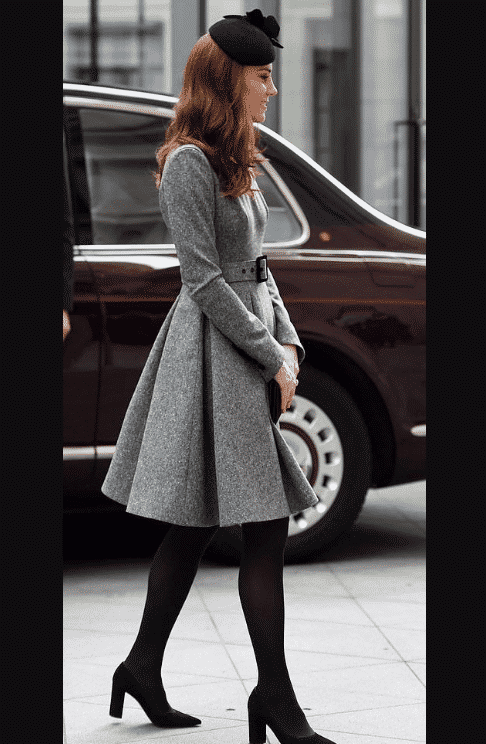 ↓ 10. Rock some wide-legged trousers like the Duchess
Here we see another gorgeous travel outfit that could easily be adapted for our own wardrobes, as worn by the beautiful, the classy, the inexpressible Kate Middleton!
What you will need is an olive green blazer or jacket (hitting right at the hip, remember!) paired with a well-fitting white blouse and navy blue, wide-legged trousers. Once again, Kate emphasizes her figure with a cinching belt and has matched her pumps to her jacket.
She has her hair pulled back, showcasing her high cheekbones and drop earrings. This is an elegant, sophisticated outfit that can be worn to any dressy or professional event and you can tweak it as necessary to make it work for you!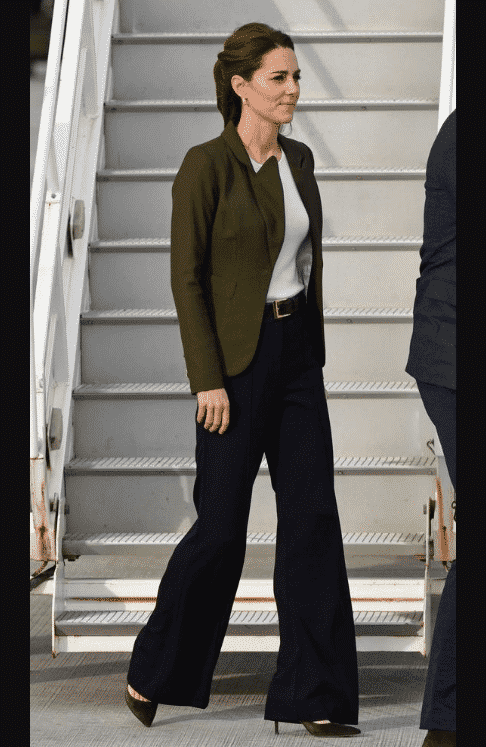 ↓ 9. Get your buttoned blazer tailored
This is a tip every top-notch businesswoman probably knows: a tailored blazer is a life changer. Here Kate models the versatility of a navy blue blazer featuring gold buttons over a pinafore style blouse and jeans. (The Duchess knows how to rock a pair of skinny jeans, am I right?!).
Add some espadrilles and as always, style your hair in loose, shiny waves.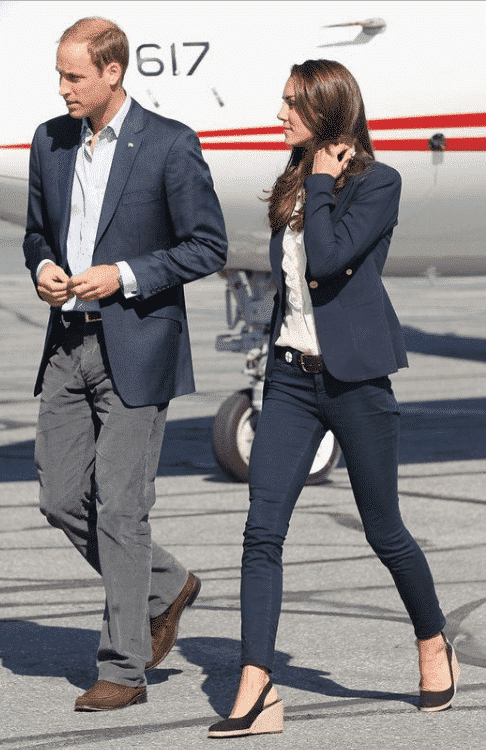 For this look, we have also included a similarly styled outfit to show you some options for an ensemble like this one. Note that in this picture, the model has chosen a very similar blazer with the decorating buttons, a plain blouse, jeans, and little flats. This lady has also accessorized with an adorable handbag.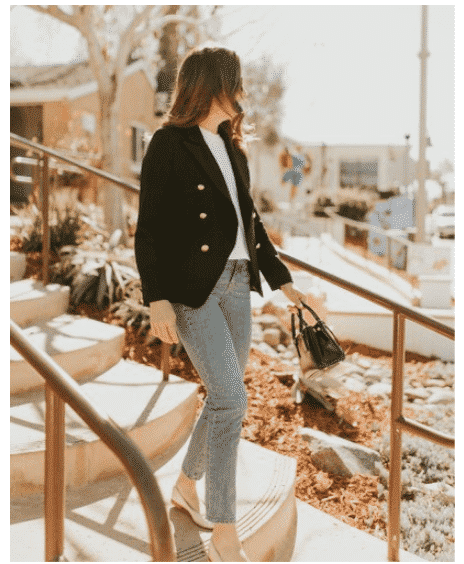 Get the outfit for yourself at the links below!
BB Dakota Pay Attention Blouse $78
↓ 8. Pair white heels with a print dress
Here the Duchess of Cambridge is a vision in a knee-length Chanel frock paired with white pumps and a darling little hat. To bring this look down from a royal level, you can skip the hat or switch it out for a wide-brimmed floppy hat. Pull your hair back and style in loose curls. Don't forget a clutch to stash your essentials.
This makes for a great wedding guest outfit or formal event ensemble.
↓ 7. Wear your dark-wash skinny jeans with espadrilles
To really pull of a Duchess of Cambridge semi-casual look, check out her rocking espadrilles. Whether paired with a blazer or a tee shirt, adding espadrilles or heels to a look featuring skinny jeans automatically brings the look up a notch. We love how seamlessly Kate pairs casual pieces with dressier items, making even a pair of jeans seem classy and ultra-sophisticated.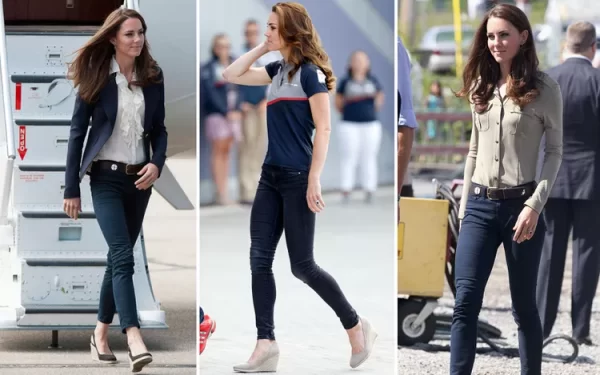 ↓ 6. Style your brown walking boots like Kate
This gorgeous set of brown boots looks incredible when paired with a white sweater, topped with a vest, sunglasses, and skinny gray jeans. This is a functional travel outfit that seems like it's straight out of an Indiana Jones movie (in a good way).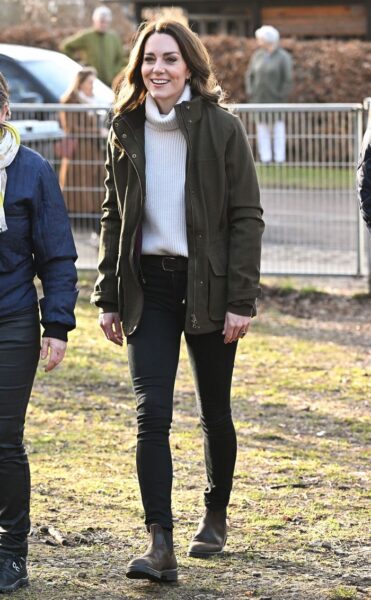 ↓ 5. Get classy with a belted wool coat
Once again, Kate models a super sophisticated version of a winter ensemble that makes us glad it's wintertime! This piece is a beauty and definitely the showrunner of the ensemble. Keep the rest of your look simple, with a low bun, simple drop earrings, and dark jeans.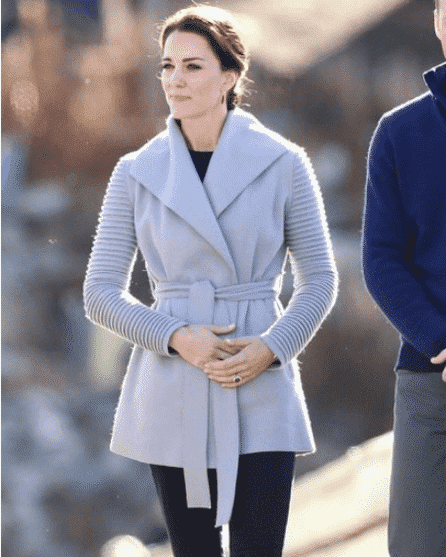 To get a coat like Kate's, check out the link below:
↓ 4. Add some old-fashioned style pieces to your wardrobe
Not only does Kate Middleton look stunning in this frock, but we have serious Pride & Prejudice envy over that coat! We love how she has taken a seemingly old-fashioned style and worn it in a way that looks decisively modern and sophisticated.
Kate definitely has a couple of go-to looks that always feature in her apparel: here we see another example of how she highlights her slim waist. The buttons cinch the torso and draw the eye right to the slimmest part of her figure. This is an important factor in this outfit, as otherwise, she is quite covered up and wearing more than one layer.
Take a page out of her book and make sure that your clothes are always well-fitting and structured so that even if you are wearing a coat over a dress and trousers, you still have an idea of the shape underneath. This is great for outdoor activities during the cold season.
If you like seeing Kate in such ethnic and traditional pieces, you'll love the outfits from Kate Middleton's Trip To Pakistan.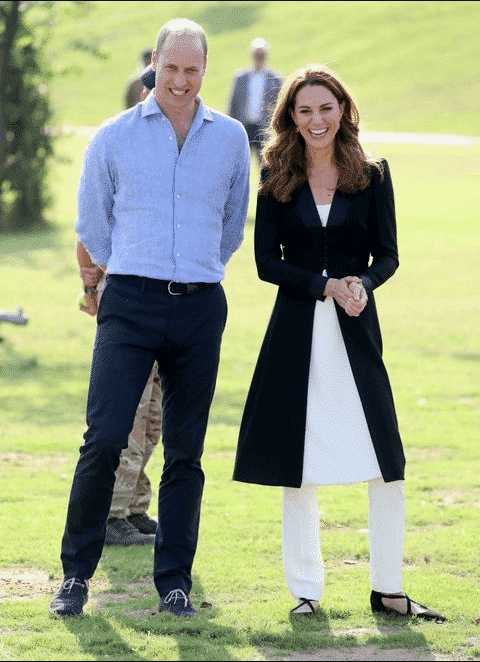 ↓ 3. Bring some sunshine yellow into your wardrobe
In this picture, Kate is sporting an adorable little yellow frock, complete with round buttons down the front, a cute collar, and mini puff sleeves. This is a girly but sophisticated look, perfect for traveling, getting lunch with friends, or sitting down with the family for dinner. This look needs little to no tweaking, all you need to do is add nude heels and a matching clutch.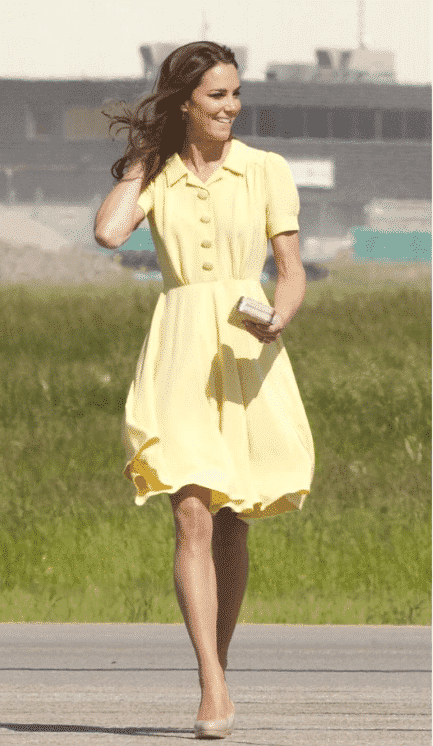 ↓ 2. Get super classy with a matching suit
This is a very high-end look that may not suit running to the grocery store, but would definitely work for attending a wedding, graduation ceremony, or a formal event. You should be able to spot the markers of a verified Kate Middleton outfit with this flattering silhouette.
(Love her hair? Check out the video down below for a tutorial to get the perfect Duchess of Cambridge updo.)
↓ 1. Take inspiration from nautical styles
Kate makes this nautical-inspired outfit look like it came straight off the runway. And by stealing this look for yourself, you will too!
Start with a well-fitting black-and-white striped top. Pair with some navy blue trousers (we especially like the detail of the buttons) and add a bright red accessory, preferably a simple clutch. For a look like this, you could pop on a pair of heels, espadrilles, or even trainers and of course, a pair of Duchess-approved drop earrings!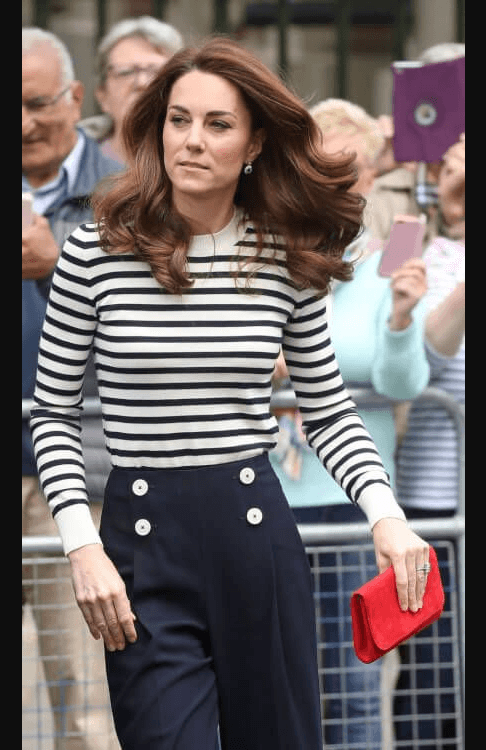 Q.

What Shoes Does Kate Middleton Wear?

A. We have gone through a whole list of Kate's outfits and go-to styles and have learned a lot! But something we did not dive too much into is SHOES. What kind of shoes does Kate wear? What are her favorites? What does her collection look like? Get all these questions answered and more in this 8-minute video. Enjoy!

We hope this article was helpful to you and that you have gleaned some takeaways that you can start applying today to get your own Kate Middleton style! Do you have a favorite Kate Middleton outfit? Share it in the comments below!
R.H. Elias is a freelance writer, aspiring author, and freelance transcriptionist. She is a homebody all the way and loves curling up on a cold, rainy day with a good book and a warm cup of tea. Her favourite pastimes include reading, writing, and watching period films. She currently lives in Puerto Rico.