Celebrity Wedding Guest Outfits: The pandemic totally made us forget what normal life was like before we were forced to hunker down in our homes. You might have forgotten but, we still have weddings to attend this season. Since we have spent a lot of time in our pajamas last year, why not go a little extra and take inspiration from some of the best celebrity outfits. To make things easier for you, we have prepared a list of the 20 best celebrity guest wedding outfits in 2022.
Taking Inspiration From Celebrity Wedding Guest Looks?
The answer is simple, take a look at the list of the best looks that we have prepared for you and add your own finishing touch to it. You know what looks good on you and what would go well with the wedding hosts better than anyone else. Now, these celebrities spend thousands of dollars on their outfits, if not millions but, don't worry; you obviously don't have to do that. However, you can easily research the lookbooks in this post for affordable clothing options and accessories. From maxi dresses to a little black dress, we got it all!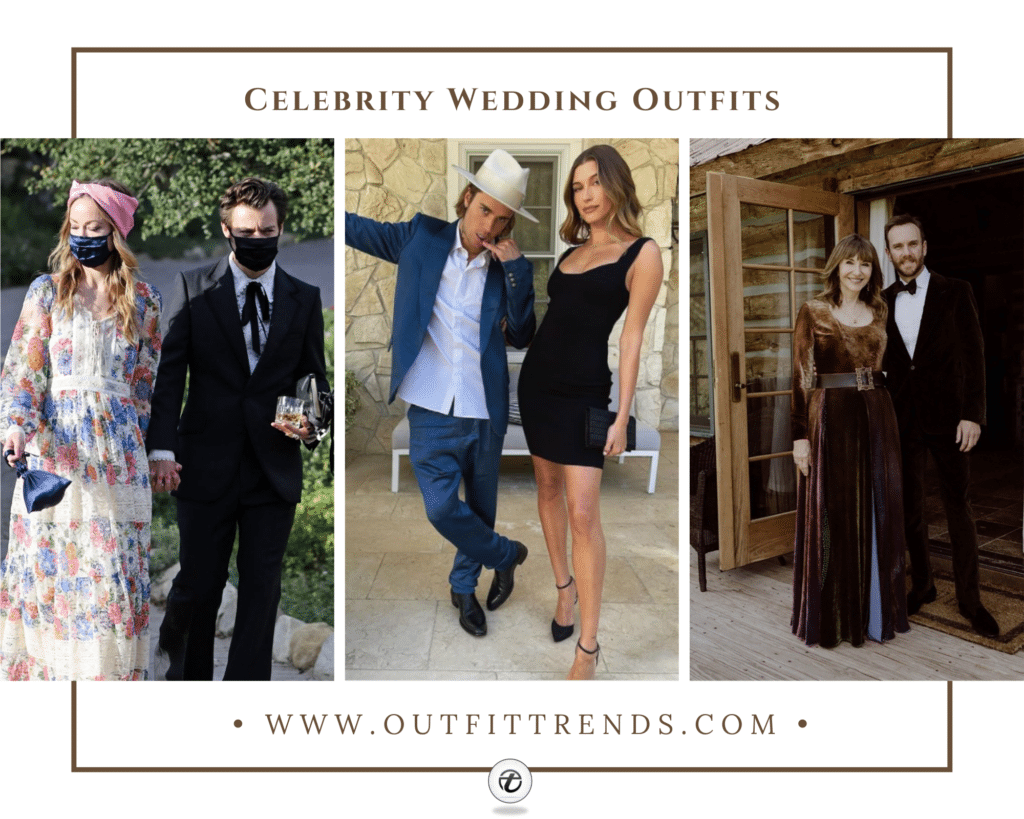 Dos and Donts For Celebrity Wedding Outfits
Always consider and respect the dress code, time, and location of the wedding when deciding your outfit, makeup, and jewelry. If its a fall wedding, you'll need an appropriate outfit.
If you are not the bridesmaid then make sure to avoid looking like them.
Always carry a cover-up. You never know when you will need it.
Never wear white or cream color, unless the theme requires it.
Always go for something you're comfortable in and can carry effortlessly.
Avoid wearing too much jewelry. Instead, go for statement pieces.
20 – Kendall Jenner and Bella Hadid In A Satin Bridesmaid Gown
Supermodels Bella Hadid and Kendall Jenner graced the aisle looking like true angels from above in the form of bridesmaids at Lauren Perez's wedding in breezy satin gowns.
Buy similar collar pins here.
Bella Hadid looks equally gorgeous and ethereal in this beautiful satin bridesmaid gown. This truly shows how satin looks stunning on different body sizes and hugs your curves beautifully.
Buy a similar satin gown here.
19 – How To Wear A Black Mini Dress To A Wedding?
Justin Bieber and his supermodel wife, Hailey Bieber opt for a simple yet, cool and classy look for their friend's wedding. While Justin looks dapper in his cool blue suit; Hailey looks incredibly dazzling in her "little black dress".
18 – Hailey Bieber Looks Fun And Classy
Hailey Bieber rocks a beautiful sequined dress at Lauren Perez's wedding standing hand in hand with fellow model Bella Hadid. Her dress is beautifully complemented with a red patent leather evening purse. You can see that Hailey is not wearing any jewelry at all, let alone anything fancy. Well, the dress does not need any jewelry for her to stand out. So, if you are not really a fan of wearing jewels then go for a sequined dress and a bright yet, classy evening purse to stand out. The sheer simplicity that makes it so effortlessly glamourous definitely makes it one of the best wedding guest dresses of the year.
17 – Shoes To Wear With Indian Wedding Outfits
Shanaya Kapoor, daughter of veteran Indian Actor Sanjay Kapoor, and Khushi Kapoor, youngest daughter of Sri Devi, stole the show at Rhea Kapoors, Anil Kapoor's elder daughter, wedding. They were seen in similar lehenga choli that did not need anything else but, the confidence to carry them. Now, most people think "heels" for events and especially, desi weddings but, Shanaya and Khushi are seen flaunting fancy khussa chappals which look incredible, and honestly, they are definitely more comfortable in comparison to fancy heels.
Also, take a look at, What to Wear to an Indian Engagement Party? 13 Guest Outfits.
16 – When To Wear A Parrot Green Gown
Kyle Richards and Maurizio Umansky look fabulous heading home from Paris Hilton's star-studded wedding. The mermaid style of the gown compliments Kyle's curves while the satin material and parrot green color of the dress make it stand out. Moreover, a parrot green gown works best with indoor nighttime events and weddings.
15 – Stripes And Embroidery Are Trending?
Princess Maria-Olympia and Jordan Barrett look dapper in their retro outfits at Carter Reum and Paris Hilton's wedding? Are these the worst celebrity guest dresses of 2021? Not at all! These looks are great for a fun wedding without a dress code.
Buy a similar dress in a different style here.
14 – What Could Go Wrong With A Black Dress That Sparkles?
Kim Richards really showed that age has another to do with fashion. She looked extremely beautiful, graceful, and elegant in a black sequined gown. The only thing that we would like to alter in Kim's outfit would be her evening bag with something like that of Hailey Beiber's red patent leather bag that she styled with her sequined dress at Lauren Perez's wedding.
Buy a similar sparkling evening purse here.
13 – How To Style A Dazzling Wedding Look For Teenagers?
Teenage is a rather awkward age. We want to look like adults but, not old. Now, how does one do that at a wedding? You can take some inspiration from Anya Taylor Joy and her boyfriend Malcolm McRae at a wedding. They both look simple yet, stylish at the same time while embracing their youth to the fullest.
12 – Accessories To Wear With A Blazer For Women
Who can pull off the blazer look at a wedding better than Cara Delevingne? You. Yes, you. Cara's velvet blazer with her minimal yet, prominent accessories makes great inspiration for someone who is not into flowy dresses and hefty gowns. Moreover, Ashley Benson's leather dress is also a good option for a day wedding. You could add some glamour to the look with more glam makeup and a few statement pieces.
11 – A Simple Satin Saree Can Do Wonders
Naimal Khawar looks like the epitome of elegance at Usman Mukhtar's wedding in a simple parrot green silk saree, minimal jewelry, and a sparkling evening purse. Her outfit is based on the same rules as Kyle Richard's outfit at Paris Hilton and Carter Reum's wedding. Additionally, the bride and groom look like royalty, don't they?
10 – Batwing Capes
The 17th Duke of Huéscar, Fernando Fitz-James Stuart, and his wife Sofia Palazuelo complement each other's blues at a wedding. The Duchess styled her Batwing Cape dress with minimal jewelry, a matching protective mask, and used the gold color evening purse to tie the look together. Her style really shows that blue and gold are definitely made to define elegance together.
9 – Shah Rukh Khan And Gauri Khan Look Like Royalty
The only way to describe the style of this power couple is "powerful in simplicity". They both are not wearing anything too flashy at a wedding where the rest were seen competing with the bride and groom aka Isha Ambani and Anand Piramal. A simple white sherwani donned with a moti mala is enough to make a statement. While a silver sequined saree is all you need to make a statement.
8 – Best Wedding Outfit For Mother And Baby
Kate Middleton's outfit at her sister's wedding is perfect for cocktail-themed weddings. Styling a baby for a wedding isn't hard when you keep Princess Charlotte as an inspiration. She looks adorable with a cute dress, adorned with an equally adorable bow tie belt, and a flower hairband.
7 – Shahid Kapoor Dons A Traditional Look At The Ambani Wedding
The brown and black sherwani makes a great outfit for a night wedding. Shahid Kapoor was seen looking dapper in this outfit at the Isha Ambani wedding.
Buy a similar kurta pajama in a different style here.
Also, check here for a fancier option.
6 – Baby Pink Is Never A Bad Idea
While Nick Jonas looks incredibly handsome in his tuxedo and the ribbon tie, Priyanka definitely steals the spotlight with her baby pink lehenga choli. The beautiful handwork on this traditional dress does not require the need for any jewelry but, you can always style it with a beautiful matching set that you can buy here.
Buy a similar traditional dress in gown style here.
5 – Inspiration For Plus Size Women
Bebe Rexha was seen adorning a royal blue slit gown at Paris Hilton's wedding. The color and the fitting of the dress looked great on her curves.
If you think that slit is too much for you then take a look at Ways To Rock High-Slits for more inspiration to carry such a style elegantly.
4 – Mermaid Gowns Are The New Black
Yes, you read that right. Mermaid gowns are trending for their ability to look good on any body type. Flattering and adding a slimming effect. Nicole Williams was seen in a beautiful mermaid gown and eye-catching long earrings shaped like a slithering snake.
3 – Dresses For Women Over 50
A velvet outfit is your best friend for fall. Actress, comedian, singer, and songwriter – Mary Steenburgen looked ethereal at her son Charlie Dowell's fairytale wedding with the one and the only Lily Collins.
Since velvet suits are rather hard to find, you could buy Royal Brown Velvet fabric here and have your suit tailored to your ideal size.
2 – Sometimes Lacey And Low-Cut Is Okay
Gabrielle Union makes lacey low-cuts classy at Isabel Rangel and David Grutman's wedding. She is not wearing much jewelry besides, what could be better than a genuine and confident smile that she effortlessly wears? However, if you want to wear some more jewelry then a fancy choker necklace would work fabulously with such a neckline.
You can buy a fancy choker for this outfit here.
1 – Bohemian Dresses and Day Weddings Forever
Olivia Wilde looks gorgeous, hand in hand with her beau Harry Styles, in her bohemian Gucci dress at Hollywood Agent Jeff Azoff's wedding.
FAQs
Q. What should a guest wear to a wedding in 2021?
Ans. Generally speaking, if the wedding is at night, then you should go for more dark colors; however, in the case of day weddings, go for more casual, light, and festive colors. Celebs make the best choices, which is why it may seem confusing, how to dress like a celebrity but you just need to be a bit smart about it.
Q. What do you wear to a barn wedding in 2021?
Ans. Something rustic, or bohemian like Olivia Wilde's Gucci bohemian look at Hollywood agent Jeff Azos' wedding in the above list would look great at a barn wedding in 2021. 
Q. Can I wear black to a wedding in 2021?
Ans. Yes, of course! Scroll up and just look at how gorgeous and classy Hailey Beiber looks in our list of best celebrity guest wedding outfits in 2021. 
Q. What should I wear to an October 2021 wedding?
Ans. Fall weddings feature warmer clothes, and you don't have to get sick just to look good. Go for velvet or satin, or a combination of both. Moreover, colors like caramel, maroon, black, or marigold go well with October weddings in 2021. 
Q. What should you not wear to a wedding?
Ans. It is never a good idea to disrespect the bride and groom by wearing something that takes away their shine. Hence, always be mindful of the theme and dress respectfully. Avoid wearing too casual clothes if the theme is formal. Moreover, extremely revealing, sheer, and low-cut outfits should also be avoided unless you are 100% sure that the bride and groom will be okay with it. Celebrity skirt outfits are also really good for weddings.