What to Wear in France in Winters? Visiting France in the winter is sure to be the trip of a lifetime. From the gorgeous sites to see to the wonderful art and culture, France is a country that lives up to the dream, over and over again. Even frigid temperatures can't ruin a well-planned trip to France so your first order of business is to ensure you are well and truly prepared.
But just how does one prepare for a trip to France in the winter?
Winter Travelling Outfit Ideas for France
From whether or not berets are really the thing to wear in France to tips for staying warm during the renowned low temperatures, today's post is all about making sure you pack the right clothing for your trip. The last thing you want is to step off the plane or out of the airport just to realize you are under-prepared for the weather or that you stick out like a sore thumb in your choice of attire.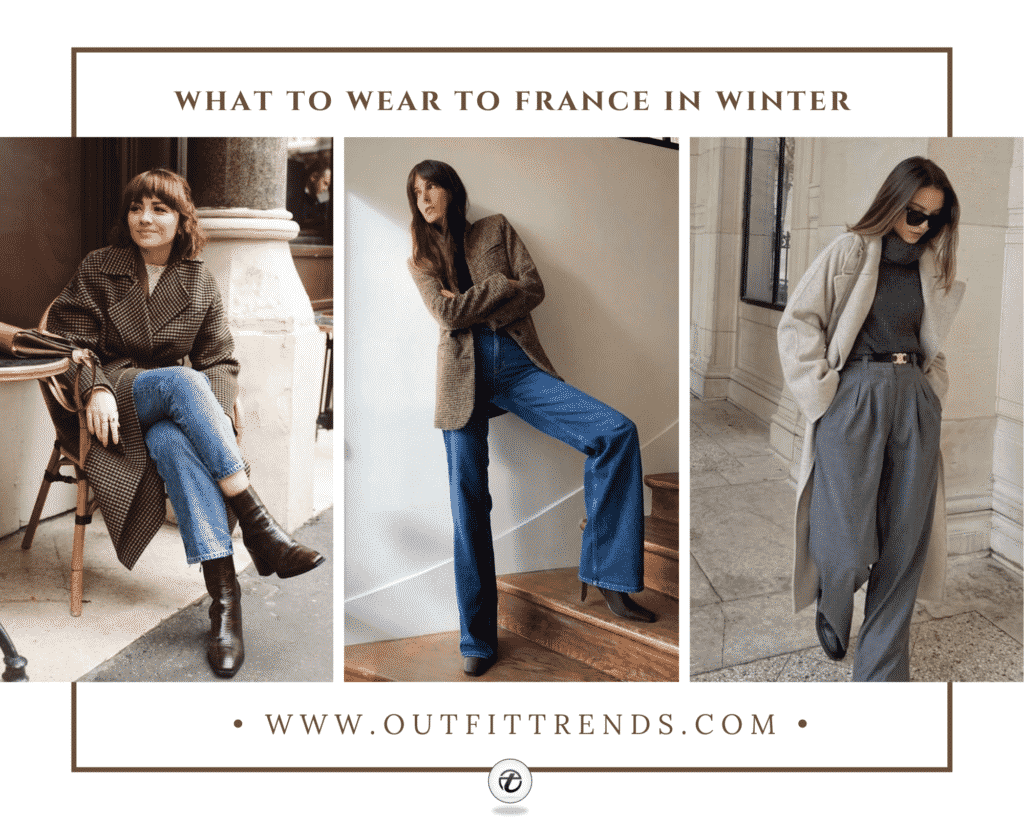 So in today's post you will find not just a packing list and guide for how to dress in winter, but several outfit ideas that will show you how to do the same. Let's get started!
Packing List & Guide for French Winter Fashion
Here is a list of clothing items that won't fail you during your trip to France in the winter. Keep in mind, this is not an essentials list (which may include things like an extra phone charger, an umbrella, and hand warmers) but a clothing list. Do your research to make sure you bring the non-clothing essentials necessary as well.
Sweaters (pull out your knits, your cashmeres, your Merino wools and your fleece tops because you'll need them!)
Black jeans & regular jeans
Heavy slacks
Thermal underwear
Leggings and/or tights (great for layering!)
Waterproof, leather boots (consider a knee-high pair)
Hat & gloves (ideally with touchscreen fingertips for easy smartphone use)
Scarves (Parisians wear scarves year round so this one is a must! Bring a heavy, thick one)
Winter coat (despite it's bulk, this one is an absolute essential; do your research to find the right one and remember that while you shouldn't have to sacrifice style for warmth, if it becomes a toss-up between the two, choose warmth!)
Button-down long sleeved shirt (you could wear this under a sweater and pull the collar through for a very popular Parisian look)
Plain tee-shirts (no logos or loud graphics; also great for layering) and long-sleeved shirts
Something else to think about is creating a capsule winter wardrobe for your trip. This will ensure you have the essentials and that every item is well-considered and accounted for.
You may have noticed I've really put an emphasis on warmth and that is because, as a tourist or visitor to France, chances are you are going to be spending more time outside (whether you are waiting in lines to get inside someplace or you are simply walking around a lot, enjoying all the beautiful sites) than the average French person. And if you aren't used to really cold weather, it can be quite a mood killer to discover you are absolutely freezing.
So keep this in mind and don't go unprepared!
And now, let's look at some beautiful but practical winter outfits you can wear on your trip to France.
22 – How to Style an Outfit for France in Winter
I love flat-lays because they really break down the elements of an outfit, giving us the opportunity to substitute, add, or replace pieces until we achieve the desired result. An outfit like this is perfect for visiting France in the winter. I would add a hat and scarf if it is a particularly cold day, but other than that, this ensemble is pretty near perfect! You can find more ideas like these from our previous post on French Fashion Trends.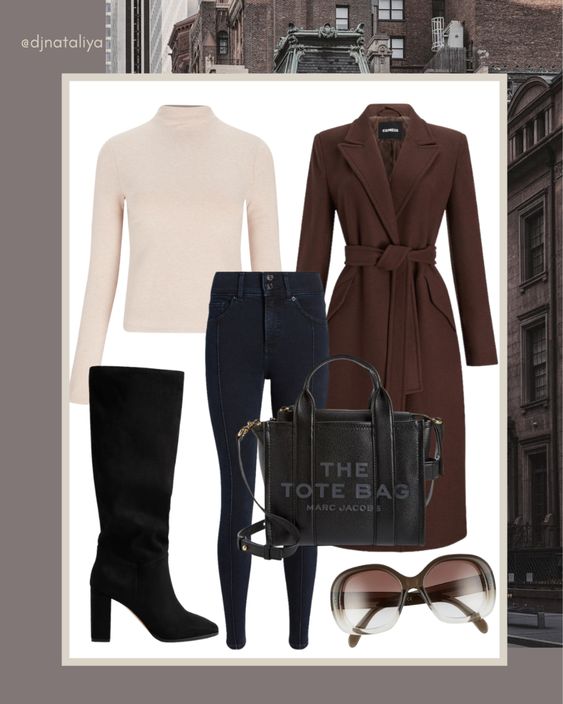 21 – French Winter Fashion for Plus-Size
While the jury is out on whether or not sporting a beret at this point is more touristy than not, if you love the look and have always wanted to try it, then my advice is to go for it. A trip to France is a once-in-a-lifetime opportunity, so don't be afraid to live it to the hilt. To rock this ensemble, I would look for a dress in a thick material and make sure you go for those over-the-knee boots (with some leggings underneath if necessary) to ensure your legs stay warm.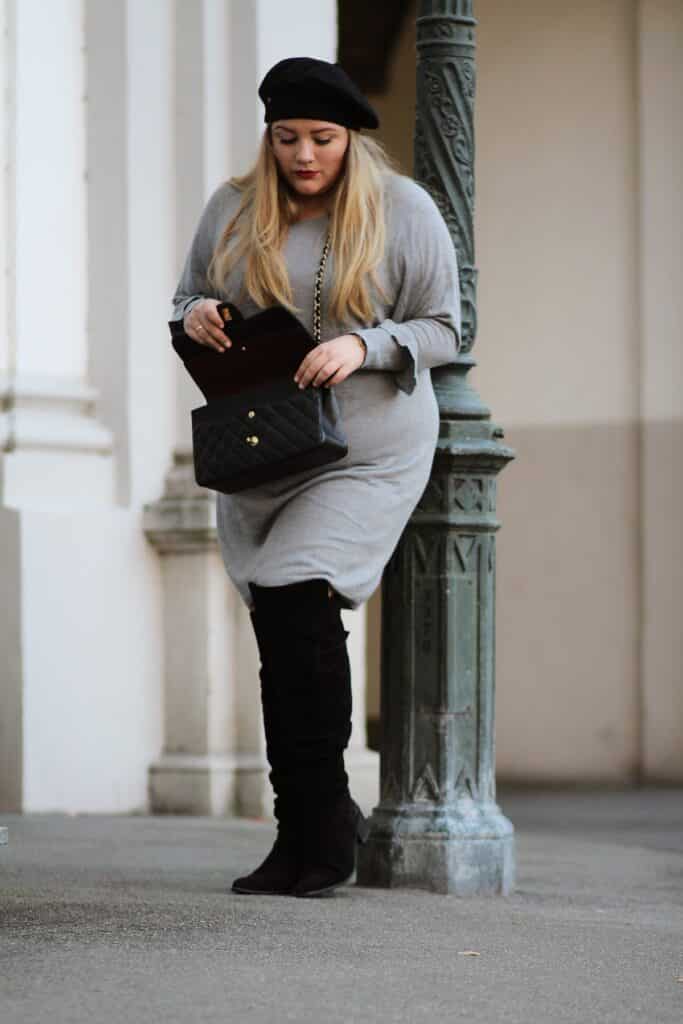 20 – What to Wear in Paris in December
Parisians are known for their love for darker colors, and these neutral pieces hit just the right mark. From the thick, tasseled sweater to the wool coat and black jeans, this outfit will keep you warm, comfortable, and feeling good. Add a swipe of red lipstick to really nail the look.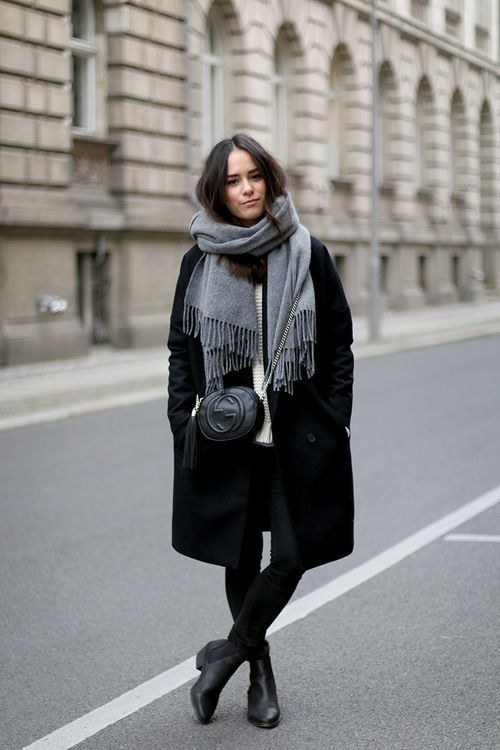 19 – What to Wear With Turtlenecks
One of my favorites from our round-up is this one right here. It's got that '90s belted trouser look and a gorgeous neutral coat with loafers. So chic.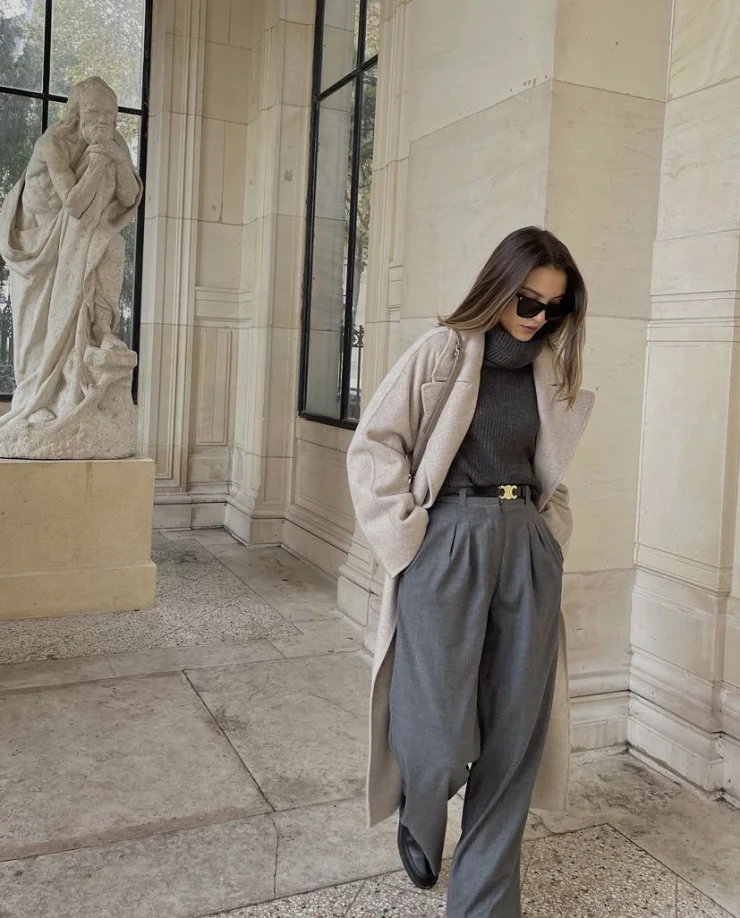 18 – Where to Buy French Clothing?
As your trip approaches, you might consider buying some proper French clothing from a French brand. One option that I think is absolutely sublime is the French Comptoir des Cotonniers store. From trousers to jackets to skirts, the only way to feel fully French is to wear French!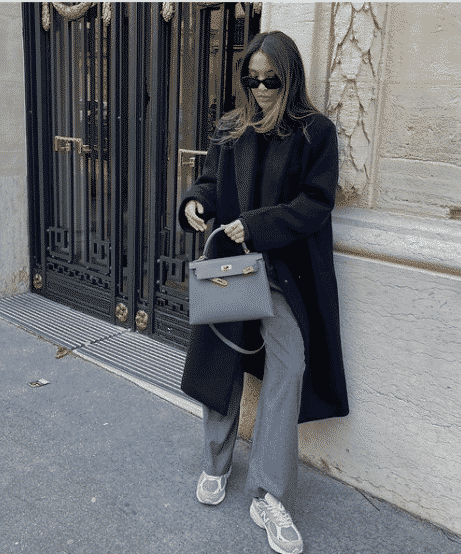 Get the oversized wool-blend coat here for $149
17 – Wool Coat and Wool Skirt
This outfit is sure to keep you toasty warm. Look for a coat with button detailing for that extra bit of oomph.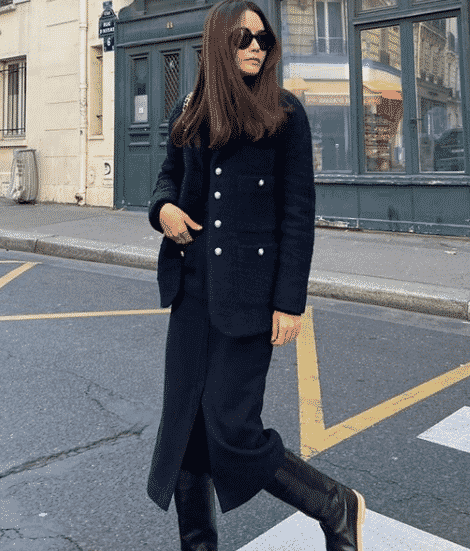 16 – What to Wear With Trousers in France
Trousers belted at the waist take some confidence, but the overall effect is stunning. Here we see that uber-popular styling of a collared shirt worn under a knit sweater. Tucked in, of course.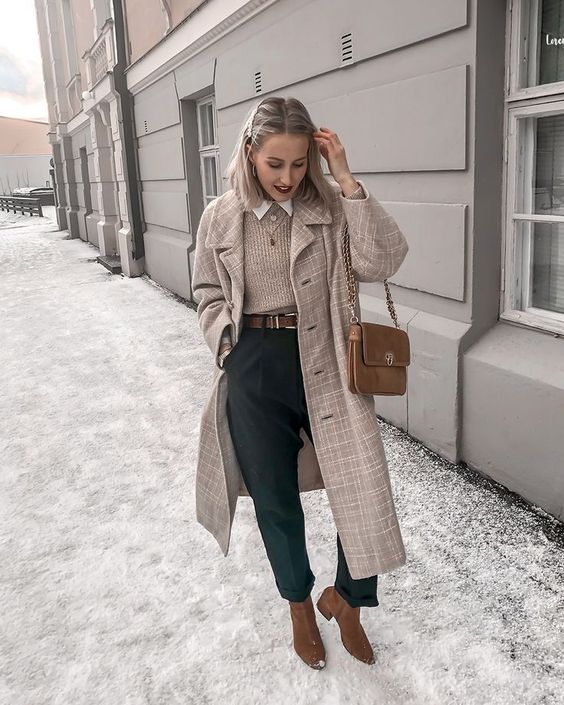 15 – What to Wear in Paris Fall 2021
For fall stylings, you can probably skip the extra gear (like gloves and a hat) and opt for something a little less layered.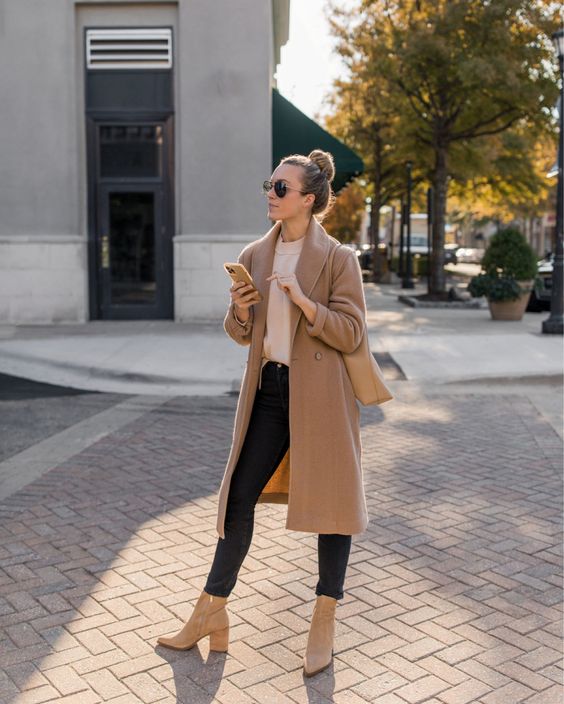 14 – Footwear for the Perfect Winter Outfit in France
Knee-high leather boots are the perfect thing for looking chic while staying warm. Look into waterproof boots as well for days where you are trekking through snow (which may not be that often, but be sure to check the weather in any case). For more travel footwear ideas, check out the detailed guide on Best Walking Shoes for Europe Trip.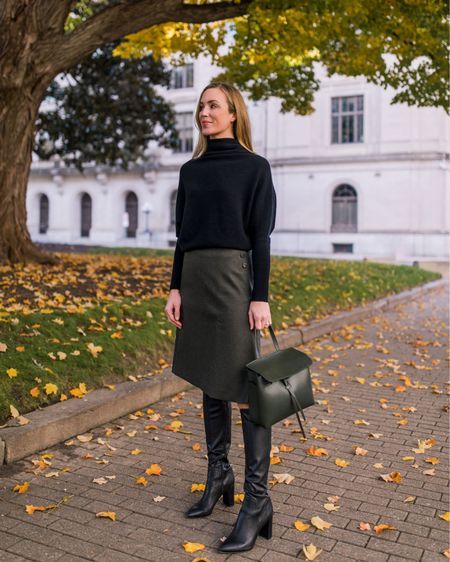 13 – With Teddy Coat
A teddy coat is a really great option if you can squeeze it into your suitcase! It's big, plushy, and warm and looks tres chic when worn with a turtleneck, slim black pants, and some knee-high boots.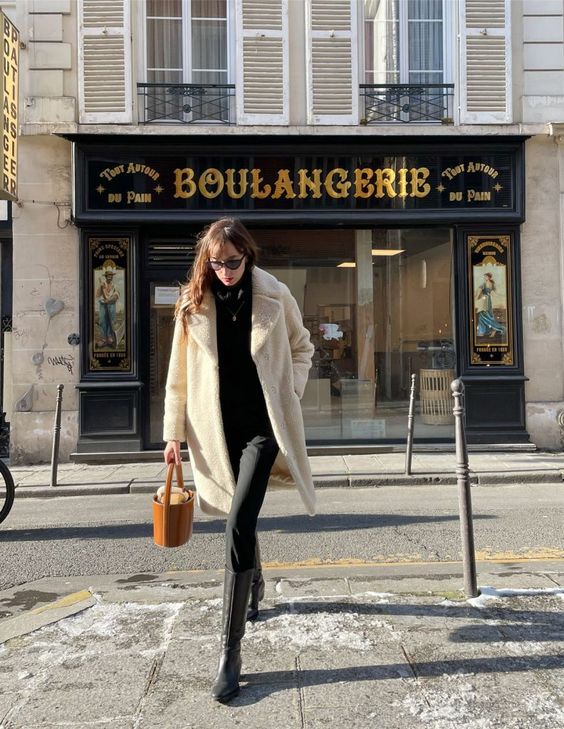 12 – Accessories for a French Winter Outfit
You won't see French girls wearing a ton of accessories, but one really common one is a jaunty little scarf tied at the neck. It provides the perfect opportunity to bring a pop of color into an otherwise dark look, and you can wear it both indoors and out (versus a thicker scarf that you might want to take off once venturing indoors). You can also tie a scarf to your purse or use it as a belt as well. It's the perfect accessory and it'll take up virtually no space in your luggage so it's a win-win!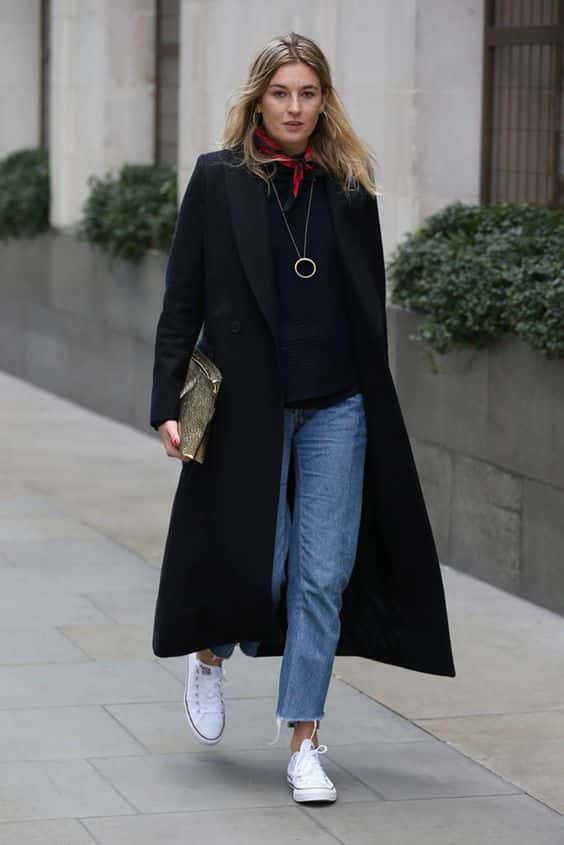 11 – How to Style a Beret French Style
If you are going to rock the beret, then keep it from being too cliché by skipping the striped top and opting for a lowkey pairing of loafers with jeans and a plaid coat. This outfit is best worn on a warmer day, unless you plan on switching out the loafers for boots or other winter-appropriate footwear.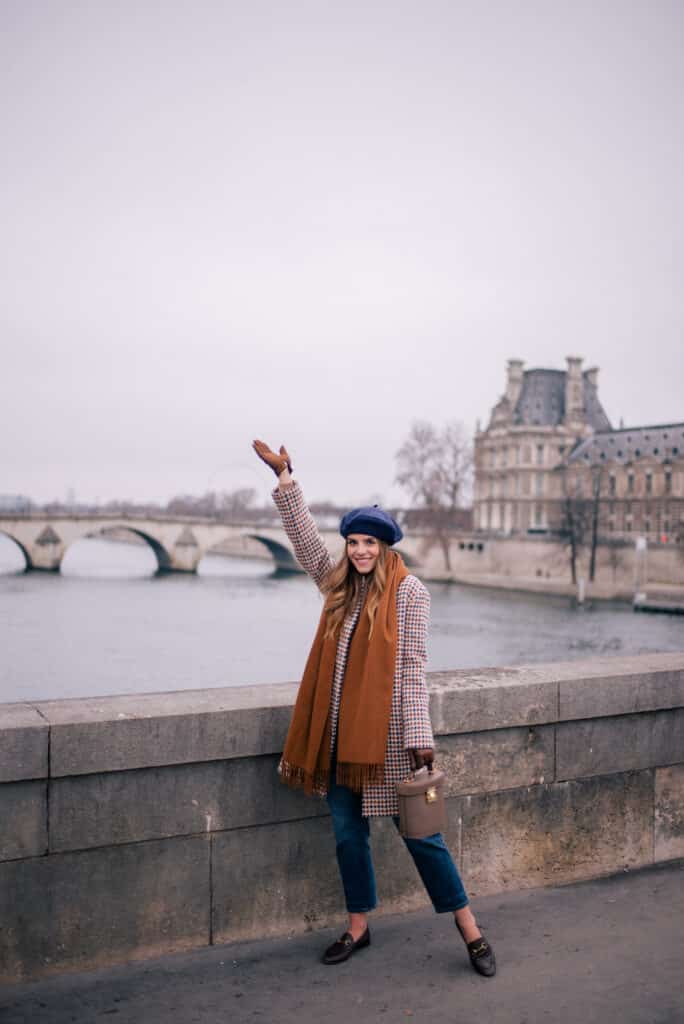 10 – Cardigan With Jeans
This is a fabulous example of a great layered outfit, which you could wear on days where you are going in and out of places, say, walking from one museum to another. You can pop on a coat and some gloves and then take them off once you're indoors again, and the pretty cardigan will keep you warm either way as well as providing the perfect finishing touch to your outfit.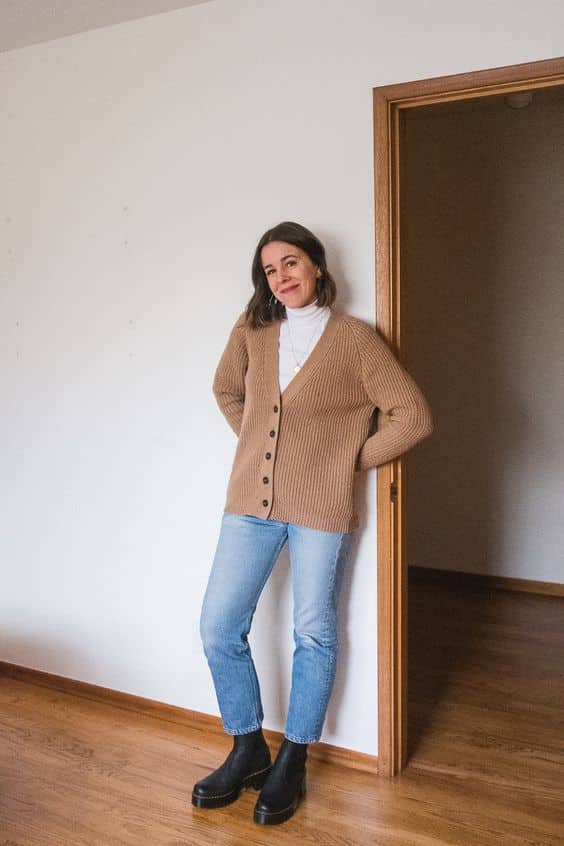 9 – With Thick Black Scarf
Here's another simplistic outfit that will keep you feeling warm and cozy as you explore the streets of Paris, wander through museums, or visit the countryside.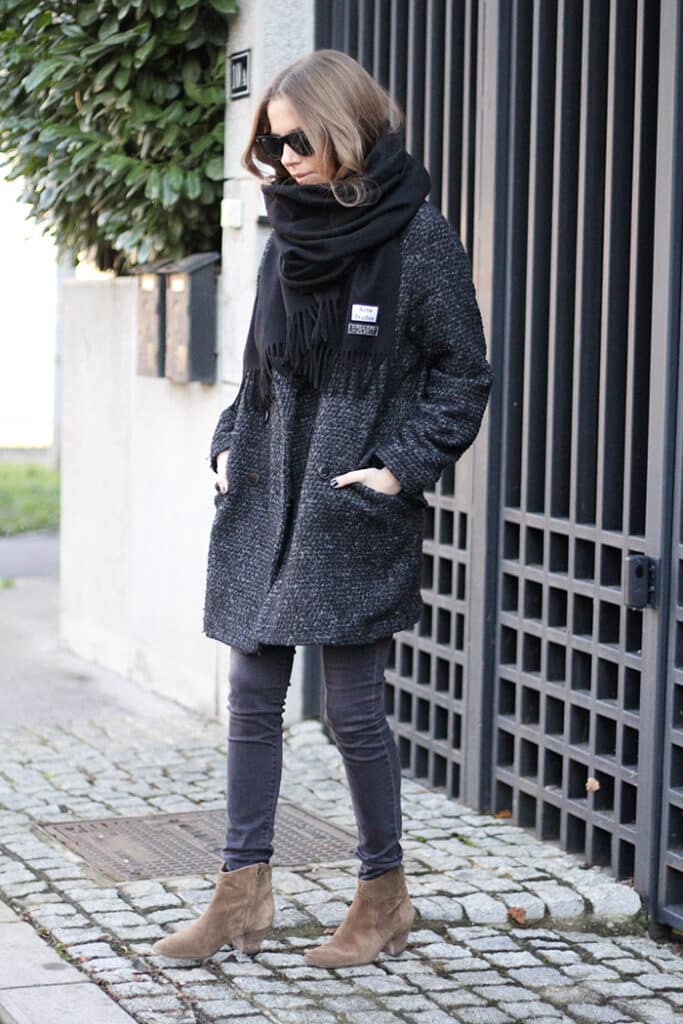 8 – Oversized Nanushka Coat
I don't know what it is about this outfit, but I'm obsessed! The oversized coat is so gorgeous and really stands out being paired with some classic jeans and some leather ankle boots. You could layer up this outfit or keep it as is and wear it with pride, knowing you look absolutely fabulous.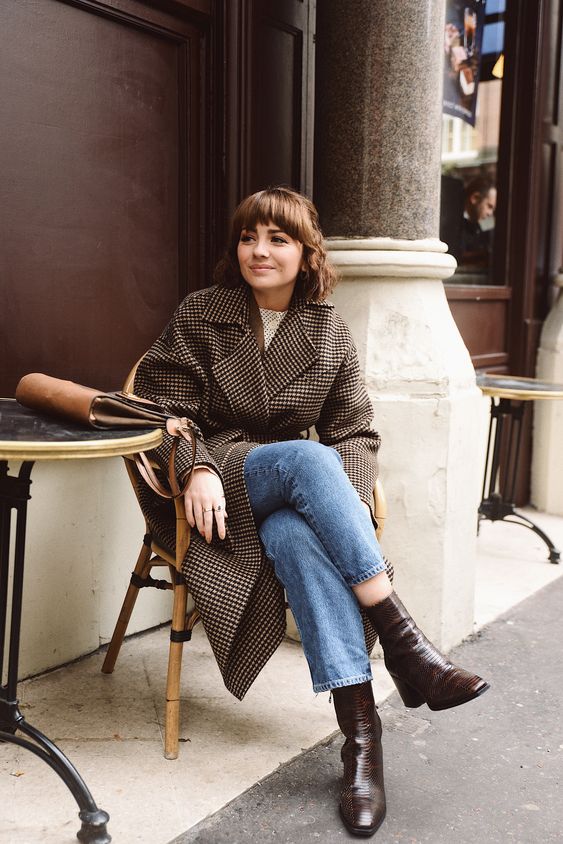 7 – Chic Parisian Winter Fashion
This outfit features all the elements of a typical French girl outfit. From the red lipstick to the 3/4 jeans and turtleneck to the long coat, you could sport this look any day of the season and only need to tweak it a little to make it more cold-weather appropriate. Note the casually styled hair and the minimal accessories.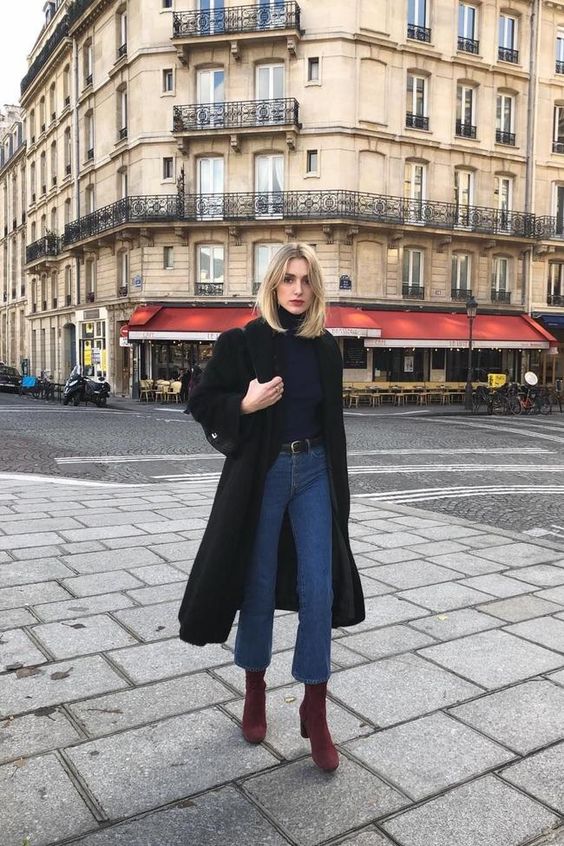 6 – Houndstooth Jacket & Blue Jeans
One of my favorite outfits from our round-up is this one right here. It features a gorgeous jacket over some vintage bootcut jeans with some sleek boots. Il est parfait!
5 – What to Wear in France in Winter for Teenagers
If you love an oversized coat, you will absolutely adore this outfit. Perfect for teenagers and young adults alike, there's an old-school feel to this look that is so chic and adorable. The dark green scarf and turtleneck pair beautifully with a cool gray coat, black jeans, and combat boots. Tie your hair up in a low bun and add a black sack purse to tie off the look.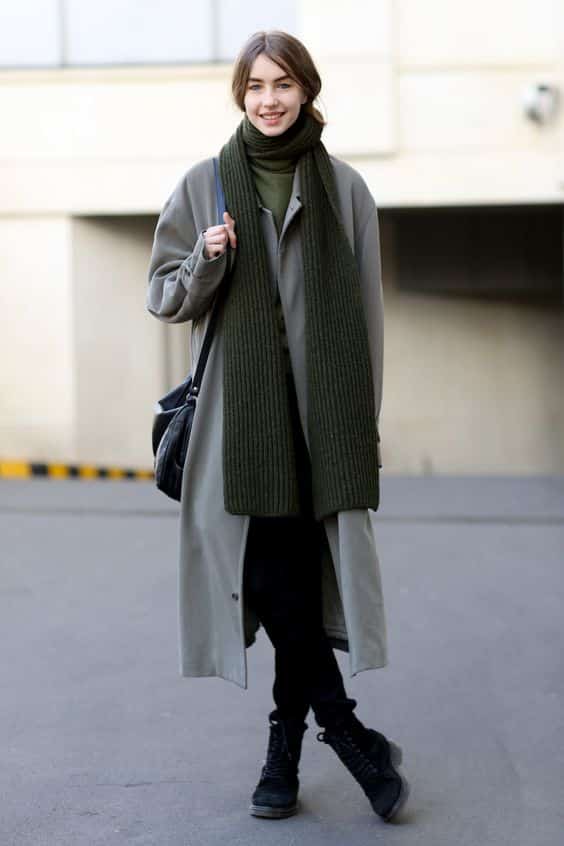 4 – Plaid Wool Coat & Beanie
Indulge your love of creamy neutrals with this gorgeous pairing of plaid and knit. From the black skinny jeans to the chunky platform boots and plaid coat, this is one outfit we think any French girl would approve of!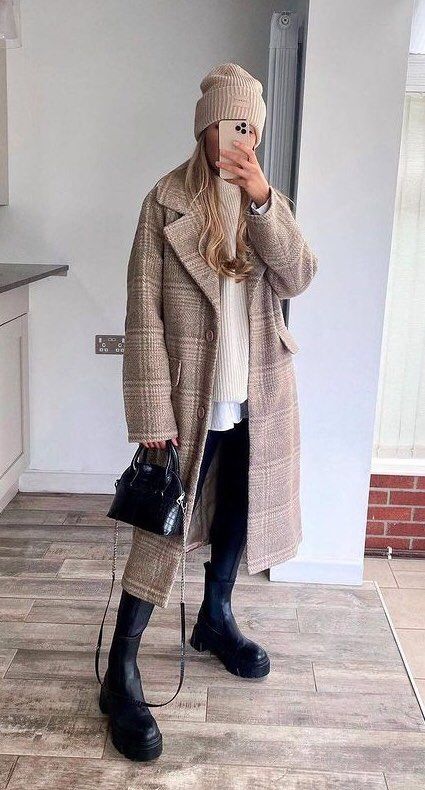 3 – What to Wear to France in the Fall
If you are headed to France right in the middle of the season change, having a less wintry ensemble on hand is a must. This outfit is perfect for those days where it's a little less chilly. You can skip the coat and go for a lighter jacket like this one.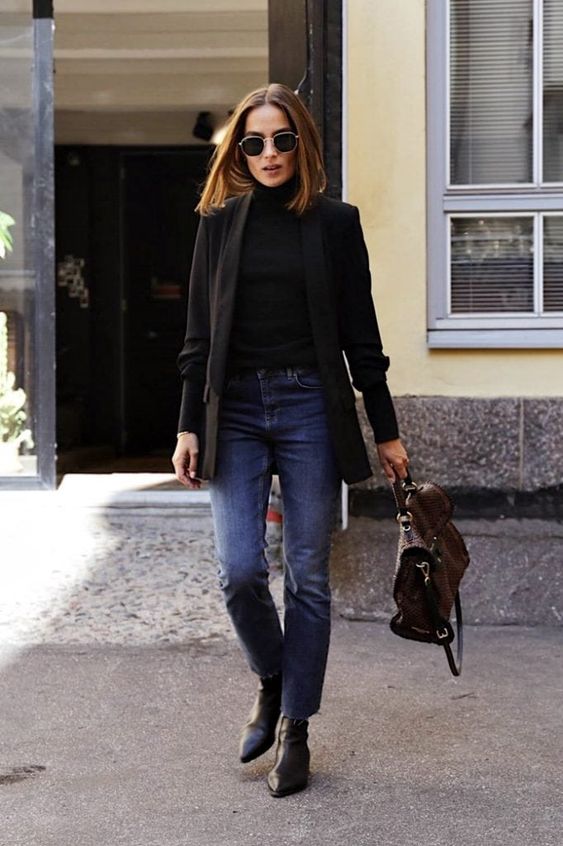 2 – Layered Sweater Vest and Long-Sleeved Top
This gorgeous outfit will have you feeling fabulous and looking it too! The white blouse with the ruffled collar has that extra oomph that makes this ensemble something special. Finish it off with some black leather leggings, a half-up, half-down 'do, and some chunky gold earrings.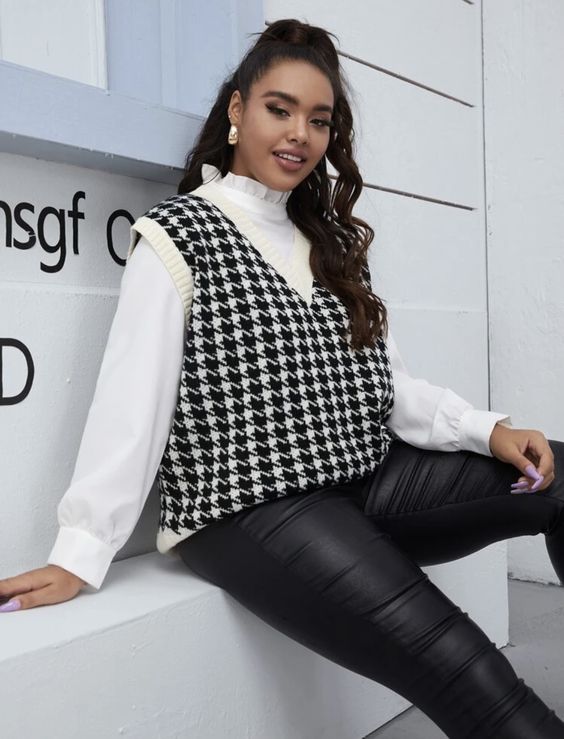 1 – Casual Winter Street Style for France
Last but not least, here we have another flat lay of a lovely casual ensemble, perfect for those days where you're pounding the pavement, taking in the sites, but want to feel and look cute. The sweatpants and sweatshirt are balanced out by the chic coat and boots (though you may want to go for flat boots if you plan on doing a lot of walking) and perfectly accessorized with a gold chain necklace and a stylish watch.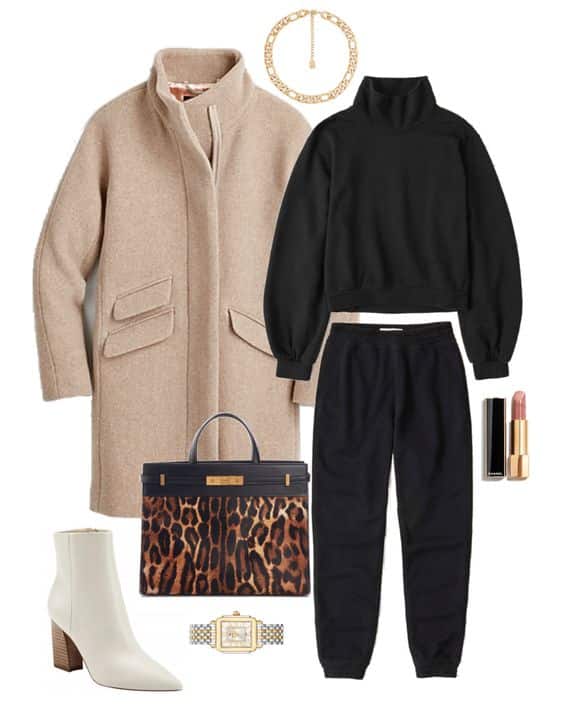 Frequently Asked Questions
Here are some frequently asked questions about what to wear (and what not to wear) in France during the winter!
Q. What should you not wear in France in Winters?
It depends. For the most part, France, particularly Paris, is known for its chic fashion. (There's a reason "Parisian fashion" is a term after all!) So that can feel a little intimidating. But here are a few things you should definitely not wear as a visitor in France in winter.
Lightweight winter clothes. As aforementioned, tourists naturally spend more time outdoors when visiting France, whether it's waiting in lines or traveling from place to place. And France is cold in the winter. So you will want to bundle up well!
Heels. This falls in line with the same concept that you are likely going to be pounding the pavement exploring so wear good walking shoes.
Workout clothes. Apparently, locals don't wear workout clothes out and about on the street. So skip the athletic wear or the loud sneakers and stick to conservative, classy ensembles.
Flashy colors. Parisians are all about classiness. Loud, obnoxious colors and prints will make you stand out as a tourist.
Q. What kind of clothes do they wear in France?
This will change depending on the season. But here is what we know is most popular in France for the winter season. Traveling essentials.
A trench coat

A gray or black wool coat

A large scarf in a knit material or cashmere

Neutral colors with a pop-of-color accessory

Leather boots

Thermal underwear (helps you skip tons and tons of layers)

A hat
Q. What do you wear in France to not look like a tourist?
This question goes hand in hand with our first FAQ, but to elaborate, I would also add that if you are visiting from the States, leave the baseball caps and fanny packs at home! The easiest way to fit in is by keeping your looks simple, modern, and neutral. Stick to darker shades, non-logo tees, and consider skipping the beret if you feel like it's too on-the-nose.
And there you have it! I hope you feel absolutely stoked about your trip and that this post helped you narrow down exactly what to expect in the winter fashion world of France. Au revoir!