What to Wear in Bali in Winters? Bali, a province of Indonesia, and party to the Lesser Sunda Islands. Makes for an enchanting escape, characterized by an abundance of beautiful volcanoes, its renowned serene rice fields and majestic beaches.
When packing for any trip it is important to know what to wear, and plan ahead, but especially so if you are planning a trip to a place as vibrant and exciting as this one. Continue reading if you want to feel your best, look your best and know what to pack on a winter getaway to Bali or go through our Winter Travel Outfits for Women (Trending).
Reasons why Bali is a great destination for winters
When everywhere else the cold months begin to loom over us, days get shorter and the list of activities gets limited by the restricting cold weather, a warm getaway such as Bali is a plane ride away. In Bali you will no longer be a prisoner to stuffy clothes, and warm indoors, you can fully enjoy your days in the warm comfort of the local tropical weather.
If you are thinking about experiencing a luxury escape, but you are not willing to spend all that money on one trip, Bali is a perfect choice. You can experience luxury, in a beach side villa for much less than what you would have to pay in other tropical locations like Australia for instance.
If you like to travel and meet people on the way, you're in luck. Bali is no stranger to tourists, and it is always a guarantee that no matter what time of year you travel, you will find people of all origins to have fun with on location.
What to Pack for a Winter Trip to Bali?
When in Bali, don't be surprised if you find yourself spending 98% of your time in the outdoors, in nature. You can expect yourself to go on adventures around the neighbouring waterfalls, and forests. Taking trips across their unforgettable rice fields, and of course lounging around on the sunny beaches. Having said that, it is recommended to pack in accordance of the activity level that these locations have to offer. If you are interested in joining in on the discovery and fun, pack some sturdy sneakers, and comfortable shorts.
When on the beaches of Bali, expect to be doing more than simply tanning and swimming. Bali is known for its surprising water activities. These include snorkelling, kayaking and water activities: snorkelling, kayaking and more. If you are a fan of any of the aforementioned water fun, you are recommended to take several changes of you best swimsuits, glasses and hats along with your sunblock. Here are some Beach Cover Up Ideas for beach days.
Apart from connecting with nature, if you are one to party, you will definitely find yourself at a plethora of summer beachside, and poolside parties when in Bali. With the warm climate and dancing you have to be strategic about what you wear. Read along to see the styles we recommend to wear when partying in Bali this winter.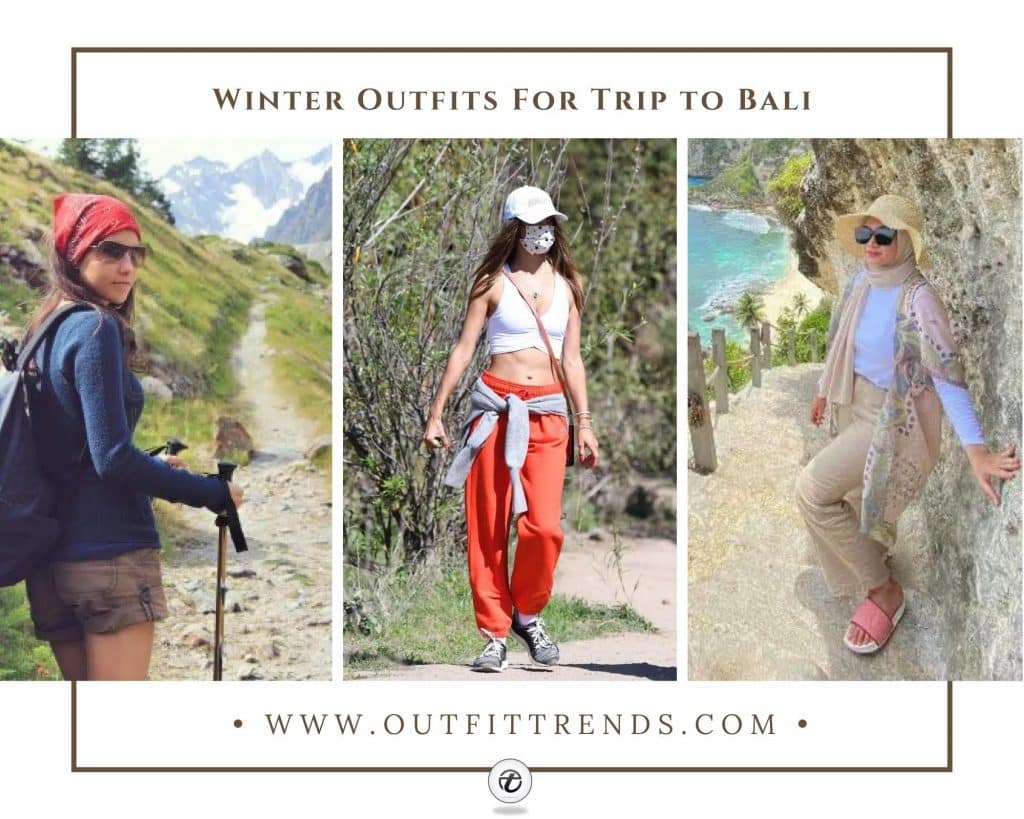 1. Casual Daytime Look
When you are off to a warm getaway it is most important to pack something good for every day, something which will be breathable but also very very cute. We propose to invest in a white romper. It is not only highly comfortable, will do good in warm weather, but also pairs well with a lot of different colored shoes, hats and glasses. We suggest getting an open-backou romper for a more of a transferable look because it can easily be dressed up with some tall black heels for the evening time.
2. How to Dress for the Beach in Bali?
As we have mentioned before, if you are going on vacation to Bali, chances are you will find yourself attending a party. Most of these parties are beachside or poolside, which makes dressing for them properly crucial. If you are attending these parties we suggest rocking a black bikini, with a long black skirt cover up, preferably one with a long side slit. Pair this outfit with black gladiator knee-high sandals, and a black purse with fringe. The little details of black fringe and boots will elevate this look.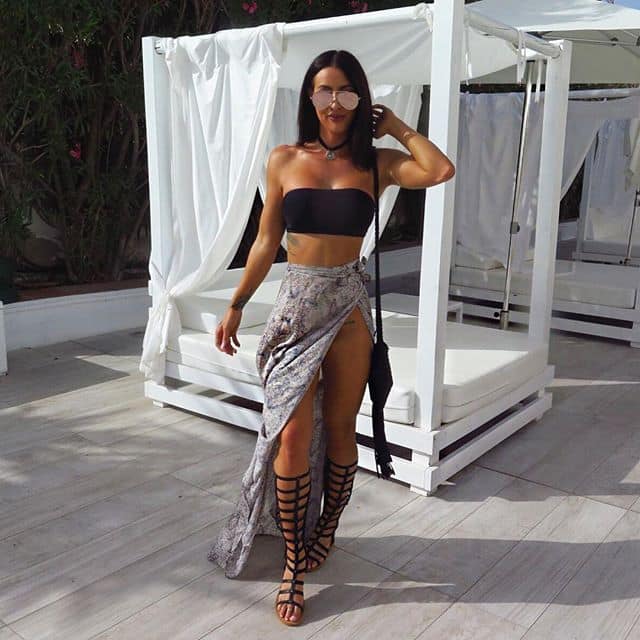 Here's another cute winter outfit for the beach in Bali: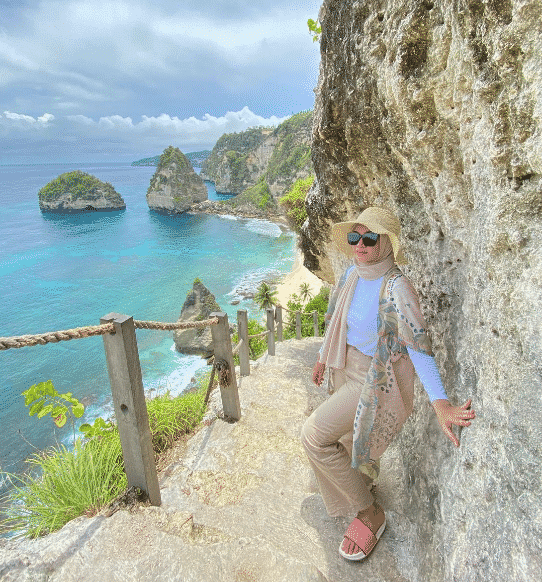 3. Traveling Outfits for Bali
As we have mentioned, Bali offered a large variety of activities aimed at helping you discover the surrounding nature. We have prepared this outfit to be useful on a day when you are going to be off the beach and in nature, but not doing anything very sporty – perhaps during a visit to the renowned Rice Fields. We suggest to dress in something that will be comfortable to move around in, but would also be cute enough to pose in for your next travel Instagram post. We suggest pairing a front tie cropped blouse and denim shorts for maximum comfort and breathability. Complete the look with a semi-circle, woven straw bag, this type of bag is comfortable and light, but big enough to fit all your essentials when you travel far away from your hotel.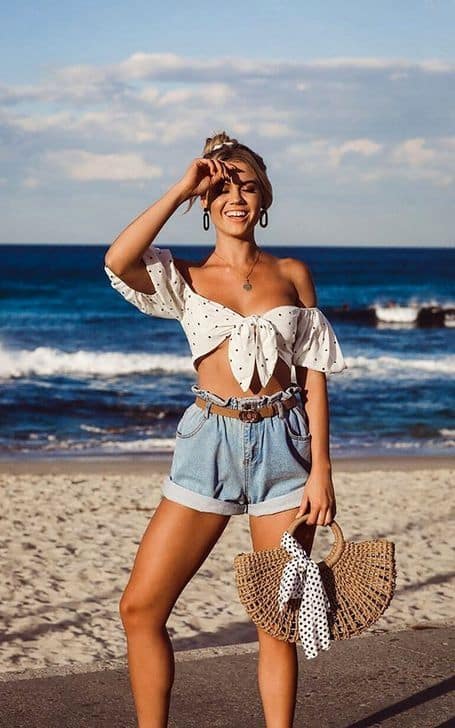 4. Day Look for Winter in Bali
On a day off the beach, you need a relaxed daytime look that will offer you maximum comfort and photograph well. We propose that you pack white shorts and cropped top co-ord suit. Packing light colors for a location that is very sunny is useful to not overheat in the sun. Although it is generally warm in Bali during the winter seasons, the weather does often switch to some high winds. Play it safe and pack along a light woven cardigan to throw on top of the white shorts and cropped top.
5. Outfit for Hiking around the Waterfalls in Bali
If you are planning to get the full Bali experience and take a guided stroll around the waterfalls, and mountains of Bali this next outfit is a necessity for you. Although temperatures in Bali rarely drop below 84°F (29°C), when hiking around water or at higher altitudes in the mountains, it can tend to get chilly, especially during the winter months. We have prepared an outfit that will allow you to be comfortable on the move. Pair some red sweatpants, with a white sports bra and some white sneakers. Grab along a grey sweatshirt, which you can keep tied around your waist or put on if you're feeling chilly. A bag to pair with this look would be best if it is small, as you will be moving around a lot of need to prioritize comfort. Here are some more fabulous Hiking Outfits for Women to Wear in Winter.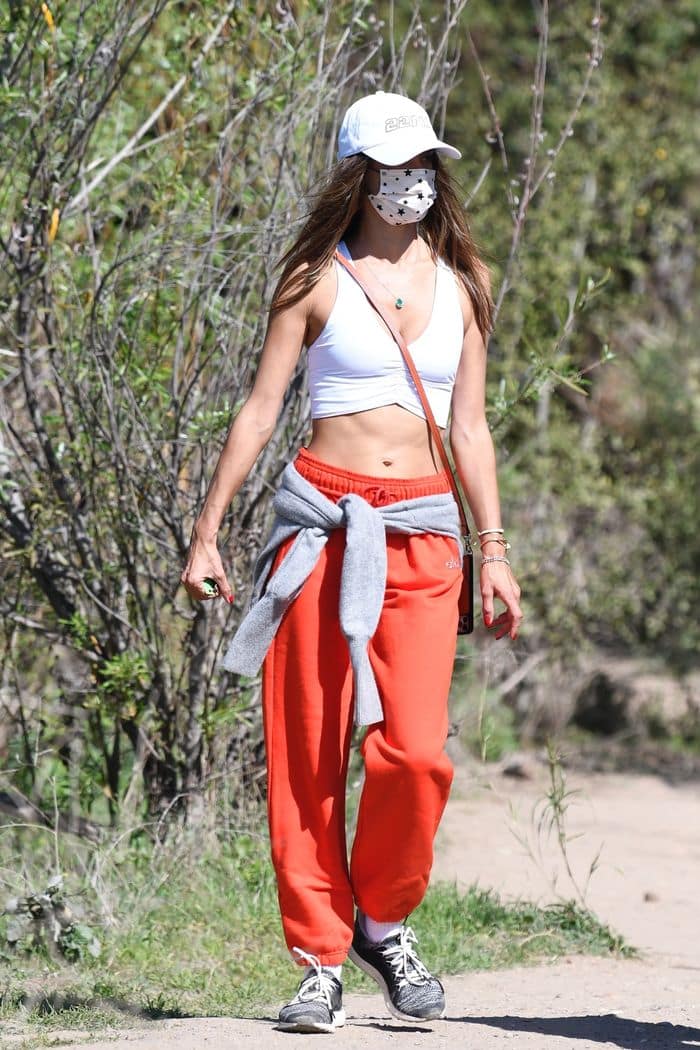 6. Adventurous Outfit Ideas for Bali
If you want to mix it up when going on sporty adventures around Bali, we propose you wear some biker shorts, a blue light cardigan on top in case you will get chilly, and complete the outfit with a red bandana. A bandana is not only a stylish choice but is also important when you are spending your days outside, it is very important to keep your head covered from the sun's direct reach. If you're new to the bandana trend, you'll get lots of guidance from this post on 16 Ways to Wear Bandanas for Women & Best Bandana Hairstyles.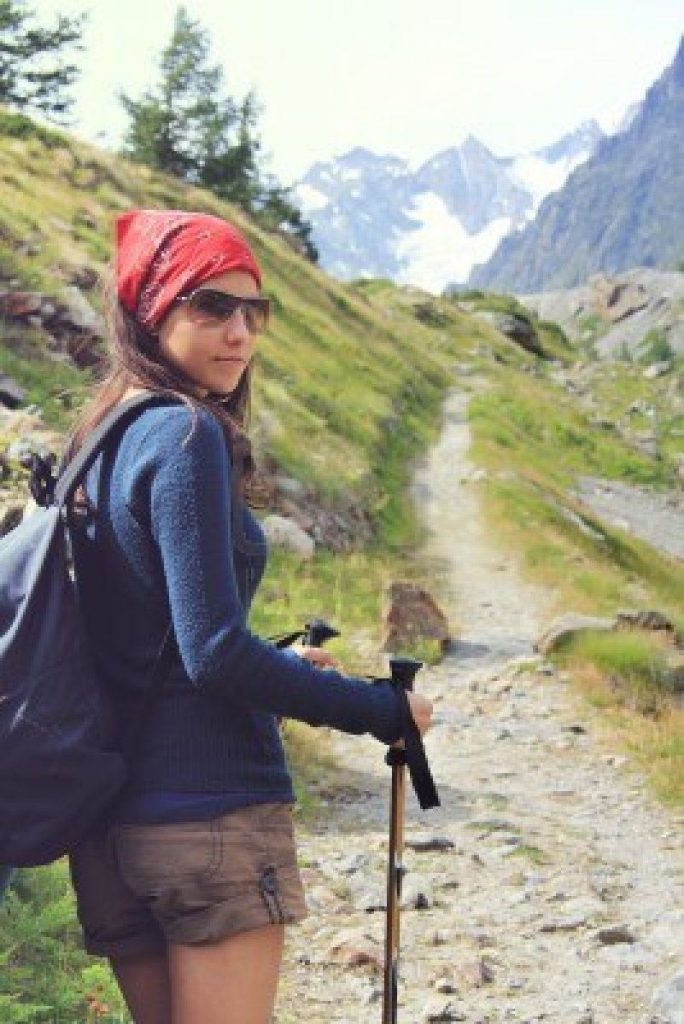 7. Biker Short Coord
On the very active days out in exploration of all the natural wonders that Bali has to offer, it is best to wear something very athletic and sporty, but that doesn't mean that it cannot look good. For a sporty but cute outfit, we suggest bringing along a pair of light blue biker shorts and a matching sports bra. As we have mentioned before, dressing in lighter colors when under direct sunlight, allows for you to stay from overheating. Pair this outfit with comfortable white sneakers, and a clear fanny pack. A fanny pack is most recommended for this outfit because it will keep all your belongings safe without occupying your hands, or have you make an effort to hold your bag on your shoulder.
8. Poolside Party in Bali
Days spent in Bali can be more than simply relaxing and tanning on the beach, we assure you that even when you are spending your winters in Bali, you will be partying next to pools if you want to. For this occasion, we propose to pair your most comfortable black swimsuit and a woven/knit beige cover-up. As a tip, if you would like to look more put together, you can pair this outfit with a thick black belt to keep the coverup together.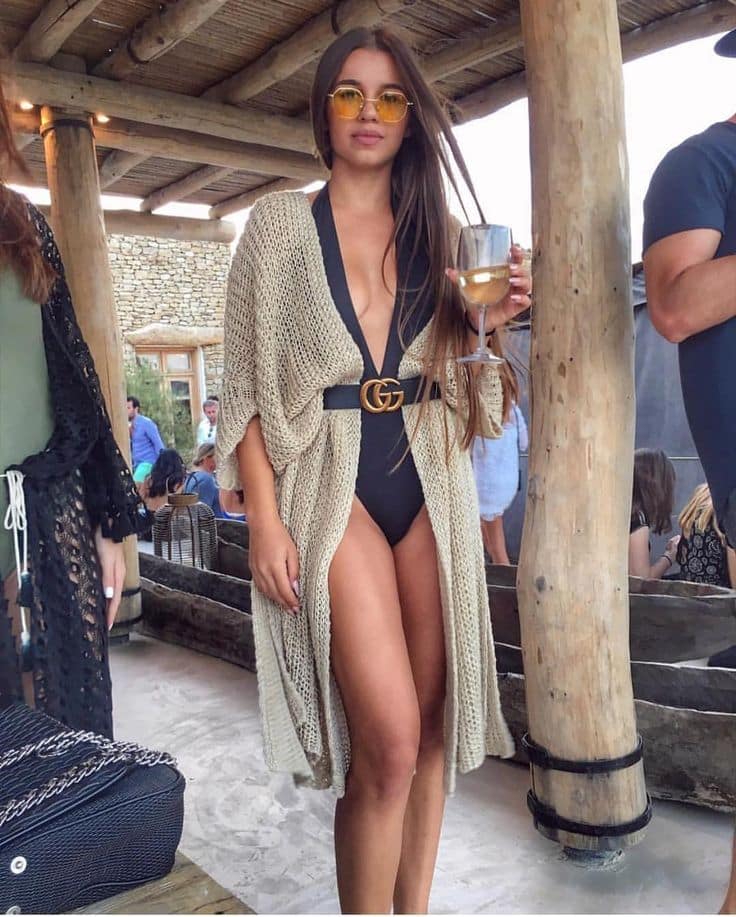 9. What to Wear in Bali at Night?
We understand that sometimes packing for a trip can be overwhelming and the pressure to have all the right outfits but not overpack is real. We have prepared a look that can transfer from daytime to nighttime seamlessly. All you need for this look is a black bikini and a sheer co-ord coverup. To accessorize, pair with black studded sandals, and a black purse.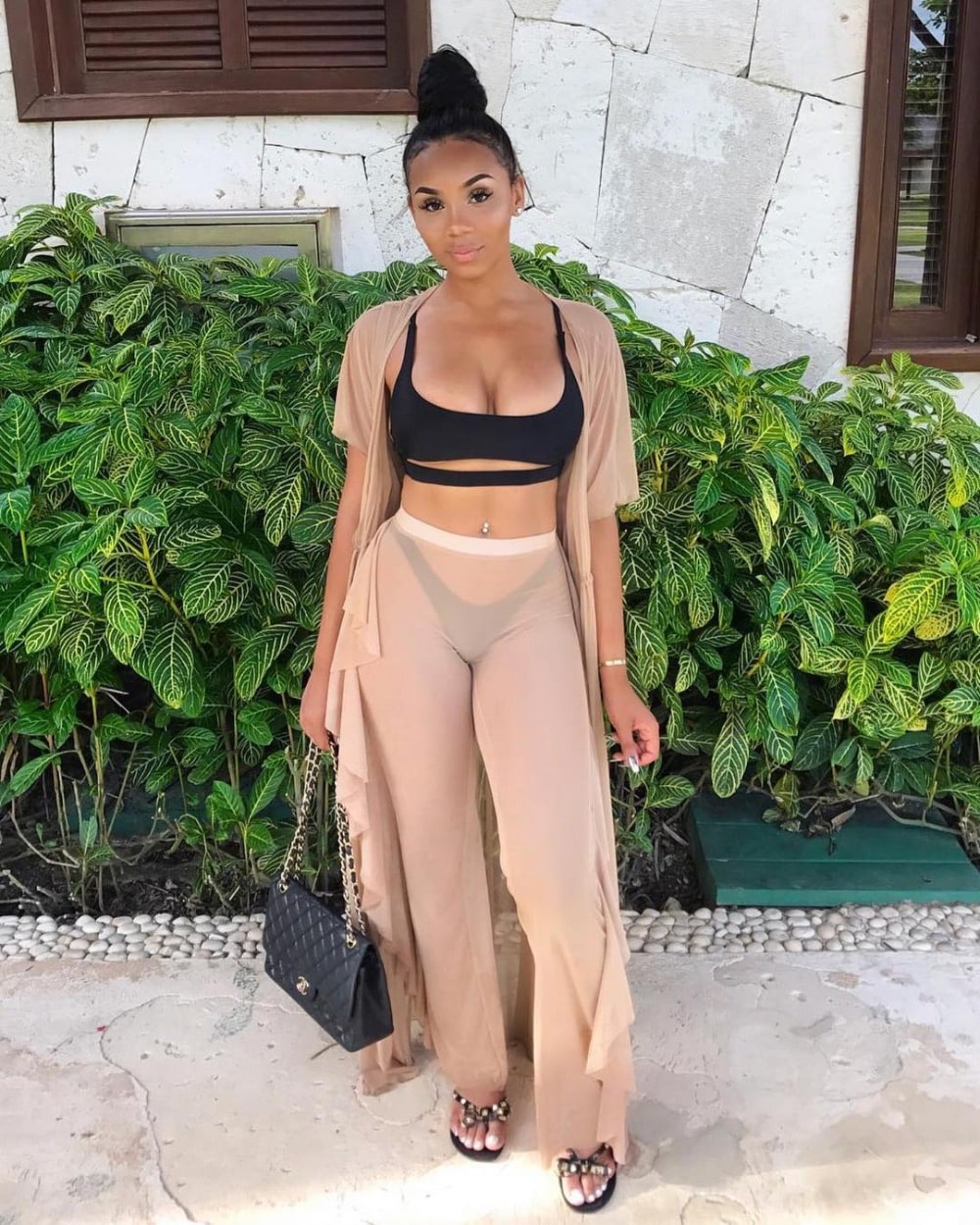 10. Classy Lunch or Dinner Look
A universal look to pack for lunches and dinners is essential. We suggest a long blue skirt, paired with a box cut white cropped top. Shoes to wear with this outfit are white sandals to match the top. To complete this look a small woven clutch is essential, it will match the colors seamlessly, look great in photographs and not be burdensome to carry around with you.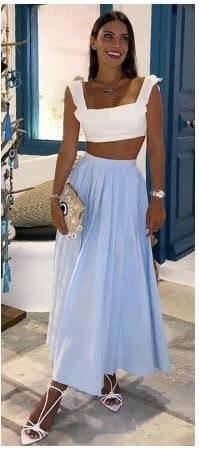 Frequently Asked Questions
Q. What is the weather in Bali in the winter?
Bali does not have a clear winter or summer, the weather in winter remains high. The only distinction between summer weather and winter weather in Bali is the rains and strong winds which can occur in the months of November and December. When packing, it is crucial to understand what weather you're packing for. In Bali, over the winters, the lowest temperature you will find is 84°F (29°C). The humidity levels on the island are similarly, generally quite high with an average of 97%. So you can expect to feel very very warm there even in the middle of December.
Q. What are the best activities in Bali in winter?
If the Bali winter weather does not make time spent at the beach enjoyable then there are various temples to visit, rice fields, waterfalls and mountains. In other words a lot of fun opportunities, so pack the sporty looks we suggested above. Or get more ideas from these Cute Sporty Style Outfits.
Q. What is the best time to travel to Bali?
Traveling to Bali in the winter is one of the best times if you are looking to avoid the cold, and wear some summer outfits.