Winter Travel Outfits for Women. Traveling during the winter can be a tough feat for most of us. You want to look cute but you also want to be comfortable. You want to be warm but you don't want to be too warm (because the plane and the airport will be heated!) and you want to be able to shed the layers if necessary. Sound familiar? It might seem like a tall order, but girl, we have got you covered! In this article, we will be sharing 27 super trendy, super cute, and super comfortable ensembles to inspire you in your travel wear preparation!
Tips for Travel Wear in Winter
Here are some simple tips to keep in mind when you are planning your travel wear during the cold season:
Keep your travel destination in mind. If you are traveling from a cooler place to a warmer place, maybe you don't want to bring a super heavy coat along. Or if vice versa you will want to pack accordingly.
Layers are your best friend. Layers are non-negotiable for traveling in the winter. If you are starting to feel too warm you can always shed a layer or two. And if you are not feeling warm enough, have an extra sweater or cardigan on hand. For this purpose, carry a slightly larger carry-on and save some space for that extra layer.
Carry a scarf. A scarf is kind of like a secret weapon if you think about it. Not only are scarves a great way to accessorize your outfit during the winter, but they are small enough to stash in a purse or carry-on bag and pull out if your neck is cold or if you want to wrap something around your shoulders.
Choose footwear wisely. Again, this will take some forethought. Where are you landing and will you be in the snow? Will you be doing a lot of walking once landing or are you going straight from plane to car? Are you somebody whose feet are always warm or always cold? These are all things you should think about when deciding what shoes to wear for traveling in the winter.
Carry an extra pair of socks. Traveling with extra socks in your carry-on or purse will bring you a lot of peace of mind. Have you been walking in the snow? Switch out those socks once checking in. Are your feet super cold? Pop on that extra pair. Carrying extra socks is a lifesaver.
Now, let's get on with the outfits!
Also See: Women Outfits for Airport – 15 Ways to Travel Like Celebrity
What to Wear While Traveling in the Winter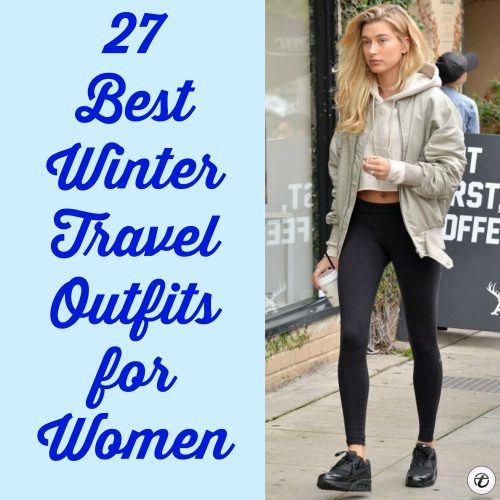 ↓27. Minimalist Packing List Inspiration for Cold Weather
Are you going on a short trip? Perhaps a weekend getaway? If so, packing minimally may be a good option for you! Use this opportunity to flex your inner Marie Kondo skills and shave down to the essentials. Try to pack two to three sweater tops and a stylish neutral color oversized jacket. A pair of skinny jeans and your favorite ankle boots will do the job nicely!
Do Read: 15 Best Walking Shoes for Europe Trip – Travel Style.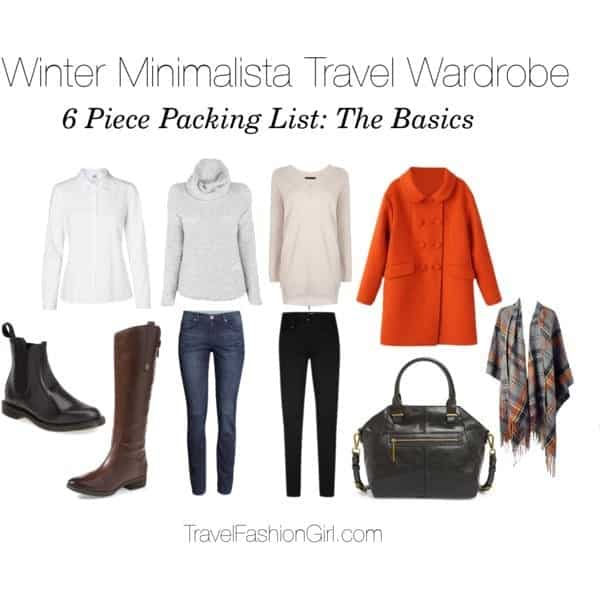 Via
↓26. Parisian Winter Travel Look
Love the Parisian style and want to give it a go for yourself? Check out this inspiration board.
A chic button-down top and black denim pants provide the basis for this ensemble. Flats are comfortable and stylish and are great for traveling in. Accessorize with a black scarf and a thin crossbody purse. Lastly, choose a short wool jacket to keep you warm.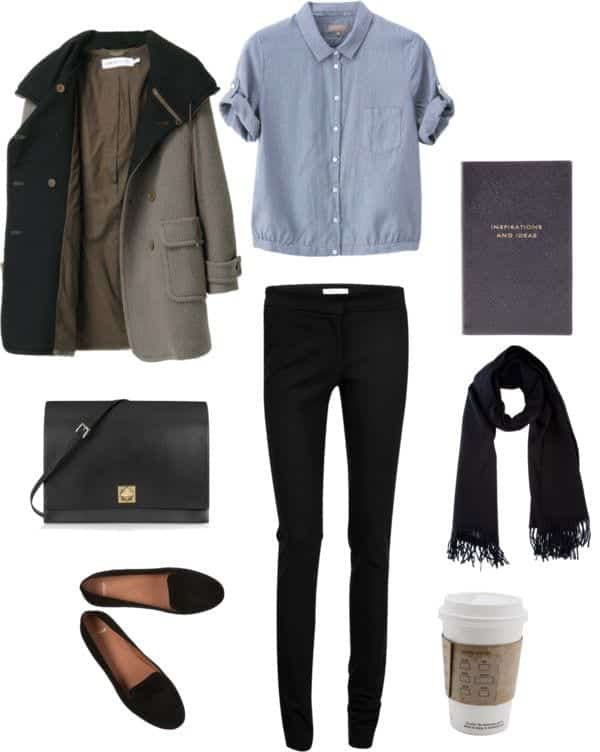 ↓25. Stylish Accessories to Add to Your Travel Outfit
Accessories are essential if you want to look super stylish while traveling. We recommend that you don't overdo it as it may become a hassle while going through security. Avoid metallic jewelry (unless minimal) and studded belts.
Some good ideas for accessories while traveling are stylish sunglasses, hats, scarves, cute purses and single pieces of jewelry.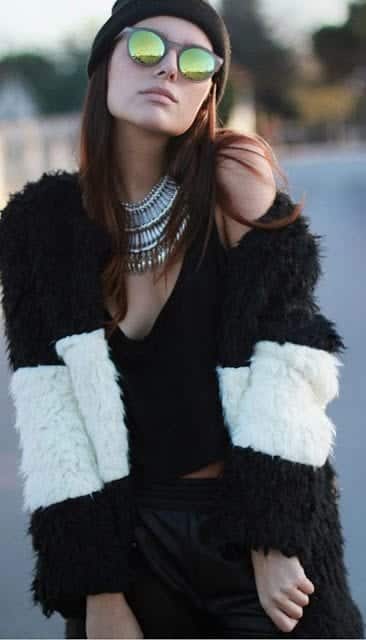 ↓24. Active/Loungewear for Traveling
Need a cute and comfortable ensemble to fly in? We think Hailey Baldwin nailed this athleisure outfit.
A cropped hoodie has an LA girl vibe and you can get one in just about any style or color. Top it off with a bomber jacket and pair with leggings. Finish it off with sneakers for the ultimate cozy/comfortable ensemble, perfect for traveling in.
↓23. Leather Pants While Traveling
Want to up your leggings game? Swap out plain old leggings for this knockout leather pair. It is your choice of footwear, but we think these leather boots are particularly awesome. Opt for a rust-colored coat that not only looks great but will keep you nice and warm.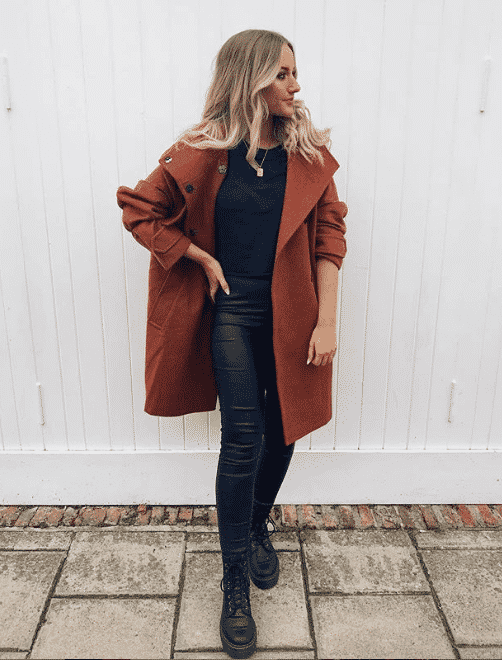 ↓22. Celebrity Style Fall Travel Dress-up
Nobody does travel wear like celebs! Gigi, for one, has some great athleisure looks that will give you endless inspiration as you compile your outfits.
Choose from the looks below and feel free to improvise! Pastel colors are refreshing and really suit the sweatpants look. Opt for bomber jackets or hoodies to stay warm and pick some stylish sneaks to stay comfortable.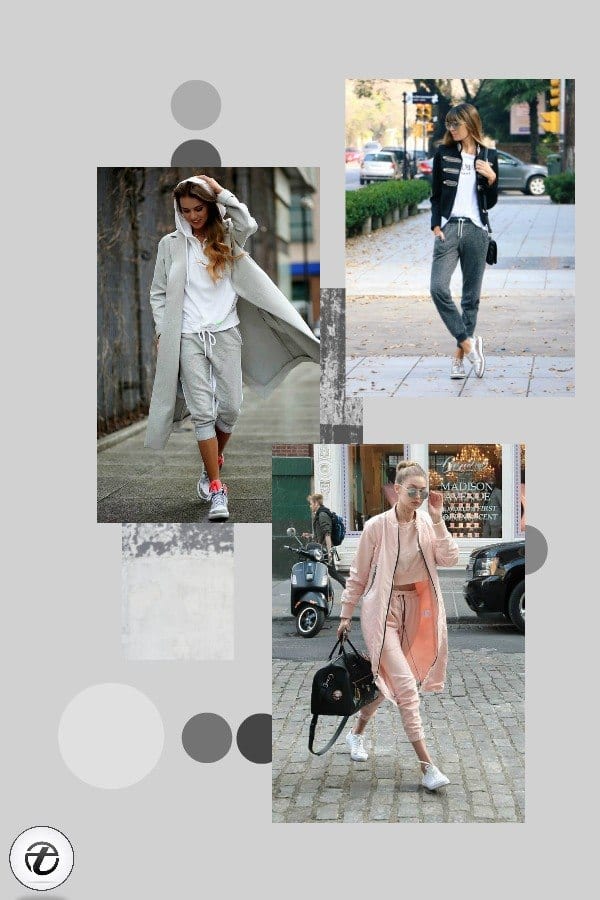 ↓21. Sneakers Are Your Best Friend
Speaking of sneakers…
They are, hands down, the comfiest, most fashionable option available for traveling. Some ideas for styling your sneakers: pair with leggings, skinnies, sweatpants or classic jeans. Swap out a bomber jacket for a denim one, and feel free to top it off with a coat to ensure you are extra warm. Avoid super generic sneakers when possible, as these will look a little frumpier than a more sleek pair.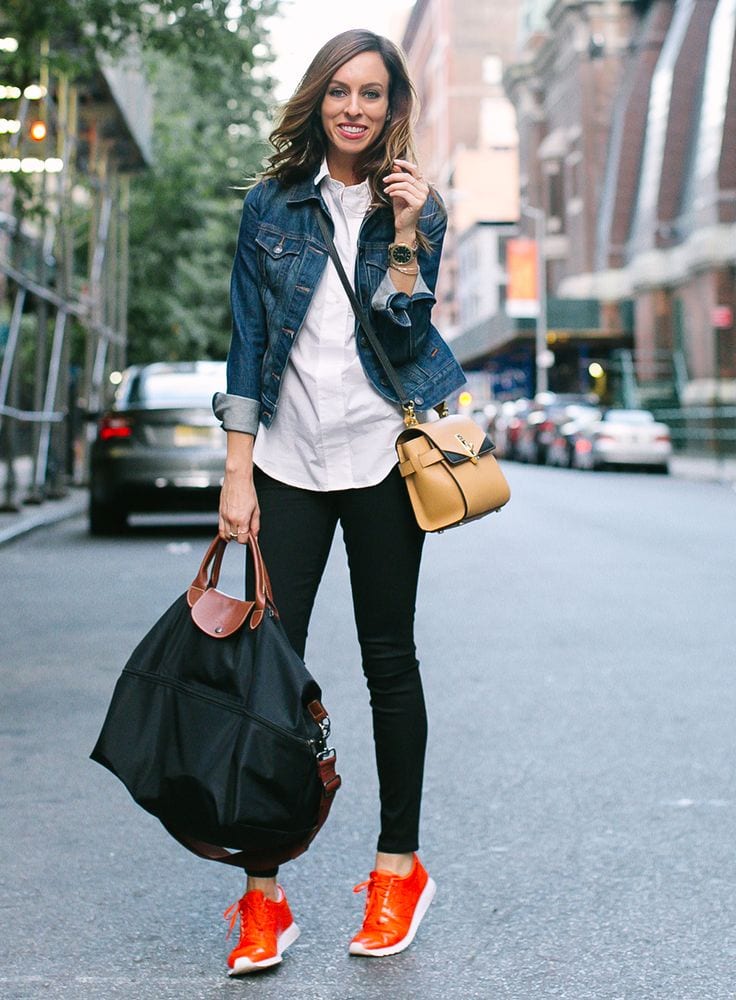 Via
↓20. Puffer Jacket and Boots for Stylish Warmth
You do not have to sacrifice style for warmth with this simple outfit. Light wash skinny jeans look fabulous when paired with a maroon-colored puffer jacket and sleek ankle boots. A black backpack purse makes for a great carry-on bag. Plus, you can stash the jacket in your purse if you feel too warm.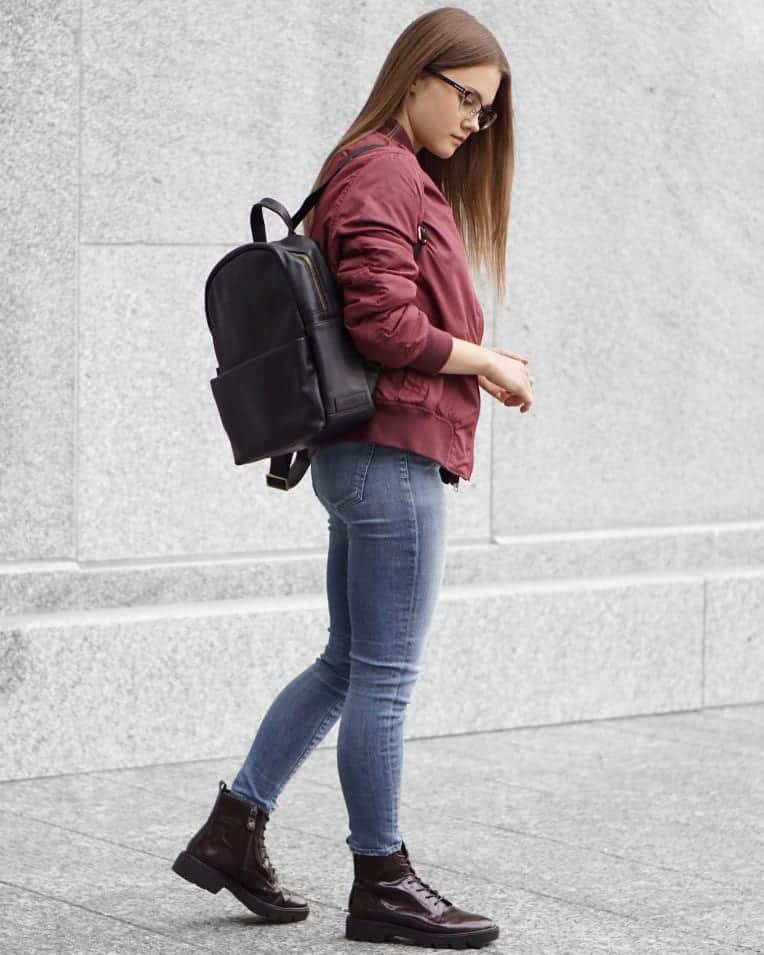 Via
↓19. Oversized Scarf for Fashion Statement
A simple trick for bringing your outfit to the next level is to add an oversized scarf. Not only is it crazy stylish but it's excellent for keeping you warm, too! When traveling during the winter, a big, comfy scarf is basically non-negotiable.
Choose a color and style that coordinates well with the rest of your outfit. This scarf looks great with a leather jacket, boyfriend jeans rolled at the hem, and cute flats. (Swap out the sandals for boots or sneakers to keep your feet toasty!) Accessorize with sunglasses and an oversized tote (another great option for a carry-on) and make sure to stash it if your neck feels over-warm.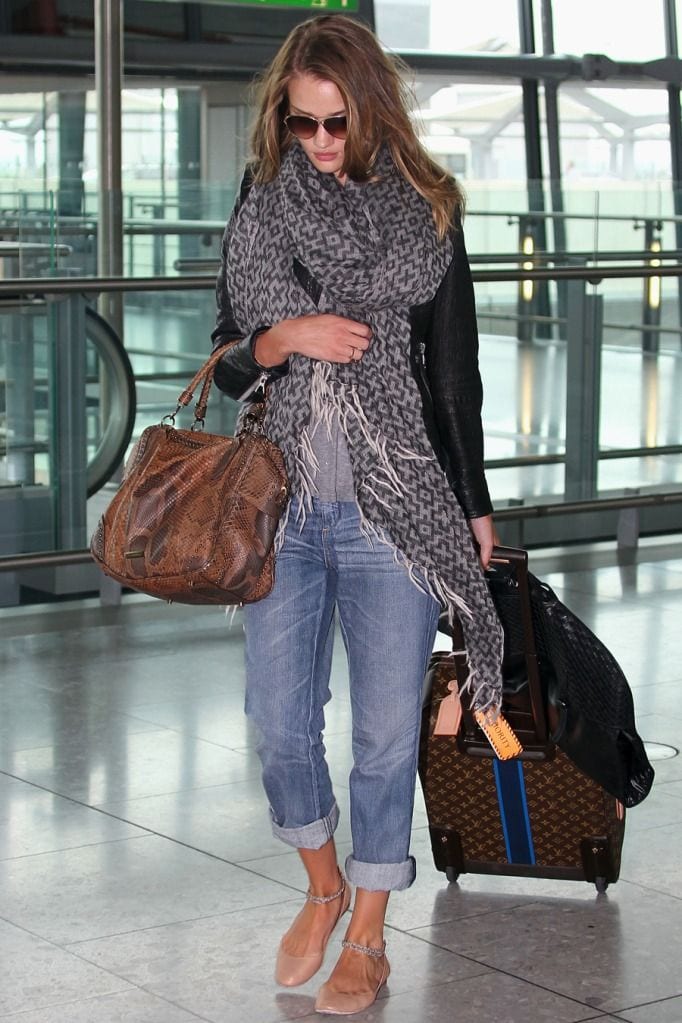 ↓18. Biker Girl Outfit for Flying
Do you love rocking edgier styles a la Biker Chick? If so, then this is the look for you!
Let your inner rebel loose with this bomb ensemble. Pair a white cowl-necked sweater with a fitted leather jacket and black skinny jeans. Shiny black boots and shield style sunglasses seal the deal on this look and give you that cool-girl edge you love.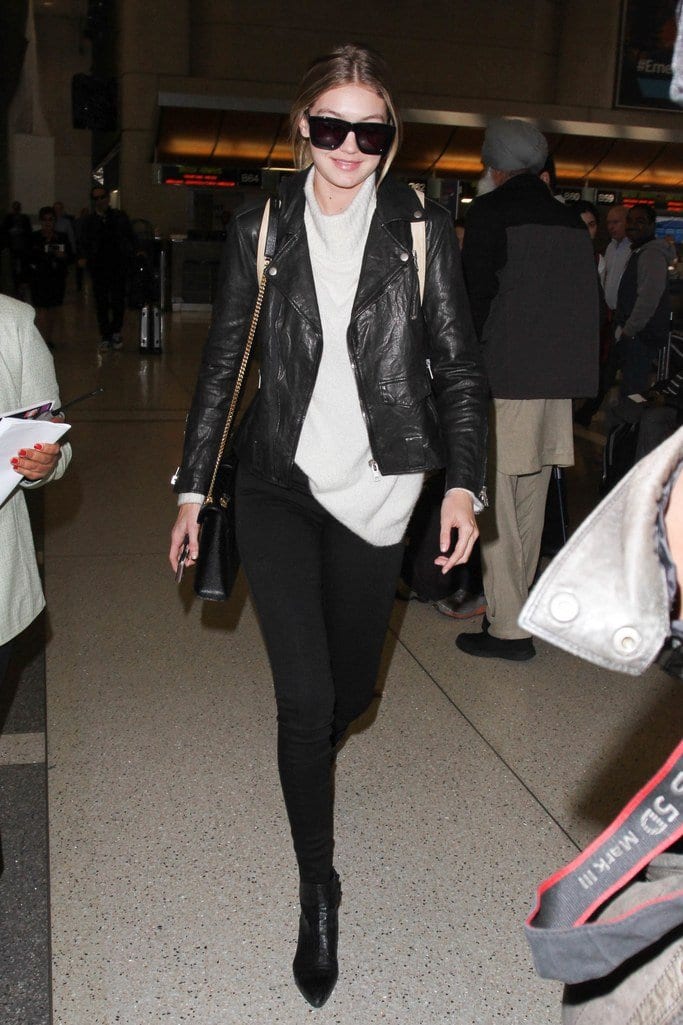 ↓17. Super Trendy Teddy Coat and Sneakers
A trendy item this last year has been the uber comfy and super cute teddy coat. Teddy coats are great for flying during the winter as it is like being wrapped up in a cozy blanket. Pair it with some high-waist ripped skinnies and some high-end white sneakers for ultimate impact. A cute fitted tank keeps the look from being frumpy or sloppy. Make sure your hair is styled and go for light makeup that plays up your features.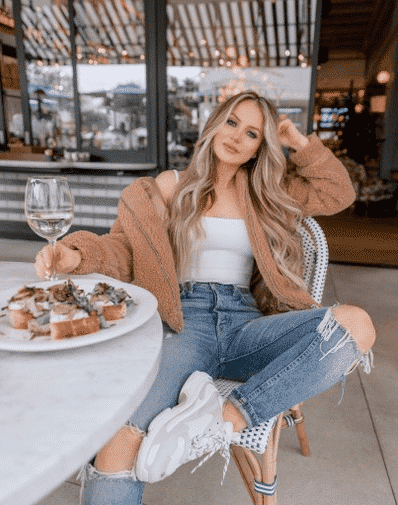 Get this outfit at the links below:
Balenciaga Triple S Sneakers
UO Cropped Teddy Jacket
Revolve Naomi High-Rise Stretch Jean
↓16. Ultra Slimming Travel Outfit
When in doubt, go black!
Everybody knows that wearing darker clothes will help give you a sleek and slender appearance. Plus, you won't have to worry about stains on your clothing or undergarments peeking through. You will feel slim, secure, and stylish in this celebrity-inspired ensemble. Tuck a thin long-sleeved top into black skinnies and top it off with a patterned jacket, which is a structured piece that is also very slimming. Add knee-high boots and statement sunglasses if you really want to go full Victoria Secret model!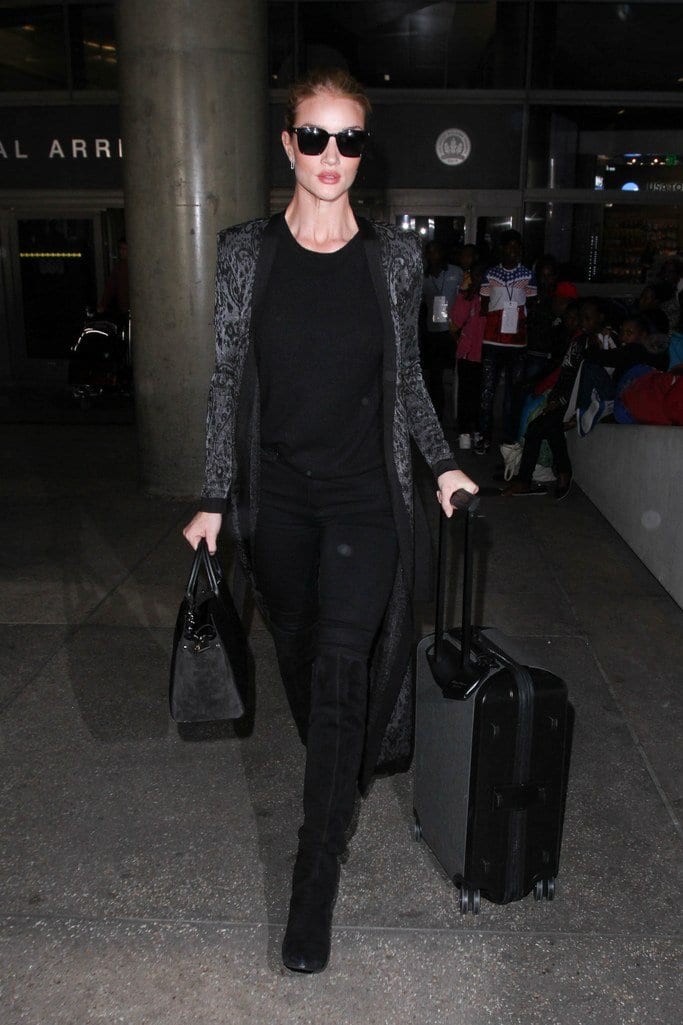 ↓15. Sweater Dress and Leggings for Flying
Nothing is comfier or cuter than a stylish sweater dress. Not only will it keep you cozy and warm but it looks especially fashionable when paired with tights or leggings. Pop on some flats or little boots and accessorize with sunglasses and an oversized tote. Mind your colors as well. Taupes, beiges, and soft browns are super classic and neutral tones that will up your style points instantly.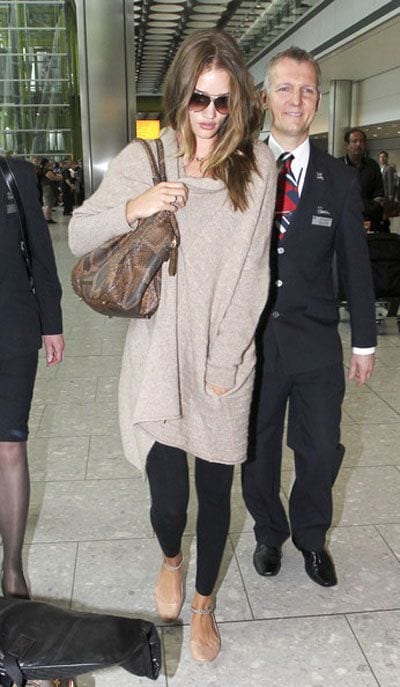 Via
↓14. How to Layer a Winter Outfit for Traveling
As aforementioned, layers are so crucial to having a pleasant travel experience during the winter. If you want to feel prepared and ready to face any condition or temperature, check out this outfit board.
Start with an embroidered sweater of a light color. Pair with jeans and your choice of boot. Add a plaid or checkered shirt and top it off with a well-fitting coat. You can shed the layers at any point when you feel too warm, and put them back on if you start to feel chilly again. It's the best of both worlds!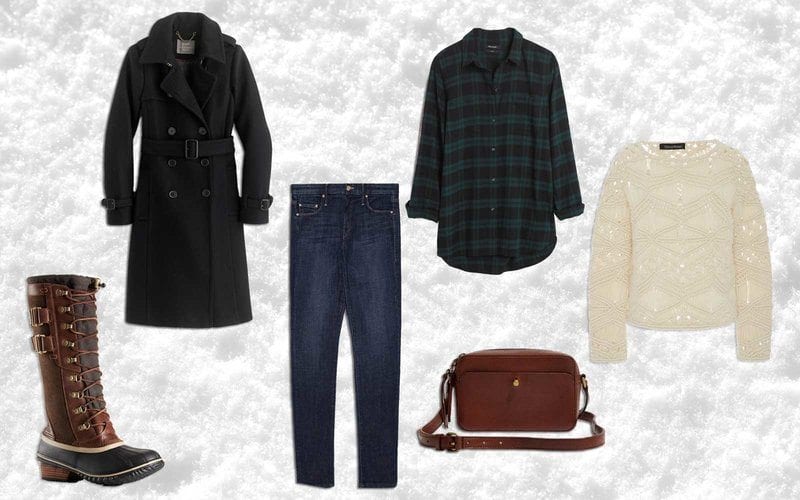 ↓13. The Ultimate Winter Outfit for Travel
This is the perfect ensemble if you are traveling in the dead of winter or around the holiday season. A patterned turtleneck sweater looks cute and weather-appropriate with some dark skinny jeans. A coat, boots, and scarf are obviously non-negotiables for the winter. Finish it all off with a sleek backpack purse.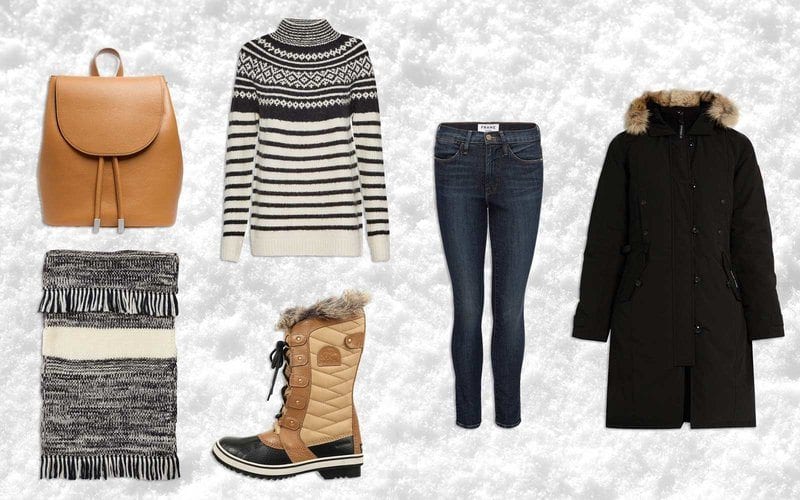 ↓12. Forest Green Coat and Neutral Scarf
Do you have a favorite coat that you just love wearing during the winter? If so, make it the starring piece of your outfit. Pair it with a neutral scarf and dark-wash jeans to ensure it gets all the attention it deserves. Opt for a solid colored top, leather gloves, and boots to finish off your outfit. Accessorize with cat-eye or wayfarer sunglasses and a chain-strap purse.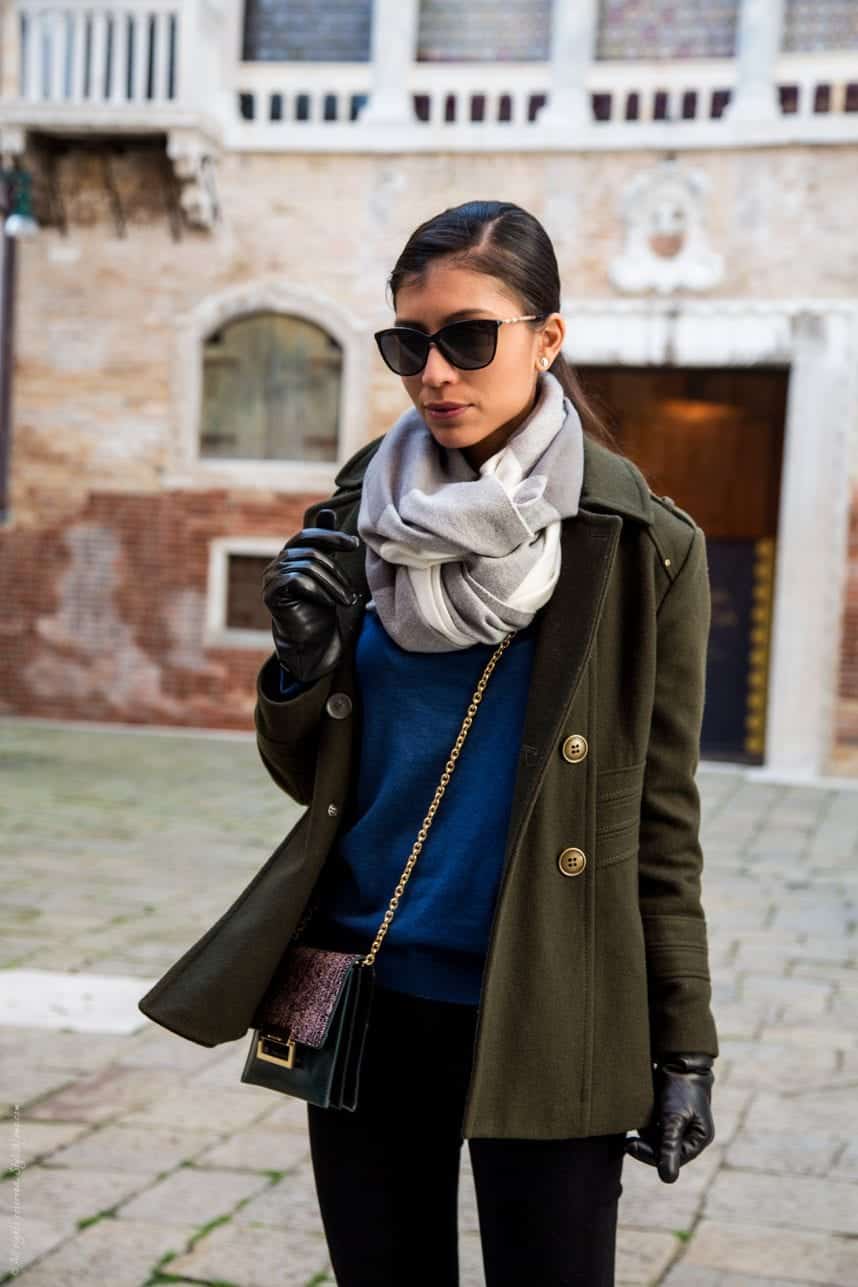 ↓11. Cute and Trendy Hat and Purple Skinnies
To add a retro flair to a basic outfit, why not add a hat? A fedora is a trendy throwback that effortlessly takes your outfit to a whole new level. Add sunglasses to really seal the look. To keep it fun, choose a colored pair of skinnies! These purple jeans are so cute when paired with the two-toned blue fedora. A scarf and a deep green coat ties everything together.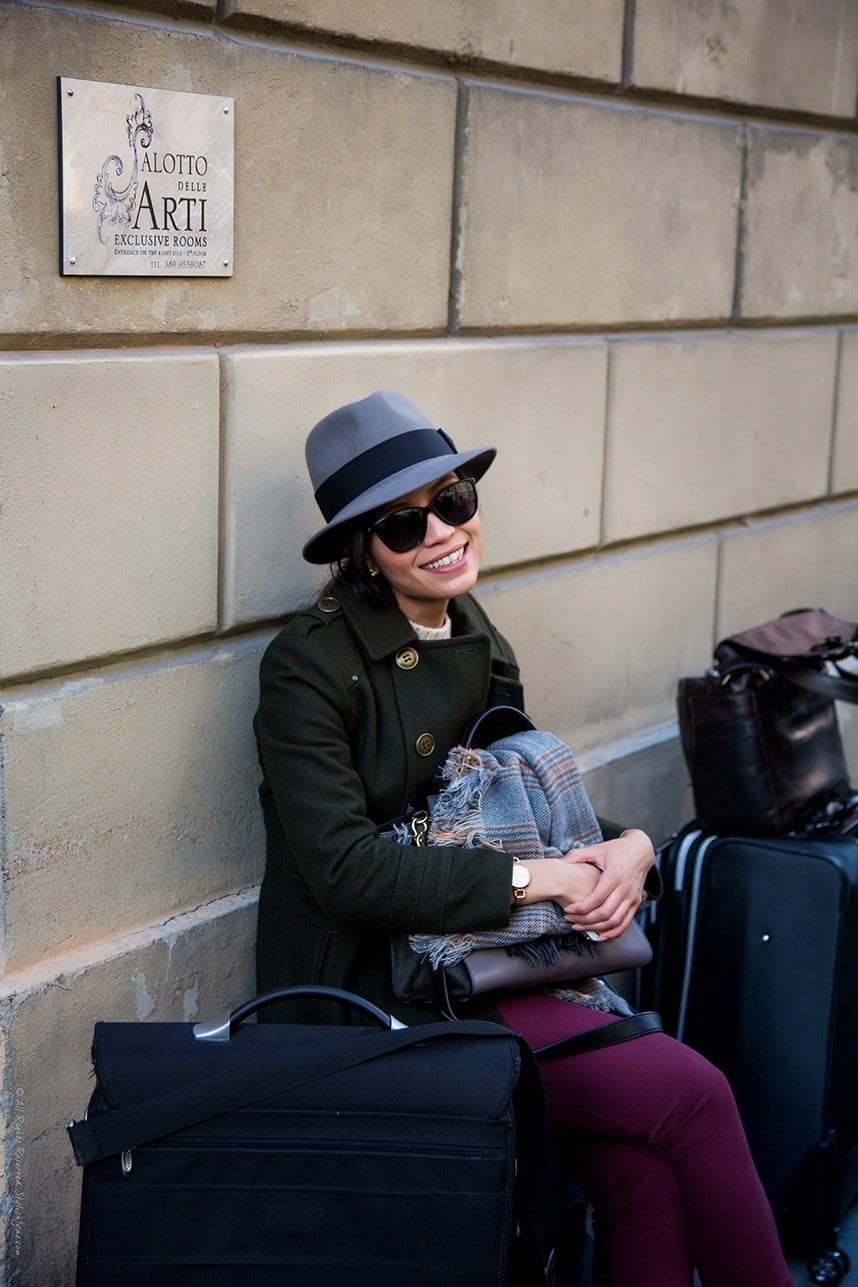 ↓10. What to Wear to Travel 2019
Alright, girls. We think we found it.
The ultimate… the perfect… the most stylish… the most trendy TRAVEL OUTFIT FOR 2019.
Seriously, how great is this look?!
It's cute, it's comfortable, it's trendy, it looks seriously bomb. Plus, you can always add a coat if you are traveling in the dead of winter. There are no downsides with this one.
Start with a high-necked tee or long-sleeved shirt and top it off with a denim sherpa trucker jacket. Add some high waist leggings and white high-end sneakers. Accessorize with statement sunglasses, gold hoop earrings, and a backpack purse. Last but not least, style your hair in braids. (A pro tip for long flights is to braid your hair to keep it nice and tidy the whole time you are traveling!)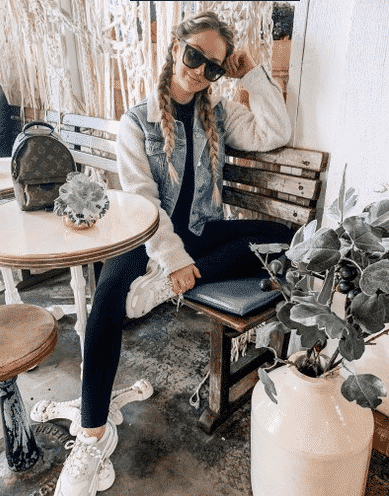 Via
Love this look? Get it for yourself here:
Extreme High Waist Moto Leggings
Two to Tango Denim Sherpa Trucker Jacket
Balenciaga Triple S Clear Sole Trainers
↓9. Classy Outfit for Traveling Abroad
Indulge your femininity with this beautifully classic ensemble, perfect for when you are traveling abroad.
Pair a slouchy white tunic with a navy blue merino sweater coat. These two pieces will keep you warm and looking as well-styled as a professional fashionista. Add a wide-band felt hat and accessorize with chandelier earrings.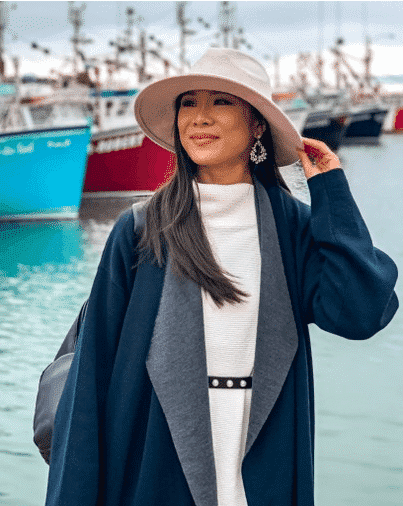 ↓8. Traveling Outfit for Girls 2019
Sometimes, keeping it simple is really the best way to go.
Throw on your favorite ripped jeans and add a long-sleeved white top. A thick, soft brown cardigan keeps you warm, as well as a pair of knee-high stylish boots.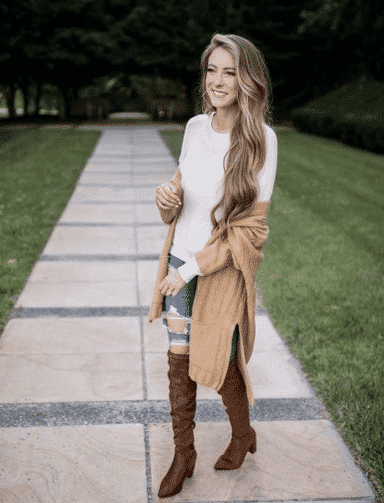 ↓7. Go-To Travel Ensemble
We love this winter-ready outfit and think it should be everyone's go-to!
Keep yourself extra warm by wearing a knit hat and woolly white vest over your hoodie or jacket. Pair with jeans and snow boots.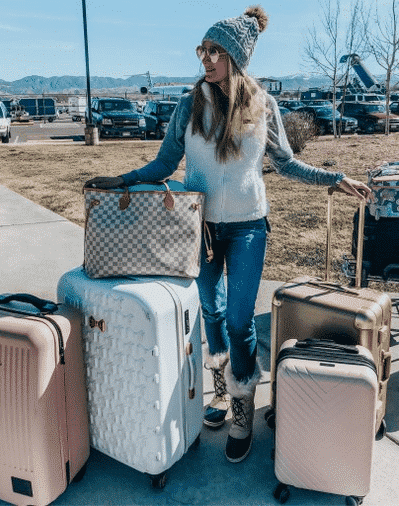 ↓6. Super Simple, Basic Travel Outfit
At the end of the day, you really can't go wrong with this super easy look!
Throw on your favorite hoodie and comfiest wide-leg jeans with some sneakers and call it a day.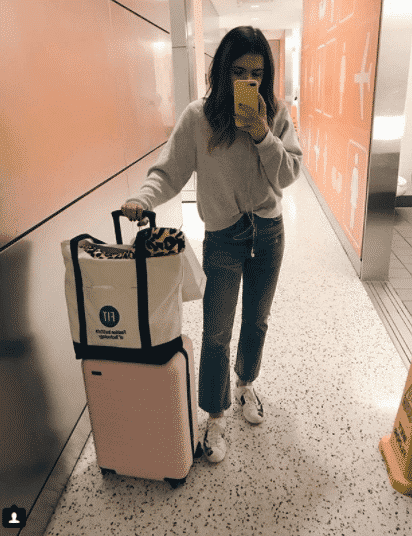 Via
↓5. Stylish Velvet Jumpsuit and Cardigan
For an all-in-one outfit, try this one out for style.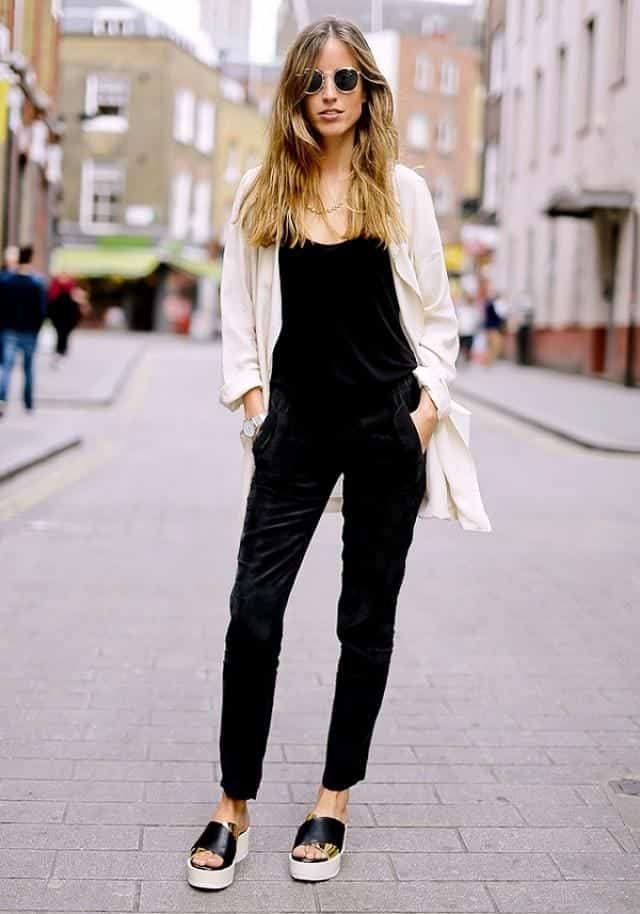 Via
↓4. Winter Essentials
For a light and neutral palette, check out these winter essentials for your next trip!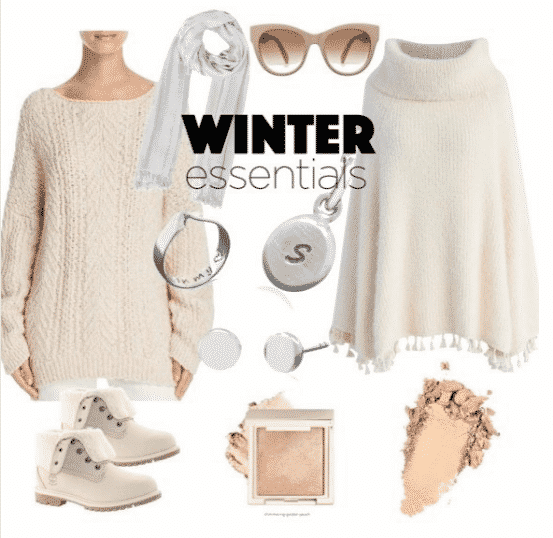 Via
↓3. Fashionista Inspired Travel Ensemble
Love to look glam, even while traveling? This is the look for you, my fashionista friends!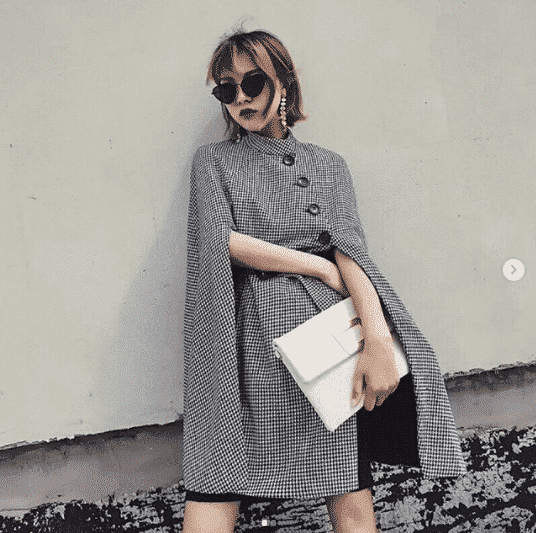 ↓2. Ready-for-Snow
If you know you are traveling to a place where snow awaits, dress appropriately and keep it cute with this metallic jacket and knit beanie!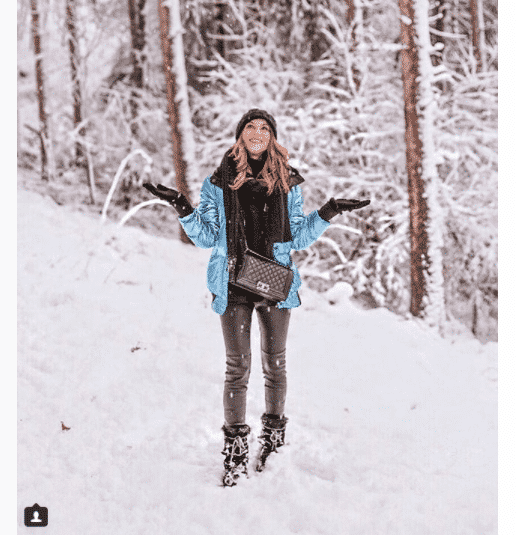 ↓1. Trendy Winter Travel Outfit 2019
For our last ensemble, we have a high-end look for all you serious fashionistas out there.
This beautiful coat looks classic when paired with some patent leather leggings and a brand hoodie. Finish off your outfit with some Balenciaga sneakers and trendy oval sunglasses.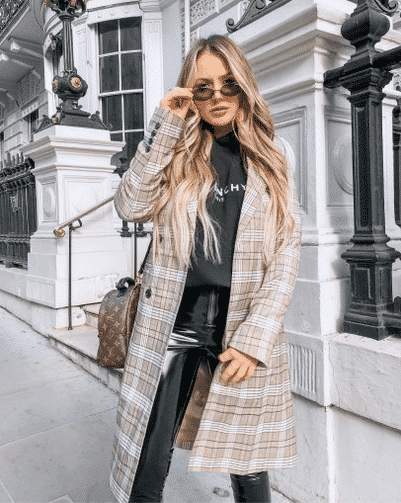 Love the look? Get it for yourself here:
Givenchy Oversized Faded Logo Print Hoodie
Revolve Perfect Control Patent Leather Legging
R.H. Elias is a freelance writer, aspiring author, and freelance transcriptionist. She is a homebody all the way and loves curling up on a cold, rainy day with a good book and a warm cup of tea. Her favourite pastimes include reading, writing, and watching period films. She currently lives in Puerto Rico.