Weekend Outfits for Women 2019: Weekend is that glorious high to your hectic or busy week, when you not only can afford the freedom of spending your time the way you want but also have the great opportunity to dress yourself up the way you want, irrespective of any dress code you might be tied to the other days of the week. Weekends mean you can be creative with your clothing items and whether you plan to go for a casual or formal look, mix and match items and patterns to create amazing styles.
Here we have collected the best and the most impressive weekend outfits in 2019 so that you have other options available than your simple weekend attire of jeans and shirt.
What to Wear This Weekend
While assembling the weekend attire, here are a few helpful tips you need to keep in mind:
The first thing to keep in mind is to look for colors that are being currently most popular and incorporate some item of clothing in that color. For e.g. Shades of purple including lilac and lavender have been very in so add a little pop of purple to your outfit choice.
Look towards your favorite bloggers for advice about various new styling options.
Bring in your old pieces of clothing and wear them with something new and edgy to create an amazing contrast.
Pay special attention to your footwear and accessories because they can play an important role in bringing about the perfect look.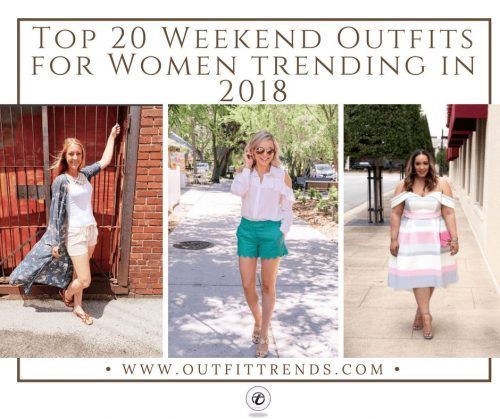 ↓ 20. Casual Saturday Outfit
If you don't have a super occupied weekend and are planning some casual outings with folks or yourself for that matters, we present some great casual wear. You can wear a simple top with frayed denim shorts or a printed shirt with plain colored pants or leggings. Sneakers, converse and flat sandals are the way to go! Also have a look at these 30 Styles What to Wear on Sunday.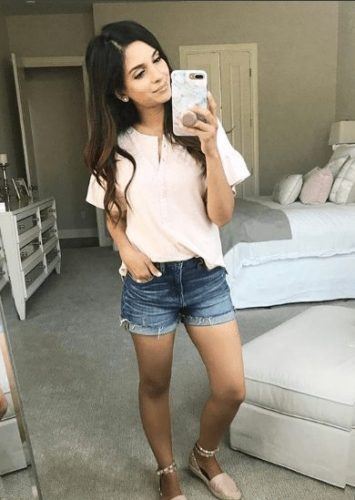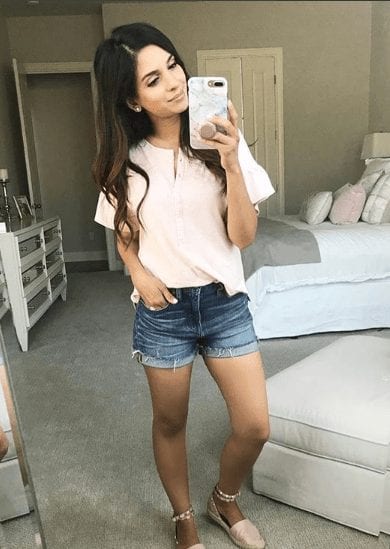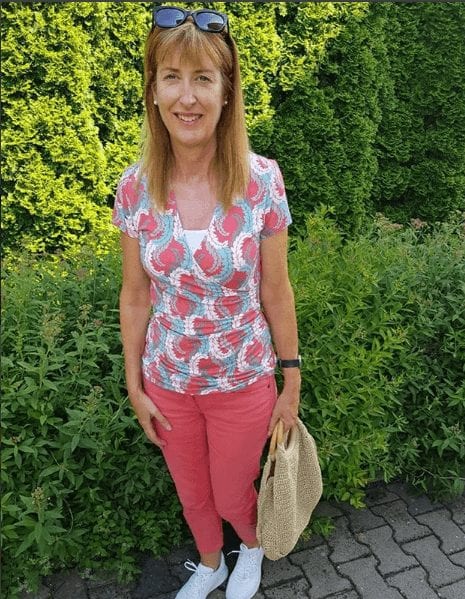 ↓ 19. Plus size Weekend Outfits
Fun plus size outfits are not a difficult feat to find anymore and whether you are planning to wear something formal and dressier or just a casual cheeky dress, you now have a multitude of options. For a dressier look or a momentous day like Easter, you can wear a pretty dress with pastel colors and a dramatic neckline.
↓ 18. What to Wear on a Saturday Afternoon
By just adding a certain piece of garment or statement jewelry, you can create a cute outfit for the weekend. Denim has made a great comeback and more and more denim pieces are being incorporated by stylist to add a cute touch to their overall look. You can also wear a chambray shirt instead of your denim jacket for a less structured look.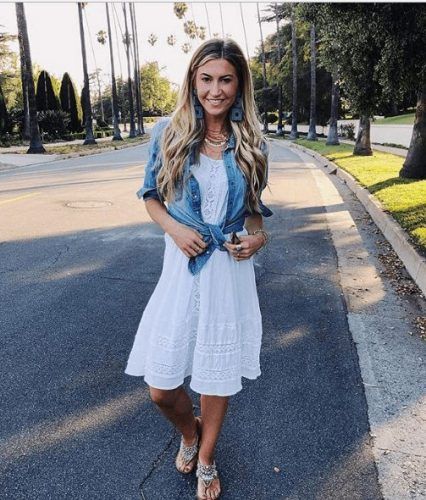 ↓ 17. Sporting the Thigh-Highs
Though thigh-highs boots are not everyone's piece of cake and take a certain tact to carry them properly, they are quite popular and versatile must-haves. You can wear them in winter and summer and they go beautifully with any outfit you might have in mind.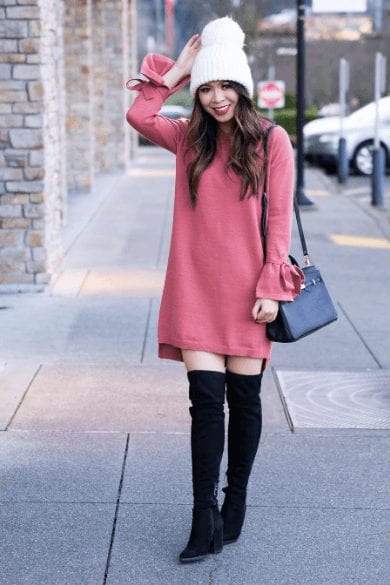 ↓ 16. Denim Overalls
Overalls are the dreamy piece of garment to have in your wardrobe in 2019 (Yes, you heard that correctly) because they are sensational! You can dress them down and wear them with plain tops and cute converse. For a more dressier look, you can wear them with beautiful detailing lace-up V neckline top and lace-up heels.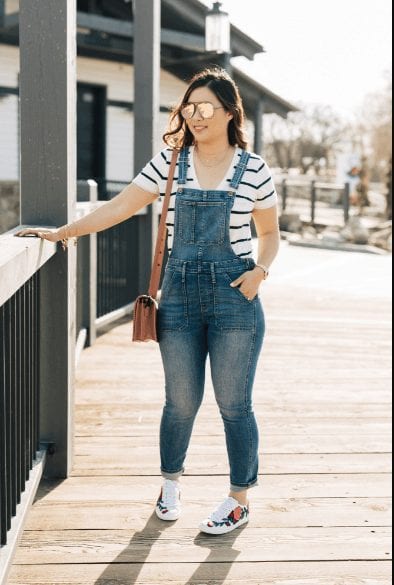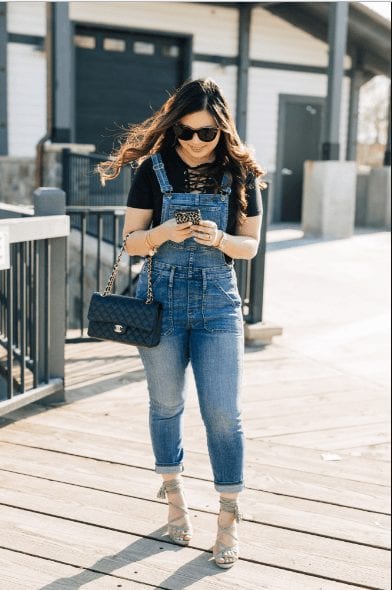 ↓ 15. Weekend Beach Outfit
Summer weekends call for a mandatory beach trip and attention to your outfit choice. Whether you are opting for a gorgeous one-piece or a summer staple outfit i.e. crop top and shorts, the thing to keep in mind is the comfort level.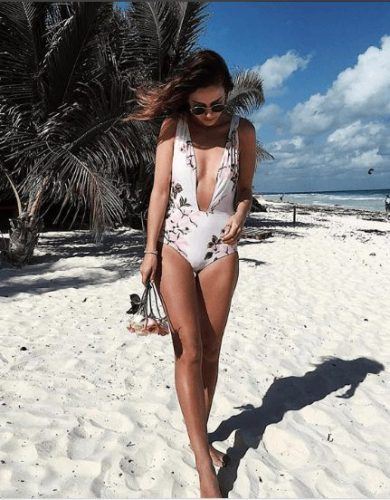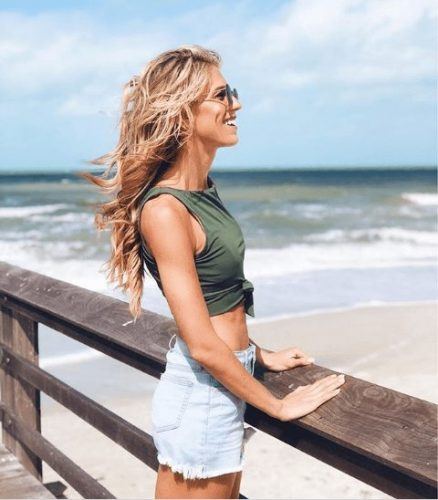 ↓ 14. Casual Summer Weekend
Printed pants are great for lazy weekends and you can choose to wear them with plain knotted shirts or graphic tees for a cheeky look.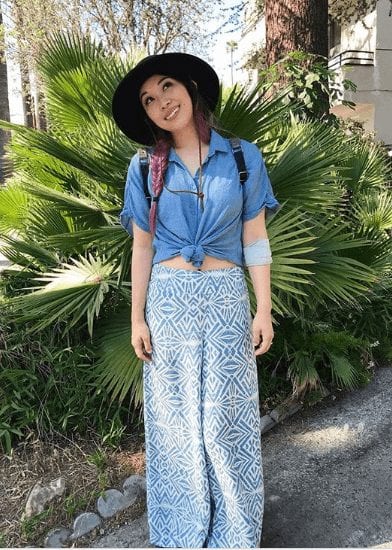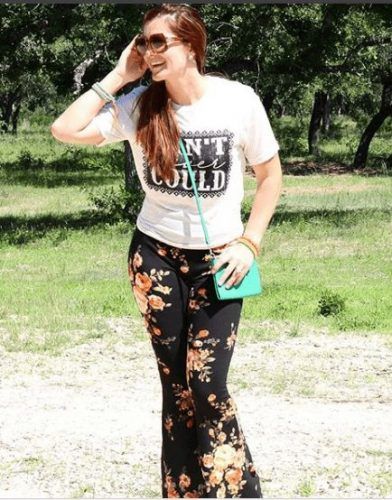 ↓ 13. Off Shoulder Tops
Say Hello to 2019 with the craze of off-shoulder and cold shoulder tops! Off-shoulder tops can be styled with pants and skirts for an instantly presentable chic look.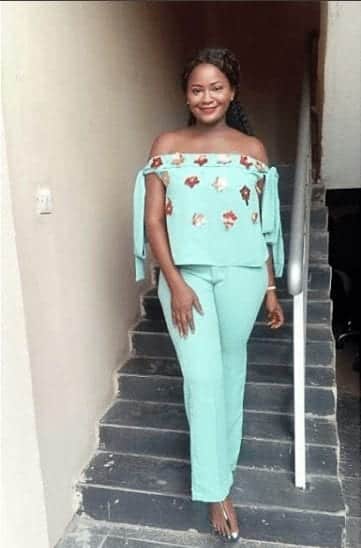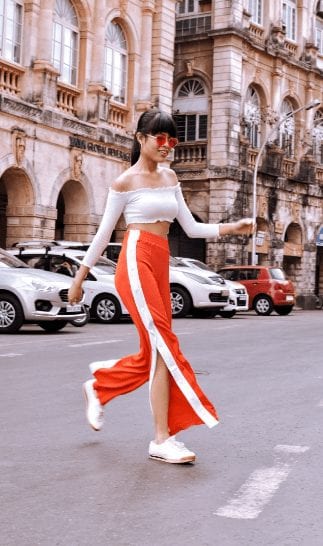 Via
↓ 12. How to Dress for the Weekend Brunch
Whether it's a formal brunch date or a casual picnic in the park, a flounce tiered mini dress is very comfortable and sophisticated piece of clothing to carry. Don't miss out these 15 Ways to Dress up for Sunday Brunch.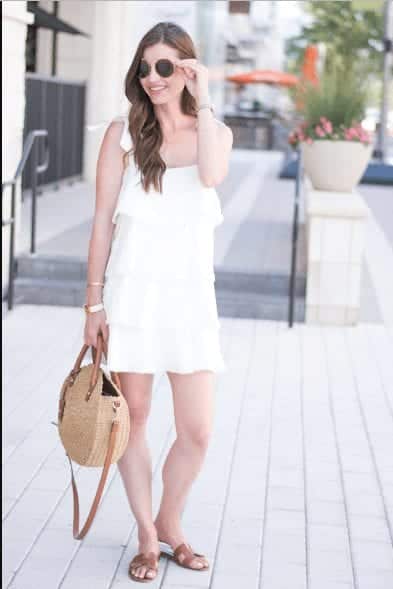 ↓ 11. Concert Outfit
If you are waiting anxiously for your favorite band concert this weekend and are decidedly unclear about the outfit options, remember, you can never go wrong with dressing up wholeheartedly in black.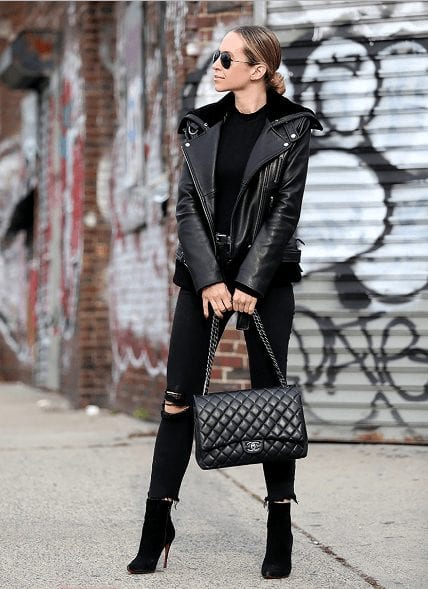 ↓ 10. Favoring the Pastels
Pastel jumpers and tops are taking quite the limelight and look fabulous for any weekend plans that you might have in mind. Here are 18 Cute Pastel Outfit Combinations and Ideas to Wear Pastels.
↓ 9. Weekend Date Night Outfit Idea
You can incorporate beautiful and vibrant patterned tops with skirts or pants in your date outfit this year.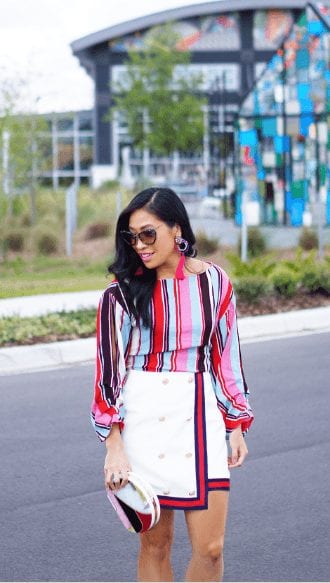 ↓ 8. Spring Outfit Ideas
The yellow family is being flaunted all around the town and what best time than wearing it in the season of blooms and flowers!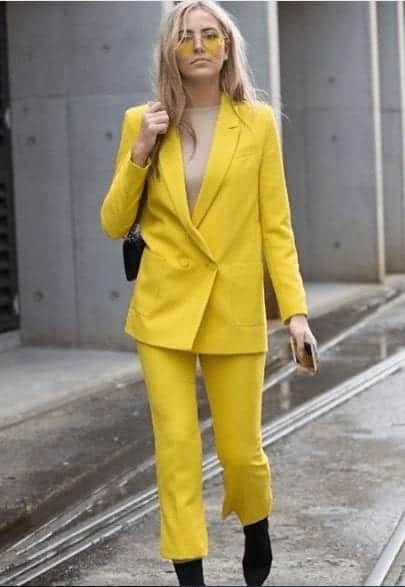 Via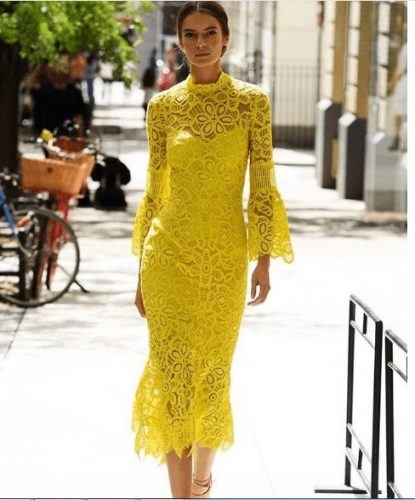 Via
↓ 7. Vibrant Party Outfit
If you plan to attend a party, go funky and vibrant with your outfit choice because that is how you do it in 2019!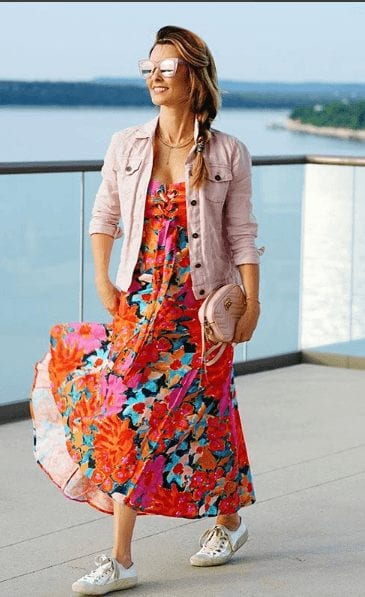 ↓ 6. Fabulous Jumpsuits for Weekend Road Trip
Fancy jumpsuits are taking over the fashionista's world and are being worn as both formal and casual wear. Here are 20 Ideas How to Dress for Road Trip.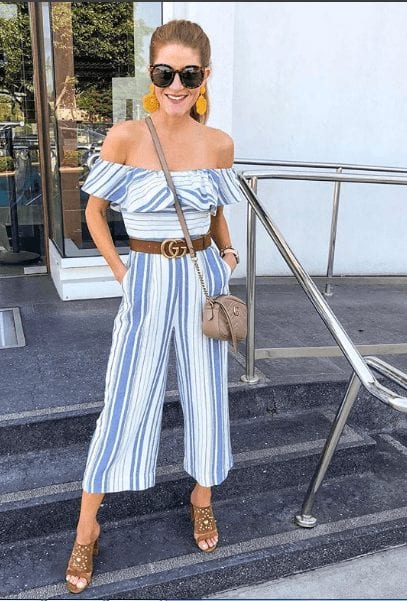 ↓ 5. Boho Chic Vibes
Kimonos are one great easy breezy layering clothing item that can add a certain edgy look to your overall look.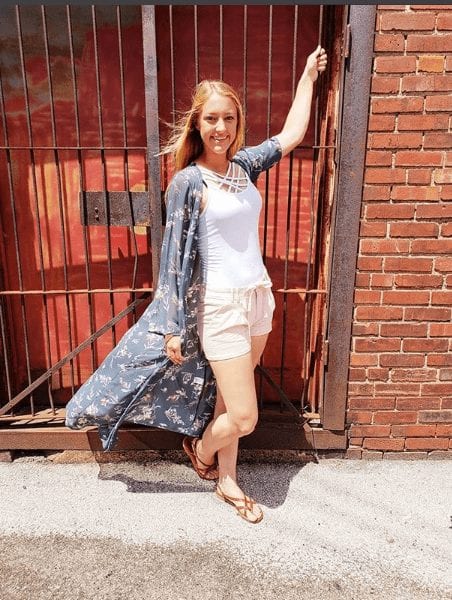 ↓ 4. Cute Shorts
No more boring shorts for you! 2019 has come with beautiful shorts that have amazing embellishments and innovative details so you can have a great outfit at your hand for the weekend! Here are some awesome ideas of High Waisted Shorts Outfits.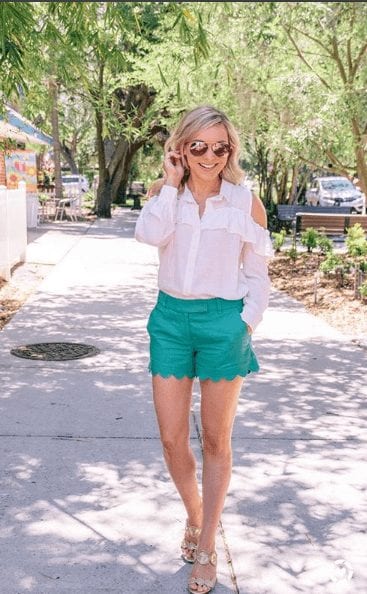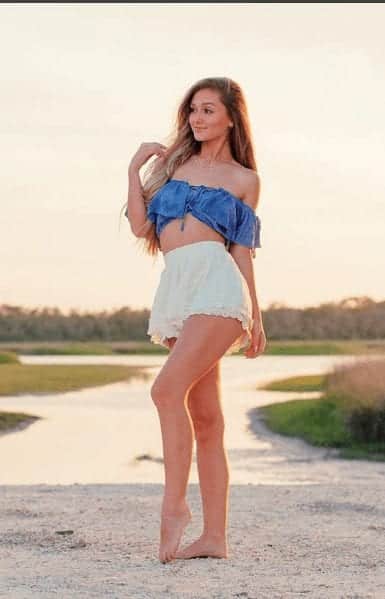 Via
↓ 3. Comfortable Outfit for Weekend Chores
Not all of us have fun and entertainment packed in our weekends and for some of us, it is just a time to quickly get over the pending chores! For a busy chore-filled weekend, go for comfortable dungarees and favor the color lilac because its Pantone approved.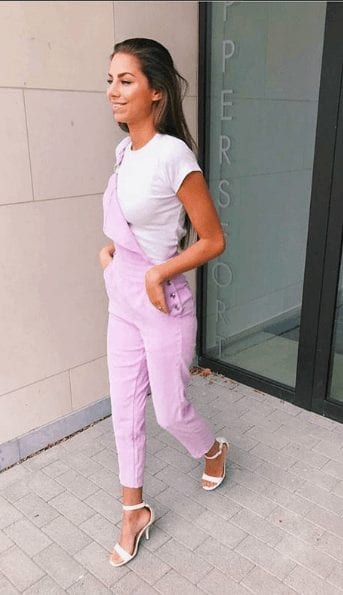 ↓ 2. Midi Skirts for Weekend Shopping
For all your weekend plans, midi skirts will help you out greatly in putting together a superb outfit! They are such an essential piece this year and go amazingly well with various tops for any event or occasion.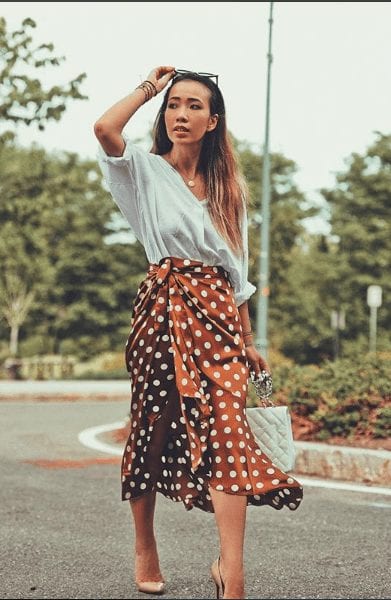 ↓ 1. Weekend Wedding Outfit
Have a weekend wedding invitation? Go for a beautiful and rich pink or salmon colored dress. Metallics are pretty in these days so go for dull gold clutch and heels.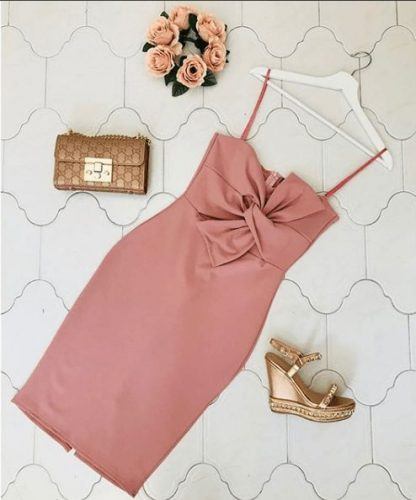 Zonaira is newly married and currently, she's trying to learn how to manage her work with life. After completing her studies, she wanted to pursue her passions to make life more exciting. She's an avid reader who also happens to love writing so she thought, what better way to convert that passion into blogging and article writing? So now she's busy exploring the world, one article at a time. She loves to keep herself updated on the latest trends. Her philosophy in life is to "make thyself better each day" and so her interest lies in making people aware of how they can improve their style and be a better version of themselves.