When it comes to comfort, cardigans are the ultimate choice for every girl.
And while we love cropped sweaters, cardigans in a longer length are even better because of how comfortable they are.
You can make the most of this versatile layering piece by wearing it all year round. Here's a list of all topics that I'll cover today:
What To Wear With A Long Cardigan?
Consider pairing a long cardigan with different pieces to create various looks. Personally, I love wearing them with short dresses and skirts with tucked-in blouses to get a polished look.
Just be sure to use the proper styling and length proportions.
Long cardigans look great with casual outfits as well as semi-formal ones. In the summer, a slim-fitting cardigan looks great with crop tops and shorts.
While a chunky knitted cardigan looks good with turtlenecks and fitted bottoms in winter.
Styling Tips
Buy the right fit: Avoid wearing oversized cardigans unless you are opting for a baggy look. They add visual weight and lend you a frumpy appearance. Similarly, a tight-fitting cardigan will not look good either. The ideal cardigan should fit comfortably around the bust and sit well around the shoulders.
Layer over dresses: Cardigans are great when you want to layer like a pro. They are also ideal for keeping you warm while wearing short dresses in chilly weather. Pick a cardigan color that best complements your dresses, drape it over your shoulders, and you are ready.
Accessorize: Not liking the flowy feels? Then, grab a belt and wrap it around to get a defined waist. Just like that, pair your long cardigans with balanced accessories to add depth to your outfits. Consider wearing a thick necklace or dramatic earrings to create a more heightened look.
Experiment with colours and patterns: Life is a little boring without some experiments. Even though a simple and plain cardigan is great for a professional and subtle look, a patterned or brightly coloured long cardigan can offer a little fun and dimension to your simple outfits.
Neutral Colours: Neutral colors are versatile as they can be paired with any outfit anywhere. Invest in cardigans in neutral hues like cream, beige, white, and grey. In addition, pastel colors like pink and blue also look adorable in the spring.
Ways To Style A Long Cardigan
26 – Layer Over A Slip Dress
You can put together an elegant and comfortable look by combining a sleek slip dress with a simple yet chic knit cardigan layer.
Choose the appropriate layering method and balancing proportions for a cohesive look. Consider adding a belt or other accessories to add depth to your outfit.
Pair an all-black outfit with a thick knit cardigan in a vibrant color to enhance the look. An everyday look that is both relaxed and chic is ready when paired with matching ankle booties.
24 – Opt For A Skirt
A long cardigan looks graceful when paired with a skirt of complementary length. Correct styling might also make you appear taller. You may experiment with textures and fabrics to create a coherent outfit, like pairing a patterned skirt with a simple top and cardigan.
23 – Athleisure Look With Leggings
22 -Modest Outfit With Hijab
Long cardigans are ideal for modest attire since they offer the most coverage. Other modest outfit ideas with long cardigans include maxi dresses, midi skirts, wide-leg trousers, and button-up shirts. Put them together with a flowy cardigan to curate the perfect look.
21 – Casual Chic With Shorts & Crop Top
Summer wardrobe essentials include thin, flowy cardigans with various styling options. Denim shorts and a crop top can be worn casually every day by adding a layer of chic cardigan. Pair striking jewelry with it to amp up your look.
20 – Baggy Pants & Cropped Shirts
Add a vibrant long cardigan to your basic clothes to spice them up. They balance the length of cropped shirts and tops, hence they look good with them. Wear additional accessories to give it a personalized touch.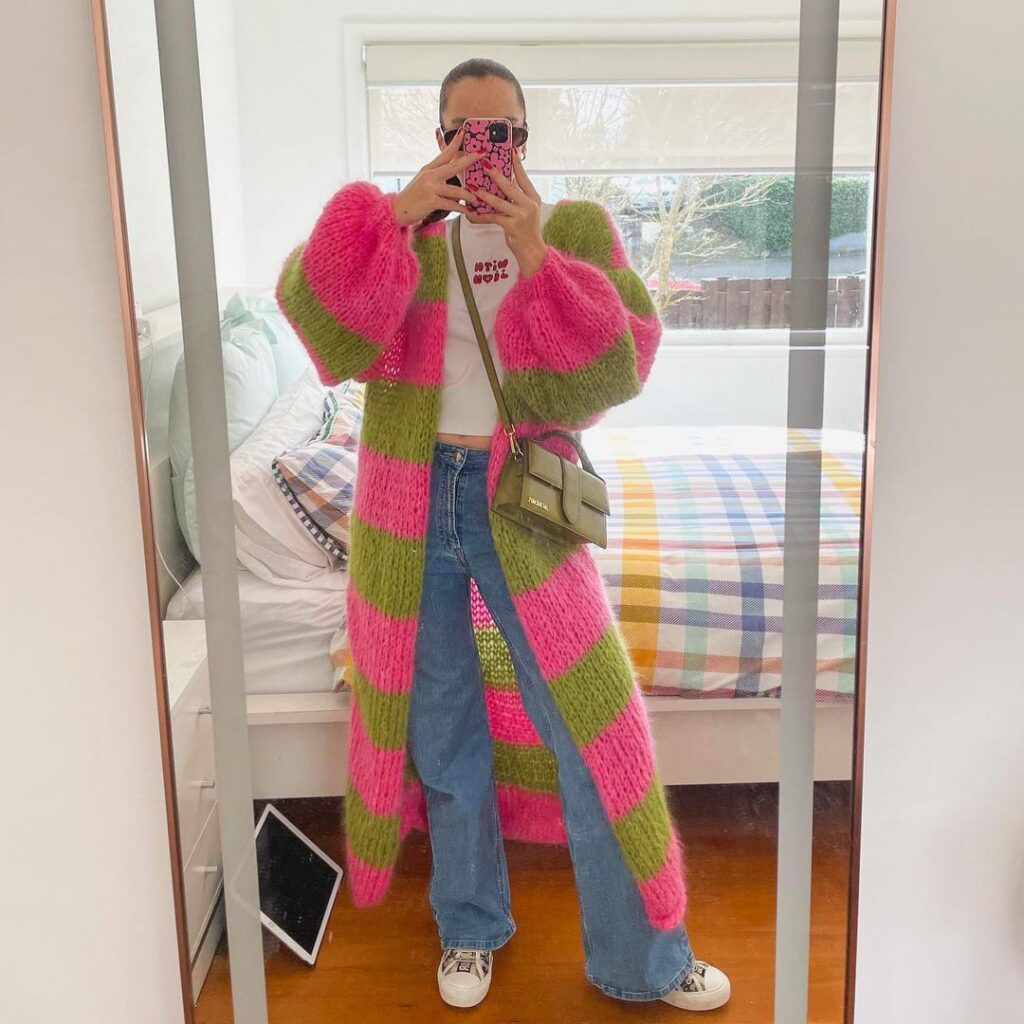 19 – Fringe Cardigan With Fitted Bottoms
18 – Sequin Pants & Silk Top
17 – Monochrome Magic
Create a monochromatic look this spring season by wearing an outfit of the same colour palette. Play with dark and light hues to unleash your creative side. Such styles produce a sleek and sophisticated appeal, making them more appropriate for formal occasions.
16 – Pair With A Matching Sweater Dress
15 – Belted Elegance
Wearing a belt with a simple long cardigan gives a defined waist and looks chic. Choose the one that complements your outfit the best. Add a wider statement belt to create a more dramatic look, or a simple leather belt for a casual, laid-back look.
14 – How To Wear A Long Black Cardigan
A basic black cardigan is a multifunctional clothing piece that goes with anything and everything. Pair it with a chic short dress to get a trendy look or wear it over a crop top and shorts, and you have a simple everyday look.
13 – Leather Shorts & Knit Top
12 – Striped Cardigan With High Waisted Denim
11 – Leather Pants & Mock Neck Top
Style Over 50
10 – Play With Colors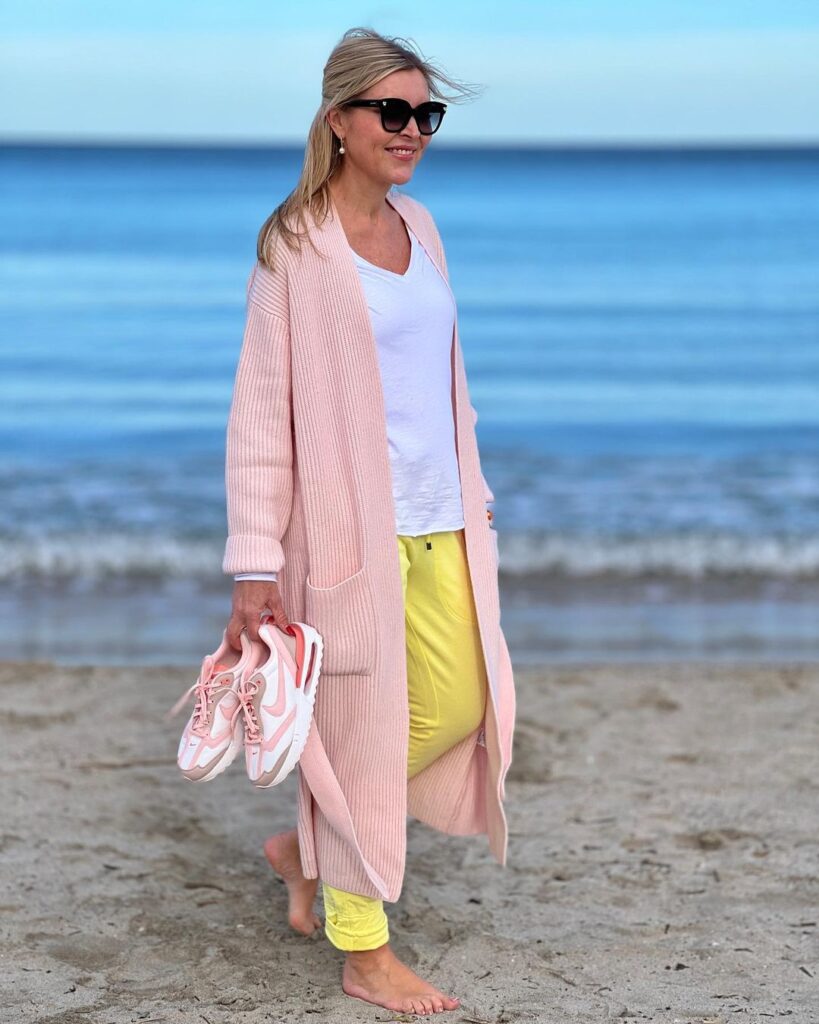 9 – Suit Up In Style
A cool way to tone down your professional look is to replace your blazer with a long cardigan. For a business casual look, pair it with dress pants and button-down shirts. Invest in neutral cardigans in beige, black, or grey instead of wearing loud colors and patterns for workwear.
8 – Pair With A Maxi Dress
7 – Patterened Cardigan With Black Outfit
6 – Layered With Basic Pants & Top
Celebrity Inspiration
5 – Selena Gomez
4 – Jennifer Lopez
3 – Zoe Kravitz
2 – Hailey Bieber
1 – Gigi Hadid