Navratri Outfits for Women. Time to ditch your stiff formals and boring casuals for some traditional and colorful chaniya choli because the Navratri season is here. With delicious food, foot-tapping music, and spectacularly gorgeous Navratri dresses, the glorious nine days full of dance, fun, and colors are exactly what we were waiting for. A perfect blend of culture and beautiful rituals, Navratri brings everyone together.
With great pomp and vigor, the days of Navratri are filled with serene chants, powerful Garba performances, and magnificent Navratri dresses. But before all that comes our favorite part, where we help you plan trendy and dapper outfits for all nine days of Navratri. Check out our list below for chic and stylish Navratri outfits for women.
What to Wear on Navratri?
Navratri is the perfect time to experiment with different silhouettes and styles. Try mixing and matching to create a stunning Indo-western Navratri outfit and stand out.
All nine days of Navratri have a special color with significance. Check out the colors and their significance below and flaunt them at your next Navratri party.
Opt for traditional outfits; Navratri is the best time to bring out your flowy lehenga and gorgeous sarees.
Keep it simple, since Navratri days are all about dancing, keep your outfit flowy and easy to carry so you can dance all night without worrying too much.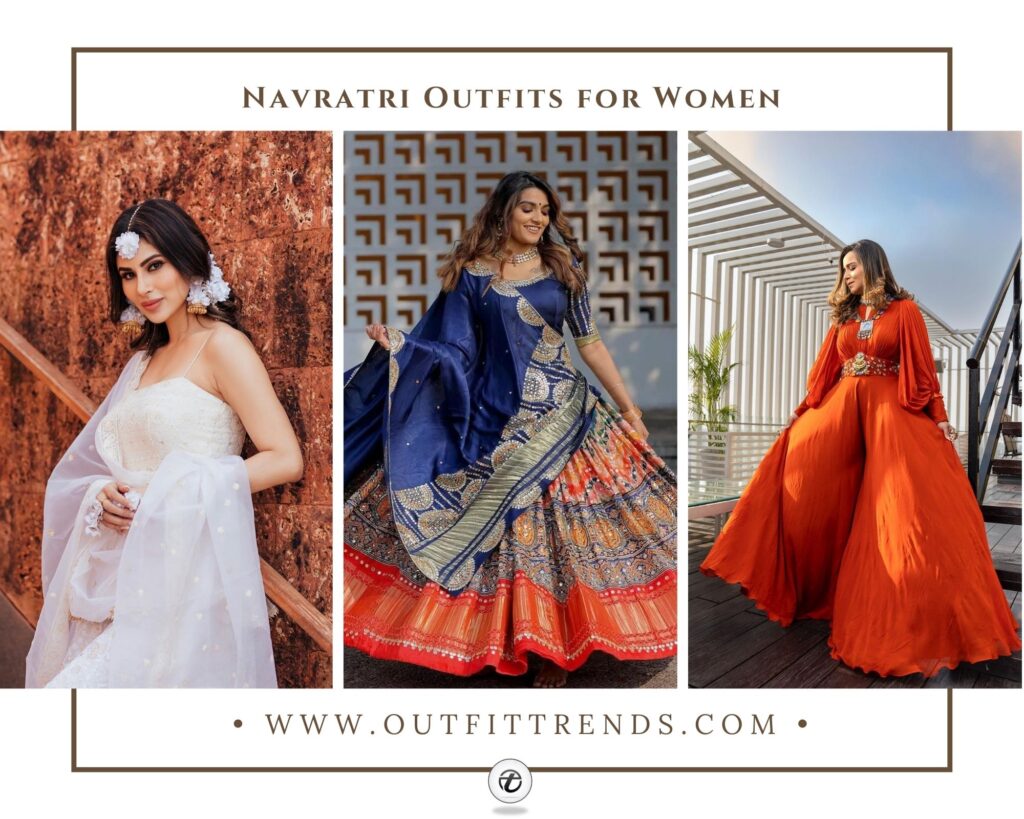 What is the Significance of the Different Navratri Colors?
Grey – Color of balanced emotions and humbleness
Orange – This bright shade is a color of of happiness and positive energy
White – A serene color, symbol of purity, peace and meditation
Red – Colour of love and passion, red is a symbol of vigour and vitality
Royal Blue – A royal colour, royal blue signifies richness, abundance and tranquility
Yellow – The shade of joy and optimism
Green- Green is a beautiful symbol of peace, fertility and growth
Peacock Green – Colour of freshness and compassion
Purple – A luxurious hue that signifies opulence, grandeur and nobility
16. How to Wear Orange on Navratri?
Orange is a popular color choice for day 4 of Navratri but it can be tricky to style so here's some inspiration from Sara Ali Khan, Shraddha Kapoor and Kajol Agarwal.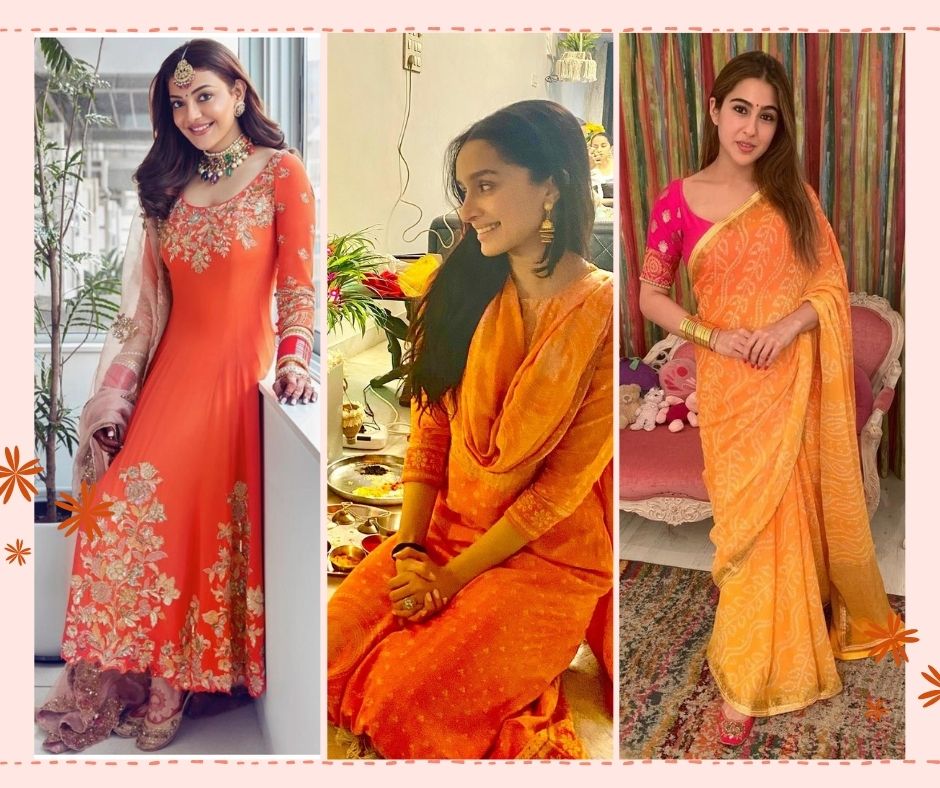 15. Navratri Garba Dress
The classic chaniya choli is the first thing that comes to mind when considering Navratri and Garba nights. Chaniya choli is so famous during Navratri nights that it is often called the Navratri Garba dress. Spectacularly beautiful, easy to carry, and with a flair to die for, chaniya choli is the quintessential Garba outfit. Style it with open hair, oxidized silver jewelry and you are ready to twirl for Instagram. You should also check out these Navratri Outfit Inspiration from Bollywood Celebrities.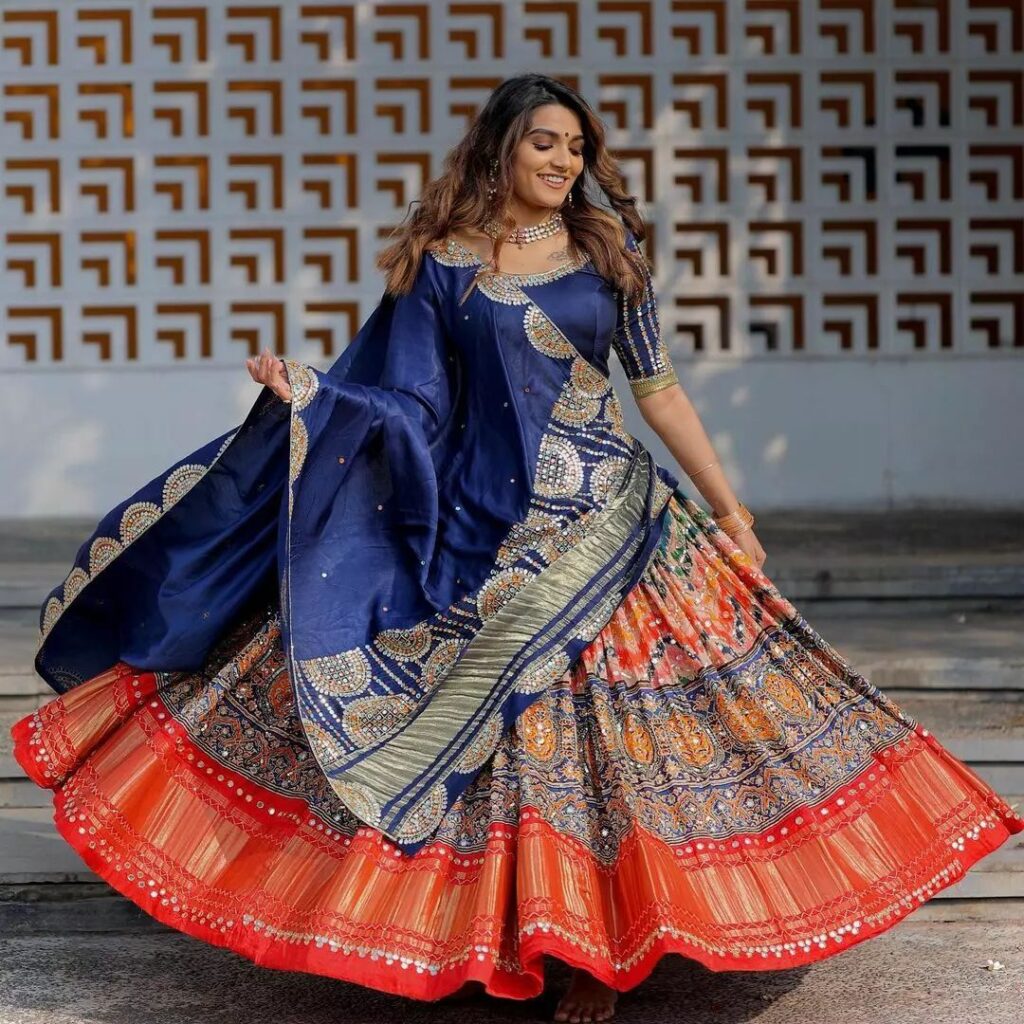 14. Navratri Look with Jeans
This fun and casual, yellow kurti is an absolute stunner that will surely make you stand out. Perfect for day 6, pair this kurti with white jeans for a daytime look or oomph it up with red palazzo pants, statement jewelry, and contrasting bangles for a more nighttime festive appeal. Tie your hair in a messy ponytail and you are all ready for a night of unlimited dancing and fun. Here are some more ideas on how you can style kurtis with jeans.
13. White Outfit for Day 3 of Navratri
The hue of peace and serenity and the color for day 3, a monochrome white sharara suit is exactly what you need to take your style game from 1-10 this Navratri. Understated and graceful, pair this look with floral or gold jhumkas for an effortless puja look. Style it with embroidered juttis, bindi, and your Navratri outfit is all done.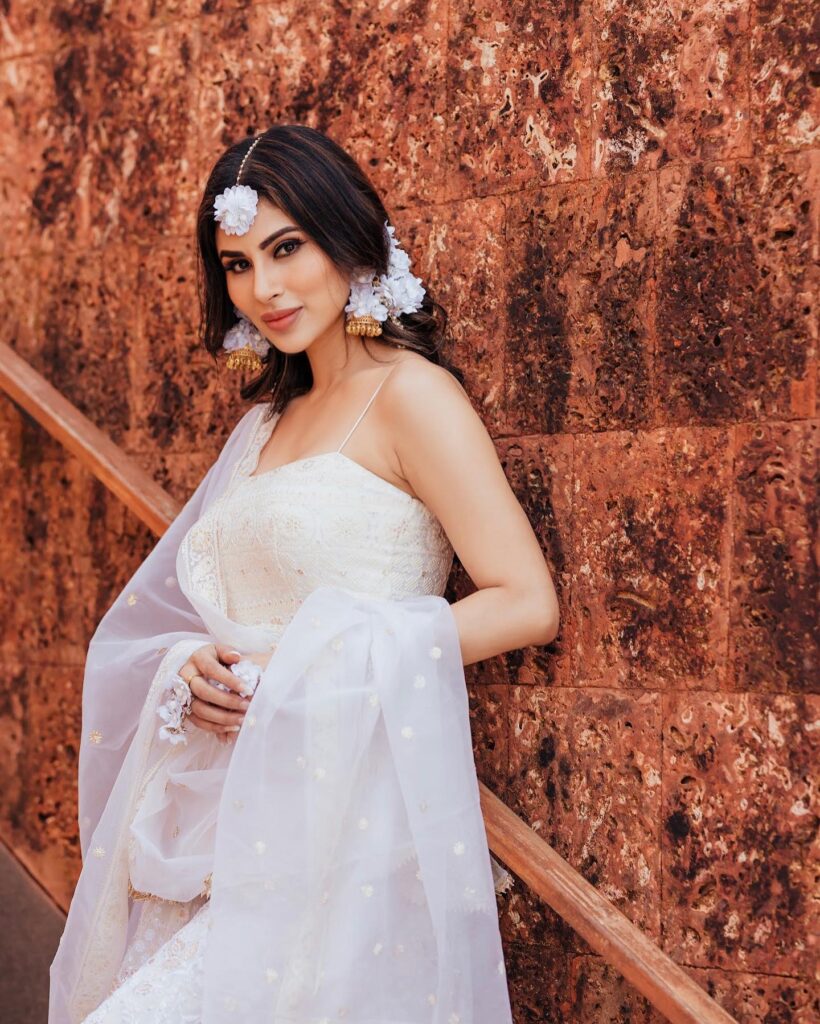 12. The Classic 6 Yard Beauty
Nothing screams grandeur and opulence like the gorgeous 6-yard beauty. Oh-so-sexy yet graceful, sarees are a classic that will never run out of style. Opt for an easy-breezy organza saree this Navratri with hand-painted motifs for a rich and luxurious look, add a touch of modernity by pairing it with a black corset top, and you are done. You can also turn this fresh and easy look into a more festive outfit by pairing it with a black blouse with statement sleeves, silver danglers, and glamorous side-swept hair for a touch of Hollywood glam. If you have a lot of unused sarees lying around in your wardrobe, do check out these tips on how to reuse your old sarees.
11. Bandhani Printed Suit
Bandhani is a traditional Indian technique of decorating fabric with intricate patterns through the age-old art of tie-dye. Bandhani is supremely loved and women often are spotted wearing this gorgeous print during the Navratri nights. So pick out a classic bandhani suit in bright shades, pair it with gold chandbalis and get ready for your Garba performance.
10. Indo-Western Navratri Outfit
If you don't wish to go all traditional this Navratri and are looking for a gorgeous fusion of both traditional elegance and contemporary freshness then we've got your back. This vibrant and fashionable ensemble with a stylish one-shoulder top and contrasting palazzo pants with traditional embroidery screams beauty. When paired with statement earrings, a dainty bracelet, and a bold lip, this understated look will make you the talk of the time at the next Garba night.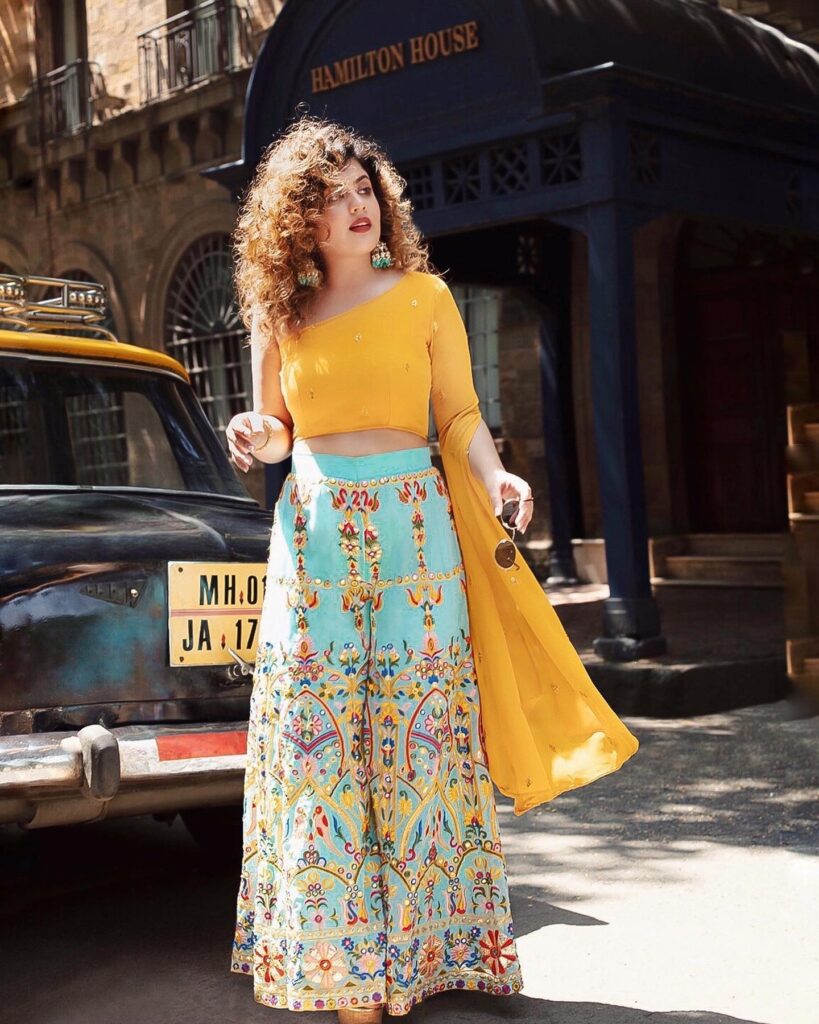 9. For the Love of Ruffles
Young and contemporary, this pale-yellow ruffled lehenga is exactly what fashion dreams are made of. With a breath of freshness and modernity, this lehenga is going to grab you all the limelight. Keep the look simple by pairing it with small diamond earrings, a sleek bun, a no-nonsense makeup look, and let your fabulous ruffled lehenga do all the talking. You can also add a dainty bracelet to make it more luxurious and regal.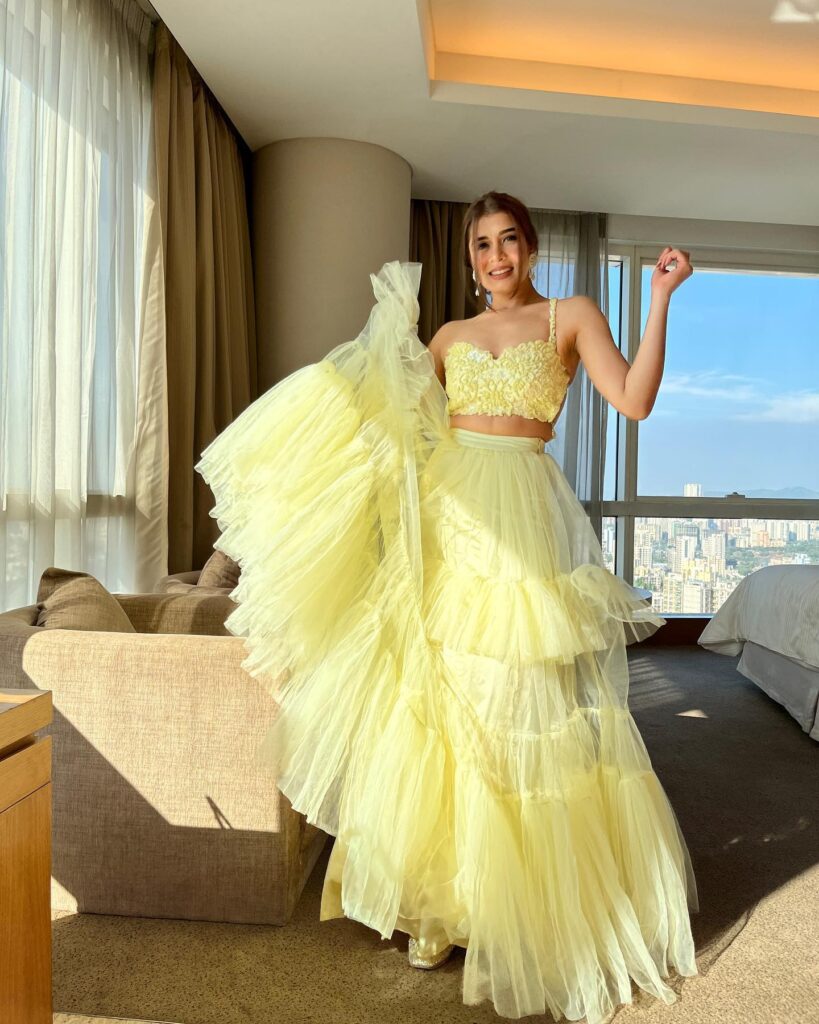 8. Printed Co-ord Set
Supremely contemporary and comfortable this easy breezy outfit is perfect for Navratri day events or soirees. Pair it with colored sunglasses and blow-dried hair to bring back the 90s glam. This outfit can also be glammed up for a night event. Style it with an embellished clutch, messy bun studded hoops and you are ready to hit the Navratri party. You can get more ideas on styling such suits from our post on how to wear matching sets.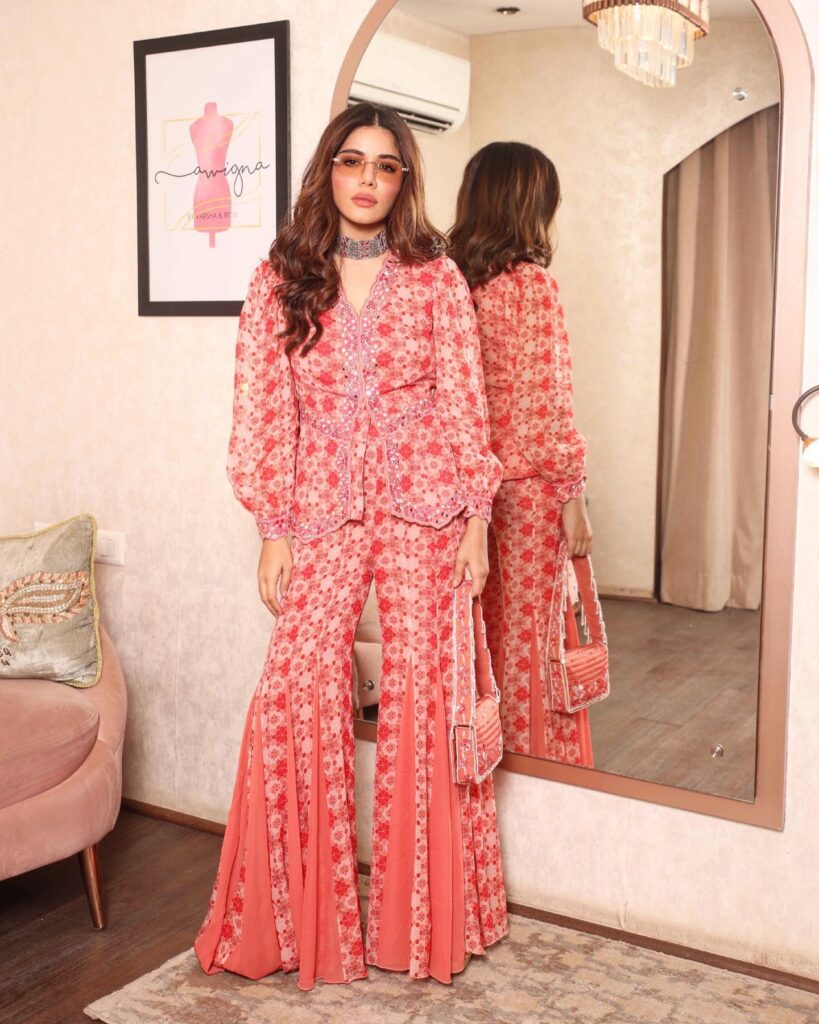 7. Jumpsuit for Navratri
Who said jumpsuits are only for meeting and conference rooms? 2023 is the year of glamorous transformation and fun experimentation. With a versatile piece as a jumpsuit, you can do a lot to remodel it into an appropriate Navratri dress. Simply pick a jumpsuit in a bold shade of Navratri, accessorize it with a Polki necklace, an embellished belt, and to finish it off, embroidered juttis and. Voila!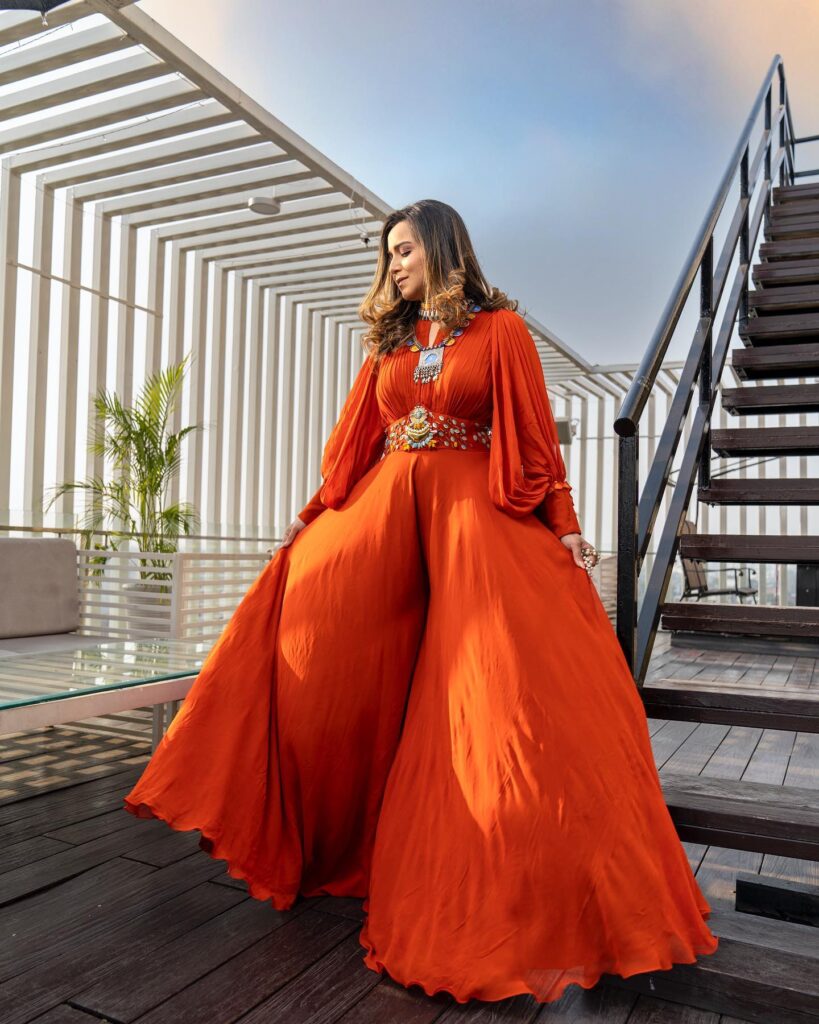 6. Western Outfit for Navratri
Chic, effortless with just the right amount of sass, this outfit is made for all our fashionistas out there who wish to steal the limelight this season with their stylish and trendy Navratri outfit. A lighter and flowy version and a contemporary take on the traditional lehenga, this easy breezy outfit will give you the flair of a lehenga without the heavyweight and look of it. Style it with a chunky necklace for a chic look, or give it a traditional feel by pairing it with a polki rani haar.
5. Bohemian Magic
Hello, our boho-divas. Paint your Navratri all shades of bohemian this season and spread your magic. This one-shoulder maxi dress in eye-catching floral print is both parts snazzy and bohemian. Style it with a layered afghani necklace, juttis, and fresh-dewy makeup to compliment the whole look. This boho-chic outfit is super comfortable yet vogue, perfect for a night of Garba with friends.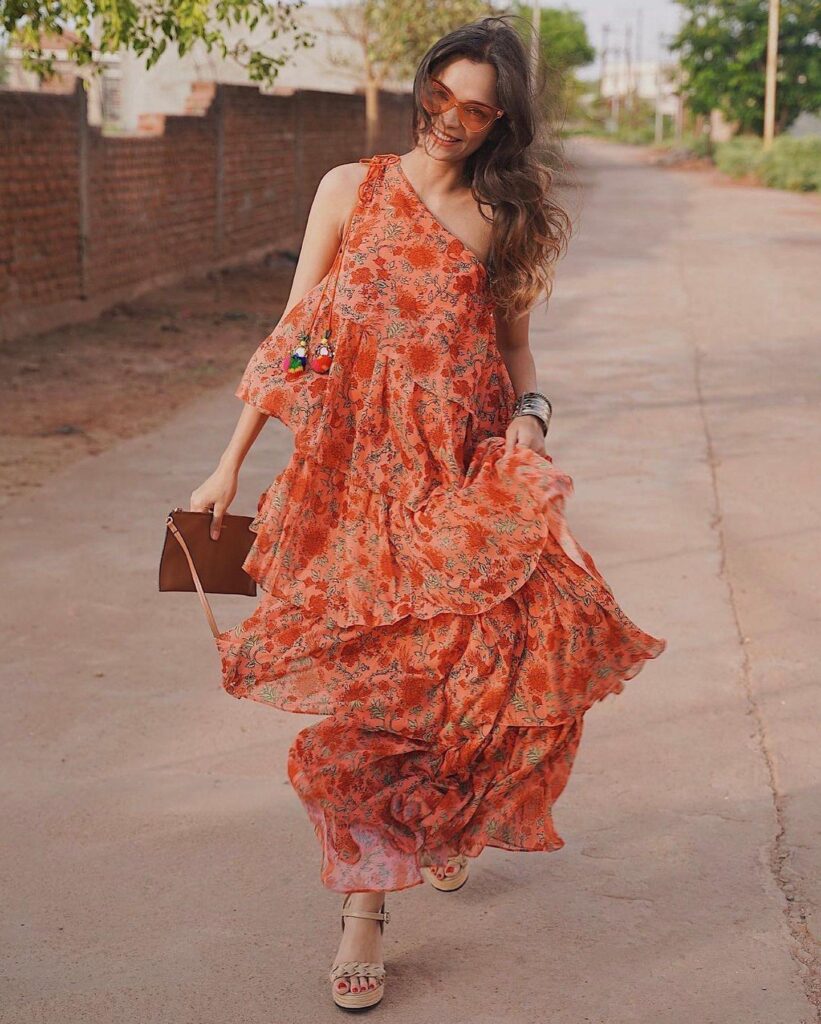 4. I mean Business
Working this Navratri is no excuse to not dress up for the Navratri. We have found a perfect blend of smart officewear and chic traditional wear that you can wear this Navratri. A smart pantsuit with bold and beautiful ikat print is perfect for your office meetings and is festive enough for the Navratri nights. Style it with contemporary earrings during the day and switch it up with an oxidized choker and a bracelet for the night.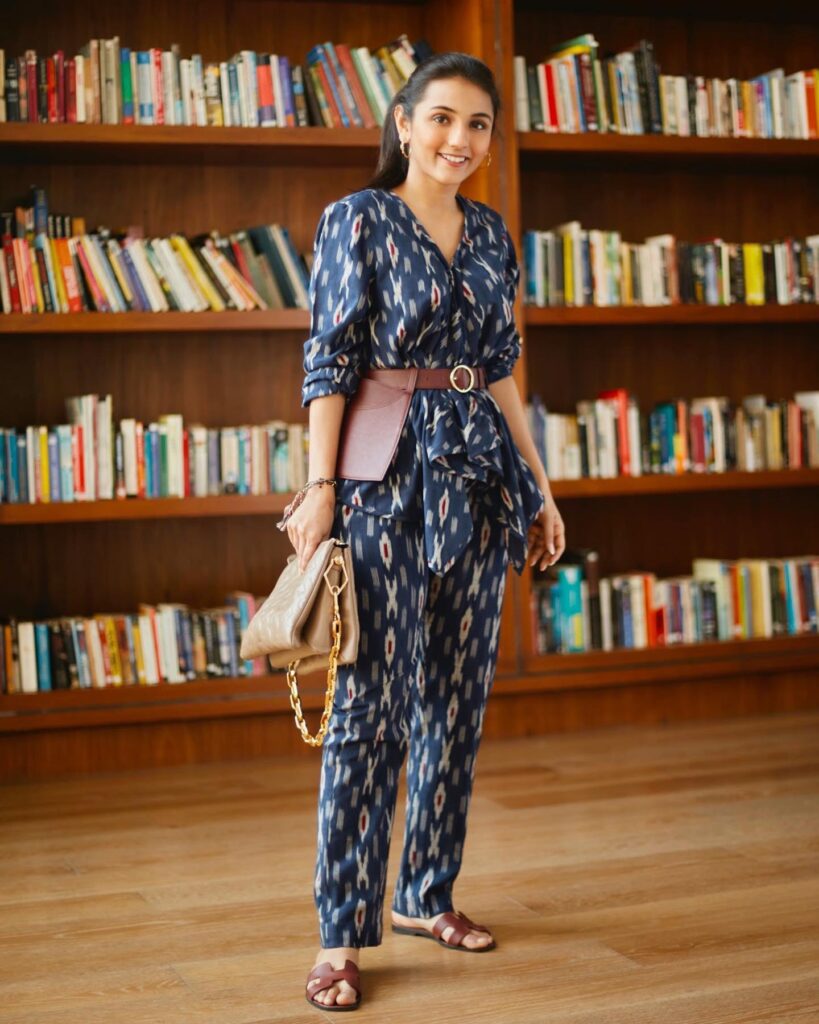 3. Kaftan Navratri Outfit
Looking for something comfortable yet chic? What could be better than a regal kaftan in a deep hue of purple for day 9? Effortless and graceful, this understated Navratri outfit for women, is super versatile and can easily go from a daytime to a festive nighttime look. Enhance this stunningly royal look by pairing your kaftan with a multicolored Polki necklace, embroidered juttis, and an embellished clutch for a fun and beautiful Navratri look. Here are some more of my favorite kaftan outfits for you to take inspiration from
2. Crop Top with Skirt
For all our fashion queens, we have something special for you that is surely going to take your breath away. Chic, sexy and elegant, this off-shoulder crop top with a draped skirt is made to grab attention. The evergreen black makes it perfect for a nighttime event while the intricate gold motifs lend it a kick of modern festivity. Pair it with gold chunky hoops, wavy hair, nude makeup and you are all set to dance the night away.
1. Saree with Crop Top
A young and fresh take on the elegant 6-yard beauty, a saree with a crop top is a top favorite amongst celebrities and influencers and we are here for it. A moment in the fashion world, this contemporary yet traditional look is supremely classic and chic and is appropriate for people from all walks of life. Add a dash of retro fun by opting for a polka dot saree and style it with a contrasting crop top to bring back the sexy.
Layer it with traditional rani haar or make it fresh and young by styling it with an afghani necklace. Whatever you choose, don't forget to tell us all about it in the comments below. And if you feel like it's too cold, get some layering ideas on how to wear sarees in Winters.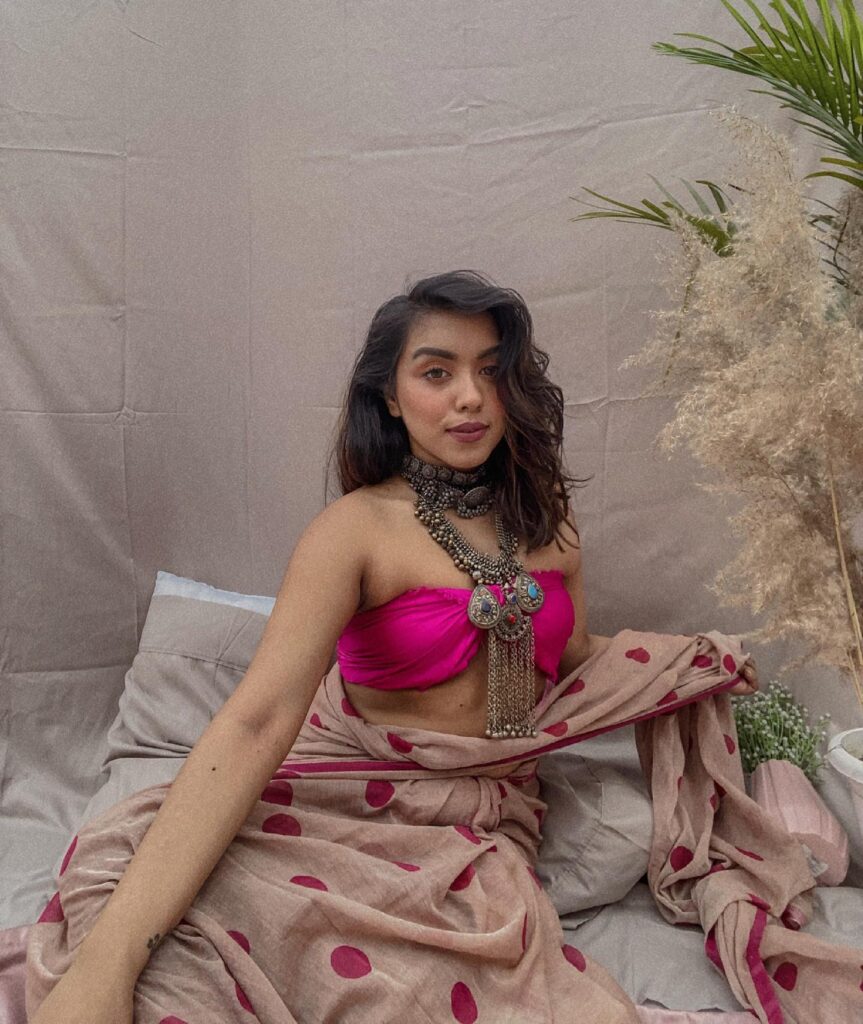 Frequently Asked Questions
Q. What is Navratri dress?
During Navratri, women often opt for traditional or indo-western dresses. Lehengas, sarees, and suits are some of the most-loved Navratri outfits for women that you can try this season. For saree inspiration, here are the latest saree blouse designs.
Q. What do you wear garba?
A traditional chaniya-choli with rich Indian embroidery is what's worn to the Garba. The flair of the outfit looks fantastic while playing Garba. Aishwarya Rai Bachhan in the song 'Dholi Taaro' is the perfect example of this oh-so-fabulous look.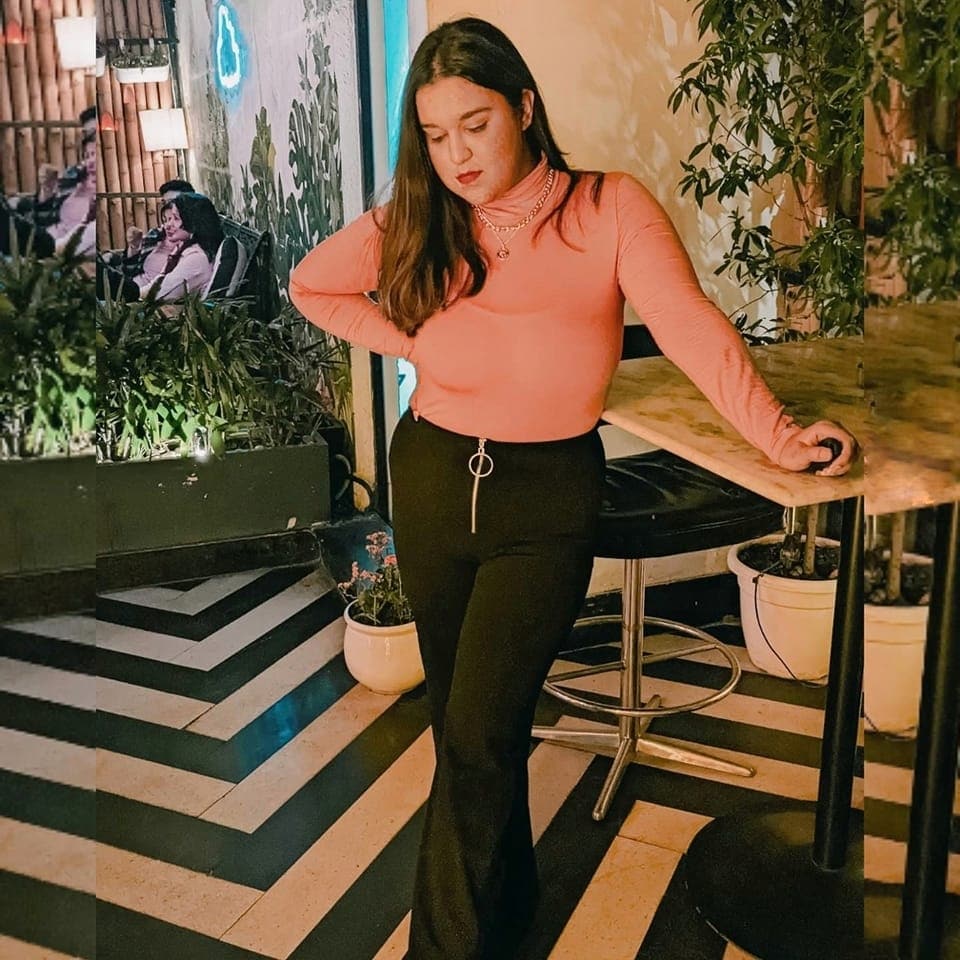 Lover of sunrise, tea, mountains and flowers. When not reading or writing, Mansi is often found cafe-hopping around Delhi.