Valentine's Day Outfits For Teen Girls:  One of the most awaited days is coming. This is one of those days when you get to express your feelings. Whether you express them with words, flowers, celebrations, cards or gifts, you celebrate this day with your loved ones.
If you plan to go on a date, then you must know what outfits to wear on Valentine's Day. Therefore, we will give some ideas about cute outfits for Valentine's. All the girls planning to wear skirts on this special, we got some amazing ideas on how to style skirts in winter.
If you are a teenage girl and want to wear cute designs on a special day, read today's blog post. Let's begin with some interesting outfits that young girls can wear. As we all know, pink and red are the main colours of Valentine's Day—party dresses such as short dresses, long maxis, peplum tops with jeans, etc. You can easily get these dresses in shades of red and pink from the market.
What to Wear on Valentine's Day?
You can impress your loved one by dressing well and spending the day with him or her. A candlelight dinner or lunch would be perfect. Usually, teenage girls prefer dressing up and going on a movie or dinner date. Before we get started, read these tips to find the perfect look:
Go for young and peppy outfits that are age-appropriate.
Dress up for the season. Wear a jacket or a sweater if it is cold or a short dress on a sunny spring day.
Bright and bold colours seem like a great option. Since it is Valentine's, red and pink are the common choices.
Stay up-to-date with all the fashion trends by going for the latest cuts and styles.
Make sure to keep a check on your hair, makeup and nails.
If you are a young and petite teen, vertical stripes can help you look taller.
While picking out the outfit, plan your footwear and accessories as well.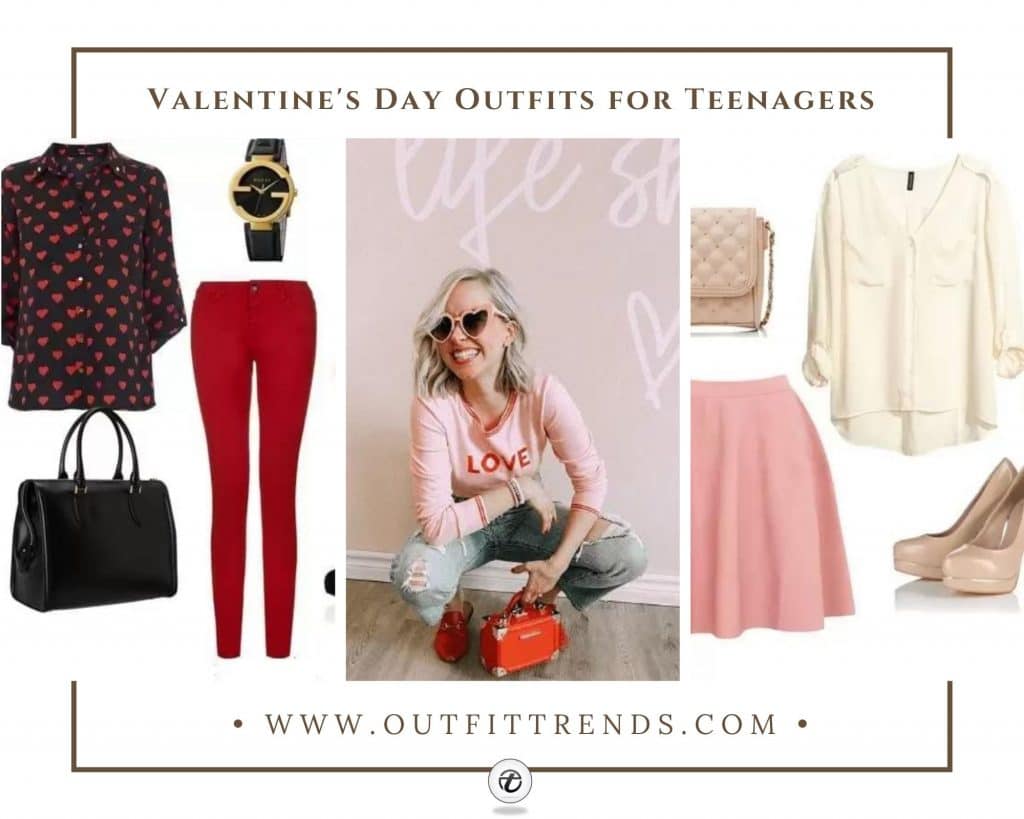 ↓ 28 – Skirts for Valentine's Day
Teenage years are all about dressing up in cute outfits that are age-appropriate. While denim jeans and dresses seem the common option, deviate from the mainstream by going for something young, hot and still appropriate for Valentine's.
Take a look at this white and pink combination featuring a miniskirt. If you are going out for a fun hangout and want to keep it lowkey, here is what you need. Go for a white or light-coloured net top and pair it with a floral skirt.
This year seems to be all about skirts; you can spot many in stores. Other ideas for skirts included the pleated kind; you could also go for a tie-dye style or the classic denim ones. Here are the best Mini skirts Outfits for you to try this year.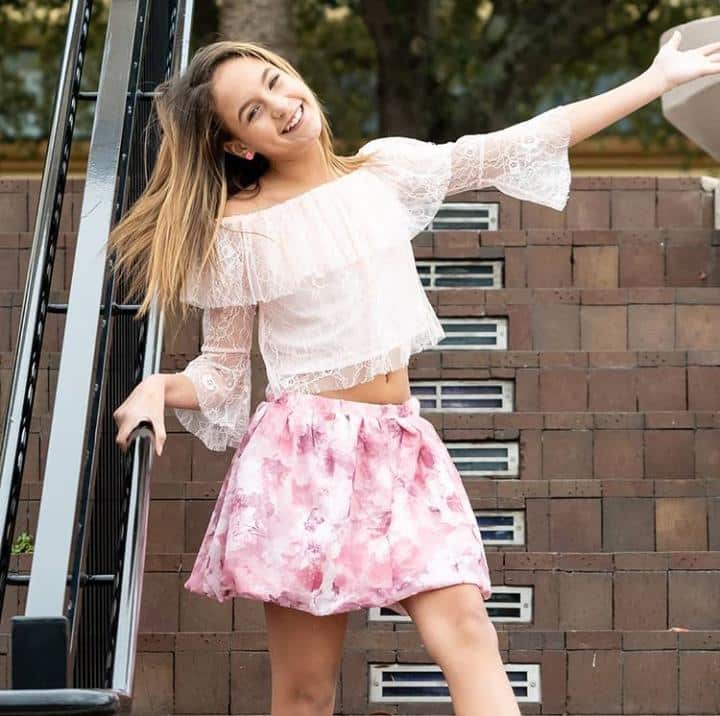 Pleated tie dye skirt (similar) $12.99
↓ 27 – Valentine's Day Accessories
To stay in the theme, why not go for some heart-shaped accessories? You could go for sunglasses, earrings or even handbags in the heart shape or just red-colored handbags, whatever you can find!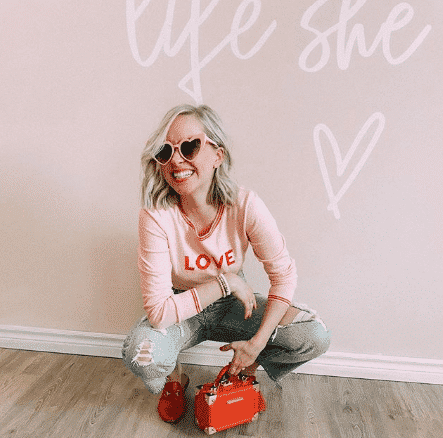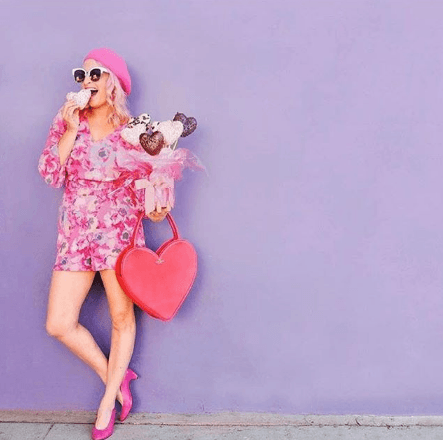 ↓ 26 – Red and Black Combination
Red and black is that ideal Valentine's combination you will surely spot this year. If you want to keep it elegant yet simplistic, try going for an outfit like this. You can pair your favourite Forever 21 black pants with a red top from Zara. What a perfect look for an evening celebration with your boyfriend or best friend.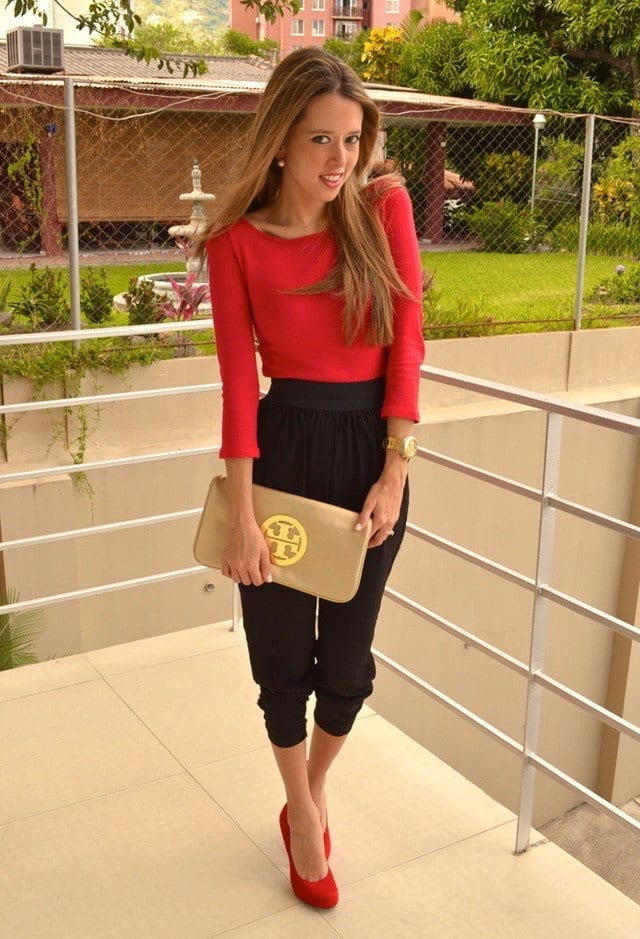 ↓ 25 – Short Dress
While the ideal colours for Valentine's are pink and red, it is okay to do things differently sometimes. If you want something edgy instead of cute, here is the look to go for. The large sequins, commonly done in the 1990s and 2000s, are rarely spotted.
However, it can be used to create a modern and chic look. Since it is quite chilly, wear a sweater under your short dress to keep warm while creating a stylish look like this one. The outfit has been given the right colour with the blue belt and sling bag.
The black boots are exactly what the outfit needed to complete the edgy vibe and complement the short length of the dress. You should also look at these 20 Cute First Date Outfit Ideas for Girls He Will Love.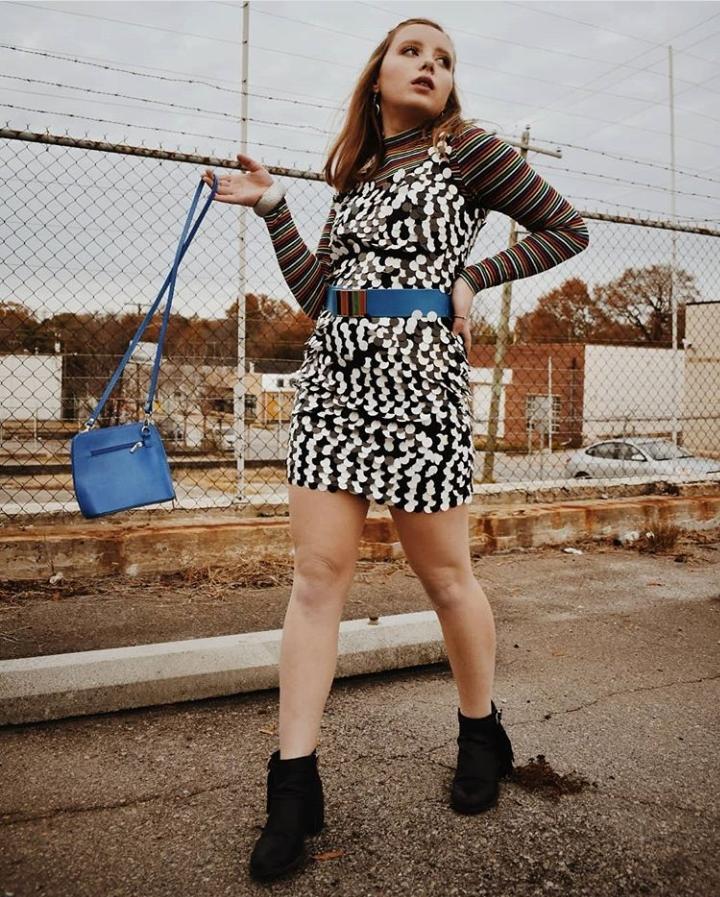 Black boots with a reddish dress and a white furry upper will keep you warm in winter.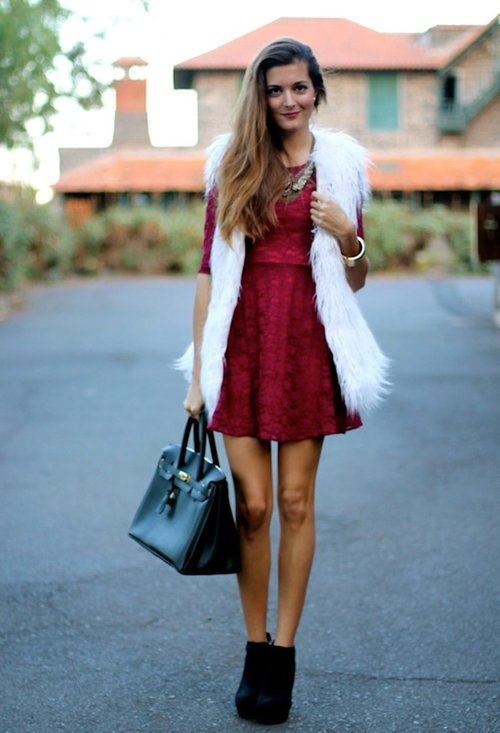 ↓24 – Romantic Hairstyle for this Valentine's
Such a soft and subtle look in this Forever 21 light pink dress paired with some stunning heels. She wears a statement necklace to add more fun to it.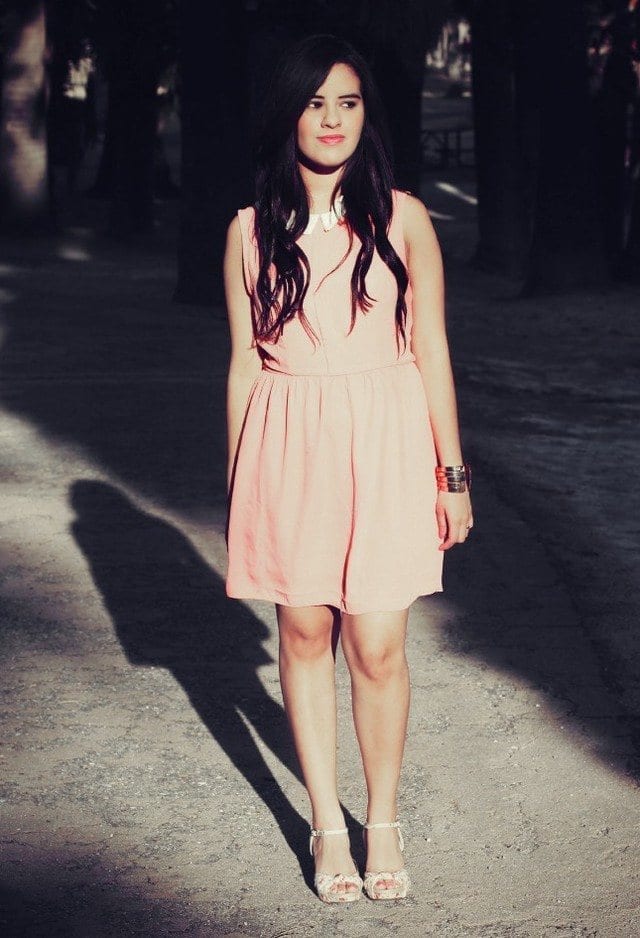 ↓23 – Chic Street Style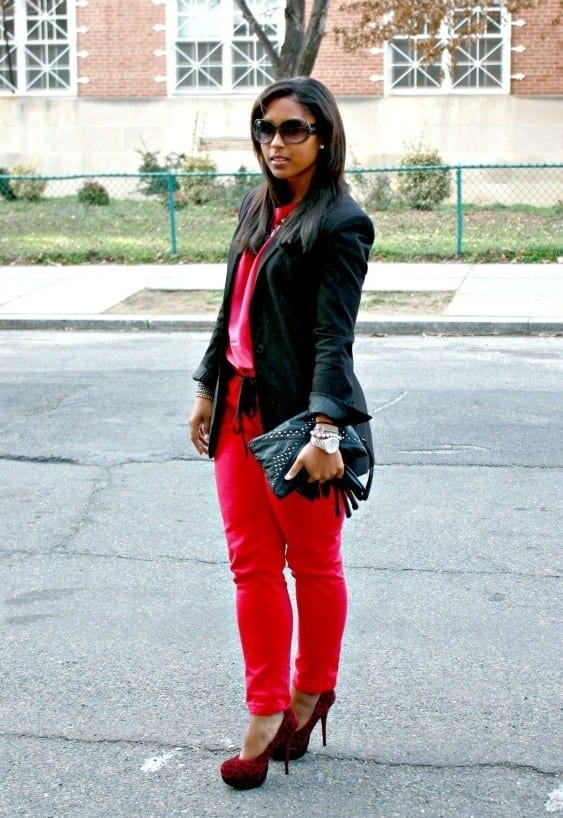 ↓22 – White and Blush Pink
We have talked about red and black; now we have come to white and blush pink, another ideal Valentine's combination. The light colours are great for the daytime, especially if you are outdoors. The gold accessories will help you give it an elegant and fine look.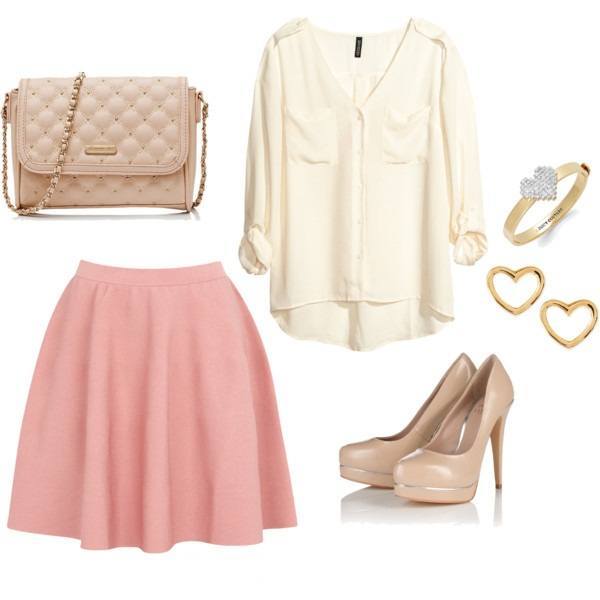 ↓21. Red Lips can do the Trick

↓ 21 Wear Pastel Colors to Impress
While everyone will wear the usual colours for Valentine's Day, add a touch of pastel colours to give your outfit uniqueness that your date will love.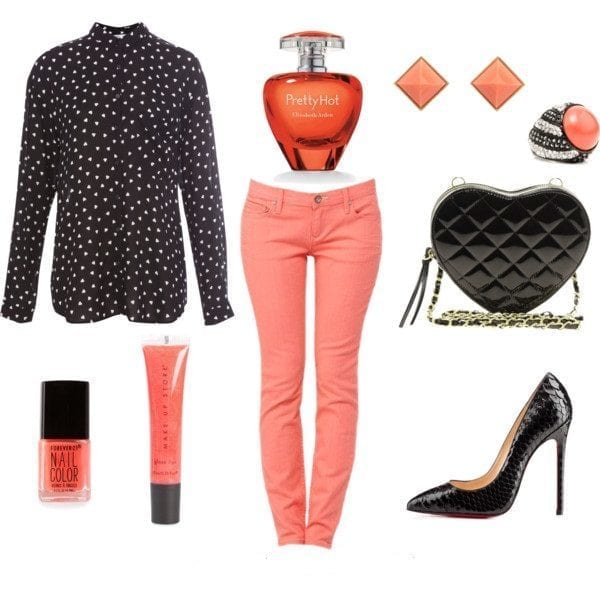 Heart polka dot blouse (similar) $21.99
Coral skinny stretch jeans $34.99
Heart shaped crossbody bag (similar) $23.99
↓ 20 – Casual Date at Home
If you plan on chilling at home instead of heading out, go for a comfortable and casual look, making that extra effort to look presentable. An oversized sweatshirt and some denim jeans can make for the ideal casual Valentine's outfit.
Going for a personalized message on the sweatshirt is a creative way to pass subtle hints, making your partner's day. We love the mint green colour and how the phone cover and the sling bag match it to create the perfect date look.
For more fabulous outfits you should add to your wardrobe this year, check out our latest post on Teenage Fashion & Fabulous Outfits for Teenage Girls.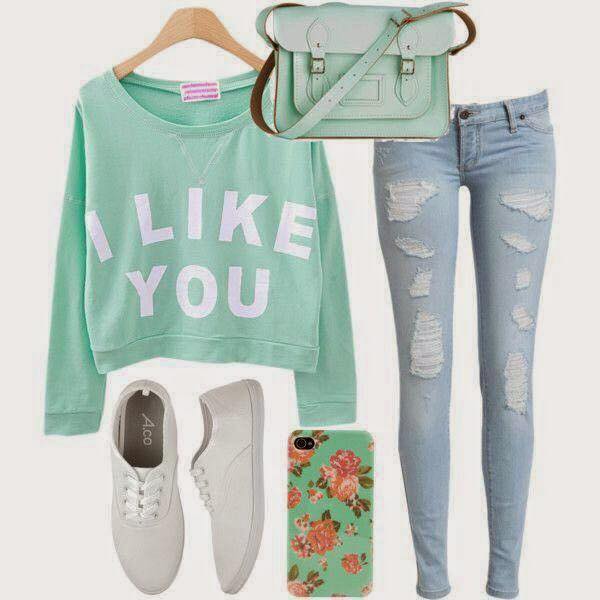 ↓ 19 – Hot Casual Combination
Hot and electrifying pink is that one colour that adds a life of its own to every outfit it is paired with. Uplift a basic black dress or any dull outfit by pairing it with some bright pink accessories. Since pink is the second favourite for Valentine's, add it to your outfit without going overboard.

↓ 18 – Sexy Outfit to Blow Him Away
Set the temperatures soaring by going for a sexy LBD. Black is a classic colour that works well for almost every occasion. Add a bit of red with a red pout and some statement heels for Valentine's occasion.

↓ 17 – Black And Pink
If you're looking for something flirty, then a lace dress is what you need. Valentine's Day is the right time to show off some skin and look sexy.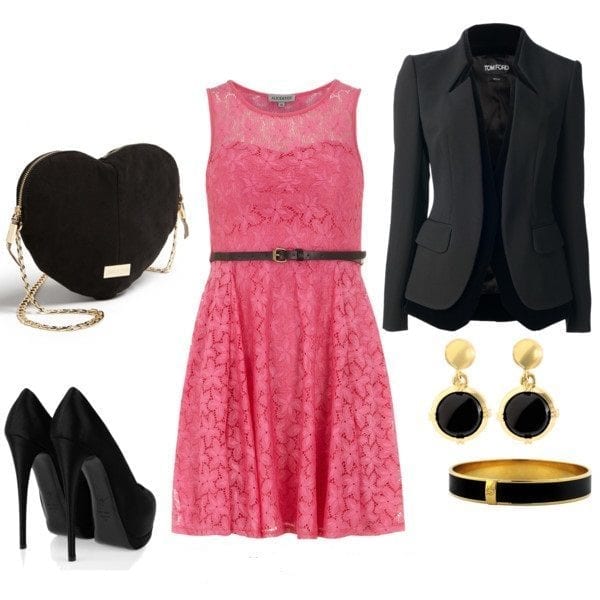 Black high platform heels $24.99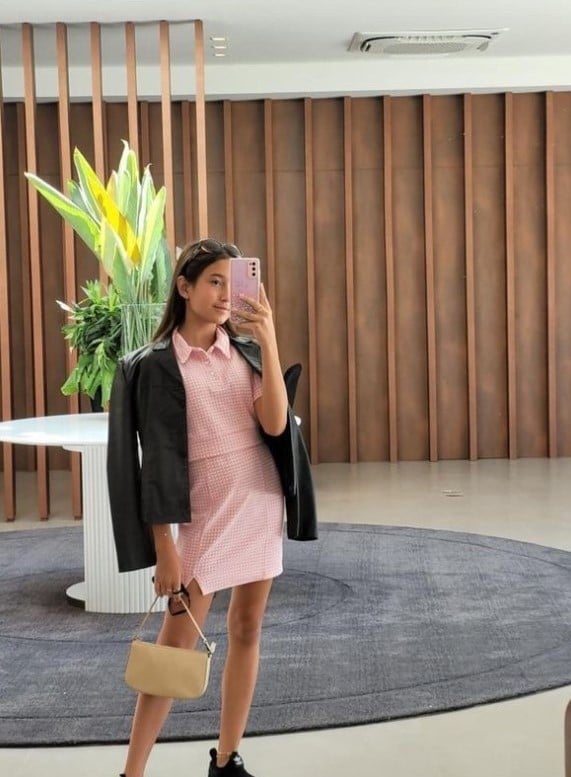 ↓ 16 – Romantic Outfit
For a romantic outfit that looks modest yet chic, make sure that you choose the right fitting. Teenage girls often tend to opt for tight fitting, which is not sexy and makes them look bigger than they are.
So, instead, opt for well-tailored and flowy clothes so your date can sense that you made an effort to please him and that you didn't go overboard.

↓ 15 – Step-by-Step Video Tutorial – Valentine's Day Hair, Makeup and Outfit Ideas
↓14 – Makeup for Valentine's Day
Since it's Valentine's Day, we suggest that red will be the best colour to go for when it comes to makeup. Wear matte red lipstick with smokey red eyes.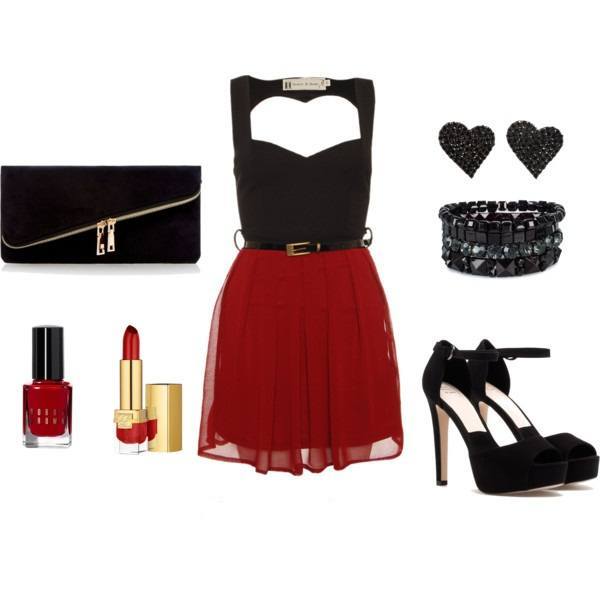 Check out how sexy this looked on Kristen Stewart by Chanel; with a little effort, you too will be able to pull this look off as perfectly as her: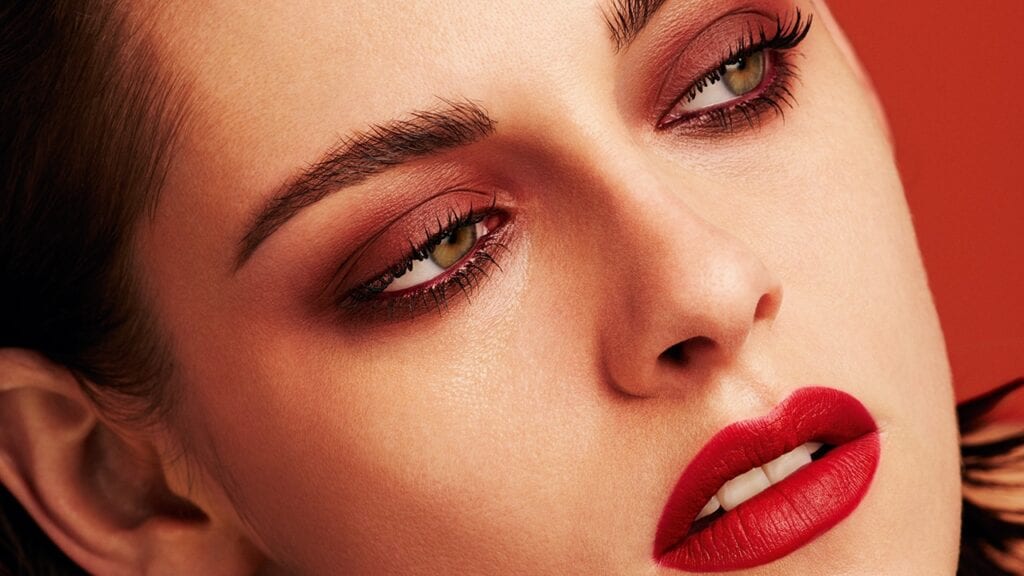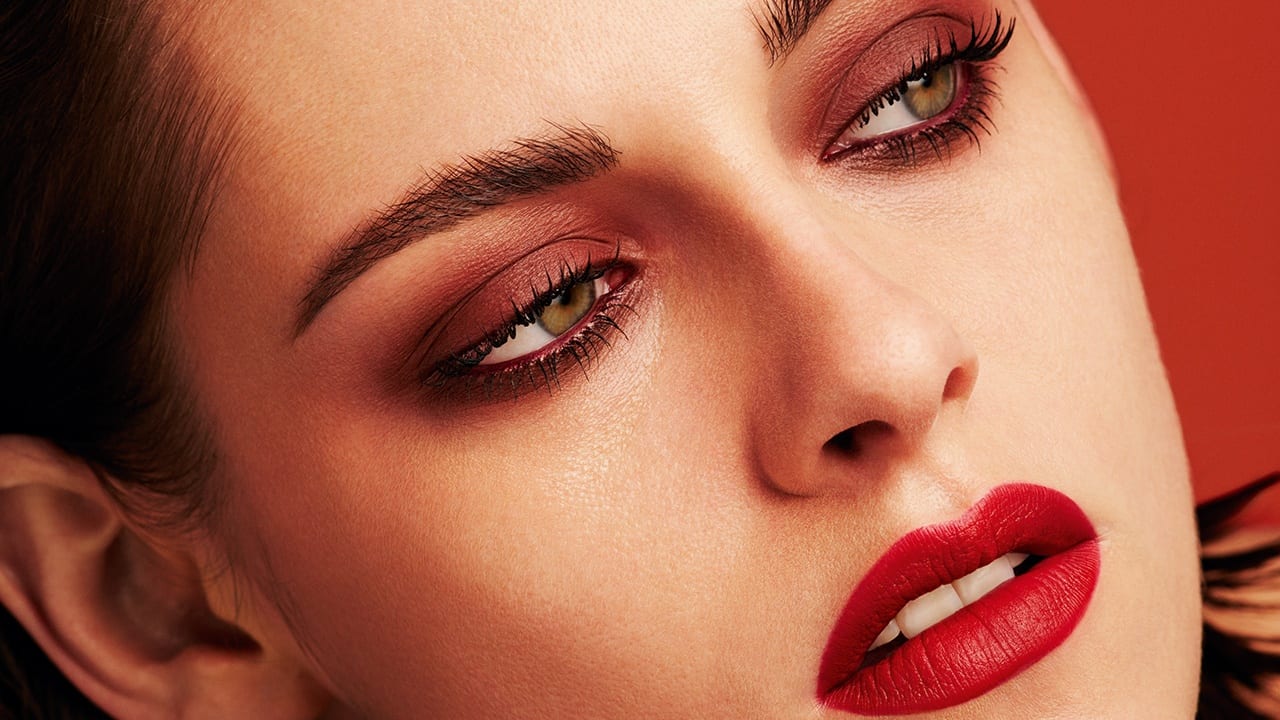 ↓ 13 – Heart Printed Sweater
Since it is winter season, you need romantic winter outfits for this day. And we have some exclusive winter date outfits that are trending these days. Valentine's Day allows you to present yourself in two very trendy tones.
No matter what time of the day it is, you can wear them anywhere. Be it a simple affair or a fancy party, you can wear red and pink without hesitation. Try and pick a cute dress that you can wear with easy-to-walk-in wedges. If you plan to go for dinner with group mates, pick an outfit that is simple but slightly more stylish than your normal wear.
Add accessories such as bags, jewellery, scarves, headbands, etc, to give it a touch of glam. This will make you look glamorous like never before. Let's see the rest of the collection. You can choose the best look among these; I am sure you will look stunning today.
Sweaters can have a soft, feminine and warm effect on your date and just instantly make them want to hug you. So it's always a good idea to wear a sweater, and even if you're wearing some other outfit, you can layer it with a sweater. Check out these top 17 Ways to Style Sweater with Outfits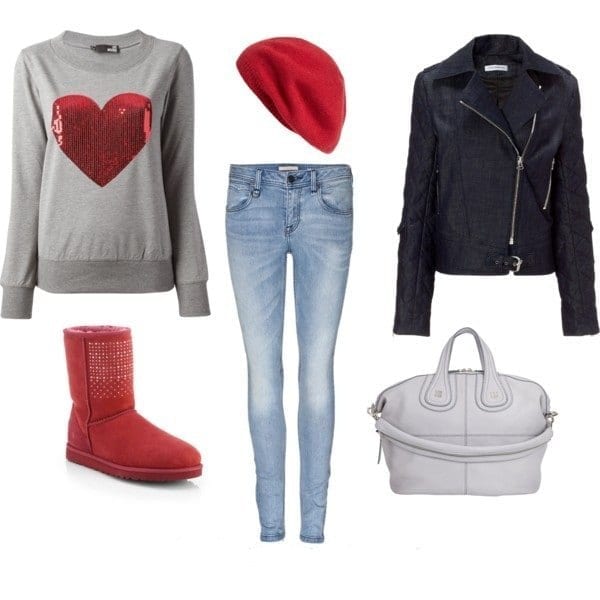 ↓ 12 – Street Style

Heart sweater (similar) $25.90
Love heart pullover sweater (similar) $9.99
B.Young Bamia coat (same as shown) £60.00
Flannel shirt jacket (similar) $39.99
↓ 11 – Playing with Prints
You don't always have to go for monochrome outfits on Valentine's day. Instead, opt for prints in colours like red, black, white and pink. This idea is great for girls who want to wear something different and unique.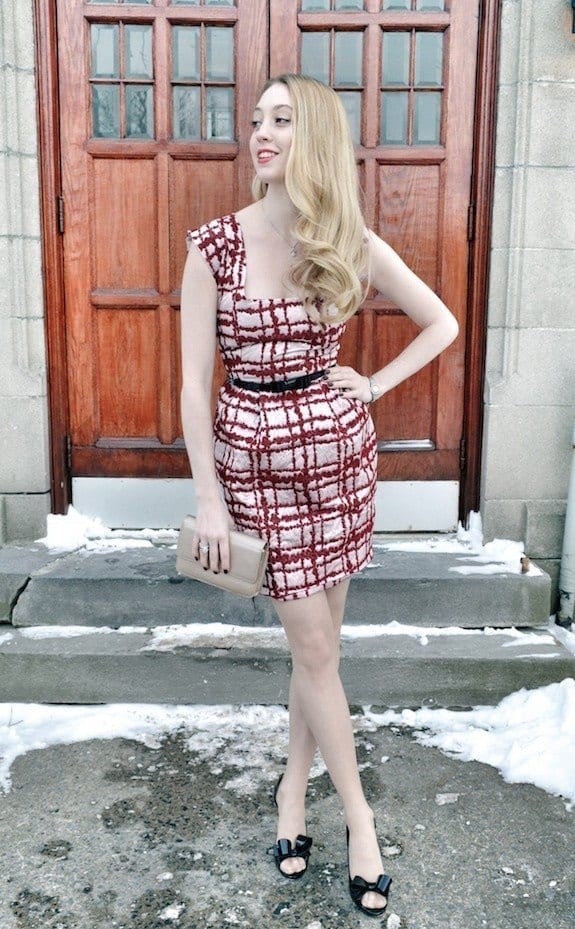 ↓ 10 – Fancy Party Outfit
If you're lucky enough to attend a high-profile fancy party on V-day, show off your sexy legs in a tulle skirt and wear glittery heels. Adding glitter to your outfit on such special days is always a good idea since it gives you the flirty look you want.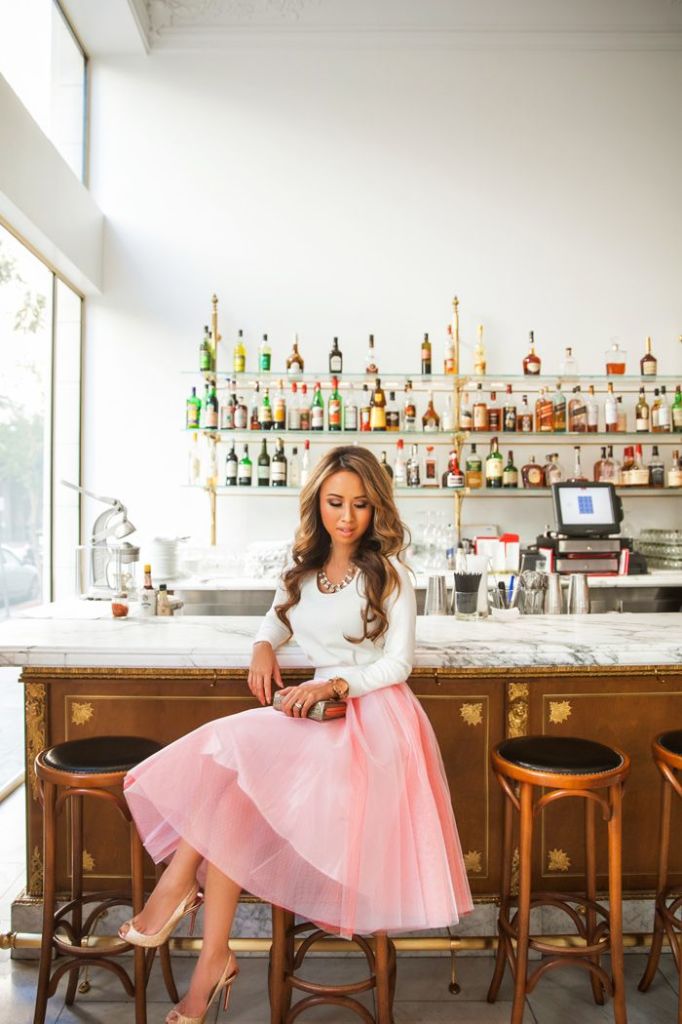 Tutu tulle knee-length skirt $22.09
Long sleeve white sweater $22.99
↓9 – Movie Night Outfit for Valentine's Day


↓ 8 – Bright and Bold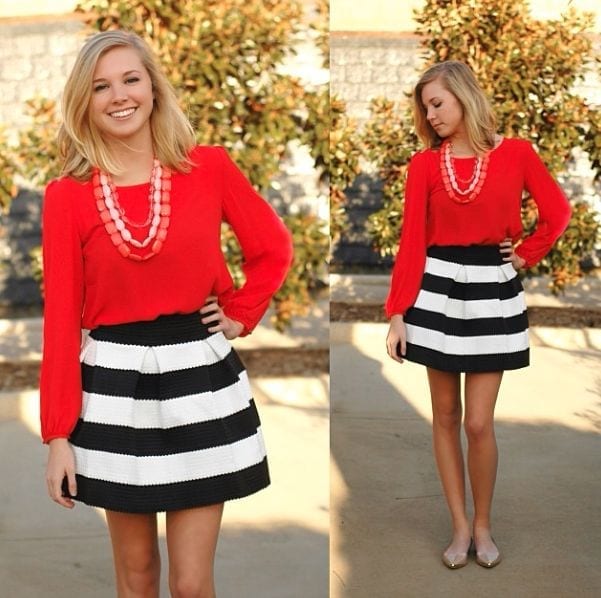 Contrast striped A-line skirt £31.41
Statement sleeves red blouse $16.99
Wearing a bright shade of red makes you the centre of attention no matter where you go!

↓ 7 – Cute Valentine's Day Outfits For School
If you are all for simplicity and cannot bother with formal attire, you can still look beautiful in a casual sweater look. Since hearts symbolize love, the main theme of Valentine's, adding it to your outfit is deemed necessary.
The white and pink combination looks perfect for both day and evening. What we love the most about this look is that hot pink bag, a sure-shot eye grabber. Also, look at these 30 School Outfits for Girls in Summer.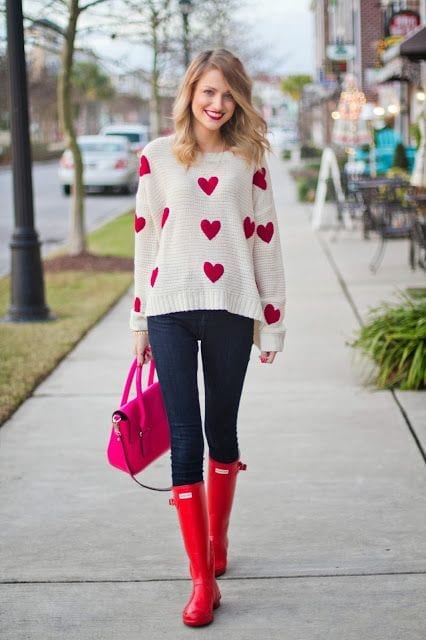 ↓ 6 – Heart Printed Shirt with Blazer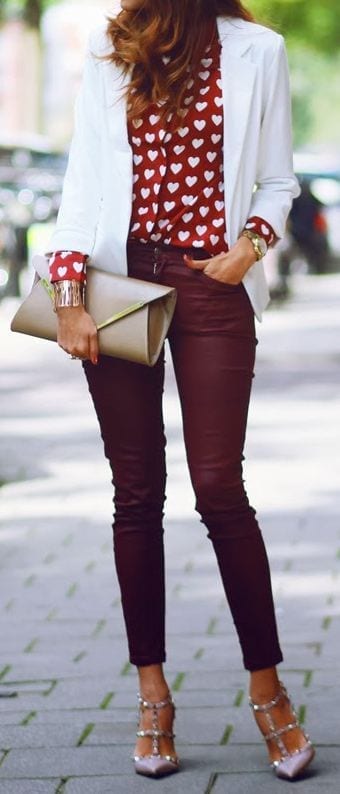 ↓ 5 – Casual Outfit
A fun Valentine's date for teens often equals going to the movies or a coffee run. If you go out with your boyfriend or are headed out with your girlfriends to spread love, you must look your best. While long, flowy gowns and formal dresses seem too much for teenagers, casual yet edgy outfits seem the best choice.
Make your Valentine's special this year by wearing a short floral dress. Since Winter is still here and it can get chilly outside, add a worn-out denim jacket with ankle-high boots for a cool style. You can use a choker or light danglers to glam up a bit. A great hairstyle for this look could involve a messy hairdo with some beach waves.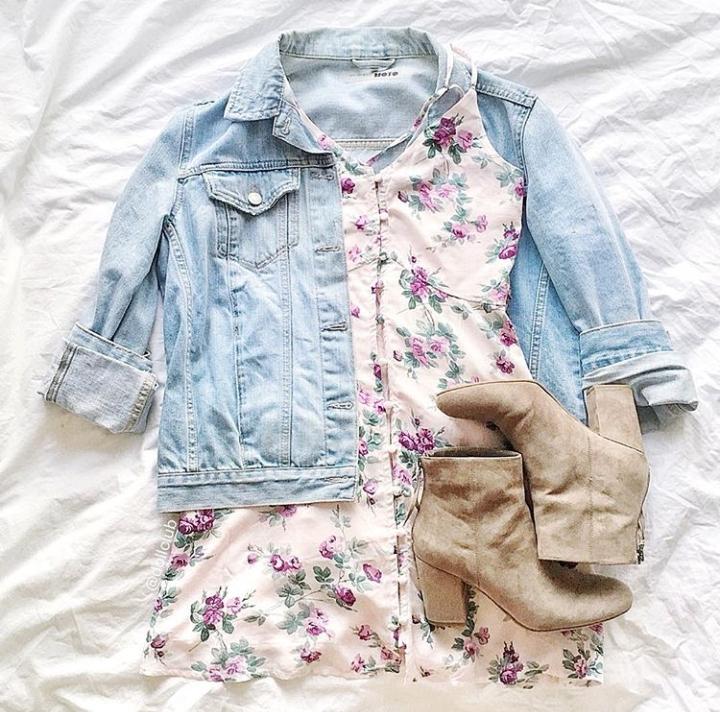 Button down midi dress (similar) $28.99
Light wash denim jacket $24.99
↓ 4 – Pink Perfection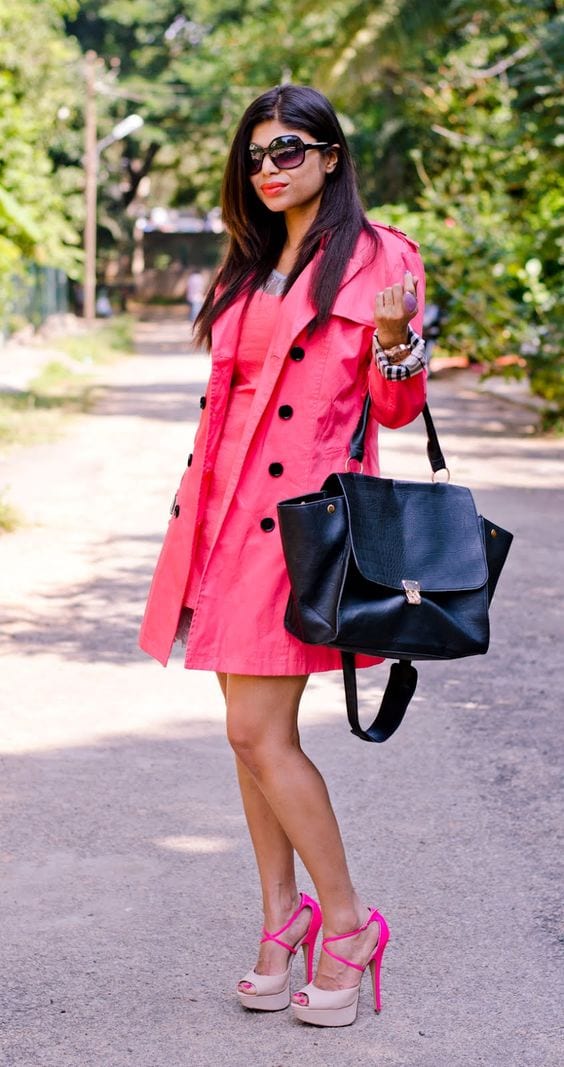 ↓ 3 – What To Wear For Valentine's Day Dinner
A formal red dress is a perfect solution to all your fashion woes. Pick out the perfect mid-length dress to wear to your dinner date. Glam up by accessorizing it with a necklace and other jewels. You could also go for a box clutch or an envelope bag to give it a formal touch.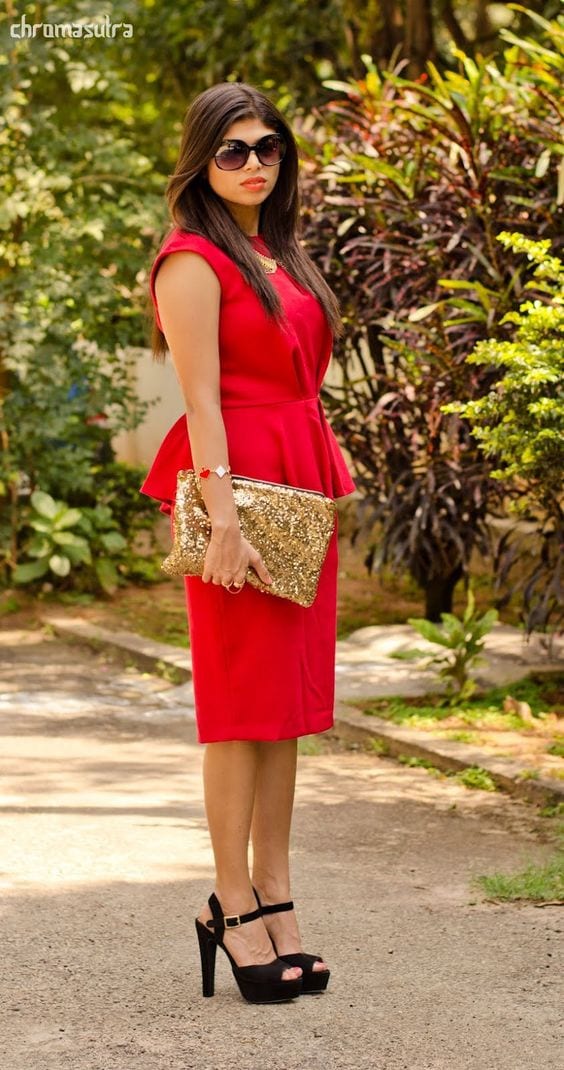 Office wear peplum with skirt $30.99
Gold sequin evening bag $21.99
↓ 3 – Chic and Simple in Boho Prints
Wear a bohemian tunic with flat shoes if you're planning a busy day with lots of walking.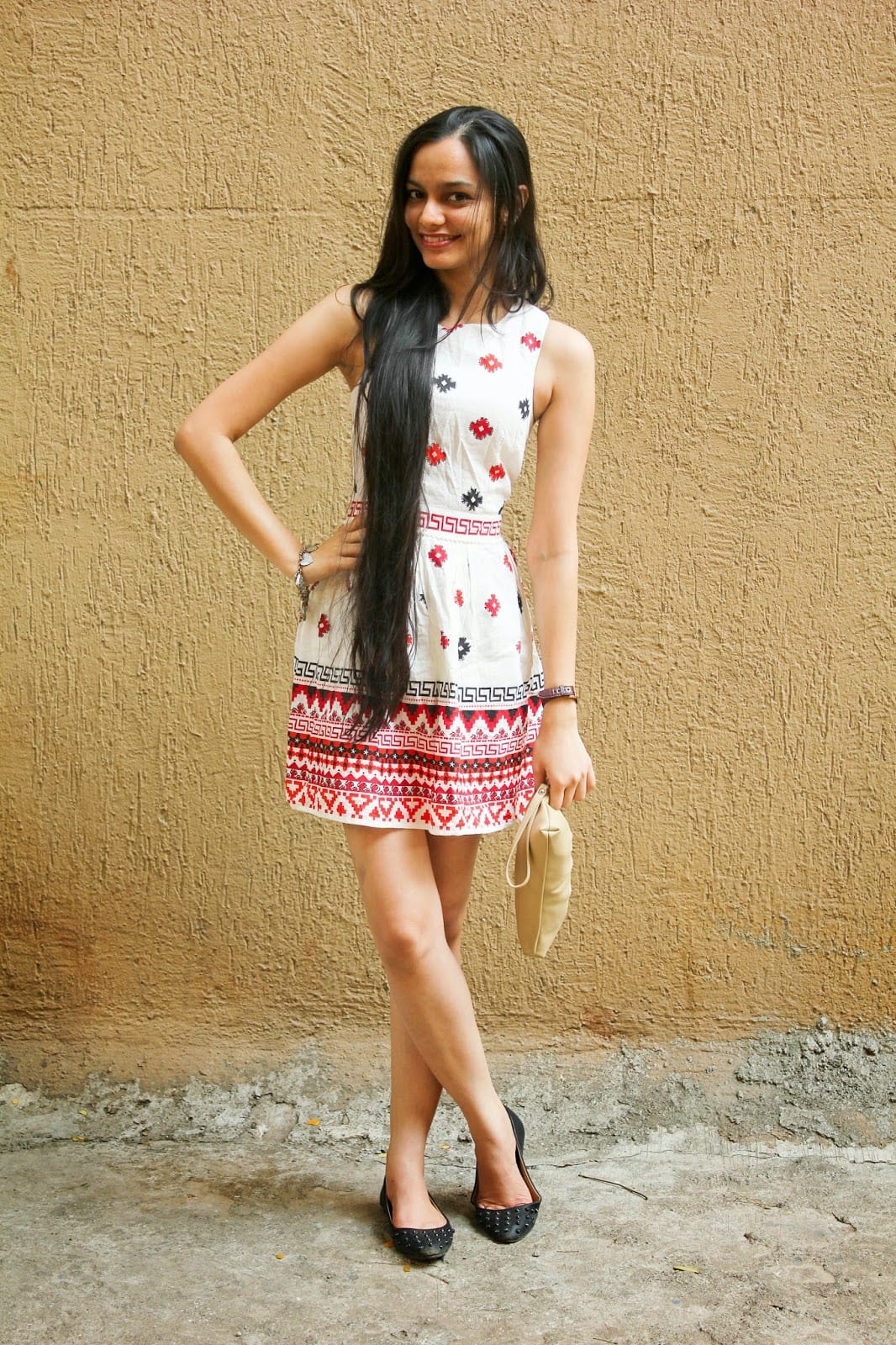 ↓ 2 – Royal Blue Dress
I've seen too many red and pink outfits and want something different or better. Check out this short, royal blue dress. This is it if you have a fancy-schmancy date planned and need an elegant outfit.
If you have a high neckline and the dress is a little too simple, add a statement necklace with Summer sandals or some pumps for a super cute look.

Casual blue dress (similar with sleeves) $19.99
Sleeveless blue dress (similar) $21.99
White chunky heel sandals $33.99
↓ 1 – Teenage Celebrity Style
Here's what our favourite teenage celebs chose to wear on their Valentine's Day:
The Modern Family star Ariel Winter was seen in a sexy red lace dress with her boyfriend Laurent on Valentine's Day: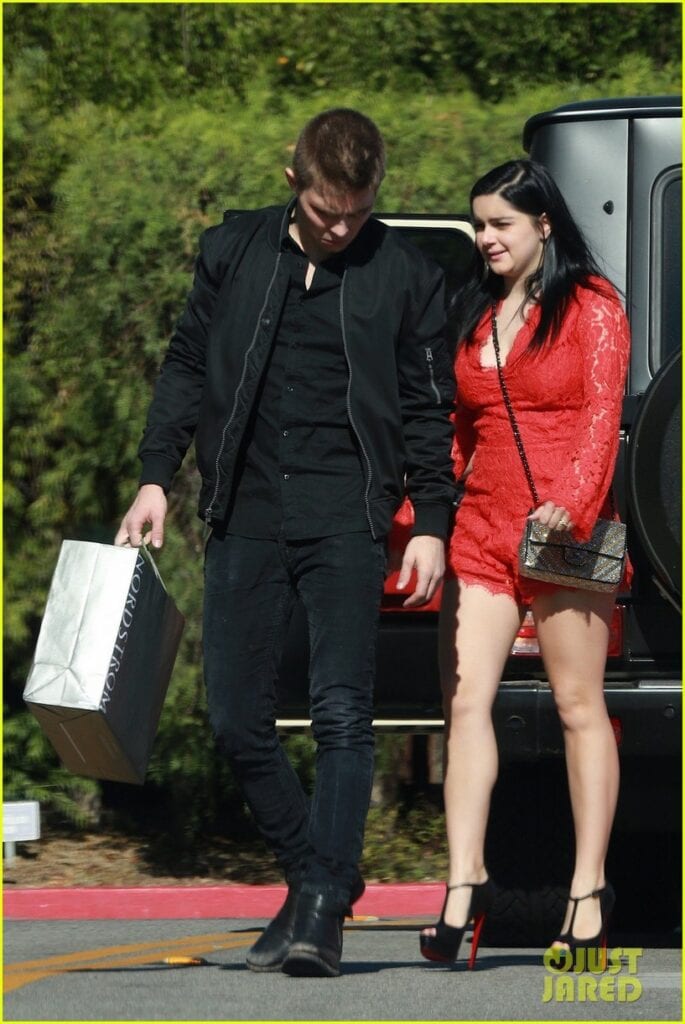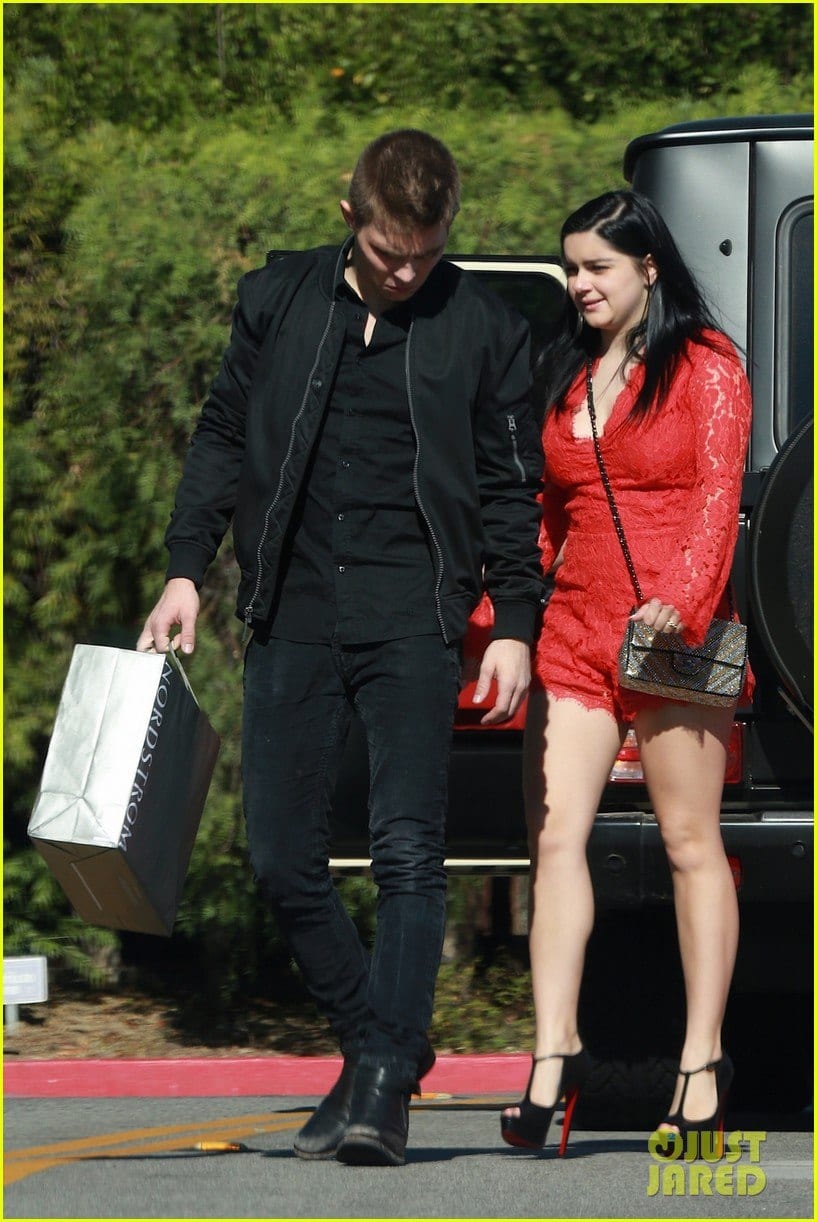 Kylie Jenner took a helicopter ride with her then-boyfriend Tyga for Valentine's Day. She wore a long plush coat with matching flared pants.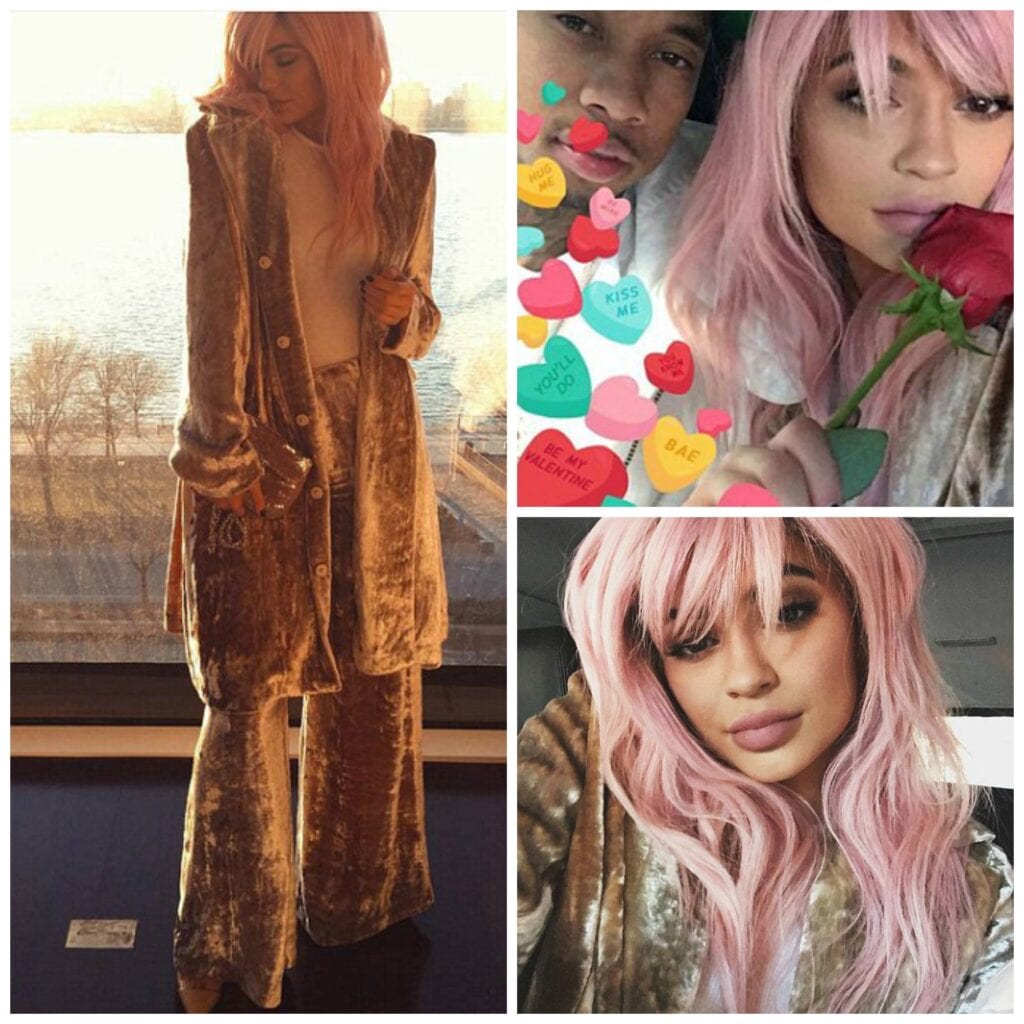 The teenage Disney star Bella Thorne spent Valentine's day with her boyfriend, Gregg Sulkin, vacationing on Mexico's beach. She was spotted wearing a sexy polka dot bikini at the beach, while at the airport, she was seen in a gorgeous olive green jumpsuit: