Knit Dress Outfits: Knit dresses are just another fun way to wear dresses. If you are somebody that likes to wear dresses more than pants and shorts then you will love this article. Wintertime calls for cozy, comfortable, and chic winter looks.
With the holidays right around the corner and all the festivities, you will need to make sure you've got your hands on the best outfits.
Knit dresses are a staple in every diva's wardrobe. You can wear knit dresses all year round if you know how to style them well.
Don't think that they are just a winter outfit. What matters is how much effort you put into styling your outfit. Usually, knit dresses don't need much styling and are a complete outfit on their own but if you are someone that likes to be extra then you should totally go for it!
How to Wear a Knit Dress?
There are a lot of different ways in which you can wear a knit dress. You can wear a knit dress with pants if you like. Knit dresses go well with sneakers, heels, or knee-high boots. You can pair a knit dress with an overcoat if the weather is super chilly or just a simple oversized denim jacket.
Knit dresses are easy to style so you shouldn't worry too much about what looks good with them because as long as you like what you're wearing and are comfortable in it, you're bound to look good.
Tips
•The material of a knit dress is very thin. The outline of whatever you wear underneath it will show so you must dress according to that. If you are comfortable with it then that's great but if you are not then you must wear seamless undergarments so they aren't as visible.
• Knit dresses always look better when paired with jewelry because the dress will always be very simple so you need to make it look even better by wearing some matching jewellery.
• A lot of people prefer to wear sneakers and boots with knit dresses but it's a fact that heels always look the best with such dresses and heels really bring out the best in them.
• You should always keep an extra jacket or overcoat with you in case you need it because a knit dress alone will not shield you from the cold.
• Most of the time, people wear plain knit dresses, but people are missing out on printed ones. Don't be afraid to be bold and wear a printed knit dress. You will never regret it! A printed knit dress will be something new, and you will definitely get all the attention when you wear one.
↓ 20 – Winter Knit Dresses!
Knit dresses are perfect to wear in the wintertime. You can look chic while staying warm. A plain white knit dress with a turtleneck design will keep you super warm. The design on the dress is a plus because it makes the outfit look even better and more stylish. You can wear knee-high boots with such dresses or heels with leggings/stockings if you like. A plain white bag would go perfectly with this outfit.
↓ 19 – Gigi Hadid's Long Sleeve
Gigi showed us how she pulls off a grey knit dress perfectly. The Hadid sisters are known to always wear the most stylish ensemble at all times. Gigi wore this grey knitted dress with matching grey over-the-knee boots to complete the look. Round sunglasses were also included to make this outfit even more amazing!
↓ 18 – Victoria Beckham's
We all know that Victoria is the queen of styling, How could they not wear a knit dress in the coolest way ever. Victoria wore a knit dress in a very different way but pairing a mustard knit dress with a coral collared shirt underneath. This outfit is bold and eyecatching. You can try wearing this to a party, anniversary, night out with friends or family.
↓ 17 – Beige Off-Shoulder Dress For Divas!
Off-shoulder style dresses are super sexy and cannot be resisted. This stunning off-shoulder beige maxi knit dress is one of the best. You can wear this dress with heels or sandals if you like. Don't forget to wear some matching earrings because they will make this off-shoulder style look even better. You can wear this dress to your birthday, a date night or just to run some errands because it definitely looks comfortable enough for that. Here are some more ideas on What to Wear With Cold Shoulder Tops.
↓ 16 – Floral For The Win!
Some people like to go bold so this outfit is for them. This knit dress is off the shoulder and also in a floral design. The green goes perfectly with the color of the flowers. This dress would look amazing paired with some over-the-knee boots in nude color and a bright-colored bag.
You can tie your hair up or let it down but tying it up will show off the dress more. This dress must be kept for the best and most important events because it is that stunning.
↓ 15 -With Sneakers!
If you are someone that likes to wear cool outfits but also stay comfortable and casual then you will love this one. You can wear a knit dress with sneakers too! Sneakers are super cool and go with anything and everything so you can also pair them with a knit dress. Try wearing some chunky jewelry to matching with your sneakers and you're good to go.
↓ 14 – Green Knit Dress
This green dress is super sexy and chich both at the same time. The snakeskin boots are a style statement. This outfit is perfect on its own. You can wear this look to a party, lunch with friends, or a date night. You are bound to look like a complete fashionista in this outfit!
↓ 13 – White Dress With Belt
Have you ever tried wearing belts with dresses that don't fit well? If you haven't then you need to. This white knit dress is gorgeous on its own but the Gucci belt makes it look even chicer. Such dresses can be paired with sneakers or boots if you like and if you want to make the outfit a little bit more formal then you can also wear it with heels.
This outfit would be perfect for a night out with your friends or a date night!
↓ 12 – Slits For Days!
We will never get over how amazing slits look on dresses. The fact that the slit on this dress is an actual zip makes it so much cooler. This knit dress is in dark mustard color with extra long sleeves and a zip slit on the side.
Wearing this dress with black booties would really bring out the best in it but you can wear it with matching knee-high boots or sneakers if you are into those. Wear this dress to a party and watch the heads turn!
↓ 11 – Knit Dresses With Pants!
Who knew you could wear dresses with pants? This outfit is gorgeous. The leather pants look stunning with this brown chunky knit dress. You can wear heels with this outfit to keep it as formal and sexy as it is or switch it up and wear sneakers.
If you carry a matching handbag and wear sunglasses with this outfit then there is no doubt that you will be the best-looking person wherever you go.
↓ 10 – Pastel Angel!
Everybody loves a pastel outfit. This pastel green knit dress is stunning. This outfit would be perfect for spring or autumn. You can keep this outfit simple as it is or make it a little fancier by wearing chunky jewelry and tying your hair up in a bun.
Wear heels and you will have yourself a formal outfit. Wear this dress to any party, lunch, date, or meeting.
↓ 9 – Bold Stripes For The Brave!
Stripes are one the best patterns to wear in clothing. They are cute, simple, and look gorgeous. This striped knit dress has tons of colors in it such as pinks, reds, yellows, and grey tones. You can wear matching shoes, heels, or boots with this dress or just a plain black pair if you don't want to go overboard with colors.
Don't forget to wear your favorite sunglasses and walk out the door in this stunning dress. Here are some more fabulous Ways to Wear Sweaters with Stripes.
↓ 8 – Double Slit Dresses!
One slit is exciting, but two slits are the best. This dress is plain and grey but the double slits are what make this dress sexy and fun. You can add color to this dress but wear bright-coloured heels or boots with this.
Don't forget to wear some dainty jewelry pieces and a handbag because that will bring the whole look together! This is a formal outfit so try wearing it to dinners, events, or even a meeting.
↓ 7 – Bright Colors For The Bold!
It takes a lot of confidence to pull off bright colors. This dress has stripes that are in super bright colors. This dress would be fun for the summer as such colors look stunning in the summertime. Some bright-colored heels or boots would really make this outfit the best of the best. You can wear this dress to a meetup with your friends or family.
↓ 6 – Nude Pinks All The Way!
Nude pink is one of the best nude shades to ever exist. This dress has a v neck and a bow at the waist. This outfit is more formal so it would look better paired with matching heels. Wear some pretty jewelry pieces with this dress to complete the look.
↓ 5 – Puffy Sleeve Dress
Sleeves of this sort are trending nowadays. They look even cooler with knit dresses because they keep you warm and looking cool. A white knit dress will look gorgeous with matching white booties or even white heels. Wear this outfit to an anniversary dinner, baby shower, or engagement party.
↓ 4 – Grey Dress
Grey knit dresses are very common but they also look very pretty. This dress is paired with black over-the-knee boots and a matching black bag. Try wearing a chunky necklace with this dress to complete the look!
↓ 3 – How To Wear A Knit Dress?
It's super easy to pull off a knit dress. You can wear a knit dress with anything you like whether it be heels, sneakers, or boots. You can wear it with a belt, overcoat or a big fluffy jacket. Just make sure you know what accessories will look best with your dress.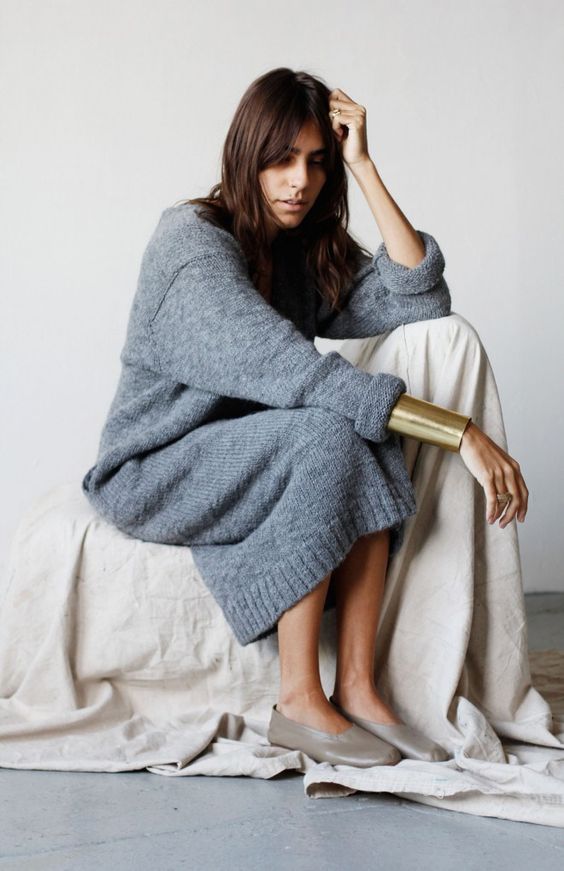 ↓ 2 – Black Dress
This black dress is gorgeous and looks like it will require minimum effort to look good in. You can pair it with black heels because they would look stunning with this dress. You can also wear black sneakers or boots if you like. Gold jewelry pieces will really bring out the black color of the dress. This dress would be perfect for a date night.
↓ 1 – Keeping It Simple!
This is a cute sweater dress that you can wear with black or beige over-the-knee boots. Don't forget to wear a cute cap and carry your favorite handbag. The matching boots, bag, and cap really brought this outfit together and made this easy to put together outfit look like it took a lot of effort. You can wear this outfit with sneakers if you want to stay comfortable.
Frequently Asked Questions
Q. What is a knit dress?
A. Knit dresses are basically made from knitting which is basically making clothes by making a series of knots from one continuous thread.
Q. Are knit dresses in fashion?
A. Yes knit dresses are always in fashion during the winter season and around that time of the year. Be sure to grab a knit dress so you dont miss out on all the hype.
Q. How do you wear a knit dress?
A. There are alot of ways to wear a knit dress. You can wear them with sneakers, boots, over-the-knee boots and even heels. You can pair them with overcoats, jackets, pants and even belts to make them fit better. Its fun to wear outfits in your own way to try to style them in your own way and you will enjoy wearing a knit dress.
I am a women's holistic health coach and student that enjoys history, experimenting with makeup and skincare, playing sports, working out, and doing all things adventure-related.