How to Wear a Bandhani Saree. An age-old yet cherished technique of decorating cloth material by making intricate patterns with dye, Bandhani is a popular tie-dye technique originating in the Indian cities of Gujurat, Rajasthan, and Punjab. Also known as Bandhej, the technique involves dyeing a piece of fabric with a tightly tied thread and creating various magnificent patterns. Rooted in rich culture, bandhani is often considered auspicious and is often donned by brides or new mothers.
Latest Bandhani Saree Designs & Trends
Types of Bandhini Saree Colors and Their Meaning
Traditionally found in deep, rich tones of red, saffron, yellow, and black, Bandhani is a treasured art that holds a special place in the hearts of Indians.
Red – A colour of love and a symbol of the holy matrimony, red bandhani is considered to be auspicious for a new bride. Red Bandhani print is a token of love and good fortune.
Saffron – Saffron is considered to be a sacred color, often associated with spirituality and people who renounce worldy life.
Yellow – Yellow is the hue of joy and happiness and a symbol of spring.
Black – Black is the colour of mourning.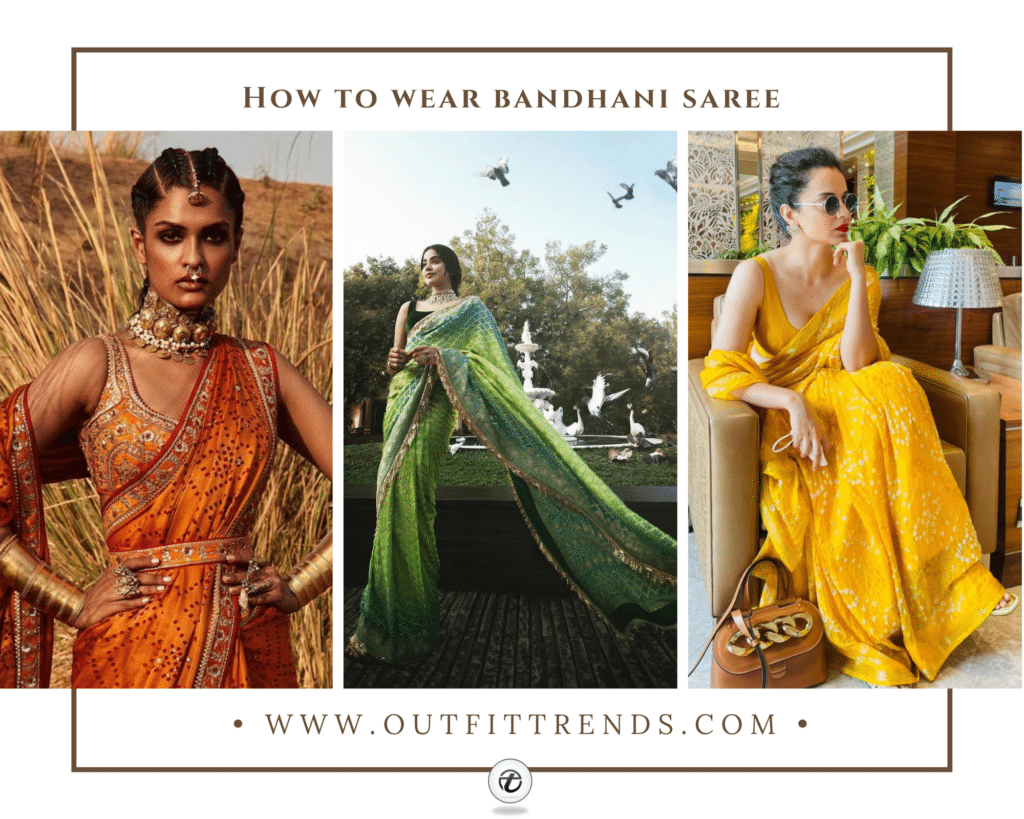 Bandhani is a popular tie-dye pattern and it's mostly found in sarees but it is also done on:
Suits
Dupattas
Kurtis
Dresses
20. Celebrity Style
Almost all the top Indian actresses have been seen wearing Bandhani sarees on numerous occasions but one of the most popular looks ever has been Alia Bhatt's. Alia was recently seen in a simple yet gorgeous saree by Abu Jani Sandeep Khosla at a movie promoting event. Here are some more of our all-time celebrity inspired hairstyles with sarees.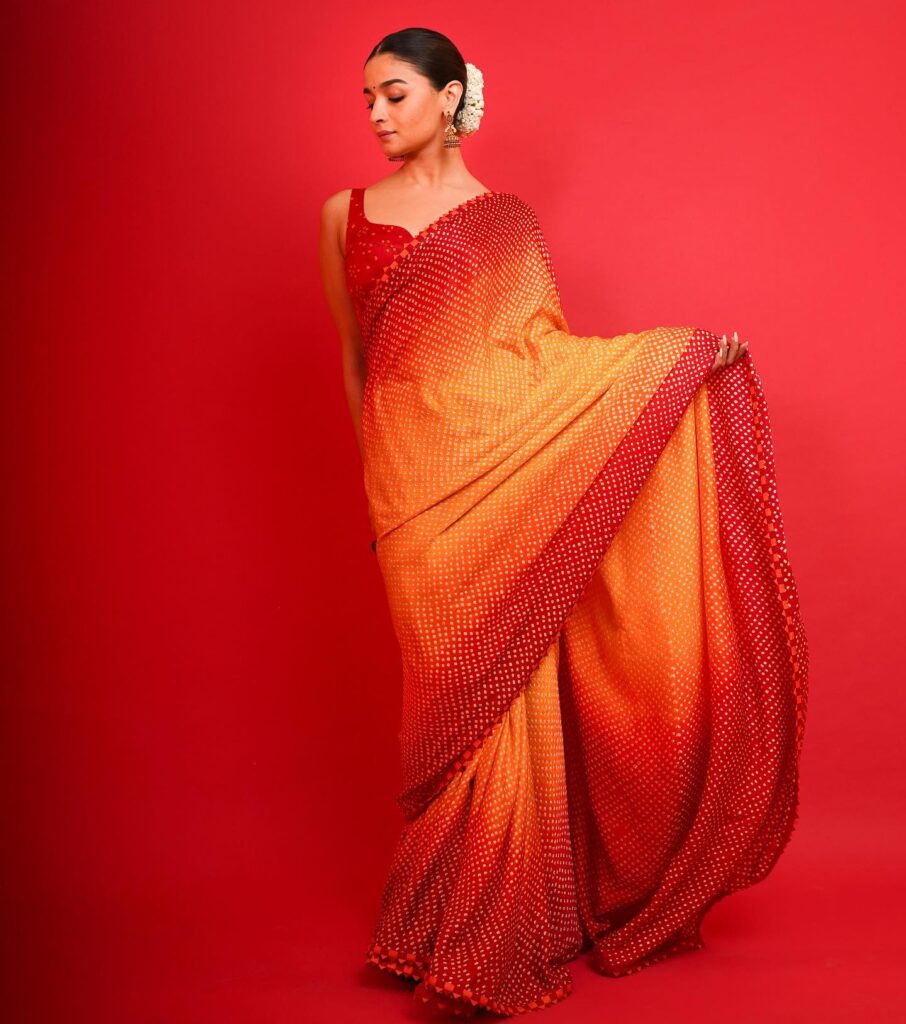 This of course is not the first time that this diva has made headlines with her bandhej saree as I still remember how she made everyone want to buy a pink bandhani saree a few years back with this breathtaking look of hers: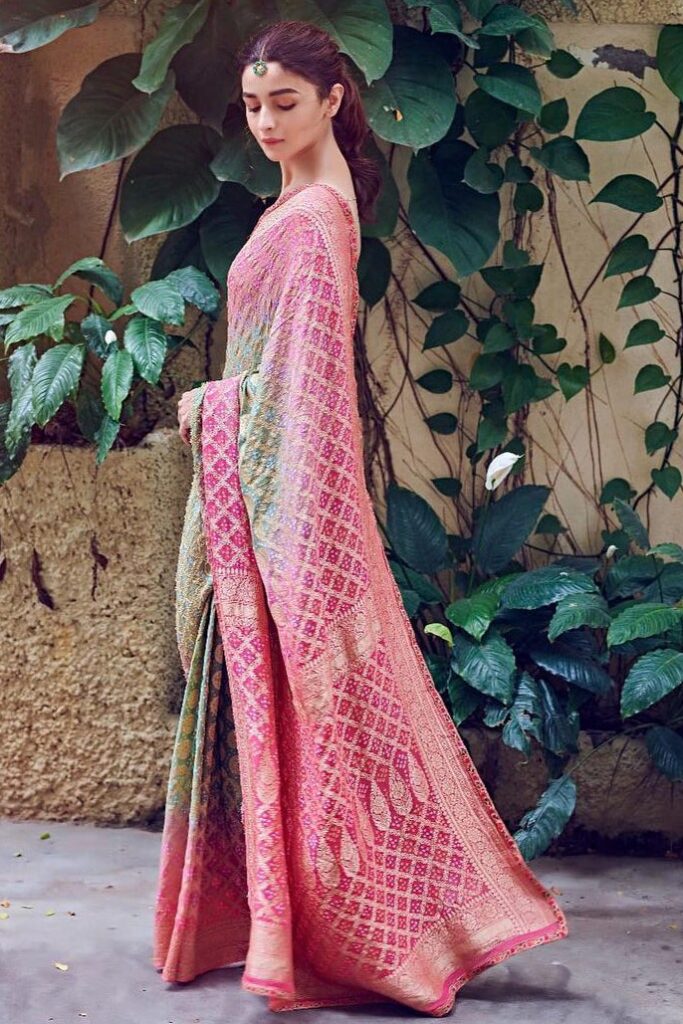 19. Bridal Bandhej Saree
Bandhani sarees are a popular choice for Indian brides and most commonly they go for the red-colored sarees. They look best when paired with minimalistic gold and floral jewelry.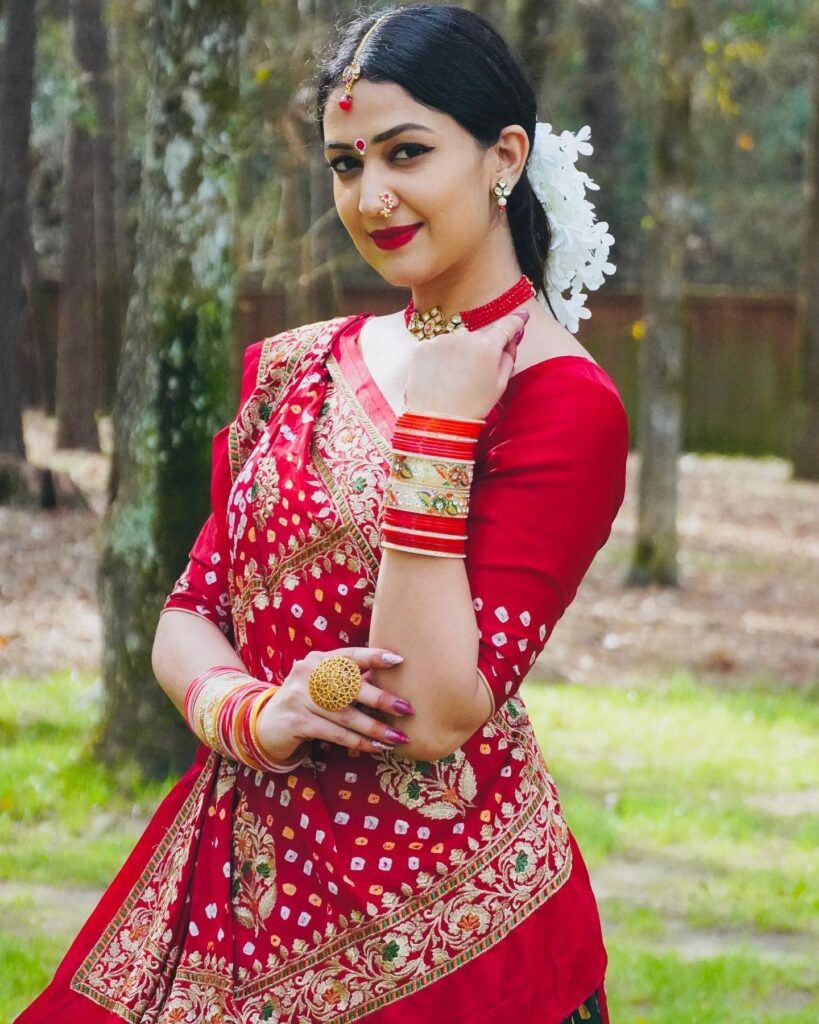 18. With a Crop Top
A summer-appropriate outfit, traditional bandhani saree in airy cotton fabric, paired with a cute crop top is both parts, young and traditional. The crop top adds a touch of fun and freshness to the formal and sophisticated, traditional bandhani saree. Style this look with a low messy bun, oxidized silver jewelry, and finish of this beautifully simple look with pink lips and just a hint of blush.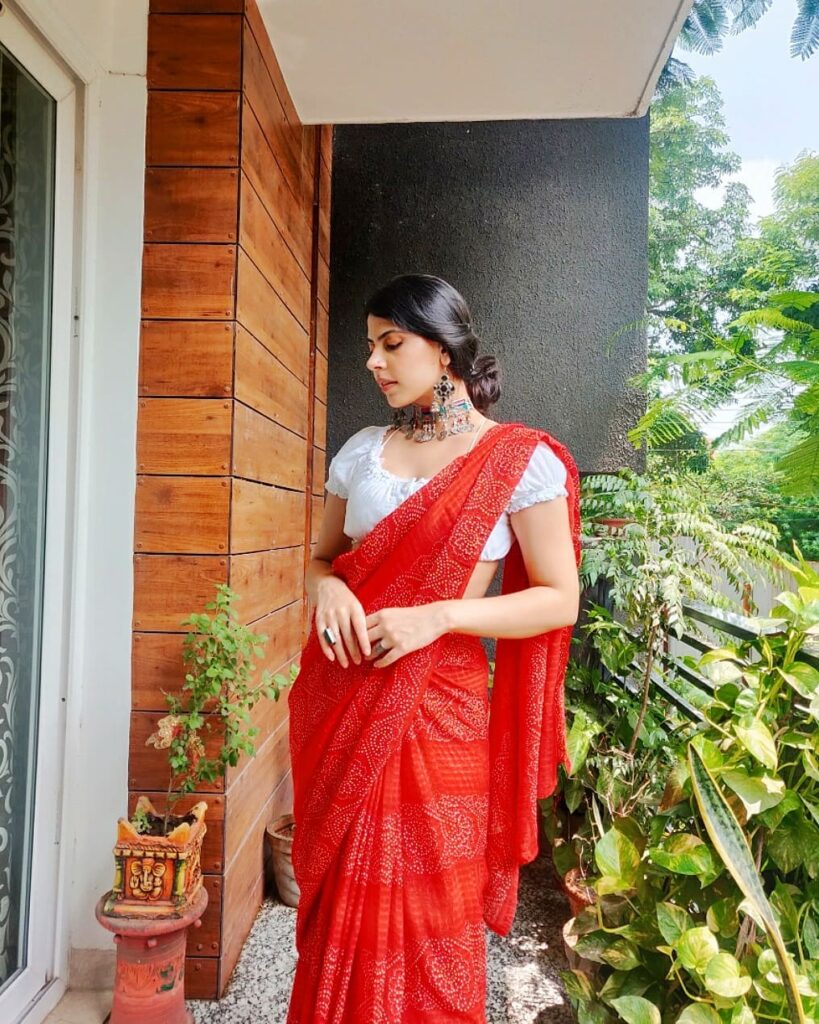 17. With a Blazer
Hello Divas, we have got something spectacularly stunning, just for you. A contemporary and hit combination of a traditional saree with a blazer is one style that will never let you fade in the background. A show-stopper combo, bandhani saree paired with a well-fitted blazer in a bold shade will easily make you talk of the party. Pair it with open, wavy hair, glossy makeup, and dazzle.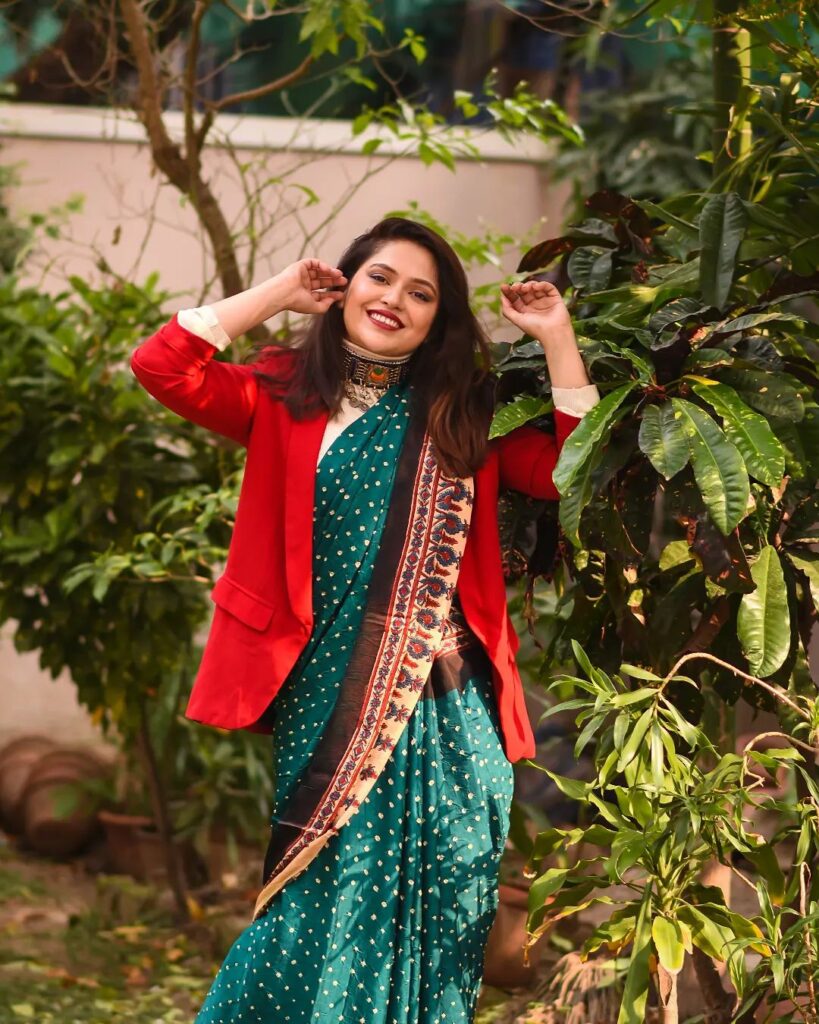 16. Bandhani Saree with Front Pallu
For a supremely traditional and classic saree look, tie your bandhani saree with a front pallu and accessories it with minimal matching jewelry. To complete this oh-so traditional look, tie your hair in a sleek low bun and add a flower in your hair for that extra charm. Choosing a good blouse design with these sarees is very important which is why I highly recommend that you go through these latest saree blouse designs.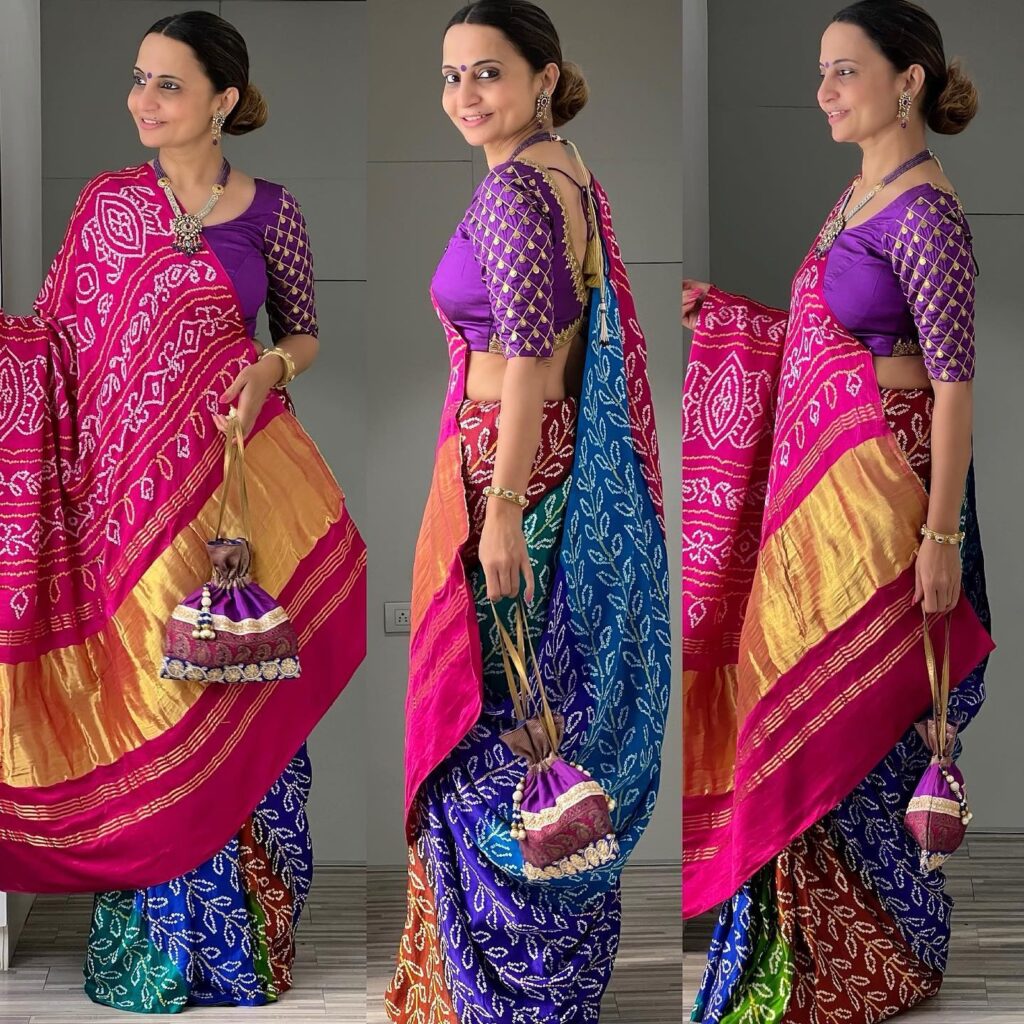 15. With an Angrakha
When the traditional elegance of a bandhani saree is blended with the modern ethnicity of an angrakha, expect nothing but glorious magnificence. An outfit that is perfect for your day-to-day chores and also appropriate for your office parties. This laidback and casual outfit is not only comfortable but is also a fun and interesting way to wear your traditional bandhani saree and gather compliments.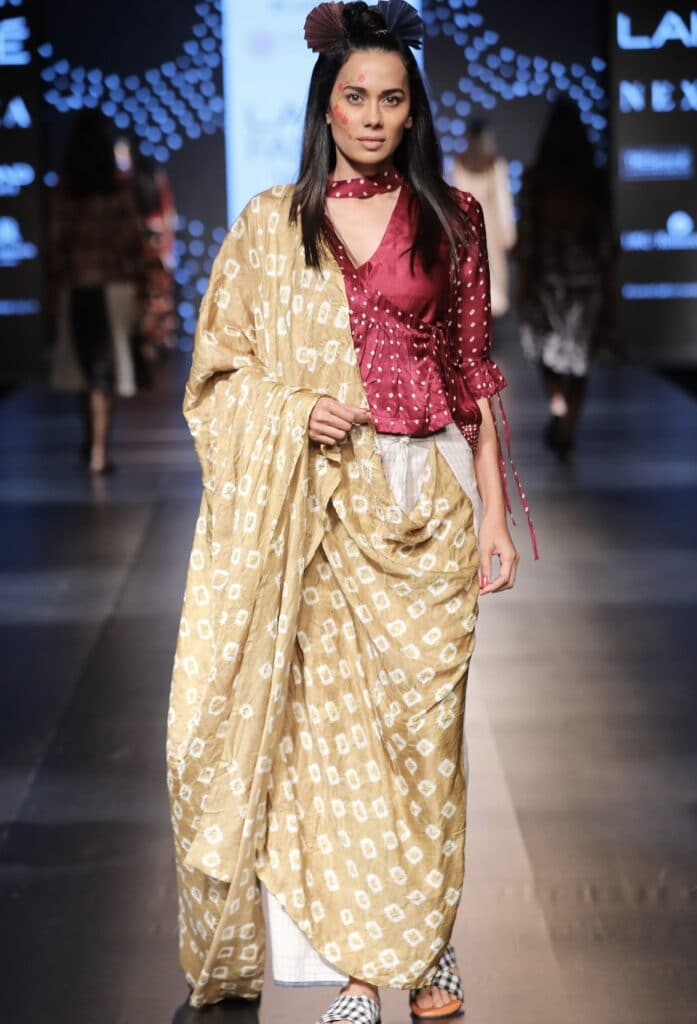 14. With a Jacket
A celebrity-approved outfit, a traditional bandhani saree paired with a modern brocade jacket is the epitome of class and sophistication. The jacket not only adds a hint of contemporary fun but also takes your outfit to a whole new level. Pair it with soft nude makeup and clean-straight hair to complete the elegant look.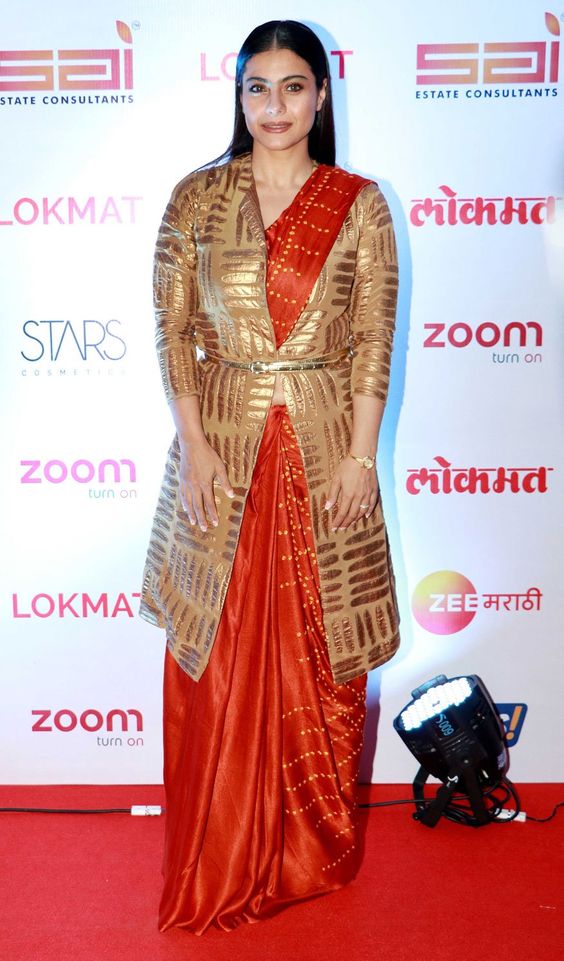 13. Pant Style Bandhani Saree
A contemporary twist to the traditional bandhani print, pant style bandhani saree is for all our modern fashionistas out there who love their ethnics with a spin of contemporary. Style your pant style bandhani saree with statement earrings, pulled back pony with no-makeup makeup look, and let your gorgeous bandhani saree do all the talking. Here are some more of our personal favorite pant saree styles.
12. With a Strapless Blouse
For a super seductive and sultry take on the traditional bandhani saree, pick out the classic 6 yard with a glorious tie-dye bandhej pattern and pair it with a sexy strapless blouse for a perfect cocktail look. Finish the look with statement earrings and a potli bag. Voila, you are all ready for an evening of fine wine and cheese.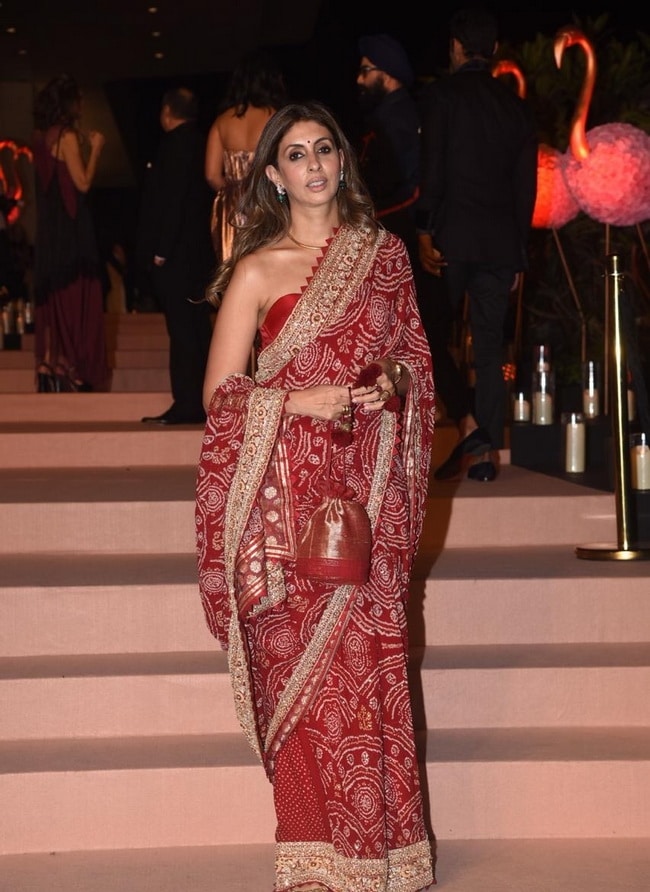 11. With a Dupatta
A perfect sangeet or even a reception outfit, a contrasting dupatta paired with a stunning Bandhani saree, simply adds to the charm and opulence of this regal fit. Style this look with a traditional sheeshpatti and you are all set to dazzle at your wedding reception.
10. With Jacket Blouse
Nothing screams opulence and grandeur than a red bandhani saree and when paired with a jacket blouse, it's pure magic. For a regal and traditional look, pair your red bandhani saree with a jacket blouse and royal rani haar to complete the princess look.
9. Pre Draped Bandhani Saree
If you are like me who loves wearing a saree but struggles with the draping process, fret not. When it comes to wearing a saree, a pre-draped bandhani saree is your best bet. Style it with a matching blouse, statement chandbalis and you are all set to dazzle at that haldi party.
8. With Contrasting Blouse
The effortless and traditional tie-dye print, popularly known as bandhani is often done on bright shades of yellow, pink, or green. Pick one in your favorite color and to further enhance this traditional look, pair your bandhani saree with a contrasting blouse to cut the monotony and add a whiff of contemporary style to it. Complete the look with minimal makeup, or perhaps a traditional belt to pull the whole look together.
7. Bright & Yellow
Fan of Maharani Gayatri Devi's style? Same girl. To achieve her famous traditional look with a touch of modern elegance, pair your monotone bandhani saree with black shades, a bold lip and you are done. This style is super chic and effortless and will make you look like a princess in a hot second.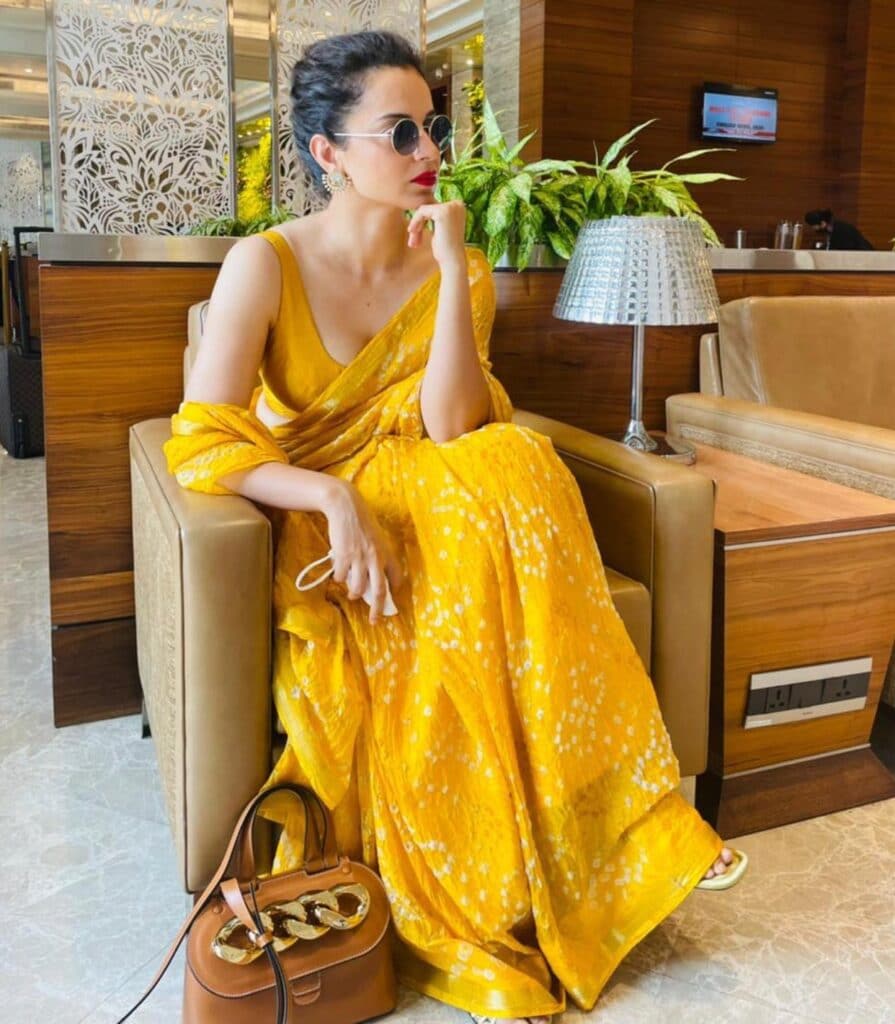 6. With a Shirt
Looking for something timeless yet chic, don't worry. We have got your back. If you don't want to go the traditional route, pair your bandhani saree with a white shirt and steal the limelight at the next party. Classy with a hint of contemporary opulence, this is a perfect daytime outfit. Style it with open hair and statement earrings and you are all set to party.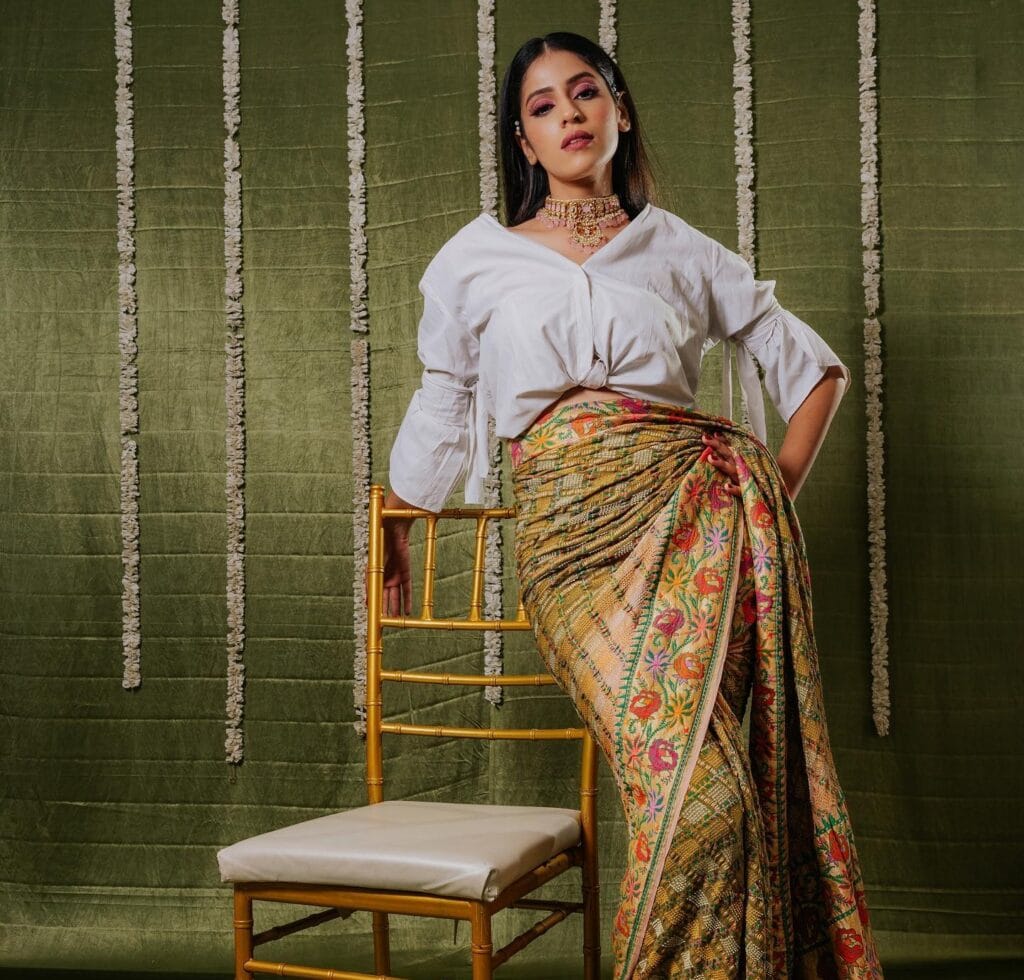 5. With a Tie-Up Blouse
Modern, sexy yet classy, pair your traditional monotone bandhani saree with a contrasting top with stunning tie-up details and make heads turn at the next haldi function. Perfect for daytime ceremonies or soirees, style this look with a sleek bun and a rose in your hair for that retro charm.
Via
4. Add a Shawl
Perfect for winter wedding season, pair your bandhani saree with a contrasting shawl and flaunt your desi look, like the diva you are. A contrasting shawl will add an added layer of heat and will also make you look regal. Style it with traditional jewelry and you are all set for your bridesmaid's duties.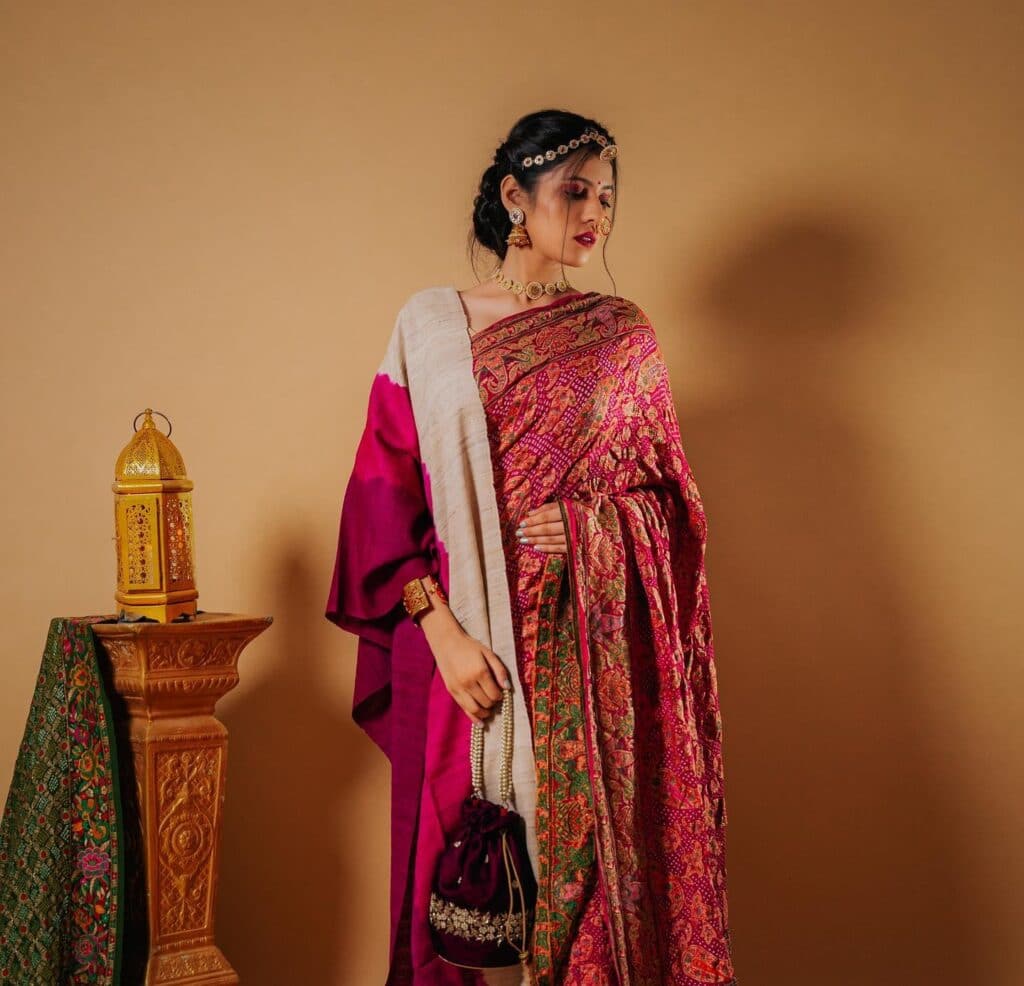 3. Add a Belt
Started by ace designer Sabyasachi, styling traditional sarees with a belt quickly become a celebrity and influencer-approved look. So pair your traditional bandhani saree with a matching belt to give your waist definition and to add that hint of oomph to your outfit. Style this contemporary magnificence with a few bangles, statement earrings, and minimal makeup to pull the whole look together.
2. How to Accessorise Your Bandhani Saree?
Got a traditional bandhani saree and don't know how to style it? We've got your back. For a light, daytime look, style your bandhej saree with a matching blouse and chandbalis. But if you are planning to go all out with all the glitz and glamour then we suggest pairing your oh-so classic bandhani saree with a contrasting blouse, and a stunning statement necklace that is sure to grab eyes. Finish the look with a messy bun adorned with flowers and you, our diva, is all ready to snatch the limelight.
1. Ombre Bandhani Saree
For all our ombre lovers, we have got something for you too. Bandhani saree in ombre colors is a hip and happening trend that you should must try. From pink, oranges to green and blue, pick whatever fits your style and be the star of the show. Take a cue from our favorite Bollywood diva, Jahanvi Kapoor on how to wear a bandhani saree.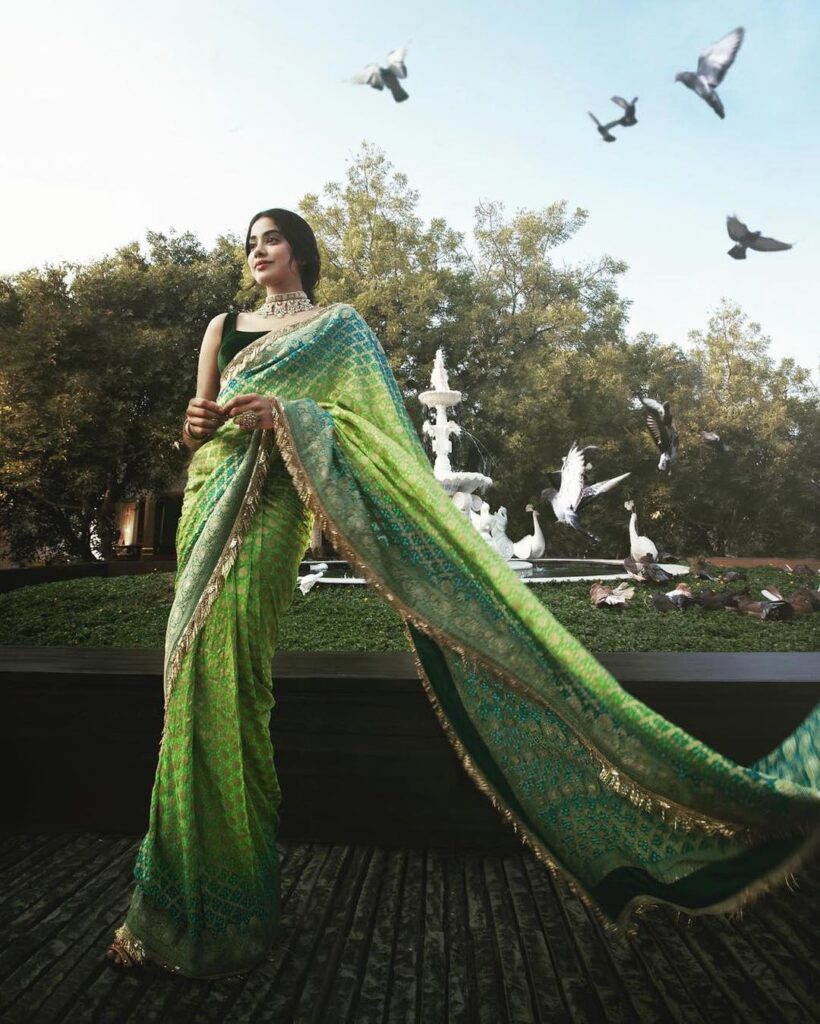 Frequently Asked Questions
Q. What is special about bandhani saree?
An age-old technique of tie-dye, bandhani, or bandhej is a popular technique of decorating a fabric with intricate patterns by tying the fabric with a thread and then dyeing. Bandhani sarees were often worn by brides or new mothers as they signified, harmony, joy and was considered sacred especially in parts like Gujarat and Rajasthan.
Q. What cloth is used for Bandhani
This unique technique of tie-dye print is usually done on soft fabrics or loosely woven silks like cotton or georgette. But due to high demand and popularity, artisans and craftsmen are now also opting for different fabrics and drawing stunning bandhej patterns on cloth like silk and chiffon as well.
Q. Which city is famous for bandhani sarees?
Bandhani print originated in the cities of Gujarat, Punjab, and Rajasthan but is quite popular throughout the continent. However, Ahemdabad is well known when it comes to bandhej sarees and prints. Different states have different prints with different colors that has various meanings.
Q. How do you take care of bandhani?
Bandhani is done on fabrics like cotton, silk, and chiffon so the best way to not lose the vibrancy and color of your bandhani saree is to get them dry cleaned. Dry cleaning your sarees will keep the bright hues fresh and the print vibrant.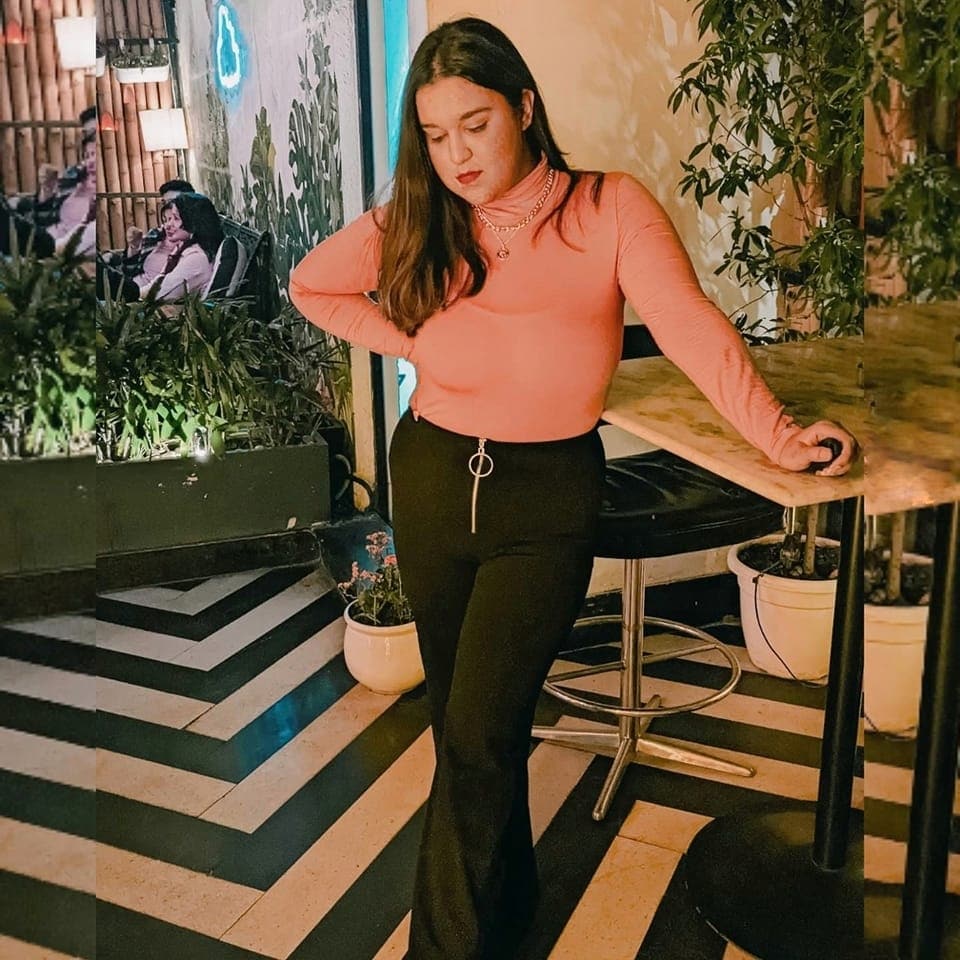 Lover of sunrise, tea, mountains and flowers. When not reading or writing, Mansi is often found cafe-hopping around Delhi.