How to wear Pant Style Saree? A new way to drape Saree with elegance is here and this trend is catching on like wildfire. Girls around India, Pakistan, and Bangladesh are always in search of new ways to carry saree and if you like some modern twist to this traditional wear you should definitely try saree pants.
There are multiple cuts of pants that you can try effectively with saree like flared pants, churidaars, dhoti pants etc. Saree pants are an ideal and comfortable outfit for both weddings and parties. So if you are ready to stun and look absolutely feminine and sexy while doing so, we have collected 25 unique ways in which you can easily flaunt saree pants this season.
Latest Pant Saree Designs & Styling Ideas
Try to style your blouse according to the cut of the pants and the style you are going for so that it will appear flattering.
Pay special attention to the pleats and it is better to get them stitched in advance to avoid any last moment trouble.
Always go for comfortable heels to go with saree so that you can easily walk around and enjoy.
Choose the cut of the pants according to your body frame.
If you are new at wearing saree, don't wear something too embellished or heavy that would be difficult to manage.
Choose the right fabric and nothing too bulky for a classic saree pant outfit like georgette or chiffon.
Manage the saree with safety pins so that you won't have to worry about it.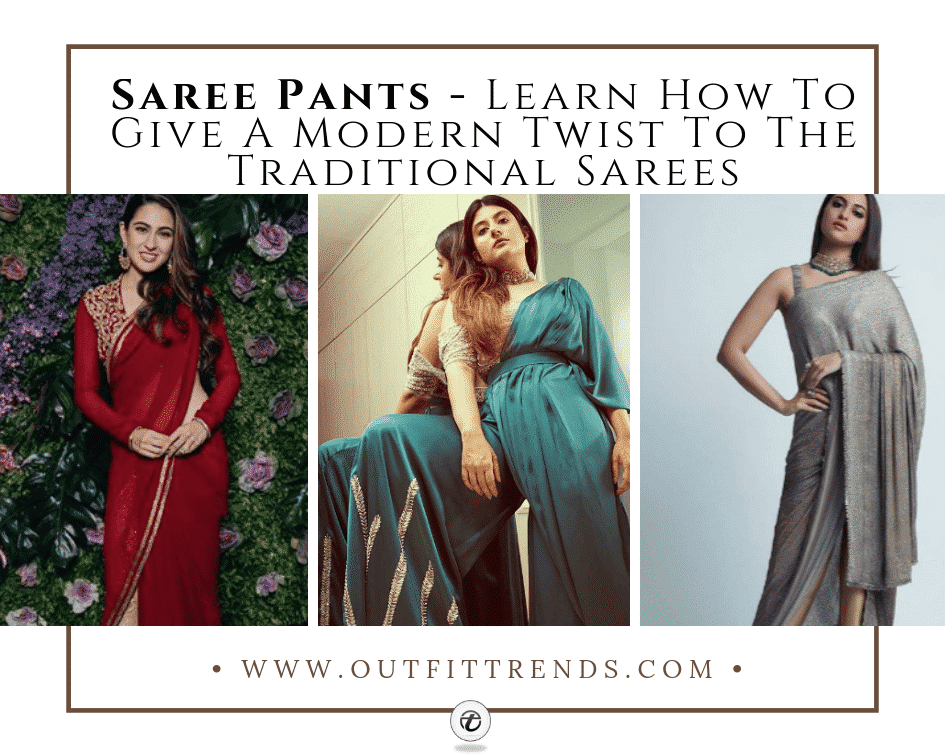 26. With a Sequin Top
Starting off with my personal favorite look, a sequin top with a simple silk saree and matching solid colored pants. This is such a simple yet elegant look that can easily be carried for parties and even wedding functions. Here are some more tips on styling silk sarees.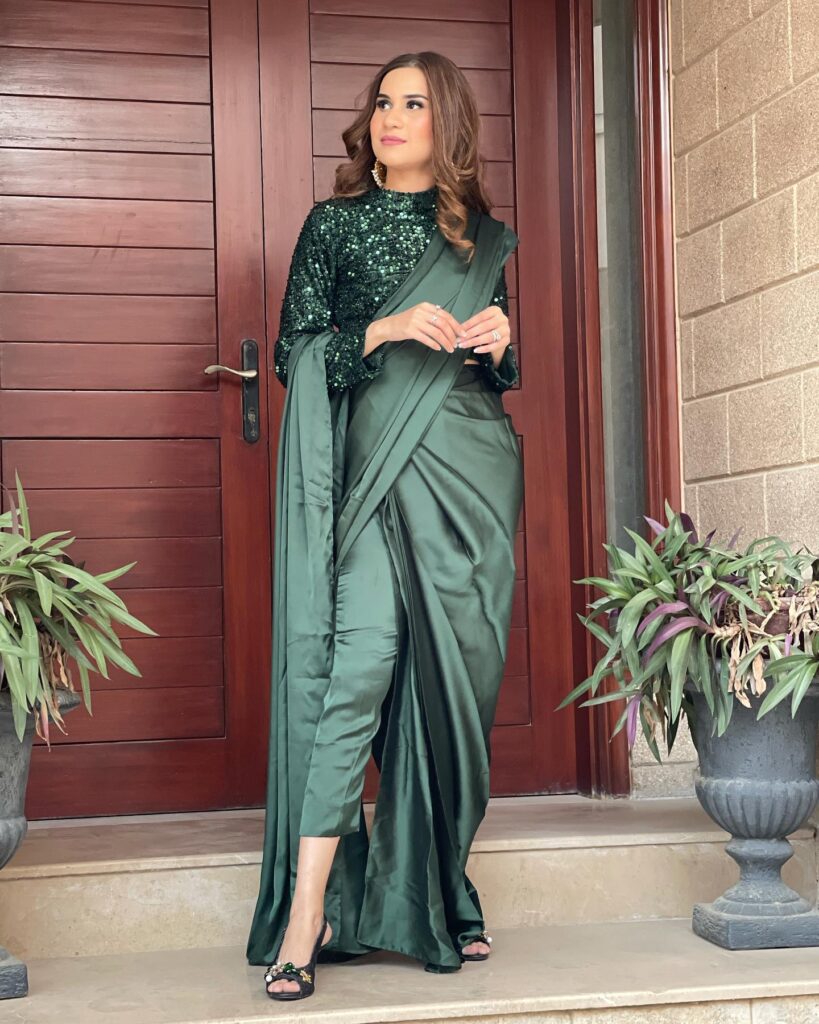 25. Casual Pant Style Saree
We all love saree, so why not wear some pant style saree for great contemporary vibes? An attire that can never go out of fashion is here now to blow your mind even further as it gets paired with pants, and you can choose your comfort level for any multiple styles of pants. You can wear saree pants with cropped blouses as well as long shirt style blouses depending on the season. Get your heels on and bring out your most extraordinary piece of jewelry to flaunt with this great outfit. Here are 30 New Saree Blouse Designs 2019 You Must Try.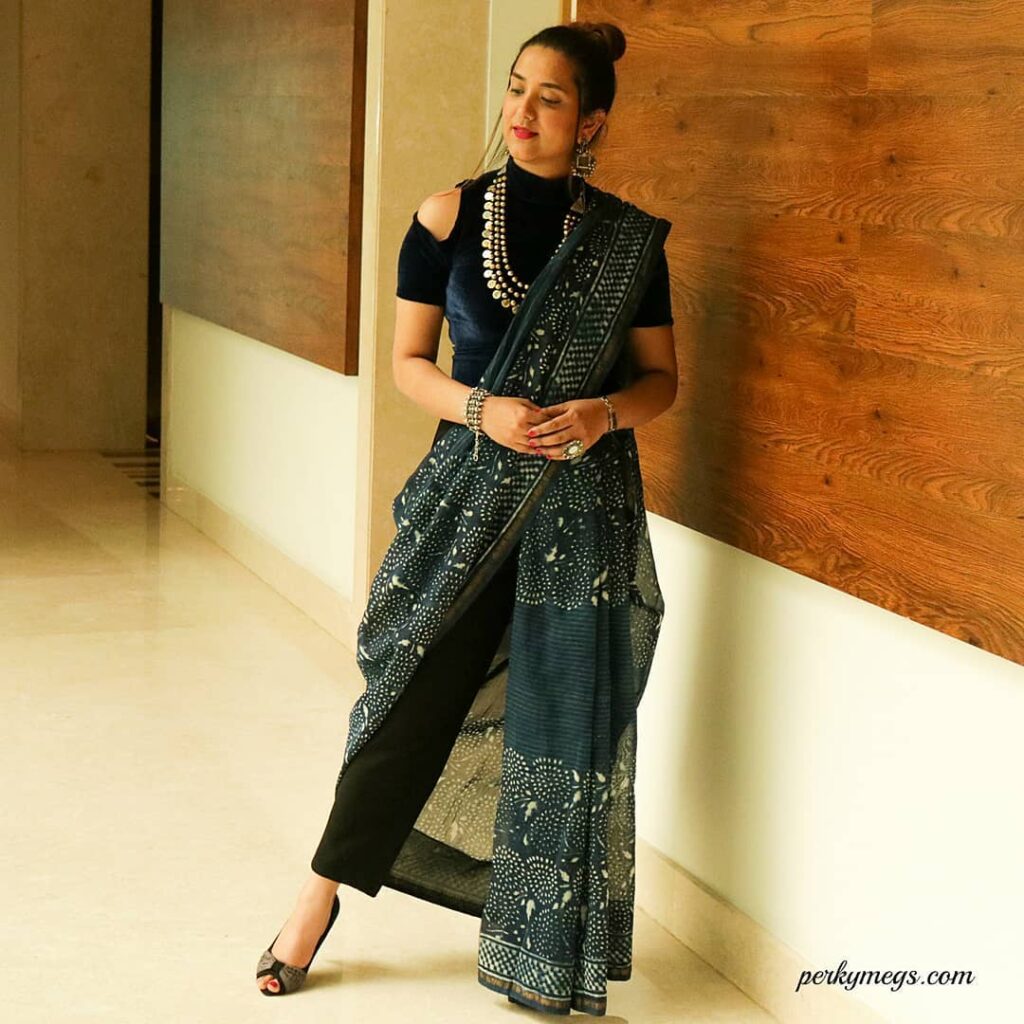 24. Silk Printed Saree
A beautiful solid border on a silk saree is to die for. Draping a silk border saree with micro floral pattern on the body goes perfectly well with an embroidered blouse for weddings and parties. It is time to combine the lethal combination of a magenta saree with royal blue zari work blouse and trouser. Wear this outfit with glam heels and you will be ready to turn heads in your direction!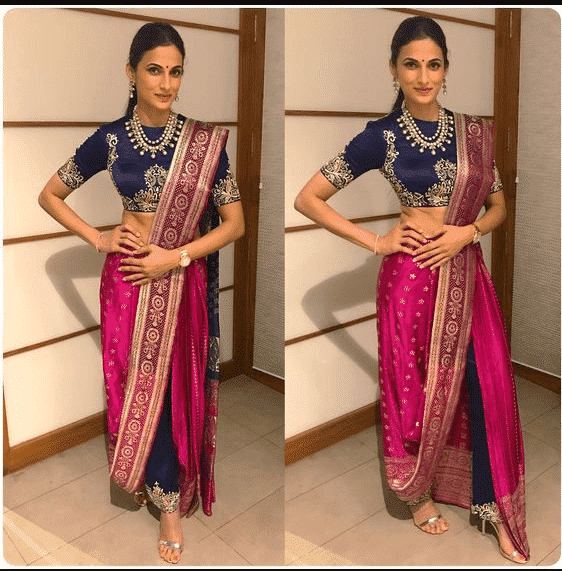 23. Dhoti Pants Saree
Dhoti pants Saree is not only a very traditional outfit but also super comfortable for days that you don't want to just handle the hassle of tacky and difficult clothes. The loose silhouette of the dhoti pants will complement your saree and you can wear a plain saree with a gorgeous metallic sequined blouse with embellishments on the back.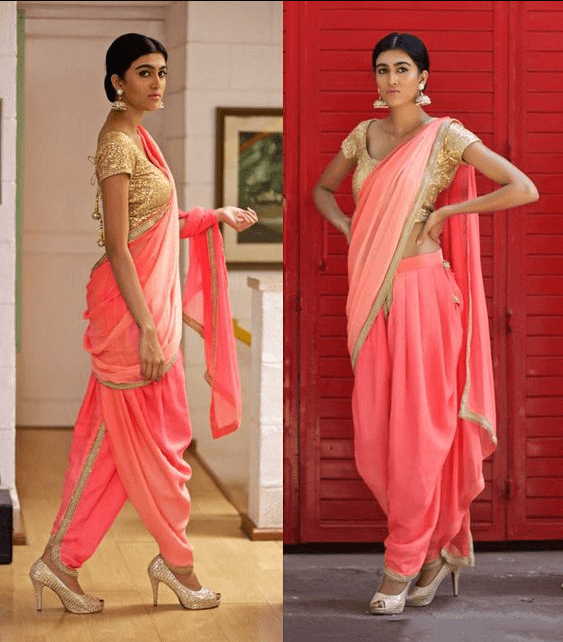 22. Churidaar Pants with Saree
Opulence starts with a full banarsi saree in soft color with floral spatter and a delicate border. Whichever color you choose, this looks stuns everyone and the pleats game is strong with this one. To make it even more regal, you know can wear this look with a banarsi churidaar in a subtle shade of gold. Tie a belt above the saree to secure your pallu and to enhance the hourglass shape. Adaab in your way to an event and be the queen of traditional attires with a twist.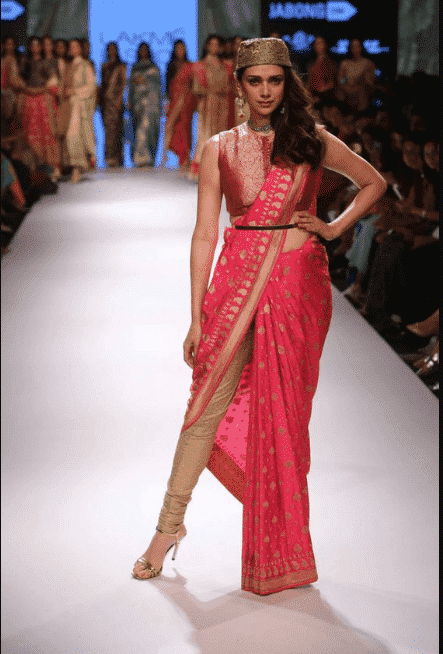 21. Plus Size Saree Pants
For those of us that feel conscious about our figure, introducing the Palazzo saree. For a plus size woman, the concept of tight and fitted clothing items can be quite daunting and you might even feel the need to stay away from saree due to the same reason. Not anymore!! You can wear a quarter sleeves plain blouse with a slim print saree and palazzo combination so that you can dance the night away without any inhibition in mind. Stick towards darker shades as they appear more flattering on plus size women.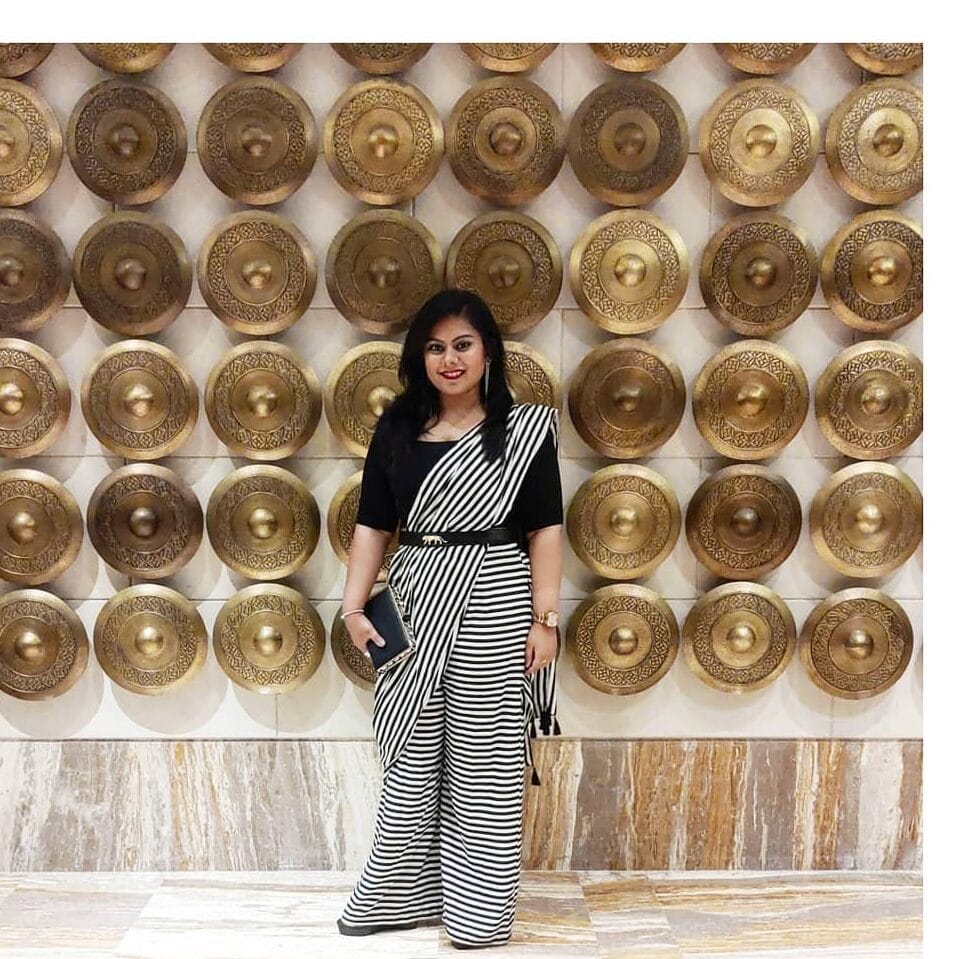 20. Traditional Wedding Attire
If you are in the middle of a tiring wedding season and have used up all your creative ideas to wear something modern, with almost no effort, you can try the saree pant attire. This outfit is not only very flattering on every body structure but hardly any hassle is required to wear it with ease. You can pair up your gold banarsi pajama with a glamorous saree to add a new touch to the whole look. Here are 20 Cute Celebrities Inspired Hairstyles to Wear With Saree.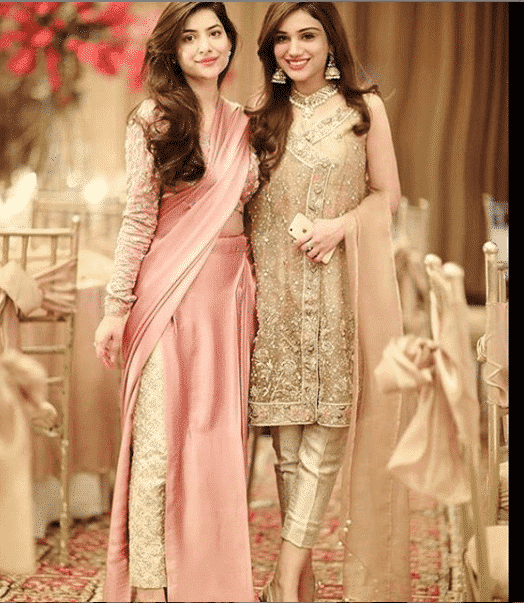 19.  How to Wear Jeans with Saree
Want to appear festive but don't want to lose your girl next door spirit? Well, you can get the best of both the worlds with this modish take on saree pants. Take a Georgette saree with the right fall and wear it with a khaki belt with a large buckle at the waist and wear it with denim and a long blouse. You can even get away with flats with this casual look. Wear some chunky bracelets or karay to add charm.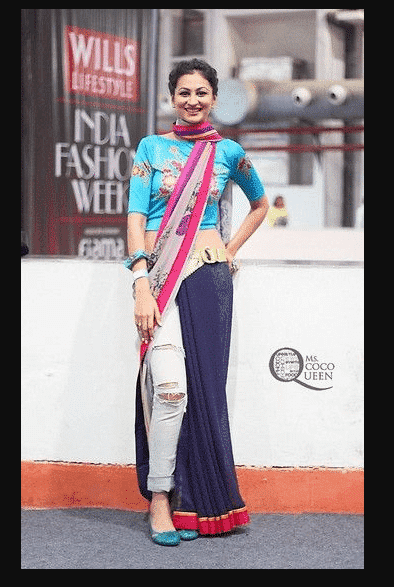 18. Celebrity Style
Celebrities have been very creative with the saree pant outfits and you can see all sort of variations. From fancy cut blouses to beautifully printed sarees to creative pants, we have seen it all. You can take a cue what variations you can successfully carry with these suggestions.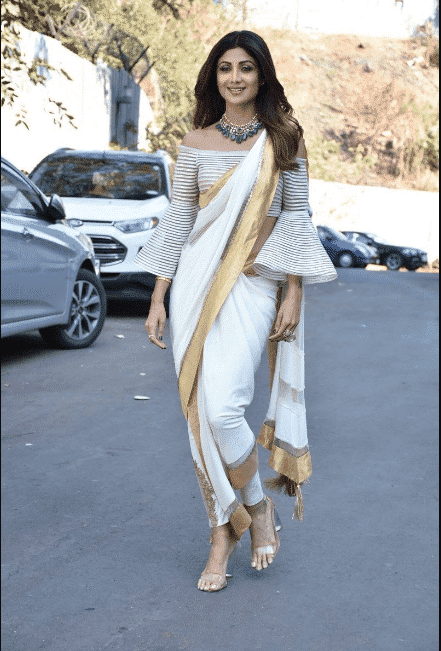 Via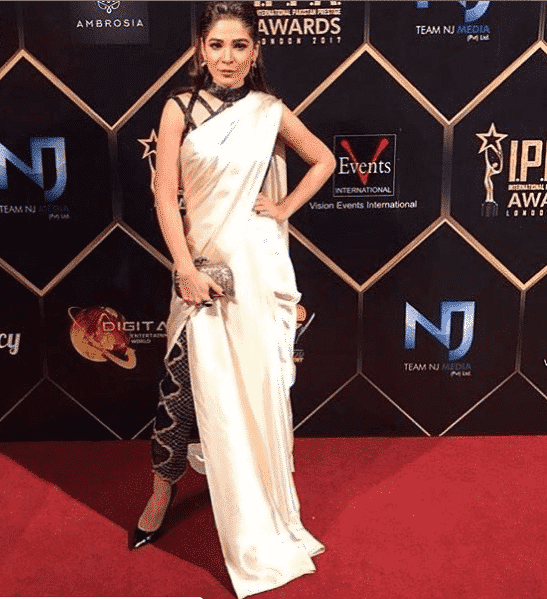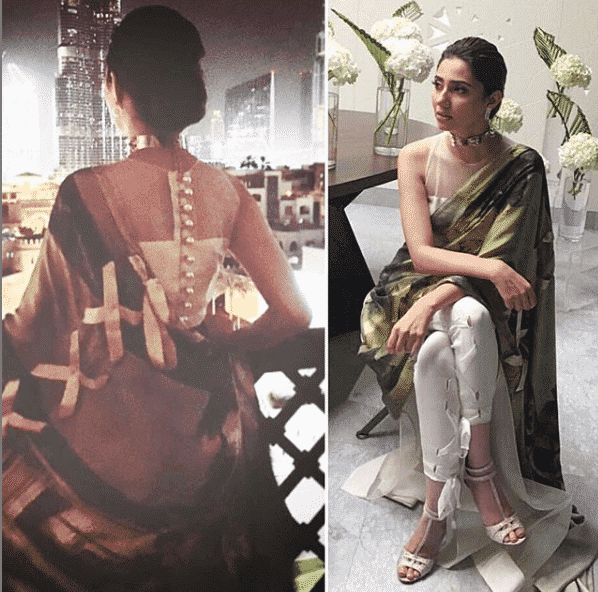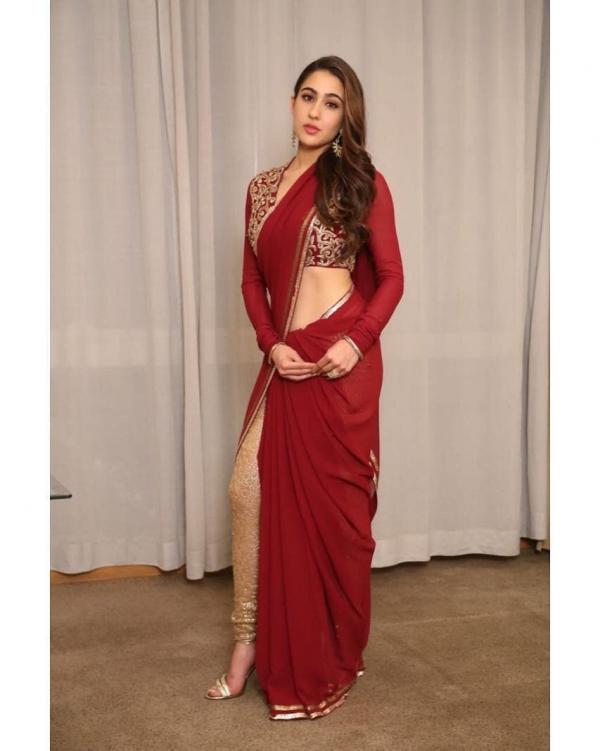 17. Bold in Black
Whether you have to attend an event in winter or summer, or at night or during the daytime, black is the perfect color. It is not only the most alluring color but also incredibly flattering and easy to carry. It goes well with all skin tones as well and you don't need to overdo makeup or accessories as black saree pant outfit is enough to make you appear mesmerizing.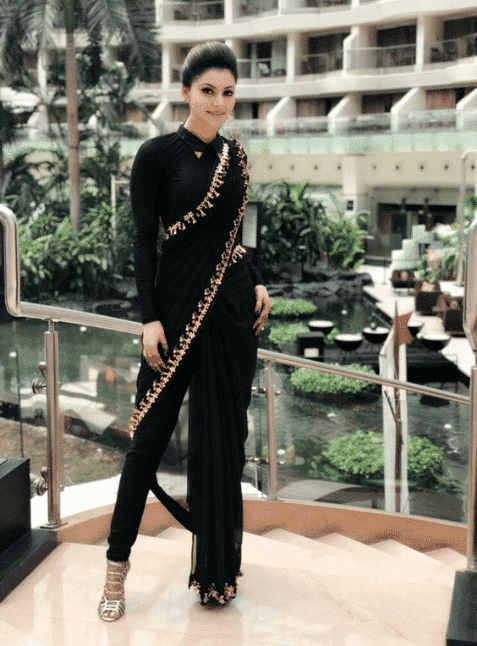 16. Mehndi Bride Outfit
For an avant-garde Indian or Pakistani mehndi bride, you do want to wear the traditional yellow color but want a modern twist to the whole outfit. If you are still confused about what to wear on your mehndi or mayun event, go for Saree pant outfit in yellow, orange or green. Go for a beautiful blouse with delicate embroidery and a gold gota work ribbon on the edges of Saree for a minimalist bridal look. Don't forget the classic khussa and anklet combination with this outfit.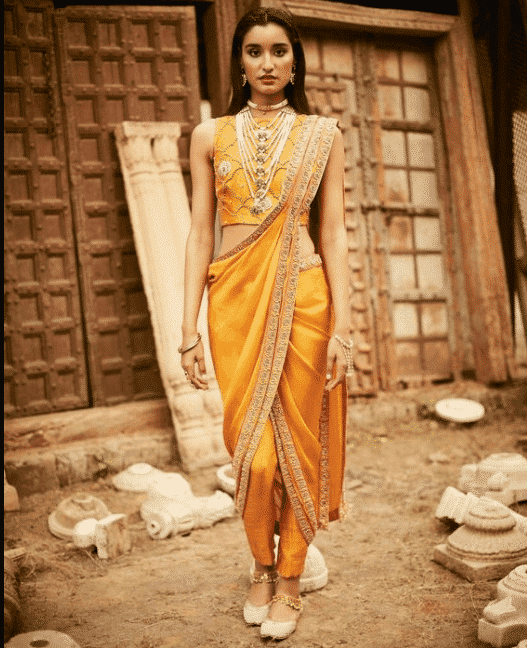 15. How to Drape Embroidered Sari
When going for embroidered saree, keep the border properly pleated and tied neatly on the shoulder. The embroidery on the border should be delicate and sophisticated instead of being too heavy to give you a nice look. A high neck blouse and gold pajama pant will look awesome with this saree.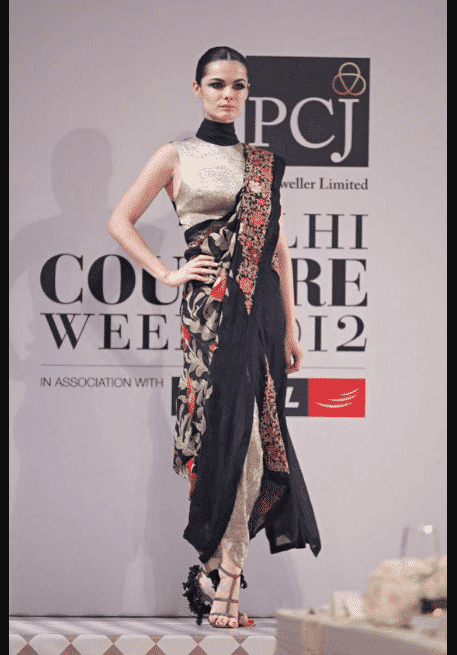 14. Wearing Belt with Saree
Want to assure that your dress will stay at its place along with making a great fashion statement? Wear an exquisite big and bold silk belt or a lean metallic belt with your outfit that you can tie at the front. Go bold with your jewelry and keep the saree and pants relatively plain to bring out the belted look.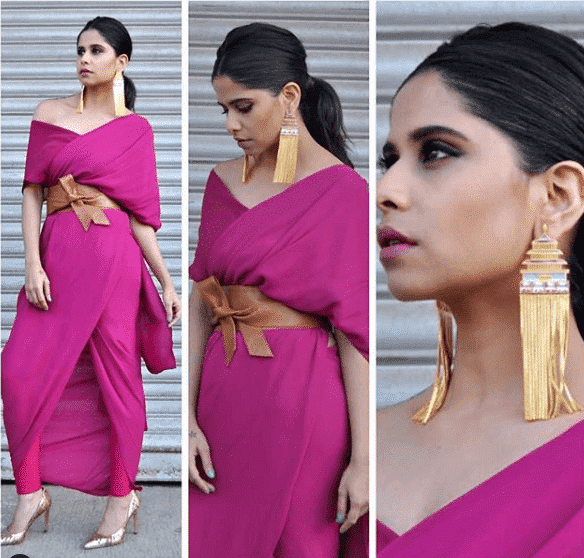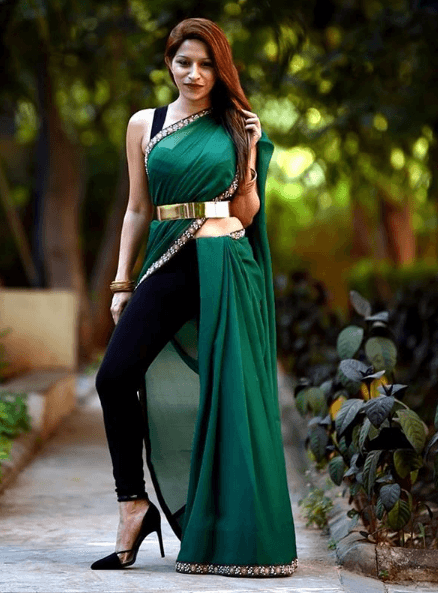 13. Cape Style Saree
Formal and trendy in look, cape style blouse with off-shoulder sleeves and saree pants combination is sassy as well as unique. Pastel tones and subtle shades are perfect for saree pant with cape style blouse. You can choose a sheer net fabric for the blouse or a denser looking fabric with beadwork on it. Wearing a cropped cape blouse with loose-fitting pants will also give you an elongated silhouette.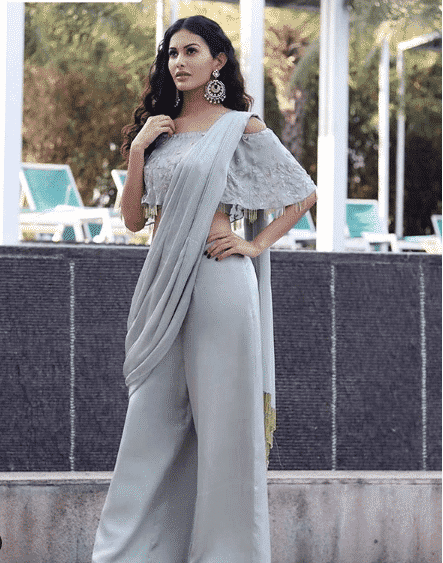 12. Contrasting Shades
Shift gears with two contrasting striking shades for saree pants. Lighter shades of saree in pastel colors with a darker tone blouse and pant will be sheer sophistication. This look is great for any party wear or low key event you have to attend. Wear your hear in curls for great style.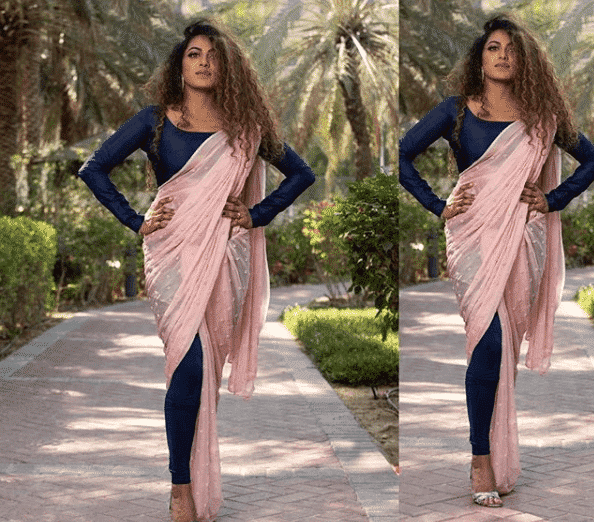 11. Flared Pants Saree
These 70s inspired fashion item flared or bell-bottom pant goes amazingly well with saree. Pay attention to the fabric of the saree and pants because this attire needs impeccable fall and pleats. You can choose a bell-bottom style pant or an open flared flapper style pant according to your personal choice. Beautiful precious stonework or beaded blouses will increase the overall beauty of this look.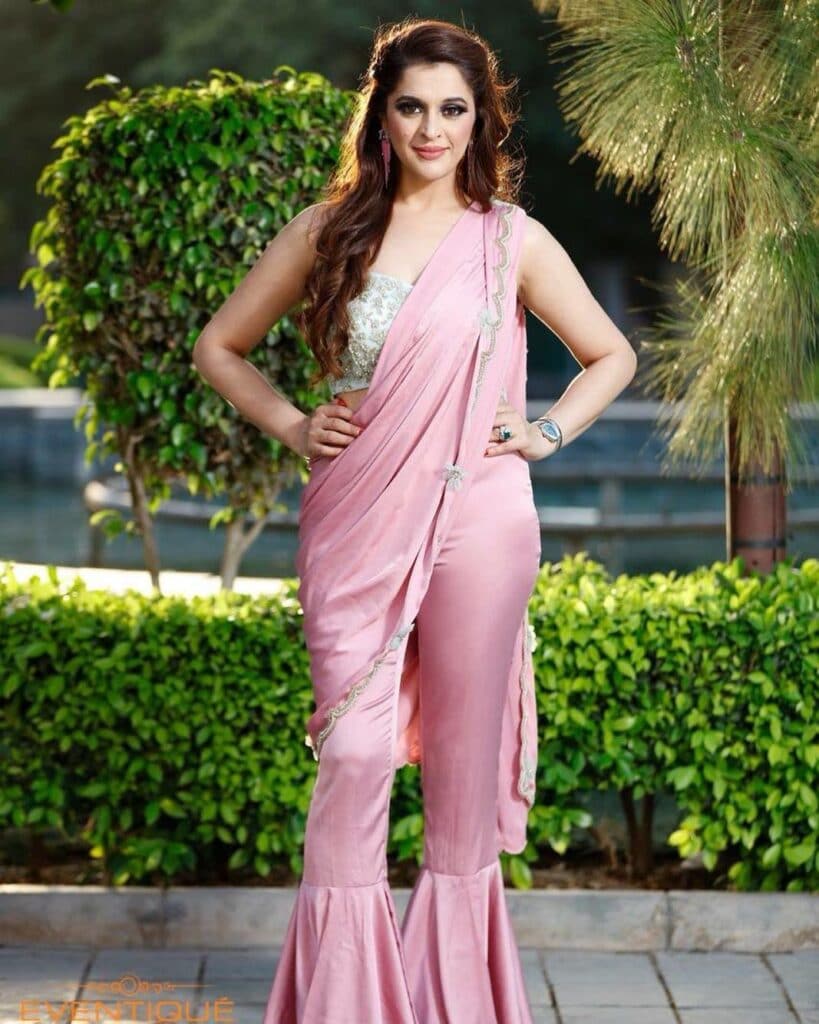 10. Modern Saree Styles
Modern saree styles are taking over the fashion world and now plain old saree drapes are so out. Varying from lehenga saree to now pants saree you have a multitude of options available. For summer wear if you need a modern outfit for party wear or weddings, you now have the option of Capri saree ensemble. A low Capri cut with high heels and saree will give you a refined and slim touch and wearing long earrings will make you very chic. Here are Indian Ethnic Wear Sarees In Modern Day fashion.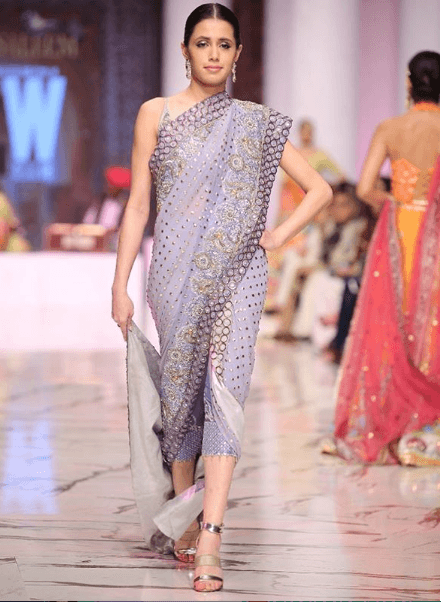 9. Retro Style Outfit
Step ahead in a retro-inspired saree pant outfit with polka dots whether it is in the traditional black and white or 80s inspired brown and beige color theme. You can add a bit of a twist and wear stripes along with this print. Whether you go for a micro or macro print saree, you will surely be the center of attention!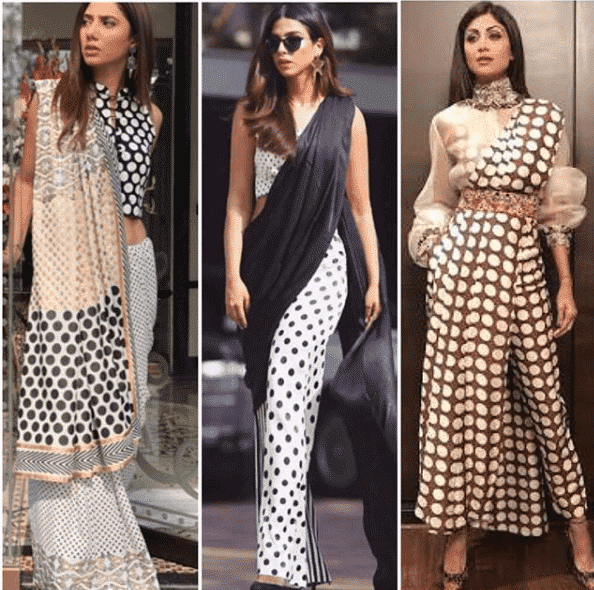 8. Bridal Shower Outfit
For bridal showers, a desi girl needs some inspiration to try something new yet feminine and pretty at the same time. In case you are not bound by the dress code in the event and can wear whatever you want to, we will like to suggest sweet and sumptuous ruffled edges floral saree with a pastel-colored blouse and pants. you can get creative with the blouse and try something different while keeping it simple.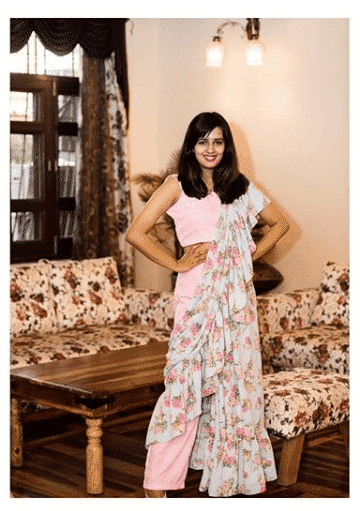 7. Tassels and Beadwork
Embellishments can add a lot to the saree pant outfit and tassels and beadwork can be pretty enchanting. If you want to go for something trendy, go with floral or butterfly print applique work blouse that will also give you that 3D look. make your saree more interesting with tassels and an off-shoulder, boat-shaped blouse. Complete the look with some gorgeous black heels.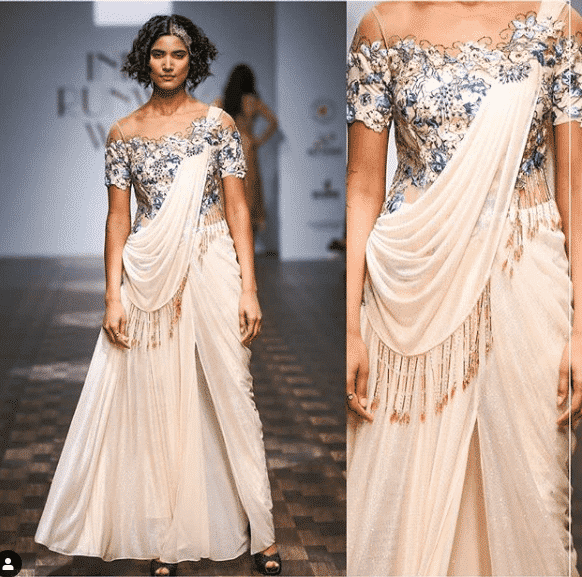 6. Metallic Saree Drape
Metallic saree pant outfit can be best saved for a fun evening whether it's a date night or any event that you have to attend. Casually tie a knot with the pallu of the saree at the waist and you are good to go.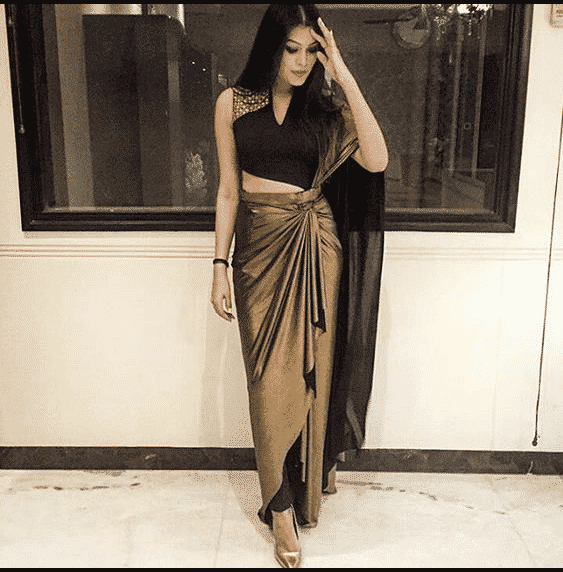 5. Party Outfit
Chevron print has been recently very popular and its time you wear a saree pant in this print for parties. A slightly long sleeves blouse with matching pants and plain black georgette saree is the perfect fit for any nighttime event.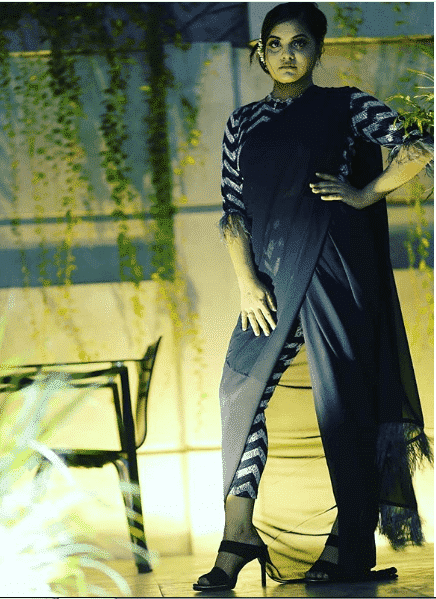 4. Color Block Saree Pants
Why not go for gold lace embellished geometric print blouse this season? It can build up an interesting look even with a plain saree. To make it more formal and elegant, go for double-shaded saree and single-colored fitted pants.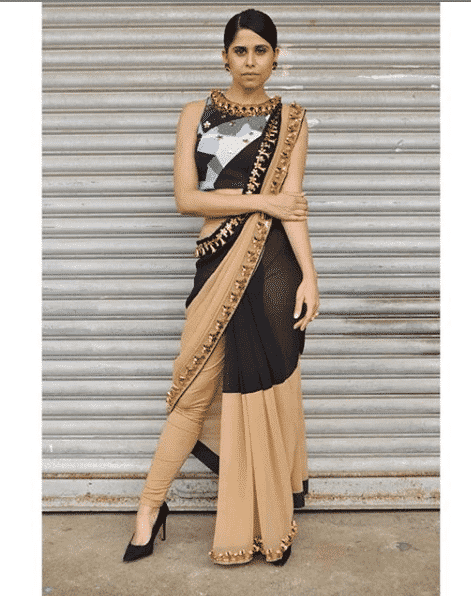 3. Hairstyles to Try with Saree Pants
With saree pants, you need to go with traditional hairstyles with flowers inserted with help of pins. Jasmine garlands go pretty well with buns and this way the saree pants will be the center of attention.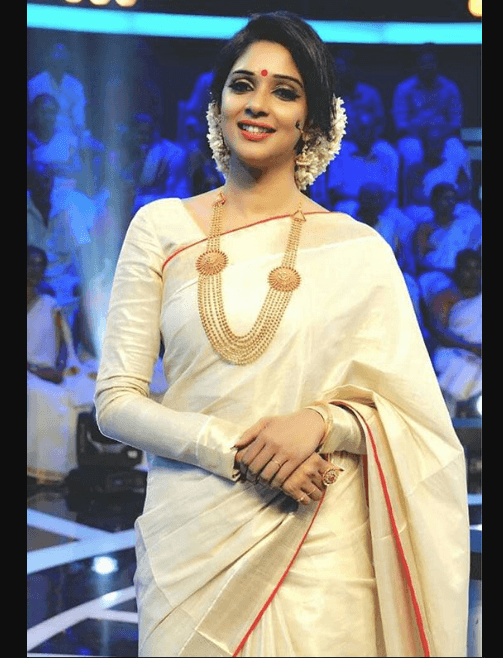 However, if you love to let your hair loose, it is wise to go with side braids and twisted knots, and then let the remaining hair lie loose.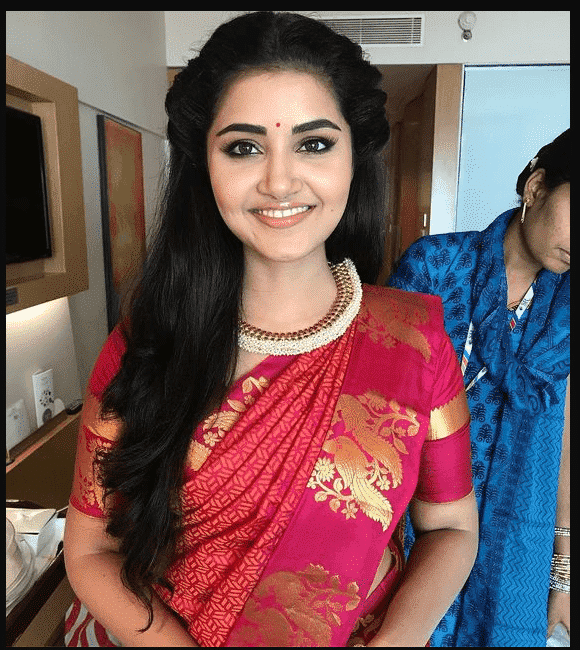 2. Footwear to Wear with Saree Pant
Heels are the best options to try with a saree because you need that extra elongation look to make the saree pants stand out. You can either go with black heels or with metallic gold ones. Some people also prefer transparent heels to wear with saree pants. However, if you find long pencil heels uncomfortable then go for other options like platform heels.
1. Accessories to Wear with Saree Pants
While carrying saree pants, you need to keep a medium size clutch that is easy to carry and have the space for the essential makeup items and your mobile phone. Choose a clutch that is of a similar shade as your saree pants outfit.
Wear some gorgeous indigenous or antique neckpieces like a kundan set or a pearl layered necklace. You can go crazy with earrings either wearing chandbali or traditional jhumkas. Don't forget to add a nice bindiya or tikaa on your forehead as it looks very appealing with saree pant ensemble.