Monochrome Outfit Ideas for Women: Putting together a monochrome outfit can be a lot of fun and a great way to spice up your everyday outfits and bring some fresh pizzazz to your fashion experience. You may have tried dressing monochromatically before (we have all done the all-black look at least once, let's be honest) or you might be totally new to the concept. You may not even be sure what monochrome means! So let's start there.
What is monochrome? The name itself is a clue. "Mono" means single and "chromatic" has to do with color. Thus: one color. A monochrome outfit just means an outfit made of pieces that are all one color. But that doesn't mean dressing all in one shade from head to toe. In fact, that is a common misconception about monochrome outfits!
To put together a great monochrome outfit, you will want to pull together pieces that vary in lighter and darker tints of the same color, be it red, yellow, black, gray, silver, etc. The great thing about monochrome outfits is that you can really do any color you like! But there are definitely some things to keep in mind about monochromatic looks so, in today's article, we are going to talk about what a monochrome outfit is, how to put together a monochrome outfit, and tips on styling monochrome looks. Let's get into it!
How to Wear Monochromatic Outfits?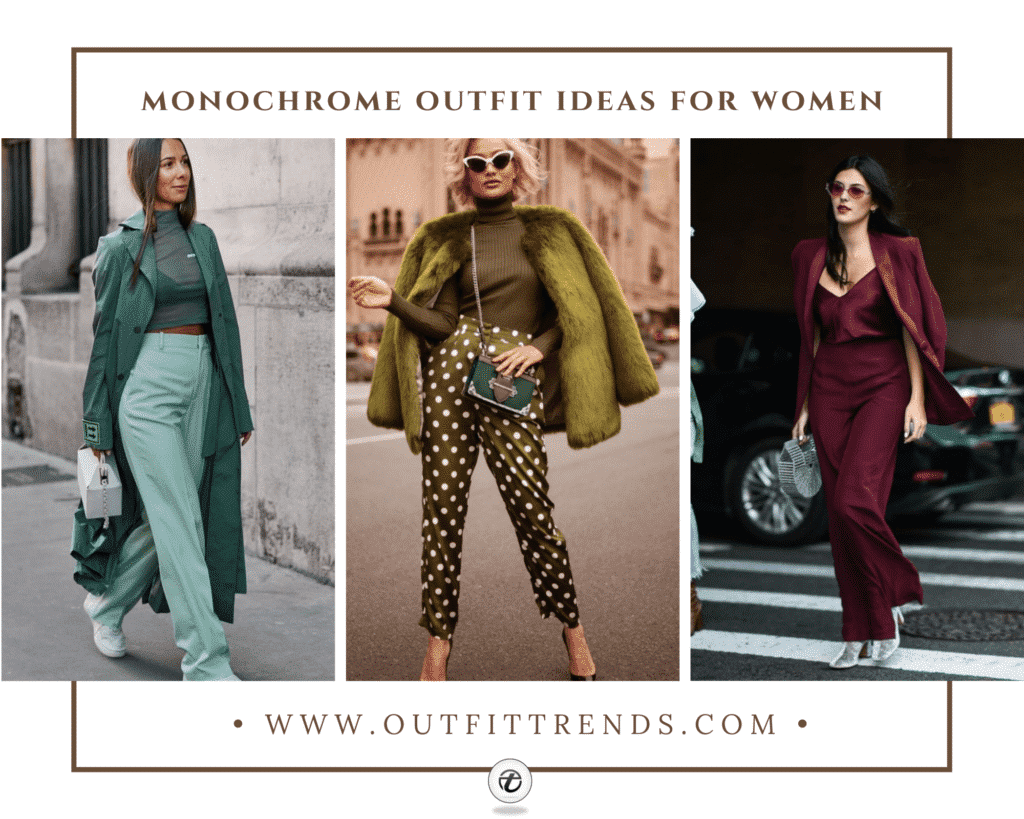 Monochromatic outfits have always been a thing, but we are happy to note that they are on the upswing this year. And, like any style or trend, it takes a little trial and error to figure out how to successfully put together a monochrome outfit. You don't want to look like you are headed to a rave or a costume party. Playing with shades, prints, and texture as well as tints is a total must!
Tips on Styling Monochrome Outfits
Before you start throwing together all the red pieces in your wardrobe or piling together every black article of clothing you possess, let's keep a few things in mind.
When deciding what color you want to build with, keep in mind that you want to pick a color that is flattering to your skin tone and hair color. The last thing you want to do is build an entire outfit around a color that washes you out or gives your skin a sallow hue.
Incorporate texture in your monochromatic outfit. This is a great way to create dimension with your look. Some examples of this could be a wool skirt against a sleek top or a bulky knit sweater with a slim pair of pants.
If you are using darker and lighter tints of the same color (which I highly recommend doing), pay attention to where you are using those darker and lighter tints. A lighter tint will draw the eye and highlight while a darker tint will detract attention.
Accessories can be incorporated too! From hats to scarves, adding an accessory in a complementary hue (like silver if you are doing a cool blue look or gold if you are wearing earthy tones) is a great way to add some finishing touches to an ensemble.
Footwear can be a part of your scheme as well. And it's another area where you can add dimension with texture or hue. You can go for a patent heel in your selected color for some shine or you can add some suede boots to an otherwise sleek outfit.
Monochrome outfits don't have to be minimalistic, but if you want them to be, they are definitely a clean and simple way of dressing that can make your whole getting-ready experience a whole lot more interesting as well as fun.
You should also not be afraid of bringing contrastng shades or different types of prints into your look. Adding an accessory in a totally different color or bringing in a printed scarf or top are great ways to further enhance a monochrome outfit.
And now, without further ado, here are some fantastic monochrome outfits ideas for women that are sure to inspire you and get you excited about this fun, stylish trend.
↓ 18 – Chic in Pink
To dress all in one color does not have to be a complicated thing. It can be as simple as throwing together pieces in your favorite color… while always remembering things like texture, print, tint, and accessories, of course. But one fantastic perk of dressing in monochrome is that it instantly elevates you to the status of a proper fashionista. People will just assume you are one with such a bold fashion statement! So if you have been looking for a shortcut to fashion icon status, this may be it. If you too are a fan of the pink color then don't miss out on these Outfits with Pink Skirts.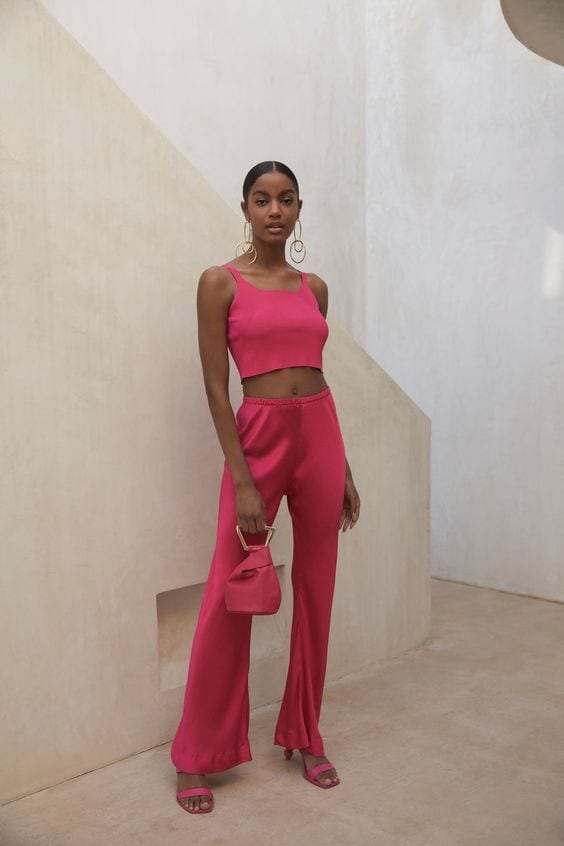 ↓ 17 – Monochrome Outfit Black
For a business chic look, pair together a thin black turtleneck sweater and some tailored ankle pants. Heels, a chain-strap handbag, and some red lipstick will then tie the look together. You can wear this ensemble to work, to a gallery showing, to a date, or even to a dinner party.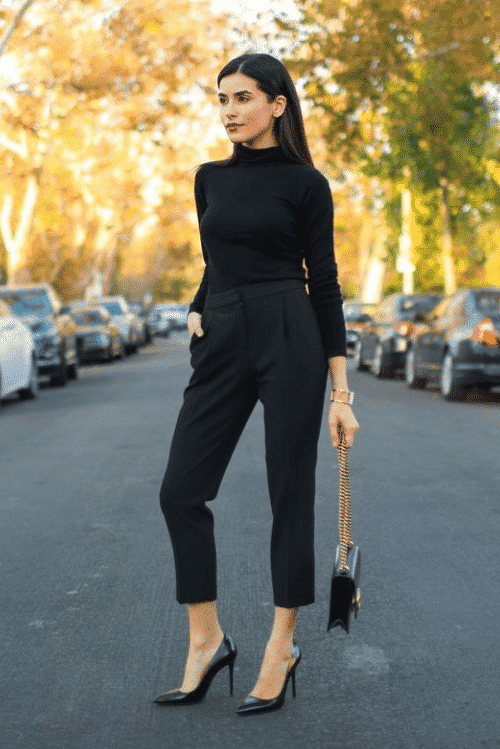 ↓ 16 – Ribbed Knit Sweater and Leather Skirt
From working in coffee shops to brunches with friends to client meetings, having a go-to look is always so helpful. This texture-rich monochrome look fits the bill quite nicely! This rich, deep green is so arresting, and its natural sedateness makes it perfect for workwear without straying into the boring or plain territory. Here are some more tips on styling your Leather Skirt Outfits.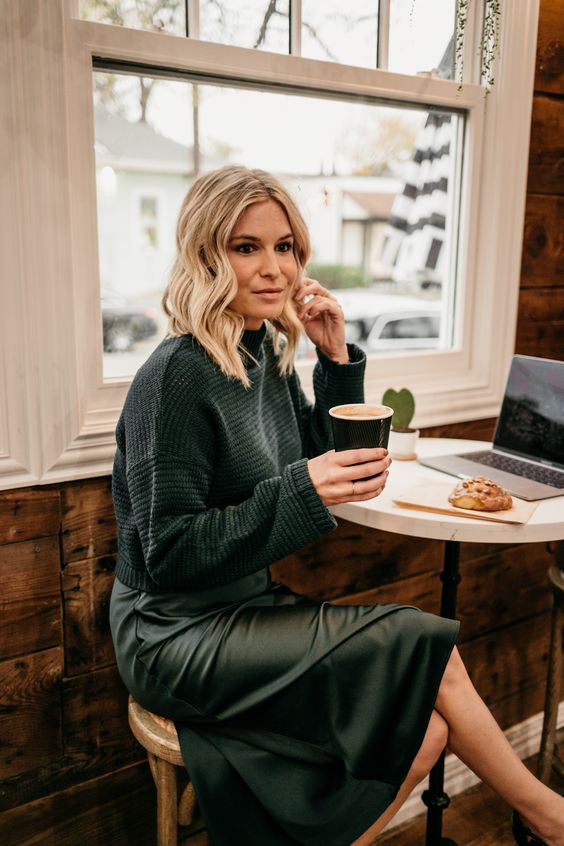 ↓ 15 – Pretty for Summer
Here is a refreshing take on the popular neutral scheme that we see a lot of – neutrals like white, nudes, or beige. These soft, cooler tones are a nice take for summer, and with that pleated skirt, you will enjoy walking on the beach or attending an outdoor party with friends without feeling overly dressed or too casual.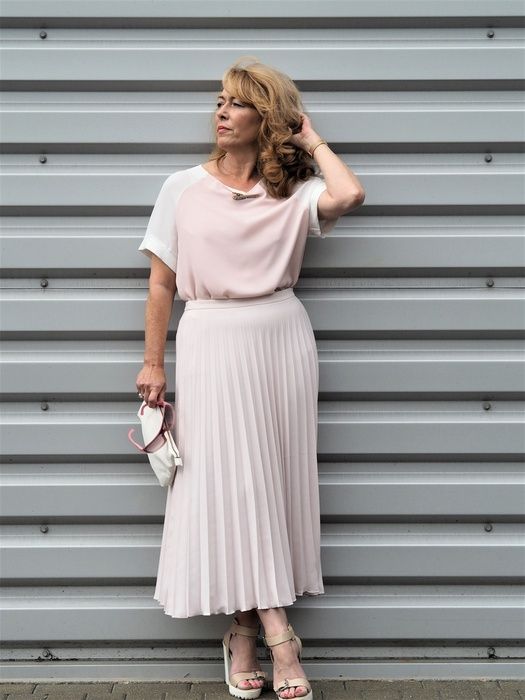 ↓ 14 – With Two-Toned Slingback Heels
Another way to ease yourself into the trend (or just approach it with a little less rigidity) is to incorporate neutral footwear or accessories… so that you aren't technically head to toe monochrome. That might feel like a little "much" for a simple trip to Target, after all. So here's a great example of a casual outfit that goes blue on blue – with some neutrals thrown in there to mix it up.
↓ 13 – Formal Monochrome Pantsuit
Skip the floor-length dress for your next formal function and go for a deep burgundy pantsuit… with some fun accessories, of course. This ensemble is a great example of picking a color that works for your skin tone and hair color: the richness of this hue works really well with this beautiful woman's pale skin and dark hair. Here are some more fabulous Matching Sets to Wear This Year.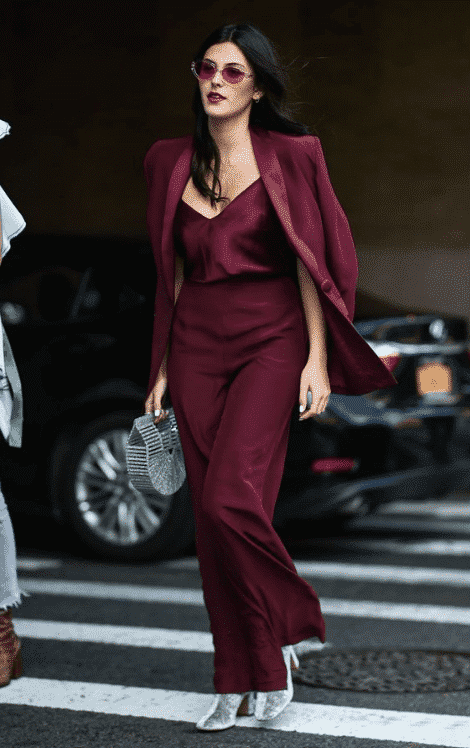 ↓ 12 – Playing With Color
Lest you think a monochromatic look can only stick to one particular color or shade, check out this adventurous and fun ensemble. It even incorporates a contrasting color in the mix, as well as a thin animal print belt. This outfit is great for the gal who loves having fun with her fashion choices!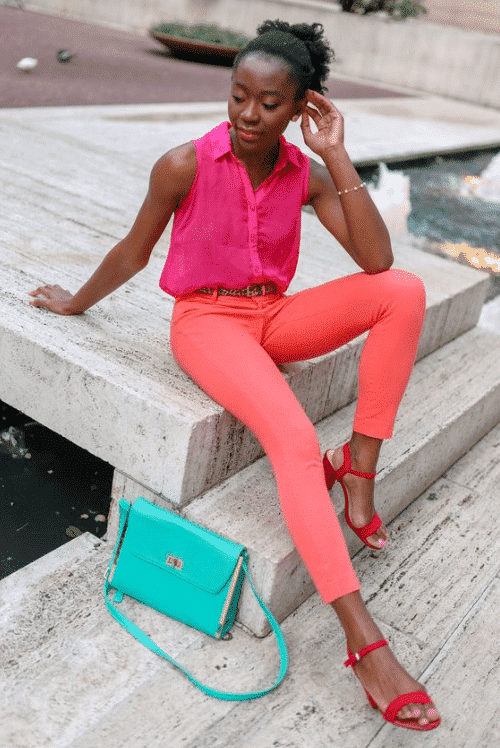 ↓ 11 – Bold, Stylish Work Wear
Are you in a rut with your work clothing? Mix it up this year with some bright, arresting color picks – like this bold blue! Bookmark this look for the coming fall or winter and you will have at least one look to brighten up a rainy day!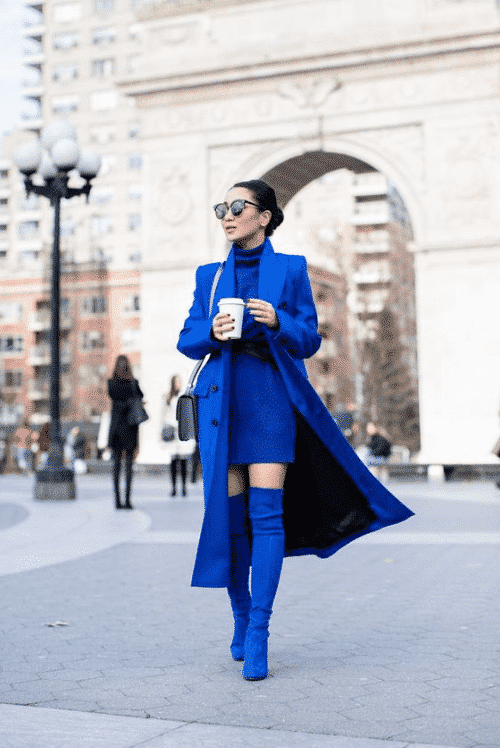 ↓ 10 – Monochrome Outfit Streetwear
Here is another fantastic ensemble, great as street style, that combines various shades of green. It's a perfect transitional outfit when going from a warmer season to a colder or from colder to warmer.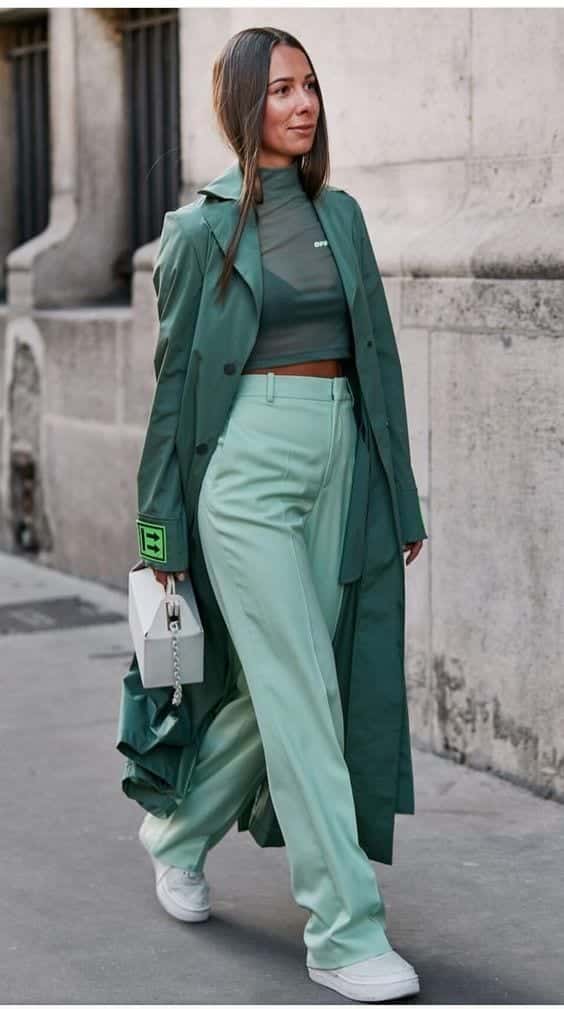 ↓ 9 – For Teenagers
Your teenage years are a great time to explore your personal sense of style and figure out what your preferences are. If you are enjoying trying out new trends, give this super trendy outfit a try. To make this basic matching set stand out, you need some killer accessories: retro sunglasses, silver hoops, and a designer bag tie the look together.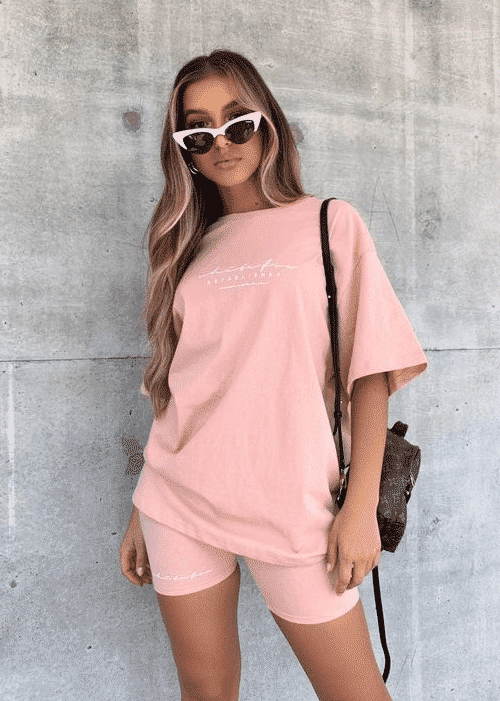 ↓ 8 – Street Style
For those gray and rainy days, boost your mood with a bright, upbeat color like purple. It's been said time and time again that what we wear has a definite effect on our mood and overall sense of wellbeing. So give it a try next time you have the weather blues by trying a monochromatic look of purple, yellow, pink, or whatever color gets you feeling more positive.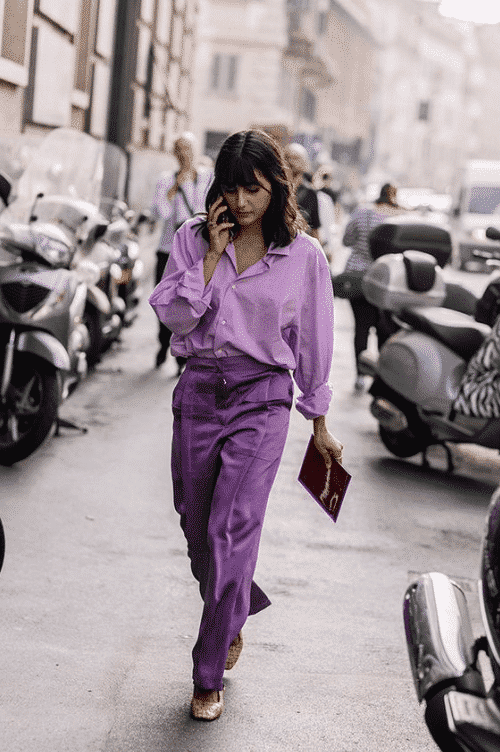 ↓ 7 – Aesthetic Monochrome Outfit
An all-black outfit is one of the easiest ways to try going all monochrome. But doing so – without looking like you are attending a funeral – can be a bit tricky. Here is a great example of an all-black outfit that doesn't look funereal or gothic.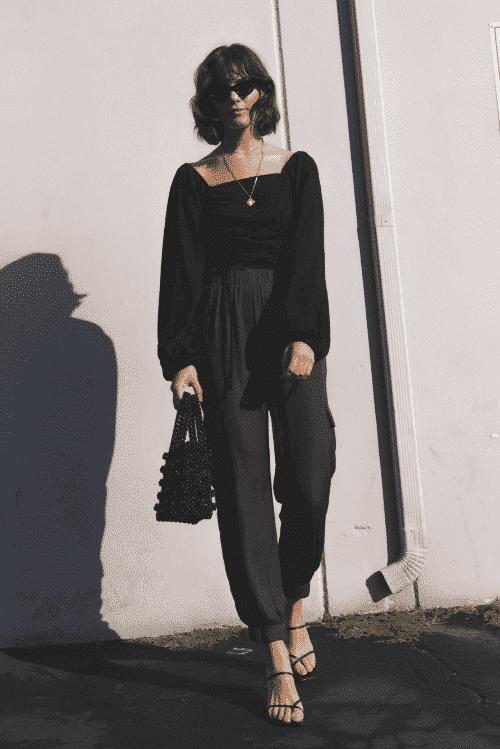 ↓ 6 – Burgundy for Autumn Look
With most colors, you have a range of shades you can pull from… an outfit like this is a great example of combining different shades of burgundy, from wine to cranberry. A faux fur coat brings some texture into the look as well!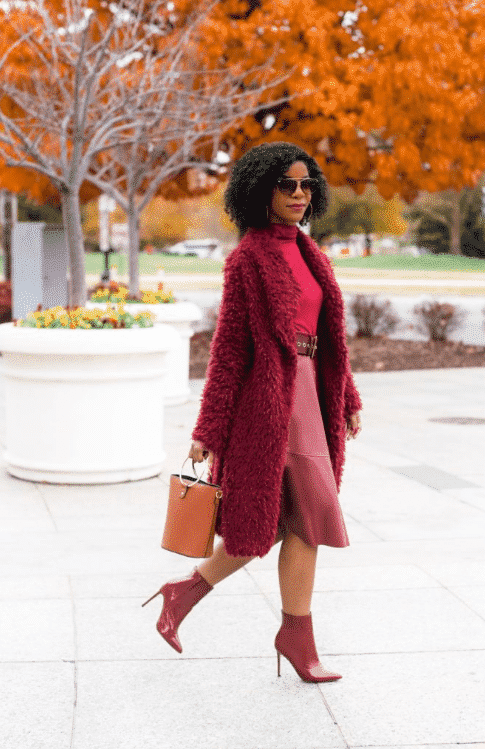 ↓ 5 – Monochromatic Outfit Ideas for Women Over 50
This winter-white look combines quite a few elements that make it a cut above your average monochrome look. And that is because it plays with texture, pattern, and even some contrast. This outfit is also a great example of the type of accessories you can wear if you want some contrasting tones.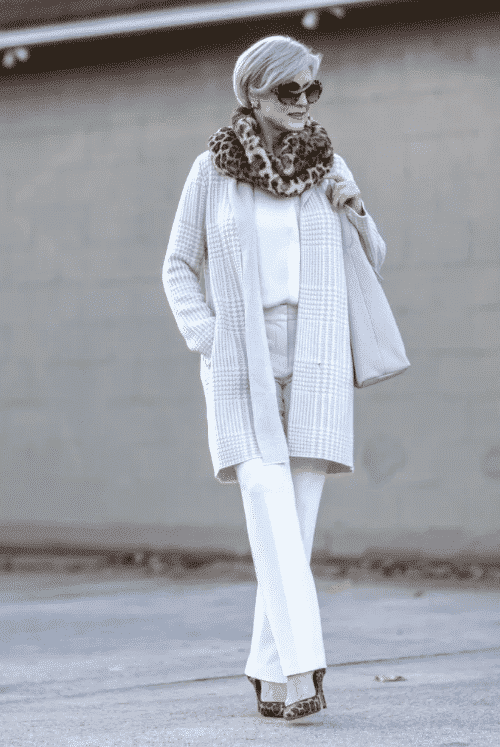 Even with white, you can have fun with texture which will add dimension to your look.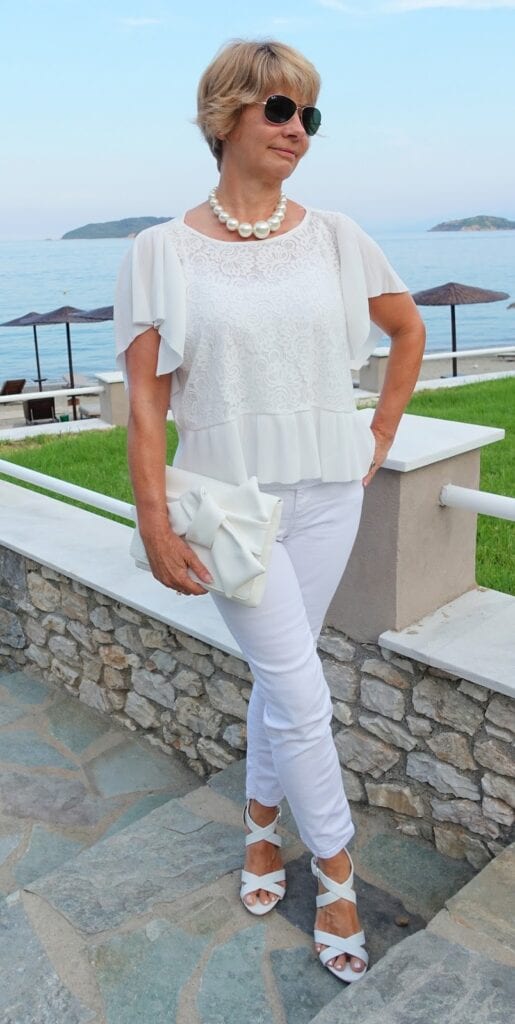 ↓ 4 – Accessories to Wear With Monochrome Outfits
When it comes to accessories, you have lots of options. You can continue your chosen color scheme with corresponding colored accessories or you can bring some contrasting colors into the outfit. Below we see a great example of sticking to the selected color.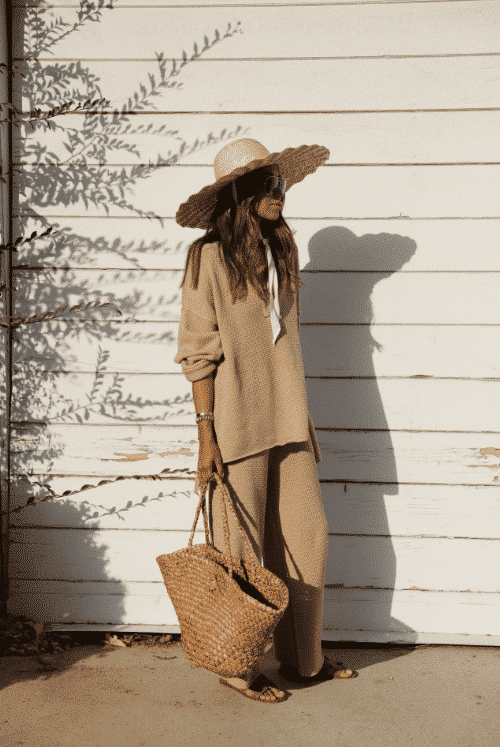 ↓ 3 – Where to Buy Monochrome Outfits
A ready-to-go monochrome outfit could best be described as a matching set. While monochromatic outfits cover a far wider range than just a matching set, monochromatic clothing sets can be a really good place to start for you if you are new to the trend and you just aren't sure where to start. If that is the case, here are seven places where you can find some one-and-done monochrome outfits:
We Are Monochromatic (this is a whole shop dedicated to monochrome looks!)
ASOS
Lulus
Nasty Gal
SHEIN
Bella's Wardrobe
Forever21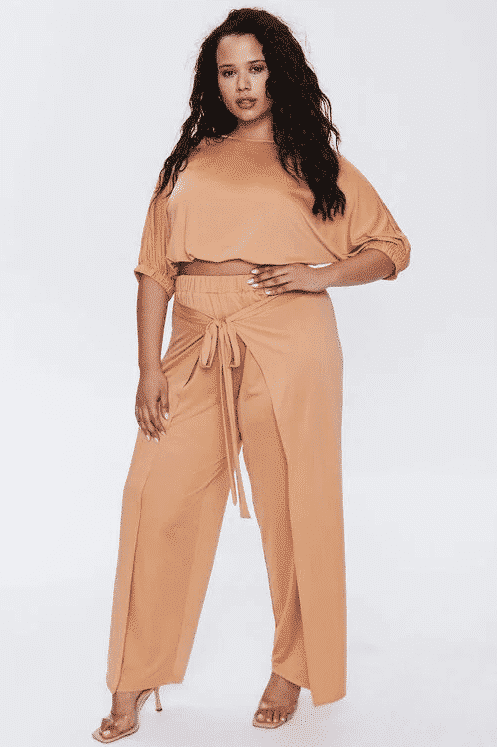 ↓ 2 – Monochrome Outfit Ideas for Plus Size Women
One of the great benefits of outfits of one color is that they have a lengthening effect that women from petite sizes to plus size can appreciate. Here are a couple of plus-size outfit ideas that are incredibly stylish.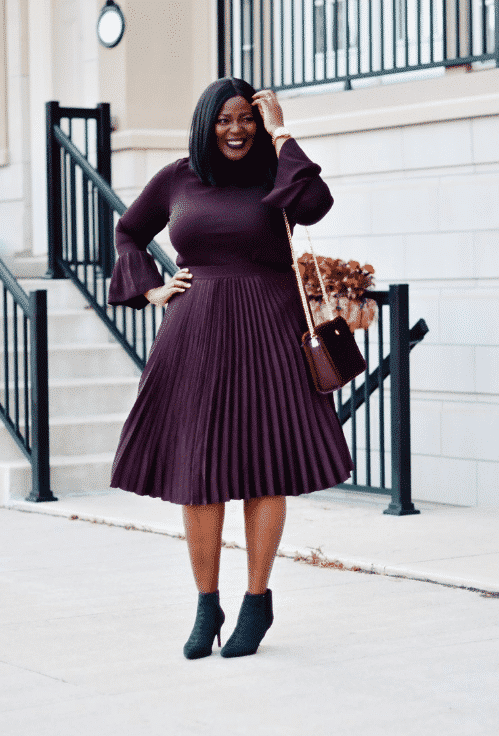 I am in love with this selection of browns and earthy tones. So perfect for autumn! This outfit is also a fantastic example of combining different textures to create more dimension.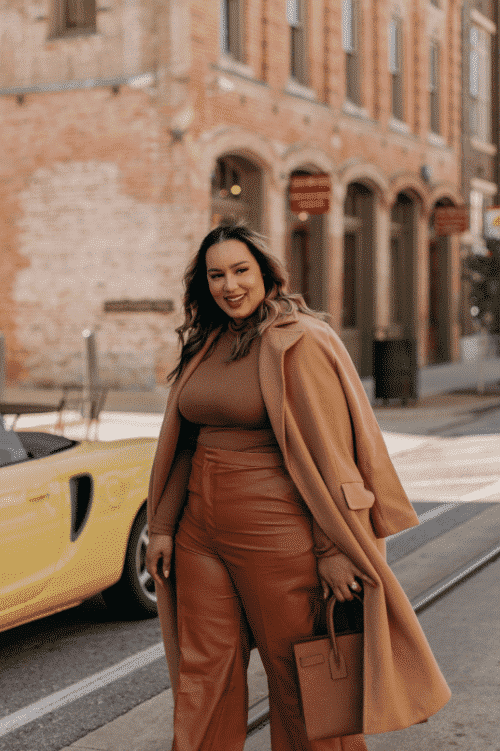 ↓ 1 – How to Dress in Monochrome
Finally, for the adventurous fashionistas: here is a gorgeous example of how to add dimension to your monochrome outfit. Here you can see how combining different textures can create a thoroughly multi-dimensional look. From the ribbed turtleneck to the fur coat to the satin polka dot pants and the patent heels, the coloring never gets stagnant, there is so much to enjoy and look at, and every piece catches the eye in its own turn. THIS is how you bring texture and prints into a monochromatic outfit.
Frequently Asked Questions
Here are some frequently asked questions about monochrome outfits for the fashion savvy gal. Check them out!
Q.

What is a monochrome outfit?

A. A monochrome outfit is comprised of pieces of clothing that are all the same color but may vary in shade or tint.
Q.

Are monochrome outfits trendy?

A. Monochrome outfits are an ongoing trend and even celebrities like wearing them now and again. Blake Lively, Gigi Hadid, and even the Duchess of Sussex, Meghan Markle, have all been known to rock some fantastic monochrome outfits.
Q.

How do you dress in all one color?

A. The best way to dress all in one color is by incorporating lighter and darker tints of your selected color so as not to look too one-dimensional. For example, you can try a soft gray sweater paired with some dark charcoal pants and gray suede boots, and it would be a monochromatic outfit without being one standard shade of gray from head to toe.

I hope you found this post helpful in your quest to take on this great adventure in style! Do you have a favorite monochromatic look from the pictures shared today? Are you planning on giving monochrome outfits a try? Let me know in the comments below!