Knee Length Skirt Outfits. You know we love all types of skirt outfits, so how could we not talk about Knee-length skirts that are slowly but surely gaining popularity due to the fashion trends that change almost every day, giving rise to knee-length skirts in everyday outfits?
These skirts range from all different types of materials, silk, satin, cotton, leather; you name it! Knee-length skirts are very versatile in nature that allow them to be used in many different outfits, paired with all types of colors, textures, and even patterns. 
Knee-length skirts usually imply that an outfit needs to be very formal for them to be included in the look. However, this is not true, and in fact, many casual outfits use knee-length skirts effectively to bring a more coherent and stylish look and create an outfit that will definitely suit you.
Skirts, whether they hug your curves or flare out, accentuate your body in some way or the other. Due to this, there is a skirt available for all body types, hence making it one of the easiest items of clothing to work with!

What To Wear With Knee Length Skirts?
Knee-length skirts come in all sorts of styles, patterns, and colors. This can be used to our styling advantage to take fashion risks and explore where a knee-length skirt could be used. A formal cowl neck top will definitely work with a silk skirt, but how about a turtleneck jumper?
The options are endless and the styling opportunities can be based on color palette, textures, and even the overall silhouette that is being achieved. This is definitely one of those things that can be used to express your wild imagination, as there are so many creative matching techniques with this piece of clothing.
Do's and Don'ts of Styling Knee Length Skirts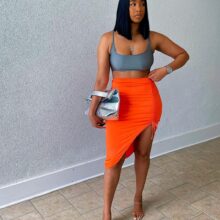 Do not be afraid to explore different colors and patterns that stand out and are a bit on the bolder side! Yes, neutrals are great but it can be very fun to let your creativity through by using big, bright colors and bold patterns.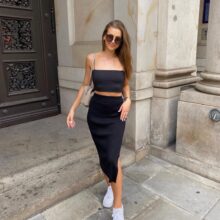 Do try to go for different layering options while choosing the upper half of your skirt outfit. The upper half can truly make or break the look. It can elevate a plain skirt, or it can provide a neutral base for a flashy skirt! The options are endless
Explore different color palettes and use color-blocking techniques to split your outfit in half with two different colors. One in the top and one in the skirt!
Do not be afraid of a monochromatic look! The best thing about skirts is that they never disappear into a monochromatic outfit. The cut always draws attention to it by accentuating the body. So a single-tone look will never go wrong!
Knee Length Skirt Outfits for Spring/Summer
22 – Grey Corset Top With White Knee Length Skirt
This top is very flattering as it is a corset that hugs the body in all the right places.
This is paired with a beautiful white knee-length satin skirt which complements not only the color of the top but helps accentuate the streamlined effect that the outfit creates for the body.
The two together make for one of the most flattering outfits that can be showstopping when worn to any fancy occasion.
The right pair of heels and some layered jewelry can push this outfit to the next level too!
21 – Subtle Checkered Knee Length Skirt With Cropped Black Top
This is very similar to the outfit mentioned above, except in this one, the skirt is not as flowy, and is more form-fitting.
The cropped black top is a very nice contrast to the skirt and gives a nice silhouette to the body.
The black shoes with the long white sock detail give the overall outfit a preppy look, which is perfect to wear on busy days or even when you are going out with your friends!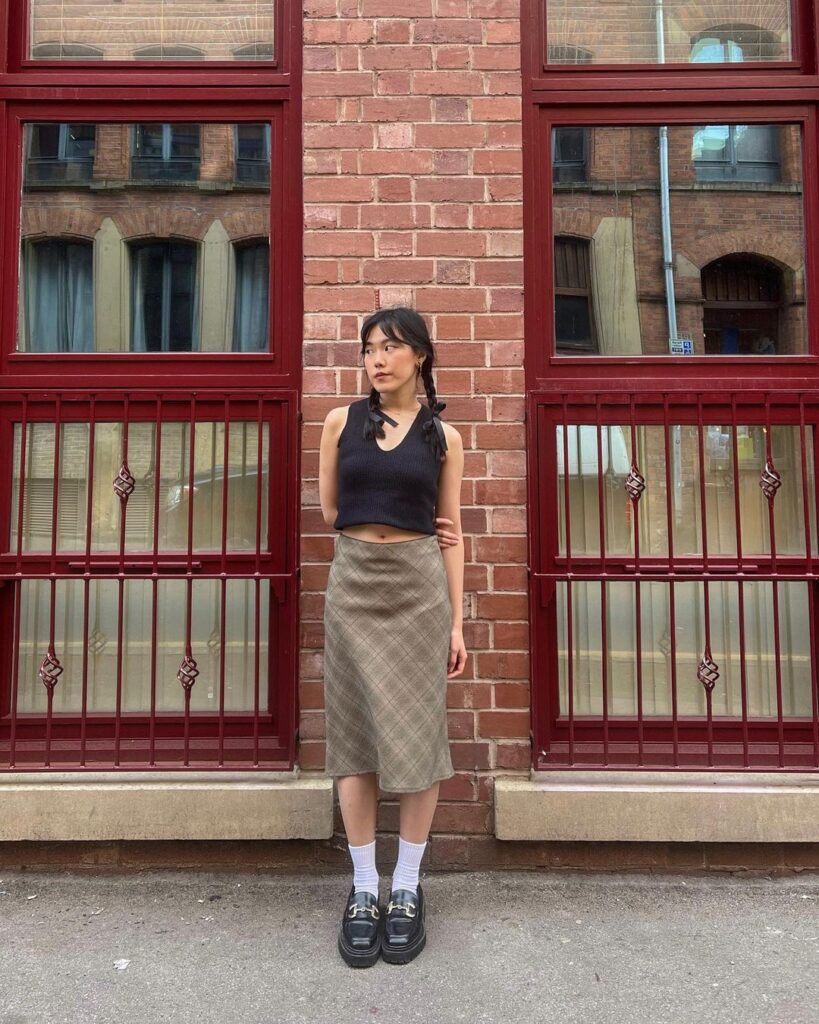 20 – Monochromatic All-Black Look With Black Knee Length Skirt
This tube top with spaghetti straps is paired with this knee-length black skirt to create a perfect monochromatic outfit that works perfectly on any occasion.
This outfit consists of the easiest two items of clothing ever. These two items are available in every girl's closet as timeless staple pieces that go with everything.
This outfit is one you must try as soon as possible. This could also be switched up to a formal one by replacing the sneakers with heels.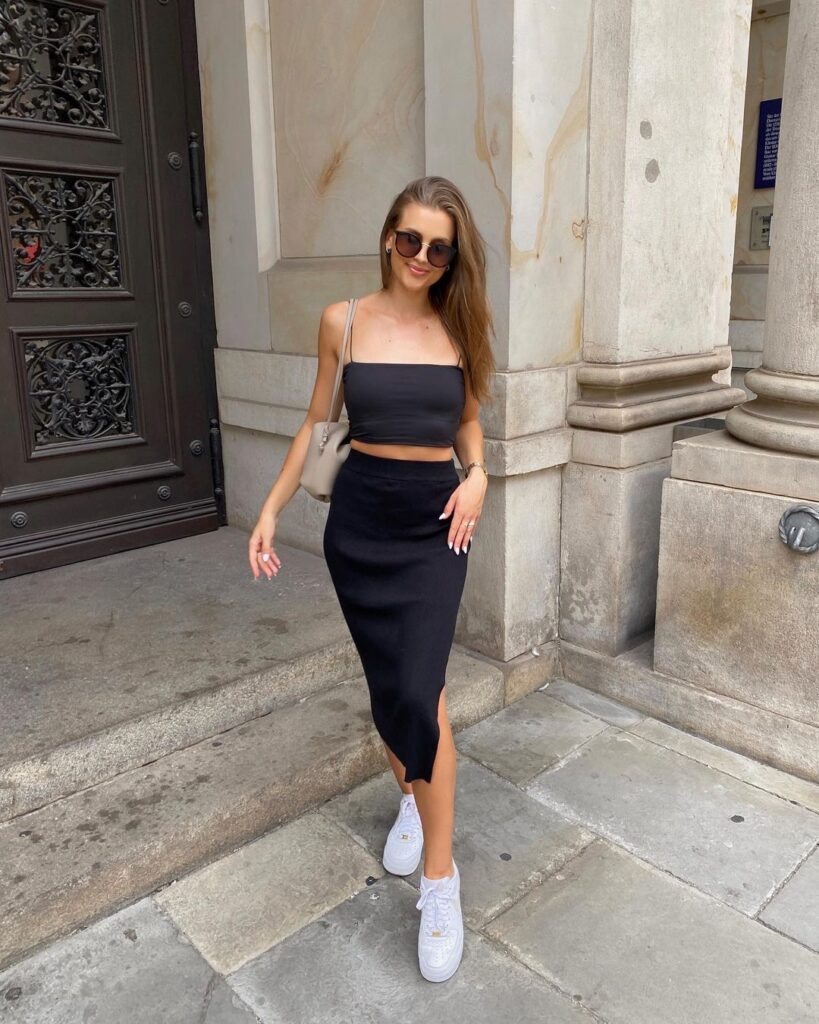 19 – Brown Ruched and Slit Knee Length Skirt With White Top
This white cropped top is paired with a beautiful brown knee-length skirt.
This creates a wonderful color palette of earthy tones that are really flattering on a majority of different skin tones.
This is so wonderful to wear with heels and gold jewelry that will match the mustard-colored detailing on the brown skirt.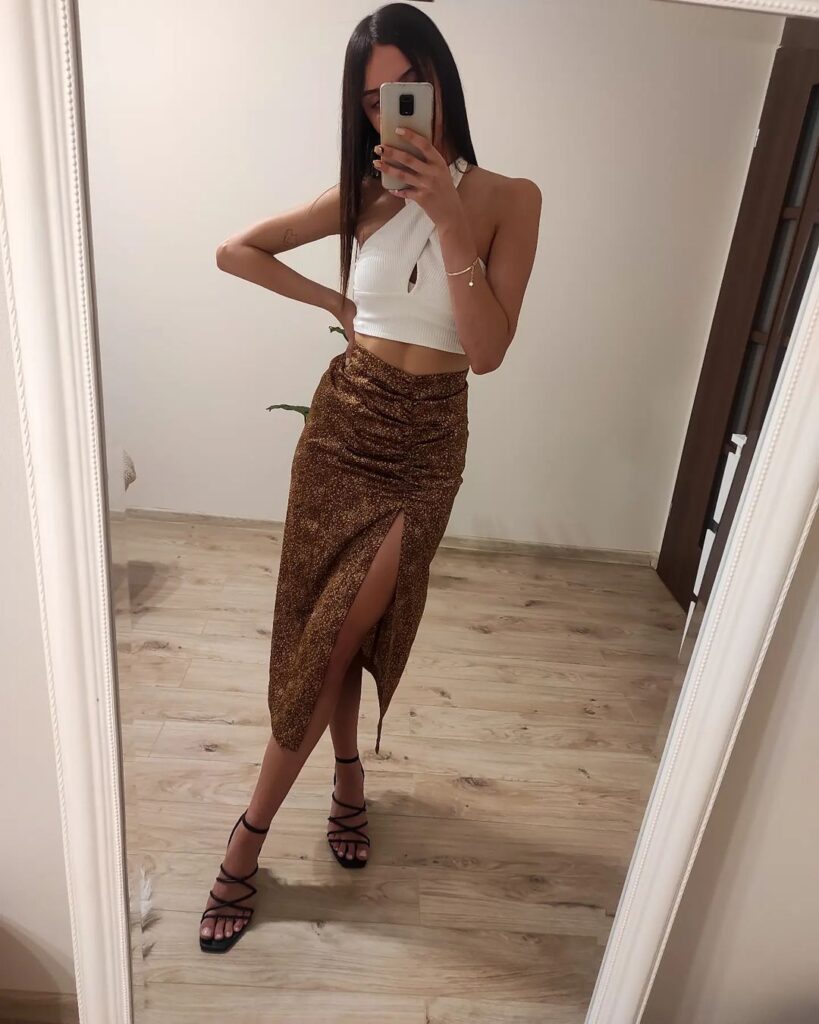 18 – Sheer Top With Black Leather Knee Length Skirt
This outfit is a very unique as it has a unique leather knee-length skirt that is beautifully paired with a sheer shimmery top. Sheer outfits like these are perfect for clubbing and partying.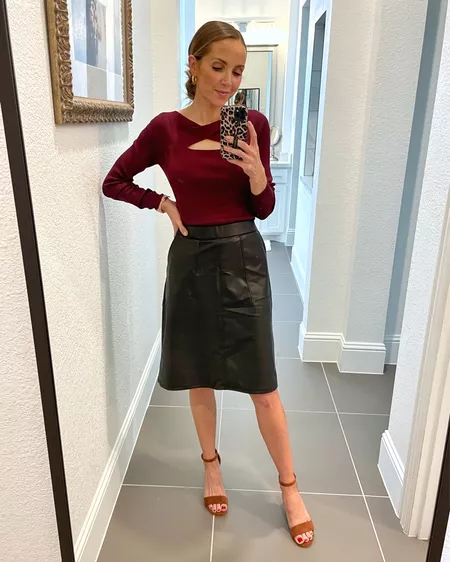 17 – Animal Print Slit Knee Length Skirt With Beige Top
This outfit is made of a neutral color palette that consists of an animal print knee-length skirt that is also slit.
The base color of the skirt is matching with the ribbed sleeveless top to create a coherent look that is perfect once topped off with a beautiful pair of heels.
This outfit will definitely grab everyone's attention and is a must-try!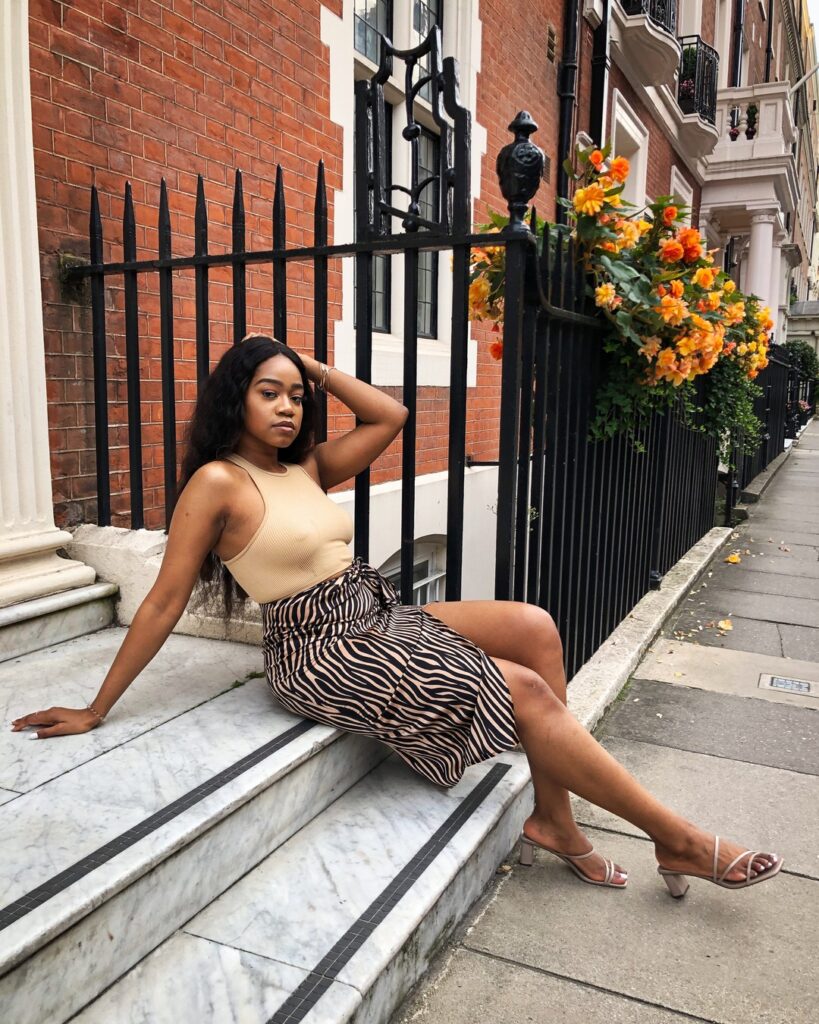 16 – Jaguar Print Pleated Knee Length Skirt With White Tee
This is another fine example of animal print being incorporated into a knee-length skirt outfit. This outfit has a jaguar print skirt which is made of a flowy crepe material.
The skirt is also pleated, which adds so much dimension to the outfit and makes it stand out even more. This is paired with a simple white tee that does not distract from the skirt and is the perfect pairing with this skirt.
15 – Bright Orange Asymmetrical Ruched Knee Length Skirt With Grey Cropped Top
This outfit is one for the books. This gorgeous orange skirt is asymmetrical and is ruched from one side which makes the bright orange color stand out even more.
The top is a grey cropped top that contrasts beautifully with the orange of the knee-length skirt to create a unique color combination that works wonderfully to flatter any skin tone!
The knee-length skirt's ruching details also make it hug the curves of the body better, making it give you the most wonderful silhouette.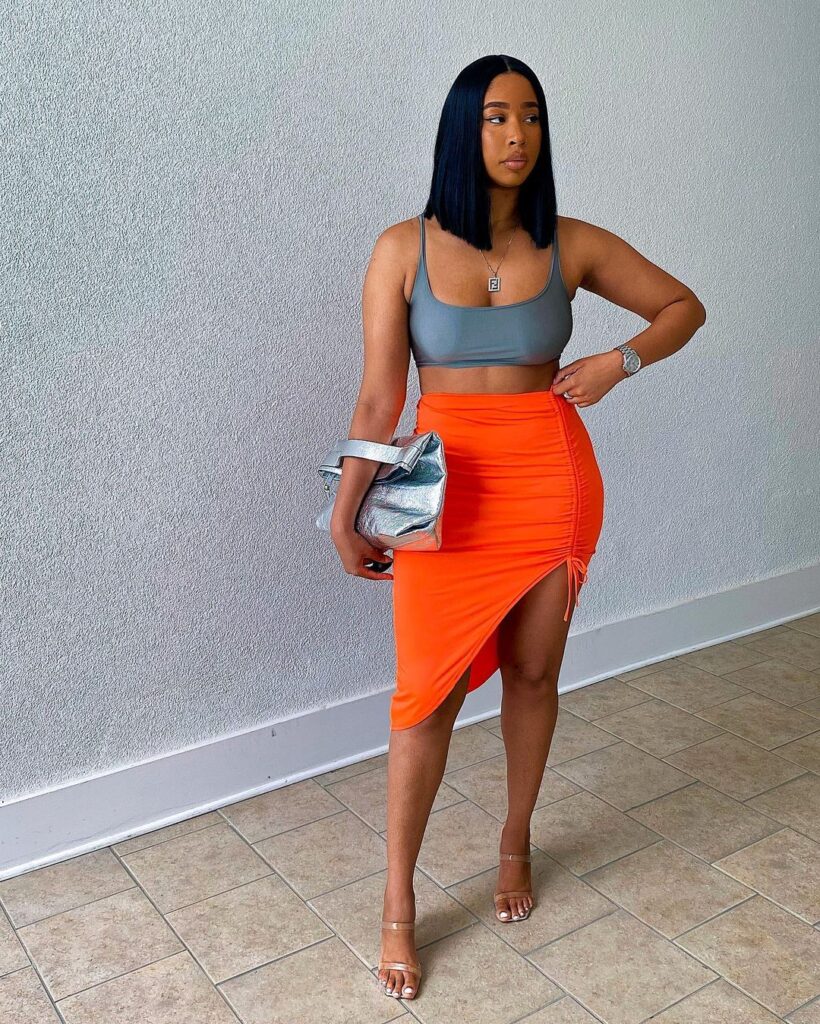 14 – White Top With Matching White Ruffled Knee Length Skirt
This outfit is a monochromatic white one. There is a ruffled, bell-sleeved, white top that is cropped and tied at the bottom. This is matched perfectly with its other half, a white ruffled knee-length skirt with white lace detailing.
The subtle tiered effect of the skirt makes it so much more interesting to look at and makes the outfit the perfect one to wear at any summer event!
13 – Brown Knee Length Skirt With Black Top And Black Shoes
Over a black base outfit, this knee-length skirt uses the color brown as an accent color in this outfit. The brown stands out against the black and creates a stunning fall color palette.
The boots complete the look and this outfit could be further enhanced with the addition of a black purse too.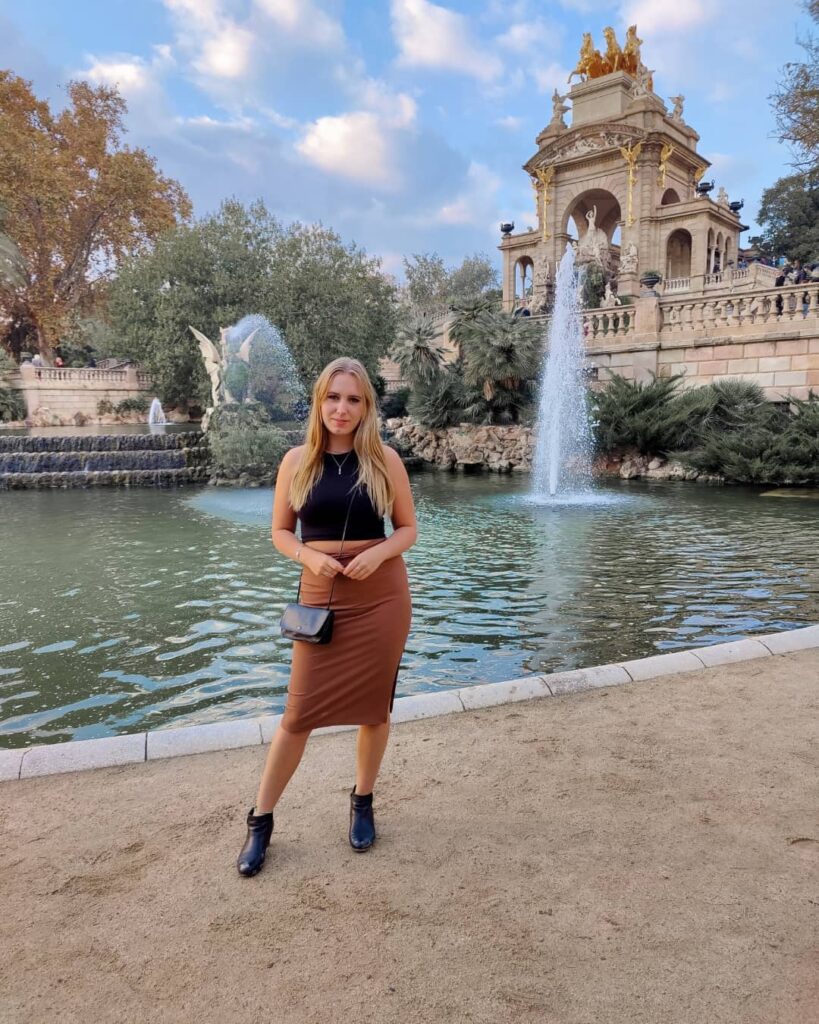 12 – Brown Cowl Neck Top With Knee Length Geometrically Patterned Skirt
This skirt is one of the most unique knee-length skirts we have ever seen. The geometrical pattern on it is definitely one that catches your eye from far away.
The brown detailing on the skirt matches perfectly with the cropped cowl neck top which is of a deep, chocolatey brown color. This look is completed by adding golden accessories like gold jewelry and golden heels!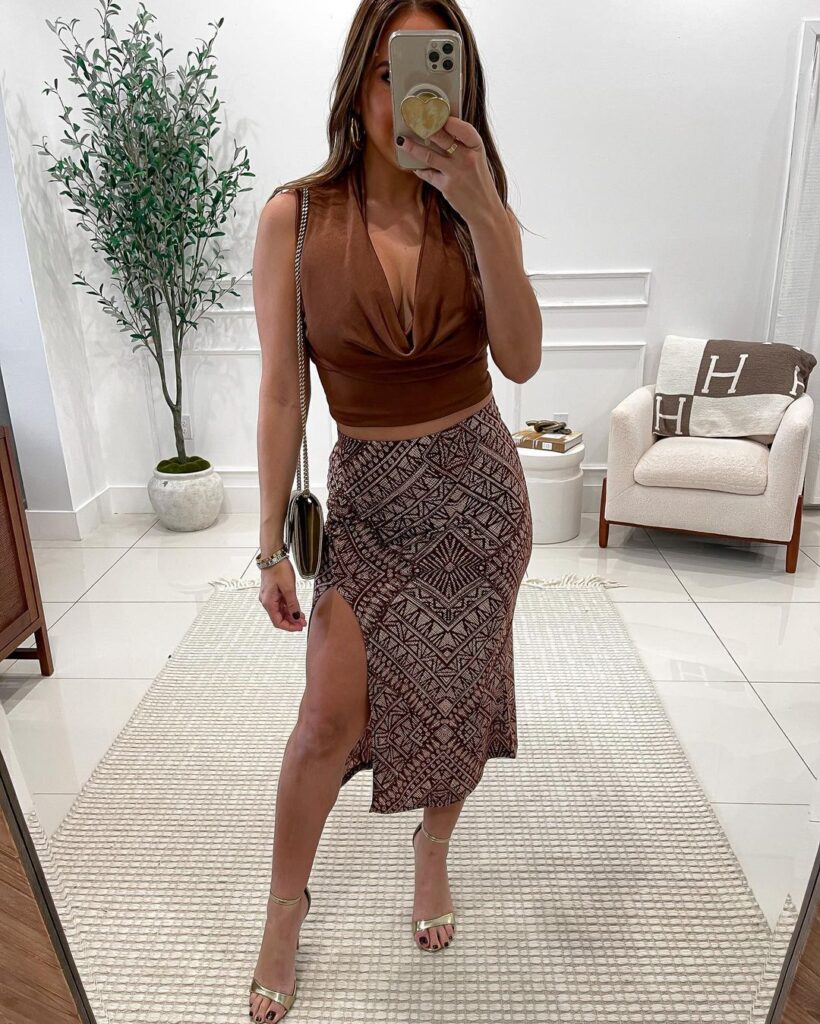 11 – Knee Length Grey Pleated Skirt With White Button Down Top and Black Boots
This outfit is a bit on the formal side and uses a grey knee-length skirt that is pleated in the front to add dimension.
It is paired with a white button-down top and the look finishes off with a pair of black boots. This can be perfect to wear for a semi-formal occasion, it is the perfect business casual look. Pleated skirts are every fashionista's go-to this season so make sure you try one too.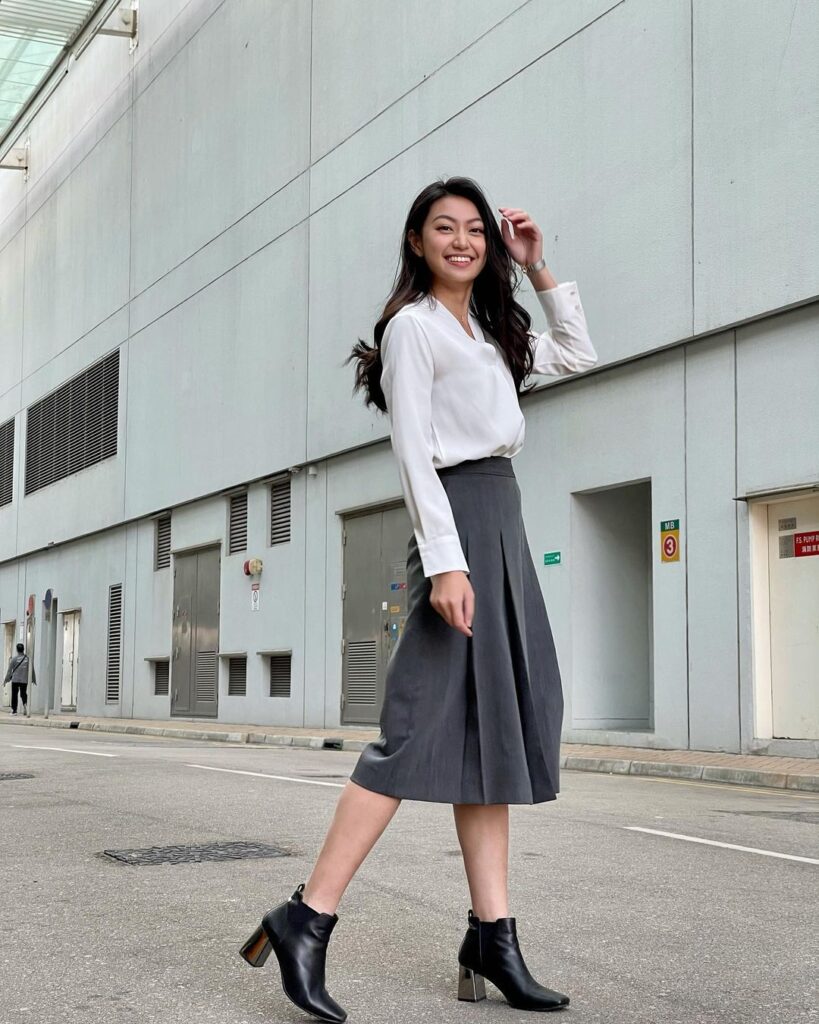 Fall/Winter Outfits with Knee-Length Skirts
10 – Knee Length Black Skirt With Cream Jumper
This cream-colored cropped jumper is paired with this black knee-length skirt to create a very minimal outfit. It's an easily accessible outfit to come up with when you are going out. This is predominantly casual but can be made more formal by the addition of heels and other accessories, such as gold jewelry and a dainty purse.
9 – Flannel Skirt With Black Cropped Top and Oversized Denim Jacket
This is a very fun skirt outfit to try when you are considering how to style your knee-length skirt. If you are a fan of having colorful outfits that are not too flashy or prominent, this one is the one for you.
The flannel skirt adds a pop of color to the outfit but in a way that is not overly flashy. The pleating on the skirt also adds a unique effect and makes the outfit more dimensional. The layering done on the upper body with the black top and oversized denim jacket completes the look.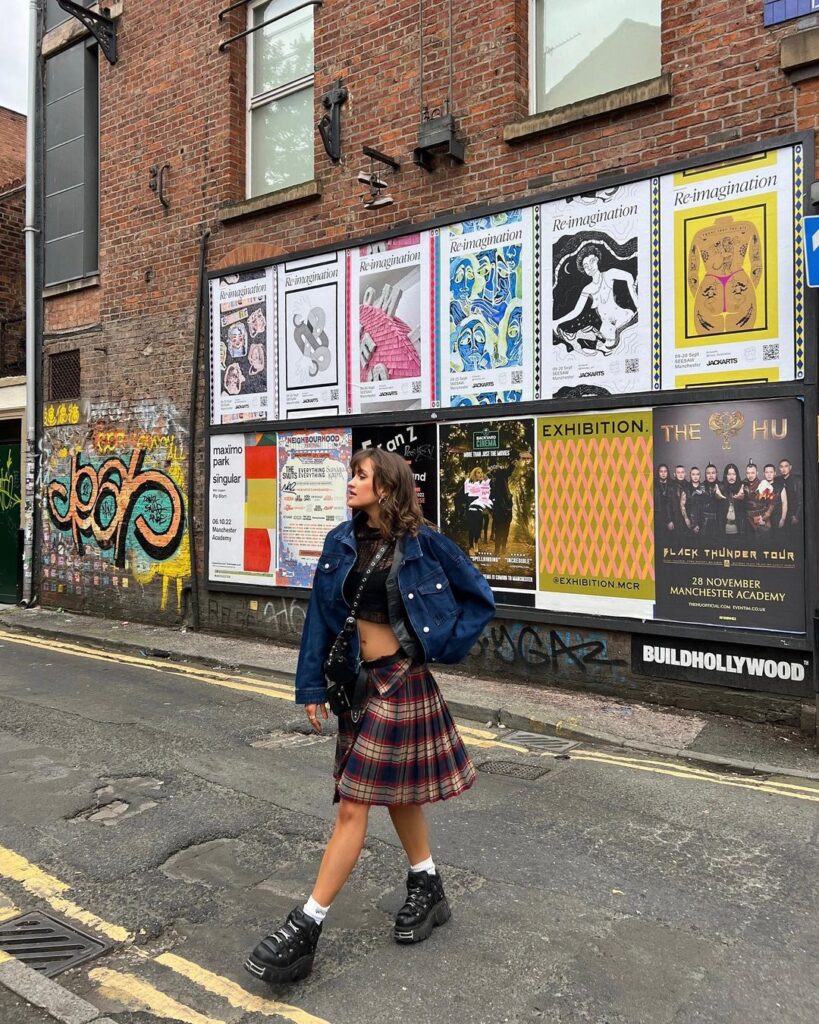 8 – Knee Length White Skirt With Black Blazer
This is a very fun take on a business casual outfit. The knee-length white skirt is tied with a slightly oversized black blazer which is layered over a black top. This outfit is perfect for any semi-formal occasion and can be dressed down further by the addition of casual shoes like sneakers.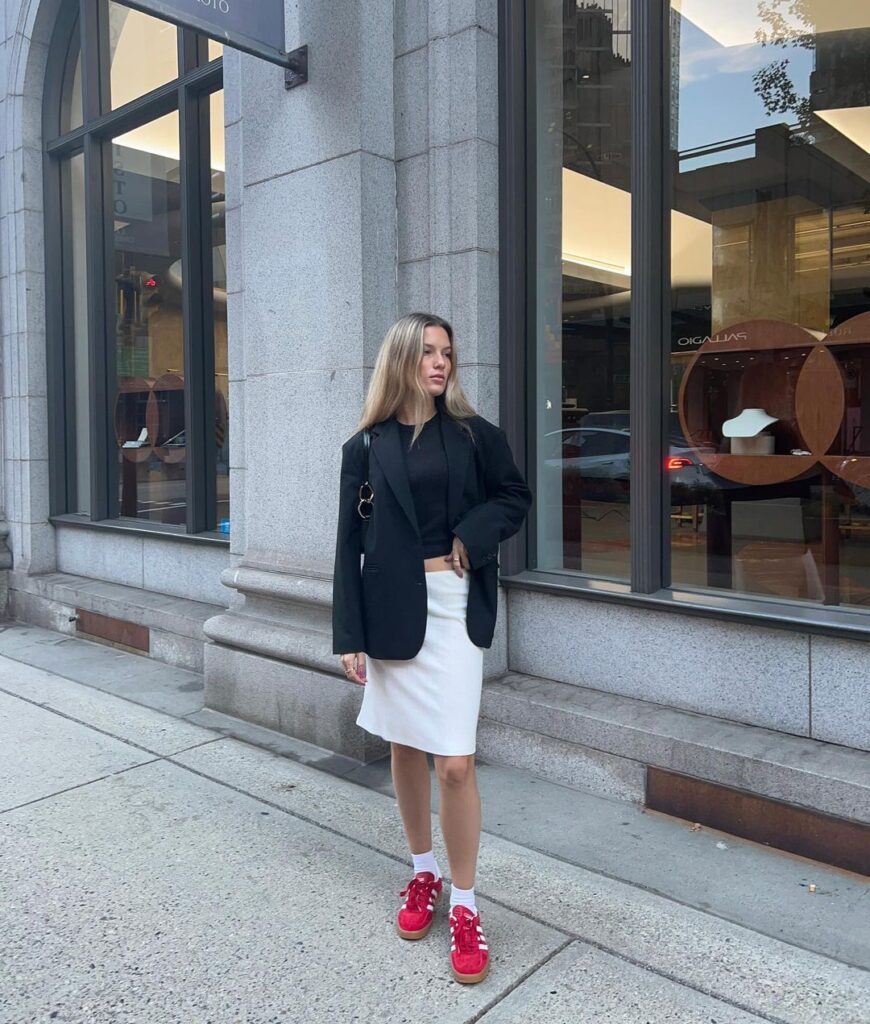 7 – White Ribbed Top With Metallic Silver Knee Length Skirt
This white ribbed top is perfect for a form-fitting outfit, and this look is based on such key pieces of clothing.
It is paired with a silver knee-length skirt which has a metallic, silvery color, which goes very nicely with the white to create a stunning color palette.
This outfit is so easy to pull off as it only contains two main components and can be paired with any type of shoe to dress it up or down.
6 – Grey Knee Length Skirt With Black Top
Grey and black always go well together, and the prime example is set in this outfit. A grey knee-length skirt is paired with a simple black mock neck top, with a leather jacket draped on the shoulders. This is one of the most stylish outfits you could wear.
To add a bit of color, opt for a colored belt such as the orange one in the picture below. This will cinch in your waist and enhance the color palette!
5 – Hot Pink Knee Length Skirt With Velvet Black Button Down
This outfit is another one that uses the color-blocking technique to its advantage. The hot pink of the knee-length skirt is worn with a gorgeous velvet black top. This creates a wonderful contrast that consists of colors that are most likely to suit all skin tones.
It one is a must-try for any special occasion. To add more spice to the outfit, opt for a colored or patterned heel like the one pictured below.
4 – Leopard Print Knee Length Skirt With Black Boots and An Off White Sweater
This outfit uses clashing patterns to its advantage. While patterns clashing can draw away from the central focus of an outfit, this one uses it cleverly to instead draw focus to it.
A white jumper sweater is worn with a slit knee-length leopard print skirt that is further paired with black boots to match the skirt's print. This outfit grabs everyone's attention and does not let go!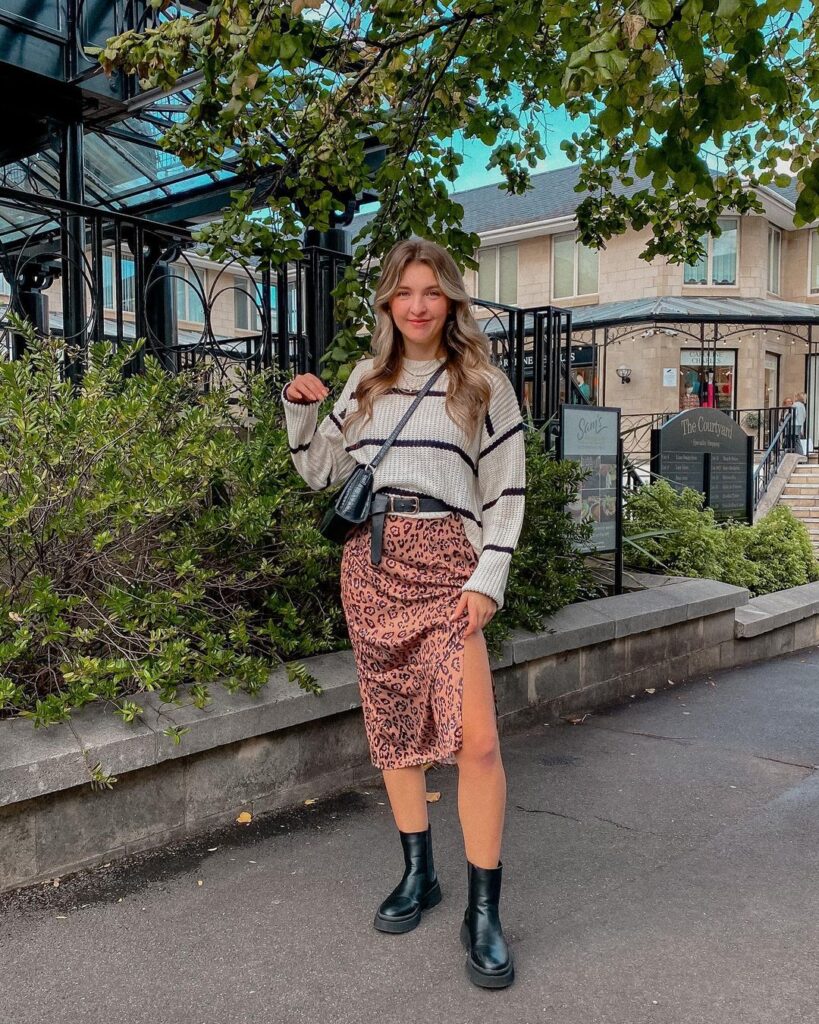 3 – Polka Dot Black Knee Length Skirt With Denim Jacket
This is a very simple option for a casual skirt outfit. A knee-length polka dot skirt is paired with a white t-shirt layered under a slim-fit denim jacket. It is so easy to pull off!
2 – Layer it with a Double Breasted Coat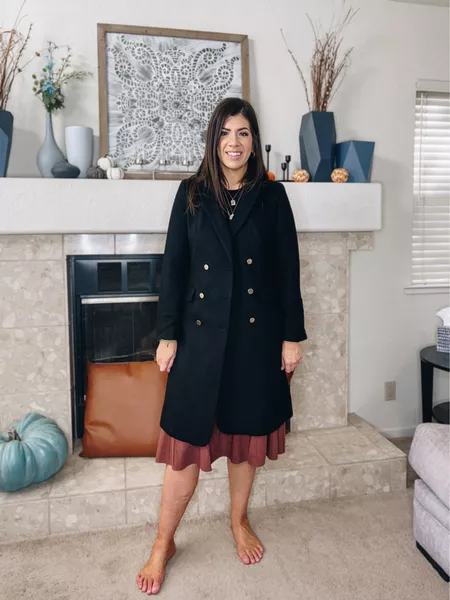 1 – Preppy Winter Outfit for College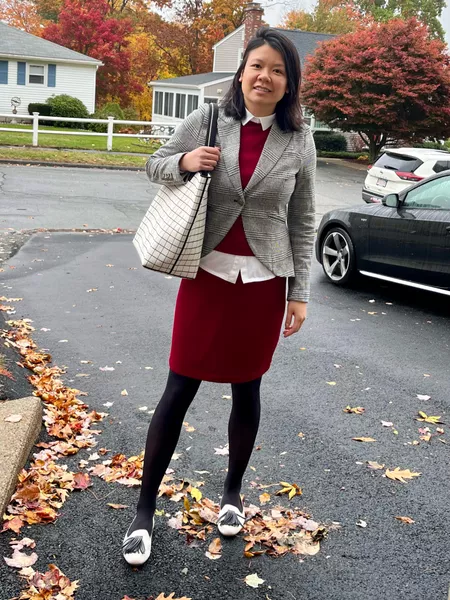 Frequently Asked Questions
Do knee length skirts need to be formal?
There is no compulsion to make knee-length skirts formal in nature. While it may sound like a clothing item that needs to be formal, it can be worn in any casual context too, especially since there are so many additional items you can pair with them and they come in so many different patterns that are perfect for casual occasions too! The choice is yours.
Do knee length skirts only look good flared out?
This is based on personal preference because knee-length skirts also look good fitted, slit, and asymmetrical too! Do not be afraid to try out all those interesting options, perhaps you will find the style that flatters your body more!