Outfits with linen shorts: Comfortable, trendy, and chic, linen shorts are a summer essential without which our fashionista's wardrobe is incomplete. A delicate fabric, linen is perfect to deal with the scorching heat while also keeping the style meter up.
Rich and fabulous, linen fabric can easily be dressed down or glammed up. A sign of elegance and abundance, linen shorts are here to take your style game from 0 to100 in a hot second. Peruse our list of some fabulous linen shorts outfits that you can try out this season and turn the streets into your runway.
How to Wear Linen Shorts?
Did you know that Linen is a highly breathable fabric that regulates your body temperature? This makes it a summer must-have for everyone. So from formal to beachwear outfits with linen shorts, we have got it all covered.
Light and breathable fabrics like linen have a tendency to wrinkle, don't stress too much, that's what gives your outfit a more laid-back and casual look.
For a more formal and clean look, iron your linen shorts when it is a little damp, and add starch for a crisper and more put-together fit.
Opt for loose-fitted linen shorts to tackle the scorching heat.
Style your linen shorts with some comfy flip-flops or espadrilles sandals for that perfect summer look.
15. Monochrome Linen Shorts Fit Styled with White Shoulder Bag
When in doubt, go monochrome. One of the easiest outfits that look so chic and trendy yet takes a minimum amount of effort is a monochrome outfit. But monochrome doesn't always have to be black or white.
Bring colors in your style and in your life, by adding this gorgeous blue linen shorts set to your wardrobe. Pair this super stylish outfit with a white shoulder bag to cut the monotony and strut. Here are some more of my favorite Monochrome Outfits for Women.
14. What to Wear with Linen Shorts for Work?
Get business ready with a chic pair of neutral-toned linen shorts and pair them with a white t-shirt and a khaki blazer for a well-balanced neutral-toned look. Sophisticated with a little bit of fun, this summer-appropriate workwear fit is perfect for our boss babes who wish to bring some sassy style to the boardroom.
Throw on your favorite pair of sunglasses, get that caffeine kick and you are ready to take on the world.
You can also do an all-white version of this outfit if you are looking for something more monochrome.
13. Linen Lounge Shorts with Casual Shirt
Style plus comfort is the memo this summer and we have got just the outfit for you that fits the bill. Perfect for a brunch date or a stroll in the mall, this laid-back yet smart outfit is a win-win this summer. With tasteful muted tones, this trendy number is best paired with a miniature bag and strappy heels.
12. Styled with Striped Top and Shacket
Looking for some vacay outfit inspo? Look no further. This fun and casual linen shorts outfit with a gorgeous striped top is both parts sexy and fabulous. Throw on a shacket for a more modest look or just roam around the foreign land in this gorgeous outfit and rock your vacay pictures.
Style it with flip-flops and a straw bag and voila, you are all done.
Via
11. Flutter Sleeve Top Paired with White Linen Shorts
We are sure this cute flutter sleeve top paired with comfy white linen shorts is going to be your summer uniform. Wear this to an ice cream party, or for a shopping spree with your girlfriends, and have a gala of a time.
Pair this with trendy white sandals, and reflectors, and pose with your favorite ice cream cone while enjoying the sunshine.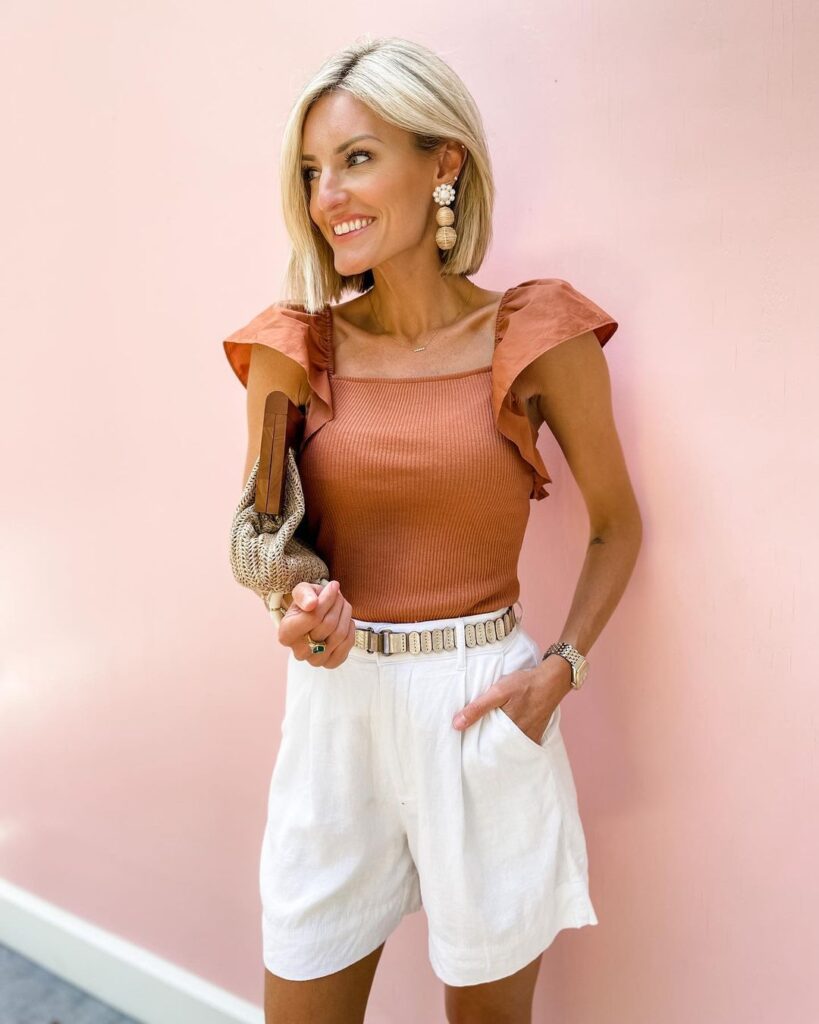 10. What to Wear with Striped Linen Shorts?
Cute, flirty, and feminine, this stylish outfit is surely going to win your heart just like it did with ours. Striped shorts gives you the added height while the off-shoulder detail keeps the look dapper and fresh. Throw your hair in a messy high bun with a floral bandana, and add on some big hoops to complete the look.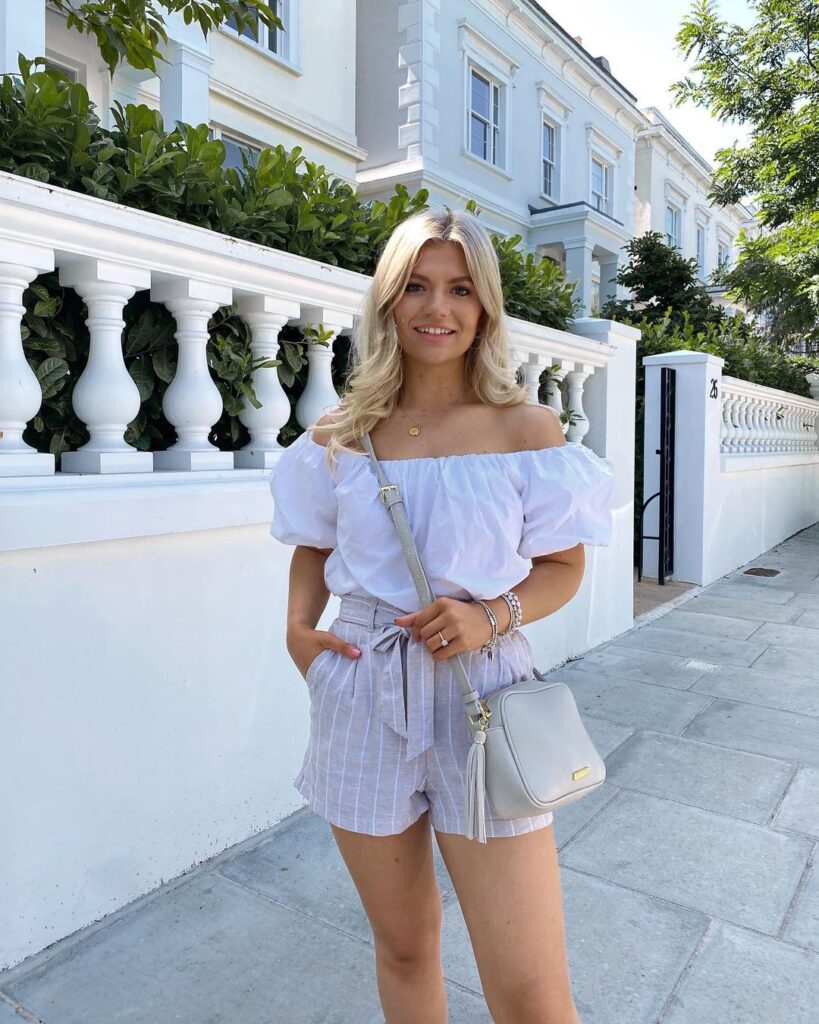 9. Linen Shorts Outfit for the Beach
Get beach-ready in this splendid outfit and tag us in your Instagram pictures. Hot, fun, and fabulous, linen shorts paired with a vibrant bikini top make for a fantastic beach outfit that you can wear to chill in your cabana.
Accessorize the outfit with some boho accessories and carry a straw bag to keep your sunscreen and sunglasses handy.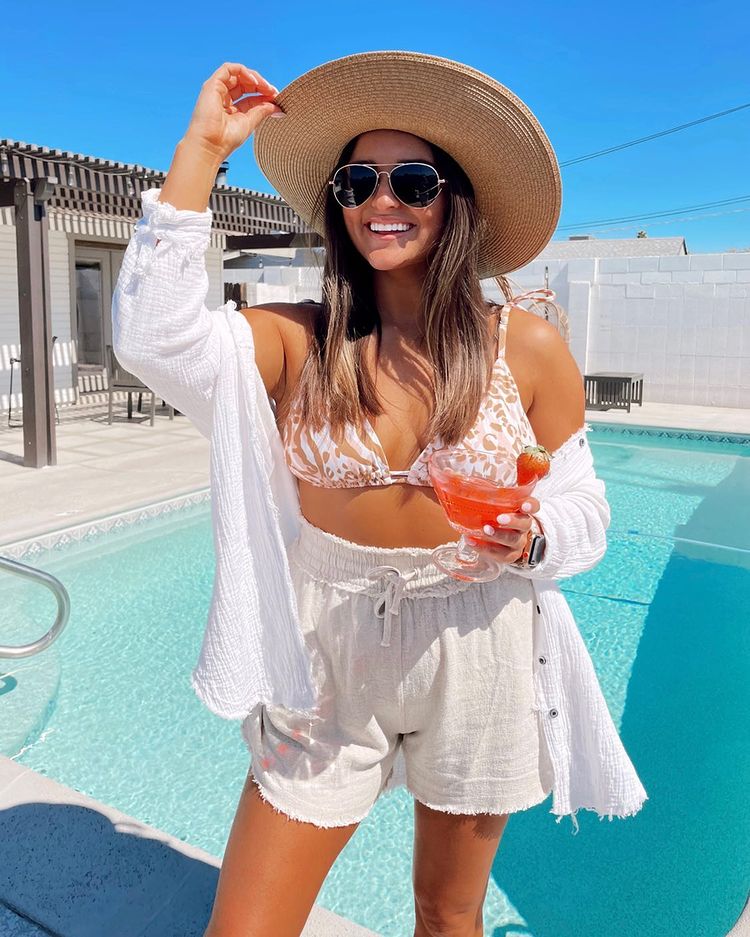 Or Pair your linen shorts with a smart bralette for a clean, no-nonsense vacay look. Here are some more
8. Dopamine Dressing with Linen
Dopamine dressing has taken the fashion world by storm and has emerged as one of the most trending styles of 2022. Full of vibrant colors, glitchy prints, and a contagious wave of happiness, dopamine dressing has turned into a way of spreading joy and filling the world with colorful vibrancy once again.
Embrace this happening trend this summer by pairing your linen shorts with a colorful tee and tons of accessories. The dainty cut-out detail will take you back to the 90s while the striking colors will make you stand out.
Style it with fun colorful jewelry. rainbow platform sandals, and a messy high ponytail to finish off this unique look.
7. Paired with Waffle Tea
A super cute and fresh outfit this pink linen short paired with a matching waffle tee is exactly the sporty yet feminine outfit you were looking for. Wear this to the club or for a match of golf. Style your hair with a contrasting maroon hairband or tie it up in a loose ponytail to beat the heat.
Tag us in your pictures and tell us in the comments below how you styled it.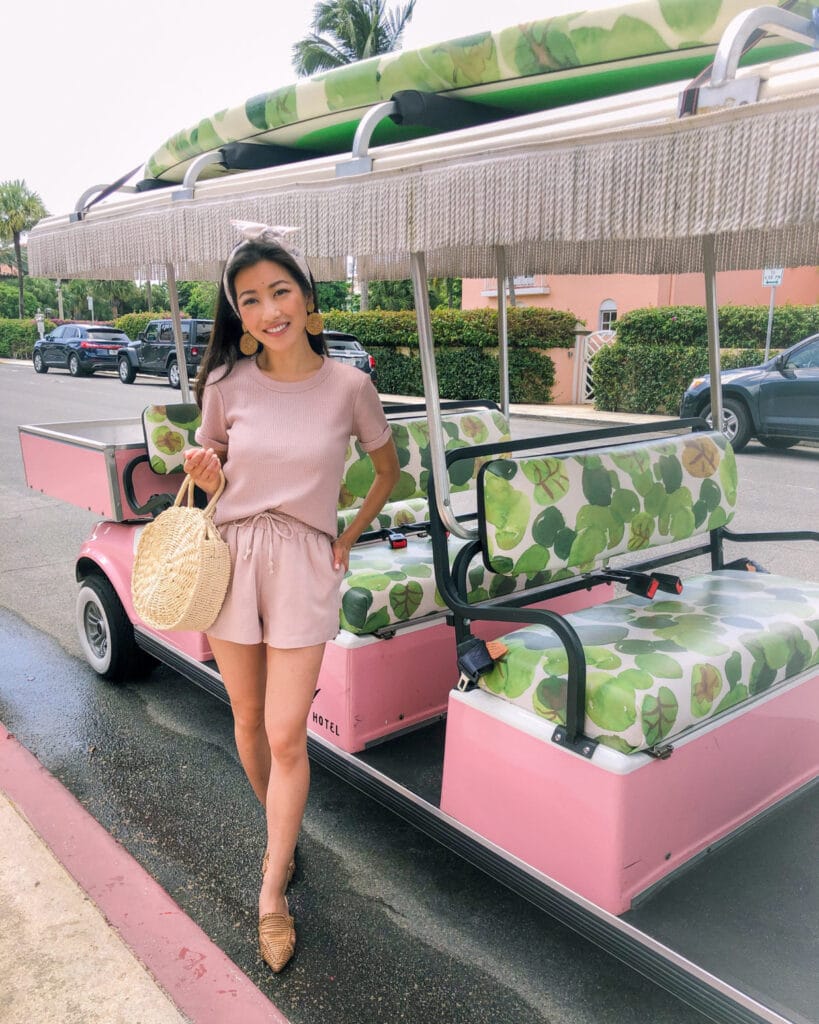 6. Linen Shorts Date Night Outfit
Who said linen is only for casual wear, turn your classic white linen shorts into a flirty and graceful date night outfit in a hot second by pairing it with a fun and chic strapless top. This top in the trending white color with statement sleeves is one of the hottest trends of 2022 and one of our top favorites.
Style it with a sleek ponytail or a side bun, throw on a pair of contemporary earrings and you are all ready to woo your man.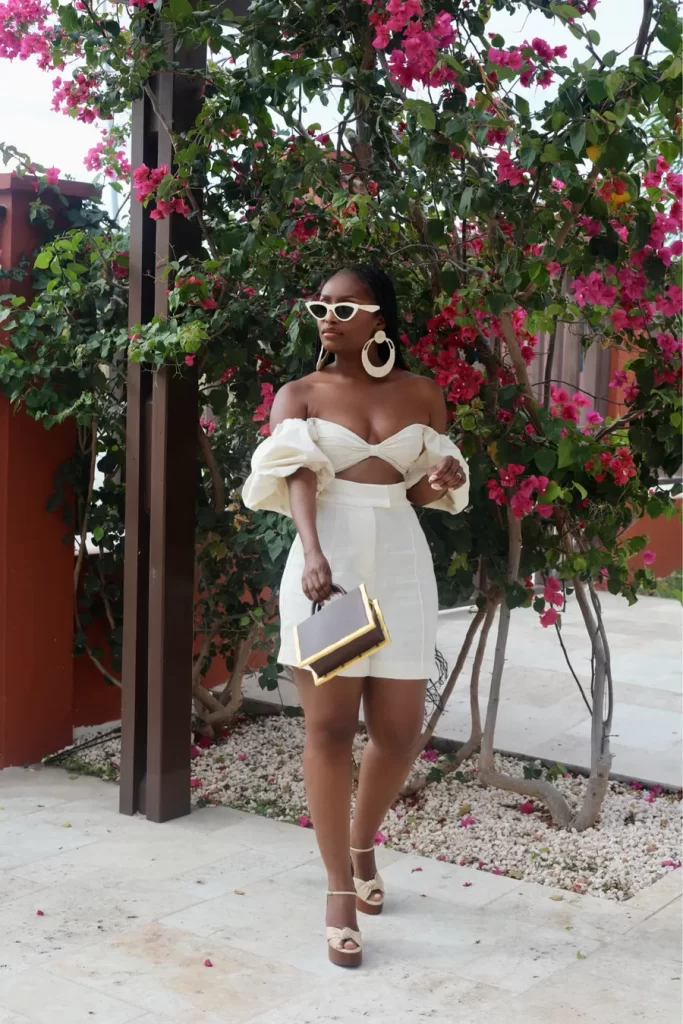 5. With a Floral Top
Just as summers are incomplete without blooms, summer outfits are incomplete without fresh florals. Add a whiff of fresh bloom to your outfit by pairing your pink linen shorts with a youthful floral top with interesting off-shoulder detail.
Casual yet fashionable, this chic number is perfect for lunch dates or for long drives with your boo. Style it with a dramatic braid and a no-makeup makeup look and you are all set to steal the show.
4. Linen Shorts Co-Ord Set Styled with Beachy Waves
This phenomenal linen co-ord set in striking leafy green is definitely not for the faint-hearted. This number is for our bold and beautiful fashionistas who have their hearts set on experimental fashion. This stunning ensemble can easily go from daytime to nighttime look with the correct accessories and makeup.
Opt for a dramatic eye and nude lip with statement earrings for a 'star of the show' nighttime look. Or ditch the bralette for a comfy tee and opt for a soft dewy sunkissed look for the daytime event.
Here are some of the Best Matching Sets Outfits.
3. Paired with a Blazer
Whoever said, 'you can't do fancy in linen' needs to speak with us. This striking pink number in airy linen has won our hearts. Sensual, hip, yet tasteful this snazzy number is exactly what you need to turn that insta feed into a fashion show.
Pair it with sleek hair and chain-link earrings for a modern babe look or style it with soft curls for a fun party vibe. Whatever your choose, don't forget to tag us in your gorgeous pictures.
You can also wear a lace crop top under the blazer for a more modest and romantic look. Here are some more tips on how to wear Blazers with Shorts.
Via
2. Bring in the Romance with this Romantic Top Styled with Linen Shorts
A super romantic and flirty outfit, this comfortable pair of high-waisted linen shorts styled with a gorgeous vintage white blouse that screams romance is perfect for a date with yourself. Wear this ensemble and go on a date with yourself.
Buy yourself flowers, dance in the rain, and fall in love with your home, city, and yourself a little more. Pair it with a contrasting hairband, your favorite book, and flowers, and your romantic aesthetic is ready to be flaunted.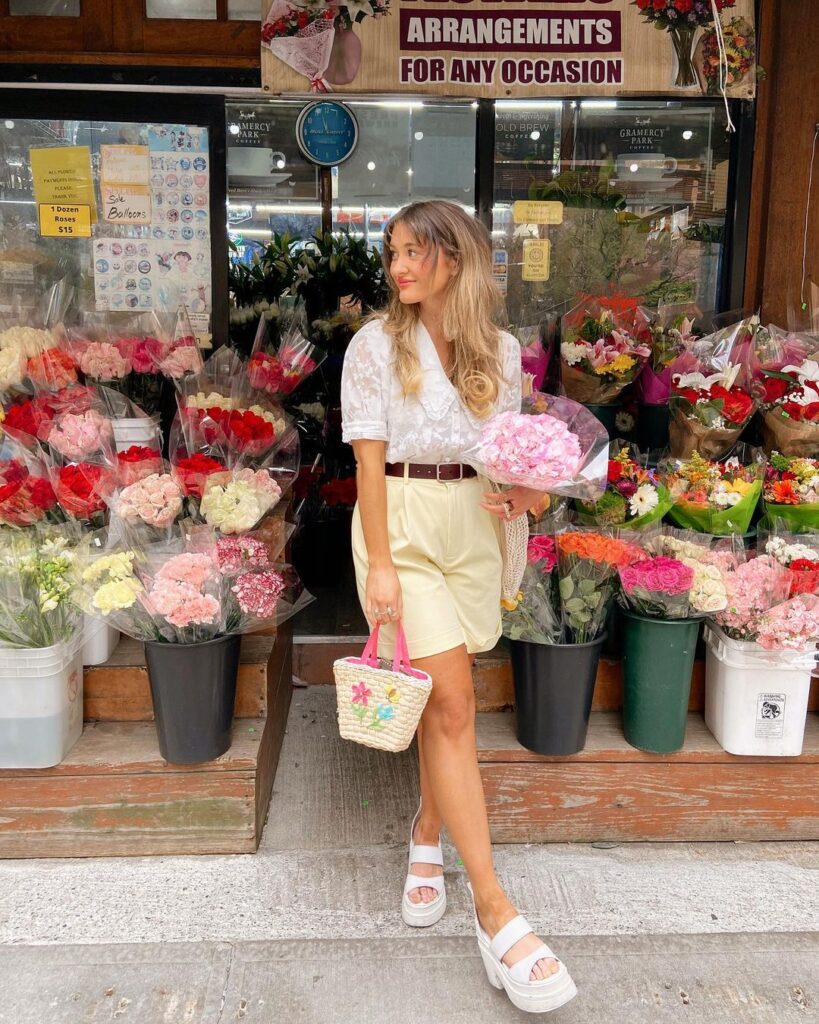 1. Styled with One Shoulder Top
Live your Parisian dreams with this splendid influencer-approved outfit and turn your streets into your runway. Effortless, chic, and regal, look like a million bucks in this oh-so-stunning ensemble which is easy to carry and looks fabulous in the summers.
A bit on the dressier side, this outfit is for all those who love a little extra, and dress a little extra. Style it with dainty gold hoops and pendant, a rose gold watch, and dazzle.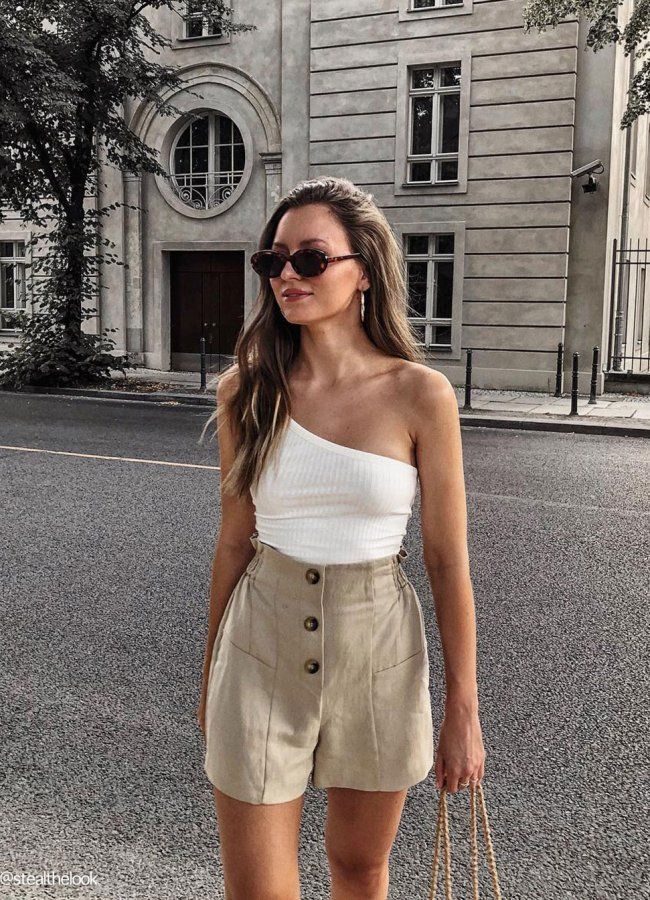 Frequently Asked Questions
Q. What do you pair linen shorts with?
Linen shorts are a versatile piece of clothing that should be in everyone's wardrobe. You can pair it with a casual shirt for an easy-breezy look or style it with a tee and blazer for that perfect office wear outfit. You can also wear it with a cute crop top with statement sleeves for a sexy date night outfit.
Q. How to wear high waisted linen shorts?
One of the comfiest of shorts, high-waisted linen shorts go perfectly well with crop tops and tube tops. Or you can style them with a vintage blouse with romantic neck details for a soft-academia aesthetic.