Baby Blue Dresses: Baby blue is the most versatile and easy color to work with when it comes to dresses. Be it flared formal dresses to flowy floral summer wraps, baby blue is a color that everyone must have in their closet!
It's a color that brings youthfulness and freshness to your outfit making your aura seem calming and approachable. You could wear it to a formal business meeting or a picnic with your friends, it can work for any event imaginable! It works for all skin tones, accentuating it and bringing a youthful glow to your skin, no matter what the season: both warm and flowy dresses look good in baby blue. This year, make blue your color!
In this article, you will find inspiration for different styles of baby blue dresses, both formal and casual, along with matching pieces you can add to glam up your baby blue outfits. You will also find how to create a put-together look with everyday baby blue pieces!
What To Wear With Blue Dresses?
There are unlimited options to style baby blue dresses and you can create a range of outfits, both casual and formal, for almost any occasion. You could keep it simple and stylish with a dress and minimalistic matching jewelry to compliment the baby blue. Another option could be to pair a dress with white trousers for a beautiful combination to accentuate that blue even more.
A blue bodycon dress can also be paired with lace-up heels or boots for a cool night-out outfit. There are also countless options of shoes to match or contrast with a baby blue outfit that can bring another element to add dimension to the overall outfit.
Tips on Styling Baby Blue Dresses
Pair it with white! White is a color that goes best with baby blue, accentuating and adding beautiful details. White could be incoporated with lacey pieces, white embroidery and even white accessories.
Don't be afraid of a little sparkle. Incorporate statement pieces with shiny or glittery baby blue pieces, for example a metallic baby blue skirt! It adds dimension to your outfit and makes you stand out in the crowd.
Dramatic ruffles and flares never go wrong! Opt for baby blue pieces with long flares and ruffles to spruce up what could be a basic plain baby blue piece. A little texture in your outfit is always flattering on all body types.
Be bold with patterns! Choose baby blue pieces with pattern details such as polka dots or printed navy flowers. Even a simplistic gingham pattern can do wonders to elevate the baby blue.
20 – Printed Skirt With White Tanktop For Summers
A simple option that anyone can pull off: a baby blue gingham skirt tied with a white tank top. It's so simple, but the perfect outfit for a picnic date. All outdoorsy girls would love to have this in their closet!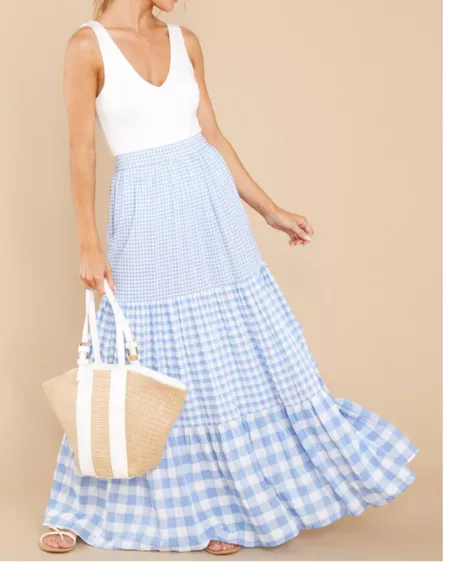 19 – Sheer Summer Slit Dress
This chiffon dress is so adorable for a cute date especially paired with some accessories. The flattering slit will suit all body types too! Sheer outfits like these are also a great option for parties or semi-formal wear.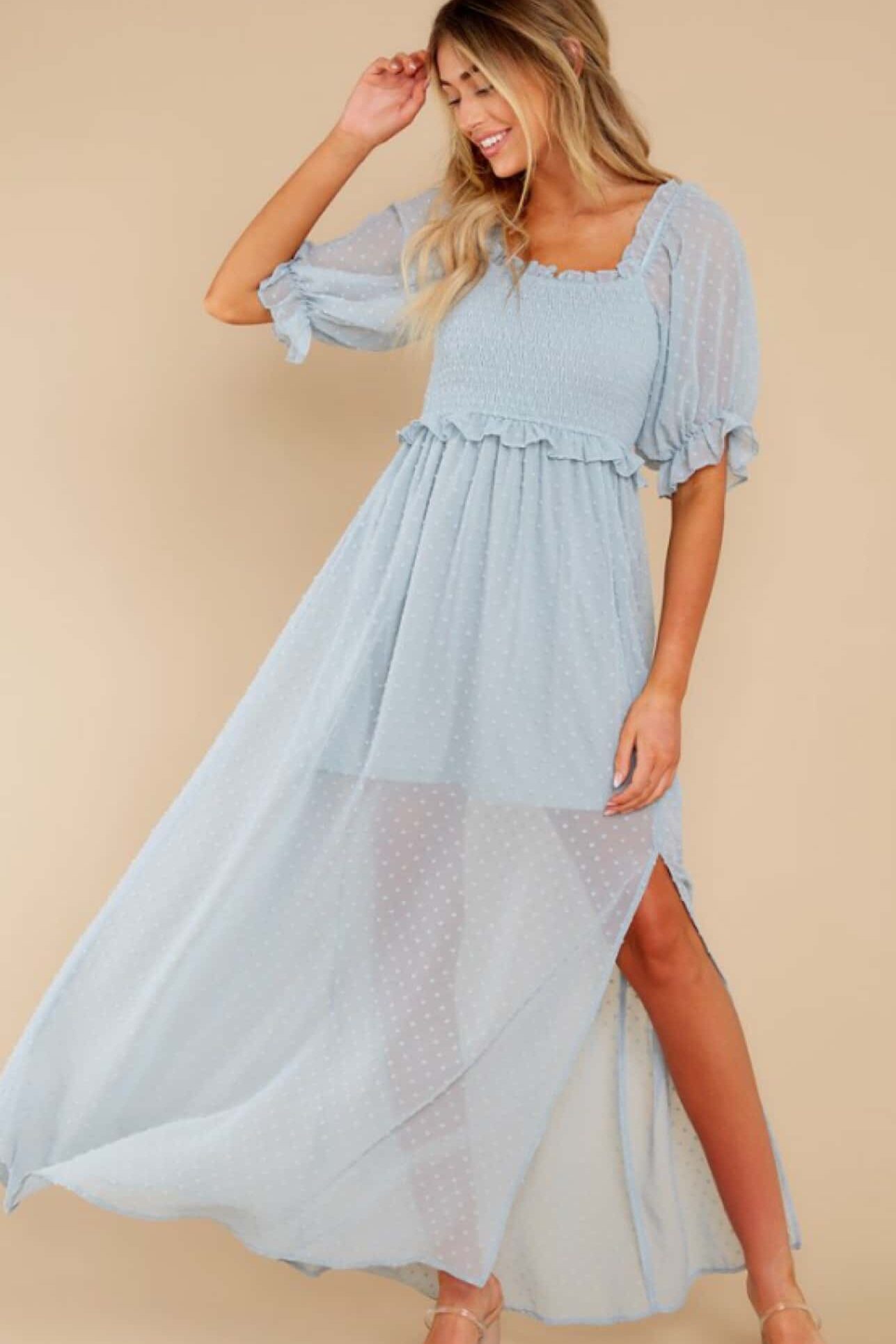 18 – One Shoulder Bodycon Dress
This beautiful simplistic dress is the perfect wedding outfit as well as party outfit! The funky neckline adds dimension to the outfit and gives it the touch that will make you stand out.
17 – Off Shoulder Mini Dress With Cowboy Hat And Comfy Heels
This off-the-shoulder dress is brimming with styling potential. It can be paired with countless accessorizing options and is perfect for almost any occasion!
16 – Blue Plaid Print Picnic Dress
This mini baby blue summer dress is perfect for picnic dates, especially if it's paired with white chunky sneakers like Nike Air Force 1s. Cinched at the waist and flared at the bottom, this dress can be pulled off by anyone as it is so flattering. Paired with block heels this dress can also create a semi-formal look, perfect for a cute dinner date, hence proving that baby blue can work anywhere!
15 – Blue Polka Dot Maxi With White Heels
You know we love polka dot outfits – for a casual and whimsical look, check out this baby blue airy dress, perfect for a boating day, or a fun day on the boardwalk next to the beach. This simple and minimalistic sleeveless dress, with the mock neck, is versatile and can be styled up or down, depending on the accessories. Pair it with chunky white sneakers or delicate white heels, this dress will go with anything!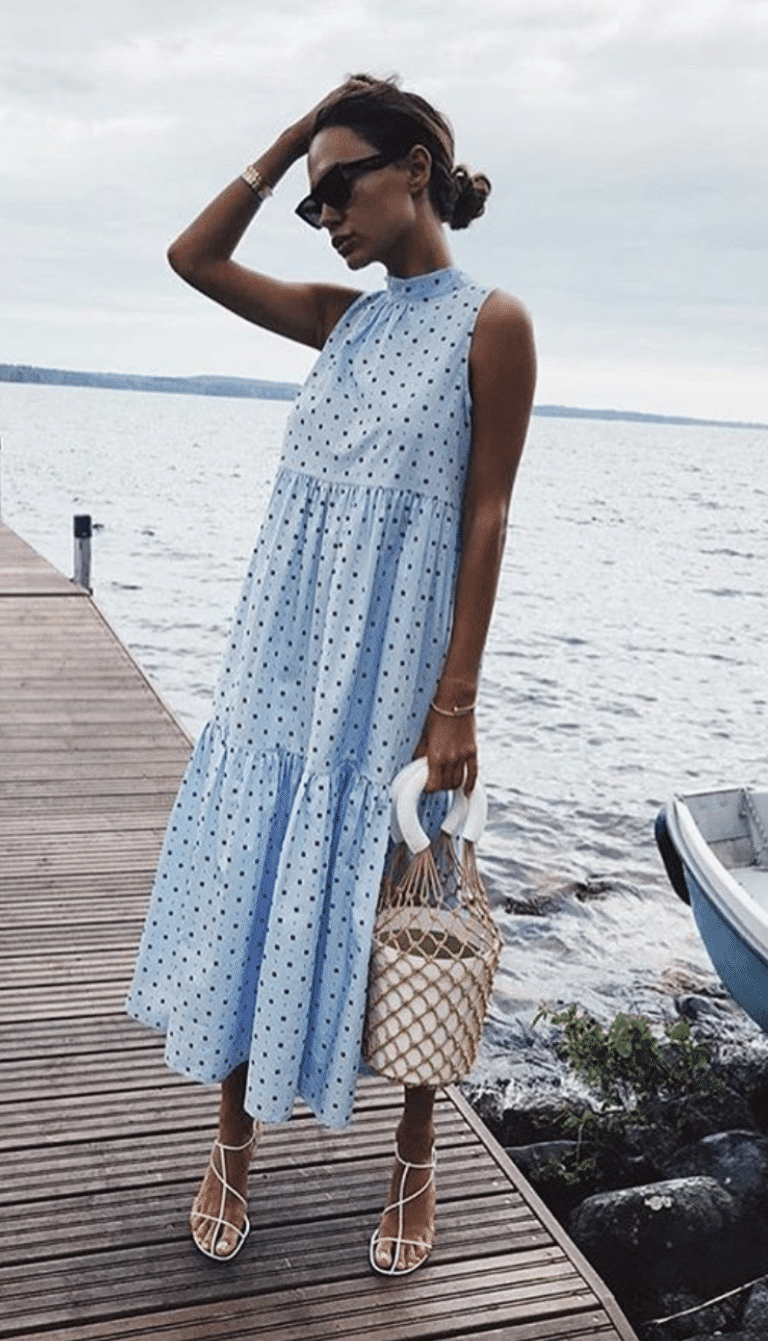 14 – V Neck Summer Frock For The Beach
This dress is with the adorable lace schiffli detailing, white tassels, and flared long sleeves is the perfect fit to enjoy a sunny day at the beach! Put on your sunscreen, grab your sunglasses, and your favorite knee-length baby blue dress. It's time to enjoy summer with this beachy-colored v-neck dress.
13 – Wear A Sweater With A Floral Maxi Along With Sneakers
Another interesting way to style a floral baby blue dress would be to add a matching sweater on top. This is perfect for days when it gets chilly, so you don't have to abandon the elegance and the grace of the dress, and you can still stay warm. Layer some silver necklaces over it and add some shiny sneakers to match, and you have the perfect outfit for a day out with your friends. Simple but stylish!
12 – Sequins And A Tail For Prom
What can be more perfect than sequin outfits for prom? Accentuate that beautiful baby blue even more by adding a dramatic extension to your outfit. To your mini baby blue dress, add a long tail of similar tulle material to drag behind you! It's the perfect party outfit – be it prom or your birthday outfit! It creates a unique and unforgettable addition to the dress along with the shimmery bejeweled top, making it so much more stunning.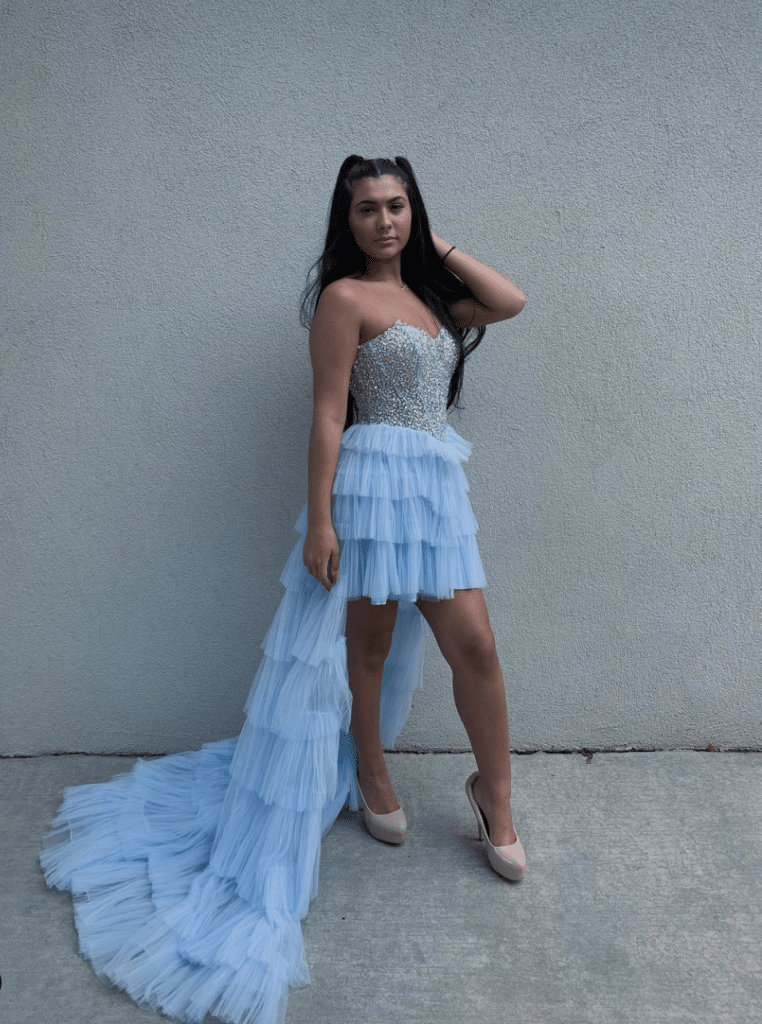 Inspired by the culture of Indian couture, here is this beautiful chiffon peplum baby blue dress, beautifully printed with blue flowers. The mini dress tied together with a matching baby blue long skirt creates the perfect dress outfit for a fun occasion (especially if it includes dancing – the flare of the dress will swish so gracefully!)
This can be worn with white flared trousers for a completely different look, but that is what is great about this top: unlimited outfit options! The fact that it is sleeveless and the sweetheart neckline gives a lot of scope for accessorizing and bringing some sparkle into the outfit, so you can let your imagination run wild while accessorizing!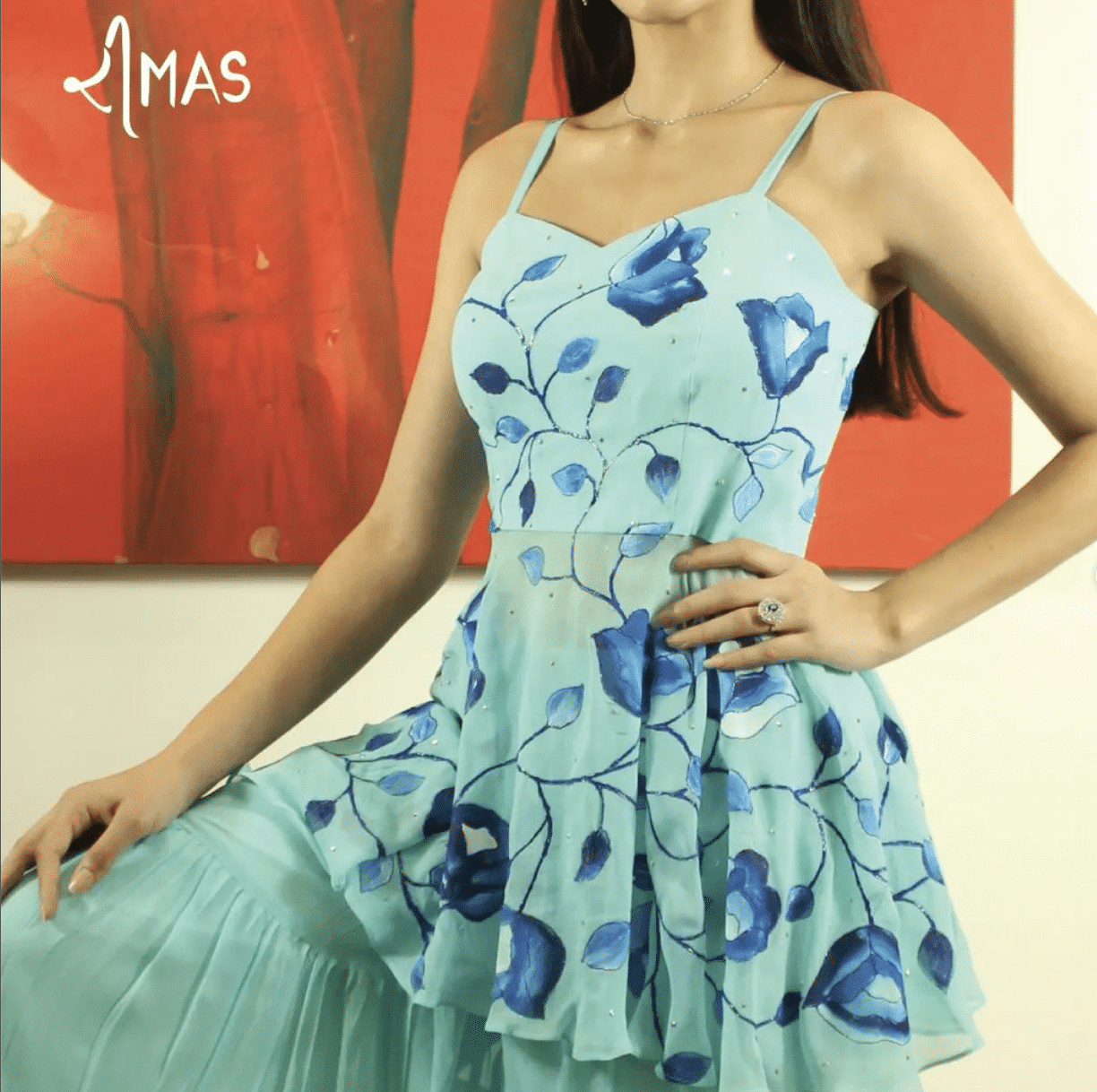 10 – Baby Blue Kaftan Dress With White Flared Trousers
Here is one way to style a dress for a formal event. Adorned with intricate pleating and a heavily bejeweled strap on an asymmetrical neckline, this dress can be paired with white flared trousers for a chic, elegant look. The batwing sleeve on one side adds dimension to the outfit, making it a unique piece.
Paired with accessories matching the accented silver of this dress creates a dazzling outfit and accentuates the baby blue, even more, making it the star of the show. This is a simple outfit, but all the tiny details make it look, designer. This is surely a piece you don't want to miss!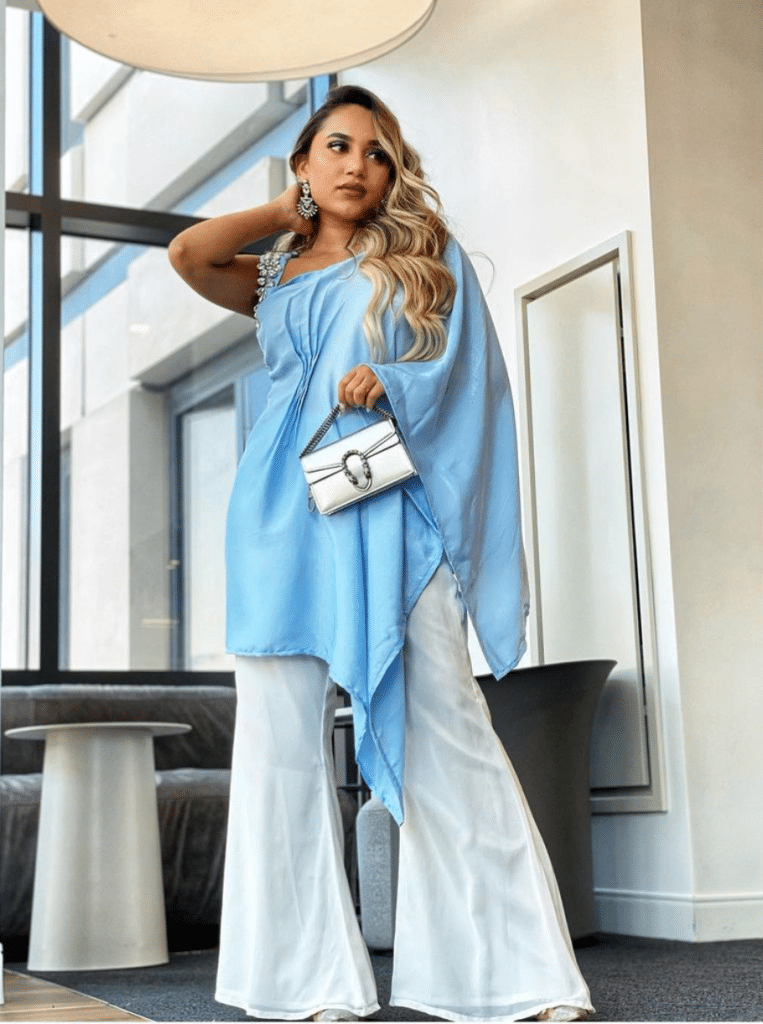 9 – Wear An Oversized Denim Shirt And Make A Dress Out Of It
Who says blue outfits can only come as silky flared gowns or sparkly bodycon dresses? Make baby blue casual, yet sophisticated with this gorgeous denim dress! Along with dramatic sleeves, and practical pocket details, this dress has a belt, which brings the whole outfit to life.
Cinching your waist, not only gives you a flattering silhouette but also gives it a feminine touch, by accentuating the dress-like features of the denim. The versatility of this dress is the best part: you can dress up by adding silver jewelry and minimalistic high heels, or dress casually in chunky white sneakers!
8 – Cutout Dress Scrunched Up From The Side
A night out with your gals? Say no more! Here is a mini dress. This dress has it all, an asymmetrical neckline, the skirt scrunched up from the side, and the glimmery sheen to add a magical glow. Wearing this, you will look as beautiful as stardust, and all the aspects of the dress add so much dimension to the baby blue color. Grab this one while you can!
7 – V Neck Cotton Dress With A Mini Bag
Here is this minimalistic sleeveless mini dress with a white border around the v-shaped neckline. This dress goes with about any type of accessories and shoes! A great option would be to match Nike Air Force 1s and a white baguette bag to create a put-together look, without any effort at all!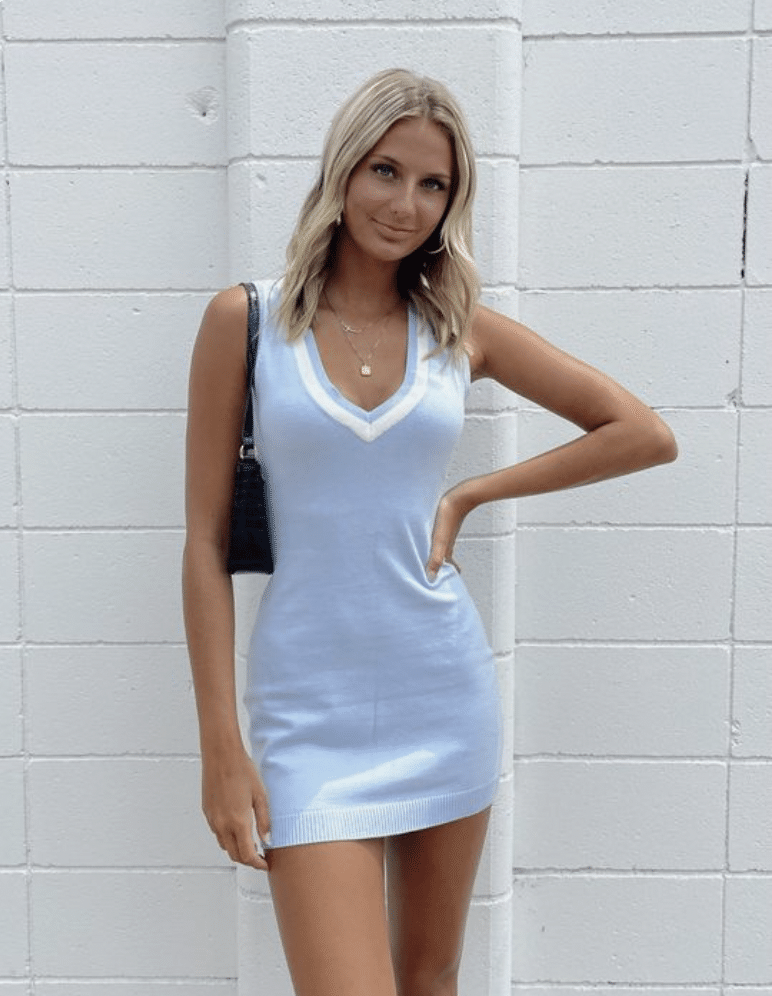 6 – White Shirt With Matching Pencil Skirt And Overcoat
For a more formal occasion, style a lace pencil skirt, with a plain white button-up shirt. To give your silhouette more dimension, jazz it up further with a baby blue flowy bolero or trench coat to create a stunning silhouette. Style this with plain white or nude heels and you will have the perfect look for a professional environment or any other formal events.
5 – Collared Mesh Dress With Glass Slippers For A Dreamy Outfit
How adorable is this sparkly, star-studded baby blue mesh dress? Adorned with delicate and subtle silver stars, this flared, knee-length dress has it all. The style of the prominent collared neckline contrasts beautifully with the delicate mesh detailing.
The gaze follows the petite buttons, down to the cinched waist which further accentuates and flatters any body type with the beautiful flare provided by the tulle layers in the skirt. This dress is every girl's dream baby blue dress, so get your hands on it as soon as you can!
4 – Plus Size Jumpsuit With Matching Pointed Toe Heels
Here's your chance to spice up that baby blue! This jumpsuit with the bat-wing sleeve will fit around your curves and bring forth your best features to really show off your body.
The subtle belt detail around the waist will accentuate that hourglass figure and the flattering cut of the jumpsuit will elongate your legs. Combined with the right pair of heels and matching accessories, you have yourself a complete showstopper outfit!
3 – Disco Skirt With Off Shoulder Crop Top And Knee High Boots
Don't have a baby blue dress? No need to worry! Pair a simple baby blue cropped top with a shiny metallic blue skirt, to create the perfect party outfit. Pair it with chunky block-heeled knee-high white boots to complete the look and get ready to party.
This is how you can create a stunning baby blue party outfit with a basic top, and create an effortlessly glam look. So simple but so stylish. The metallic and shiny mini skirt can be replaced with a plaid blue skirt and shorter white boots to make a more casual look!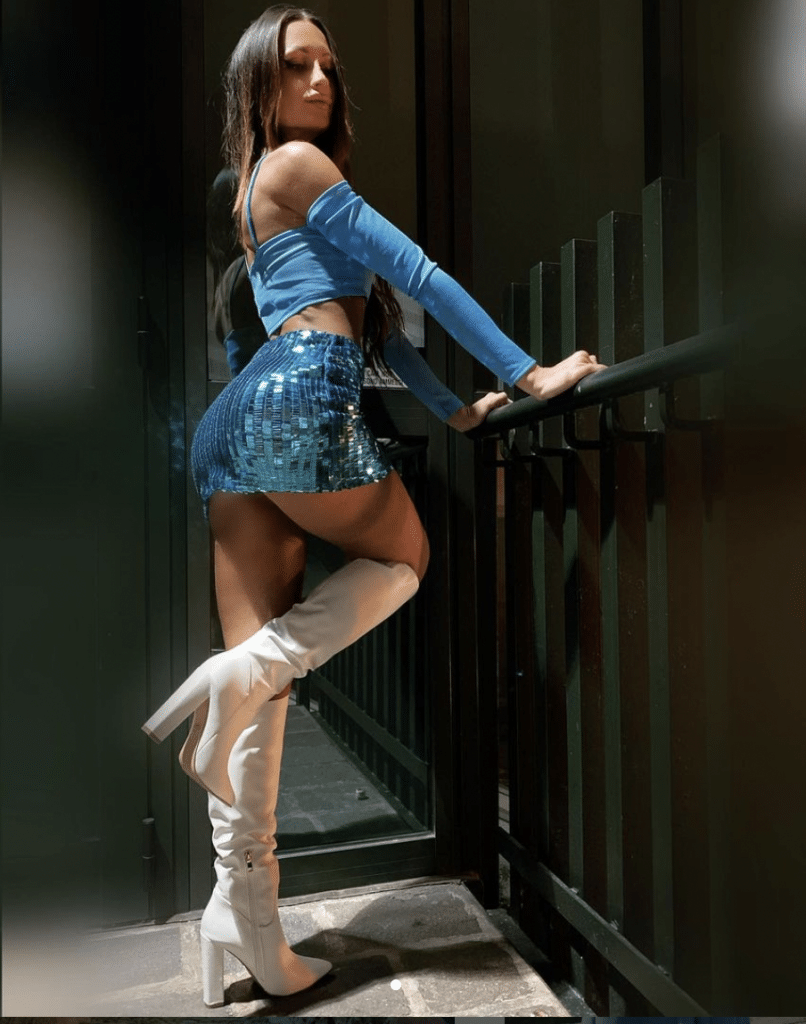 2 – Silk Dress With A Chunky Knit Sweater On Top
Another chic baby blue option would be this gorgeous slip dress. And while it would look impeccable on its own, with the silky material adding unmistakable gracefulness, adding a sweater on top makes it perfect to wear during the harsh chilly weather.
This emphasizes the versatility of this beautiful color: it works all year round, with almost any additional textures in your outfit without any harsh clashes. If you're not a fan of silk, you can opt for Blue Velvet Dresses instead.
1 – Dress With A Matching Blazer And Blue Sandals
The perfect combination of a mini baby blue dress is with a matching blazer. It gives a sophisticated and put-together look, without taking away any of the femininity of the baby blue mini dress underneath. Match the silver buttons of the blazer with some delicate silver jewelry and sandals and you have a professional-looking, yet effortlessly elegant look.
Switch out the heels with some casual sandals and grab a pair of sunglasses for a more casual and fun look.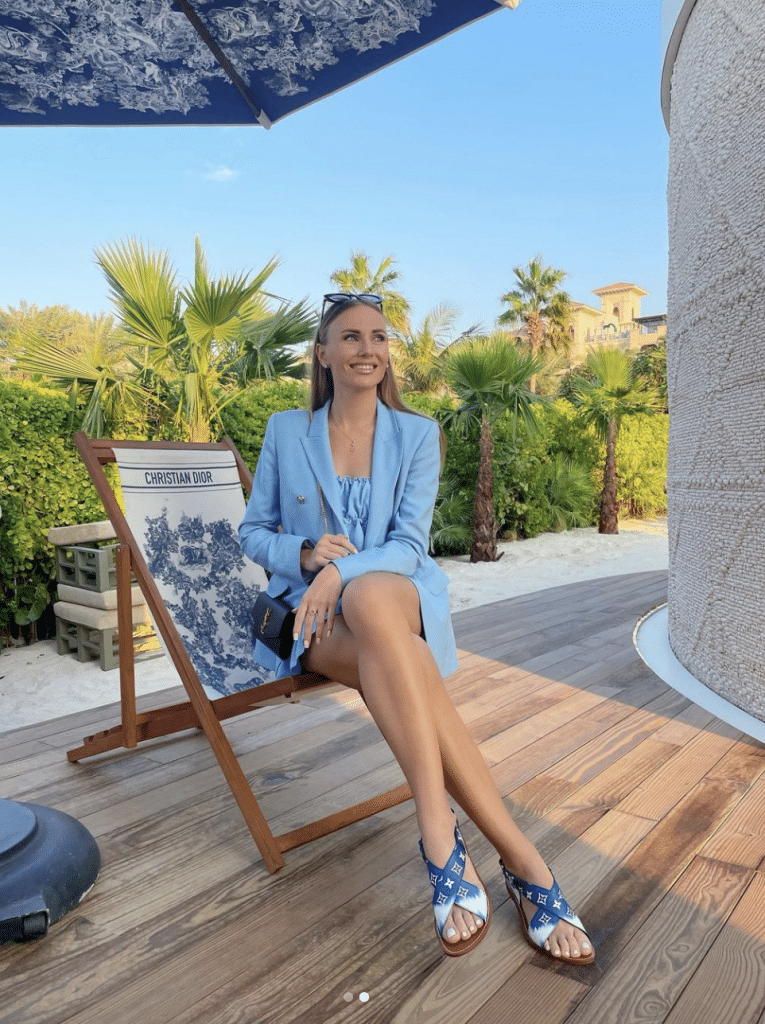 Frequently Asked Questions
Q. How do I pair the color white with a baby blue outfit? 
Ans. The options are endless with a baby blue outfit. With a white bodycon dress, you could pair baby blue sneakers and if you are going for something more formal, try accessorizing with blue heels. As for add ons to your outfit, a white blazer or a coat will look stunning and will accentuate the blue of your dress even more!
Q. How can I style a baby blue dress for a wedding?
Ans. For a wedding, you could go with a simple baby blue slip dress, perhaps with a cowl neck. If the dress is in silk, even better! Pair it with silver or white heels and matching minimalistic jewelry and you have a perfect wedding outfit! For a more unique option, you could go with a formal baby blue jumpsuit with batwing sleeves too.
Q. How to wear baby blue as a lonsleeved outfit?
Ans. Long-sleeved baby blue dresses would work perfectly to make an outfit more formal. For example, if in a baby blue jumpsuit you have batwing sleeves, they could be replaced with simple tight-fitted long sleeves for a more formal look suitable especially for a more professional environment. The same could be done with a sleeveless bodycon dress, as with long sleeves, it may work on informal occasions too.