White Bodycon Dress Outfits: A bodycon dress is something you need in your wardrobe and your life. If you don't already own a few, what are you doing? A white bodycon dress will do you lots of good. Pair it with heels or sneakers, jackets or sweaters, it'll look good no matter what. Many people prefer wearing black over white dresses but that is where they are wrong. White could be your best decision if you know how to style it right.
Bodycon dresses are ideal for parties or formal occasions and having one in white will really make you stand out in the crowd. White may seem like it is harder to take care of, which is quite true but it's really not that hard. You just need to be extra careful while eating and that's it. A white bodycon dress will make you the star of the night because not everyone has the confidence to pull off a white dress!
How To Wear A White Bodycon Dress?
You can pair a white bodycon dress with a denim jacket if you want to keep it a bit casual. Sneakers will also help you out in creating a comfy and casual look with a bodycon dress. However, if you want to keep it classy and formal then you will need to wear heels, either white or nude, with this white dress. Colourful accessories will really make the white pop and look gorgeous so don't be afraid to experiment!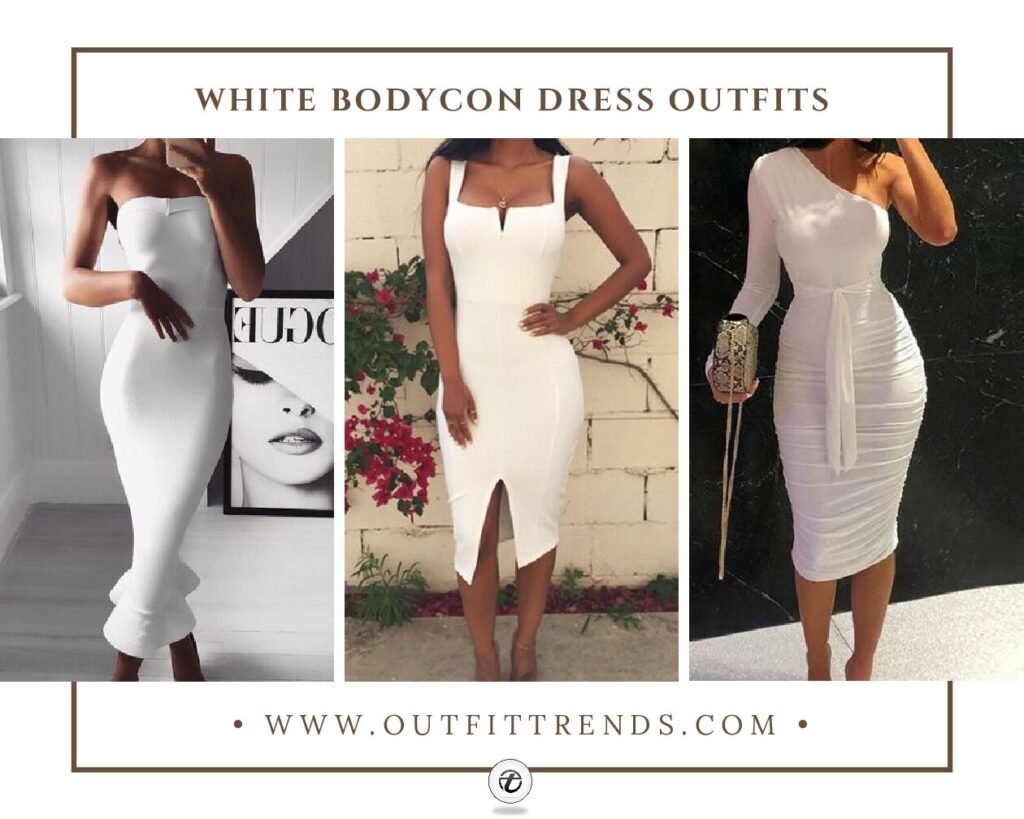 Styling Tips
• Make sure you wear shapewear with a bodycon dress to ensure everything is seamless. Shapewear will help you a lot when it comes to bodycon dresses so make sure you have some good shapewear around.
• Wear heels to create a classy look that never fails. Heels will change the look of your outfit in no time and you'll be wondering why you didn't decide to wear them before.
• Use jewellery to accentuate the beauty of your dress. Wear golden jewellery or silver jewellery and match it with your heels.
• You can also wear bodycon dresses with jackets, sweaters, and shirts, you don't always need to wear them on your own. Try to switch things up a bit.
• Experiment with wearing different colours with a white bodycon dress. Try red shoes, a red handbag or maybe blue shoes. Little changes like this make a big difference.
22 – Sweetheart White Dress
This dress will have your back no matter what. You can count on it to look good on each and every occasion. You just need to make sure you pair the most perfect heels with it and matching dainty jewellery. Don't go overboard with the jewellery as it will steal the attention of the dress then. Pointed heels will look good but stilettos will look even better. White dress outfits are easy to style most of the time. Wear this white bodycon dress to a wedding or a date night!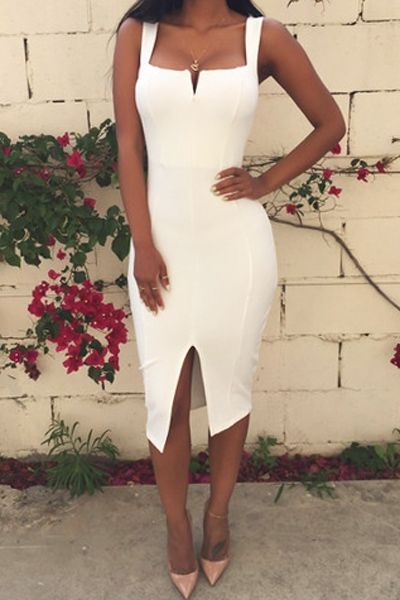 21 – Spaghetti Straps
This dress looks extremely comfortable and stunning. You might need to wear shapewear with this outfit unless you have a slender figure but that's okay too, nobody is perfect! Nude lacey heels will add to the beauty of this dress and so would a golden chain and some hoop earrings. Lather body oil on to look like you just came back from a tropical vacation.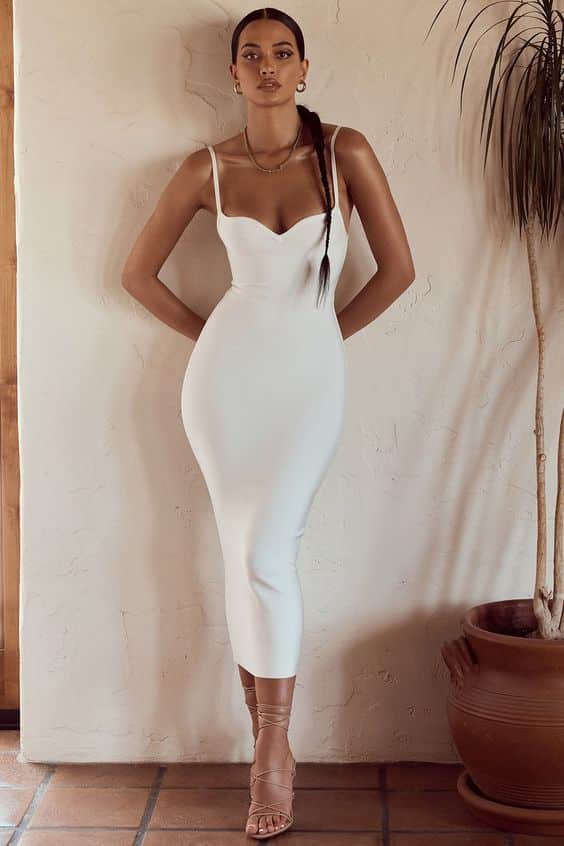 20 – White Mini Bodycon Dress
Mini bodycon dresses are always comfortable and casual but you can dress them up or down according to your choice. You can pair sneakers with this dress to go out for lunch with your besties or wear heels to go on a date with your partner. Keep it simple with the jewellery and just wear gold hoops and a bracelet.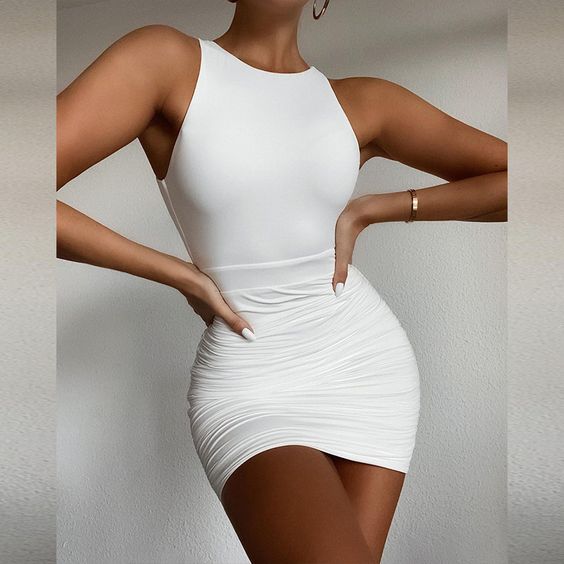 19 – With A Denim Jacket
Denim jackets are extremely versatile because they can be paired with anything and they will still look good. A denim jacket can serve as a cover-up when the weather decides to change and you're wearing a mini bodycon dress. So keep one on you just in case!
18 – A Twist Of Ruffle Trim
Dresses like this make you feel like a Disney princess. Wear this stunning dress with black heels and carry a matching handbag with it. Curl your hair for some added glam and glitz and of course, don't forget to wear jewellery because that will really bring your outfit together.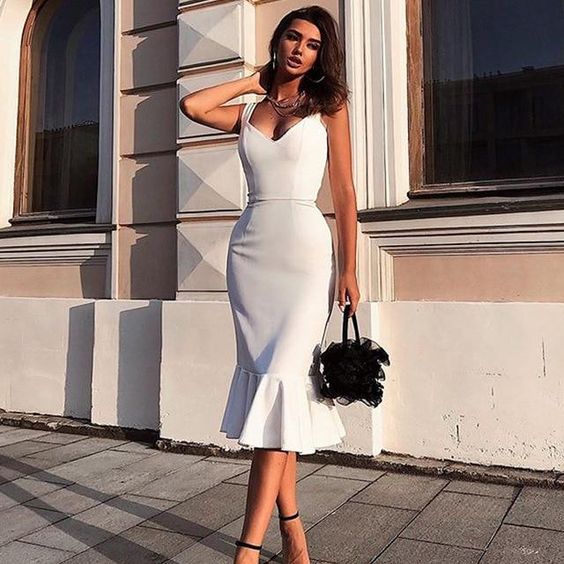 17 – Pleated Bodycon Dress
This is the perfect dress to take with you on a vacation. You will never get enough of this dress if you wear it the right way. Put your hair in a sleek bun for the perfect vacation vibe and soak up the sun in this stunning pleated white bodycon dress. Wear sandals to stay comfortable when on vacation because they'll look just as good as heels!
16 – Comfy Bodycon Dress
Why not lounge around the house in a comfortable bodycon dress? You need to try this dress because it will keep you so cosy and comfy you will never want to wear pants again. You can go out to run errands in this dress and even meet your friends. This dress is comfy, stunning, and casual all at the same time.
15 – Cute Fit
A dress like this would qualify as a skater outfit so if you are into skater aesthetic then this is the outfit for you. Try wearing this dress with ankle top sneakers and some chains. This dress is super cute and will make you feel good whenever you wear it because it's just that gorgeous!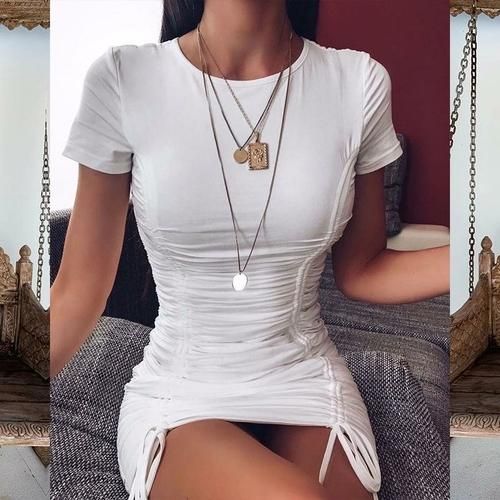 14 – Feather Galore
Need an outfit for a fun-themed party? we got you. Try this gorgeous white bodycon dress with feather detailing along the front. Pair this stunning dress with some white heels and matching white nail polish to complete the look.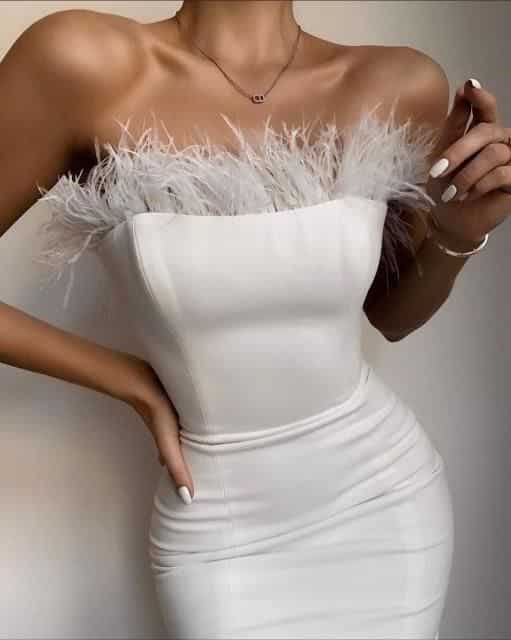 13 – One Sleeve Bodycon Dress
A dress like this will be your best friend. This one sleeve design will really bring attention to you in a room. This dress is unique and bound to impress others. The bow detail makes this dress even prettier than it already is. Pair this dress with a snakeskin print bag and nude heels.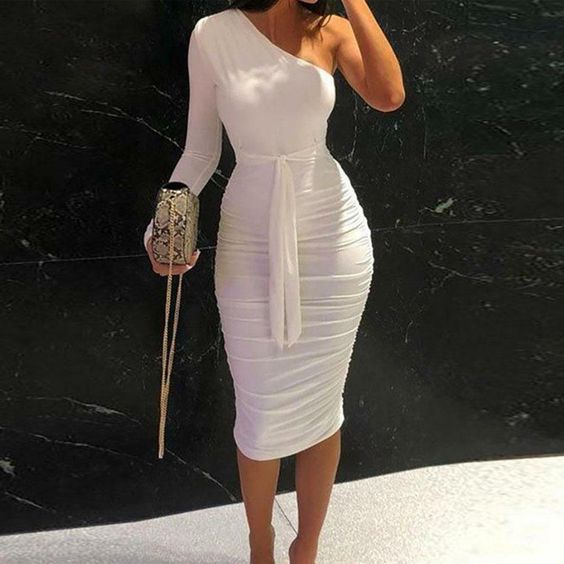 12 – Minimalist Fit
This dress is quite plain with very simple detailing yet it looks gorgeous. You should give this dress a try if you are a minimalist and don't like to go all out with your outfits.
11 – Plus Size White Bodycon Dress
Plus size women, don't worry we got something for you too! This dress will be perfect and it will compliment your body type in the best way. Put your hair up in a pony or a bun, throw on a bright lip shade, and rock the day! This outfit would be perfect for a date.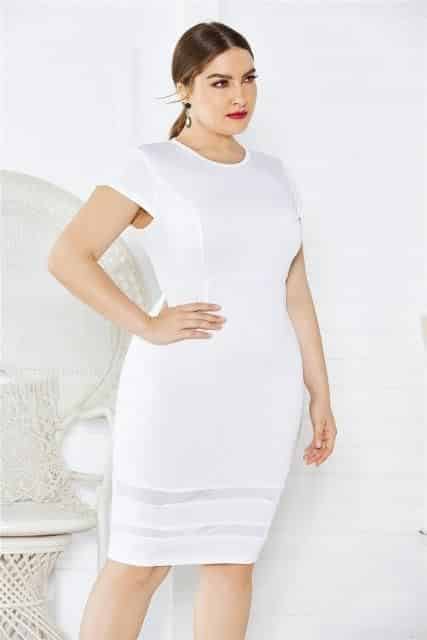 10 – Dreamy Fit
Isn't this dress just like a dream? looks like something we'd definitely wear in one of our dreams. Just too good to be true, but it is! This stunning dress can be yours if you give it a chance so try it and don't forget to wear golden jewellery with matching heels with it.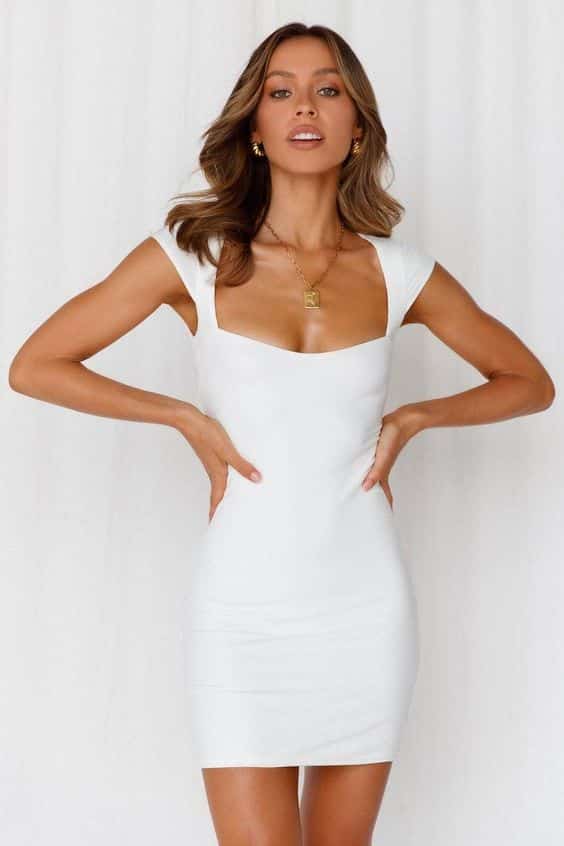 9 – White Off The Shoulder Bodycon Dress
Such dresses are quite formal and should be worn to events like prom, office events, birthdays, and parties. If you wear heavy earrings and a simple necklace with a dress like this then it will look even prettier. A matching white silk clutch would complete the look. You can curl your hair and create a smokey eye with your makeup as bold makeup looks good for nighttime events.
8 – The Aesthetic One
The aesthetic of this dress is amazing. We would definitely want this dress in our lives. This dress would look amazing on a date night so pair it with some accessories that would stand out such as monochrome heels. Always try to make your outfit unique in whatever way you can and add a bit of your authenticity to all your outfits.
7 – Collared Bodycon Dress
This design of a bodycon dress is a bit different as it looks like a shirt from the top but it is actually a dress. This dress is stunning and super cool so you can wear it with sneakers, sandals, or heels, whichever one you like. Don't forget to wear some chunky chains with this dress as they will complete the look.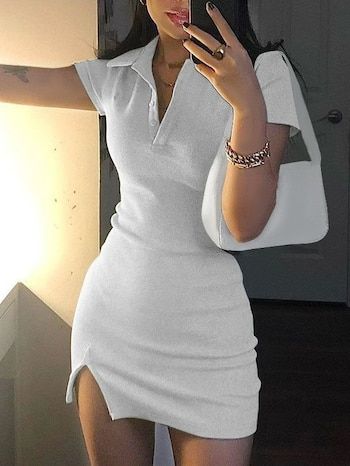 6 – Picnic Fit
You can wear this comfortable white bodycon dress to a picnic on a pretty Sunday evening because it seems like the perfect dress for that. You can pair it with sneakers as it would help create the aesthetic you are looking for.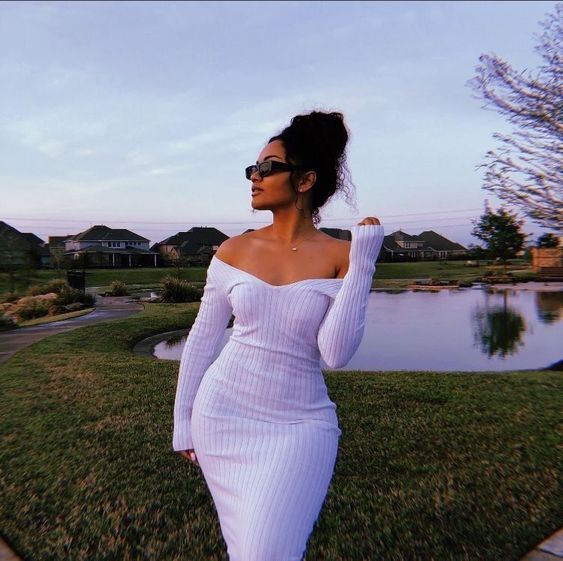 5 – Jewel Neckline
A neckline like this is found to be extremely flattering. This dress would be perfect for valentines day or If you are a single bee and you like to dress up for yourself then wear this on a night out with your girls! Don't forget to wear a pair of big hoops to make this dress look even more sultry!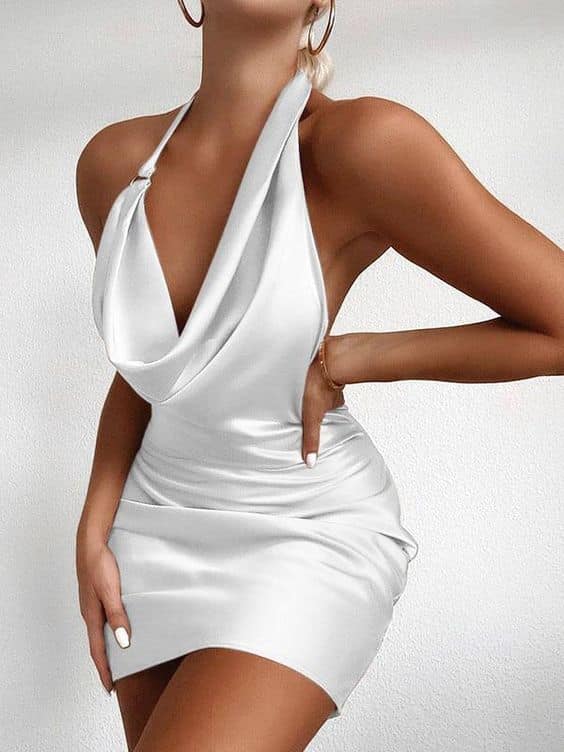 4 – White Bodycon Dress Long Sleeve
The perfect dress for a night out! You need this dress if you love glitz and glam along with some nights out. This glittery dress will be the best fit for you so don't miss out on it.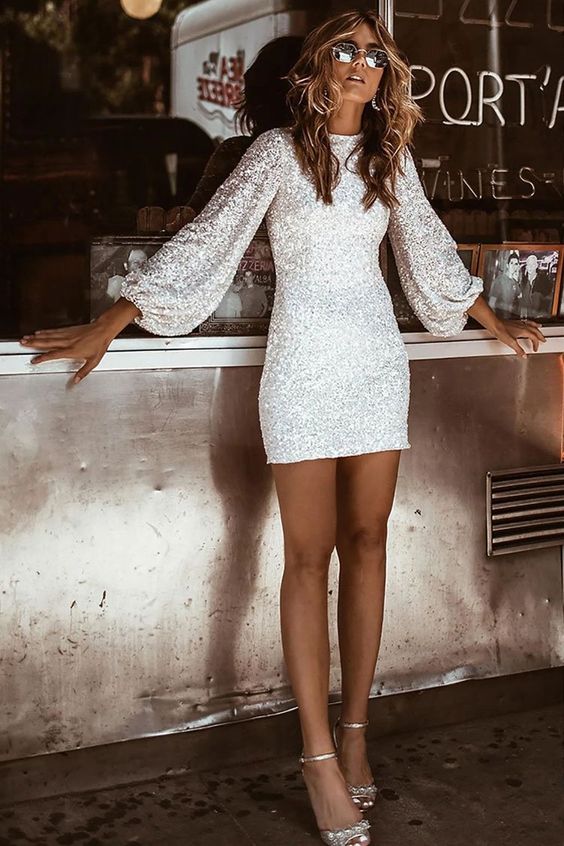 3 – Party Time
We all love going to parties but most of us hate finding outfits for them. Here we have a dress with such detailing that you will believe it is perfect for a party. Wear this dress with matching white or silver heels, wear some gloss and get your glam on with some jewellery!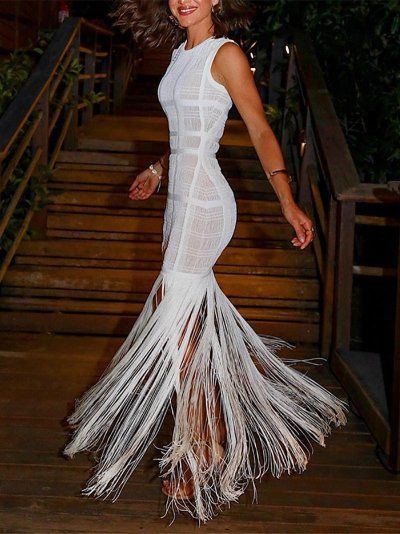 2 – In Silk
Silk has to be one of the royal-est materials, not to mention it feels amazing on the skin! You need a backless white bodycon dress like this so you can experience it for yourself. Wear this dress to an engagement party, family celebration, or date night. This dress is bound to get you all the attention in the room!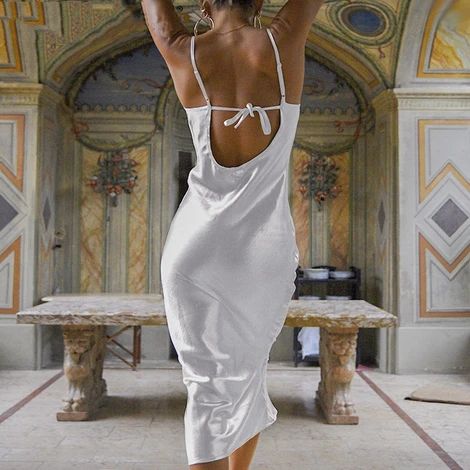 1 – With A Side Slit
Slits are super trending nowadays so why not get your hands on a white bodycon dress with a slit? That way you can try a bodycon dress as well as the slit trend, two trends in one! Win-win!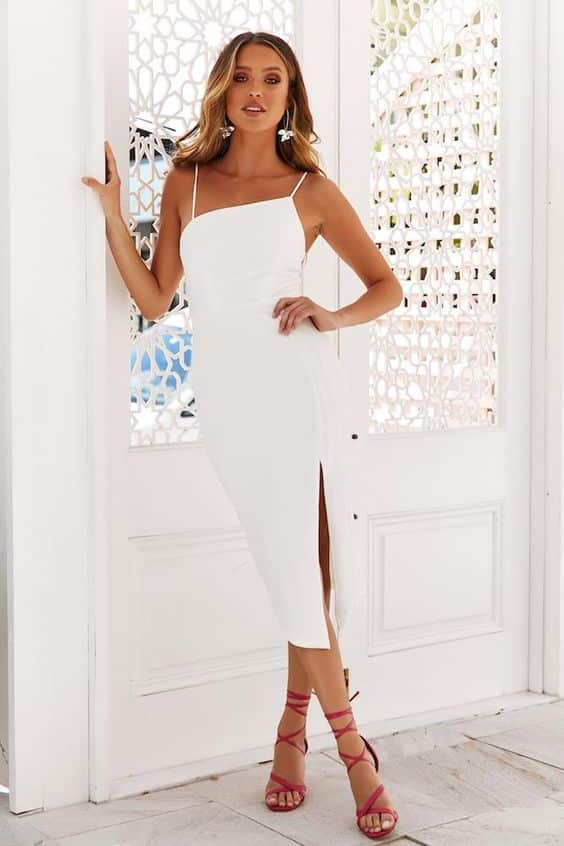 Frequently Asked Questions
Q. How do you describe a bodycon dress?
Ans. A bodycon dress is a figure-hugging dress that is basically tailored to smooth out all of your imperfections and make you look super flattering for a party or night out. Bodycon dresses have been trending for a long time now and are everybody's first choice for a formal night. These dresses are easy to wear and make you look good no matter what.
Q. How can i make my bodycon dress look classy?
Ans. There are lots of ways that you can make your bodycon dress look classier than it already is, for example, you can use a belt to cinch your waist and look nicer. If you choose a belt that has gems on it then that will look really cool. You can also layer a denim jacket with your bodycon dress. If you want to make sure your bodycon dress always looks good then you need to wear heels with it because heels just have this thing about them, they always make your outfit look better. Lastly, you might want to try out shapewear as it could provide you with some help in areas that need it.
Q. How do i look thinner in a bodycon dress?
Ans. Firstly, shapewear will be your best friend when it comes to bodycon dresses. Shapewear is one of the easiest ways to look thinner in a bodycon dress. Secondly, belts will help you accentuate your waist and make your figure look thinner overall. You should wear thicker dress materials and try to bring attention to your upper body because that way the rest of your body doesn't get much attention. Opt for longer dresses because they make your figure look slimmer and longer. In the end, you just need to make sure that you walk with good posture because your posture determines a lot.