Women's Outfits with Grey Jeans. Grey jeans are one of those staple pieces we can often overlook. In and of themselves, they don't seem like too much of an exciting item. However, grey jeans are often underestimated when it comes to building cute, stylish ensembles.
Being a neutral color, grey jeans can save the day when black jeans are too harsh and white is not an option. They are super easy to style and pair well with pretty much any color. They especially look great with pinks, yellows, and even other neutrals.
How to Wear Grey Jeans
Unlike typical blue jeans, grey is a more particular color you will want to style appropriately. Whether you want to wear them to a fancy dinner or pair them up with a tee for casualwear, what you wear with your grey jeans will set the tone for your whole outfit. Here are our top tips on how to wear grey jeans
Grey jeans can be inherently casual, so if you want to wear them to a dressy event, be sure to wear a one-tone grey (no streaks, bleached out sections, or patches of darker grey) and avoid rips or tears. Accessorize with statement jewelry and pair with heels.
Grey raw-hem jeans can sometimes look better than regular, ankle-length jeans.
Pair with heels to elongate your legs.
If grey washes you out or is too cool for your skin tone, consider experimenting with other shades of grey like charcoal. You can also go for a very pale shade of grey, especially if the rest of your outfit is soft-colored.
The following items are fantastic for dressing up your grey jeans:
Stripes
T-Bar heels
Knee-high boots
Long tops
Chunky cardigans
Plaid shirts
High top sneakers or ankle boots
Why not also check out our post on Cute Tops to Wear With Jeans for some more great ideas and fashion tips? Or for some fantastic great jeans styles for summer, check out our post on Summer Jeans Outfits for a Cool & Chic Look.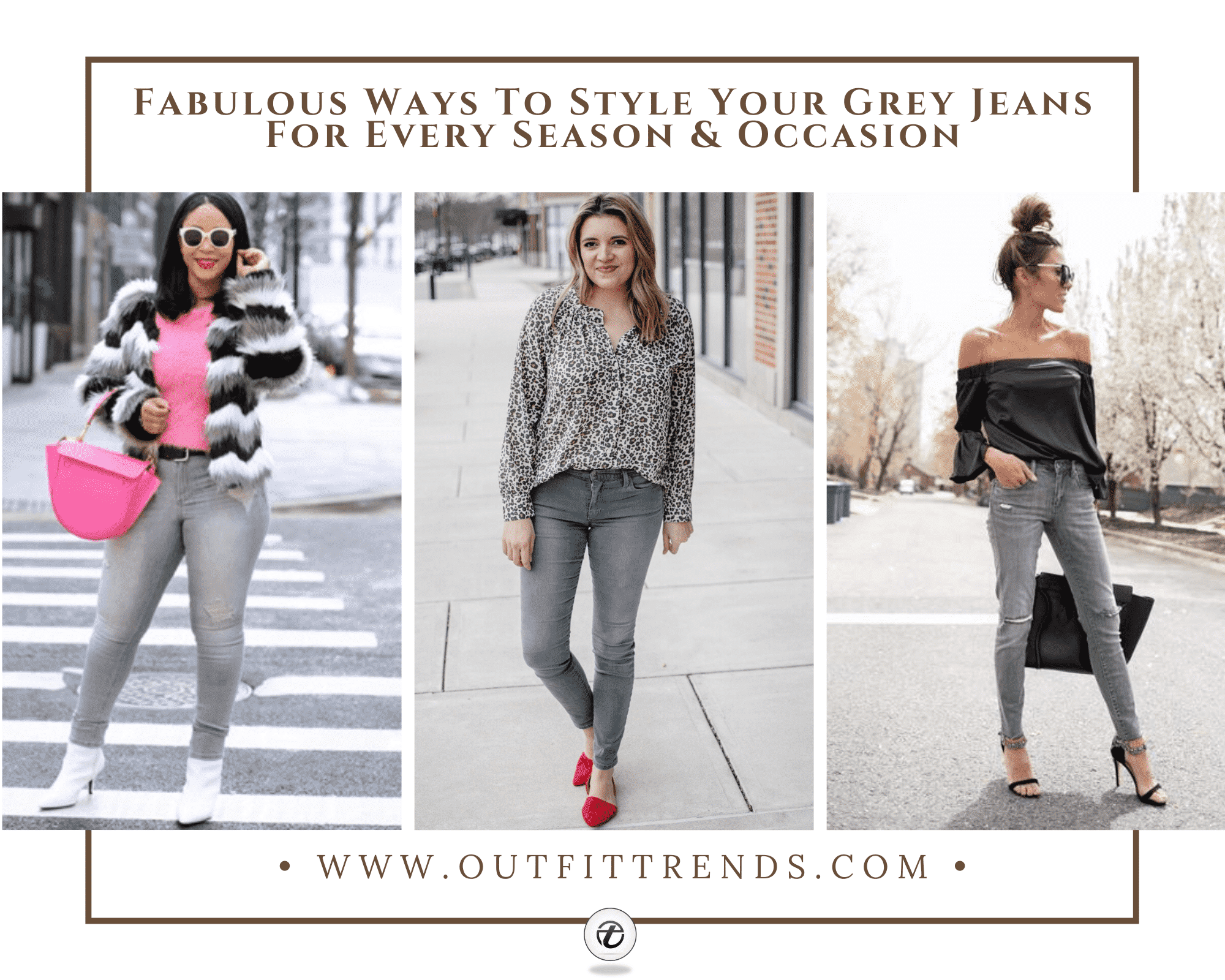 ↓ 30 – Lunch Date Outfit
If you are ever in a rush and need a cute outfit to throw on before heading out to a lunch date, a birthday party, a movie date, or what have you, this is a look you can turn to every time. A sleeveless patterned peplum top is a comfortable option that pairs well with skinny jeans.
(Fitted on the bottom, loose on top.) Your shoe choice depends on the occasion! If you are going to be sitting most of the time (or don't mind wearing heels in general), these silver-heeled sandals are perfect. If you prefer a cushier option, consider mules, flats, or wedge heels. Accessories are another factor that can be considered based on how dressy you want to be. Keep it jewellery-free if you need a more casual look or add a necklace and studs if you want to fancy it up a bit.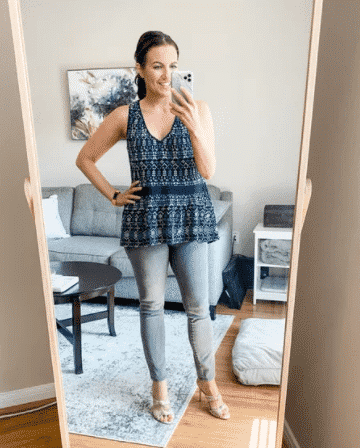 ↓ 29 – Chic Winter Outfit
Say goodbye to boring coats and get glam this upcoming winter season! A faux fur chevron coat is the perfect remedy to the winter fashion blues. Pair it with a fuzzy pink sweater (warm and cozy? yes, please!) and some high-waisted skinny jeans.
Top off with all-white ankle booties, matching sunglasses, and an adorable designer bag. You will be stopping traffic with your gorgeous style and for all the right reasons!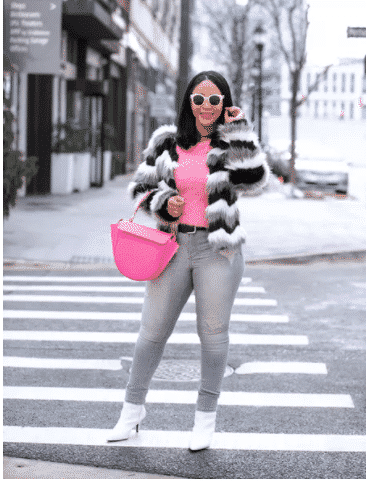 ↓ 28 – Neon Yellow & Neutrals
Another fun thing about wearing great? Its neutrality means you can pair it up with pretty much anything! While black might be a little harsh to pair with neon yellow (and you may end up looking like a bumblebee) grey is the perfect neutral to offset your jacket and heels with.
We love this ensemble; perfect for the office, a semi-casual work event, or a luncheon. Accessorize with hoops and white sunglasses and let that hair down for some extra fabulousness.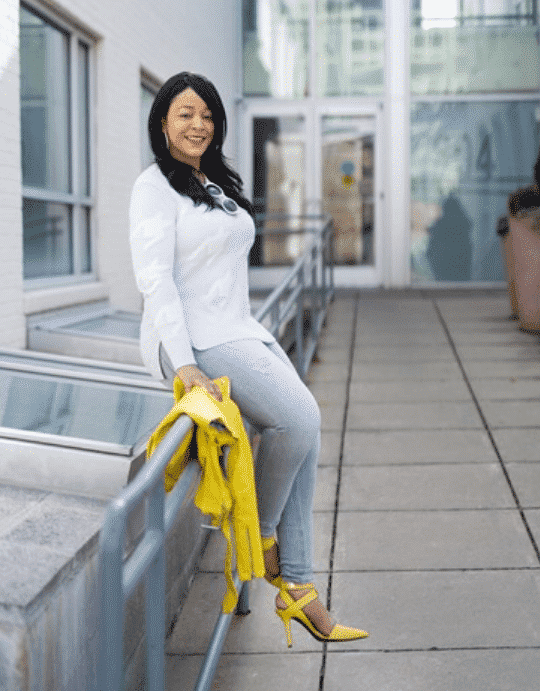 ↓ 27 – Hip & Stylish Sweater and Jeans
Give your fall wardrobe a makeover and add a great pair of well-fitting grey jeans to make your ensembles really stand out. This cute and hip look pairs a cream sweater with skinny jeans, suede booties, and a gorgeous purse.
Layer your sweater with a plaid shirt (pull the collar through for a pop-of-color which will offset the grey jeans really well) and add some chunky costume jewelry like a necklace and hoop earrings. This is a great look for a daytime gathering with friends, a lunch date with your kids, or a stylish ensemble to hit up your local farmer's market with.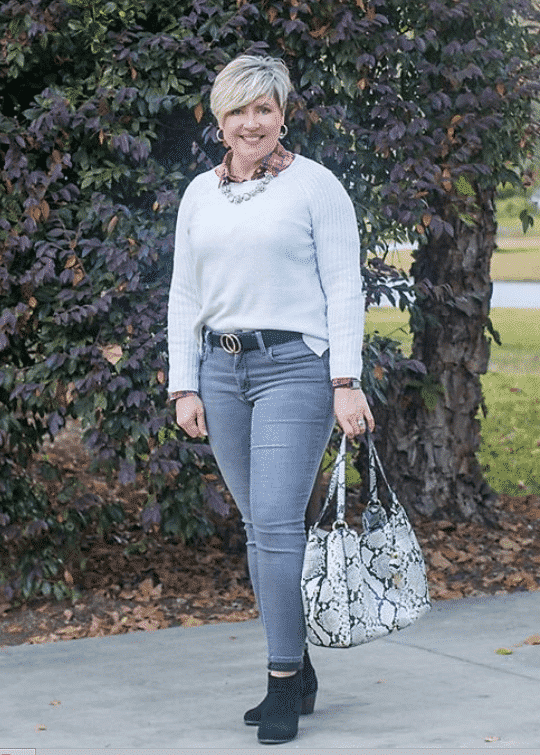 ↓ 26 – Peplum Top for Everyday Occasions
We know that grey is a neutral color which means you can really pair it up with any color you, please! Here is a lovely look, great for moms on the go, which only requires a pretty embroidered-style top and black-and-white heels.
To get the best look, avoid jeans with rips or tears and opt for well-fitting skinny or slim-fit jeans. For the top, we love the peplum style, which is great for disguising a little muffin top and also creating the illusion of rounder hips. Notice the fun blend of colors that go really well with the neutral grey jeans. Accessorize with simple silver jewellery.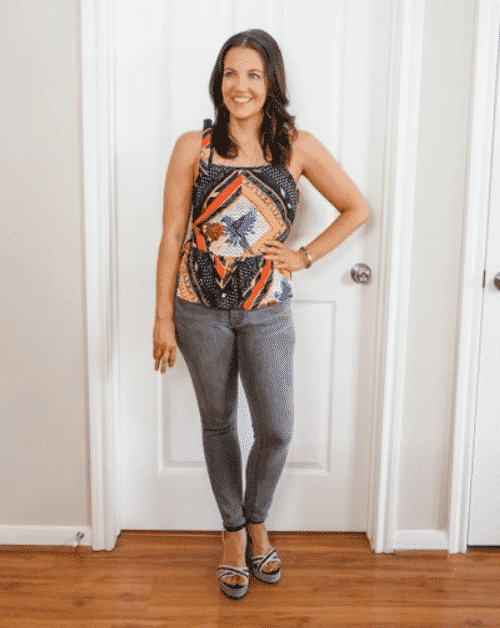 ↓ 25 – Black and Silver
Black and Silver is always a winning color scheme and what easier way to achieve this than by jazzing up skinny grey jeans with a textured top and matching accessories? A black top and accessories will guide the focus to your grey jeans, creating a cute look.
↓ 24 – What to Wear with Grey Jeans in Fall

Simple additions such as a cute oversized jumper and a pair of flat-soled ankle boots make for a perfect autumn look while still allowing you to dress up simple grey jeans.
↓ 23 – What Color Shirt Goes Best with Light Grey Skinny Jeans?
Most people would be wary of a clash of patterns; however, this style with light grey jeans as a base and a slight pattern on top, use of a flannel shirt and bag make for a great look. Here are some more cool ideas on How to Wear Flannel Shirts.
↓ 22 – Casual Spring Style
Grey jeans do not always need to be dressed up with fancy garments. This simple use of nude pumps and plain top accentuates the figure and provides the utmost comfort.
↓ 21 – Grey and Pink Ensemble
Grey and pink have always gone hand in hand and based on this outfit we can see why. Gentle pink top and bag highlight the grey and silver tones in the jeans and jacket. An ideal combination for any woman.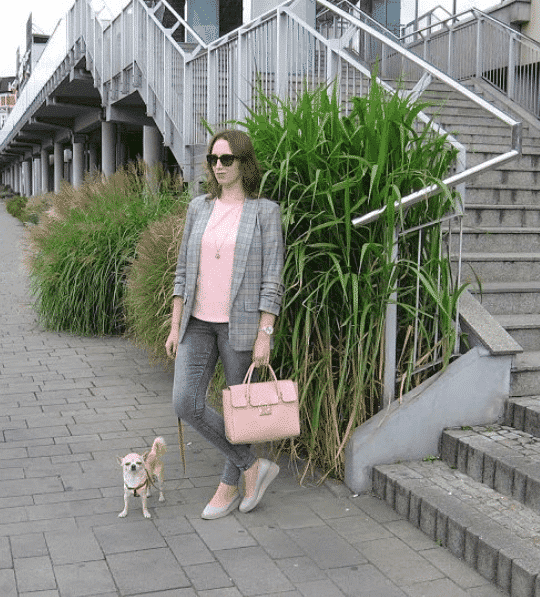 ↓ 20 – Using Bold Colours For Autumn Or Winter Looks
The use of bold red pointed ankle boots makes this outfit striking. Contrasted against skinny grey jeans and paired with the button shirt, this outfit is perfect for casual events or evenings. Here are 30 Outfits to Wear with Red Shoes.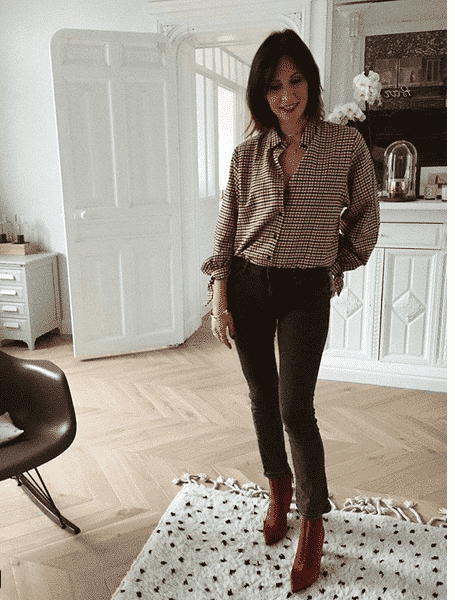 ↓ 19 – High Waisted On The High Street
These grey high-waisted jeans look amazing with the cropped hooded top and simple white flats. The length of the handbag draws the eye to these jeans making them stand out beautifully.
↓ 18 – Autumn Style
Grey jeans with different tones of brown make for a perfect autumn look while keeping a warm yet casual feel.
↓ 17 – Simple Casual Look
Casually dress grey jeans with an oversized white pullover and create a statement with bold, red ankle boots. Add some sass with a studded handbag and large hoop earrings. A great outfit for cool days where a coat is not essential.
↓ 16 – Striking Yellow With Monotones
A stunning way to dress up skinny grey jeans with a black cashmere sweater, overcoat, and laced flats. Bold accessories for this outfit include a striking yellow scarf, black handbag, and gorgeous hat. A perfect outfit to get heads turning. Do check out these 14 Chic Ways to Wear Yellow outfits.
↓ 15 – Suede and Leather
Jazz up your grey jeans with a matching pair of over-the-knee boots and a classy leather jacket. A great casual outfit for all occasions. Add that summer feel with some large sunnies.
↓ 14 – Sassy Style In Pink
A simple outfit with grey jeans and a pink jacket is perfect for casual wear whether on the high street or evening strolls. Nude T-Bars give a cute and sassy feel to a casual outfit.
↓ 13 – Monotone Look
Stylish look using all-black shades. Dark grey ripped jeans with a black blazer, shiny ankle boots and shades make for a super style with added attitude.
↓12 – Casual Summer Style
A simple and easy way to create a great summer look using grey cut off jeans. A logo or band t-shirt with grey skinnies and sandal platforms is a great combination to rock on those warm summer days.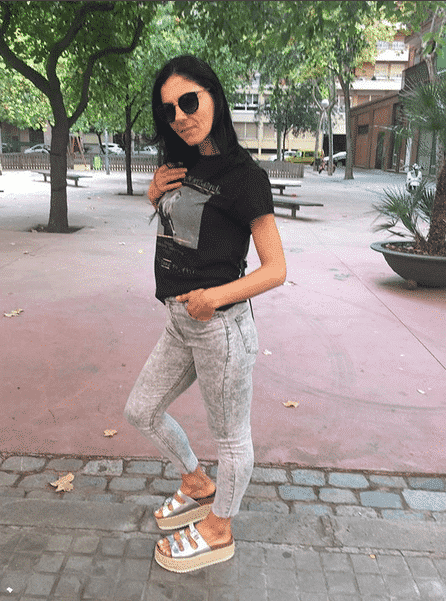 ↓ 11 – Skinnies With Heels
Classic look with grey skinny jeans and stiletto heels. Make this look rock with a leather jacket and create a bold statement with a contrasting pink bag. Perfect style for any season and any occasion.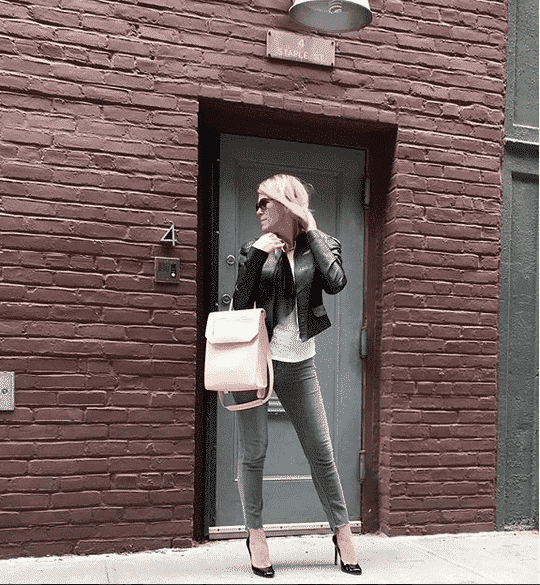 ↓ 10 – Chic And Sassy Jeans & Fur
A gorgeous style using skinny jeans and a blue fur jacket. A chic look completed with Gucci sneakers and sunnies. A great contrast to create a stunning silhouette. Don't miss out on these 20 Ways to Wear Faux Fur Coats.
↓ 9 – Patchwork Jeans
Stunning patchwork jeans that can make a statement all by themselves, with a simple black top and suede heels. A stunning bag by EgoIstIn makes a perfect addition.
↓ 8 – Greys and Nude Tones
A simple look for any season. Match pale distressed grey skinnies with nude-toned jackets and heels for a cute and casual style. Oversized sunglasses give that warm, summer feel.
↓ 7 –  Bold Colors
Grey jeans from TopShop matched with a stunning bold red leather jacket from Zara. Finish this look with Gucci sneakers and stunning handbag. A perfect look for all casual occasions.
↓ 6 – Jeans and Tweed
A simple and cute style pairing grey jeans with a gorgeous navy tweed jacket. Black suede boots and matching handbag make for a superb look.
↓ 5 – Frayed
These gorgeous frayed jeans look amazing with a buttoned-up white shirt. The heels and bag add class and sophistication to a simple yet stunning outfit.
↓ 4 – Pattern on Pattern
These embellished grey jeans are stunning all on their own. However, are greatly jazzed up by being matched with a striped top and cute peep-toe heels. A gorgeous outfit for an evening party or a casual meal.
↓ 3 – Simple & Casual
A perfect style for simple shopping trips or even a trip to the beach. Plain grey jeans jazzed up with cute grey suede flats with added bling. A white top and long necklace make for a cute outfit.
↓ 2 – Over The Knee Boots
Everyone loves over-the-knee boots and why not? They are perfect for jazzing up any outfit. Here they look amazing with plain grey jeans and a khaki combat-style jacket. This is a stunning outfit for autumn days and spring walks.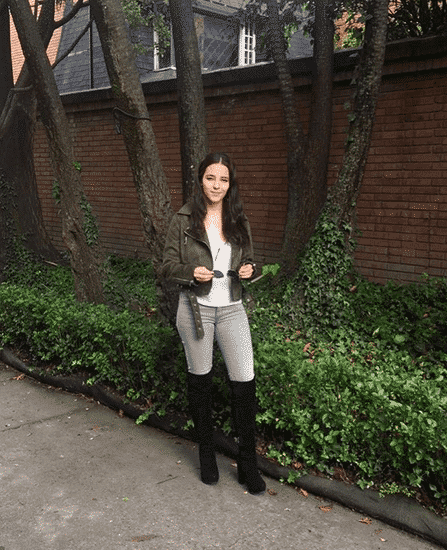 ↓ 1 – Class, Bows & Blocks
A gorgeous look with a bow top and suede jacket matching turned up grey jeans and a Chanel handbag. Block heels are a great way to add some bling to a grey jeans outfit.
Frequently Asked Questions
Q. What goes well with grey jeans?
A. As shown in this article, most colors and styles of shirt or blouse go with grey jeans! But some tried-and-true items that go well with grey jeans are white footwear or silver (cool blue looks fetching as well) as well as black. Neutral tones always look chic (like a white blouse or a black top) while adding a pop-of-color will make a serious statement.
Q. What color shirt goes with grey jeans?
A. All colors will pair well. We suggest avoiding a monochrome grey look as this may wash you out too much. If your goal is to look sophisticated, consider a white button-down boyfriend shirt or a pale blue blouse.
Q. What color shoes go with grey jeans?
A. Black, white, or silver are our favorites. But shoes are a great way to bring a pop-of-color to your look. You can just as well go for a funky pair of red boots or pink heels (or any color really).
Q. Does grey and denim match?
A. Grey is neutral so yes, you can always pair it with denim.