St. Patrick's Day Outfits for Women. Everybody's favorite Irish holiday is soon to roll around and chances are, you are already thinking of what to wear! From green hats, leprechauns, and four-leaf clovers, St. Patrick's Day is a fun holiday today that dates all the way back to the 1600s when people would wear shamrocks and green ribbons to honor the Irish patron saint.
The genesis of the holiday is rooted in the honoring of a saint but since then, St. Patrick's Day has morphed into a global celebration of Irish culture.
People originally wore green for two reasons: for the green stripe on the Irish flag and also because of Ireland's nickname, which is the 'Emerald Isle.' Since then, the fun tradition of wearing green continued due to the popular belief that wearing green would make you invisible to leprechauns!
In today's article, we are going to be looking at the cutest St. Patrick's Day outfits that incorporate the color green! Let's get started.
What To Wear On St. Patrick's Day?
As with any cultural holiday, there are a couple of dos and don'ts to keep in mind. Check them out:
Do research the history of the Day. Not only is it an Irish holiday but for many Irish people, it's also a religious one. As with the celebration of any holiday, knowing the symbolism and traditions associated with the festivities helps you determine what is appropriate to partake in, which definitely has an impact on what you wear!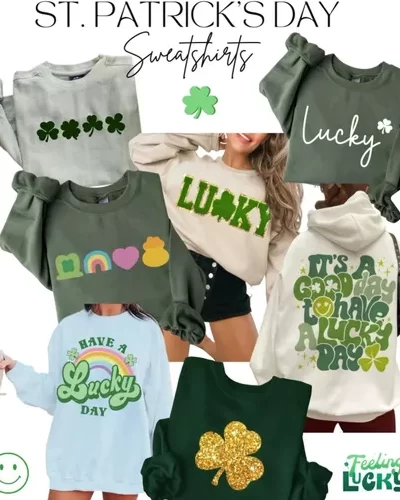 Do figure out your plans and goals. Are you getting all dressed up with the kids? Are you headed to a friend's bash where you know everyone will be rocking green face paint and wigs? Are you hitting up the local parade?
If you want to go all out, then have at it! It's a once-a-year opportunity to have a (green) ball. However, if you are just looking for some cute, stylish outfits for a lowkey day, then this is the article for you.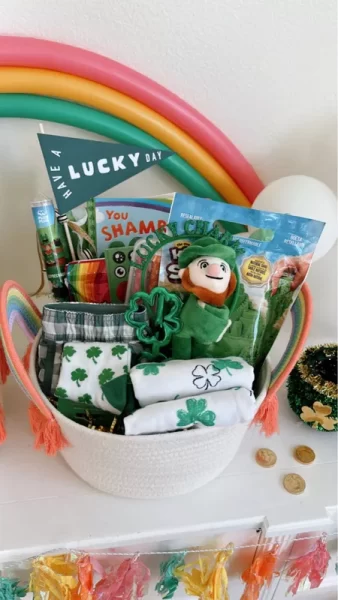 Do wear green if you are a casual celebrant of the holiday, as this is the most traditional and appropriate option. (Plus, it'll keep you from getting pinched!)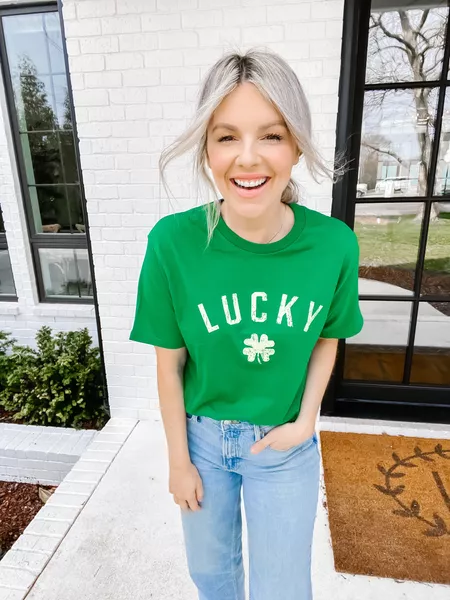 Don't overdo the green. This should be obvious, but unless you are planning on going ALL OUT (we're talking head-to-toe leprechaun costume) be smart about how you work some green into your look. If your goal is simply to have a cute St. Paddy's Day outfit, then keep the green understated.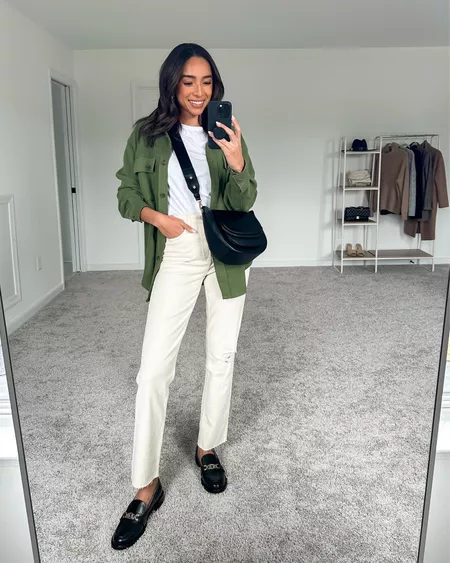 Don't overdo the accessories or slogans. Stay away from the oversized Guinness hats or the 'Kiss Me, I'm Irish' logos (unless you are, in fact, Irish and don't mind kisses) and focus on a few, cute pieces that give a nod to the holiday without sacrificing style and elegance.
Now let's look at our roundup of stylish and trendy St. Patrick's Day outfits!
18 – Monogrammed Tees
Monogrammed tees are not just easily but they help celebrate the true St. Patrick's Day spirit. Pair them with jeans, tights, or even skirts for a vintage look.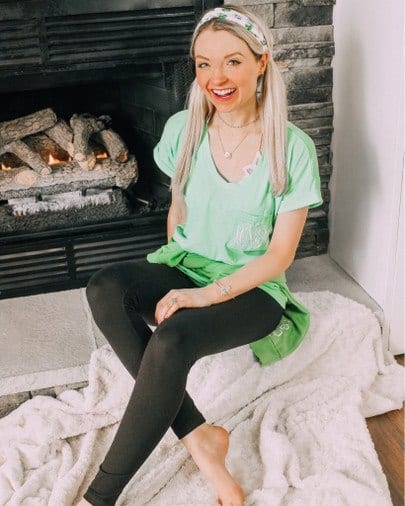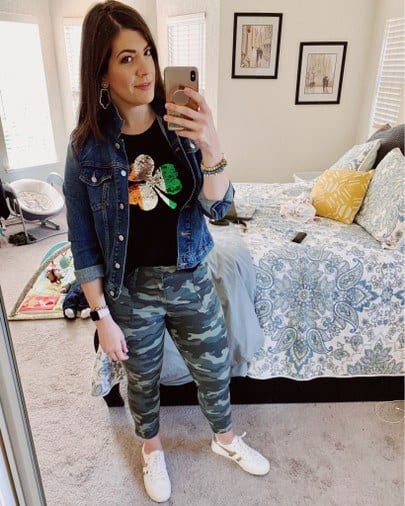 17 – Navy & Green
Here's a St. Patrick's Day outfit that you can wear any time of the year.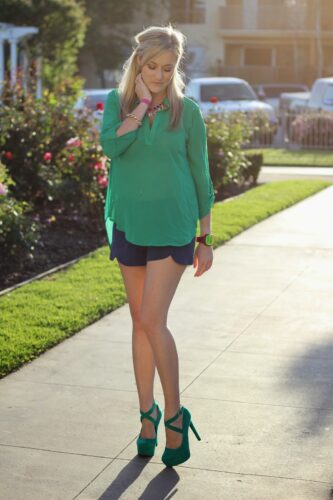 16. Super Feminine, Floral Outfit with Flower Crown
Originally, leprechauns were said to have worn red suits before the color officially changed to green, sometime in the 20th century.
Their outfits also had accents of gold. Knowing this, you can incorporate those three colors into your look for a super subtle way of giving a nod to the fairies of old!
This uber-feminine and beautiful option pays homage to the spirit of the holiday in the cleverest way by pairing a green, floral dress with a red and pink flower crown and red and gold heels. This outfit is great for a dinner party or an elegant gathering with friends.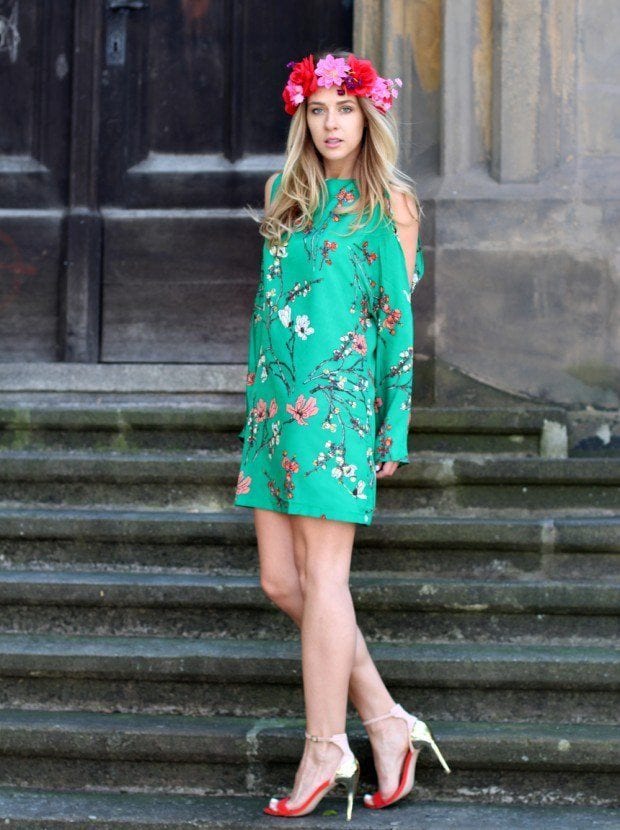 15. Polka Dot Sweater and Floaty Pink Skirt
For a sophisticated look, try this pairing of a green, three-quarter length top with black polka dots and a bright pink skirt.
We love the mesh of bright, cheerful colors; plus, coworkers and friends alike will love your subtle nod to the holiday with your primly elegant look. Add royal blue heels to round off this colorful ensemble.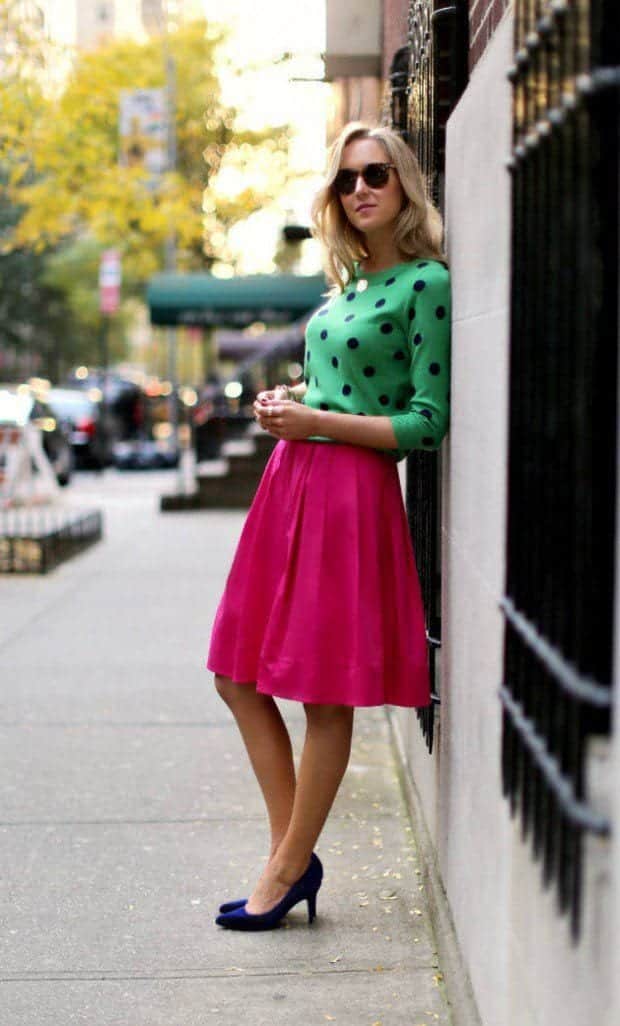 14. Classic Green Maxi Dress and Clutch
Headed to a dinner party? Having brunch with friends? This classic look is a stunning option for the feminine lady who doesn't mind being the center of attention.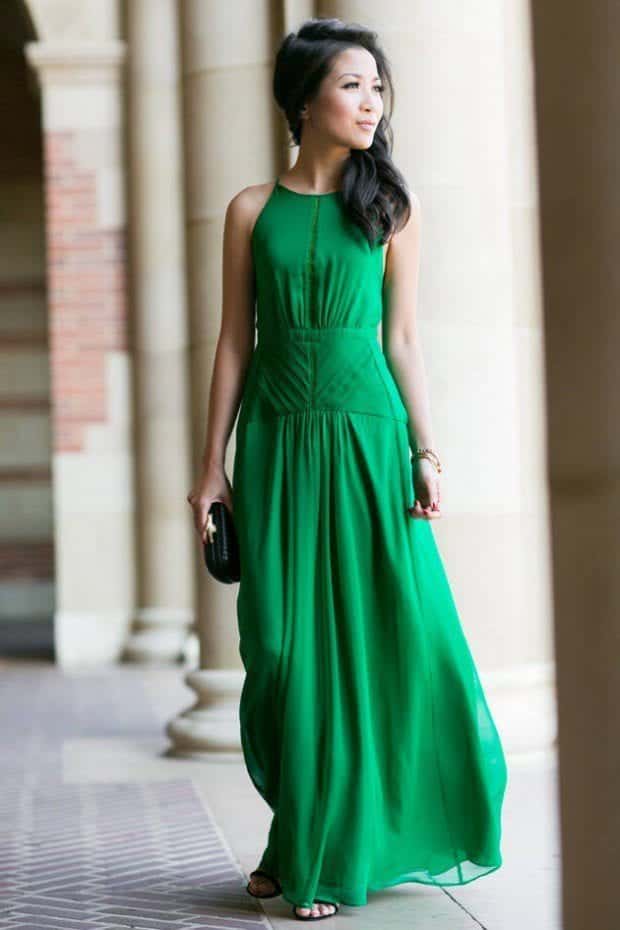 13. White Top and Green Wide-Legged Pants
We love the versatility potential with this look. Whether you have to meet with clients on the big day or you are simply having a family get-together with your kids, this classy, sophisticated look covers all the corners.
Green and white is a lovely combination and we love the white platform heels as well. (Pro tip: switch out the heels for a smaller pair or even flats for wrangling kiddos!) Also worthy of note is the beaded green bracelet which just helps tie the look together and bring a bit more of the holiday color to the ensemble!
Here are some more ideas on How to Wear White Wide Legged Pants.
12. Blues, Greens, and Gold
A true homage to the "Emerald Isle" itself, this skirt will have you spinning, twirling, and singing all the way down the St. Patrick's Day Parade! Pair with a plaid top of blue and green shades, and add a glitzy pair of heels that bring a gold accent to your overall look. (This is best as an indoor look though you could certainly tweak it for outdoor wear as well!)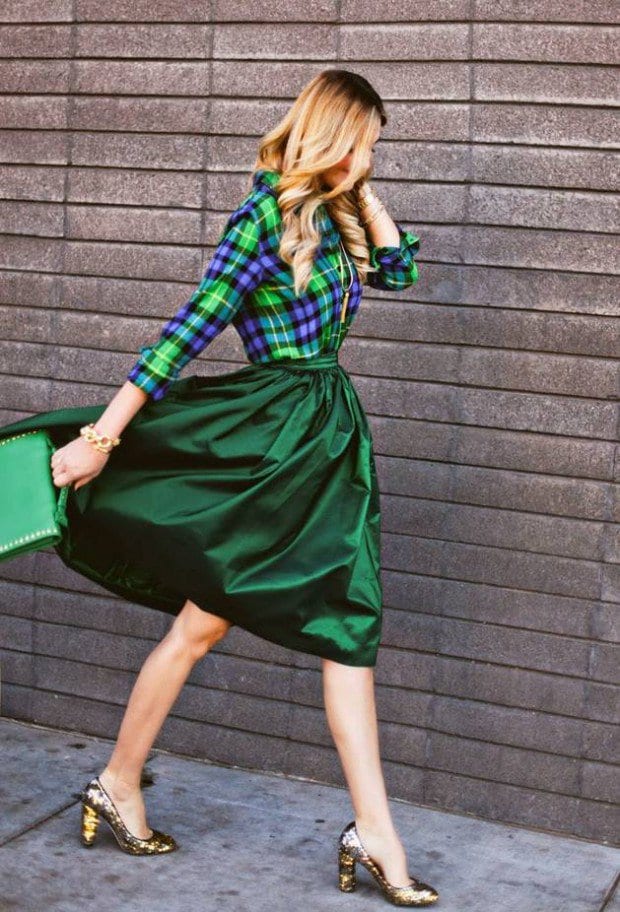 11. What to Wear to Work on St. Patrick's Day
Working on a holiday is no fun, so bring the holiday to work with you! We love this classic workwear ensemble that pairs a green coat (so festive!) with a neutral top, a green-accented scarf, and jeans. Even the green-tinted Aviator sunglasses help to bring a bit of the spicy spirit to the outfit.
The great thing about this look is that it can easily transition to partywear once you get off work. Simply add a bold shade of lipstick, switch out the heels for something glitzier, and maybe throw on a sequined jacket!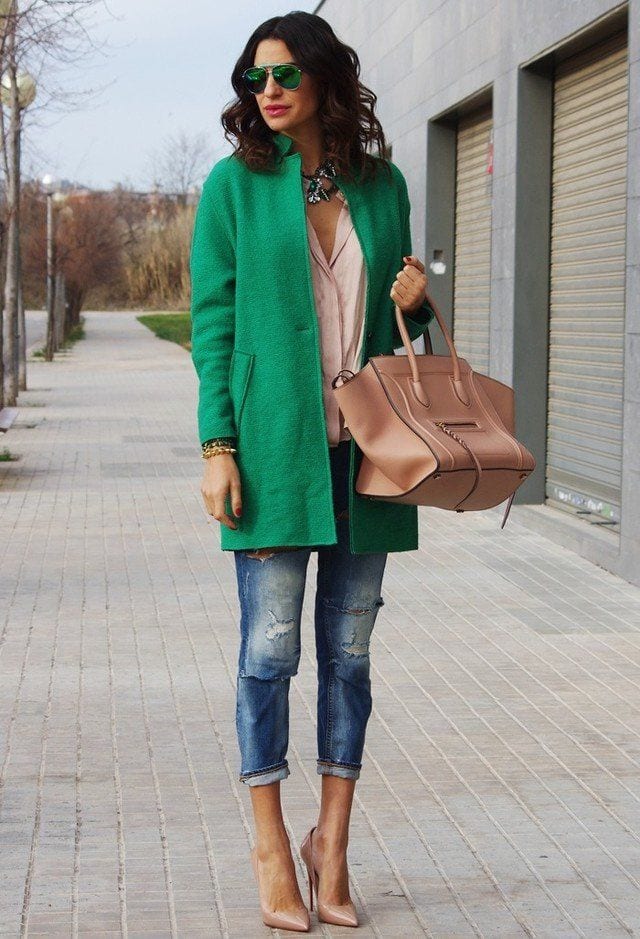 10. Elegant Outfit
Another option for an outfit if you have to work is this one right here. This ensemble is a little more understated, but there's no doubt it's in the spirit of the holiday with its bold green sweater. Pair with navy blue capris and nude-colored heels; accessorize with a bedazzled purse and a statement necklace.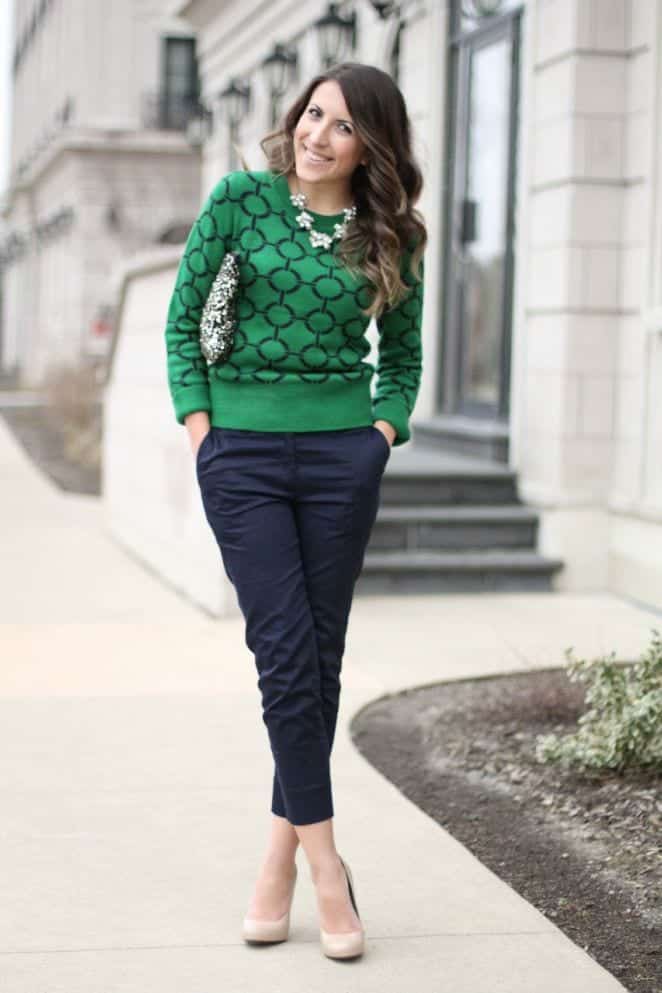 9. Celebrity-Inspired
For a lunch party or a St. Paddy's-inspired happy hour, this adorable and chic outfit is great for celebrating the holiday in style! Take a page from Lauren Conrad's book and pair a satiny green blouse with some black high-waisted shorts and a little white blazer. Gold or metallic heels would pair great with this ensemble; even patent leather pumps would make for a good option. Accessorize with some simple stacked necklaces and opt for a bubble-gum pink shade of lipstick.
8. Chic Outfit for Mature Women
While this outfit looks great on women of all ages, this would make for a great option for ladies of mature age, too! It's chic and stays festive with a chunky statement necklace and bright green top, but it stays understated with some regular jeans and a bright pink lip. The accessories with this look are key, as well as the fit. Keep this in mind when compiling your own version of the look.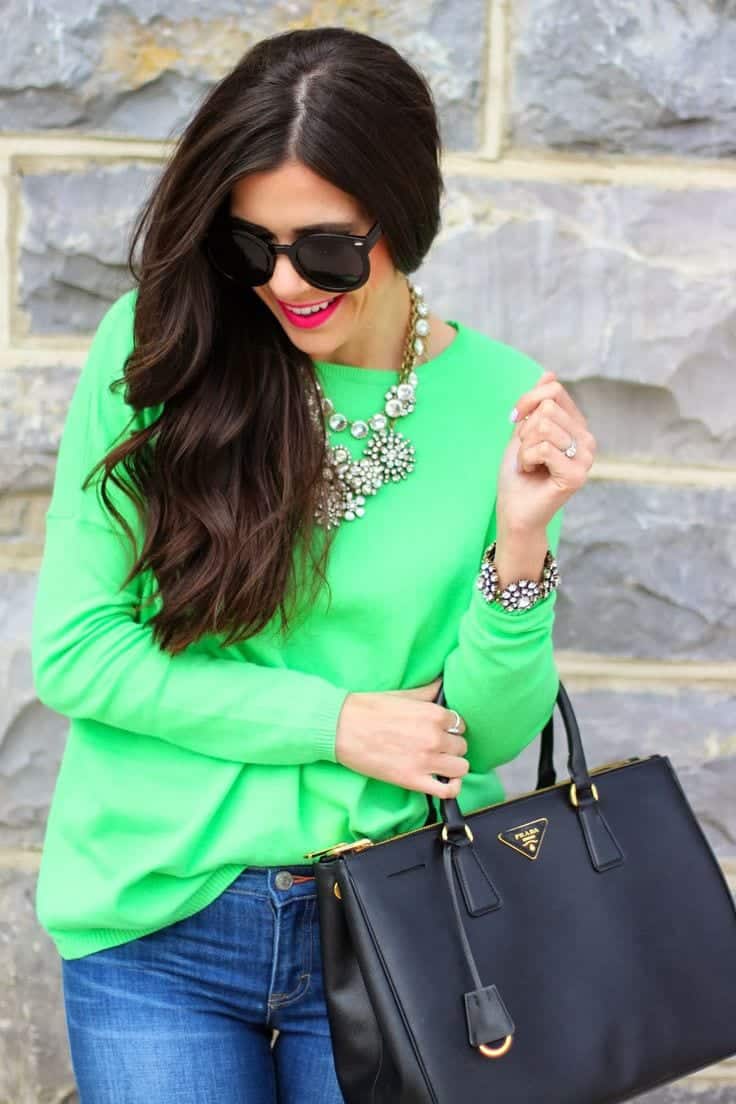 7. Semi-Casual Outfit for College Girls
Now, this is how you do St. Patrick's Day in a chic way! This cute outfit is a super versatile option for the college girl who may need to cover a lot of ground in her wardrobe choices but doesn't want to go overboard.
With this look, you are bringing two bold pops of color to an otherwise neutral look consisting of a graphic tee, skinny jeans, and a designer tote bag. Add a green jacket (look for one that features similar detailing, like cut shoulders and round buttons) and a blue-green pair of heels.
Accessorize with a gold cuff bracelet and you are ready for whatever the holiday throws at you.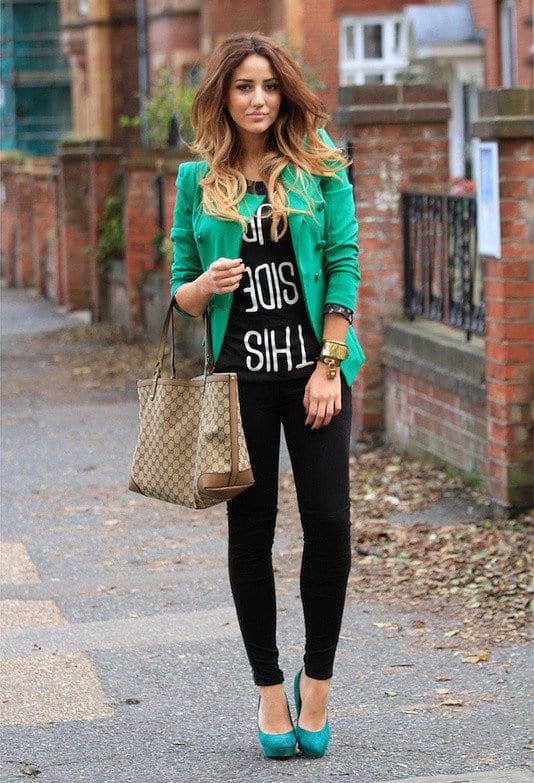 6. How To Dress For A Party on St. Patrick's Day
Here is a stunning look for a holiday party that manages not to go too crazy with green, and yet also incorporates gold and red in a subtle way. Play up your accessories and bring in understated nods to the holiday with a gold and green drop necklace.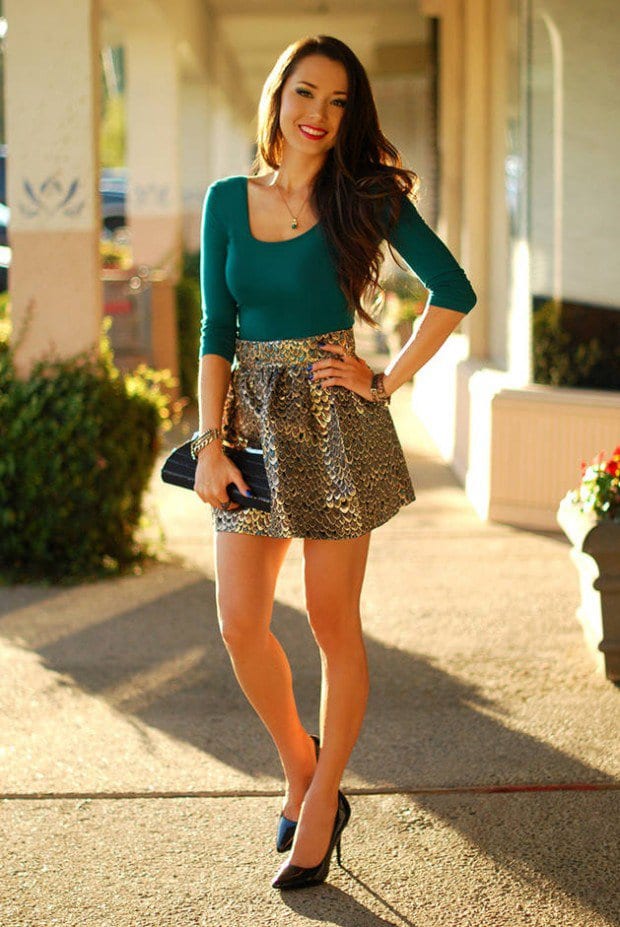 5. Street Style
This one is for the fashionistas. Not only will you look like you just stepped off the runway, but people everywhere will admire your stylish tribute to the holiday with this divine coat and chic purse.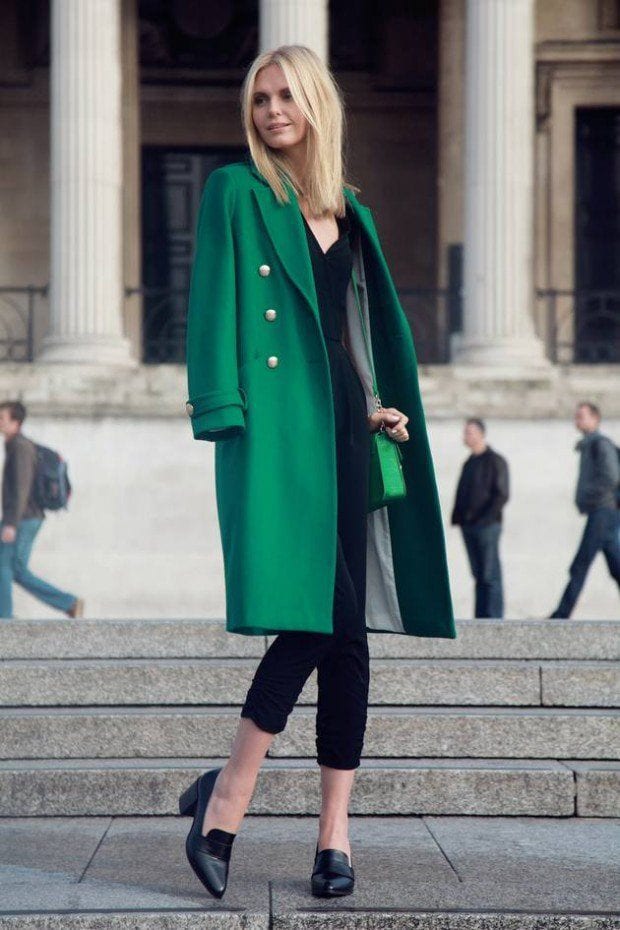 4. Shoes To Wear With Green Outfit
Aside from some gorgeous blue suede heels (which actually gives a nod to Ireland's original national color!), this all-green look will win you all the leprechaun points.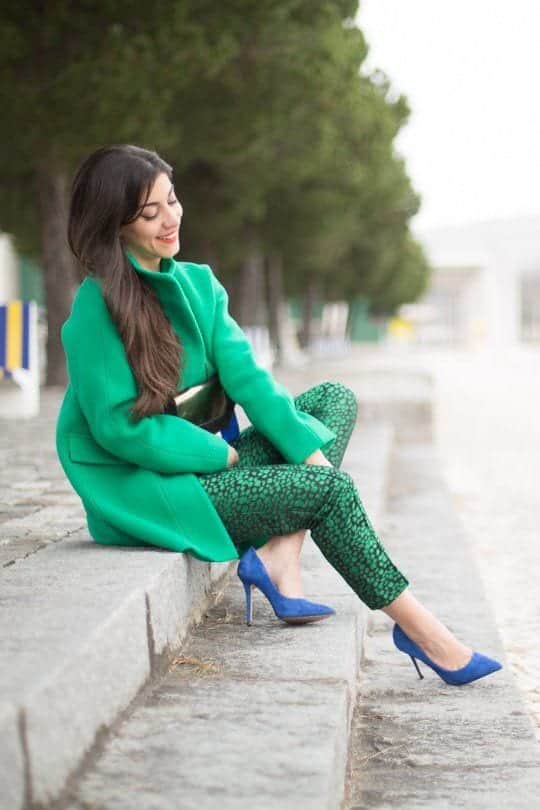 For the gal who wants to incorporate a bit of the traditional holiday colors without overdoing it, check out this gorgeous look. Great for parties or, if you're lucky (pun intended!), even a date night look, this outfit uses only the subtlest of greens and ties the look together with gold heels. So gorgeous!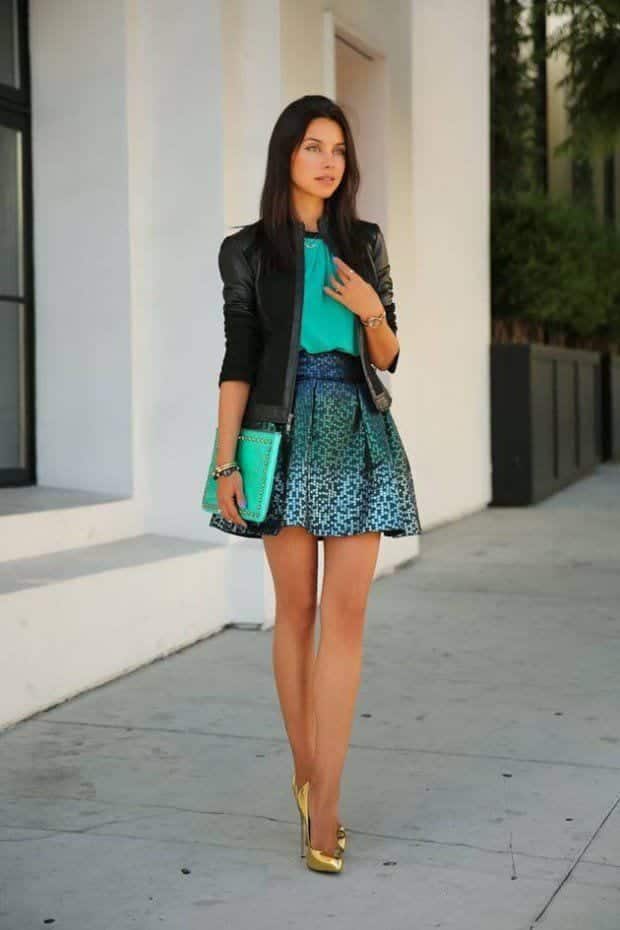 3. Preppy Style
If you have got a college class to attend or even a business meeting, this just might be the perfect option for you. Keep it stylish with a deep green sweater over a plaid top and pair with trousers and gold heels.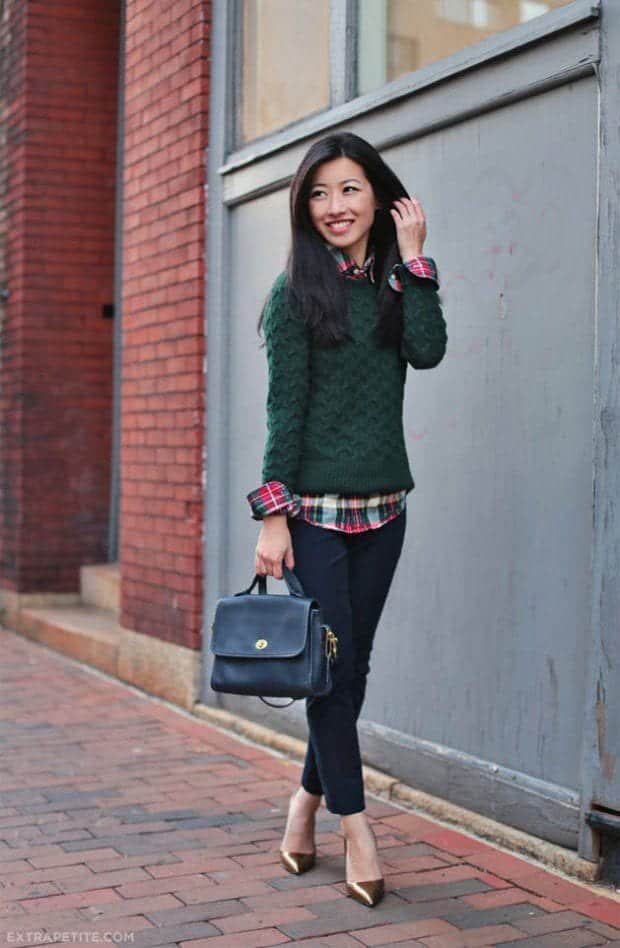 2. Parade-Day Outfit
Our final look is a great option if you plan on braving the cold to watch the parade in person! Complete with parade-approved shoes, a fleece vest, and a long-sleeved green sweater, this is how you can celebrate in style while also staying warm and keeping with the spirit of the day!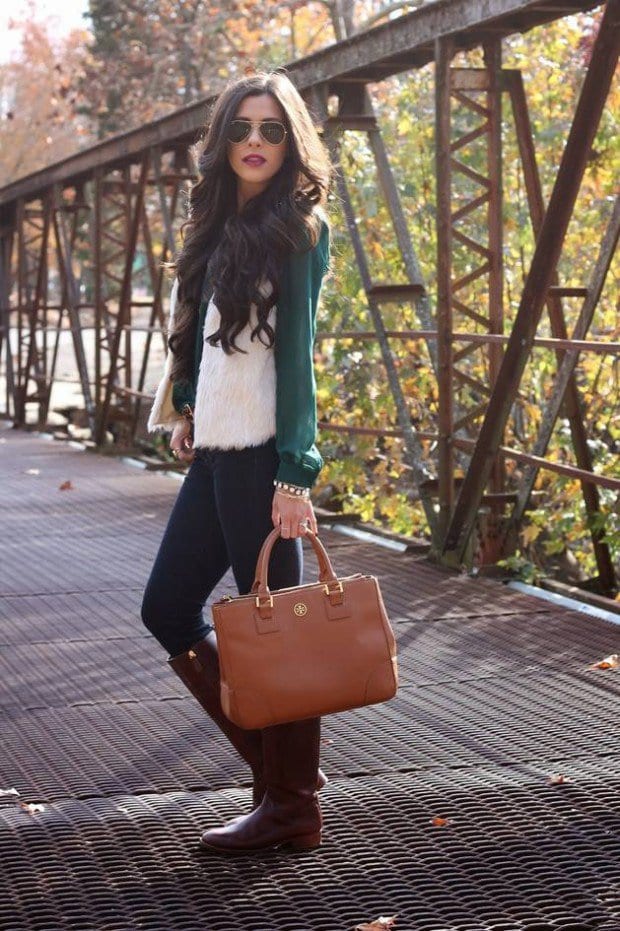 1 – Go For Statement Jewelry
It's not too hard to get your hands on some unique Patrick day themed jewelry that you can rock on this special day. These eye-catching earrings for example can be bought here for just $10.99.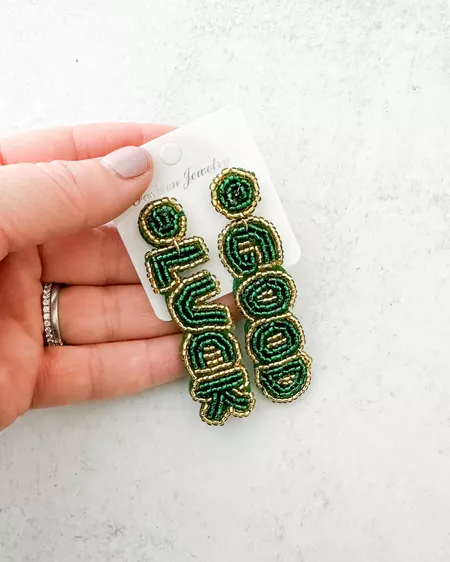 Hopefully these answer some of your questions about what to wear on St. Patrick's Day. And now we want to ask you: what are your plans for St. Paddy's Day?! Will you be going in full leprechaun get-up or are you sticking to one of the outfits we showed you here? Let us know in the comments below!
FAQs
What color are you supposed to wear on St. Patrick's Day?
As aforementioned, green is the most traditional color. Some people wear orange due to the orange stripe on the flag, symbolizing Protestanism, but this is something that really only pertains to those who have a personal reason to wear it.
Some people also choose to wear blue, which was the original color associated with the Roman Catholic saint. Doing some research on this concept is definitely a good idea, but your fail-safe answer is green.
Is it okay to wear orange on St. Patrick's Day?
Wearing orange is becoming more popular, especially for those who are Protestant rather than Catholic. You can wear it if you like, just know it has a religious connotation for some people.
What are the best St. Patrick's Day accessories to wear?
The best accessory is one you love, feel confident in, and that coordinates with the rest of your look. Are you not big on the color green? Then choosing a small green accessory might work better for you than decking yourself out from head-to-toe in said color.
A pair of emerald earrings, a scrunchie, a hat, a scarf, a purse, or a belt are all examples of accessories you can get in green to honor the holiday.
You can even go for a cheeky option like a cute pair of socks with a shamrock on it, or a little leprechaun hat if you are headed to a party.
What do you wear to a St. Patrick's Day Parade?
Because St. Patrick's Day takes place on March 17, depending on where you are, the weather will likely be chilly. Make sure you wear a thick parka, puffer jacket, or vest to stay nice and warm.
You can opt to wear a green-colored coat or a neutral tone and work your green in elsewhere: say, for instance, a green hat, shoes, or scarf. If you plan on watching the whole thing, make sure you wear comfy shoes as aching feet is something no one would enjoy during a parade.