University Outfits for Pakistani girls: Dressing for university may seem daunting. You've got to think of the best ways to dress and amp up your outfit to make you stand out in the crowd and look unique! Choosing an ensemble for every day for five days a week is undoubtedly exhausting and requires a lot of planning. Not to forget, most universities have a dress code to follow and require women to wear shalwar kameez. While some universities may not strictly implement those rules, others are very particular about them, needing you to bring your creative side out.

Getting creative to have fun with your outfit while staying true to your fashion sense is an art in itself! This article brings you some of the best ways to dress for university while being in fashion. Get ready to channel your inner creativity and style some killer looks without looking repetitive despite repeating the same pieces of clothing. Moreover, you won't have to leave your university's dress code.
What to Wear to University?
If your university allows you to dress in western clothing, this everyday task might not seem that tough. Getting innovative with your usual shalwar kameez might seem unlikely, but you can do so much with it! Pair a short kameez with a loose shalwar. On the other hand, a long kameez looks effortless with fitted cigarette pants or palazzo pants. Keep scrolling to get inspired and play with colors, prints, and silhouettes to make modern and trendy traditional looks perfect for the university!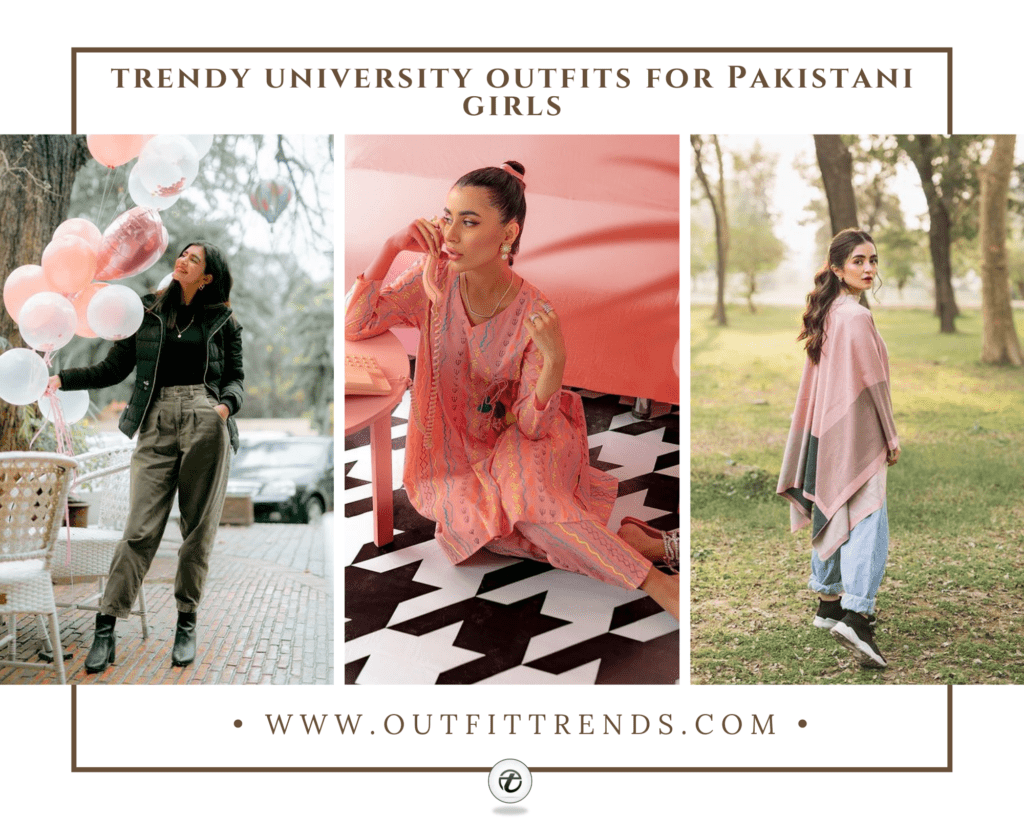 Tips on Dressing for University:
Do not repeat the same color consecutively. Mix up the colors and prints but dressing in prints on one day and solid colors the next.
Make sure to carry a dupatta or scarf with you (or in your bag) even while wearing western.
Mix it up with different silhouettes and cuts!
Accessorize according to the outfit. If your dress is a bit heavy with embroidery and prints, then going simple and chic with accessories is the way to go!
Dress in comfortable shoes which do not tire out your feet.
Throw your sunscreen in your bag, you are definitely going to need it. Oh, and a hair tie!
Keep your make-up light and natural. A concealer and cheek and lip tint are absolute life savers for university students!
Carry a pair of heels for your presentation days and change to your comfortable shoes once you are done presenting.
↓ 26 – Pretty in Pastel Pink!
This gorgeous embroidered two-piece suit is everything that dreams (these days) are made of! The bright and minimalistic embroidery is stunning, and bringing out the pop of colors are those gorgeous tassels. Moreover, the color of this dress is everything, especially in this season when pastels are so trendy. The fitted pants look effortless with the kameez, and the shoes look stylish and comfortable enough to be on your feet all day long!
↓ 25 – How to Wear Denim Overalls to University in Pakistan?
Denim overalls can be very easy to wear and style. If you are running under a shorter time to get dressed, your safest bet is to grab this clothing item and pair it with your favorite tee shirt. Throw on a pair of sneakers, and you are all set. This university student styled this look very thoughtfully, making herself look pretty and commanding the attention of everyone around. The contrast of pastel pink and blue of the overalls is sharp and refreshing to look at. Overall, a very well-put-together look which ticks all the boxes!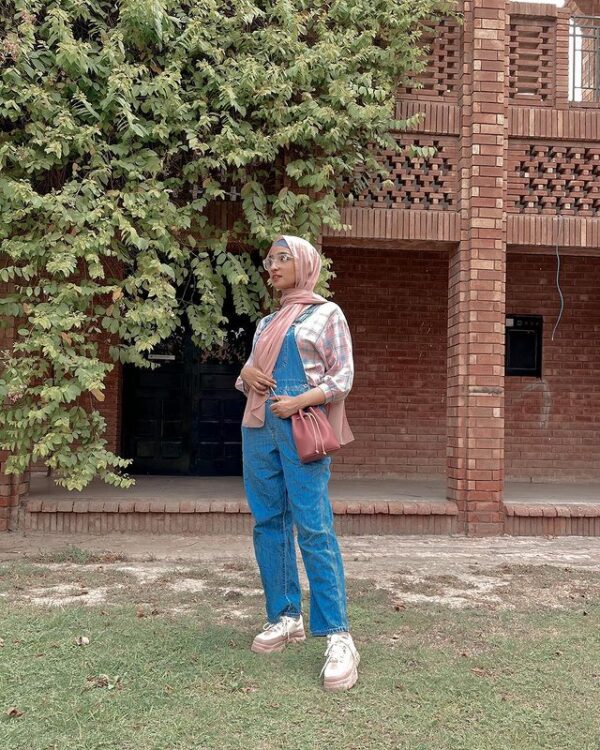 ↓ 24 – Everday Kurta Style!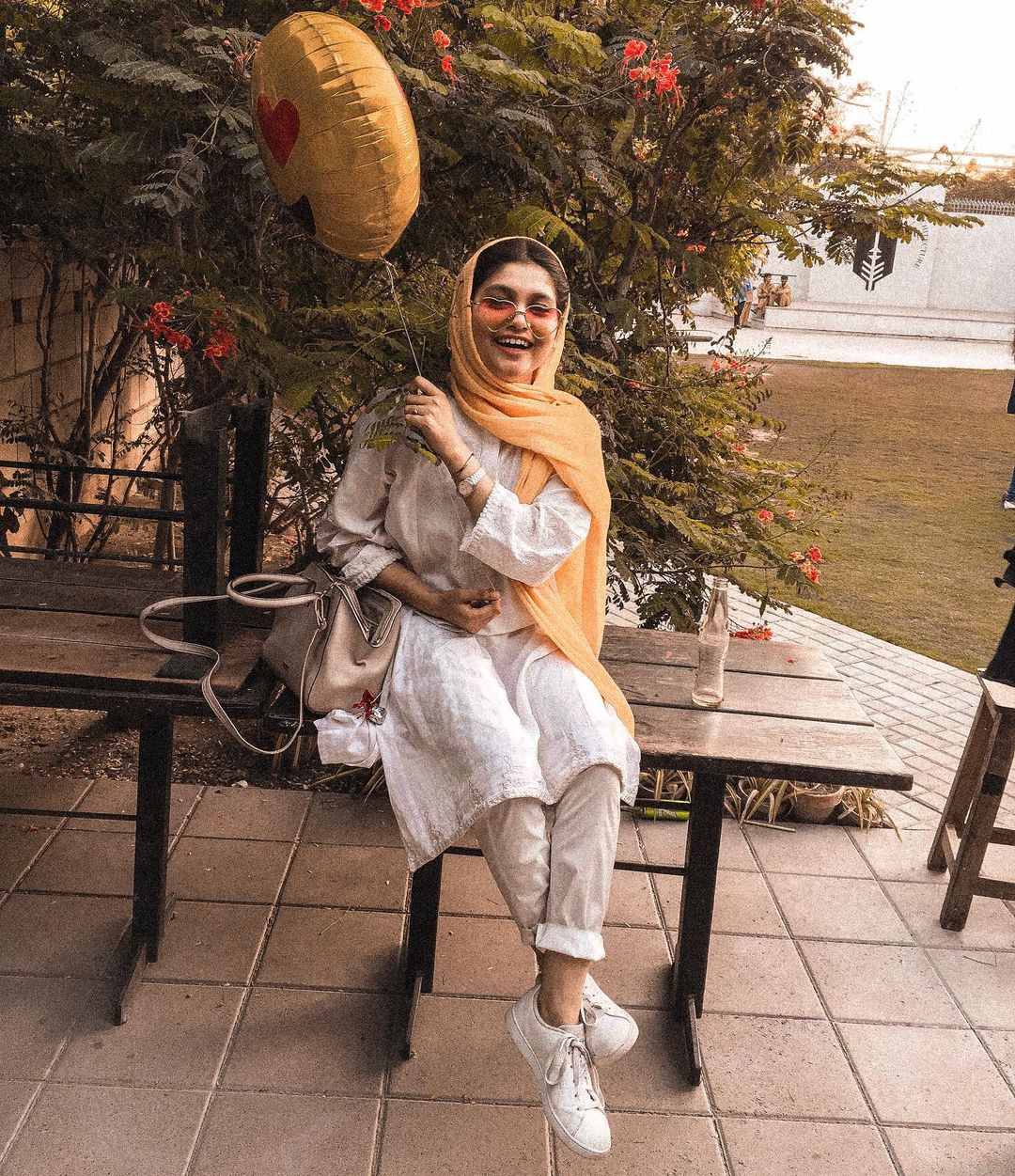 ↓ 23 – Blue Hues in Tunic Top
A solid blue outfit looks fashionable and super in style, especially with this pastel shade of blue! This ensemble is not only trendy and comfortable but also super easy to carry throughout the day. Moreover, the white chunky sneakers will allow you to stay on your feet on the campus all day long while looking extra modern. Accessorize with some small silver hoops and rings to complete your look!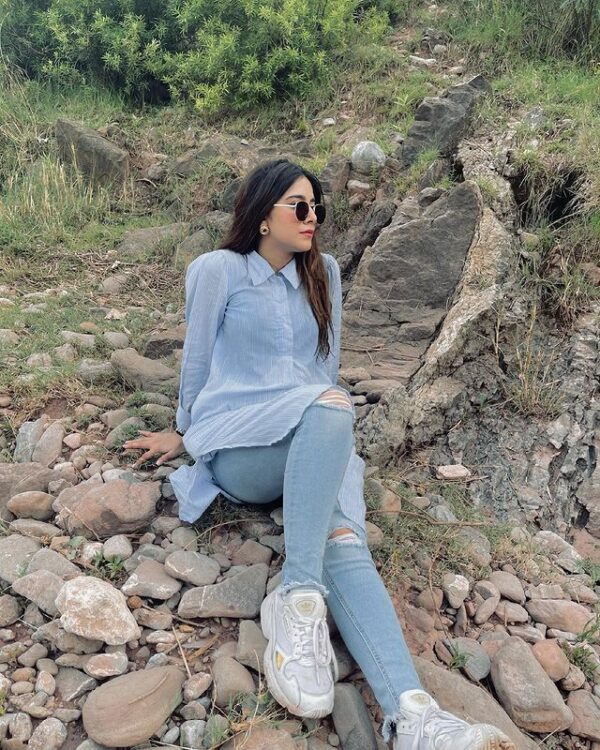 ↓ 22 – What to Wear to University in Winters?
Your best bet to dress for university in winter is to opt for an oversized knit sweater and a pair of jeans. It is classy and something you can't go wrong with. Similarly, this outfit is super easy to style, looks vibrant and conventional too. What a cute look!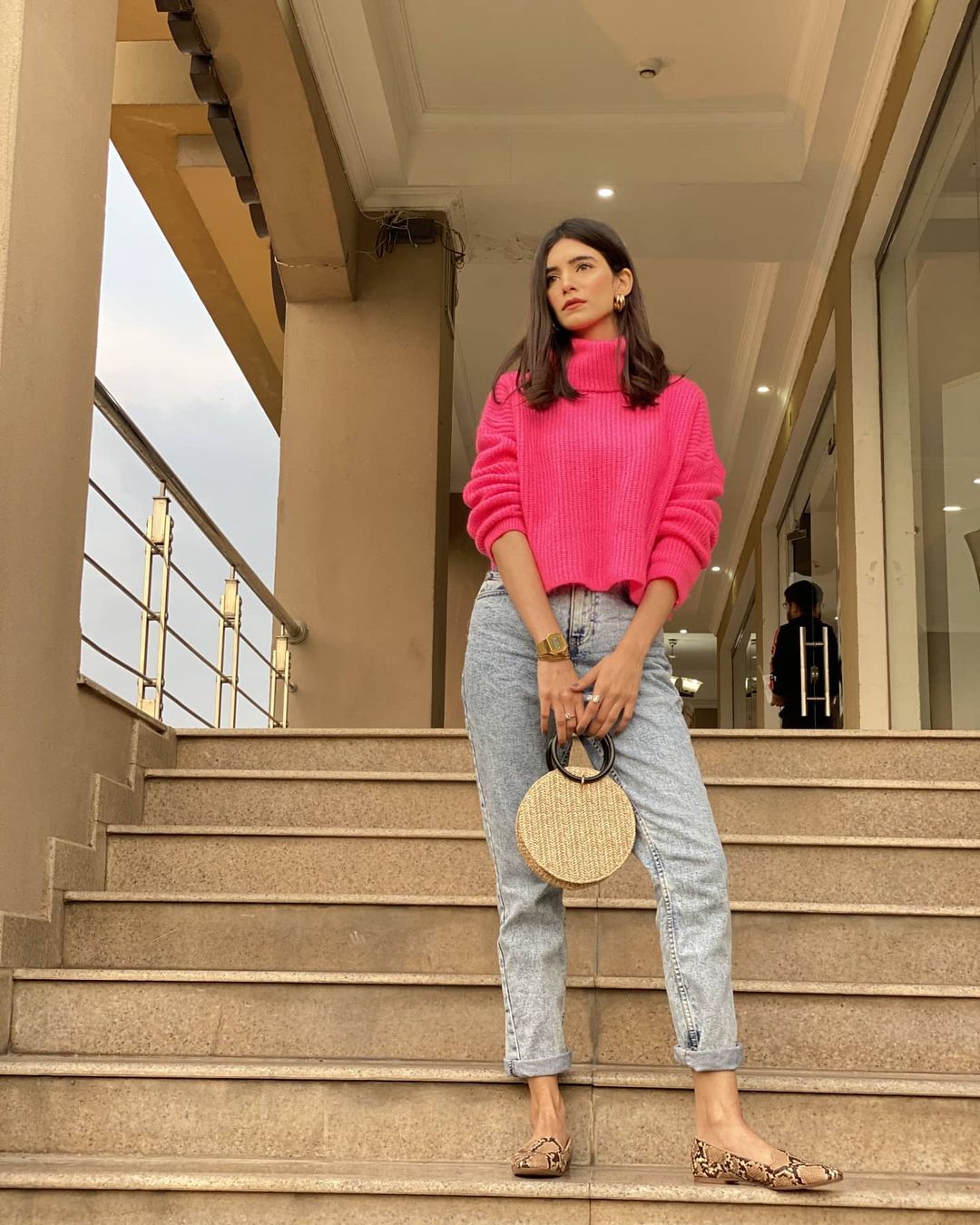 ↓ 21 – Trending Tie & Dye!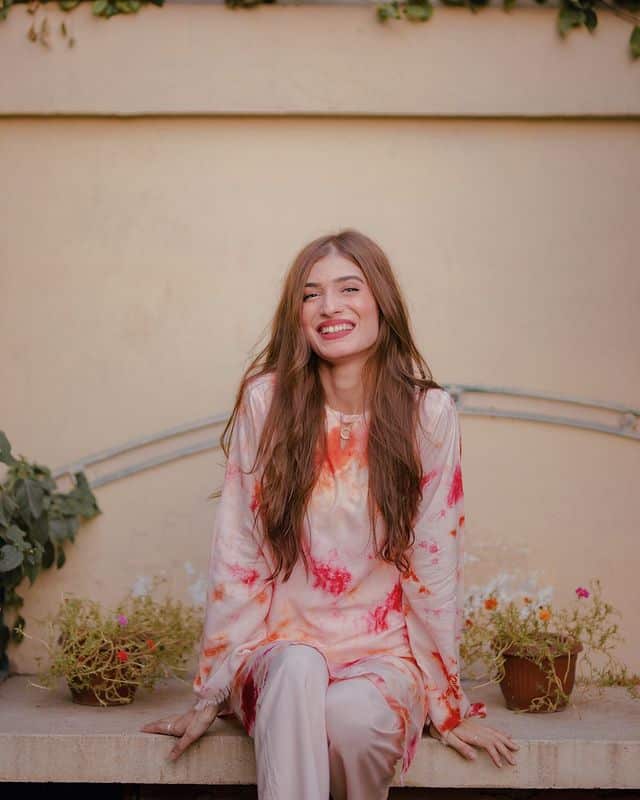 ↓ 20 – Cape Shawl Fit
Is it just me or are cape shawls the definition of grace and elegance?! This outfit is styled so effortlessly and I love how well everything complements one another. Furthermore, the color palette is simply spot on with the current trends, pastels, and creams with a touch of washed blue. The coziness of this look works perfectly for a sunny winter day where you just want to eat some samosas and read your favorite book!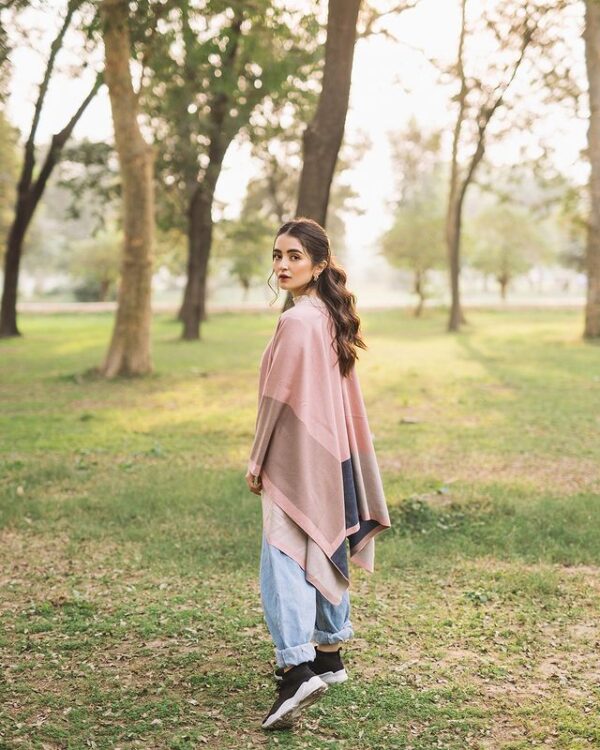 ↓ 19 – Pakistani Girl's University Outfits With Pleated Pants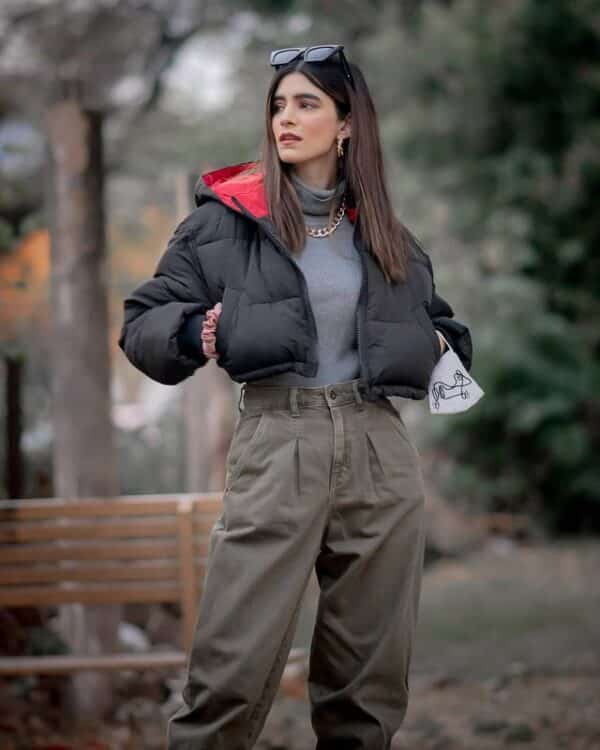 ↓ 18 – Tie & Dye Two-Piece Suit
The tie and dye pattern is truly making its rounds around the globe and we are all here for it! Not only is it being incorporated in western clothing but it is also being styled in innovative ways in eastern outfits, whether it is in a kameez or a dupatta. This outfit is super pretty and the slight embellishments help bring out the pattern even more. Style it with similar chappals or a pair of white or silver khussas!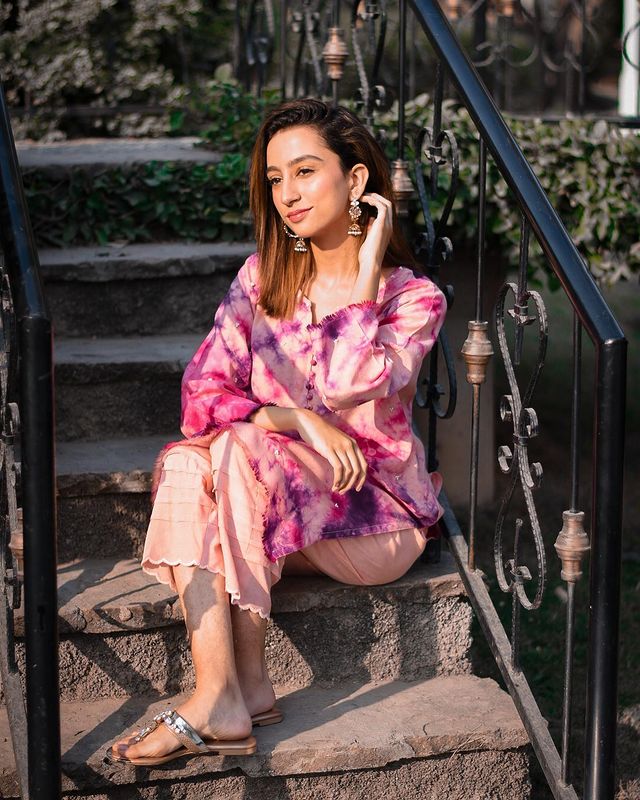 ↓ 17 – Cosy Look for University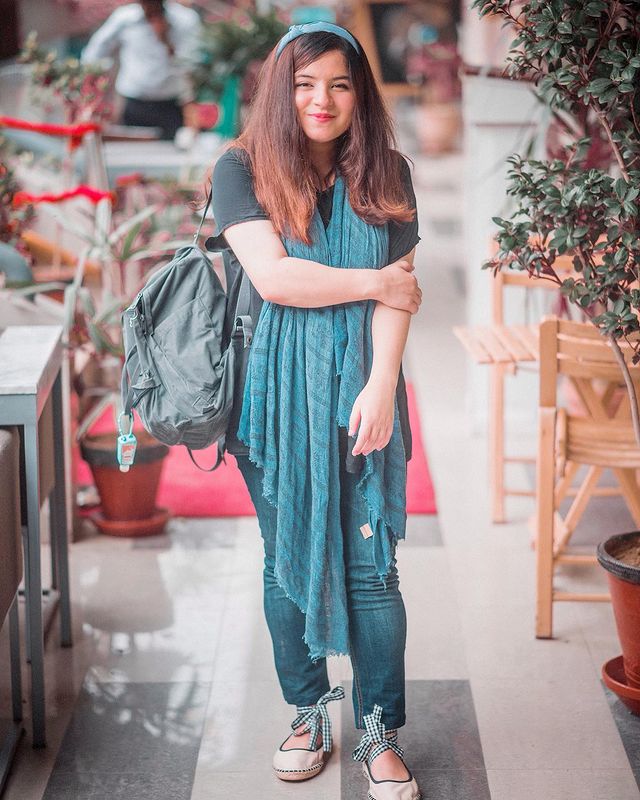 ↓ 16 – Black & Tan Twining!
Are you confused about what to wear to the next group presentation? Do you wish to all match but having trouble executing the idea? Well, this look will help you gain some inspiration! Choose colors that are mainstream and easily available in everyone's closet, for example white, black or beige. The next step is to decide whether all of you would be dressing eastern or western. Once those two steps are done and agreed upon, the synchronization of the outfits will work out on its own!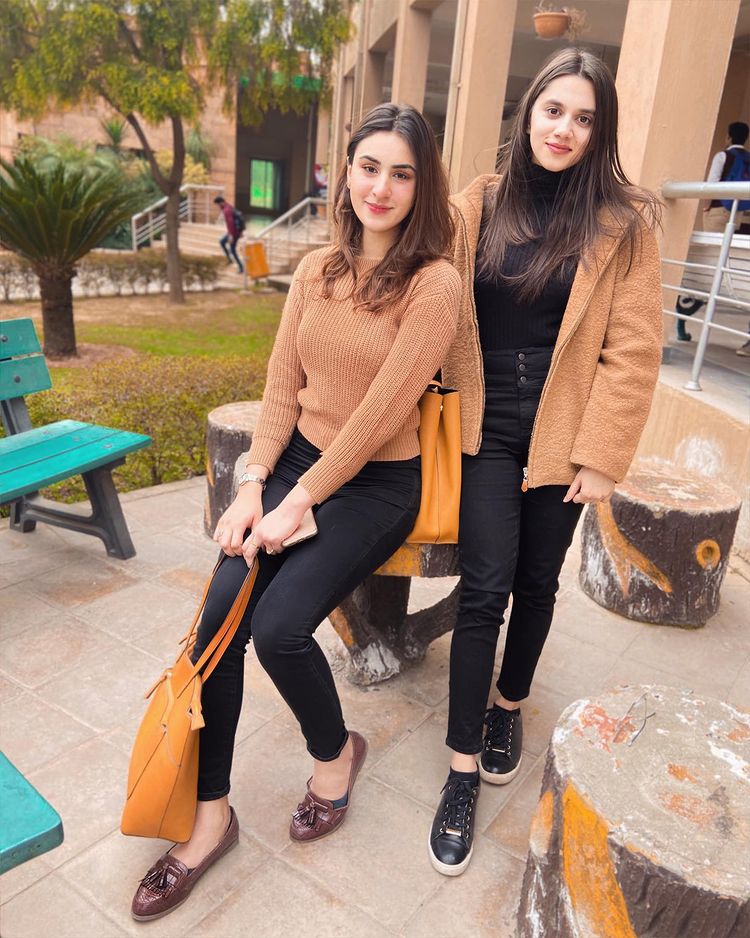 ↓ 15 – Shalwar Kameez Outfits for Pakistani Girls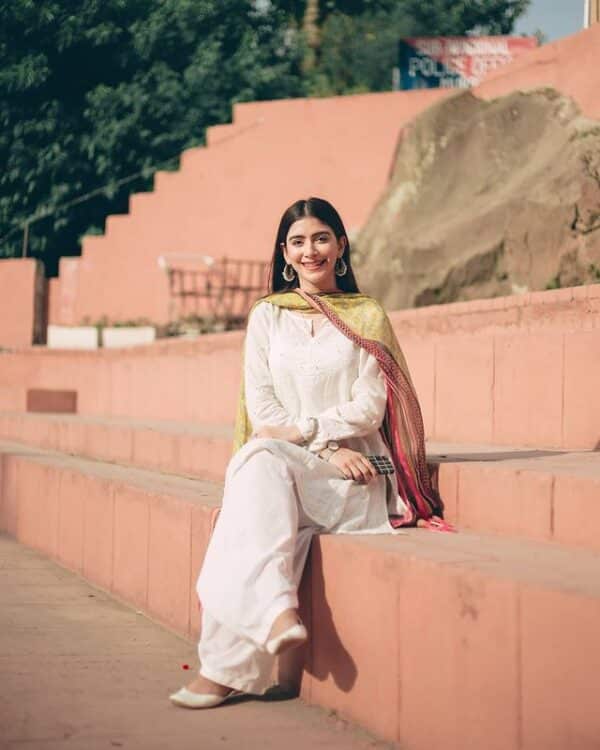 ↓ 14 – Peplum Top to the Rescue!
How cute yet straightforward is this outfit?! The printed peplum top looks classy and made conventional by pairing it with the cardigan and jeans. Wear a cute choker necklace with this outfit, and pull your hair back in a half-up-half-down bun! And to complete the outfit, we have got those super cute boots!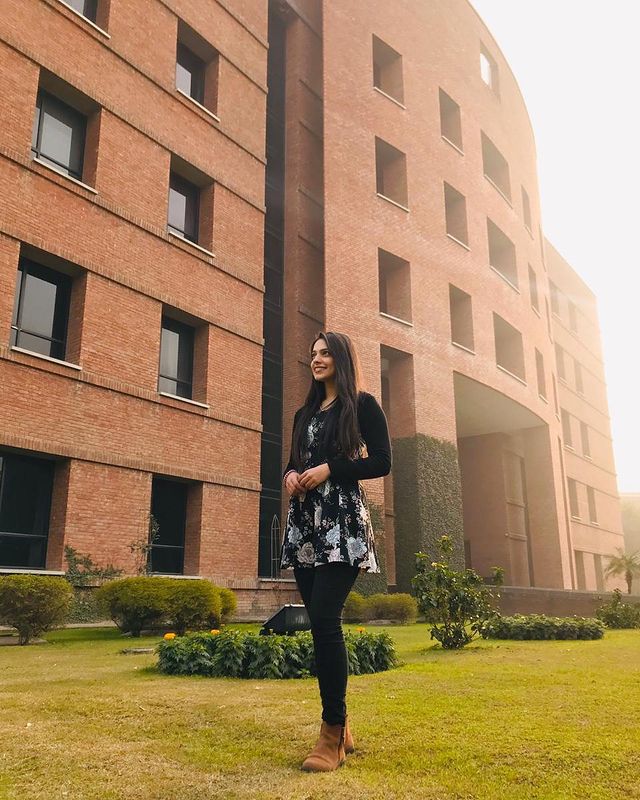 ↓ 13 – Elegant Embroidered Suit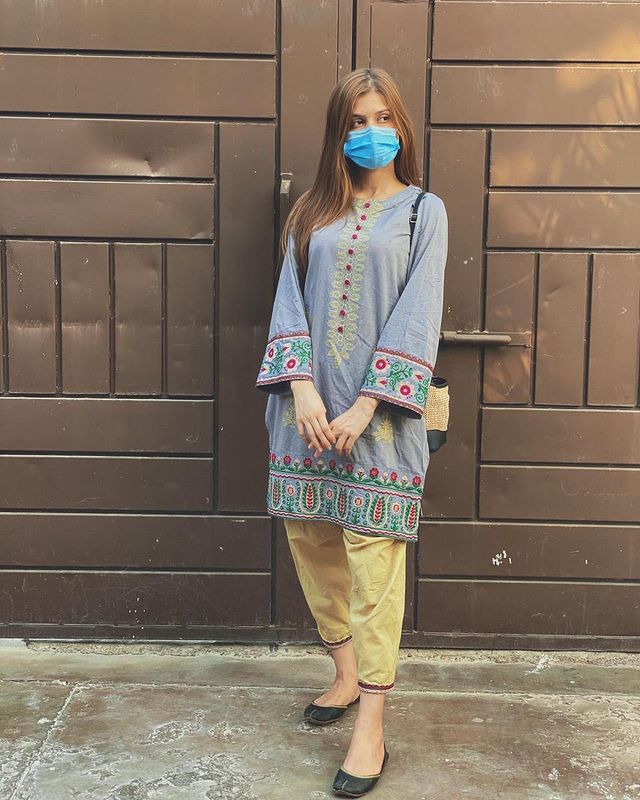 ↓ 12 – Peplums & Shalwars!
Another way to wear a peplum top is by giving it a touch of tradition and pairing it with a gorgeous shalwar! Accessorize with small jhumkis and similar khussas, and your cultural ensemble is all ready! Not only does it make the top stand out more, but it also makes your outfit right on brand with the dress code while remaining stylish.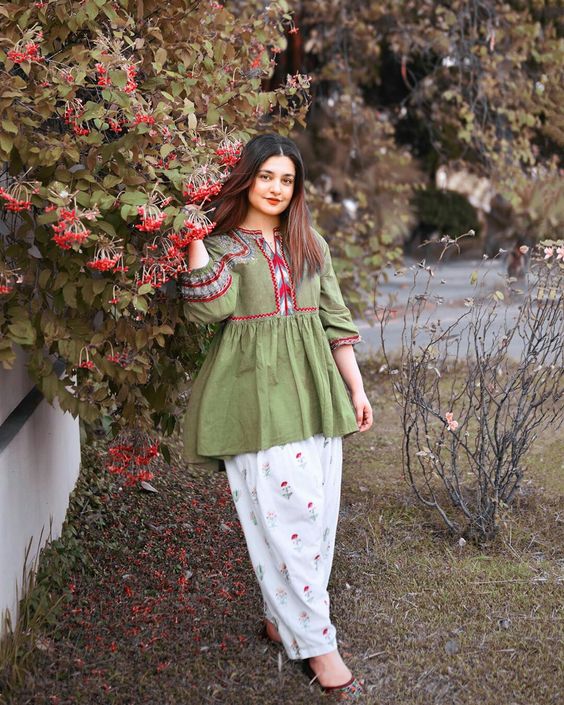 ↓ 11 – Bloomin' Sunflower!
↓ 10 – Western Style Dressing for University!
Co-ord sets are definite and effortless wear for the universities! They come in so many colors, styles, prints, and varieties for you to choose from. Not only does it save you the hassle of matching articles of clothing, but they also are ready for you to wear and hit the door. Pair a similar set with a pair of classic white sneakers and dainty jewelry. Do not forget to grab your jacket on the way out!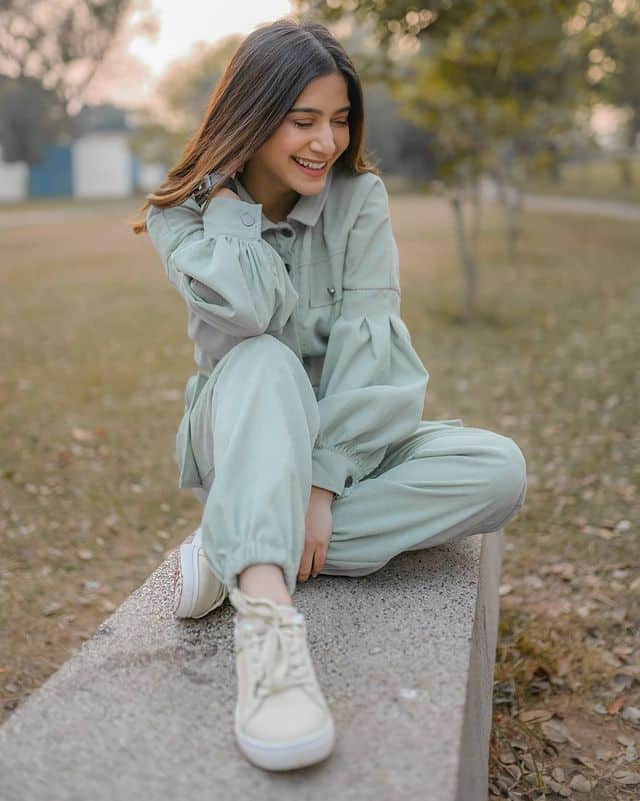 ↓ 09 – Puffer Jackets for Winters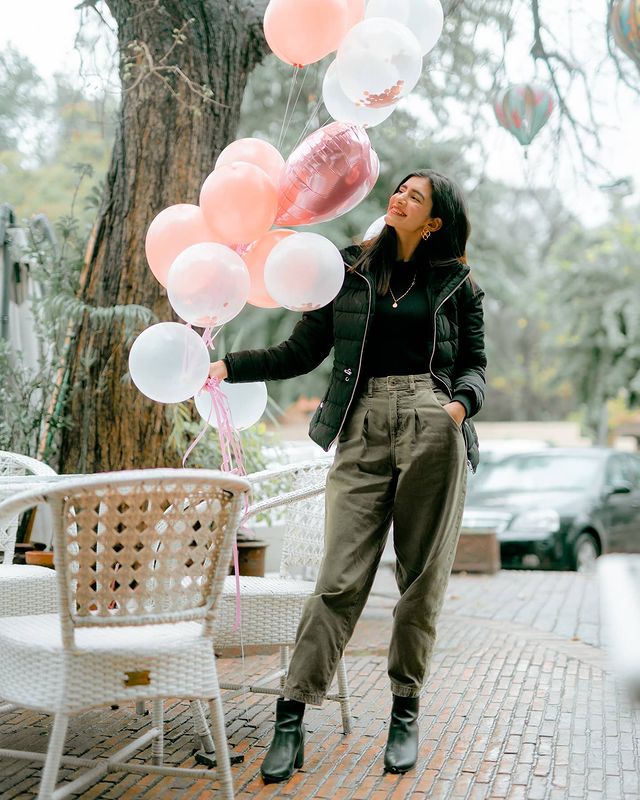 ↓ 08 – Solid Suit Style!
↓ 07 – How to Wear Scarf to University by Women?
Is wearing a dupatta or a scarf compulsory for you as a part of your dress code? While there are some excellent ways to wear a dupatta, check out this super trendy way to adorn a scarf without actually having it wear it if you do not want to. The classic solid black blouse and blue jeans make the stole stand out and make the outfit look vibrant. If you find a scarf too big to wear this way, grab a slightly more oversized hair scarf, and voila! You have got a fantastic look on your hands!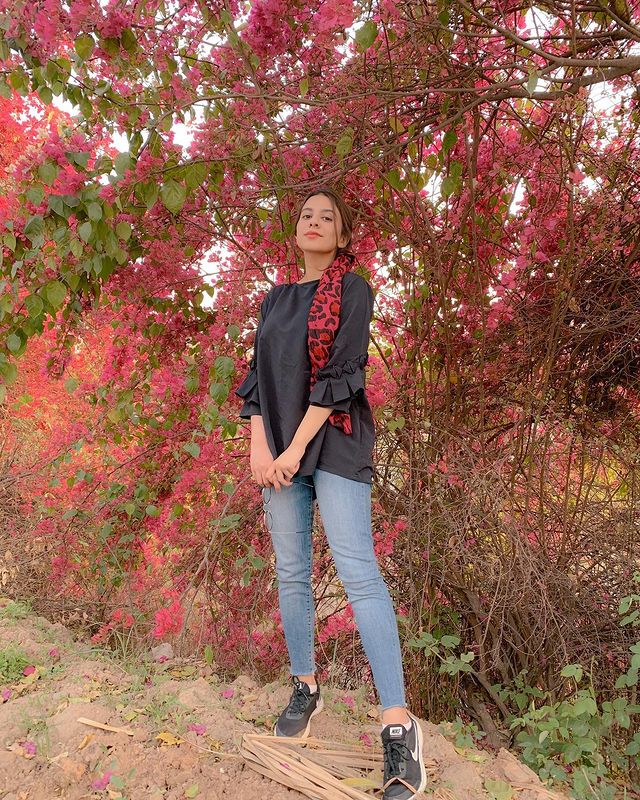 ↓ 06 – Comfy yet Dressy!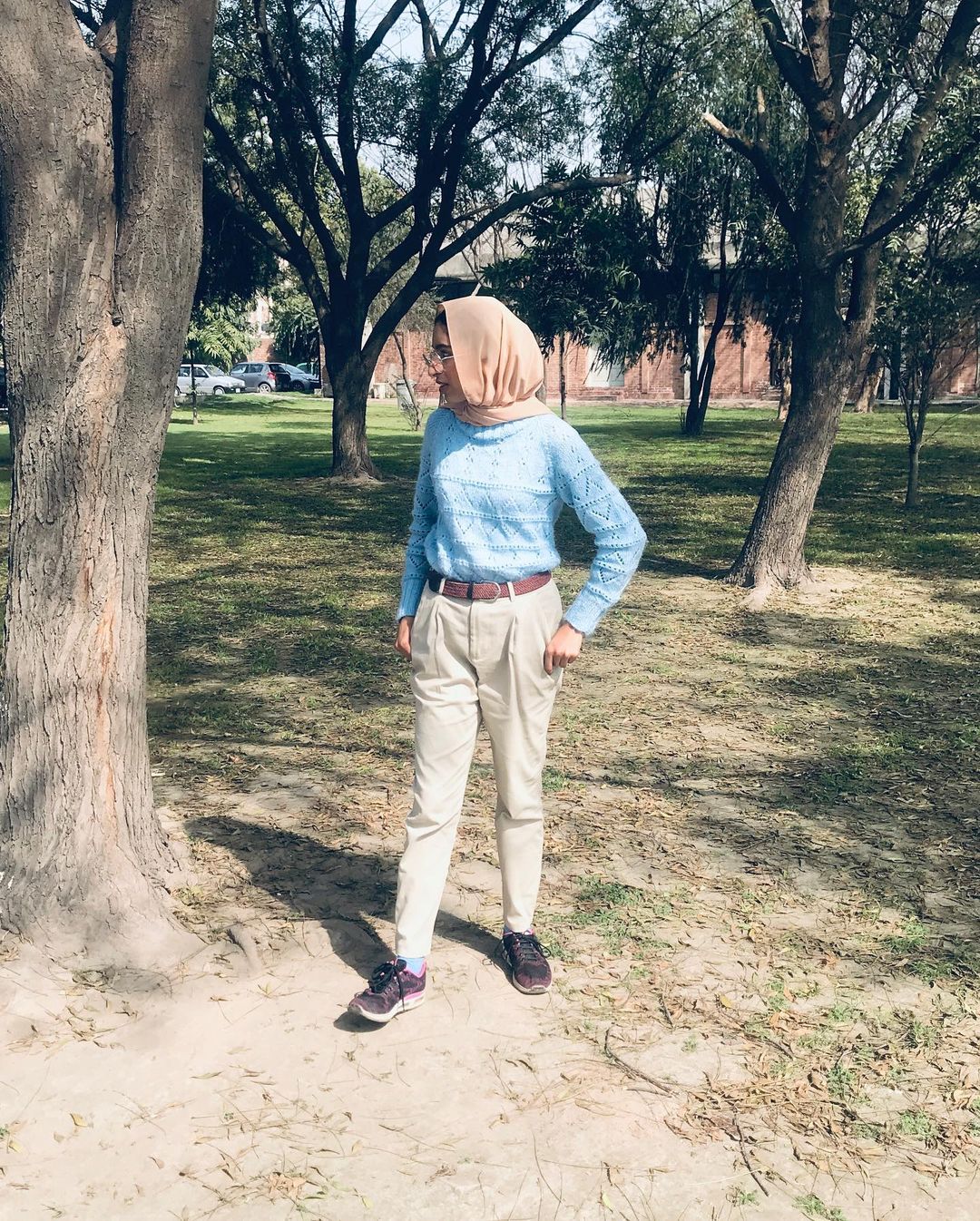 ↓ 05 – Breezy Layering
For the stricter universities with a dress code, layering might be your best option if you wish to wear western clothing! Layer your jeans with a slightly longer shirt that goes down to your mid-thighs, add on a scarf and a cardigan over it, and there you go. There are extremely high chances that you will escape the wrath and end up looking super chic!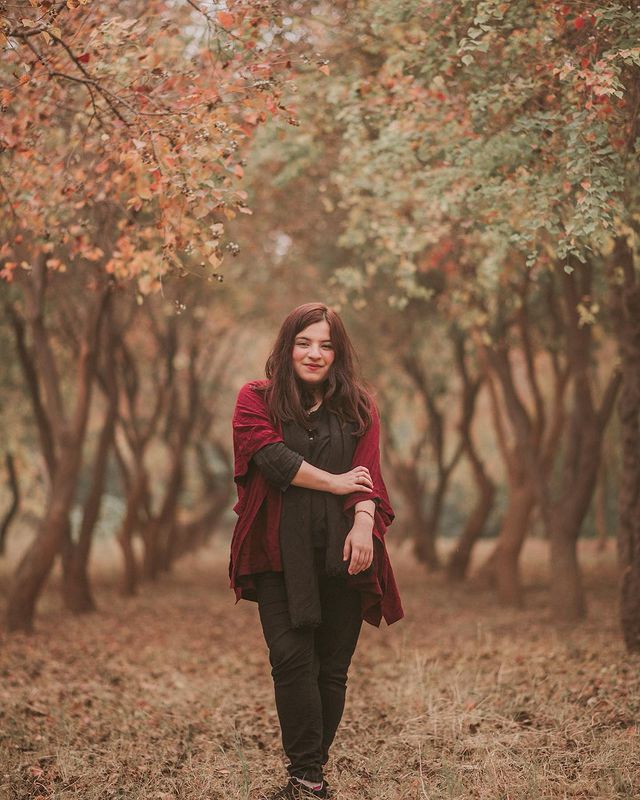 ↓ 04 – Pakistani Girl's University Outfits for Presentation!
↓ 03 – Floral Inspirations
The western dressing has never been made this easy and pretty! The color palette of this look is calling out to me, and the slight pop of color with the printed shirt is the perfect addition. A belted waist is just what we needed, and the bagginess of the pants works effortlessly with all the pieces in this fabulous attire! Super cute and ideally in style for the university! I am in love with this look as a whole for all the right reasons.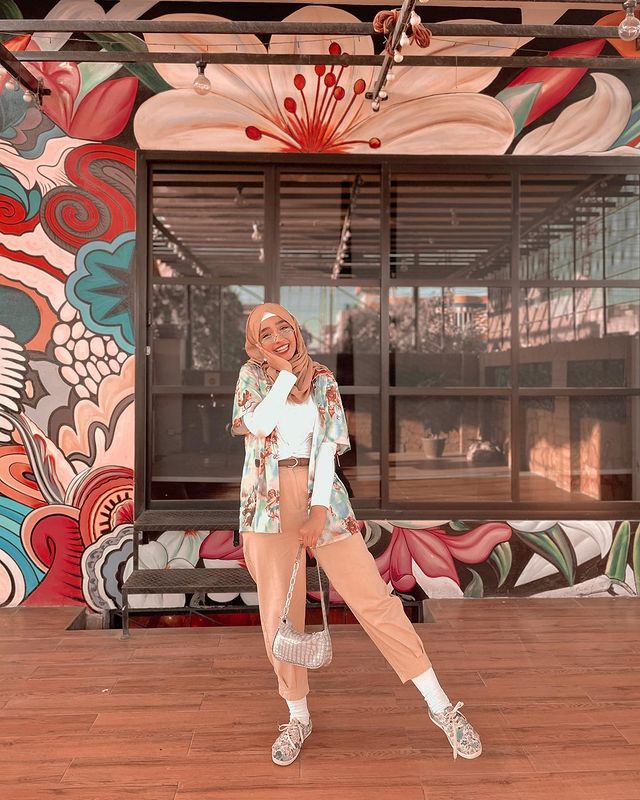 ↓ 02 – Accessories to Wear to Unviersity!
If there is an effective way to style tribal jewelry to university, then this is it! Get some major inspiration from this look on styling tribal pieces in a classy way for a university look.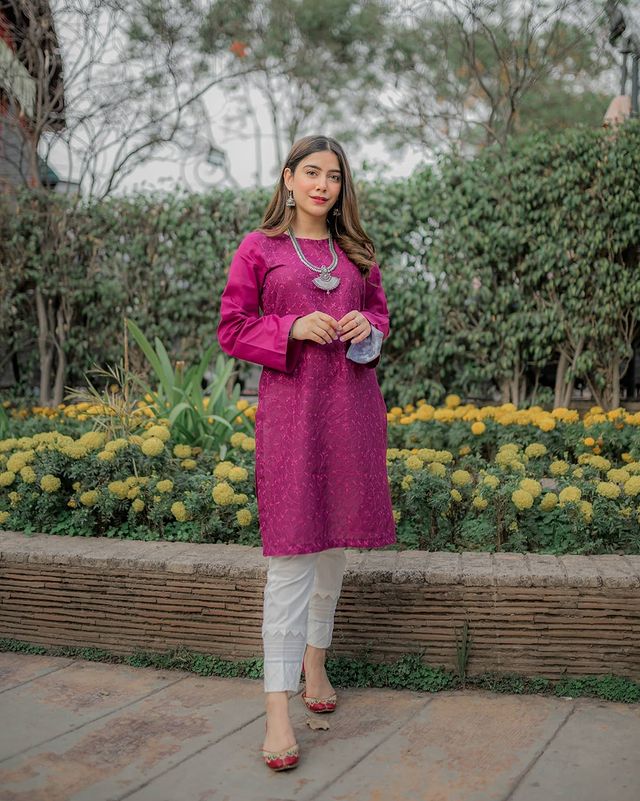 ↓ 01 – Gorgeous Greys!
Straight and fitted cigarette pants have been trending for a while now, and we definitely understand the love for them. Matched with a kameez, they give your outfit an immediate lift and formal feel to it. And putting on a pair of heels is making the outfit the epitome of proper and class. Thus, this kind of outfit is perfect for attending an annual dinner or for an effective presentation. For the annual dinner or some function, go a little heavy with the make-up, perfecting the skin and going for a smokey eye look. What a graceful queen?!
Frequently Asked Questions
Q. How do I dress for university?
A. Dress comfortably and true to your style. I always say this whenever someone asks me for advice for dressing up. But choosing an outfit that makes you feel your best self is so important and empowering. Stay true to your style and look for unique ways to take your outfit and fashion sense, in general, to stand out. Look outside the box, and don't be afraid to be unique and try new things that you have always wanted to try when composing a look. And for ultimate confidence and to last throughout the day, comfort is the topmost priority!
Oh, and a quick tip, make sure not to go too overboard with the unique ideas. We do not want you to get into trouble for breaking the university dress code!
Q. What is the dress code for women in Pakistani universities?
A. While every university has its own rules and regulations, most universities in Pakistan require females to wear shalwar kameez and a dupatta. Some even go as far as to impose sober, light-colored clothing. However, that is very rare, and students have the complete freedom to dress however they want to as long as it is decent. You can get away with wearing whatever you want as long as it is modest and covers a reasonable amount of skin deemed appropriate in Pakistani society.
Q. Can I wear Western clothing in Pakistan? Can I wear skirts?
A. The answer is yes! You absolutely can wear western clothes in Pakistan, and they are widespread, especially in the country's major cities, including Islamabad, Karachi, Lahore, Rawalpindi, as long as they are modest. The smaller towns and villages are more conservative; thus, wearing traditional clothing might be your best option there.
As for skirts, maxi ones that go down to your mid calves and ankles are splendid wear and look super chic. I would advise against wear knee or shorter-length skirts.
Q. Where can I buy clothes for university?
A. You can find some lovely pieces of clothing for university in the market and online. Some of the places are listed below!
Generation: Classy whites are never out of style. Same is the case for this gorgeous frock and dupatta set (here)!
Outfitters: Ultra chic co-ord set (here) is a definite pick for this season!
Khaadi: This summery tunic (here) is perfect for the university and outing!
Negative Apparel: Pair this blouse (here) with black denims and heels for a presentation look.
Ethnic: Trendy, casual and oh-so-chic! Pair this gorgeous outfit (here) with a colorful printed dupatta.
Beechtree: Bold and beautiful in fuschia (here)!