White Shirt Outfits ideas 2020. A plain white shirt is perhaps the most versatile piece of clothing on earth. This is because it can be worn in a variety of ways and paired with any color you can imagine. Depending on how you style your look, a white top can be worn for practically any occasion: dinner parties, high-teas, birthdays, corporate lunches, dates, college classes, etc.
But what do you wear with a white shirt? How do you style a white shirt with different outfits? What pants go with white tops? How do you wear a white shirt for a dressy occasion? In this post, we will be answering all of your questions and more! So what are you waiting for? Grab a cup of coffee or tea and sit back and enjoy some fashion inspiration. Don't forget to check out the best ways to style white leggings.
How to Style a White Shirt for Women
Fashion trends are always changing, it's true. But one constant you can always rely on is the versatility and permanency of a white shirt. A white shirt can be many things. It can be a silky camisole, a crisp button-down, or a whimsical blouse.
Whatever your choice, it is a fantastic piece that every young woman should keep on hand. Not only can you build countless outfits around it, but it's a staple piece that even a minimalist would not part with. In today's article, we are going to be exploring the best ways you can style a basic white shirt as well as show you many outfits built around the same for a glamorous look. Let's get started!
We have rounded up some amazing outfits with white shirts to inspire you. But before we check out those, let's look at some quick tips for styling a white shirt!
Choose a thick material if you don't want your top to be see-through. A common complaint we see with white shirts for women is that they tend to be a little see-through, especially tee shirts and such. Look for quality fabrics and always test it out before purchasing to ensure it's not going to show your bra.
If your shirt is see-through (and you don't want it to be), pop on a white or skin-colored tank beneath your shirt which will fix the issue.
Wear skin-colored undergarments.
Always check your shirt when getting dressed for stains. Unfortunately, white pieces are prone to stains. Always give it a quick once-over before running out the door to save you any embarrassment later in the day!
If you have a beautiful new skirt that you want to show off, a white shirt is a fantastic piece to pair it with.
Wear a crisp shirt with a sleek suit for a classic work look.
For a lively look, pair it with bright prints.
These shirts are excellent for layering under or over your outfits.
Use accessories like hats or neck bows to built multiple outfits around the same top.
For date night, pair the shirt with neat denim jeans to keep things simple but classy.
Wear a long shirt with heels as a dress in a pinch.
If you find these shirts to be too sheer, layer them with a white tank, camisole or tee underneath.
Always check for stains on your shirt before going out.
Ditch the shirts that have yellowed pit stains. Not cute!
Iron your shirt if necessary. Wrinkles and crinkles can take away from your overall look and make your outfit seem sloppy instead of elegant.
And now, here is our roundup of the most glamorous white shirt outfits. Enjoy!
Now let's look at some outfits!
↓ 49. With BoyFriend Jeans and Cheetah Heels
For women over 40, moms and grandmothers, a white chiffon top can be paired with boyfriend jeans and cheetah or animal printed heels and a brown hobo bag for a super chic and elegantly casual look. We love the gold accessories and turned up cuffs on the jeans too!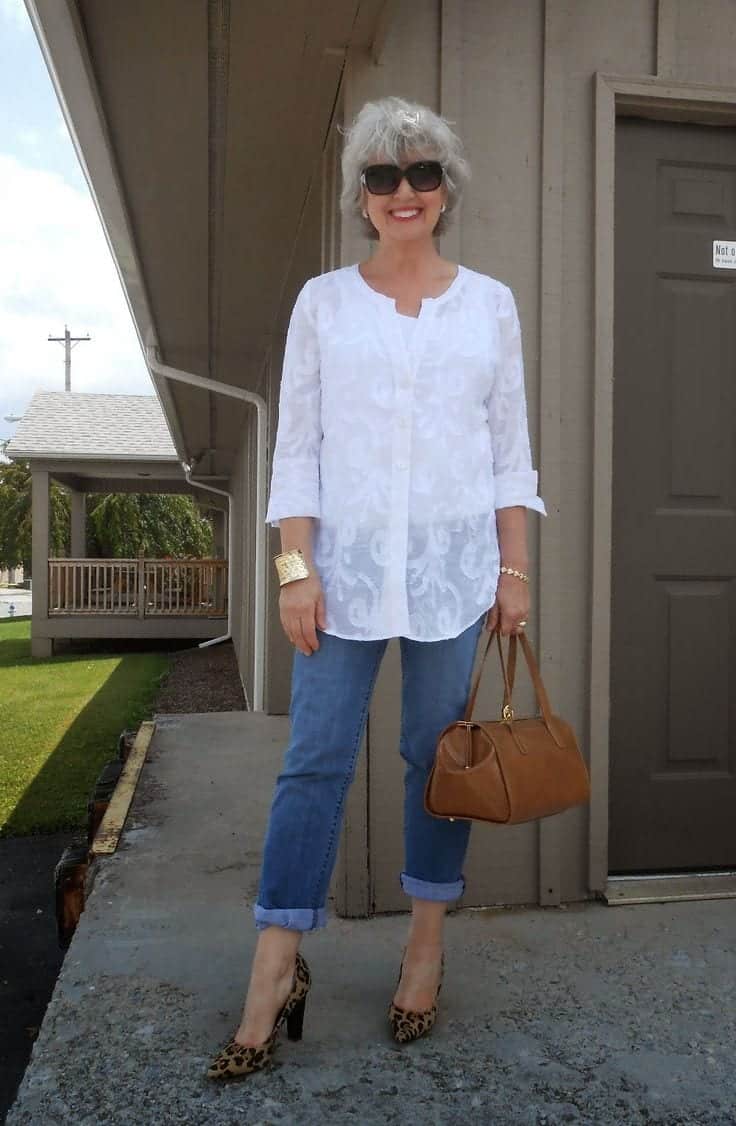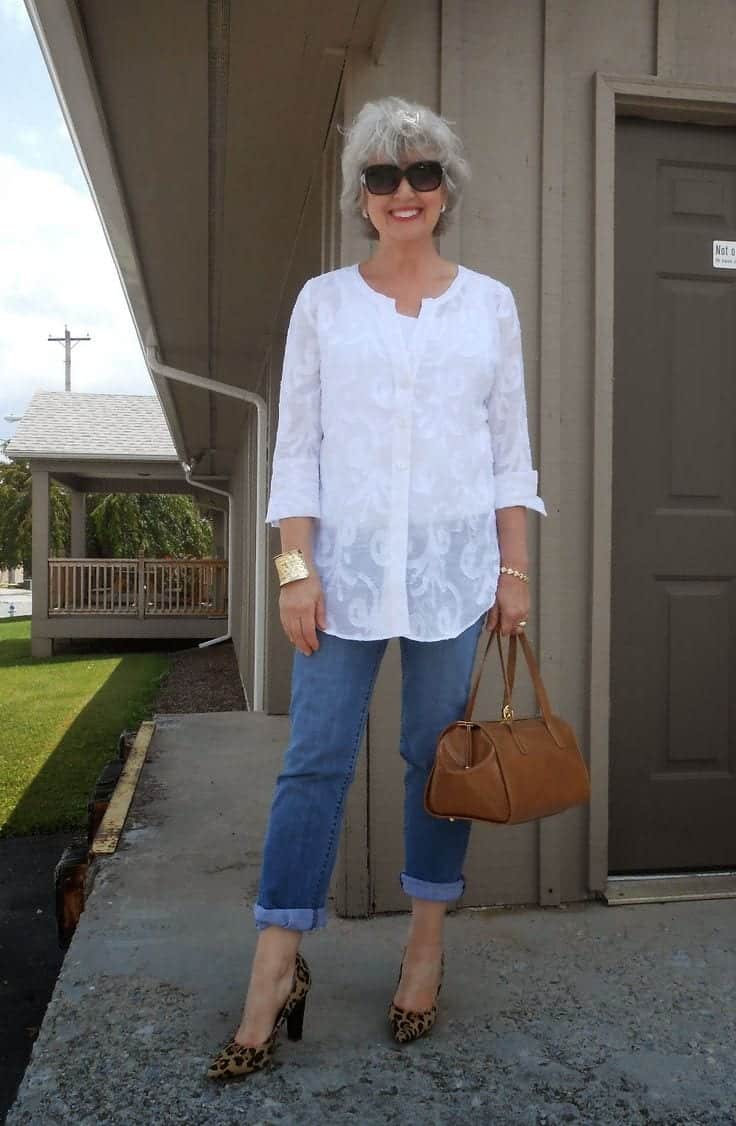 ↓ 48. White Lace Top with a Blazer and Cowboy Boots
City girls or fashionable chics can wear their embroidered white blouse with a black corduroy blazer and knee-length leather boots.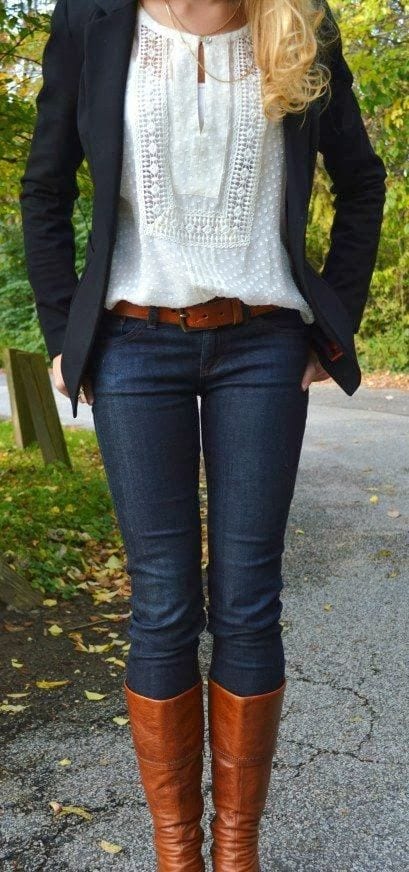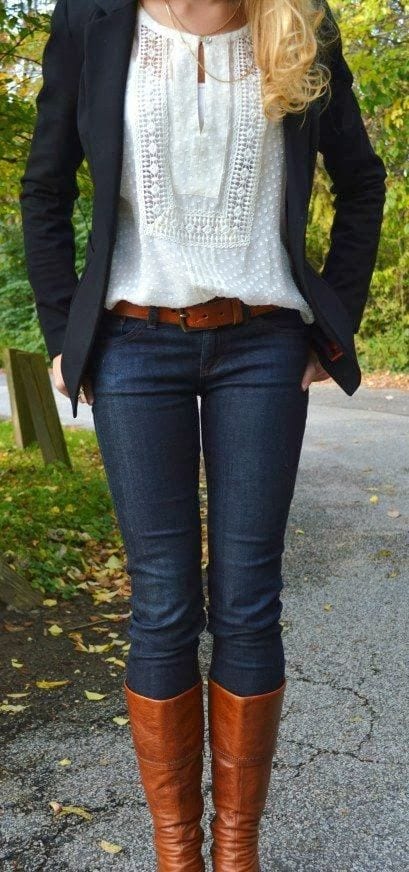 ↓ 47. With Oversized Scarf and Leather Jacket
For the fall or winter season wardrobe, match your white t-shirt with brown accessories, such as thick scarves, leather totes, and jackets.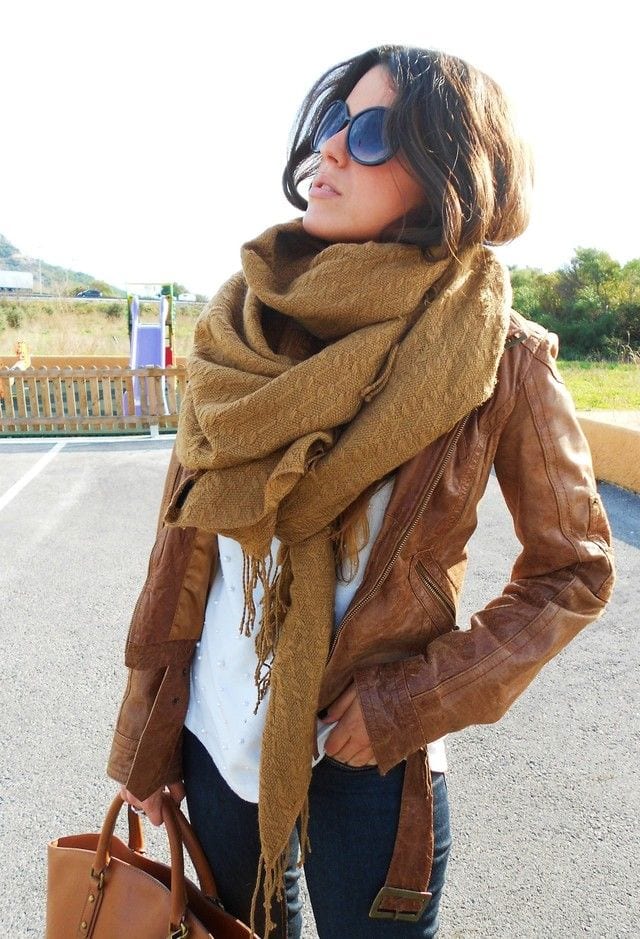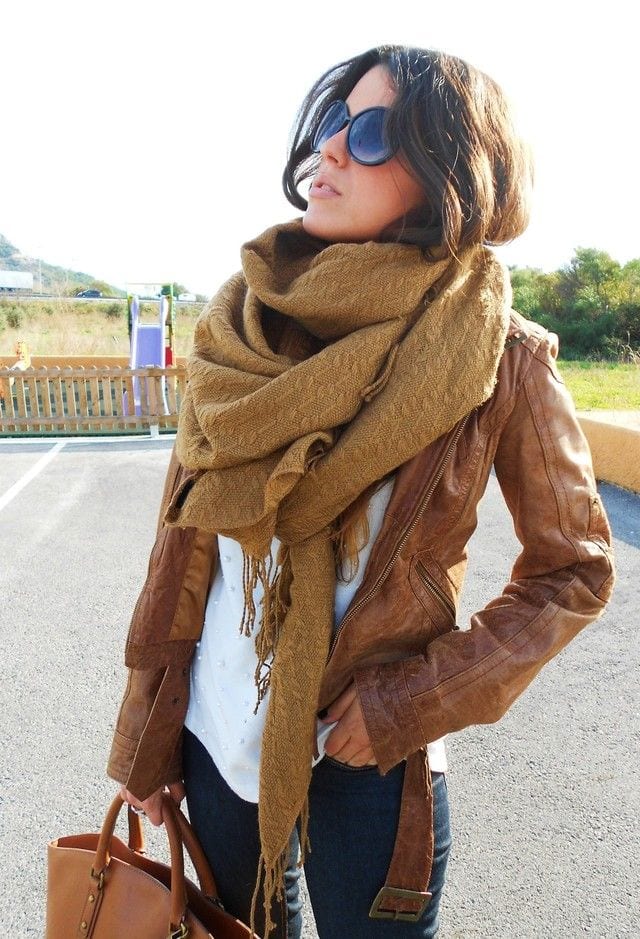 ↓ 46. With White Skirt and Leather belt
Turn your shirt into a dress, and pair it with a thin, braided brown belt. The perfect look for the office.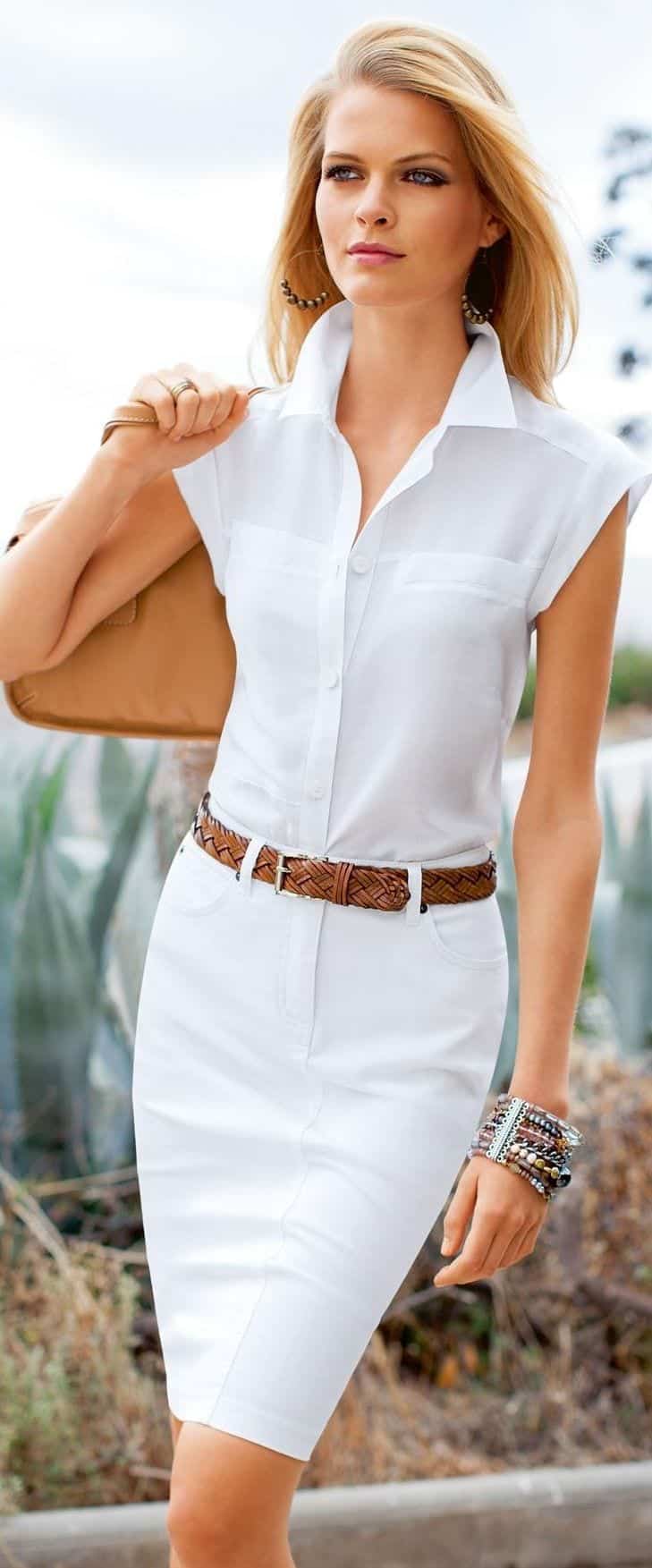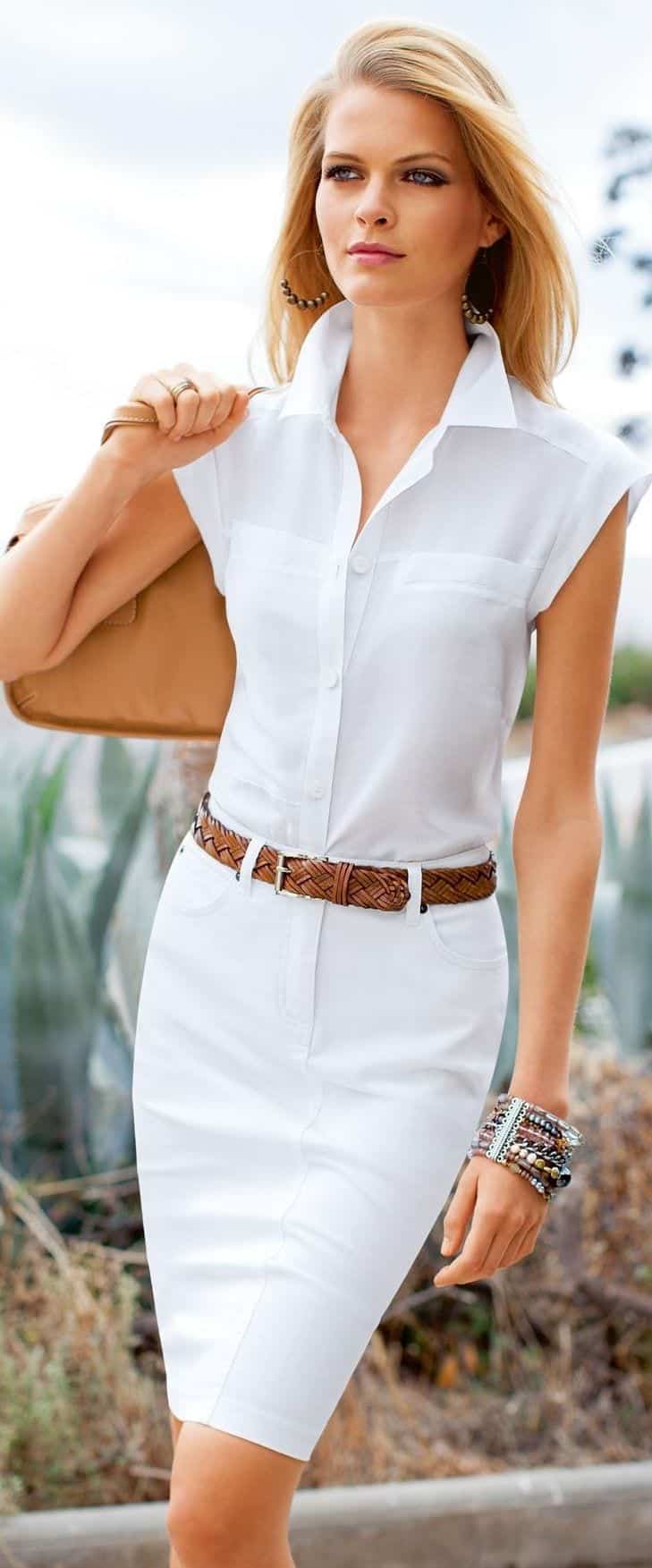 ↓ 45. With Ripped Jeans
Contrast a stylish, expensive bag with ripped, casual jeans for a style that is perfect for day or night time.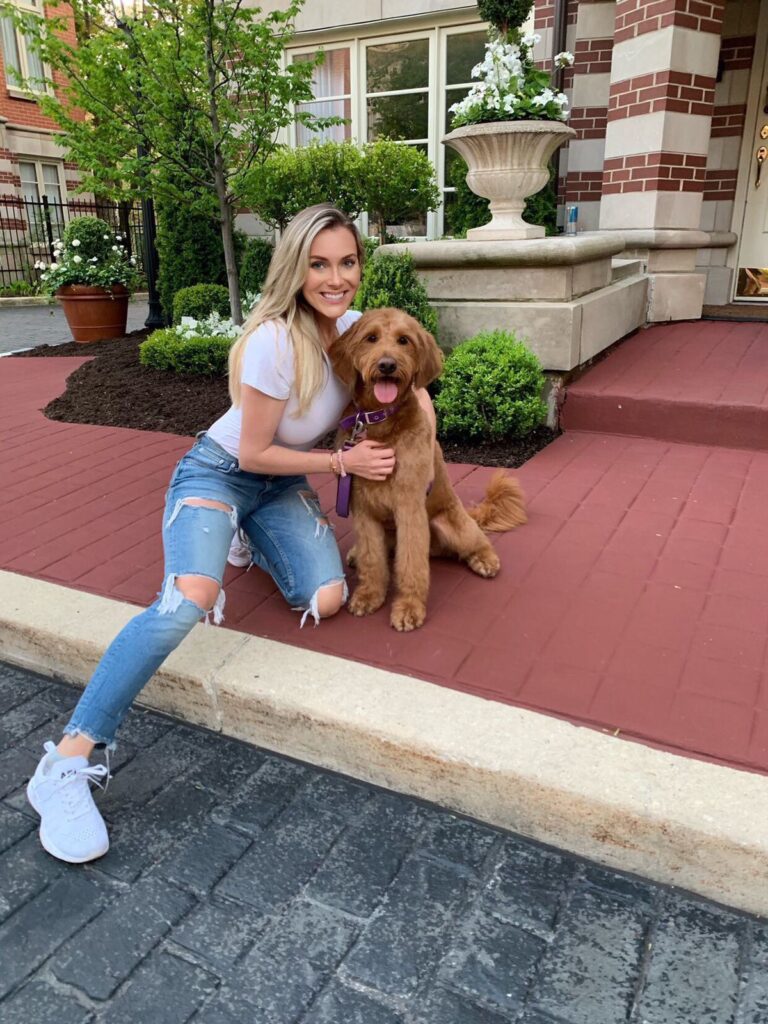 ↓ 44. With Leather Pants
Let out your inner fashionista by matching contrasting colors, such as black and white.


↓ 43. Accessories for White Shirt
For older women or moms who wish to look hip, choose a striped top with patent leather camel shoes, a stylish matching Prada bag and a statement necklace made of pearls.


For a more understated look, try burnished gold jewelry (or silver! your choice) and pair with an oversized statement purse.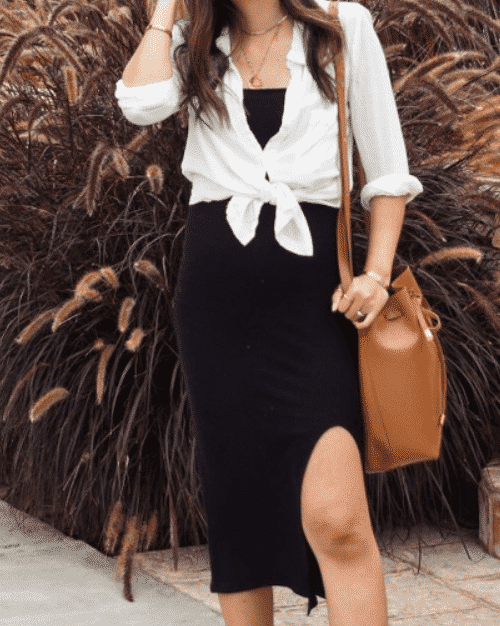 ↓ 42. With Patterned Trousers and Cat-Eye Shades
Copy Misha Barton's vogue style by layering a white top with geometrical patterned black-and-white trousers and dark shades.


↓ 41. With a Black Blazer and Gold Chain
A v-neck white vest looks perfect with a black blazer and low hanging golden chain. Perfect attire for corporate fashion.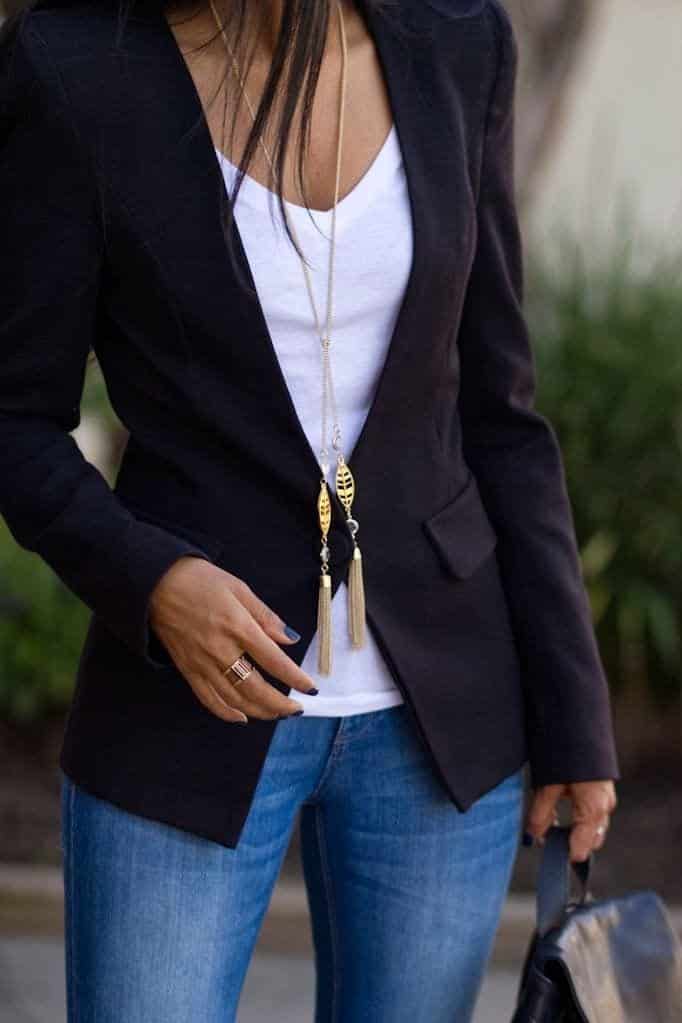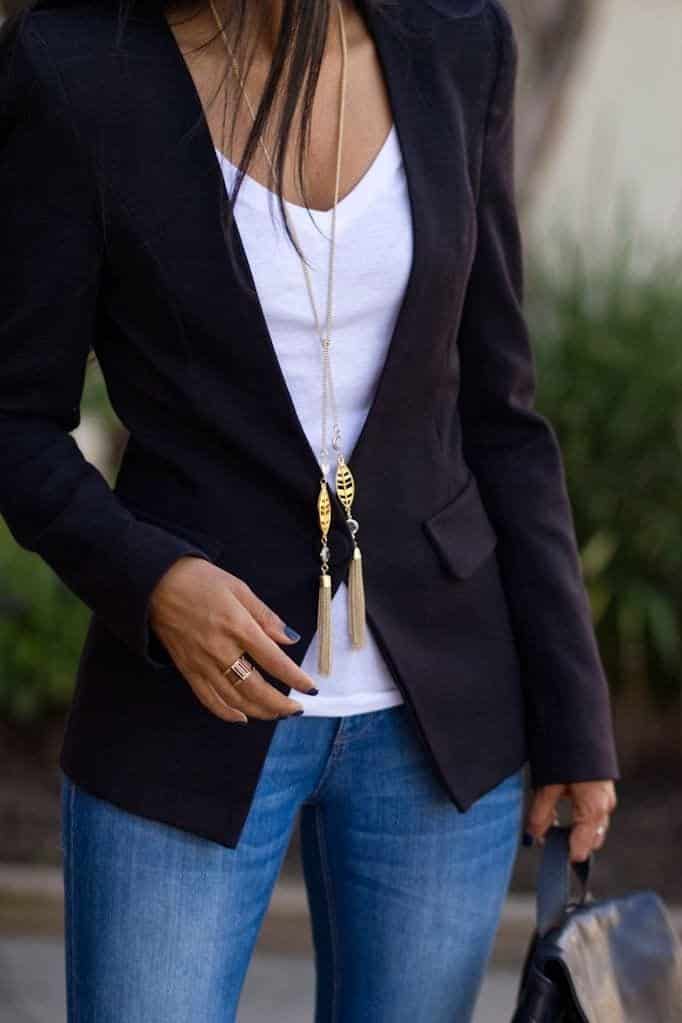 ↓ 40. Celebrities Style – Suit Jacket and Black Heels
Take a cue from Jennifer Aniston, who paired white and dark grey and kept it super hot!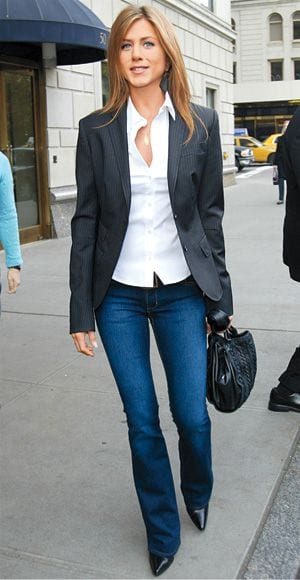 ↓ 39. With White Pants and Brown Belt
Cameron Diaz knows how to wear white! She tucks her white blouse into white pants and then wears a thick, matte brown belt to complete the look.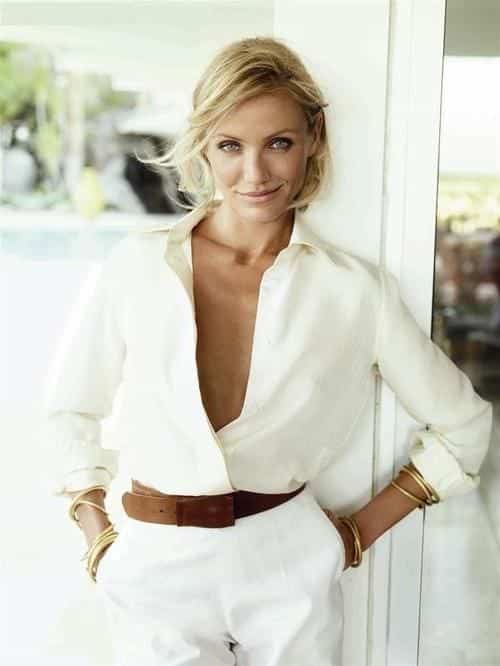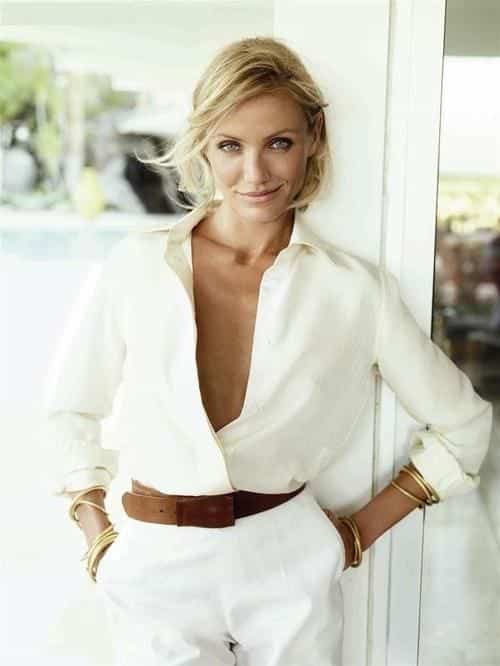 ↓ 38. Cute Outfit Combination with White Shirt
For a weekend outfit, pair a loose white blouse or vest with a large satchel, dark blue or grey jeans and matching boots or Timberlands.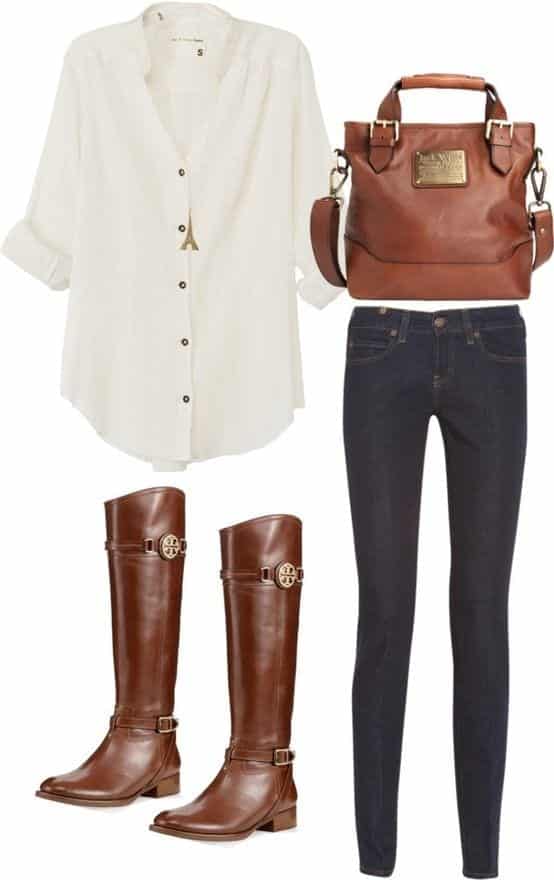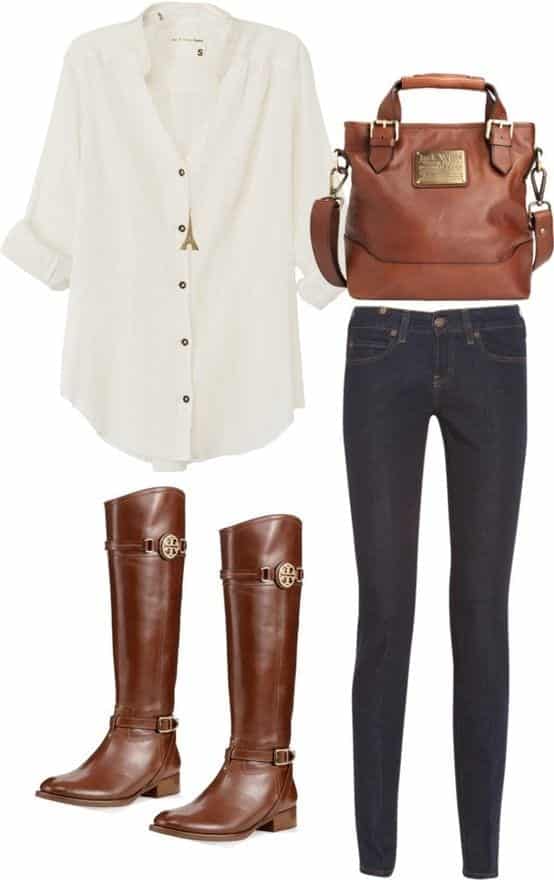 ↓ 37. Emma Watson Style
For a cool and classic look, great for a wedding or formal event, try this style as worn by Emma Watson: a white, open-collar top tucked into a floor-length cool gray skirt. A red lip and metallic clutch keep the ensemble from being too casual.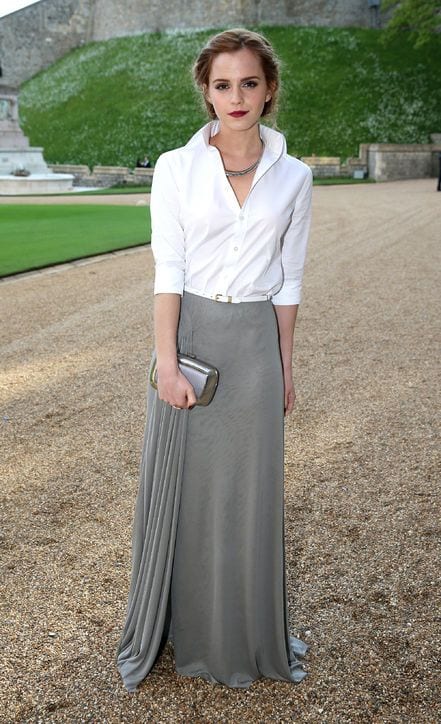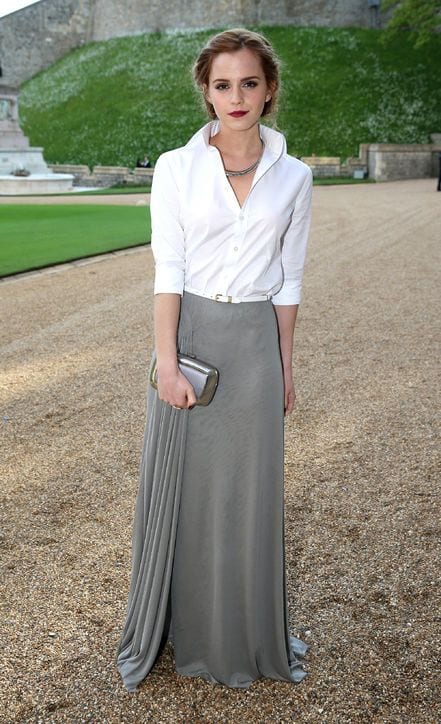 ↓ 37. Street Style
A black and white combo outfit is always a great way to style a white shirt. Here is one way you can style a collared shirt as well.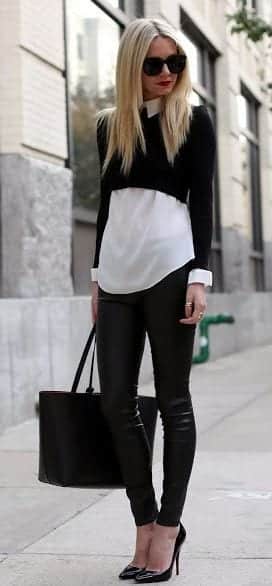 ↓ 36. Summer Casual Wear
A loose boyfriend style white shirt is the perfect piece for summer wear! It will keep you feeling fresh and cool and you can wear it casually (with sneakers or sandals) or semi-formally with heels.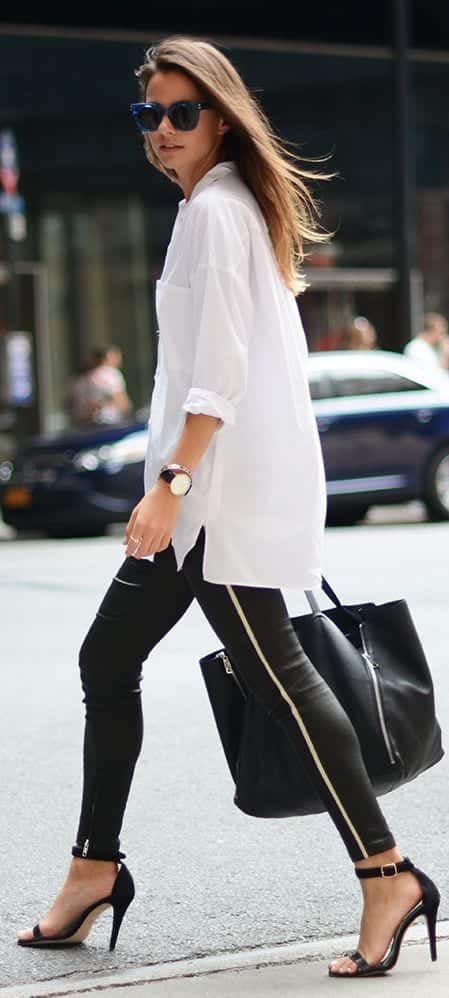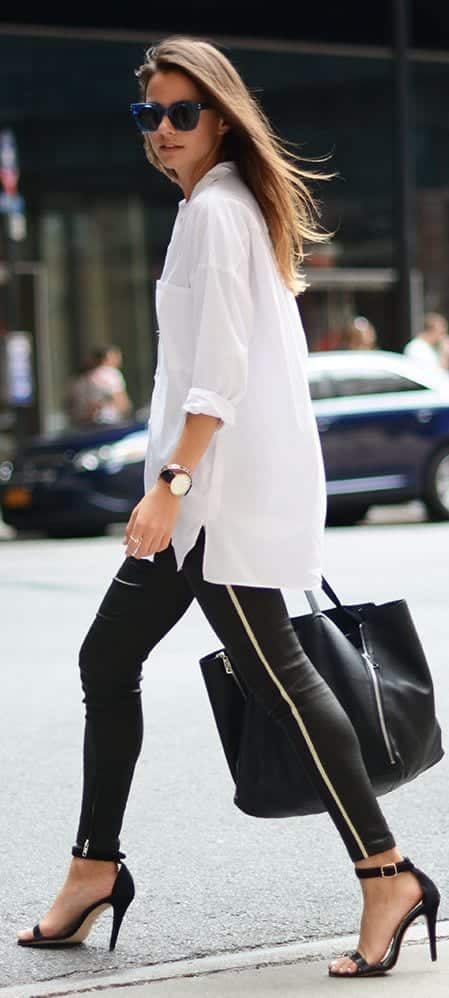 ↓ 35. With Denim Jacket and Yellow Pants
White and yellow are always a great color combination to try, especially in spring. There is no better pairing with yellow jeans than a white top. Keep it chic with a denim jacket and coordinating accessories.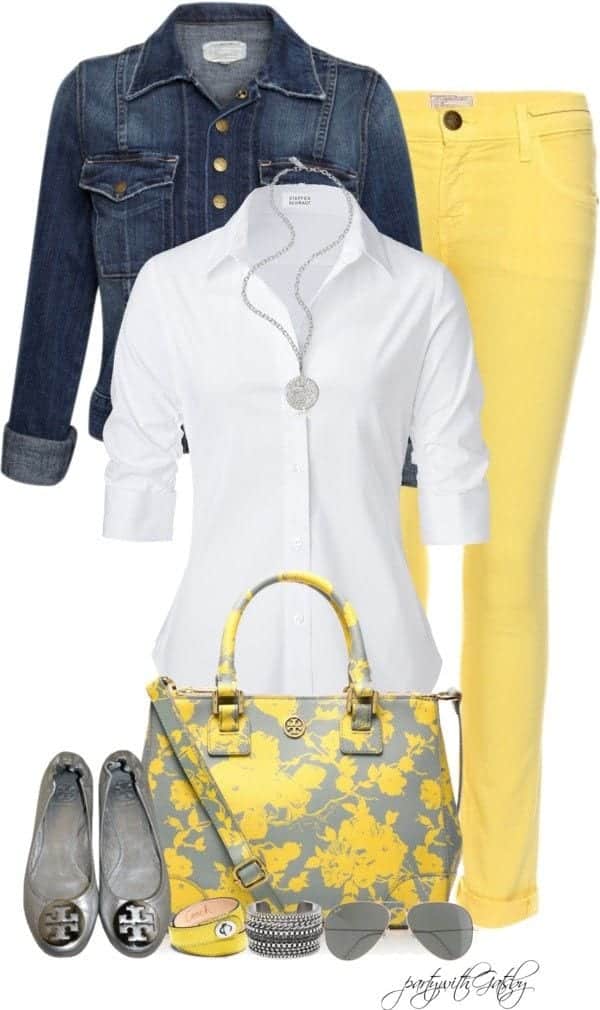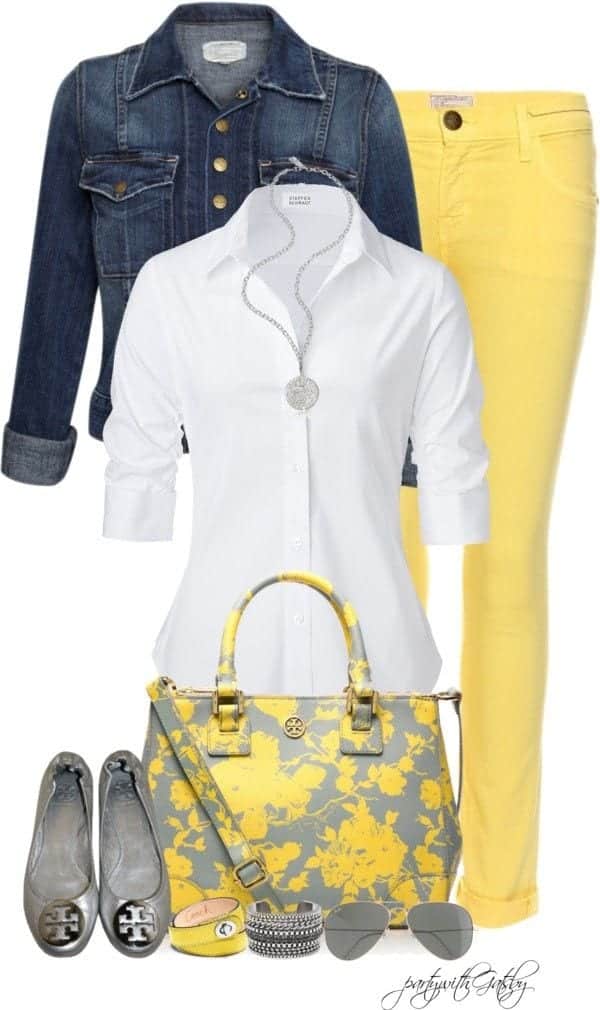 Images source @pinterest.com
↓ 34. With a Cheetah Print Dress
Here is another fantastic way to wear a white tee. Pop it on over your favorite satin slip dress (we love this lovely cheetah print piece) and knot it at the waist to add definition to your curves. The key to this look is in the accessories. Keep it chic by dressing up the look with a wide brim felt fedora, cute sunglasses, a quilted purse, and your favorite metallic jewelry pieces.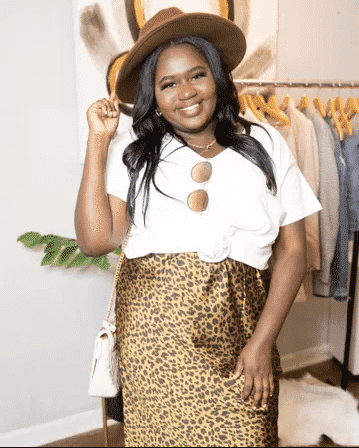 ↓ 33. With a Midi Skirt for Plus-Size Women
A poplin top is a super cute style for white shirts. Pair it up with a patterned midi skirt for a gorgeous look you could rock on a date, to the movies, or even to a wedding! (Just dress up the ensemble with some accessories to make it more formal.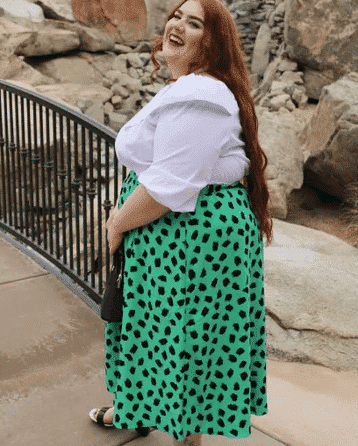 ↓ 32. With a Ballerina Tulle Skirt
Headed to a party? Got a hot date? This sleeveless top and ballerina tulle skirt is sure to make an impression. Pair off the look with some white cowboy ankle boots and a pop-of-color red handbag.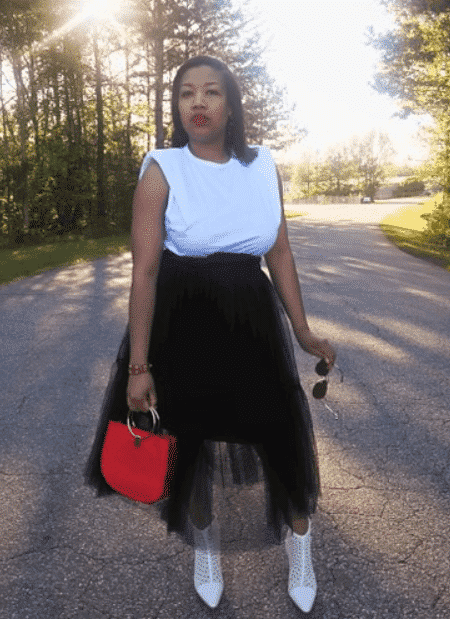 ↓ 31. With Bright Colors
We already know how fabulous white offset with a bright color can look. Check out this yellow-and-white color combination outfit that is as chic as it is unforgettable. For this ensemble, pair a one-shoulder top with a chic pencil skirt and a bright yellow moto jacket. Finish off the look with yellow heels and statement earrings.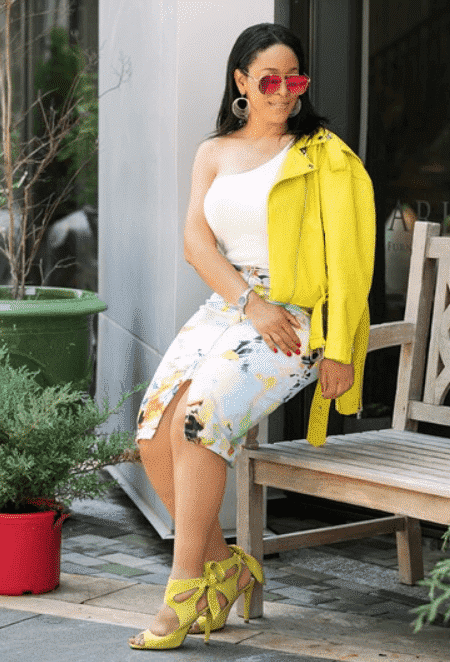 ↓ 30. With a Skirt for Curvy Girls
A white crop top and skirt can be such a chic look and a fantastic way to show off your curves. Make your coffee dates a little extra special by pairing up a midi skirt with some cute white sneakers and a white denim jacket. Tie the look together with a bold red lip.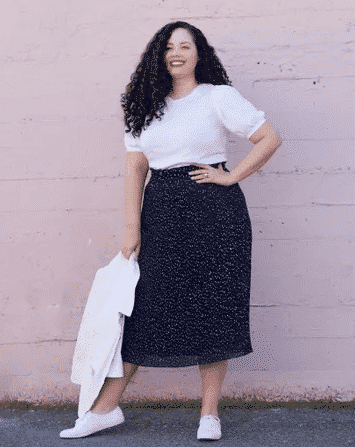 For a slightly less casual take on this classic look, try some sandals with a v-neck crop top and a yellow maxi skirt. So cute!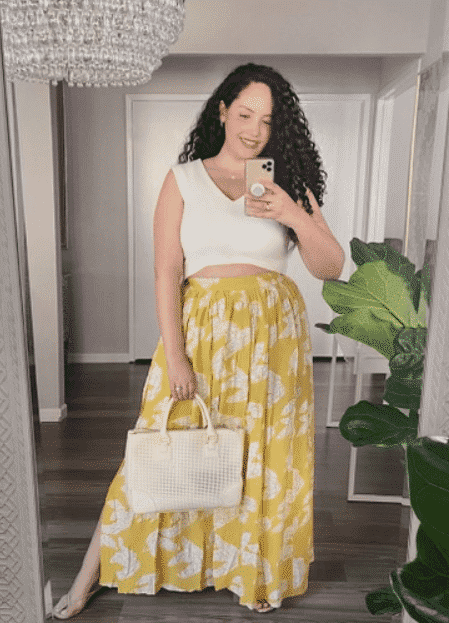 Last but certainly not least, here is an option that also includes a brand name Chanel face mask… because sometimes you need some extra inspiration for wearing a mask these days! This loose tee is great for tucking into a polka dot midi skirt. Pair it up with some beige or taupe flats and a cute crossbody bag.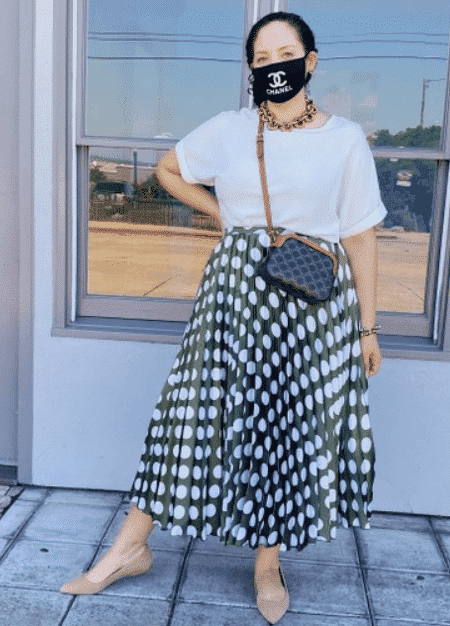 ↓ 29. With Tan Shorts and Sneakers
We love this chic look for summer! Pair a white tank with some sleek tan shorts and finish off this stylishly casual ensemble with your favorite sneakers. Add hoop earrings and voila, you are ready to take on the summer heat with flair.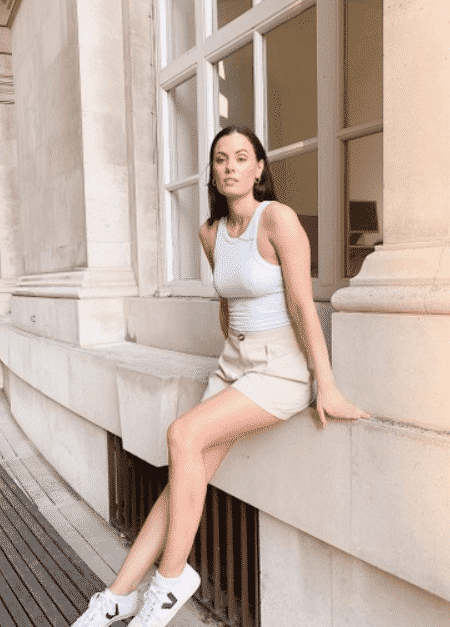 ↓ 28. With Ripped Jeans and Sneakers
We love the almost grunge-style vibe of this look which combines street-style chic with a healthy dash of femininity. The black belt and ripped jeans bring the grunge while the puffed sleeves and gold hoops bring the girlish sweetness. Tie up your hair in a high pony and get casual with some Nike Air Force 1s.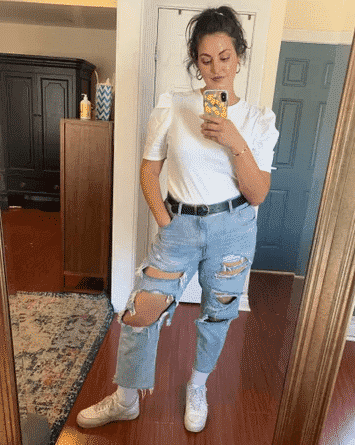 ↓ 27. With White Blazer and Sweatpants
Who knew loungewear could be so chic?! We love this casual styling of a white tee knotted at the waist and paired with a blazer and sweatpants. It's a look that says you take fashion seriously but you also appreciate loungewear and comfort. Add a cute letter necklace, hoop earrings, and a mini crossbody bag. Finish off the look with sneakers (go for white or a pop-of-color pair!). Here are some super cool Summer Blazer Outfits.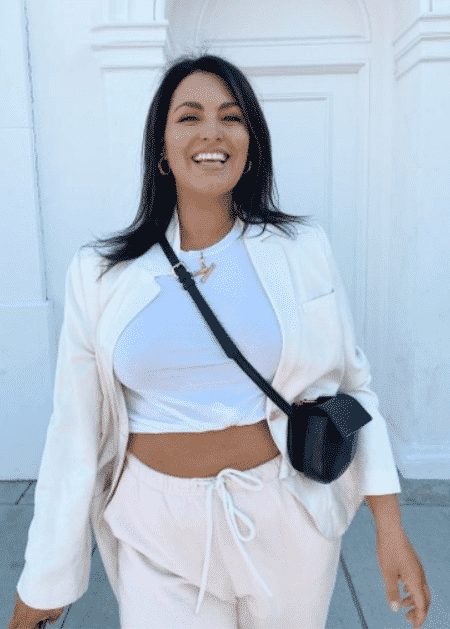 ↓ 26. With Overalls for Fall Look
For a cute fall outfit, try pairing a white long-sleeved top with black overalls and white sneakers. This is a casual look that is both comfortable and chic. Finish off the ensemble with a mini crossbody bag and a bracelet or two.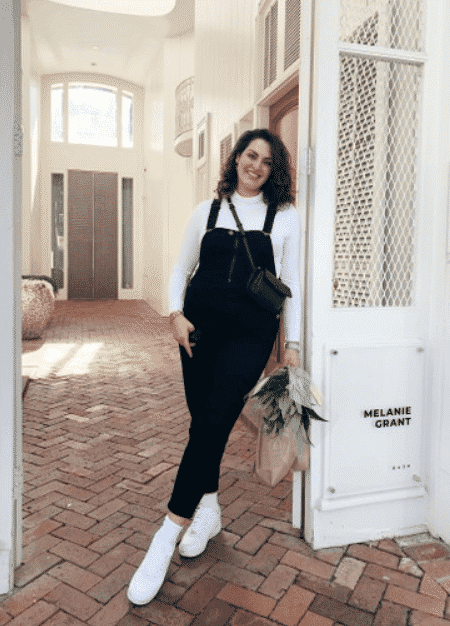 ↓ 25. Ultra Glam Poplin Shirt & Midi Skirt
For our first look, we are going major glam! This gorgeous ensemble is so chic, you will have your fashionista friends drooling. Pair a white poplin shirt with a pleated midi skirt for a formal event or even a concert date night look. Cinch the waist with a thin belt and slide on a pair of slouchy knee-high boots. To bring this already great look to the next level, add a swipe of bright pink lipstick, some statement sunglasses, and a cute box purse. So much to love!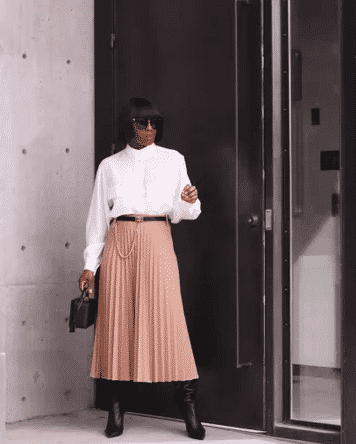 ↓ 24. Crewneck T-Shirt & Jeans
When in doubt, pair up a white crewneck tee with some fabulous skinny jeans and a chic blazer. This is a go-to outfit you can sport whether you have a casual day at work, are meeting with clients for lunch, or simply feel like adding some business vibes to your weekend ensemble. Give this outfit a whirl today and watch the compliments come flooding in.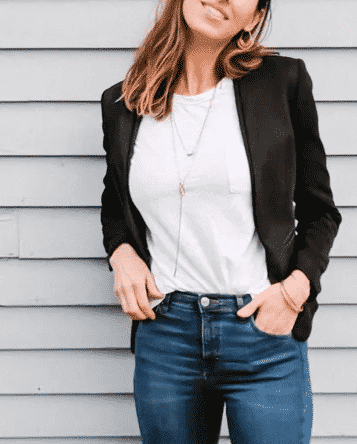 ↓ 23. How to Style A White Shirt Dress
This must-have glam look will transform your wardrobe in a big way. Not only is this chic outfit to-die-for, but you could pull together elements of this outfit very easily. Start with a crisp white shirt, slightly oversized, and cinch it at the waist with a designer belt. Underneath that, rock a pair of faux leather leggings and pair with nude heels. Last but not least, accessorize with a designer purse and statement sunnies.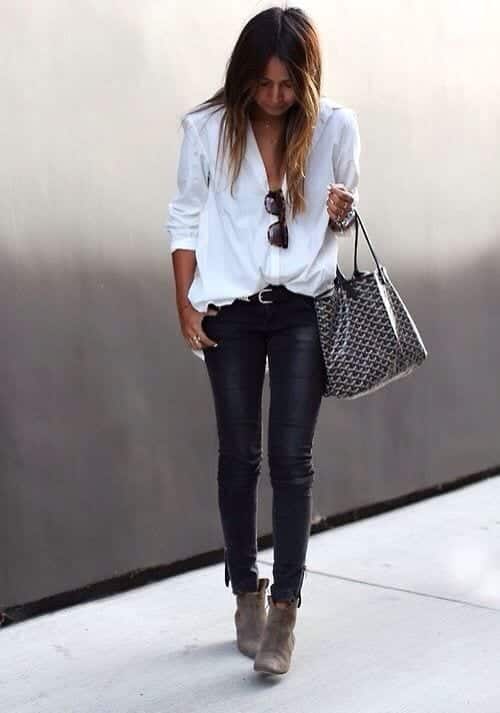 ↓ 22. Work Inspired Outfit
Va-va-voom, ladies. Now, this is a glam work outfit that you will want to try asap. Bring some allure and mystique to your next high-profile client meeting with a tie-at-the-neck long-sleeved top and high-waist trousers. Pair with heels and statement sunglasses.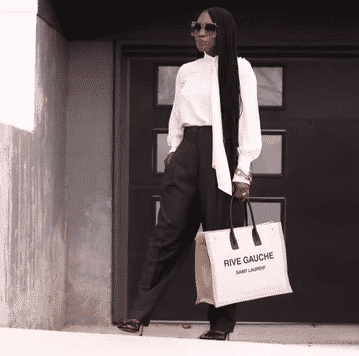 ↓ 21. Chic Work Attire for Plus-Size Ladies
A wrap top is such a great piece to pair with your super dark denim jeans. Not only is it flattering on all body types, but it brings an extra element of glam to just about any look. Pair with two-toned heels and some statement earrings for a chic work look your colleagues will go ga-ga for.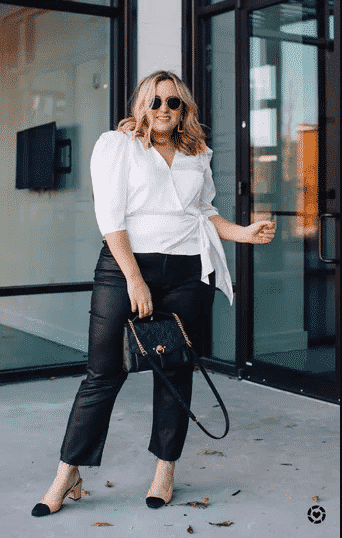 ↓ 20. Cute Everyday Ensemble
Pair up a three-quarter length top with some wide-legged polka dot pants for a go-to everyday look you will want to wear over and over!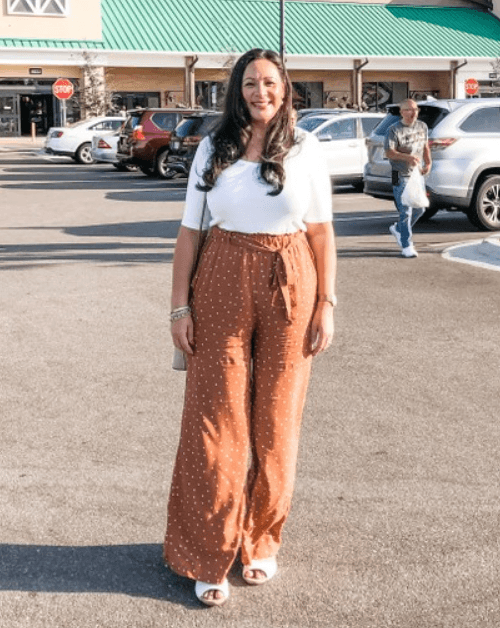 ↓ 19. Casual & Glam
Who said a white tee couldn't be glamorous? Knot yours at the waist and pair it up with some chic soft brown joggers. Add little white sneakers and voila! You have a casual look as chic as it is glam.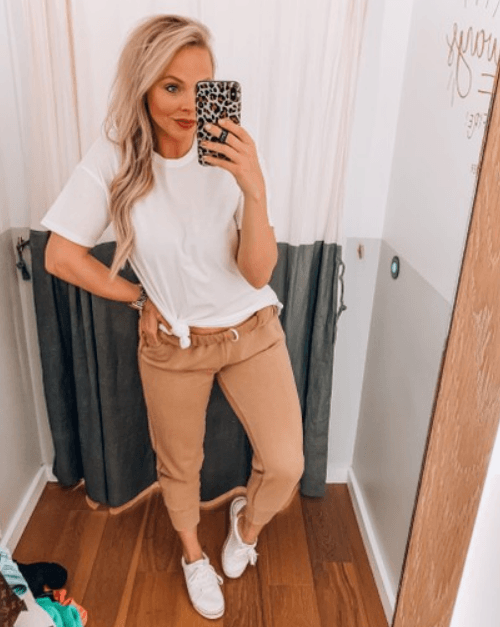 ↓ 18. Casual Weekend Look
Casual outfits can be just as glamorous as their fancier counterparts and here's how. Choose a quality top like this lovely cotton number and pair it up with a pair of straight-leg jeans. Bring some extra glamour with a smokey eye look and tousled hair and tuck your top in a bit for added structure. (Hey, if a Parisian model can do it, so can you.) And talking about Parisian models, here are some Latest French Fashion Trends That Will Help You Dress Like a French Girl.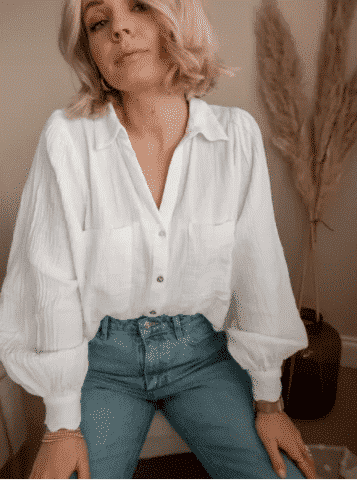 ↓ 17. Ribbed Skirt and Metallic Sneakers
For a sophisticated vacation look, you can knot a billowy shirt at your waist and pair it with a fitted ribbed skirt that hits right below the knee. This look brings subtle glamour to a casual weekend getaway wardrobe and looks especially sleek and fabulous with a pair of metallic sneakers and a cute mini purse. Accessorize with a few chunky pieces of jewelry.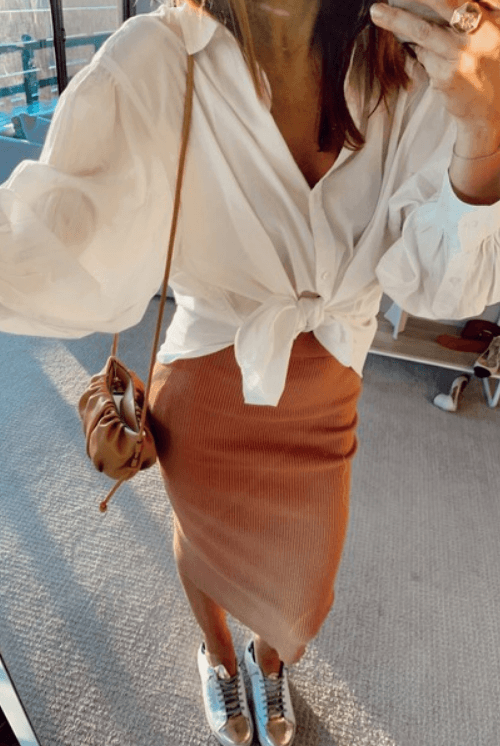 ↓ 16. Weekend Outfits
If you are in a rut with your weekend attire, why not get a little bold this upcoming Friday? Try a crisp button-down top with a cut hem; swap out the bandage dresses for a boyfriend shirt dress and pair with heels. Or try something ruffled! The sky is the limit and when it comes to white shirts, there's no such thing as too adventurous.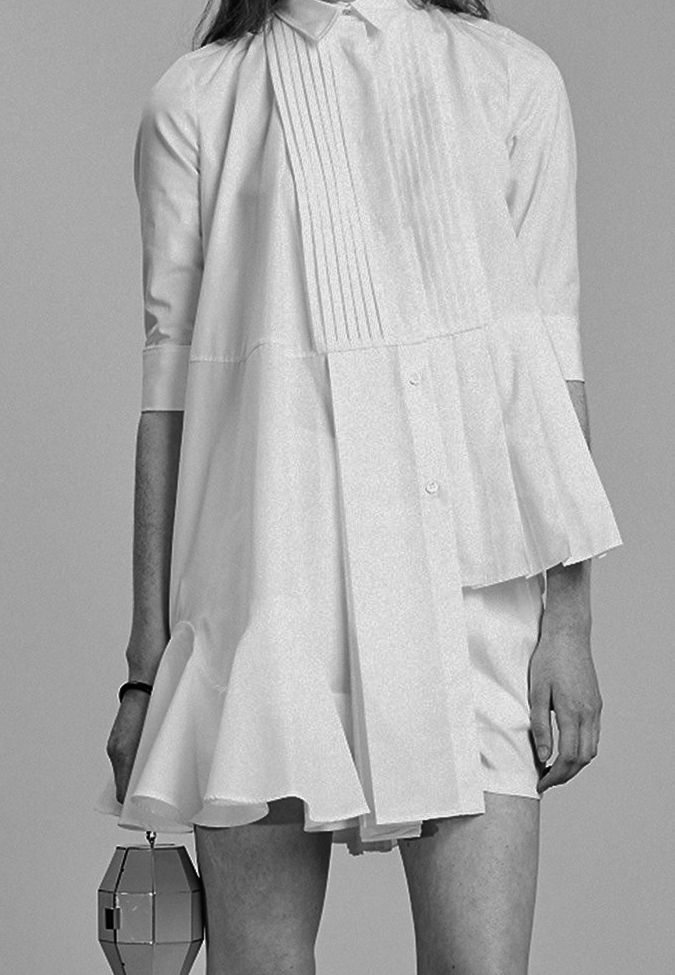 If you're going for a morning brunch, coffee or just some snacks then a white shirt will make you look effortlessly chic and fresh, as proven by Kendall Jenner. She looks radiant as she steps out for a cup of frozen yogurt with her bestie. She tucked her shirt in with skinny jeans, suede booties, and an eye-catching belt. Don't forget those killer Aviators and top-knot! Be sure to check out our 20 Cute Outfits with Top Bun Hairstyle to Compliment Style.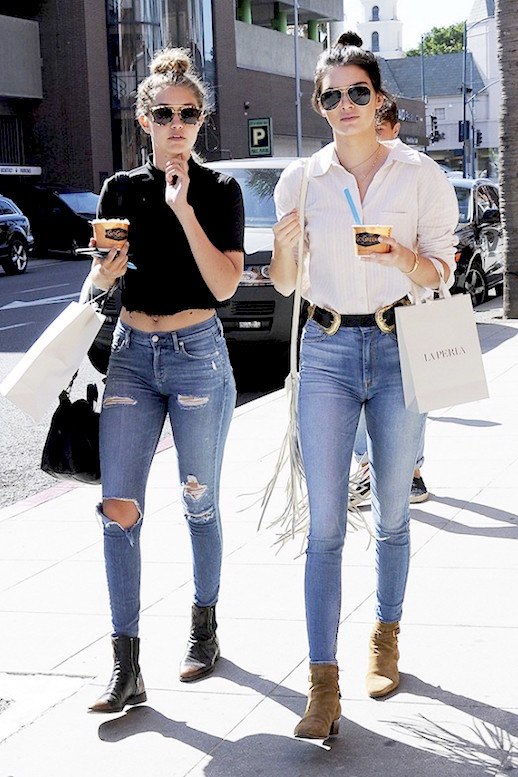 ↓ 15. Daytime Date Look
Nothing beats simplicity especially if it comes with this type of shirt dress that brings some understated glamour into your everyday look.

↓ 14. White Shirt and Leather Leggings
Pair your button-up white shirt with a pair of serious leather pants and a leather bag to bring out the supermodel in you!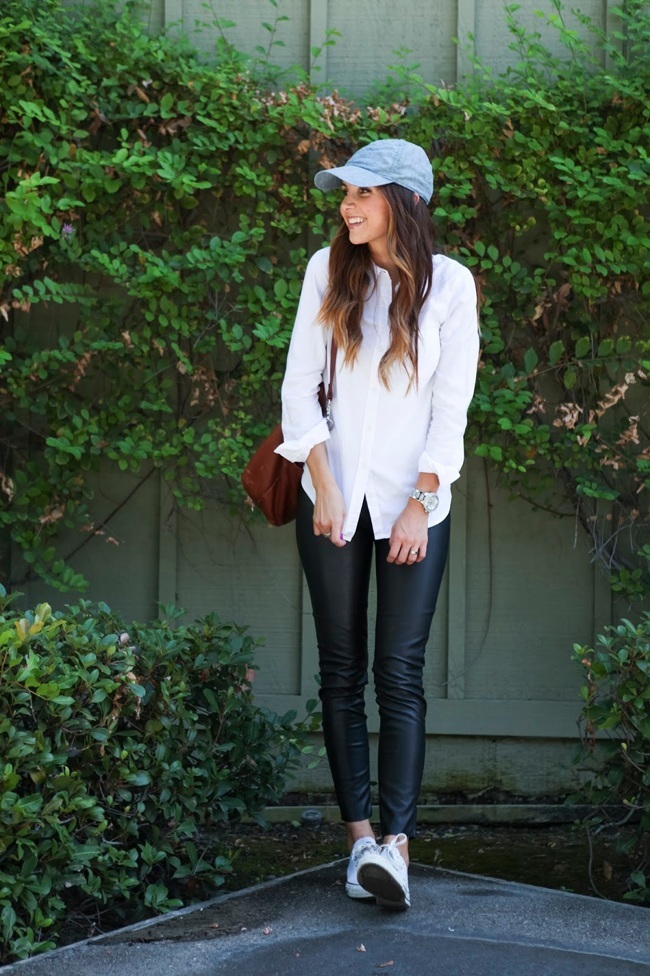 Source
It's always a great idea to add a hat to your white shirt outfit since simple accessories work wonders with them. This is also proven by our favorite style icon, Taylor Swift.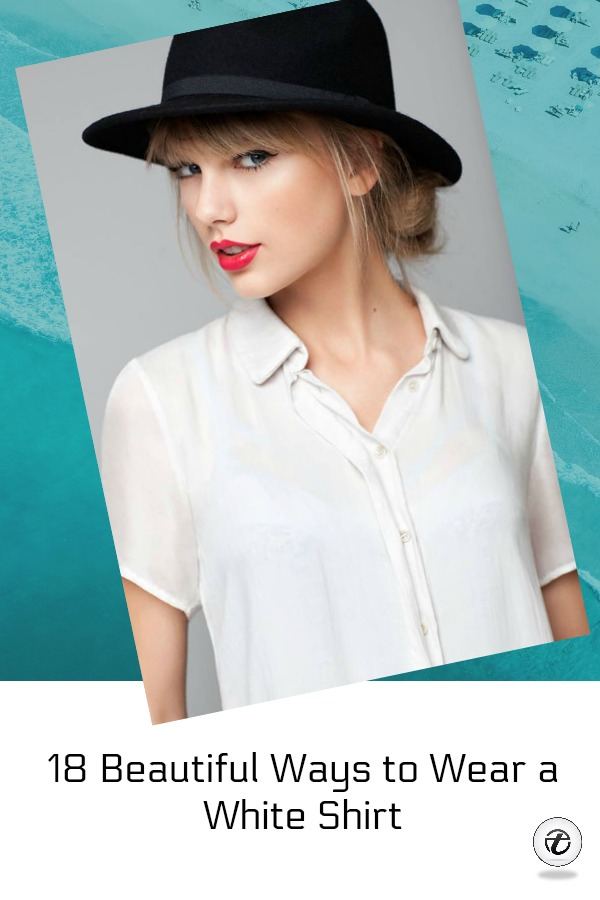 ↓ 13. College Girl Look
With a simple pleated skirt and a casual sweater, you can pull off this outfit for class by wearing a collared shirt. Add a touch of drama with a glamorous ballerina bun. Preppy and professional. For more ideas, have a look at ideal workwear outfits for women to get an elegant look.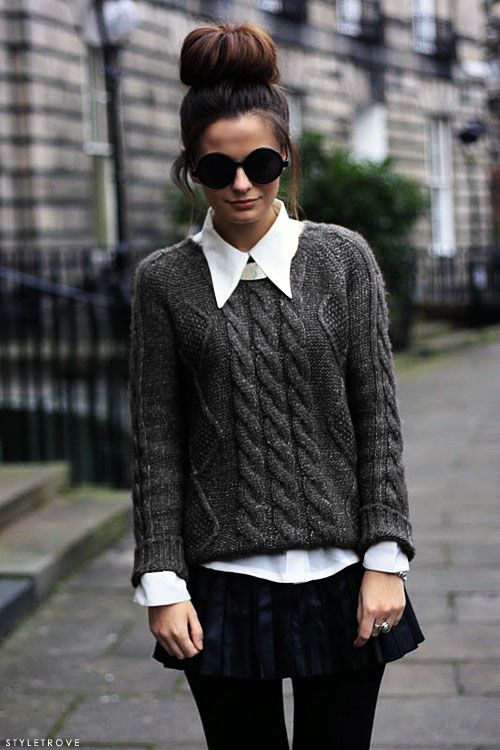 ↓ 12. Boho Look for Winter
Get a boho look with this crewneck sweater top and a flowy shirt. Don't forget to wear lots of accessories with it to complete the look. Here are 12 Chic Style Bohemian Outfits Combinations for this Season.

↓ 11. Ultimate Chic Look for Fashionistas
If you have been looking for chic glamour and sophistication, this is the one, my friend. Pair a v-neck, long-sleeved bodysuit with a pair of high-waist dress pants. Cinch a belt at your waist. The key to this look is a swipe of berry red lipstick, coordinating drop earrings, statement sunglasses, and a pair of patent leather heels. Add a black purse and voila, you are ready to take the professional and fashion world by storm.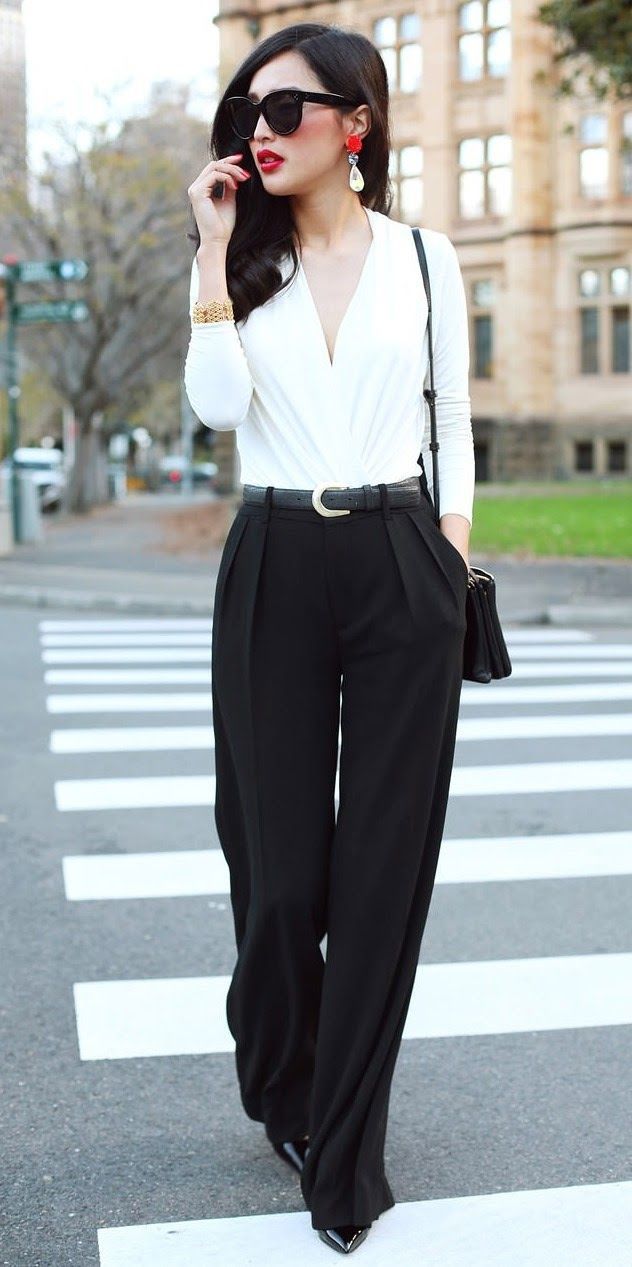 ↓ 10. How to Style a White Shirt with Leather Jacket
Nothing beats a good leather jacket! Pair yours with a white blouse and your favorite pair of jeans. With this outfit, you can rock some booties or stiletto heels. Remember to add a bright pop of color lipstick and accessorize with a chain-strap purse and a clavicle necklace. Check out this awesome collection of Outfits to wear with Leather Jackets.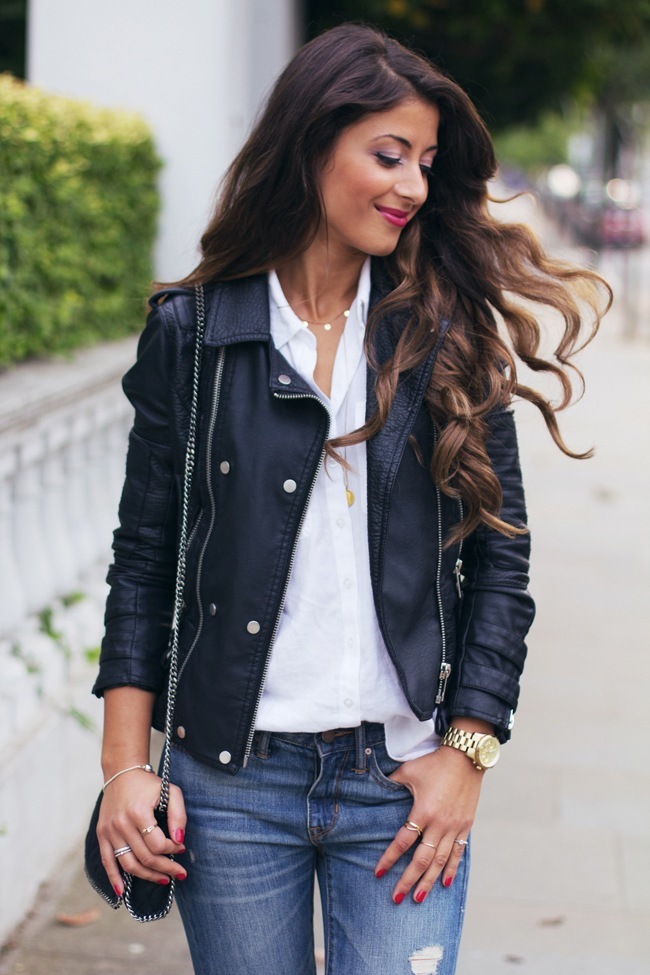 ↓ 9. Classy Summer Ensemble
Keep it chic and classy this summer with a white cotton shirt from Topshop and some twill shorts. This little ensemble just needs some slides and a cute straw hat to take it to the next level.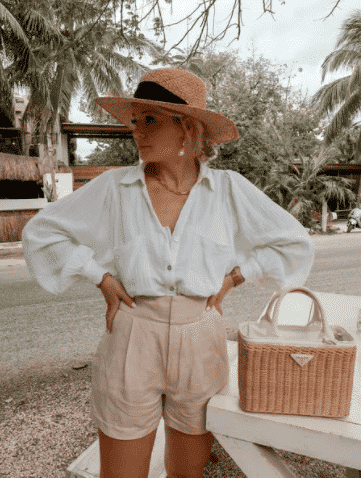 ↓ 8. Casual College Girl Look
For a casual college look, pair a short-sleeve button-down with jeans, an infinity scarf, and a chain-strap bag. Slip on some loafers and accessorize with a chic watch. Your classmates will give you all the brownie points for your iconic style.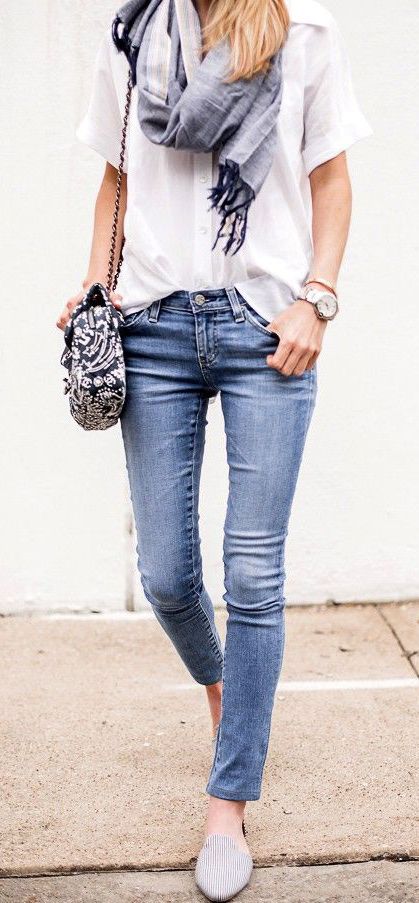 Here's another white shirt outfit for college but this one spices things up a bit and is inspired by the one and only Taylor Swift. Knot together the ends of your white shirt at the front and pair it with printed tights. To complete the look, Taylor went for crimson lips and nude heels. The wavy wet hairstyle too looks spot on with this outfit and this is definitely a look you need to try. Here are some more awesome Outfits with Printed Tights & Leggings.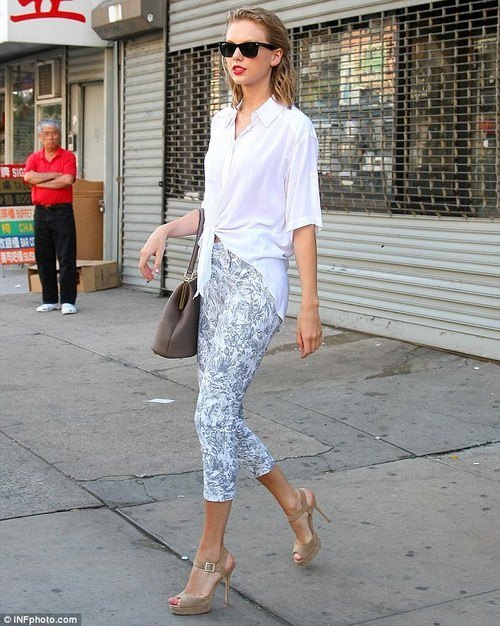 ↓ 7. Glamorous Formal Outfit
Do you have a formal event coming up? Why not try something a little out of the box? Not only is this look a daring ensemble but it even features some incredible retro vibes that will automatically catapult you into the company of the most elite fashionistas out there. From a puff-sleeved blouse to some flared high-waist pants, this look will have you partying all night.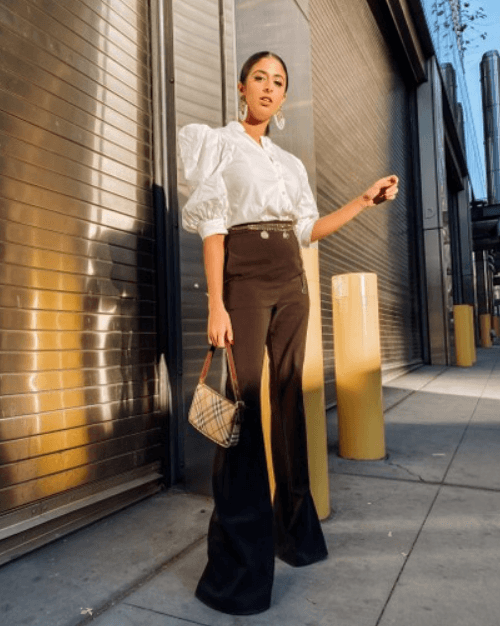 ↓ 6. Celebrity Style
Bring out the film star in you with this statement leather jacket and shirt dress. Don't forget some strappy sandals! This is a fantastic date night look you will feel like a million bucks in.
Source
↓ 5. Girl's Night Out Outfit
For a warm and comfy look, give this outfit a try. This simple little outfit works whether you are headed to the movies, grabbing dinner with your gal pals, or simply heading over to your mom's for some holiday cooking! Also, check these girl's night out outfits for more inspiration.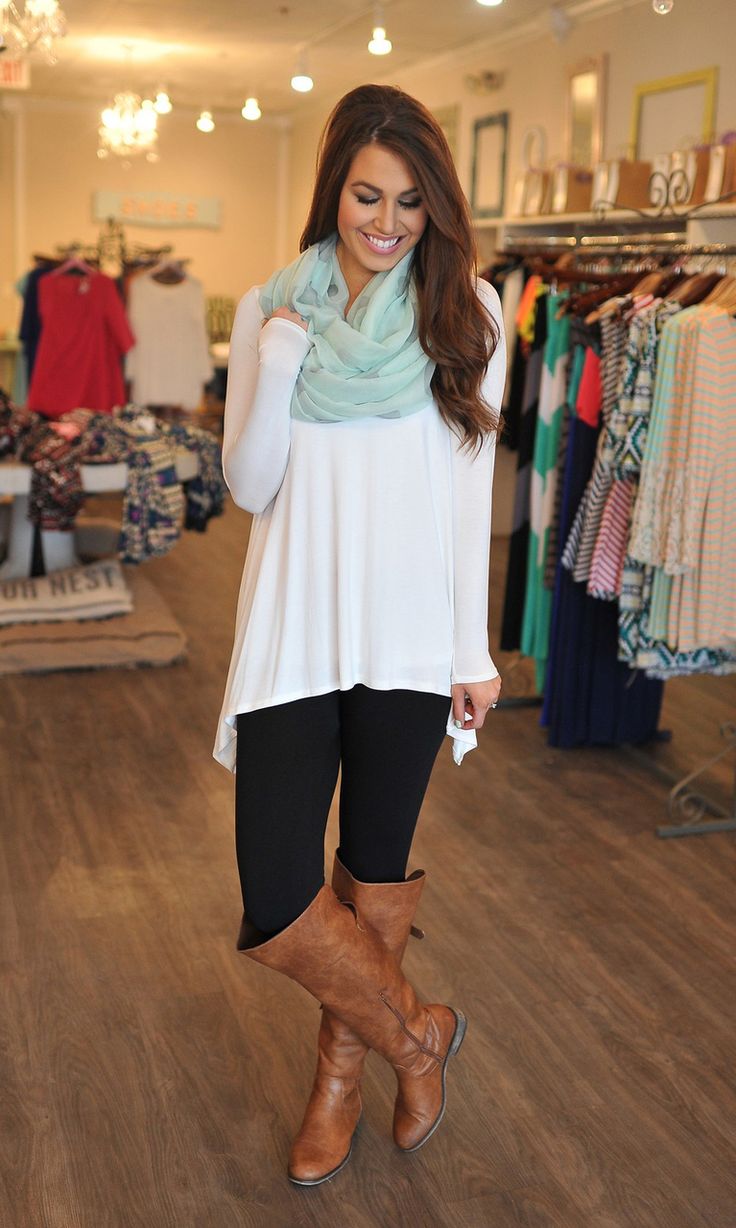 ↓ 4. Vintage Style
Think white shirts are plain? Think again. This embroidered, lace-trimmed blouse is a darling little vintage piece that can bring a whole new feel to your entire wardrobe. Add to it some chunky bronze jewelry and you will have a look as unforgettable as it is beautiful.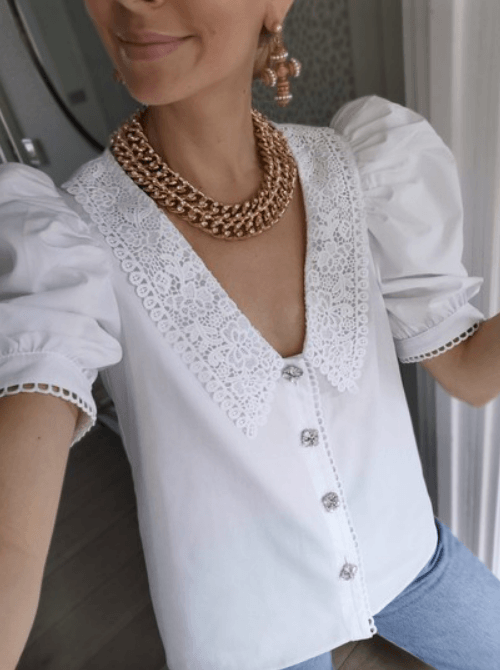 ↓ 3. Chic Vacation Outfit
Striped pants like these are great for short girls as they immediately make you look taller, especially when paired with a white shirt. Don't forget some bright red heels for a pop of color! Here's How To Wear A Backward Shirt if you want to try the latest trend.
↓ 2. Classic Work Outfit
If you're more into neutral colors then try this look. This is a great outfit for a casual day at the office. Pair a button-down, three-quarter length blouse with a pair of your favorite bootleg jeans. (If you are not a fan of bootleg jeans, simply switch them out for some skinnies! Or you can make it even more work-appropriate by wearing straight-leg black pants.) Top it off with a cardigan and booties. Accessorize with gold and neutral tones… i.e. a gold watch, taupe purse, and a coordinating bracelet. Stack some gold chain necklaces and you are ready to wow your coworkers with your chic-casual style.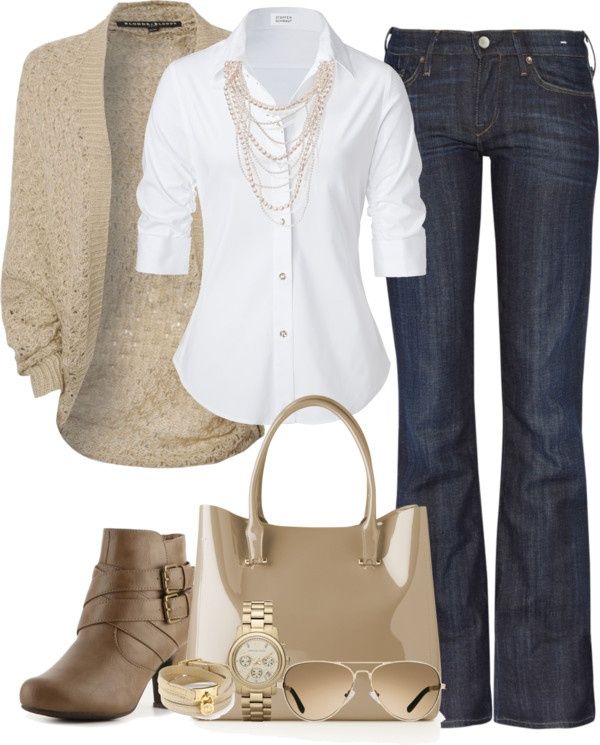 ↓ 1. Business Casual Look
Every lady needs a go-to business casual look… and ladies, we think this is it. Not only do we get to see a darling poplin top put to good use, but we get to see some fantastic Mom jeans and a chic blazer shown off to their best advantage. Simply add beige heels and go for an understated makeup look to tie it all together.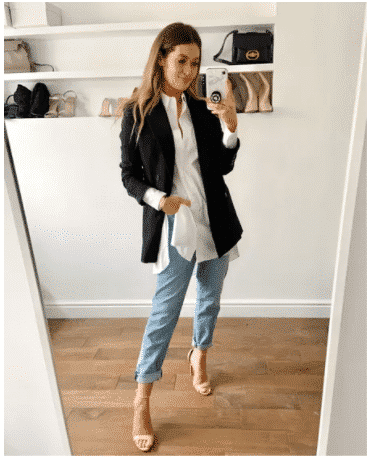 Frequently Asked Questions
Q.

How to wear a collared shirt for women?
A. A collared shirt can be worn in a variety of ways and for a number of occasions as well. In this article, we showed you a range of options for how to style a white collared shirt (check out outfits #2, #3, #8, and #10!) but here are a few quick and simple go-to looks to try:
If you are trying a more business chic style, try pairing an open-collared shirt with a black or charcoal gray blazer and slim-fitting jeans.
Or if you want a chic but casual look, try a long-sleeved collared shirt with the sleeves rolled up and a pair of ripped jeans.
You can finish the look off with either slip-on mules, sneakers, or sandals.
If you prefer a more dressy option, try out a denim jacket with high heels, and remember that coordinating accessories go a long way! This would be a great outfit for work or a work-related event.
Q.

How to style a white t-shirt?
A. Ooh, girl, how can't you style a white tee shirt?! We are kind of obsessed with how versatile a white tee can be. Just check out outfits #44 and #32 to see what we mean! You can dress up a white tee with pretty much anything or grunge it down for a street-style look. Try knotting a tee at the waist for a makeshift crop shirt and pair it up with jeans, sweat pants, or even a skirt. Accessories are crucial so determine how dressy you want to be and work from there.
Q.

What can I wear with a white shirt?
A. Absolutely anything. Depending on the style of the shirt and the quality of the fabric you can take your outfit in a very formal direction or a super casual one. Try pairing your white shirt with every option you have available in your wardrobe and see what we mean. Whether you opt for a skirt, a pair of jeans, or even wearing it over a dress you can build any number of outfits using a white shirt. (Psst! A white shirt is essential for a successful minimalist wardrobe so choose wisely!)
Q.

How can I make my white shirt look good?
A. Quality of fabric, accessories, and overall styling will really determine how great your white shirt will look. If you have these three components, we guarantee your white shirt outfit will look fabulous!
Q.

How do women wear white button-down shirts?
A. It depends on the occasion. If you are wearing a white button-down shirt for work, check out outfit #40 which combines a white button-down with a belted denim pencil skirt. If you are wearing it more casually (perhaps for happy hour with your coworkers or a lunch date, Jennifer Aniston's take is really gorgeous. As always, remember accessories, and don't be afraid to experiment with different length sleeves. Pairing a button-down shirt with a blazer or jacket is also a classic look as well.
We hope we answered all of your white shirt questions but if not, feel free to drop your question in the comments below! We always love hearing back from our readers.