Outfits with printed tights. Hello there, Even the most stylish girls can get tripped up on a trend from time to time. Leggings in generally are definitely basic, but they can pass for stylish when the fabric is luxe or sexy, like animal print or leather. That makes them a wardrobe staple, as well. Printed pants are fun, can be dressed up or down, and make your whole look just a little bit more unique. I'm obsessed with them. I want to wear them everywhere. They are incredibly comfortable and, surprisingly, very versatile.
 What to Wear With Printed Leggings Everywhere
When I first got them, I wondered where I could wear them, and what I could wear them with… I figured they would be difficult to style. But this can be done in many ways, but wearing heels or wedges is probably the easiest and most fool-proof fix. Ballet flats will look great also, especially with cropped styles.
 You can wear whatever trends you want to, I promise, it's all about styling them.Remember, you patterned leggings are already making a statement so there's no need to add anything else too trendy or distracting to your outfit. When in doubt, keep it simple and you're sure to look effortlessly cool! Take a look at these pictures and tips on what to wear it with!
#11- Sporty and Fierce Outfit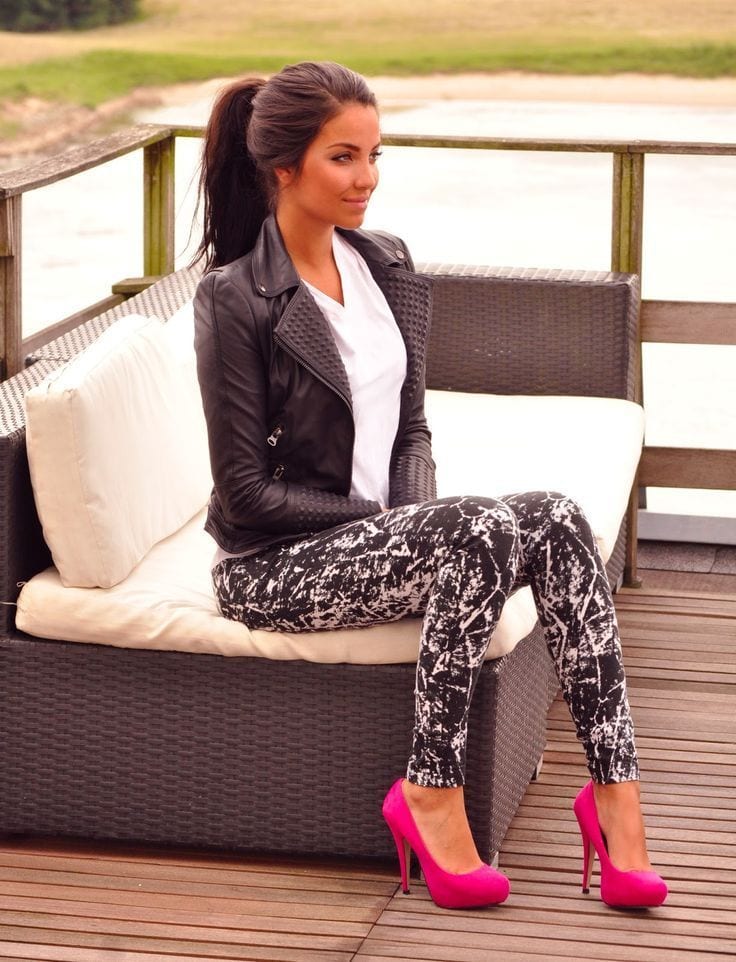 via
#10- All White Outfit for a Hot Casual Look
Avoid flat ankle boots here — they can make you look stumpy. Leggings are not, I repeat, not the same as pants. They are best worn as part of a layered outfit. If you venture out with leggings and a tee-shirt, people will wonder where rest of your outfit is.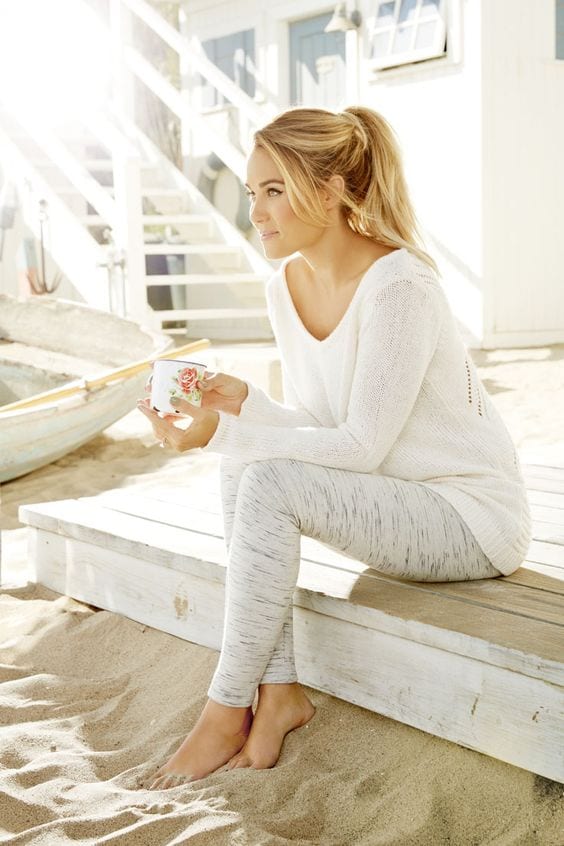 via
Love wearing white? Then you can not miss these [highlight]18 ideal girls outfits with white shirts for glamorous look[/highlight]
#9- Perfect for Plus Size Girls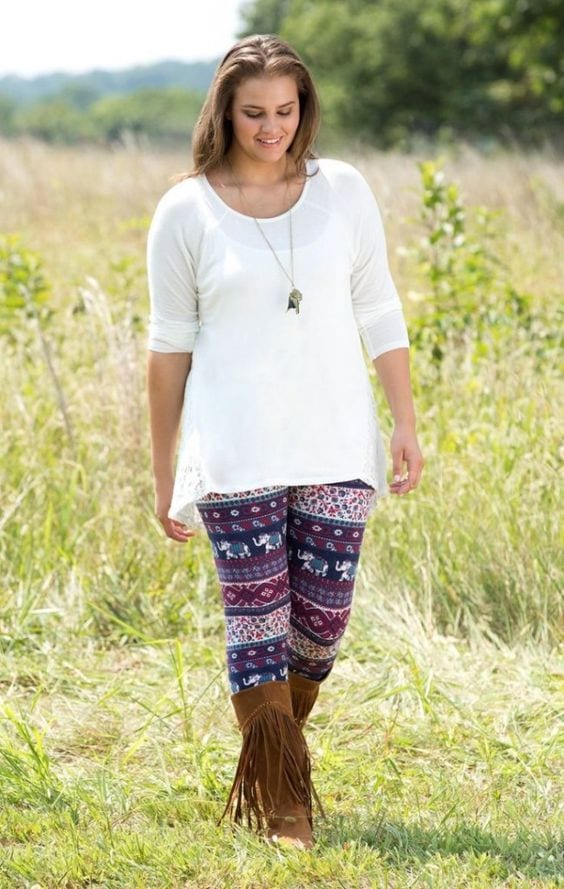 via
#8- How to Wear Printed Leggings in Summers
Just put on a printed pair of leggings and throw on some denim, white, or black shorts, and you're good to go. The shorts shouldn't be so tight that they blend in with the leggings. Some people whom I will not link to think plus-size and petite women should avoid lacy or patterned tights, or just tight things overall. Ignore them. They are incorrect (and also douchebags, but that's a whole other issue).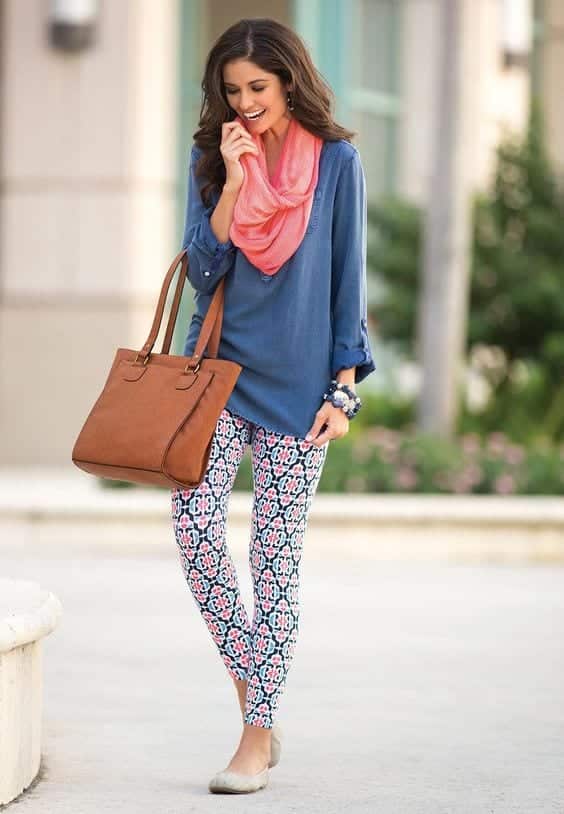 For more amazing summer outfit ideas, have a look at [highlight]14 minimalist outfits for Summer-Minimal Fashion Style Tips[/highlight]
#7- Check Prints for Statement Party outfits
The leggings we're wearing these days aren't just basic black anymore, and we're pairing them with a whole mess of different things. These days, anything goes (which makes getting dressed way easier).Make sure your leggings are long enough.You can pick a skirt that looks good with the leggings. Make sure the color of the skirt and the material don't clash with the leggings, and also pair leggings with shorts. This can be a cute and casual look.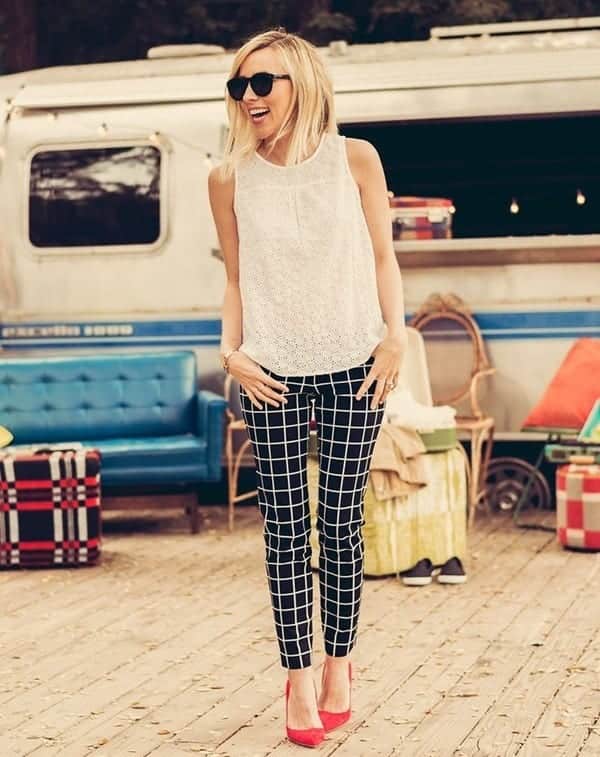 via
#6- Floral Printed Leggings for Spring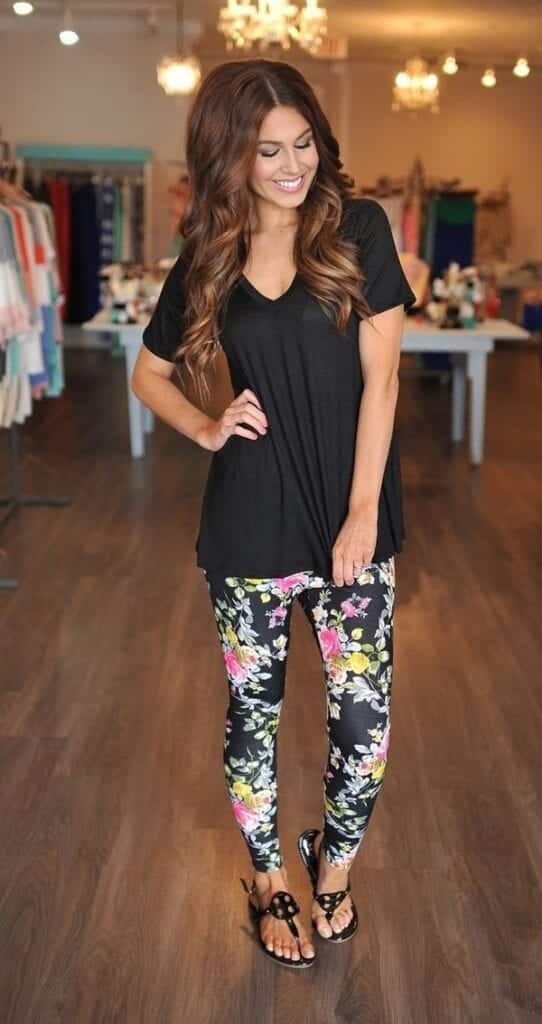 via
#5- Fall Look
A stylish top with accessories such as a belt is one thing; a sloppy tee is another thing entirely. Think layers. Don't wear your leggings with the wrong shoes. Match the style of your leggings with your footwear. Leggings look great with knee-high boots, sandals, flip-flops, or even low-cut boots.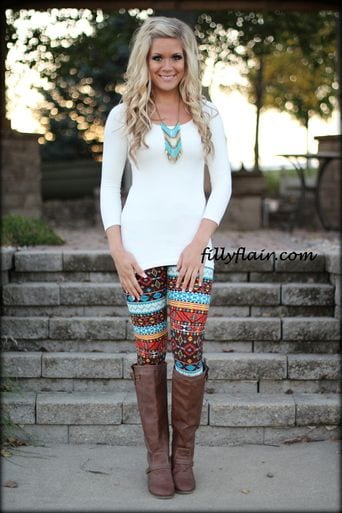 via
#4- Printed Tights and Crop Top for the Beach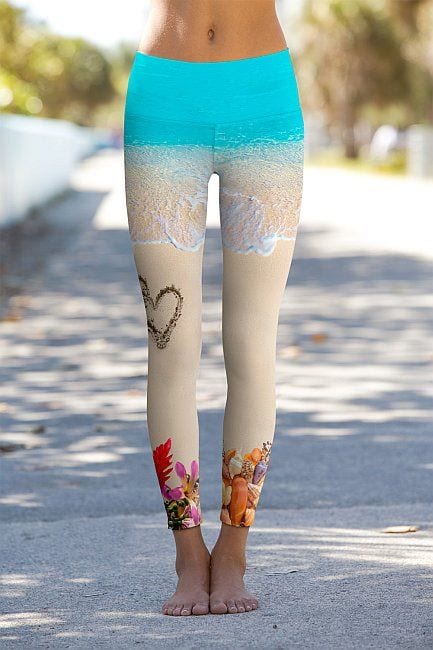 via
Heading out to the beach soon? Don't forget to check out [highlight]16 best beach party outfit ideas for women – Beach style look[/highlight]
#3- Cute Winter Outfit

 via
#2- Summer Outfit with Patterned Tights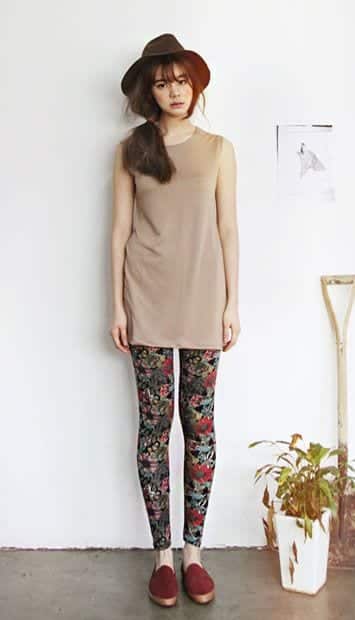 #1- Printed Leggings for Fitness Routine
 via
 via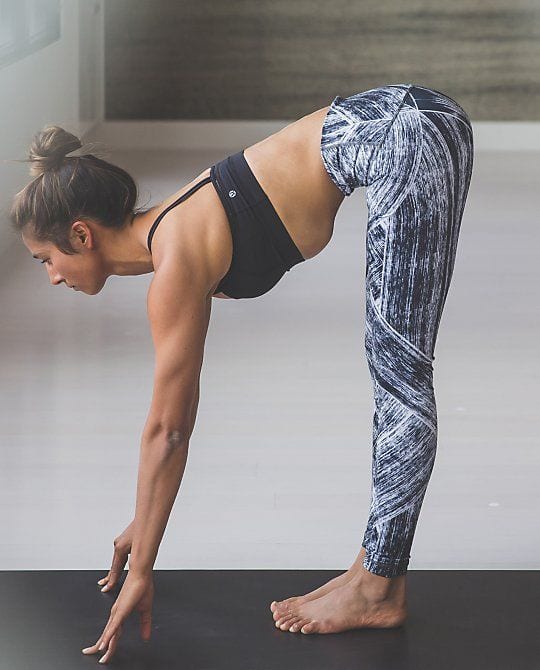 via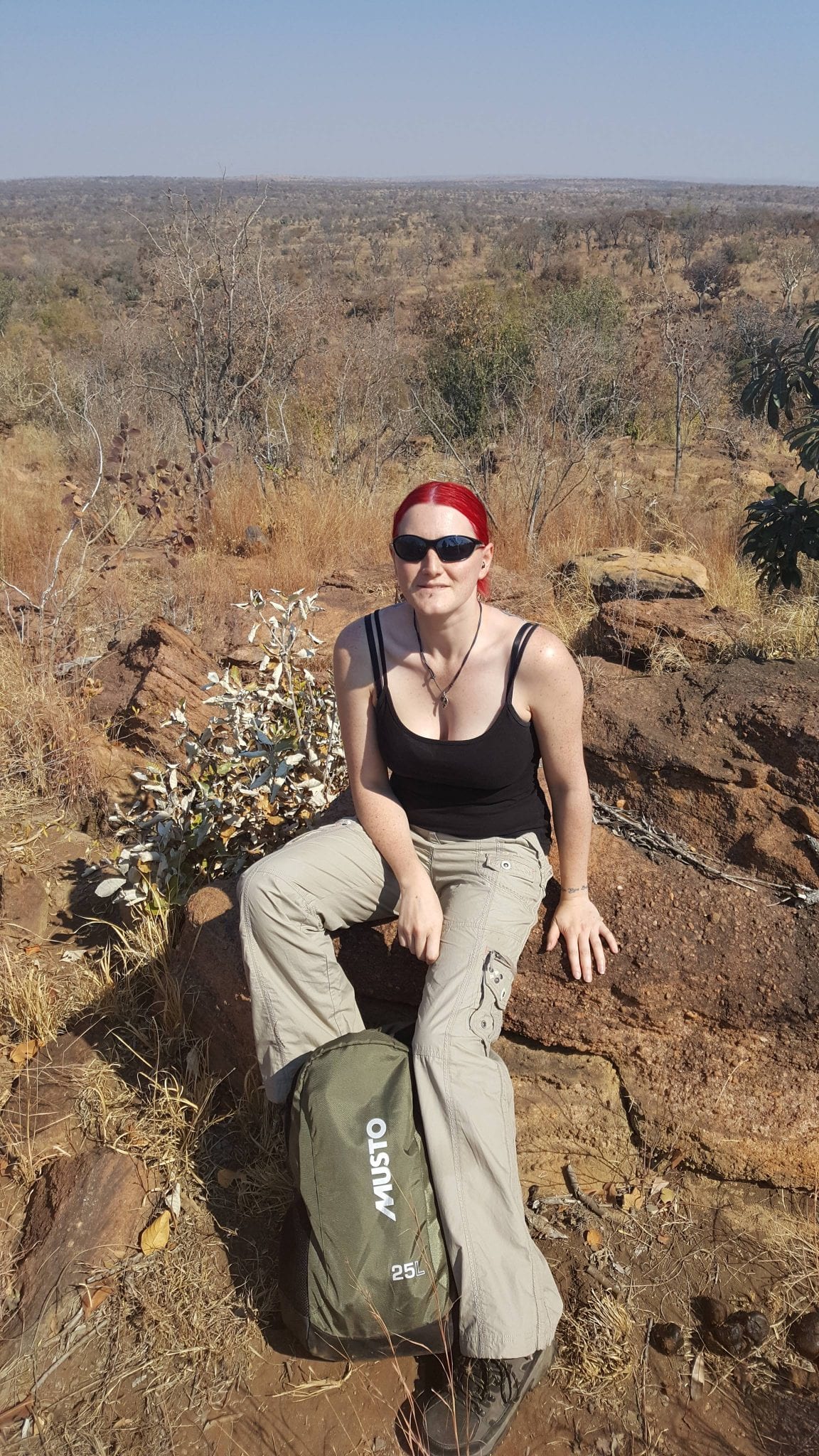 Caz, aka Vixen, has been freelance creative writing for several years. She has a lot of experience in different fields including high street fashion, tattooing art, and even the gothic and historical costumes. Caz has a Diploma in Fashion and Textiles and also a Bachelors Degree in Historical Costume and Corsetry. Her passion lies with gothic design, corsetry and any other styles considered to be taboo or unusual. Style-wise Caz has a love for Vivienne Westwood and her take on the punk era. Although Caz loves the weird and wonderful, she has a deep love for all fashion and allows this to show through her work.