Denim Shorts Outfits -The humble denim shorts! Every girl's summer wardrobe must have and with studded denim shorts becoming more and more popular this season it is important to match your outfit accordingly. But what should you wear with denim shorts? What footwear will compliment them? And which accessories will make you stand out? Outfit Trends has this article to answer these questions. Dont forget to check our exclusive collection of 32 Beautiful denim dresses and 20 Ways to style denim jackets for other influences.
Tanks
Tank tops or vest tops are a simple but effective style top during the summer season. With these tops in such a wide range of colours and patterns finding one to match your denims perfectly is not an issue. Darker tops will accentuate a figure nicely when matched with lighter shorts.
Crops Tops
Crops are great for showing off that gorgeous toned stomach and what better season than summer? Black or dark blue denims are great with crops as they will combine beautifully with brighter colours or black and will make any skin tone dazzle in the sunshine. Crops can be either one of two styles, elastic under the bust for a more defined shape, or loose which will create more of a casual image.

Baseball Jackets
This style of jacket will work hand in hand with studded denims as they bring an extra layer to the table. This will create depth and a different shape profile. The summer season sees the increase of this style of jacket as they bring bold colours and can be worn easily without the worry of overheating.
Corset
Corsets are a fantastic garment for most outfits and what better way to flaunt a stunning figure? Most people would shy away from corsets and denims, but, if colours and fabrics are matched correctly this look can be absolutely beautiful. Go for a strapless, over-bust style corset and keep fabrics and colours bright but simple, for example, ivory floral cotton.
Shirts
A check or other print button up or tie shirt will always compliment denim shorts. These are great for adding broken colours to your outfit without killing it. Why not add layers and volume by wearing a shirt open with a crop or tank top underneath? This will combine two look in one. Just make sure colours flow nicely together.
Accessories
Because this style of shorts is already embellished so you do not have to over accessorise. However, a lot of bling can add more flair too. Chunky necklaces and bracelets will keep the metallic feel going. Why not accessorise with a shoulder strap, hip length purse bag? The length of the strap will draw attention to your shorts giving your denim that much deserved appreciation.
Studded denim shorts have such a sense of power and attitude to them that it is recommended you choose shoes with the same demeanour. Ankle boots, Jordans, Converse, Calf lengths, platforms and knee high boots are all winning choices when it comes to footwear with this outfit.
Take a look at the images that follow. These will give you ideas and tips on cute outfits to wear with denim shorts.
Fashion Blogger Style.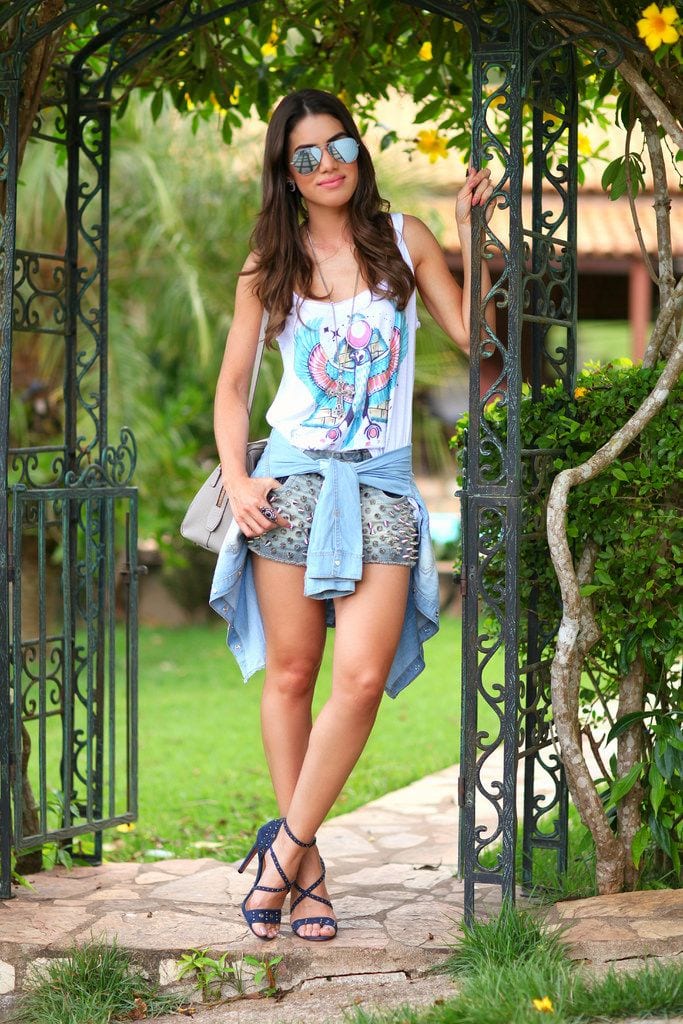 A perfect swag with black studded top and khaki studded short.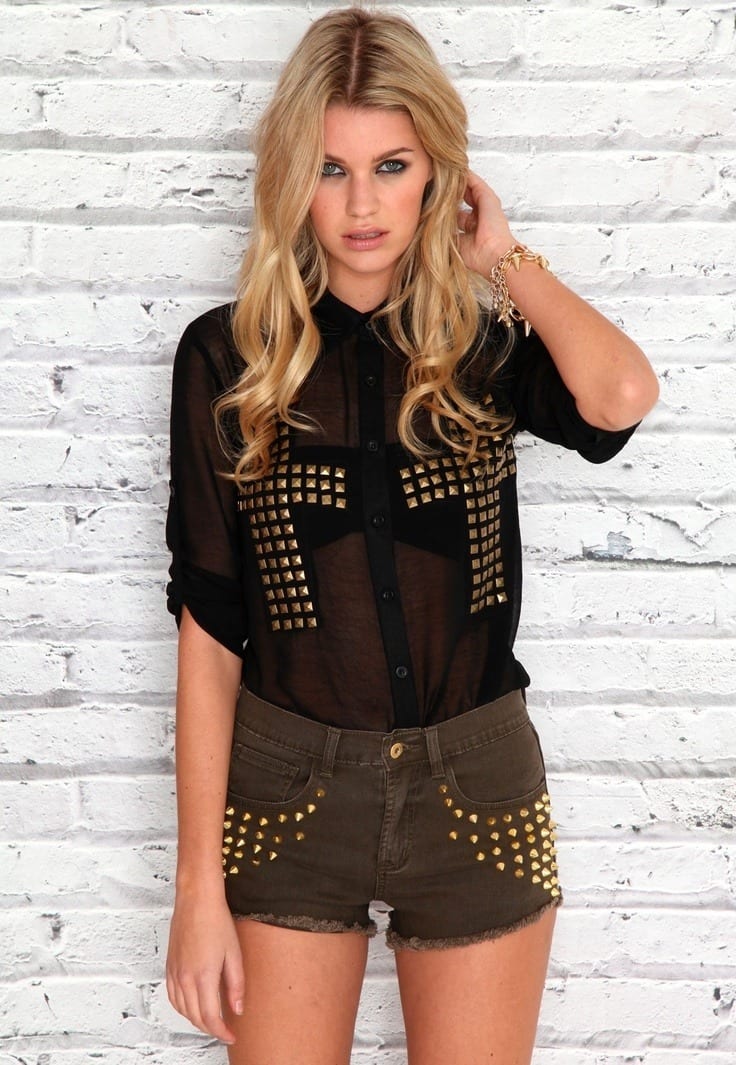 A lot of girls are confused what shoes to wear with studded shorts ? Well it does not only depend on the short it self but what other things to you wearing with it and occasion.The general trend shows you can wear timberlands,zoes ,Platforms,Wedges,high heels ,sneakers and so on …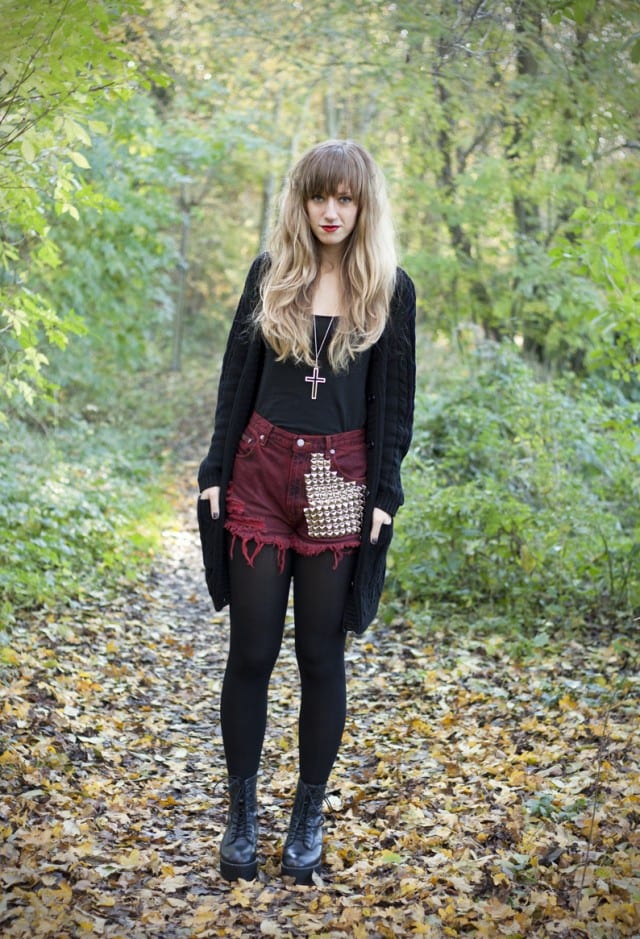 High waisted denim  Studded shorts plus size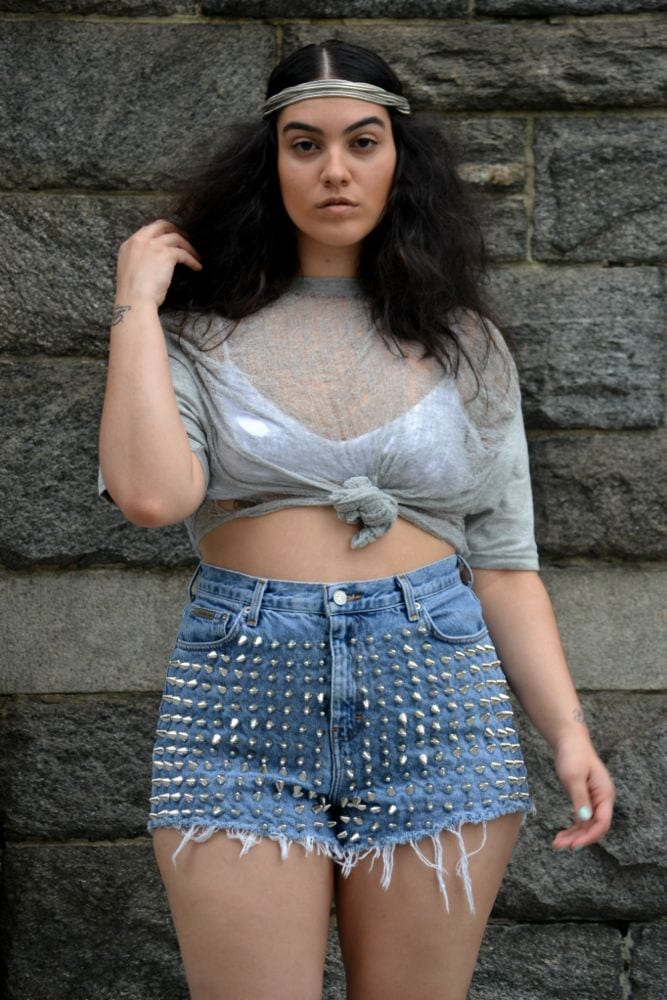 High waisted denim cutoff shorts with studds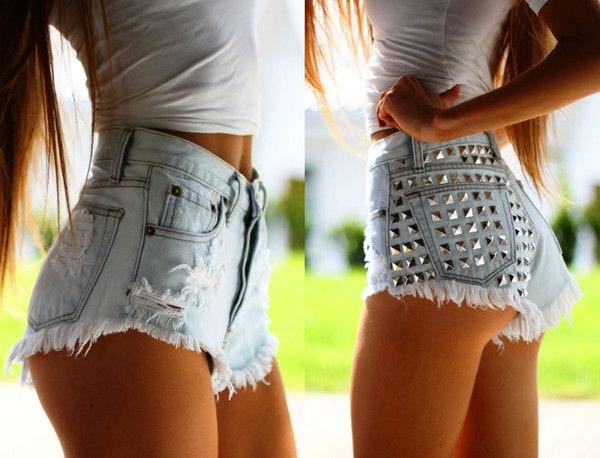 High waisted studded denim shorts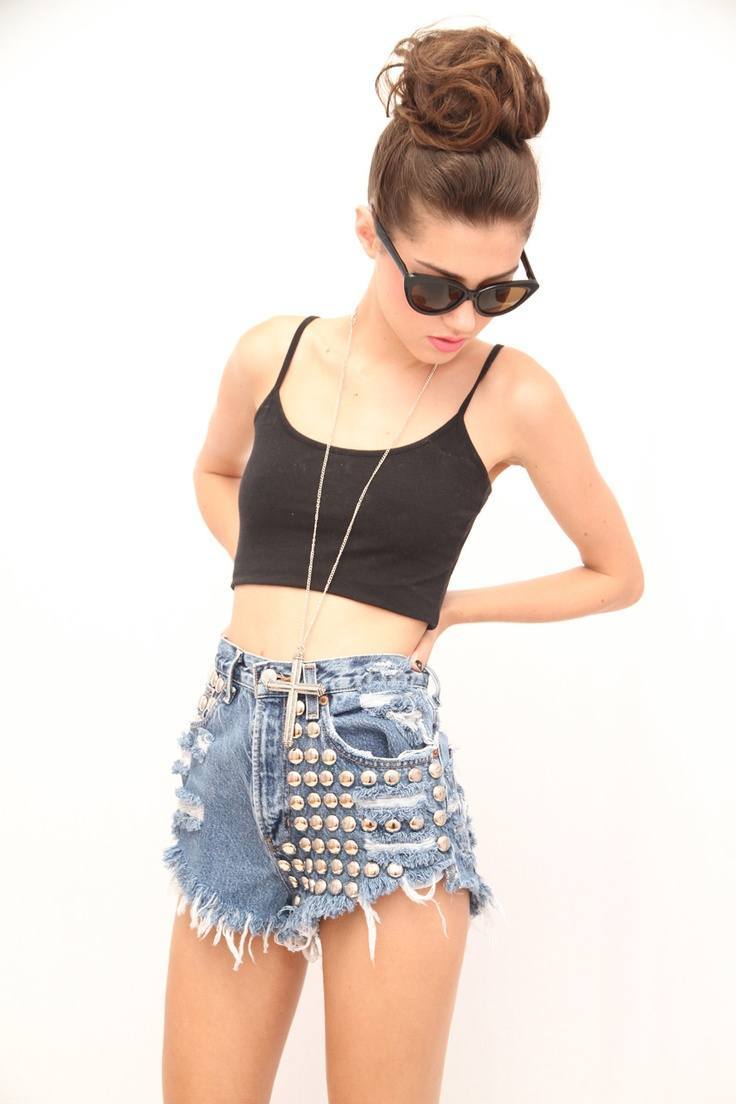 Denim shorts vintage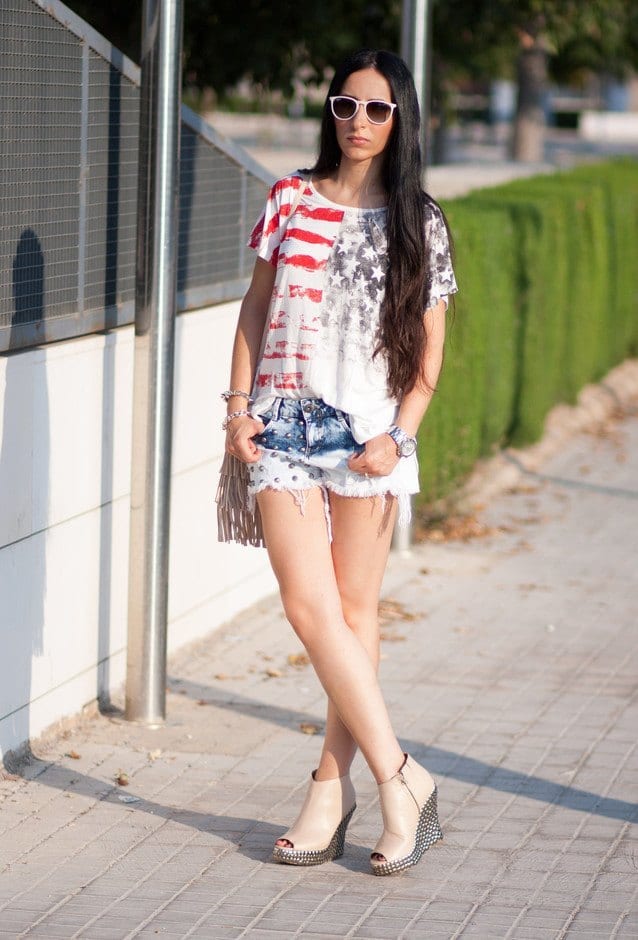 Street Style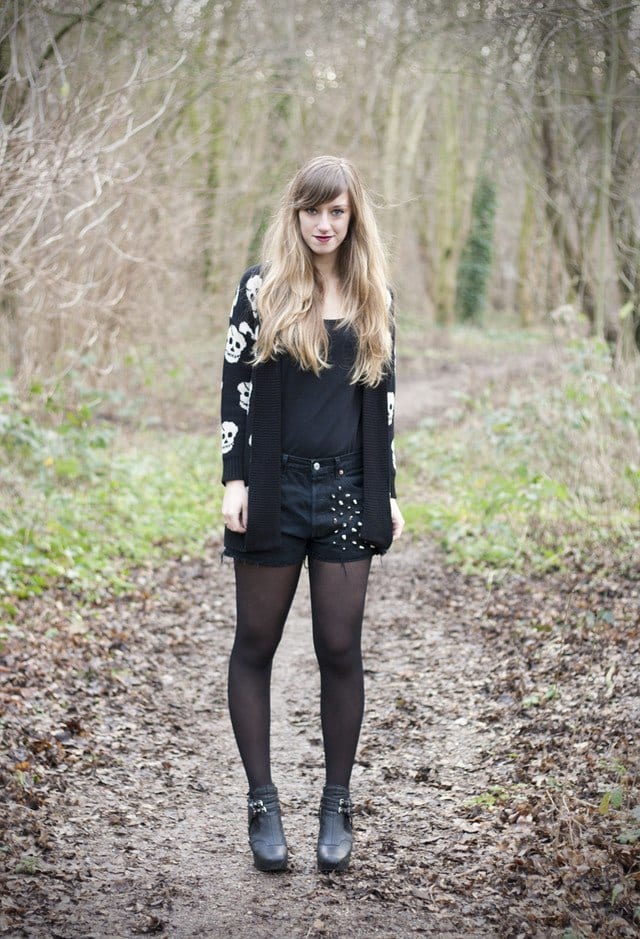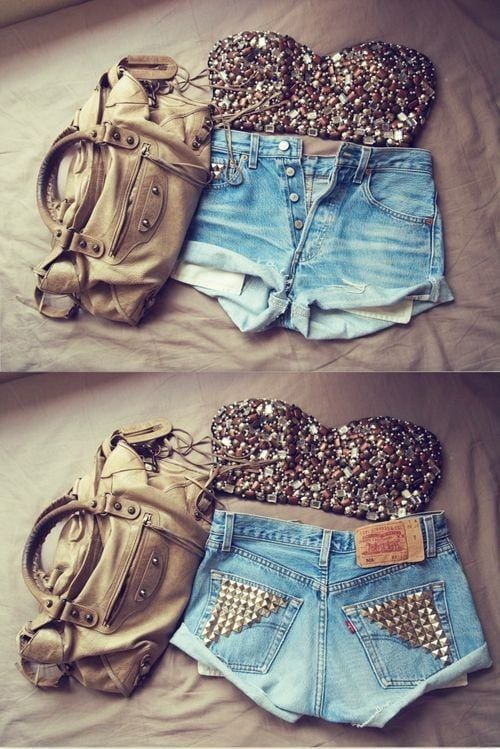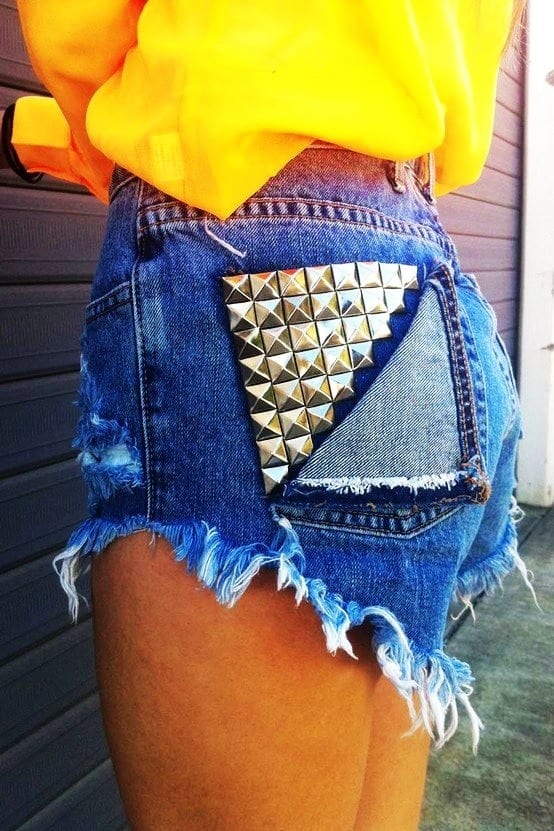 DIY Denim Studded Shorts. Well the best thing about denim is that you can always try different experiments with it you can always diy denim shorts your self.Cut the jeans make it ripped from few parts ,add few studs on it and there you go .This teen girl has gone further with her denim shorts by applying bleach on it to add a new look.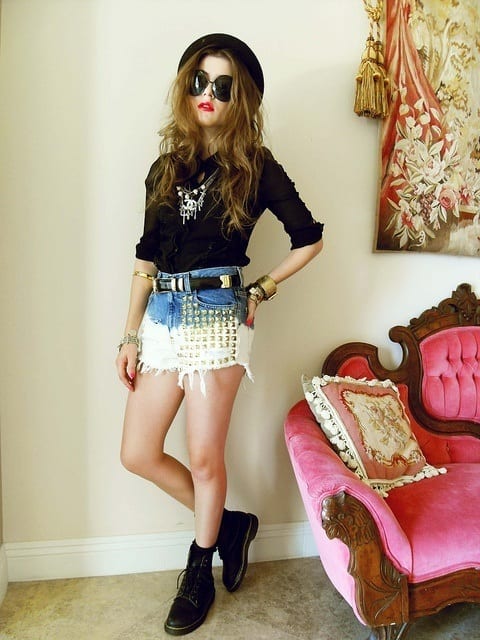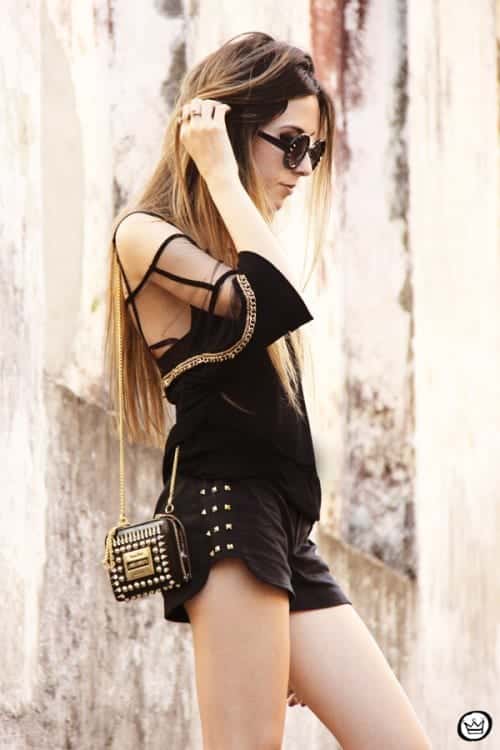 Style for College Girls.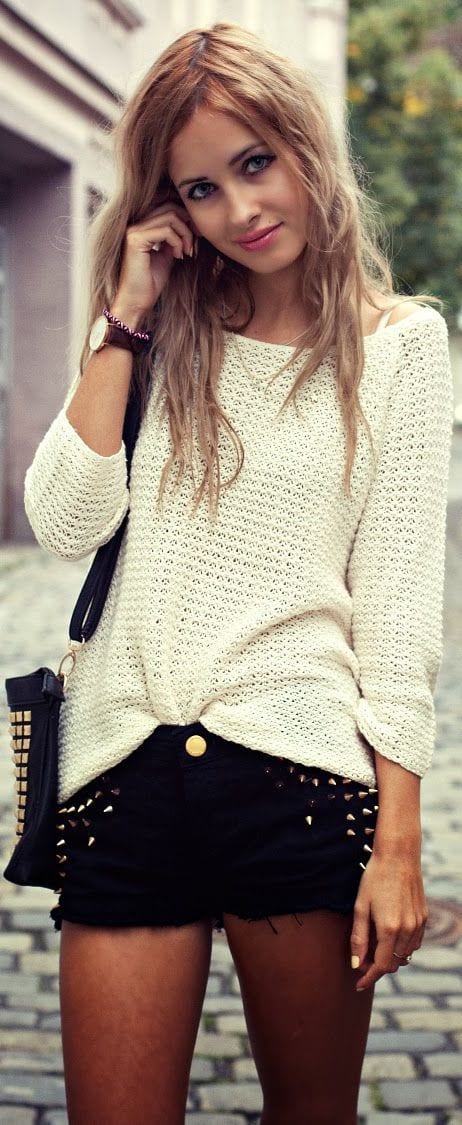 Skinny Girls Style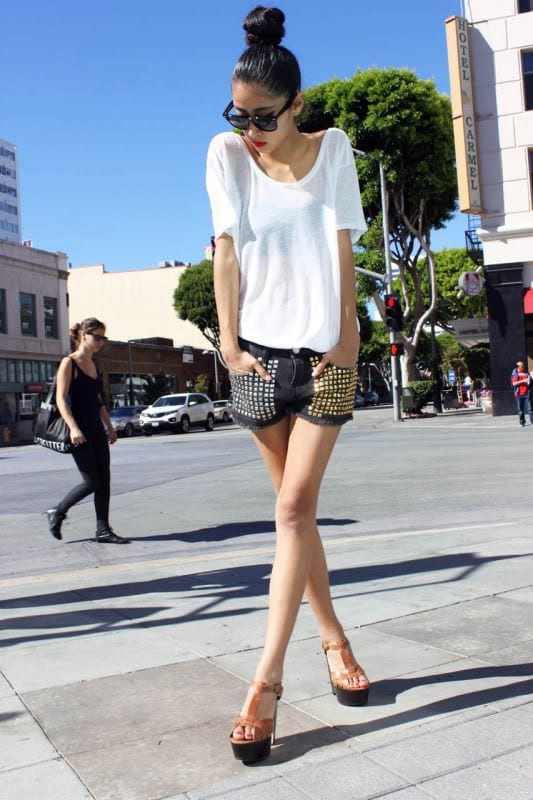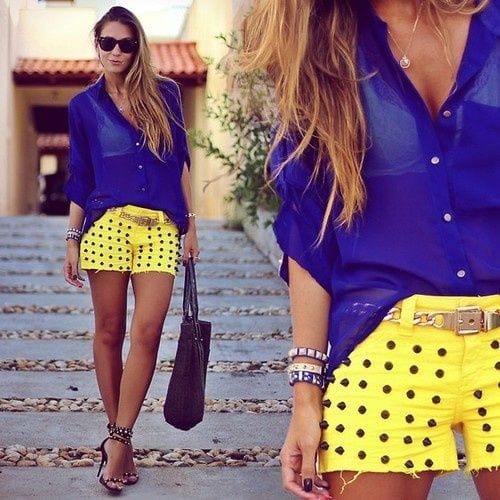 via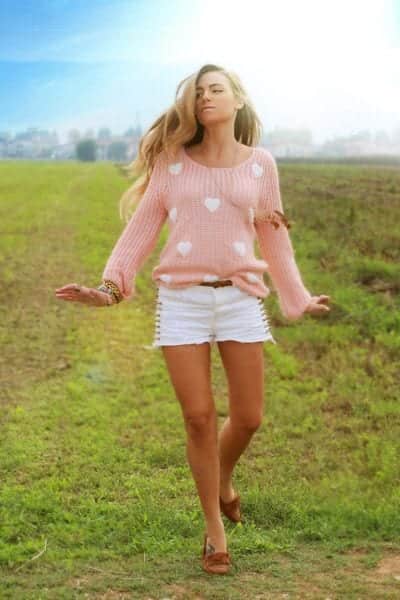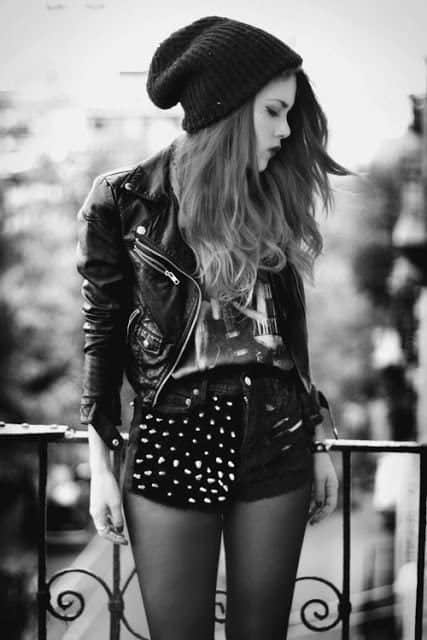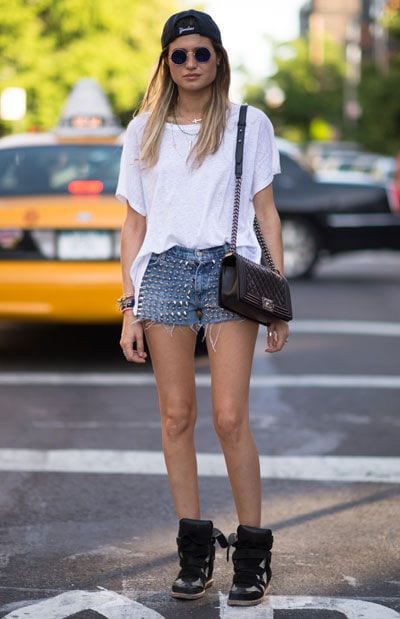 Hipster Style
Celebrities Wearing Studded Shorts.
One of the best ways to stay updated with any fashion trend is to follow celebrities fashion.And whats more trendy for teen girl than follwing kylie and kendall jenner style.Here kylie simply rocks and tells us how to wear denim studded shorts.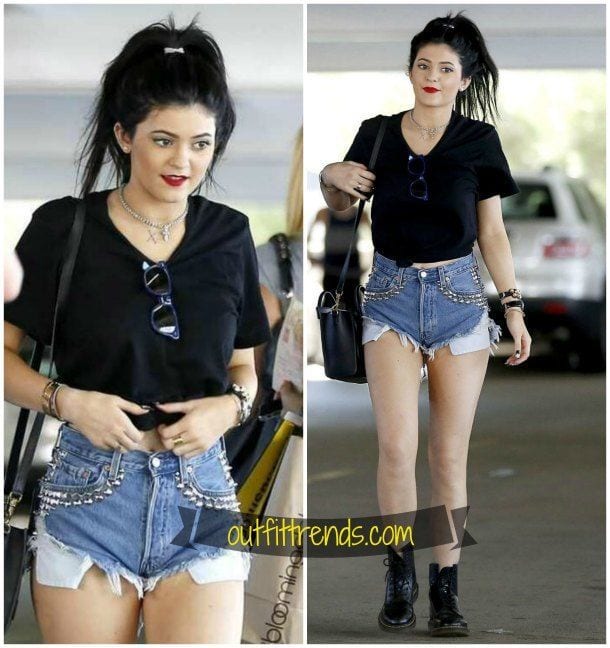 Rihana having swag with this style.
Jessie J goes Complete Studded chick .Studded jacket with Studded Shorts.