Beautiful Denim Dresses – Denim dresses are very trendy these days and they will never be out of fashion. For a day-to-day casual look, denim outfits are the favorite choice of every woman. Trends used to be simple blue or light blue denim, but now denim comes in different colors and prints. Printed and floral denim dresses are best suited for the spring season. The best thing about them is, that it gives a perfect casual look and you can also DIY (do it yourself) your denim fits for a new look. You can make your denim jeans and shorts rougher and distress yourself and that is why teenage girls love denim dresses because they can easily make them look funky.
How To Style Denim Dresses?
For summer, a simple long denim dress with a low back would work. You can match a short denim shirt top with ripped denim shorts for a chic look. Maxi denim dresses have always been very popular. You would have already noticed that denim on denim is a pretty common way to wear denim outfits. Celebrities, when it comes to a casual or funky look, mostly wear denim dresses. That is the reason you would mostly see top celebrities in denim when they are shopping etc.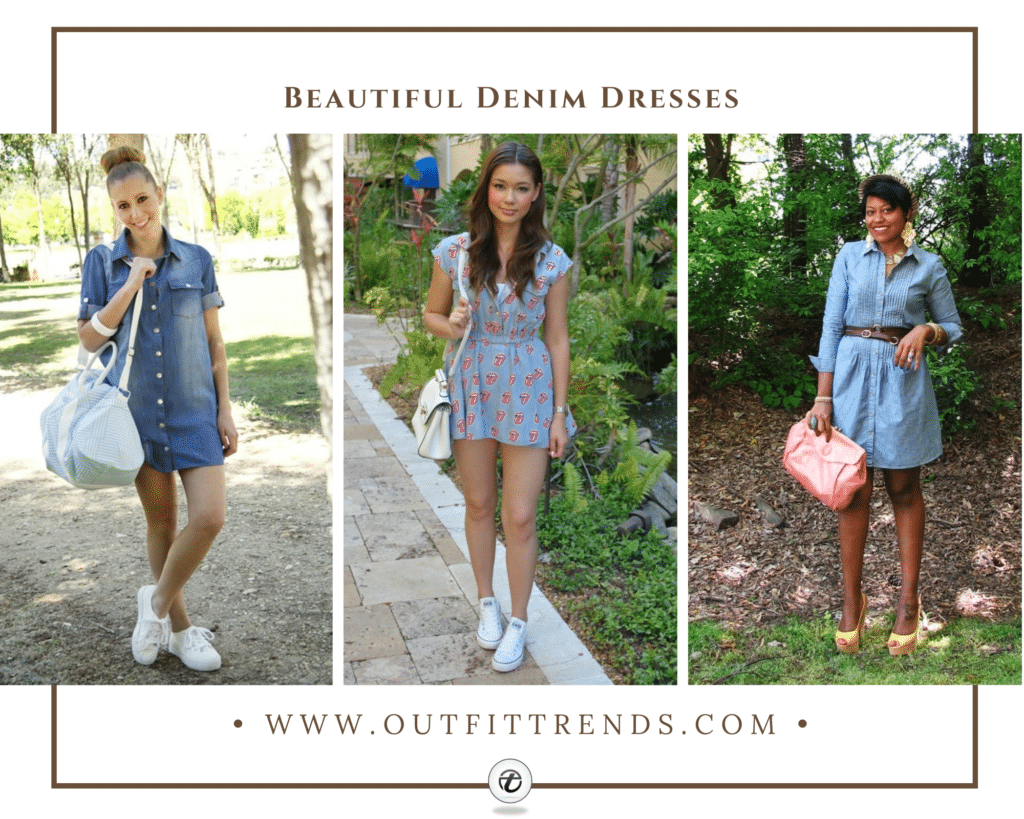 Tips For Wearing Denim
You can wear sneakers with a denim dress for summer, and long boots for winter.
Jackets or coats can be layered with dresses in chilly weather.
A mini denim dress with fancy heels would be perfect for parties.
Avoid wearing a denim jacket over a denim dress. Instead, you can go for cardigans or cropped blazers.
32 – Cami Denim Dress
If you are bored wearing your casual cami tops then you should try this one. A denim cami top paired with white sneakers and a high ponytail would look good in summer.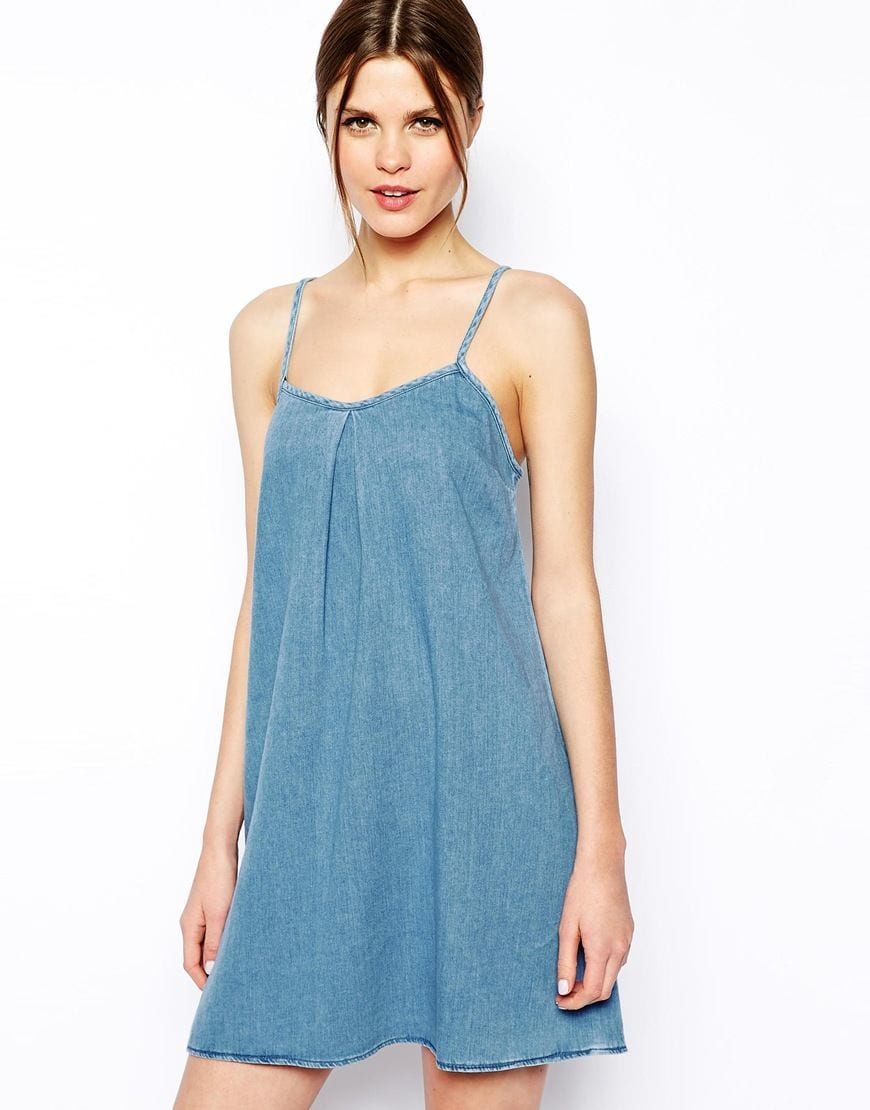 31 – Belted Denim Shirt With Yellow High Heels
You don't have to worry about what to do with your old denim shirt. Here is how you can style it. Firstly, add a brown belt to your dress. Accessorize it with your favorite jewelry, and lastly, add a pinch of color by wearing yellow platform heels. You can easily wear this outfit to outdoor events.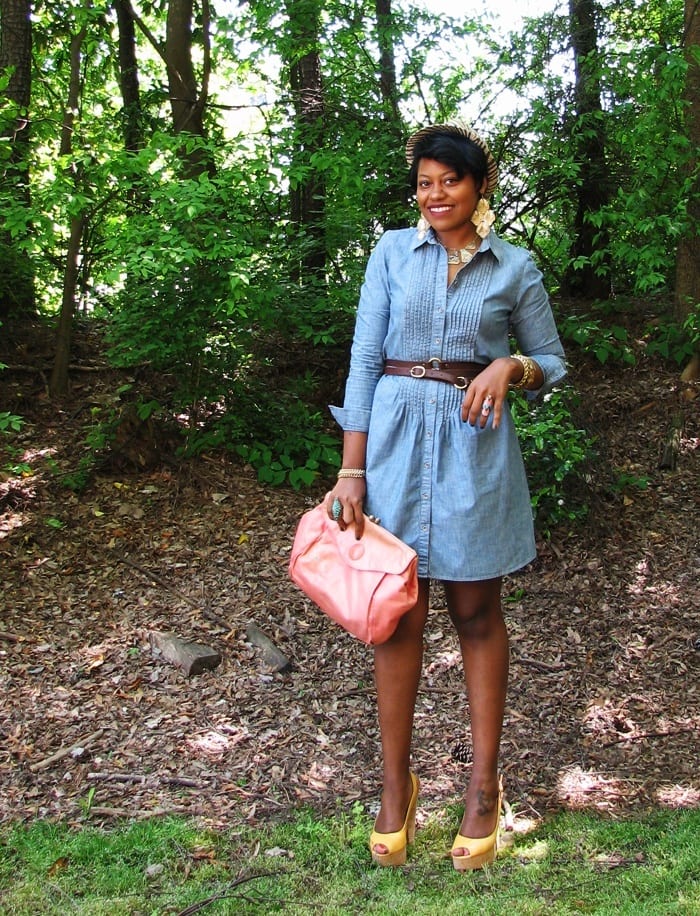 30 – Cap Sleeve Mini Denim Dress With White Canvas Shoes For Summer
A cute dress for summer is what every girl wishes for. This cute v-neck cap sleeve mini denim dress can be worn to beach parties in summer. Pair it with canvas shoes, a watch, and a cute backpack and you are good to go.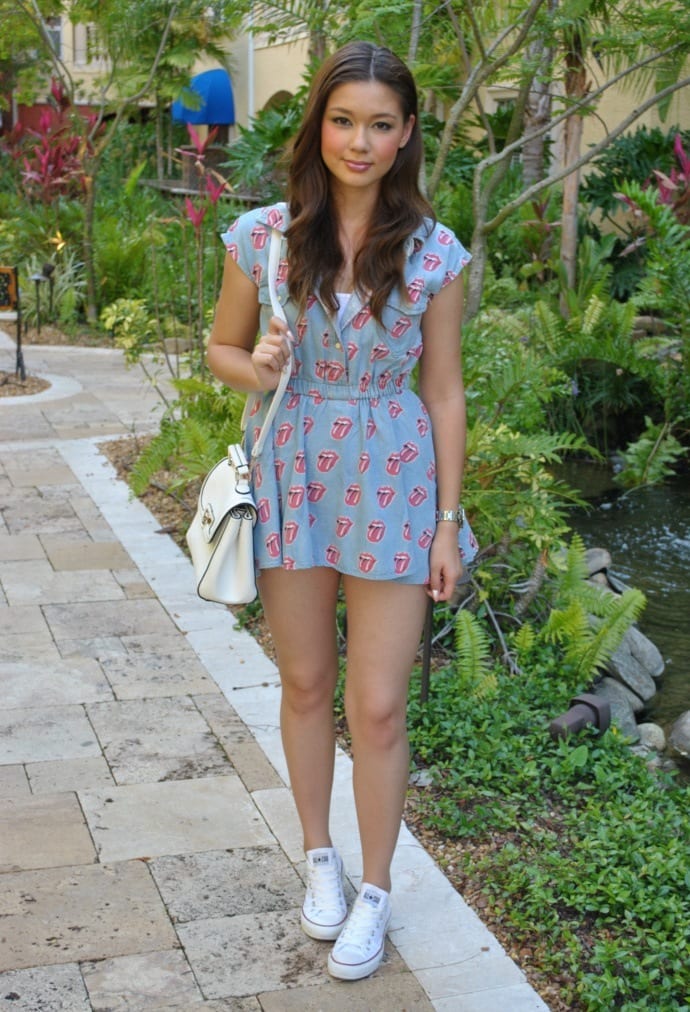 Women's Rainbow Canvas Lace-Up Sneaker $19.99
29 – Oversized Denim Dress Shirt With Sneakers
We found the perfect and effortless outfit for your college. You can wear an oversized denim shirt dress with sneakers and a bun to your college.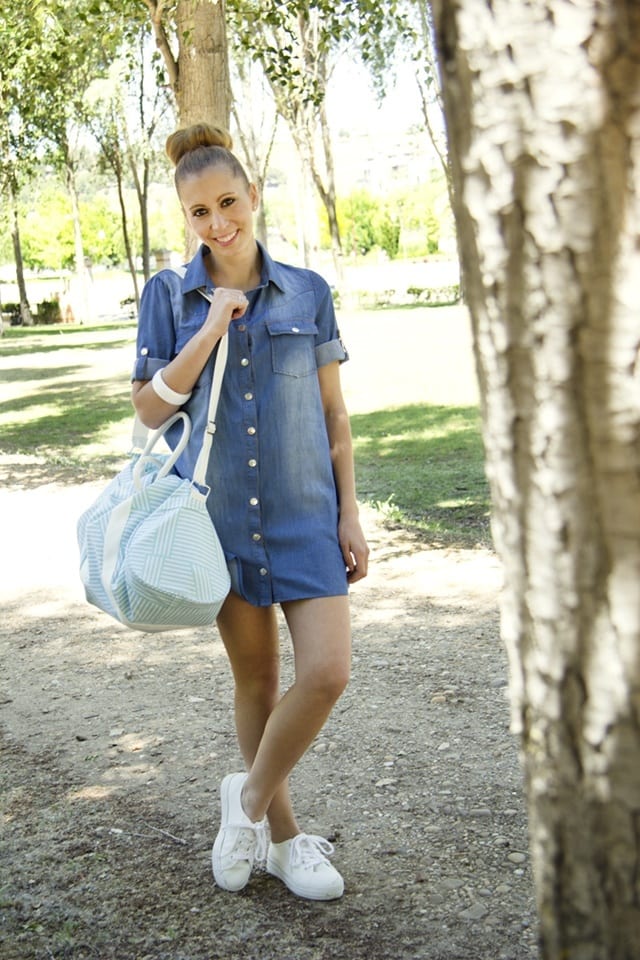 Women's Carina Sneaker $139.29
28 – Long Denim Dress With White Cardigan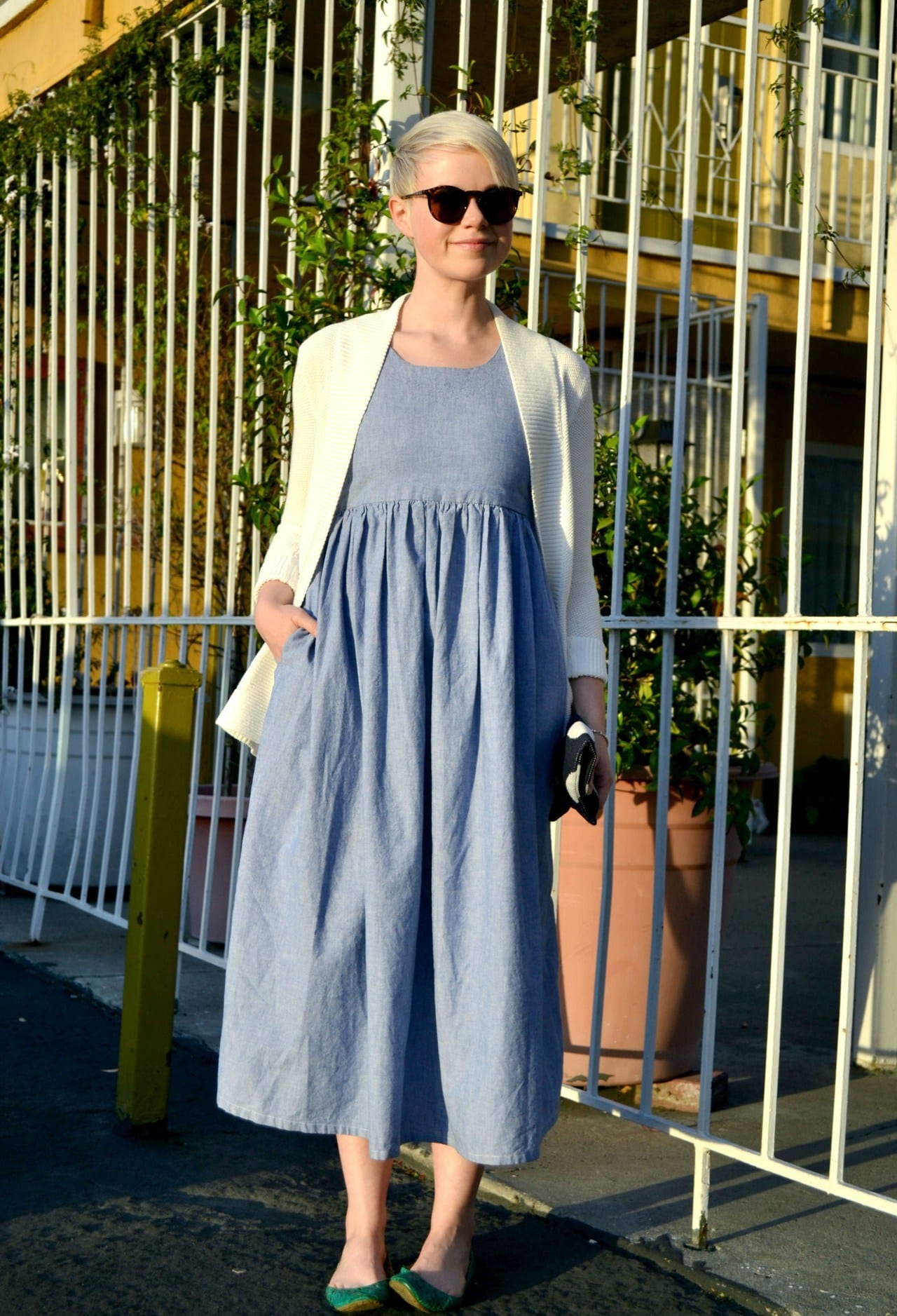 27 – Light Blue Mini Denim Dress With White Ankle Strap Heels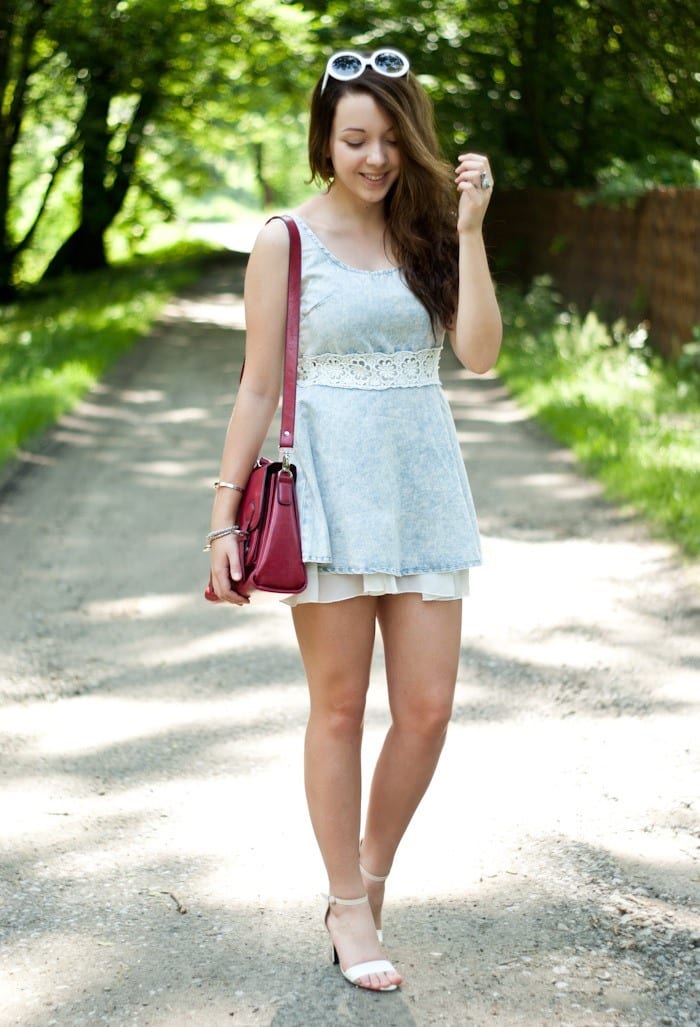 Women's Open Toe Ankle Strap Chunky Block High Heel $37.99
26 – Full Sleeves Collared Denim Dress For Lunch Date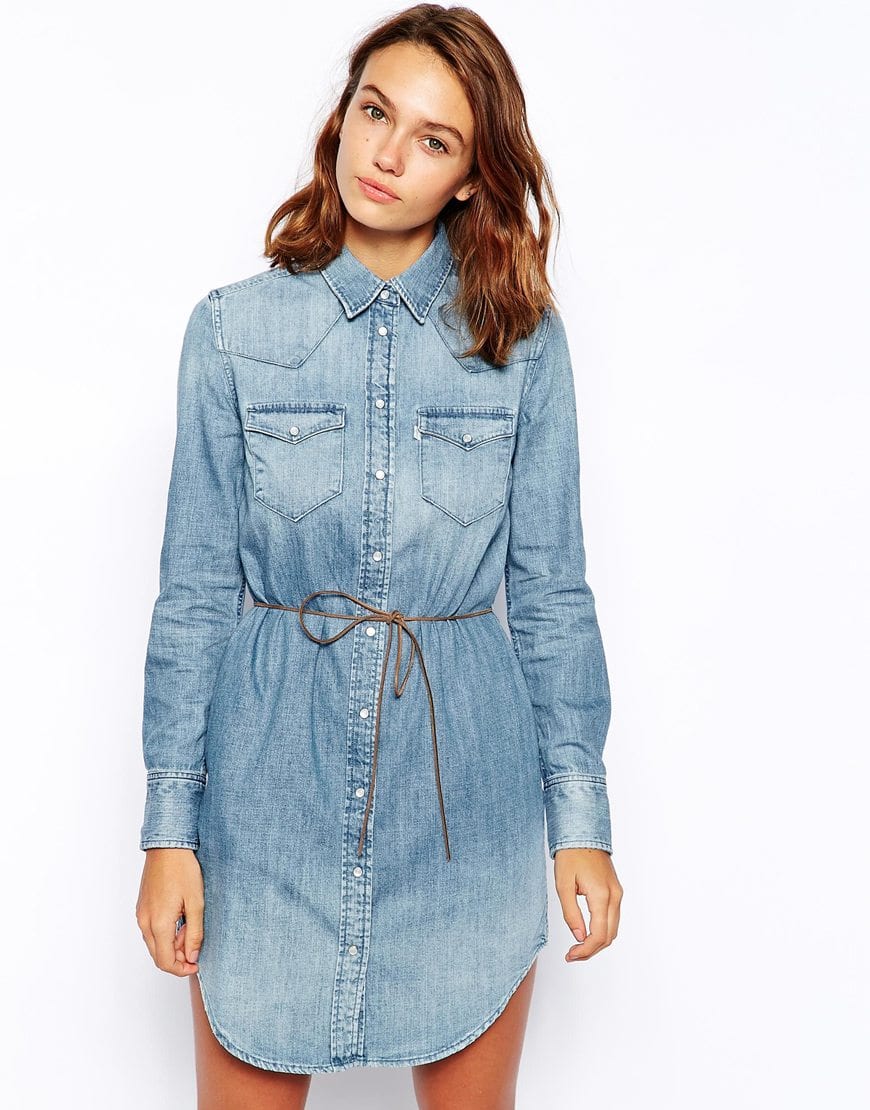 25 – Stylish Denim Dress With Pockets, Cinched At The Waist
A dress with pockets is a dream dress for every girl and this is one of them. This vested denim dress not only looks good but it's also very useful for you.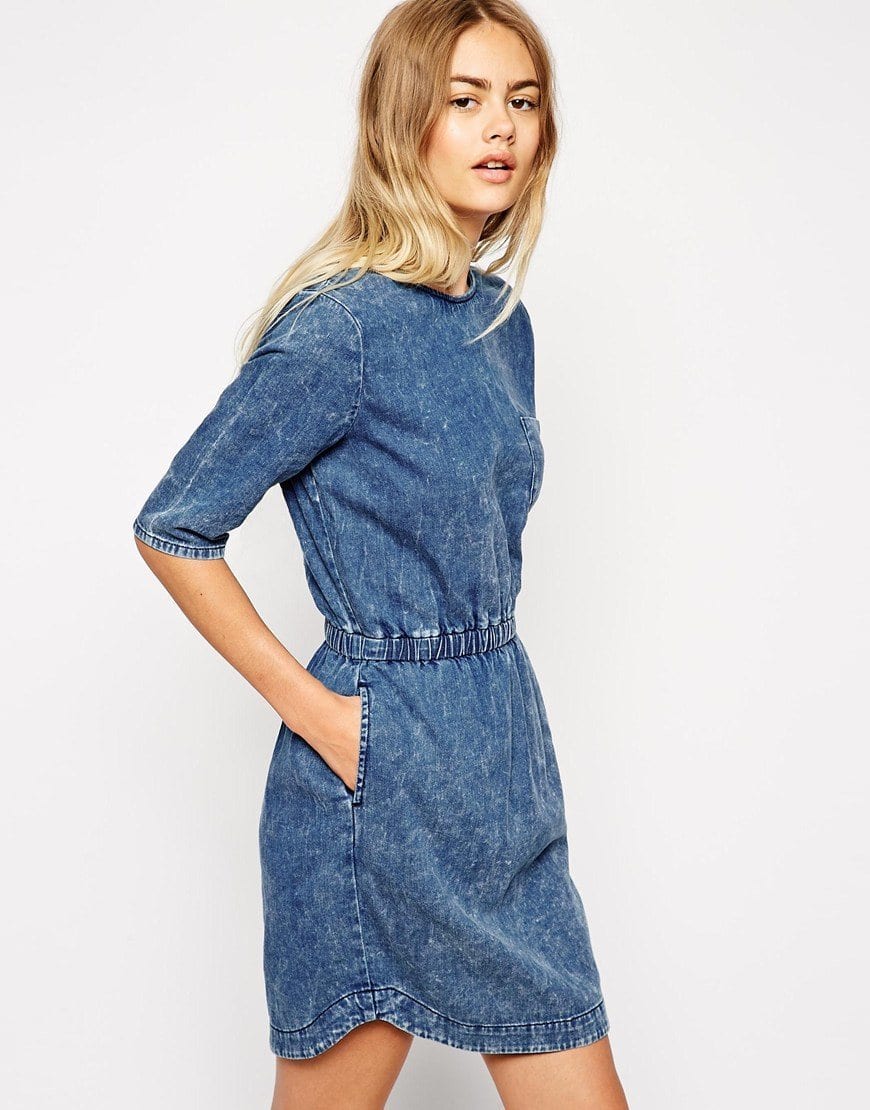 24 – Multi-Layered Mesh Skirt With Denim Top
We are loving this cute combination of a mesh skirt with a denim top. The brown belt is enhancing the look. You can wear high heels and hoops with this look.
23 – Blue Denim Dress With Brown Belt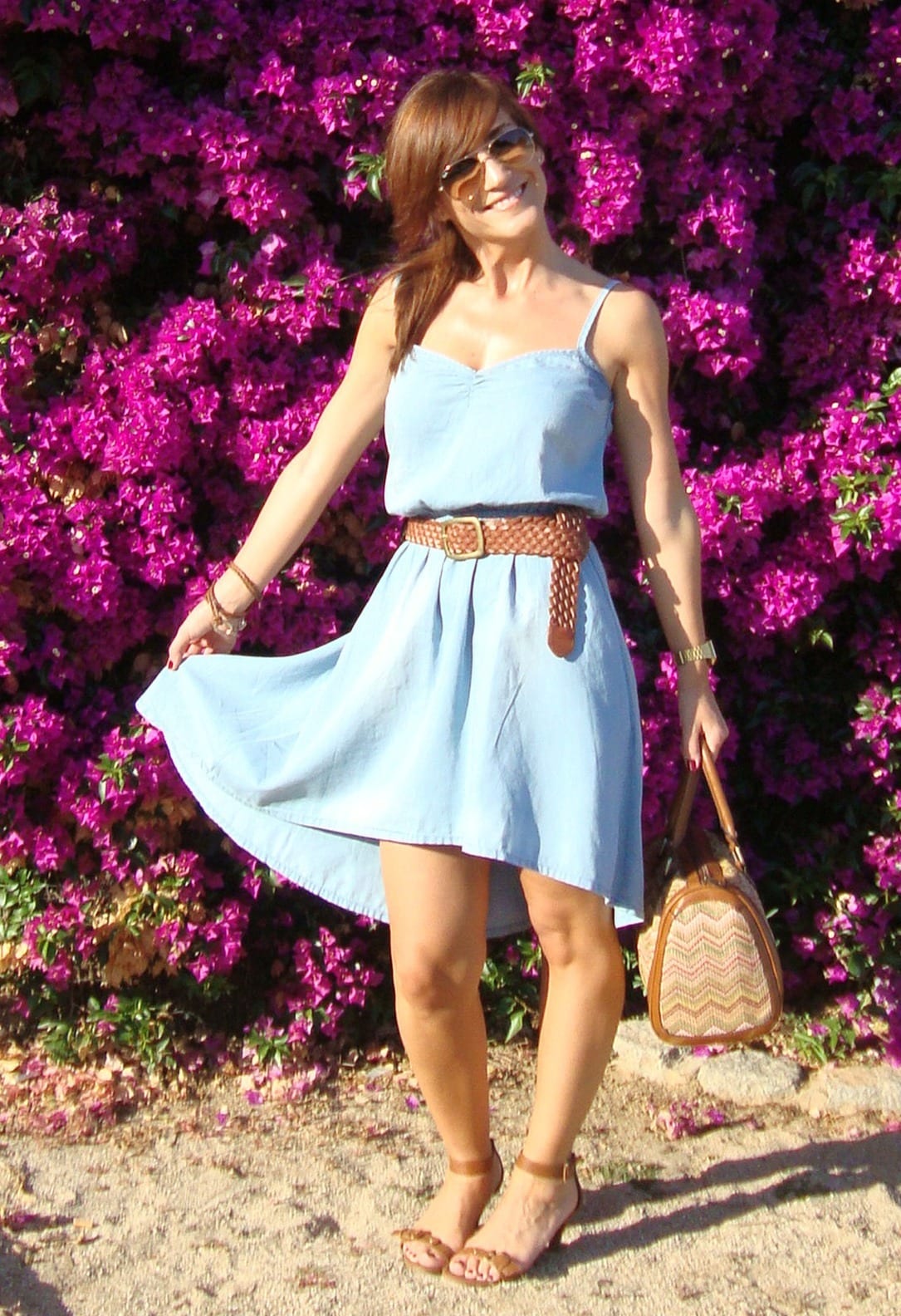 22 – Printed Casual Denim Top With Smileys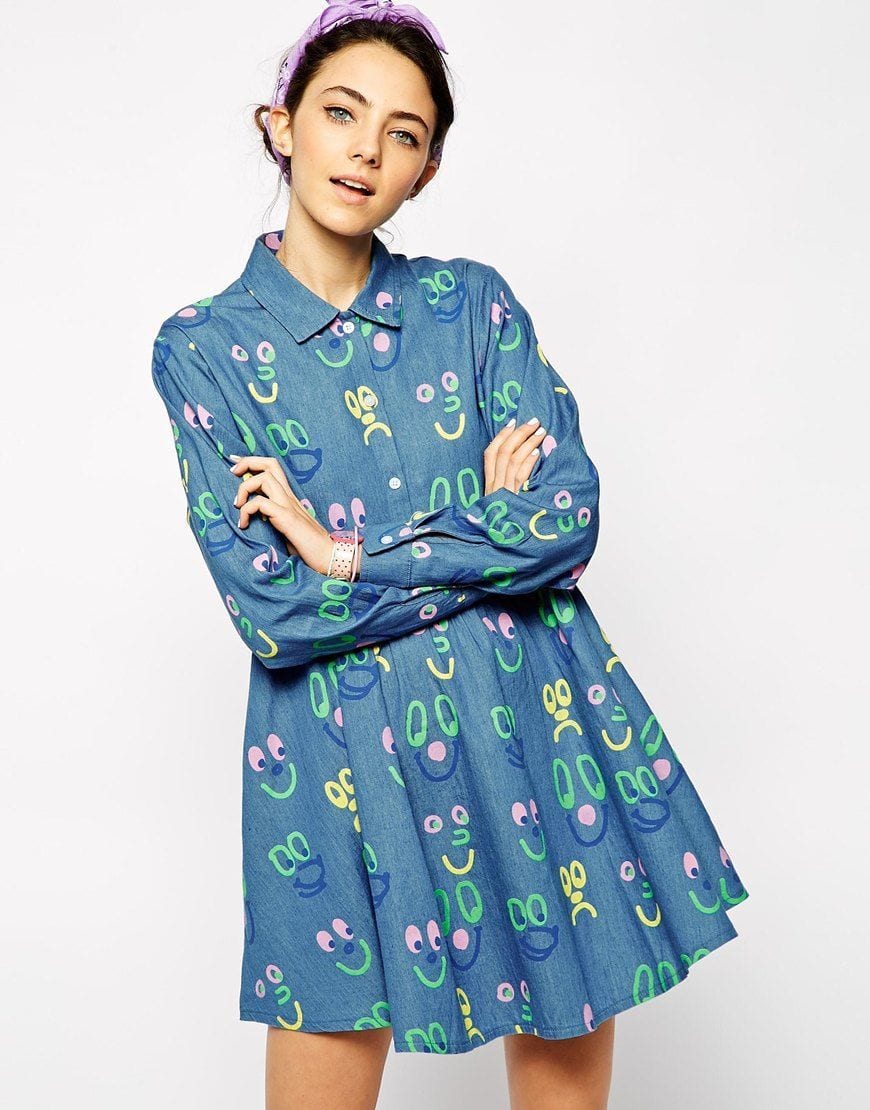 21 – Floral Buttoned Dress For Spring Season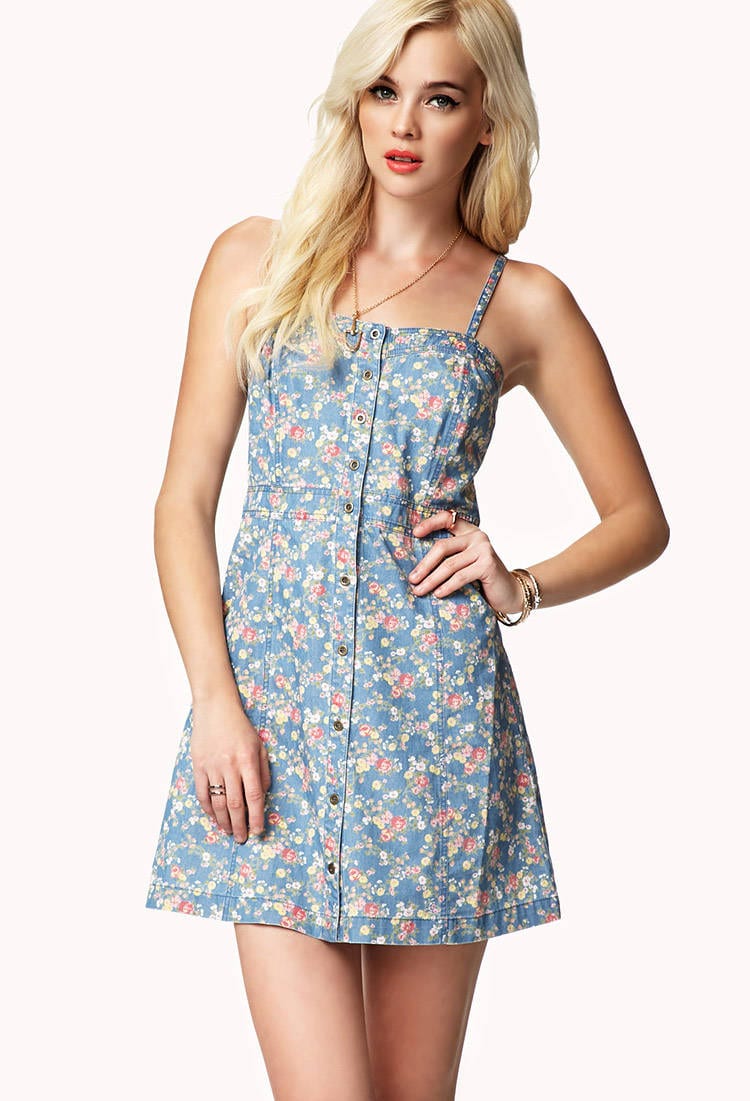 20 – Long Sleeve Collared Midi Dress With Nude Pumps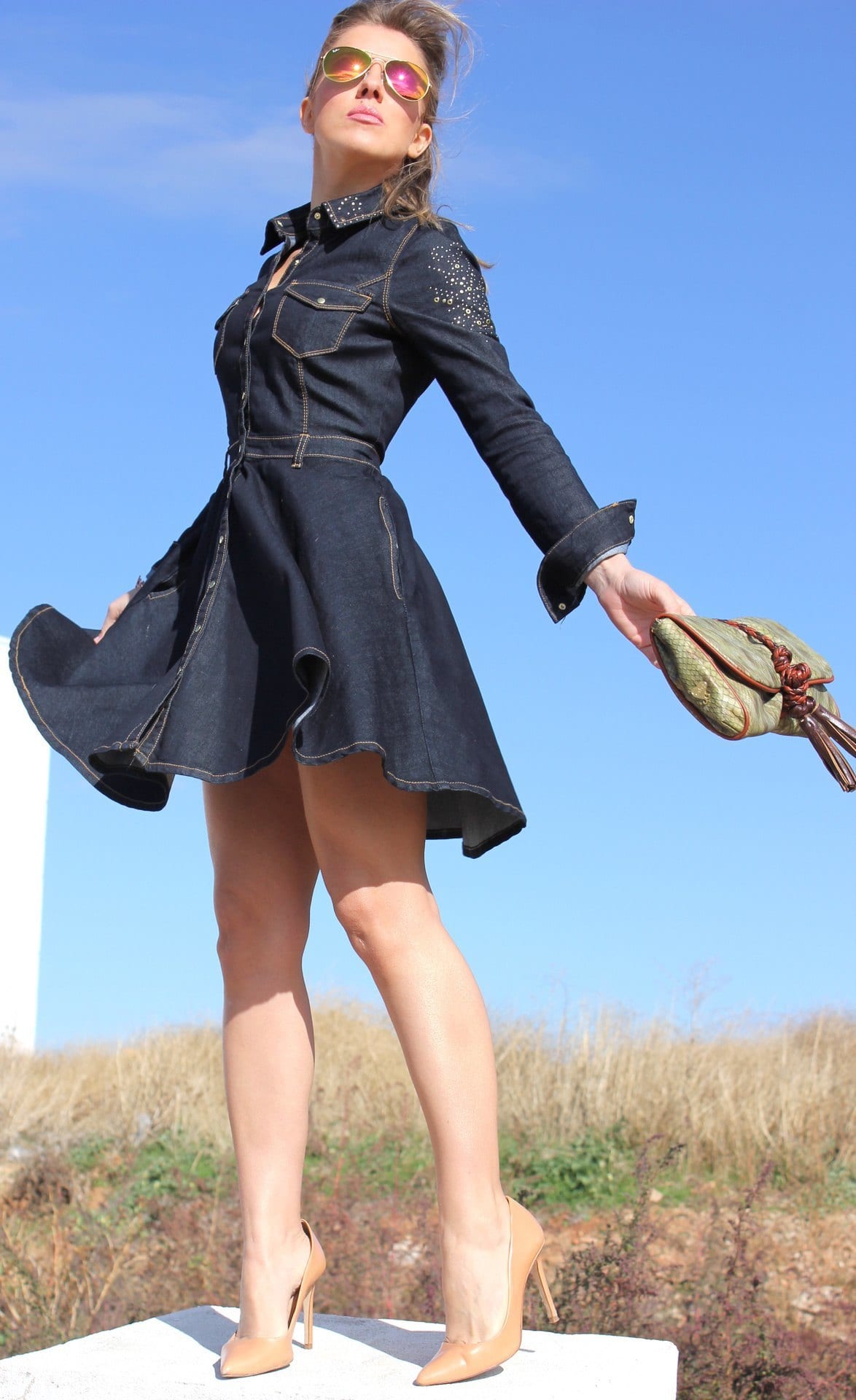 19 – Belted Denim Romper With Mules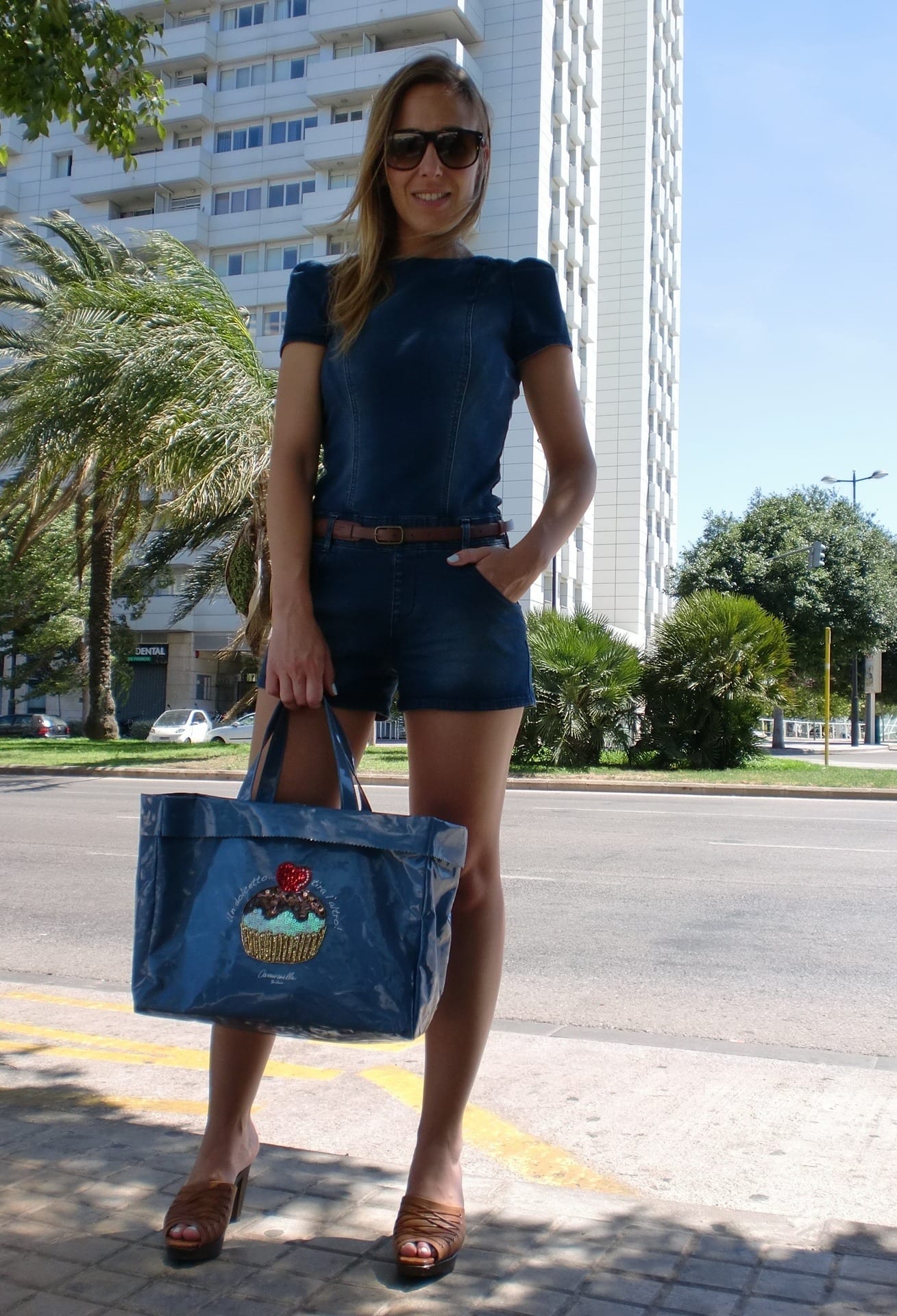 18 – Denim Shirt With Jeans And Leopard Print Flats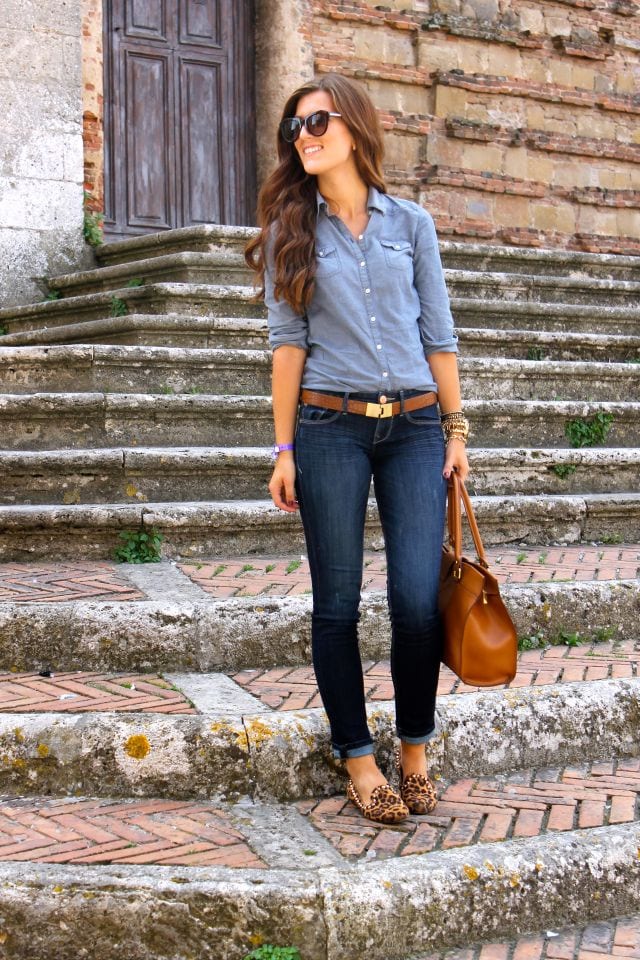 17 – Sleeveless Denim Top With Skinny Jeans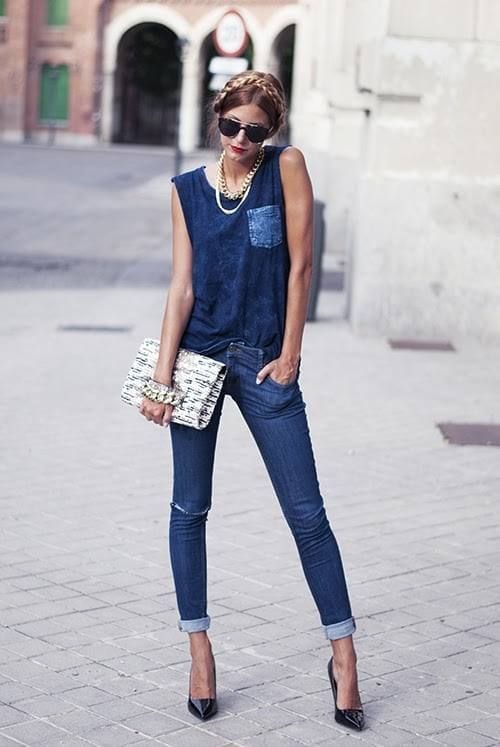 16 – Buttoned Down Black Denim Dress With Light Brown Boots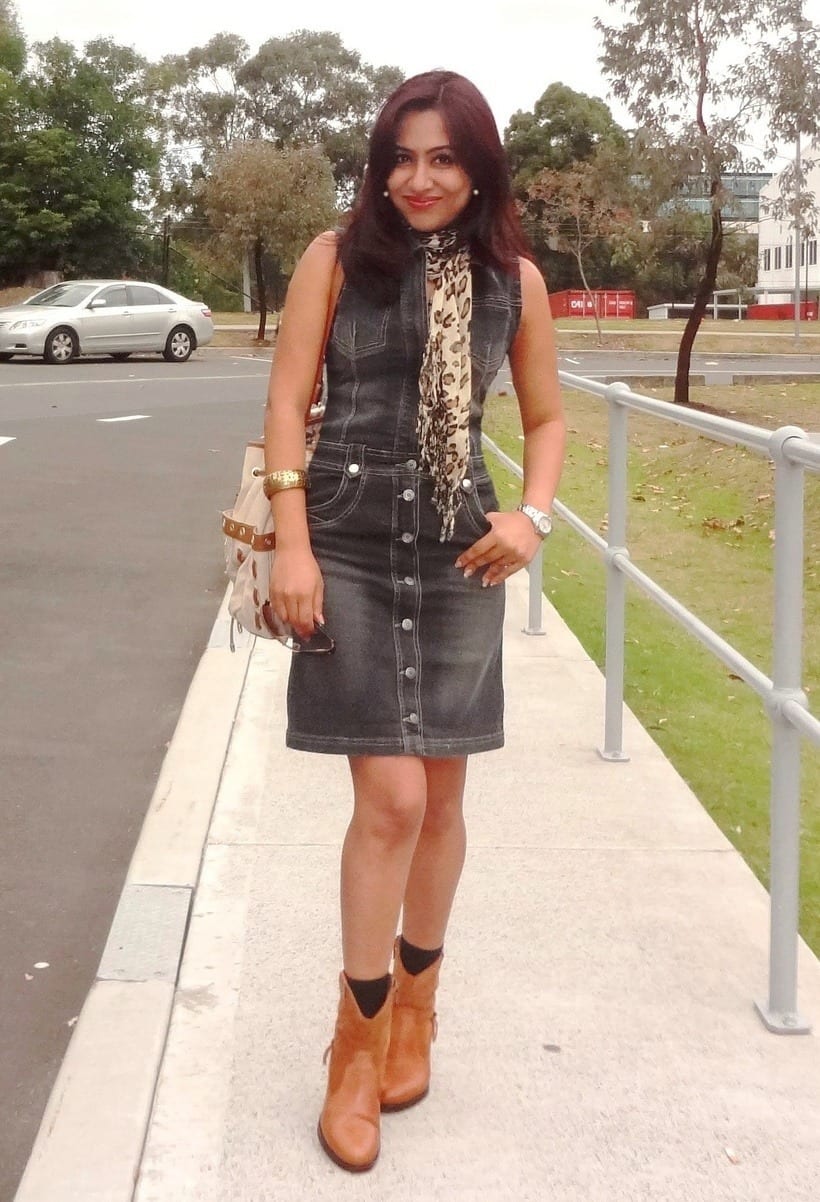 15 – Pencil Denim Dress Looks Amazing With Laced Up Boots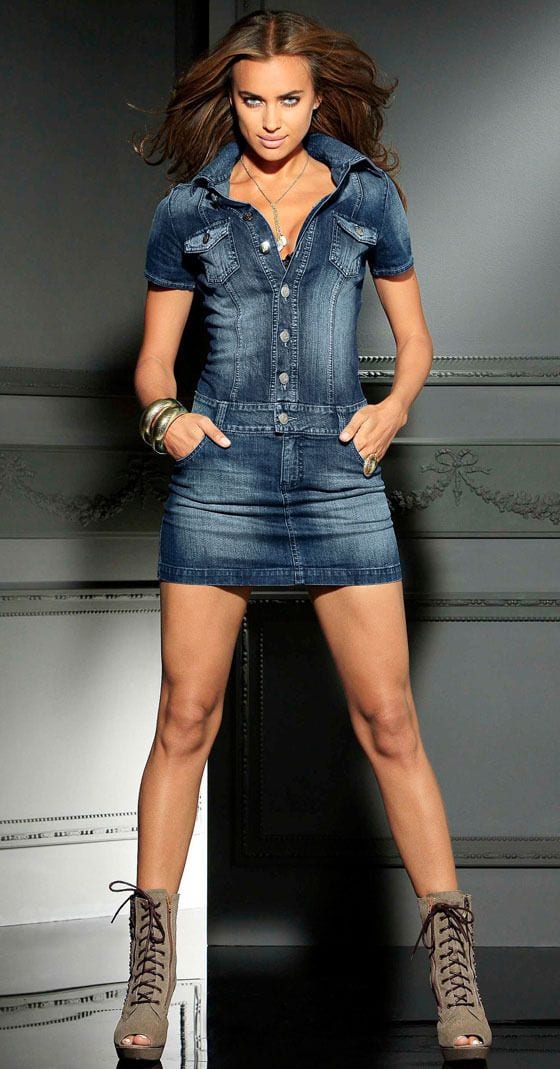 14 – Buttoned-Down Denim Dress With Red Wedges And Belt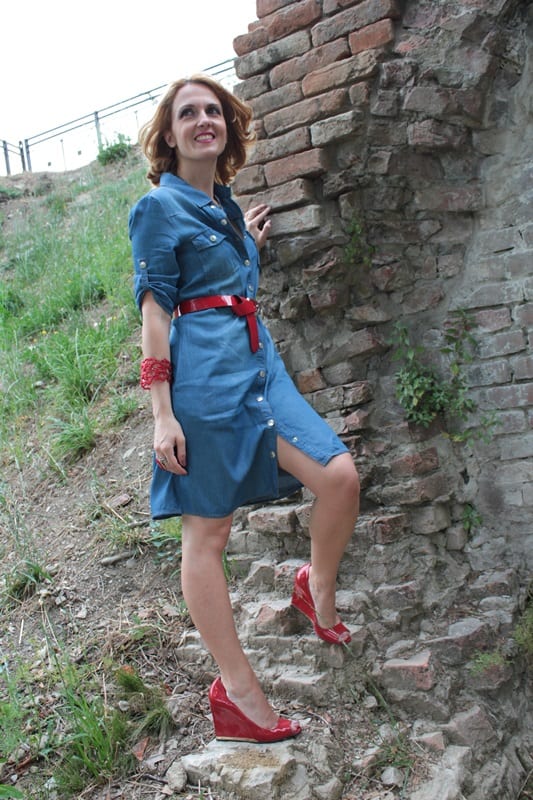 13 – Two-Piece Black Denim Top And Skirt With Open Toe Heels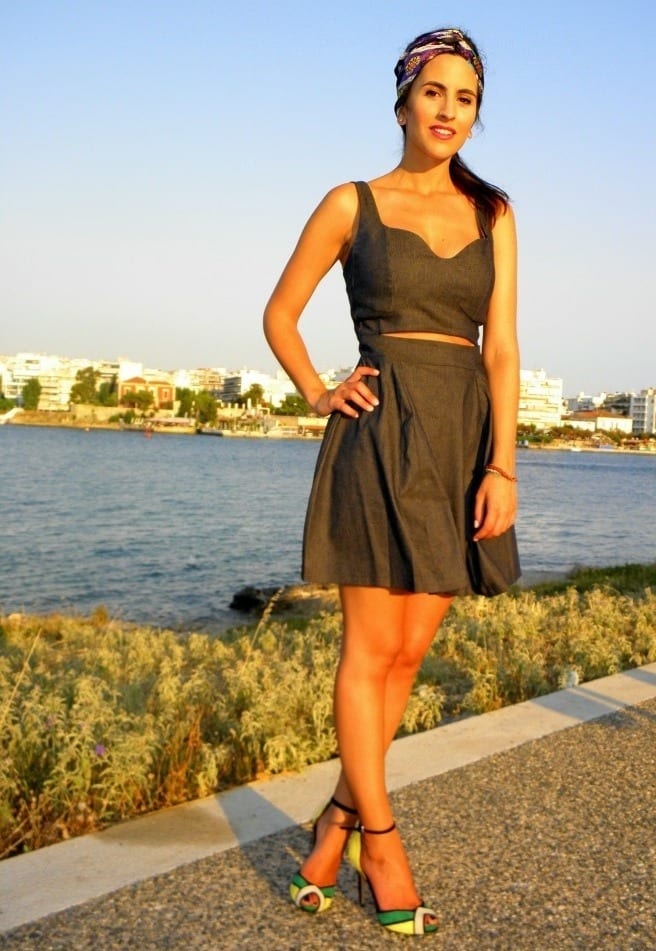 Women's Sweetheart Neck Sleeveless Ribbed Knit Crop Tank Top $12.99
12 – Dark Blue Sleeveless Denim Dress For Teenagers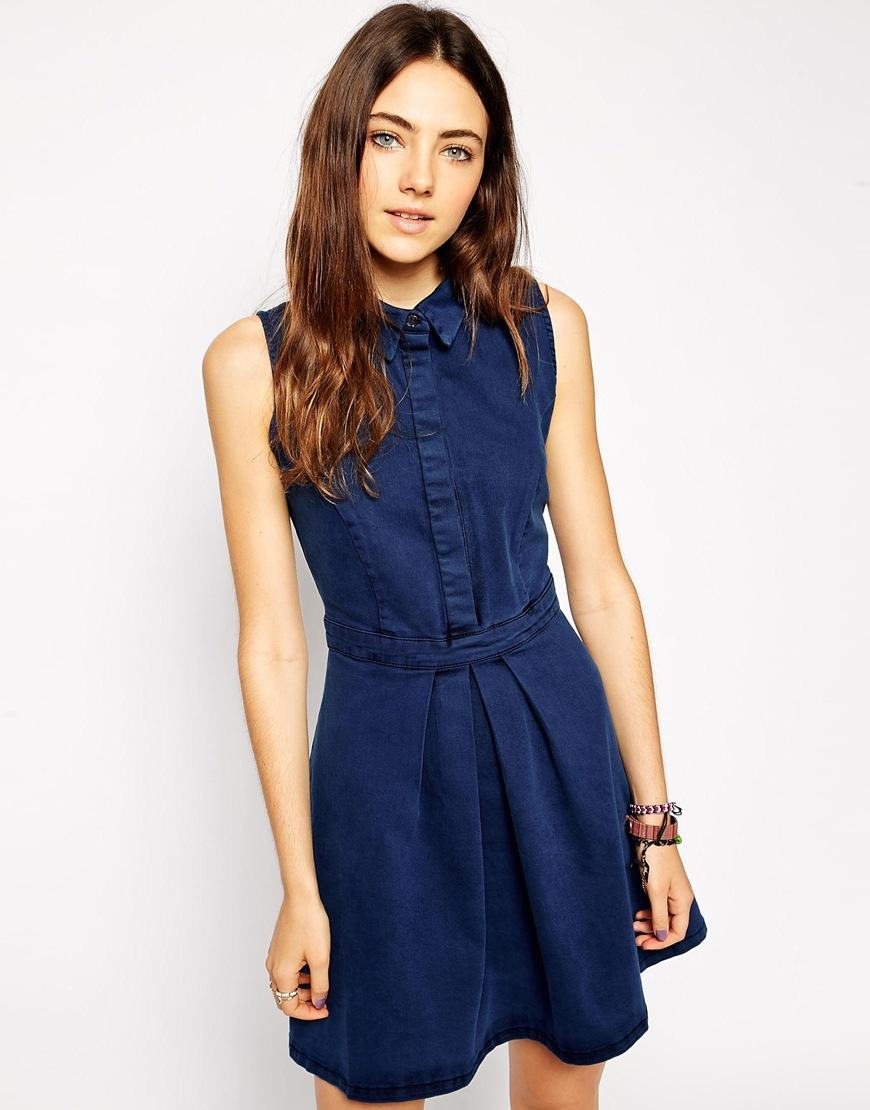 11 – Grey Denim Mini Bodycon Dress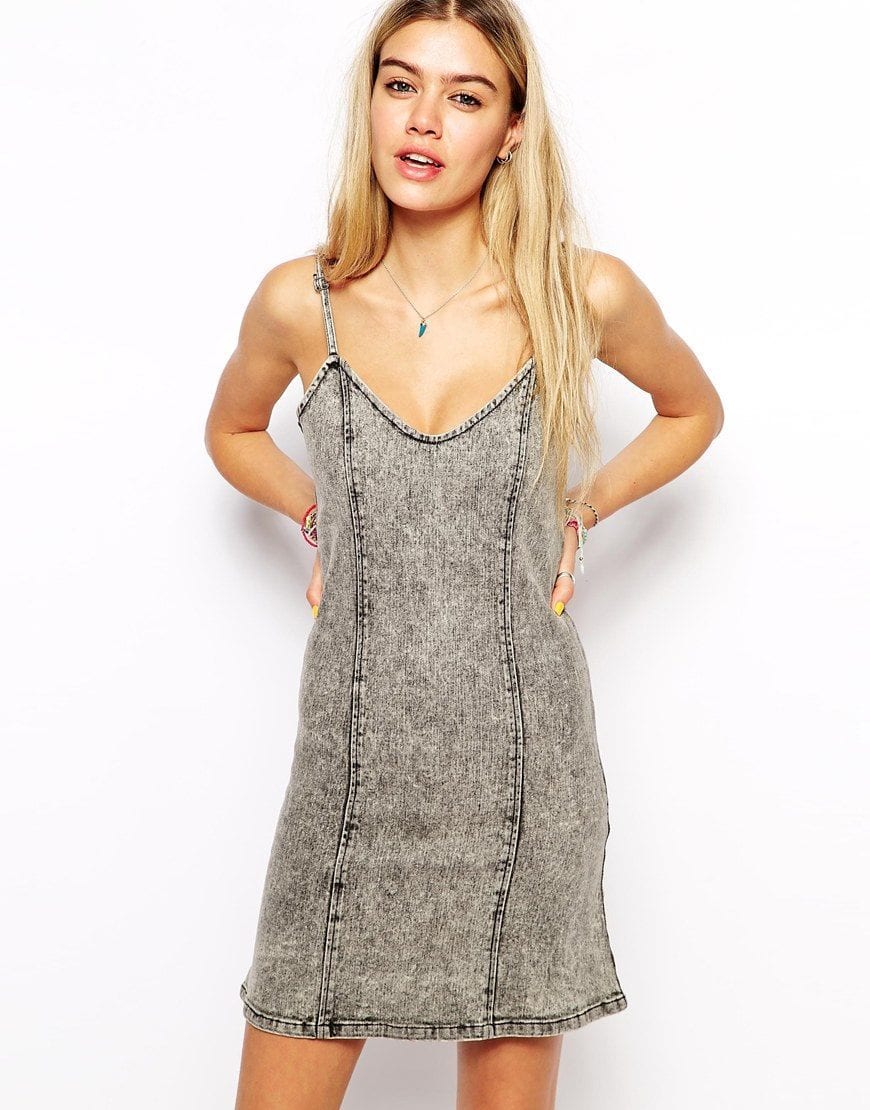 Denim Cami Dress With Low Back
10 – Black Polka Dot Denim Shirt Dress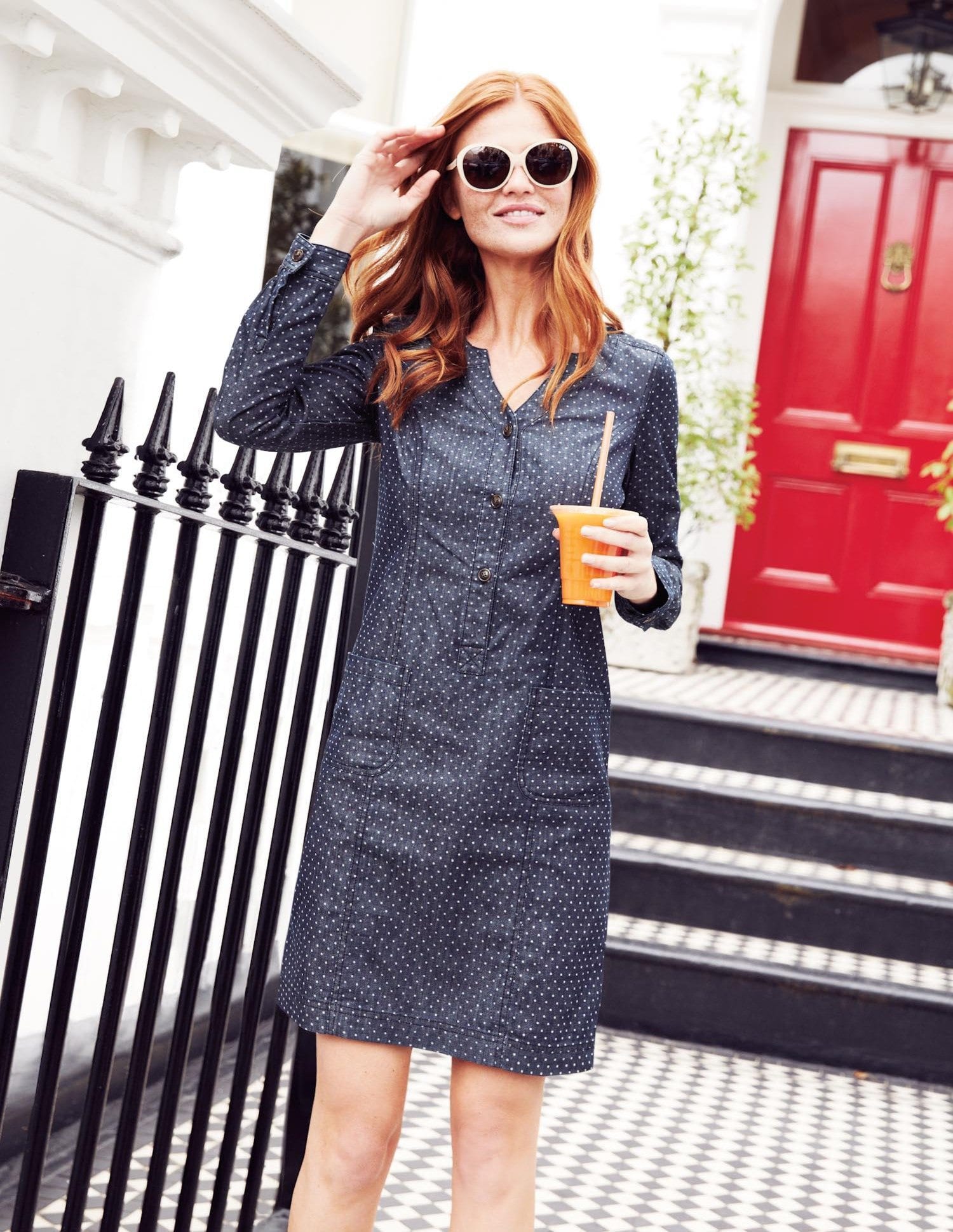 9 – Kendall Jenner In Denim Shorts And Shirt
You can achieve this super comfortable look by Kendall Jenner just by pairing ripped denim shorts with a t-shirt or any top and sneakers. It is best for hot weather when you don't want to be too dressy.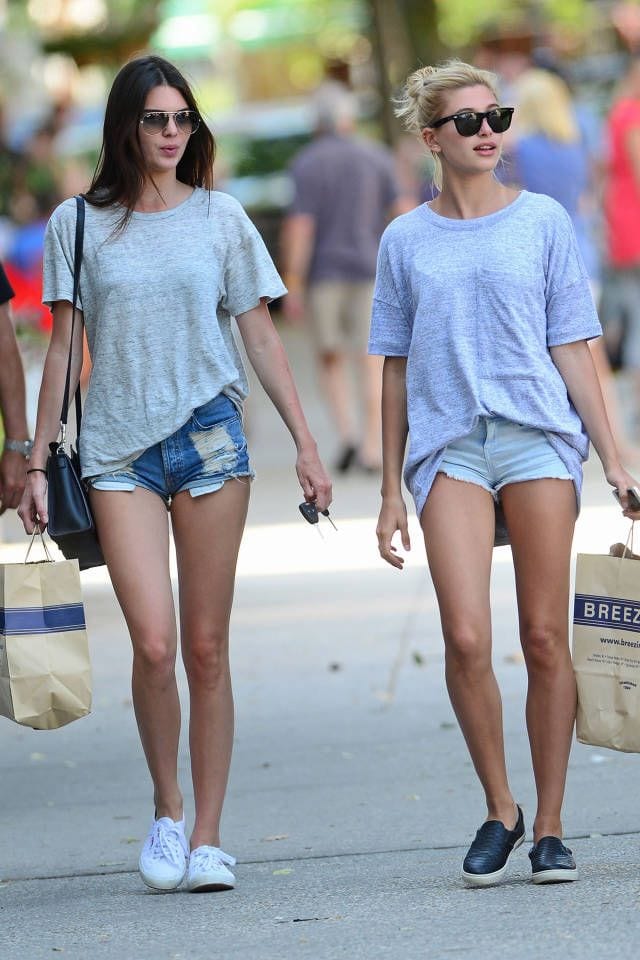 Women's Casual Mid Rise Denim Shorts $29.49
8 – Selena Gomez Pairs Denim Shirt With Denim Shorts And Black Belt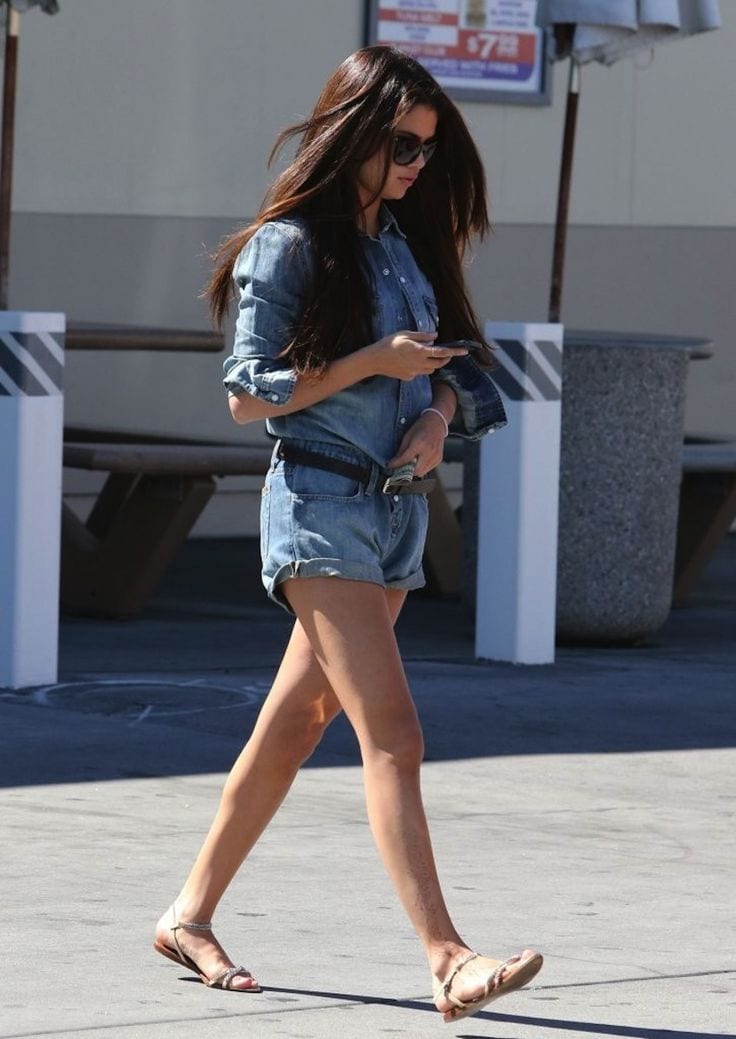 7 – Denim On Denim Outfits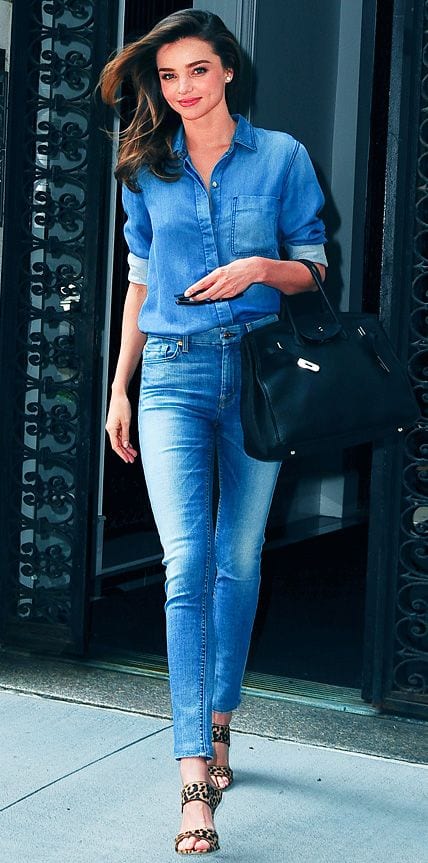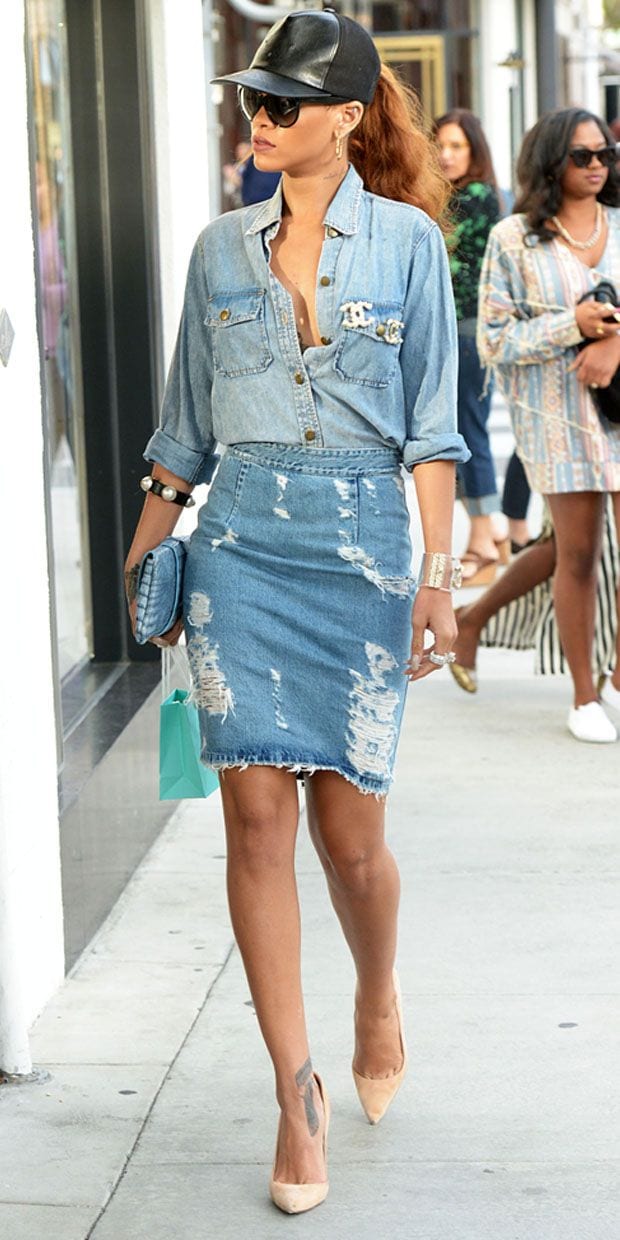 Women's Stretchy High Waist Bodycon Ripped Denim Pencil Skirt $19.98
6 – Denim Dress With Black Suede Ankle Boots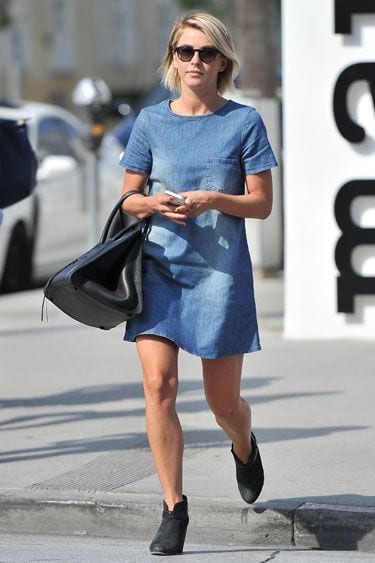 5 – Vannessa Hudgens In Belted Shirt Dress With Brown Flat Sandals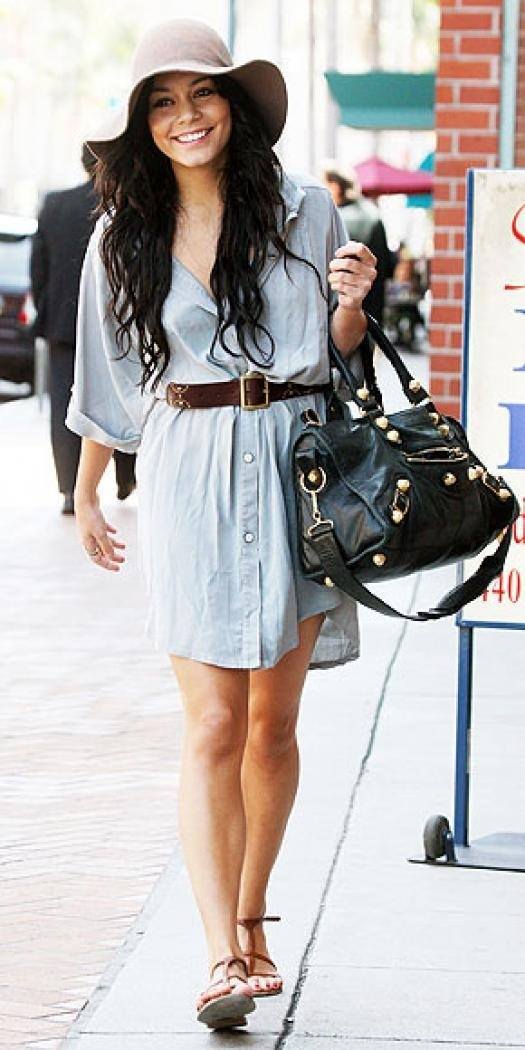 4 – Jessica Alba's Cool Embroidered Denim Top With Black Boots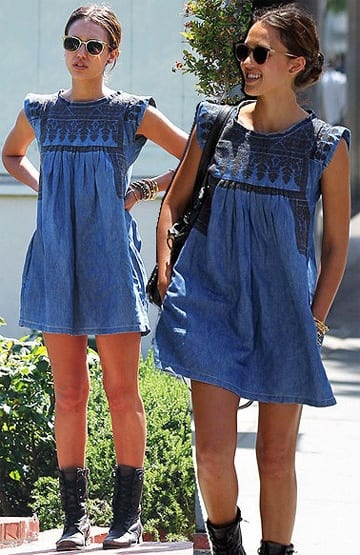 3 – Denim Overalls With Electrifying Blue Heels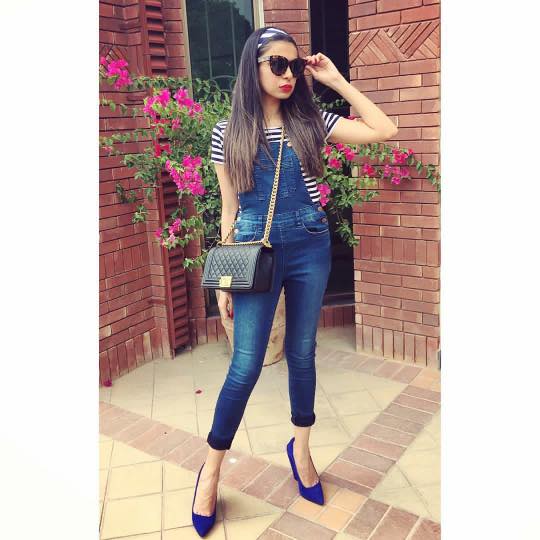 Denim Destroyed Rolled Cuffs Shortalls Jumpsuit shorts $31.99
2 – Flare Leg Denim Jumpsuit
1 – Denim Jacket With Faux Fur Collar Paired With Jeans And Sneakers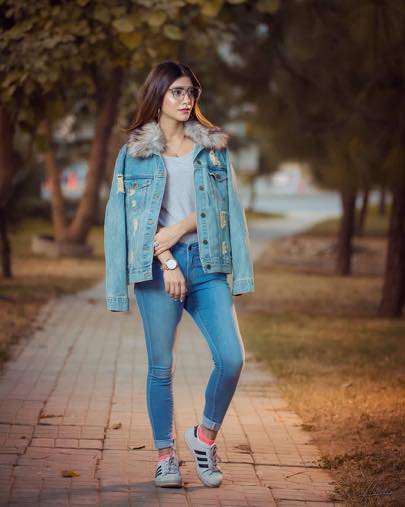 Levi's Women's Fur Collar Ex-Boyfriend Trucker Jackets $69.78
Frequently Asked Questions
Q. Are denim dresses in style 2022?
Ans. Denim never goes out of style and you will often see many people wearing denim dresses which means they are back in fashion. They can be your go-to outfit choice. Denim dresses look chic and different from your casual clothes. You can wear them casually, at parties, and even to college.
Q. What can I wear with a denim dress?
Ans. You can wear a simple denim dress in many different ways and in many different seasons. You can pair them with jeans for an all-denim look, you can wear ripped denim shorts and skirts with tops and shirts in summer, and you can also wear them in winter by pairing them with coats and boots. Floral printed mini denim dresses can be worn in the spring season.
Q. How do you style a denim dress for winter?
Ans. Denim dresses can be easily styled in winter with the help of layering. The easiest and most popular way is to wear denim jackets with jeans. Other than that, you can wear an oversized denim shirt dress with black knee-high boots. You can also layer different things on denim dresses like jackets, hoodies, and coats.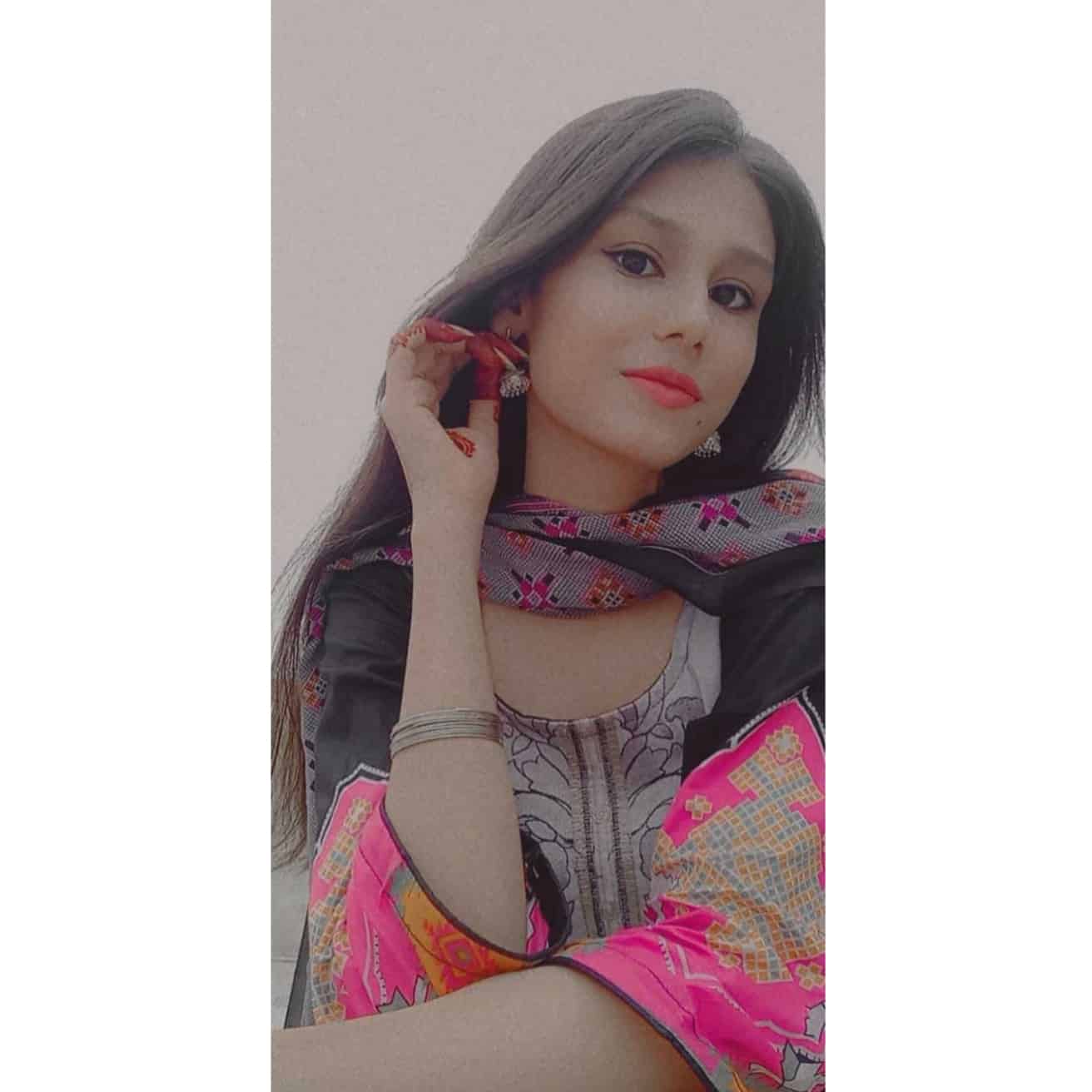 Yumna is an undergraduate business student and a freelance writer. Her life revolves around writing and reading. Being an introvert, she might not speak much but she can write for you as much as you want: )