Pink jacket outfits – It's 2023, and this year is all about making bold choices, especially when it comes to your closet. However, you have to maintain the right balance of boldness and confidence. What else can have that harmony than pretty pink outfits?
So, the first agenda after reading this is to get a pink jacket. Jackets are easy to carry and you can style a number of outfits with just one! But not many of you know about this area of fashion and how to style your outfits with them. Well, that is what we are here for.
What to Wear With Pink Jackets?
What comes to your mind first when you think about the color pink? Vibrancy, class, and joy, right? So, you need to carefully lay out your outfit with any clothing item related to pink.
The pink colour needs to stand out in your outfit, so the rest of the items must be properly balanced out. With a pink jacket, you need to pick out the correct color combination. This is done to keep the essence of the color alive. Some of the most popular colour combinations with pink (as you'll see below) are:
Pink and Black
Pink and White
Pink and Grey
Pink and Blue
Pink and Green
Well, keep on reading this style guide to know all about layering your outfits with a pink jacket in the perfect balance. Before getting into that, check out these tips that will help you get the upper hand when styling!
Tips on Styling Different Shades of Pink Jackets
Looking for an easy way to take your casual outfit up a notch? Simply wrap your jacket around your waist. Make sure to tuck in your shirt for a more chic look.
Choose a black outfit with your pink jacket if you don't have a lot of time on your hands. Black looks flattering on every body type and will balance out the pink as well. Consider it your safe bet!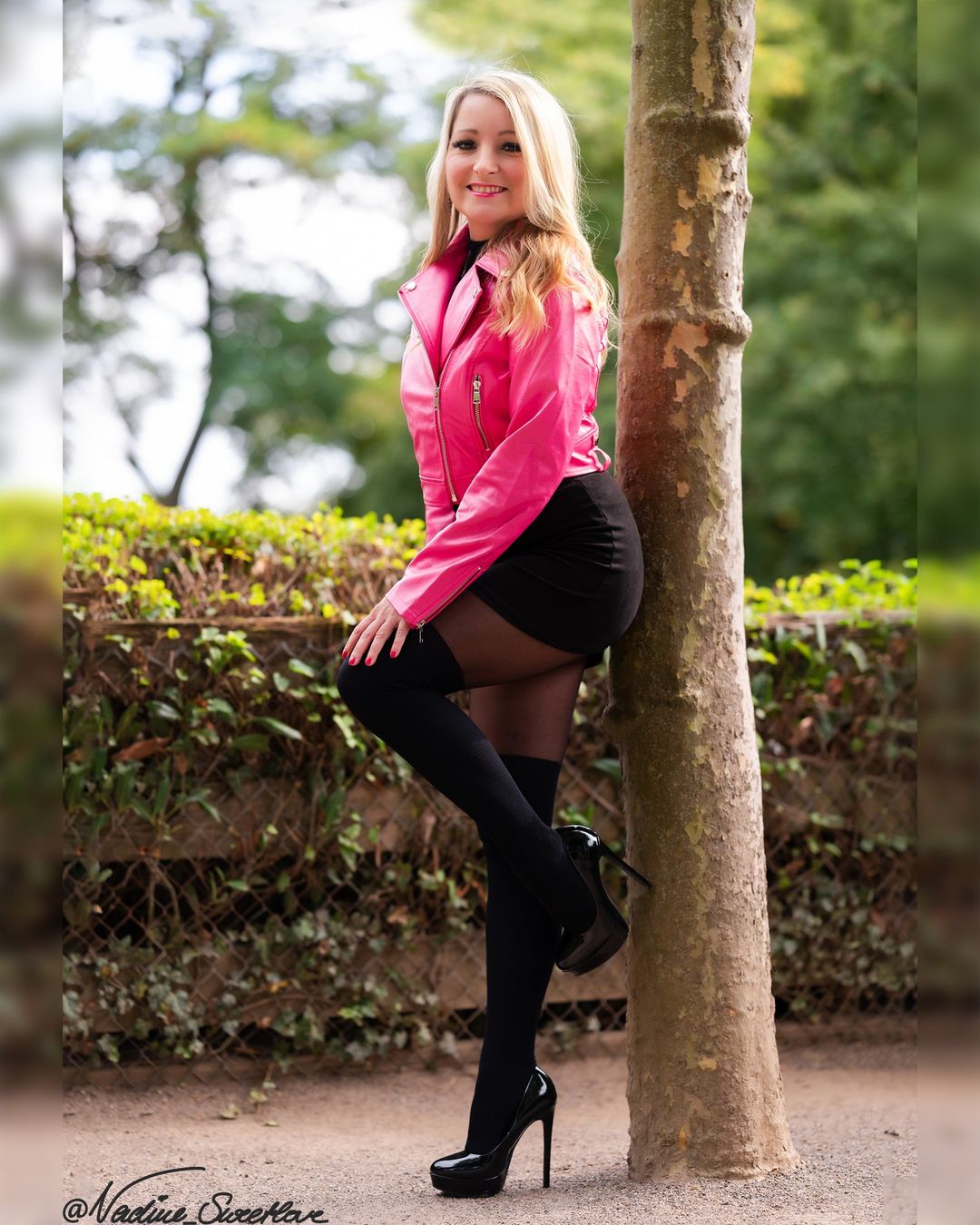 Pair pink with neutral colors if you are looking to go for a professional look for your outfit.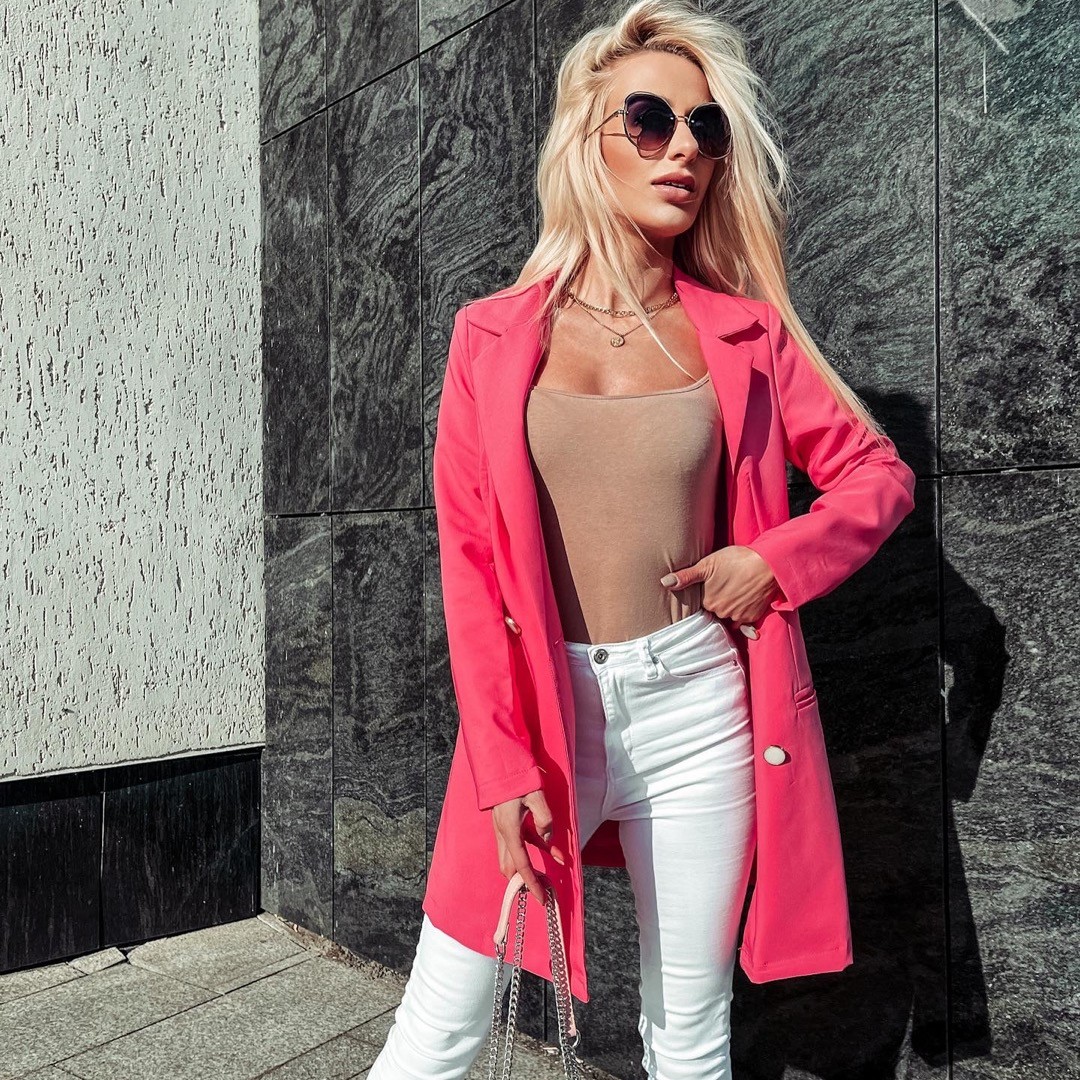 If you want to go all out, layer different shades of pink together. The colors combined will complement each other like no other and will the perfect monochromatic look.
To highlight the pink accents of your outfit, wear the same colored accessories. For example, pink bags, sunglasses, or beanies.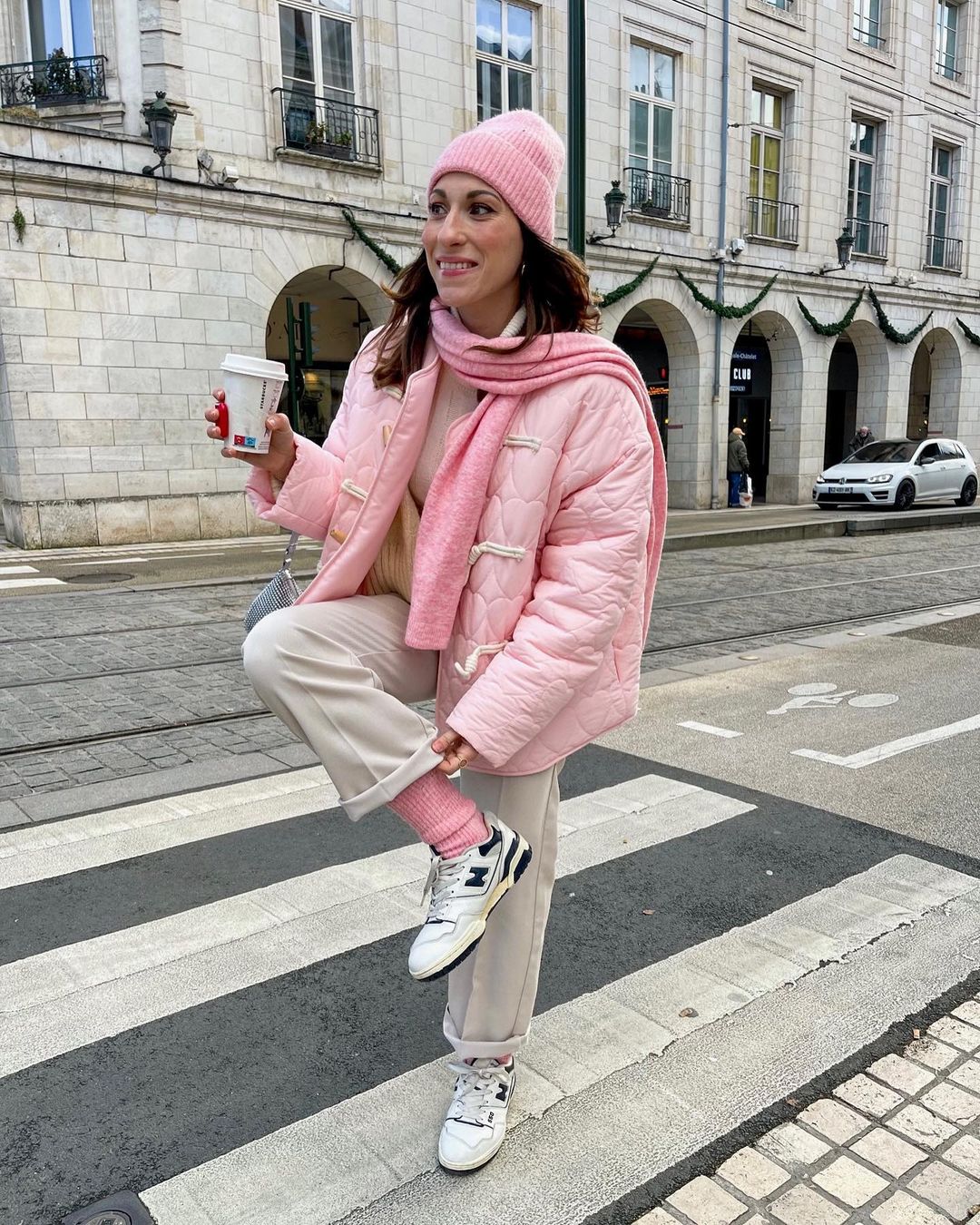 Casual Outfits
20 – Plaid Pink Jacket with Casual Attire
There are some elements in the fashion industry that work well on their own. By wearing those items you never have to put an extra effort to look good. One of those clothing items include the plaid jacket as well. So next time you see one on sale, grab it as soon as you can!
Wearing a plaid jacket to your casual fit will add one to ninety nine.
19 – Magenta Jacket with Spandex Tights
Looking for an outfit that shows off your curves in the best way possible? Then get spandex tights out of your closet! Even though the color black works well with every color on the grid, magenta pink complements it like none other.
So, pair a magenta pink leather jacket with black crop top and spandex tights. Depending on your comfort zone, wear black heels or sneakers and that's it! You can pull your hair up in a ponytail for an effortless look, or just let it down.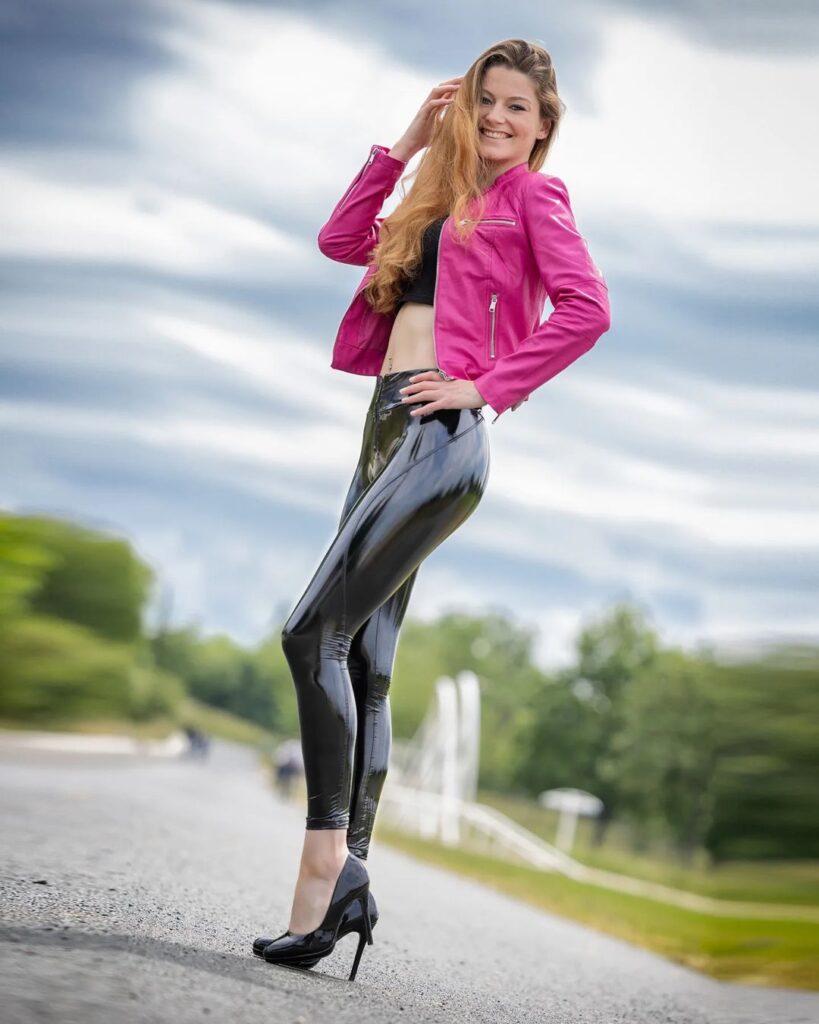 18 – Mauvelous Trucker Jacket with Plaid Pants
Mauvelous is a very beautiful shade of pink and when styled with plaid pants, it will give you a stunning look.
There is something so unique about plaid pants. Such bottoms can be paired with anything and the end result is guaranteed to look good.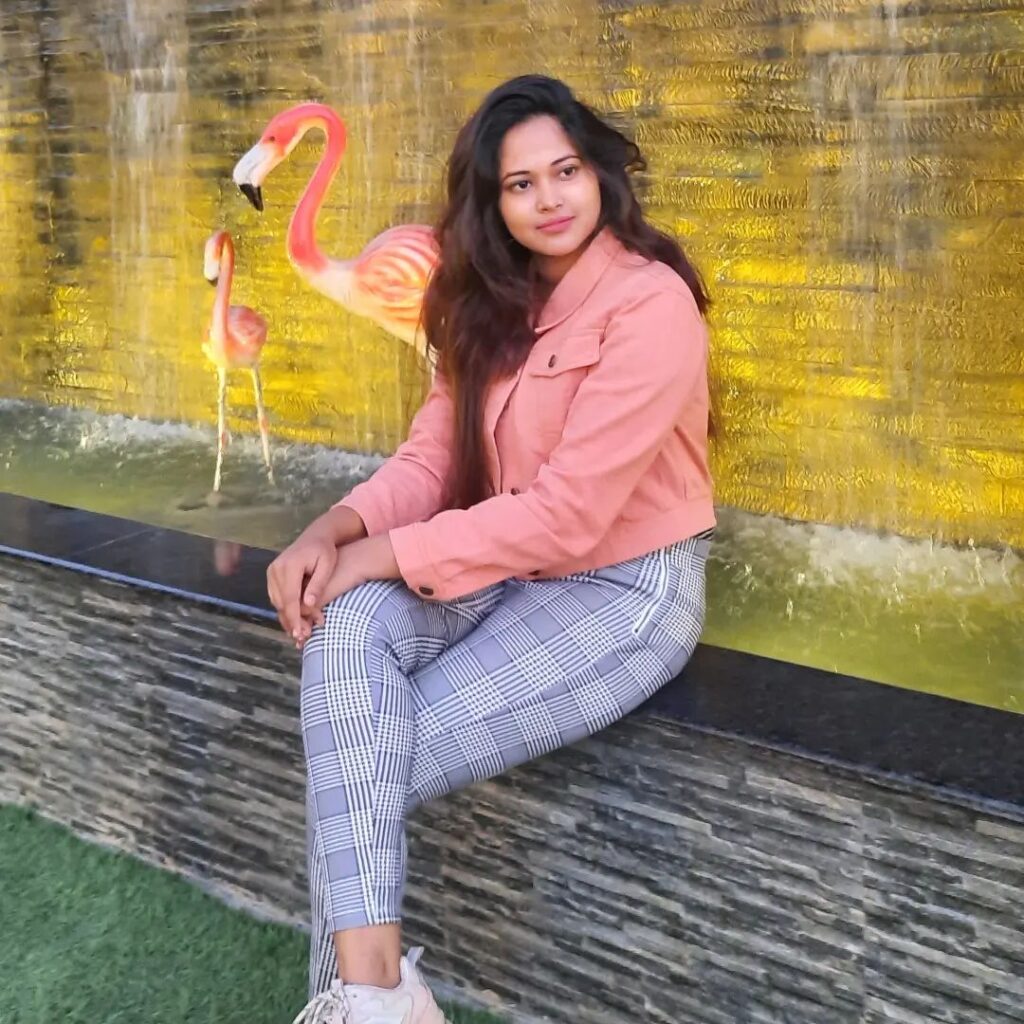 17 – Flying Jacket + Flared Pants
Looking to put together your airport outfit? Stick with the classic color combination of pink, white, and black. Get a flying jacket, tuck in your white t-shirt, and wear black flare pants underneath.
Don't forget to accessorize. Stick with black accents to accentuate your jacket.
Have you ever tried wearing black, white, blue, and pink together? If not, then we have just the outfit for you to try this massive color combination on.
First, wear a black and white striped shirt with blue jeans. Throw over a puff sleeves leather jacket and end the look with some white high-platform sneakers. If you wish to take the look to the next level, wear a checkered hat like the one shown here.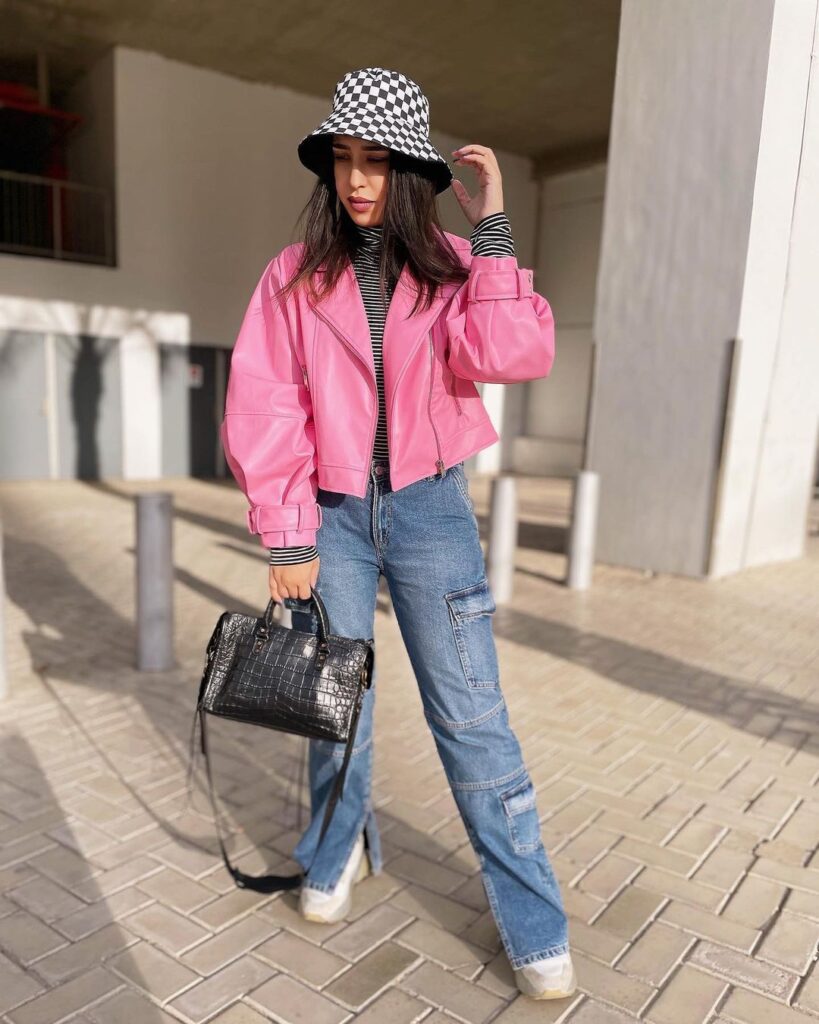 15 – Add Trucker Jacket for A Casual Look
Looking for a twist in your boring casual outfits? Well, simply get a pink trucker jacket to do the work!
Outfits for daily wear, especially for school or college, require a casual dress code. But you can always wear your classic white shirt and blue ripped jeans with a trucker jacket to look and feel your most confident self!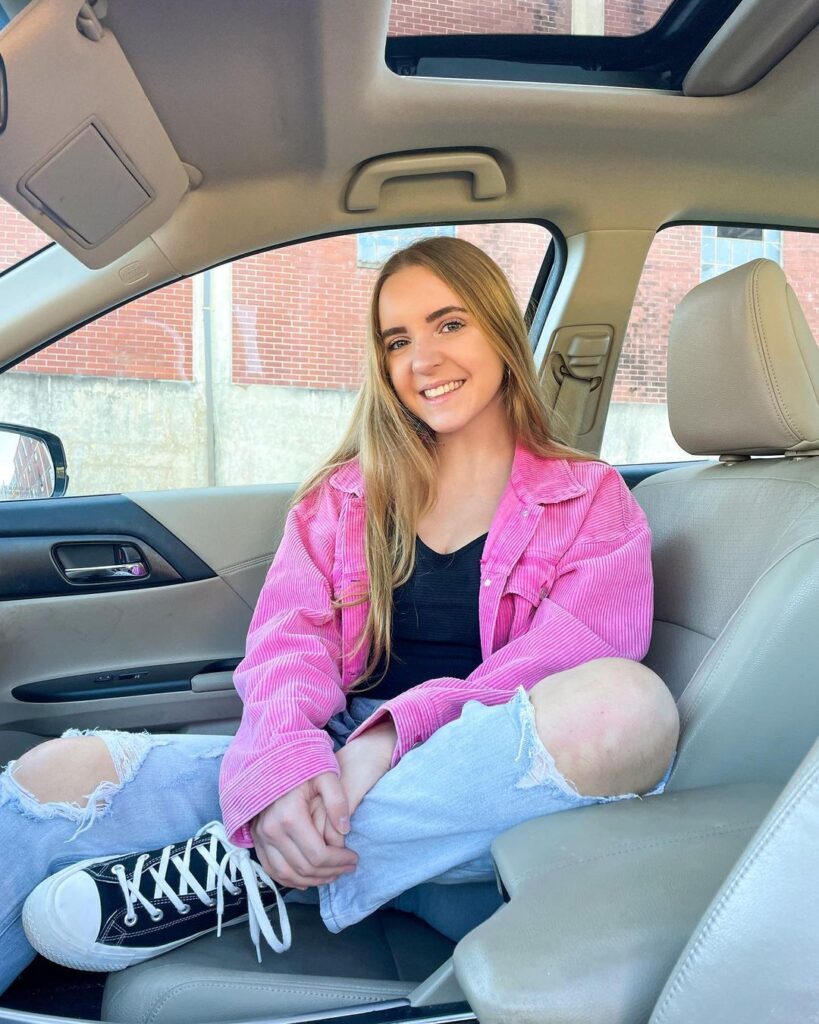 14 – All White Outfit with Pink Jacket for Curvy Women
While light colors paired together is considered suicide in the fashion world, sometimes it can be the perfect thing. If you are confused as to how to style your pink jacket, simply throw on your favorite pair of white jeans and shirt.
Wear minimal accesorize to accentuate your features and to complete the look.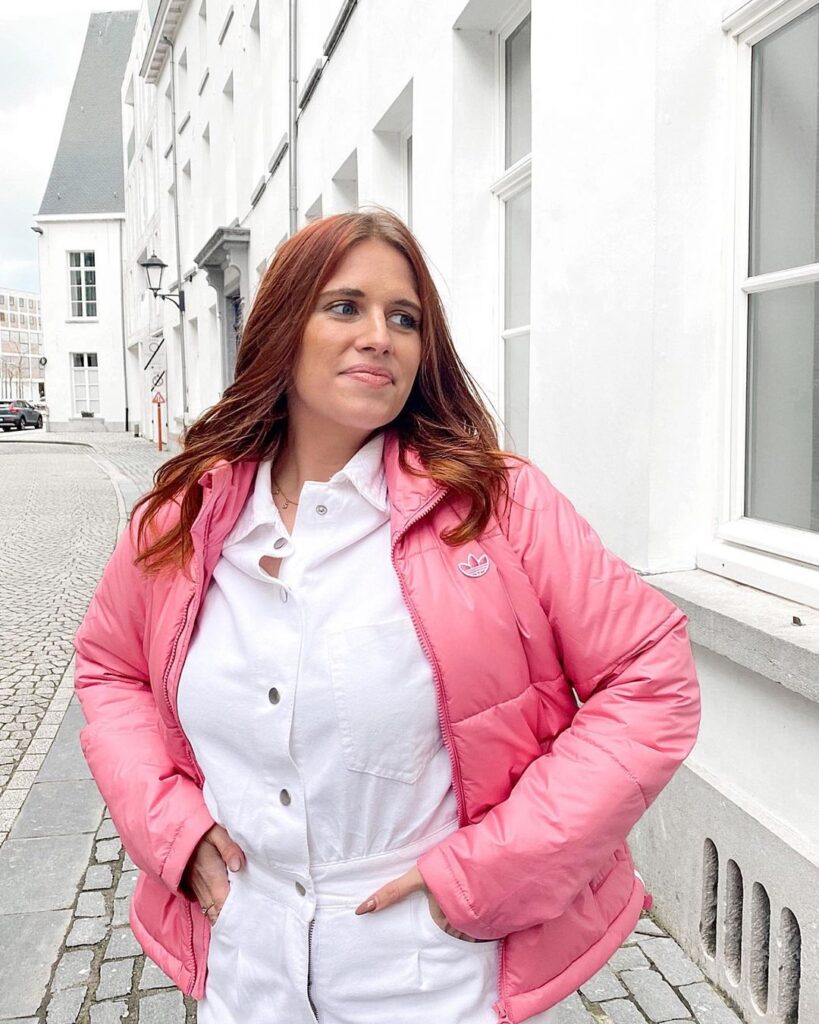 Semi-Formal & Party Outfits
13 – Pale Pink And Mint Green Are Elite Combination
You don't need much layering of clothes to appear stylish and well-dressed. Don't believe us? Simply wear a hot pink corset top underneath mint green matching blazers and trousers.
Since your corset top is going to be hot pink in color, wear a pale pink trench coat on top of your outfit. The two shades of pink will blend beautifully well.
12 – Fiery Rose Pink Trapeze Jacket with White Jeans
Sometimes, even when you style pink with other colors beautifully, you still need another color to make a noticeable difference in your outfit.
A pink clothing item may stand alone on its own, but it will only do so twice or thrice. To accentuate that clothing item the next time you wear it, you need hints of another color. If that is the case with your pink jacket, then simply carry rust-colored accessories.
Wear white colored pants with a fiery rose trapeze jacket and complete your look by carrying a rust-colored handbag and heels.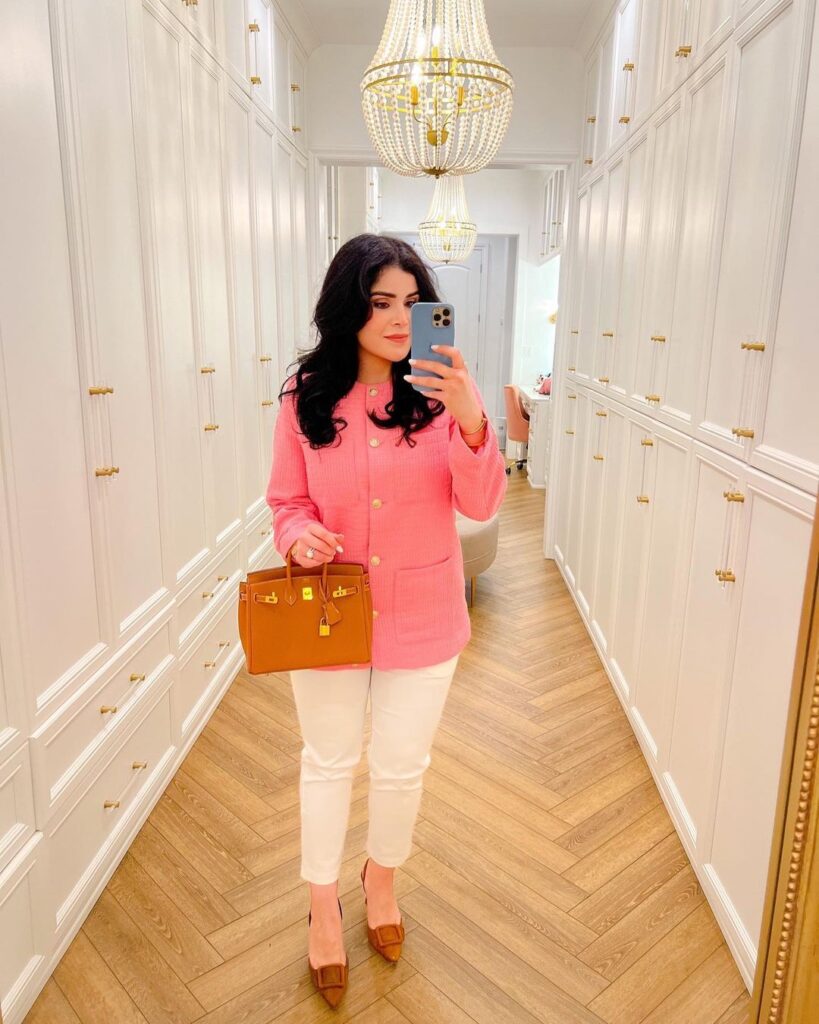 11 – How to Style Carnation Pink Blazer?
Valentine's day is just around the corner and if you are looking for a hot date night outfit then this idea is just for you.
Get a white mini dress and wear sheer stockings. Take your outfit up a notch by wearing a carnation blazer on top. For makeup, leave no block unturned and go for a soft glam look. Style your hair nicely and you're all set to make Valentine's day memorable for your significant other!
10 – Rose Pink Puffer Jacket + Knee Length Black Boots
If you are planning one of your outfits for your vacations then know that your search ends here. Because this next outfit idea that we have for you is a major steal!
Knee-length boots are enough to give the perfect boss babe vibes. However, what will even take the look two steps further is styling it with a puffer jacket. You can wear a short dress underneath it or a black and white striped one like this one here.
9 – Wear A Pink Suit to Your Business Meetings
Pale pink blazers with matching pants will make the perfect work outfit. An outfit like this will give you just the confidence boost needed to kick-start your day!
8 – Silver Mini Dress with Dark Pink Blazer
Whether it's for a new year's eve party or a night out with the girls, a silver mini dress is a must-have in your closet. However, stay in touch with the latest trends and wear a blazer on top of your dress.
A color combination like this will accentuate your features and flatter your body amazingly.
7 – Motorcycle Jacket with Beige Boots
Name a better stylish outfit than one that's paired with boots. Our next outfit idea is for all those biker chics out there.
Simply pair a carnation motorcycle jacket with your favorite beige boots. A look like this is just what you need to try out if you want some Instagram-worthy pictures!
It's time to take that white jumper from your closet. For our next outfit idea, we have a twist! Instead of wearing your jumper normally, flaunt it as a mini dress. Wear a fur jacket on top with strappy heels.
5 – Single-Breasted Fuscia Pink Jacket
Do you have an event to go to? Well this next outfit then is just for you! Single-breasted jackets are the highlight of the fashion industry these days. Such jackets can be worn on a number of occasions as well.
If you happen to have a single-breasted jacket lying around, then simply wear it with black jeans and top. Carry the same colored bag to go with the outfit. Wear minimal jewelry and pull your hair down for a sophisticated look.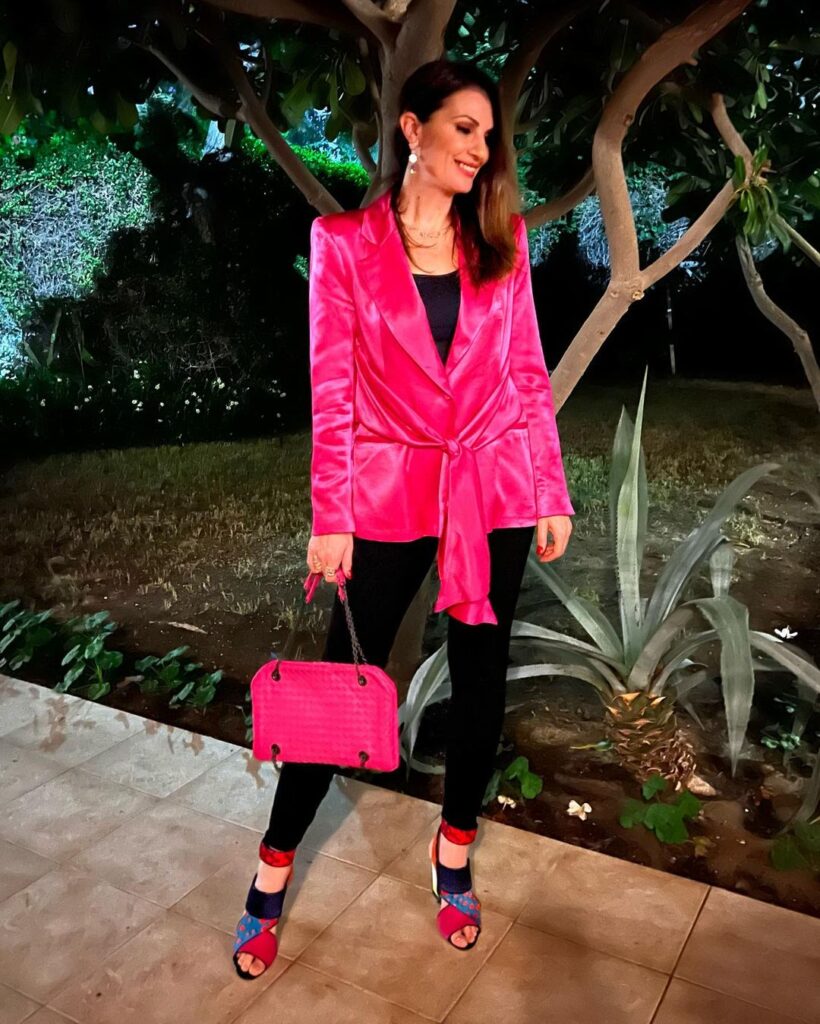 4 – Hot Pink Blazer + Black Denim Shorts
Hot pink outfits have a fan base of their own and we just can't get enough of them this year.
Wear black denim shorts with the same colored top. Throw on a blazer and that's it! For accessories, we'd recommend going for something black. It is because the highlight of the outfit should be the pink jacket.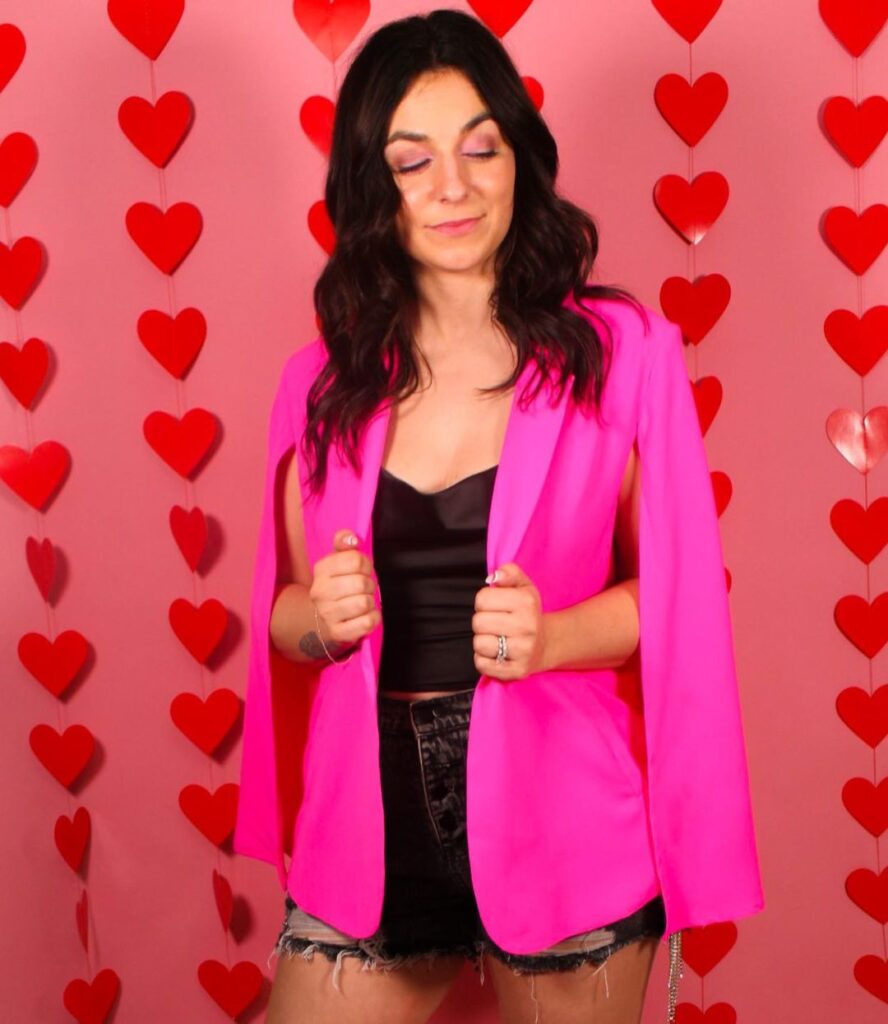 3 – Raspberry Pink Leather Jacket + Boots
This next pink outfit has to be one of our favorites! It screams feminity, class, and just the right amount of boujee!
All you need is a dark pink high-neck and blue high-waisted jeans. Throw over a raspberry pink leather jacket and matching color boots. Pull your hair up for that perfect clean girl look. An outfit like this is perfect for this year's Galentine date, or just a casual evening.
While many try to derail from all-pink outfits, sometimes it's just what you need to spark things up.
Wear the cutest dress you can find, and add a cropped jacket on top. End the look by wearing the same colored heels and you're good to go!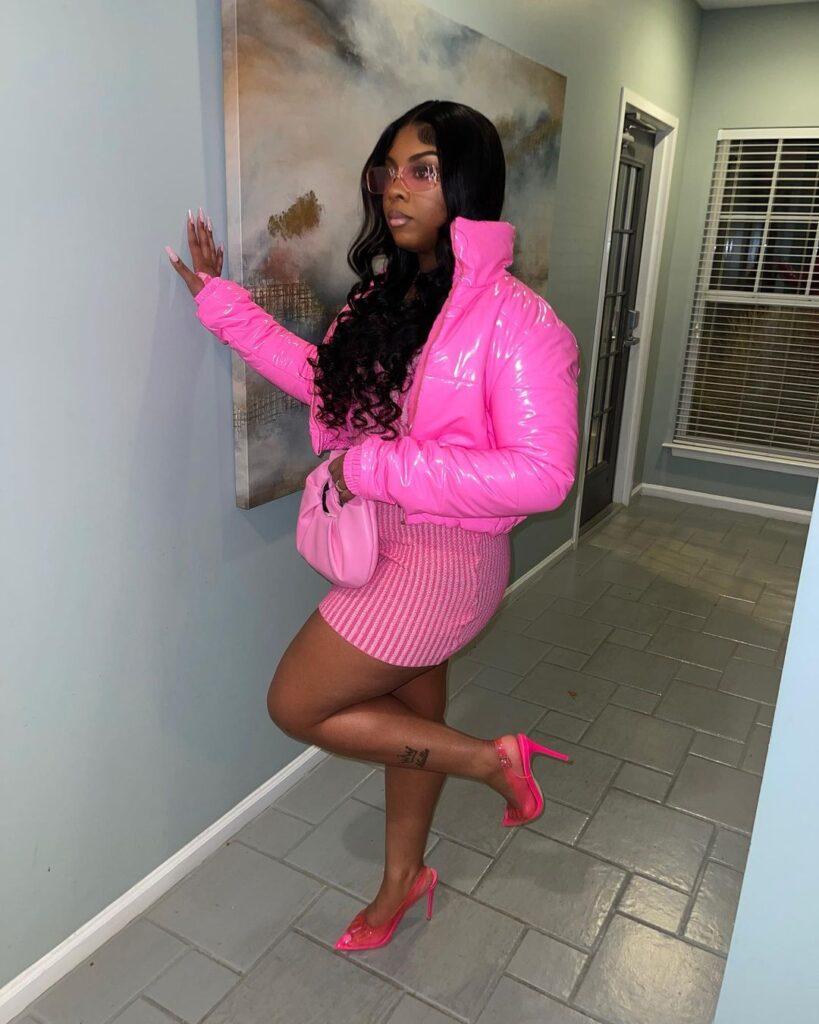 1 – Pink Lapel Oversized Jacket with White Boots
Nothing screams hotness more than wearing a thigh-slit dress. Such dresses are perfect for a night out. However, the next outfit idea we are about to tell you will be more appropriate for lunch or while on vacation.
Color blocking has been a trend for quite some time now. However, only a few can master the art of it. Put on a black thigh-slit dress and wear white mid-calf boots. Throw on an oversize pink jacket to complete the look.
FAQs
Q. Can you wear a pink jacket outfit to a business meeting?
A. Yes, of course! You can definitely wear something like that to a business meeting to make a lasting impression. Simply stick with a classic white shirt and black pants if you are worried about going overboard with your outfit.
Q. How to know which shade of pink jacket will suit your skin tone?
A. There is a perfect shade of pink for everyone out there. Try out some pieces of different shades of pink to know which one will go well with your skin tone. It's best to make such decisions in person than online.
Q. Is pink one of the hot colors of 2023?
A. Pink is for sure one of the hot colors of 2023. Many K-pop stars have already been seen rocking this color in their concerts and events.
Q. Which types of jacket can prove to be versatile?
A. It is a no-brainer that denim jackets have proven to be versatile for ages. But now we have other varieties available in the market too. So apart from denim jackets, fleece, trucker, and leather jackets can also be considered as good versatile options.