Brown bag outfits: Brown has been the color of the year, and it's time for you to introduce this color into your wardrobe. Brown has been a well-loved color by many women across the globe and comes in various beautiful shades, from chestnut, and caramel to mocha and more.
As fall approaches, most of your outfits incorporate neutral colors or warm tones, which go perfectly with a brown bag. Like your black bags, brown is a versatile color that will elevate the look of your outfits and keep you looking fashion-forward and stylish.
What to Wear With a Brown Bag?
I talked in our last post about Black Bag Outfits, and since you all loved it so much, I decided to do one on brown bags as well. Brown bags are elegant and very trendy these days. Being part of the neutral color family, these bags go with almost every outfit. Light brown bags look great with fall or work outfits. Brown shoulder bags have taken the internet by storm; you can pair them up with leather pants, a fitted sheer top or a cropped t-shirt, gold jewelry, and some platform heels or Converse. For a classy day look, pair a mini brown bag with gold hardware with a beautiful flowy dress that has hints of the color brown in it. Brown bags look great with all-white outfits as well.
Tips on How to Style Brown Bag
-Instead of pairing every look with a black bag, change it up and wear a brown bag. A dark brown bag looks just as good.
-Different shades of brown can be incorporated into the ou; all all the browns do not have to match with each other necessary for the outfit to look good.
-Invest in an expensive brown leath; itag, it will last you forever and look great with every outfit.
↓ 25 – Mini
Here we have a brown mini ag paired with a pleated leather skirt, a black button-up, and some strappy heels. The big belt on the skirt makes the outfit look way more intricate and trendy than it is. The brown bag matched perfectly well with the skirt. If youleather skirts fan,hen do check out these Leather Skirt Outfit Ideas.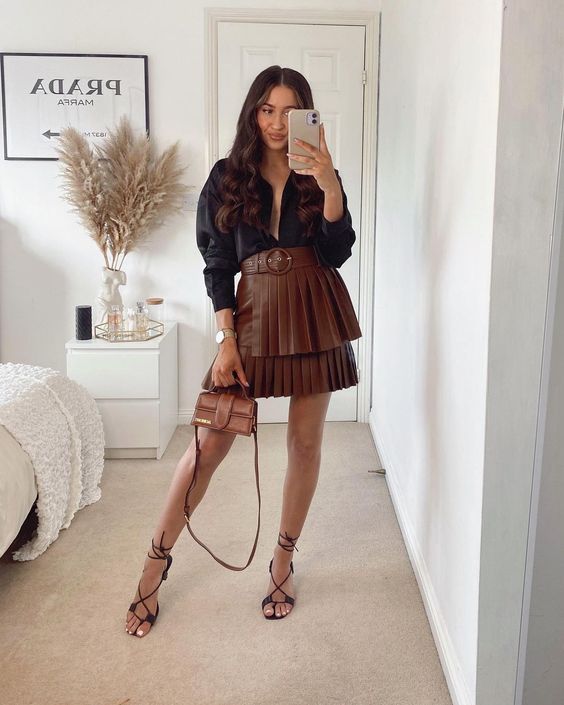 ↓ 24 – Fall Outfit
Fall outfits are the most fun to experiment with. Here we have a simple grey turtleneck dress, brown boots, a brown ha,t and a brown tote bag. This look is perfect for moms, teachers,and even girls attending university. Brown totes are versatile and will look beautiful with most of your outfits.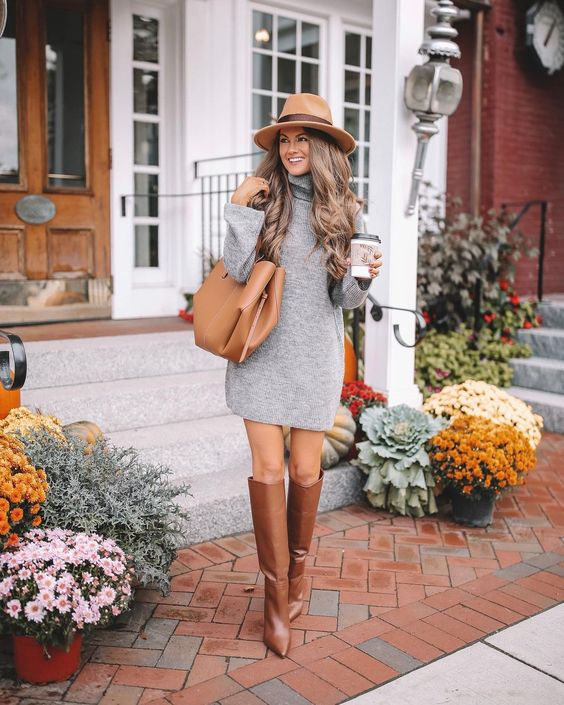 ↓ 23 – With a White Outfit
White and brown look great together. Here we have a brown and white butto-up, paired with a flowy, casual skirt. Brown flats and a brown cross-body bag are paired with this outfitKeepep your outfit one colofor the best look r and accessorize with one color.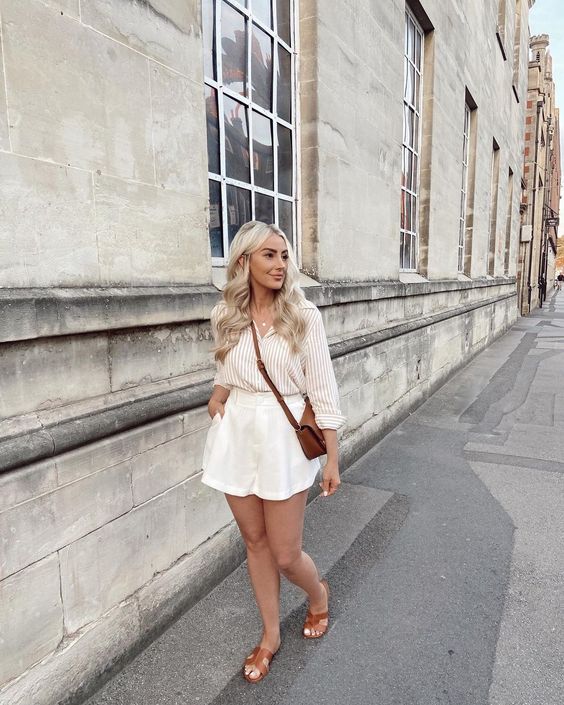 ↓ 22 – With a Dress
I absolutely adore this look, and if you are someone like me who loves brown this looks perfect. Here we have a brown fitted dress, paired with a brown cassette bag with a gold chain that adds so much character to the entire outfit. Instead of a boring plain chain, invest in bags with gold hardware as they elevate the outfit so effortlessly.
↓ 21 – Mini Brown Bag
Mini bags are still going strong, being one of the trendiest bags you can carry. A simple hoodie and sweatpants outfit can be transformed into something more presentable and cute by adding a pair of cool shades, trendy hoops and layered necklaces as well as a mini bag.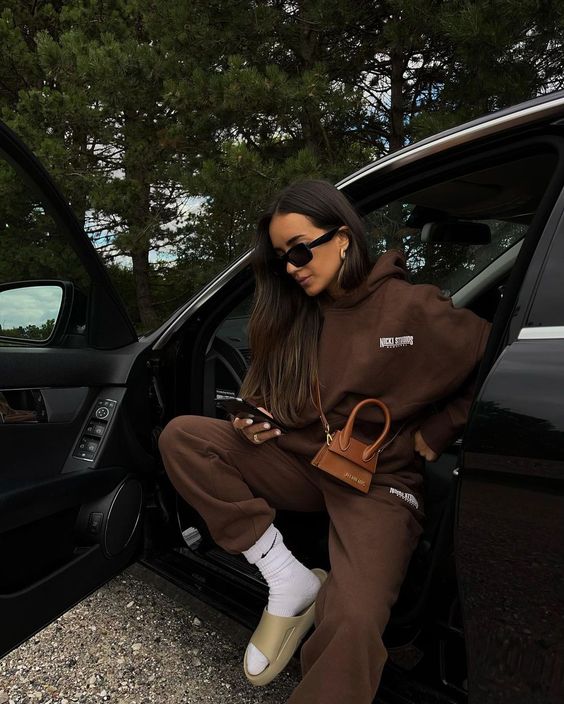 ↓ 20 – Casual Look
Try pairing your casual outfit with a cute cross-body bag. Here we have a suede Gucci bag in a light brown, paired with a cute sweatshirt, comfy black tights, and black and white converse shoes.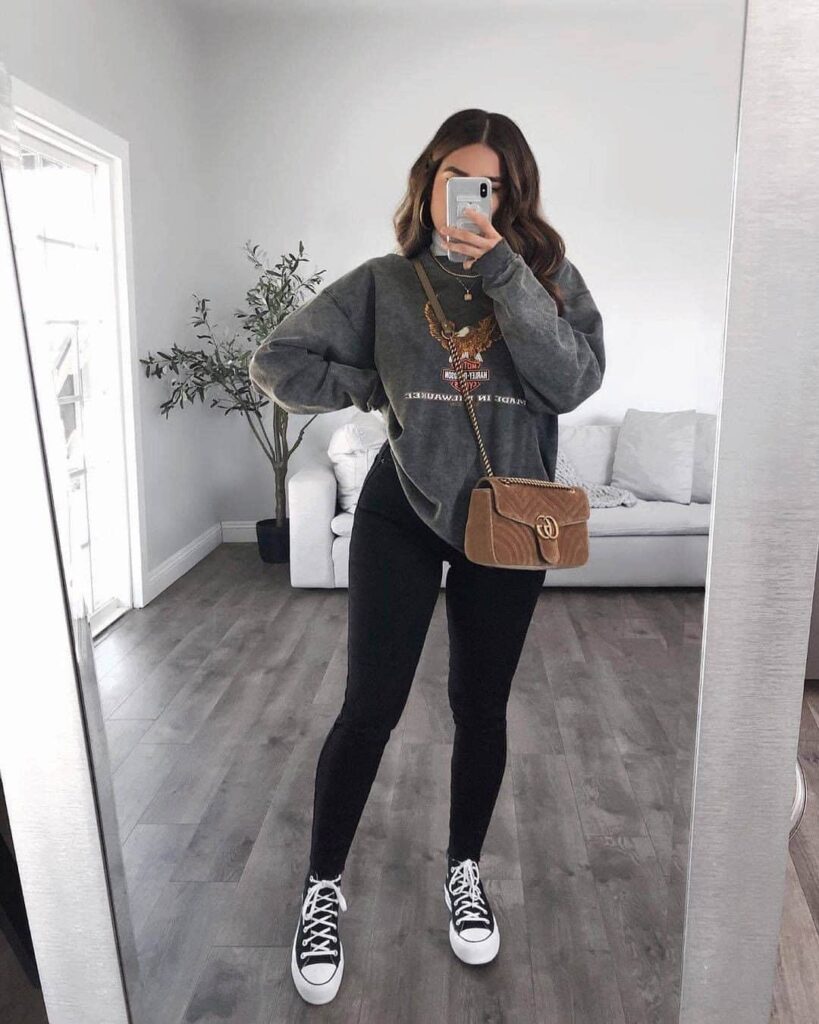 ↓ 19 – For Teenagers
A cropped fitted top can be paired with beige jeans, a pair of white sneakers and a brown shoulder bag. This outfit is perfect for teens, as it's comfortable and fashionable at the same time. You can accessorize the outfit with some everyday necklaces and jewelry.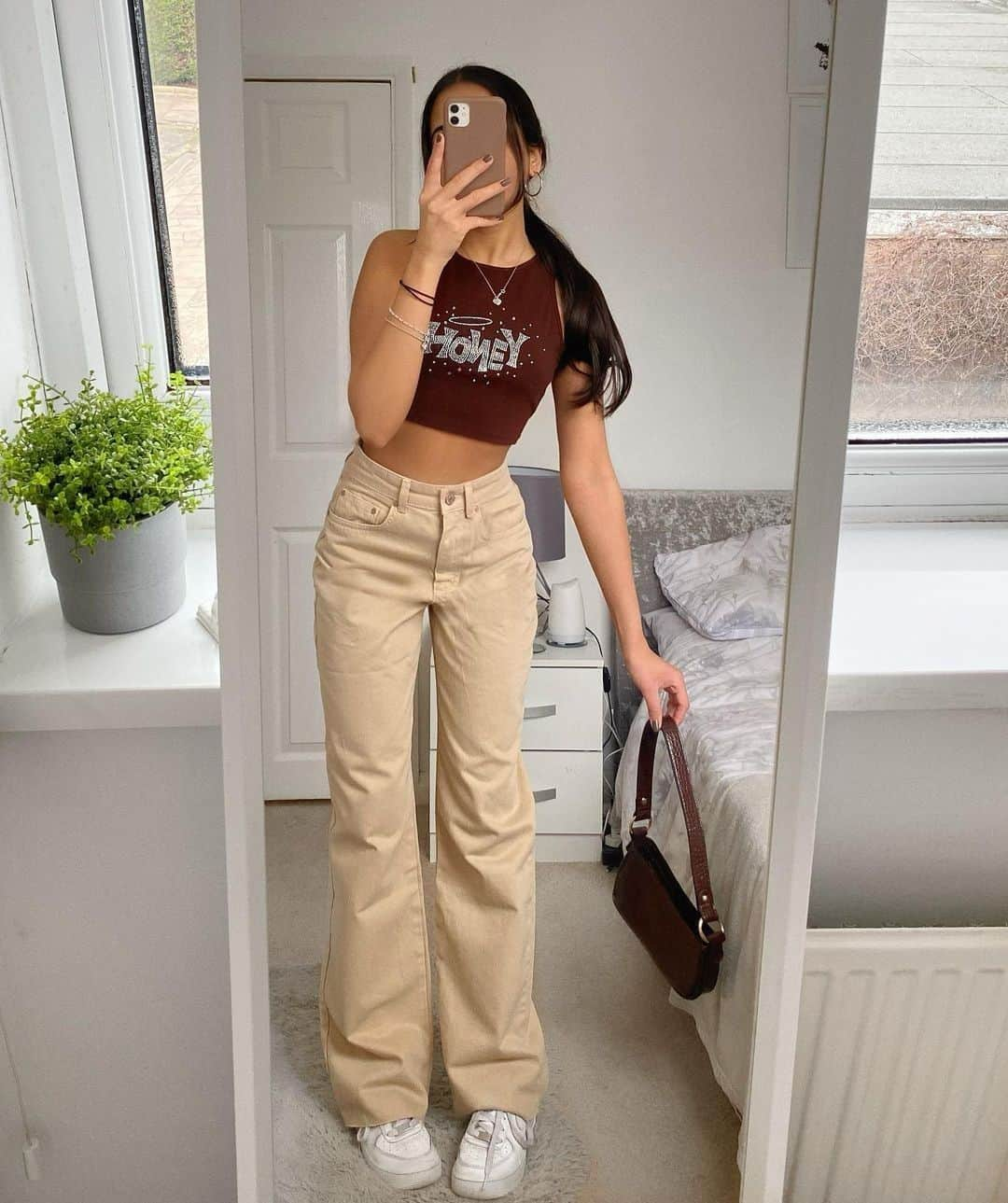 ↓ 18 – Turtle Neck Sweater
A brown turtleneck sweater can be paired with a grey skirt with a slit in the middle and ribbon detailing at the front. Add a pair of black heeled boots and black stockings to finish the look. Instead of going for the usual shapes of bags, try a bucket bag with a handle on top, making the outfit look so stylish.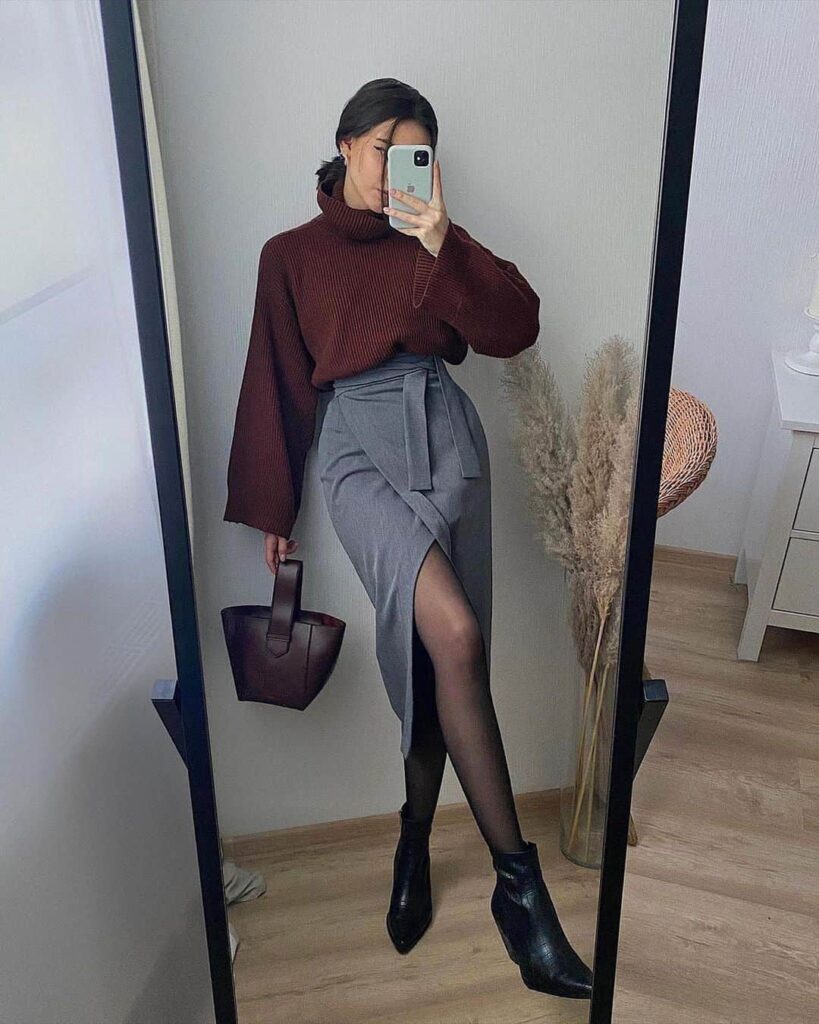 ↓ 17 – Work Outfit
A beautiful camel coat can be paired with black formal pants and a white and black striped sweater and some brown pumps. A brown bag, preferably medium or large-sized should be paired with your work outfits for all your documents and essentials. The bag matched perfectly with the coat.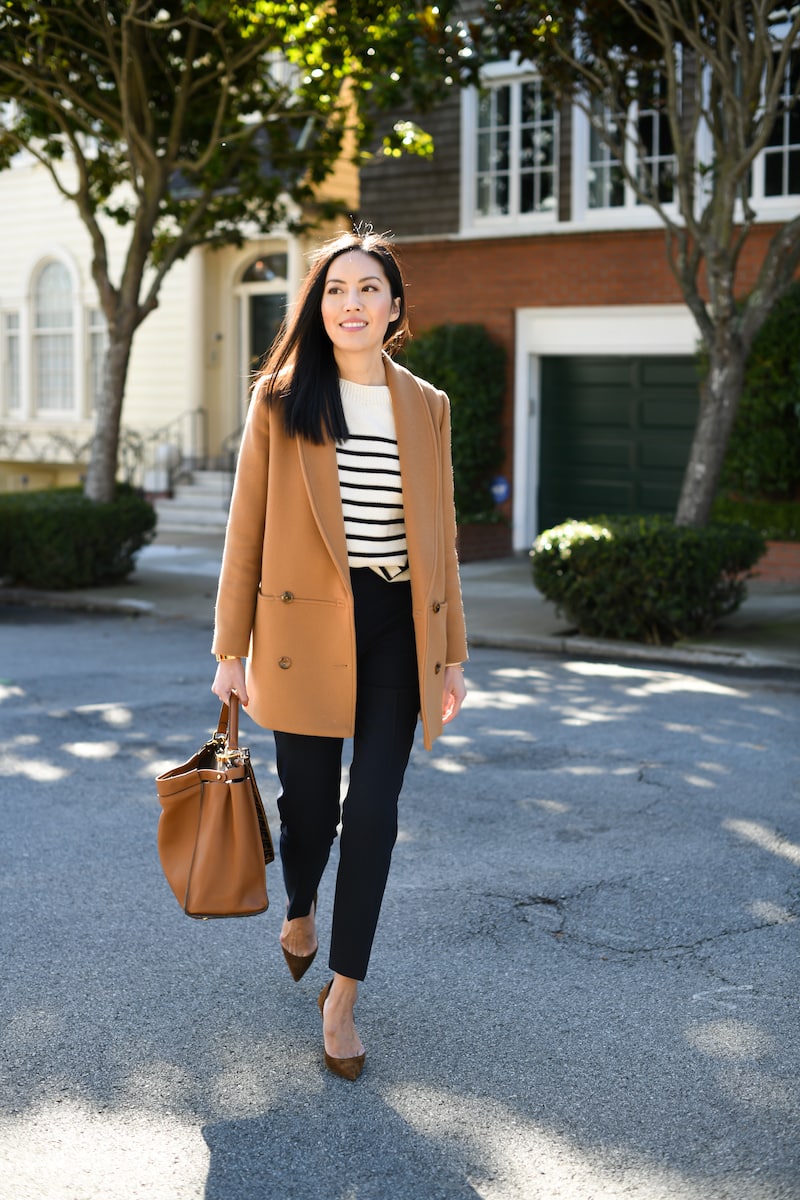 These furry shearling bags with leopard print are so 2000's. A white collared polo shirt is paired with a plaid skirt and a brown sweater on top. Accessorize the outfit with brown shades and earrings.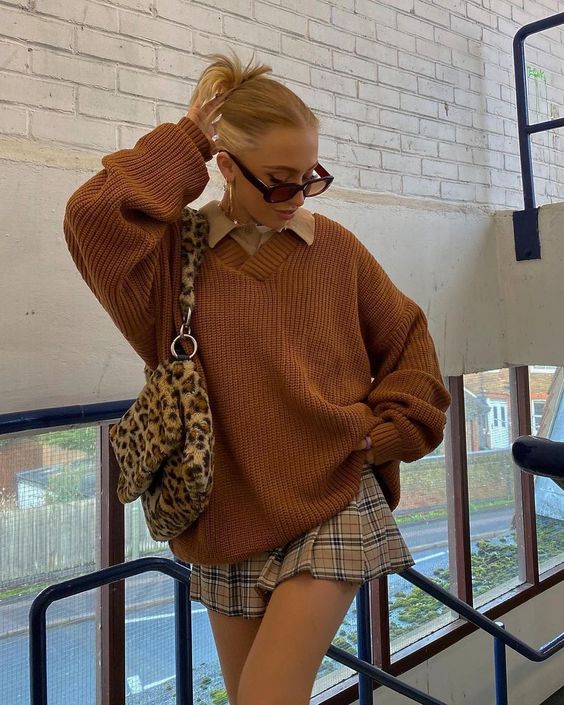 ↓ 15 – Hailey Bieber's Brown Look
Hailey Bieber looks phenomenal in this knitted wrap dress in Paris. The halter neck top of the dress looks so sexy and stunning. The brown color of this dress looks perfect paired with a brown handbag and some beige strappy heels. Try recreating this look for your next date night or night out.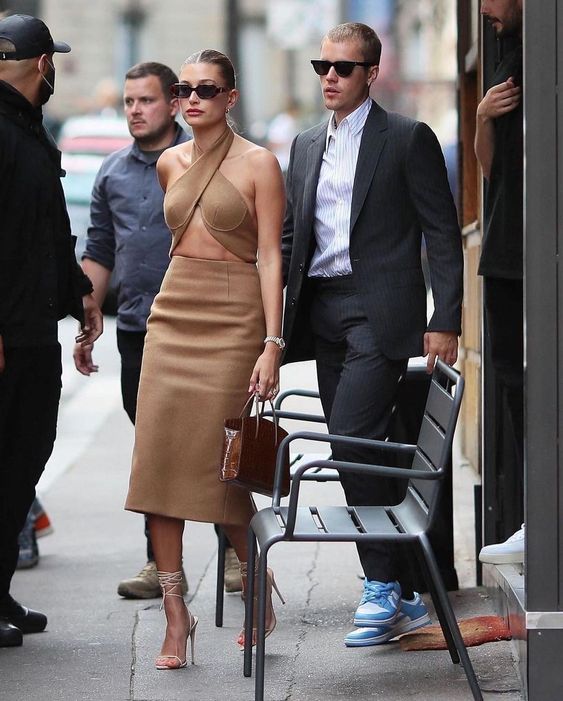 ↓ 14 – Brown Shoulder Bag
This is hands down my favorite outfit, as it is so cool and effortless. Brown shoulder bags can be paired with grey boyfriend jeans, a tan tank top. The best part of this outfit are all the cool accessories, including the Dior bandanna which adds color to the outfit, and the waist chain and the beautiful stacked rings.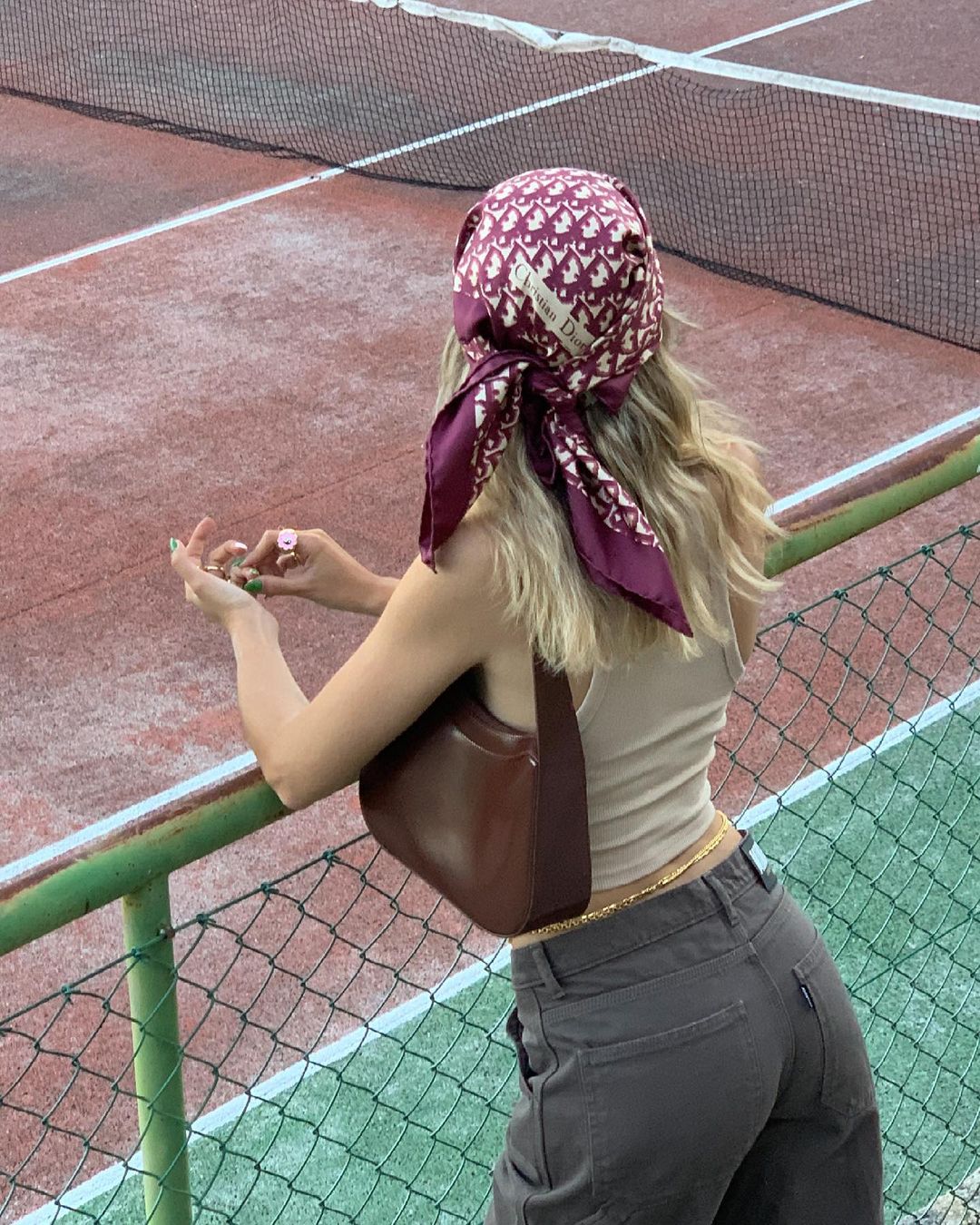 ↓ 13 – With an All Black Outfit
An all-black outfit will look great with any color bag, especially with a brown bag. Here we have a brown shearling bag that adds texture to the outfit. The black jumpsuit is paired with kitten heels and minimal jewelry. The belt on the waist accentuates the curves.
↓ 12 – Outfit with a Brown Backpack
A backpack is essential for your traveling or hiking plans and it even looks great with your college outfits. A brown backpack is paired up with a comfy sweater, blue skinny jeans and some thigh-high brown boots.
↓ 11 – Leather Bag
A good leather bag will be expensive but last you for years, this dark brown Jacquemus bag is paired with some brown heeled boots that perfectly match the bag as well as a turtleneck and a wrap coat which ties at the middle looking very luxurious.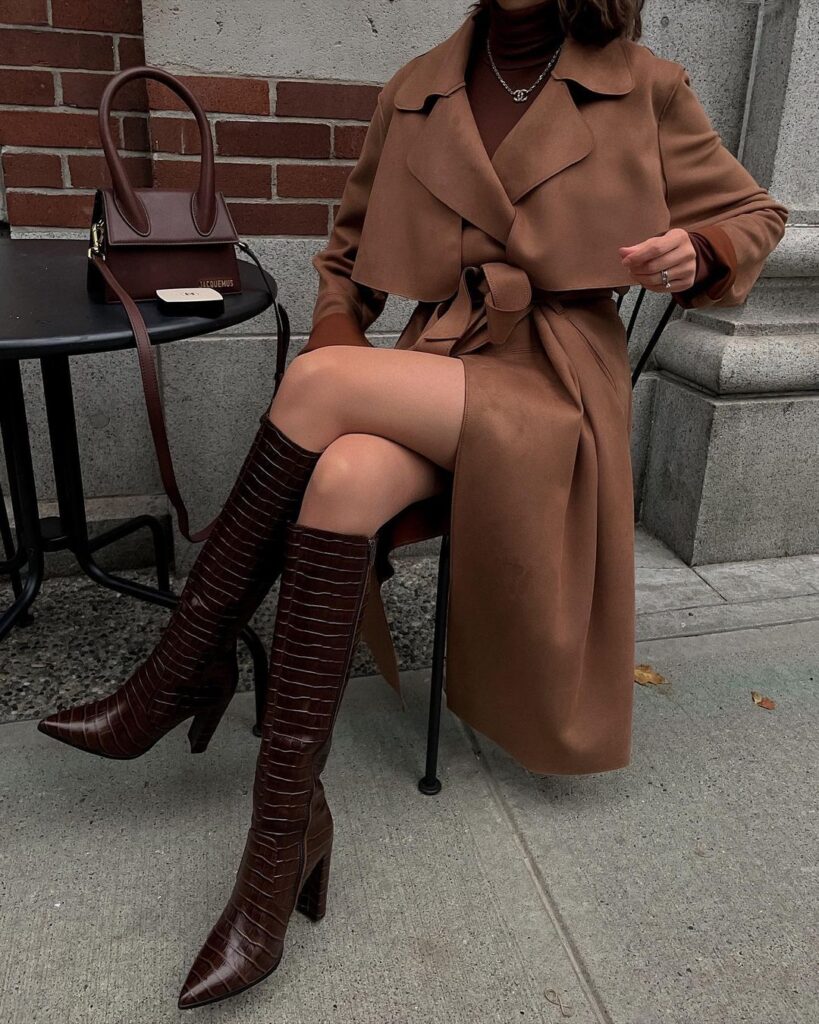 ↓ 10 – With a Summer Outfit
The best way to style a brown bag with a dress is to match the brown in the dress with the bag. This beautiful summer dress has patterns of brown in it to match with the brown bag tying the outfit well together. Add your everyday jewelry, shades and some flats to complete the look.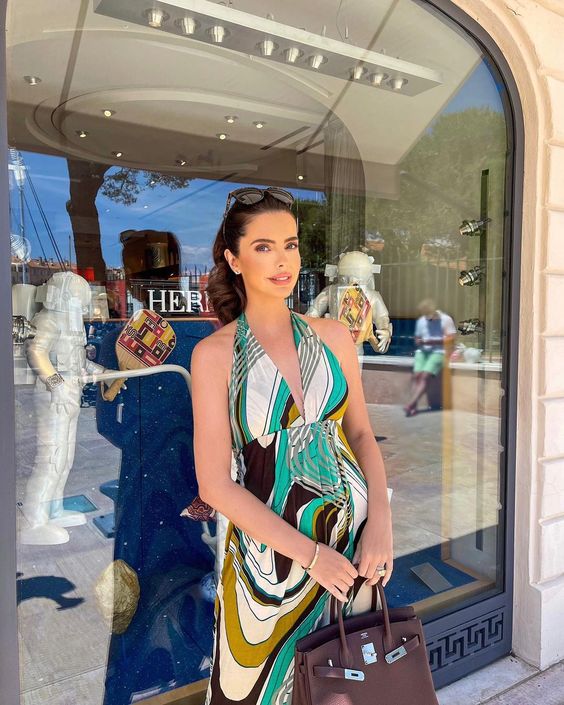 ↓ 9 – Brown Belt Bag Outfit
Belt bags are the new IT bags, accessorizing your outfit making it look more trendy and fashionable. The brown bag is paired with a linen blazer, some nude heels and a bandana on top. The big shades add to the "coolness" of this look.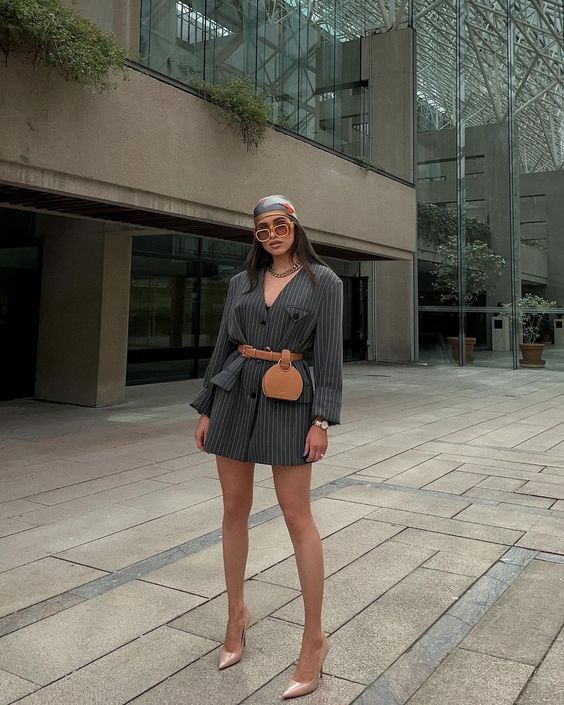 ↓ 8 – Parisian Outfit
I love this Parisian look. Here we have a brown silk polka dot skirt paired with a cream sweater and a brown bucket bag. The bucket bag adds to the vintage, Parisian aesthetic of the look and is paired with some cream pumps as well. If you like this look then you must check out these French Fashion Trends to Dress Like a Parisian Girl.
↓ 7 – Outfit with a Brown Clutch
To make your outfit look more formal, try pairing a clutch bag rather than a purse. A dark green cape is paired with a sweater and some skinny jeans. I think the brown clutch goes well with the outfit. What do you think?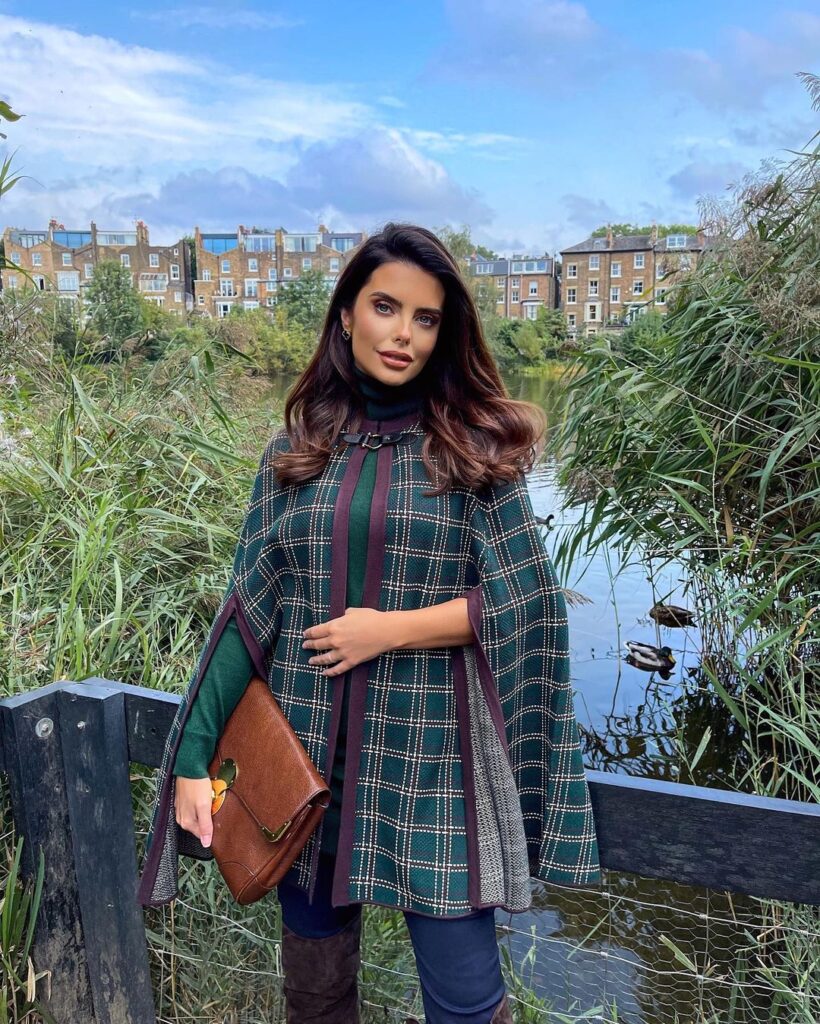 ↓ 6 – Tote
Tote bags are essential for work, and a neutral-colored tote is the best option as it will match with every outfit you wear to work. Here we have a brown floral shirt, paired with a long coat, blue skinny jeans and nude heels. The tote ties in well with the neutral shades of the outfit.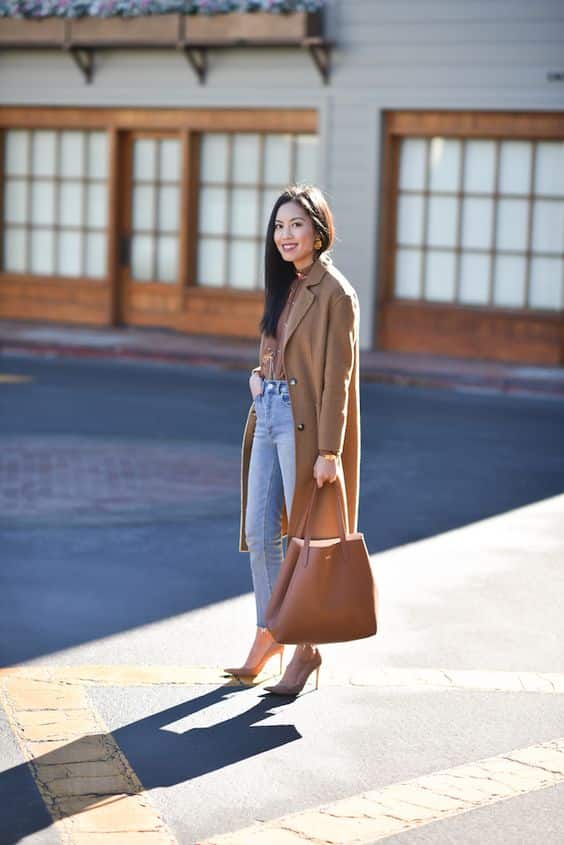 ↓ 5 – With Leather Pants
Try replacing jeans with leather pants to give a more luxe look to the outfit. Black leather pants can be paired with muscle tops, a cream coat on top, some black heels and a shearling bag to complete the look. Shearling bags will definitely be the next trend and it's your time to give them a shot.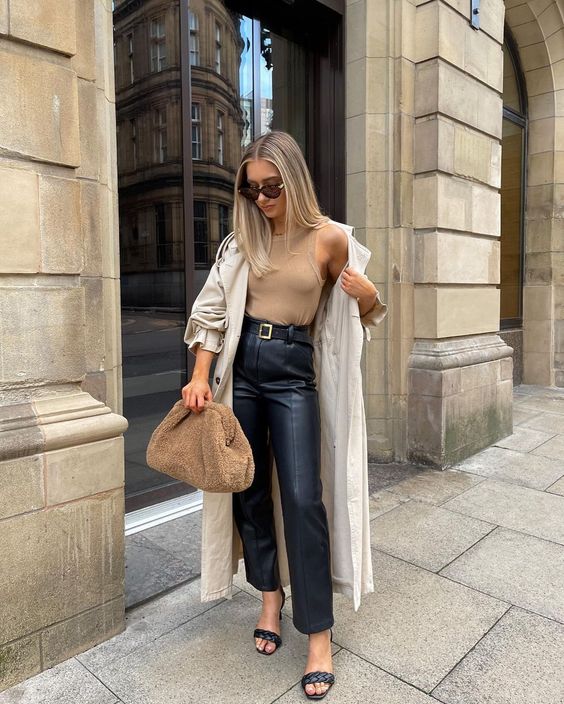 ↓ 4 – Brunch Outfit
This cropped blazer top is paired then some blue jeans, brown heels and a brown mini bag to go with it. This look is the perfect mix of cute, casual and formal and it is perfect for a day out with your friends. A great way to style brown bags is to match the heels with the bag. Here are some more of my favorite Sunday Brunch Outfits.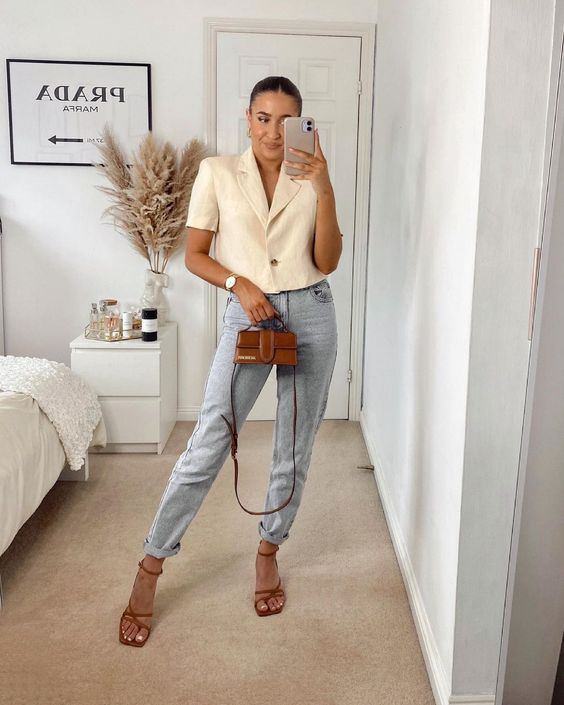 ↓ 3 – White Party Dress
A white lace dress is paired with a brown bag, a Lady Dior in this case. A great way to style these bags is by adding a brown belt and brown heels to have hints of brown in the outfit. This dress can be worn to parties, and you can even add big hoop earrings to make it even more glam.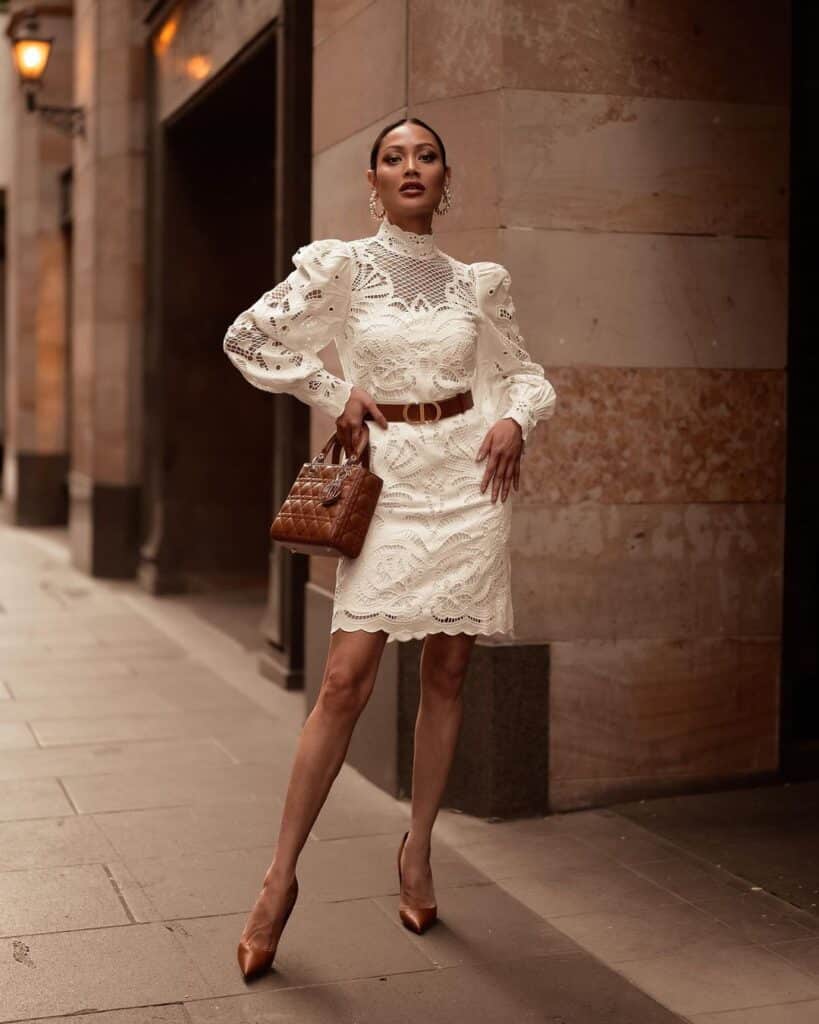 ↓ 2 – Best Color To Go With Brown
This look is so Instagram! A green sheer top is paired with some blue boyfriend jeans and a brown shoulder bag, it doesn't get more aesthetic and trendy than this outfit and the color green and brown go so well together. You can add gold jewelry and trinkets to complete the look.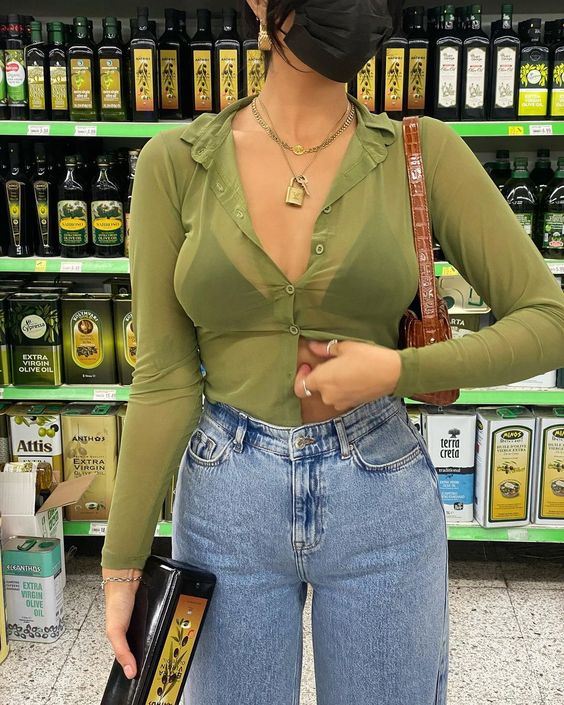 ↓ 1 – With a Blazer
A white blazer is paired with a white crop top and some ripped jeans. A brown bag with a gold chain looks absolutely stunning with this outfit and elevates the outfit.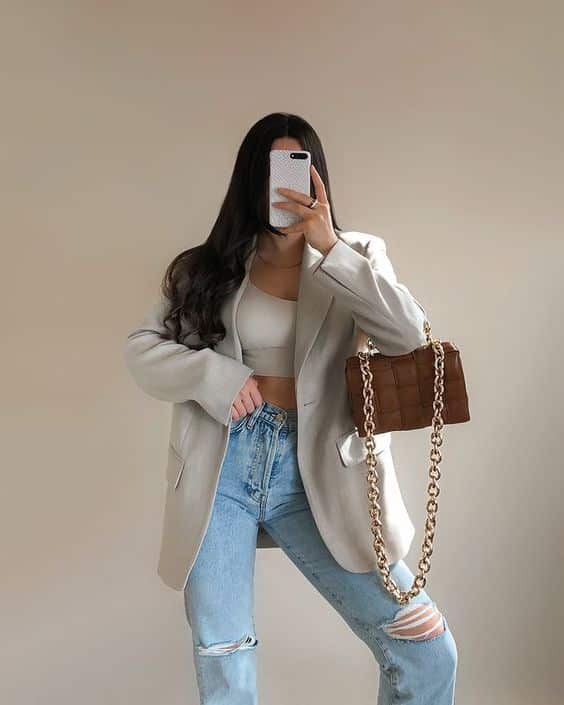 Frequently Asked Questions
Q. What to wear with a brown bag?
A. It is very simple to style a brown bag as it is a neutral color. Brown bags usually go well with colors like black, green, blue and even grey and cream. You can wear a dress, blazer, jumpsuit (my personal favorites), jeans or sweatshirts with brown bags. Everything looks great with the outfit, your main focus should be the style of the bag. A shoulder bag will not look good with your formal dresses, however, it will look good with your everyday outfits.
Q. Does a brown bag go with everything?
A. Yes it does. A warm-toned brown bag compared to a dark chocolate brown one, be it a tote, mini bag or a purse goes well with anything. Brown bags look luxe, versatile and beautiful with everything for everyone.
Q. Can you carry a brown bag with a black outfit?
A. As you can see in look 13 the brown bag does not look out of place and does not clash with the all-black outfit. A full black outfit is very versatile in itself, and almost any color will look great with an all-black outfit be it orange, green, and even brown. Brown bags are essential to add some color to your black outfits. It can get very repetitive wearing black-on-black outfits with a black bag. It is time for you to invest in some brown bags to change it up without having to drastically move away from your color palette. Being such a beautiful shade, neutral as well, it will look amazing with your black outfits, whether for a party, brunch, university or work.