Maxi Dress Trends and Styling Ideas. We are going to make a pretty bold statement right off the bat. Are you ready? Here it is: A maxi dress could easily be the most versatile piece in your wardrobe. Seriously! Whether you need an outfit for your cousin's summer wedding or a go-to look for your lunch date, a maxi dress covers most if not all corners.
It all comes down to styling. You can dress up a maxi dress for semi-formal occasions (like a wedding, an outdoor party, or graduation ceremony, to name a few) or wear it super casually. It is the perfect summer option, keeping you light and cool without sacrificing coverage or feminine allure. A maxi dress can even be worn in winter! With a few tweaks of course.
How to Style a Maxi Dress
For those looking for an exact explanation of what a maxi dress is, it is simply a casual, usually sleeveless dress that falls to the ankles. "Maxi" is a term that has been in use since the late 1960s, typically applied to an informal, ankle-length dress. But in 2020, the term informal doesn't carry the same note of finality as it once did. In fact, relegating a maxi dress as strictly informal takes away from its innate potential. But we are getting ahead of ourselves.
If you are curious as to the latest trends when it comes to maxi dresses or are looking for styling ideas, you have come to the right place. In today's article, we are diving deep into the world of the maxi dress with 23 curated outfits to spark your imagination and give you an idea of current trends. Let's go!
We will get started with some of our best tips on how to wear a maxi dress for optimum style.
Consider wearing a slip under your maxi dress for a smooth and sleek finish to your look, especially if you are headed to a wedding or dinner date! A popular slip to wear under a maxi dress or skirt is one that is called a half-slip or waist slip. These are easy to find and cost very little.
To bring some structure to what can sometimes be a shapeless look, try cinching a belt around your waist. The best belt for a maxi dress is one that doesn't take away from the rest of the look, only adds to it. We prefer a thin to a medium-sized belt. You can also find one specifically made for wearing over dresses that won't leave a big piece of belt flapping out behind you.
If you are worried about tripping over the hem of your dress (especially if it's a super-long maxi), opt for heels. Heels are always elegant and also help elongate the body, which is great for petite women as well as pear-shaped women. They effortlessly dress up a maxi dress, making them the perfect shoe choice when it comes to semi-formal affairs.
If wearing a maxi dress right above the ankles, you have more leeway with your shoe choice. Pair your maxi dress with canvas sneakers, flats, boots, or even flip-flops if you are headed to the beach.
Here are our top picks of trendy, stylish maxi dress outfits. Be sure to let us know your favorite one in the comments below!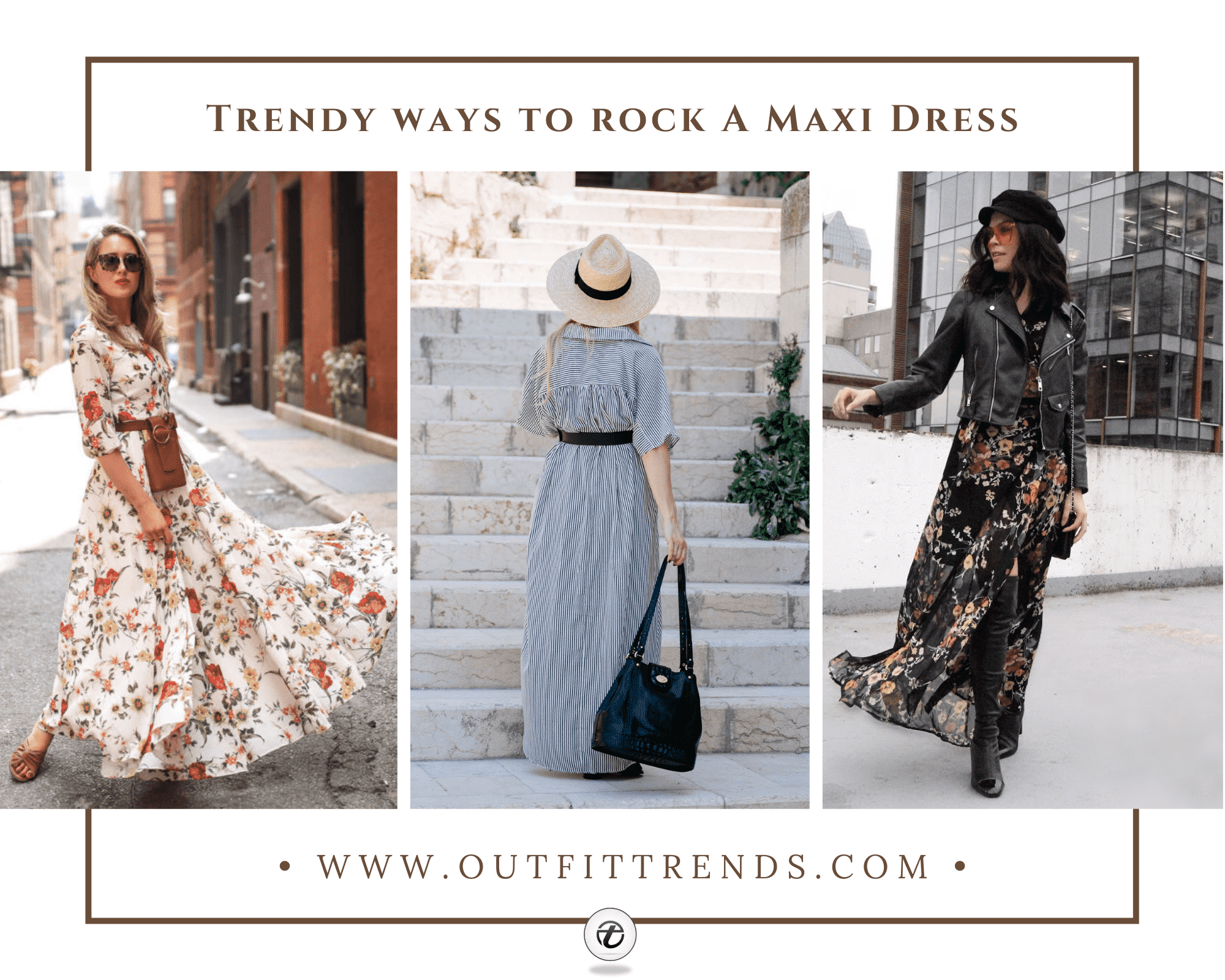 ↓ 17 – Maxi Dress Outfit Ideas for Summer
Let's start with a classic summer option: a gorgeous print strapless maxi dress paired with flats. We love these rich blues and the warm brown sandals, which are each sleek and chic enough on their own to manage without accessories. But you can always add a pair of earrings or a bracelet if you love rocking some jewelry.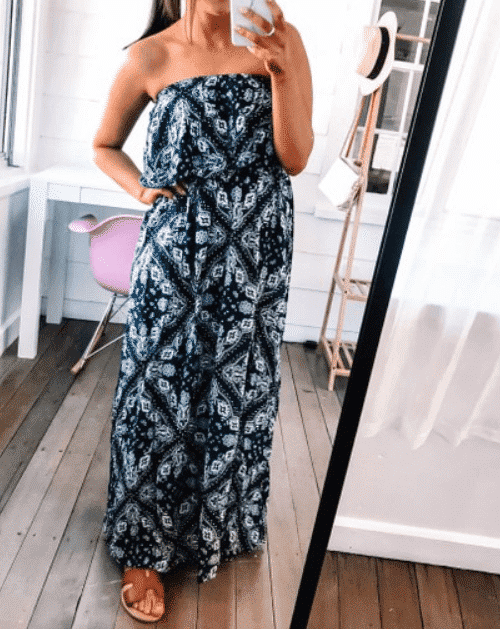 Another classic and very trendy way to wear a maxi dress is a loose-fitting, strappy dress in white paired with your choice of neutral-colored flats. Notice this pick hits right above the ankles, making it a great option for showing off some cute flat-wear. We love these chic accessories: oversized sunglasses, hoop earrings, and a cute pendant necklace. Top it off with a white handbag and you are summer-ready.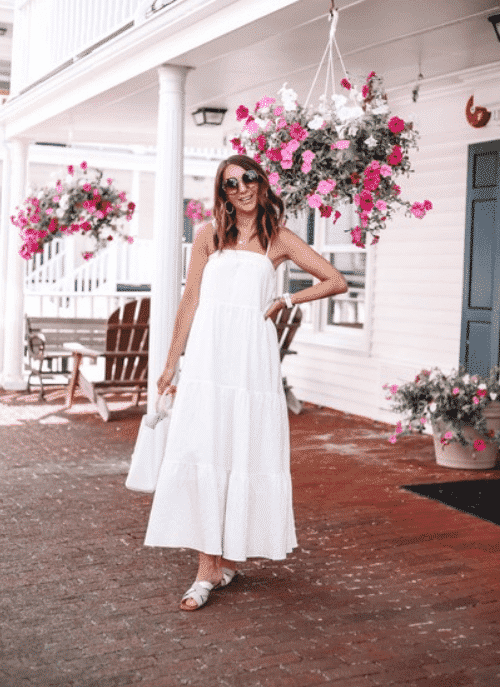 ↓ 16 – Styling Maxis for Weddings
Got a wedding coming up? Here's how to wear a maxi dress to a wedding! If you are headed to a spring or summer wedding, this look is absolutely sublime. A long-sleeved maxi dress in a floral print dress is a timeless pick that gives you the opportunity to show off your love of bright colors and summer prints. Pop in some bold neon yellow earrings and match them up to a pair of ankle-strap heels. Finish off the look with a cerulean blue handbag.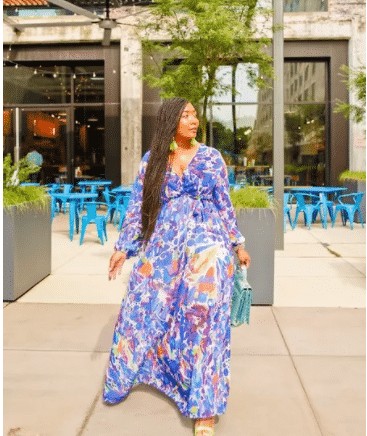 ↓ 15 – Flats With Maxi Dress for Fall
The perfect transition look from summer to fall is this lovely "mocha bisque" wrap dress that shows off your curves in all the right ways. Not only will this warm and inviting shade bring to mind pumpkin spice lattes and cinnamon-scented candles, but a full-length dress is the perfect thing to wear as the weather begins to cool. We are also huge fans of these stylish flip-flops! Add a straw tote and some cute sunnies and you will feel like a fashionista in no time.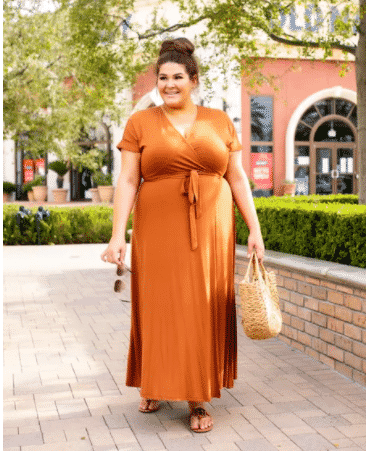 ↓ 14 – How to Dress Up A Maxi Dress For Evening
If you have a dinner date coming up or a semi-formal affair, a maxi dress paired with white strappy sandals is a great option. Notice the extra detailing with this dress. From the row of white buttons and the partial slit up the front of the legs to the gorgeous floral print, there's a lot to love with this particular frock. It's also a great option for petite ladies. The centered buttons draw the eye in and up, elongating the body; the slit and the open-front sandals further lengthen the legs. If you are short, this is the look for you.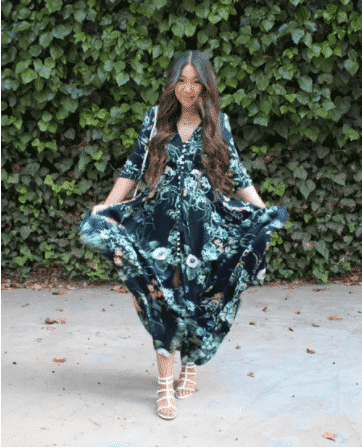 ↓ 13 – Summer Style for Plus-Size Ladies
For an absolutely gorgeous plus-size ensemble, look no further. This look could work whether you are headed to brunch, cruising on your summer vacation, or headed to a casual get-together with friends. We love an off-the-shoulder maxi dress as it helps balance the excess of material with a little bit of skin. Topping it off with a hat, a cute straw bag, and white sandals provides just the right finishing touches. Here are some more fabulous What to Wear With Cold Shoulder Tops.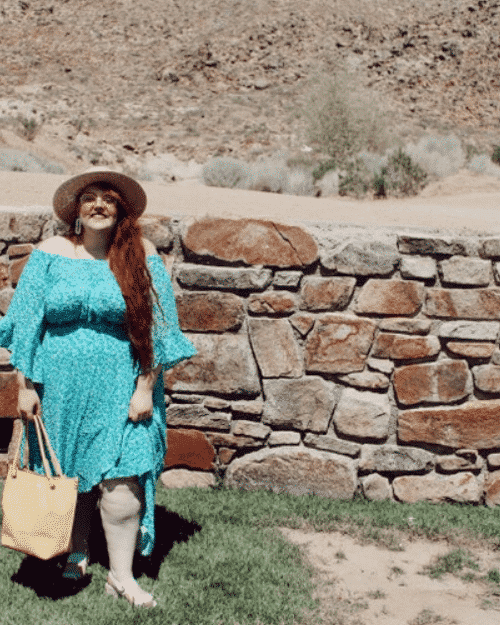 ↓ 12 – With a Jacket
What jacket should you wear with a maxi dress? This is a question we see a lot. We happen to think a light-wash denim jacket that hits right below the waist is a great option. The particular style we see in the picture below also features wide, frayed sleeves which we think is a unique and fashionista-approved take on what can be a cliche look. The frayed sleeves are echoed in the tiered hem of the lightly striped dress, which visually balances the lines. In short? This is a top contender for the perfect jacket to wear with a maxi dress.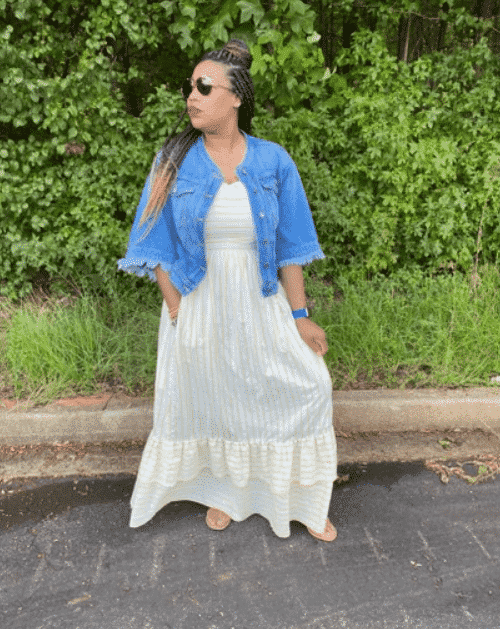 Another jacket we recommend with maxi dresses is a black leather jacket, and it works best with black colored maxis.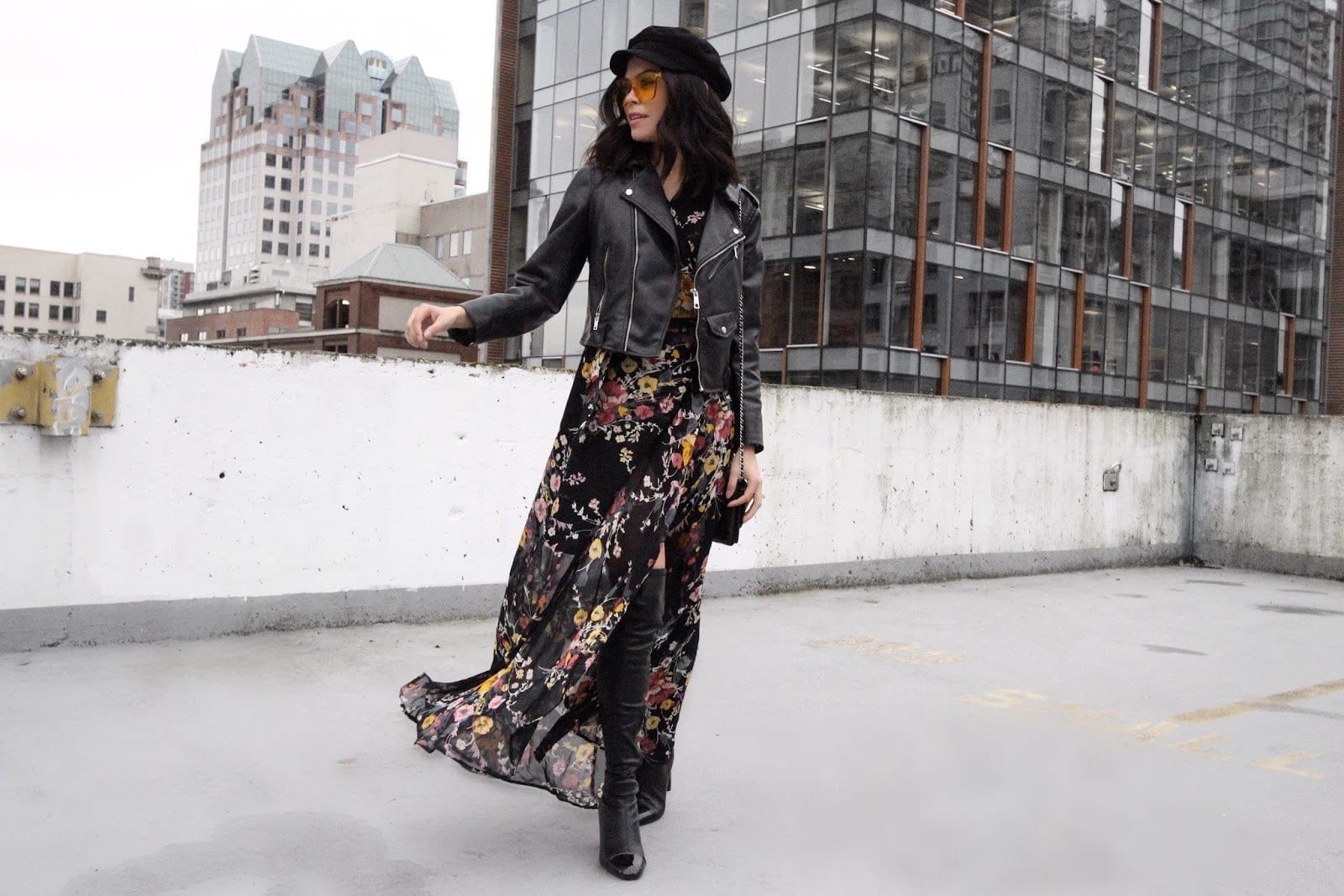 ↓ 11 – Casual Maxi Dress Outfits
From summer parties to casual dinner dates to BBQs with family and friends, a casual maxi dress will fit the bill every time. But to make sure you are making a fashion statement, don't be afraid to step outside your comfort zone! Whether that's a multi-colored dress belted at with the waist or a sunshine yellow frock worn with sunnies and flats, always look for a way to bring your look to the next level.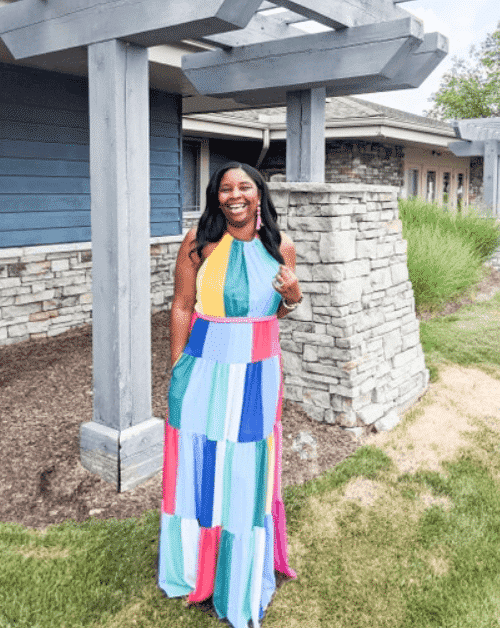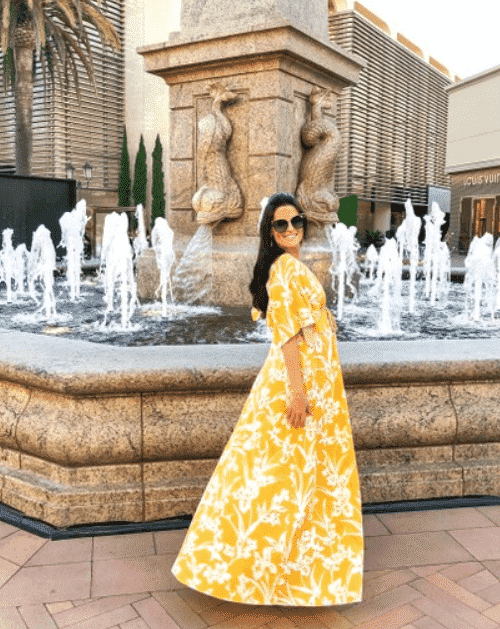 ↓ 10 – With Ankle Boots
Now, what about styling a black maxi dress? After all, it isn't the "summer style" most have in mind when they think of a maxi dress. While this look might be best worn to a semi-formal affair or gala, nothing screams fashionista like some puffed sleeves and a thigh slit. Be sure to opt for quality fabrics whenever possible and lint-roll your dress to keep the look pristine and polished. Accessorize with a silver necklace and leave your hair down for that "wow" factor. Here are some more ideas on Outfits to Wear with Boots.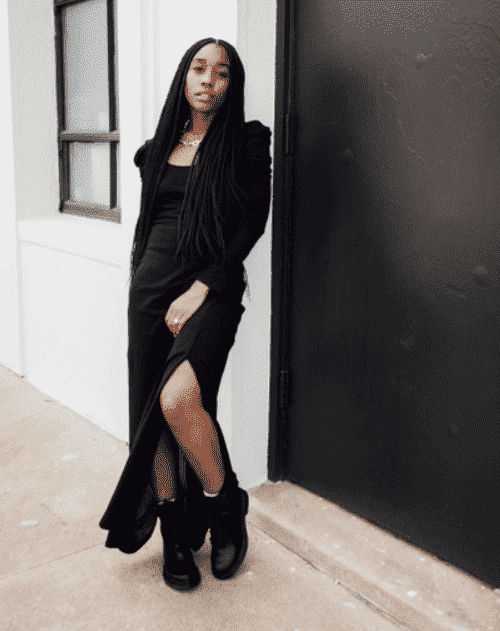 ↓ 9 – Semi-Casual Work Outfit
How to wear a maxi dress to work is a question that may pop into your head every now and again. After all, a maxi dress is super comfy, innately modest, and can be quite conservative if worn right. So just how does one do it? Here's one way. Opt for a sedate black maxi and add a pale pink cardigan over top. You want to make sure you're covered up in the right places and that your overall look is polished and elegant. Loose hair can add extra softness to your look but if you want to appear more professional, consider a chignon or French twist.
↓ 8 – Lavender Wrap Dress & Boots
If you love your maxi dresses and hate putting them away come wintertime, here's how you can rock a maxi dress even on a cold winter day! Opt for a thicker fabric like wool, and be sure to layer up with long-johns, tights, stockings, or even a bodysuit under your dress. We love this lovely lavender dress worn with a pale pink belt and paired with studded ankle boots. You can even wear thigh-high boots under your maxi dress for extra coverage and warmth. And of course, consider adding a scarf and coat if you will be outside at any point in your day! If you like the wrapped dress style, you'll also love these Wrap Skirt Outfits.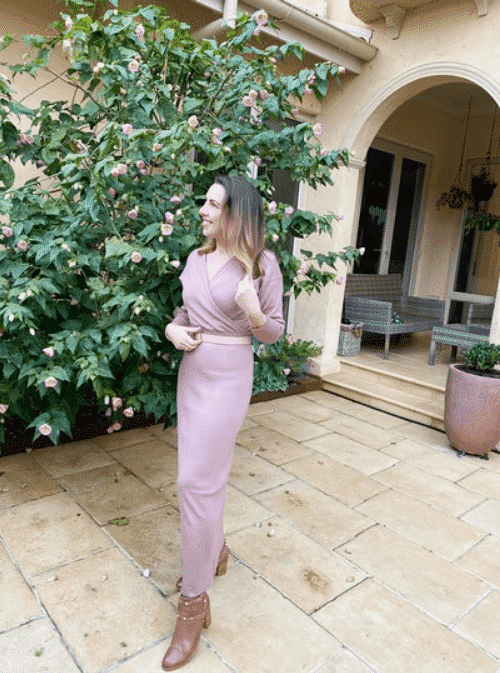 ↓ 7 – Chic for Dinner Party
Here is a gorgeous dinner party option. This royal blue dress features a tiered, ruffled hem, a Greek-inspired draping top and a lovely flowing skirt. To make it ultra-chic, accessorize with oversized statement earrings.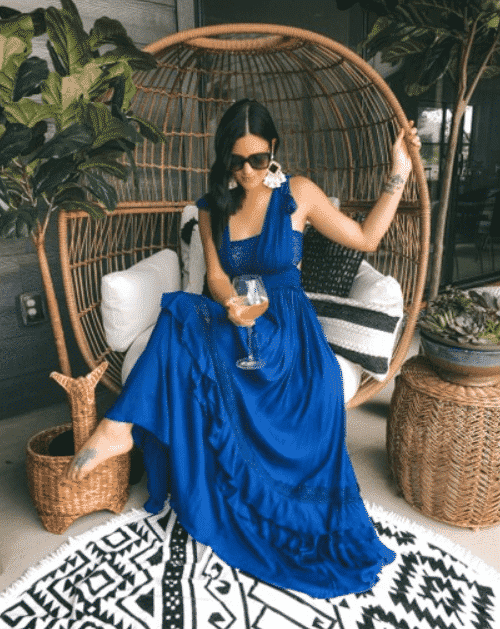 ↓ 6 – With a Hat and Sandals
Stumped when it comes to choosing the best shoes for your summer dresses? Keep it simple! You can never go wrong with sandals or flip-flops, especially if you are headed to the beach or a pool party.
↓ 5 – Multi-Print Dress With Flats
Rock a multi-print frock with flats and sunglasses for a funky and stylish spring, summer, or fall look.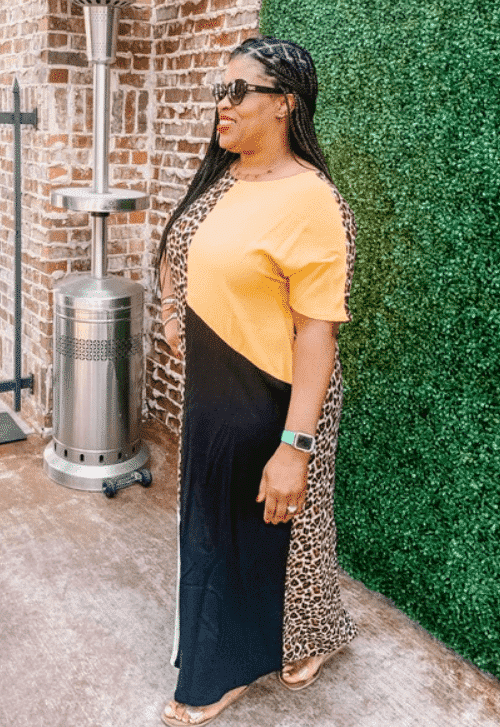 ↓ 4 – Bohemian Style for Fall
We love this Boho take on a maxi dress, perfect for fall with it's warm autumnal colors.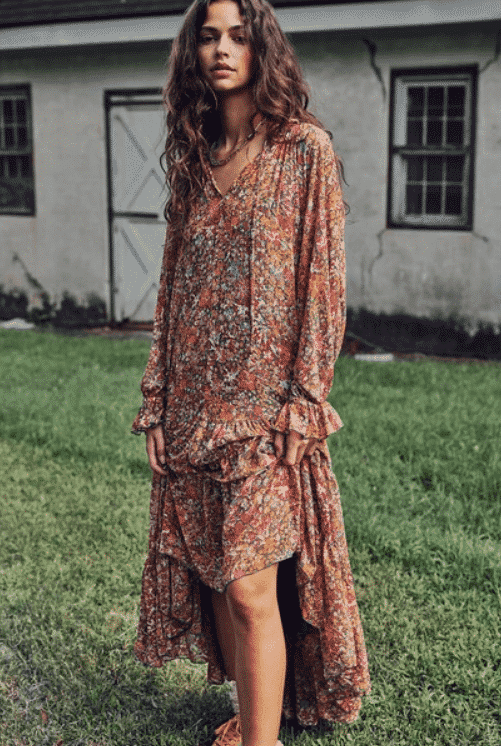 ↓ 3 – With a Cardigan and Heels
Knot a pale purple cardigan over a warm burgundy print dress and pair with heels and statement earrings.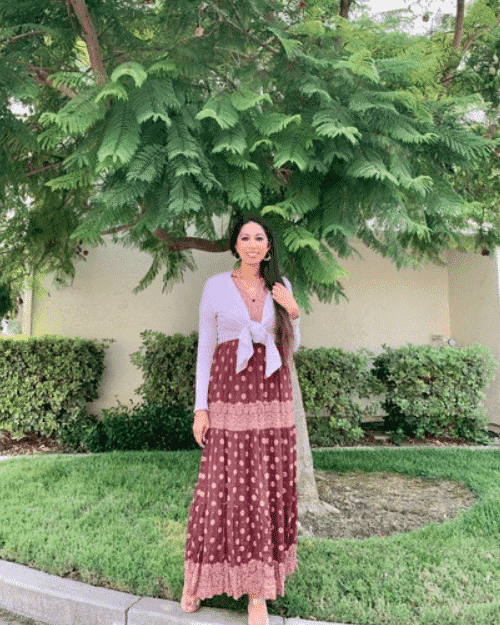 ↓ 2 – Strapless With Ruffles
You can never go wrong with pink and ruffles! This dreamy look is ultra-feminine and utterly unforgettable.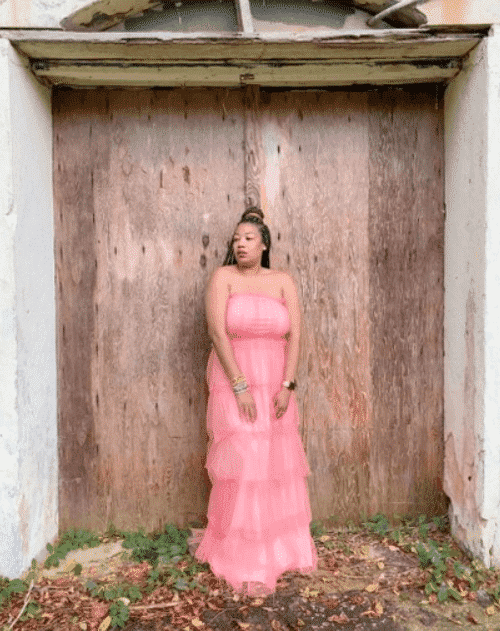 ↓ 1 – Styling a Floral Maxi
From the puffed cap sleeves to the sweet v-neck and flowy skirt, this floral print is absolutely darling. Style with a crossbody bag, stacked bracelets, and sandals. Wear this lovely frock to a date, to church, or to a family party. Ruffles and frills are really trending these days so here are some more Ideas on How To Wear Ruffle Tops.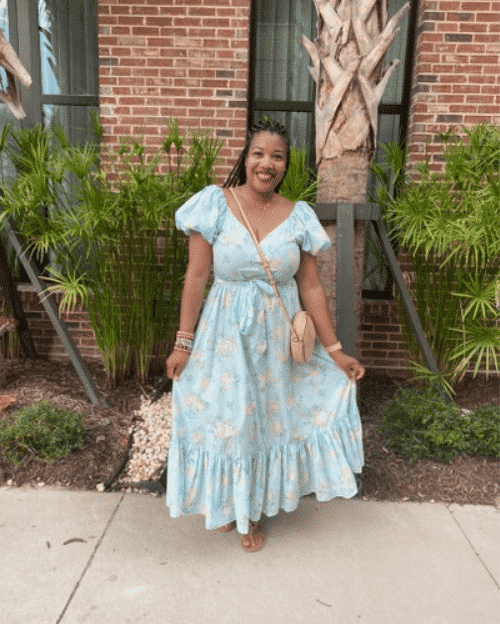 Here's another gorgeous floral maxi dress styled beautifully with a Belt bag by blogger Mary Orton.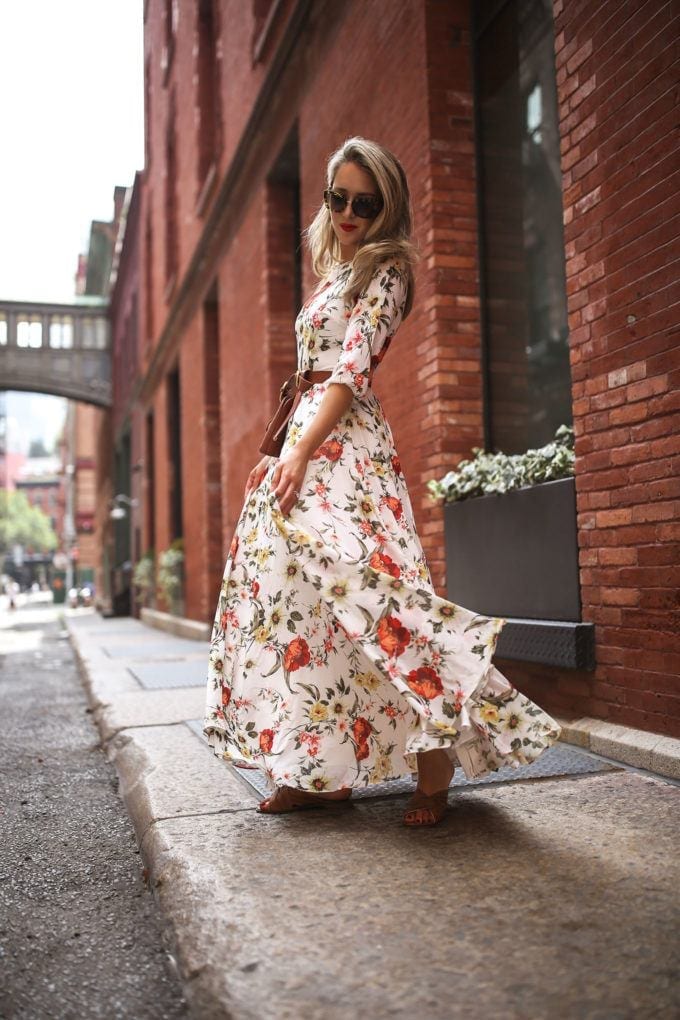 Frequently Asked Questions
Here are some frequently asked questions about maxi dresses. Let us know if we missed any in the comments below!
Q.

What are the best undergarments for a maxi dress?
A. The best undergarments for a maxi dress vary. If you are wearing a sheer or white maxi dress, then the best undergarments are those which:
Fit well. (No ill-fitting bras or underwear lines.)
Match the color of your skin.
This criterion applies no matter the color of your dress or its material, but they especially apply if your dress is a lightweight material that is see-through, or if it's close-fitting. It is best to opt for some seamless, full-coverage underwear to avoid the annoying fabric-caught-between-buttocks faux pas. We also recommend wearing a slip or some kind of shapewear like Spanx if you prefer a smooth, lump-free look.
Q.

Can you wear sneakers with a maxi dress?
A. You can absolutely wear sneakers with a maxi dress! But we wouldn't recommend that look for anything but a casual occasion. You can opt for a maxi dress that hits right at the ankle (or above it) and pair it with some chunky white sneakers and an oversized jacket. You can also try a small sneaker with a white maxi dress topped off with a denim jacket. Both these looks are cute, casual, and trendy: a maxi dress trifecta!
Q.

How to tie a maxi dress?
A. A popular way to wear a maxi dress is to tie up the hem in a knot that hangs on the side of your leg or right in front. This is a good technique to know if you are prone to tripping over long skirts or for a hot summer day where you want a little more air circulation. Here's a short tutorial on how to achieve the look:
Now that you know the most trendy and stylish ways to wear a maxi dress, how will you be rocking yours? Let us know in the comments below!