Stylish Women Travel Outfits for Airport: Many of us travel a lot or even if it's occasionally you need some special considerations when planning a trip. Your dilemma is how do you dress for comfort but still manage to look stylish in an airplane travel outfit. One wants to remain comfortable yet stylish in travel outfits with less or no effort. In that case, celebrities may give us a quick guide for that, as mostly they are travelling and remain stylish all the time.

What are the Best Celebrity Inspired Outfits for Air Travel
If you have been looking for the comfy travel outfits, then first find what gives you more comfort. Just go for the mini skirts, comfortable jackets, t-shirts and skinny jeans as depending on the weather of your destination and hometown. We do not want you to leave home in summer outfit and when you land, start shivering because of cold. You can have that comfortable and loose trousers, go for crop tops, loose maxis and shirts, relaxing jacket, you can be wearing some denim shorts if you have been travelling. Wearing skinny leggings can also work.
Shoes: Opt for comfy flats instead of heels when travelling. They're much easier to walk around in plus they wouldn't strain your feet like heels would.
Simplicity is the best policy: Keep the outfit simple for a hassle free journey.
Color Agenda: Choose the right colors. The right colors for your airport style outfit would really depend on the place and season/weather of where you are.
Attire: Celebrities prefer monochromic attire while travelling. It looks sophisticated and good.
No Heels: There is a big no for stilettos or high heels. Airport floors are often slippery and you don't want an embarrassing slipping accident to happen. So avoid them at all cost.
Sneak Peak: For a sleek and chic look, prefer sneakers while travelling.
Shades: Rather can applying concealer on your eyes, use sunglasses which can hide the tiredness and give you a glam look.
Scarf: Keep a scarf with you for a sudden cold weather.
Boyfriend Jeans: If you're going on a long flight because they're not too tight thus they allow you to move around comfortably.
Accessories:  Keep them minimal and try not to wear anything too valuable when travelling so you don't risk losing them along the way.
Here are some pictures for your style guide while travelling. Give them a look.
#15- The Formal Yet Stylish Travel Outfit to Wear on a Plane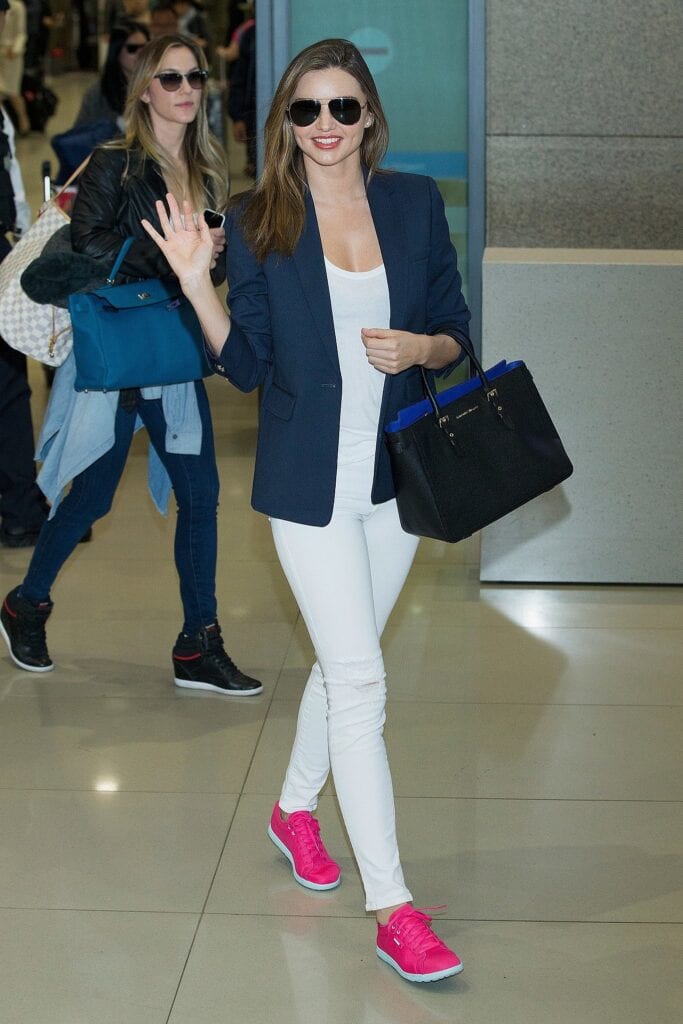 Source
#14- Trendy Long Flight Outfit for Fall
Keep a light cape with you while travelling. It may save you from any sudden weather change and will be easy to carry. It's also a super comfortable choice for those tiring long flights.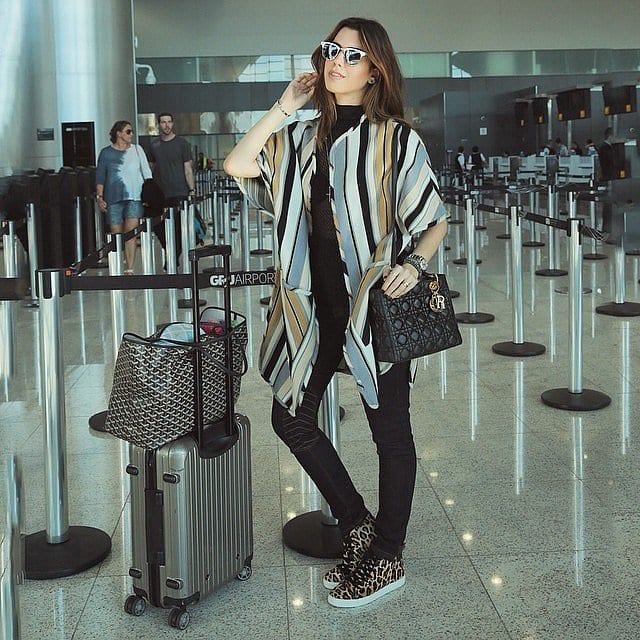 #13- Simple yet Elegant
Some do not want to do any effort and stay easy while travelling. Then just rely on your leather pant and white top for a simple yet stylish outlook. Heel Pumps can give a glam look but if you are not comfortable then replace it with flat pumps.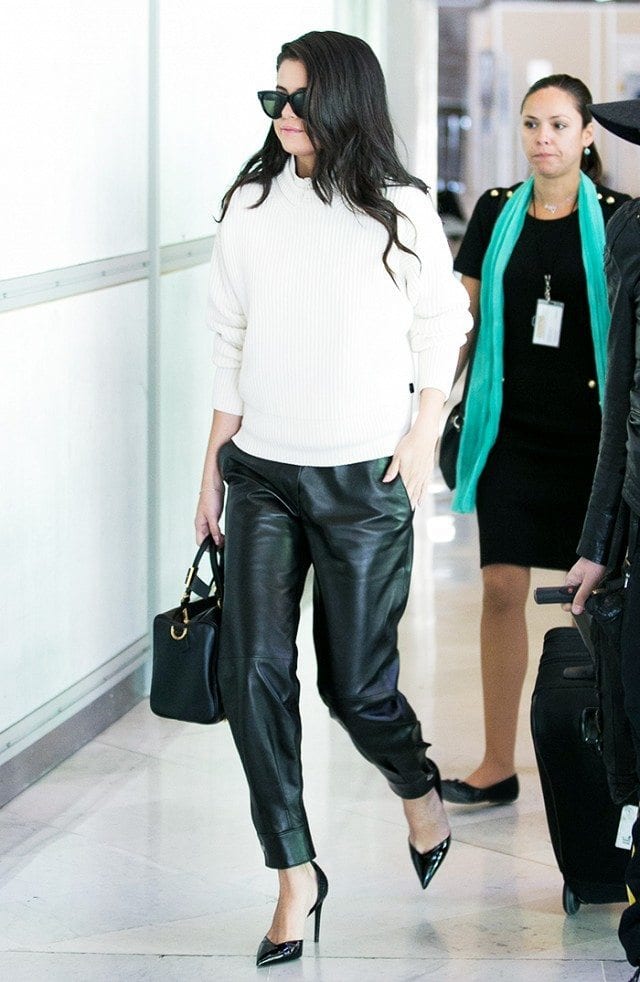 Source
#12- Cool Girl Outfit to Wear on an Airplane
Denim is easy to look stylish. just a simple striped T-shirt along a denim jacket can give you a glamorous look. If necessary then do not wear a jacket but keep it with you.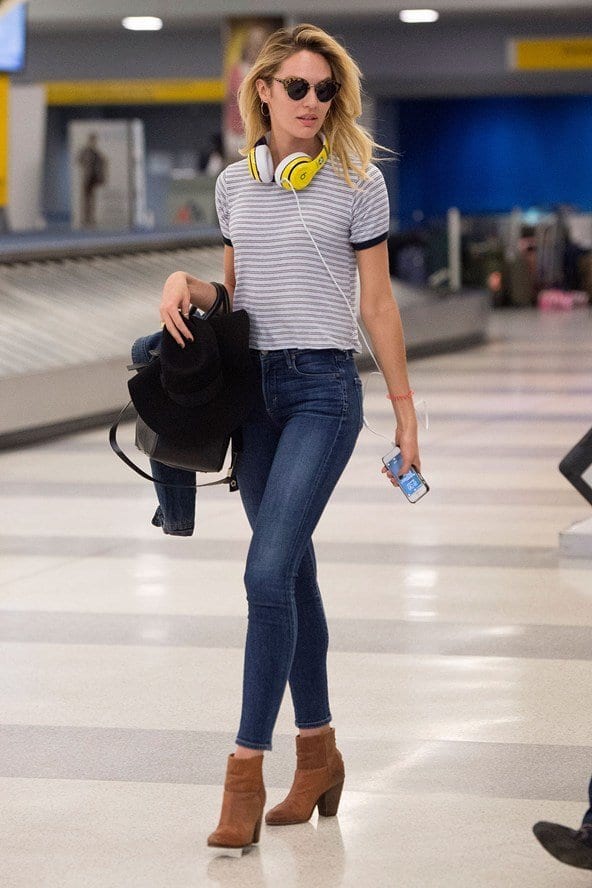 Source
Don't forget to choose the right shoes for your travel. Have a look at [highlight]15 best walking shoes for Europe trip – Travel style[/highlight]
#11- Casual Celeb Style for Airport
A casual printed T- shirt along ripped denim shorts is very easy for summer time while travelling by air. To add some glam look wear wedge shoes in black or a popping brought colour.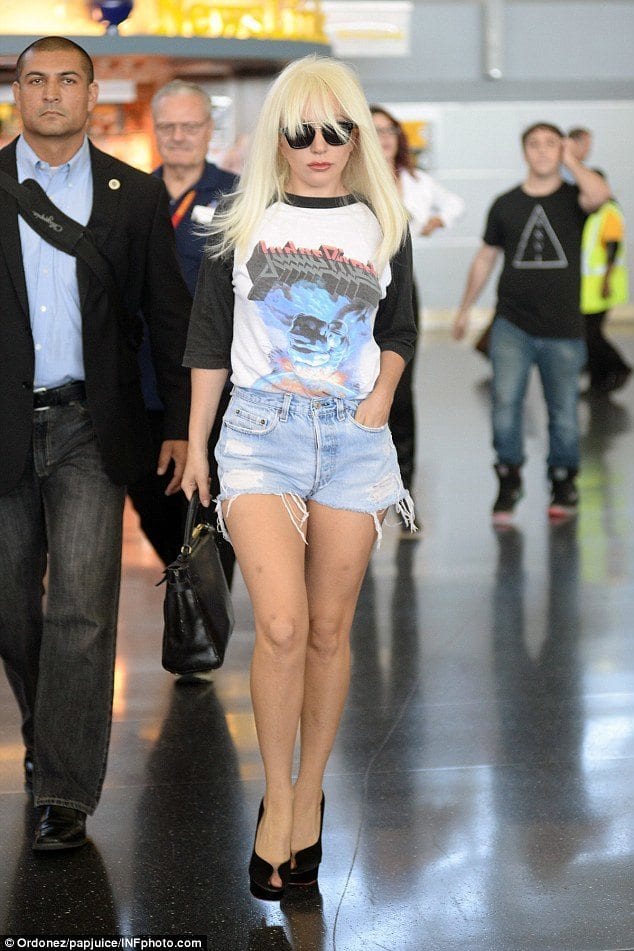 Source
#10- Trendy Travel Outfit for Plus Size Girls
Black on black is very easy to carry. A light color cardigan and a hat can give you an easy attire all the way through your journey.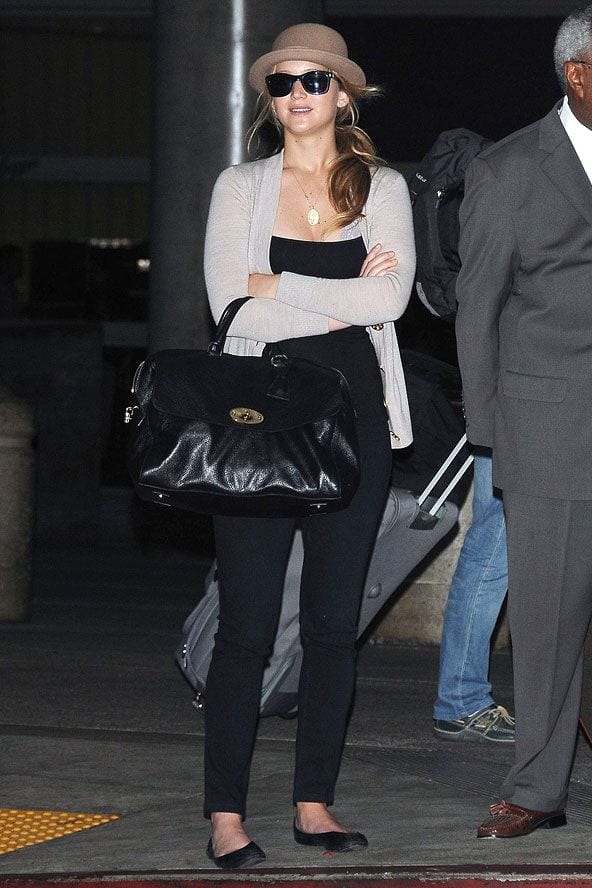 Source
#9- Outfit for Mature Women
Some just want to be their selves and remain low profile. Comfort is indeed priority when you are travelling. Leggings, with a knitted scarf with the light color shirt, is a very trendy yet simple outfit for women of all ages.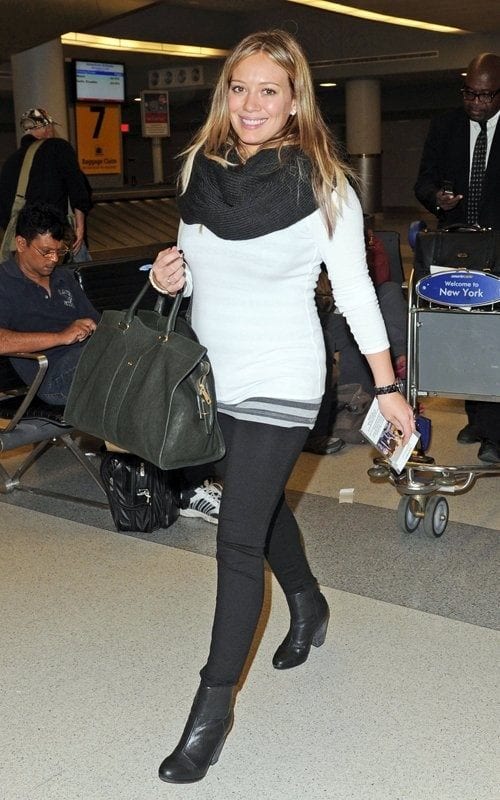 Source
#8- Stylish Celeb Like Outfit for Young Girls
Well, sometimes you do not want to remain low key profile and outshine even travelling. There may be a chance to encounter someone so why to take the risk. A jumpsuit can be very trendy and smart choice for a young girl while travelling. But keep in mind the distance and time duration when wearing such garment.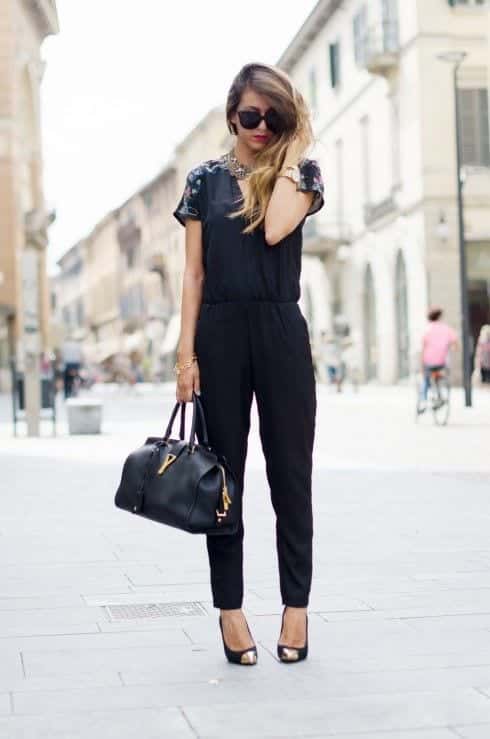 Source
#7- Fashionable Dress for Airport
Nothing can be more comfortable than a boyfriend jeans. Pair it up with sexy sandal and a light shrug for a fun travel. Flat shoes are a good option while travelling and give you very much comfort.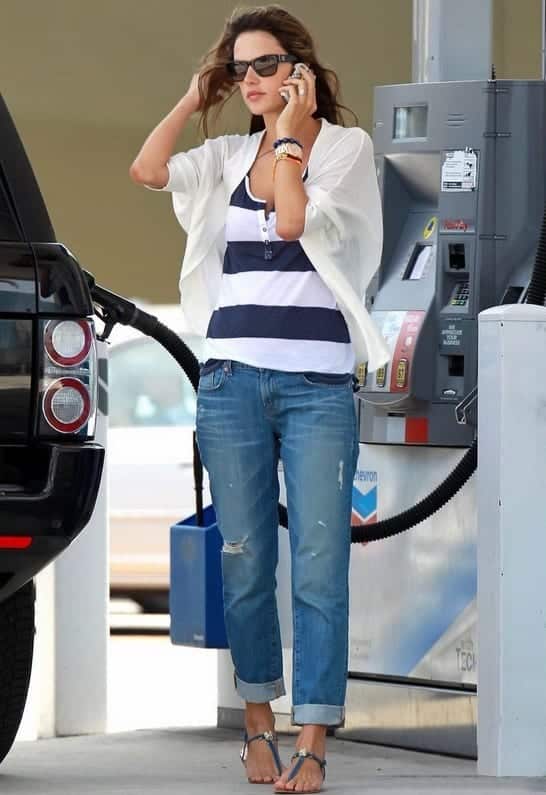 Source
#6- Outfit for Winter Vacations
Well if you are going to travel in chilly weather then keep the all warm things with you but do not over do it. It may be more tiresome to wear more clothes. A trench coat, with sweater and leather skinny pant, is a good idea. You may add some good accessories if have to attend a quick meet up after you land.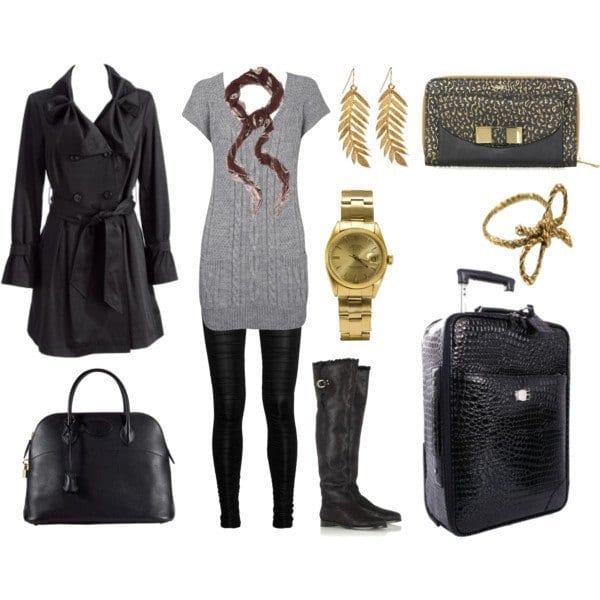 Source
Travelling to Europe? Don't forget to check out [highlight]Europe travel outfits-15 ideas what to wear in Europe now[/highlight]
#5- Travel Like a Fashion Blogger
Keep it simple and comfortable. Shoes which give you more comfort with a leather jacket and a bag which carries you all your necessary stuff is your pick for this journey. And you don't regret it.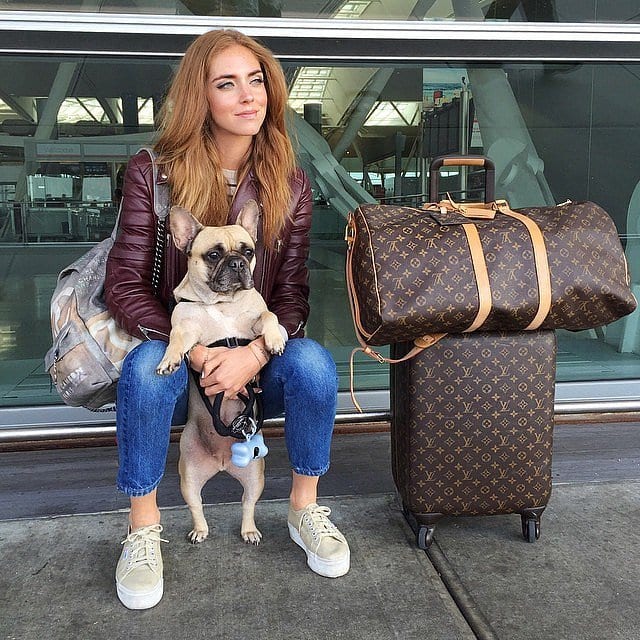 #4- Dungaree
Taylor Swift pulled it so nicely that it is indeed a must pick for all you girls out there. A dungaree suit with a crop top looks very cute here.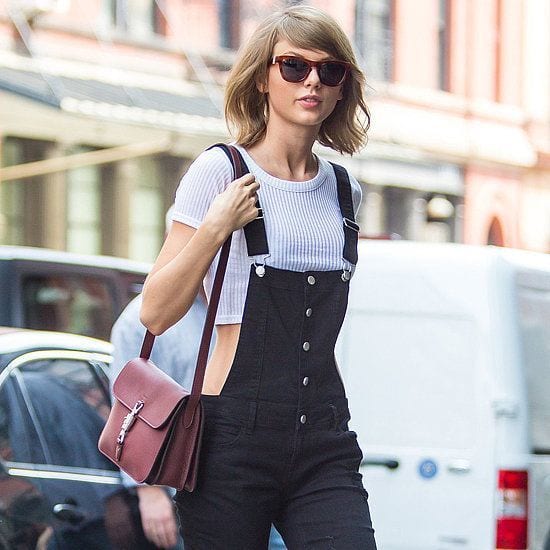 #3- The Diva Look
If you are crazy for style, then go ahead for this outfit idea. Comfortable shoes, with huge shades and a light color stylish trench coat, with hat and sleek hair, looks very cool. Add a bright lipstick to compliment your look.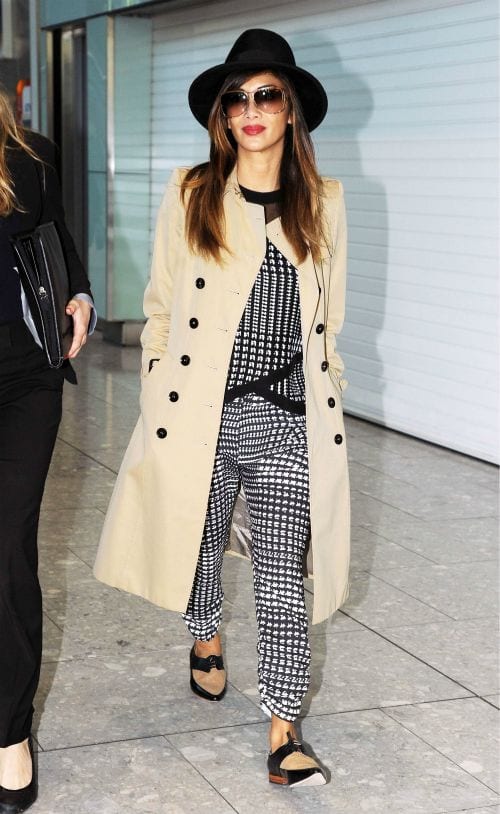 #2- The Chic Black Dress
Black needs to effort, just pull over your best staples in the same color and tie a hair bun, you are ready for the trip in style.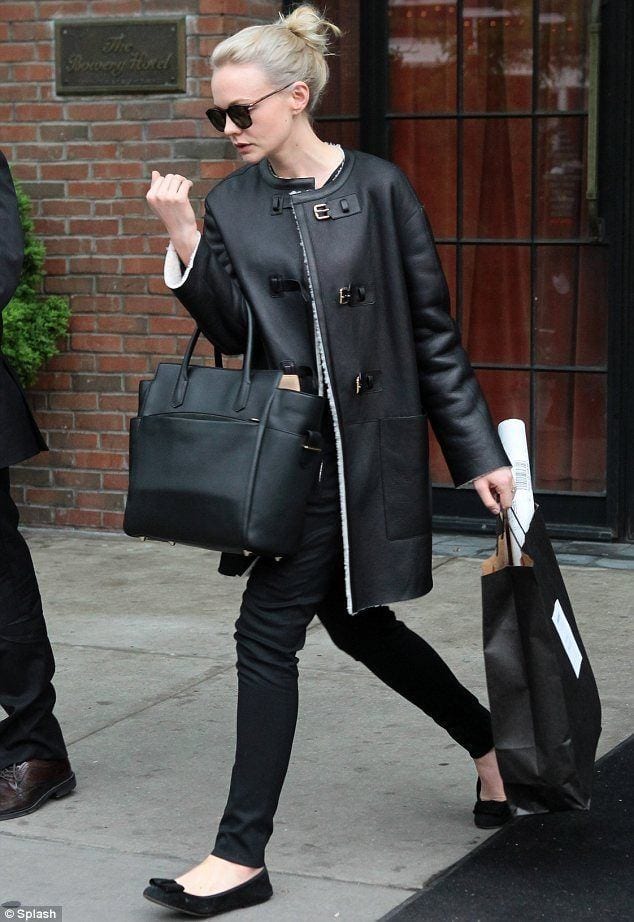 #1- The Old School Outfit for All Ages
No matter what is your age, comfort is your first priority. A light denim button down shirt with a mid length skirt is a saviour. Choose from sandals, flat or pumps to make your style statement.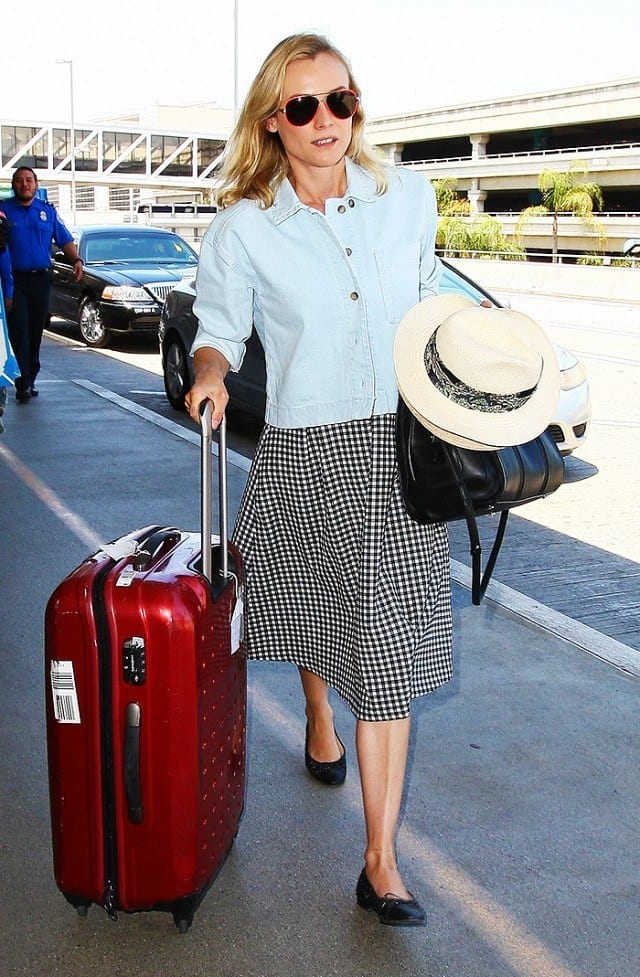 Source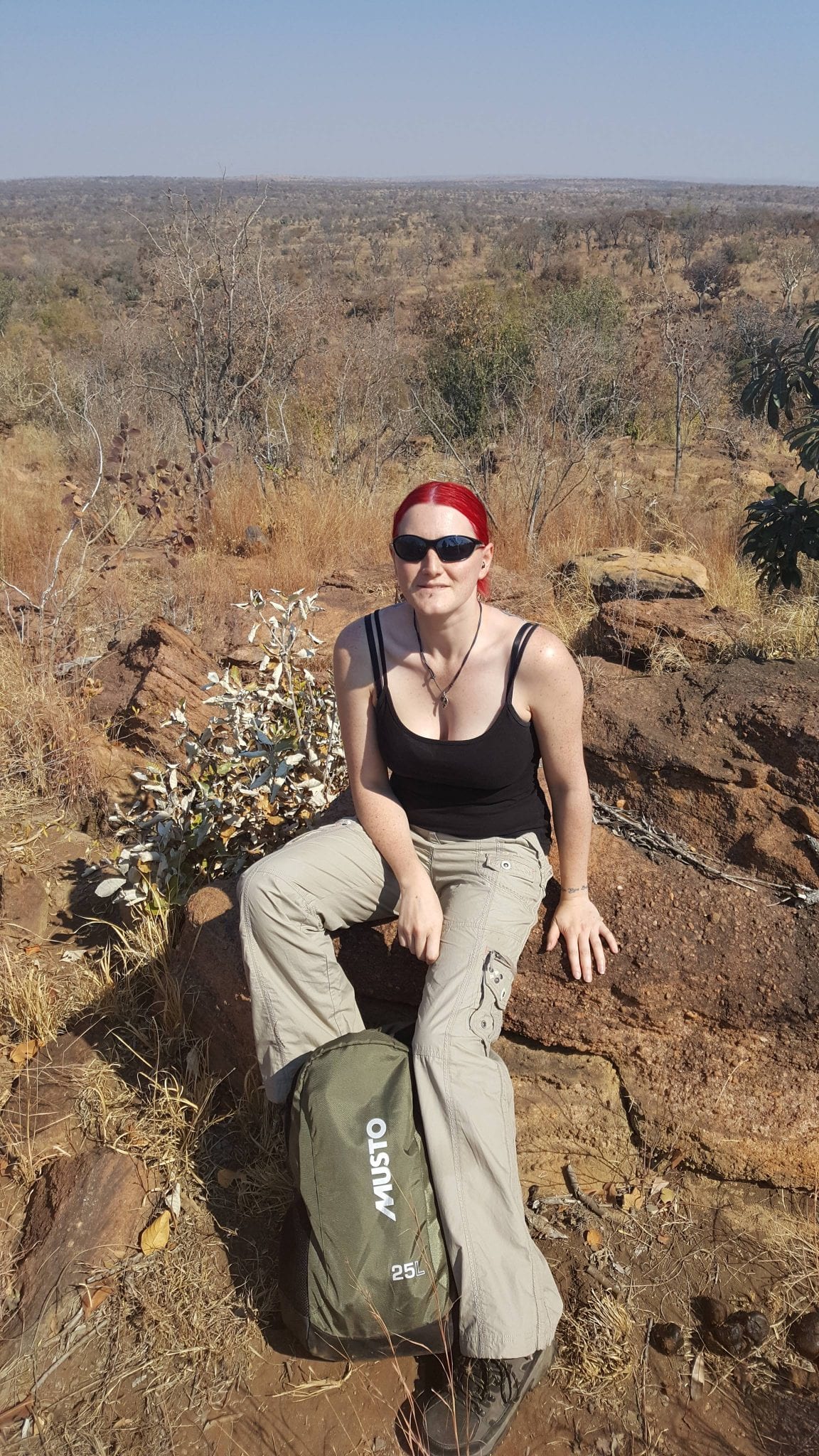 Caz, aka Vixen, has been freelance creative writing for several years. She has a lot of experience in different fields including high street fashion, tattooing art, and even the gothic and historical costumes. Caz has a Diploma in Fashion and Textiles and also a Bachelors Degree in Historical Costume and Corsetry. Her passion lies with gothic design, corsetry and any other styles considered to be taboo or unusual. Style-wise Caz has a love for Vivienne Westwood and her take on the punk era. Although Caz loves the weird and wonderful, she has a deep love for all fashion and allows this to show through her work.