Travel Outfits for Airport: Whether you're a frequent traveler or an occasional one, there is a lot to consider when planning a trip. The dilemma is: how do you dress for comfort but still manage to look stylish in an airplane travel outfit? One wants to remain comfortable yet stylish in travel outfits with little or no effort. In that case, celebrities may give us a quick guide for that as (mostly) they are often traveling and yet remain stylish all the time.
What Are the Best Celebrity-Inspired Outfits for Air Travel?
If you have been looking for some comfy travel outfits, then first figure out what gives you the most comfort. Are you a sweatpants-and-hoodie kind of a girl? Maybe you prefer a maxi dress? Whatever is your particular brand of comfort, you must also take into account the weather of your destination. Should you opt for a fleece-lined jacket? A woolly sweater? The last thing you want is to leave from Point A in a summer outfit only to get to Point B and find yourself shivering!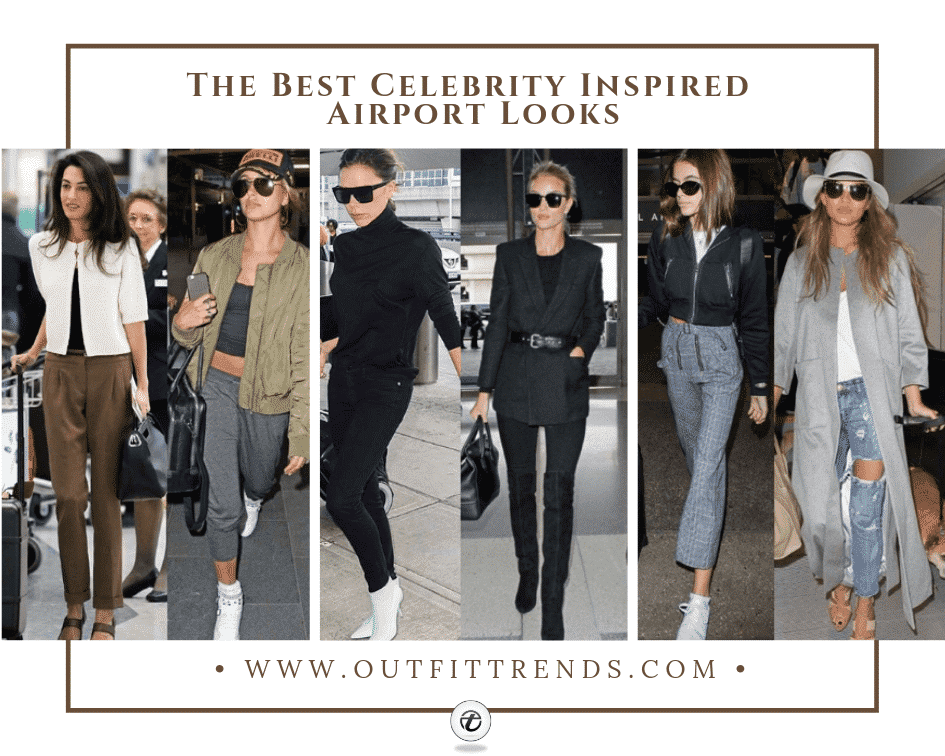 So make yourself a list of weather-appropriate outfits that are also comfortable and feel free to mix it up if necessary!
Here is a comprehensive list of tips you should consider:
Shoes: Opt for comfy flats instead of heels when traveling. They're much more comfortable to walk around in, plus they wouldn't strain your feet as heels would.
Simple is the best policy: Keep the outfit simple for a hassle-free journey.
Colors: You have to choose the right colors. The right colors for your airport style outfit would depend on the place and season/weather of where you are.
Attire: Celebrities prefer monochromic attire while traveling. It looks sophisticated and good.
No Heels: There is a big no-no for stilettos or high heels. Airport floors are often slippery and you don't want an embarrassing slipping accident to happen. So avoid them at all cost.
Sneak Peak: For a sleek and chic look, opt for sneakers while traveling.
Shades: Rather than applying concealer on your eyes, use sunglasses which can hide the tiredness and give you a glam look.
Scarf: Keep a scarf with you for sudden cold weather.
Boyfriend Jeans: If you're going on a long flight, opt for boyfriend jeans! They're not too tight; thus they allow you to move around comfortably.
Accessories:  Keep them minimal and try not to wear anything too valuable when traveling, so you don't risk losing them along the way.
Here are some pictures for your style guide while traveling. Give them a try!
↓ 20. The Secret To Elevated Airport Style 2019
According to Vogue, in a nutshell, the secret to elevated airport looks of celebrities is: Choose minimalist matching sets, from reliable brands! Here are some examples: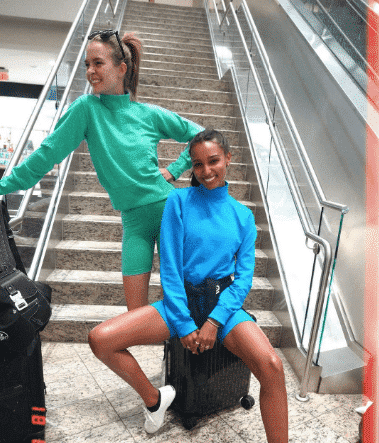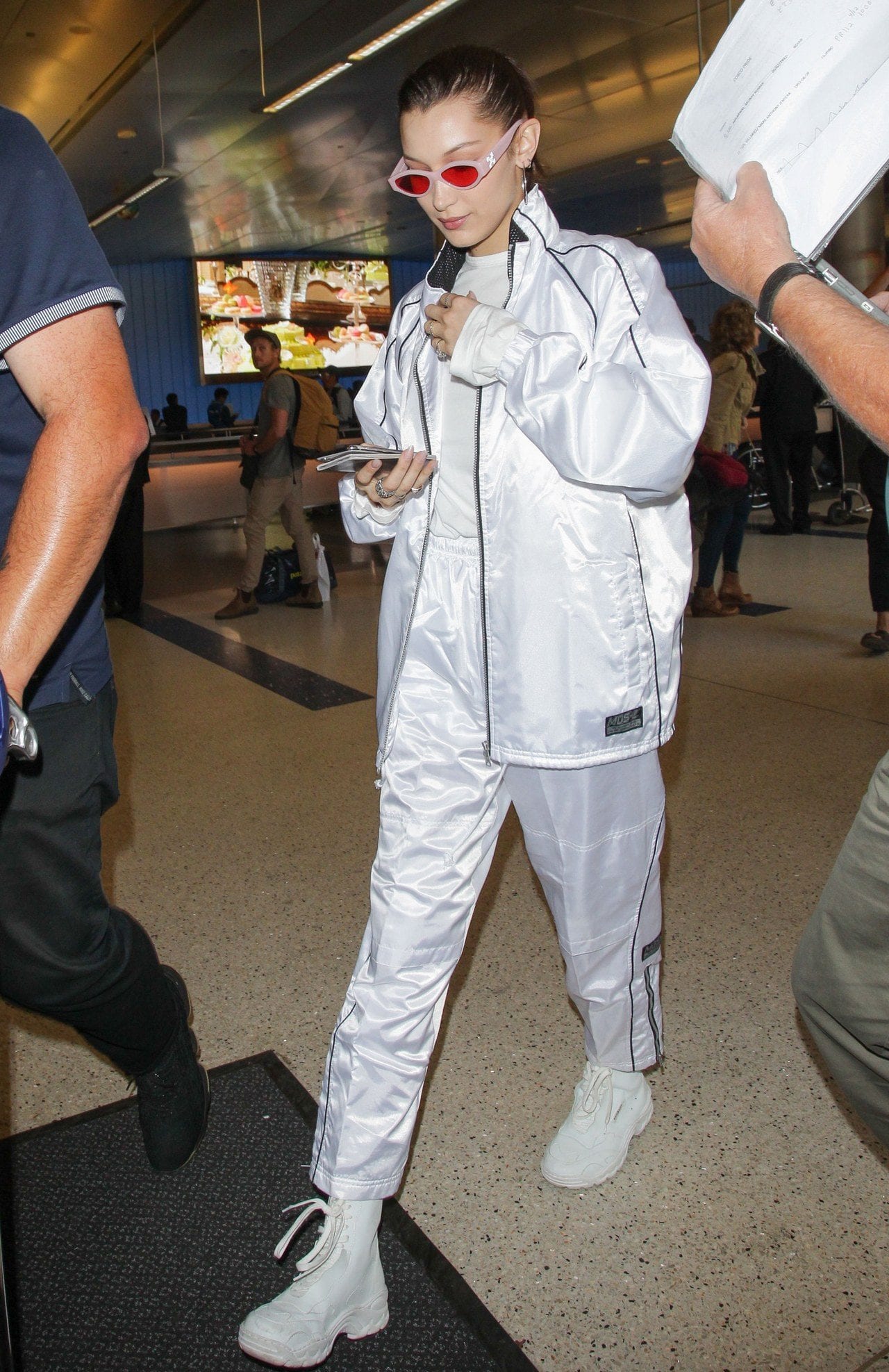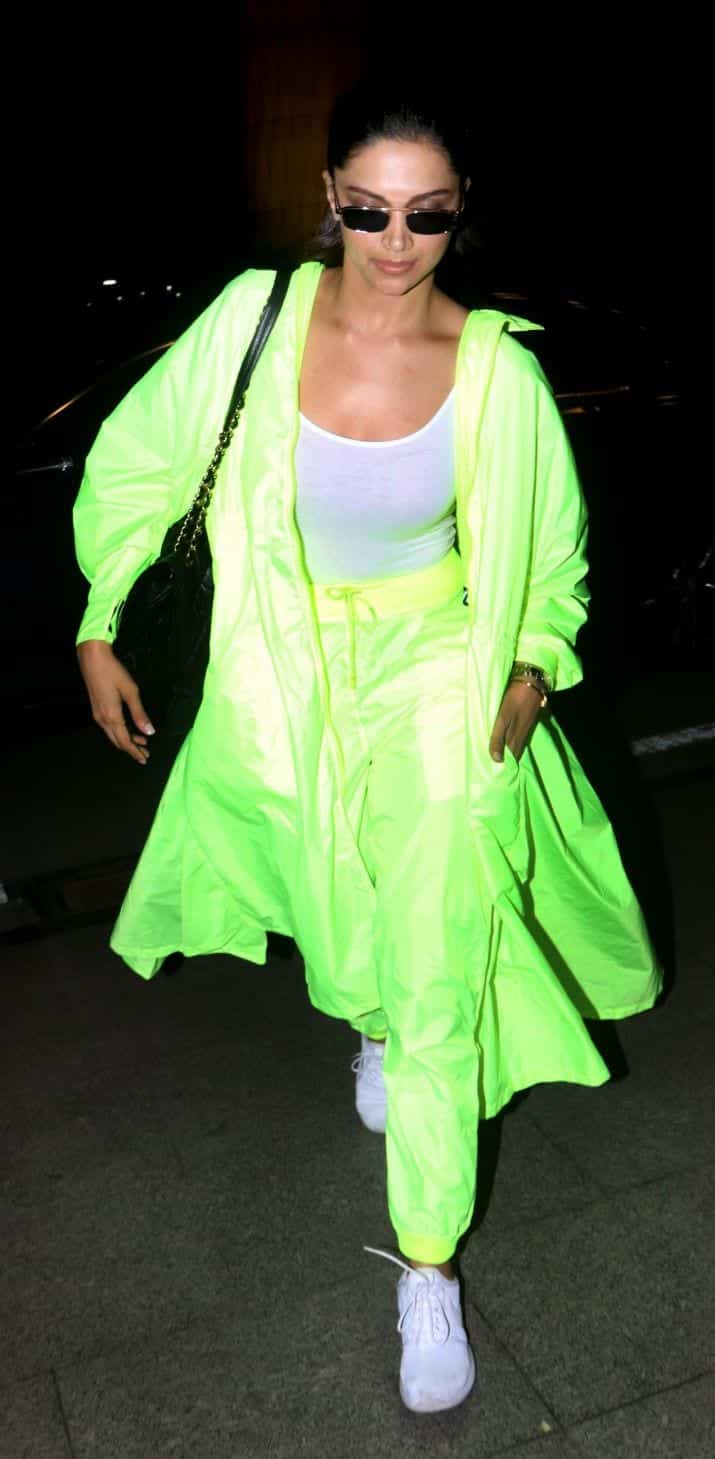 ↓ 19. Ibiza Airport Look
Celebs have been loving Ibiza lately as it has been one of the most popular travel destinations of the year and we have already covered the best Ibiza Outfit Ideas. But when it comes to airport looks, we love how Nicole Scherzinger dressed down her Zebra print skirt with a black hoodie, black fedora hat, and gladiator sandals.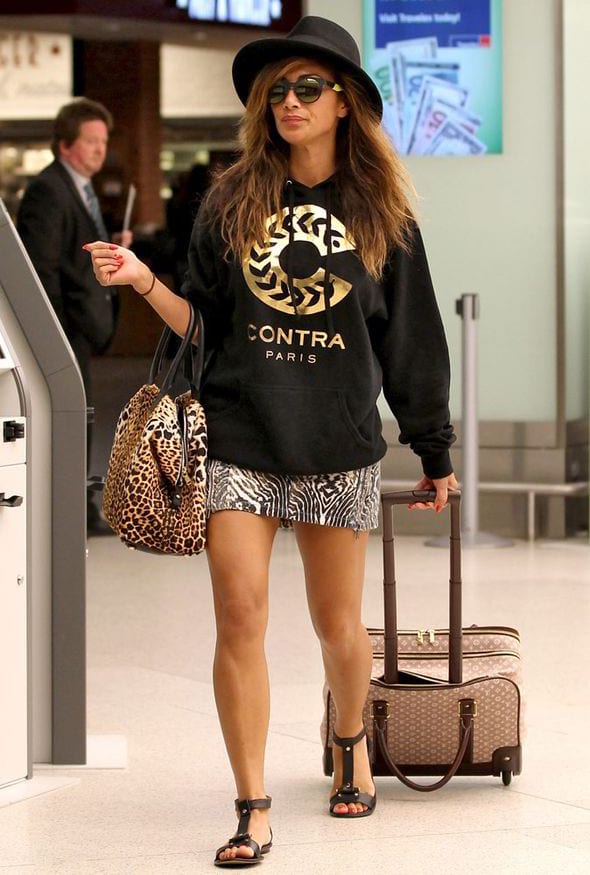 ↓ 18. Sleek & Sporty Celebrity Travel Outfit
Kendall Jenner has an excellent sense of style a lot of us only wish we could replicate! And hey, we would be remiss if we didn't showcase one of her many stylish travel ensembles. We have picked a sporty, comfortable, and yet sleek outfit that should be easy to mimic. So go ahead and get your pencil out, this is one look you'll want to learn well!
Black, figure-hugging shorts are not only comfortable but versatile. Pair with a button-down long-sleeved top and accessorize with black statement sunglasses. The footwear is our personal favorite with this look as you will be ultra-comfortable in these eye-catching white sneaks and socks. This is a great outfit for traveling in spring or summer!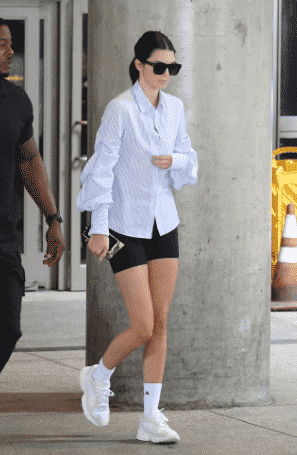 ↓ 17. Trendy, Comfortable, and Sporty Airport Outfit
Emily Ratajkowski is an absolute vision, and she somehow manages to make simple activewear look chic?!
For this look, it's almost comfort and versatility! Grab your favorite tracksuit and either pop on a crop top or tie your favorite tank in a knot at your waist for a DIY crop-top-esque shirt. Grab a matching baseball cap and your favorite, most comfortable trendy sneakers. All you need is a cute carry-on and your heavy-duty luggage, and you are good to go!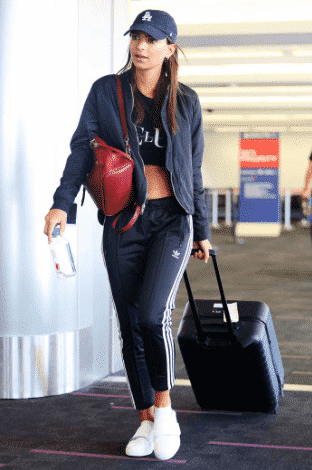 ↓ 16. Stylish and Womanly Travel Outfit
Another gorgeous look you'll want to take notes on! Start with your favorite pair of high-waist jeans. Tuck in a pinstriped, boyfriend-style shirt and pop on your favorite neutral colored flats. Last but not least, you'll need a blazer or jacket to round off the look!

↓ 15. Formal Yet Stylish Travel Outfit to Wear on a Plane
Miranda Kerr might be a model, but this is a look us regular civilians can quickly get behind! Pair white stretchy jeans with a white tank and a navy blue blazer. For your carryon, a simple black tote is elegant and versatile. Bring a pop of color to the look with a pair of bright pink sneakers and accessorize with trendy aviator sunglasses.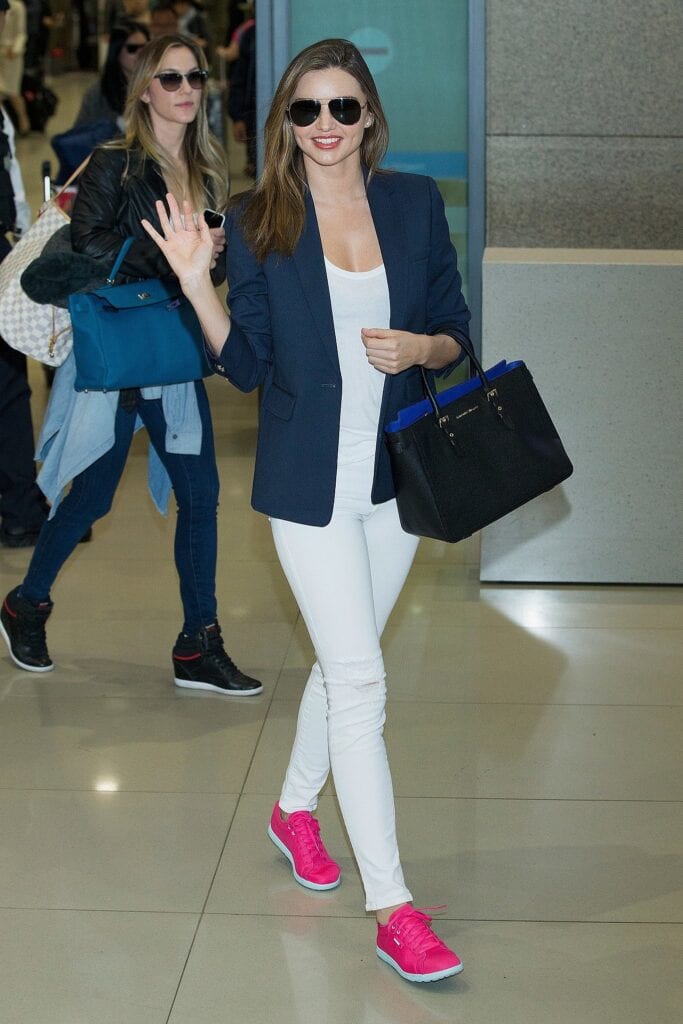 ↓ 14. Fashionable Fall Outfit for Long Flight
We love how comfortable yet stylish this look is. A cape, kaftan, or poncho is a great coverup that doubles as an extra layer if you are traveling somewhere cooler. Plus it brings color and texture to an otherwise simple all-black outfit. For this look, you can go for stretchy black jeans or black leggings, sneakers, a sheer turtleneck sweater, and accessorize with a trendy bag and sunglasses. A super comfortable choice for those long tiring flights!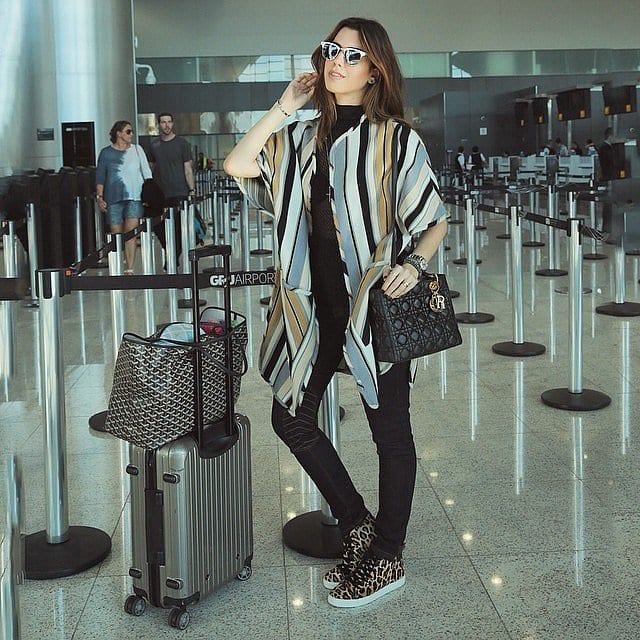 ↓ 13. Simple Yet Elegant
This outfit features some strong pieces that when combined, create a simple yet elegant look, that is chic but also eye-catching! Throw this look together with minimal effort. Simple pair some leather pants with a chunky white sweater. Opt for heels or flats and accessorize with sunglasses.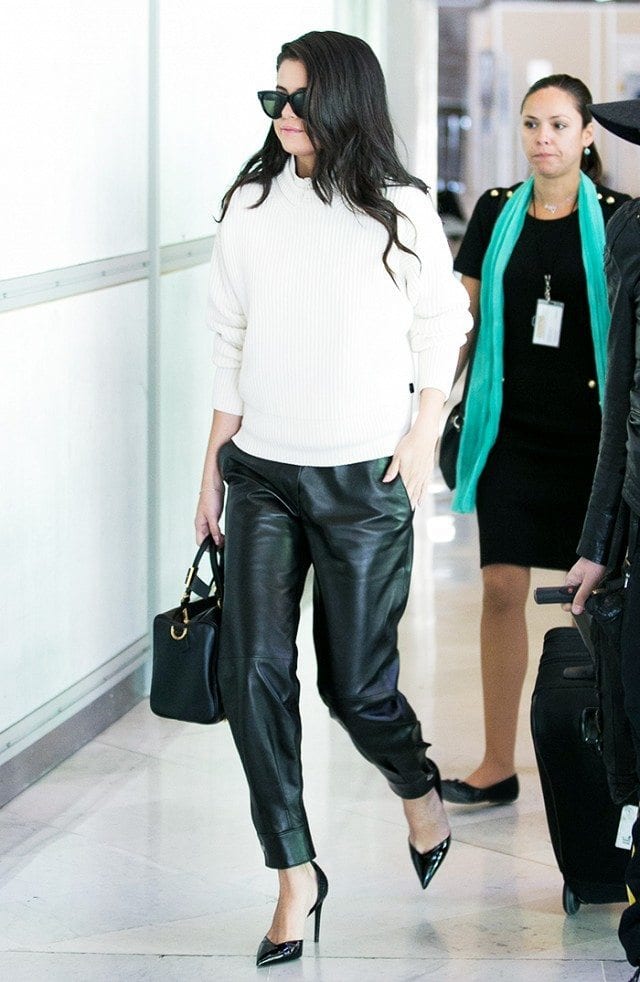 ↓ 12. Cool Girl Outfit to Wear on an Airplane
This is a super cute and super simple look that will work for just about any traveling experience! Denim can easily look stylish. Add a simple striped tee-shirt and grab a denim jacket for warmth and flair. Comfy boots or sneakers would bring this look together. And that's it! Accessorize with sunglasses, a hat, and simple gold hoop earrings. Don't forget to choose the right shoes for your travel! Have a look at 15 best walking shoes for Europe trip.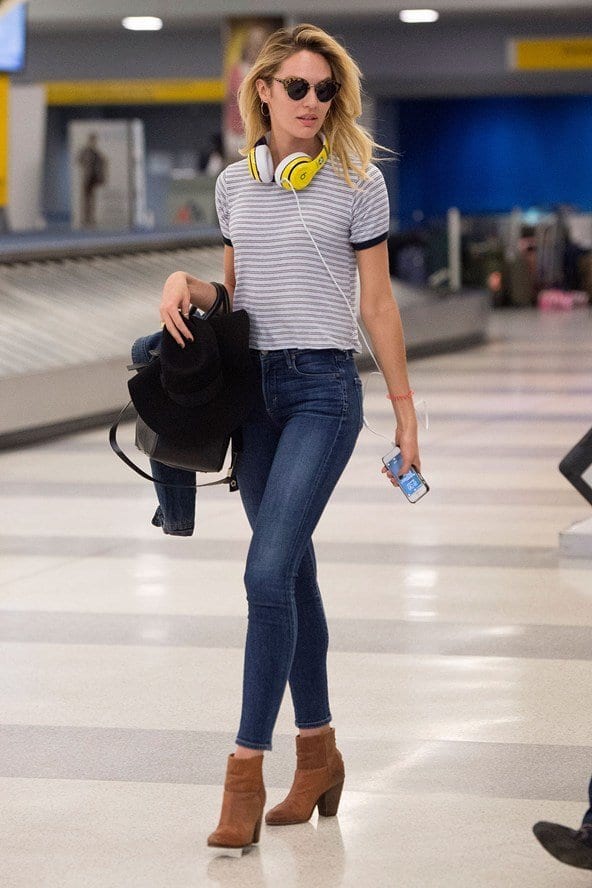 ↓ 11 Casual Celeb Style for Airport
A casual printed tee-shirt paired with ripped denim shorts is very easy for summertime while traveling by air. To add some glam, throw on some wedge shoes in black or a popping bright color.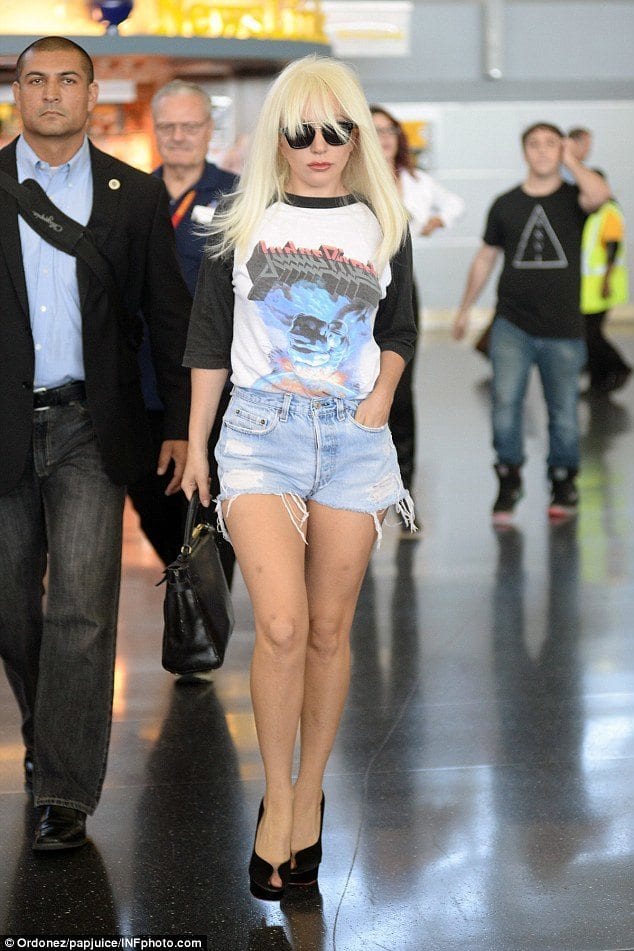 ↓ 10. Trendy Travel Outfit for Curvy or Plus-Size Girls
While Jennifer Lawrence is not plus-sized, homegirl does have some womanly curves. So this outfit is great for both! Black on black is slimming and just about the easiest look to pull together. You can stretch out in an outfit like this and not have to worry about stains or anything like that. Add a light-colored cardigan, sunglasses, and a giant carry-on to pull it together. Flats are comfy and cute. Optional: a creamy brown hat. (We're pretty sure Lawrence is just wearing it in hopes of going incognito, but hey, if you're feeling like flying under the radar and giving some celebrity-esque vibes, have at it!)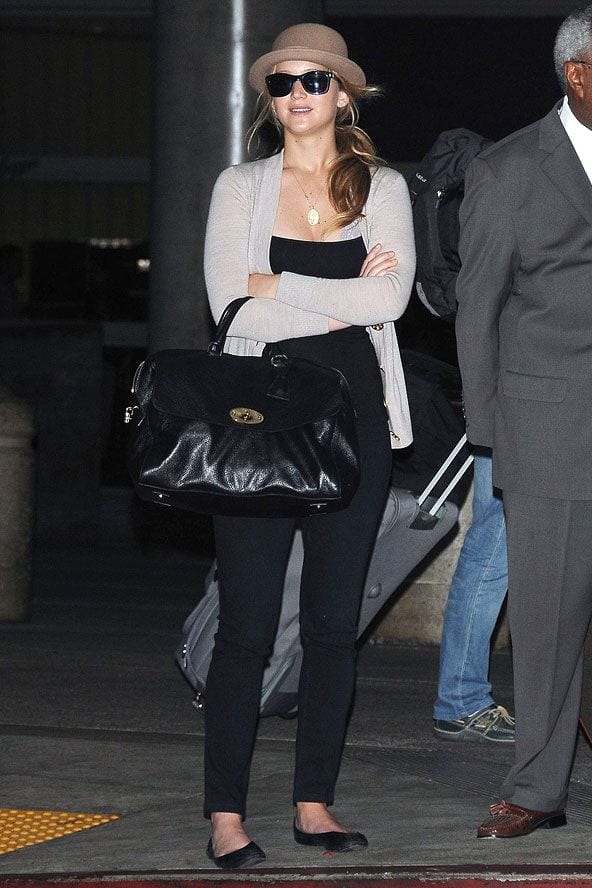 ↓ 9. Outfit for Women of all Ages
Now, who doesn't love Hilary Duff?! She was our Disney starlet and has remained a style icon and role model ever since. We love the versatility of this outfit, which could work for a variety of women. Plus-sized, mature, young, post-baby, pre-baby – you name it, this outfit could probably cover it!
And hey, most of us just want to be ourselves when traveling. For Hilary, it's probably more about staying low-profile. Regardless, comfort is indeed a priority when you are traveling. Simply pop a white long-sleeved top over leggings, add a simple black pair of booties, and throw on a chunky wrap scarf, both for warmth and as an accessory! This outfit works for women of all ages.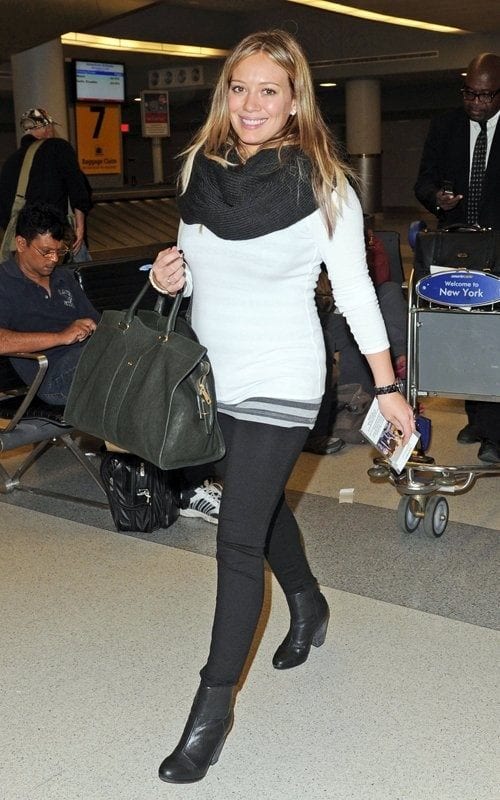 ↓ 8. Celebrity-Inspired Outfit for Young Women
For times when you need to catch a quick flight and look good while doing it: enter this chic jumpsuit!
A jumpsuit can be very trendy and smart choice for a young woman while traveling. But keep in mind the distance and time duration when wearing such a garment. It won't be easy to use the bathroom in, that's for sure. But it's stylish and trendy, and when paired with sunglasses, an oversized bag, and heels, well, it's oh so adorable.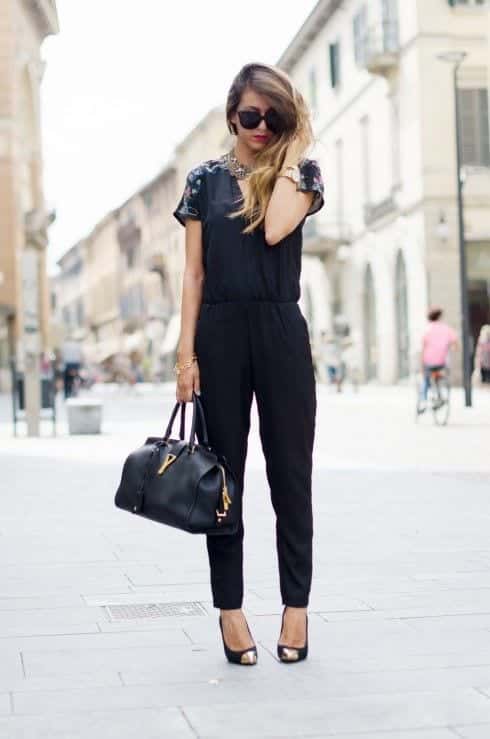 ↓ 7. Cute Low-Key Airport Outfit
Nothing can be more comfortable than a pair of boyfriend jeans. Pair it up with a sexy sandal, and a light shrug for a fun travel look that you'll be looking cute in! Flat shoes are a good option while traveling and give a lot of comfort.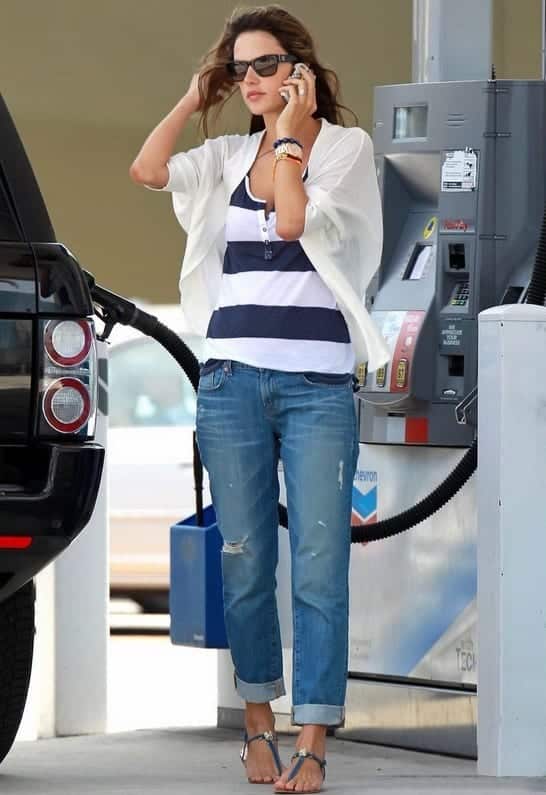 ↓ 6. Outfit for Winter Vacation
If you are going to travel in chilly weather, then be prepared with all the warm layers you need. However, don't feel like you have to overdo it. You definitely don't want to bundle up to the point where you're sweating on the plane. So, remember the golden rule and opt for easy-to-take-off (and put back on again) layers!
A great winter travel ensemble could include a sweater dress, leggings, and a trenchcoat. Have fun with this look by playing with accessories. You can opt for a cute clutch to tuck into your carry-on, a watch, a scarf, and more!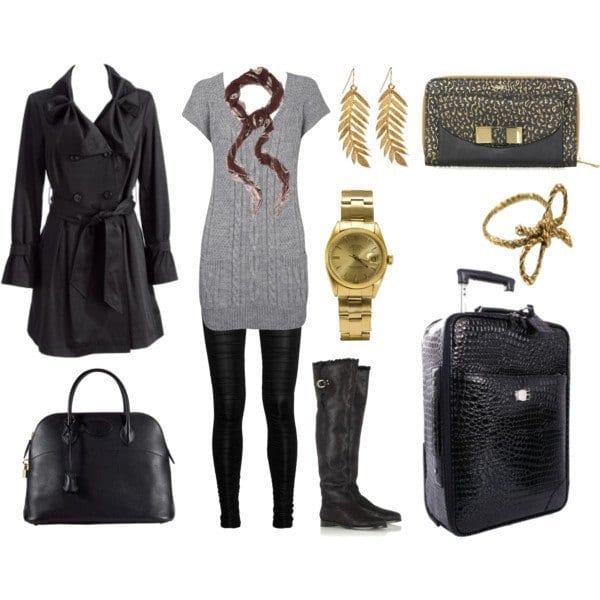 ↓ 5. Travel Like a Fashion Blogger
This slightly puffy maroon colored jacket is so cute and stylish and definitely gives fashion blogger vibes, in our opinion. Wear over a striped long-sleeved tee or sweater with basic denim jeans and some comfortable footwear like these cute white sneakers. An over-the-shoulder bag is a perfect carry-on to stash your books, laptop, and whatever other essentials you're traveling with. This is a simple but stylish look you'll love wearing over and over again. For more blogger style inspiration, here are the best Blogger Approved Legging Outfits For Travel.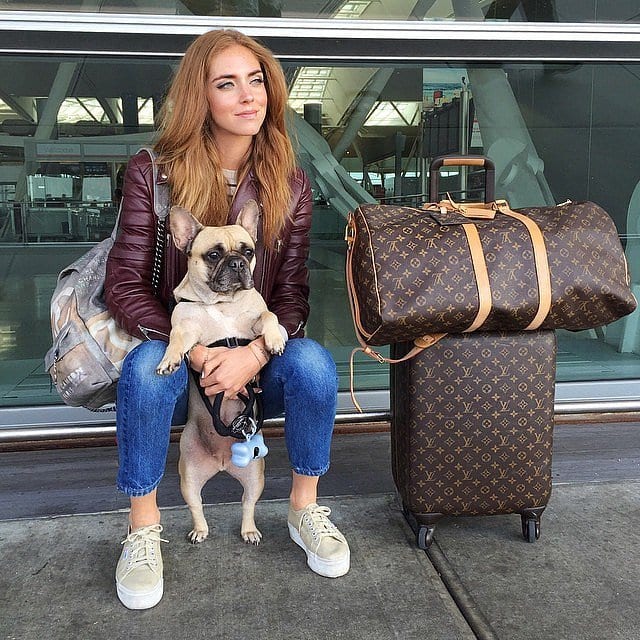 ↓ 4. Taylor Swift Outfit to Travel In
Taylor Swift is many things, and style icon is definitely one of them! If you have always loved her sense of style and wanted to nab a look of hers for yourself, this is the perfect opportunity!
For this look, Taylor paired a white crop top with navy overalls. She accessorizes with dark red sunglasses and a matching purse. Make this travel-ready by adding a color-coordinated carry-on, as well as a jacket in case you get cold in the airport.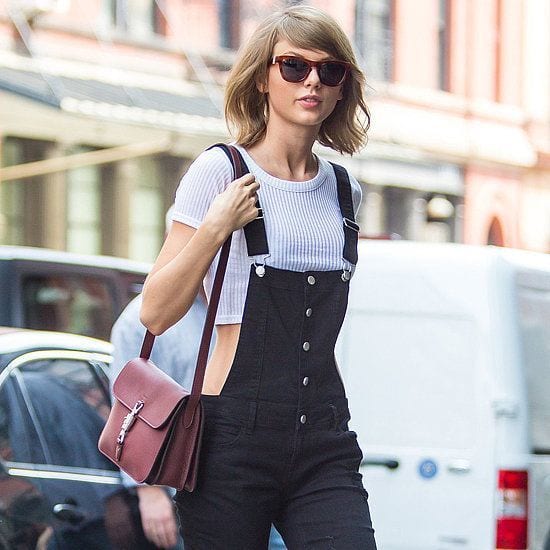 ↓ 3. The Ultimate Diva Outfit for Traveling
If you are a gal that loves to dress up, here's your chance! It's time to take it to the next level with this supremely stylish outfit that will blow your travel buddies away!
Go for a boldly patterned jumpsuit. This one is black and white and features a sheer panel at the collarbone that is chic and glamorous. Pair with a beige trenchcoat and have fun with your footwear! Comfort doesn't always mean you have to sacrifice style, and with these shoes, you definitely won't be. Accessorize with a black hat and oversized sunglasses. Sleek hair and bold lipstick add the finishing touches.
And voila! You are perfection.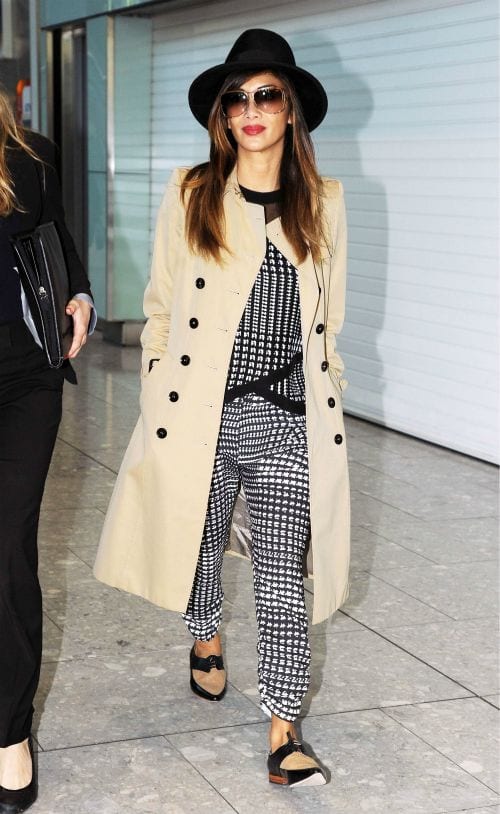 ↓ 2. Chic in Black from Head-to-Toe
For the lady that has a pretty penny to spend on her wardrobe, this is the look for you.
This ultra-glamorous and chic ensemble means you'll be drawing all eyes with your shadowy outfit. A thick black coat will keep you warm on the outside of the airport, and black jeans and flats will keep you mobile and comfortable inside. Tie back your hair in a slightly loose knot and pop on a pair of sunglasses. You might get double-takes as your fellow travelers wonder if you are a celebrity!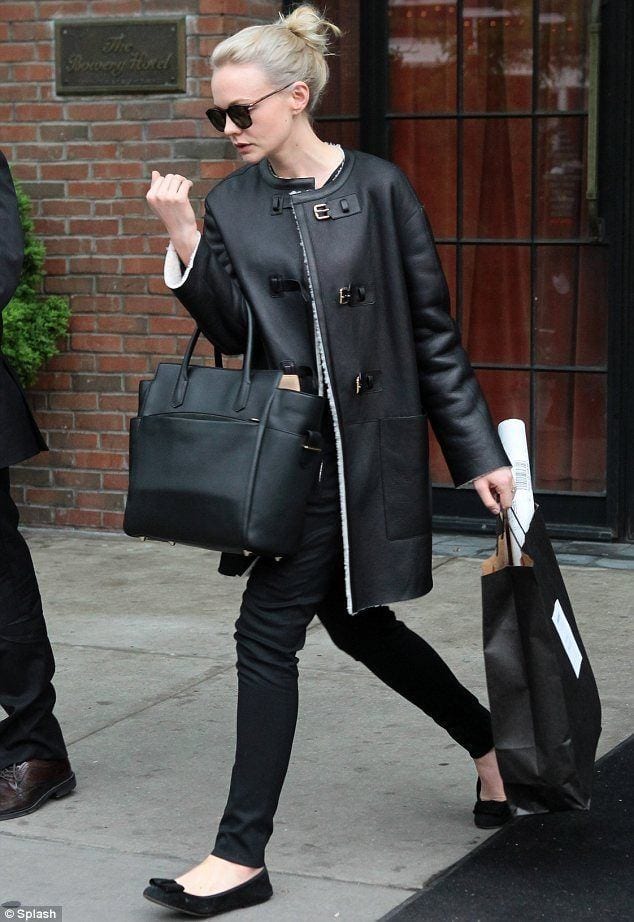 ↓ 1. Old-School Skirt and Ladylike Flats
Diane Kruger is beauty personified. It's nice to see that she has to deal with traveling just like the rest of us!
Once in a while, it's nice to indulge our feminine side with a billowy skirt. Skirts are great for traveling (great air-flow, if you know what I mean). Pair with a button-down blouse and a simple pair of comfortable flats. This is a simple look that's easy to replicate. You can accessorize with a pair of sunglasses, a cute hat, and your choice of jewelry. (Though of course, be mindful of what you wear when it comes to going through security. Nobody wants to stand there for 10 minutes taking off a million bracelets or a bunch of rings!)