Women's Cardigan Outfits: I believe I speak for everyone when I say this, you can not go wrong with cardigans, no matter what. Whether transitioning from fall to winter or spring to summer, you will find yourself reaching for a cardigan more than often!
Cardigans are the way to keep you comfortable and cozy regardless of the occasion, whether it be a chill night in with Netflix and your favorite TV show or strutting down the red carpet. Moreover, this multipurpose outerwear is the perfect garment to wear all year round for every season.
The versatility and effortless wear of cardigans make them a definite wardrobe staple. They come in many materials, including cotton, knit, and cashmere, and they are available in every possible style and design. From long to cropped pockets or without pockets, this garment is stylish and easily accessible to every age group. Did you know that cardigans for Summer is actually a thing? Thus, proving for them to be the perfect beach cover-up!
How to Wear a Cardigan?
Styling a cardigan outfit is super fun and easy! However, putting together a look requires you to consider a few aspects, including the occasion and weather. A heavier material cardigan is better suited for the more relaxed, gloomy days or the winters. Style them with a dress or with jeans and a turtleneck, and there is a high possibility that you will end up looking effortless. And for the spring-summer season, cardigans are being worn in super trendy ways! We see women wear cardigans directly as a top rather than outerwear, and we are all here for it!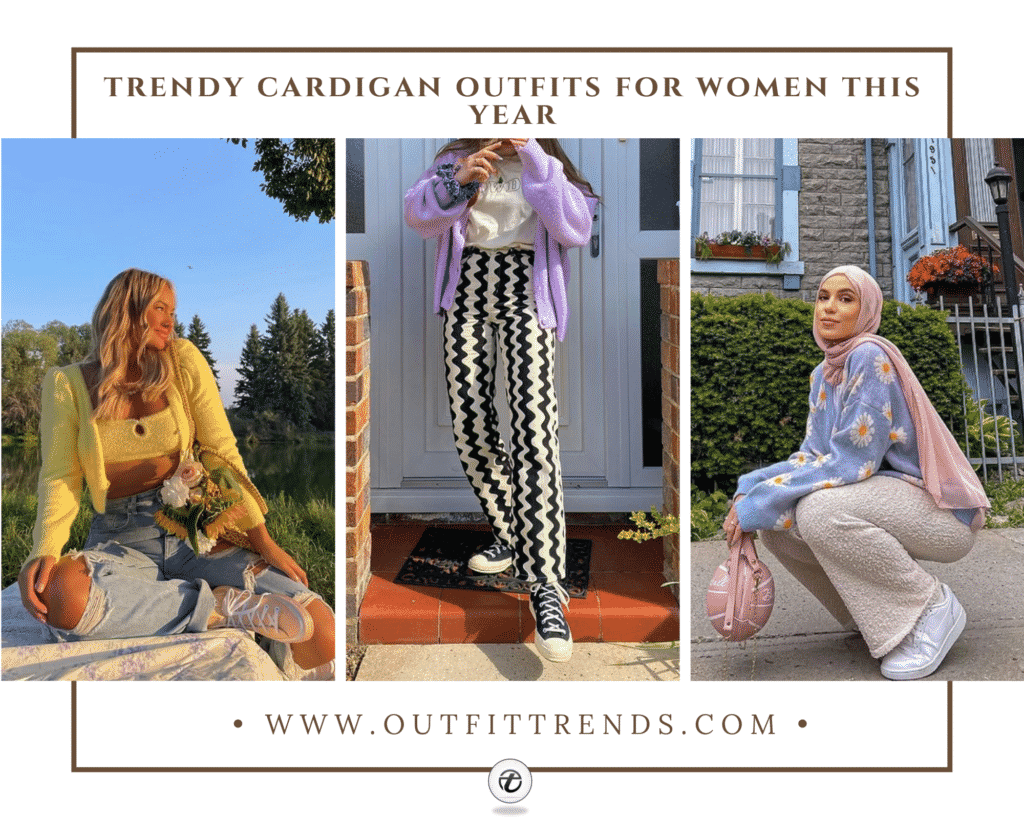 Tips on How to Style Cardigans
Choose your cardigan according to the weather! Reserve the chunky ones for the colder days and light summer ones for the bright, sunny days.
A simple tee shirt tucked into your skinny jeans, topped with a cardigan will not fail you, ever. So go for the simple look when confused about styling your outfit!
Drape your cardigan over your shoulders for a more formal, classy, or sporty look.
White trainers will never fail you!
Go for the tousled, slightly pinned-back messy hair look with your outfit.
Keep it simple with the accessories! Good hoops are here to save the day!
When styling your cardigan with Indian wear color blocking will go a long way. So, coordinate with the colors of your saree and go for the perfect over-the-shoulder cardigan with a saree look!
I have searched (so you don't have to) and gathered all the best outfits styled by women featuring the star for today: cardigans! Keep scrolling to be inspired!
60 – Sunshine & Symphonies!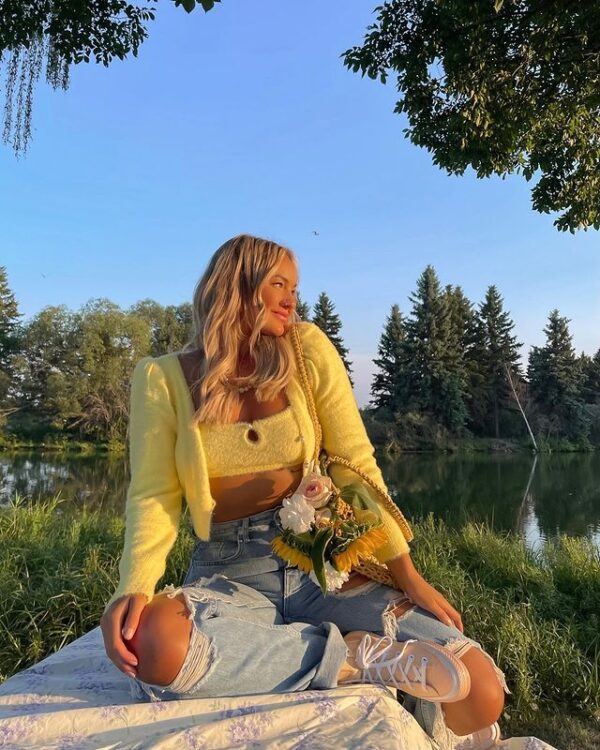 59 – All Decked Out in White!
An all-white outfit fit for every mood!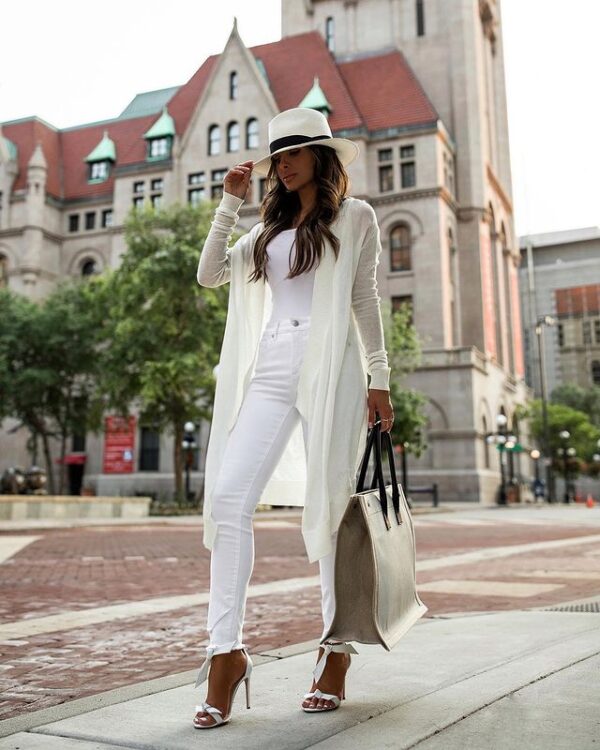 58 – Daisy Darlin'
Printed cardigans are incredibly trendy and for all the right reasons! Throw in the oversized element to your pullover, and you are the ultimate definition of modern and chic. This look is flawless for modest dressing while keeping you right on the spot with all the latest fashions. The textured pants, purse, and color palette work flawlessly for the entire look.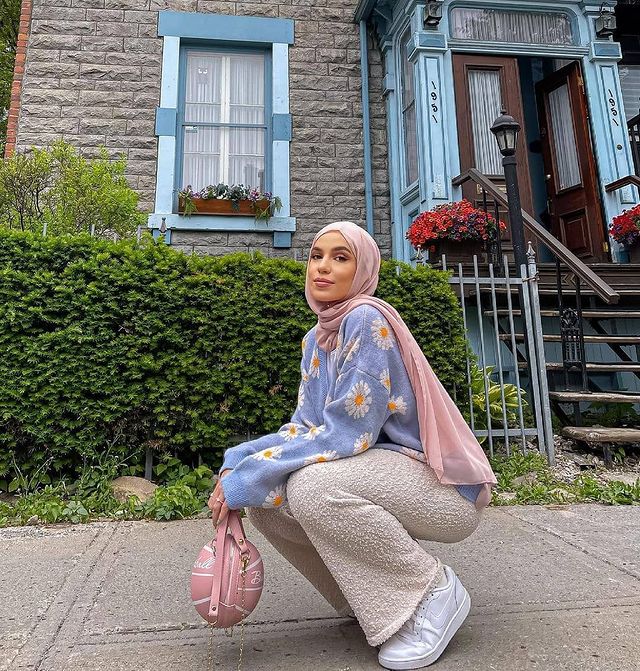 57 – Monochrome Mondays!
If you are looking for the perfect outfit to wear for your day out on the Europe trip, then this is it! The monochrome palette, collared shirt, and vest cardigan give off an awesome vintage vibe. And pairing them with shorts and these modern accessories has elevated the outfit to the next level. Finally, to tie everything off, we have got a pop of red on the lips producing a perfectly modern and vintage look perfect for roaming the streets of Paris!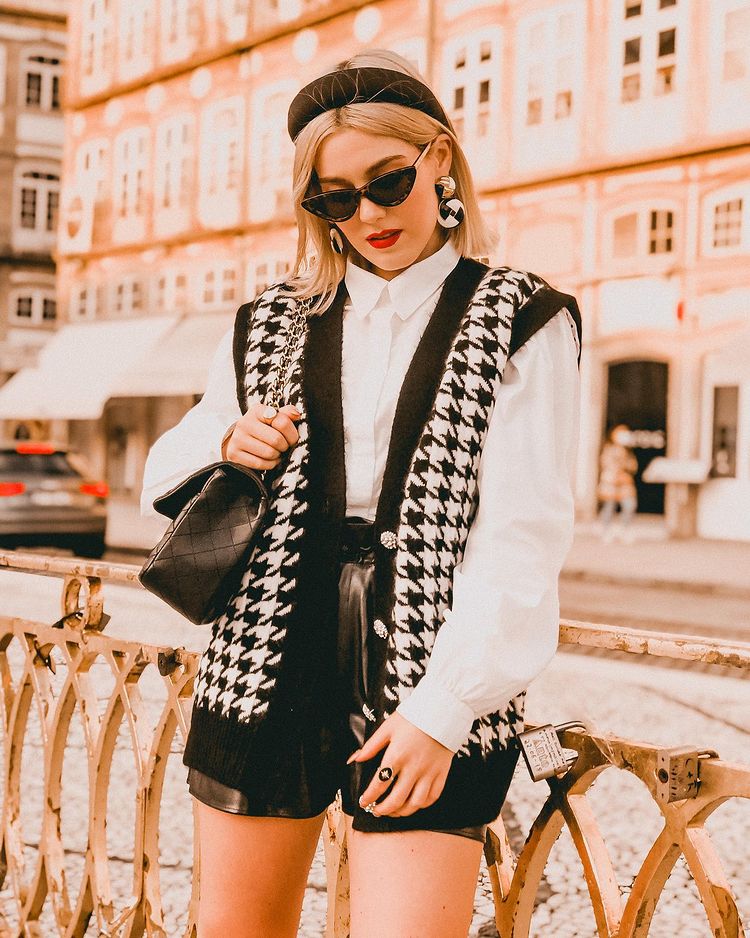 56 – Wearing Your Cardigan with a Dress
Cardigans and dresses may sound a little weird together, but they are indeed a match made in heaven! And this outfit is the living proof of that. With a similar style midi dress, you can honestly not go wrong with either a fitted or an oversized cardigan because both would look phenomenal in their ways. The fitted one would give you more of an elegant, boss-woman vibe, while a larger cardigan would be perfect for a laid-back, chill affair! I suggest a cropped fitted cardigan left open from the front for a more oversized dress!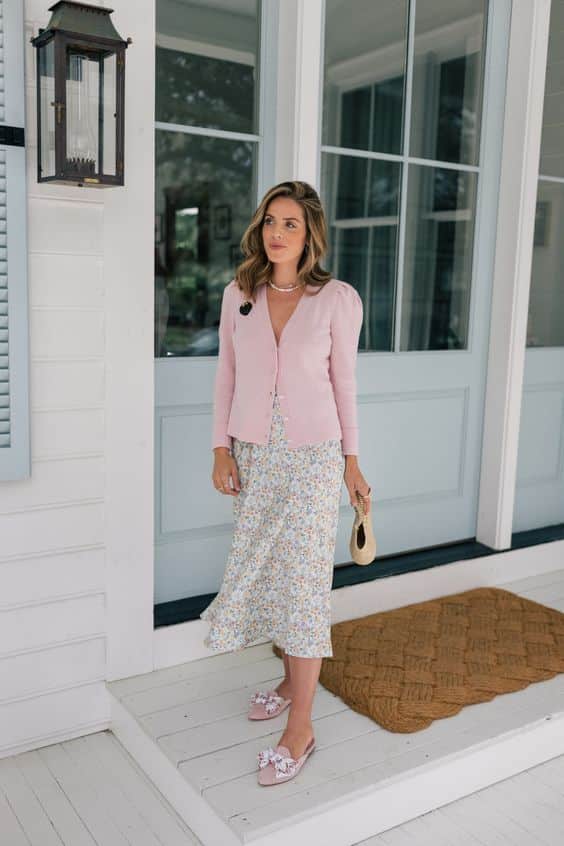 55 – Cardigans with Jeans in Blue All-Over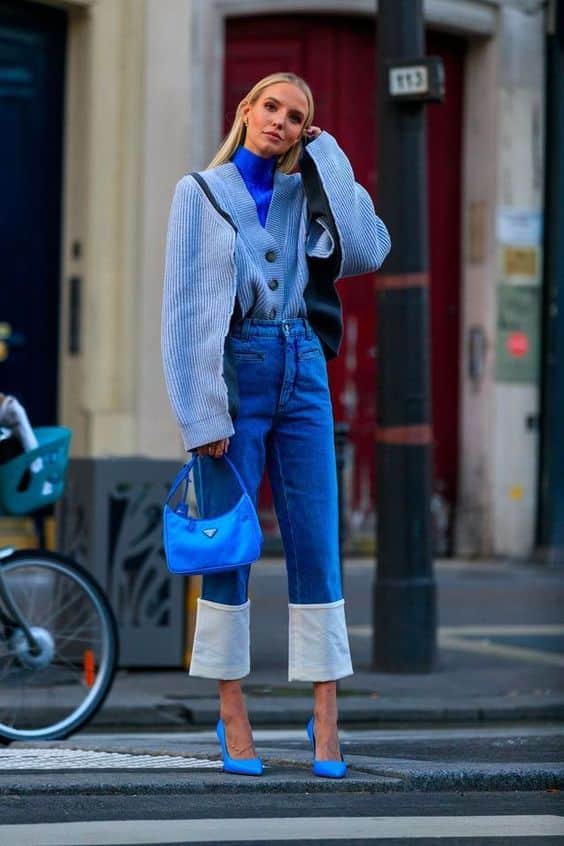 54 – Cool Cardigan Outfit for Spring!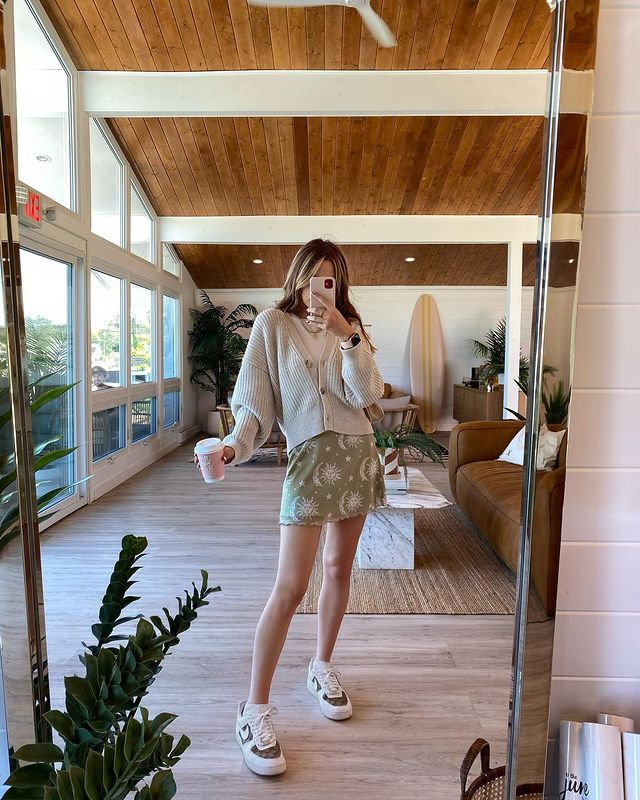 53 – Rise & Slay!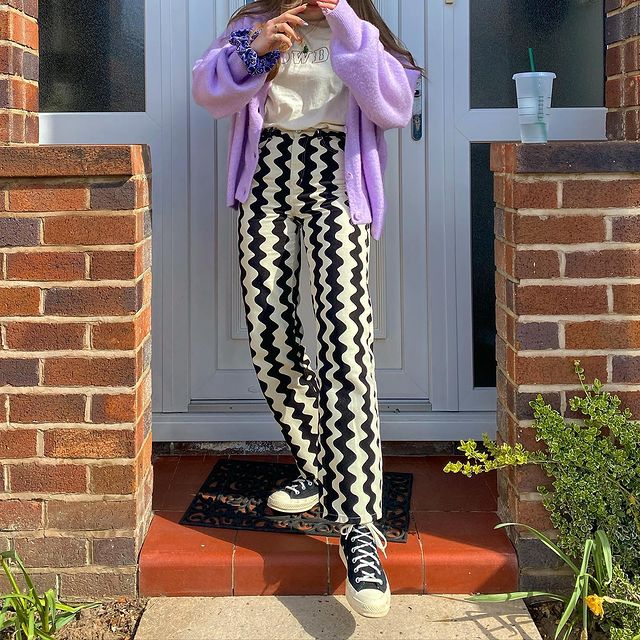 52 – What to Wear with a Fringed Cardigan?
I tI think of fringe, and my mind immediately jumps of boho and cowgirl aesthetics. And this outfit is the ideal mix between the two! I love the simplicity yet classiness of this outfit, allowing the cardigan to be the ultimate showstopper, followed by those fantastic boots. The layering and color coordination of the individual pieces is exceptional, making the entire outfit an A-plus!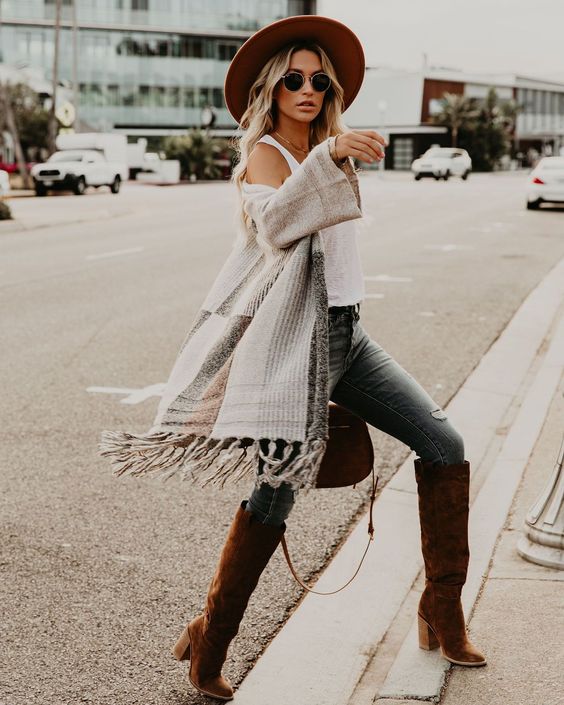 51 – Fearless in Fuschia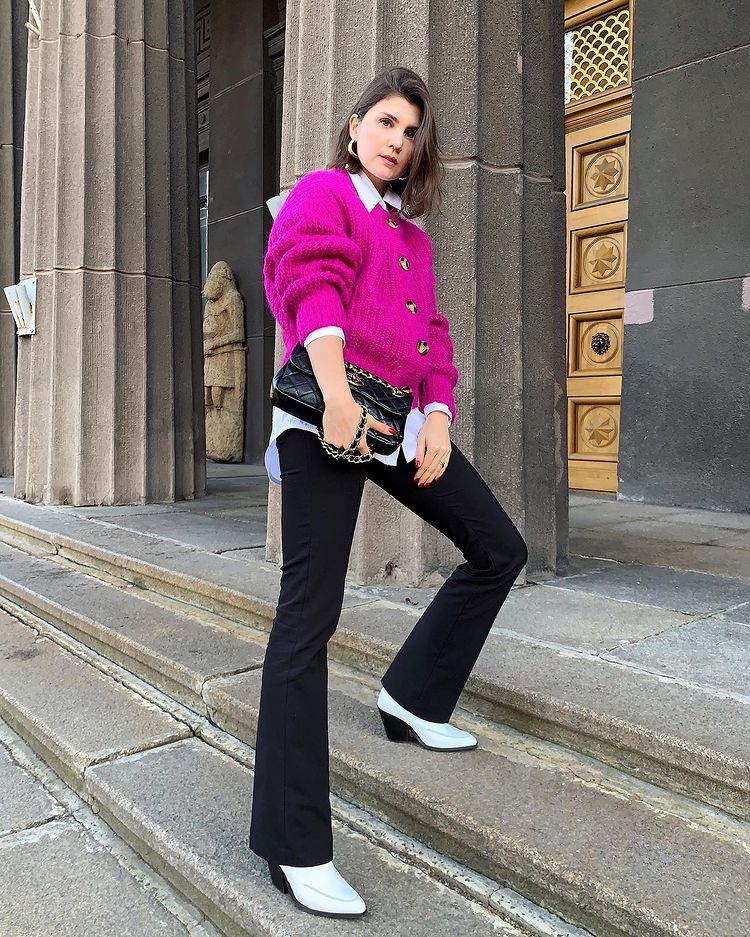 50 – Day Dreamin' Darling!
Another excellent example of flaunting a cardigan perfectly with a shorter dress and looking like an absolute dream while doing it!
49 – Lilacs and Lavendars
The pastel shades of purple are making the rounds with the fashion bloggers and are considered an "it" color for the season. Thus, it only made sense to include this fabulous outfit in hues of lilac and purple!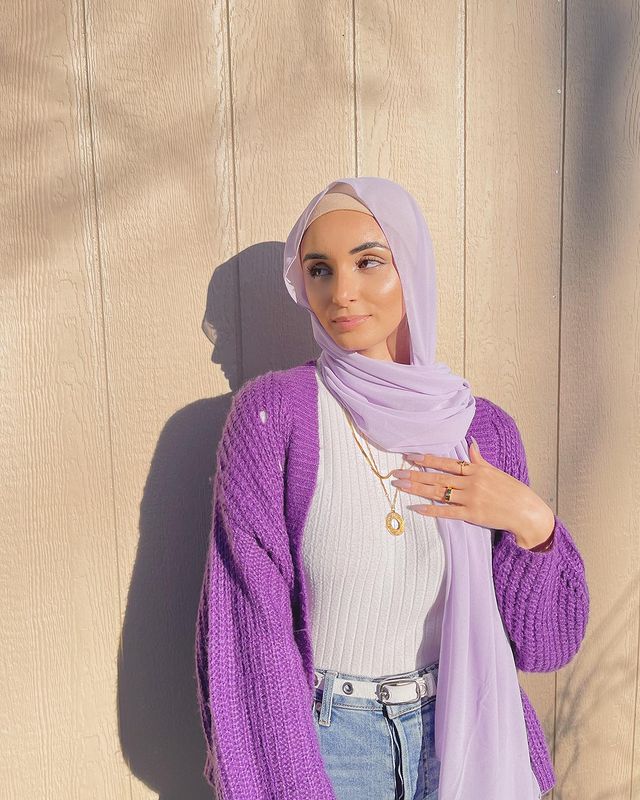 48 – The Knit Edition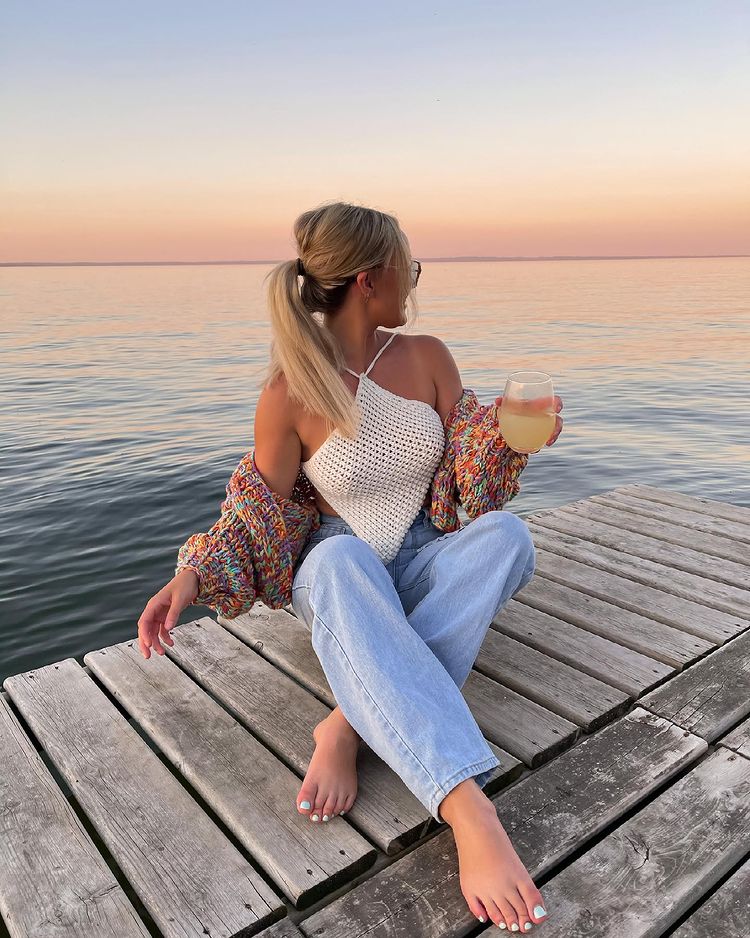 47 – Dainty Florals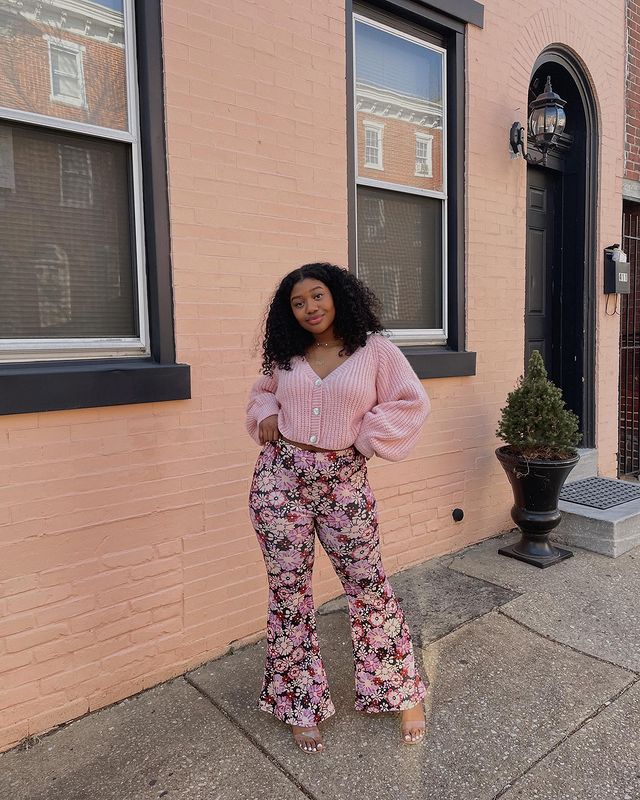 46 – Cardigan Outfit for Fall Season
Cardigans and the autumn season is all about creams, tans, oranges, and deeper fall colors! So to get the perfect fall look, I would suggest adding a darker-colored item and planning the rest of the things around that. Moreover, chunky, knit cardigans are in style and perfectly cozy for the season! Put your outfit together similarly to the image below, or opt for a classy pair of leather pants and boots. Pair with some nice gold accessories, and you have got a perfect look!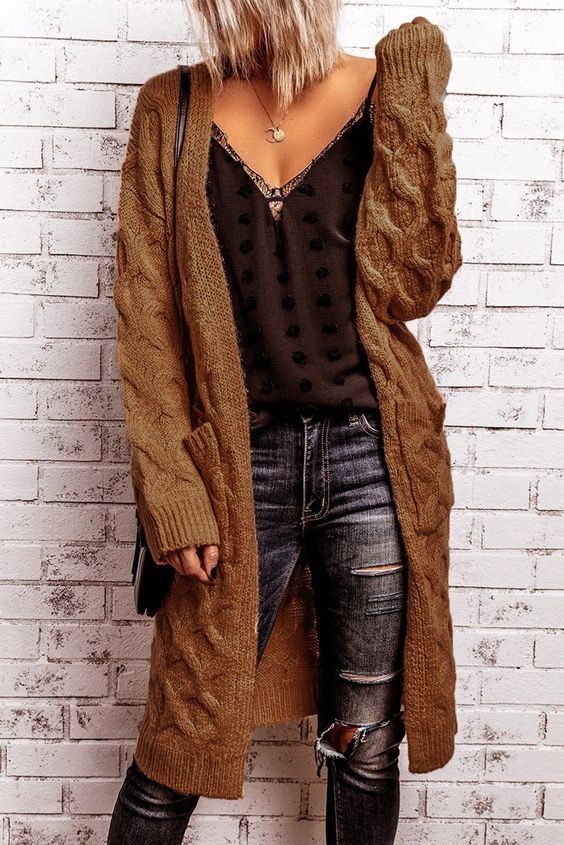 45 – Do it Like Selena!
Perfect the art of carrying an off-the-shoulder cardigan sweater look to elevate your outfit to the next level!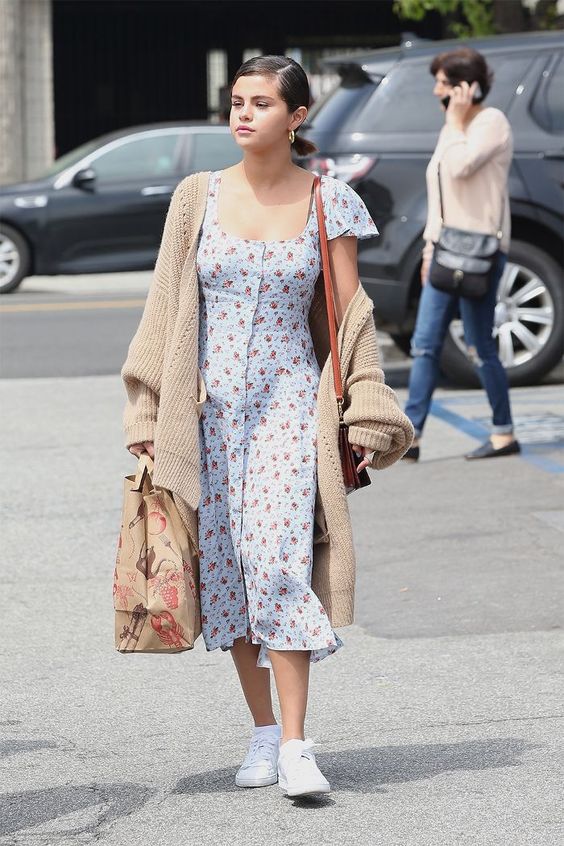 44 – Long Cardigan for Short Dresses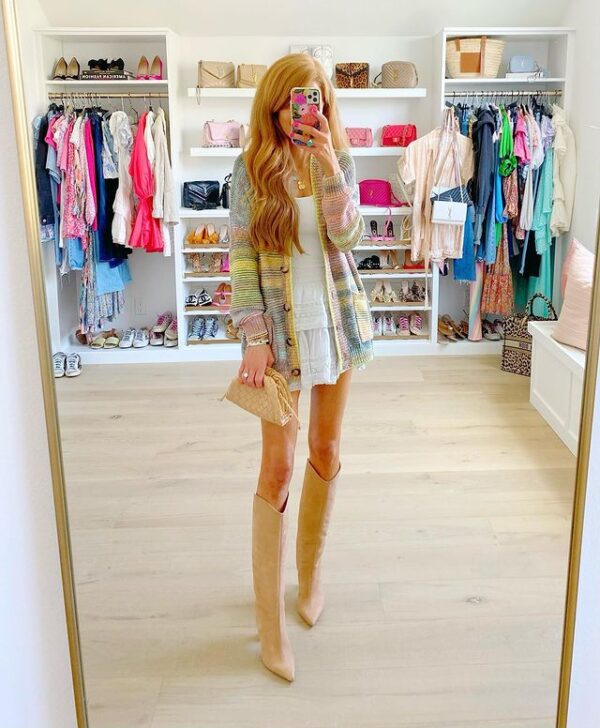 43 – Bold & Beautiful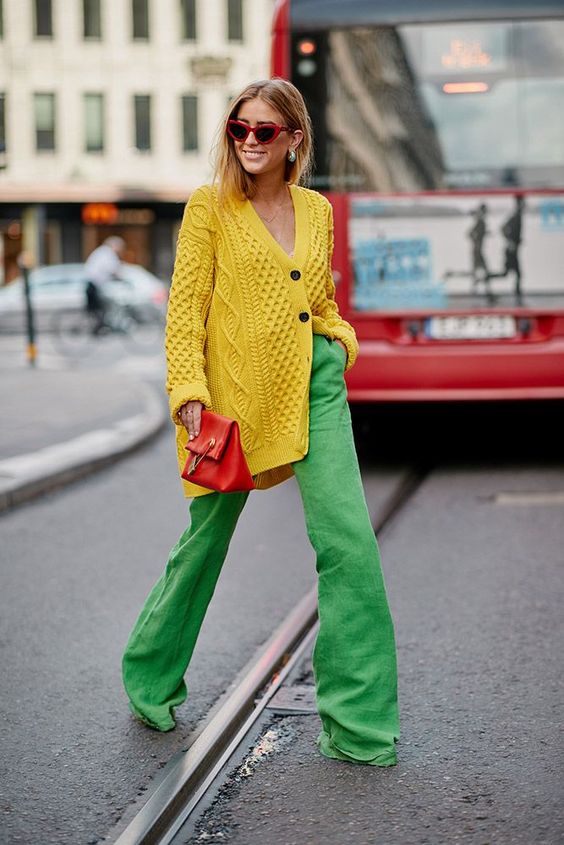 42 – When to Wear a Silk Dress with Cardigan?
If you plan on celebrating a special anniversary with your loved one, then this outfit is the one for you! A romantic night out for dinner at your favorite place followed by a nice cozy bonfire just for two. Sounds like a dream, right? Better look the part too in a gorgeous silk dress with a cardigan. Furthermore, you can wear this to a fall/ winter wedding or for a night out with the girls! The options are endless!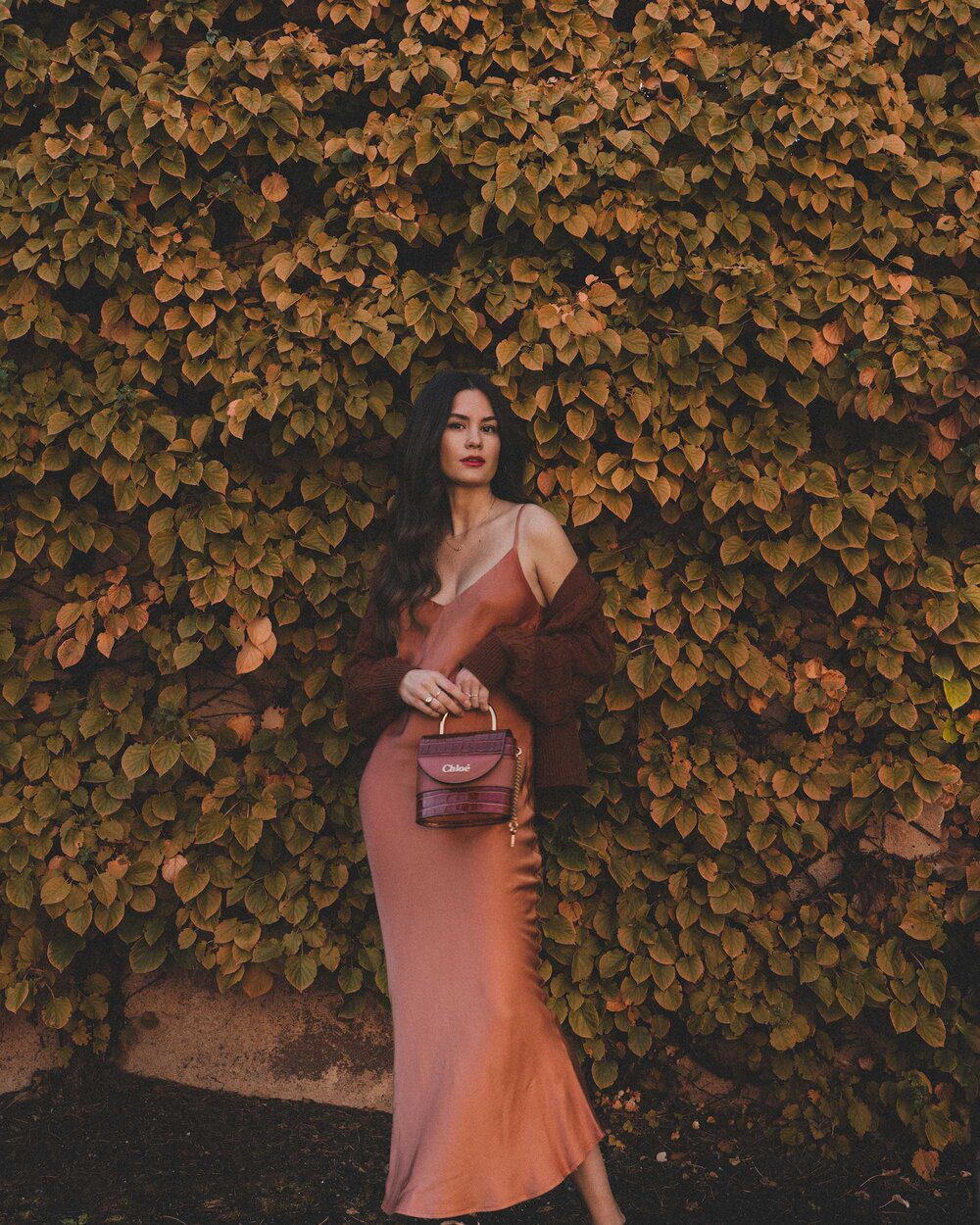 41 – Embracing the Elegance!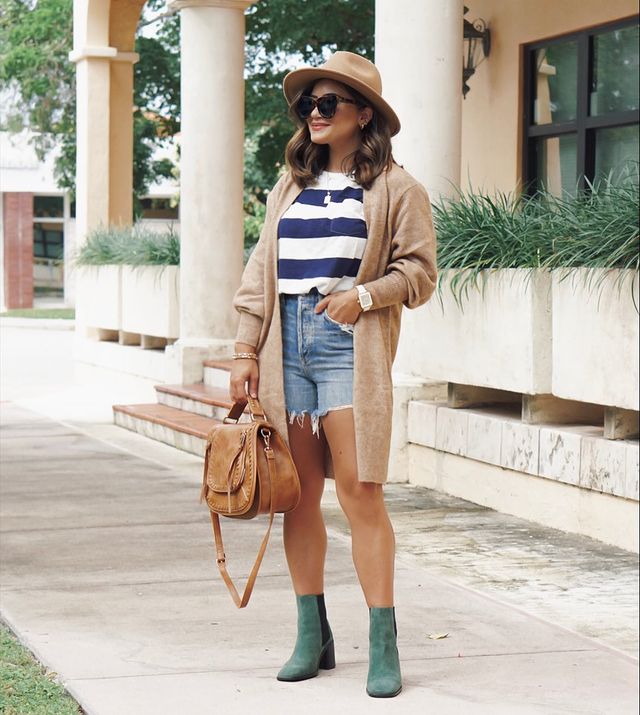 40 – The One with Graphic Tees!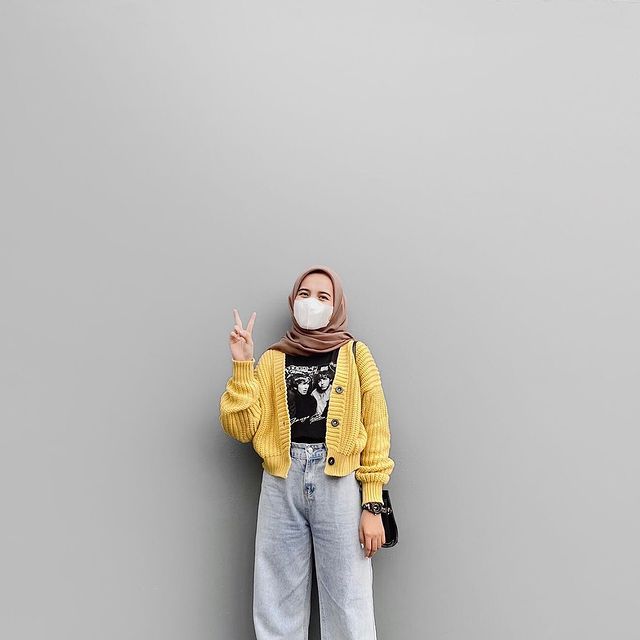 39 – Livin' the Leapord Life!
Make a statement in this animal printed cardigan along with embracing your comfort!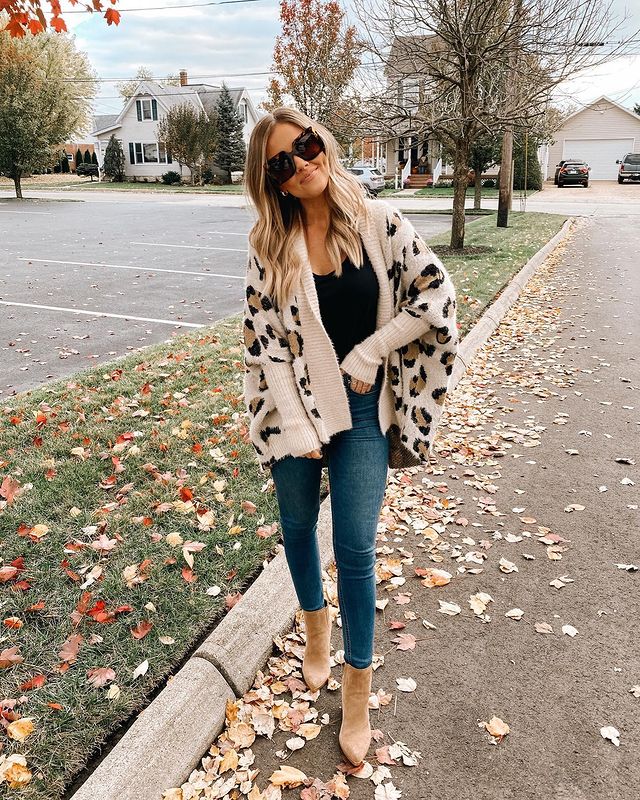 38 – Women's Cardigan Outfits with Blouses!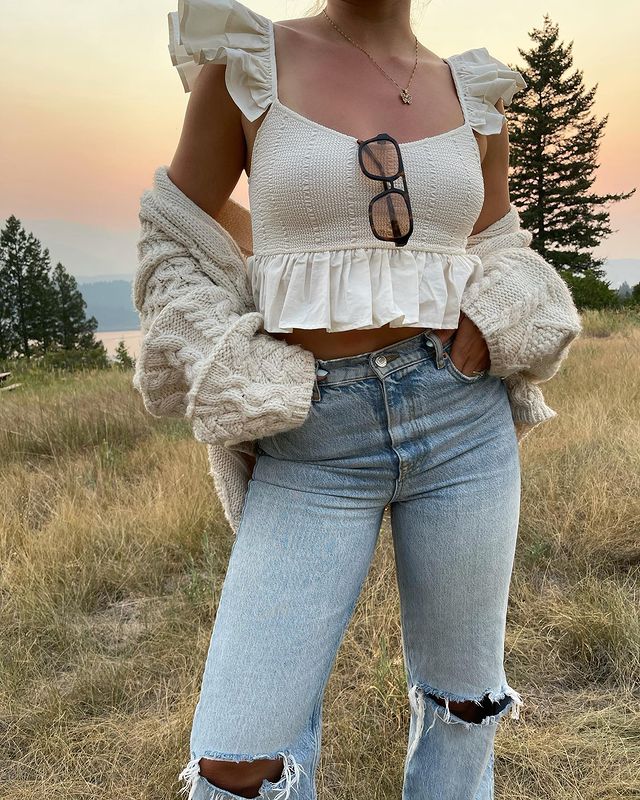 37 – Feeling Groovy Fit!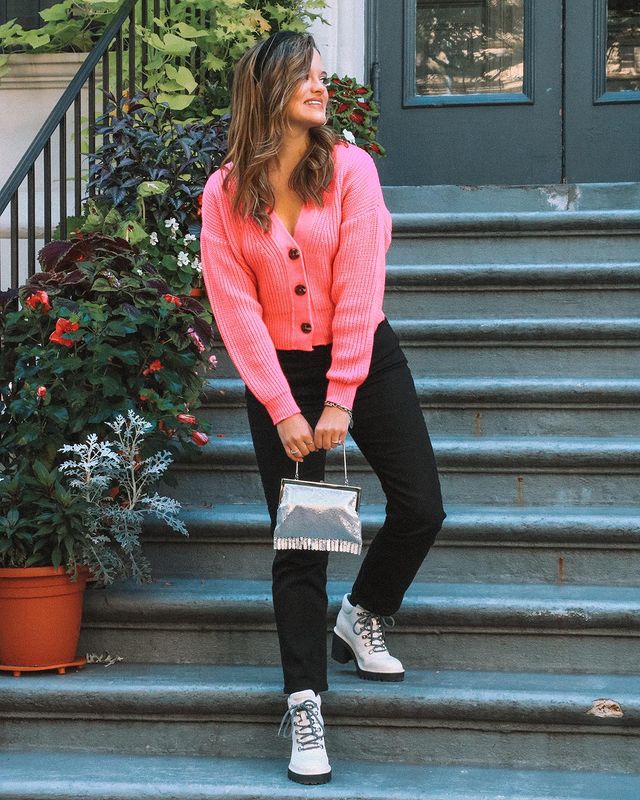 36 – What to Wear with Oversized Cadigan?
Oversized knit cardigans are incredibly versatile and can be styled in various ways. And chances are most of them will work for you, whether a skirt or pants! I would advise practicing the art of tucking, which will either make or break your outfit. A quick tip would be to fold the bottom of your sweater up to tuck under your bra rather than your jeans. This technique would bring shape to your outfit and avoid making your bottoms look tight, uncomfortable due to all the extra fabric! If you like such outfits then you must check out this guide on styling oversized clothing.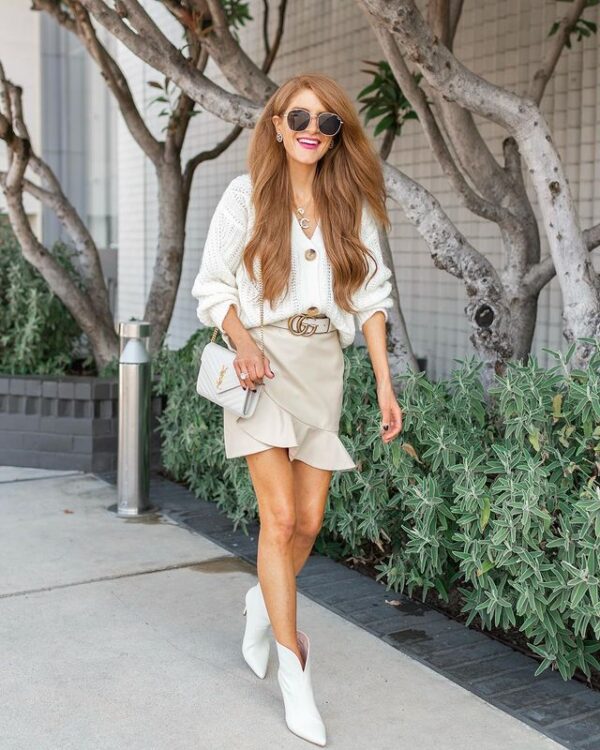 35 – Polka Dot Gang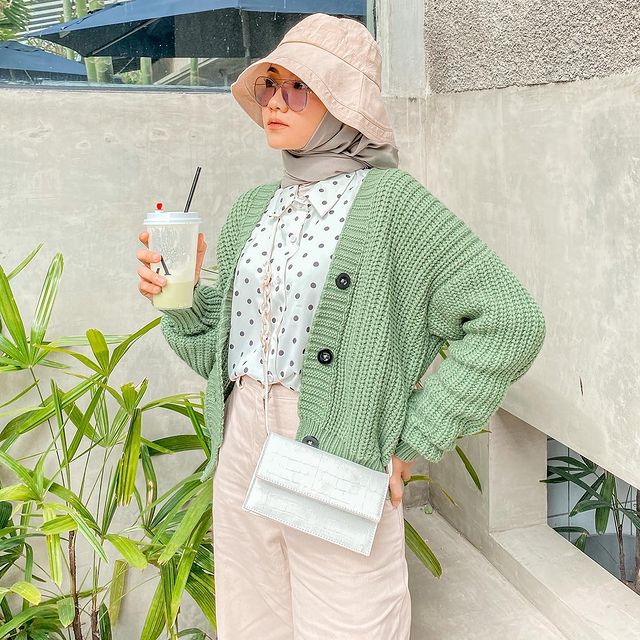 34 – Lilac Loving!
If you're a fan of this color too then do check out my previous post on best ways to wear lilac outfits.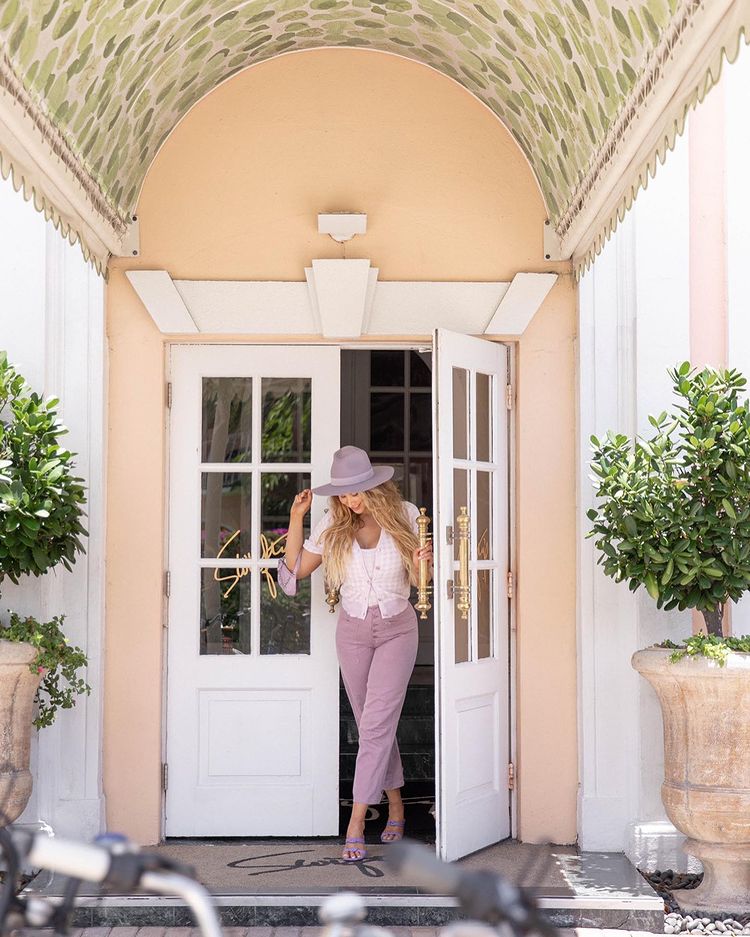 33 – Winter Outfit
This outfit is the perfect example to inspire your winter dressing when it comes to cardigans!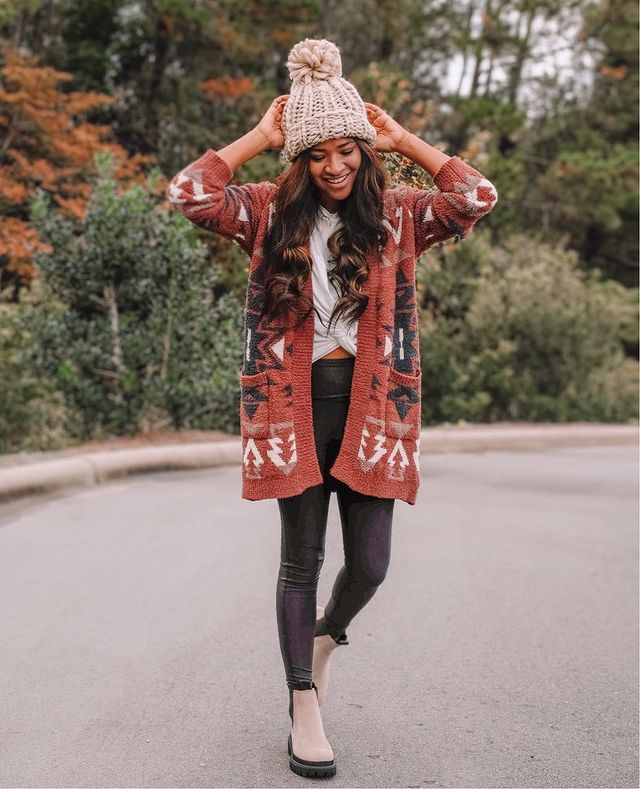 32 – Whimsical Whites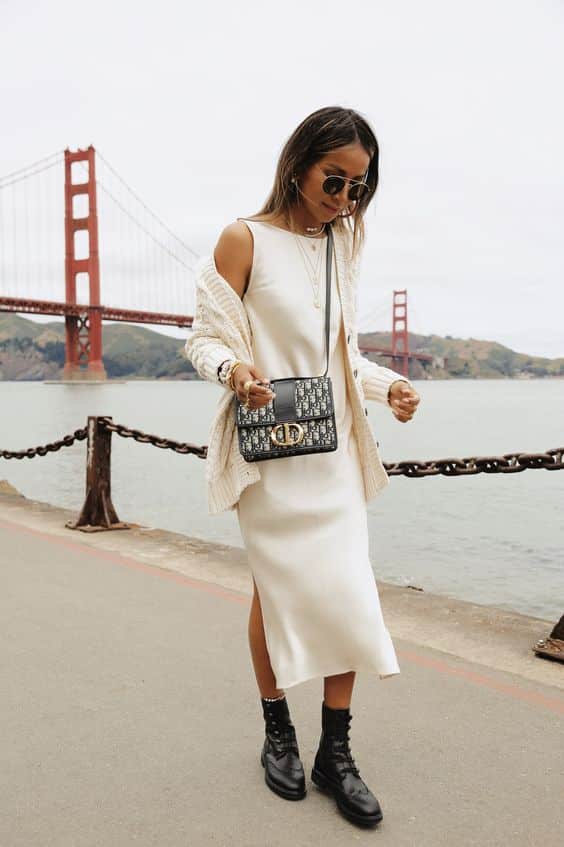 31 – The Gen Z Fit with Short Cardigans!
Leather pants and short cardigans are a fashion statement only the very bold would dare to make! And while anyone can rock this outfit, I believe the gen z would elevate it to the next step and truly make it their own!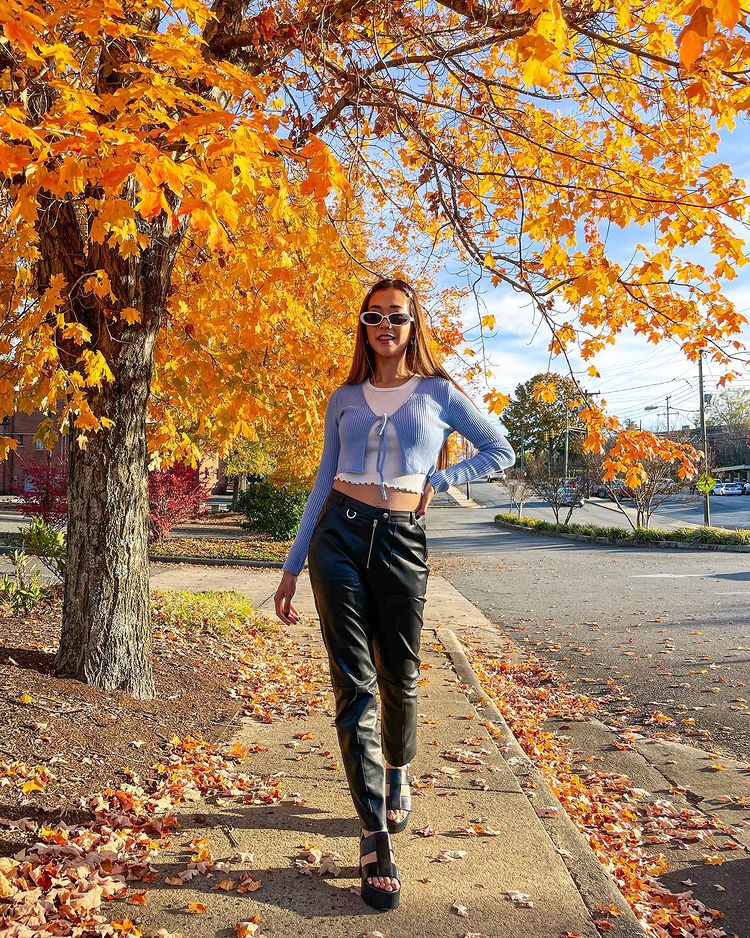 30 – Styling your Cardigan as Tee-Shirt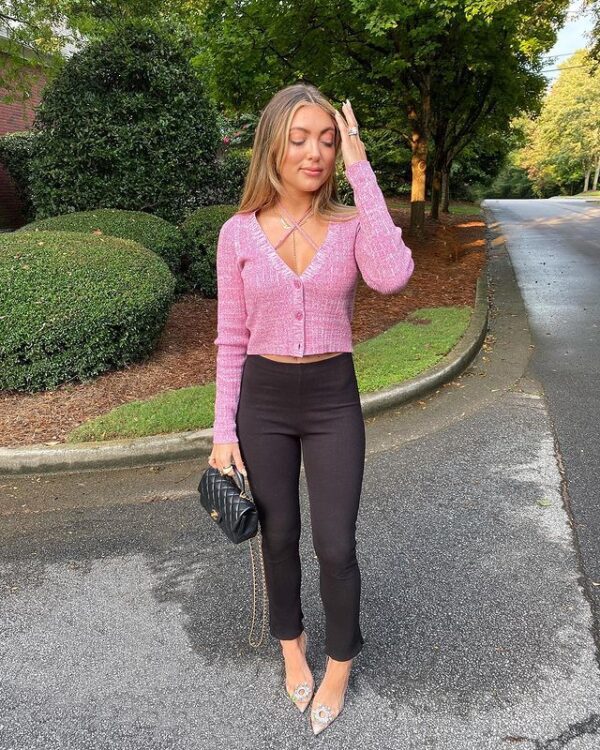 29 – Outfit for the Farmer's Market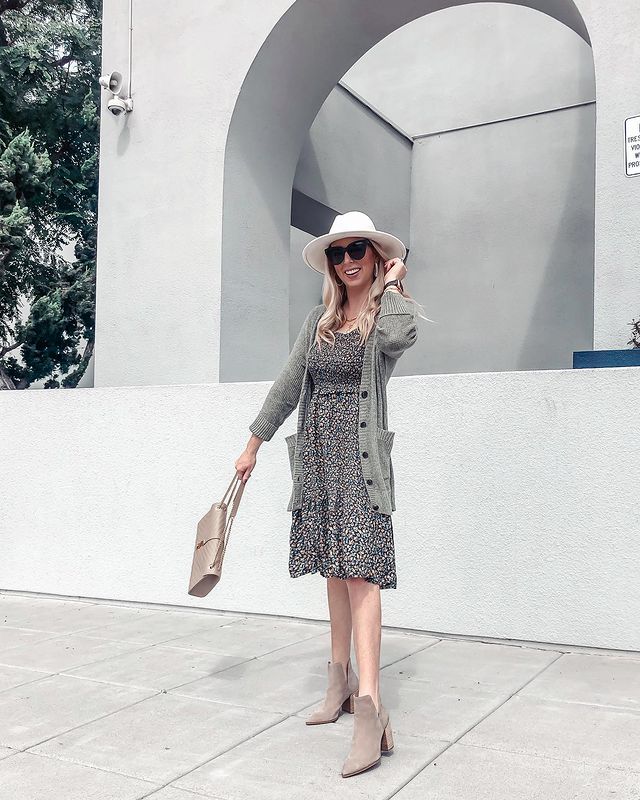 28 – Shoes to Wear with Women's Cardigan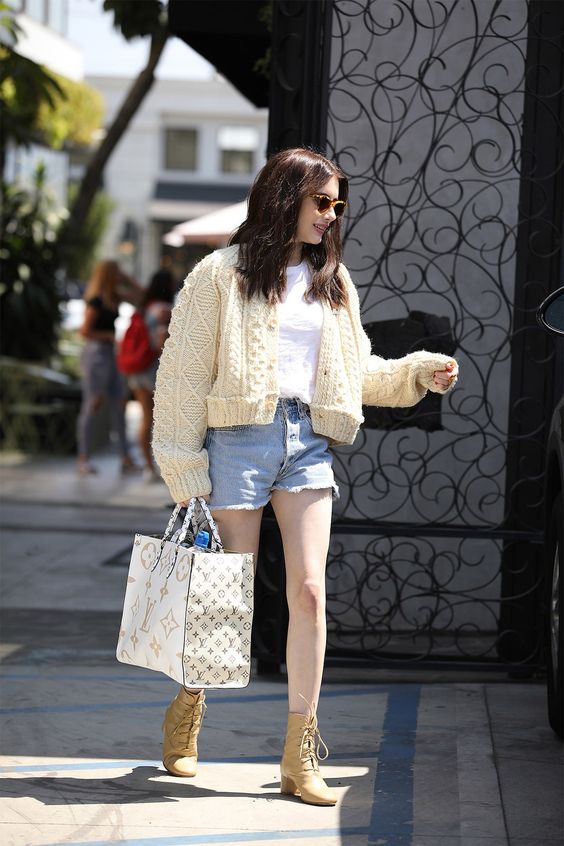 27 – Kimino Cardigan Look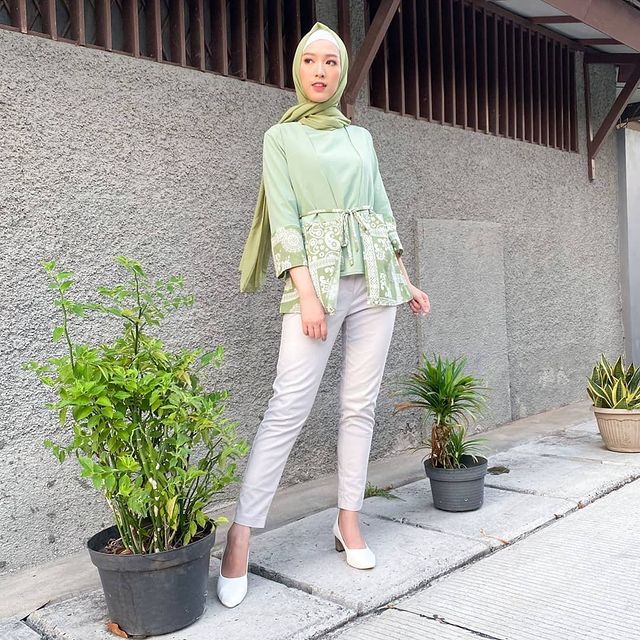 26 – Beiges and Browns Aesthetics
This entire look is one that you can never go wrong with for any occasion! From an official meeting fit to join your friends on a casual day out, this outfit is perfect is the ideal pick! Moreover, all elements and colors work effortlessly together, adding a certain elegance, grace, and confidence to your every step!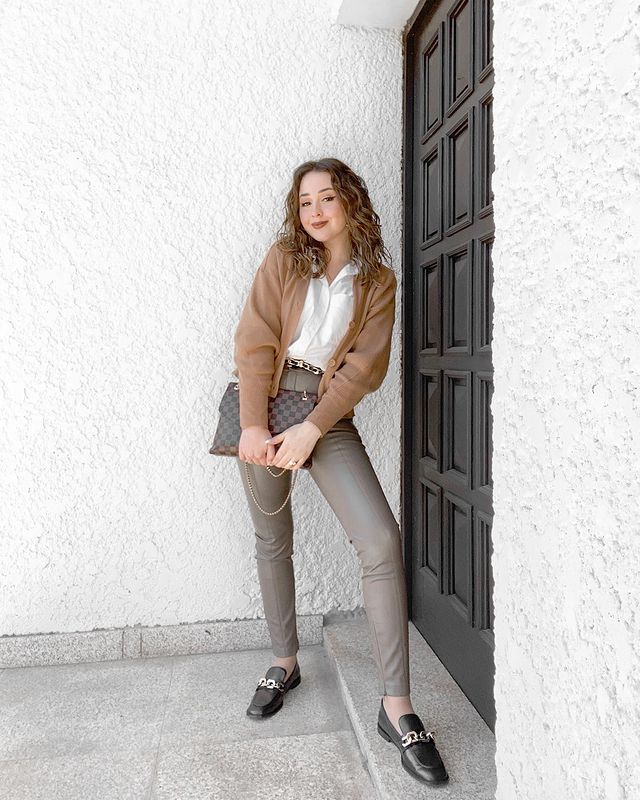 25 – Avoid Looking Frumpy in this Fit!
The best tips and tricks to avoid looking frumpy have been mentioned in the frequently asked questions section. So scroll down to get your question answered!
24 – Women's Cardigan Outfits for EVeryday!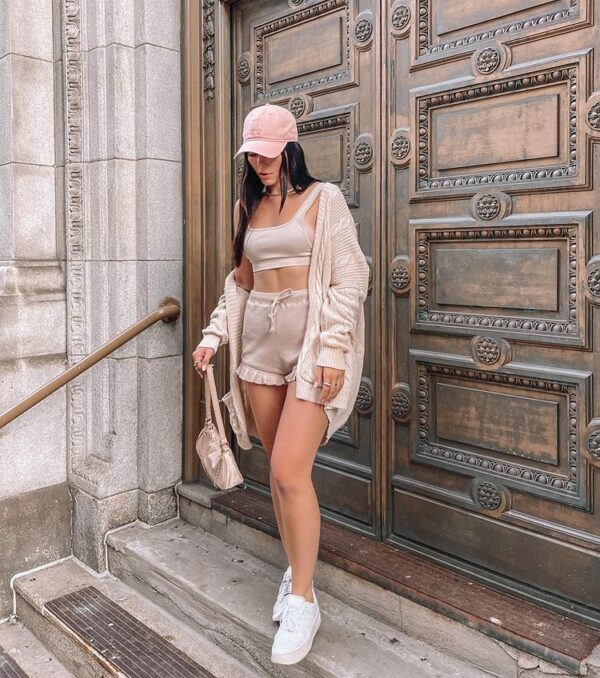 23 – What to Wear Under a Cardigan?
If you can't think of anything, go for black! Grab a black top and skinny jeans. Next, match your shoes to your cardigan, and if you can't, white sneakers will do. Accessorize appropriately and, you are all set!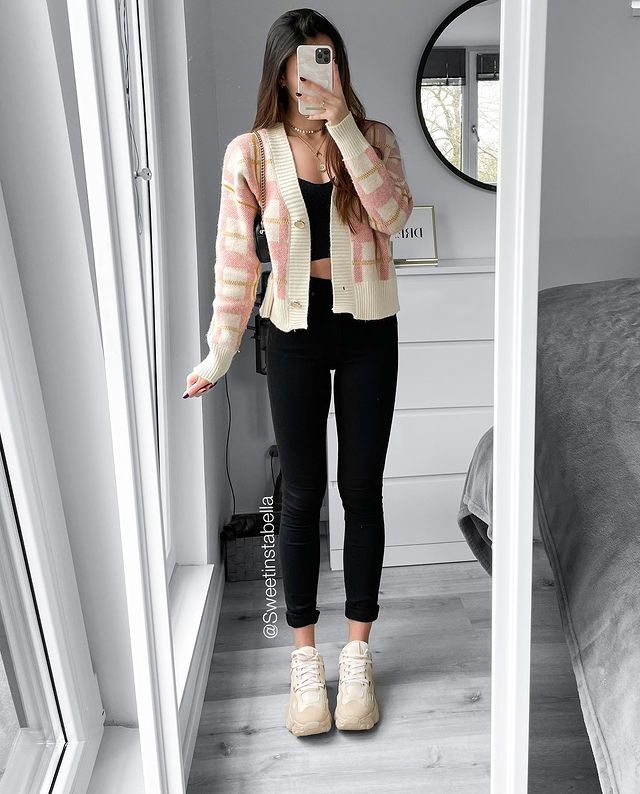 22 – Golden Hour Vibes in this Cardigan!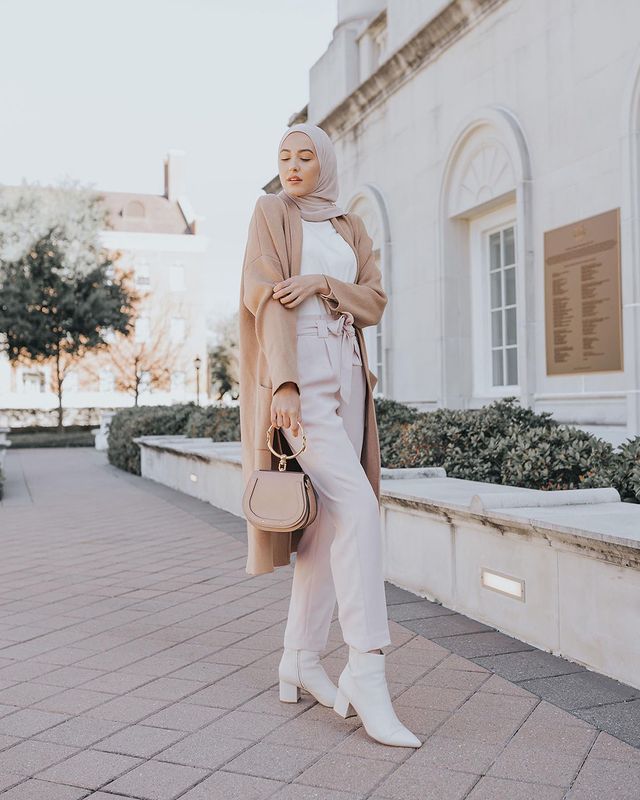 21 – Women's Cardigan Outfits with Leather Pants!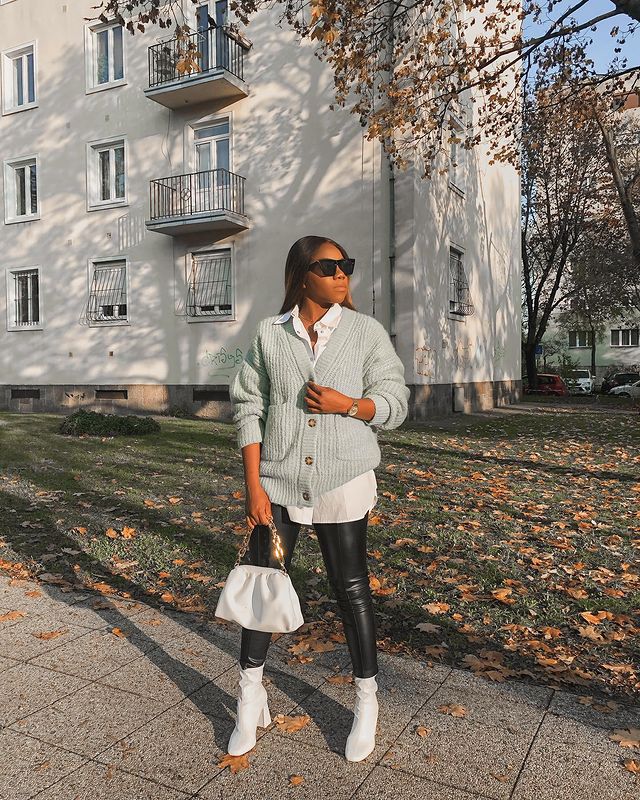 20 – Out n' About!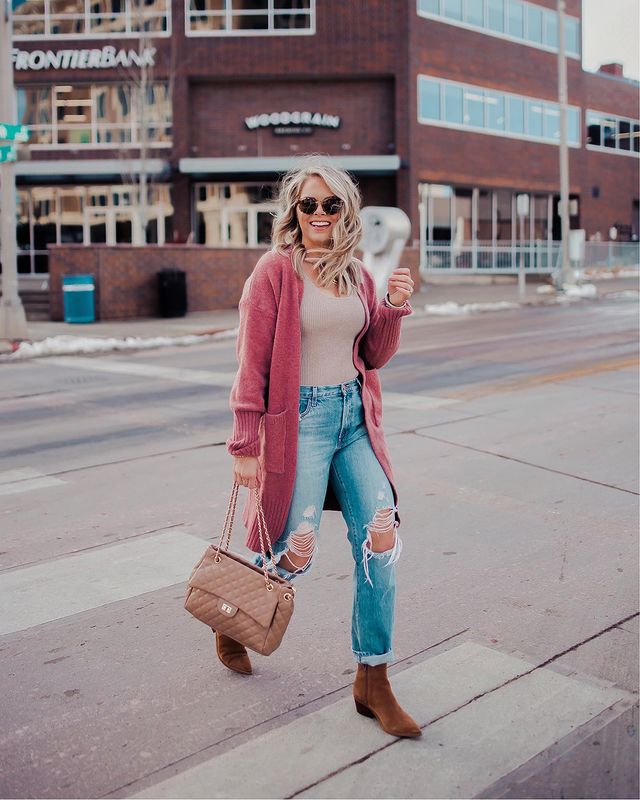 19 – Pumpkin Spice & Everything Nice!
Everything about this outfit screams fall and ultimate cozy vibes!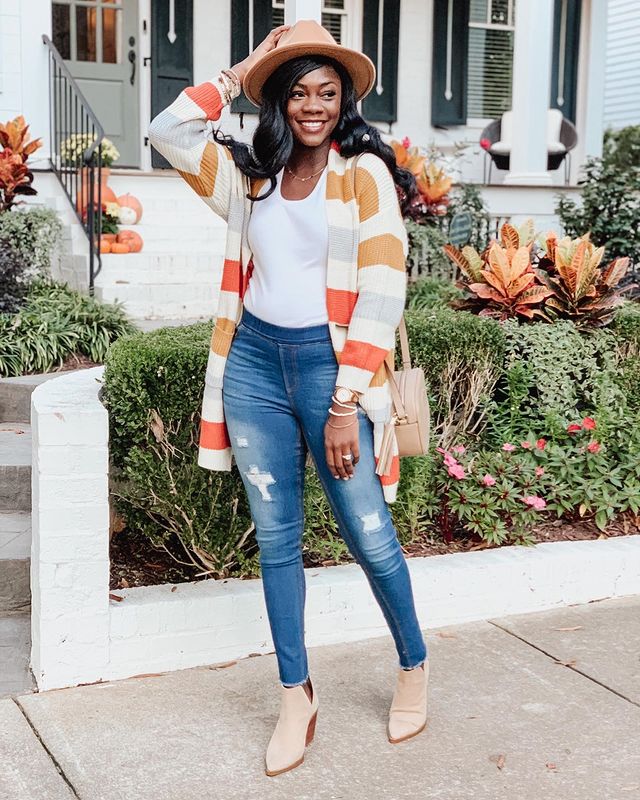 18 – Skirting Through the Day!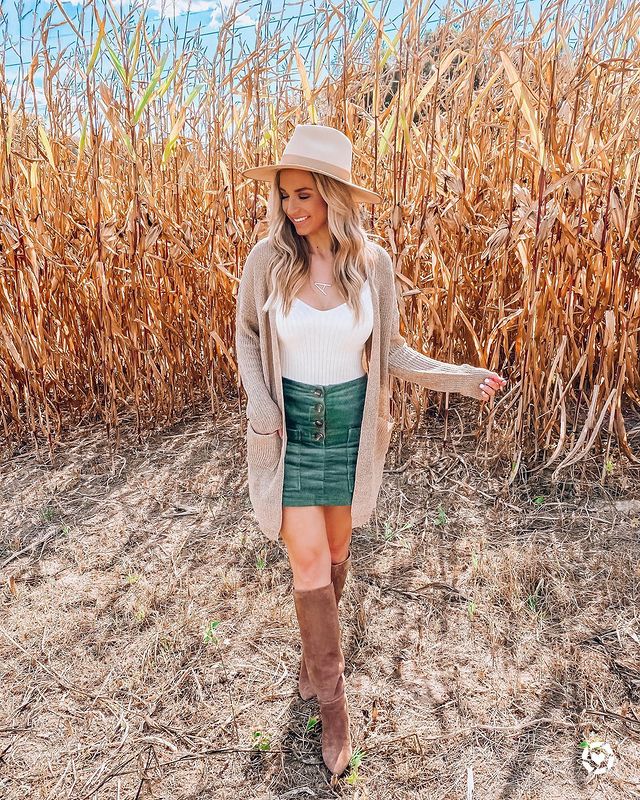 17 – Cardigans for Cami Tops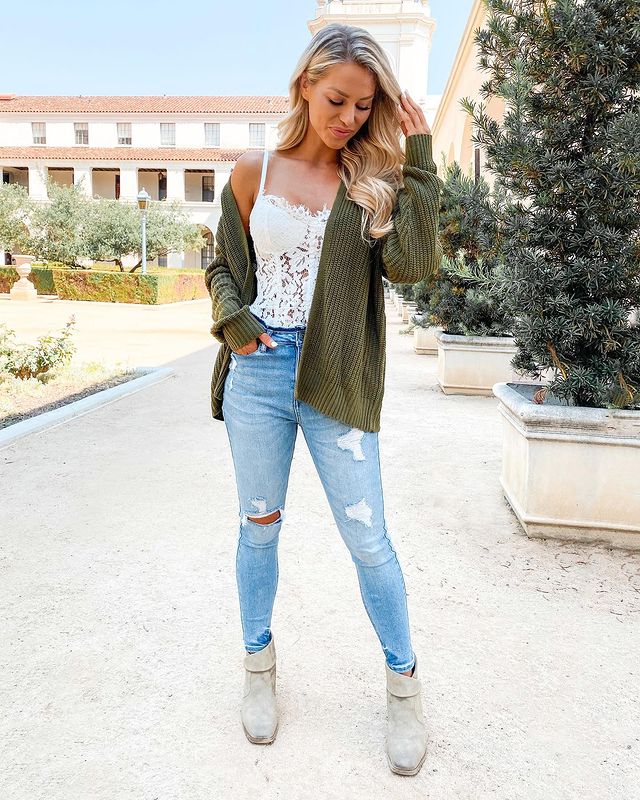 16 – Effortless Everyday!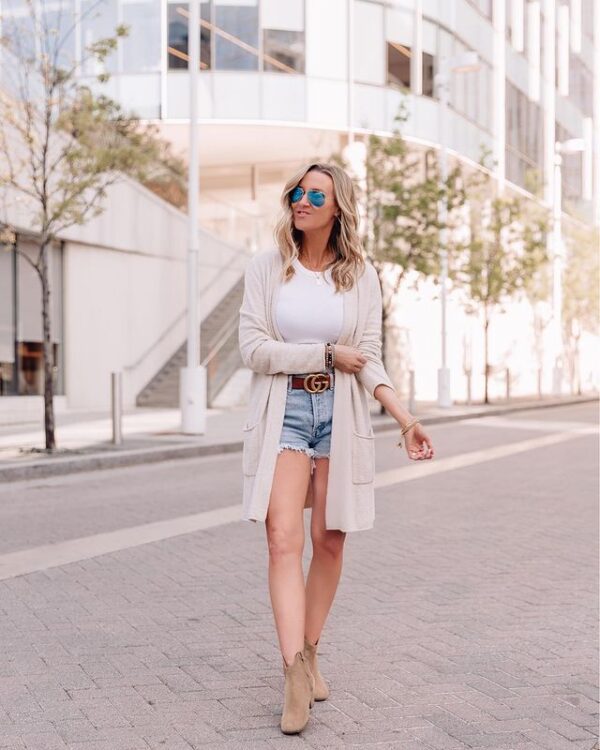 15 – Keepin it Casual!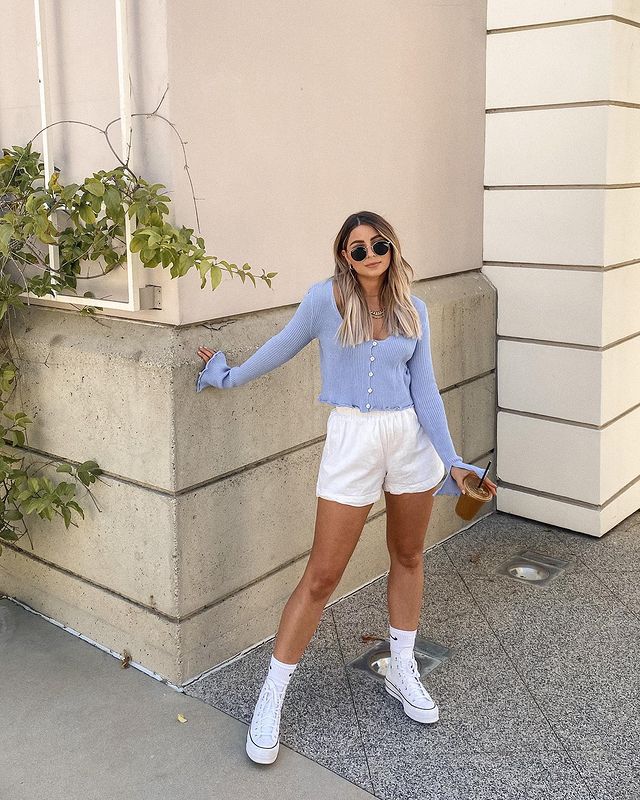 14 – Simplisitc Chaos!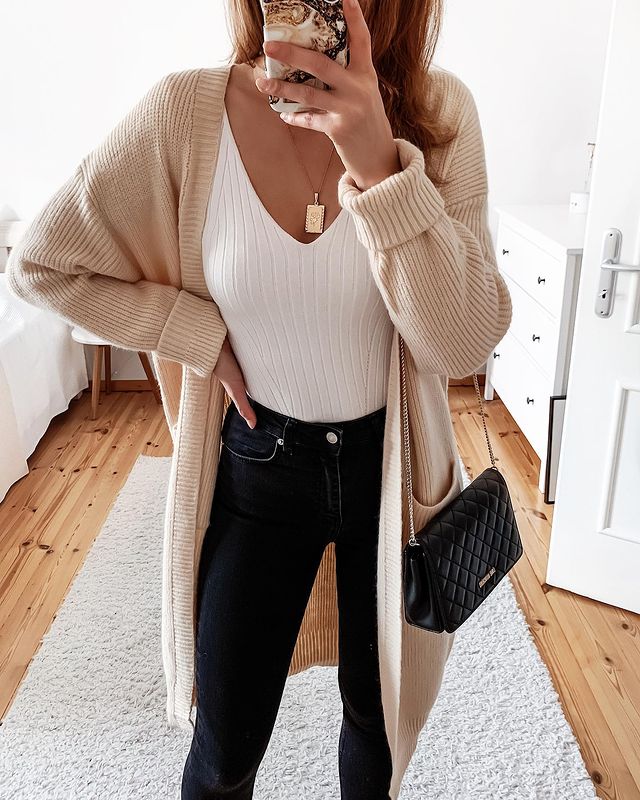 13 – Christmas Inspiration with Hailey Beiber
Hailey gives us major Christmassy vibes in this red and green stripe detailed cardigan! The red accents added into the outfit make it stand out more with the red belt and bag. To make it more formal, I would suggest switching those shoes for a pair of nice pencil heels, letting your hair down in soft waves, and adding on a bright lip to make your look all the more festive! Oh, and don't forget to get your nails all glammed up too!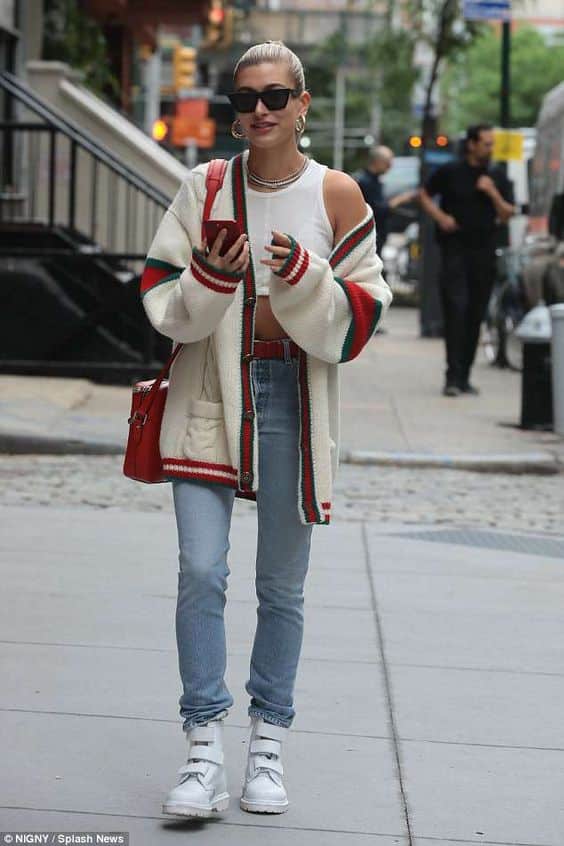 12 – Bright & Sunny for Summer!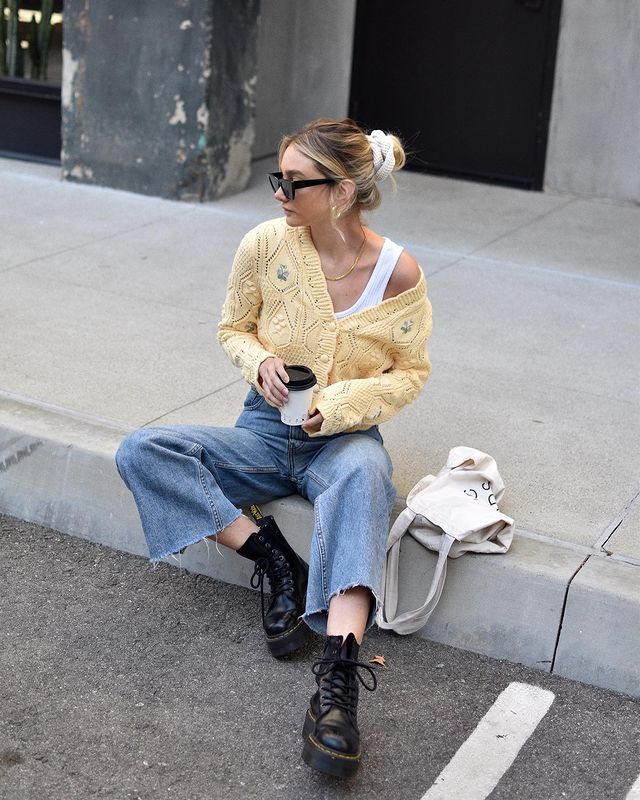 11 – Cardigan with Flared Pants
Wearing a cardigan with flared pants can be ideal for making a statement. A simple way to do this would be to throw on a simple fitted, cropped cardigan similar to the image below. But make it more dazzling by playing around with bolder yet classy accessories. On the contrary, an elegant french tuck on a printed, oversized, and more adventurous choice of a cardigan would look fantastic, too – keeping the accessories straightforward in that case. Play around according to your comfort to come up with a look true to your style!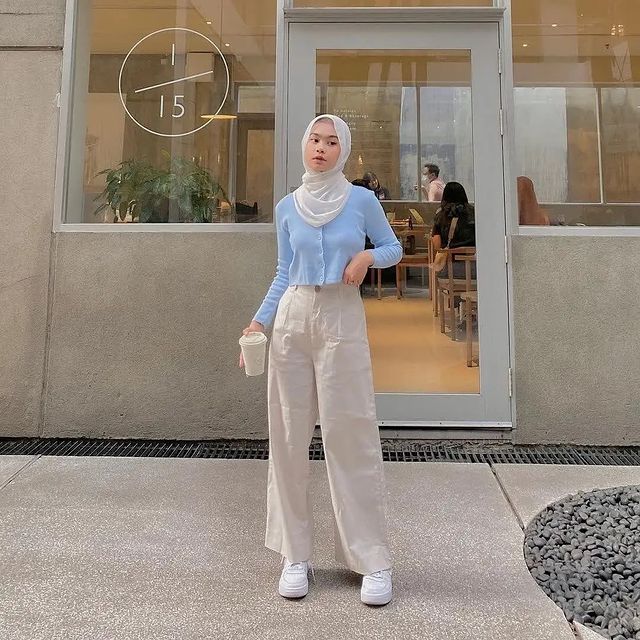 10 – Self Lovin' in Stripes!
9 – Plaid Women's Cardigan Outfits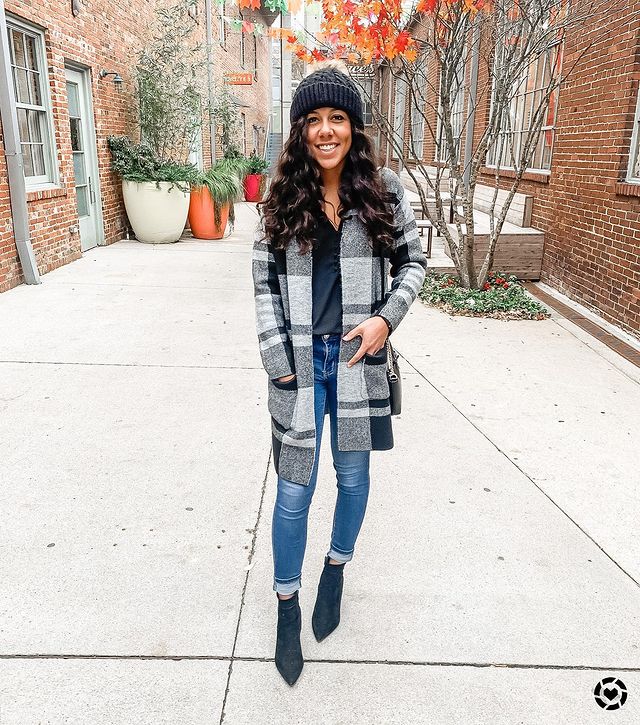 8 – Cardigan with Maxi Dress for Parties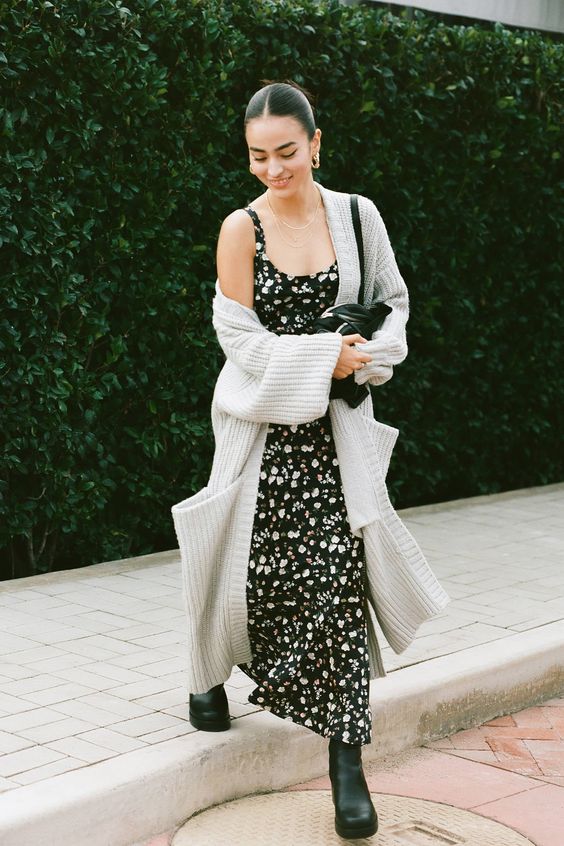 7 – Vibin in White & Lilac Cardigan Sweater!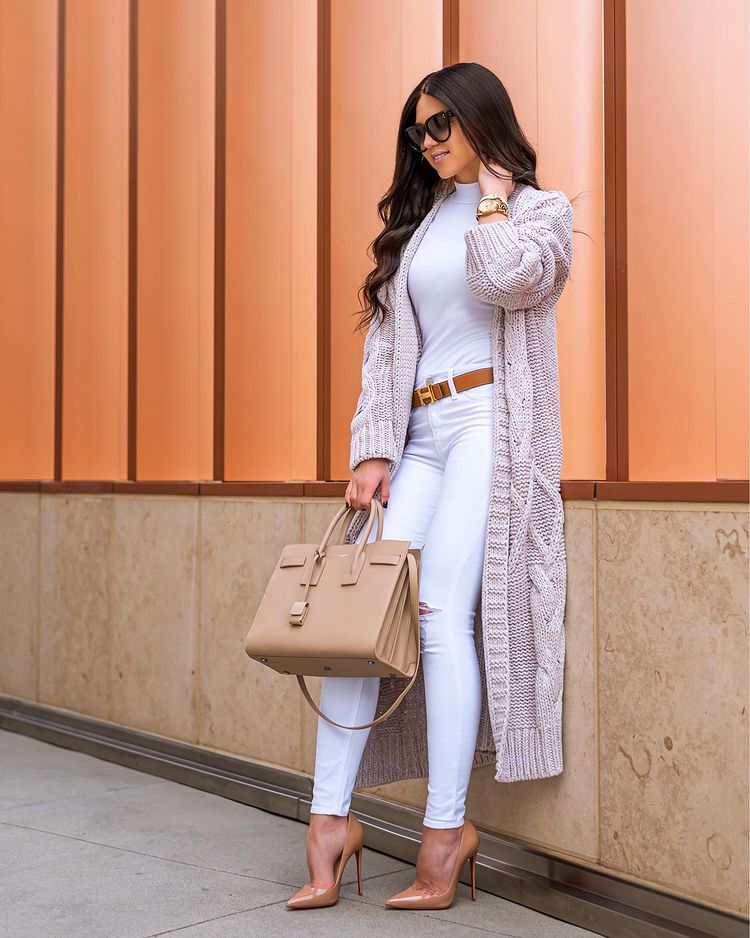 6 – Cardigan Off the Shoulder Look!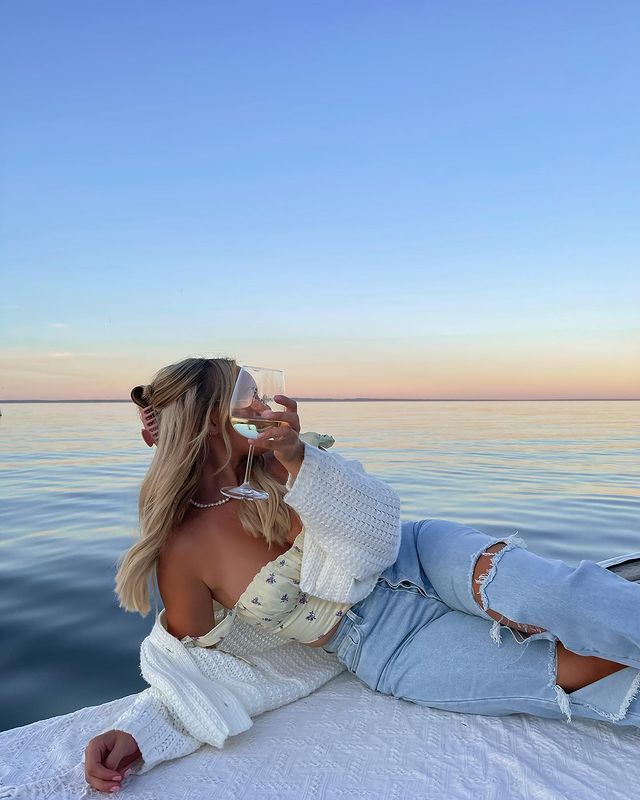 5 – Dauntless in Rustic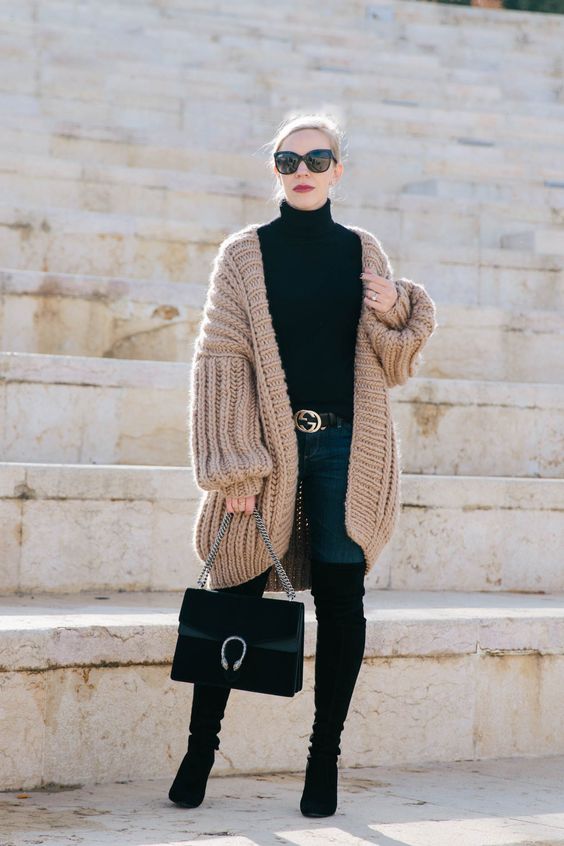 4 – The Garden Party Outfit
Flowers in your hair to go with the flowers in your hands! This outfit is cute, flirty, and super simplistic for a picnic date with the girls or your loved ones!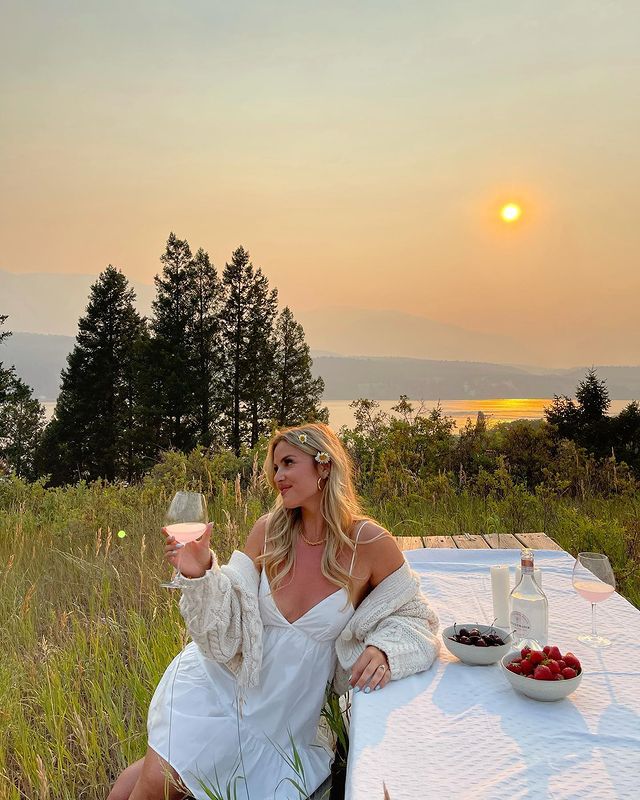 3 – Women's Cardigan Outfits for Work
Elegance has entered the chat with this fantastic outfit! The jumpsuit paired with those boots looks exquisite and topped off with a simple cardigan to match the shoes truly ties the entire look together! And the bright red lip takes the ensemble as this whole to the next level. I would give this look a whopping five stars!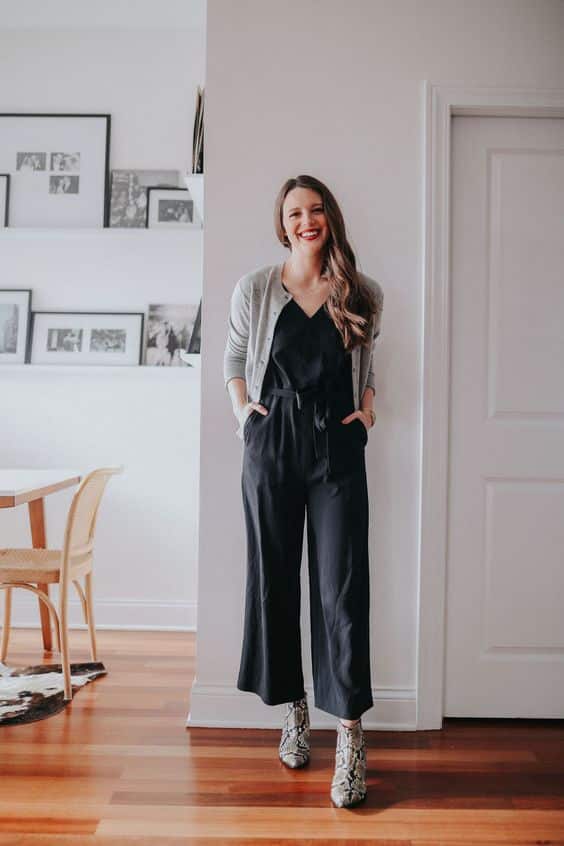 2 – Endless Fun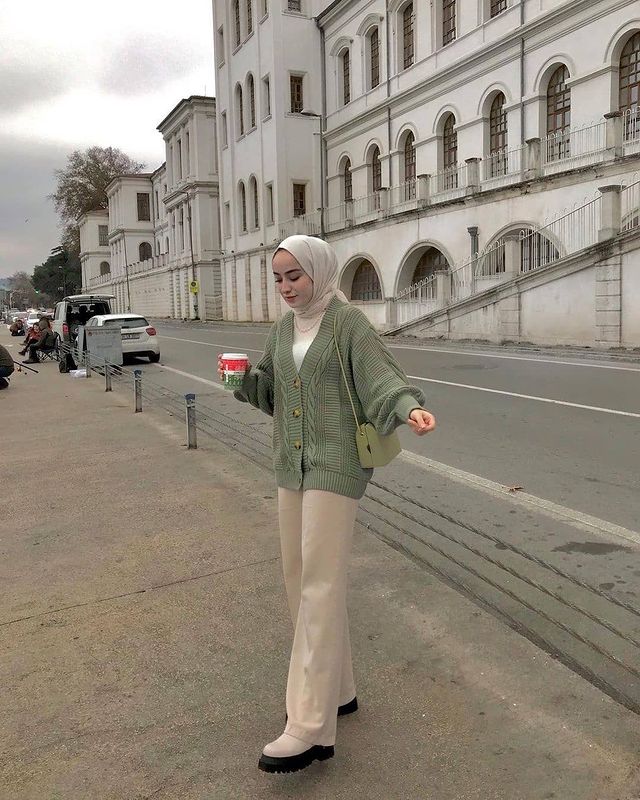 1 – Matching Two Piece Cardigan Sets
Frequently Asked Questions
Q. How to wear a cardigan without looking old and frumpy?
The best way to wear a cardigan without looking old and frumpy is to strategize the silhouettes and cut. Suppose your cardigan is oversized, then pair it with a high-waisted pair of jeans and french tuck it to bring attention to your figure. Similarly, put on a fitted crop top with high-waisted flare pants for an open-front pullover. For the longer cardigans, invest in a nice belt to tie across the waist and avoid layering oversized clothing on top of other large garments—mix and match between your fitted and loose clothing items.
Q. What are the different styles of cardigans?
Cardigans come in all sorts of silhouettes! We are talking long to short and even cropped. Some have buttons down the front, while others hang open by the sides. They are available in various styles and come in all sorts of fabrics. For the spring and summer season, the market offers us lightweight options in cotton and linen etcetera while wool and knitted ones are more options reached for during the fall/ winter.
Q. Can I wear a cardigan with dresses or by itself?
The answer to both parts is yes! You can wear a cardigan by itself as a shirt and with dresses too. Not only can you wear it but slay your outfit too! Check out looks 56, 50, 42, 32, and 25 to get ideas on styling your cardigan with a dress. And looks numbered 36, 30, 15, and 10 to wear your cardigan by itself!
Q. What is difference between a cardigan and a sweater?
Essentially both are the same. The only significant and noticeable difference between the two is that a cardigan hangs open or has buttons down the front. In contrast, a sweater is completely shut off from the anterior side. Other than that, both are available in various options and fabrics to cater to all your needs – and the weather!
Q. Where to Buy Chic Cardigans?
Etsy: If you don't have this flower cardigan (here) in your wardrobe, then you are missing out on the cardigan-loving experience! Find similar cardigans in other patterns too, including the clouds.
Forever21: This super cute cardigan set (here) is perfect for fall!
H&M: Cozy and pastel (here) is all we need this season!
Nordstrom: Looking for the perfect beack cover-up cardigan? Check this out (here).
Asos: Wear this cute piece (here) as a top in spring!
Lulus: Fringe on a cardigan (here)? Yes, please!