Cute Outfits to Wear With Nike Shoes. How to wear Nike shoes. People have this misconception that Nike shoes are just trainers and are only useful for the gym or any other sports or athletics.
However, this is not the case. Nowadays, trainers and sneakers, especially Nike, have come storming into the fashion world and will be seen everywhere. No longer are they only seen with sports tops, yoga pants and gym wear?
They are so versatile that they complement almost any outfit. Nikes has created different images worldwide, from maxi dresses to shorts and tank tops. But how do you achieve these looks? What styles suit you and your personality better? This post has 27 great ideas on rock Nike shoes with almost any outfit. Why not even check out how celebrities style their outfits with Nike shoes?
HowTo Style Nike Shoes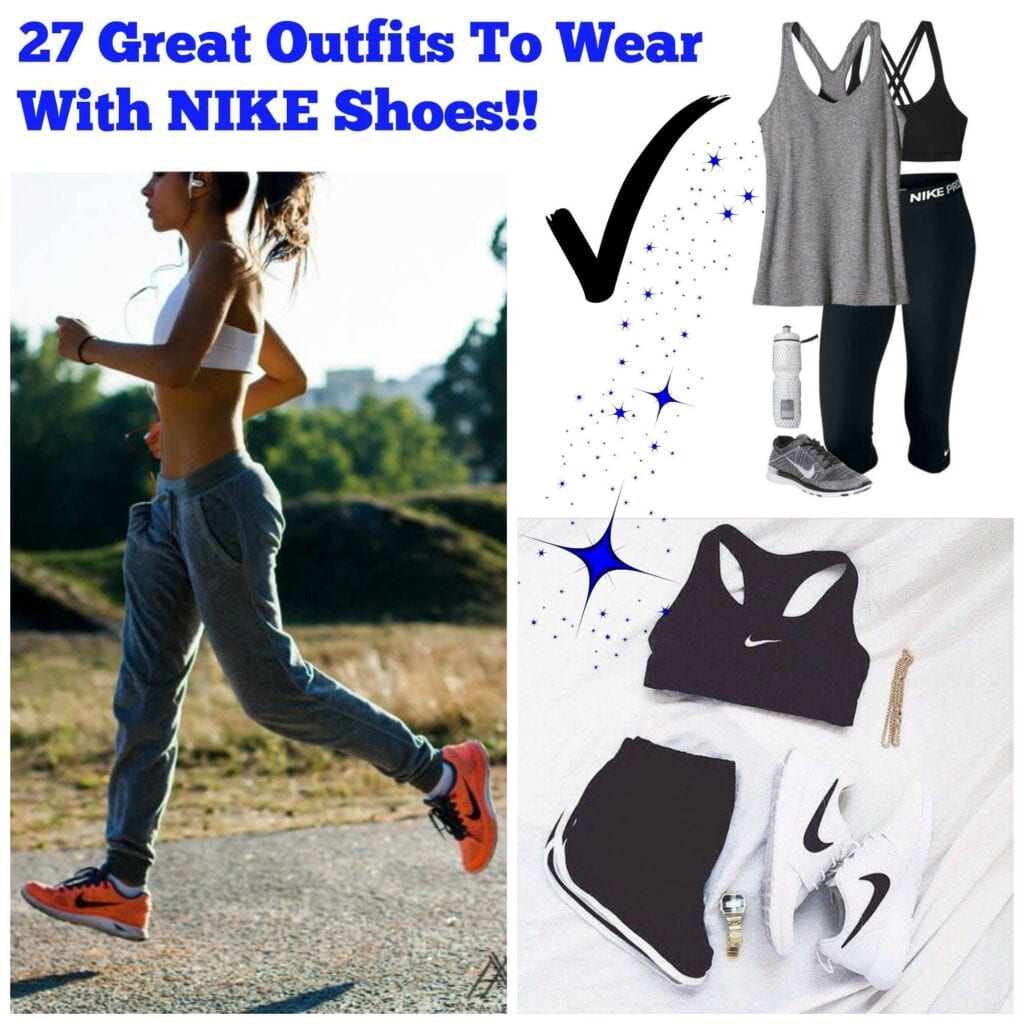 #27 – Winter City Style. A Great look for winter days with Nike trainers, wet-look leggings, a striped top and an overcoat. Accessorised with a large scarf.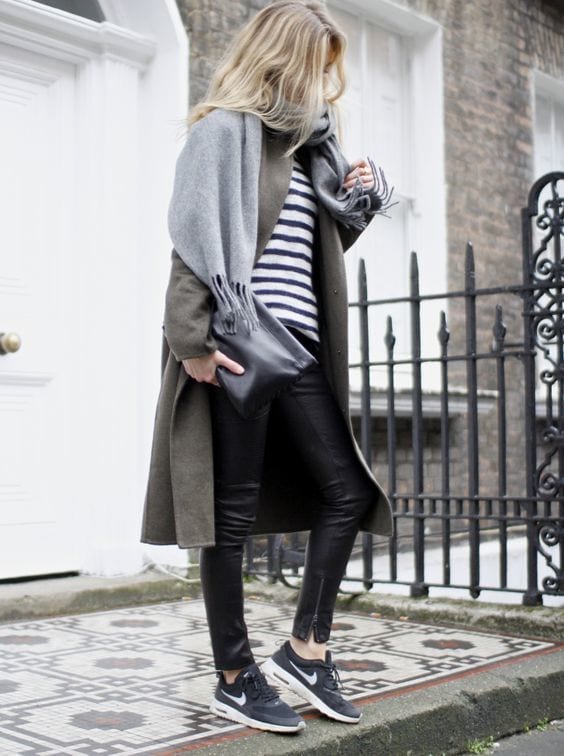 #26 – Oversized Look. Nike trainers are a focal point with a single-tone oversized dress with rolled sleeves—a large tote bag to accessorise.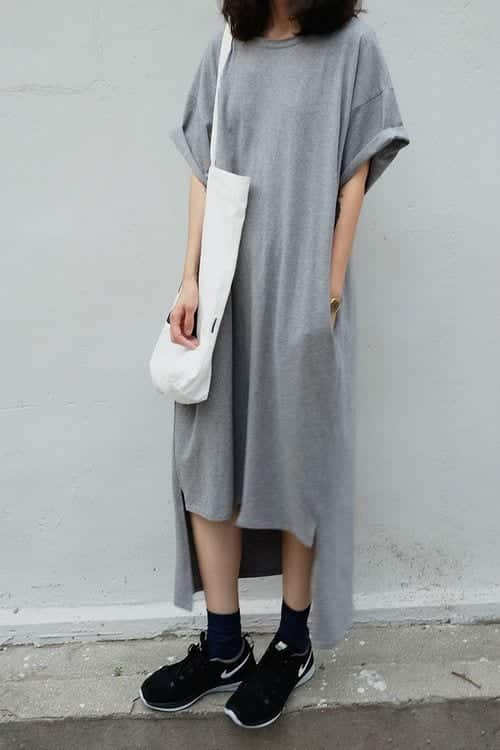 Also, check out How to Look Cute in a Casual Outfit – Fashion Tips for Teens
#25 – Maxi and Nike Style. The black fitted maxi dress looks stunning with black Nikes and a leather handbag.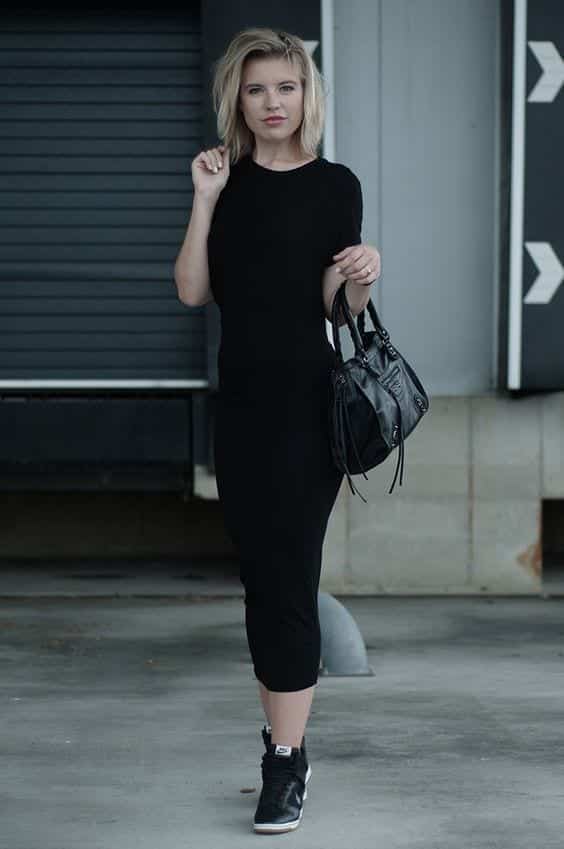 #24 – Great Spring City Style. Black skirt and top under a camel-tone overcoat. The burgundy Nikes make a fantastic feature and complement the colour palette well. Don't be afraid to try different colours!
#23 – Summer Student Combination. A great look for students using silvers, greys and nude tones. Gold bracelets break up the block colours nicely.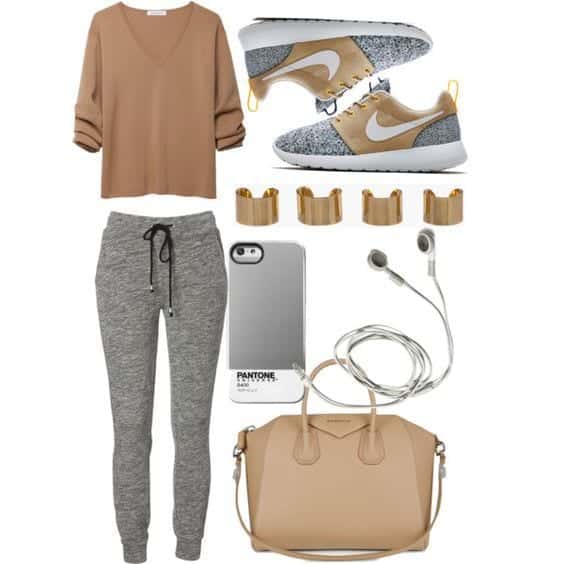 #22 – Simple Casual Look. Another great look for students using a long-sleeve-printed top with distressed jeans. White and red Nikes bring out the bold colours in this style.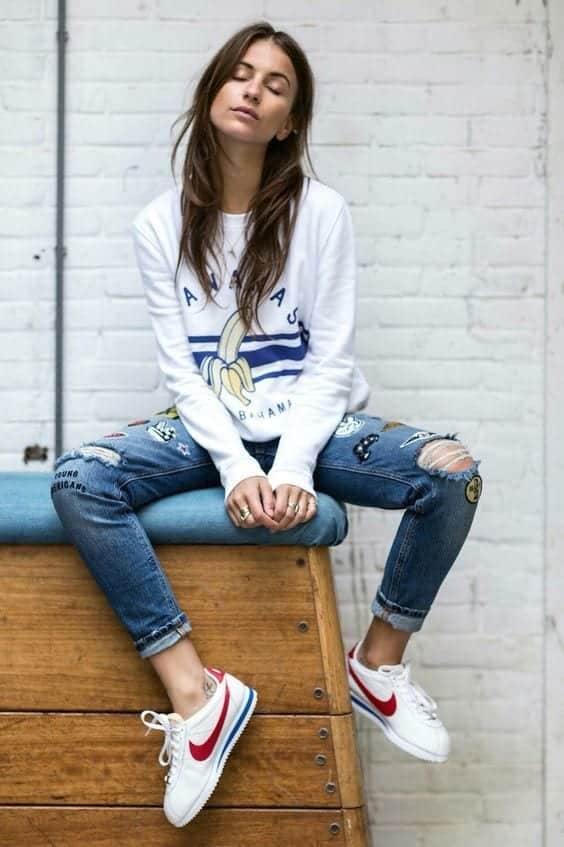 #21 – Chloe Grace Moretz Look. Black Orchid jeans with Nike trainers, printed top and leather jacket make for a perfect travel style with a touch of attitude.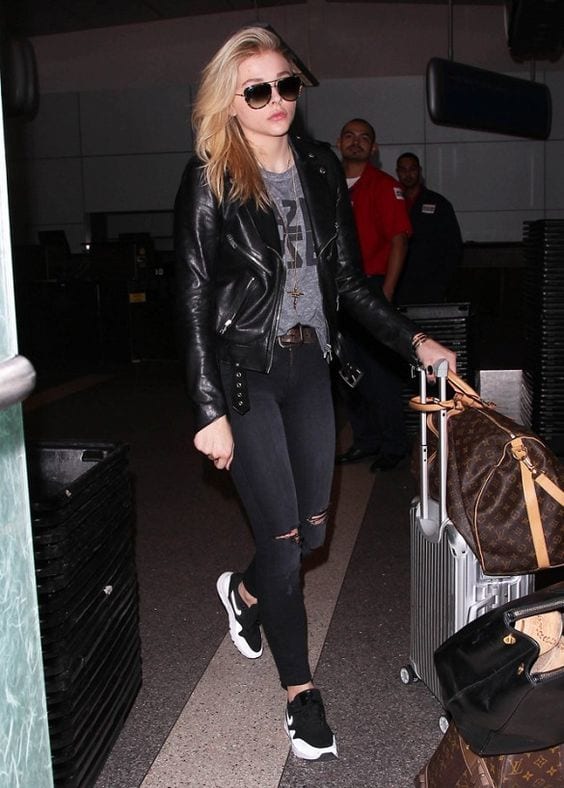 #20 – No Shape City Look. This style would suit women who may have a little less self-confidence. A no-shape dress with a white collared shirt and Nike shoes is a great combination. The pink in the shoes stands out beautifully.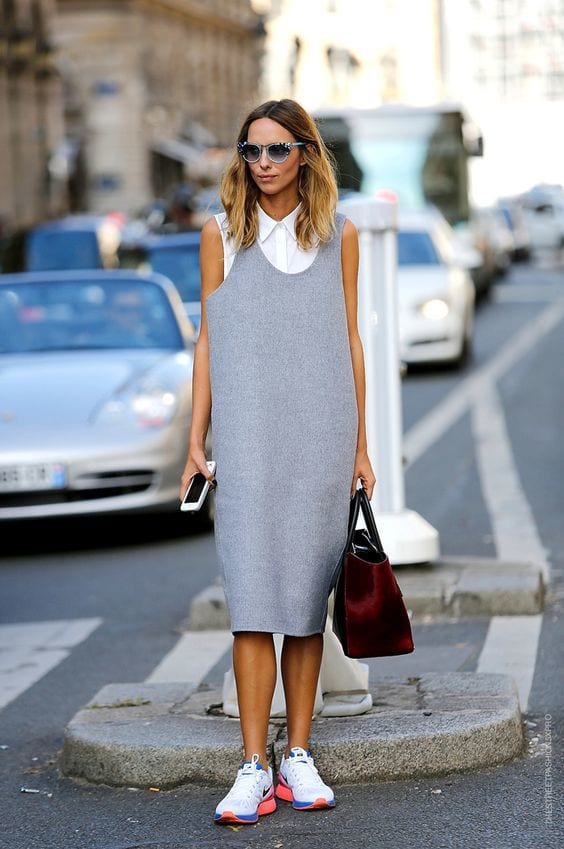 Do have a look at 19 Cute Sporty Style Outfits for School. Every Girl Must Try
#19 – Great Style For Autumn. Easy style using a striped t-shirt and jacket with black skinny jeans and Nike shoes. The chunky scarf is a great addition.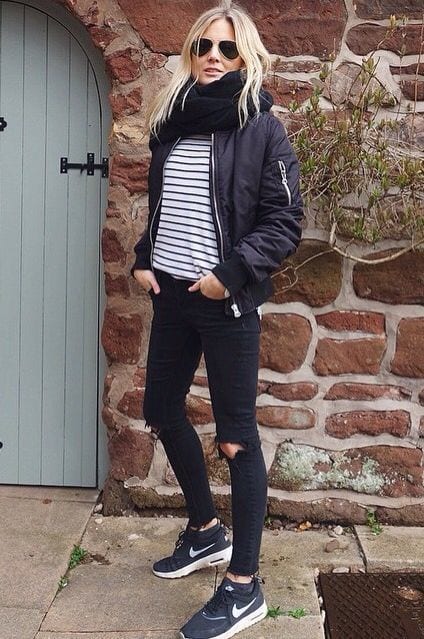 #18 – Gym Ensemble. A fantastic combination for the gym or athletics using baby blue and grey.
Don't miss out on Leg Warmer Outfits – 22 Ideas On How to Wear Leg Warmers
#17 – Simple Casual Combination. A great look that can be easily put together. The pink and powder blue give a beautiful feminine feel.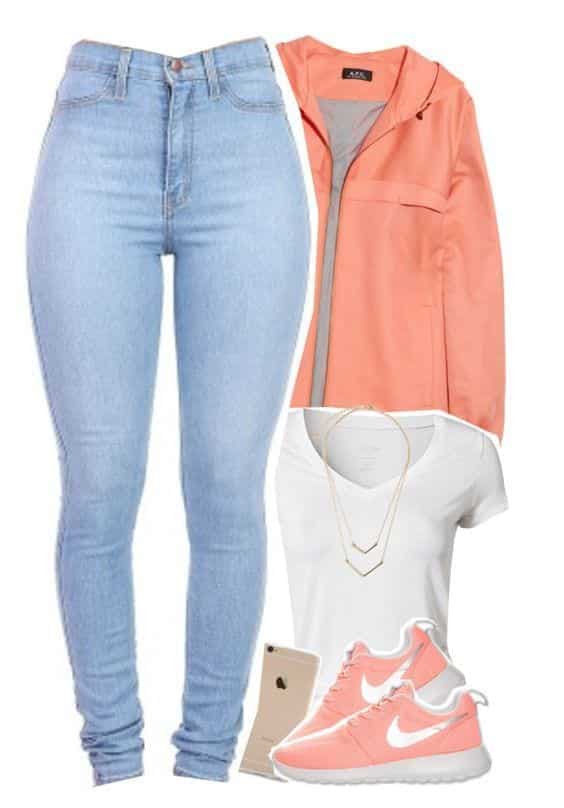 #16 – One Piece Style. Why not put Nikes with a simple one tone wool dress? This is a great way to simplify a potential formal outfit.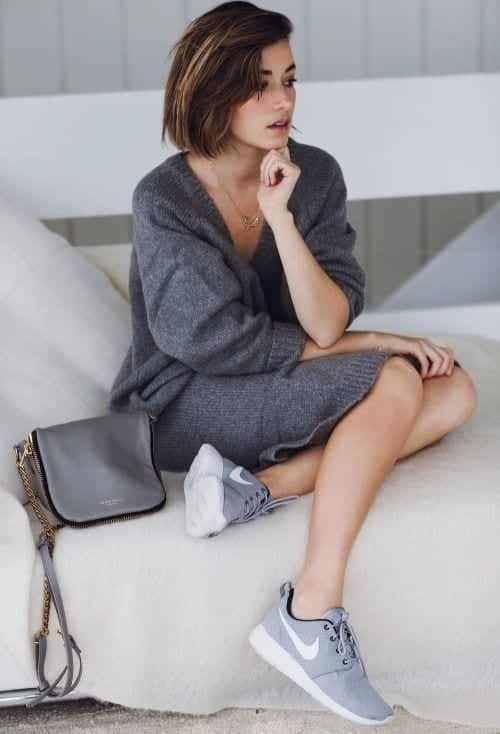 #15 – Maxi Dress Summer Look. The halterneck maxi dress looks stunning with matching Nike trainers and sunglasses.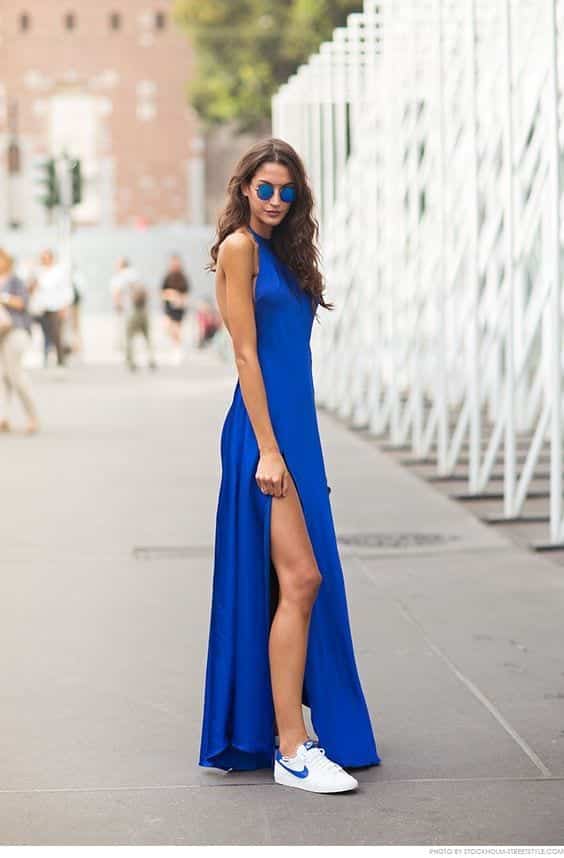 #14 – Teen Style. A brilliant ensemble is suitable for teens. Nike jacket, to pand trainers with simple grey crop leggings.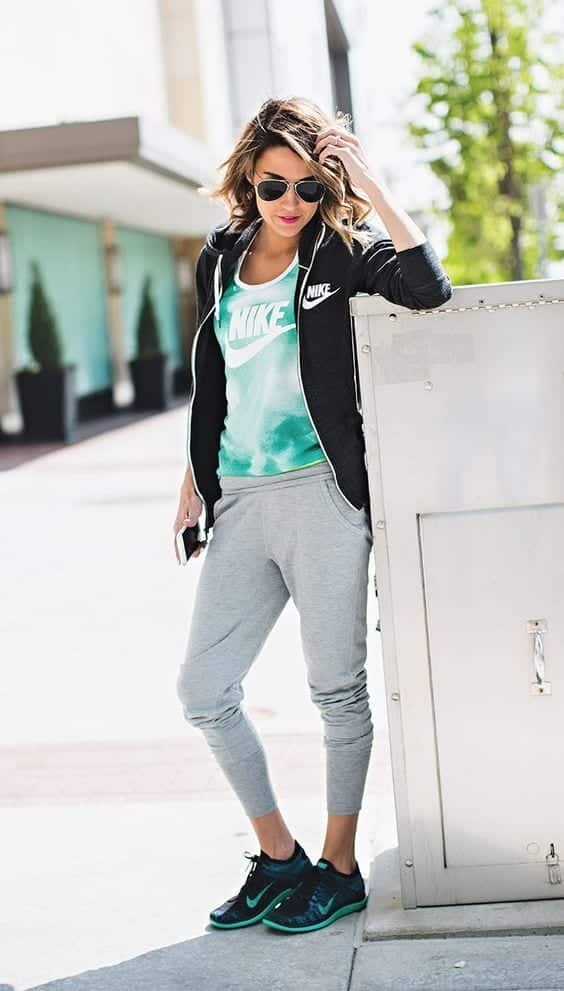 #13 – Denim And Nikes. Leather jacket over a denim dress with black Nike trainers. This is a simple but effective look.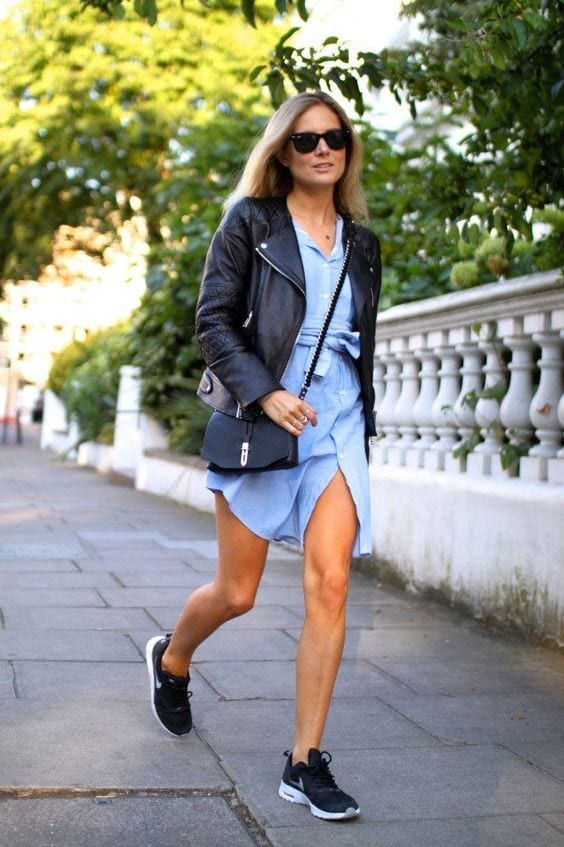 #12 – Great Travel Style. This look is quick and easy with a simple white top, jeans with a caramel cardigan, and black Nikes.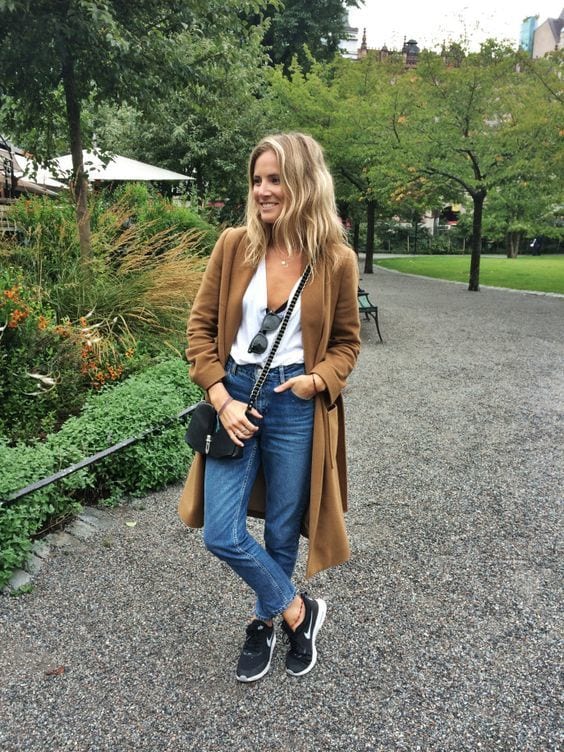 #11 – Chic City Style. Gorgeous look with wet-look leggings, Nike trainers and a textured jacket. A matching coloured bag finishes this style.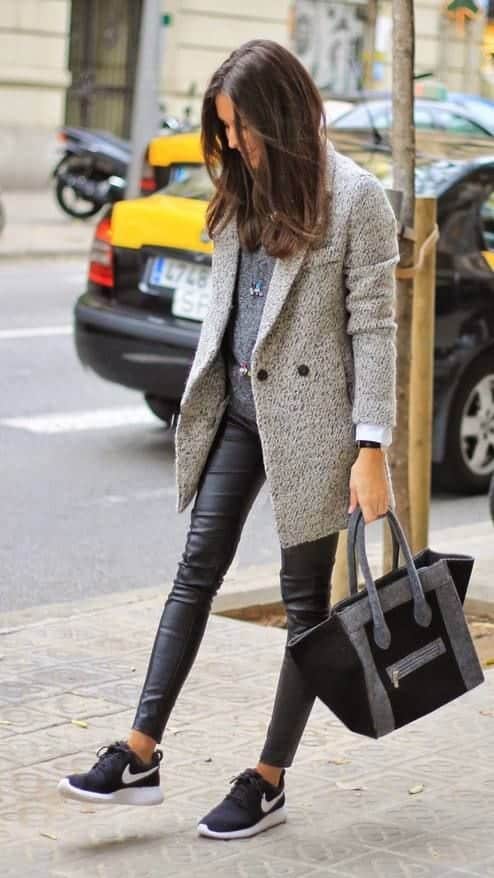 #10 – Winter Chic Look. All black style, including skinnies and beanies with matching Nike shoes. The contrasting pale overcoat completes this look and makes it stand out.
#9 – Student Style For Sports. Great sports style for students using jeggings, Nike trainers and sports hoody.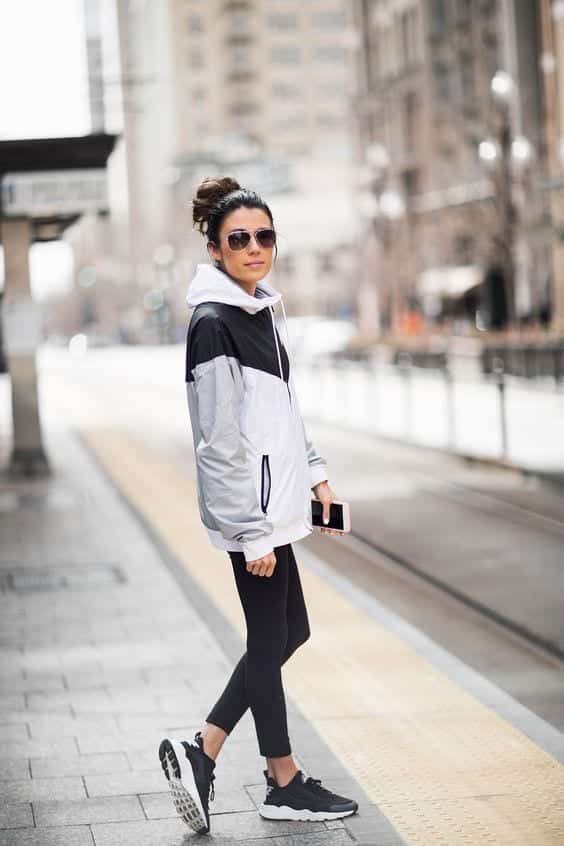 #8 – Winter Look. Gorgeous winter style using textured and oversized overcoat with leggings and matching trainers. A scarf adds shape and colour balance.
#7 – Travelling Ensemble. A simple look for women when travelling with a baggy top under a fitted jacket and Nike trainers.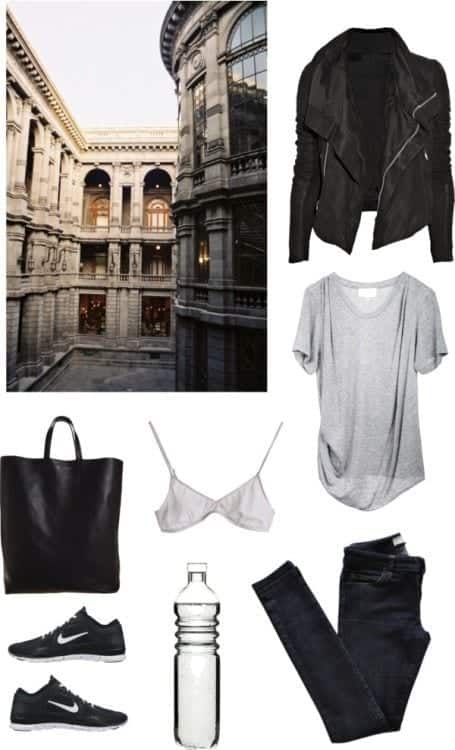 #6 – Sports Summer Style. A typical sports combination for girls using a sports bra and jogging bottoms with contrasting and striking orange Nikes.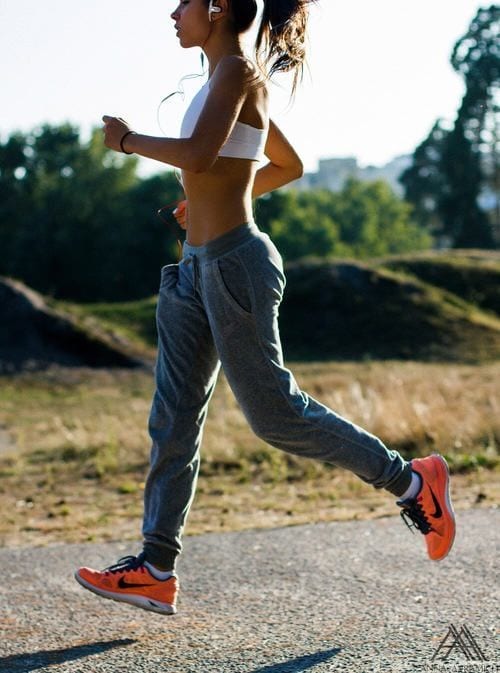 #5 – Casual Look. A brilliant simple style using an oversized white top with culottes and Nike trainers.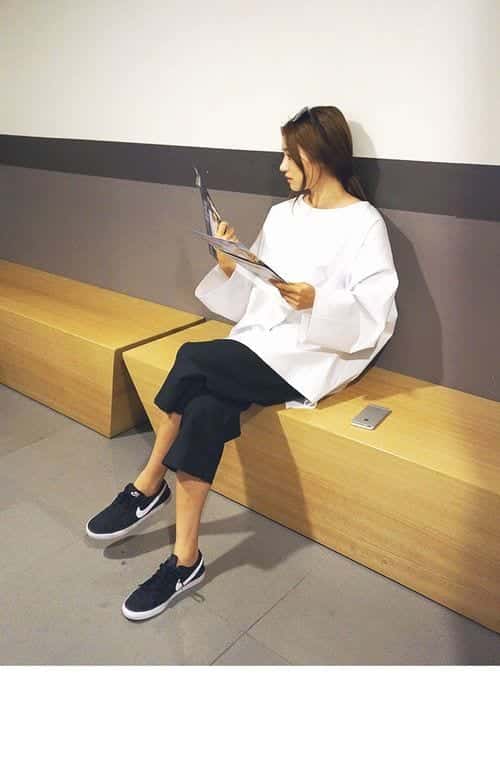 #4 – Nikes With Skirts. Nike trainers look great with a leatherette skirt and a simple and plain grey jumper. The Nikes are the focal point.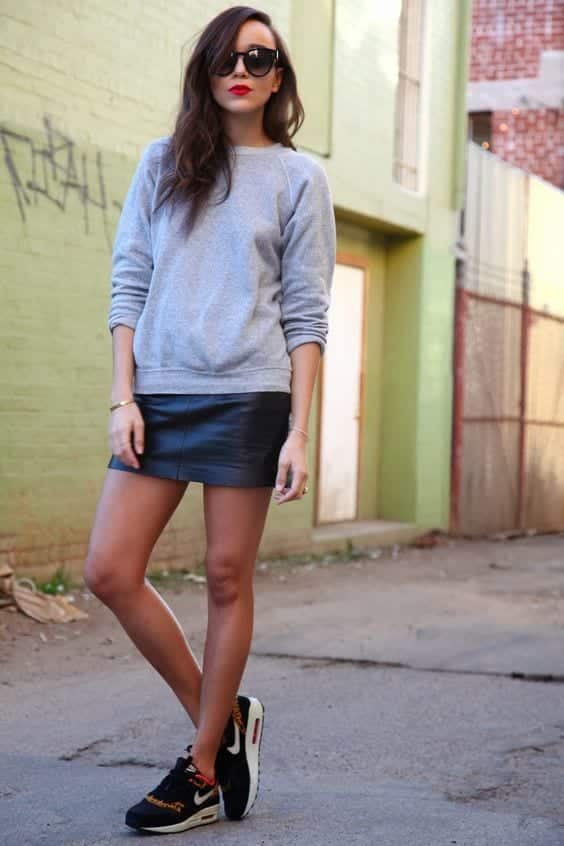 #3 – Simple Beach Style. Nikes also do a flip-flop range, so why not invest in them for the beach? Match them with shorts and a crop top for a simple, sporty beach look.

#2 – Black And Grey Combination. Easy combination for the gym with a tank top, sports bralette and leggings with Nike trainers.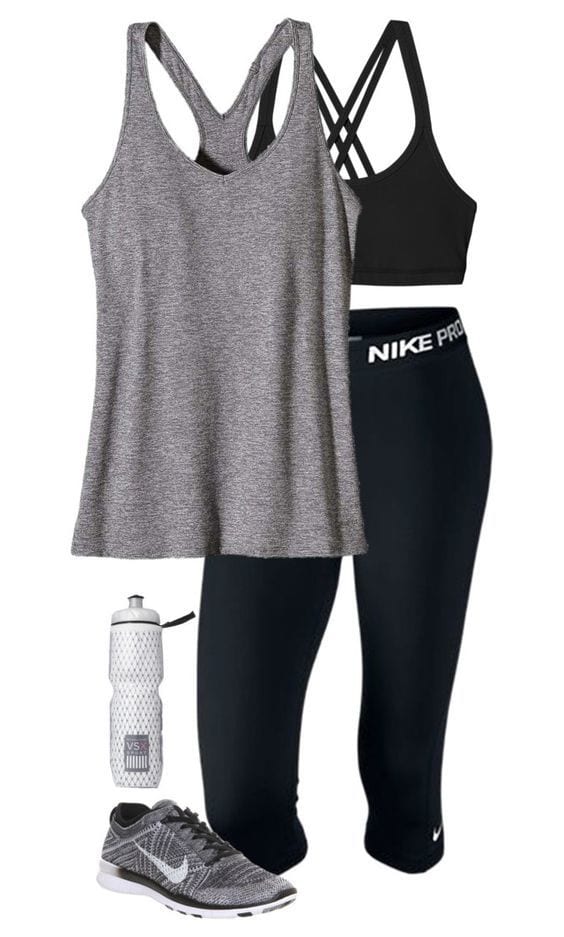 #1 – Gym Combination. Another gym combination but using shorts and a sports bra with Nike trainers.