Best Farewell Saree – Is your Farewell party just around the corner and you still have not decided what to wear? Hold on, we have got your back and we are here with a solution.
Good Byes are always hard but dressing up is not. Make sure you make this goodbye a memorable one for your friends and fellows.
Leave everything else and go for an ethnic and classy saree this time. Dress up elegantly in the evergreen ethnic saree and cherish the happy moments of your farewell because this time won't come back.
Sarees are one of the best south Asian ensembles that give you an elegant and royal look. Whether you are a married woman or a college girl, a saree will always spice up your look, giving you that glamorous and feminine look.
So we have compiled a list of all those pretty sarees that will make you a stunner at your upcoming farewell party and you will always feel joyous while looking back at your farewell pictures.
What to Wear to A Farewell Party?
On farewells, most girls prefer sequin and chiffon sarees with statement jewelry. While your saree plays an important part in creating a look, make sure you give equal importance to your blouse. Play with neck designs and cuts.
If you have broad shoulders, don't go for a square-shaped neck design. Go for a round neck design. Similarly, if you want to give a lean look to your arms, go for butterfly sleeves or flattery sleeves rather than fitted half sleeves.
Don't overdo your saree with lots of accessories. Stay minimal and let your saree be the center of attention. If you are wearing a silk saree with zari borders or a banarsi saree, go for gold earrings rather than silver ones. Gold looks best with a zari work saree.
Do's And Don'ts of Styling Sarees for Farewell
Accessories with a saree elevate your look. But there is a thin line between accessorizing at a wedding and at a farewell. Weddings and formal wear complement heavy jewelry and dark makeup. But go with light jewelry on farewell. You can choose chandbalis or jhumkas but not a Kundan or gold set.
Make sure you are comfortable with the fabric. Mostly cotton, rayon, chiffon, and georgette are easy to handle. If you are a pro, you can also go for satin silk and banarsi sarees.
Your draping style is the one thing that adds more aura and elegance to your saree. If your draping is not tidy and crisp, your saree will not look graceful. The most common and easy style is the nivi drapping style. This style of draping allows you to let your pallu falls straight from the shoulder.
For those girls, who want to look taller and lean in sarees, go for sarees in basic colors. If going for printed sarees, make sure the blouse is in contrasting colors and the prints are in smaller patterns. Keep the border( pallu) open and let it fall. In this way, it will hide all the extra curves and fat.
A black saree is a safer option for a sleek look. Further, you can find multiple black saree designs paired with funky colors.
Pay special attention to your petticoat. Get a petticoat that is fitted from the hips and flared from the bottoms. This will accentuate your curves and give a flare to your saree at the lower bottom.
24 – Go for A Statement And Classy Look
The very first look for a farewell is this gorgeous saree tied neatly with a belt. If you are a girl who is unable to keep up with the pleats of the saree, take inspiration from this belted saree look.
Make sure the belt is properly fitted and not too loose otherwise it will ruin the look. Plus if you are going with a high pony, make sure you contour your cheeks well and go for comparatively heavier earrings.
If you are opting for open hair, don't wear heavy earrings and rather just go for hoop earrings or studs.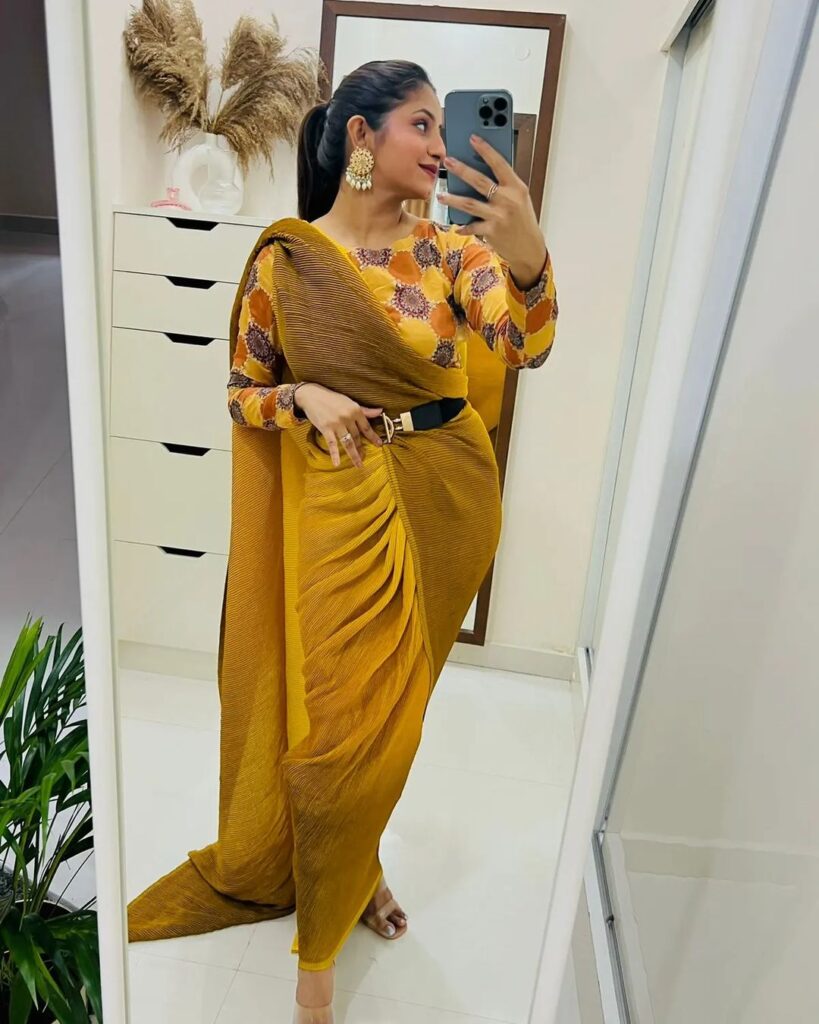 23 – Spreading Colors with A Rainbow Themed Saree
Go for this rainbow chiffon saree to beat the graduation blues. The colors are vibrant and if your farewell party is scheduled during the day, this is an appropriate choice as daylight complements bright and vibrant colors.
For jewelry, go for white pearls or oxidized jewelry.
Pro-tip: if you have a long neck, go for chunky jewelry for a fuller look. If you have a short neck, opt for light and thin pendants and necklaces.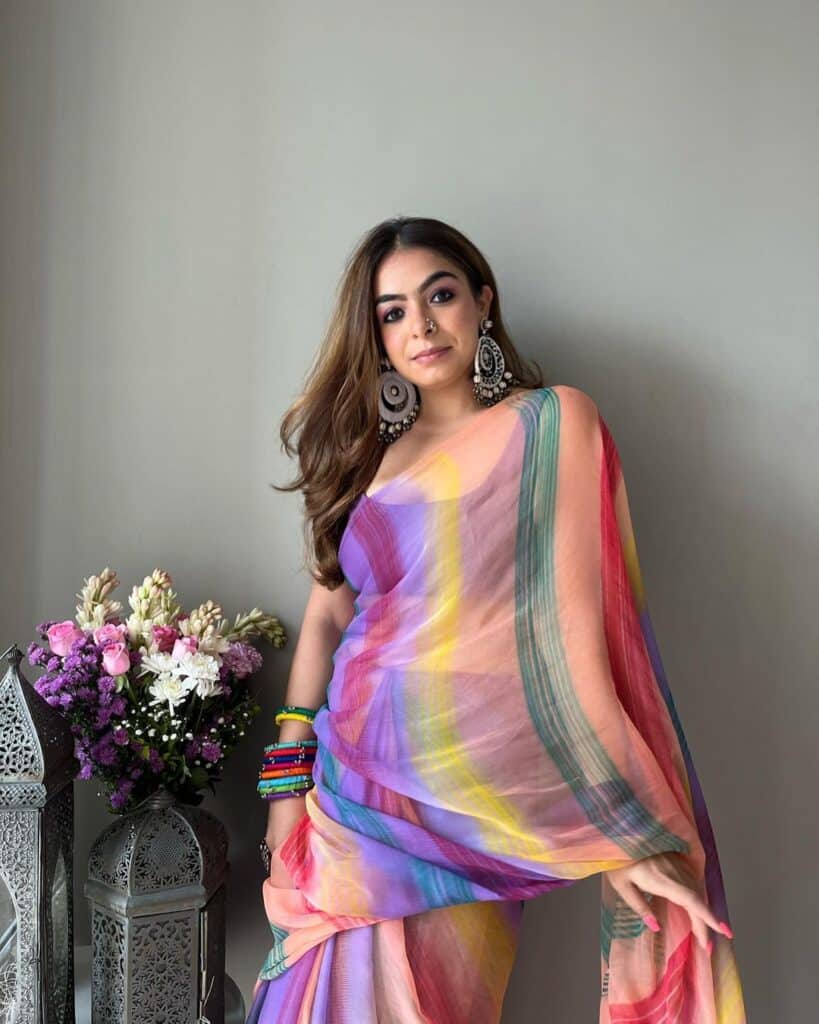 22 – Sunshine Mixed in a Georgette Saree
You must be surprised to know that georgette sarees stick more to your body than a chiffon. Hence, this one tends to accentuate your body curves making you look stylish. Plus it works best for petite girls.
This yellow georgette saree with a tube top is just the right pick for you at your farewell party. Pair it up with a white pearl necklace or a light oxidized choker. For earrings, go for contrasting blue chandbalis and you are ready to slay at the party.
21 – Glamorous Silver Saree With A Tube Top
Gone are the days when saree were restricted to the same kinds of cuts and designs. This is the era where girls are adding more and more glamor to saree by experimenting with fits.
Though a little bold, this silver chiffon saree with a metallic tube top is a stellar choice for your party if you are ok with showing off a little skin.
Go for a nude makeup look with a special focus on eye makeup.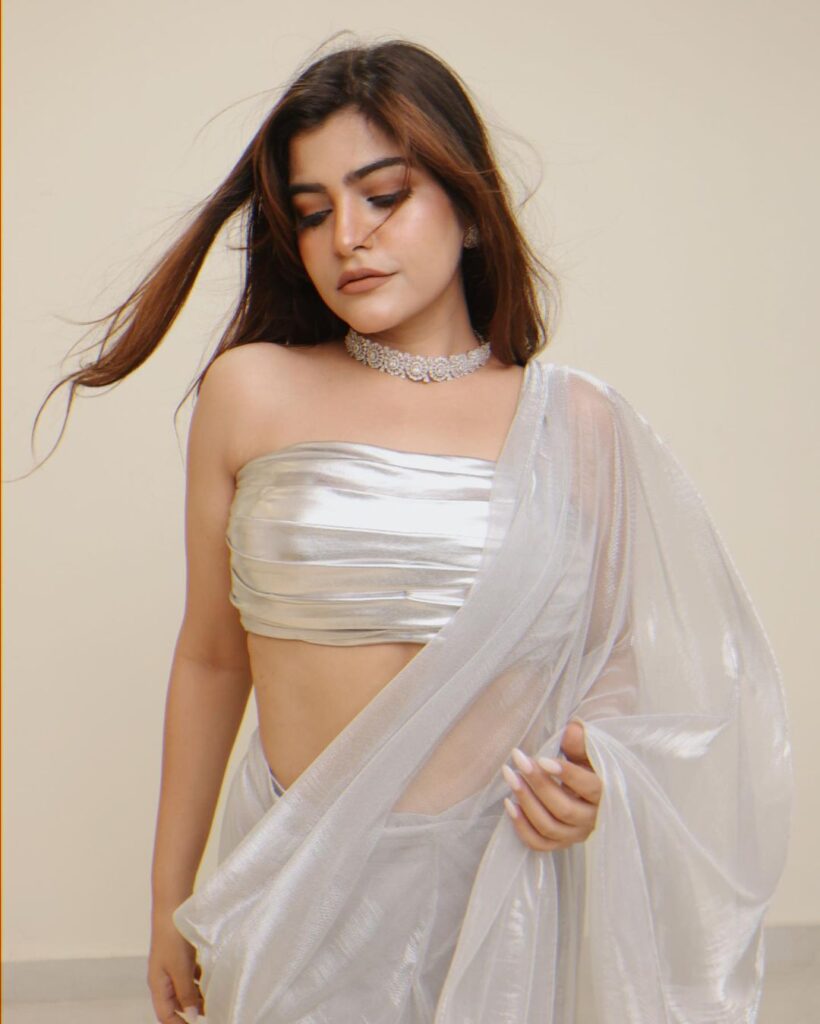 20 – Going for A Basic Monochromatic Chiffon Saree
The basics look effortless and sophisticated. If you are not a lover of embroidered stuff, choose this basic monochromatic green chiffon saree for the big day. It is easier to accessorize basic sarees rather than embellished ones.
We suggest going with matching green stoned earrings with this saree. If not this, then silver jewelry would also look stunning. Mouni Roy is setting the bar high with this simple yet pulled-together look in this green basic saree.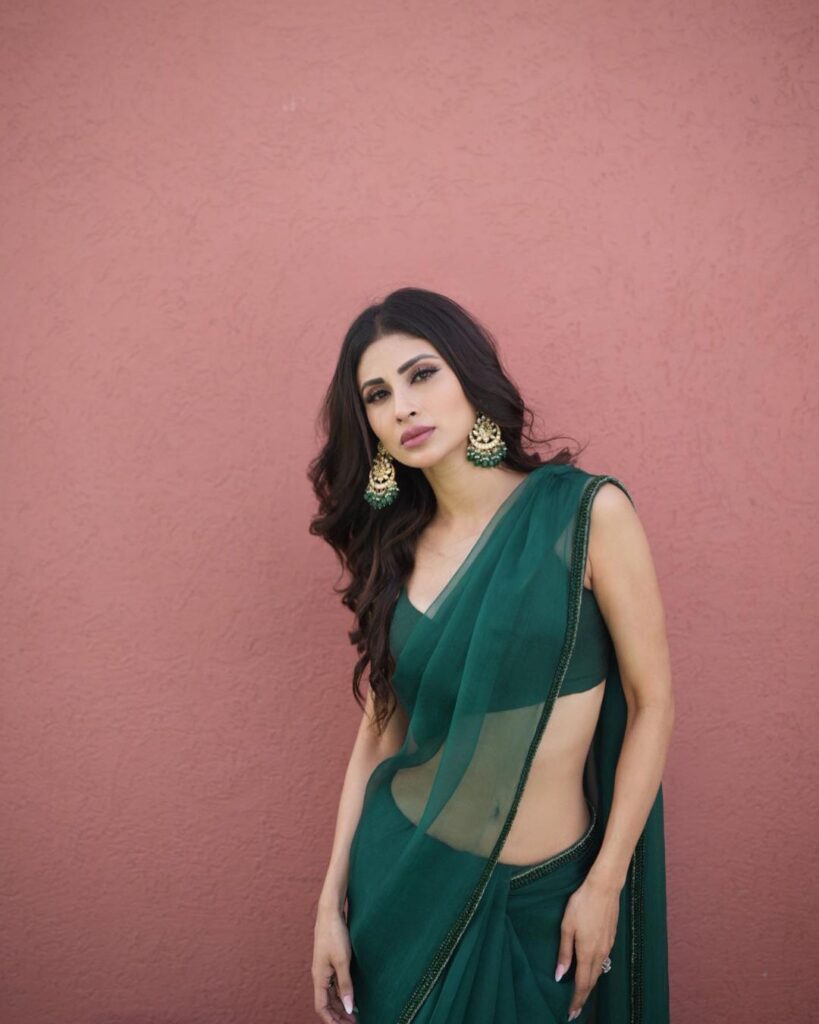 19 – Slay in A Purple Silk Saree
Plain satin silk sarees are admired by women since day one. When in doubt, opt for a plain silk saree and you will not be disappointed.
18 – Spread Positive Vibes with A White Saree
Who said, white can't be festive wear? The style icon Komal Panday has shown us how to style a white saree on a festive day including parties and farewells. Needless to say, she is looking drop-dead gorgeous in this ensemble.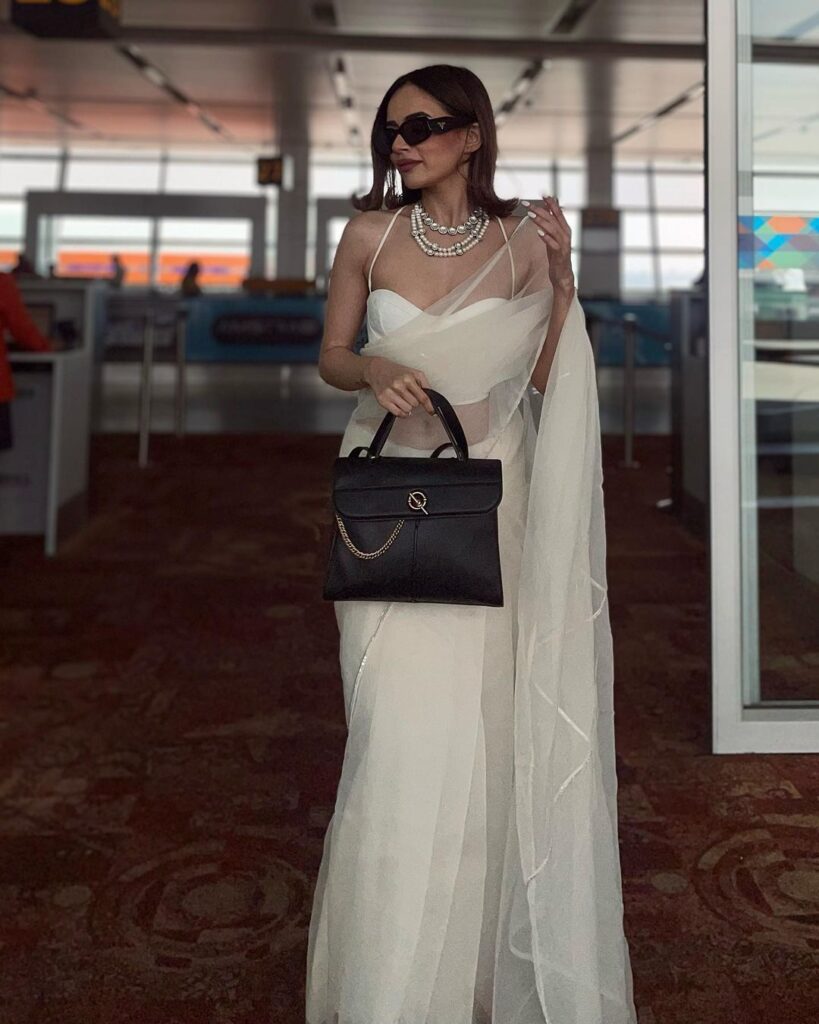 17 – Say Hi to Net Sarees
Is there someone who doesn't love a net saree? Well! We believe no one can say no to a net saree. They are absolutely regal and modern.
Though they are heavy to carry, you can slay them if you know how to style a net saree. For instance, your blouse needs to be well-fitted so you can tuck in your saree.
16 – Banarsi Blouse with A Soft Chiffon Saree
Banarsi prints are not always restricted to sarees. Don this soft pink chiffon saree with a contrasting banarsi silk blouse.
Tie your hair neatly in a half-done hairstyle. Since the neckline is round, you can go for a silver choker or a pendant. Go for a soft make up look and don't forget to wear a bright smile on your face.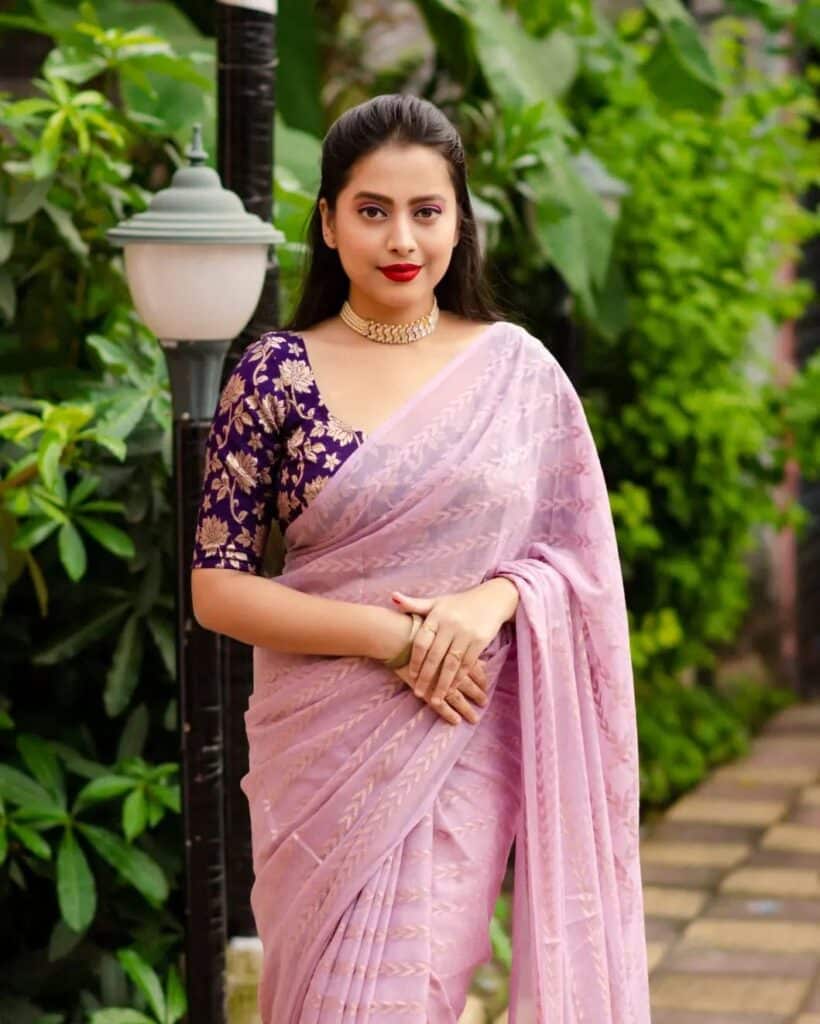 15 – Simple And Sophiscated Look for Farewell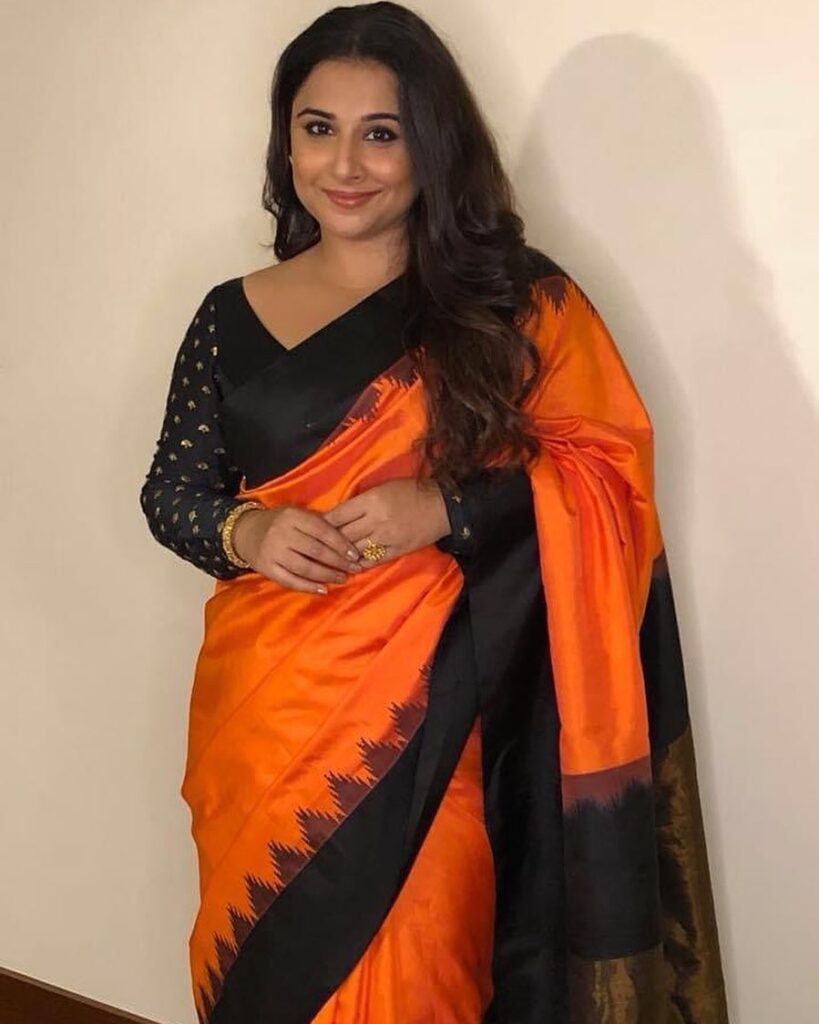 14 – You Can Never Go Wrong With A Black Saree
An all black saree is the safest option for all the girls. No matter what your height is or what your skin color is, It looks equally good on all body size and skin tones.
Choose a statement necklace with a black saree to make it a focal point. You can also go for a minimal red ruby jewelry set to add a pop of color in your all black saree. If not these two, go for diamond drop earrings and thank us later.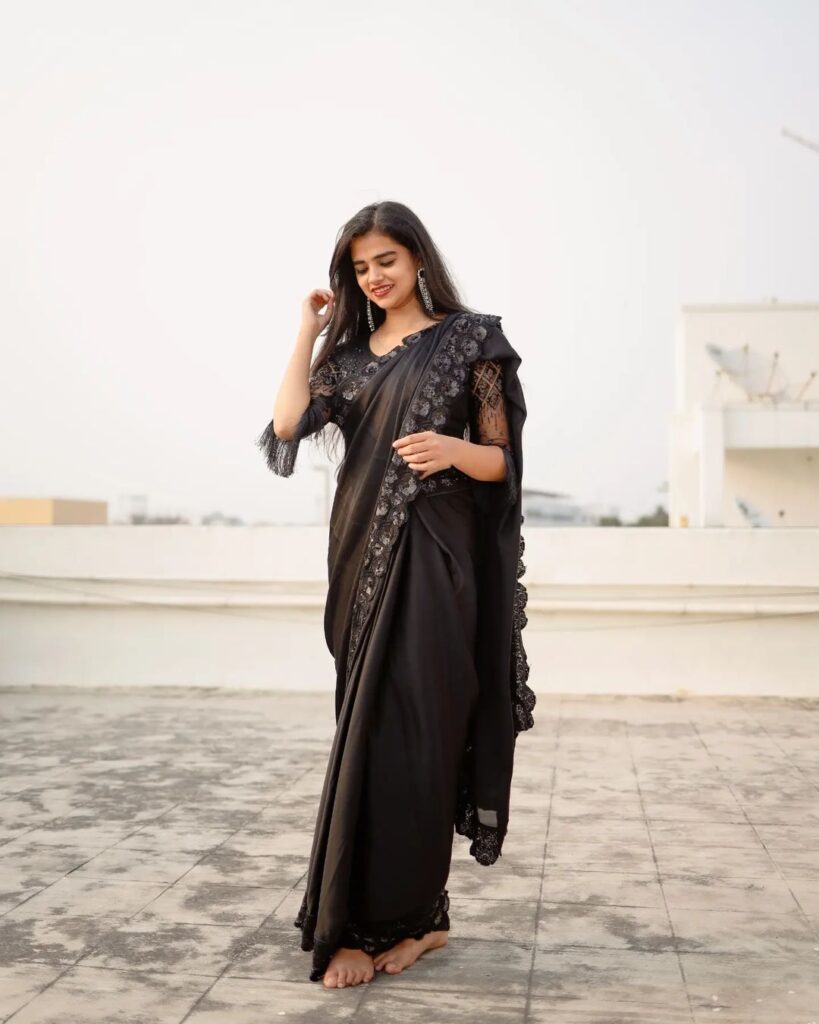 13 – Pastel Green Sarees
Needless to say, a pastel green sari is a game changer. The color instantly adds a grace and aura to your personality. This pastel green saree with an embellished blouse is exactly what you need for your farewell.
Pair it up with matching stoned jewelry. Go for soft makeup with a lots of highlighter and outshine everyone.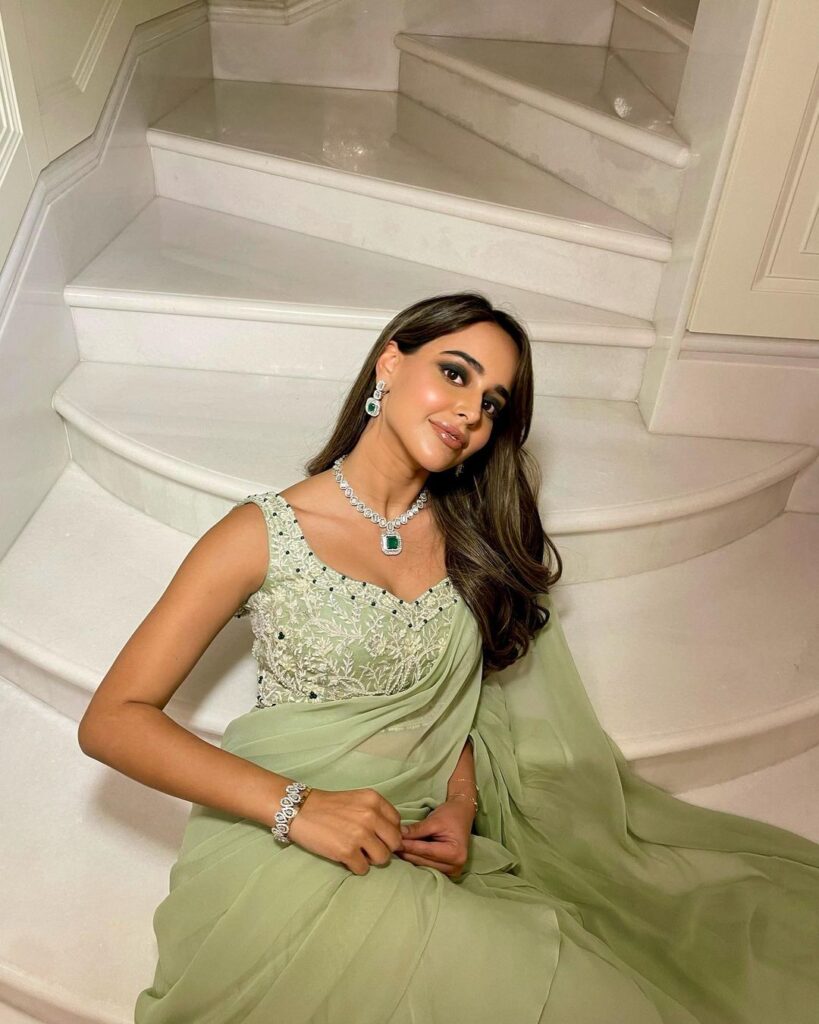 12 – Saree with A Peplum Blouse
Peplum Blouse have been in trend lately. It is truly a versatile article that elvates up your look and goes well with all kinds of ensemble. If you are up for experimenting with your saree, this should be your outfit for your farewell.
A peplum blouse is best for all those girls who are conscious about their stomach and don't want to go with a cropped blouse. Make sure you drape your saree in a such a way that you blouse should stand out. Make neat and narrow pleats on the shoulder and allow your peplum blouse to stand out.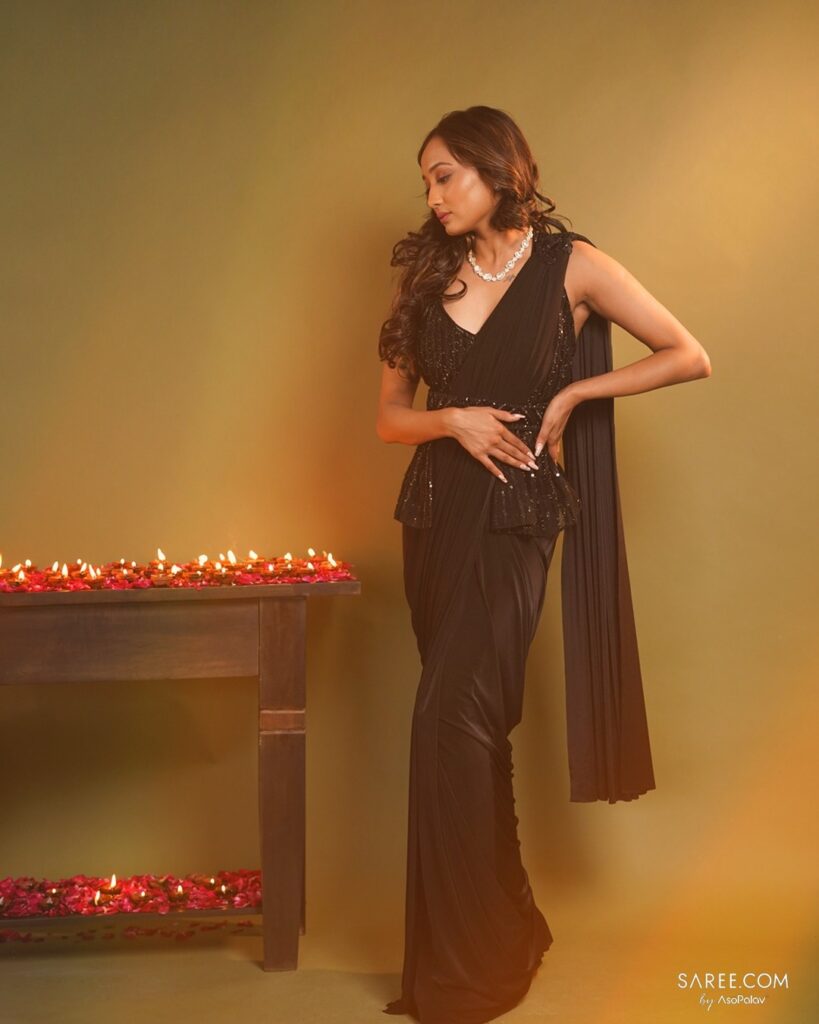 11 – Printed Cotton Saree for An Elegant Look
Tired of all the fancy sarees? Try this vibrant printed cotton saree for a minimal and sophisticated look.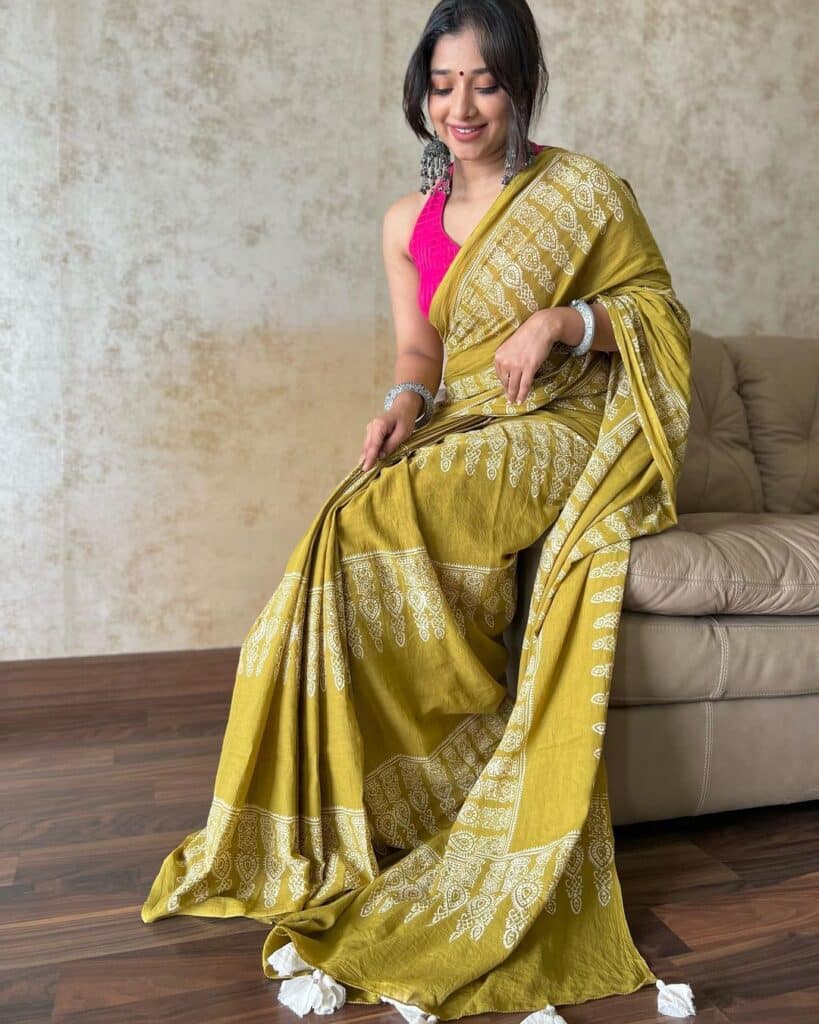 10 – Mirror Work Blouse are in Fast Trend
Gone are the days when a saree blouse was made up of a plain cotton with simple cuts. This is the era of experimenting with your blouse and making it a statement piece in your saree.
We are totally loving this mirror work blouse paired with this saree. Accessorize the look with oxidized silver choker and jhumkas or drop earrings. Wear a nude lipstick and throw your hair open.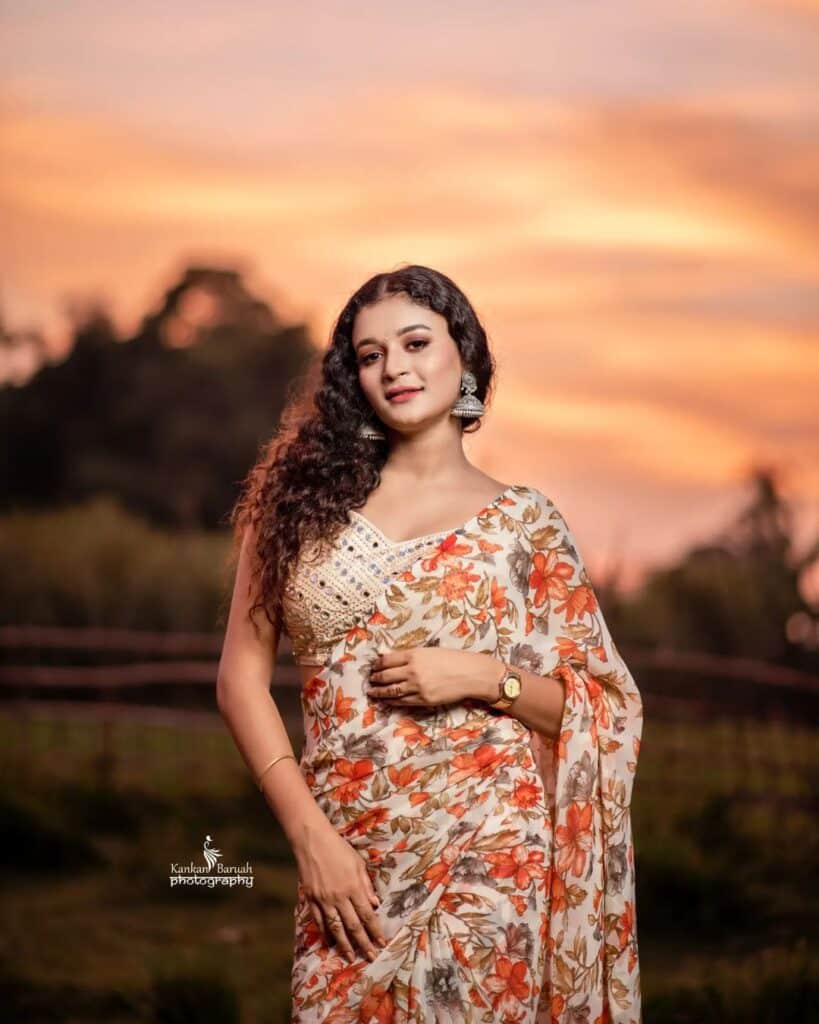 9 – Going With an Aqua Blue Saree with A full Sleeved Blouse
Blue is a color that exhibits serenity and calmness. For a girl who is more into basics and pastels, this blue saree is a stellar choice.
Aqua Blue and all other shades of blue complement wheatish skin tones and gives a toned up look. So if you are a south asian women with a wheatish or dusky complexion, this color is for you.
8 – Black and Red Makes a Stunning Combination
For all the college girls, this black and red saree is a must have in their wardrobes. The red and orange hues in this saree are balancing out the saturation of black color in the saree. For parties and formal dinners, this saree is a smart choice.
With this combo, we suggest going light on face makeup and focus on the eyes. You can go for shimmery eyes or smokey eyes if the function is in the evening. Accessorizing black saree is not a difficult task.
Go for silver or diamond jewelry. Look into your saree what other colors are there and you can match your jewelry with it, just like this girls has paired her red chand balis with the matching red floral prints on the saree.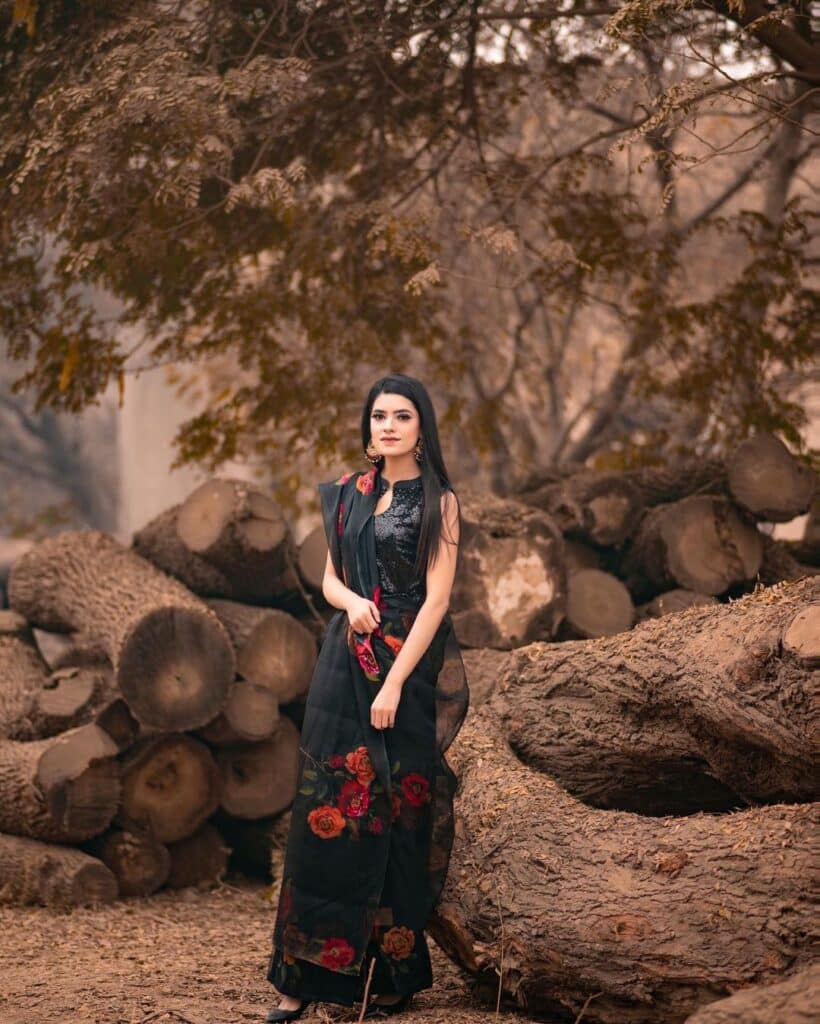 7 – How to Wear a Saree with Hijab ?
If you are a hijabi and wants to go for a saree at your farewell, don't hesitate , just go for it. A saree with hijab looks terrific and pretty. You just need to keep a few things in mind. Make sure the hijab is tied neatly with pins and broach.
While wearing a plain saree, go for a contrasting hijab to make your hijab a statement. If you are wearing a printed saree, just like the girl in the picture, color block your saree by matching your hijab with the prints on the saree.
These days, girls are going with turban hijab with sarees and we kid you not, that hijab with a saree looks equally graceful.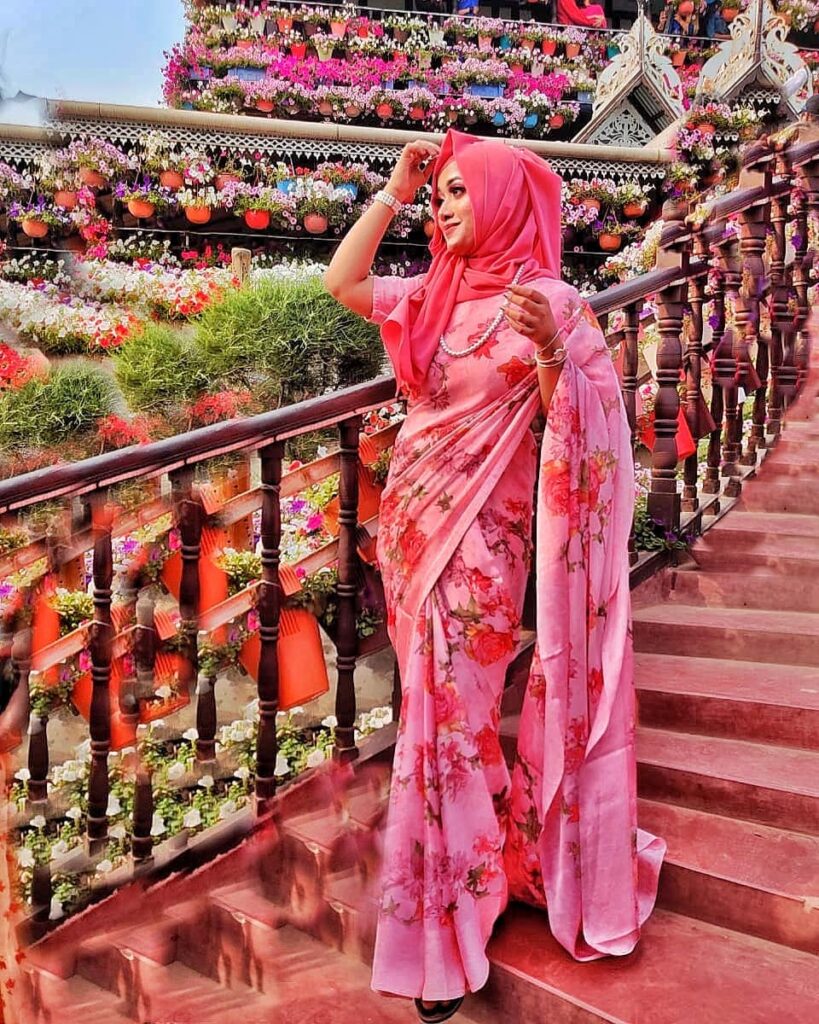 6 – Go for A Tie And Dye Saree With A Contrasting Blouse
Once associated with hippies, tie and dye have been making a noise in the world today with its unique and vibrant outlook. It is worn by women in all forms including dresses, t shirts, sarees and much more.
For a vibrant and colorful look, opt for this tie and die saree with a contrasting black blouse. Remember not to go with a matching blouse while wearing a tie and dye saree as this will be the saturation of colors.
Balance out the saree with a plain or contrasting blouse. Add accessories like choker and earrings. Depending on the color of tie and dye, you can go for a funky eye makeup look including colored eyeliners and white eye pencils.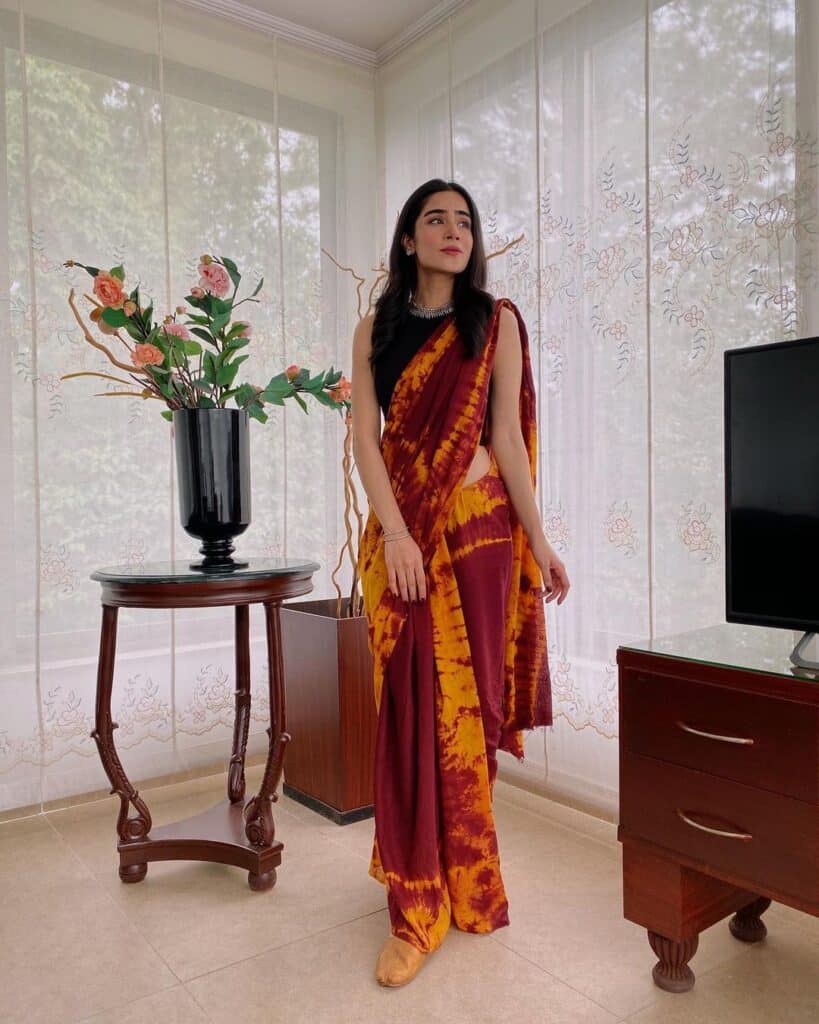 5 – Turn Heads in a Retro Style Infused Ruffled Saree
Ruffled sarees are becoming the statement fashion for women all over the world. It has rejuvenated the retro ruffle style and its incorporation in sarees have added more grace and charisma to the saree.
For a ruffled saree, we suggest drapping it in nivi style which is classic and stylish. In this way, the ruffled pallu will be visible and will grab all the attention.
With this saree, you are not supposed to go over the board with accessories. Just a pair of jhumkas and some bangles are enough to go with. However, with this color, go for a nice shimmery eye makeup and contoured cheeks.
4 – Fusion Look With A Sequin Blouse And Saree Pants
Pant sarees style have been making a noise in the fashion world recently. It is a blessing for all those girls who want to incorporate a saree in their farewell ensemble but with a twist of contemporary fashion.
The best part is that this saree can be worn by any one even if you are wearing a saree for the first time.
You just need to keep in mind that in case of pant saree, go for a statement or a sequin blouse. Try to create a balance by adding a different kind of blouse, make it sequin in the same color or choose any other contrasting shade.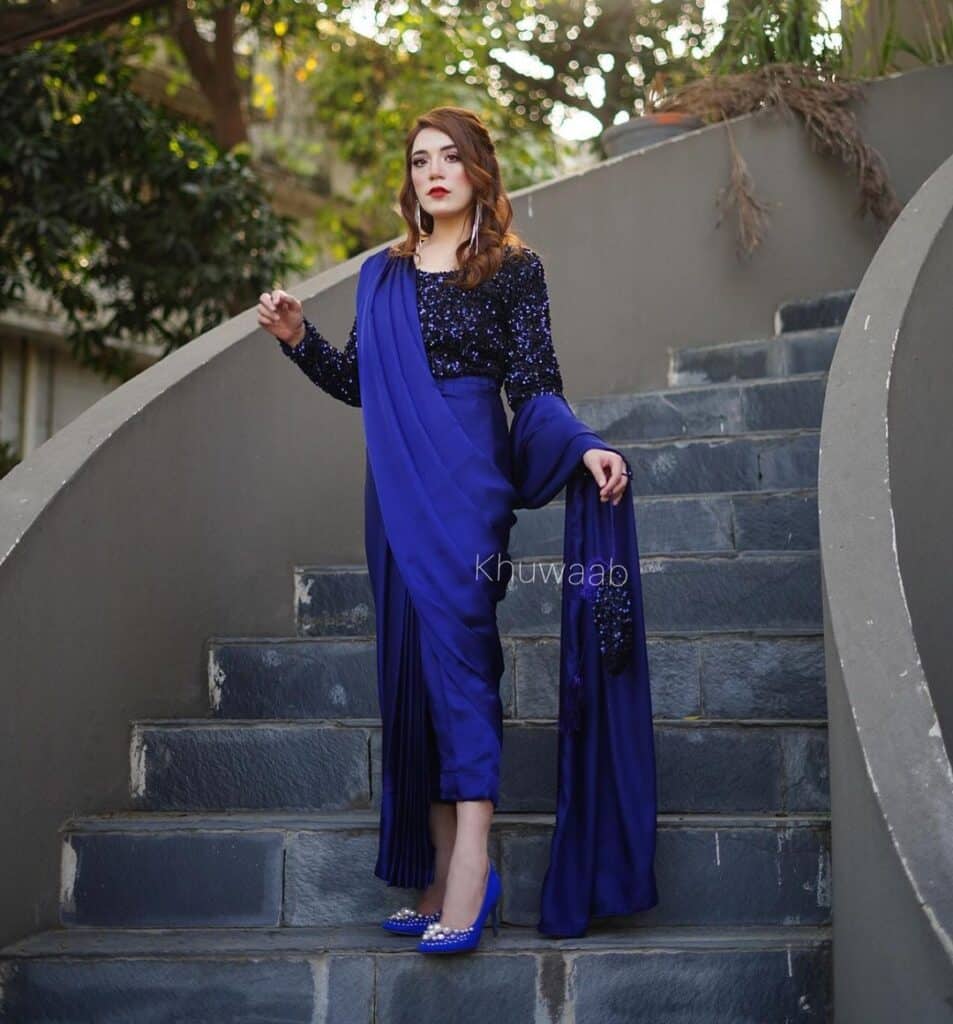 3 – A Sparkling Ivory Saree
It's not always about the bright colors. You can wear a saree in ivory or beige and you can still rock it. These days beige, off white, ivory and cream colors are trending.
Celebrities have been wearing it and bursting the myth that sarees are only restricted to bright colors. we love how the beautiful Rashmika Mandana has styled a shimmery ivory saree with simple hair bun and contrasting drop earrings.
2 – Keeping it Cozy with a Velvet Saree
If your farewell is happening on a comparatively chilly day, and you are not comfortable with thinner fabrics in this weather, go for a velvet saree.
The fabric is warm and velvet itself exhibits shiny texture making the saree apropriate for formal events. Velvet articles pair up well with stoned jewellery or diamond jewellery.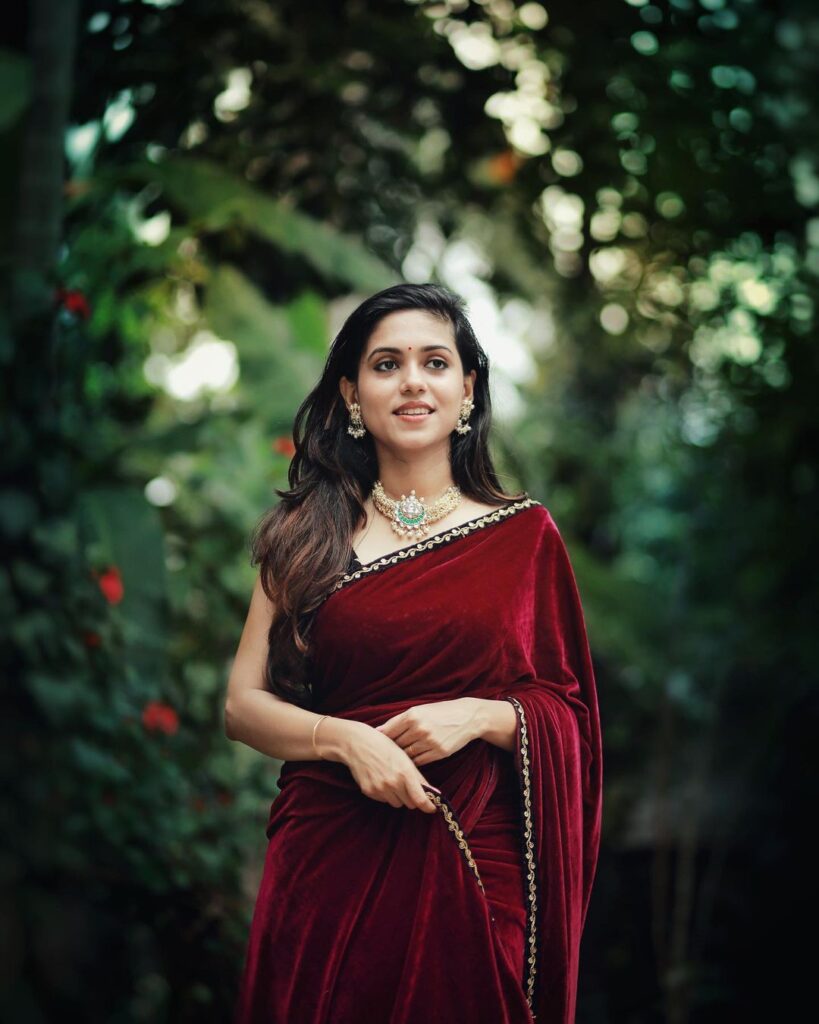 1 – Don A Vintage Puff Sleeved Blouse
No matter what year is it, a vintage blouse with puffed sleeves is always in trend.
Ditch the contemporary and go for this retro blouse with a contrasting saree and we assure you that you will steal the show.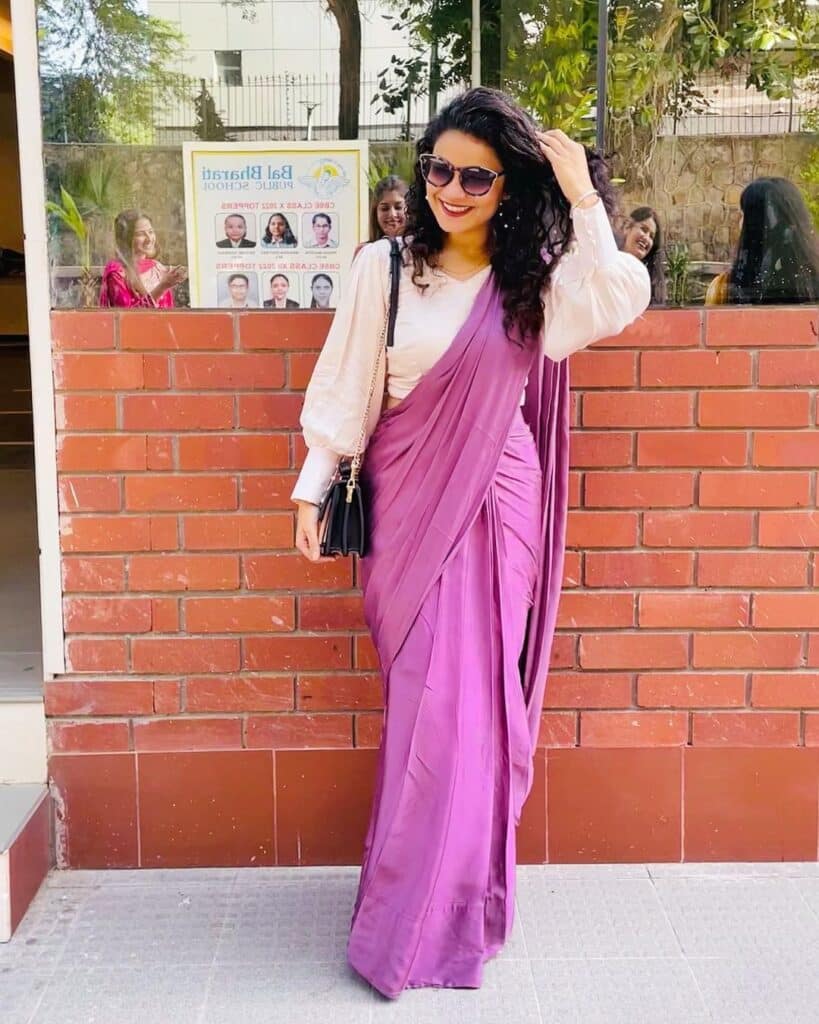 Frequently Asked Questions
Q. What kind of jewelry looks good with a bright colored saree?
Ans: Bright-colored sarees complement almost all kinds of jewelry. If you are going with a red or bright yellow saree, opt for oxidized silver, pearl, and stoned jewelry. You can also choose a diamond choker and earrings. In case of gold, if your dress is having hues of gold, do wear a gold choker or earrings but if the dress is plain with a tinge of other colors, don't wear a piece of gold jewelry.
Q. What is the latest saree trend?
Ans: Almost all the designs that we have discussed in this article are the latest ones, But to be more specific, pastels, sequins and silk sarees have been making a buzz in the saree trends in the year 2022. Recently we have seen Bollywood celebrities at Diwali parties, where most of them were wearing either silk sarees or neutral and pastel shades. These sarees exhibit sheer elegance and are an appropriate choice for festive days as well as parties.