Houndstooth Pattern Outfits: The new 'wow' pattern in the fashion industry was first originated in eighteen century in Scotland. This pattern was named 'shepherd check or 'dogtooth', as it was the first made from woven wool fabric originally used to make traditional outerwear for shepherds to protect them against the extreme cold weather. Later Various Prestige fashion brands adopted it, to be used for commercial purposes.
The modern houndstooth pattern is an alternating threads pattern with a light and dark contrast, conventionally made in classic black and white contrast. But, in modern times houndstooth pattern is adopted to be made in different other color combinations too.
How To Wear A Houndstooth Pattern Outfit?
Houndstooth patterns have now become a fashion statement of the present day. Therefore styling it correctly is very crucial otherwise you might lose your fashion game. Styling a houndstooth pattern outfit, make sure to add a solid matching piece of accessories or clothing to make the pattern pop even more. On the other, if you do a full houndstooth pattern outfit look, it will sometimes come out as bland and boring which obviously, will not work for you.
Another thing to keep in mind while experimenting with this classic pattern is to choose the right size. For example, if You want to have a T-shirt or dress shirt in this pattern always choose a smaller pattern to give it a more sophisticated look. But, on the other hand, large patterns go good for coats and sweaters as an extra layer in winters.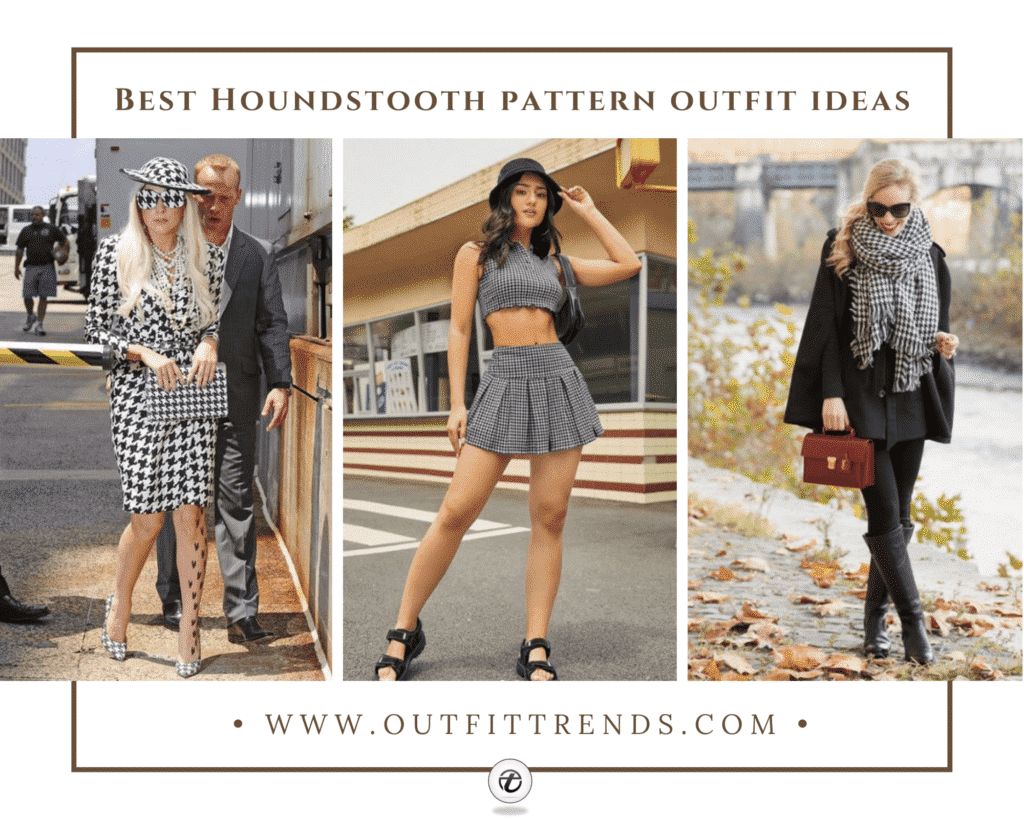 Tips On Styling A Houndstood Pattern Outfit
Do not wear an all houndstand pattern look. Instead try to mix and match it with different colors and patterns.
Adding a touch of some light accesories or sunglasses can elevate your look even more.
Prefer covered footwear like a nice sneaker pair of sneakers or long boots. They can work well with this pattern.
When wearing a hounstooth pattern cap, keep the outfit simple and use solid colors.
20 – Knee Length Houndstooth Pattern Skirt
Houndstooth pattern skirts are more of a wardrobe staple for winters. In this look, This Skirt Outfit is made to style with a cozy sweatshirt top in the classic white color. The woolen knitted sweater shirt will not only give a very stylish look but also protect you against the cold weather. This outfit is a must-have for your upcoming winter festivities. Wear a pair of white jogger shoes to elevate this look even more.
19 – Mustard Color With Houndstooth Pants
Houndstooth pattern pants are a timeless fashion trend for the winter season. You can style it with almost any type of top and footwear. Styling a houndstooth pattern gives you immense liberty to experiment with your look. In this outfit, contrasting colors are used to style the pants. As you can see a mustard color woolen knitted sweater is paired with the same color scarf to be worn around the neck against the contrasting color and pattern pants. Moreover, this look is made to pop even more by wearing the same color pointed-toe pumps.
18 – Houndstooth Pattern Sexy Crop Top Look
If you like to add extra spice to everything you wear, then this is the right look for you. For this look, you just need to be wearing high-waisted skin-hugging houndstooth pattern pants and a matching sleeveless crop top to compliment it. Wear silver hoop earrings to enhance it and don't forget to complete this look with a pair of white sneaker shoes. Moreover, half up half down ponytail can be the cherry on top for this look.
Via
17 – A Classic Black And White Style Look
This cute look will make everyone drool over your beauty. In this look, a houndstooth mini skirt is paired with wear with a turtle neck woolen, knitted sweater top. The nice black thigh-high boots are adding to the beauty of this even more. Moreover, the small black cross-body bag is the ultimate hero for completing this look. You can always wear this look to a party or any other outdoor event and slay the day with confidence.
16 – V-Neck Sweater Tunic With Long Boots
Long Boots and houndstooth pattern outfits are made for each other. You can never go wrong wearing thigh-high boots with a houndstooth outfit. In this look, a sleeveless v neck sweater tunic is worn over a plain black sweat-shirt top and a mini skirt bottom. Moreover, the thigh-high boots steal the show for adding that extra fun to this look. The pearl necklace accessory made to wore over a crew neck is a very wise styling choice.
15 – Victoria Beckham's Pencil Skirt Look
We all know Victoria has the best fashion sense so If you are fond of carrying classy looks that make you look more sophisticated then this is gonna be your favorite one for sure! You can create this classy street style look with a black collar, button-down shirt and pair it with a houndstooth pattern pencil skirt. Carry a big size black handbag and sunglasses for that classy vibe. A nice wristwatch and a pair of black pointed-toe pumps can elevate this look even more.
14 – How To Wear A Houndstooth Pattern Jacket
A pair of jeans is a basic pair of clothing for everyone and in every season. So, why not style it with a houndstooth pattern outfit. It is a very simple and easy look you can carry in winters without any second thought. You just have to wear a turtle neck white sweatshirt with a basic pair of jeans, wearing a houndstooth pattern jacket will be the cherry on top for this look. Moreover, enhance this outfit by wearing black shiny leather boots and a chain strap black handbag.
13 – Long Printed Cardigan Outfit
Who doesn't love to wear a long cardigan to their winter outdoor parties? This look is a must-have in your winter outfits collection. In this look. A black pair of fitted jeans are worn with white front straps styled top with a black leather belt. The houndstooth pattern cardigan is making this look pop even more with the contrasting pattern. Wear a nice pair of sunglasses and a hat to make the look more fun. Also, do not forget to wear pair of black and white heels with this look.
Via
12 – Houndstooth Pattern Coat Look
Winters are all about pretty coats and comfy sweaters. Houndstooth patterns and winter coats are a match made in heaven. This is a very minimal yet most fashionable look you can ever wear. Just style a knee-length coat with thigh-high boots and accessorize it with a nice pair of sunglasses and a neutral color crossbody bag and you are ready to slay the day.
11 – Mini Dress Styled With Black Stockings
A cute Mini Dress is every girl's favorite outfit especially for teenage girls or women in their mid-twenties. This is a special look for those young girls who want to make a style statement among their peers. In this look, a nice houndstooth pattern mini dress is made to wear with black stockings and black shiny pointed-toe pumps. This look is accessorized with a black notebook clutch and a thin black belt worn on the waist to make the look more sleek and stylish. Moreover, you can also wear some delicate pieces of jewelry with it.
10 – Houndstooth Pattern Scarf For Winters
Scarfs are everyone's favorite winter staple. It not only protects you against the cold weather but also gives you a very trendy look. You can wear a houndstooth pattern scarf with a slit sleeve coat and thigh-high shoes. Carry a contrasting color bag to make the look pop even more. Moreover, also wear a nice pair of glasses with this look and you are ready to catch everyone's eyes with this beautiful outfit.
9 – Houndstooth Cap With A Casual Outfit
This is a very casual look to carry every day around in the winter season. A houndstooth pattern cap is styled with a multiple color checkered print winter jacket with a basic pair of jeans and a stylish pair of leather boots. In addition, the bird necklace accessory is worn over a blue sweatshirt underneath completing the look.
8 – A Classic And Stylish Houndstooth Cape Wrap
In this look, a stylish houndstooth pattern cap is made to be worn with a nice black dress and a wrap-around neck scarf. In addition, The pointed-toe black pumps and the sunglasses are elevating the look more.
7 – Houndstooth Pattern Mini Skirt With Crop Top
A mini skirt with a crop top is a nice combination to carry in the summer season. Moreover, a pair of nice summer sandals and a hat are adding that fun element to this look. In addition, do not forget to carry a small shoulder bag wearing this look.
Via
6 – How To Wear A Houndstooth Pattern Dress
A long knee-length dress accessorized with a waist belt and thigh-high shoes is something to drool for. So, wear this look and get ready to be a head-turner for sure.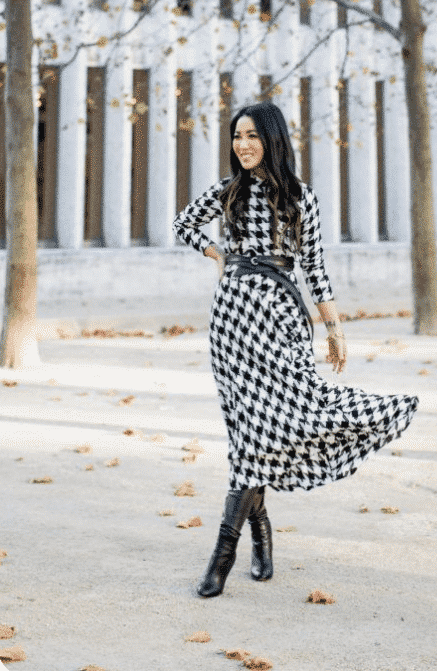 5 – Pink Houndstooth Pattern Jacket
Pink is a stunning color so why not experiment with a houndstooth pattern look. In this outfit, a pink houndstooth pattern coat is paired with white pants and nude heels. Moreover, adding to the beauty of this look carry a pink bag and nice sunglasses with you. Wear this to a dinner date or lunch with your friends.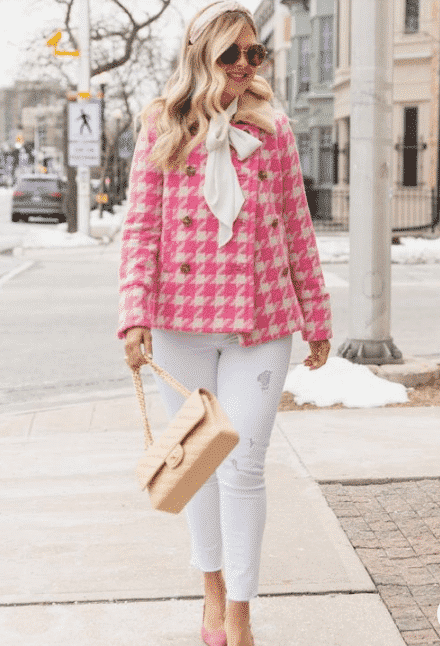 4 – Styling Houndstooth Pattern Pants With Leather Jacket
Styling a black leather jacket can sometimes be a hard nut to crack but do not worry you can always wear it by pairing it with houndstooth pattern pants. In order to enhance this look even more. wear a white pair of sneakers and a black long strap bag with it.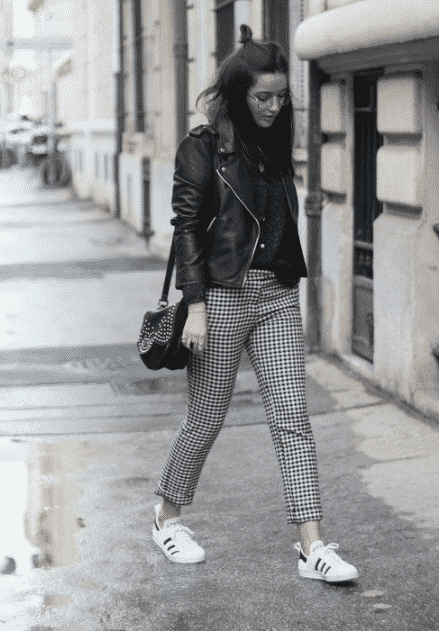 3 – Free Style Houndstooth Pattern Outfit
If you love to experiment with fashion trends and patterns then this is the ultimate look for you to carry this winter season. Try pairing different houndstooth prints in one outfit and let your inner fashionista have some fun!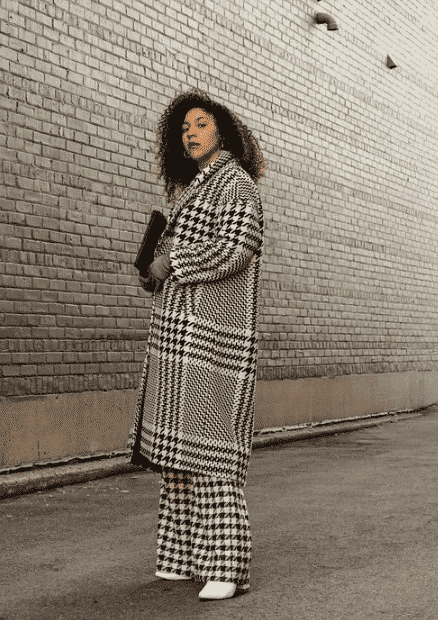 2 – Houndstooth Pattern Fall Season Look
This cute houndstooth pattern dress paired with contrasting red leggings and leather boots is a must-have for this fall season.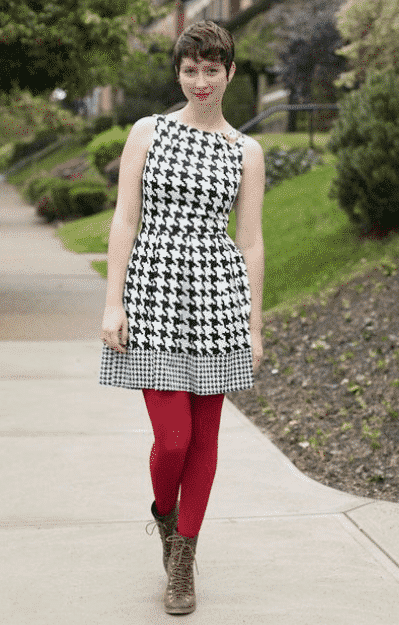 1 – The Ultimate Lady Gaga Houndstooth Look
Talking about style, Lady Gaga is giving us some serious fashion goals in this houndstooth look. You can never be more on point than Lady Gaga while experimenting with this unique pattern.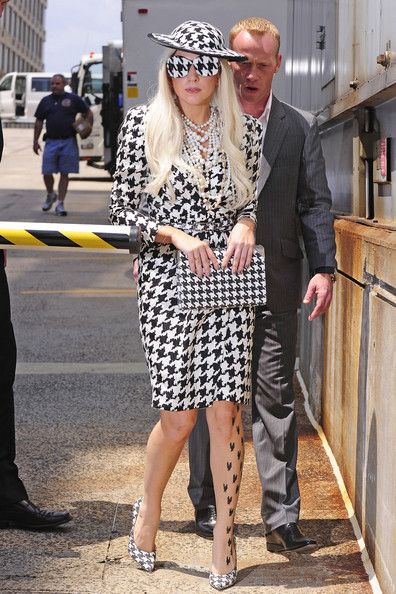 Frequently Asked Questions
Q: Why is the pattern called houndstooth?
Ans: Houndstooth pattern fashion has taken the fashion industry by storm. The word Houndstooth has its root in the eighteenth century and is referred to as the teeth of a hunting dog used by the ancient shepherds of Scotland. The shepherds of Scotland use to wear it as a outwear to face extreme weather conditions. Since the pattern was inspired by the structure of the dog's tooth, so it is named after it in history.
Q: Is houndstooth pattern out of style?
Ans: There are certainly, a few fashion trends that can never run out of style. The houndstooth pattern is a timeless fashion trend that unquestionably tops the list of all those fashion rages. Moreover, you can style it for almost every event and every time without giving it a second thought and will surely never be disappointed experimenting with it.
Q: Can you wear a houndstooth in the summer?
Ans: The houndstooth is an ageless fashion statement you can wear all year round. No matter if it's summer, winter, or fall you can wear it any time and anywhere. A cute dress in a houndstooth pattern can be your go-to outfit this summer. You can style it with light jewelry, accessories, nice footwear and you can be a head-turner with this effortless look. Go and slay your summer season!