Black midi skirt outfits: Women were all about these skirts in the 1940's, and from time to time they make a comeback today. Midi Skirts fall just below your knees about two inches above your ankles or mid-calf.
Being above the ankles, it doesn't make you look short, unlike the full-length skirts. Black is a staple color in everyone's closet. If you have just started experimenting with midi skirts, black is the color you should choose and start with as it is the most versatile and easy color to start with. We bring you 21 of the best ways you can style your black midi skirts, scroll down to get inspired!
What to Wear with Black Midi Skirts?
Black skirts always look so sexy and elegant. Midi skirts come in all sorts of styles and materials from pleated, satin, leather, lace, netted, pencil, and many, many more. Pick the style according to the event you are going to.
For a date night, or a night event black fitted midi skirts will look more appropriate perhaps in leather or satin. Pleated Black midi skirts look beautiful for a daytime look, whether it's a look for errands or a cute day out with friends or the mall.
These skirts look good in all seasons, especially summer and fall. Almost any top you have will look great with a black midi skirt. For a more casual look, try pairing a t-shirt with trainers and a cute cross-body bag. Neutral colors will always look great with a black skirt.
Styling Tips
-Make sure the skirt fits you right at the waist, especially if it's a tight skirt such as a pencil skirt to achieve the best look.
-Add a belt to accentuate the look
-For a glamorous look opt for materials such as satin or leather.
-Add color to your outfit by pairing a beautiful colored top with your skirt.
↓ 21 – Celebrity Style
Olivia's style is exceptional and here we have yet another stunning look of hers. A black midi skirt, with pleats from the waist down and a big slit at the front which shows off the leg and makes the outfit look so much more fashionable and interesting. The skirt is paired with a sheer top, with ruffle type detailing at the front, and a beautiful burgundy jacket, and a pair of heels. The belt adds a little something to the overall outfit and covers up the plain waistband of the skirt as well.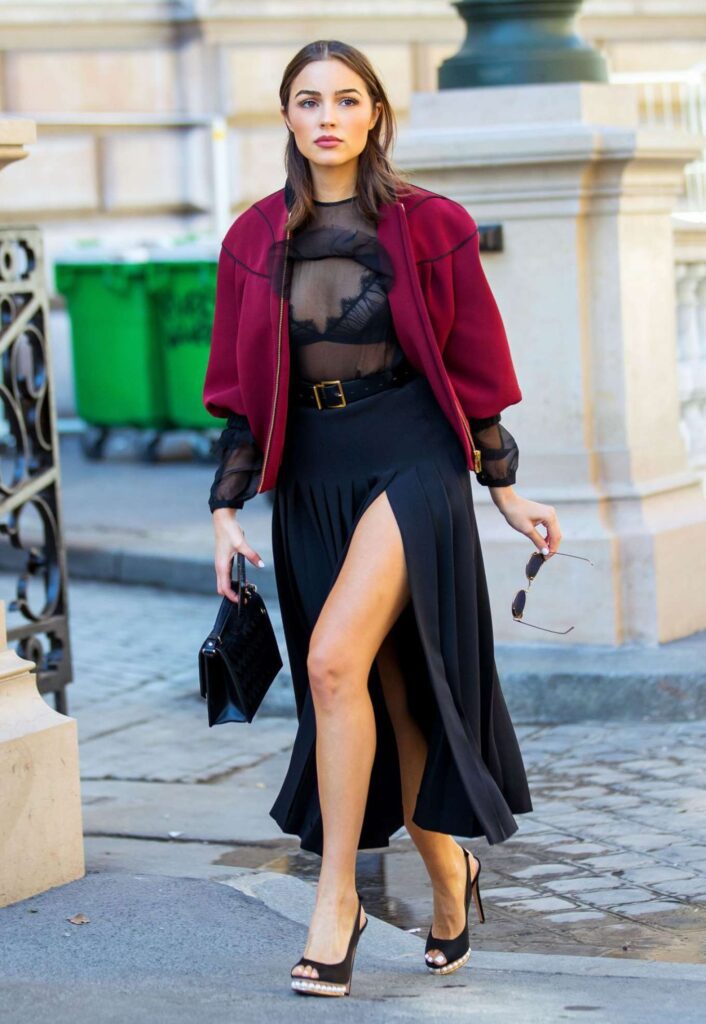 ↓ 20 – Edgy Day Look
Are you looking for something different? Perhaps a casual, yet a trendy, fashion-forward look? This outfit is perfect, as we have a black pleated skirt paired with a casual white tee, a leather jacket, a crossbody bag, and a pair of white trainers. You can accessorize with a pair of hoops and retro shades.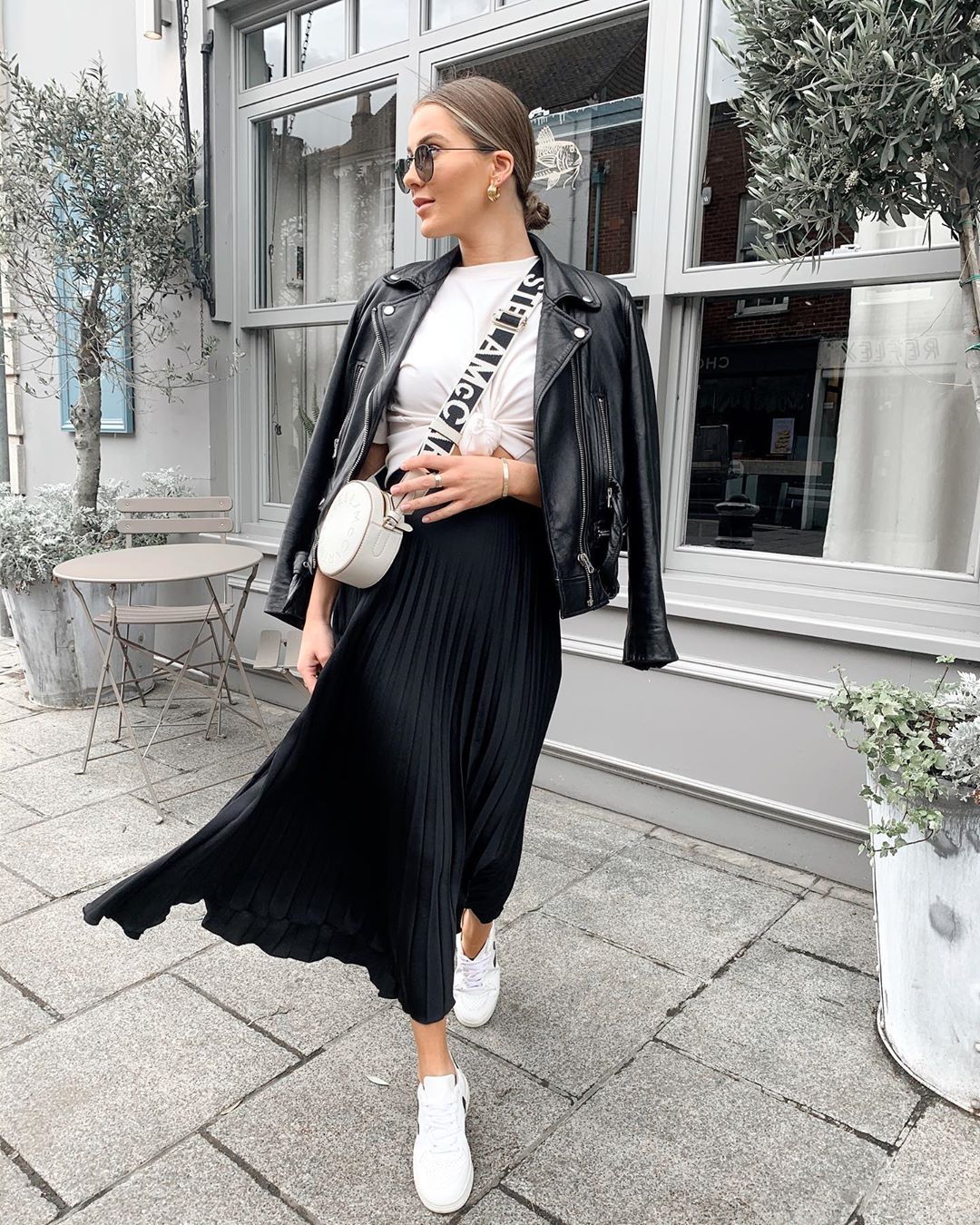 ↓ 19 – Holiday Outfits with Black Midi Skirt
The holiday season is everyone's favorite time of the month, and it's also the best time to wear cute outfits. Pleated midi skirts are a great option for the holiday season, they amp up the outfit with the pleats and are so easy to style. Here we have a black skirt, paired with a warm mock turtleneck top and a long-collared coat. This all-black look is perfect for Christmas dinners.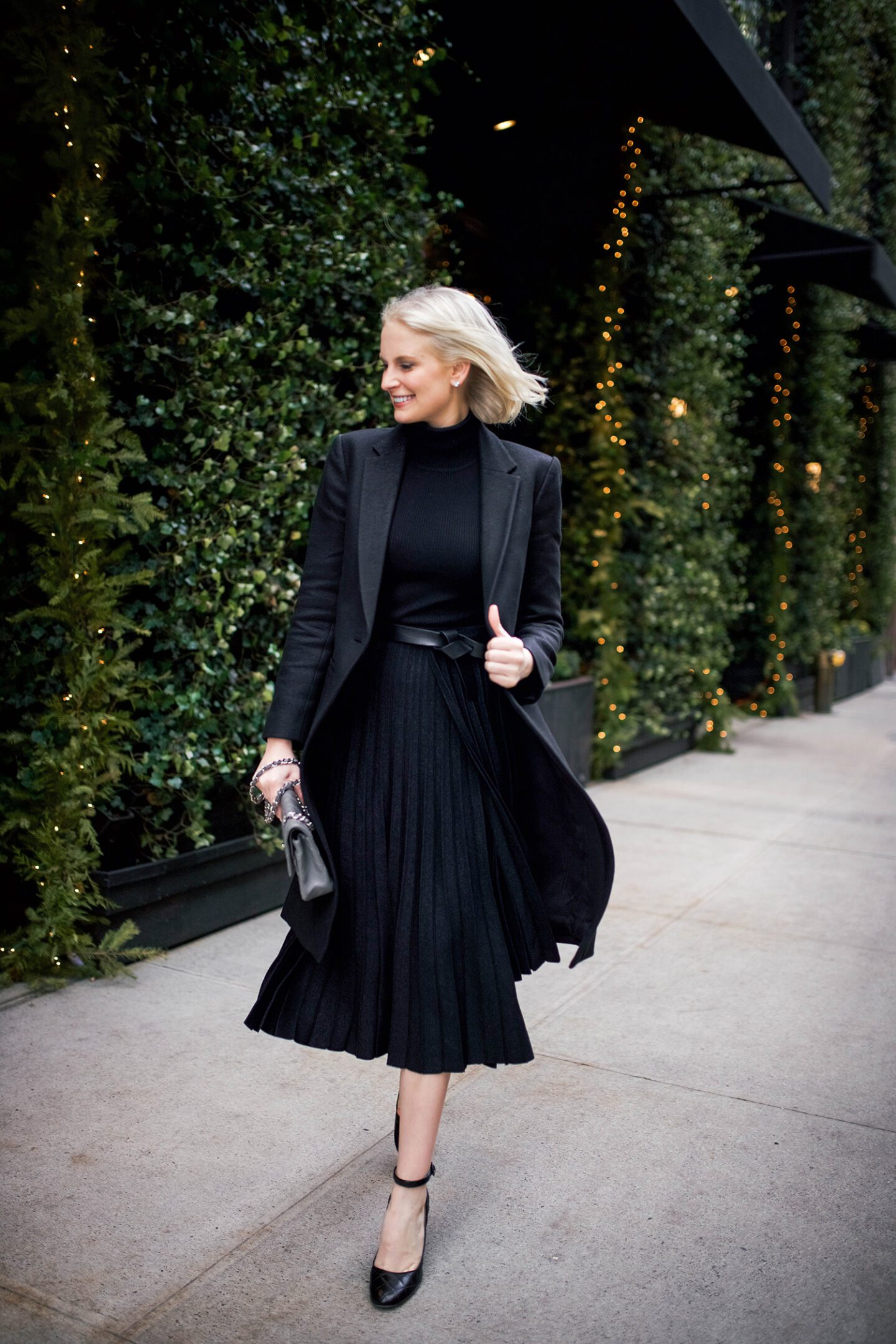 ↓ 18 – Sexy Black Midi Skirt Look
You can definitely make your outfits look sexy with midi skirts. Try pairing a pencil-style midi skirt, with a black top of your choice, a pair of PVC heels and a chunky necklace to accessorize. The Dior bag at the waist is adding a nice element to the look.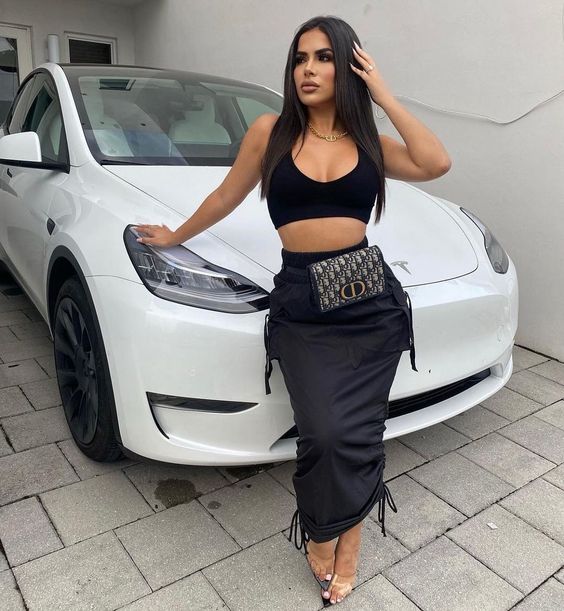 ↓ 17 – Can I Wear a Black Midi Skirt to a Wedding?
The options with black midi skirts are endless. Here we have a stunning outfit perfect for a wedding. A black lace midi skirt, paired with a white lace top, with beige lining. The neutral tones with the lace fit well for the wedding event, and the outfit is paired with nude heels and a red purse which adds a pop of color to the gorgeous outfit.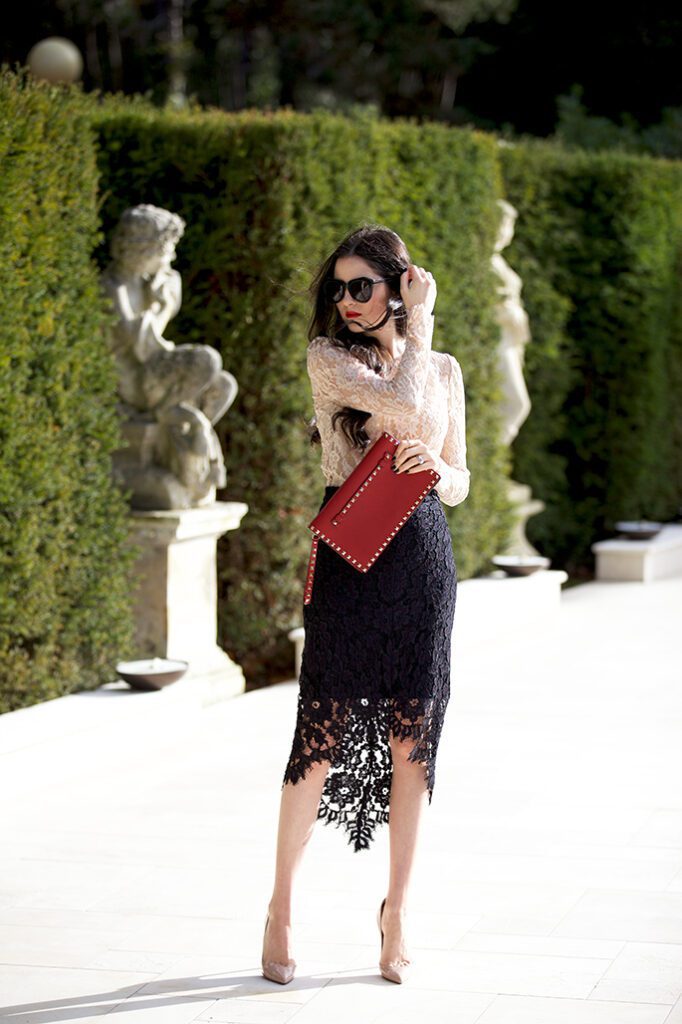 ↓ 16 – With a Floral Print
Gotta love floral prints, especially on a black skirt. This beautiful, flowy, floral skirt is perfect for the spring season. Flowy midi skirts look so feminine and elegant, and here we have one paired with a sleeveless black top and some nude heels.
↓ 15 – With a Sheer Top
Sheer tops look so trendy and incredible paired with a black midi skirt. It's a nice way to add a more fashion-forward touch to your outfit, a risky choice however this one is for my risk-taking bold girls. This skirt has two slits at the front, something you don't see that often but looks great for a night-out look. A lace bralette under the sheer top looks great, and you can wear big earrings to complete the look.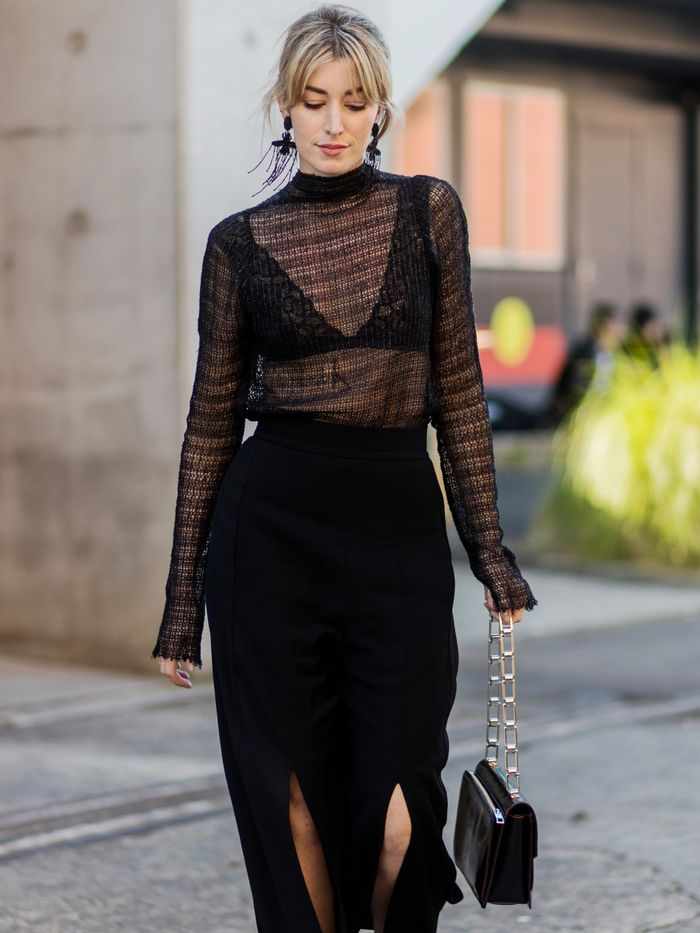 ↓ 14 – Patent Leather
Patent leather is my favorite, as it gives the outfit such a trendy and expensive look. The high gloss material skirt is paired with a color block print sweater and some black heels. This outfit is very simple, with not too much going on, but the skirt really speaks for itself and adds so much to a plain outfit. Notice the zip detailing on the skirt. Here are some of our favorite Leather Skirt Outfit Ideas.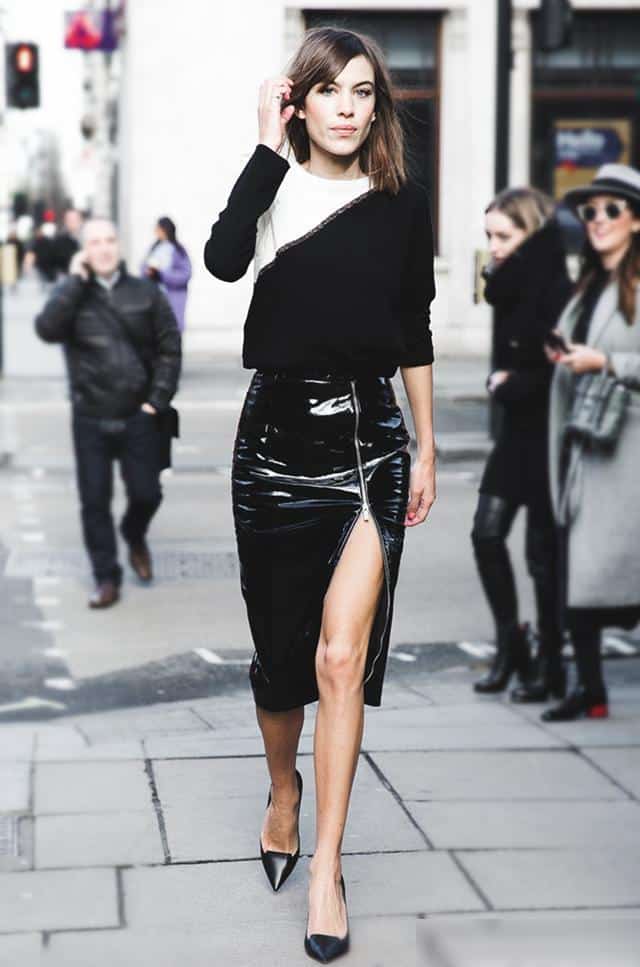 ↓ 13 – With a White Tee
The white and black color combo will never go out of style. You can style your back midi skirts with a plain white t-shirt, and it will turn into a great look if done right and accessorized well. A layered necklace is added which adds an element to the plain white shirt. Bring out your statement jewelry pieces and don't hold back when you start accessorizing.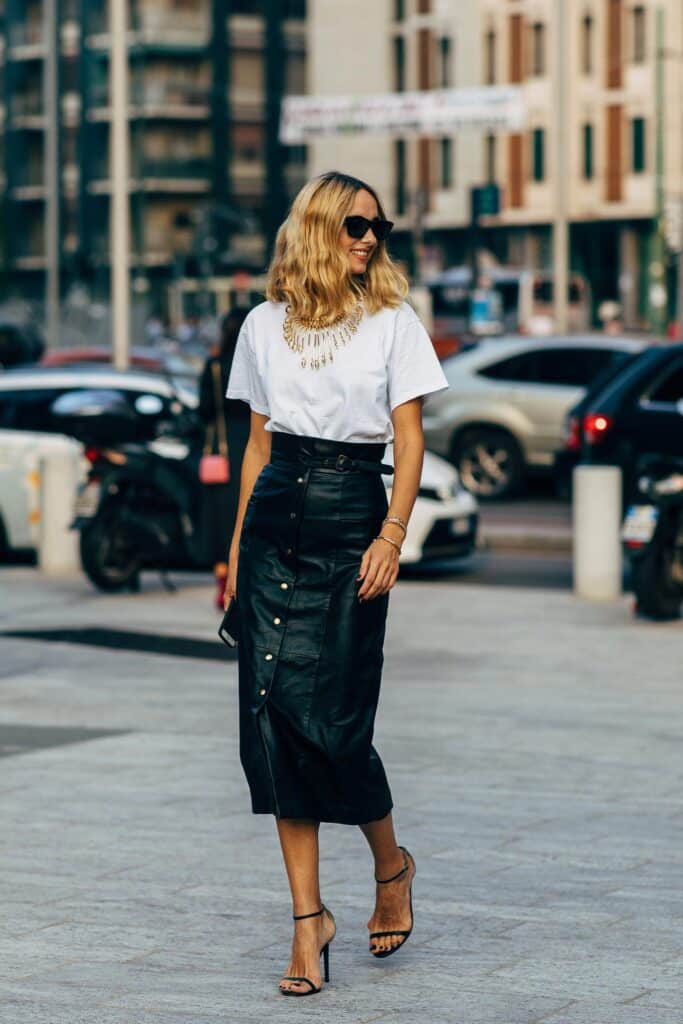 ↓ 12 – Black Midi Skirt Outfit for Autumn
Pair a chunky button up sweater with a black midi skirt. These slits are the newest trend and add the right amount of sexy to your outfit. Make sure to tuck the sweater in and pair black boots to complete the look. I personally love this look and its great for autumn.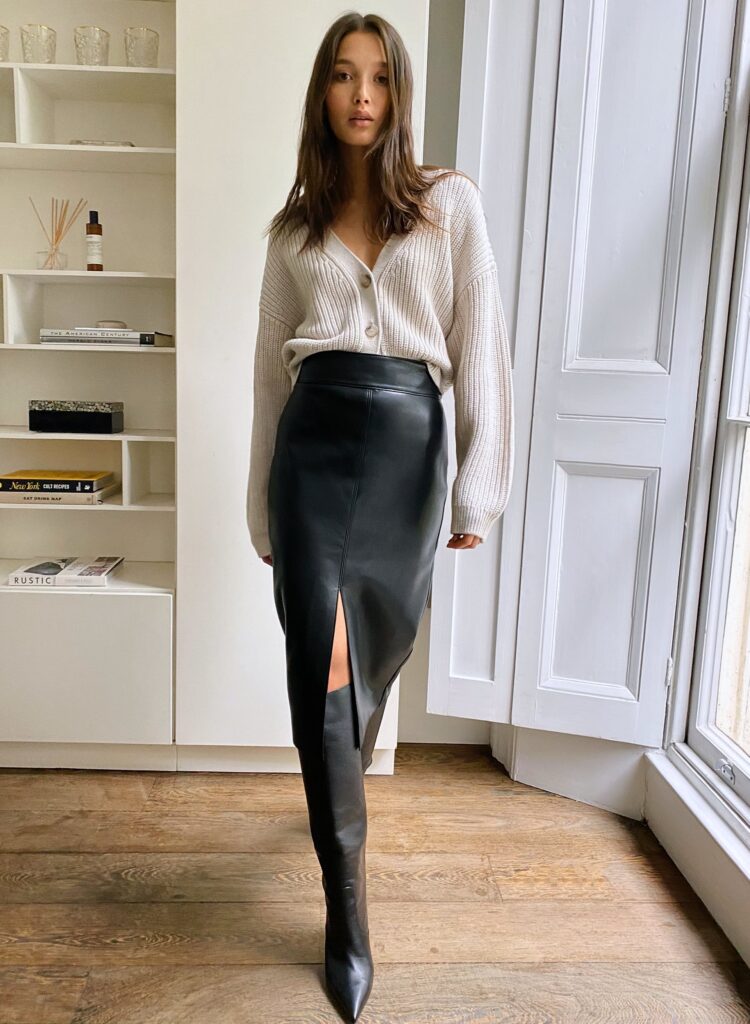 ↓ 11 – Netted Black Midi Skirt
Here we have a netted midi skirt, which is super unique and gorgeous. The net pattern is beautiful and will make you stand out and be the statement piece of your outfit. Contrary to popular belief it is so easy to style, all you need is a simple black top, a pair of heels and a trench coat on top. Coats are the best way to add color to your outfit on colder days.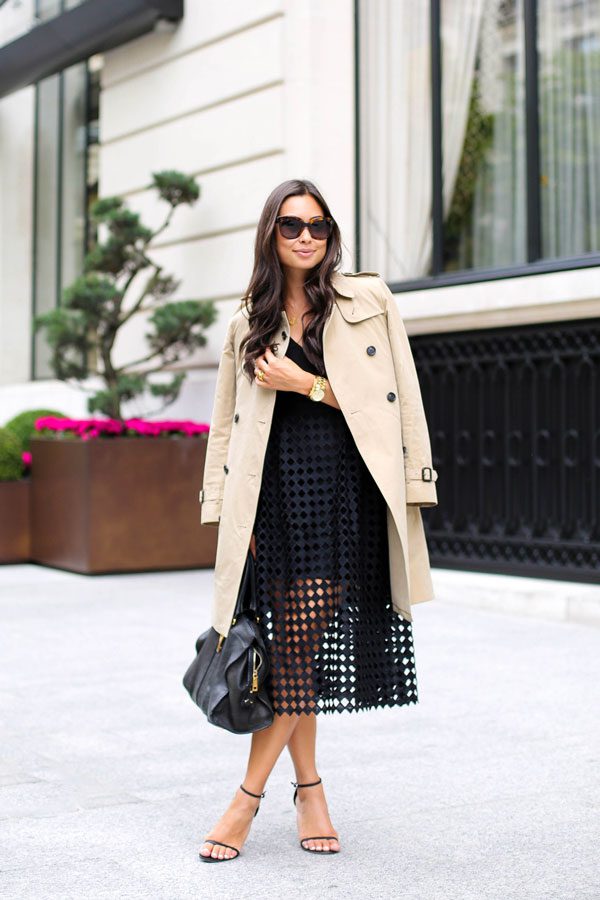 ↓ 10 – Black Midi Skirt Outfit for Summer
Satin midi skirts look so sophisticated, and this beautiful satin skirt is perfect for the summer, it's super breathable, and you will look fashionable and feel comfortable throughout the day. It is paired with a white button-up, which is knotted at the front instead of the usual tuck-in, a straw handbag and black heels.
source
↓ 9 – Black Midi Skirt Outfit for Winter
For the winter, midi skirts are a great option when you want to change it up and wear something other than jeans. Layering is key here, you can wear tights under your pleated skirt, a shirt under a chunky sweater, some boots and you are ready to go. I am loving the green turtleneck paired with the black skirt.
↓ 8 – With a Denim Jacket
Everyone has a denim jacket laying in their wardrobe. If you do, its time to take it out and pair it with your pleated black midi skirt, a t shirt under, a cute cross body bag and a pair of white trainers. This outfit is perfect when you don't want to try too hard but still want to look cute and presentable.
↓ 7 – Casual Look with a Black Midi Skirt
Are you looking for a casual everyday look? It doesn't get more basic than this. Try pairing a white ribbed top with your black midi skirts. This is a total neutral outfit and if you are a fan of the neutrals, it is your time to give this look a go. A pair of black flats and a cute crossbody bag are styled with this casual look.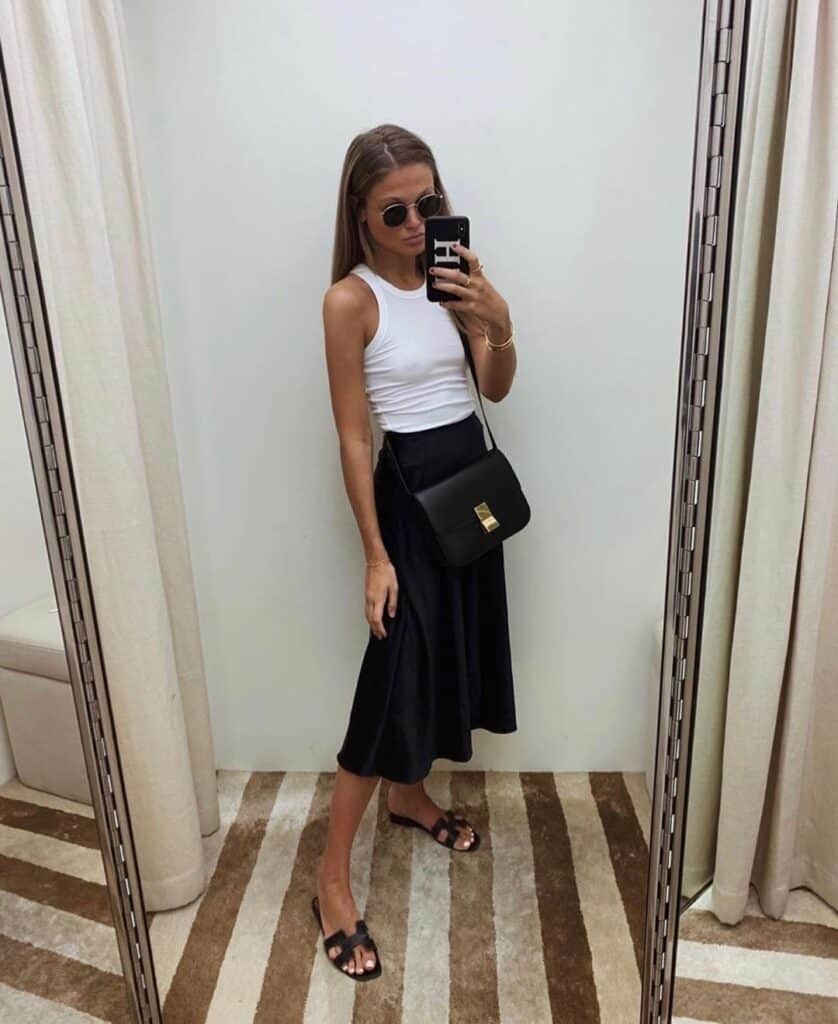 ↓ 6 – For a Night Out
A satin skirt is paired with a stunning top. It is super sexy and stunning and will definitely make heads turn as you walk by in this outfit. Nights out are long and tiring and you want to look beautiful but feel comfortable too, and this is just that look. You can pair any of your going-out tops with this skirt, and the outfit will surely look just as great.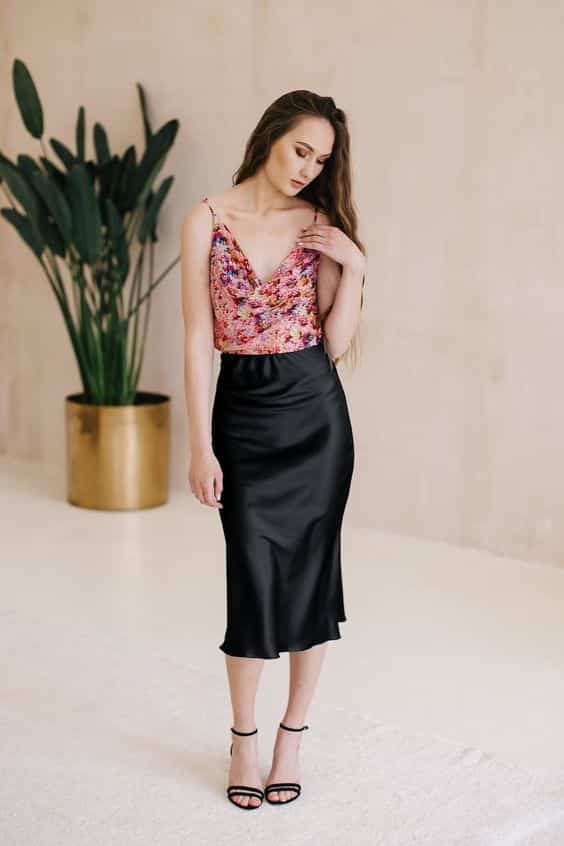 ↓ 5 – Classy Outfit with Black Midi Skirt
Here we have a very classy outfit that you can easily pull off as well. A black pleated leather midi skirt is paired with a plaid collared blazer, which is tucked in and looks oh so chic. A black belt is added, with a black bag to complete the look and is paired with nude heels.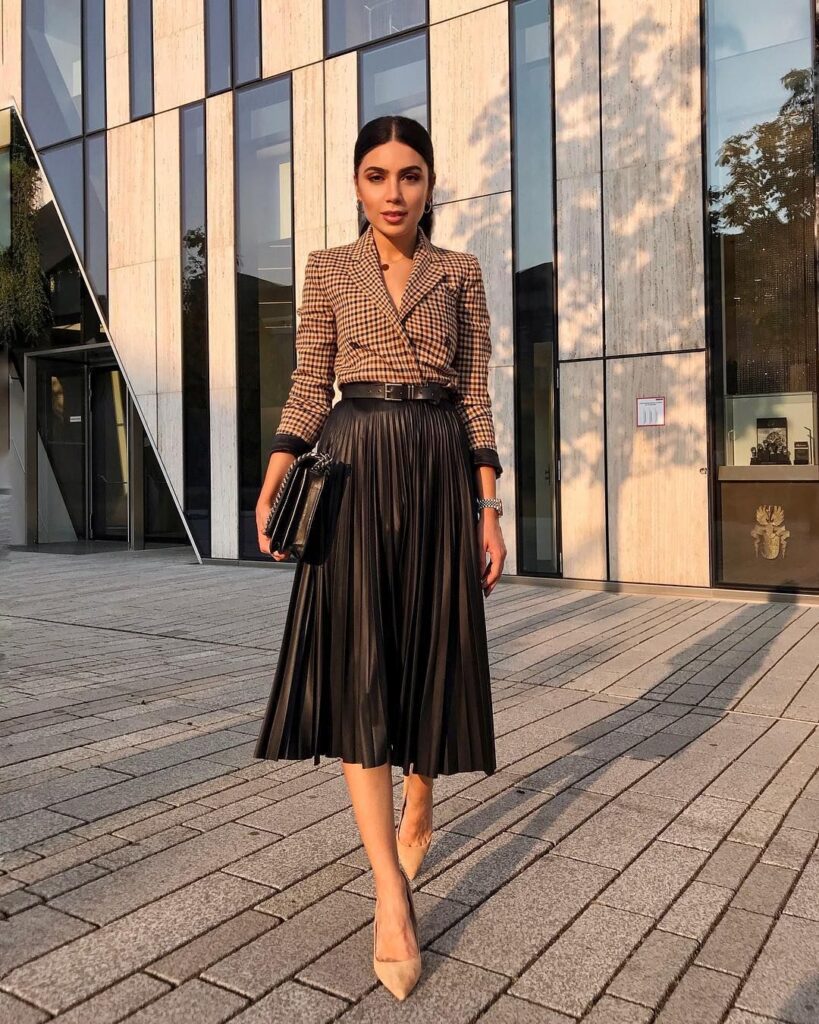 ↓ 4 – Black Skirt Outfits For Work
Work requires you to look pristine, sleek, and presentable. Try an outfit with a black satin midi skirt, which looks so chic and graceful and pair it up with a white top, and a long blazer. Here we have a grey collared blazer, and pair open back loafers with the outfit. Here are some more ways To Wear Skirts For Work.
↓ 3 – With a Puffer Jacket
Puffer Jackets are so stylish, and here we have such a chic look with one. Try pairing your midi skirts with a puffer jacket, and a pair of high heels and some stockings. This all-back look is so stunning, try zipping up the jacket fully for this look.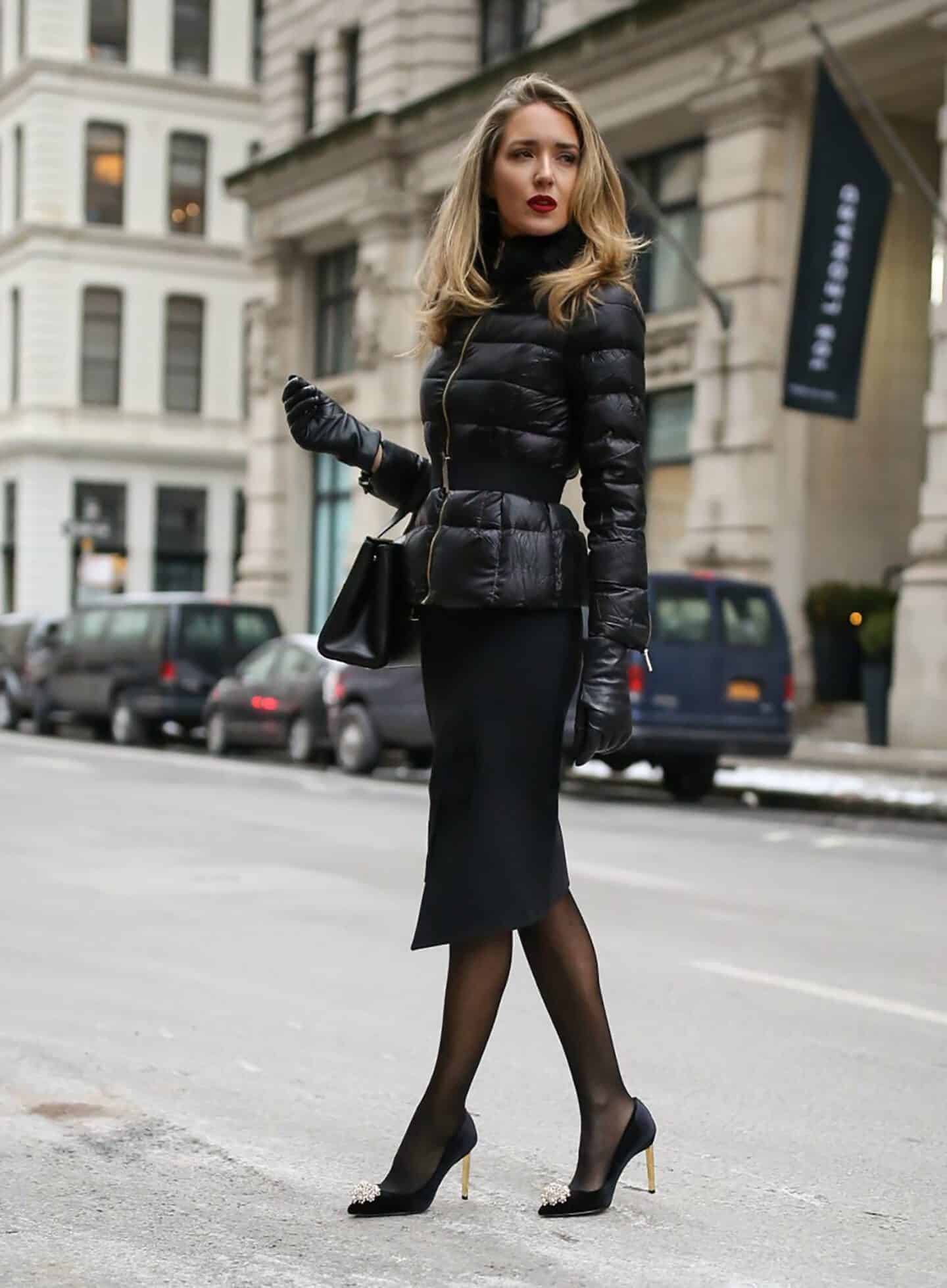 ↓ 2 – For Women over 50
Ladies don't shy away from rocking a black midi skirt. It's modest, it's cute, it's comfortable. Try pairing a leather skirt with a cute top. Here we have a leopard print top, paired with nude heels. Accessorize with a bracelet and a handbag for all your essentials.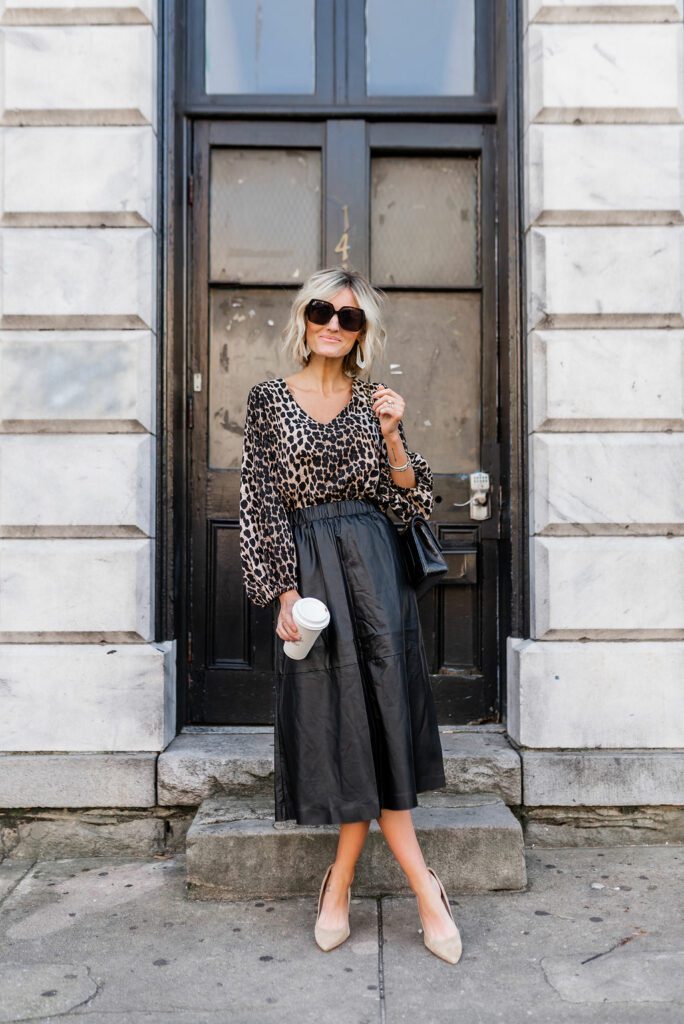 ↓ 1 – Black Satin Midi Skirt Outfit
Black Satin is the most sophisticated out of all the colors and materials midi skirts usually come in. Pair a cute graphic shirt with your skirt and wear white heels and try pairing a white bag to complete the look.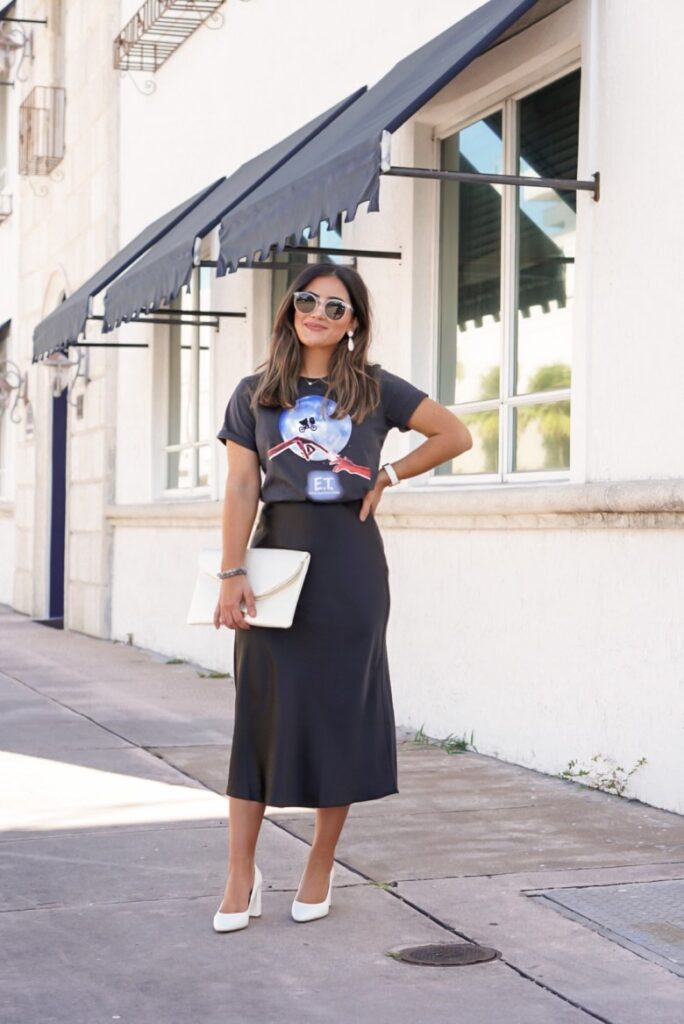 Frequently Asked Questions
Q. What can I wear with a tight black midi skirt?
A. The options are endless with a tight black midi skirt. You must wear heels, as tight skirts are usually worn for a night out. Pair sheer tops, or mesh ones. Beautiful blouses, and button ups in white or any neutral color look good as well. You can experiment with colors such as red, emerald green or navy blue with black midi skirts. Don't forget to accessorize, add big shades, a luxe bag and minimal jewelry, maybe a chain necklace.
Q. How to Wear Black Midi Skirts without looking frumpy?
A. A trendy way to style black midi skirts is opt for a skirt which has a slit at the front, looks sexy and shows off your leg. Add a sheer top, wear a lace bralette under. If you are looking for something with a bit more coverage pair a t shirt on top with the skirt and add a blazer on top. Blazers are the latest trend and aren't just restricted to formal events either. They look amazing with almost anything, especially skirts. Try to wear heels or trainers with your outfit. Wedges can be avoided if you don't want to go for the old school look.
Q.  What can I wear with a black ribbed midi skirt?
A. Ribbed skirts are great for winters, they are usually tight and hug your figure. They are quite easy to style, as you can wear a chunky sweater or a turtleneck on top, and wear heels or boots under. Add a coat, blazer, or a leather jacket on top and you are good to go. Don't forget to add color to your outfit through the outerwear, or perhaps the bags or heels.