Best Accordion Skirt Outfits- Did you know accordion skirts were initially worn by Greek men for their military events? Today, however they have been the trendiest piece worn by women almost all over the world.
They come in all lengths, patterns, colors, and materials; be it metallic, Ombre, plaid, plain, velvet, leather, or rainbow etc. We bring you the latest trends of today to help you create an even better look.
How to Wear Accordion Skirt Outfits?
These skirts add so much elegance, dimension, and sultriness to your over all outfit. You do not have to do much if you are wearing an accordion skirt because they will be the center of attention. For a casual look, pair your accordion skirt with a simple t-shirt, a jacket if it's a bit chilly, or perhaps an oversized sweater for the wintry months combat boots, flats or white sneakers. For a dressier look, wear a lace top or a mesh top with your skirt, add a pair of high heels, a big belt, and chunky earrings for that extra fancy look. If you are feeling a bit funky and colorful, accordion skirt come in all sorts of patterns and colors to experiment with.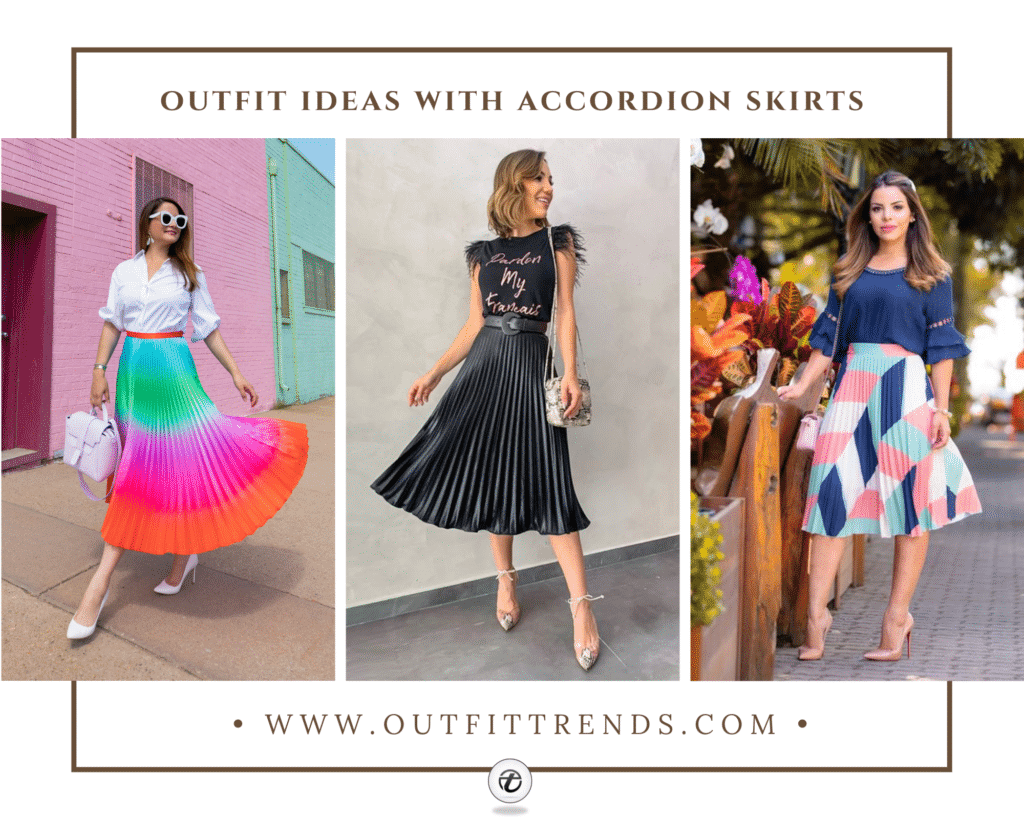 Styling Tips
-If you are petite, try wearing heels with your skirts and opt for midi skirts or short ones to look tall instead of wearing long ones.
-You can wear sneakers with your skirts, it has been such a trend lately.
-Adding a belt to your skirts adds a nice touch to your outfit, most outfits with skirts do need belts to complete the look.
↓ 36 – Casual Accordion
Sometimes you really want to ditch the heels and wear your comfy shoes. Most people will advise you to wear heels with your accordion skirts, however, converse shoes with a midi skirt make for a great casual outfit. A simple white tee cut studs and a handbag can be added to your look. This casual outfit is perfect for a day at the mall, or a hang out with your friends, and other such day events, etc.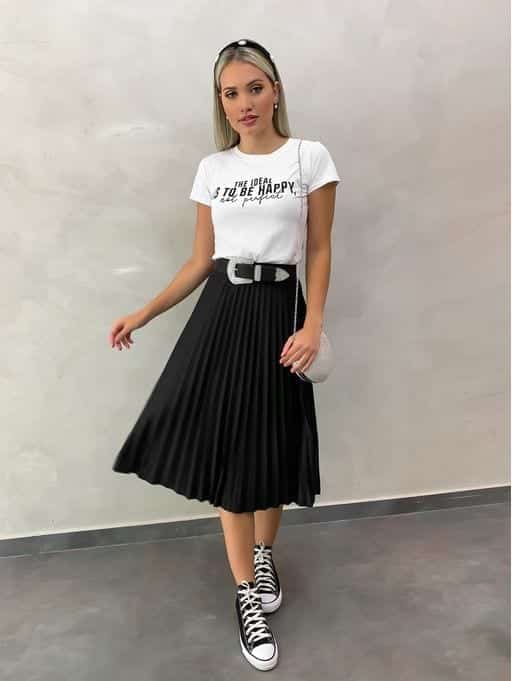 ↓ 35 – When to Wear ?
You can always wear your skirts to a New Years Eve Party, or a party at your friends. This shiny metallic accordion skirt is perfect for all your glam parties, and night events. Instead of wearing a plain solid colored skirt, wear a metallic one instead and shine through the night! Heels are an absolute must with this outfit.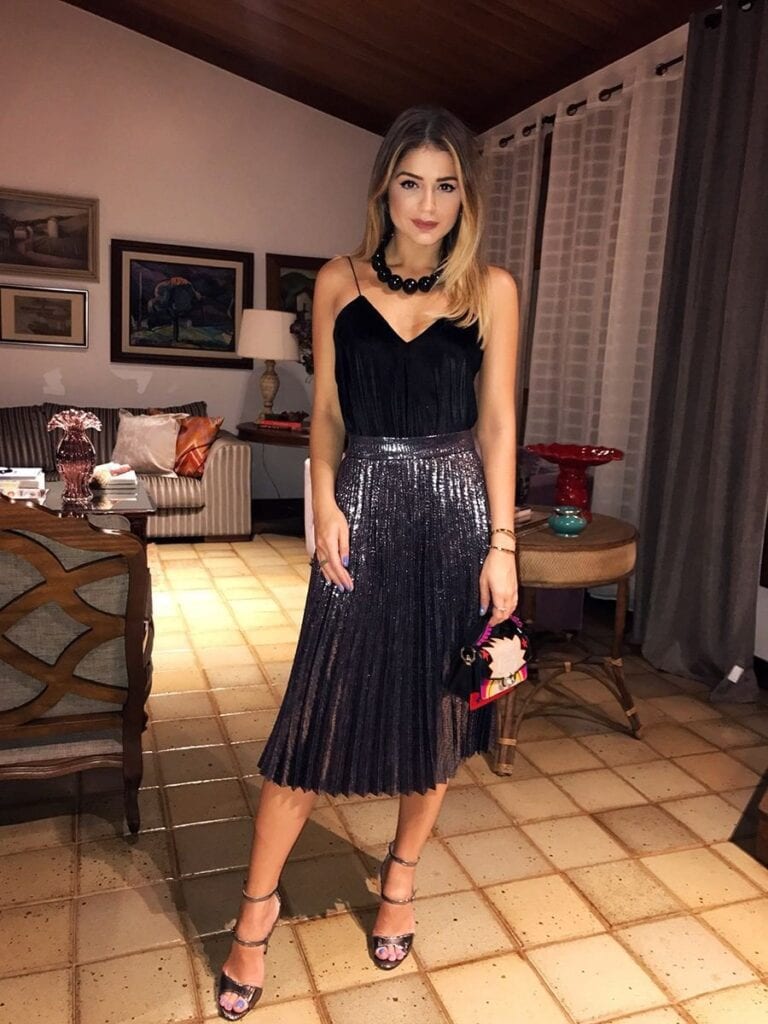 ↓ 34 – For a Wedding?
I love the champagne pink color of this outfit and it is perfect for a wedding you are going to attend. The satin finish accordion skirt paired with a matching sleeveless blouse will make you look like a million bucks at the wedding. Wear beautiful pearly studs, and a clutch to go with it.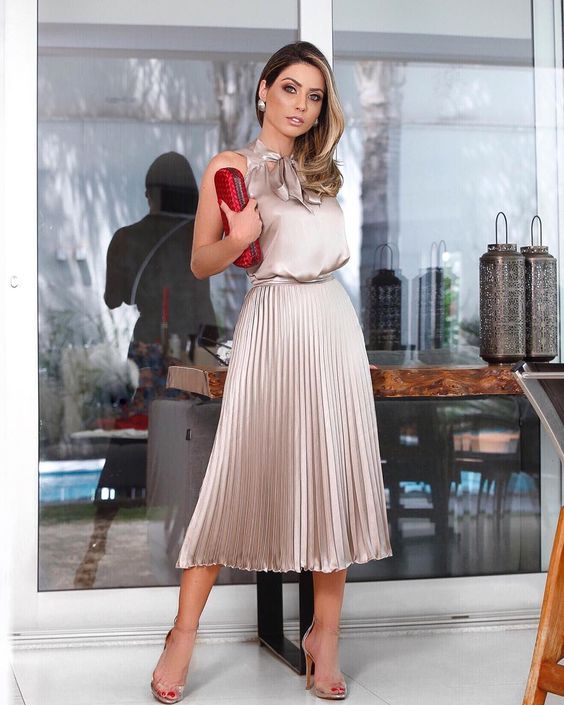 ↓ 33 – For Spring
Spring is the season of beautiful colors so, its always a great idea to experiment with and wear pretty bright colors. The lilac color is so gorgeous and is paired with an even prettier green. Contrasting or color blocking your outfits has been a popular trend lately. You can add a lilac sweater on top if it gets a bit chilly. A statement belt such as this Gucci one really adds to your outfit and helps separate the two colors.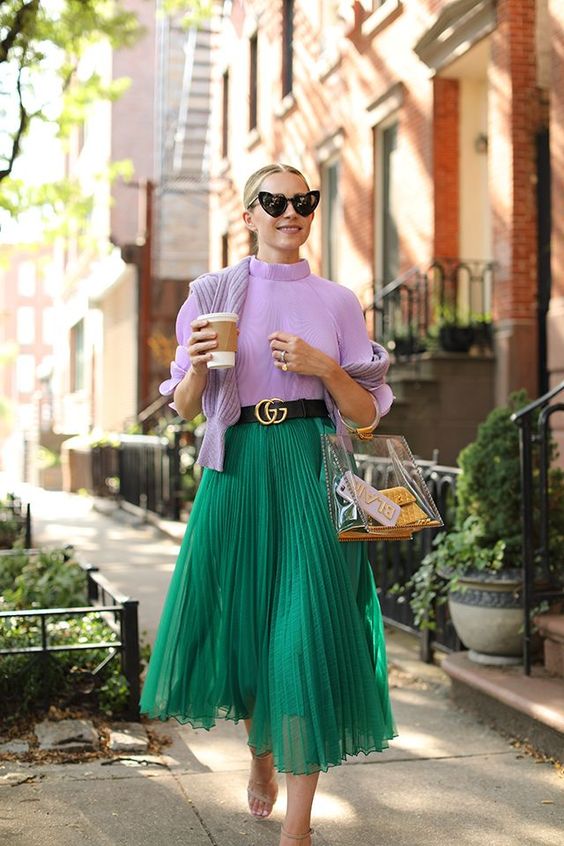 ↓ 32 – Long Accordion
Long full-length accordion skirts look so flattering and almost look like a dress. They can be paired with any top of your choice. If it is a black skirt, try pairing it up with a printed v cut sleeveless top such as a leopard print one. This outfit is perfect to wear to parties.
↓ 31 – White Skirt
White skirts look so cute, and you can go for any length you prefer them in. Here is a midi accordion skirt paired with a pink puffed sleeved top and is paired with white heels and silver accessories.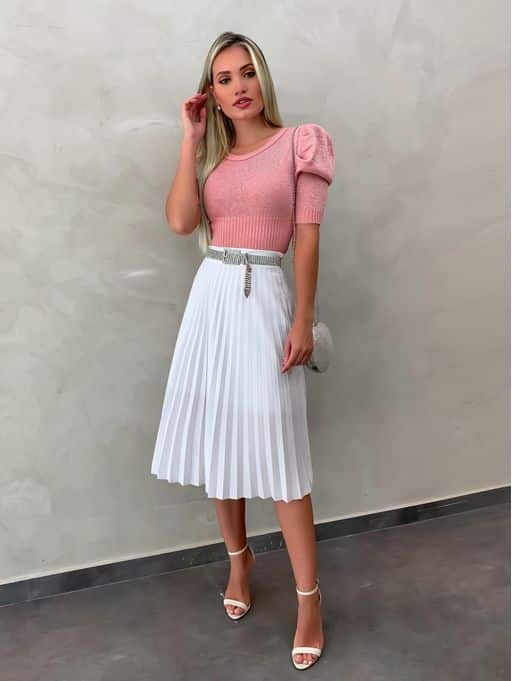 ↓ 30 – Patterned Accordion
Don't stick to the solid-colored accordion skirts this year and incorporate some color and patterns to your outfit. Patterns are a great way to add to your outfit and are easy to style. Pick a color of your choice from the patterns and wear that colored blouse with your skirt.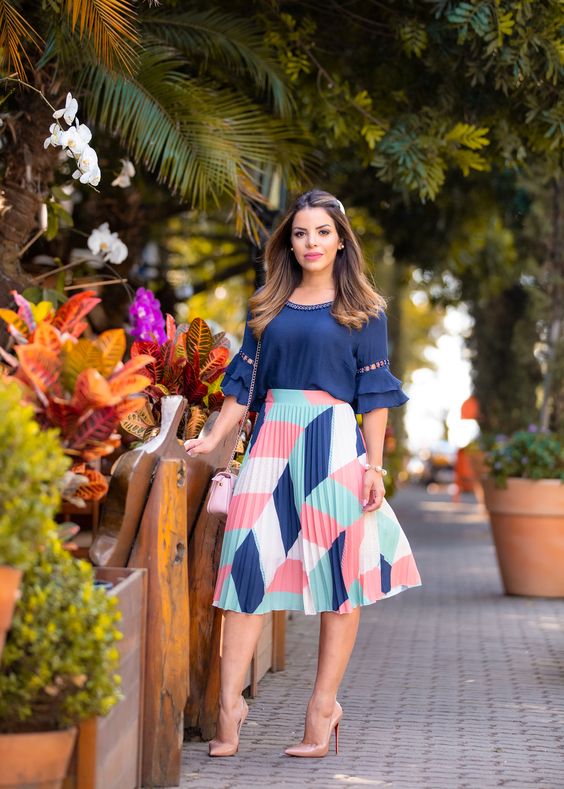 ↓ 29 – Business Casual
You can really make these skirts look business casual/formal by pairing them up with white button up shirts and a pair of black heels. This outfit is business at the top party at the bottom! Black skirts always look so sleek.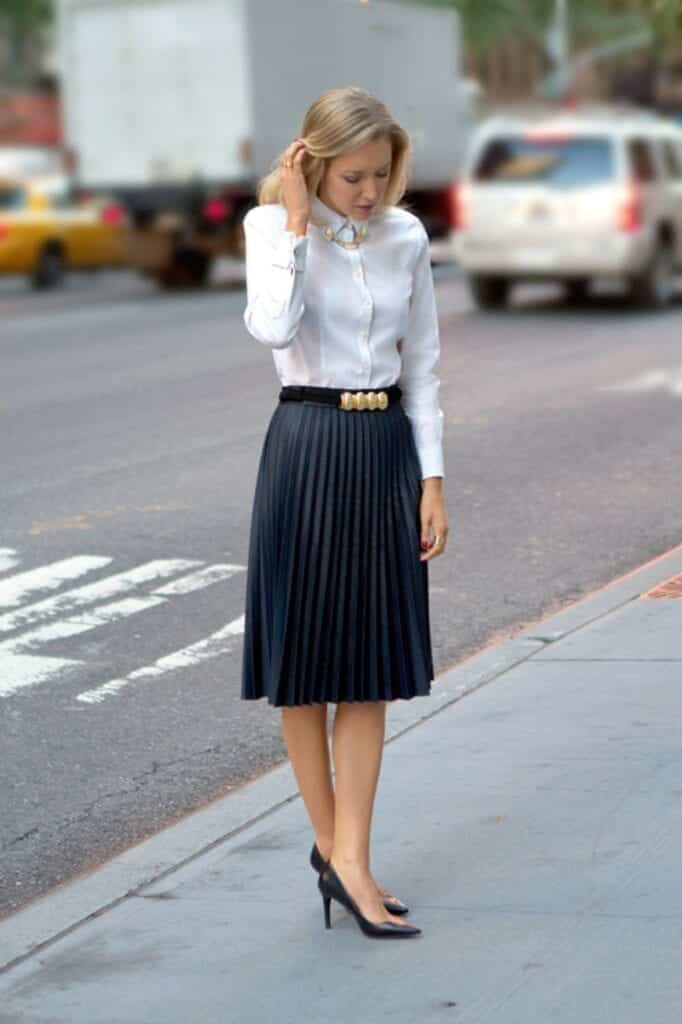 ↓ 28 – Rainbow
Cant pick a color? Just go for the entire rainbow instead! This skirt will make head turns when you walk down the street or enter the room. All the colors flow together and make for a great statement piece. Keep the rest of the outfit white and plain and let the skirt wow everyone.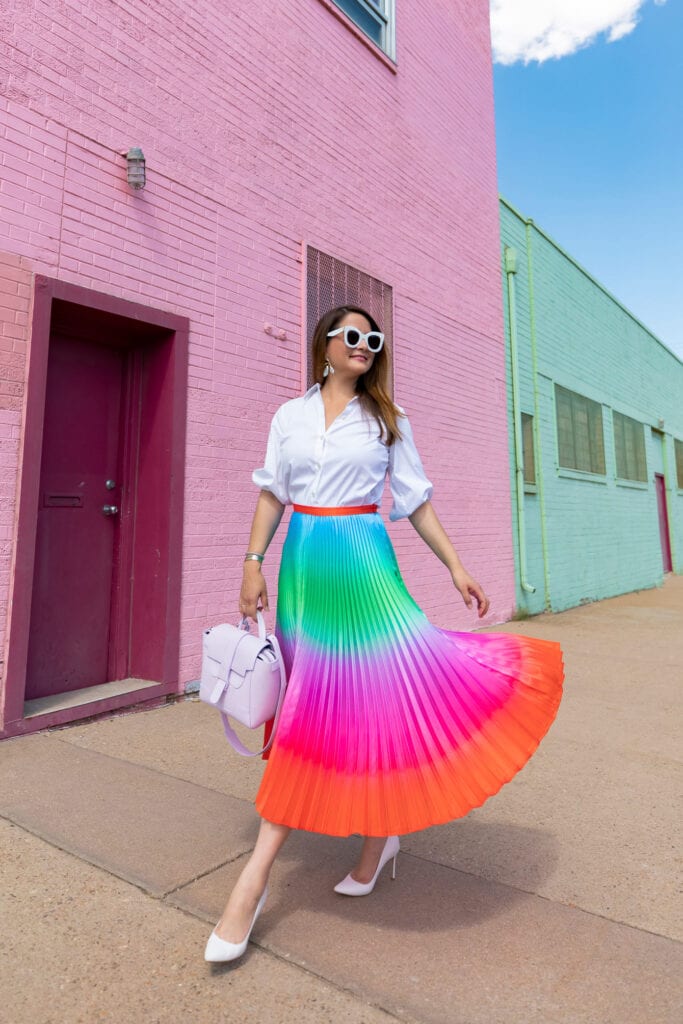 ↓ 27 – For Women Over 50
Look stylish by pairing your accordion skirt up with a white shirt and your favorite denim jacket. You can wear flats, heels, or wedges. Gold accessories such as the earrings, bracelet, and the belt details add a bit of luxe to your outfit.
↓ 26 – Workwear
Pair your black midi skirt up with a white shirt and a long-pocketed blazer. Sneakers can be worn instead of heels for a comfier option. Also, have a look at Professional Skirt Outfits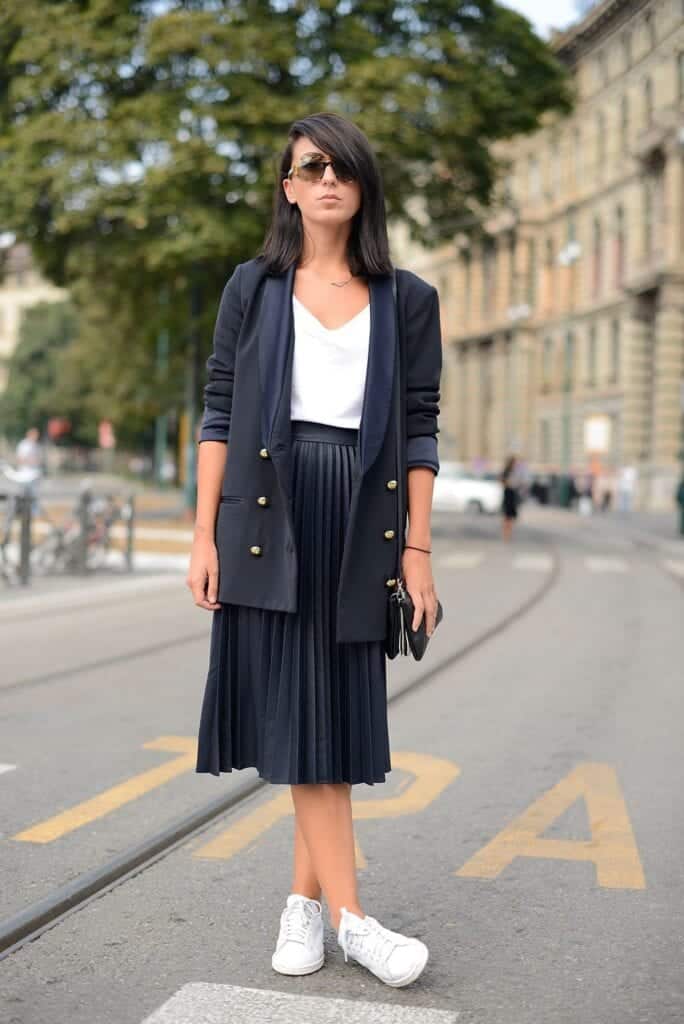 ↓ 25 – Leather
Prints are a popular choice to pair your accordion skirts up with. The Snake print looks so sexy with the black leather skirt.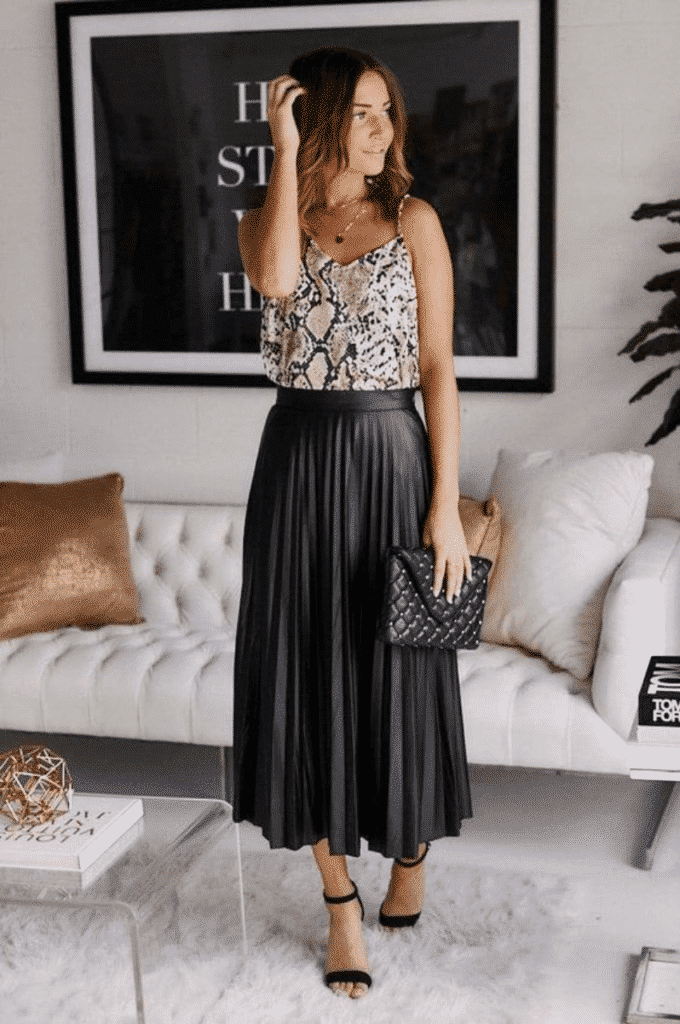 ↓ 24 – With Leather Jacket
These accordion skirts are far more versatile than you think they are. This emerald green metallic skirt looks stunning paired with a black lace trim cami and a cropped leather jacket.
↓ 23 – Color Block Accordion
Introduce a tad bit of color to your outfit by wearing color block skirts. The gorgeous colors on one side of the skirt make the outfit so much more beautiful. This outfit is one of my favorites.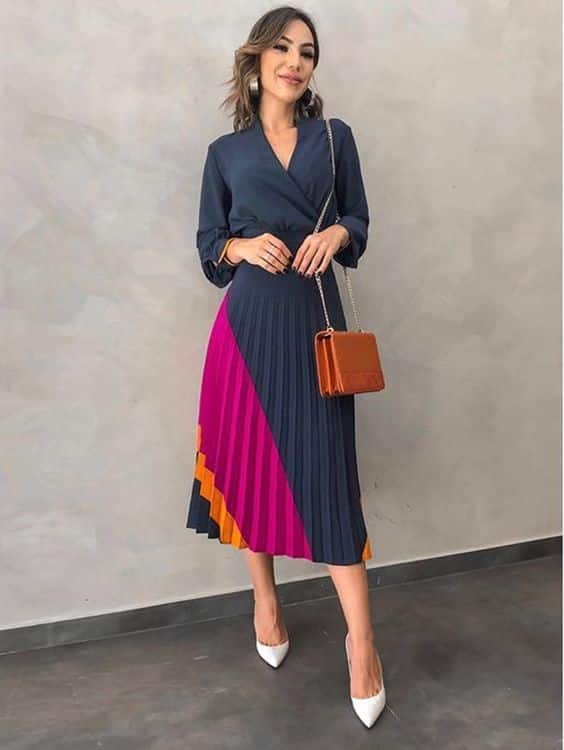 ↓ 22 – Green with Cheeta Print Top
Green accordion skirts look fantastic. You can wear a simple grey tee with your skirt and match your bag with the shirt to coordinate your outfit. A patterned jacket, or perhaps a leather jacket over the top looks great too.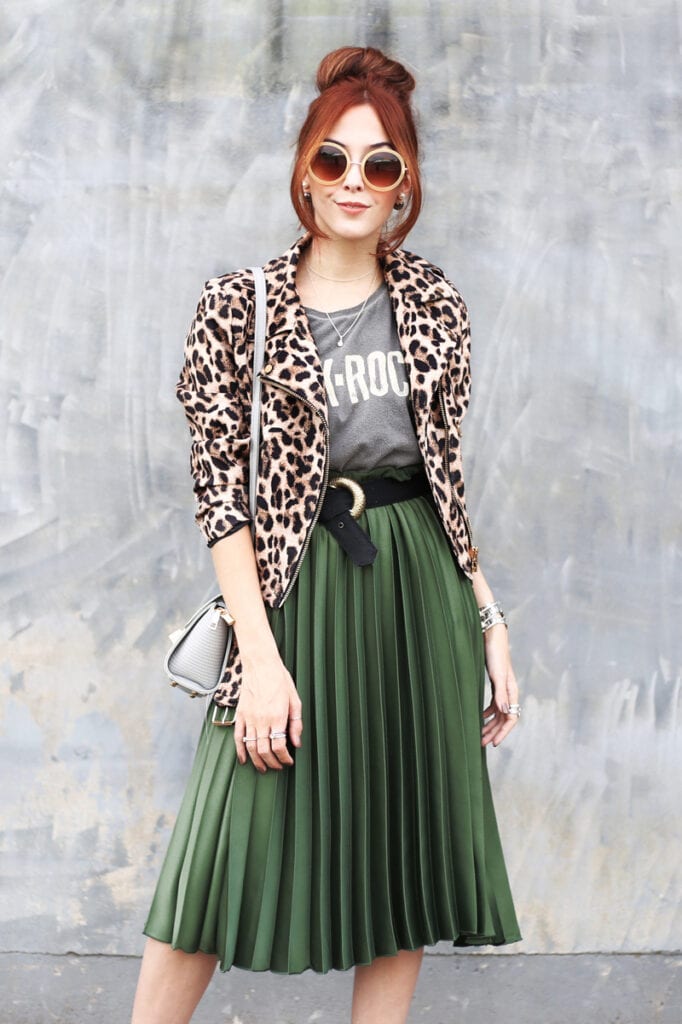 ↓ 21 – For Teenagers
Teens can be found wearing short skirts; however, it is time to try something new and change it up. I think accordion skirts look elegant. They come in all different colors and patterns so you can take your pick and pair them with your favorite band or graphic tees and sneakers under.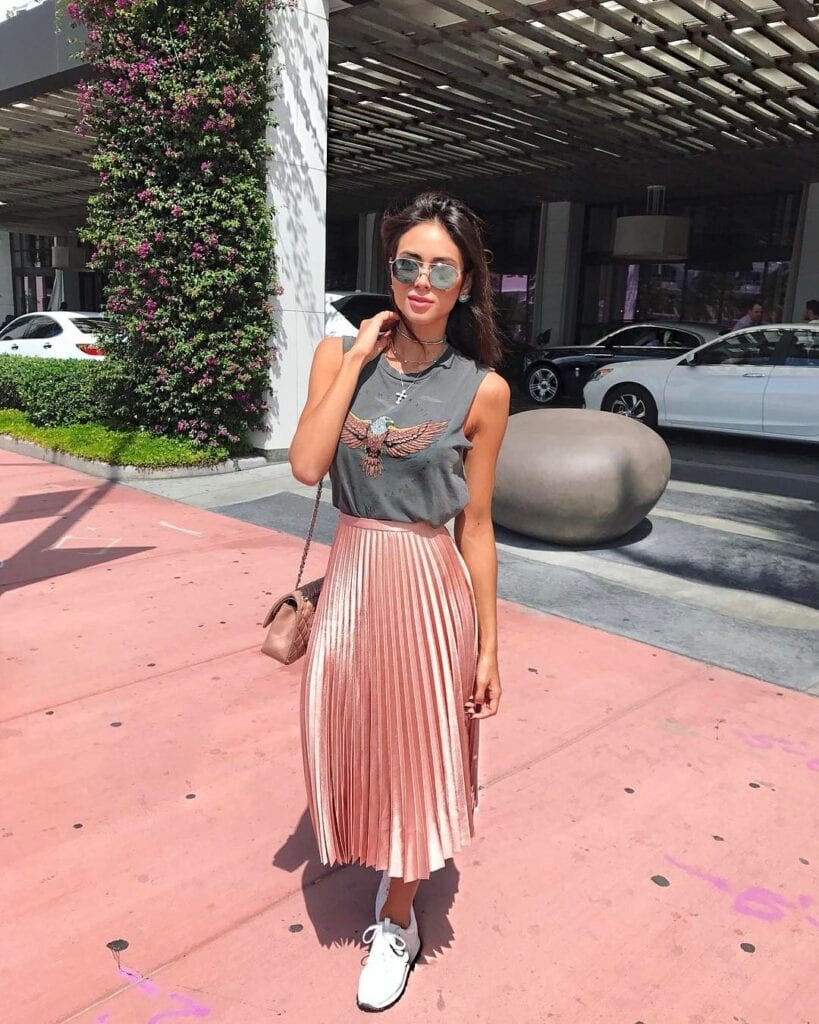 ↓ 20 – Black Accordion Skirt Outfits
Black accordion skirts should be a staple in your closet. The pleats add so much dimension and sultriness to a plain skirt. Here we have one, paired with a matte black belt, a black shirt, but the furs add the most amazing dazzle to this outfit. She is also wearing matching snake print heels and a bag.
↓ 19 – Where to Wear Accordion Skirt Outfits?
These skirts are so versatile and an outfit like this is perfect for any sort of a summer event, from summer weddings, to baby showers, parties, formal brunches, and easter etc. Paired with a lace top this one is a beautiful look.
↓ 18 – Accordion Skirt Outfits for Summer
Skirts are perfect for the hot summer months because they are so easy to carry, lightweight, and breathable. You can pair your blue accordion skirts with a white blouse, perhaps, an off-the-shoulder top. Also, have a look at Cobalt Blue Skirt Outfits – 30 Ways to Wear a Cobalt Blue Skirt.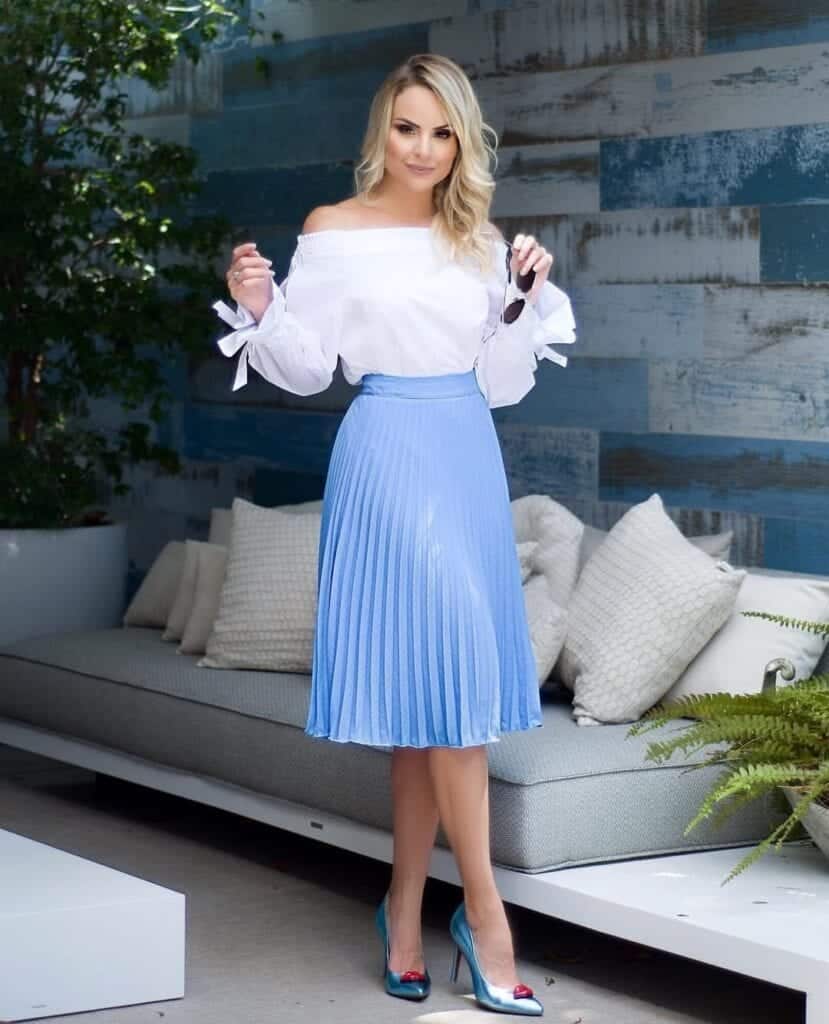 ↓ 17 – For Plus Size
In my opinion skirts look best on women with curves. Add a favorite blouse on top and heels and you are all dressed up for the occasion. Belts are a must because they cinch the waist in and add an oomph to your look.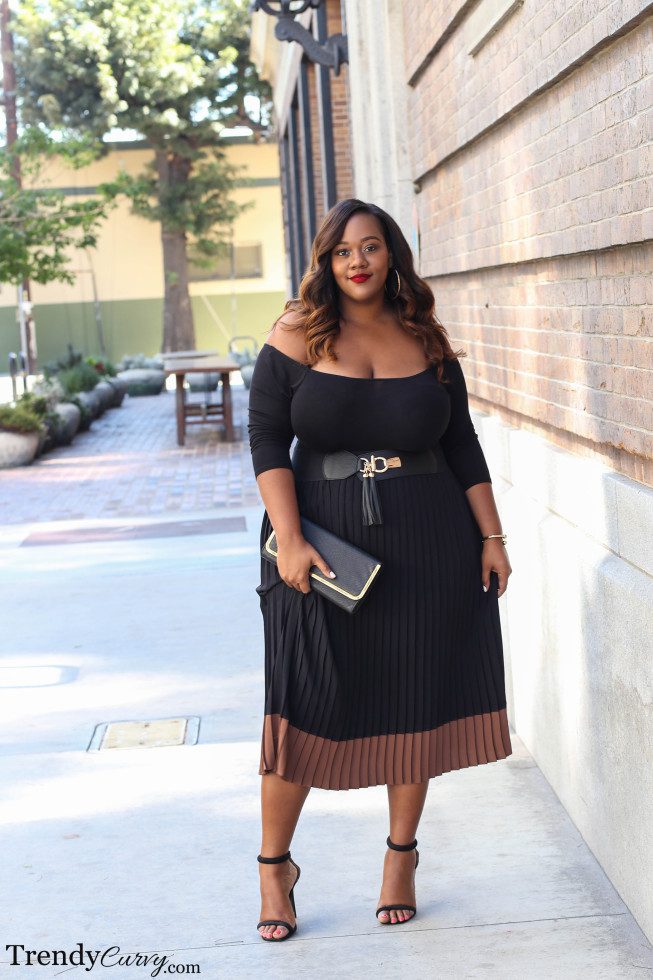 ↓ 16 – Accessories to Wear with Accordion Skirt Outfits
Its always a great idea to add accessories to your outfit, especially if it is a plain one. Not in this case though, because the skirt is made of an iridescent material. You can still add a printed book tote bag, high heels, a pretty choker necklace and big fancy earrings.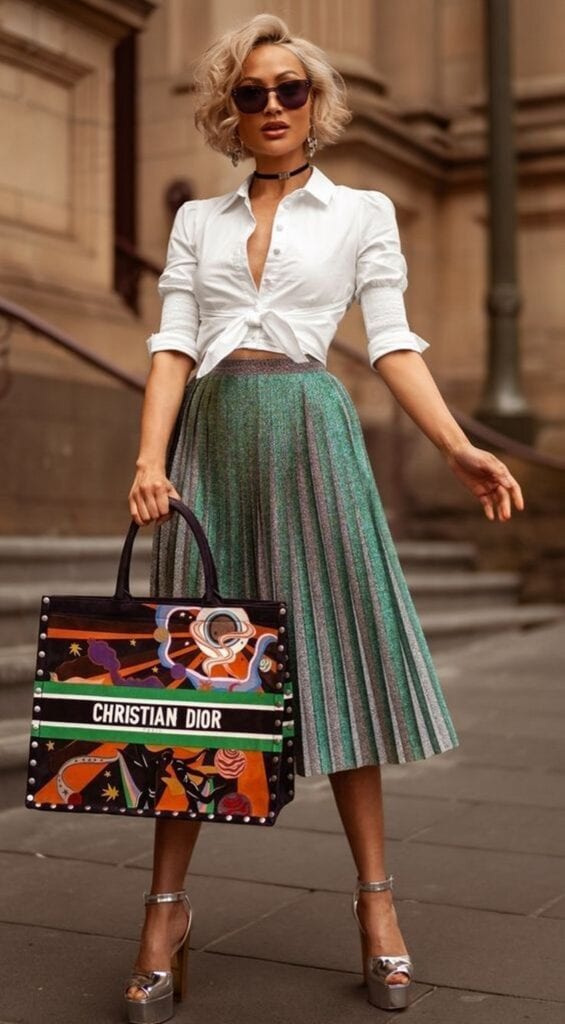 ↓ 15 – How to Wear Black Accordion Skirt Outfits
Full black outfits look so amazing, and you don't even have to try too hard to find pieces in your closet to steal this look because you can pair a plain black sweater, black boots and a black bag with your skirt to rock out in this one.
↓ 14 – Accordion Skirt Outfits for Fall
All the fashion bloggers seem to be wearing baggy oversized sweaters with accordion skirts, and why wouldn't they? This outfit looks amazing, and you can really play with the colors by keeping the skirt a bright color, and the sweater in autumnal or wintery tones or vice versa.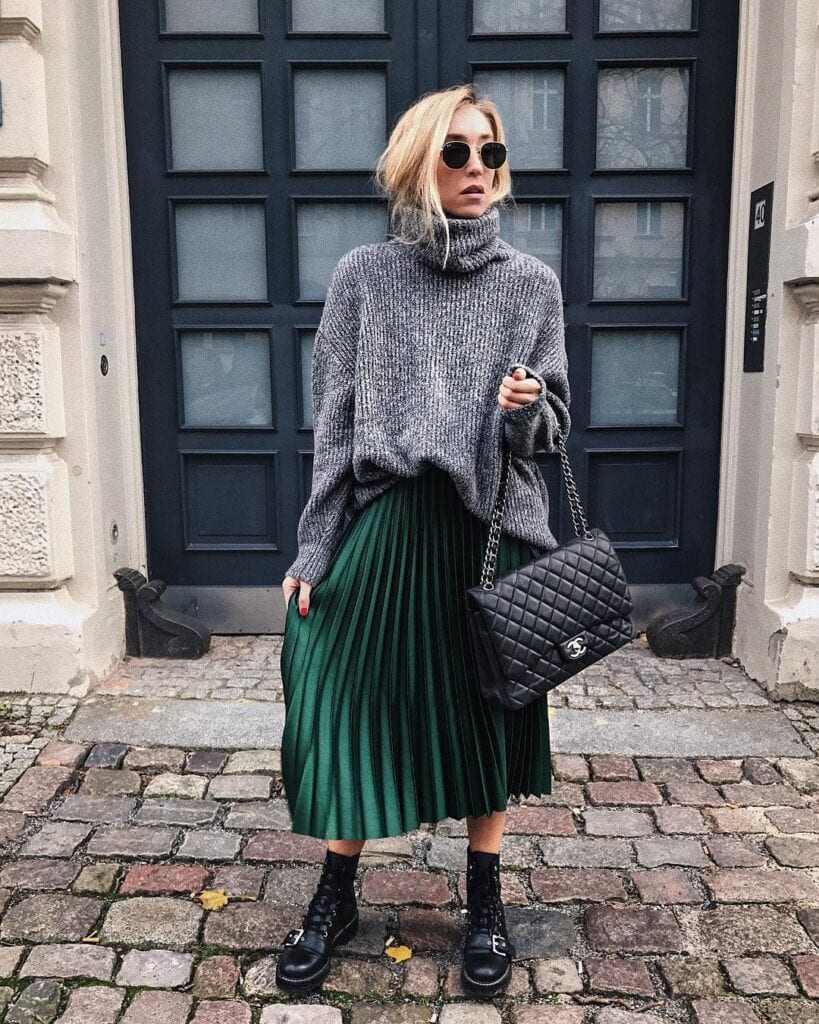 ↓ 13 – Best Accordion Skirt Outfits
The burnt orange monochromatic look is so beautiful. Simple is always classy.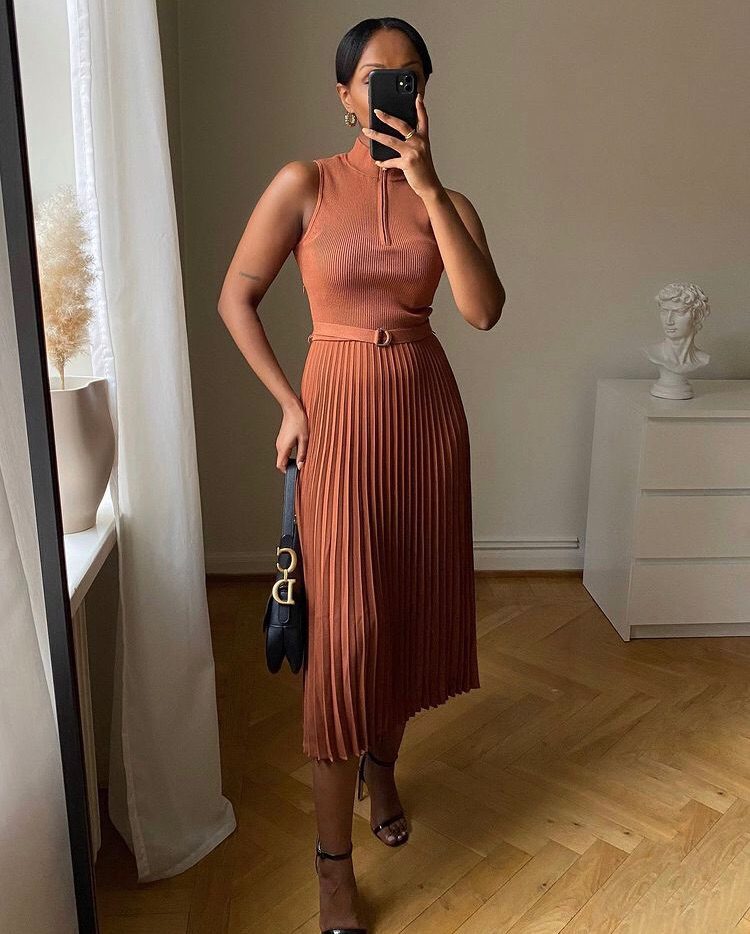 ↓ 12 – Short Accordion Skirt Outfits
Short skits can be paired with a white tee, and a backpack. Its perfect for girls to wear on a summer day.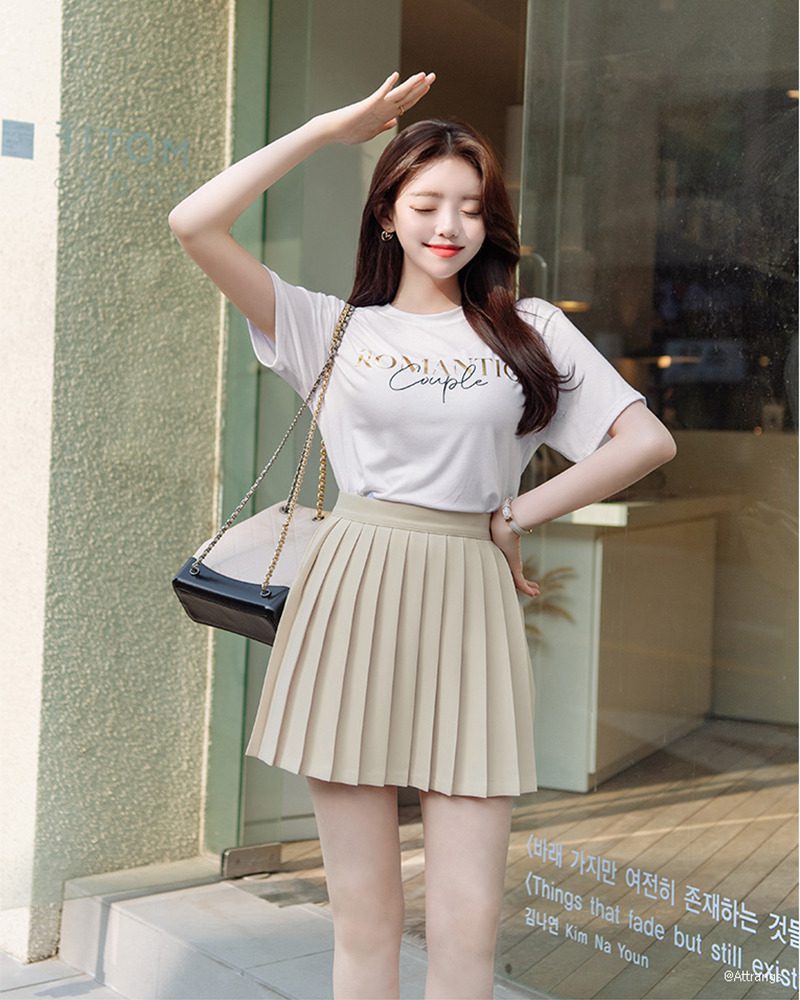 ↓ 11 – For a Day Out with Friends
Looking for a comfy yet cute look? Just wear a comfy tee with your favorite-colored skirt.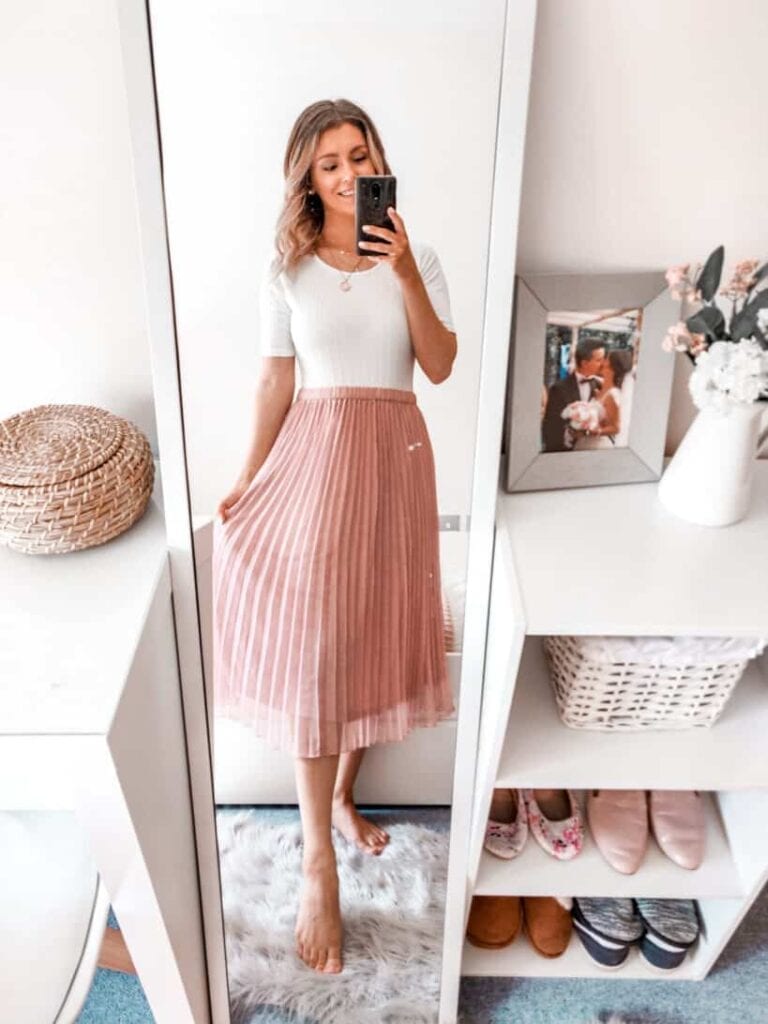 ↓ 10 – Accordion Skirt Outfits for Winter
Stay warm and look stylish by adding layers to your accordion skirt.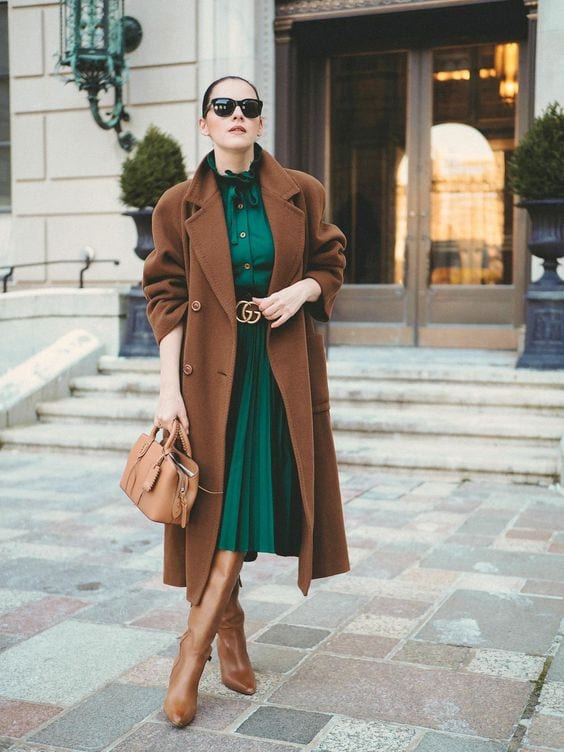 ↓ 9 – Color Wheel
Gotta love this skirt, I love everything about it. Usually rainbow skirts may end up looking tacky but not this one.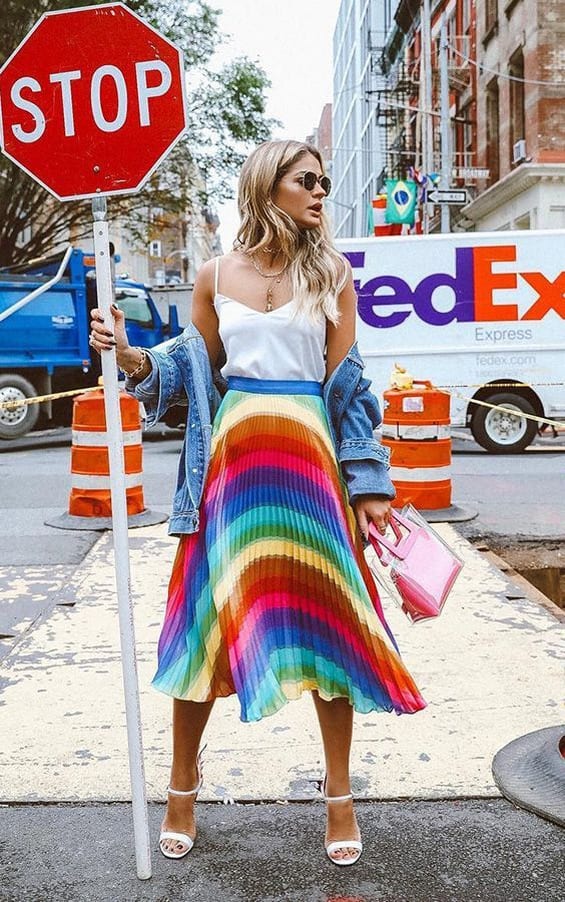 ↓ 8 – Animal Print Accordion Skirt Outfits
Printed skirts are a great way to add something to your plain outfit. Here is one paired with a solid-colored blazer. The colors go so well together.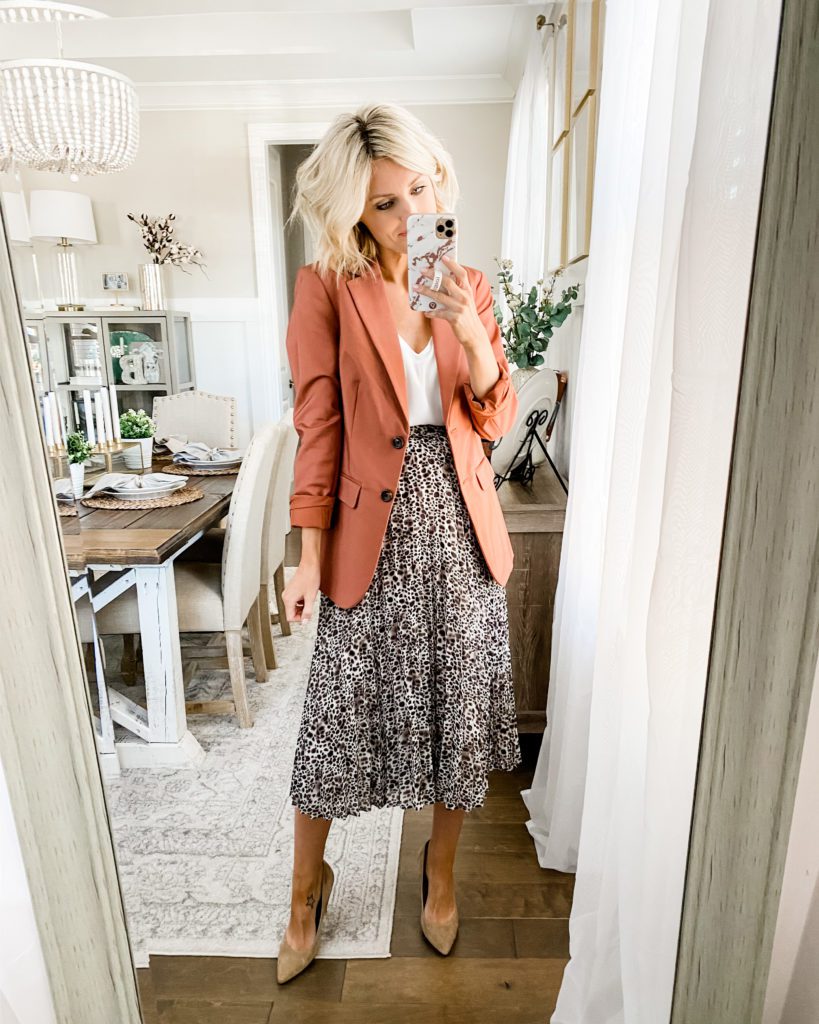 ↓ 7 – All-White
The cut-out turtleneck paired with the long white accordion skirt speaks volumes of elegance.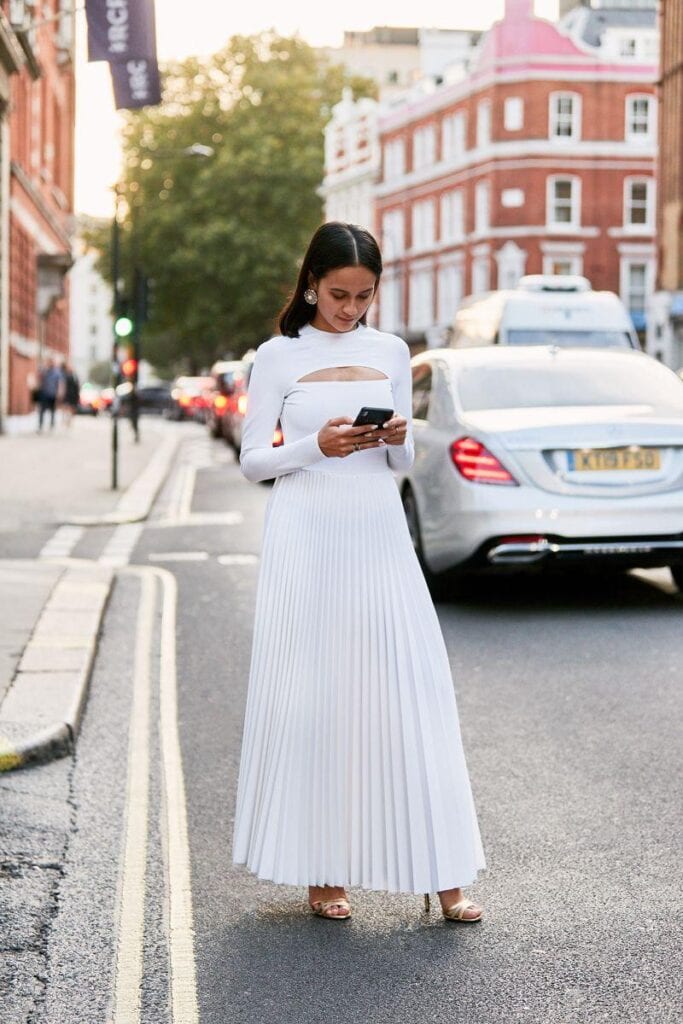 ↓ 6 – For Skinny Girls
Skirts look gorgeous on petite or skinny girls because they are so flowy. The legs look like Kendall Jenner's when the skirt is worn with heels.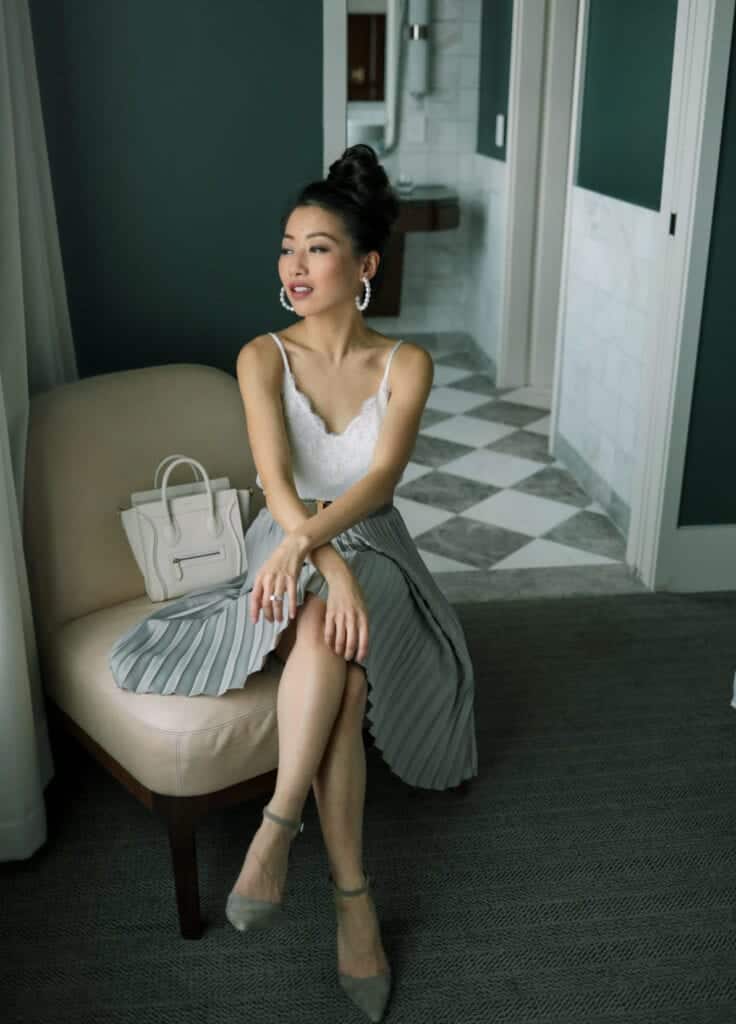 ↓ 5 – Date Night
Instead of wearing skinny jeans, wear a sultry skirt instead and look sexy and glam for your date night.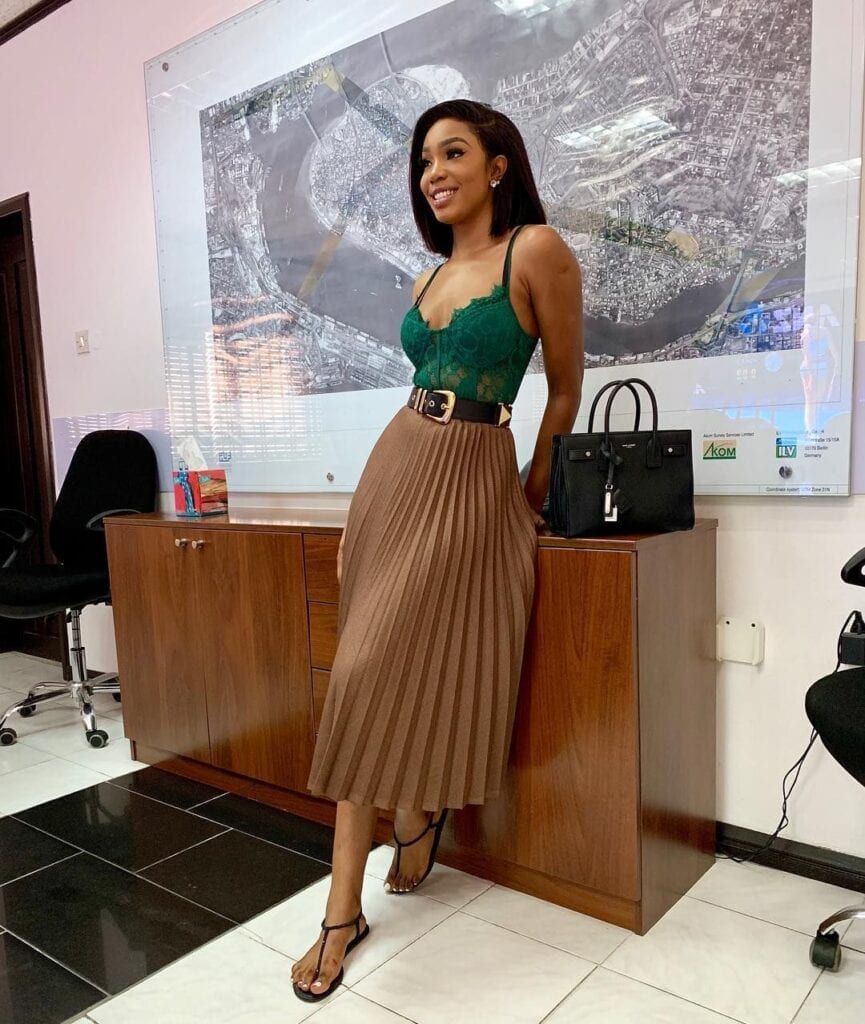 ↓ 4 – Ombre Accordion Skirt Outfits
Ombre skirts especially a subtle ombre one like this adds so much to your outfit without you having to try too much with the top or the accessories. Side note: it looks beautiful when you twirl in it!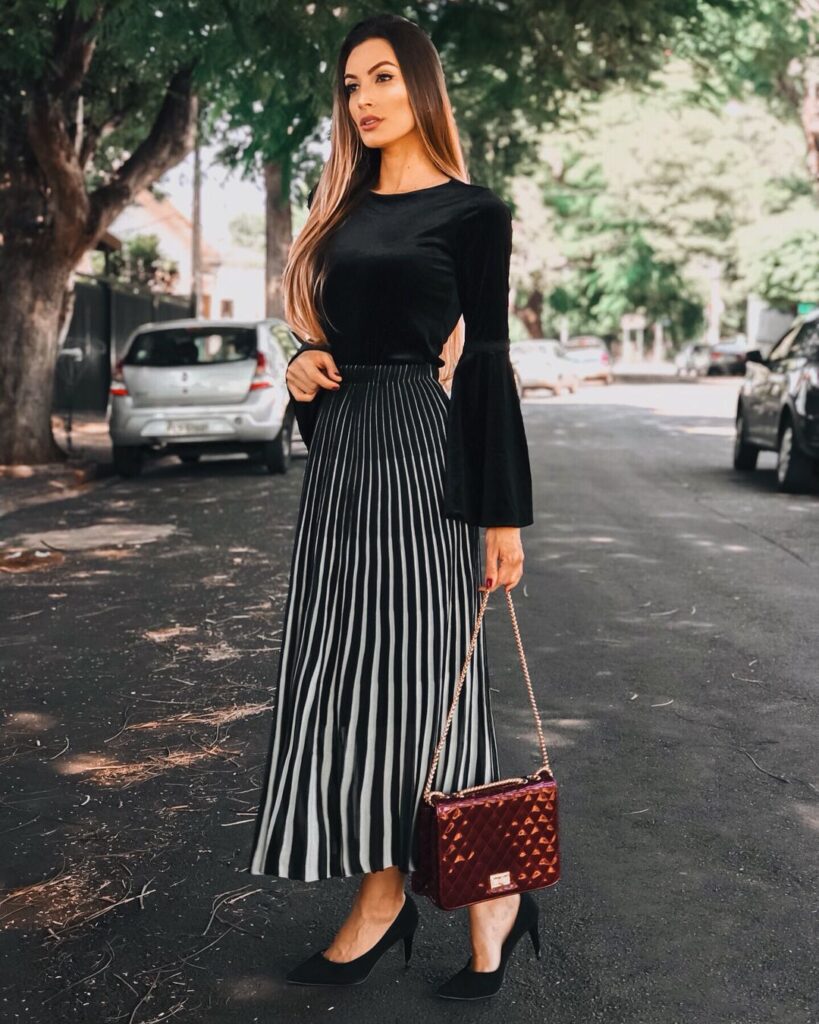 ↓ 3 – Metallic Accordion Skirt Outfits
Metallic skirts were the biggest craze of the year when they first came out, and they are very much in style today. These are perfect for night look, or the holiday season. Here is a silver one paired with a cropped leather skirt and silver jewels.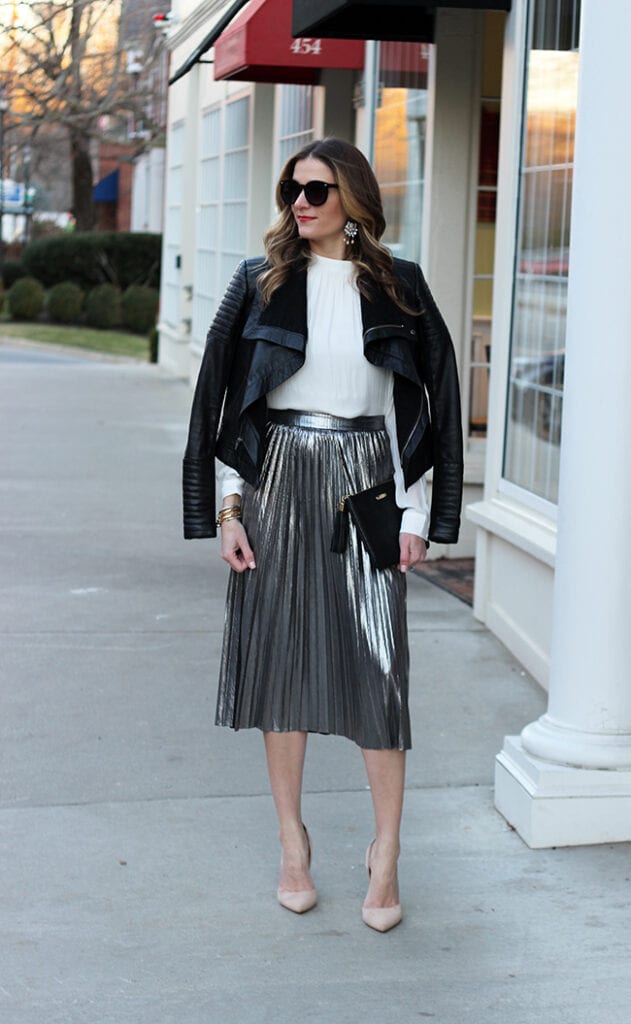 Where to buy: Metallic Skirt
↓ 2 – Accordion Skirt Outfits with Blazers
Who knew you could rock accordion skirts with blazers but surely you can and they are definitely not reserved for your work fits, but can be worn to your day out with friends or in the city. This screams high fashion because of the odd yet seems to be working well together type pieces; the chunky sneakers, with the mini pearl bag, and that luxe blazer.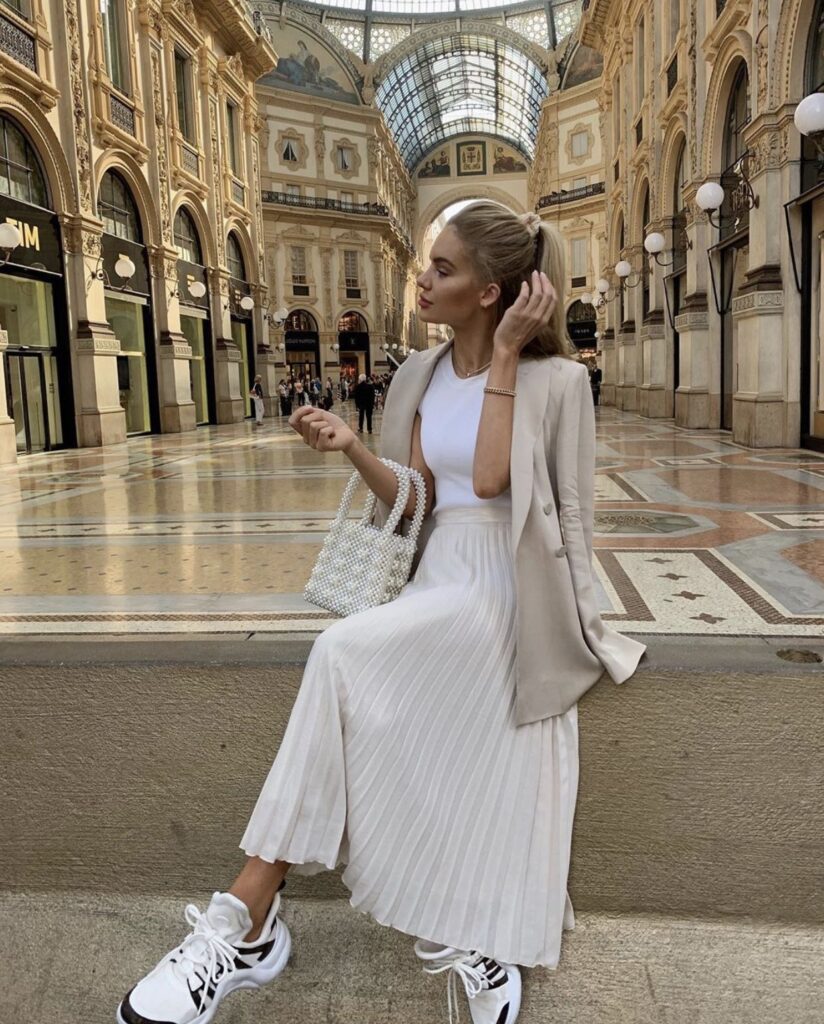 ↓ 1 – Lush Lace
Lace is one of my favorite materials ever because it makes the outfit automatically sexy and attractive. Here is an accordion skirt with lace borders, paired with a lace blouse of course as well as the most stunning heels I have ever seen.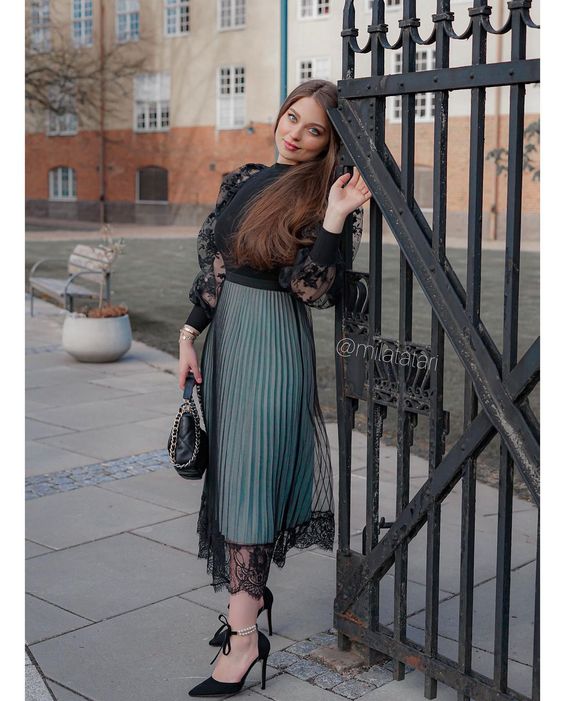 Where to buy Accordion Skirts?
Avantlook Color block Pleated Skirt
Nordstrom Lemon Grass Accordion Skirt
Valentino Pleated mid-length Skirt.
Next White Crepe Light Pleated Midi Skirt
Farfetch Accordion pleat midi skirt
Marks & Spencer Crepe Pleated Midi Skirt
Frequently Asked Questions
Q. Are Accordion Skirts in Style?
A. Yes indeed! If you follow Instagram models or stumble upon paparazzi pictures of celebrities on your social media feed you would know that they have been rocking these skirts for a while. You will find dozens of pictures of Victoria Beckham wearing the beautiful accordion skirts on the streets of New York.
Q. What to Wear with a Midi Accordion Skirt?
A. Midi skirts are easier to style than the long ones, and suit everyone. It totally depends on the event you are going to because midi skirts are versatile and can be worn to almost any event. Cami tops, lace tops, and sleeveless turtlenecks make for a great choice.