Outfits with Chokers: As a choker-wearing girl myself, I know what it is like to be stood in front of the mirror trying on multiple chokers before settling for one which works with your chosen outfit. I can be going through at least 3 several times before saying to myself 'Yep, that's the one.
Although it should be known to all women that choosing an ideal choker is not hard at all and 9 times out of 10 it just comes down to personal preference, or just settle for either a little black number or go for the neutral gold.
Chokers can sometimes be mistaken for being just an alternative or gothic accessory however this is completely false. There is a huge array of styles in which chokers can be worn in from goth to boho. Chokers are available in so many different shapes, fabrics, metals, styles, patterns, and colors that any fashion style can be accompanied by them. Why not have a go at making your own chokers to suit your own personal look? I have made several of my own chokers. It makes them more 'you'.
How to Style Choker Necklaces
So where do you start with selecting your choker necklace? What chokers are for which styles? And can any woman pull off a choker? This post contains 20 great ideas on how you can use a choker necklace as a perfect addition to your outfit.
Short Neck: If you have a short neck then wear low hanging ornaments, looping necklaces or plain chains with pendants.
Long neck: If you have a long neck then you can wear chokers. Circular neck wires are good options for you.
Color Choice. Regardless of how you wear it, be picky with your Choker's color. Great options are black, gold and silver. And neutral shades like cream, grey, or statement pieces can help tone down a more colorful outfit.
Patterns and Prints. Go for a print that says something about your style. Chokers have come a long way since it was just a paisley-printed cotton classic. Cool geometric designs can give a graphic twist to your simplest outfits.
Fabric. If you just want to experiment with your style, an affordable velvet black choker or wired choker would do. And if you're willing to spend, get a good quality luxury chokers that you can use for years, probably something that can never go out of style.
Choose a suitable length. Make sure your choker length is that you'll look good with it around your neck.
So here are 20 Great Ways To Rock A Choker Necklace
#20- Coachella Style
Black and white style with a black crop top, white denim shorts, and black ankle boots. A simple loop choker goes perfectly with this outfit.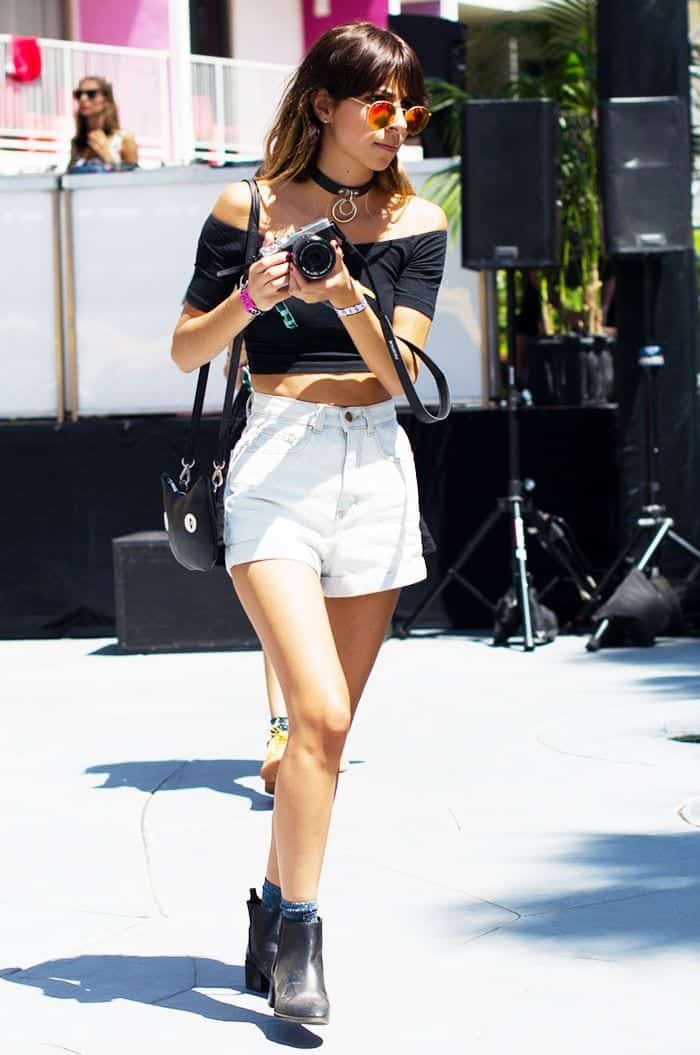 Check out more ideal outfits to wear with Statement Necklaces.
#19- Rock Chick Style
I love this look. Black crop top with red velvet skirt. Pair these garments with black velvet choker with sun pendant and studded bracelet for a rock look.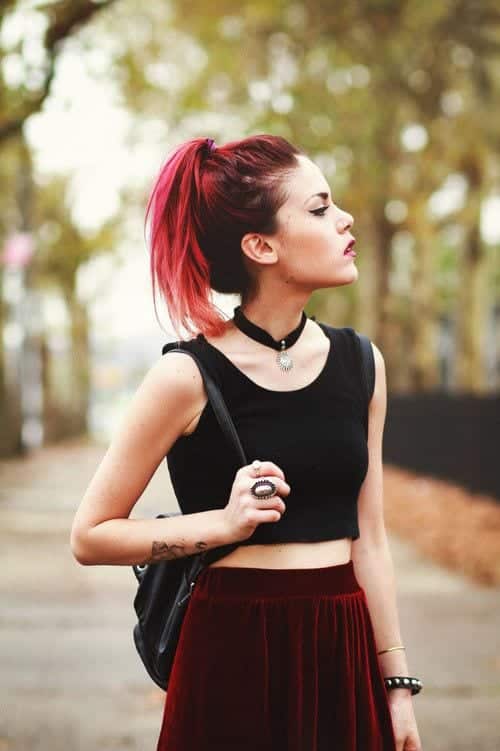 Isn't the crop top with velvet skirt an amazing outfit? For some more such ideas, check out outfits with crop tops this season.
#18- Sophisticated Spring Style
Abstract pieces are the most popular and trendy stuff of spring season. But some love to wear florals all the time in year. Classic polka dot shirt on skirt makes you blossom and stylish. The versatility goes with a lot of outfit ideas, whether it is denim short or ripped skinny jeans, or bikini swimwear, it will blossom your look and style.
Black and white polka dot blouse with simple pink pencil skirt. A black buckle choker adds a touch of attitude. Perfect business woman style.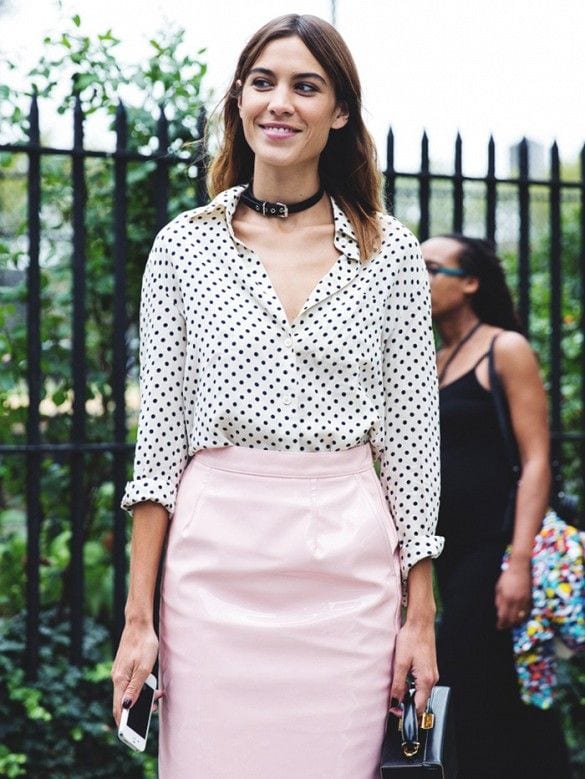 #17- Casual Summer Look
A minimalistic trend can make you feel polished with a little effort. The goal is overall enduring simplicity. Simple grey tank top with plain white denim shorts is given a sophisticated edge by adding a wide metallic choker.
via
#16- Hot Casual Outfit
They say less is more. A white deep V top with black skinny fit jeans and an oversized bag. Looking classic has never been so complicated and effortless. Black and white is the classic color combination mainly for a work outfit. It is sexy and edgy. You can play with heels with black pants to look hotter and trendy. Finally, a gold knot choker adds extra shine and style to this outfit. Make your long neck appear beautiful with a Gold or Silver Choker.
If you are looking to elevate your classic white-tee, look none other than Miranda Kerr, how she beautifully kept it simple. She is rocking with a choker, black leggings and all black tote bag with sleeked bag hair and cool sunglasses.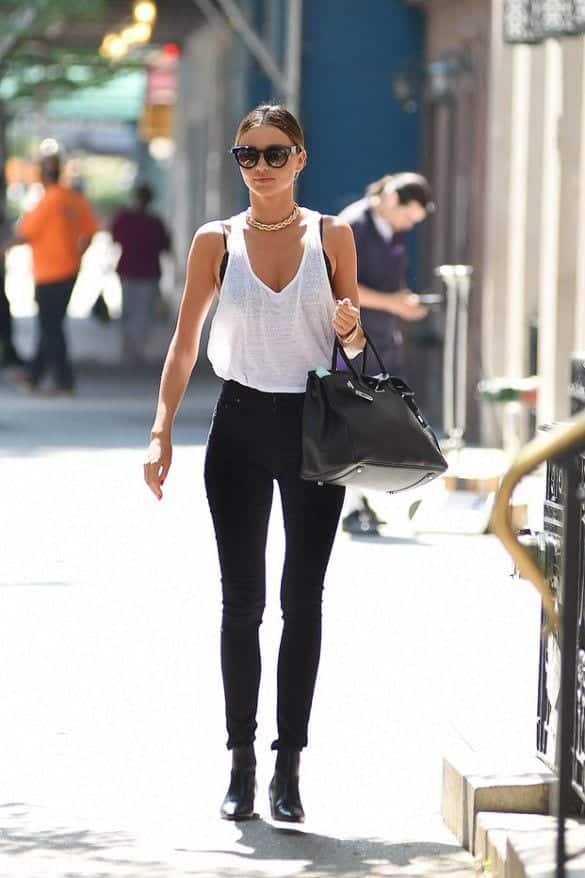 via
Check out these amazing casual outfit combinations for girls.
#15- Grunge Style
White 3/4 sleeve crop top with a plaid overall dress. Black beanie, doc martins are great for a grunge look and this style is completed with a spiked collar/choker. The grunge look can get a glamorous charm on you with a hat. This style brings versatile glam both in winters and spring. So must try this uniqueness with your outfit; adding a cool black choker.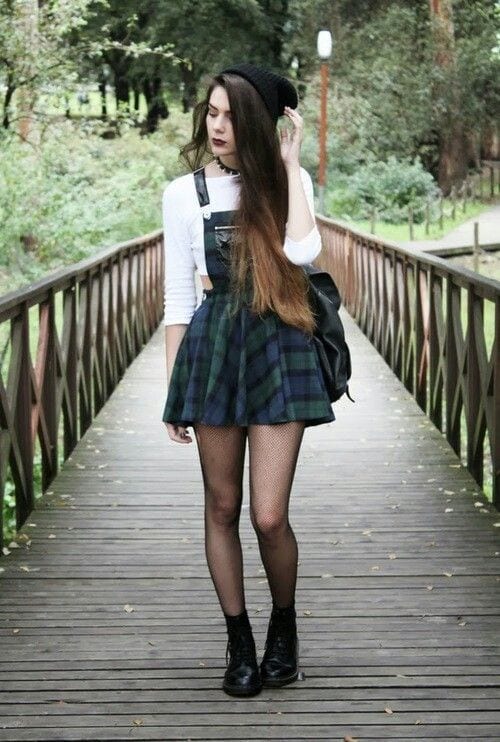 #14- Coachella Boho Look
Love this style. Black off-the-shoulder top paired with amazing patterned shorts. The wide rim hat and doc martins look great and the whole style is finished with a simple tattoo choker. The key to styling boho outfits is to keep comfort as the main priority while still standing out in a crowd and working around that. Add in layers and layers; I would suggest even more layers – but let's keep those for the gloomy, rainy, summer days. Next, throw on a good old pair of boots and accessorize with some choker jewelry!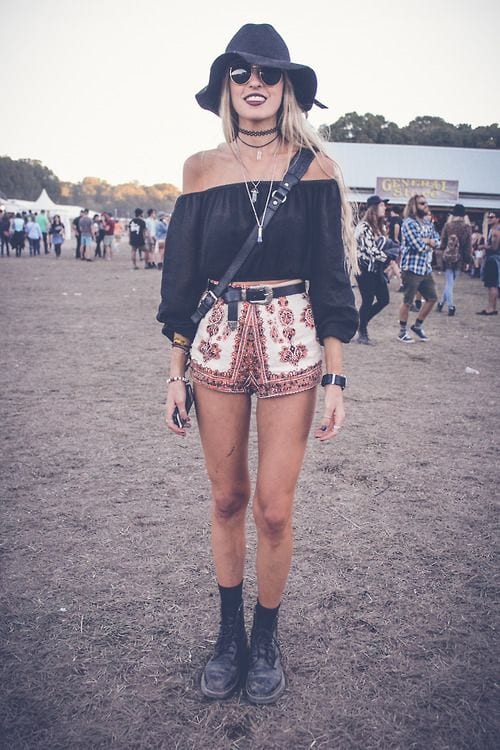 #13- Giovanna Battaglia
Burnt orange dress with a brown sarong. Match this outfit with gold bracelets, a clutch bag, and a beautiful three reef knot choker. How beautifuuly this Italian fashion editor has styled up her game. Her style looks fun and fierce at the same time. The way she blends that plain brunt orange dress with a gold statement layered choker.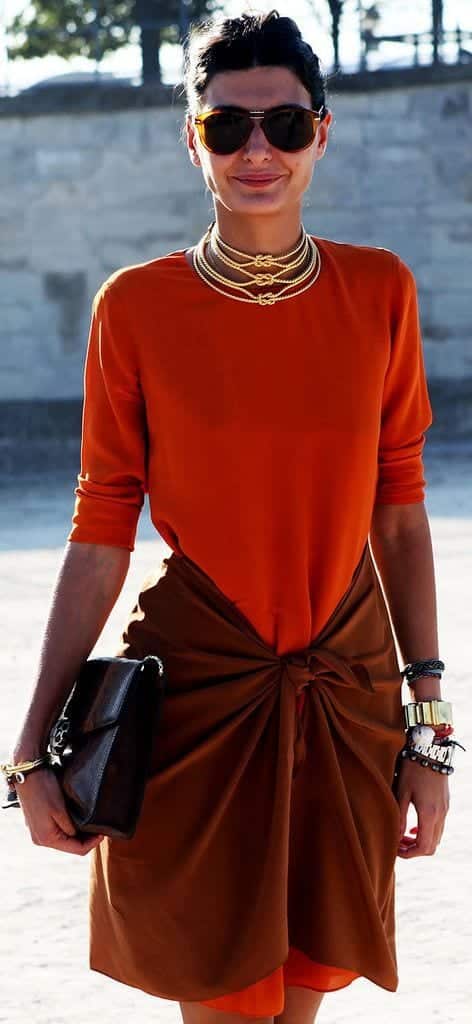 via
#12- Cowgirl Style with Gypsy Influence
White lace crop top with blue starry shorts. Brown suede jacket with tassels and cowboy hat give the western image. This outfit is finished beautifully with a multiple ring chokers and a thick patterned choker with charm. Love the colors in this outfit. Keeping a balance between makeup and jewelry is crucial. While wearing heavy jewelry keep your lip shade or eyes a little dull. Bold lips and eyes are much suited with minimal makeup.
Boho chic style is for those who break stereotypes and believe in fashion which is free-spirited. Floral prints are big part of bohemian culture but overtime other prints and patterns have amalgamated with this style. Basically bohemian style is all about carefree, flowy dresses; be it a maxi, tops or jeans. Finally, pull of the entire look by accessorizing it with choker jewelry to turn up heads.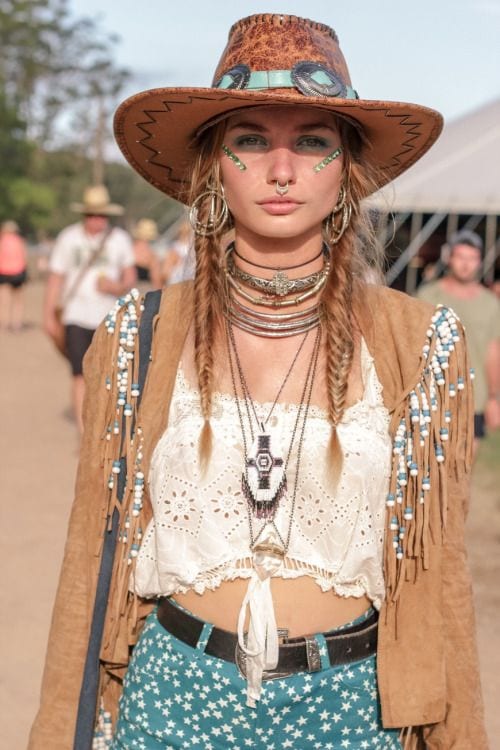 #11- With Winter Outfit
Amazing look incorporating black top with black skinny jeans. Thigh-high boots add length and the oversized peach cardigan contrasts stunningly. Add some glamour to this look with a chunky chain choker.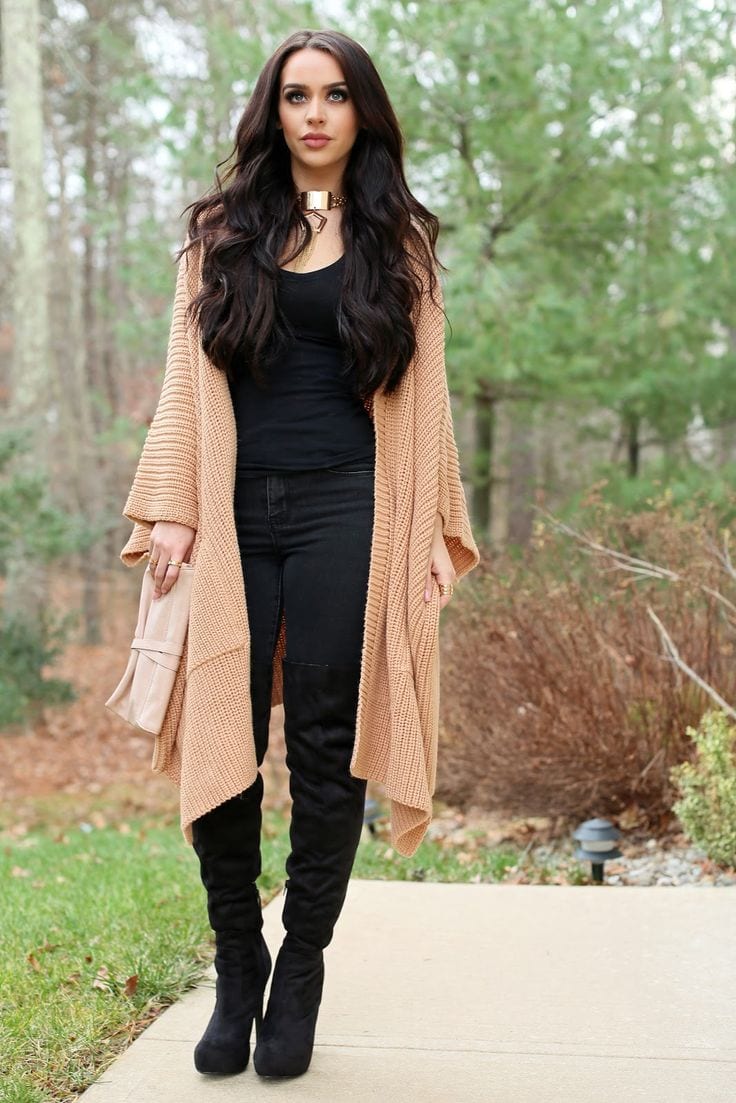 #10- All Black Street Look
All black outfit contrasted with a bright neon yellow clutch bag, lace up peep toe boots and gold metallic choker.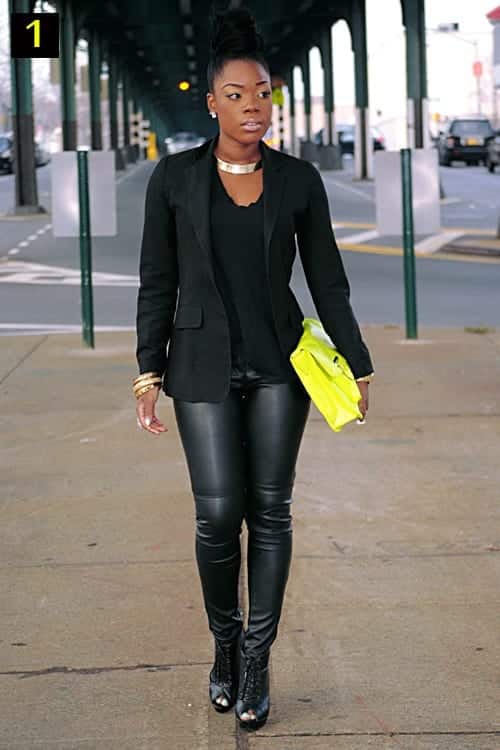 #9- Kim Kardashian Style
Simple white shirt with a black leather skirt. Whether the skirt is full, midi, mini, or at the knee, it is really interesting that how the skirt adds an interesting style with your white shirt. The street style with a white shirt and a classic leather skirt, and heels are and another cool outfit idea for women to adore white shirt. Black peep-toe boots and white clutch bag and also a gold metallic choker for extra shine. You can rock it like Kim Kardashian!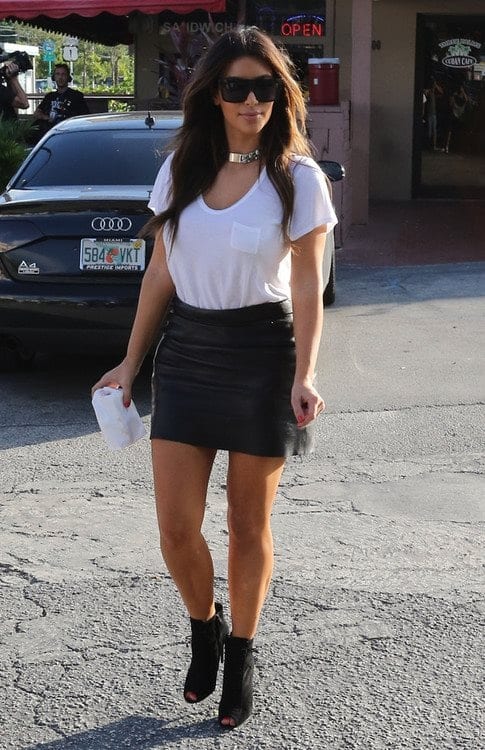 via
#8- Blazers and Shorts
Turquoise blazer with black leather-look shorts. Grey t-shirt with heart logo matched with wide gold metallic choker. Great summer look. This simple yet versatile piece can be styled in various ways and is ideal for spicing things up. It might be a plain statement piece, but the choker has had a significant impact on American culture.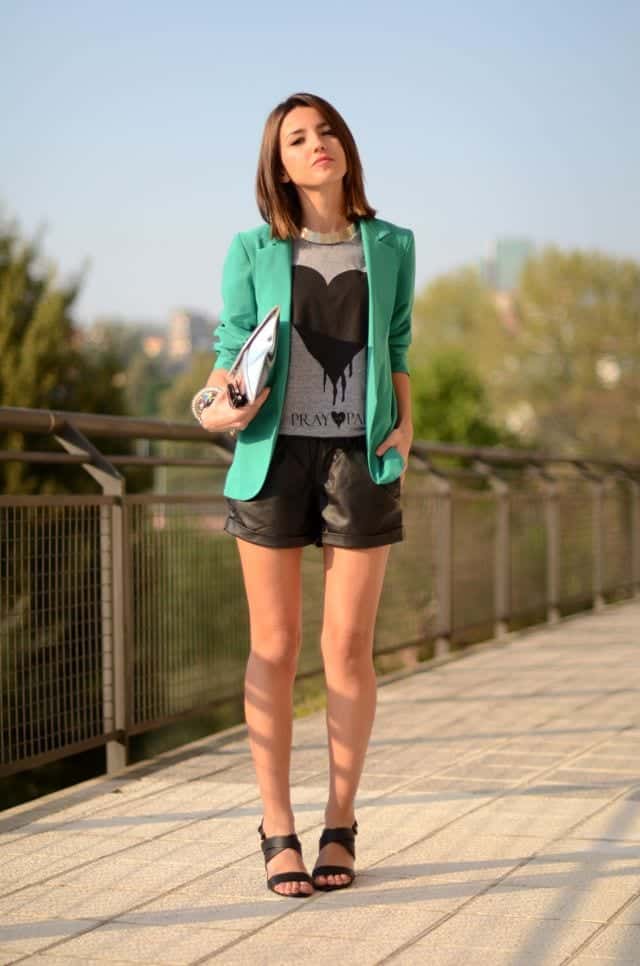 #7- Leandra Medine Style
Simple black and white outfit with white pumps and brown handbag. This outfit is complemented beautifully by a multi-colored woven and beaded statement choker.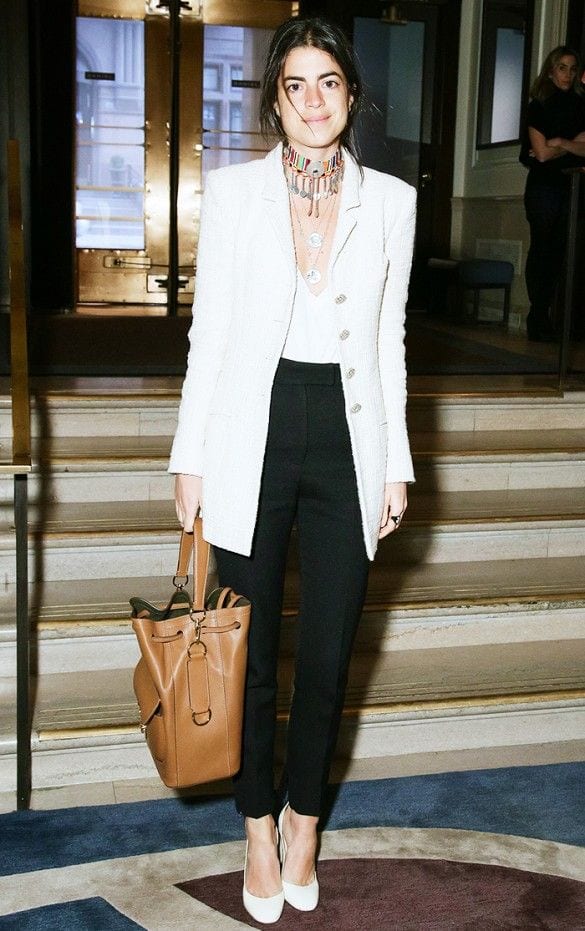 #6- Modern Day Look
White lace plunge midi dress matched with a gorgeous metal steampunk style-linked choker. Contrasting lipstick looks stunning.  After French Revolution, what started as a mean of expressive, laid back fashion of the artists who were struck with poverty, became a culture in itself. With some fierce jewelry such as this statement choker piece which pulls the whole look together!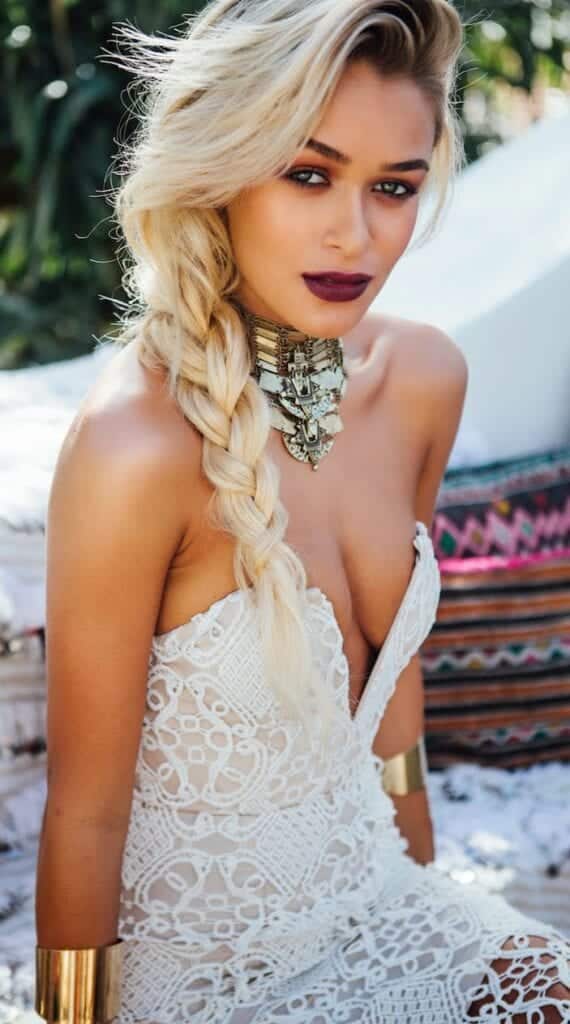 Like the lace outfit? Then you cannot miss these beautiful lace dresses and ideas on how to style them.
#5- Men Choker Necklace Style
Who says guys can't rock a choker? Great style for men with the use of a simple beaded choker. Subtle and casual this look is ideal for students.
Chokers were different back then. In the 90s, there was a specific meaning on wearing a choker. But today, we're in a generation where men can express themselves in any way. They can define their personal style without limitations – without a thought if they fit in a certain category of fashion.
A Choker entails the opportunity and freedom for men to express their individuality. Even stylish actors and musicians like Jay-Z and Chris Brown have brought the choker back into the limelight.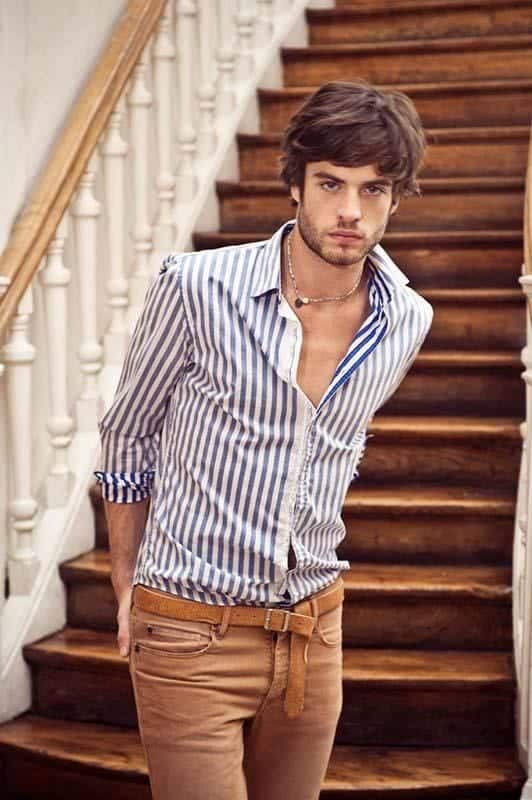 #4- Stunning Alternative Look
This stunning blue belted dress is complemented well with a nice updo, black doc martyrs, and a beautiful velvet choker with a gold pendant. A style which let you explore your inner self and be satisfied in the kind of fashion you like, whether it is a funky, floral dress or a wide-cuff trousers, you choose your comfort.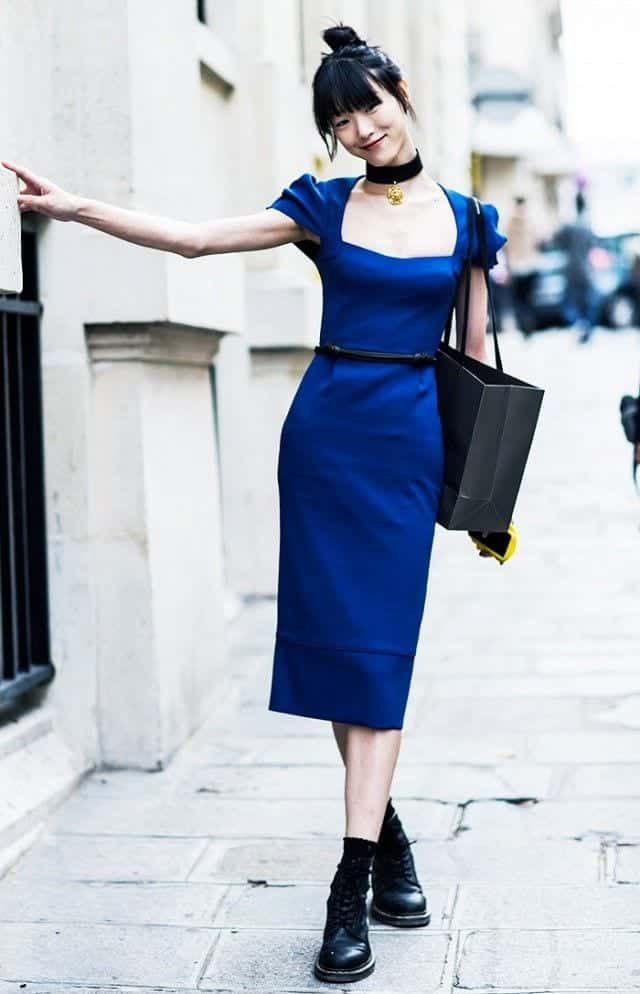 #3- Beach Boho style
A great look for the beach using a white sheer crop top with lace bottoms. A heavily beaded statement choker with leaves and charms is an amazing addition to this look. This blogger carried this extremely laid-back and casual look, which is perfect for beach days!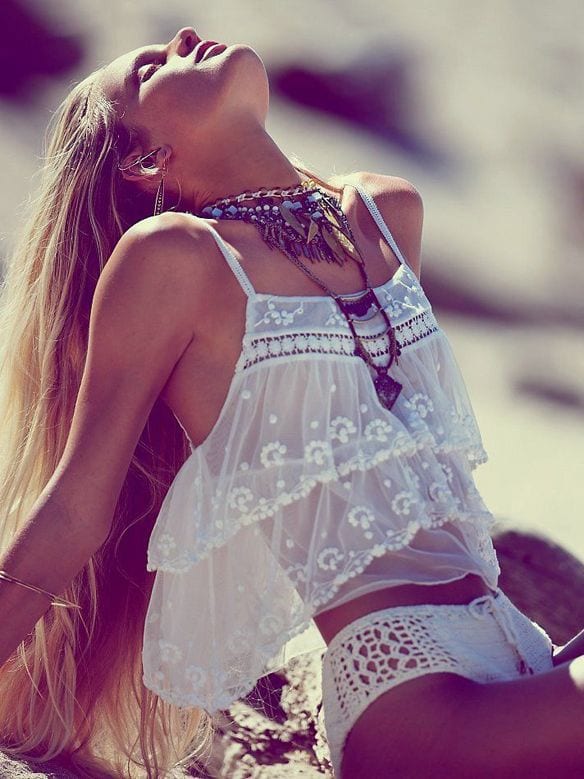 #2- Amazing Alternative Style
Look incorporating a high-low dress with a tri buckle waist belt. I love high heels. The outfit is finished with a Studded choker, owl pendant necklace, and round rim sunglasses.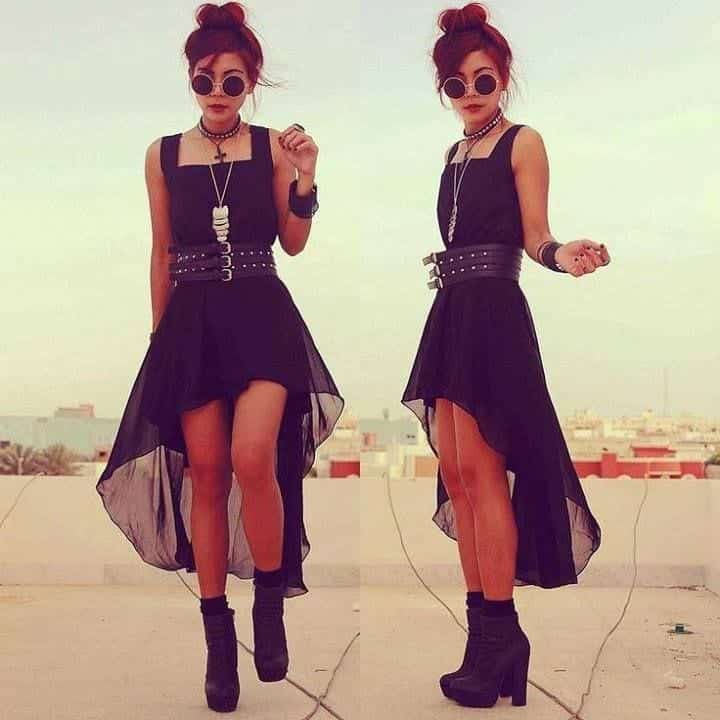 #1- On The Prowl
Nastygal leopard print crop top with fluffy fabric pink skirt. This outfit goes really well with the white hoop link choker. A perfect style for parties and evening engagements.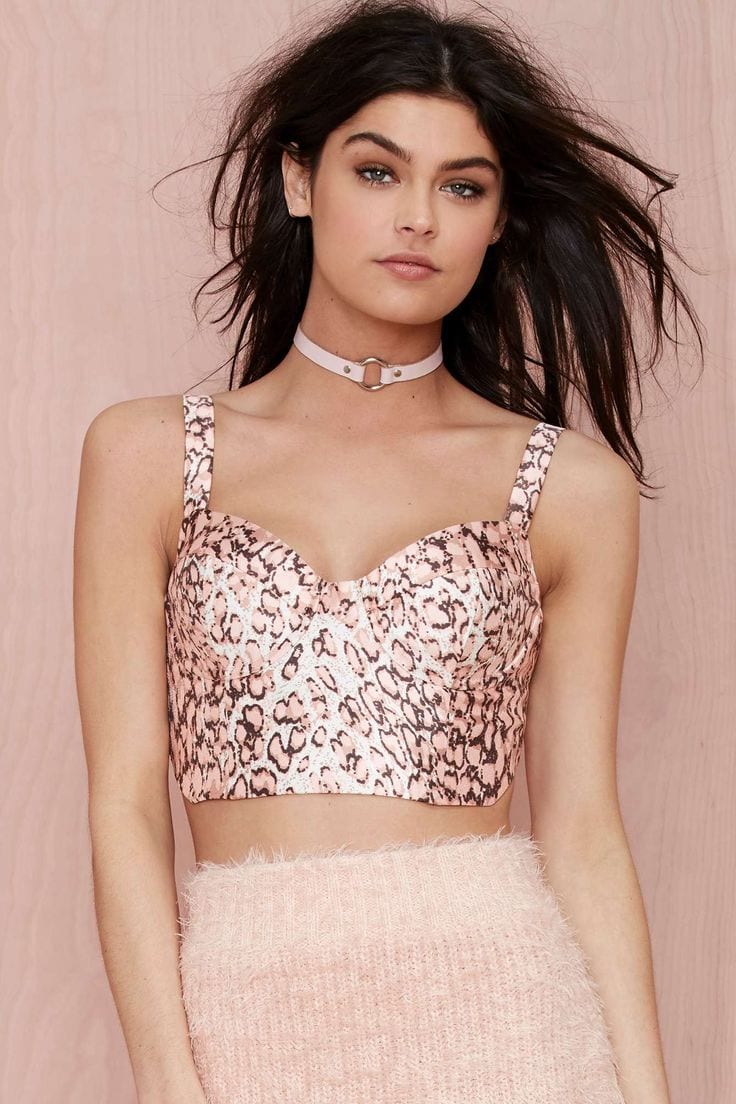 Frequently Asked Questions
Here are some frequently asked questions on how to wear chokers.
Q.

Are chokers still in fashion?

A. If you're wondering whether chokers can be worn in 2021 or not, the answer is yes! Chokers are back in style. The 90's choker trend is making a huge comeback as a fashion jewelry statement.
Q.

Where to buy chokers?

A. You can get some amazing choker collection at the following sites:
Q.

Do chokers look good on everyone?

A. It is preferred for females with average to long slender necks, because the chokers rests at the start of collar bone to end of your neck. If you have a small neck the choker will not look flattering. Hence, it is not recommended to wear chokers unless you can take the risk.