The grunge style became popular in the 80s and 90s with the rise of grunge music. Bands such as Nirvana, Pearl Jam, Soundgarden and Alice In Chains set the tone for a new fashion statement and with their influence it captivated a unique audience. But how do you dress grunge? What are the cute grunge outfits these days? What is considered appropriate for a grunge look? These questions will be answered in this very article.
Grunge Hairstyles and Accessories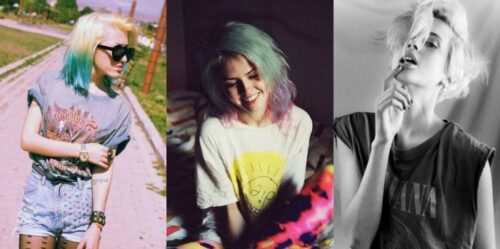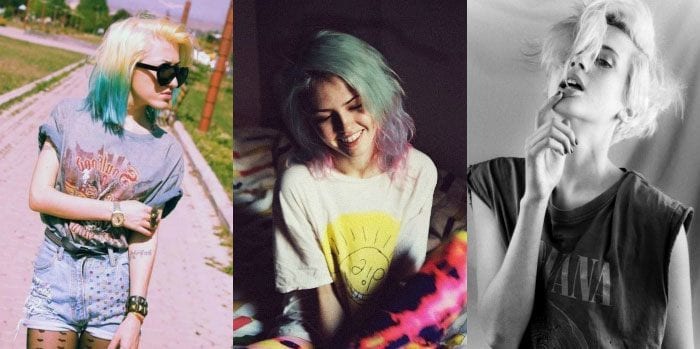 Whether male or female, the grunge style has an 'I don't give a damn' aura and so hair styles are frequently seen clean, but shabby. The best way to achieve is look is simply not to bother brushing your hair in the morning. Simple. For the guys, go for scruffy chin or shoulder length hair and for the girls the same. Why not mess around with different colored hair dyes? These are seen a lot in the grunge seen and any color is acceptable. You can accessorize with beanies or bandanas if you're not overly happy about your hair but make sure these are dark or natural colors. Neon and day glow are huge no no's in the grunge spectrum. It is usually implied that the grunge look is dirty. This may be so, however do keep personal hygiene maintained. Dirty does NOT mean unclean.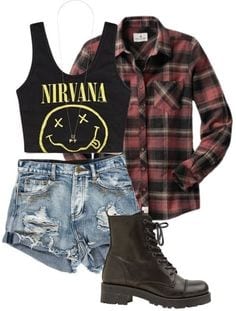 Ideal Tops for A Grunge Look
Grunge followers make it known what bands they support and because of this it is absolutely paramount that you buy band attire. T-Shirts and tank tops with band logos on are a must have garment list. Build layers on this by wearing a flannel shirt over the top. Flannel shirts are a grunge favorite and you will see band members rocking these frequently. Just like your hair style, these tops do not need to be pristine, in fact the scruffier the better. The odd rip or tear here and there is perfectly acceptable in this scene.
Grunge Style Bottoms
You will always see grunge people in ripped or distressed jeans. This is in keeping with the 'I don't care' image. Grunge is about being comfortable so wear what you feel content in. For a more girly image go for black laddered tights and match them with a denim distressed skirt or even a token little black dress. The laddering is important for keep the unkempt look going.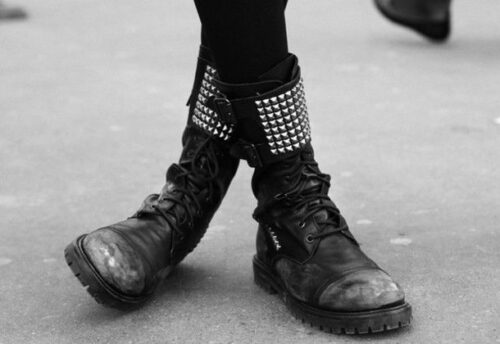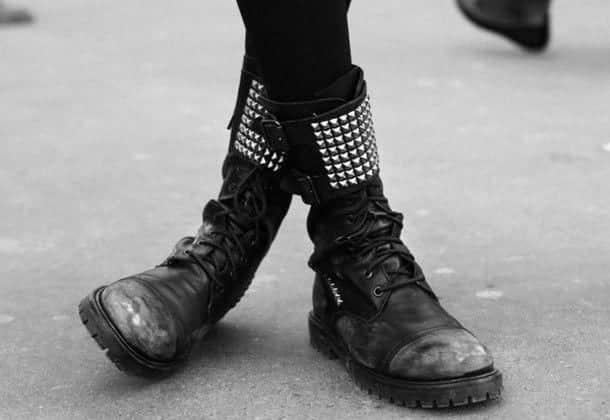 Footwear for Grunge
Grunge footwear consists of boots and shoes that cover the ankles so invest in some Doc Martens, combat boots or even high top sneakers. Your shoes do not need to be immaculate either so get those boots scuffed! Shiny shoes have no place in the grunge scene and will definitely not do anything for your outfit. Flat soled shoes are ideal for daily wear and keeping you on your feet at all your favorite gigs.
Have a look at these grunge outfit ideas and see how the world renowned grunge headliners rock their stuff. Take ideas from these images and create your own grunge style.
Grunge Style
Although their is punk and hippie culture who have been inspired by music and politics also but grunge is more of a personal style of relaxed and comfort and expressing either your frustration, discontent or an"I don't care" attitude. These characteristics can be easily seen in the grunge followers.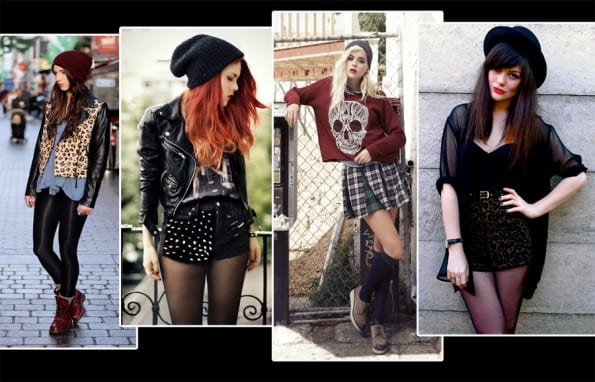 Cute grunge outfits for teen girls
An all black outfit is a all time favorite of any culture;be it a hippie, punk, goth or grunge or for that matter any girl on this planet can never deny to wearing this color as it is suitable for so many occasions we have stopped counting. Styling idea in black shade is pretty much with a cropped turtle neck with faded denim shorts. You can wear a black jacket for a more decent look. Beanie can be worn with it but minus the jacket then. Combat boots are the soul of grunge dressing along with some statement jewelry pieces as in chokers or chains.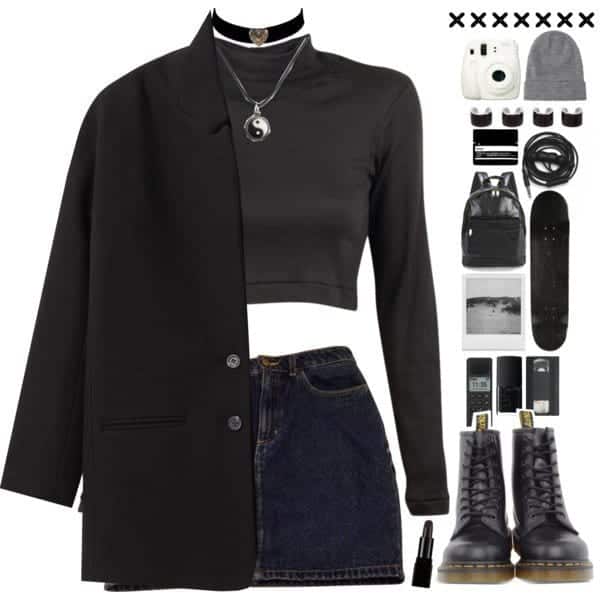 Grunge look for college
Showing your association with bands is must for grunge inspired individuals so band logo on shirts with plain jeans and maroon boots and blue dyed hair is a good combo. You can wear heavy eye makeup also with a chunky ring. They usually like to wear some sort of jacket or a shirt so go with a denim jacket in this case.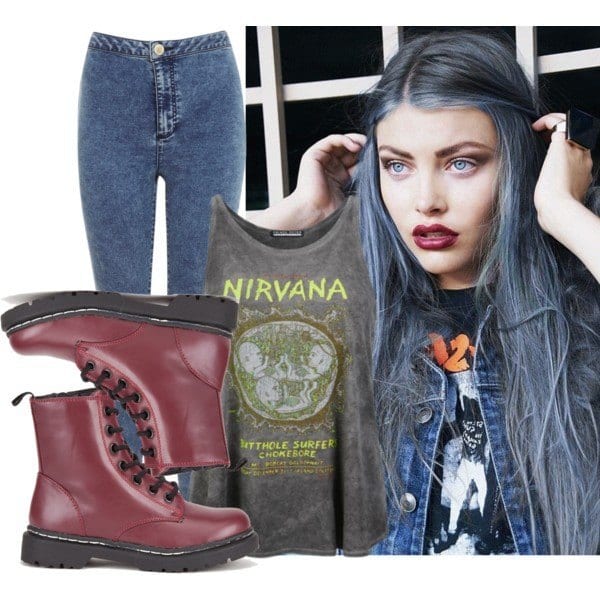 Summer grunge outfit
Tie and dye is another uncommon sight but looks nice when expressing yourselves as this tanktop in blue is matched with distressed jeans and grey sneakers. A back pack is good option if going back to school.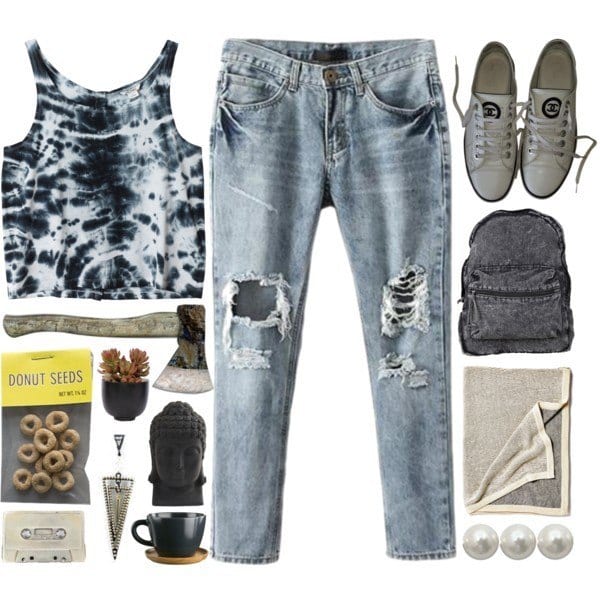 Spring Outfit
Grunge doesn't mean you cannot dress up in frocks or skirts. Just express yourself appropriately. Skater skirt in gold with a grey cardigan over and a white one underneath is good for going to a party. Style a silver bag with a black beanie and boots for the perfect combination.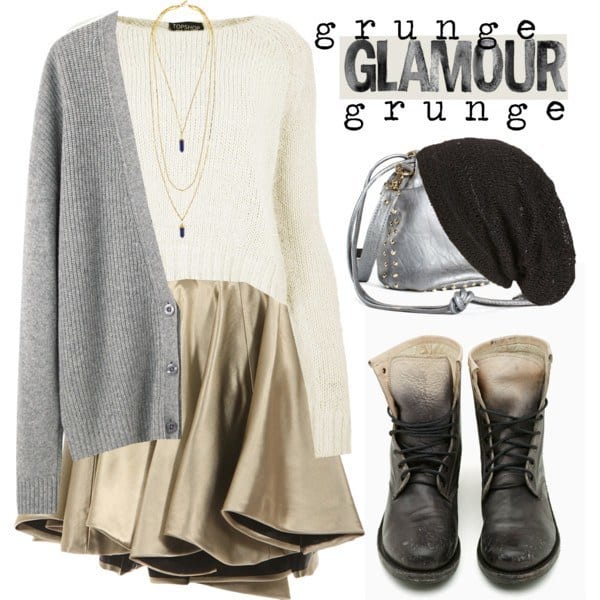 Kurt Cobain and Courtney Love
The people behind the grunge culture and the inspiration they brought. Hard core grunge styling is seen. Beautiful wool jacket over an all black outfit is worn by Courtney Love nad a sweater under a black jacket by Kurt.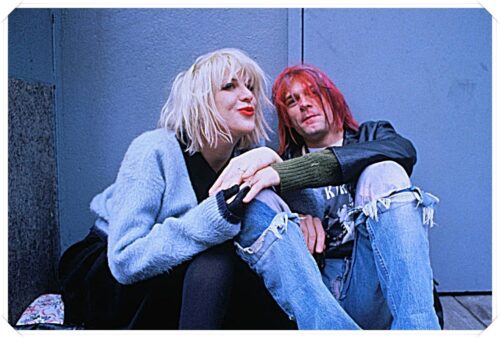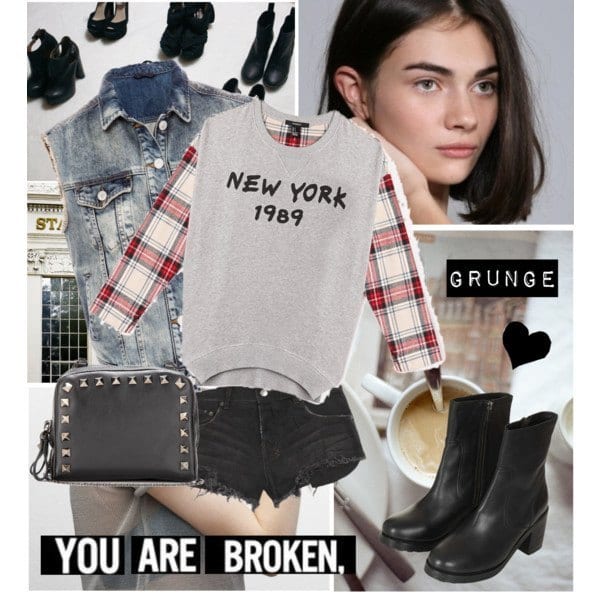 via
 Swag with grunge outfits.  Also check how to dress for swag look.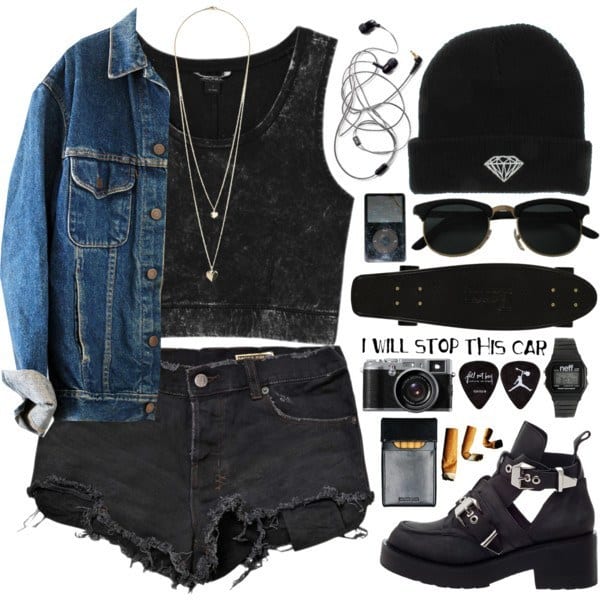 Style with Sneakers. Must see 23 best outfits to wear with sneakers for chic look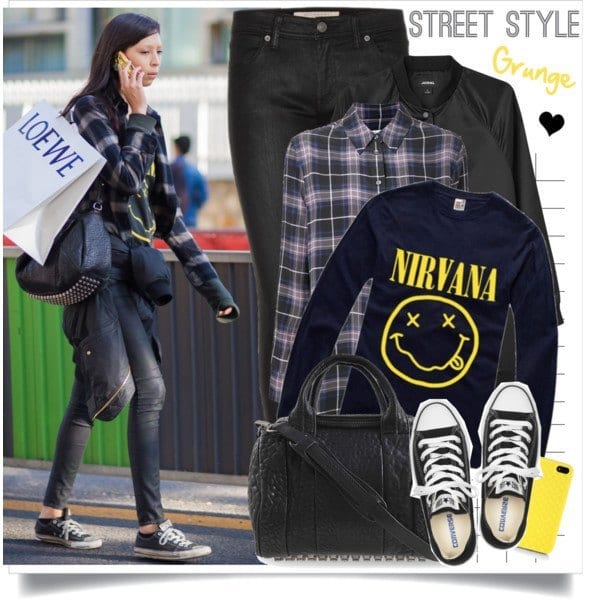 Stocking are also a must part of grunge dressing scene. Wear them with shorts or mini skirts or with dresses but keep the jackets aloft, as in this picture leather jacket is giving a nice dirty look with a bandana done in a knotted  style. Lots of chains and boots will do the rest.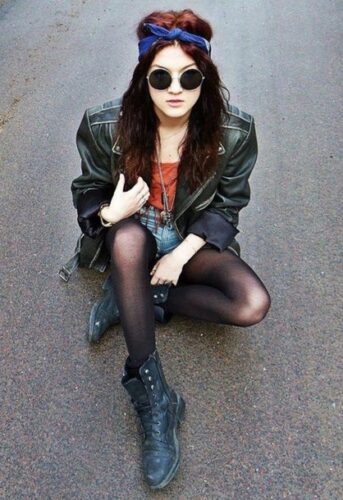 Pearl Jam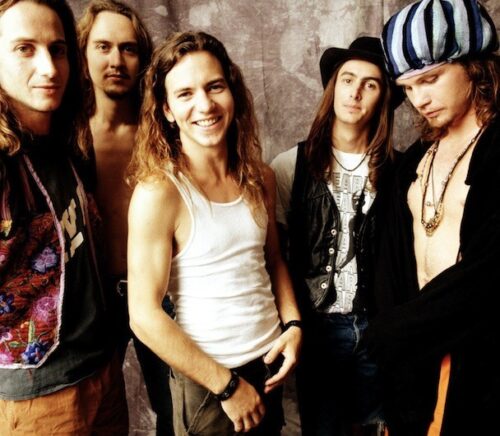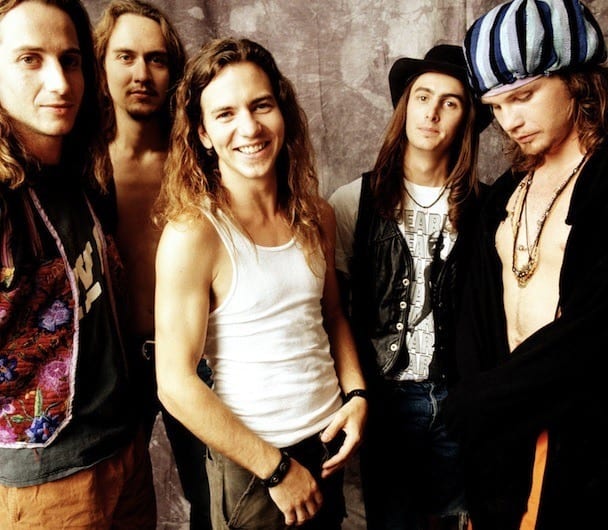 Cara Delvinge the tomboy in the fashion industry is rocking this grunge look with graphic jeans and a plain white shirt with a navy jacket. Heeled boots and a beanie. You can keep the flannel shirt for later when done with the jacket.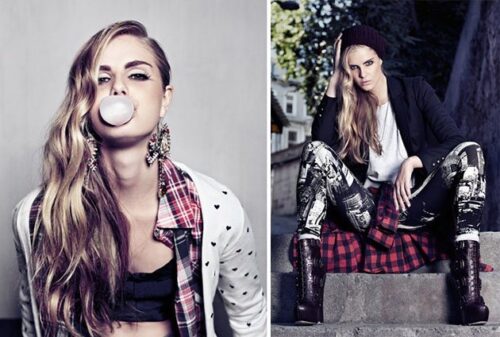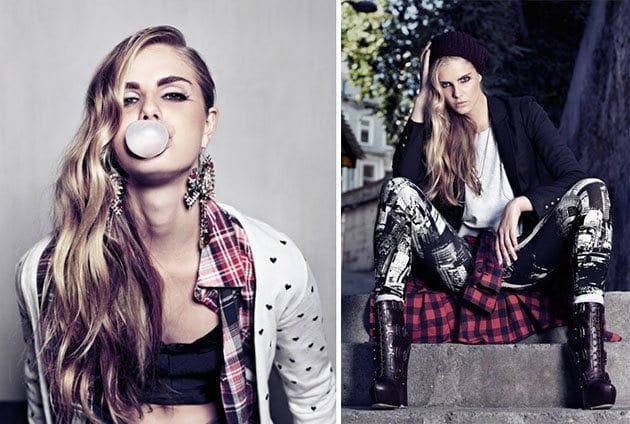 Winter outfit
Nirvana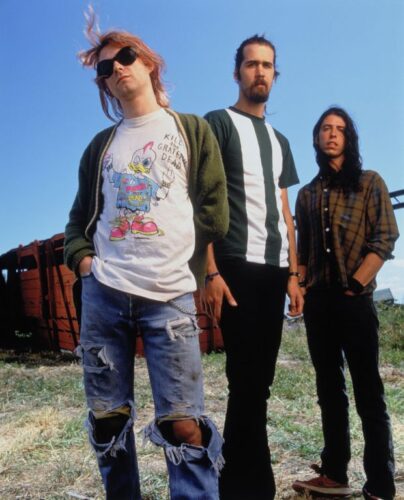 Observe the styling sense of this lady. Ripped up stockings are her way of self expression with a low neck top and a bandana in hair.  Dark nail color and liner will be needed to complete the picture.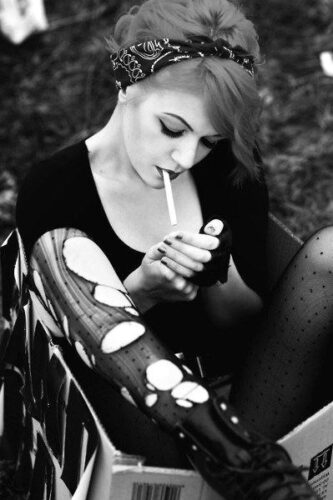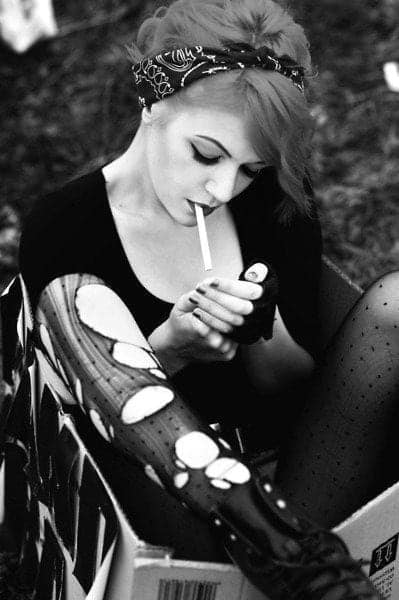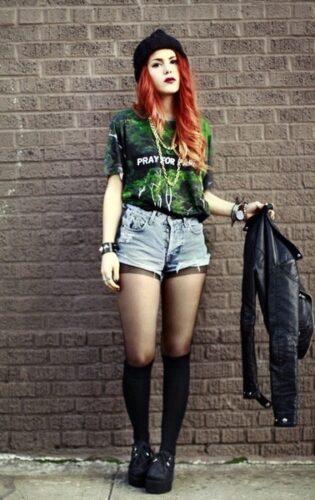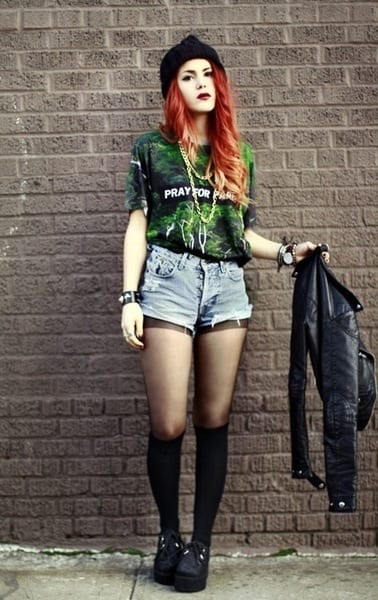 Again same shorts style but with a twist in the way of a long velvet jacket. Animal print shoulder bag and some braids to tie up your hair in style.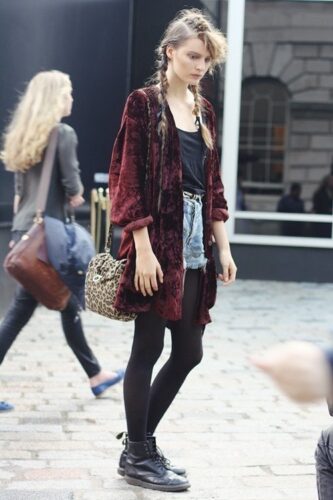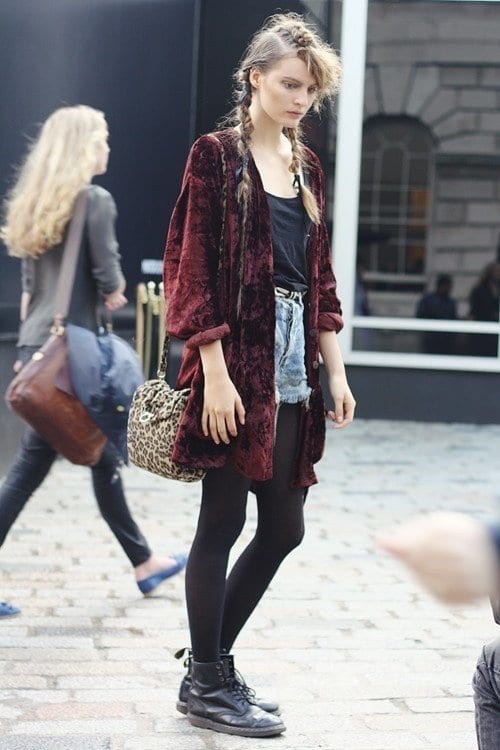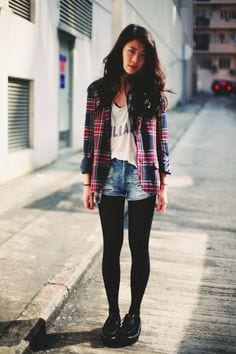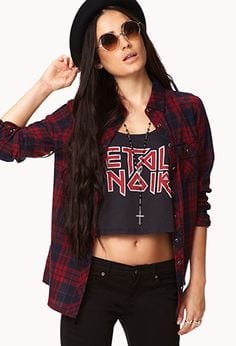 Save
Save
Save