Outfits with Plaid Skirts- Plaid skirts have been rotating into the fashion trends since the 60's and they have made a huge comeback in the recent years. People of all ages have been rocking plaid skirts for centuries.
You might associate plaid prints with the bright red color print it comes in and is popular for. However, today plaid comes in all colors, be it pastels, or bright ones and in a variety of styles from mini, long or midi skirts. Today, we look at how you can style your plaid skirts all year round, as well as for all kinds of events! Keep Scrolling to get inspired.
How to Wear Outfits with Plaid Skirts?
Since the plaid print is quite versatile you can wear it all year round. For winters, you can opt for a longer skirt with a thicker material and select colors such as red, brown, grey, and similar neutral, warm tones. Turtlenecks look great with this print; you can even add a long coat with it, or perhaps a beret to accessorize. For the summer months, pair your plaid skirt up with a plain cardigan or top and let the skirt do all the talking. A popular way to style skirts, especially plaid ones are with knee-high boots and stockings.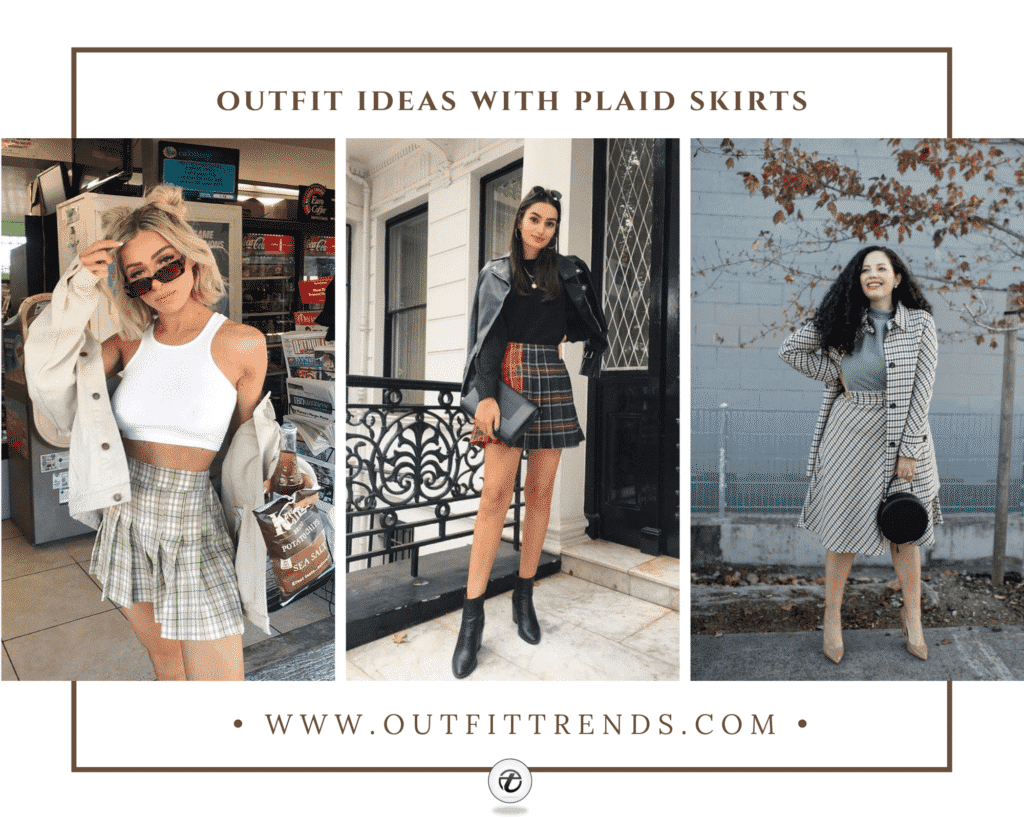 Tips for styling plaid skirts
The knee-high sock trend is quite over done in my opinion especially with the plaid skirts. You may find a lot of inspiration on the internet but there's many new and trendy ways in which you can style plaid skirts instead. The red plaid print is quite a classic however the plaid comes in all sorts of colors you can imagine today, so try something new! If its a brightly colored plaid skirt, try keeping the top and the accessories simple, or try matching the jacket with the skirt. Wear heels, or booties with your long plaid skirts to look tall.
↓ 32 – Red Plaid Skirt Outfit
Whenever you think about plaid prints, the red plaid print always comes into your mind. The red plaid skirt is a classic. A black fitted long sleeve crop top goes well this print. For a classier look, wear a fancy purse or a handbag with it. This bag is a Chanel flap bag, and it's paired with long knee-high black boots.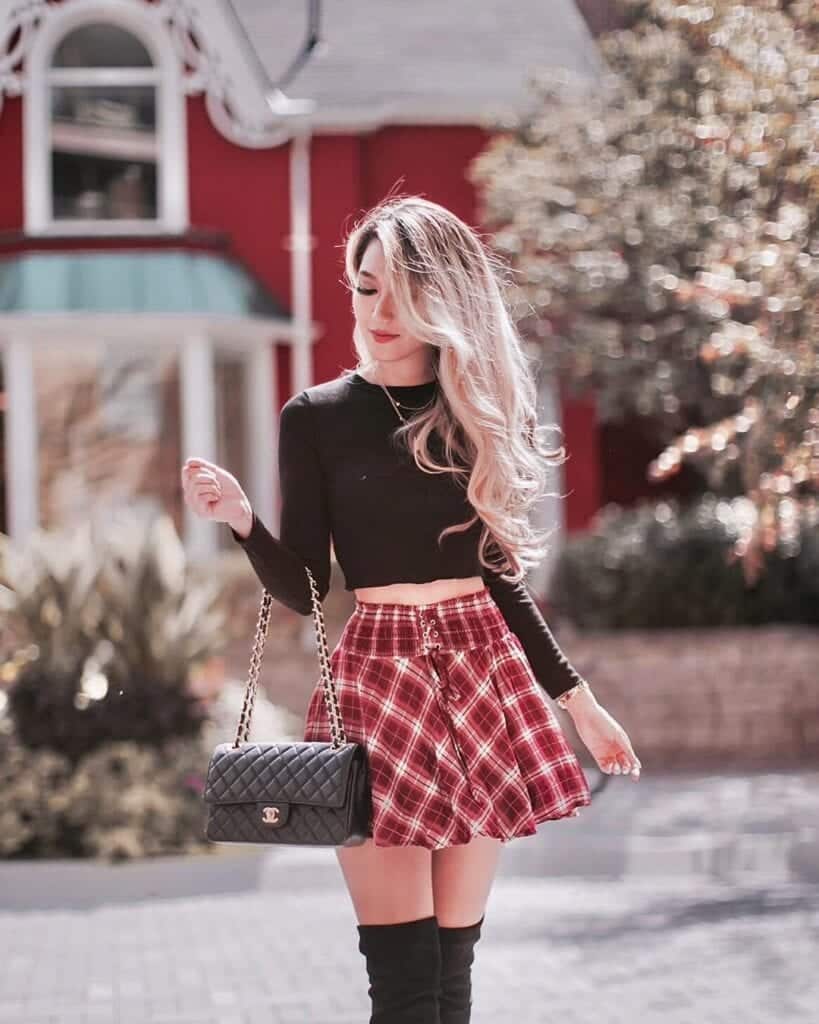 ↓ 31 – Accessories to Wear with Plaid Skirts
Accessorize with a matching plaid scarf! You may add pretty studs, or hoops, perhaps a beret. Plaid skirts come in all different colors and materials. This beautiful pink skirt can be paired up with white ankle boots as well as a warm sweater for the perfect winter look.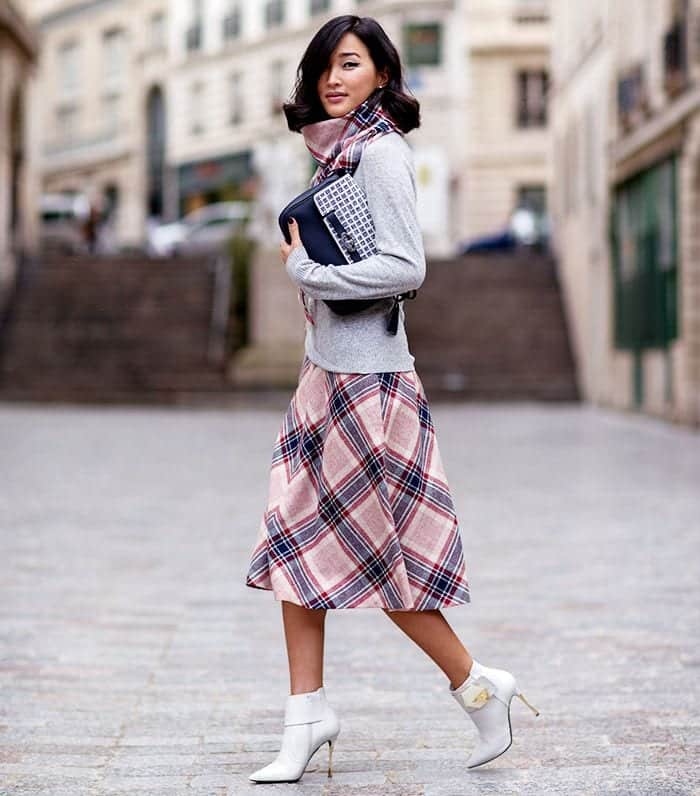 ↓ 30 – Plaid Pencil Skirt Outfit
Pencil skirts look so feminine! Here is an outfit with a pencil skirt, which is paired with a gorgeous white top with black ribbons at the front, black high heels, and a big handbag for all your essentials and you are ready to go. Also, have a look at Outfits with Pencil Skirt-40 Best Ways to Wear Pencil Skirts.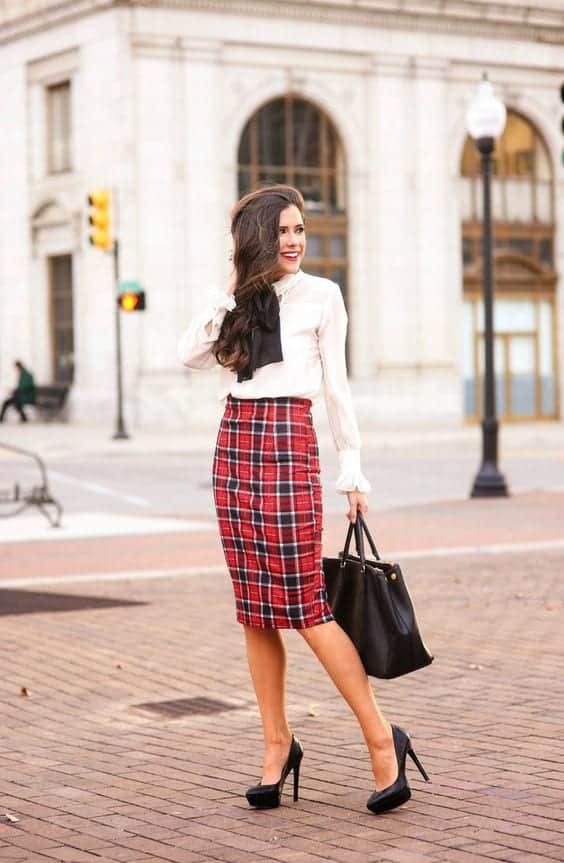 ↓ 29 – How to Wear a Pleated Plaid Skirt
Pleated plaid skirts look excellent when you know how to style them. A flowy one like this paired with a white comfy sweater and a brown coat makes for a great fall outfit.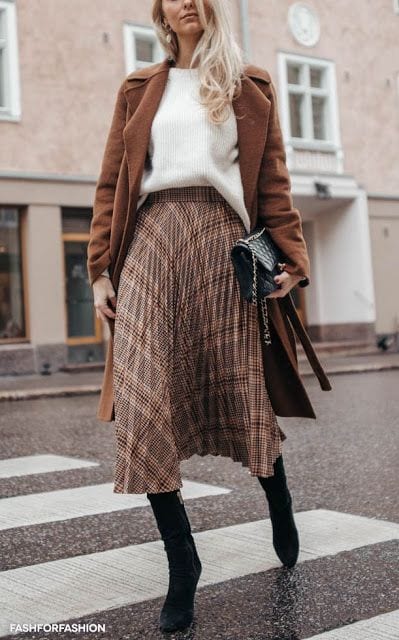 ↓ 28 – When to Wear Outfits with Plaid Skirts?
You can certainly dress up plaid skirts and wear them to a party. The outfit is a perfect balance of cute and sexy, and all you need to pull off this look is a fancy black top of your choice, perhaps an off the shoulder top, or a mesh ruched top like this one. Wear black stockings with it and some black doc martens or laced combat black boots.
Where to buy: black mesh ruched top
↓ 27 – Outfits with Plaid Skirts for Work
Looking for an outfit appropriate to wear to work? I simply love this look. A black plaid pencil skirt paired with a white shirt looks so smart and effortless. This outfit can be easily transformed into a night look if you ditch the shades and let your hair open. A simple black top of your choice on top would look so sultry and make you look gorgeous in an all-black look. Also, try out Professional Skirt Outfits- 25 Ideas To Wear Skirts For Work.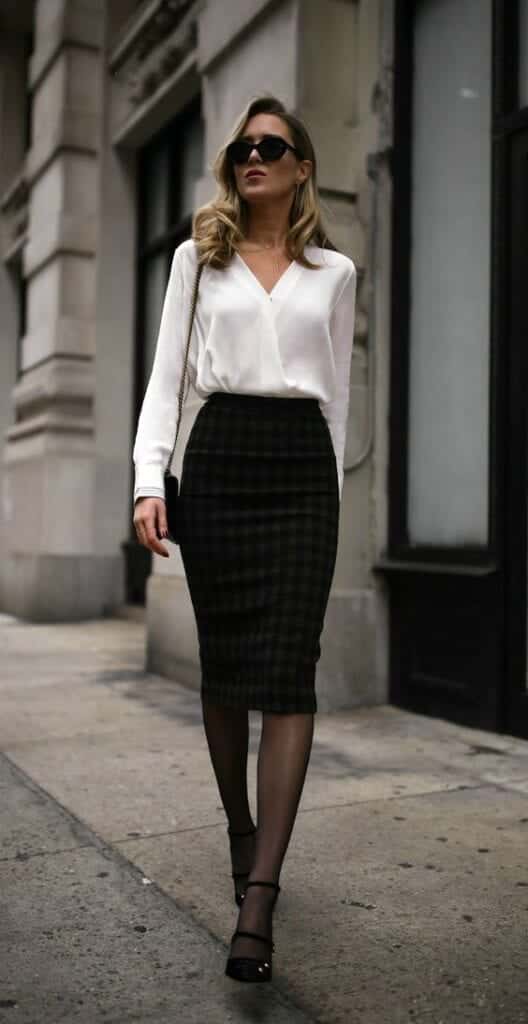 ↓ 26 – Cute Outfits with Plaid Skirts
Cute mini bodycon plaid skirts have been so trendy lately. They are easy to style, with a white top of your choice, and a matching cardigan to go with your skirt. Shoulder bags add a nice overall touch to your look. Such outfits look great in monochromatic pastel shades.
source
↓ 25 – For a Day Out with Friends
Tennis skirts are not just limited to athleisure, you can make them work according to today's trends. Everyone on my Instagram feed has been rocking this look and you can too. Tennis Plaid skirts are simple, yet girly and cute. A plaid tennis skirt works great for a day out with friends because it looks cute no matter what. Wear a white top with it and, a light jacket. White sneakers will look cute with this outfit.
↓ 24 – Pink Outfits with Plaid Skirts
Pink is one of my favorite colors and it looks so good in plaid. An all-pink outfit always look so cute, monochromatic looks have been so hyped about. Wear a cropped turtleneck and add a belt with this skirt. This look is great for a fall date night.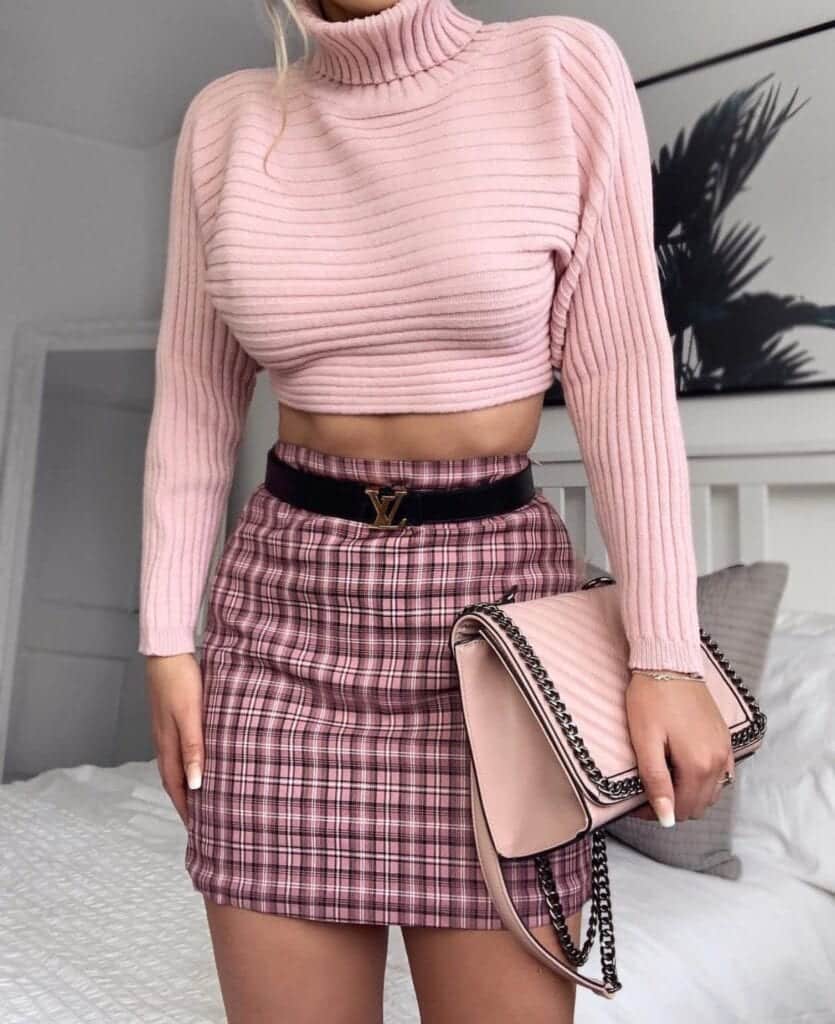 ↓ 23 – How to Wear a Green Plaid Skirt?
Don't know how to style a green plaid skirt? We have got you covered. The easiest way is to wear it with a stylish white top, maybe a fitted white cardigan like this one. Accessorizing outfits always amps the look so much, add a bandana, pearl hoops, and layered necklaces.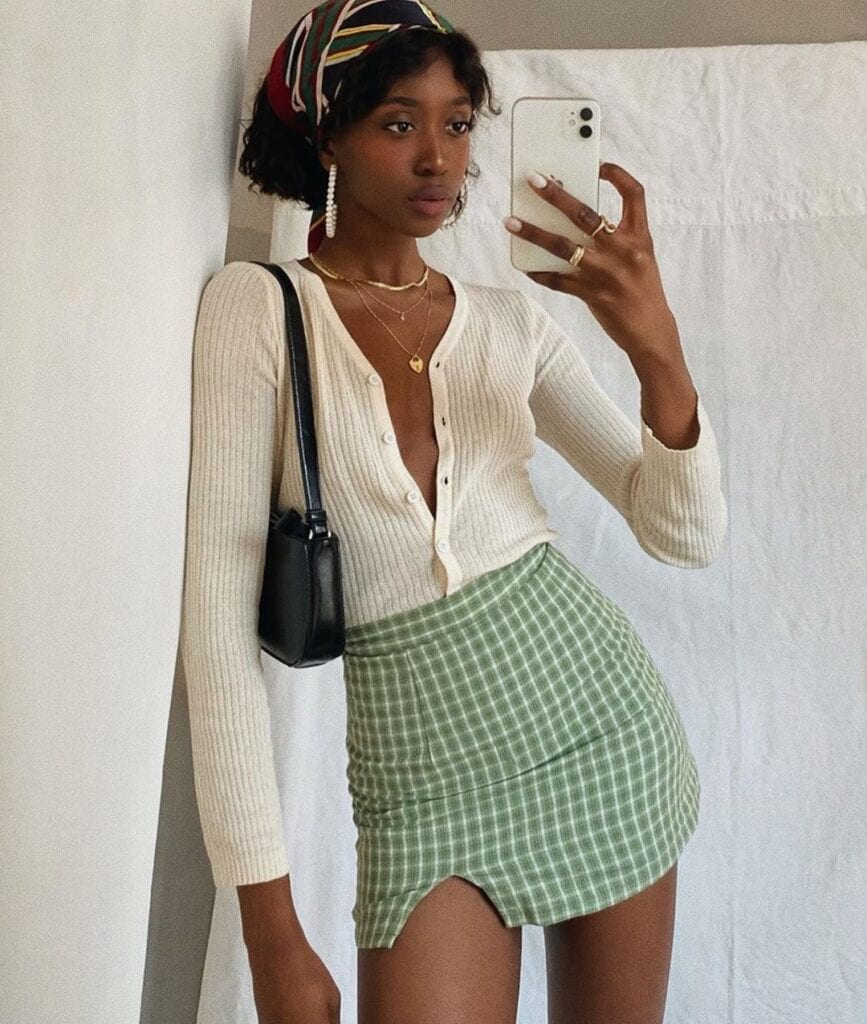 ↓ 22 – Outfits with Plaid Skirt for Summer
Matching sets are one of the most popular styles for summer this year. Wear colorful and fun plaid prints this summer. You can find a large variety of matching sets online and in-store in your favorite stores. You do not have to add a lot more to your outfit, because the colorful, statement-making outfit does it all for you.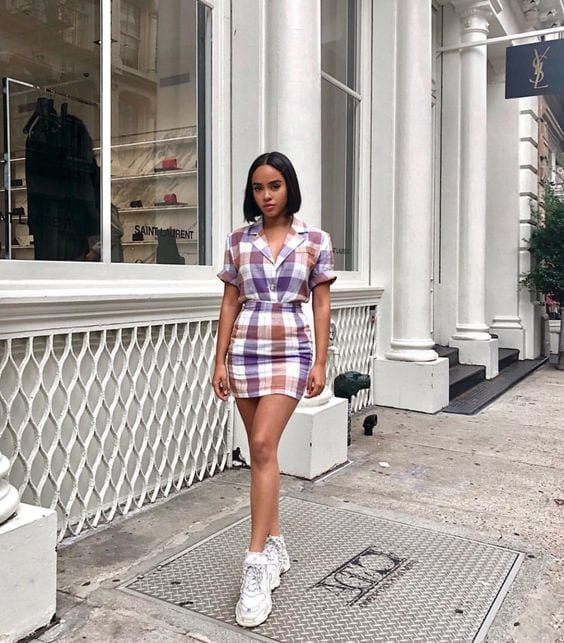 ↓ 21 – Casual Outfits with Plaid Skirt
Are you looking for a casual outfit? Pair a long flowy plaid skirt with a simple white tee and white converse shoes. A belt adds an extra detail to the outfit making you looking hip and put together.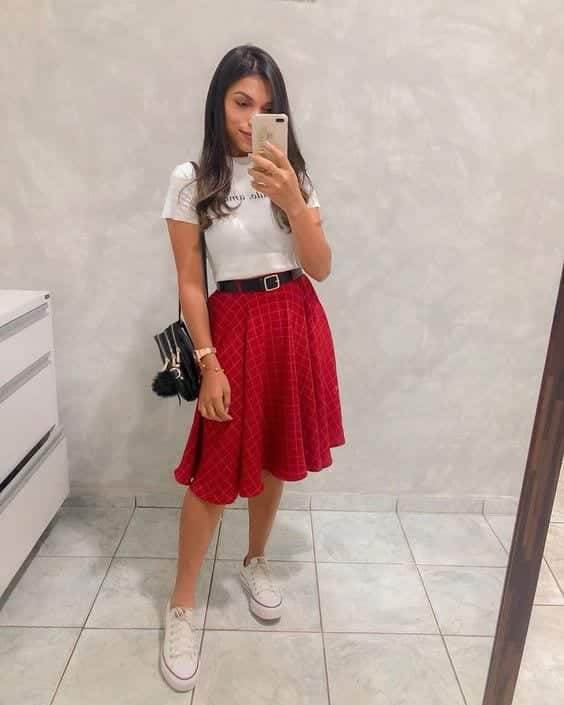 ↓ 20 – For Teenagers
This outfit is perfect for teenagers, and they can wear it to all sorts of places such as concerts, or a day out with friends etc. A band tee, or a text tee, a denim jacket on top with a black and white plaid skirt is such a cool and an aesthetic look.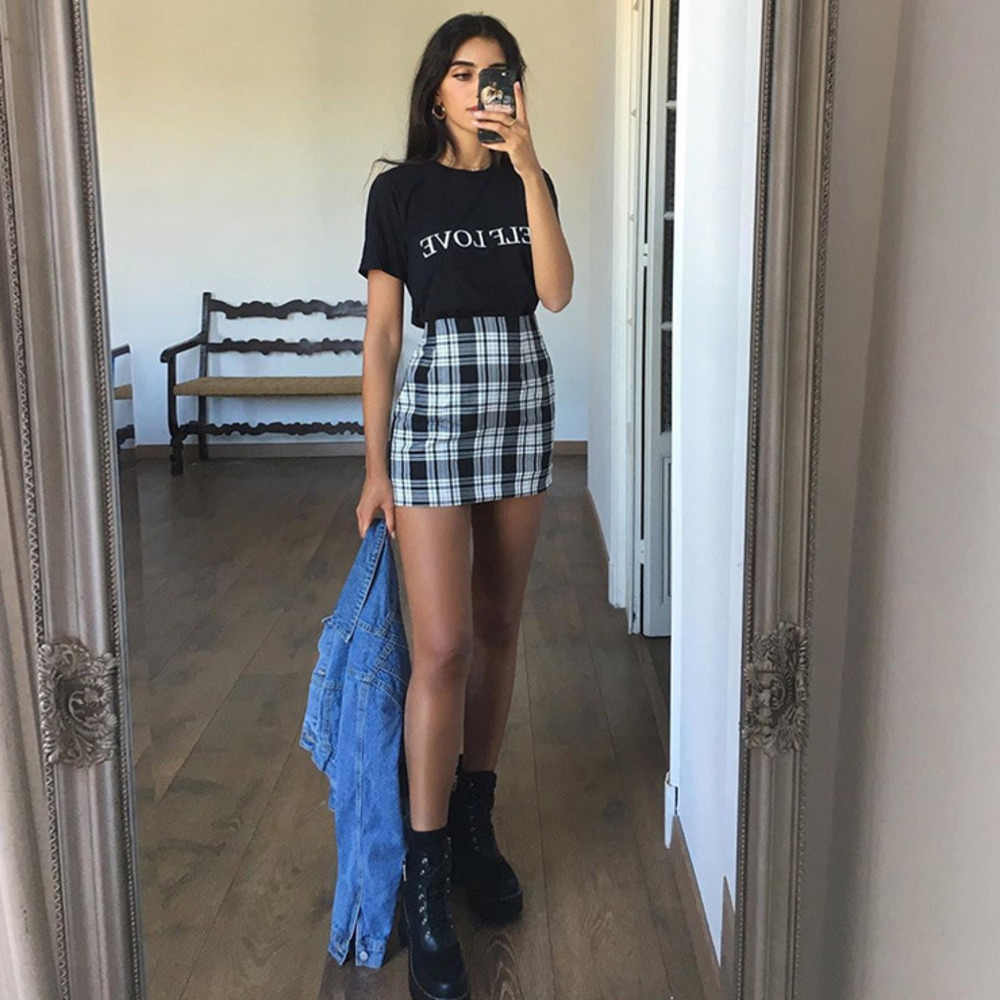 ↓ 19 – Footwear to Wear with Plaid Skirts
To add a pop of color to your boring black and white plaid skirt look try something new and wear neon green heels and a matching neon bag.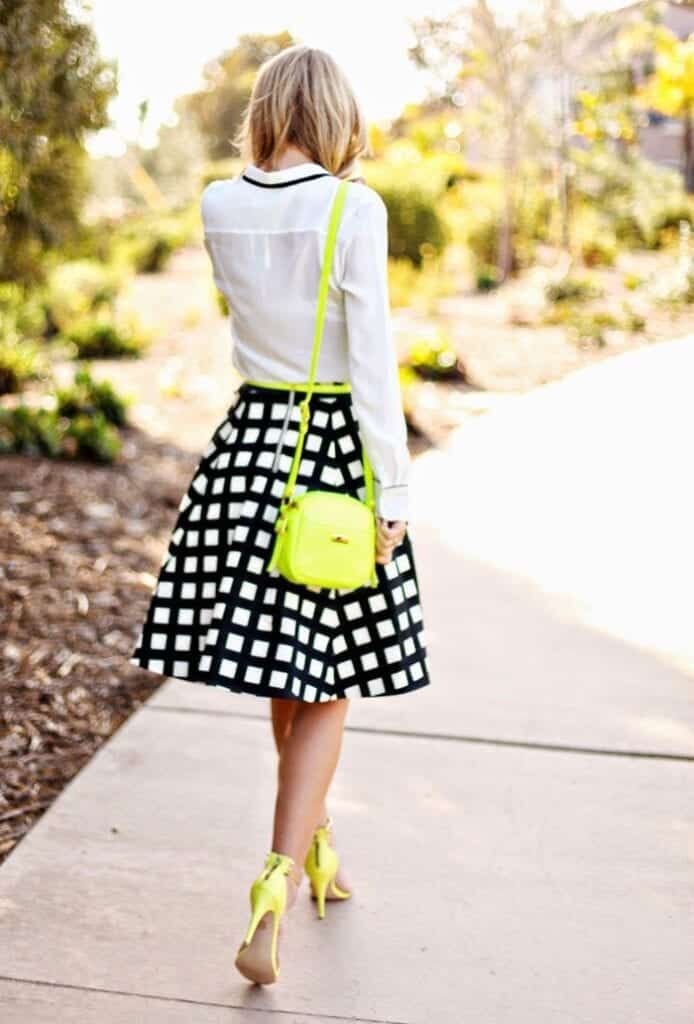 ↓ 18 – When to wear a red plaid skirt?
Red plaid skirts are perfect for the holiday season as that bright red looks so Christmassy giving you all the holiday feels! Bling it out by wearing a statement necklace and pretty studs. Knee high boots are so perfect for the wintery holiday season.
↓ 17 – Long Plaid Skirt Outfits
A long midi skirt like this one looks beautiful with stockings, high heels and a turtleneck or a light weight fitted sweater. I love the classy vibe of this outfit.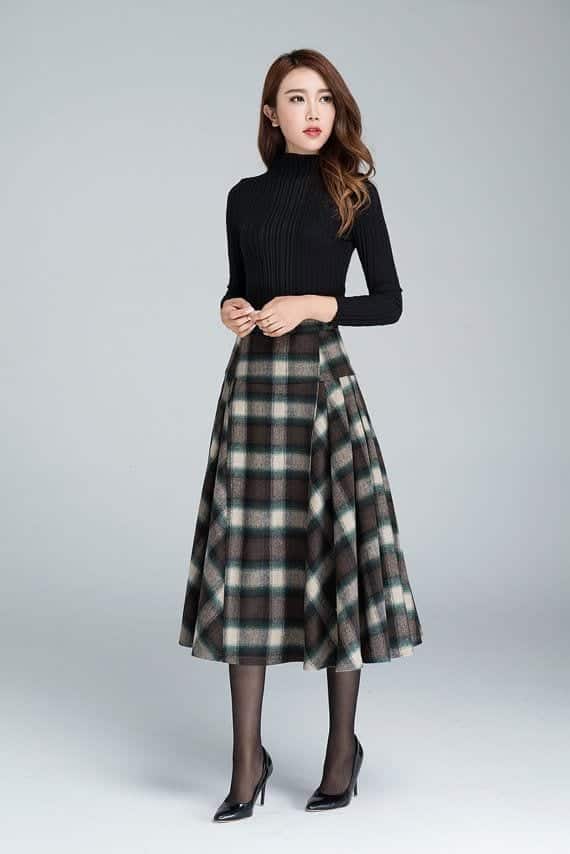 ↓ 16 – Leather Jacket Outfits with Plaid Skirts
This outfit is giving me all the baddie vibes. A leather jacket is a staple in everyone's closet, if you do not have one get one and pair it with a plaid tennis skirt and some ankle boots. Also, try out Leather Skirt Outfit Ideas – 30 Ways to Wear Leather Skirts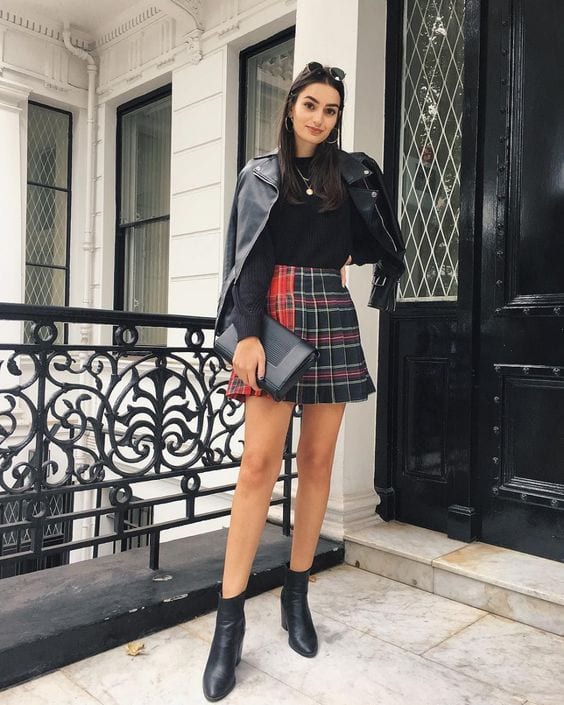 ↓ 15 – For Women Over 50
You can look chic with bright plaid prints in the summer. Its simple to style bright prints like these, make the skirt your statement piece and wear a simple white shirt on top and you are ready to look fabulous.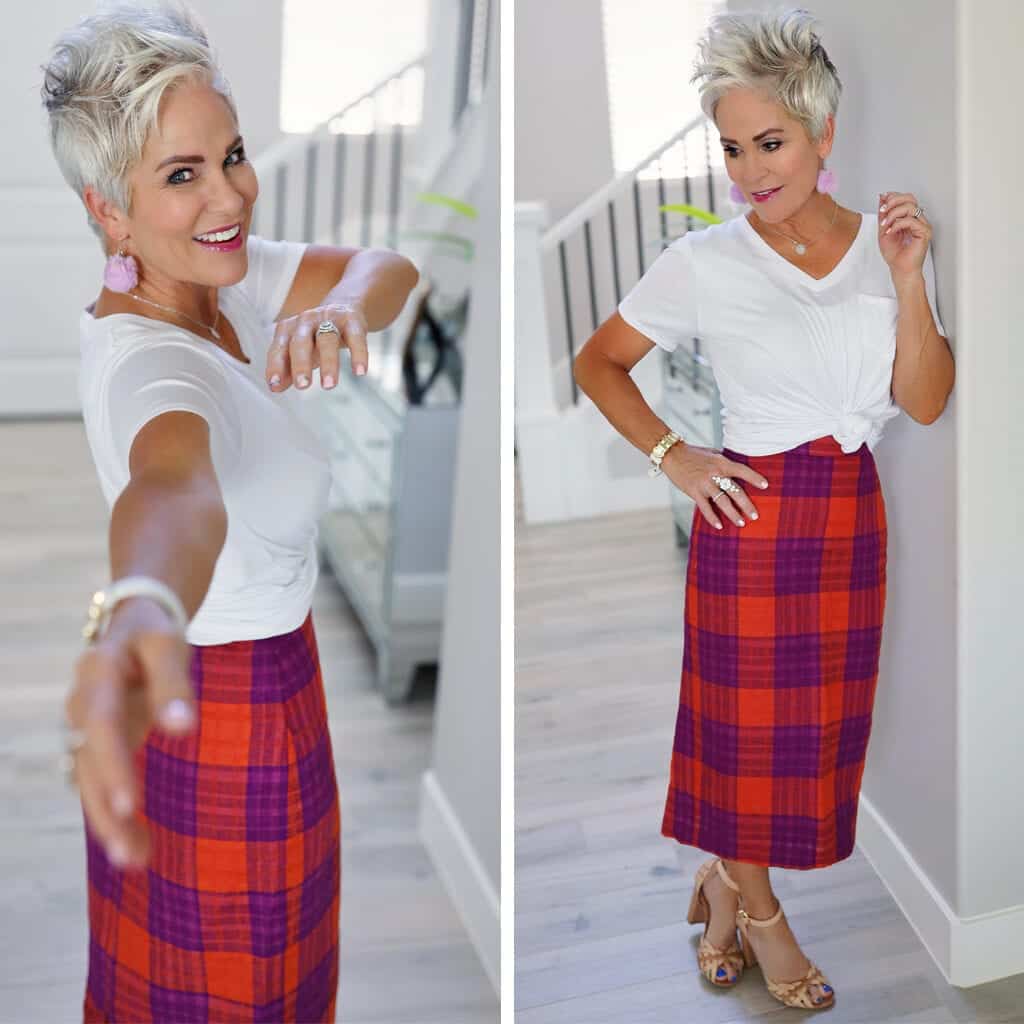 ↓ 14 – 90's Style Outfits with Plaid Skirts
Ugh! As if! Cher's famous outfit from the movie "Clueless" is the best 90's plaid skirt inspiration you can get. It is such an iconic look, take a look at the chain details on the skirt and the many layers under that bright yellow jacket.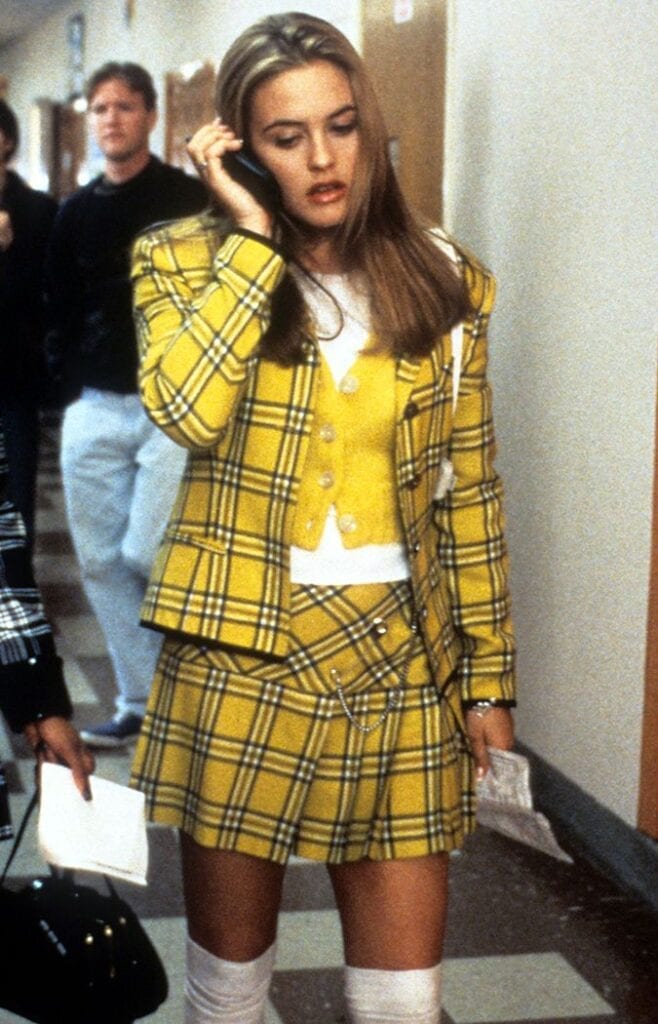 ↓ 13 – Fall Outfits with Plaid Skirts
Neutral or warm shades are an excellent choice for the fall season. Wear your cute plaid skirts with fuzzy turtlenecks, coats, and boots to keep yourself warm in the chilly months.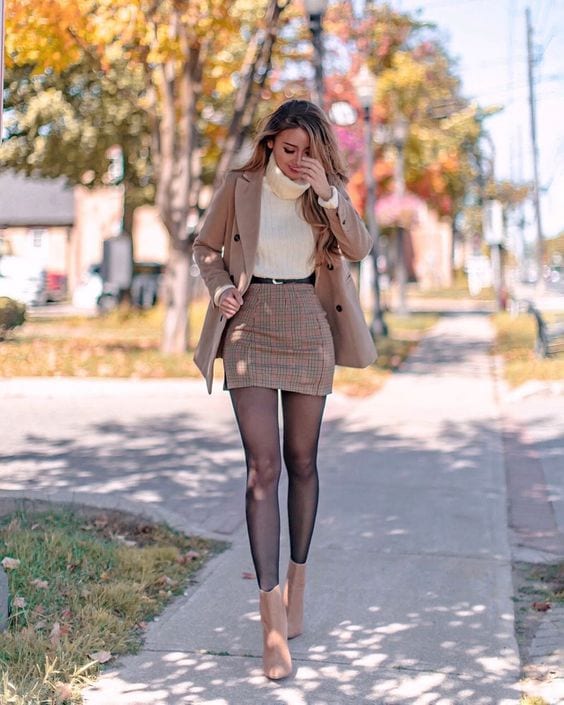 ↓ 12 – For Plus Size Women
Girls with curves look stunning in skirts. Plaid skirts with a matching blazer are one of my favorite ways to style plaid skirts. Neutral colored sets with a solid top under makes the outfit look so gorgeous. That mint color is so lovely!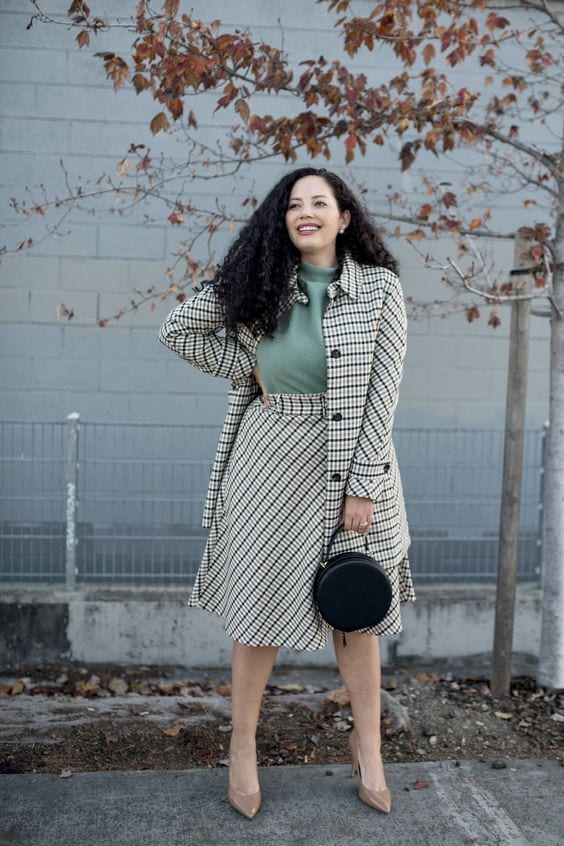 ↓ 11 – How to Wear Black and White Plaid Skirts?
You can always pair your high waisted black and white plaid skirts with a black top, for example a black off the shoulders top. Almost any black top, be it mesh, glittery, ribbed, or different styles and cuts of black shirts would go with it. If you want to make it a bit more of a formal look wear black heels.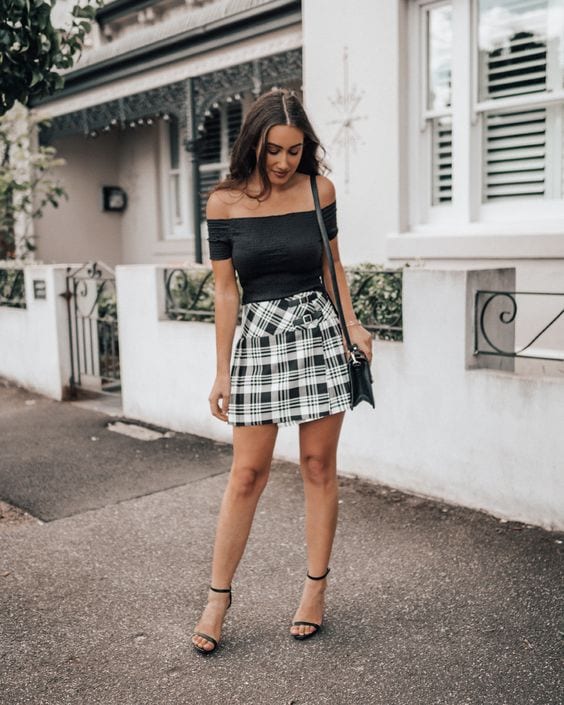 ↓ 10 – Outfits with Plaid Skirts for Winters
Long plaid skirts look beautiful and keep you warm in the winter months. Wear a beret with your skirt, as well as a turtleneck and some lace boots. Accessorize with gold hoops.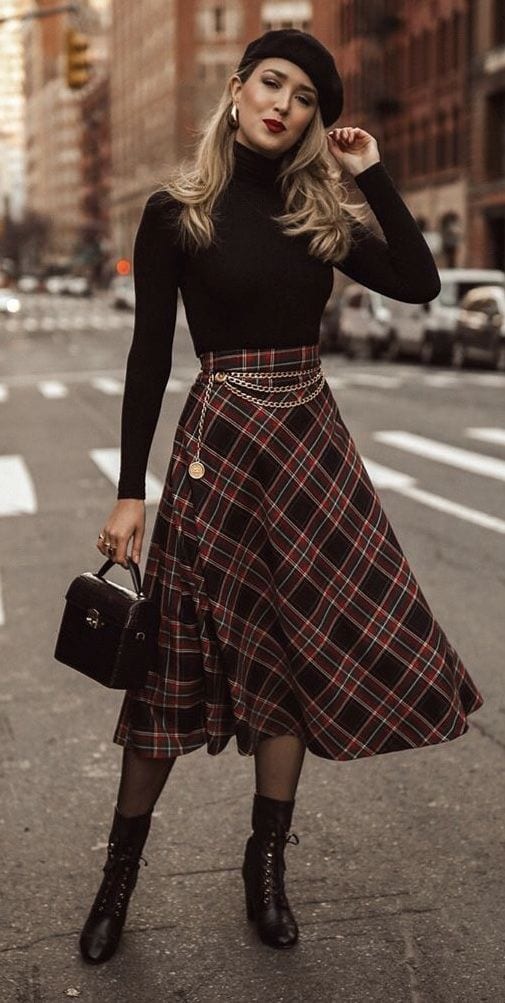 ↓ 9 – What to Wear With Plaid Skirts for Business Look?
One of my favorite looks ever! A silk cami top under, with a luxe blazer looks graceful with a belted skirt. You could wear white heels, ankle boots or knee-high boots with this look.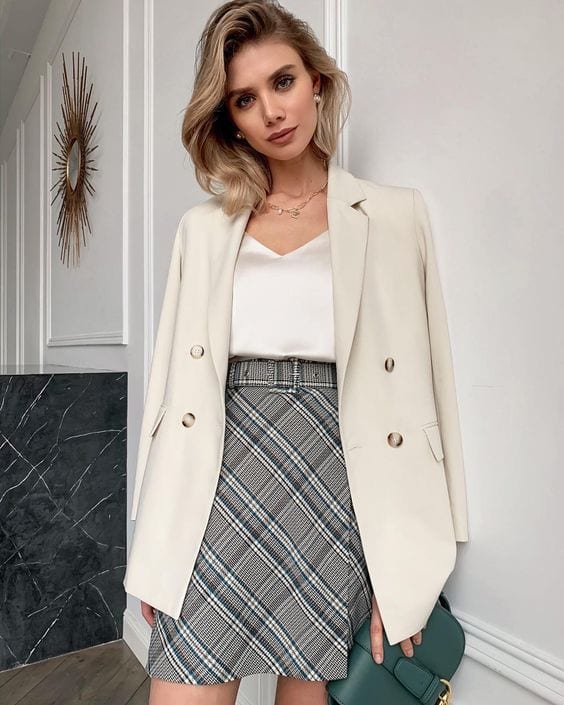 ↓ 8 – Summer Bummer
Who says plaid prints are reserved for winters? Look how beautiful this outfit looks, either pull the shoulders up or wear them down, up to you, either way though you are ready to stun everyone.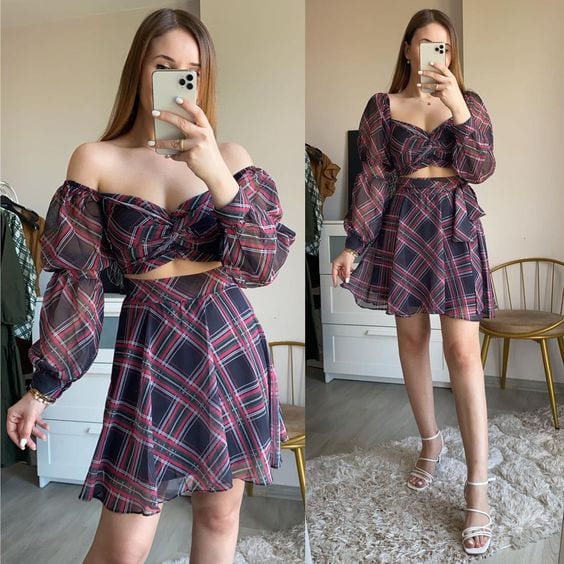 ↓ 7 – Ruffled Plaid Skirt
How about a ruffled plaid skirt to switch it up? Looks nice for the summer by simply wearing a basic tee, and heels with it. A hat is a cute accessory to add and you are ready to look dazzling.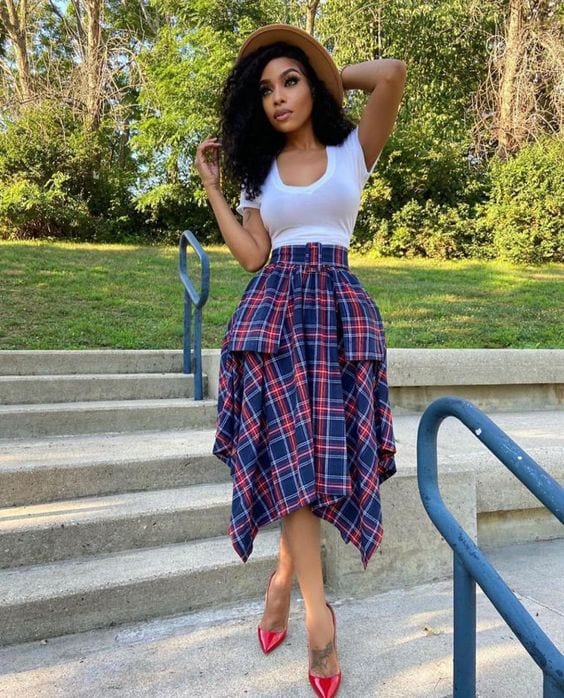 ↓ 6 – Vintage Vibes
Perhaps the bright plaid prints in reds or greens are not your cup of tea? Go for neutral tones such as brown. A perfect outfit to wear to a café or a bookstore.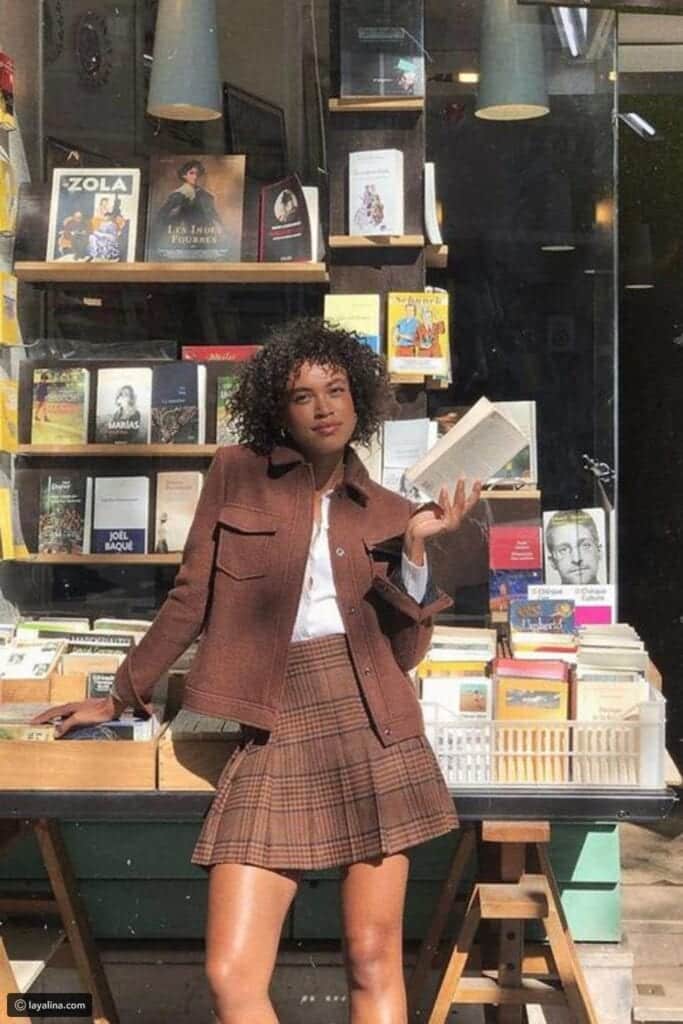 ↓ 5 – For Skinny Girls
Opt for flowy skirts instead of tight ones and a loose sweater on top.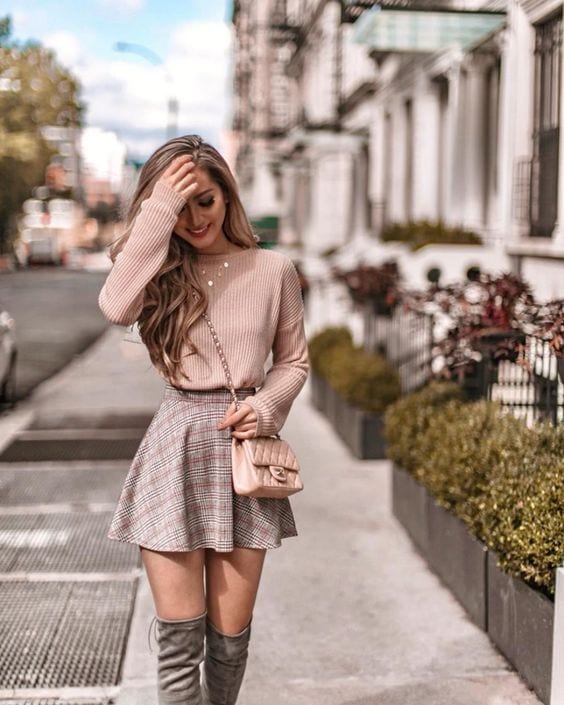 ↓ 4 – Plaid-Out
Who knew an all plaid could look so glam? This look has to be one of the most sophisticated ways in which you can style plaid. The pearl necklace, and the long midi plaid skirt add so much femineity and elegance to the outfit. I love the neckline and the sleeves.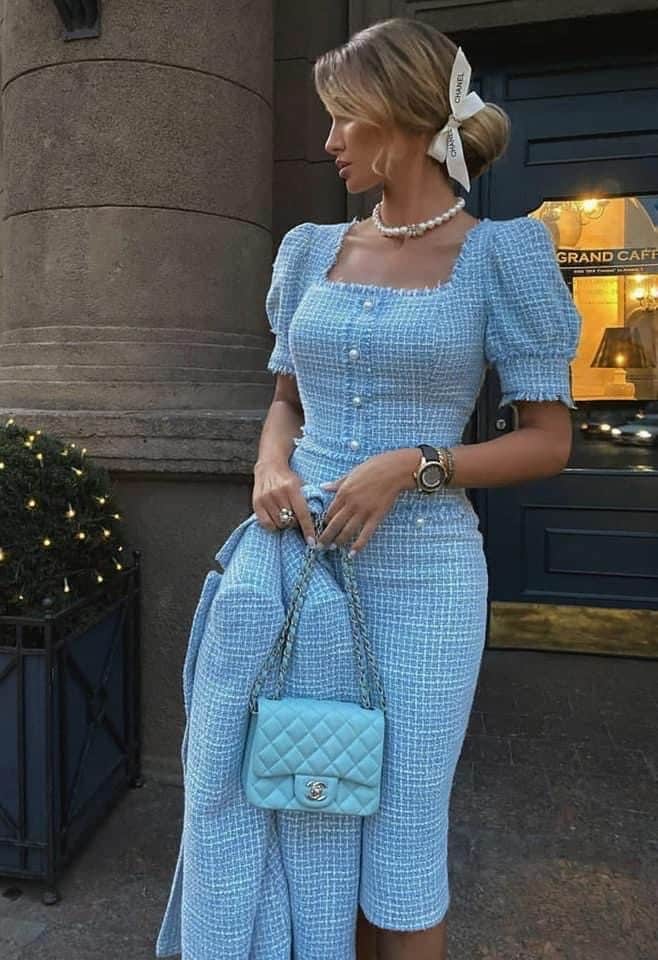 ↓ 3 – It's Not A Phase Mom
Plaid Skirts are quite popular in the grunge and punk world. Moon shirts used to be so popular back in the days. You can pair your skirt up with band tees and fishnets.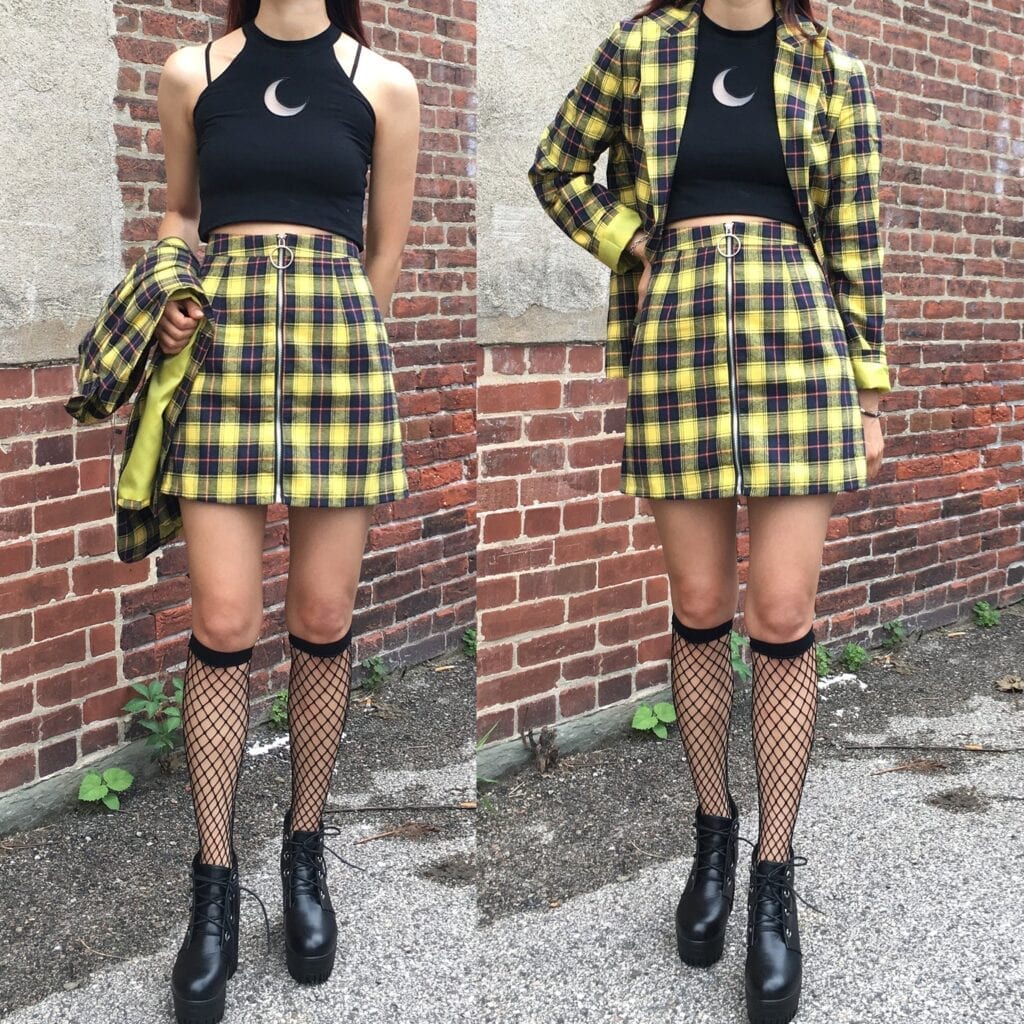 ↓ 2 – Parisian Meets Preppy
A cropped jacket with a skirt looks so dressy and classy for a semi-formal event.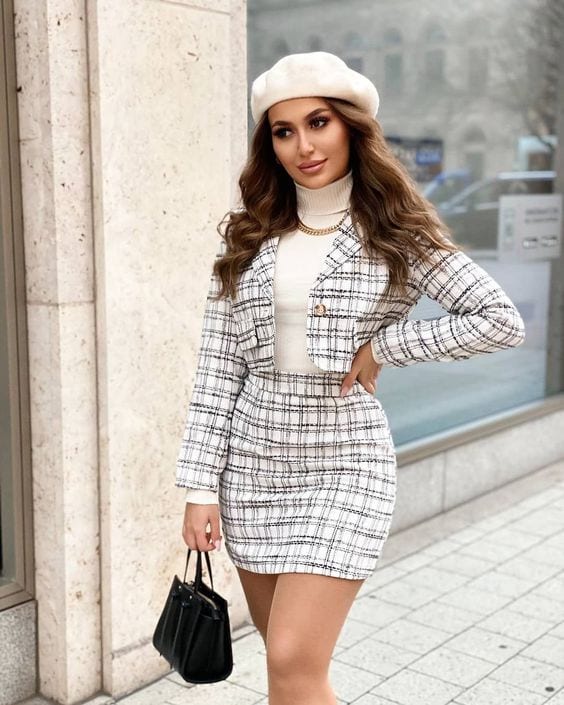 ↓ 1 – Mocha Green
Plaid can look sexy too! The color is perfect for the summer, and the Sbetro halter top looks so gorgeous.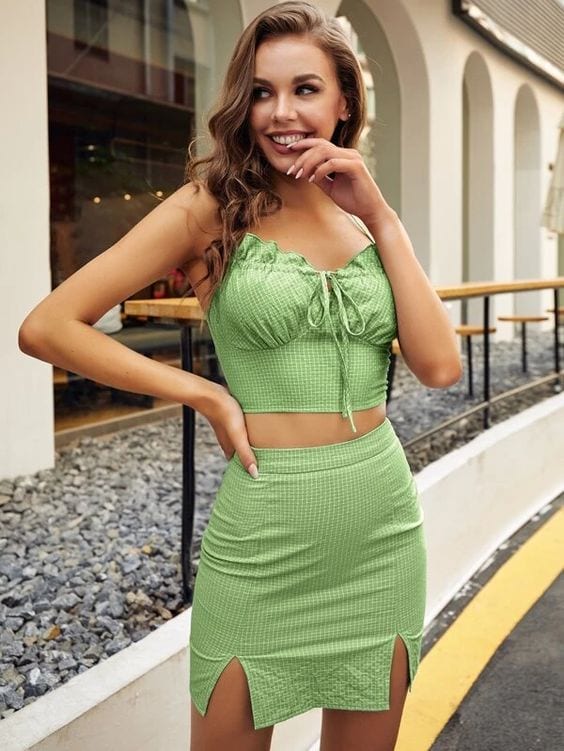 Where to buy: Lapel Collar Plaid Crop Jacket & Skirt Set
Where to Buy Plaid Skirt Outfits?
Forever 21 Pleated Plaid Mini Skirt
Nordstrom Tory Burch Pleated Plaid Sweater Skirt
ZAFUL Plaid Pleated Preppy Mini Skirt
Boss Vericana Plaid Pencil Skirt
Fashionnova Totally Into You Skirt Set
Frequently Asked Questions
Q. What goes well with plaid skirts?
A. Plaid skirts look great with a favorite top of your choice, perhaps a fitted ribbed full-sleeves top, a graphic tee, or a matching plaid top to go with it. Crop tops, silk cami tops, or cardigans look great too. For shoes knee-high boots, sneakers, or even heels look amazing.
Q. Are plaid skirts in style?
A. Yes! Indeed, plaid skirts are very much in style these days. You can see models rocking plaid skirts in the paparazzi photos, or on the Versace fashion show runways as well.
Q. How to style black and white plaid skirts?
A. Black and White plaid skirts are so easy to style, because anything goes with black and white. If it is a long skirt wear a white turtleneck, or a blazer on top and a white silk top under. If it's a short one opt for cute summer tops, perhaps an off the shoulder one.