Types of Jeans Girls Must Have. Jeans have been around since the late 1800s. Crazy, right? They started as durable pants for workmen, called "waist overalls." They remained in that sphere for a while, and then suddenly became the national symbol of youthful rebellion when James Dean wore them in Rebel Without a Cause in the 1950s. By the seventies, fashion circles had begun accepting them and now we rock our Levi's and Wranglers with nary a care about their rollercoaster history.
But semi-interesting jeans facts aside, the new year is upon us. And jeans are as popular as ever. Nowadays, we have lots more to choose from than the pretty standard pickings the '50s had to offer. But in order to really keep up with the trends, it's good to know what types are being rocked these days. Are we reverting to low-waist skinny jeans? Are bootcuts making a comeback?
Find out all the answers to your questions in today's post on the 10 must-have jeans.
What Type of Jeans Should You Buy?
Jeans may have been around for over a century, but when it comes to styling, what are the must-have jeans of the year? Here's the shortlist with a brand recommendation for each!
Mom Jeans… Levi Strauss & Co's Signature Mom jeans are a classic.
Loose-Fit Ripped Jeans… we love this distressed option you can snag on Amazon.
Slim Bootcut… '90s jeans are back, but no wide flares: see here.
Boyfriend Jeans… always loving these.
Slim-Fit Jeans… skinny jeans scoot over: slim-fits are here.
Skater Jeans (relaxed, low-slung fit)… Zara shows us how it's done.
Vintage… here's a fantastic vintage recycled option from Urban Outfitters.
Light-Wash Jeans… love these from the Banana Republic.
Ankle Jeans… NYDJ's fantastic plus-size jeans are one in a million.
Straight-Leg Jeans… Everlane's Original Cheeky Jeans are classic for a reason.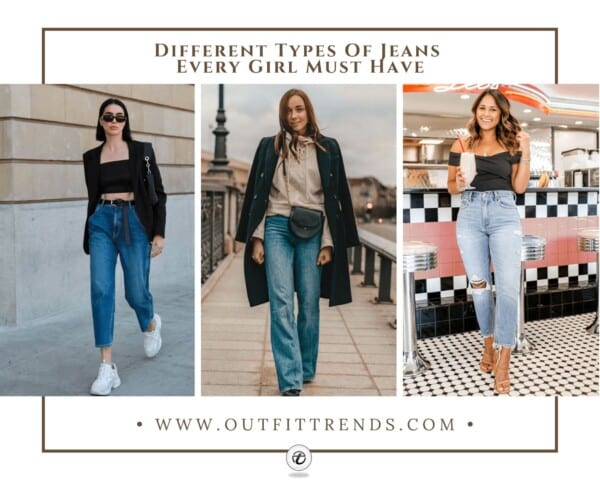 Now that you know the types of jeans that will be popular this year, here are 10 outfit picks that will show you how to style them and rock your choice of jeans with confidence. Let's take a look!
Where to buy different types of Jeans?
New jean's shapes and designs throughout this decade have been changing. Instagram has been keeping us all updated with the latest trends and styles. Five new jeans trends are emerging, which will help you steal the spotlight this year. Here are some trending jeans that every girl must buy:
Slim Boot-Cut Jeans: Investing in nice slim boot-cut jeans this year is money spent right. They look super chic and stylish and can be paired with either heels or ankle boots. Shop the look of Goldsign Slim Boot-Cut Jeans at Net-A-Porter.
Loose and Distressed Jeans: Loose fitting ripped-jeans is the new fashion trend and the crowd is definitely obsessed with them. Shop the look of ASOS Loose and Distressed Jeans.
Slim Straight Jeans: Looks like skinny jeans will never go out of style as the fashion girls are quite devoted. Sop the look of Levi's Slim Straight Jeans at Nordstrom.
Skater Jeans: These jeans are the ultimate cool and comfy and super-relaxed baggy style that every girl must-have. Shop the look of Citizens of Humanity Skater Jeans at Verishop Or of H&M Wide High Jeans at H&M.
Light Washes: Faded light wash jeans have entered the chat! They are softer and more comfortable than darker denim which makes them the perfect fit for summers. And not to mention the chic casualness they bring with them. Shop the look of Agolde Vintage Straight Jeans at ShopBop Or of & Other Stories Cut Cropped Jeans at their website.
#1. Mom Jeans
We used to laugh at them; now we are obsessed with them. Mom jeans are holding their own and still remain a trending option for the trend-conscious gal. And this year, that is still the case. Here's one way to style them.
Tucking your top in might feel a little daunting if you have never done it before, but we guarantee that as long as you have a good fit around your waist (not too tight), your Mom jeans will look infinitely better when worn with a tucked-in top. Go for high-waist Mom jeans with minimal stretch for some tummy control and to smooth out your silhouette. Here are some more ideas on Outfits You Can Wear With Mom Jeans.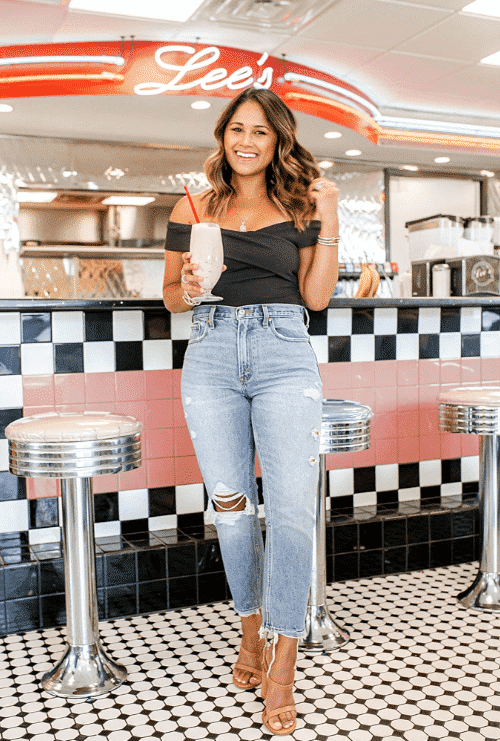 You can wear almost any type of shoe with Mom jeans but we love the idea of getting out of the box with your pick. Check out these highlighter yellow stilettos that almost outshine a great jacket!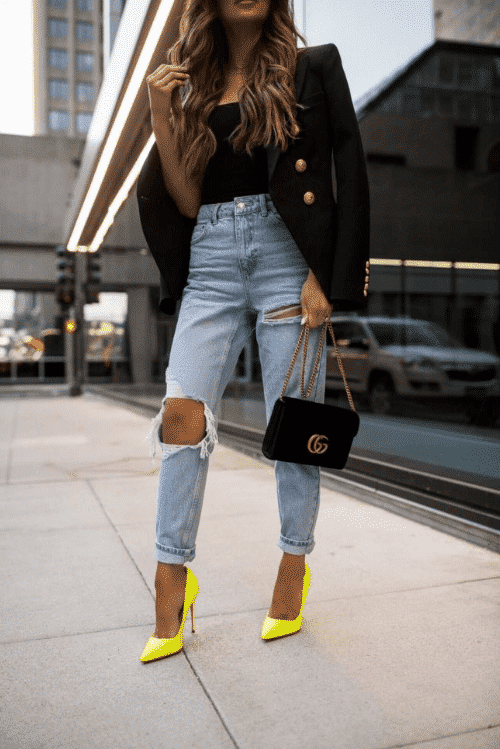 #2. Loose-Fit Ripped Jeans
Personally, I find all the current denim trends right up my alley. You mean I can rock some loose-fit jeans with a comfy tee and still look stylish and trendy? Sign me up! After a year of work-from-home wear and sweatpants, it's good to know that we can seamlessly step up our pants game without squeezing ourselves into unforgiving, tight-fitting jeans.
Rock your own loose-fitting, distressed denim look by pairing jeans with a white tee (it's okay if it hangs loose) and little white sneakers or kicks. Layer up some gold jewelry, pop on some sunglasses, and you are officially ready to take on spring! Do check out this latest collection of Outfits with Ripped Jeans.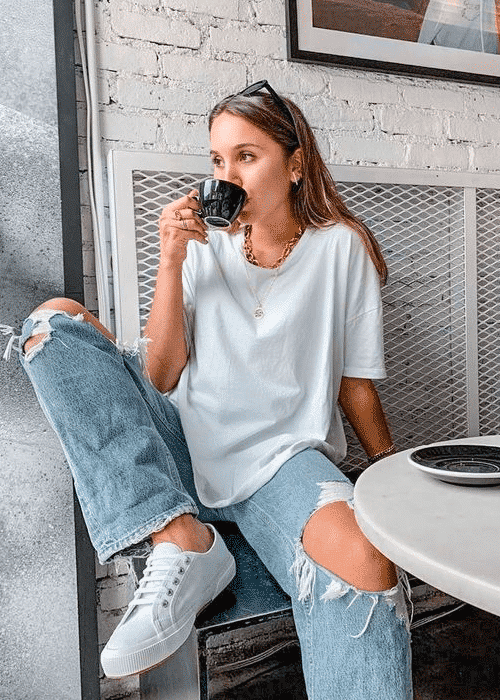 #3. Slim Bootcut Jeans
The operative word here is slim. We are steering clear of wide-flared bootcuts this year in favor of the '90s-esque slim bootcut a la Rachel Green. If you have patiently borne the rise and fall of skinny jeans with hope for better times, it gives me great pleasure to announce that it was not in vain. Slim-flared jeans are back and I, for one, am pretty thrilled.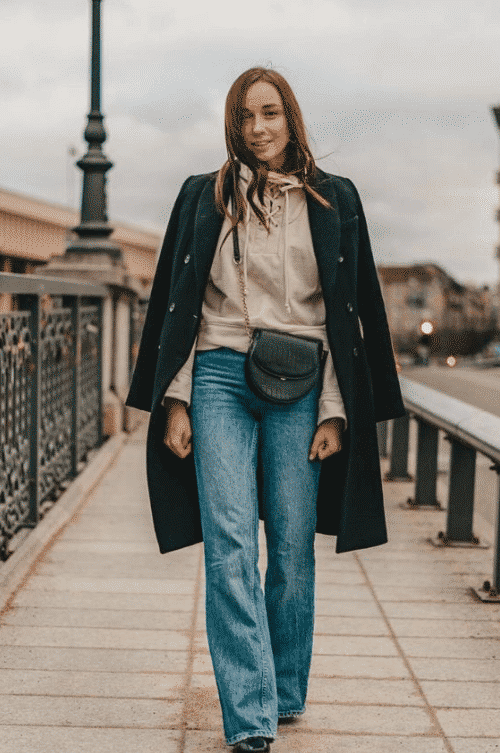 #4. Boyfriend Jeans
Boyfriends may fail but your boyfriend jeans sure won't! Happily, this is a trend that doesn't look like it's going anywhere. These loose-fitting bad boys are about as forgiving a jean as they come, so whether you are wearing them as work-from-home wear or for a stroll through the park, you can do so without feeling squeezed in and that's pretty awesome.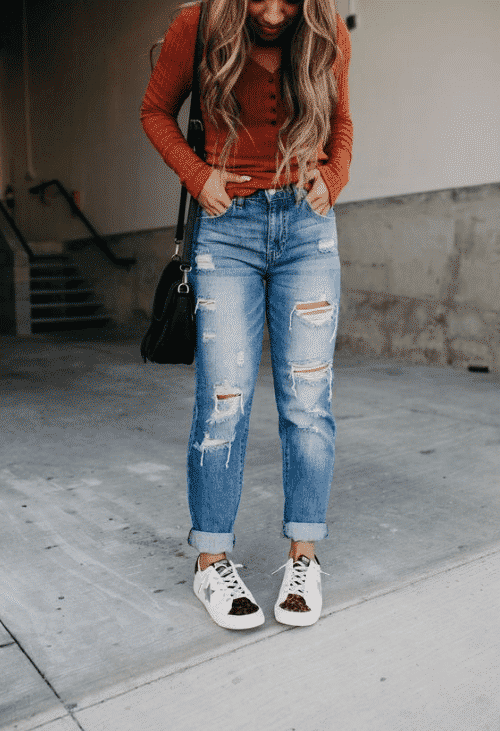 #5. Slim-Fit Jeans
Say sayonara to your skinny jeans. They are bowing out this year. Instead, slim-fit jeans are sliding up the ranks and we are pretty pleased. You can style your slim-fit jeans just the same way your would your skinnies, so rest easy there. You can even try some low-rise slim-fit jeans if you are feeling brave!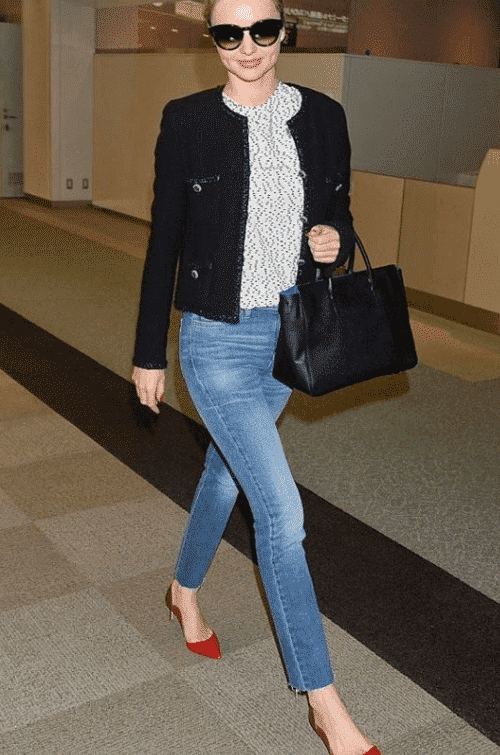 #6. Skater Girl Jeans
"It's not a phase, Mom!" You really might be tempted to shout this into the stratosphere when wearing these jeans, and if you do, don't say I didn't warn you. But whether or not this trend sticks around for the long haul, don't let it pass you by without trying it at least once. Skater girl jeans are ultra-relaxed, often low-slung, and they will definitely give the teens of yesteryear a run for their money.
To style skater girl jeans, steer clear of too-loose tops like baggy tees. You will want some structure up top due to the frankly alarming amount of denim you will be sporting on your lower half. A crop top, bodysuit, or slim-fit tee are all good options. Seal the deal with some chunky sneakers and a crossbody bag.
If you really want to feel like one of the cool kids, get super casual with a mini crop top tank, thrifted purse, and sneakers. Add a cropped sweater for a little more coverage.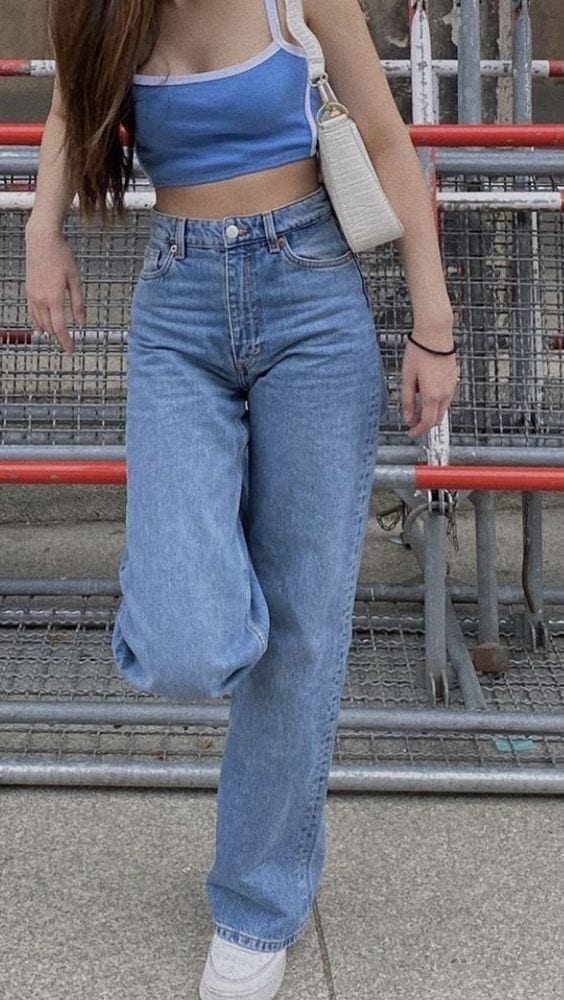 #7. Vintage Style Jeans
Vintage style jeans are often sourced from older recycled jeans, making them environmentally-friendly as well as, well, cool. There's just something so satisfying about upcycled jeans with their faded wash and their tried-and-true stitching. If you want the real thing, you will probably have to scour some thrift stores (as well as your mom's closet), but it will be so worth it once you have got them.
We love this ultra-hip styling which paired some vintage-style jeans with a black bandeau, a sleek blazer, and chunky white sneakers. Belt that waist, add a shoulder bag and some sunglasses, and you are in business.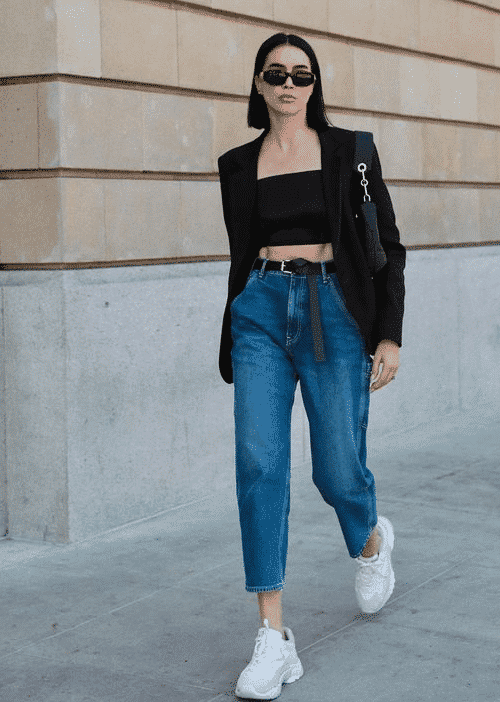 #8. Light-Wash Jeans
You know what else is popping this year? Light-wash jeans. Colored jeans are taking a backseat in favor of pale denim so adjust and style accordingly. What is great about light-wash jeans is that their pair well with pretty much anything. They brighten any outfit and they can give a very wholesome and refreshing vibe. Here are two takes on the light-wash jeans trend that I'm digging.
First, we have got a chic pairing of light-wash jeans with a black silk top and a tuxedo jacket. It is perfect for those semi-dressy occasions where you want to look and feel stylish and put-together without sacrificing comfort. I'm loving the timeless energy with this one.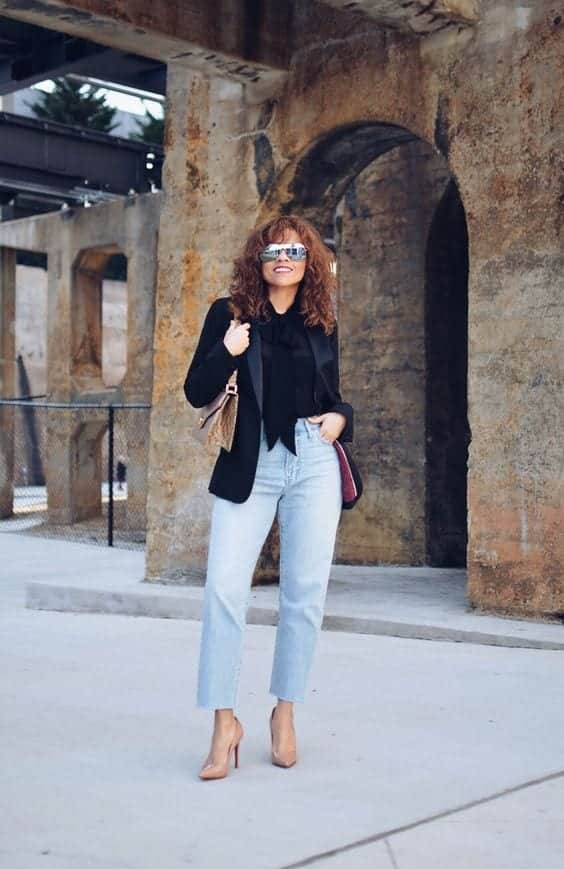 Next, we have a really great, simple outfit that you can throw on in a pinch and feel good in. While these are skinny jeans, you still get the point. Oftentimes, plus-size women are discouraged from wearing light-wash jeans because darker washes are considered more slimming. To that I say hogwash! Rock your light-wash jeans with confidence and say adios to the naysayers.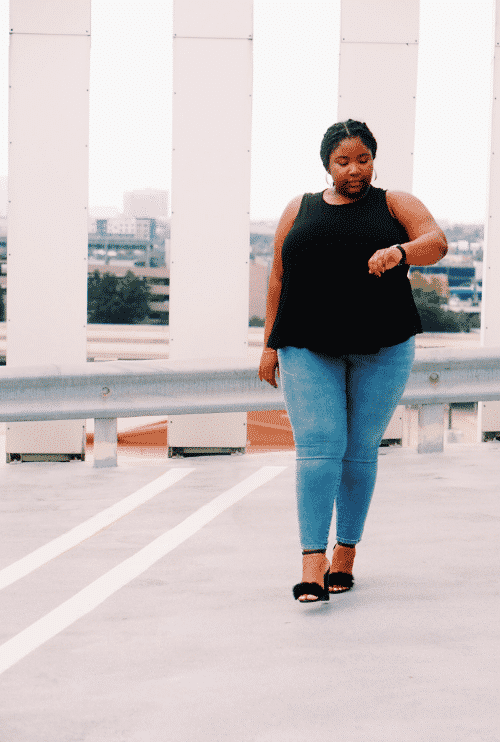 #9. Ankle Jeans
Great news, kids! Ankle jeans are back! You mean my poor, cold little ankles get to be covered up again? Yes, ma'am. Without disqualifying the efforts it took to free the ankle in the first place, it goes without saying that our ankles have suffered much in the name of fashion. From chilly fall days to straight-up snow days, we have subjected these oft-overlooked body parts to many a trial.
Well, if there is one good thing we can say about this year, it's that the trend lords have spoken and ankle jeans are decidedly in. I guarantee your ankles will be thanking me after this.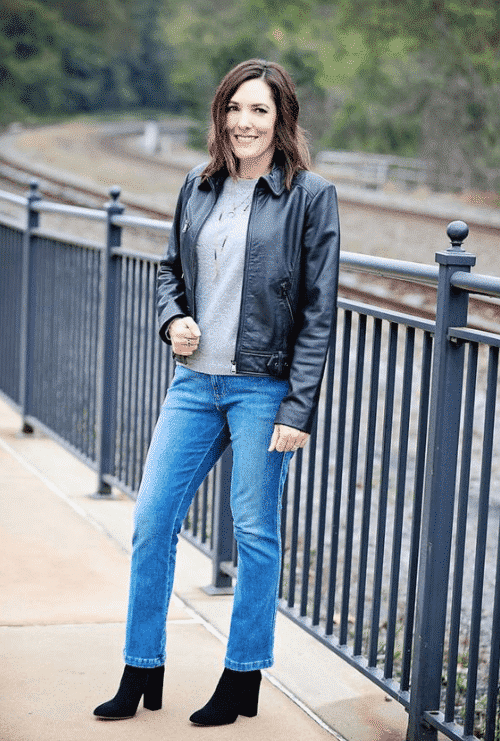 #10. Straight Leg Jeans
Much like loose-fit jeans, straight-leg jeans defy the skinny jeans box and give our calves (and thighs) some much-needed leg room (no pun intended?). Happily, they seem to be another one of the approved trends of the year. Here's a classic outfit that I'm honestly going to be trying myself.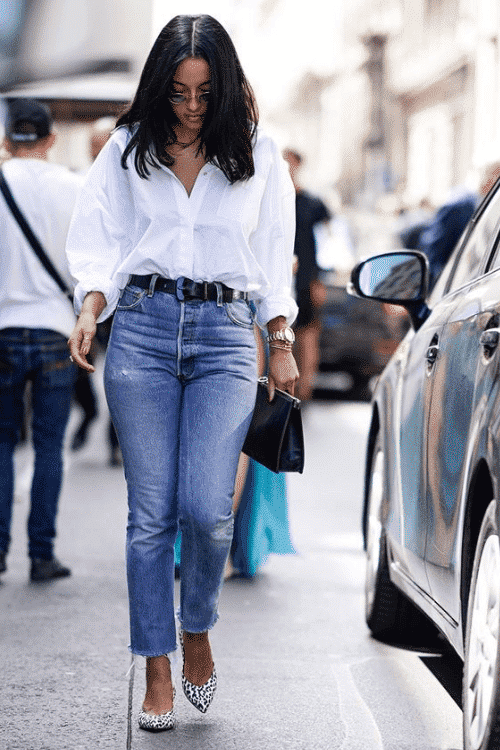 The Jeans Celebrities Are Wearing
If you are a trend-follower, you will know that an easy way of gauging what's in is by looking at what the celebrities are wearing. So, if you are wondering what jeans celebrities are rocking in these early days of the year, wonder no further. These picks will inspire you and give you a clearer idea of how to style jeans that are trending.
Kendall Jenner Wearing Mom Jeans
You know it's trending when Kendall Jenner is wearing it. These jeans fit a lot of the different types we talked about in today's article. They are light-wash, loose-fitting, straight-leg and in the "Mom" category of jeans. So if you are feeling like you don't know which type of jeans to steer toward, remember that lots of jeans cross over into other types and as long as you have an overall idea in mind, you're halfway there.
Megan Fox's Cool Gray High-Waist Jeans
The Mom jeans are crazy popular, as we can see yet another beautiful celebrity rocking them like nobody's business. In this take, the mottled gray is laid-back and looks great paired with a gray crop top and fuzzy oversized jacket. Here are some ideas on what Shoes you should Wear With High Waisted Pants.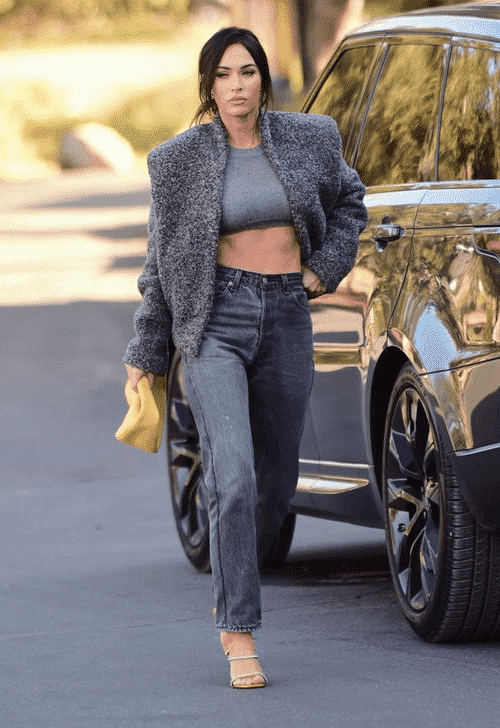 Katie Holmes Everyday Look
You are starting to get the idea, aren't you? It's pretty easy to see what's trending, which makes it so much easier for us ordinary gals! As long as you have a semi-loose fit, lighter wash, and an ankle-length hem, you are good.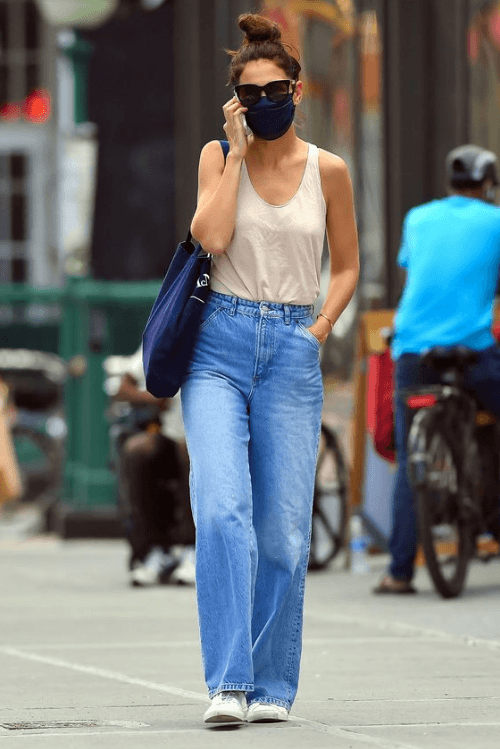 Hailey Bieber & Her Jeans
We've said it before and we will say it again: what can't this girl wear? Not much, as it turns out! Here she is rocking some super celeb-approved jeans as if she invented them herself. And not for nothing, but what a great jacket!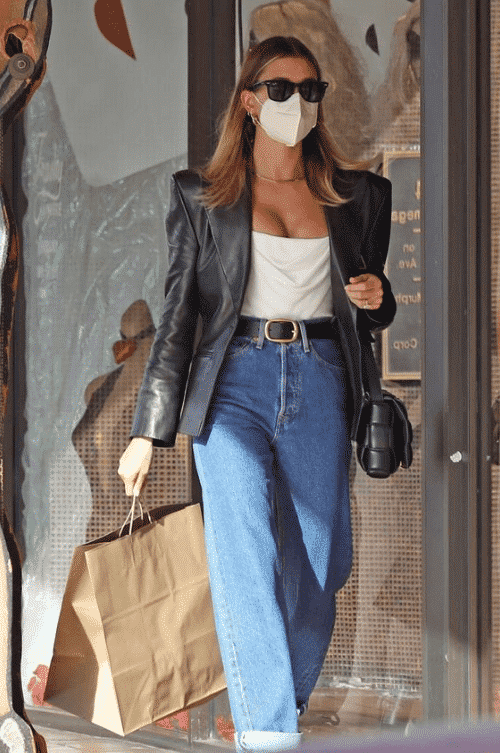 With this look, she even added a '90s style jacket in a bold shade of teal. With black accents to the look and an equally bold green purse, the model has an uncanny knack for pairing unlikely pieces with surprisingly stylish results. Also, that crossbody chain on the purse is out of this world.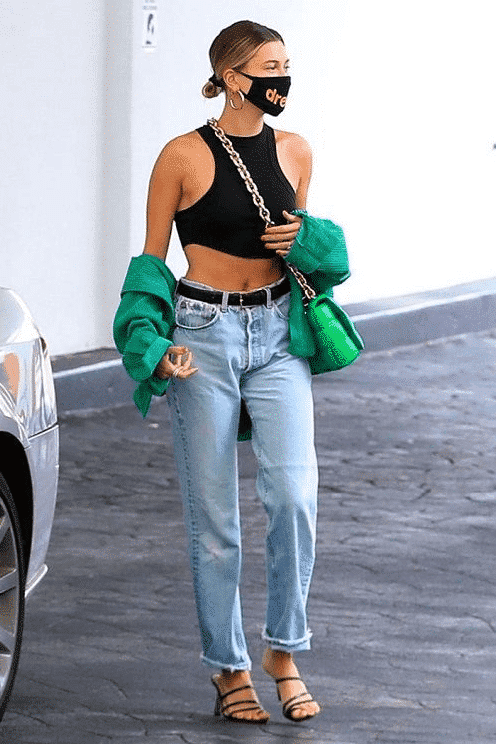 Frequently Asked Questions
Q. What type of jeans are in style this year?
A. From this article, you already have a good idea of what types of jeans are trending this year. But fashion circles have agreed that there are four main jeans that are super trending for spring. Here they are:
Baggy Jeans
Slim Bootcut Jeans
Distressed Jeans
Vintage-Inspired Straight Leg Jeans
Q. Are skinny jeans out of style?
A. Skinny jeans are definitely taking a backseat for the foreseeable future. They make way for the straight-leg or slim-fit jeans which, lucky for us, can be styled almost exactly like the skinny jean.
Q. Are low waisted jeans coming back?
A. Love 'em or hate 'em, it does appear that low-rise jeans are having a resurgence in popularity. At least for the spring! We will see if they hold their own throughout the rest of the year but for now, low-rise jeans are having a comeback.
But don't drag out the dusty old skinnies from the back of your closet just yet. Low-rise jean is a baggier, more relaxed affair. And hey, we can't say we're complaining. After a year in sweats, we need a good transitional piece!
If you are feeling ready to take on the new year (at least when it comes to what jeans you'll wear… can't say we can prepare for much otherwise!) let us know in the comments below. Which jeans will you be rocking this year?