Shoes to Wear with high waisted pants. While we all love skinny jeans and pants, at some point we all need a change. Moreover, the more honest part is that there comes a time in our lives when they just no longer look that good on us and we start looking for alternatives.
Well, one of the best alternatives in such scenarios are the high waisted pants. These pants are perfect because of the shape that they give our legs. They hide all our flaws and show off the best ones, which is why all mothers out there can relate to them.
But they also look equally good and stylish on young girls and even school going ones, but only when worn the right way. Every time you wear high waisted pants, you're sure to get some compliments and jealous looks as well.
Today we attempt to give you some great tips on wearing these pants and styling them the right way with the best shoes and tops. We've also tried to help give price estimates of all products listed to help you with your shopping budgets.
What Shoe to Wear with High Waisted Pants?
High waisted pants are truly addictive because once you start wearing them, you can never get enough of them. They make you appear slimmer and taller without any extra effort so what more could a girl want. Here are two important things to keep in mind when choosing shoes with your high waisted pants:
Consider the place & occasion: The choice of shoes with any outfit greatly depends on where and what you're dressing for. If you're going to an indoor party for example, you would want to opt for heels, pumps or sandals instead of sneakers.
If you want your shoes to shine through, don't over-accessorize: Did you just buy a new pair of shoes and you're excited about wearing them with your favorite high waisted pants? If you really want your shoes to be the highlight of your outfit, keep the rest of your accessories minimalistic.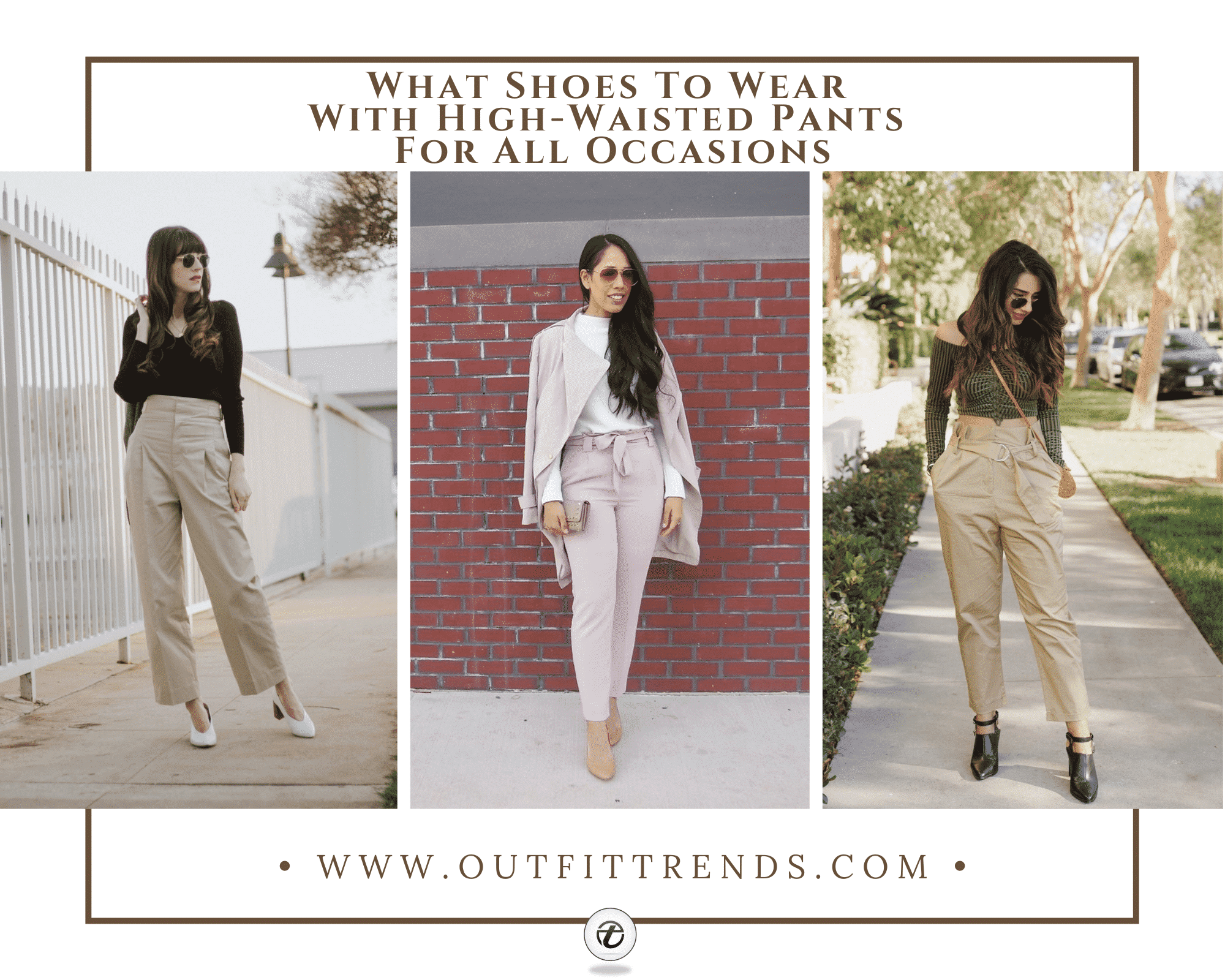 Here are the top 21 looks created with high waisted pants and different types of shoes.
21 – Light Colored High Waisted Pants With Nude Heels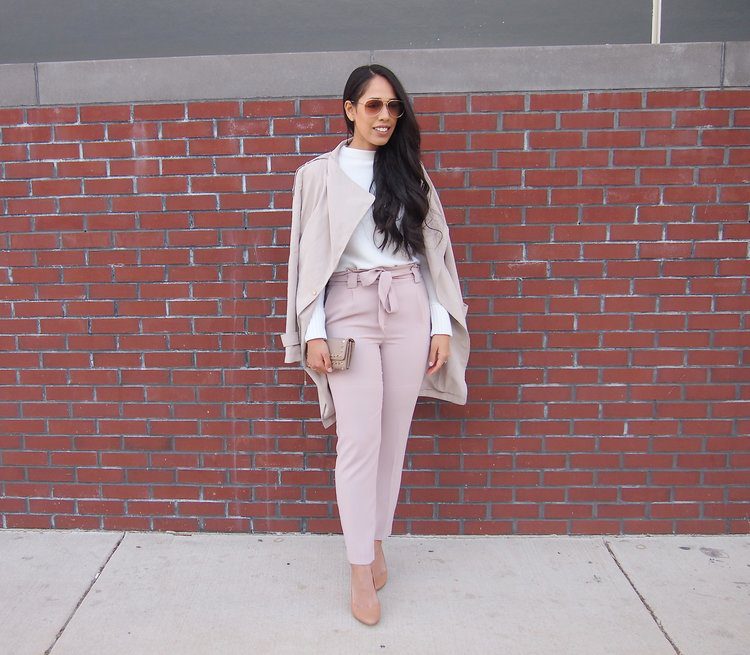 ↓ 20 – With Mules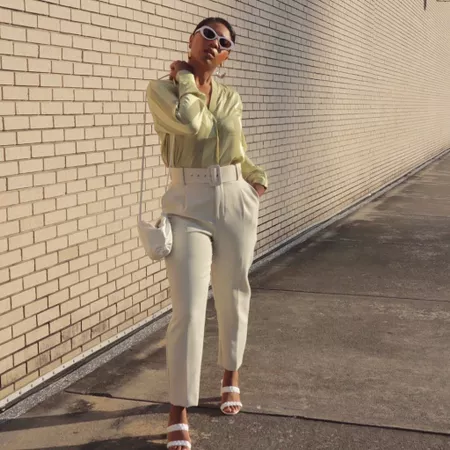 ↓ 19 – Black High Waisted Pants with Printed Pumps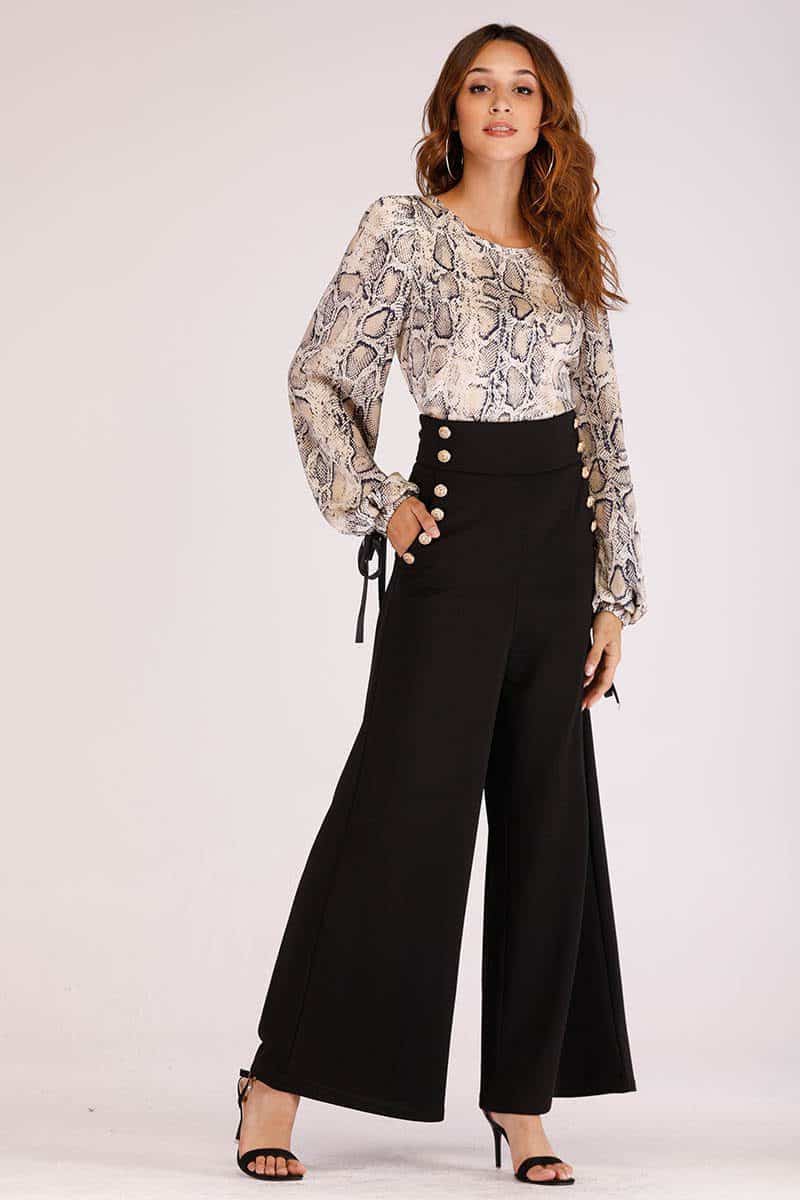 ↓ 18 – High Waisted Pants for Business Meetings
Check out this hot yet formal look that's ideal for business meetings or conferences where you want to look your best, without losing the professional touch. The peplum top and high waisted pants have been perfectly paired with beautiful slingback flat shoes.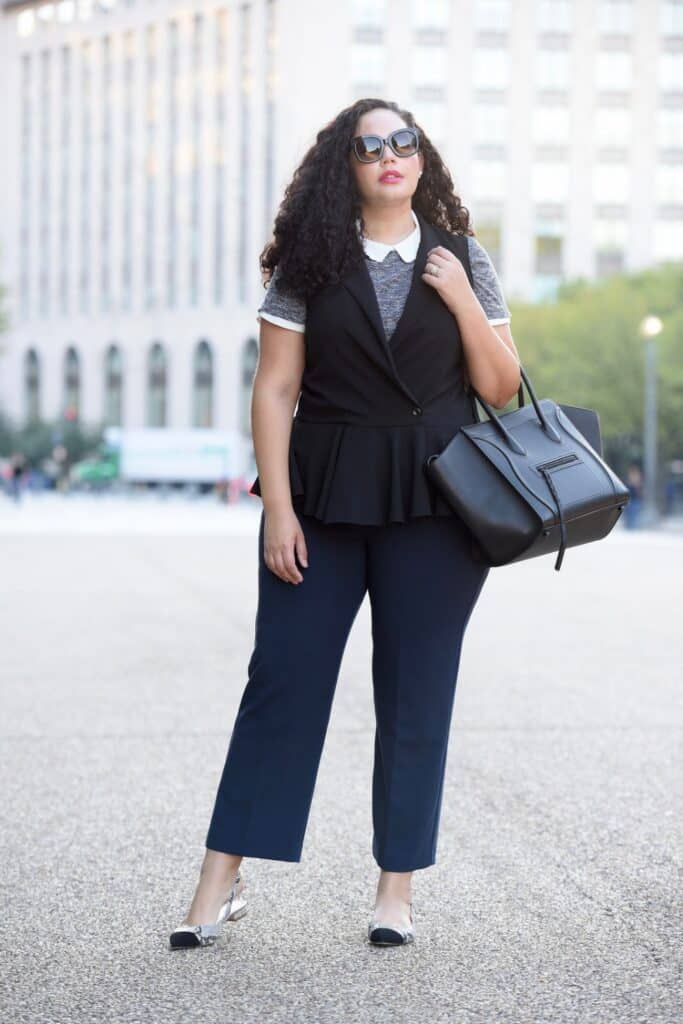 These slingback flats are made in snakeskin printed leather and while they're out of stock now, you can find these similar ones here for $82.
↓ 17 – High Waisted Pants for Work
High-waisted pants can also be worn for your everyday work routines. Here we see a pair of really nice olive green pants, nude pump heels with a white top. If you're a curvy girl then always look for well-tailored pants. This color combination, in particular, is really cool and refreshing for day wear, so it's worth a try.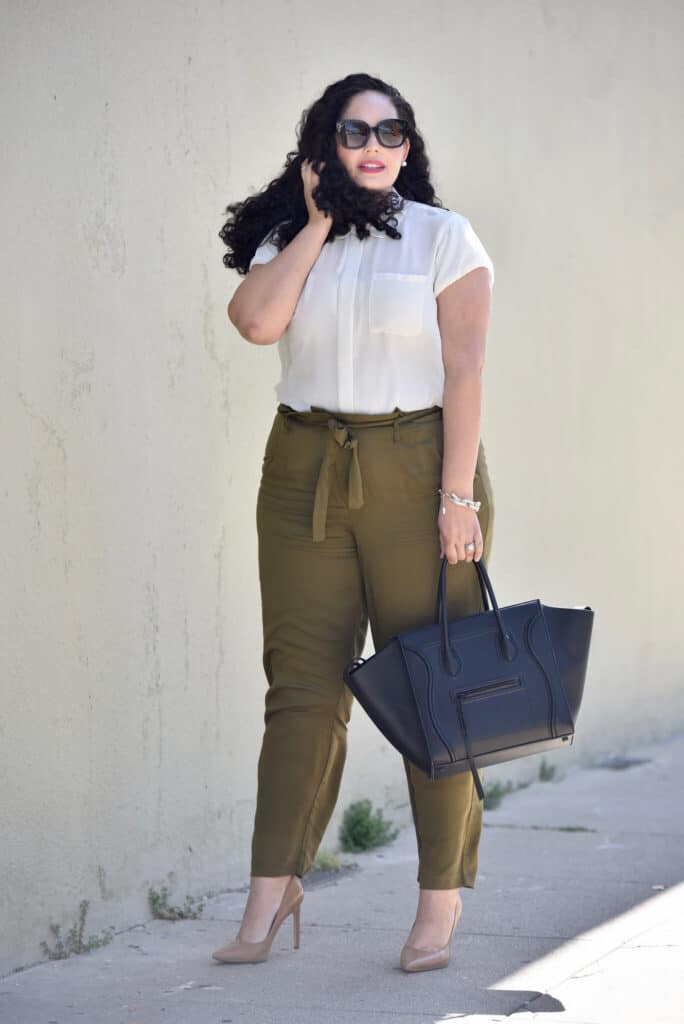 If you're in the mood of getting this look, then here are more details on the outfit. Starting with the white blouse, it's a library study sesh top available for $19.99. You can pair this shirt with these Olive Green Pants.
↓ 16 – With Boots
If you love long legs then all you need are high waisted pants and a cropped jacket. For some extra height, wear them with heeled ankle boots and you have the most gorgeous Fall/Winter look. Here are some more fabulous ideas to wear Jeans With Ankle Boots.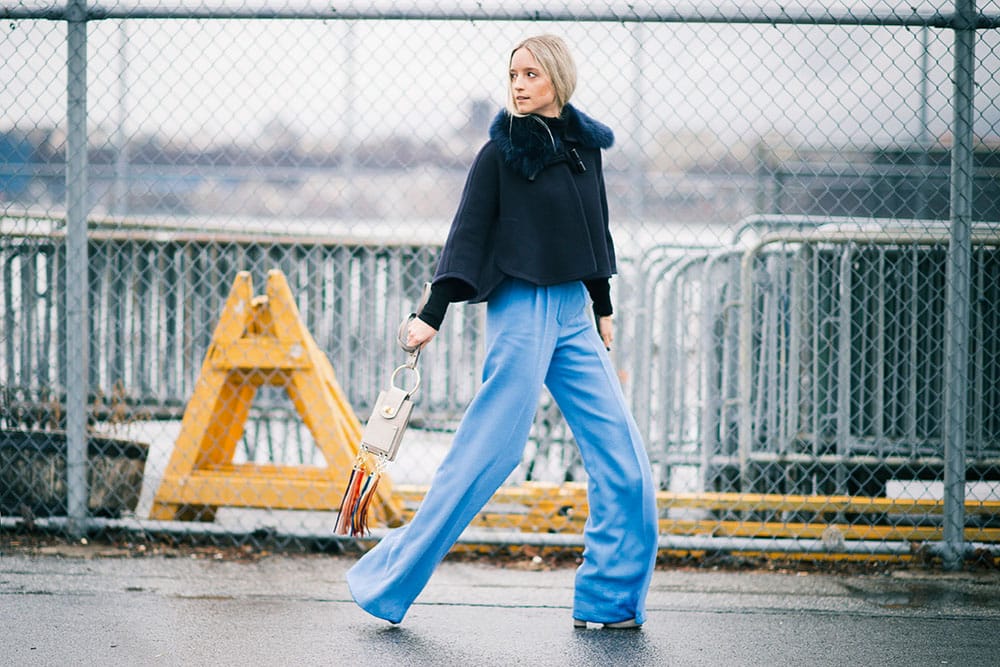 Here's another look with khaki high waisted pants and black booties: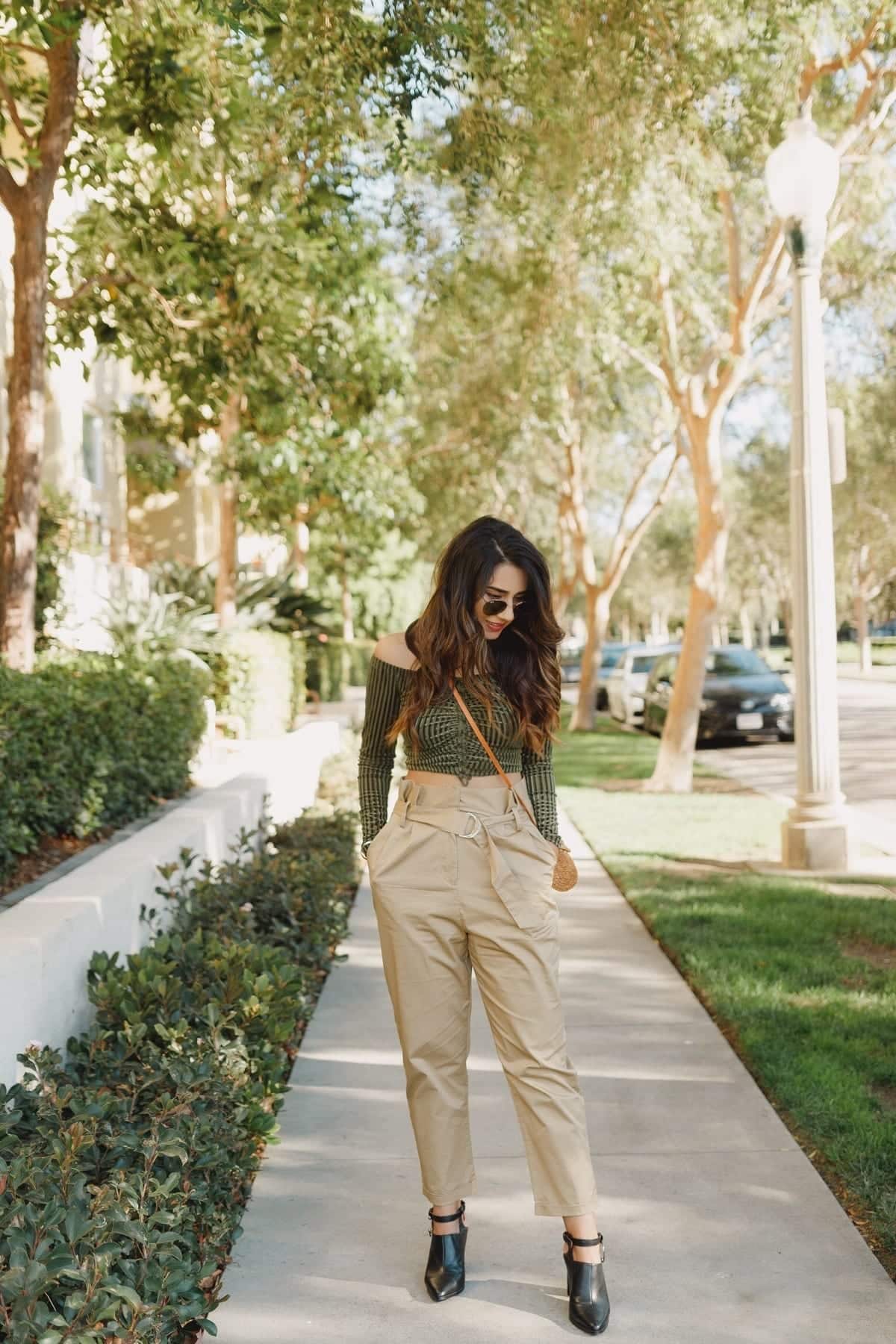 ↓ 16 – High Waisted Pants for Snowy Days
With winters here many of us will be planning some fun outdoor activities like skiing and this next look is what you need to slay these activities in style.
Red color always looks best in the snow and this turtleneck is just not just look stylish but is sure to keep you warm, without looking like a fat snowman. But what steals the show are those hot fur boots by Jimmy Choo that we're just drooling over!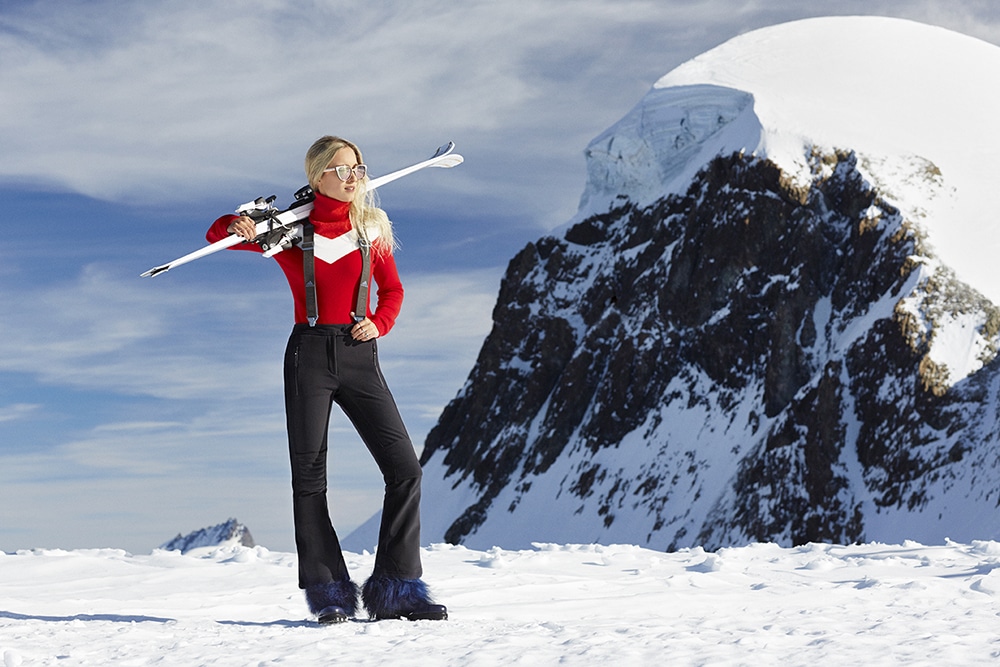 ↓ 14 – High Waisted Pants with Sneakers
Check out these cutest sneakers with that red heart on their back.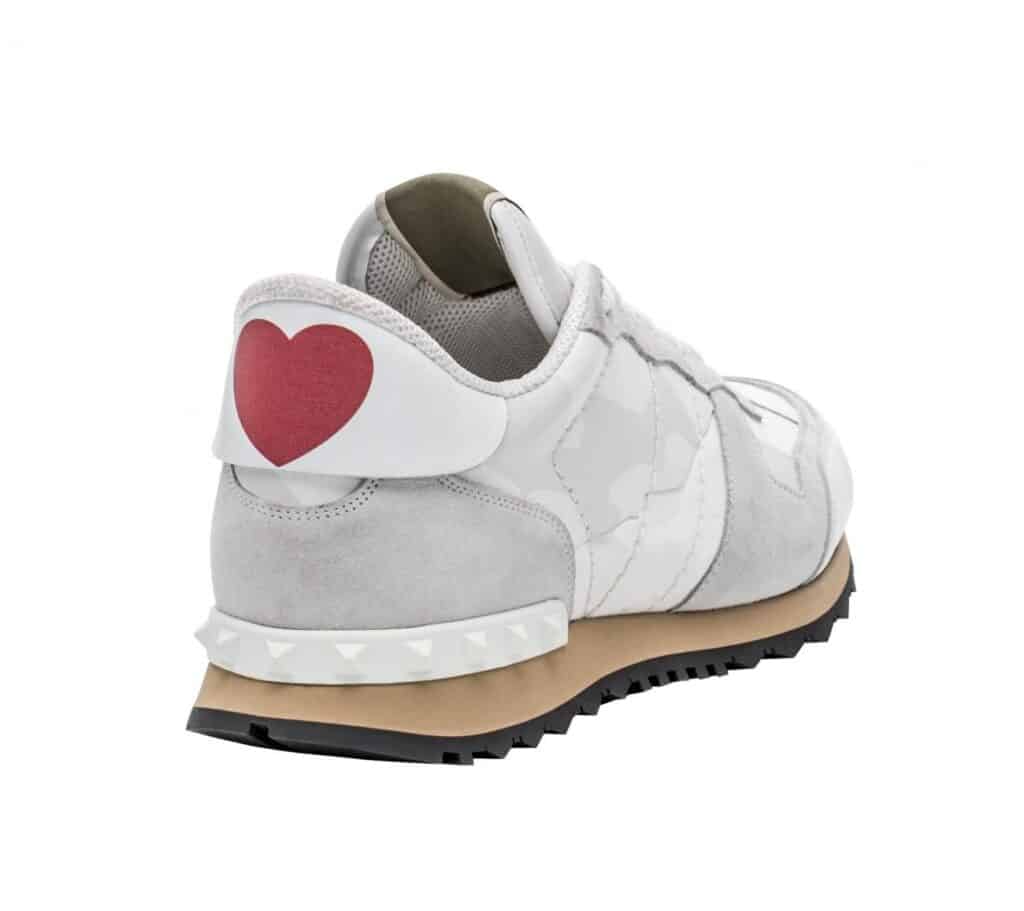 Now imagine wearing these sneakers with high waisted pants for a black and white swag outfit and here's what you have:
↓ 13 – Street Style High Waisted Trouser Pants
Wear your pants with slip-on sneakers and a tucked-in tee for casual street style look.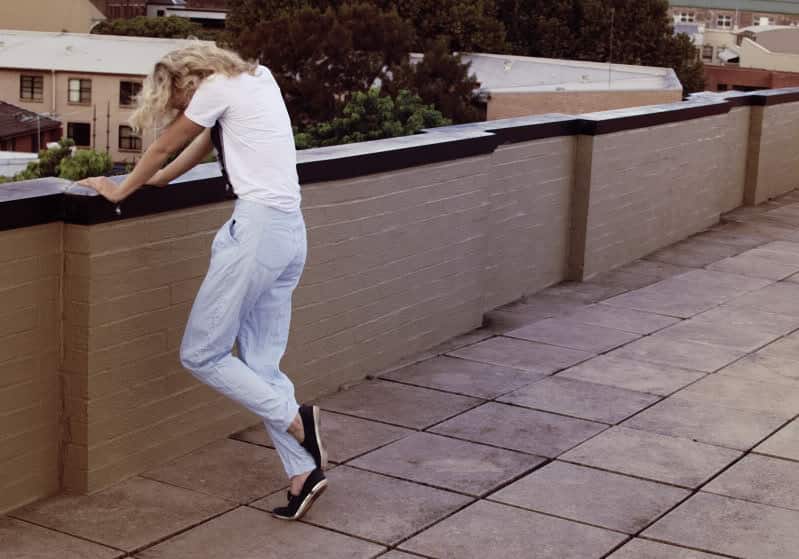 ↓ 12 – High Waisted Harem Pants and Ankle Strap Heels
When it comes to harem pants, these are our most loved ones. Cropped harem pants in denim material and that too with a twist.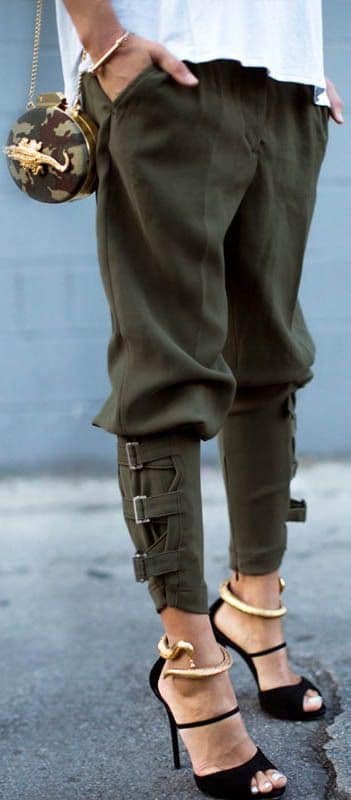 ↓ 11 – With Gladiator Heels
All fashion shows this year highlighted the gladiator heels. They come in a range of styles now and every girl needs one in their life.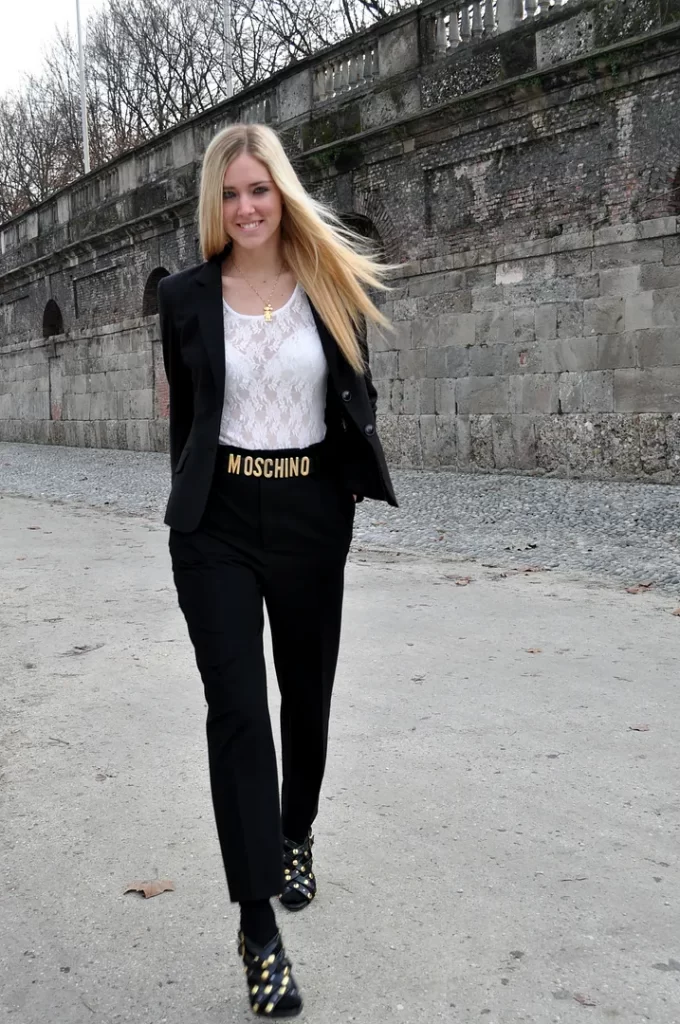 ↓ 10 – High Waisted Pants with Pointy Toe Pumps
While we've already shown you a gorgeous look with pumps, we couldn't resist sharing this one because of these beautiful pumps by Christian Louboutin. They come in black with a hint of red underneath them and that's what makes them so appealing.
This look shows exactly how you can wear these shoes, of course with some red accessories and a black outfit. Everything about this look is just lovable, the pants, that red bag and those red-black ombre nails.
The only thing missing is a red lipstick but everything else is surely on point.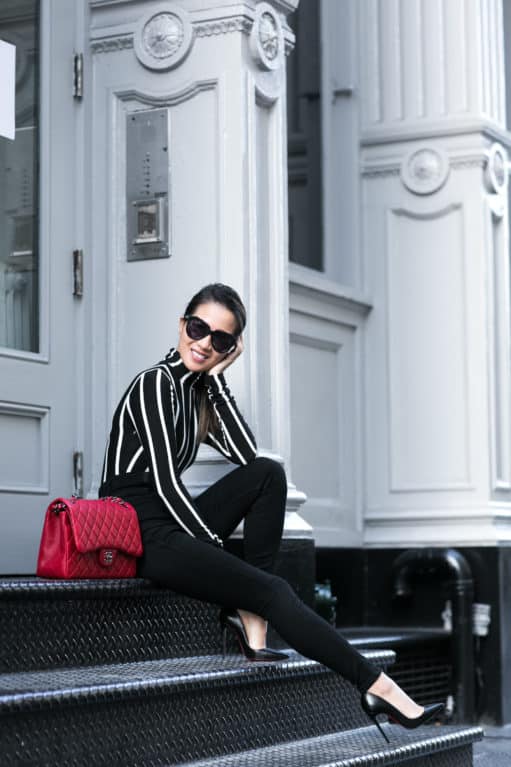 Here's another look created with pointed pumps but this time the shoes are in white color and they've been paired with khaki high waisted pants.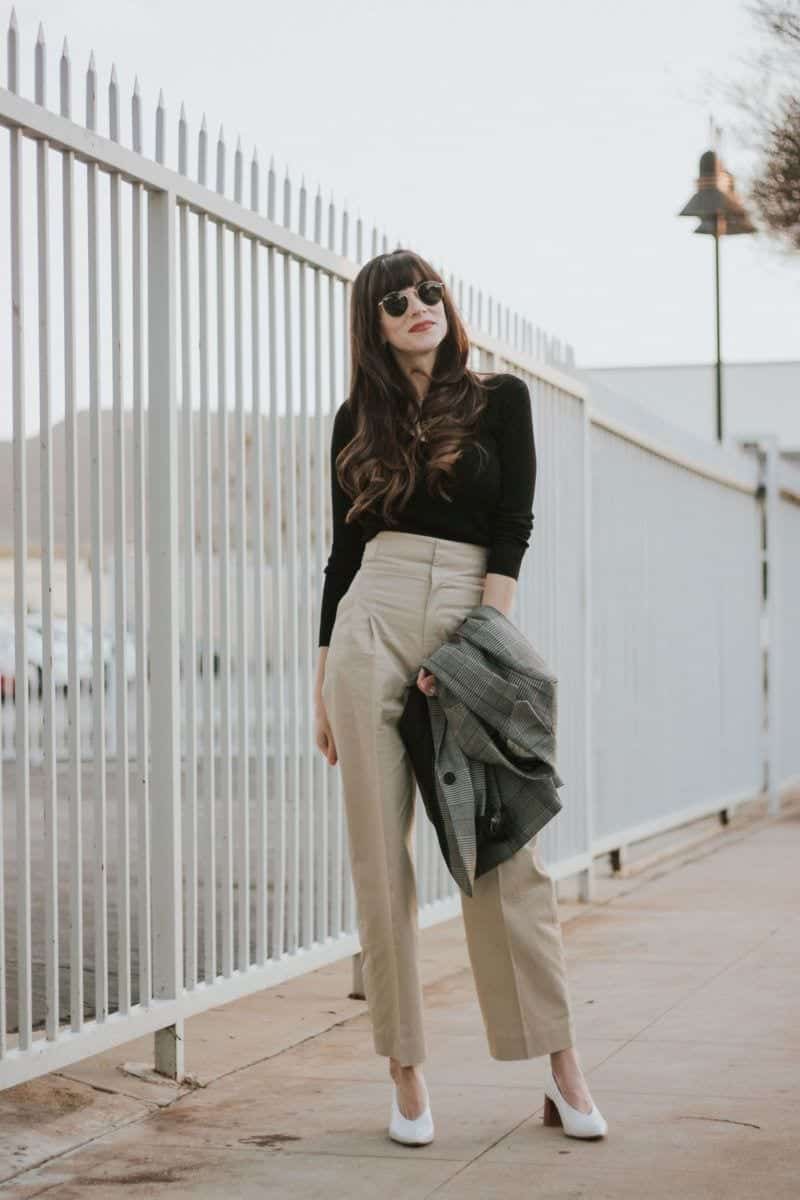 ↓ 9 – With Oxford Shoes
A couple of decades back, oxford shoes were considered a kind of boring shoes that were appropriate only for school. But now they're simply everywhere, models, bloggers and celebrities all seem to be in love with these shoes and they have every right to be so as these shoes are stylish and comfortable.
Here's how one blogger is wearing these oxfords with a wrap top and harem pants. A totally summery outfit that you just can't take your eyes off. The combination of blush and white is also very mesmerizing.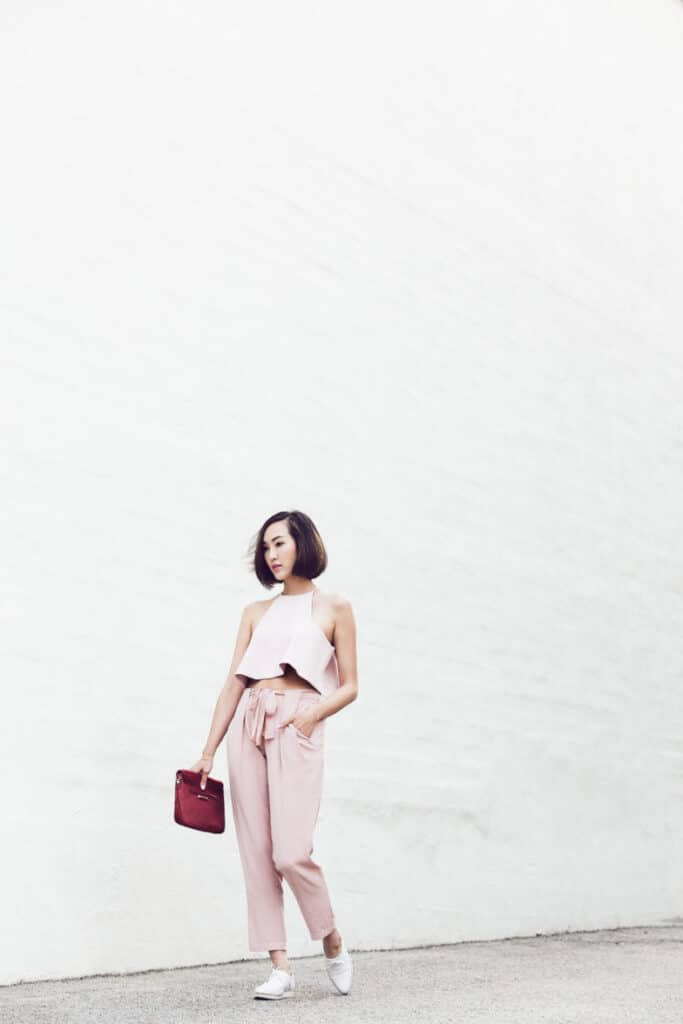 ↓ 8 – With Platform Heels
The good thing about high waisted linen pants is that they flatter all body types and shapes. Wear them with platform heels and a crop top for a fun-filled day out with friends.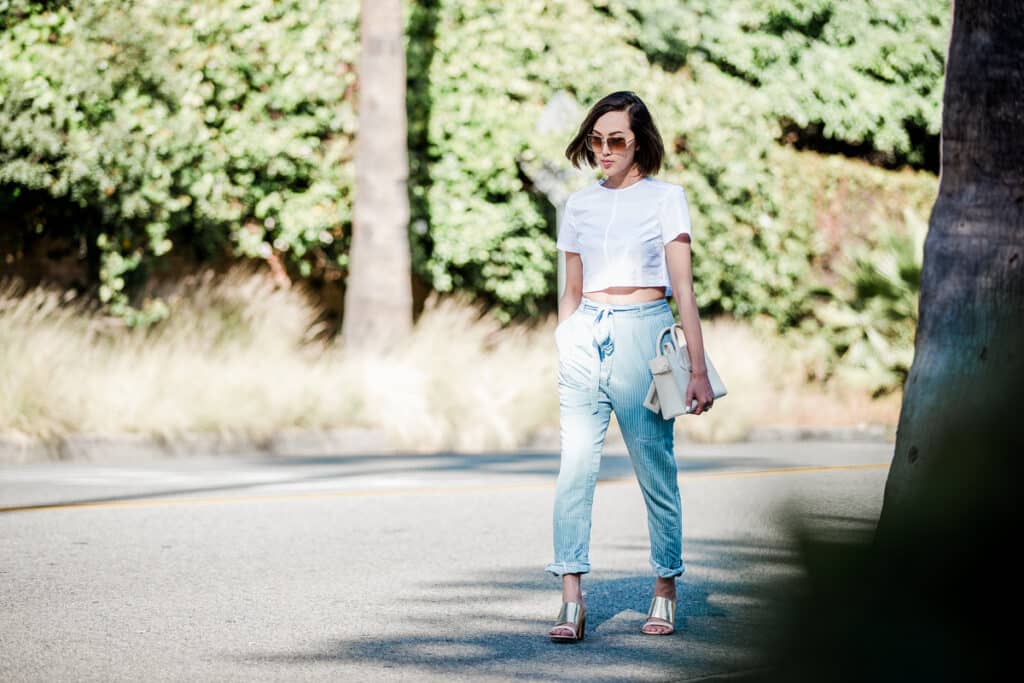 ↓ 7 – With Strappy Heels
Any girl who loves heels surely owns a pair of strappy sandals because they are just too beautiful. The look shown below uses the same harem pants as the ones in the above outfit but this is more of a Minimalist Fall look with some nice layers.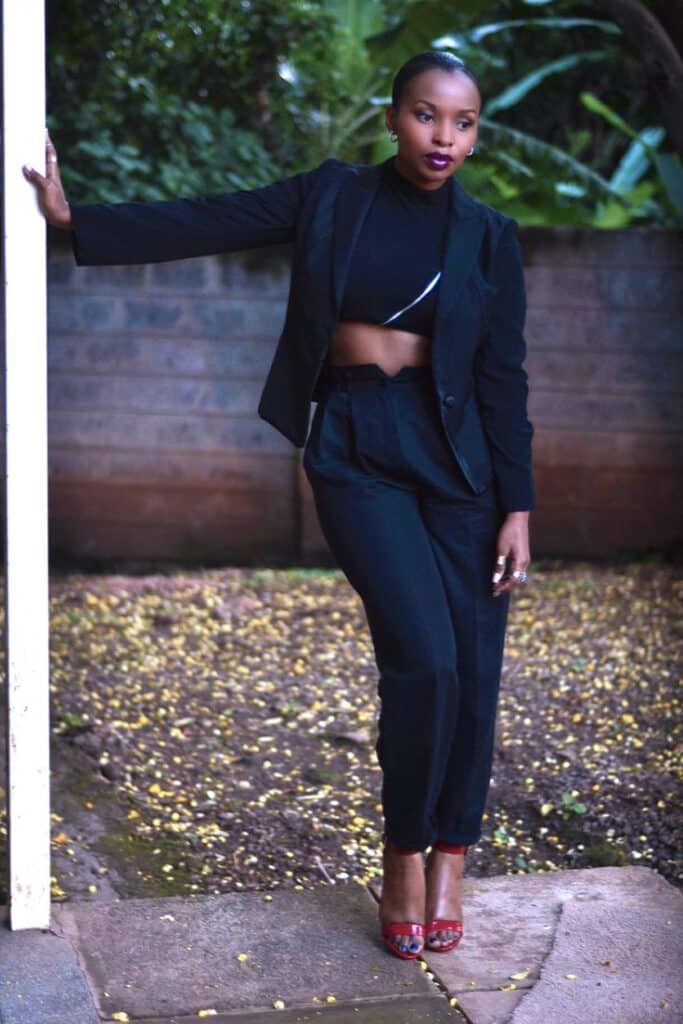 ↓ 6 – With Sandals
With modest fashion trending around the world, many women are looking for modest outfits for the beach. Modest fashion is based on the concept that women no longer need to display their skin and bodies to appear sexy and appealing for others. But have a look at this modest beach look and tell us, who wouldn't find it sexy?
Here we see really loose harem pants paired with a red tank top and buckle sandals. The good thing about a loose outfit is that it's light and flowy and really allows you to enjoy the beach weather to it's fullest.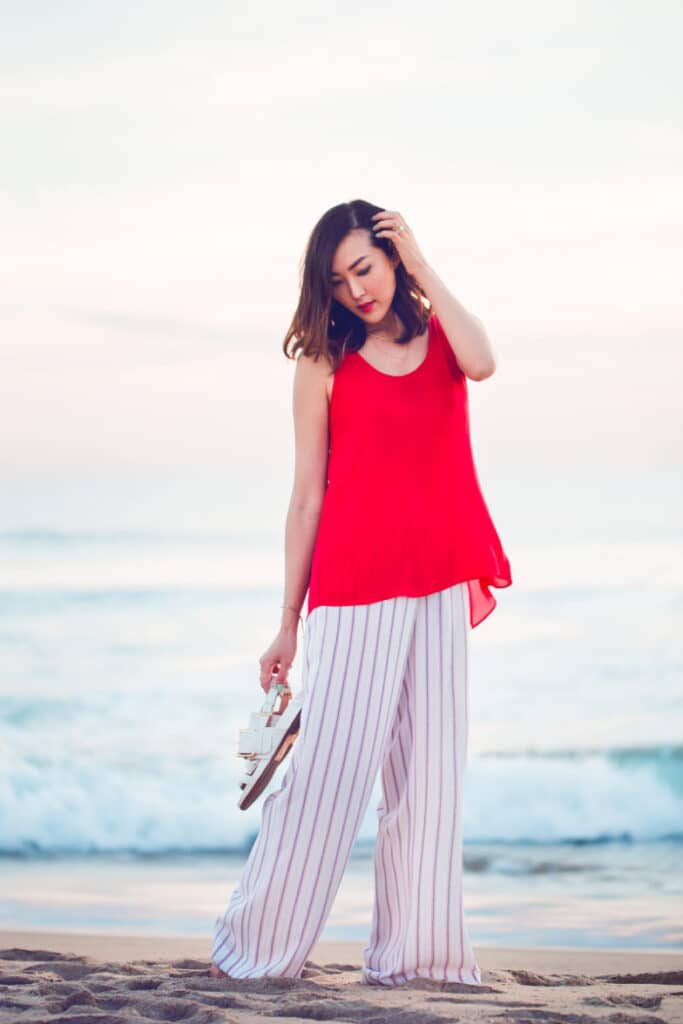 ↓ 5 – With Slingback Heels
Go to work with the utmost swag in a pants suit but instead of the normal blazer, give your outfit some uniqueness by wearing high-waisted pants and a jacket with tie belt. The new and catchy slingback heels make this the perfect combination so you can truly go to work like a boss!
The best part? This whole outfit and shoes can be bought for just $164.98! Definitely the most reasonable look of the day that can fit anyone's budget.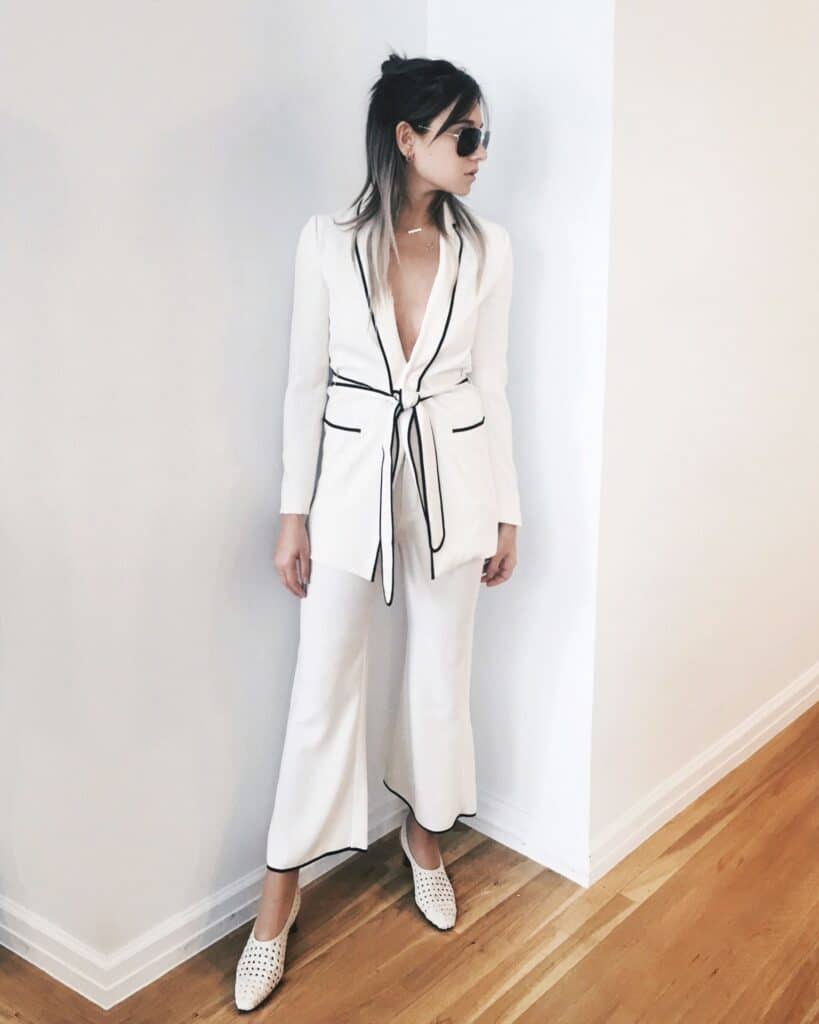 H&M jacket for $24.99.
H&M white High waisted suit pants for $49.99.
And these braided Zara slingback shoes for $90.
↓ 4 – With Loafers
Here's our recommended look of the day for college girls out there. Wear your flared high rise pants with tucked-in tee and loafers to college.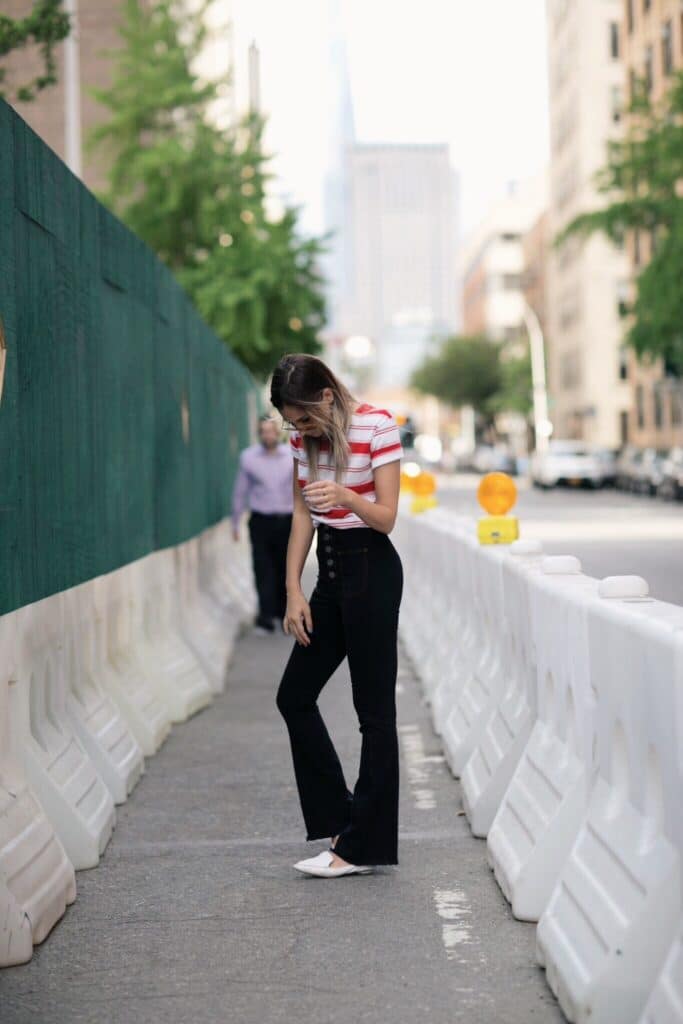 ↓ 3 – With Flat Sandals
This is a must-carry outfit that every girl should keep with her when traveling. A really good street style look.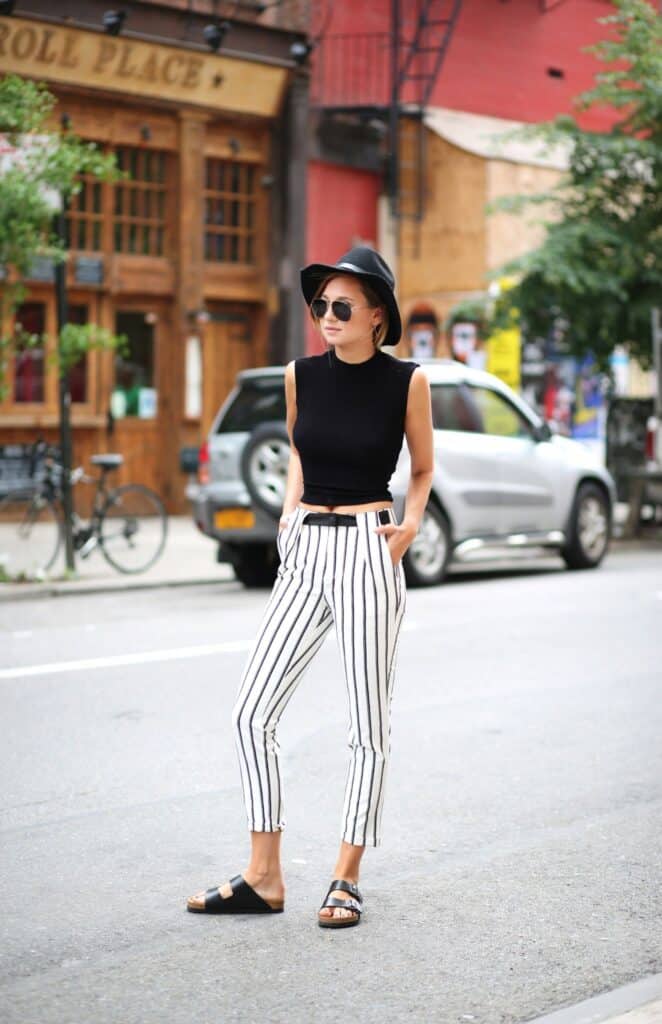 The vertical striped high waisted pants by Just Female are for $92.
The hat by ASOS for $114.
The sandals by Birkenstock for $70.
And that sexy black crop top for just $14.
↓ 2- With Ankle-Strap Heels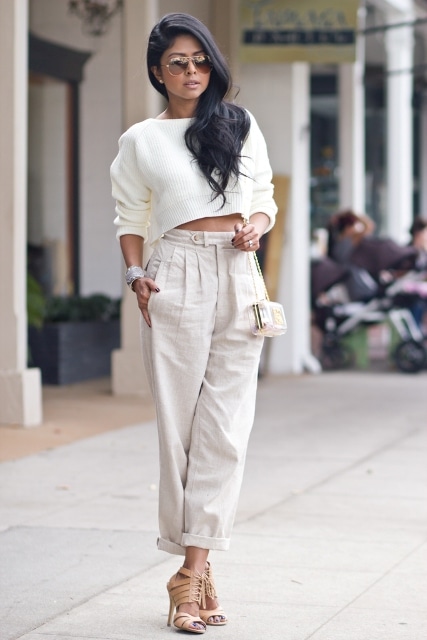 ↓ 1 – With Black Pump Heels
These heels and high waisted pants look equally good on both petite and plus size girls and we'll be proving this to you. Here's a skinny girl in high waisted pants and layered outfit with heels: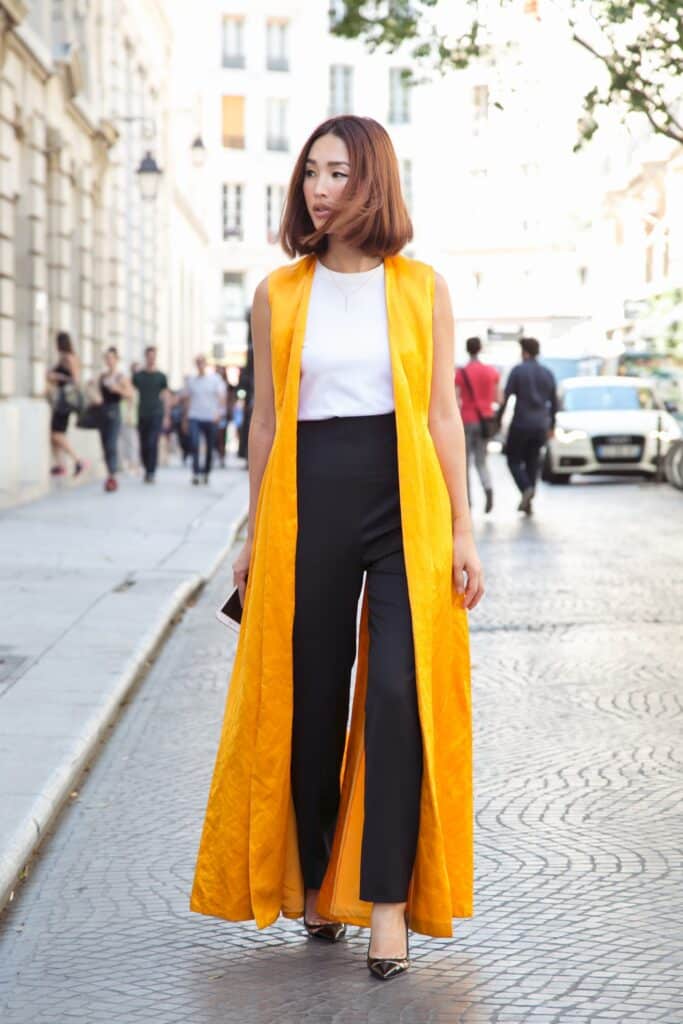 These black pumps by Kate Spade can be bought for just $298.
And here's a curvy girl looking equally gorgeous in those heels and high waisted pants:
Via