Stylish Outfits With Boots For Girls – So every now and then, we find ourselves browsing a shoe retail shop and end up buying a pair of boots that makes us feel better about everything. Ever wondered why is that?
Probably because boots are just some awesome way to show your real swag and the best part is you can bring out that swag with just about any simplest of outfits, and it will be just as gorgeous as any other.
Boots can go along with almost every kind of outfit and for any kind of occasion. The different varieties and kinds of boots enable you to style your outfits elegantly.
What To Wear With Boots?
So to further heighten your sense of why we all so direly need boots in our lives, here are some classic ways of wearing boots.
Have a look at this beautiful collection of all sorts of boots such as Chelsea boots, long boots, etc, that make your coming months colorful and classy.
Tips For Wearing Boots
Long boots can be styled with so many different outfits. As shown in the picture, brown thigh-high boots are firstly paired with a sweater dress, which can be a perfect winter outfit for you.
You can wear it to casual dinner parties and for shopping plans with friends. Secondly, the same long shoes are paired with grey skinny pants and a white top. And similarly, these shoes are paired with four different kinds of outfits which shows that boots are a kind of footwear that can be paired with any dress and yet look so gorgeous with all of them.
Women Boots Winter Over Knee Long Boots $51.99
70 – Denim and White Boots go Hand in Hand
69 – Henley Top, Leather Leggings and Knee-High Boots
68 – Spring Floral Dresses Look Stunning With Boots
67 – Baby Blue Floral Dress With Brown Boots
66 – Boots With Black Leggings And Printed Sweater
65 – Bodycon Dress With Boots
Steve Madden Women's Viktory Fashion Boot $188.99
64 – White Cowboy Boots With Printed Mini Dress
63 – White Dress With Matching Boots And Leather Jacket
Women's Faux Leather Jackets Moto Biker Slim Coat $45.99
62 – Red Shearling Boots
61 – Boots With Floral Dress For A Holiday Look
60 – Bohemian Style Dress With Boots For Beach Party
59 – Thigh High Boots With White Short Dress
Via
58 – Over The Knee Boots
57 – Polka Dot Dress With Brown Boots
56 – Green Ruffled Dress With Black Over The Knee Boots
55 – Bell Sleeved Dress With Black Boots
54 – Sock Boots With Black Mini Dress
53 – Chelsea Boots With Long Floral Maxi
52 – Black Sleeveless Sweater Dress With Brown Ankle Boots
51 – Black Boots With Black Leather Jacket
50 – Printed Maxi With Ankle Booties
49 – Tan Boots With Maxi Dress
48 – Black Dress With Brown Boots
47 – Outfit For Brunch With Brown Boots
Via
46 – Long Printed Shirt Dress With Brown Boots
Via
45 – Boots With Long Dress
44 – Polyvore Shoes With Printed Wrap Dress And Denim Jacket
43 – Boots With White Top, Floral Skirt, And Red Sweater
42 – Platform Boots With Red Mini Dress
41 – Party Wear With Long Brown Boots Paired With Black Top And Denim
40 – Boots With Skinny Jeans And Black Cardigan
39 – Wear Long Boots With Turtleneck Sweater
38 – Brown Riding Boots With White Collared Shirt
37 – Purple Dress With Long Brown Boots
36 – Olive Green Skirt, Brown Shirt And Matching Boots
35 – Black Long Boots With Grey Coat
34 – Boots With Yellow Pants And Military Style Jacket
33 – Stylish Black Heeled Boots With Grey Skirt And Red Coat
32 – Shopping Outfit With Brown Boots, Jeans, And Green Cardigan
31 – Winter Outfit With Brown Boots, Striped Shirt, And Red Upper
30 – Black Cable Knit Sweater With Brown Long Boots
29 – Blue Plaid Shirt With Jeans And Black Boots
28 – Boyfriend Check Shirt With Slouch Boots
27 – Long Boots With Jeans & Shirt
26 – Long Sleeve Shirt And Boots
25 – Chic Cowboy Boots With Red Flannel Shirt
24 – High Heel Boots With Skinny Jeans And Plaid Shirt
23 – Long Brown Boots With Shirt Dress
Outfits To Wear With Mid-Calf Boots
Mid-Calf Boots Outfits – We usually wear boots in the winter because they keep us warm, but there are some shoes we may wear in all seasons. Mid-calf boots are one example.
These boots are neither too long nor too short; they are a standard size that can pair up with many clothes in different trendy ways and in all seasons. We may dress these shoes casually and formally, and we can wear them with almost every piece of clothing.
These shoes are rapidly gaining popularity among ladies and have become a must-have product.
If you don't have one, you should get one right now. Furthermore, mid-calf boots come in various designs and colors, which we can pair with our outfits. It goes well with jeans, shorts, midi and mini skirts, and even elegant dresses.
This article will guide you about several trendy ideas for mid-calf boots outfits, like when and how to wear these boots. However, before we get into inspiration for mid-calf boots, here are some key pointers and some do's and don'ts to remember when wearing or purchasing these stylish mid-calf boots.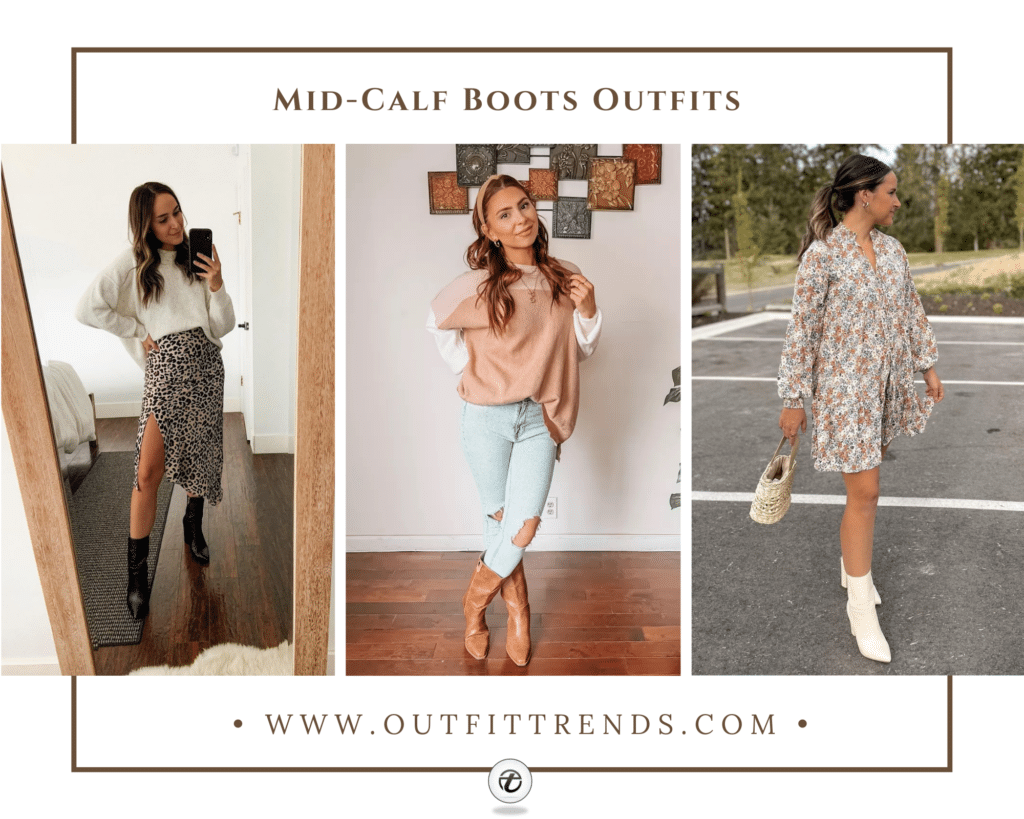 Tips For Wearing Mid-Calf Boots
If you want to buy mid-calf boots, go for neutral hues like black, brown, and white. These are the colors that you may pair with various shades of shirts.
Always choose the right size of boots for yourself since loose shoes can make you seem clumsy. Also, you will not feel comfy in oversized footwear.
Wearing extra-long skirts with mid-calf boots can cover your shoes and make your outfit seem unprofessional. To look flawless, wear miniskirts and pencil skirts with these boots.
If you have funky-colored, mid-calf boots and want to experiment with them, use two or three colors in your ensemble with funky mid-calf boots, as an overly colorful outfit may not look well.
You can wear a dress with mid-calf boots, but avoid wearing extra fancy dresses since these shoes do not go well with them.
22 – Black Mid-Calf Boots With Leopard Split Skirt And An Oversized Sweatshirt
As previously said, these boots may be worn with jeans, shorts, and even skirts.
The black mid-calf boots in this look have been paired up with leopard printed split skirt and a plain white oversized sweatshirt.
You can create a similar look by pairing a leopard or any other printed long-skirt with a pullover plain sweatshirt and black mid-calf boots. You may wear any skirt, but a printed one will look great and complement the plain pullover.
Add a black crossbody or shoulder purse to enhance the look, and you are ready to go.
21 – White Boots With All-Black Outfit
Everyone's favorite color is black, and we all like wearing it everywhere.
Wearing all-black looks good, but having a touch of white shade makes your black outfit pop so try an all-black ensemble with white mid-calf boots.
This style may also be created by wearing all white with a touch of black in your footwear.
20 – Pair Black Boots With A Matching Blazer
You may also wear your mid-calf boots like this by pairing them with a blazer.
Wear a simple shirt with matching shorts and a blazer over it.
Finish the look with matching black mid-calf boots. Instead of wearing the look with shorts, you can also try it with dress pants for a more formal look.
19 – Wear It With A Dress For Summertime
Aside from jeans and shorts, you may also wear these trendy shoes with a printed maxi dress. This look is perfect for ladies in the summer. These shoes look stunning with both a dress and jeans/shirt. You can wear whatever dress outfit you choose with brown-black or white mid-calf shoes. These shoes will complement your look and keep you comfy all day.
18 – Camel Mid-Calf Boots With A Purple Outfit
As previously stated, these boots are available in various hues, and camel boots are one of the best. These boots are so comfy that you may wear them even during pregnancy with a colored maternity fitted gown in any hue you like. Carry a matching sandy brown purse to complete the look.
17 – Cargo Skirts With Mid-Calf Boots For Street Style Look
Women can also wear these trendy shoes with miniskirts. Pair a simple black blouse with a cargo skirt. Accessorize with black laces mid-calf boots and a matching black shoulder bag. You may also wear a jacket that matches the bottom if it's chilly outdoors.
16 – In Winter, Wear Boots With A Long Coat
In the wintertime, we all want to wear cozy outfits. Here's a lovely comfy outfit that you can pull together with mid-calf boots.
Wear a black turtleneck with black pants, and add a long black coat to create a similar look. Complete the outfit with a black cap and black mid-calf boots. I would also recommend layering a checkered scarf over the coat.
Here is another simple yet elegant look with long coat and boots:
15 – Make The Look Simple By Wearing Black Mid-Calf Boots With Black Skinny Jeans And A White Top
Instead of layering, keep the outfit simple by wearing the boots with a plain white shirt and contrasting them with skinny black jeans. Add a beautiful pendant to the outfit to make the shirt stand out. In chilly weather, layer a leather jacket or trench coat over your shirt for going out.
14 – White Boots With A Floral Dress
Instead of contrasting shades, you may pair the mid-calf boots with a dress in the same hue.
Carry a nice purse that contrasts your clothing, and you are ready to go.
13 – Plaid Blazer And Fitted Jeans With Snakeskin Boots
Plaid blazers are such outerwear that every lady has in their wardrobe collection. These blazers go well with various outfits and upgrade even the simplest shirts.
Wear a white spaghetti top under a plaid blazer. Combine it with denim jeans and add snake print mid-calf boots over them. You may accessorize with a leather tote or a crossbody bag.
12 – Oversized Pullover Sweater With Jeans And Cowgirl Mid-Calf Boots
Here is another pullover sweater paired with ripped jeans and cowgirl mid-calf boots.
You must have a range of printed sweatshirts and mid-calf boots in various colors in your wardrobe collection to create different styling looks with them. Use a matching headband in your hairstyling to make the overall look eye-catching. Add some minimal jewelry to maintain the look decent, and you're ready to go.
11 – Pair Your Shoes With An Oversized Sweater And Wide-Leg Pants
Combine an oversized white sweatshirt with contrasting mid-green pants and match the look with leather mid-calf boots.
If you wish to wear a different hue of jeans, you can pair them with other light colors like lilac or sky-blue.
Carry a beautiful crossbody leather bag with this outfit. Make a center-parted hairstyle with some curls and add hair accessories to make it appear more enticing.
10 – Wear It With A Ruffle Top And Blue Jeans For A Party Look
You may also wear these shoes to a party. Wear a lovely white ruffle shirt with blue denim and brown suede mid-calf boots. To add color to this combination, use a red bag.
You may also add a pendant and some nice brown or red earrings. This outfit is basically an effortless yet elegant look that you can easily put together for parties – whether you're hosting one or attending.
9 – A Combination Of Fuschia Shoes And Turquoise Coat
You may add as many colors as you like to your clothing, but remember to use hues creatively so that it appears beautiful rather than sloppy and overdone.
Wear a regular pink shirt under a turquoise coat. Wear it with tight jeans and pink mid-calf boots that complement the blouse. Carry a matching pink purse to complete your ensemble.
Accessorize the outfit with a beaded necklace, sunglasses, and hair accessories of your choice.
8 – Mix It With Leather Pants And Satin Top
Wear a satin beige top with black leather pants and black boots that go with the pants.
Remember to wear the same color shoes and pants as they can will complement each other so if you're wearing brown leather pants, pair them with brown shoes.
You may wear this style both formally and casually. Layer it with a leather jacket or blazer to make the outfit more formal.
7 – Mid-Calf Platform Shoes Paired With Black Ripped Jeans And Blacktop
Here is the most attractive and stylish outfit you can wear with white mid-calf boots.
Try a black net-sleeved shirt with ripped black jeans. It may be paired with plain or printed pants, as seen in the picture. Complement the outfit with white mid-calf heeled boots and a beautiful black or white purse.
6 – Leather Skirts With A Velvet Top And Black Boots
Another option for wearing mid-calf boots is to pair them with velvet shirts and leather miniskirts.
Wear a pretty velvet top in any color and pair it with a black leather skirt. Pair the outfit with black boots that match your black leather skirt and a lovely tiny bag in a contrasting color or a matching black bag.
Here are some more of my favorite velvet outfits.
5 – Cropped Fur Jacket Paired With Leather Boots
Winter gives the advantage of allowing you to layer items together to create a stunning outfit.
You can try this look by wearing a fur jacket with a white cropped shirt from your collection. Pair it with ripped blue denim and brown mid-calf boots. A brown leather purse may be added.
4 – Sweater Dress And Mid-Calf Boots
Mid-calf boots can also be worn with a sweater dress.
Remember that if you're wearing a light-colored dress, you should wear lighter-colored footwear, such as a shade of white.
If you're going for a darker look, black and brown boots are great options. You may accessorize this dress with hoops and a stylish clutch purse in beige color.
3 – Trench Coat With Turtleneck And Leather Boots
Instead of wearing mid-calf boots with matching leather pants, pair them with contrasting pants. Wear a black turtleneck under a trench coat.
Pair it with black leather leggings and wine leather boots. You may compliment your shoes with a wine colored shoulder bag.
2 – Criss-Cross Top And Denim Shorts Paired With Beige Boots
The beige boots pair up with a lovely crisscross blouse and denim shorts this time. Glam up your look by wearing a plain white shirt over the top. You may also wear a jacket or a t-shirt the same color as the top, and complete the appearance with a small chic handbag. And your super stylish outfit with mid-calf boots is ready.
1 – Wear Mid-Calf Boots With White Button-Down Shirt And Skinny Jeans
Combine your brown mid-calf boots with a button-down shirt and skinny blue jeans, and tie your shirt from the front to make it seem fashionable and attractive.
Combine the outfit with brown mid-calf boots and a chic brown strap purse. Also, you can get the same look by wearing a black shirt instead of a white one. Add trendy sunglasses and neckpieces to complete the look.
Frequently Asked Questions
Q. How do you style your boots with outfits?
There are so many different kinds of boots that you can style with every kind of outfit. For a casual look, you can go along with canvas boots, jeans, and a top. For a work look, you can wear blazers, shirts and long boots. You can wear thigh-high boots with short dresses and skirts, especially in winter. To form a cool fall outfit, you can wear blue skinny jeans with a white top and a black leather jacket and to complete the look, add over-the-knee boots with this outfit. These are some of the options that you can choose however you can also form an outfit of your own preference.
Q. How to wear ankle boots?
Ankle boots are really popular as they look really classy when paired with the right outfits. The best way to style ankle boots is to pair them up with skinny jeans. You can also wear them with mini dresses, flared skirts, and oversized blazers. Avoid wearing them with dress pants or baggy pants because they don't look good with them. Lastly, to elevate your look, you can also go with some bright and different colors from black, like red and blue.
Q. Can I wear boots with a dress?
Boots look great with dresses so pair a printed maxi or midi dress with black, brown, or white mid-calf boots.
Q. How tall are mid-calf boots?
Mid-calf boots are medium-sized boots that are higher than knee-high boots but shorter than ankle boots. When purchasing mid-calf boots, always remember to select the correct size shoes that are not too loose. The perfect size will make your outfit look flawless.
Q. Can I wear boots in Summers?
Boots are not just for the winter; they may also pair up in other seasons. It goes well with mini shorts and split skirts in the summer and spring. In hot weather, you can also wear them with pretty dresses.