How To Wear Lavender Outfits: Lavender colour, whether deep or daisy, is more festive than every day and deserves the attention of all fashion women. Lavender is a colour that represents wealth and power. It lifts spirits, calms the mind and nerves, and creates spiritual feelings. It would help to incorporate this colour into your everyday look because the aesthetic features of lavender colour will never go out of style. It is a popular choice of colour for a girl's wardrobe. All you need to know is what colours go with lavender to spice it up without risking it looking out of balance. 
Best Lavender Outfits To Try
Do you want to soften up your look? A smooth, soft, pastel outfit combination will aid in this. How and with what should you combine this colour with? This article covers all these queries about the lavender colour. This soothing, bright colour draws attention, especially when combined with other dark or sometimes pastel shades, making girls and women even more attractive. This hue is also suitable for evening gowns, maxis, bridesmaid dresses, and lovely short dresses for a night out. It is also a perfect choice for office wear or tracksuits.
Elegant lavender dresses are self-reliant. They draw attention to themselves by surrounding fashion. Darker colours are better suited for special occasions. However, a pale powder shade of lavender is also suitable for a laid-back party.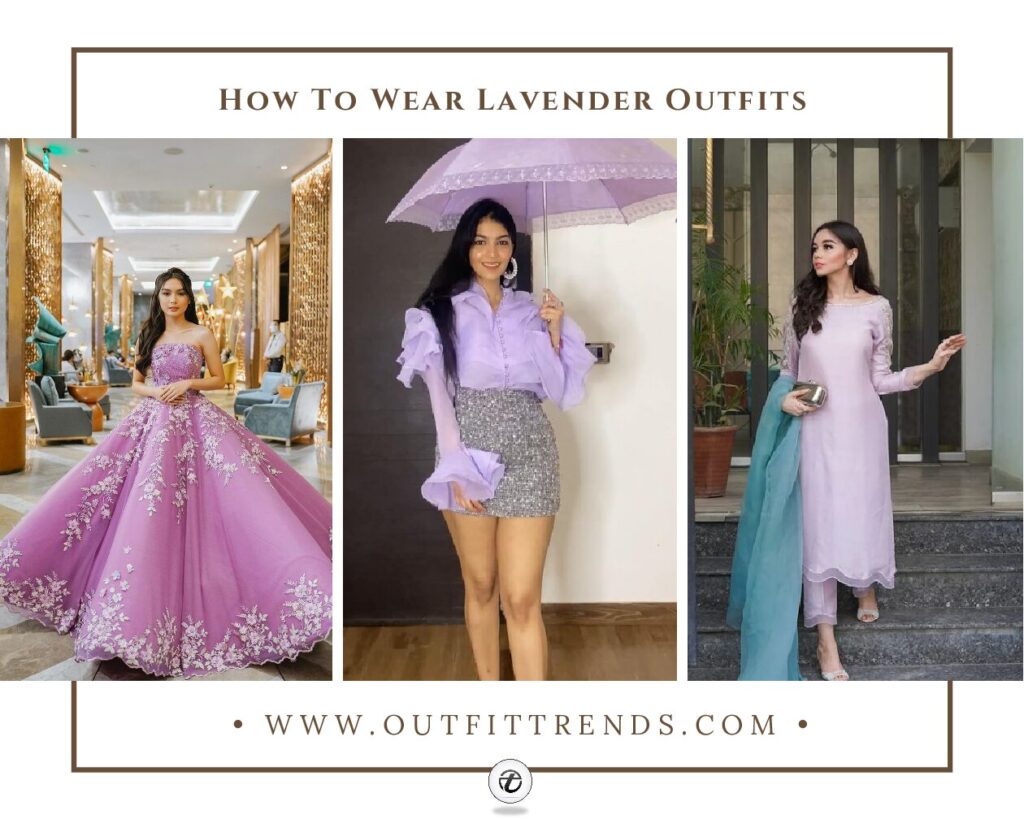 Styling Tips For Lavender Outfits
It's not a good idea to wear everything lavender in a single outfit; it'll look stale.
When lavender is combined with very bright and catchy colours, it will draw all the attention to itself, not allowing it to open up fully.
Depending on the shade of lavender you're wearing, you can go for a bright or soft makeup look.
When wearing only lavender, you can experiment with the bright shade of your accessories for a pop of bright colors.
It is better to wear lavender outfits during the day and lilac clothing at night because of the shade difference.
If you like the color lavender, you can wear it with various other colors, both bright and muted.
Don't overdo the lavender outfit with accessories; instead, stick to gold or silver jewelry.
22 – Lavender Dress And White Sweater
A lot of things go well with white sweaters. You can see how a lavender dress looks with a short cosy sweater in this photo. You're going to adore this lavender-inspired look. This look is ideal for making a classic impression. Pairing the fluffiest pastel dress with a cosy short white sweater is a great idea.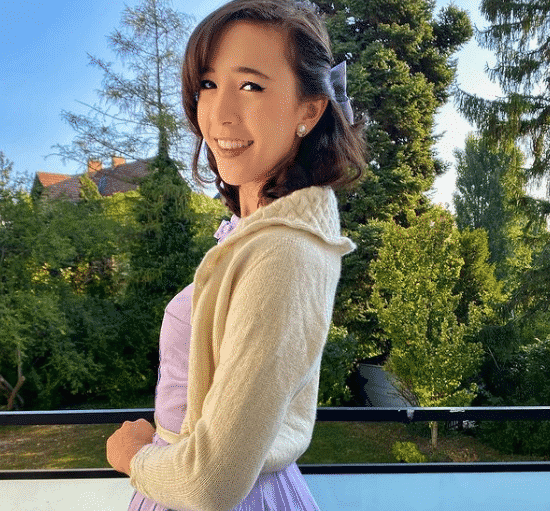 21 – Lavender Bell Bottoms And Silk Shirt
When wearing lavender from head to toe, pair your lighter top with a darker bottom. It will brighten up your outfit. As you can see, a light lavender silk shirt is paired with a darker wide leg bottom. And the entire ensemble made a stunning impression.
20 – Red Top With A Lavender Skirt
Autumn's best colours complement each other perfectly. Choose red among the dark tones so that it does not overpower the soft appearance of the lavender. This colour scheme is breathtaking. Combining a primary colour with pastel is a unique idea that is both beautiful and functional.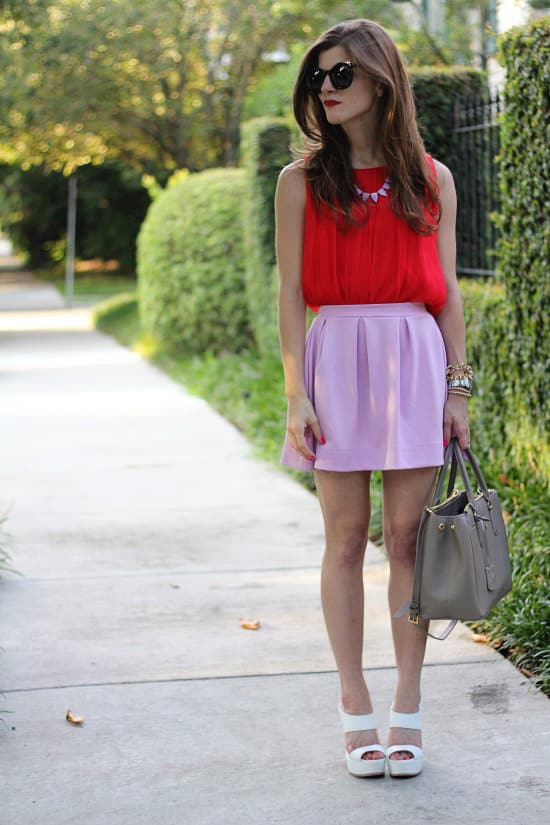 19 – Lavender Pencil Skirt And Turtleneck
The pencil skirt, like any other classic wardrobe staple, has recently witnessed a fashionable revival. If you want to wear your pencil skirt to work, pair it with simple pieces like a turtleneck and knee-high boots. Try one with a black overcoat that matches. Consider the lavender pencil skirt styled with a lighter turtleneck top overlaid with a black coat. A matching bag and ankle-high boots add to the overall appeal of the look.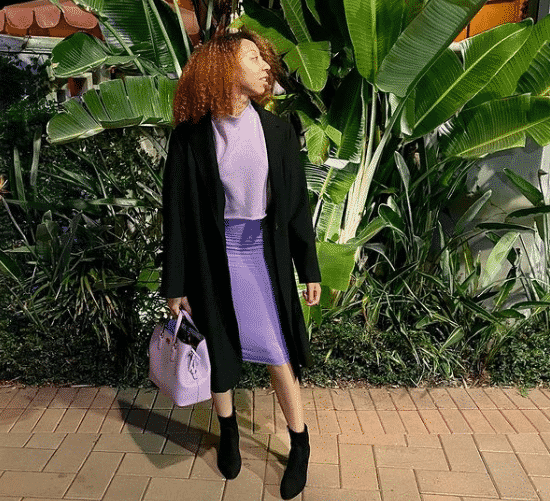 18 – Eastern Style Lavender Suit
Just take a look at this elegant eastern-style outfit; the color and work on the sleeves are stunning. The lovely long shirt and trouser set is paired with a pastel blue dupatta. this outfit is going to capture everyone's attention. This attire is proof that you can pose better when you're dressed in lavender.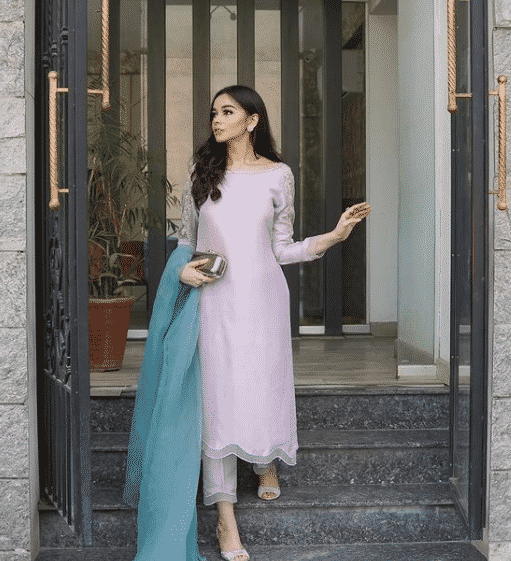 17 – Lavender Shirt With Straight Denim Pants
If you're looking for an off-duty yet incredibly stylish ensemble, pair a purple blouse with blue jeans for a day-to-day look that's full of charisma and personality. White mules look great with a variety of outfits. The white mules bring the entire ensemble together brilliantly.
16 – What To Wear With A Lavender Blazer?
Combine a lavender blazer with a faux leather pencil skirt. It is an excellent choice for adding a touch of class to your outfit choices. Try a lavender blazer with a mini skirt when you're not sure what to wear for errands. Some chunky jewellery can add a touch of glam to your look.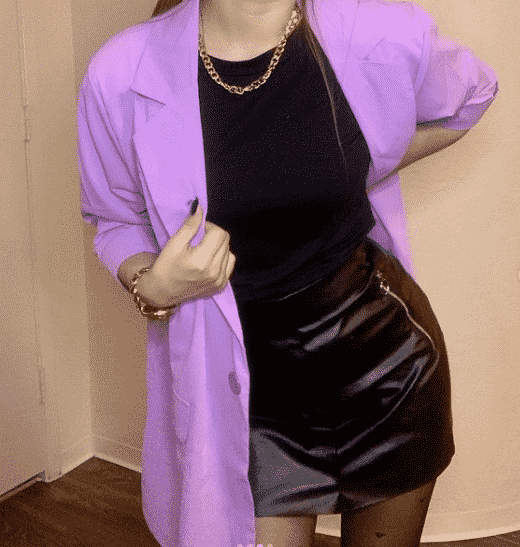 15 – Stunning Lavender Gown
The beautiful model Francine wore a strapless lavender number with stunning floral appliqués to a recent fashion event, "Michael Leyva's Fashion Show." This fabulous lavender gown, beautifully crafted with floral appliques, is a stunning outfit.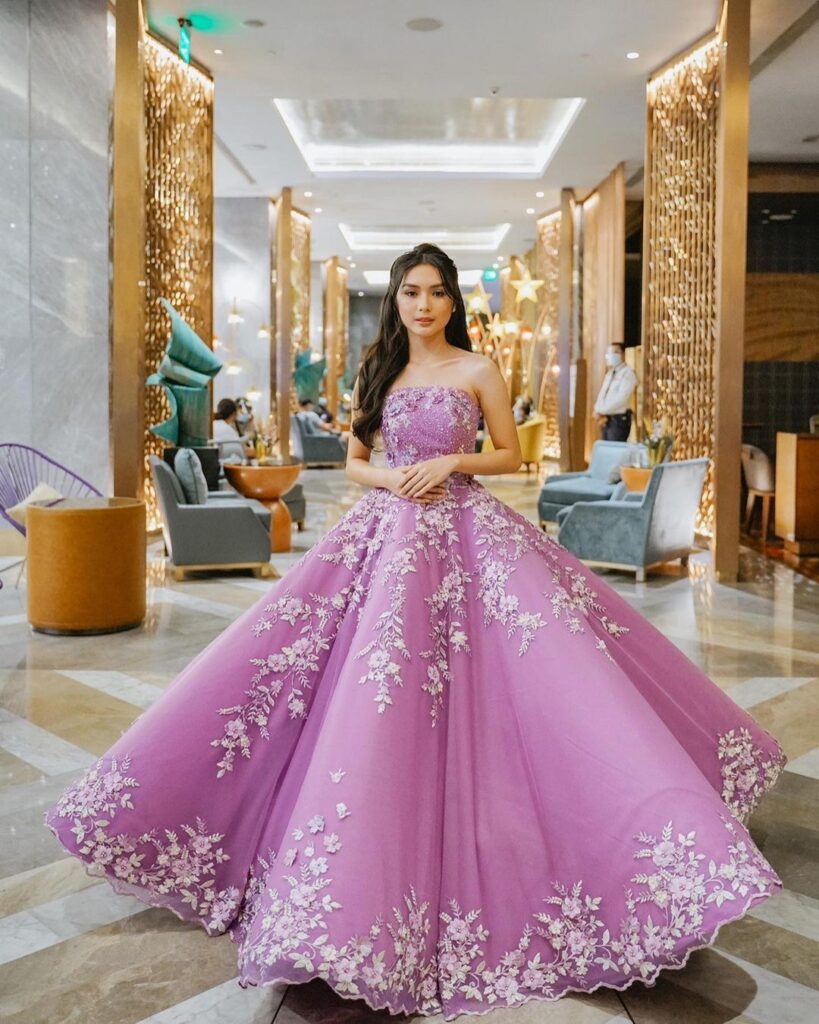 14 – Lavender Sweater Outfit
Swap your black jeans for a pair of black leggings and a lavender fuzzy sweater. Sneakers are the perfect finishing touch for a casual yet stylish outfit. You might never want to wear jeans again. This slouchy option appears to be highly comfortable.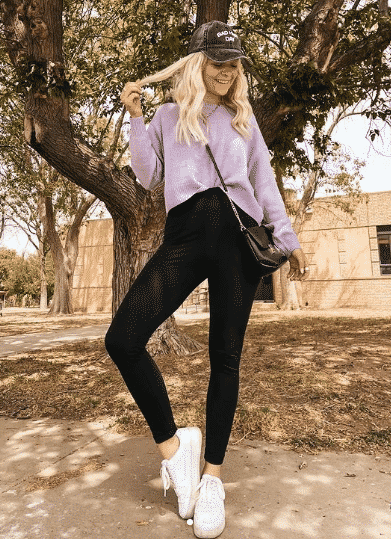 13 – Lavender Leather Jacket With Shorts
Leather jackets and shorts outfits are great for everything from casual and sporty looks to more dressed-up looks. Top off an oversized lavender leather jacket with denim shorts. Dress it down with sneakers or dress it up with higher-heeled sandals; it is all up to your mood. Yes, shorts and a rider jacket look fantastic together. And if you don't know when to wear this outfit then wear it to a lunch date with your friends or use it as a cute date night look!
12 – Sarees In Lavender Shades
Our clothing is an extension of our personalities. Similarly, a saree is the most sophisticated formal or casual attire. When it comes to colour, pastel colours with simple designs are ideal. The popular pastel colour lavender's richness remains consistent season after season. This sparkly glittery saree in lavender colour makes a statement. This outfit is ideal for any formal event or party.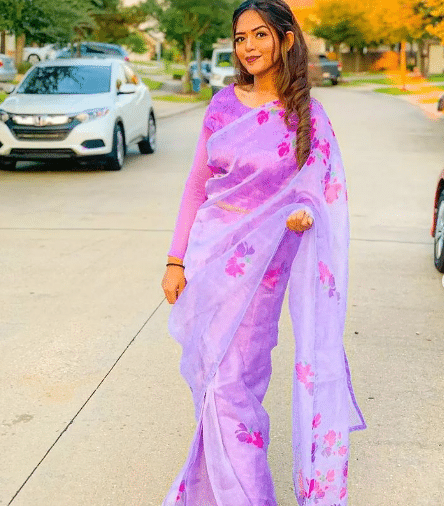 You can even pair a plain silk saree with a sleeveless formal blouse for a modern traditional look. This outfit is not only effortless, but it also looks very stylish and classy.
11 – Off-Shoulder Top With Lavender Pants
Minimalist fashion is always in vogue. Elevating your basics is the first step towards dressing like a minimalist. Beautifully constructed, a white off-shoulder blouse and pastel hue bottoms complement each other naturally and can be worn for almost any occasion. This outfit will be the star of all of your fall outfits.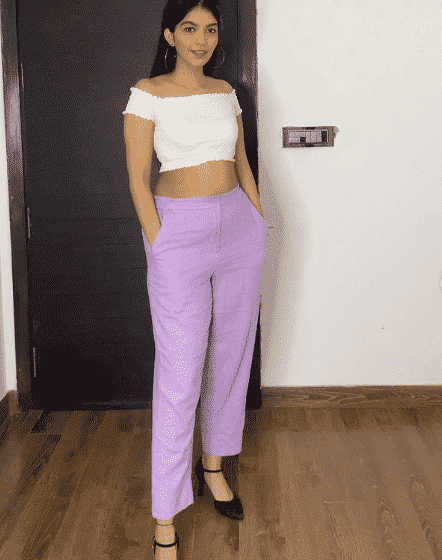 10 – Lavender Ruffle Sleeve Top
Sequin skirts are wardrobe staples that can be worn in a variety of ways. Wearing a mini sequin skirt is a great way to look eye-catching and shiny while not overdoing it. It may appear not easy to style and pull off at first glance, but you can do it if you pair it with some simple pieces.
Take a look at this outfit style. A lavender stylishly tailored shirt is paired gorgeously with a sequin skirt and a matching lavender umbrella.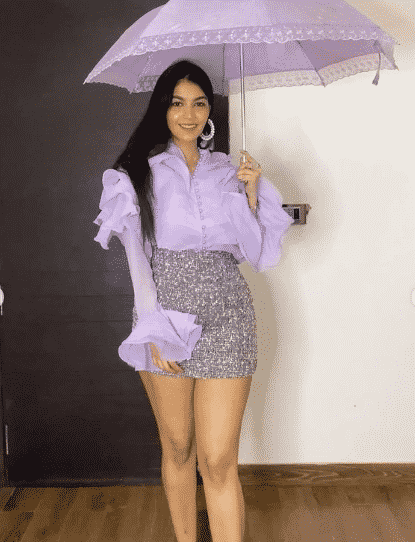 9 – Pleated Skirt With A Lavender Cardigan
Midi skirts are a classic style that can add a classic touch to any outfit. Unlike other skirts, they can be worn both casually and formally. The combination of a cardigan and a midi skirt appears casual yet elegant. You'll have no trouble wearing a cardigan with a midi skirt once you've learned how to style one. Choose a lavender cardigan and pleated midi skirt from your closet for a feminine style.
8 – An Elegant Eastern Attire In Lavender
You don't just wear lavender; you express your inner aesthetic as well. The outfit has a lovely print and a soothing colour. This soothing lavender shirt goes well with a floral printed lavender gharara. The eastern-style outfit is worn in a stylish manner, resulting in a traditional yet stylish look.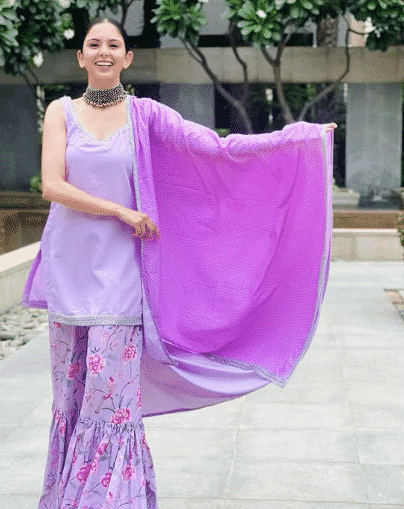 7 – Lavender Matching Joggers Set
Joggers have been a massive hit as comfortable wear, which can be worn anywhere anytime. They've become trendy for a sporty look! This pair of flattering lavender joggers are ideal for athleisure. Try this jogger suit in a very soft lavender hue for a comfortable and relaxed street-style look.
An outfit that is a combination of relaxation and comfort!
6 – Lavender Blazer Dress Style
Blazer dresses continue to make an appearance in a variety of designs, silhouettes, and colours. The blazer dress is a bold and sophisticated statement piece that will elevate your wardrobe and overall look, making you appear feminine yet powerful. Every fashionista can find a look that suits them. Lavender encourages you to be your most genuine self. This blazer dress with over-the-knee white boots is so chic.
5 – Lavender Sweater And Matching Shoes
If you're not sure how to dress down your skinny jeans, a lavender sweater is a great option. This outfit appears to be both comfortable and stylish, and it may persuade you to reconsider. Wear an off-shoulder lavender ribbed sweater with dark blue cuffed and ripped skinny jeans to achieve this low-key, elegant look. Wear lavender sneakers to add a catchy and flattering style to your outfit.
4 – Beautiful Combination Of Brown And Lavender
Lavender is never manipulative; it always has a strong impact. You may be wondering what other colours you can wear with lavender. Here's a novel solution to your problem. You can see how lovely this cowl neck lavender top looks with this brown pencil skirt. If you don't know what shoes to wear with this outfit then go for leopard print pumps and a chunky neckpiece to accessorize and add a beautiful touch to this minimal look outfit.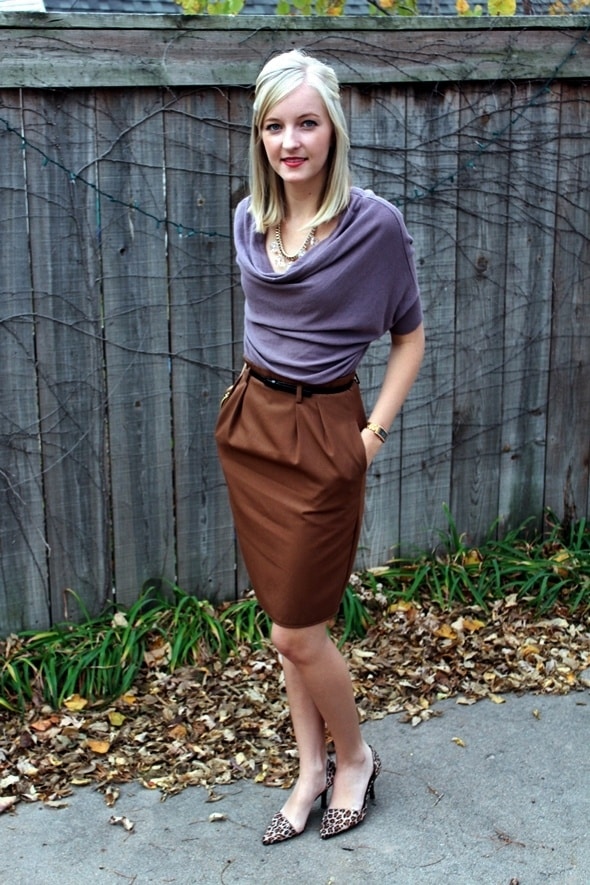 3 – Hot Pink And Lavender Outfit
Lavender is a lovely colour that evokes a fresh and blissful appearance. It exudes neutral sophistication while also exuding a glorious and artistic vibe. Using it in conjunction with a hot pink tone establishes a similar vibe and imparts a sassy vibe. This eye-catching hot pink sweater adds a funky pop of colour to any outfit. Even with the lavender wool coat, it exudes a relaxing vibe.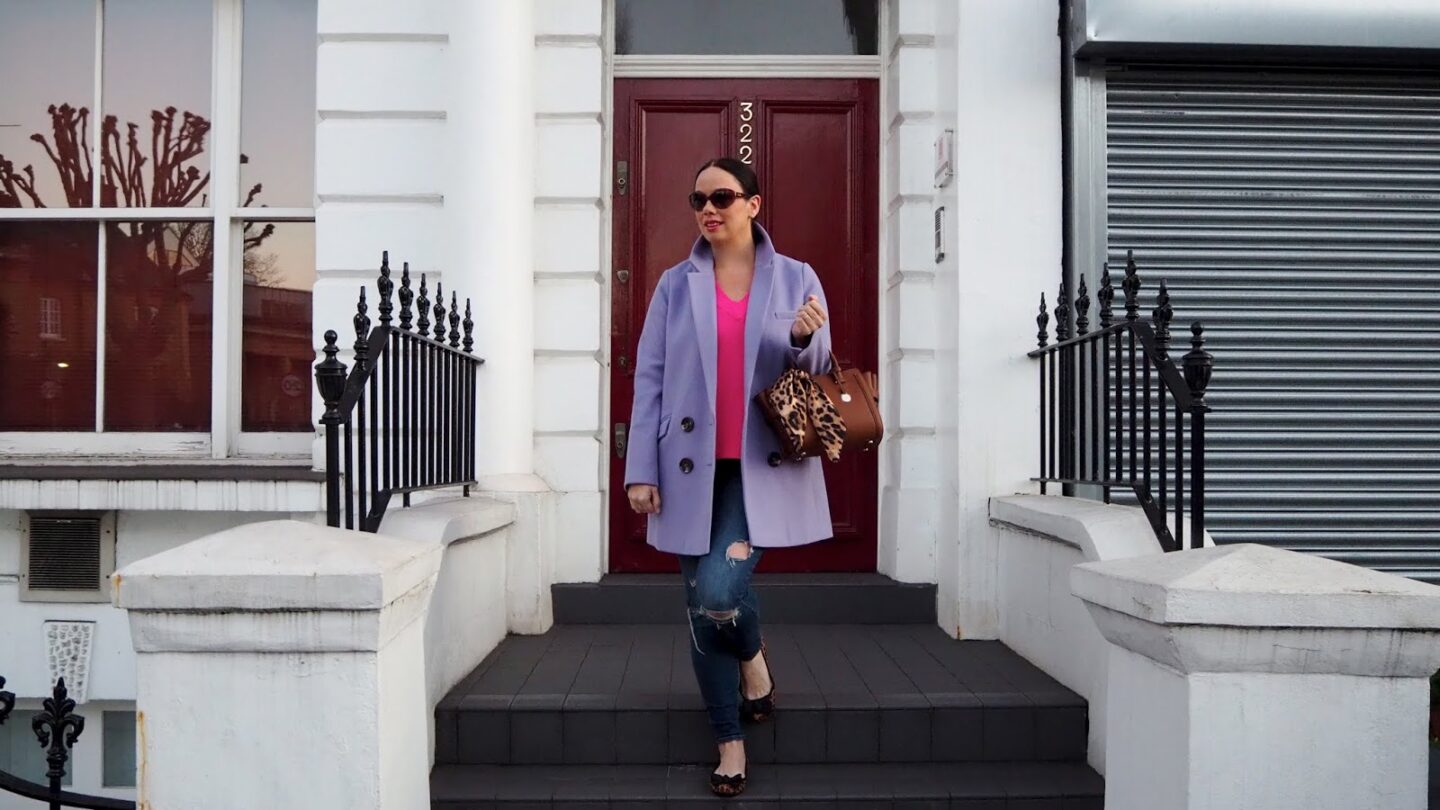 Via
2 – Lavender And Orange
The fabrics and style of the outfit make it very traditional, but the colour combination makes it very daring! It's not apparent that lavender and orange go together, but both colours compliment each other very well; it's a good mix and match!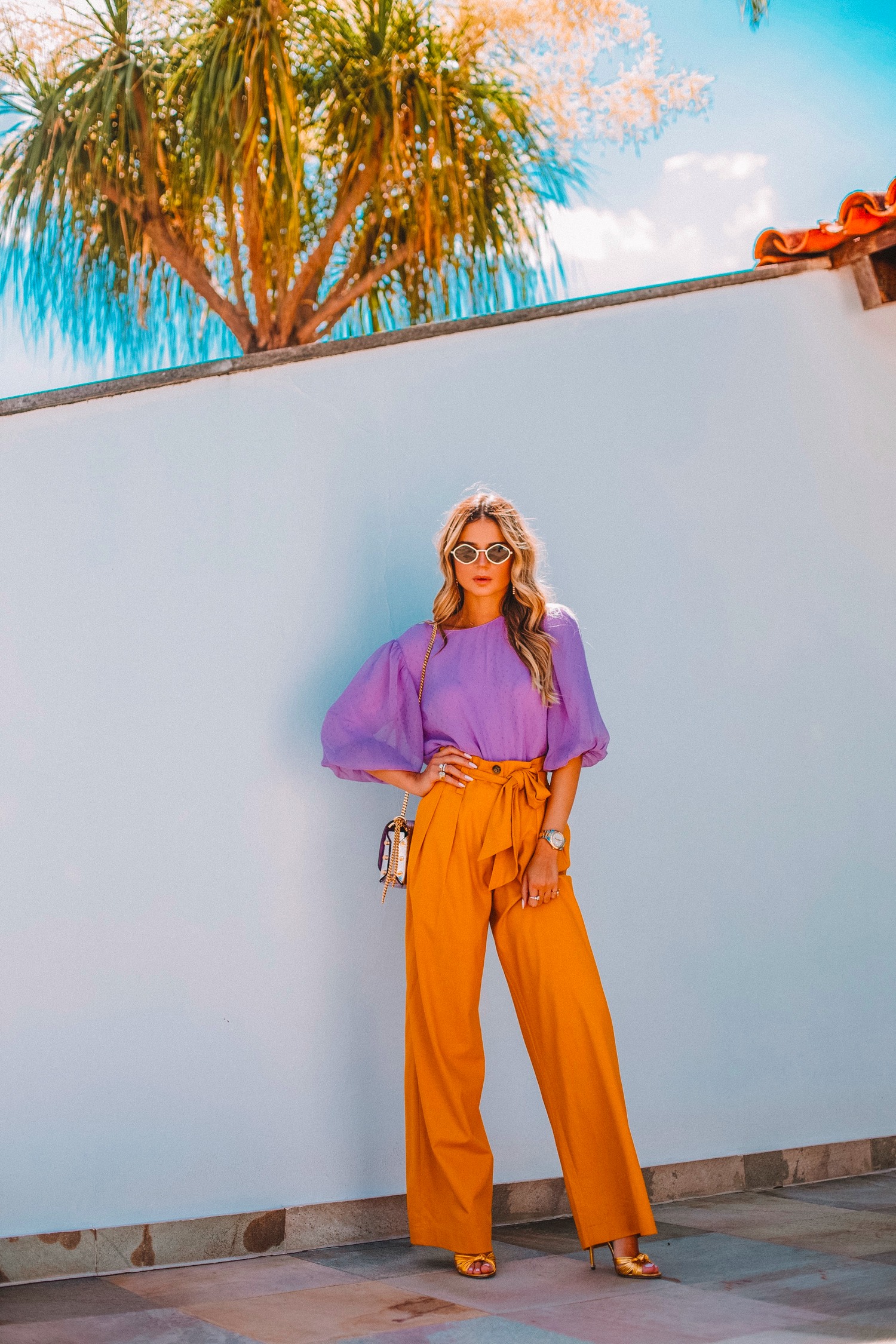 1 – Lavender Set
The two-piece sets are the most fashionable outfits to wear for both formal and casual occasions. Comfort is essential when wearing simple two-piece sets, but that doesn't mean you have to sacrifice style. This lavender two-piece set is ideal for a weekend outing. The lavender beret and printed bandana are the finishing touches.
Frequently Asked Questions
Q. Is the colour lavender associated with autumn?
Ans. Autumnal colours include brown, rust, gold, plum, and dark green, but what about lavender? This lovely colour is becoming increasingly popular for the fall season, but that doesn't mean it can't be worn on other days; this colour is vibrant, and you can put on a lovely lavender outfit on a summer day or spring break for a get-together with friends or a dinner date.
Q. Which colors blend well with lavender?
Ans. Lavender pairs well with other soft pastels, as well as electric blues and greens because it is a cool tone. Baby blue, turquoise, royal blue, ocean blue, sky blue, emerald, and Teal outfits, along with any other blue/green tone, including pastels, look good with lavender.
Q. What lipstick color should you wear with a lavender dress?
Ans. Lavender looks great on everyone, but lipstick can make or break an outfit. If you're about to put on an adorable lavender dress. You can choose from pink, red, peach, purple, or nude lipstick shades to ensure you feel confident and beautiful.
Q. What colours complement the light tone of lavender?
Ans. The tone of lavender used determines the best complementary colours. Lavender looks bright and crisp with white, and the more purple versions look appealing with orange and lime green. Lavender's greyer tones go well with beige, yellow, golden, magenta, and warm browns.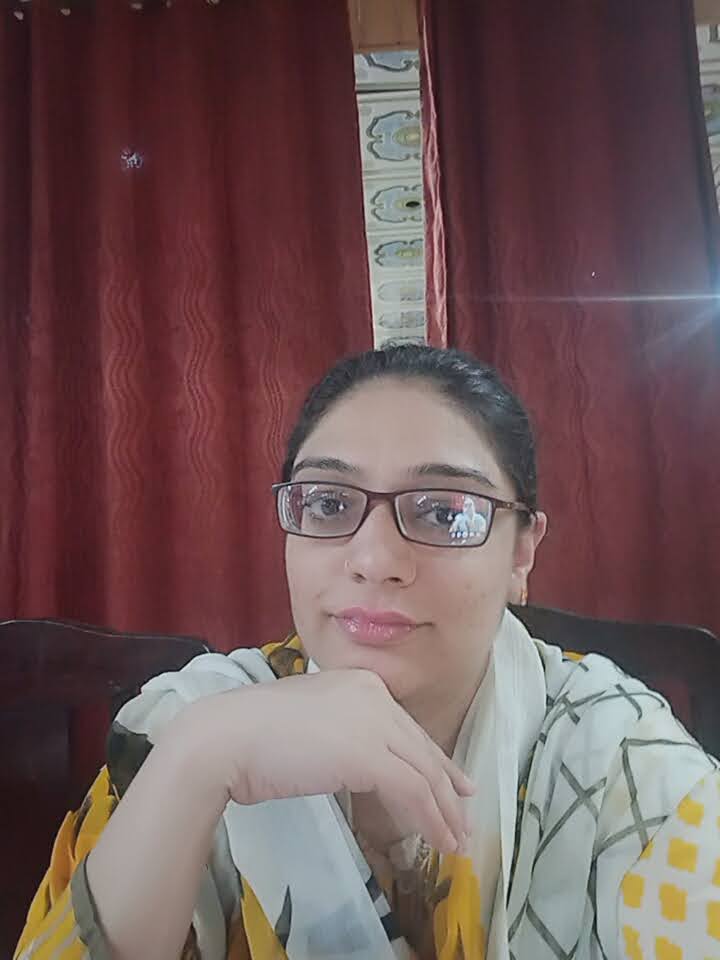 My name is Hina, and I am a passionate and dedicated writer. Like many others, I was unsure where to begin, so I chose to begin my journey from this platform.