bubble hem dress ideas – Women are, were, and will be the leading, pivotal force who have always driven the wheel of the fashion world forward. A new and modernistic mini dress was created, which not only should be glitterati but also no-fuss to carry, resulting in the revolution of a new mini-dress trend. This fantastic imagination, of a no-fuss-to-carry mini dress, was brought to creation when Pierre Cardin and Hubert Givenchy experimented with a bubble silhouette in the 1950s which later on became the vogue of the 1950s era.
Now referred to as a bubble hem dress, this chic outfit has all the elegance one needs to carry for a prom, a red carpet, or a party. Like the 1950s and 1980s, they are again becoming the fad by appearing on the runways donned by renowned supermodels like Gigi Hadid, whose cocky bride look and white bubble dress stole the whole Moschino's runway show.
How to Style A Bubble Hem Dress?
The bubble hem dress is basically a knee-high mini-dress, with a bubbly appearance. It comes in several bodice types and is tailored very cautiously for a perfect bodice and cleavage. The hem of the skirt is the most significant part. It is made voluminous by folding and stitching inwards for that balloon appearance after which it was named.
Now, not only have fashion designers re-augmented this trend but have also altered it by introducing bubble hem skirts which are also adorable to peek at. To get familiar with the plethora of looks and styles one can do with these dresses continue reading the top best bubble hem dress ideas for the year
You can honestly have them for every event and they look great too, until or unless you sit somewhere. As they are poofed from the hem so when you sit you might appear like a fat potato. Most of the bubble hem dresses are also strapless and can get extremely annoying at an event. So, to avoid any faux pau, listed below are some simple tips and tricks that might help you in choosing a bubble dress for yourself.
Tips and Tricks on Wearing A Bubble Hem Outfit
Keep in mind the texture of the fabric: For choosing a bubble dress first thing to keep in mind is the fabric. For this dress organza and chiffon are mostly preferred. The fabric should be lightweight and flowy from the hem.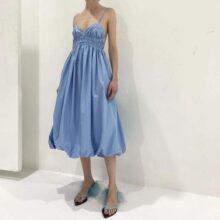 Length of bubble dress's hem: The length of bubble dresses and bubble skirts can vary but the ideal length is knee-high as it swirls beautifully around the legs while walking.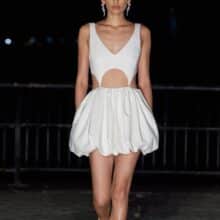 Choose the dress according to your size: Choose a dress diligently according to your size. They should neither be too tight nor too loose to slip off you. They are ideal for any body shape. But according to designers, apple body type is much preferred as their blown-up silhouette incredibly hides any chubbiness on the mid-riff area.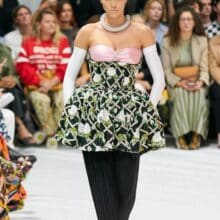 Design of the dress: The length of the dress should be long enough to fall below the heavy area of the thighs. To enhance the neck region, the cleavage of the dress should be deep.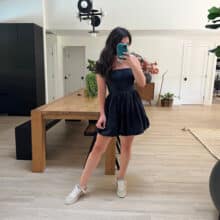 Tip for strapless dress: For a strapless dress, I suggest always wearing a strapless bra as it is always safe.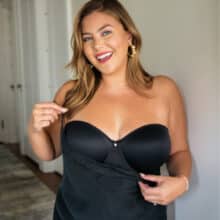 Wear heels with bubble dresses: As they are knee-high so they will look best with heels.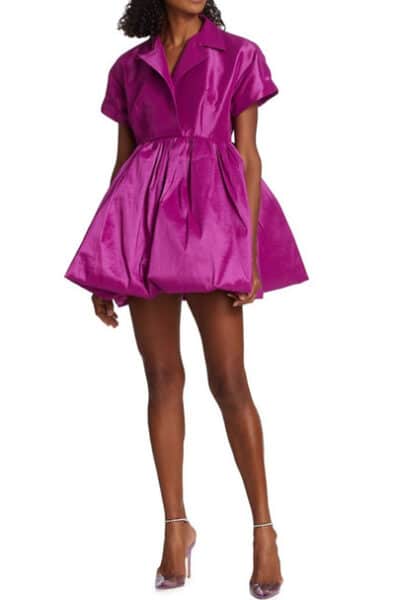 Tip for bubble hem skirt: Try to wear a shirt with straps above a hemmed skirt and if you don't want to, then use a strapless bra with it.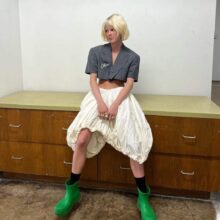 In order to apply all these tricks to look gorgeous with these dresses, see our top bubble hem dress ideas for inspiration to turn the wheels of glamour on your rivals.
20 – Best Cottage-Core Outfit For Summer
Lavender bubble dress is such a unique color to wear for a picnic, as everything looks soo breezy about it.
Thinking of which, just let me ask this. Isn't this dress adorable? I am head-over-heels in love with it. From the knitted green headband to lovely embroidered lilies and ballerina pumps, everything screams ebullience and cottage-core vibes in this outfit. So, the next time you go shopping, just go on a scavenger hunt for this dress.
Do buy cute ballerina slippers, ray bans for a chic look and a cute pouch bag to recreate this look. Now enjoy your creative idea for donning a bubble dress for a picnic.
19- Wear Your Little Black Dress Like Anne Hathaway
The "Ocean's Eight" actress, Anne Hathaway bagged all the compliments for her bow-at-the-bust Black bubble Dress. The actress looked soo sensational and girly as the suit resonated so sweetly with her personality.
For a prom in 2022, this outfit will be the best choice for that sweet, girly look. Accessorize it with some earrings and enhance your look more with a high ponytail and cute stilettos.
Now, outshine everyone with your looks.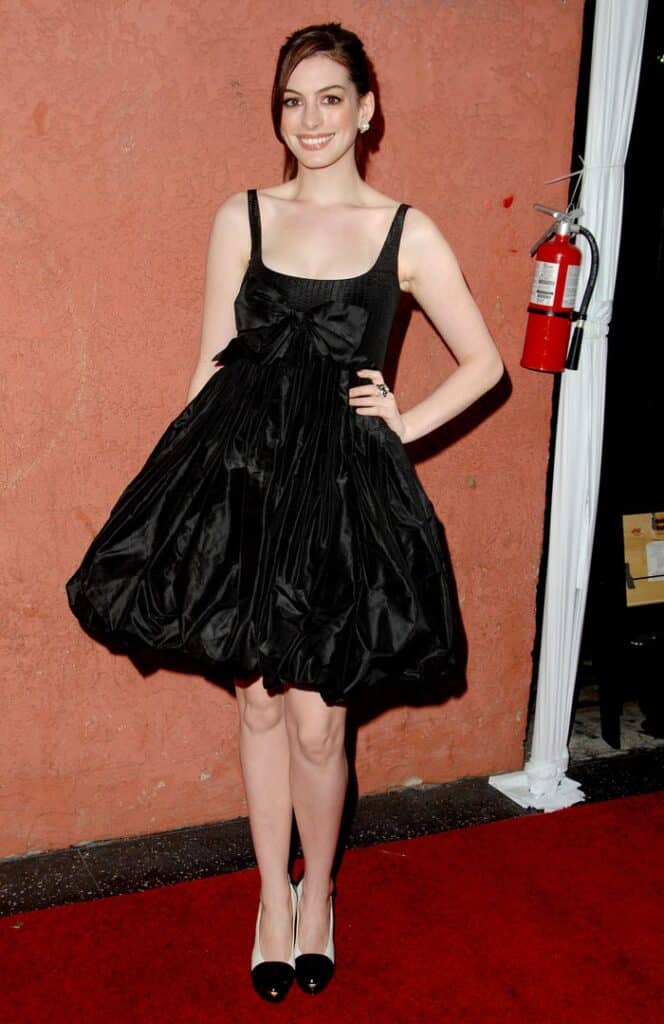 18 – Chic Ways to Style Pink Bubble Hem Skirt
This outfit is an embodiment of the "Be Tres Chic Wear Tres Chic" look. The "Stranger Things" actor Millie Bobby Brown looked such a bewitching baddie in this outfit but If you don't believe in looking this much gorgeous and rogue, at the same time then recreate this look.
Put on a strapless floral sweetheart top, layer it with a cropped leather jacket, choose a pink bubble skirt for bottoms, climb in your stilettos and you are ready to dance "On the Floor."
17 – Simple Bossy Bubble Dress Idea
Coat-cut necklines and front pockets are my personal favorite. Having a dress with both is bliss in the hollow of the hand. So, If you have a girl's party and want to look different then this idea for an outfit is perfect.
I just love how some ruffles on the neckline, cute front pockets and some bounce on the hem can make someone so beautiful. Elegance and grace, this outfit has it all, but we recommend block heels with it. Accessorize it minimally, add a cute handbag to it and enjoy being different.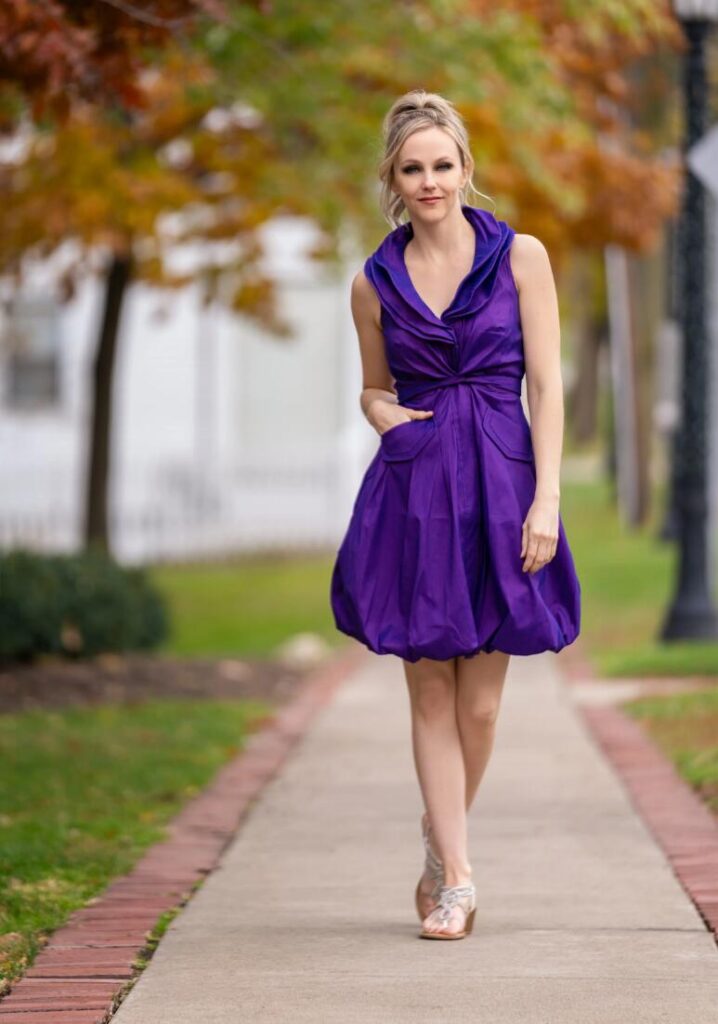 16 – Sequin Bubble Hem Skirt for Curvy Ladies
Who says that you can't look adorable if you're a plus size with a heavy bust and hem? If that's so then let me break this stereotype, by presenting this bubble outfit idea. Not only is the girl adorable but her outfit alleviates her cuteness a 100 folds. For becoming a dainty sight to behold, all you have to do is to grope for a solid bubble skirt in your wardrobe.
Now ensemble it with a sky-blue cropped sweater, and climb into some denim or sky-blue open-toe ankle boots. Tie a scrunchy on the top,wear a cute waist bag, put on some dewy make-up and heart earrings. Complete the outfit with super cool cut out boots.
15 – Take Inspiration from Selena Gomez
Through decades The "Rare Beauty" founder, Selena Gomez, has not only been an inspiration for young girls to achieve their dreams but also an ideal to look forward to for fashion sense. It is incredulous how she puts up with a color block and so appropriately with a bubble skirt outfit!
How sassy and naive she looks wearing a bralette under a fishnet shirt and how neat the detailing of the dress is. This outfit should be the go-to dress for girls with concert tickets. All this outfit needs is open hair, nude make-up, some rock and roll accessories, and Voila! You are ready to dance the whole night off in comfort.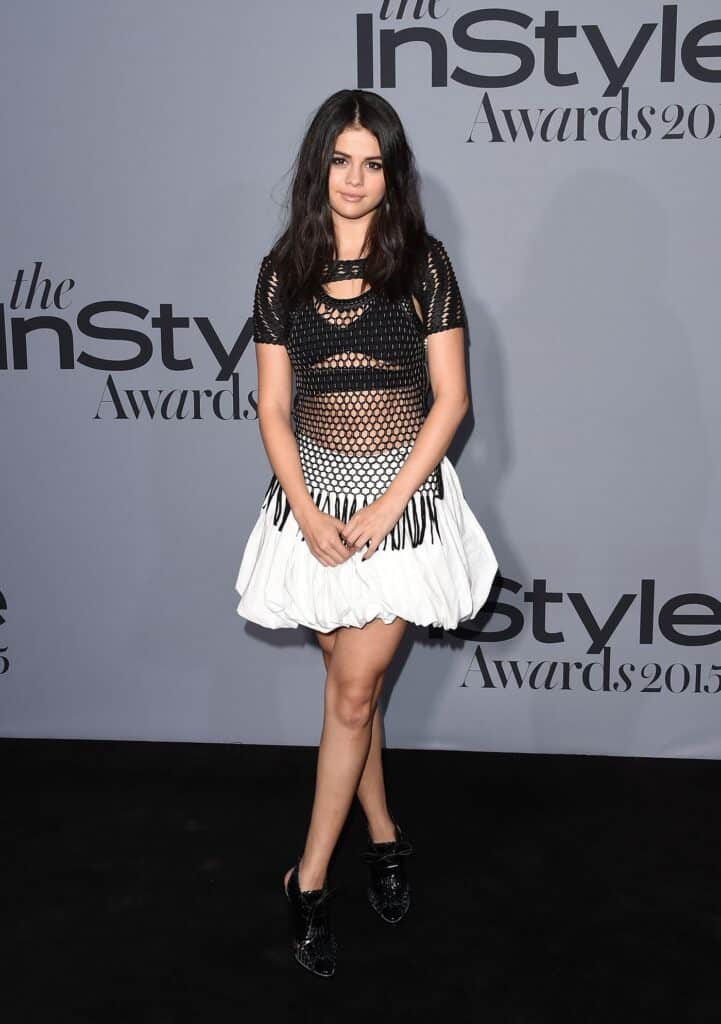 14- Bubble Hems And Sleeves
Off-shoulders with balloon sleeves are the fashion trend of today but if paired with a long black skirt, it is sure to make you an element for the spotlight. How elegant you'll look, flaunting yourself in this outfit.
Just add a good pair of white stilettos and a white handbag to this outfit. Enhance the colour combo with hoop earrings and a black bracelet. Slay it with some matte makeup. Now walk like a model and strut the streets with your runway looks.
Feeling fretted about a cocktail party at noon as choosing between a sparkly or casual outfit is difficult for you? Congratulations, as your problem has found the perfect solution.
Just take a glimpse of the beautiful dress below as it actually is the perfect cocktail outfit. It is comfy as well as classic. I can't take my eyes off of this floral dress. The V-line neck design is so new to this trend, neck extended rows of buttons on the mid-riff area.
So give it a try. Accentuate the look with high sandal heels. Our suggestion is to minimally accessorize it with pendant and tops. Some beach waves in the front and you are ready to slay!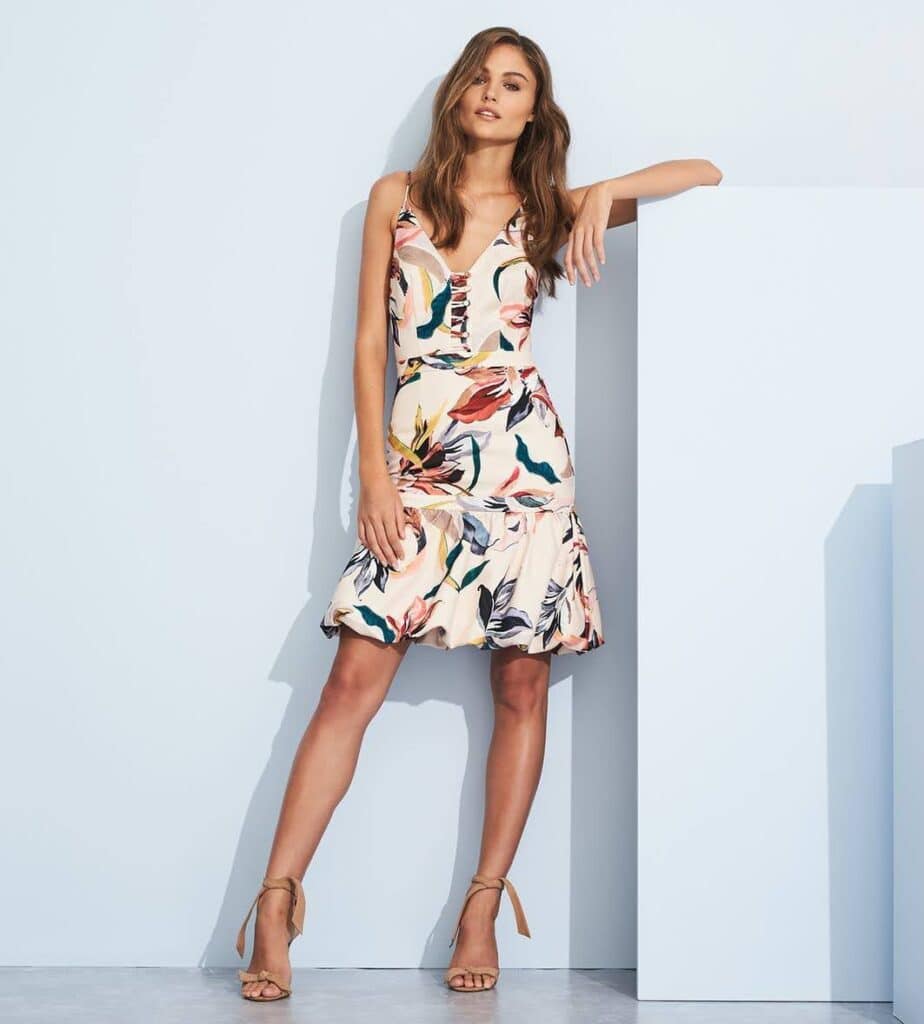 12- Mini Bubble Dress in Purple
This purple dress is meant for Gen Z girls to fad about bubble dresses and skirts. If anyone wants a pop star look from " The Princess And The Popstar" movie then this dress guarantees it. How elegant and sparkly the strapless shirt looks and how alluringly the purple skirt flaunts its existence. If I were you, I would have tried this look.
Open, breezy hair and high heels will look best with this outfit along with some accessories like a chunky bracelet or a dainty necklace. Recreate this look and walk along with the melody of this outfit.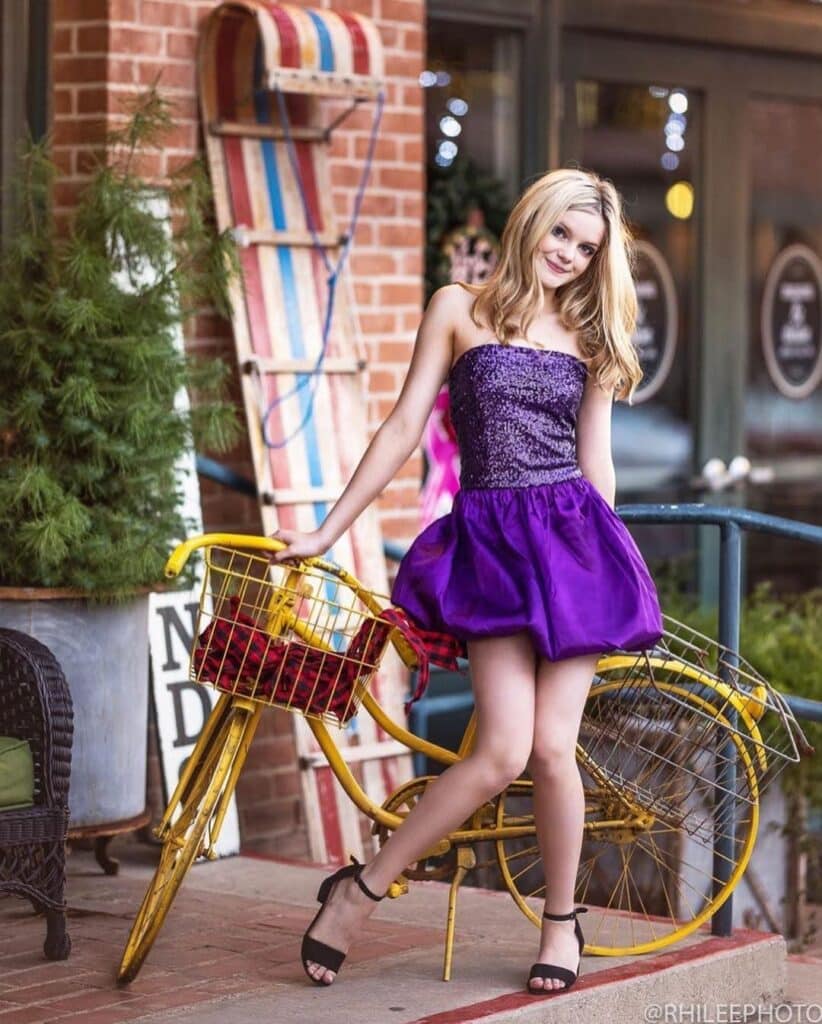 11 – Pair your White Camisole With Mini Skirt
Outfits are not always for feeling beautiful as sometimes they also reflect our moods and emotions. If you're having a hard time figuring out what to do to show people that "I'm not bothered by what they say about me" then this outfit is meant for you.
I am in awe of how bold the ensemble of net-detailed skirts and silk camisole look. It assiduously shows the caged devil inside a feminine body. Recreate this baddie look by pulling off this outfit. Slide into T-strap Wedge heels and strut with high authority towards toxic people, showing them that "I'm strong".
10 – Gray Dress for Winter
No one wants a new and stylish look in winter outfits more than girls and as we know the 90s bubble dresses are back in action so why not try them for winter? I love autumn and I'm awestruck by how remarkable the grey dress looks against the autumn background. This outfit might encourage those who abhor these monotones to wear them with colored details.
Wear ray bans, put on your open-toe ankle boots, and shake your hair to the sides. When sorted, now run for a windy spot for a perfect shot.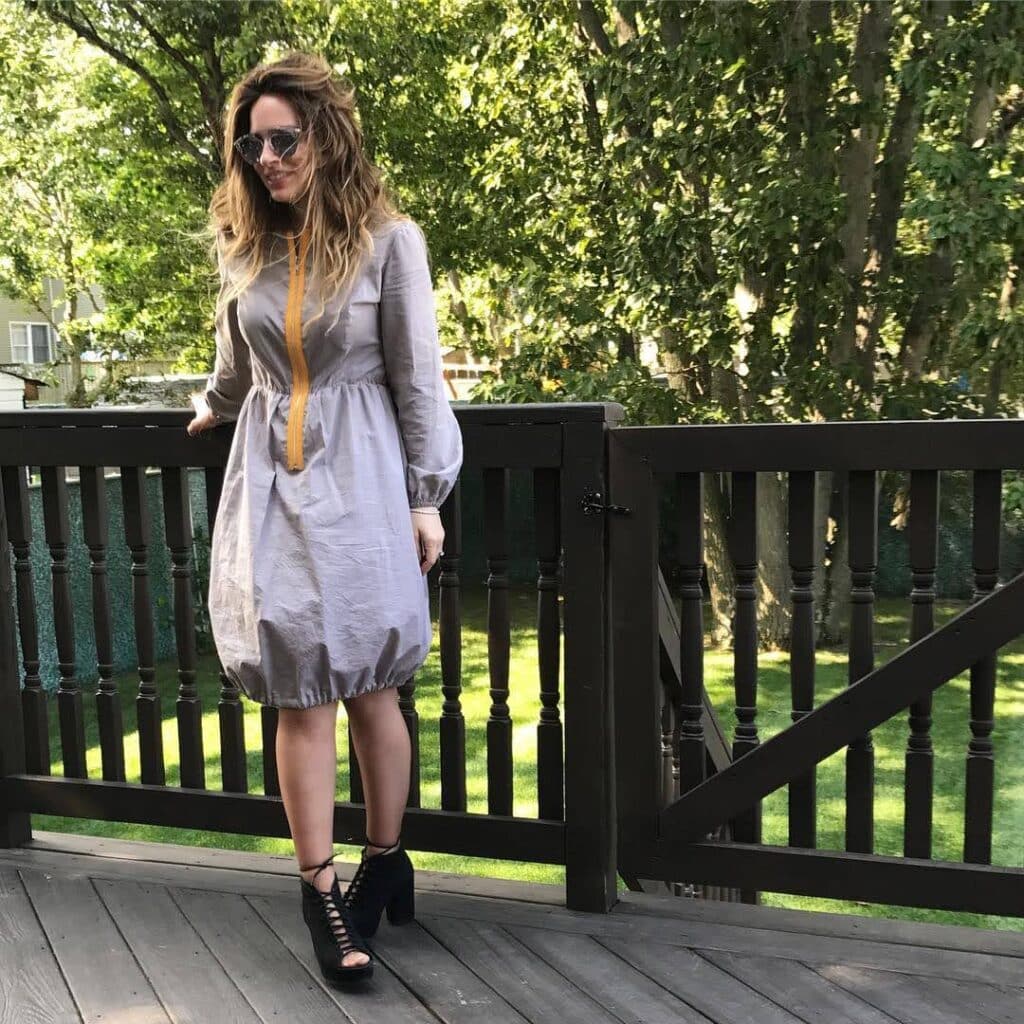 9 – Pair Your Black Dress With Denim
High-waisted jeans have never gone out of fashion, especially crop wide-leg denim jeans. But pairing them with a strapless black mini-dress, an idea that exudes elegance will take you to a whole other level.
Recreate this classic Naomi Campbell look with this combo. Accessorize it with a black choker, slip into your favorite black stilettos, and rock the night with this outfit. Perfect for a girls' night out.
Here is a stunning sea-green outfit that guarantees all heads turn in your direction while you strut the city. I just adore how splendid the bow looks and the silhouette of the dress is so pretty. An exquisite outfit, best for days when all you want is just to roam around, in streets and alleys with confidence.
For a diva look just slip into this dress. Apply some nude make-up, wear a necklace, black ankle strap heels and last but not least, my personal favorite, add a pink canvas bag to it. Now flaunt and put the streets on fire with your looks.
7 – Pink Bubble Hem Dress With Balloon Sleeves
How many of you wanted the princess dresses our dolls had? well, I did, and still and below I see someone's dream coming true. This dress has my heart now. Just look at those puffy sleeves and the ruched hem of the dress. Truly princess right?
As this outfit is all-princess so for some touch-ups, a pink room, and a pink tea set arranged neatly on the table will do. For more elegance with this outfit, some thick curls, fishnet tights, high heels, and matte make-up is all you need to feel barbie.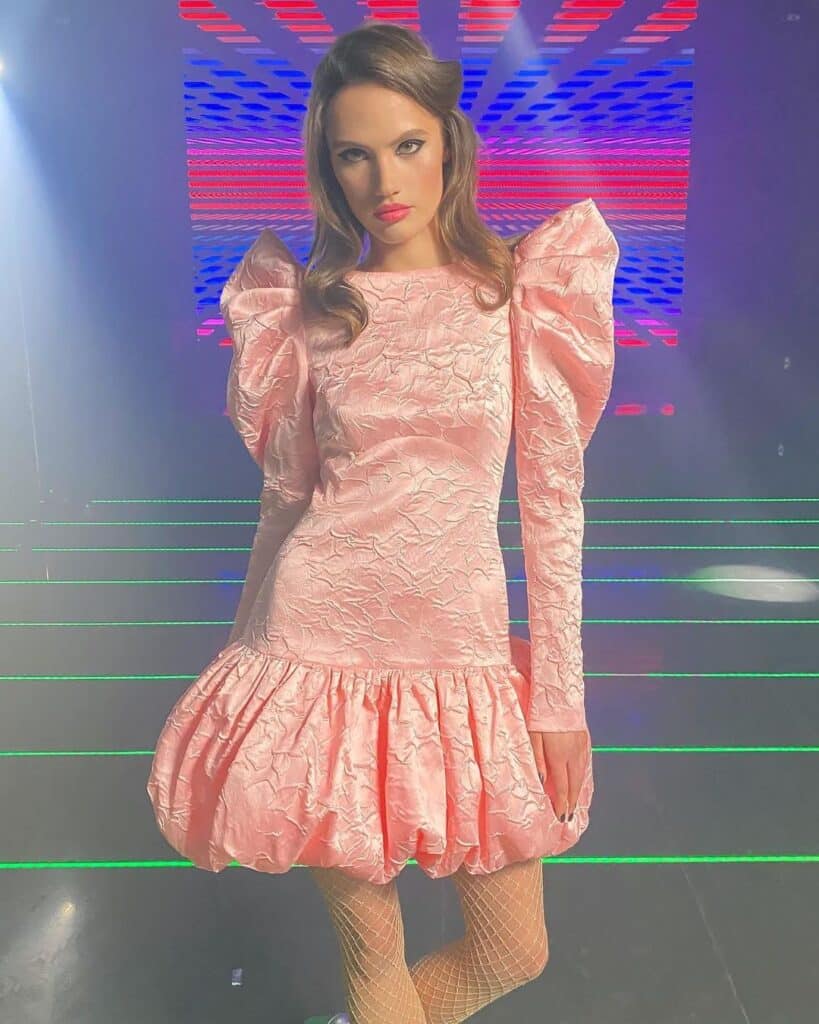 6 – How to Wear Bubble Hem Skirt in Winter?
Layer yourself with a sexy printed jacket and a white bubble skirt.
5 – Enchanting Bubble Hem Wedding Guest Outfit
For wedding guests this outfit is perfect. This dress promises to radiate grace and elegance from you with its cute semi-sweetheart neckline, perfect bodice and voluminous hem skirt.
Accessorize it minimally with a pearl necklace, some bangles and high heels. With a side bun, you are sorted now to entrance others with your looks.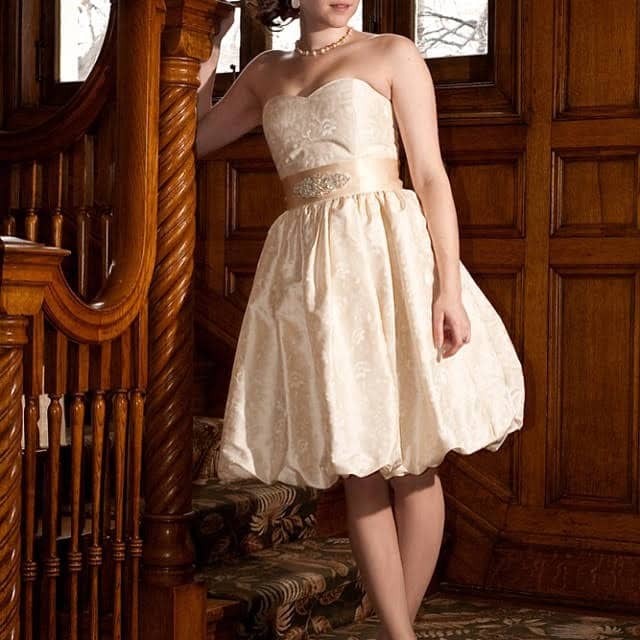 Wanna feel the Mexican vibes while wandering in the streets of New York? if yes, then this outfit is meant for you. I don't know about you but I'm in love with the cowboy boots cause they look so cool. These cowboy boots will look more beautiful if carried with a white bubble dress on top.
With some minimal accessories, you are all sorted to enjoy your tacos and this chic outfit.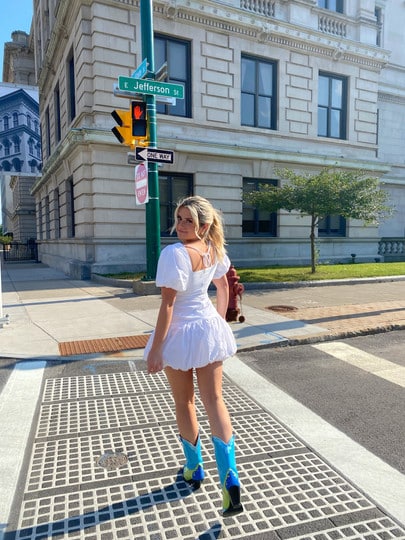 3 – Layer Chic Blazer Over Your Dress
Pink is actually the favourite colour for women of all ages but when the dress is floral and is bubbly then dear me, its effect might have you blown away.
This floral outfit is best for women who think that they are old now for pink. Excuse me, pink has no age limit. Just have this outfit for yourself and forget everything. Love how floral and enticing the print of the dress is and how charming it looks with a pink cape.
Plan a trip and wear this. Also, don't forget to put all your essentials in the handbag and if you want to enhance the look more then we suggest you wear wedge heels instead of flats. With your plan and outfit ready, you are all set to sail.
2 – Sparkly Black And White Outfit
We have nominees for the best pret-a-porter of the year, and the award goes to………..sparkling bubble hem dress which is actually the most elegant Haute Couture of the season. With a black bow, this dress promises to be a glitterati with its poofy hem and elegantly sequined texture. This dress is the actual glam of the party and if anyone tries to recreate it, will eventually be the queen of the show.
Accessorize it minimally with hollow, silver earrings which are sure to enhance the elegance of the dress. Put in black stilettos, a model face and you are all set to bag all the compliments.
1- Classy Look With A Floral Dress
Comfortable and casual this floral bubble dress promises to help you strut the streets without getting tired.
Add a pair of sunglasses, a white handbag, and white stilettos to your dress. You are sorted now to enjoy your day off from work.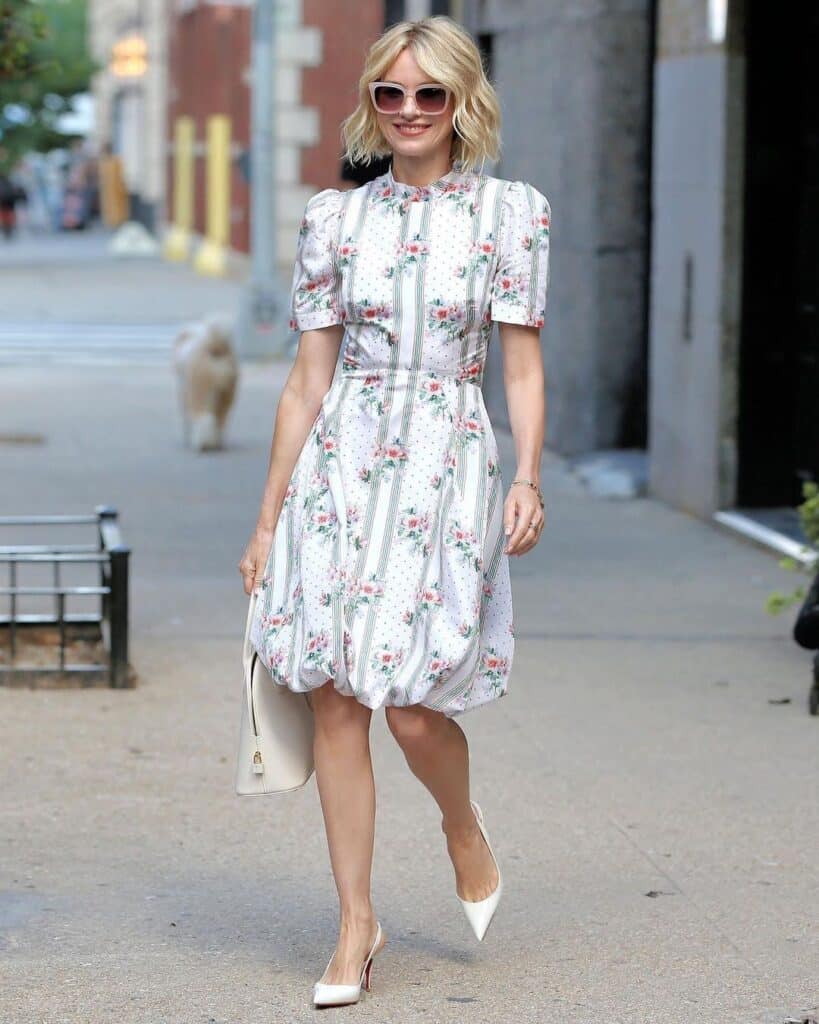 Q. How do you wear a bubble dress?
Ans. Bubble dresses are a trend and according to experts, they go well with the apple-shaped body because of their inflated effect. To carry them, you have to choose them according to your size and physique because if styled correctly they look very pretty.
Q. What do you wear with a bubble skirt?
Ans. If the skirt is plain then a floral or printed top will look good but if the skirt is more designed then don't overdo the look and go for a plain top. Moreover, Bubble skirts go well with flats, heels, and sneakers.